Today we are here to talk about ideas you can create with cream coat outfit this Fall. Celebrate the inspirations you love with a day of cream white coats. This is a fresh take on fall fashion, which is anything but standard. The busy lifestyle of today's woman makes it increasingly difficult to find time to style her own outfits. Finding the right outfit can take hours of shopping, trying on clothes, and comparing prices. Most women just give up and decide to wear the same old thing because they don't have time to look good anymore.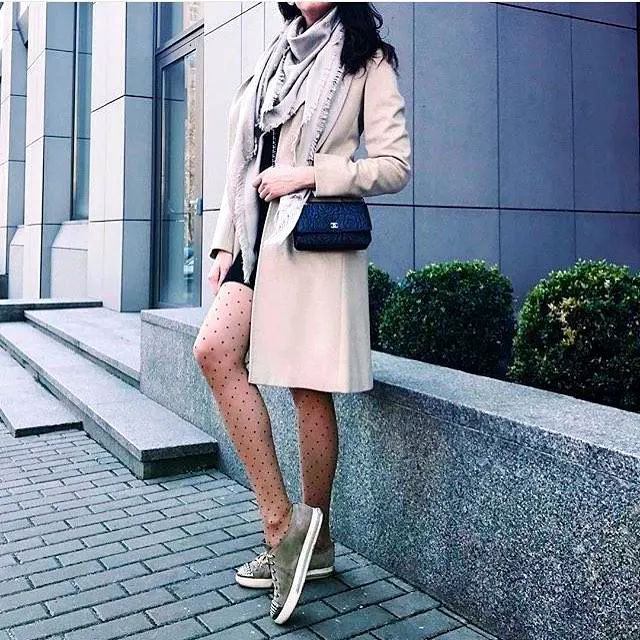 Buy Similar Here
Cream Coat Outfit
There are millions of women out there looking for a new way to get their clothes styled by someone else. It's exhausting every morning trying to figure out how you're going to put outfits together. Many women would love to use a service that brings their idea of style to life. This is where we come into play. We decided to show you some brilliant and easy ideas on how to style cream white coats in different ways.
This winter, consider putting on a cream white. Even though white is generally considered a warm-weather color compared to black, white does still make for a good outerwear color for fall. A classic cream-colored coat looks chic in the fall and winter seasons.
With Fancy Scarf And Black heels
Update your long coat with a fancy silken scarf and black heels: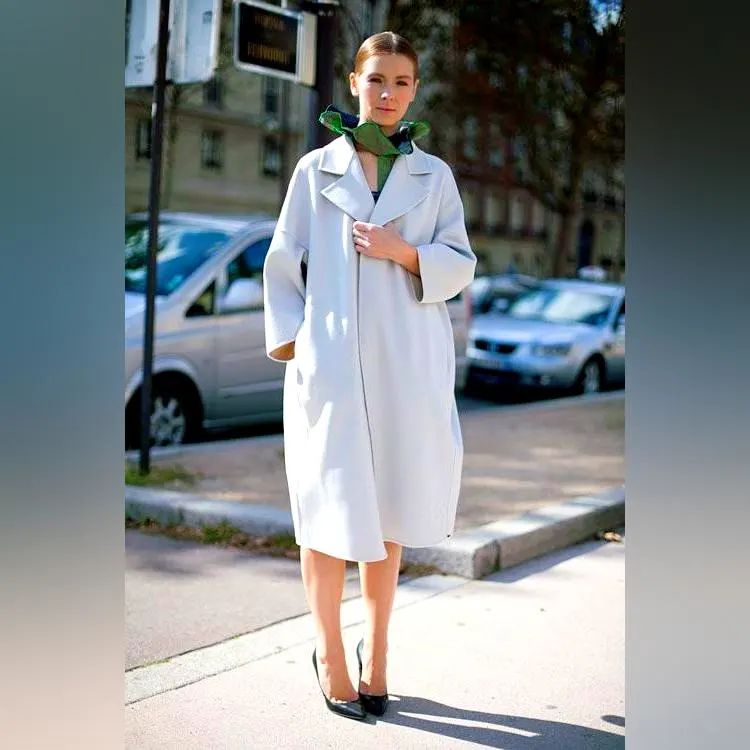 Buy Similar Here
With Grey Skinny Jeans
A cream-white coat looks fantastic with grey skinny jeans and gold heels: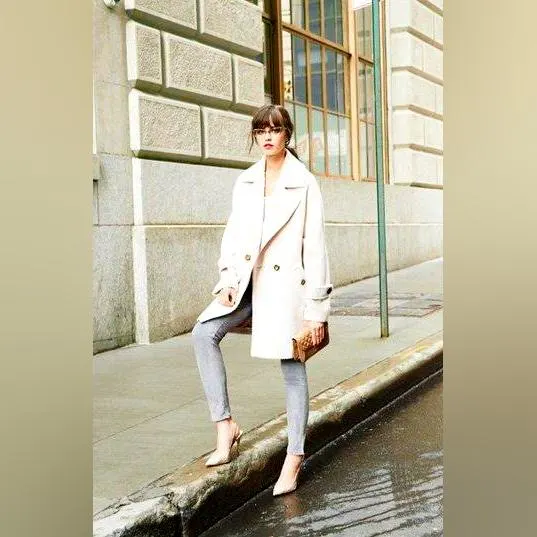 Buy Similar Here
With Black Leather Mini Skirt
Another simple, yet eye-catching look, a coat is completed with a white top tucked in black leather mini skirt, complete the look by adding Wayfarer sunglasses and plaid print slip-on shoes: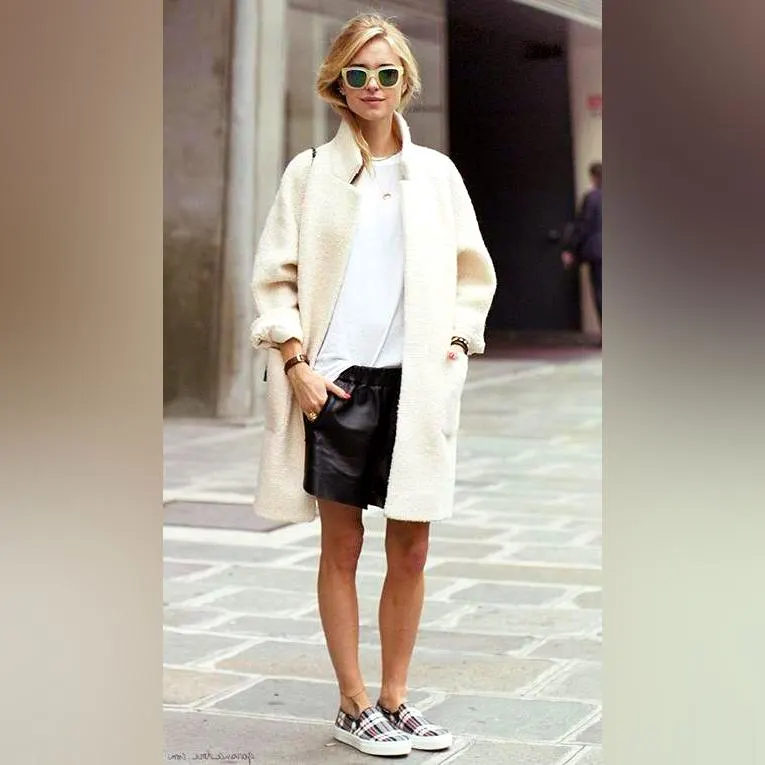 Buy Similar Here
With Chunky Sweater
Have a look at this one! We see a coat layered over a grey sweater combined with ripped slim jeans and cream-white pumps: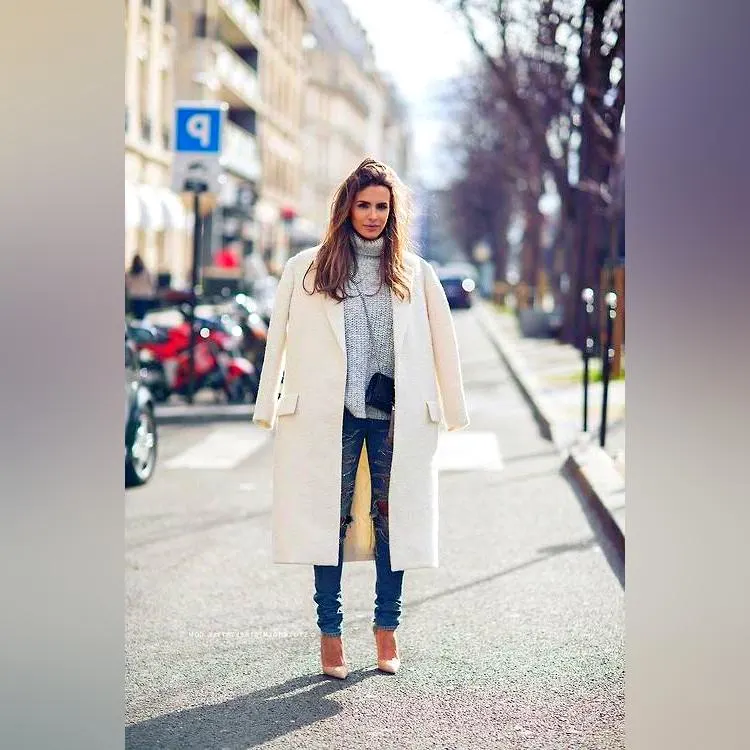 Buy Similar Here
All White Look
If you do like fabulous style, go for an all-white look! Love the top, jeans and cream white boots: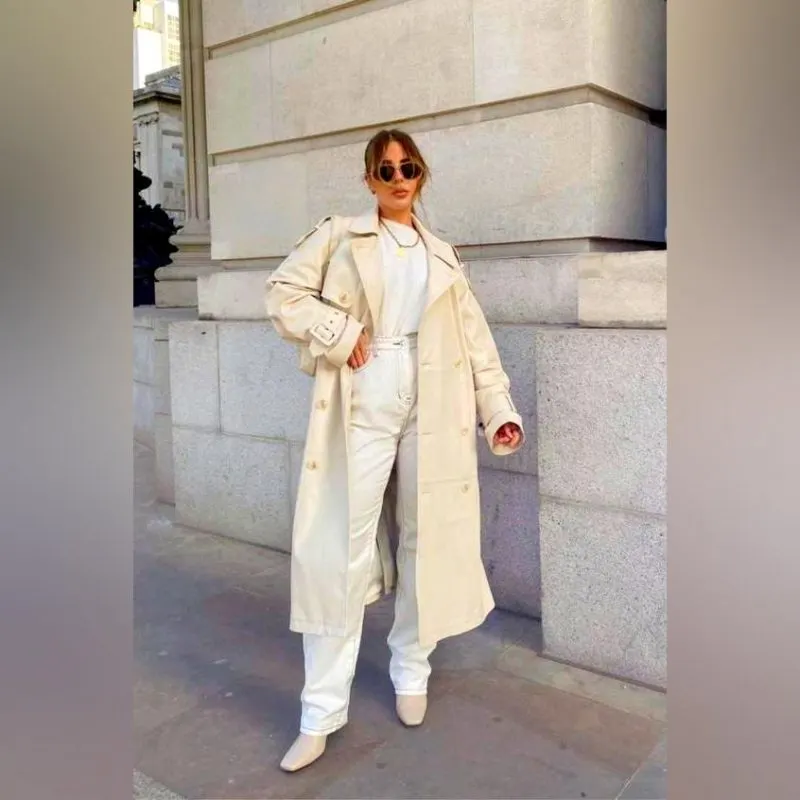 Buy Similar Here
I think all girls deserve a cream white coat this fall. It's so classy and chic that you can wear it with anything: black skinnies or a pretty skirt, you name it. A white coat paired with a thin striped sweater dress and black tights is a great way to stay warm and cover up your slightly shorter stature. A plain white T-shirt is also a must! Throw on your favorite pair of jeans or leggings and you're ready for some retail therapy or just a simple day out.
A simple pair of plain heels or boots can easily complete this look without going over the top with fashion accessories such as jewelry and purses. The best thing about this look is that it is extremely versatile! It can be worn with any kind of shoe: flats, heels, boots, etc. It can be worn with any kind of pants: skinny jeans, pants, etc. It even works with skirts and dresses.
Work the best pair of pants with the coat and look very business-casual. This is the best option to go for if you want to wear this look as a business casual type of outfit. Add a pretty necklace and/or rings (optional). If you're wearing a more casual version of this outfit, an open necklace or even simple bangles will look nice underneath the coat. If you're wearing a more formal version of this look, then adding a necklace or even bracelets will look nice in combination with the coat. A simple and classic bracelet is also an option to match any kind of watch or watchband that you have laying around. This is a great theme for a wedding guest outfit! There are plenty of ways to work this look depending on the style you want to go for, who you're going with, the occasion you're wearing it for, and more!
With White Jeans And Ankle Boots
Other great looks with cream white coats for this Fall street walk: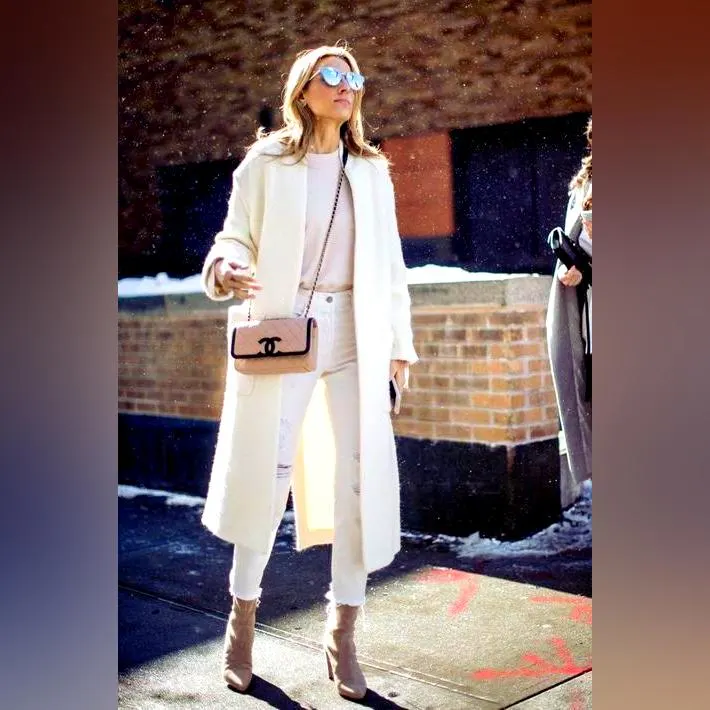 Buy Similar Here
With Nude Leather Pants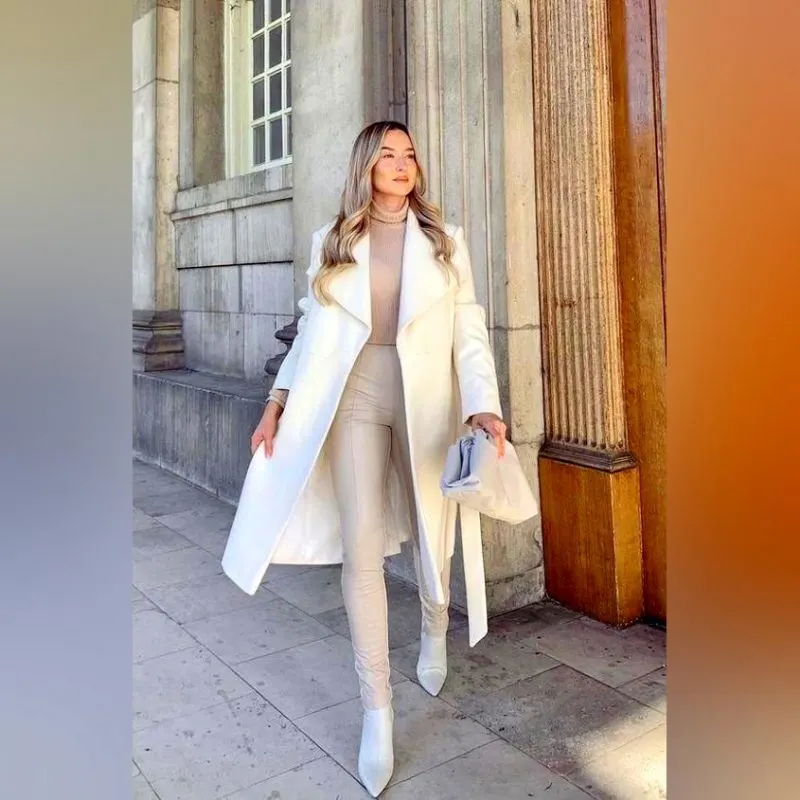 Buy Similar Here
With Black Ankle Boots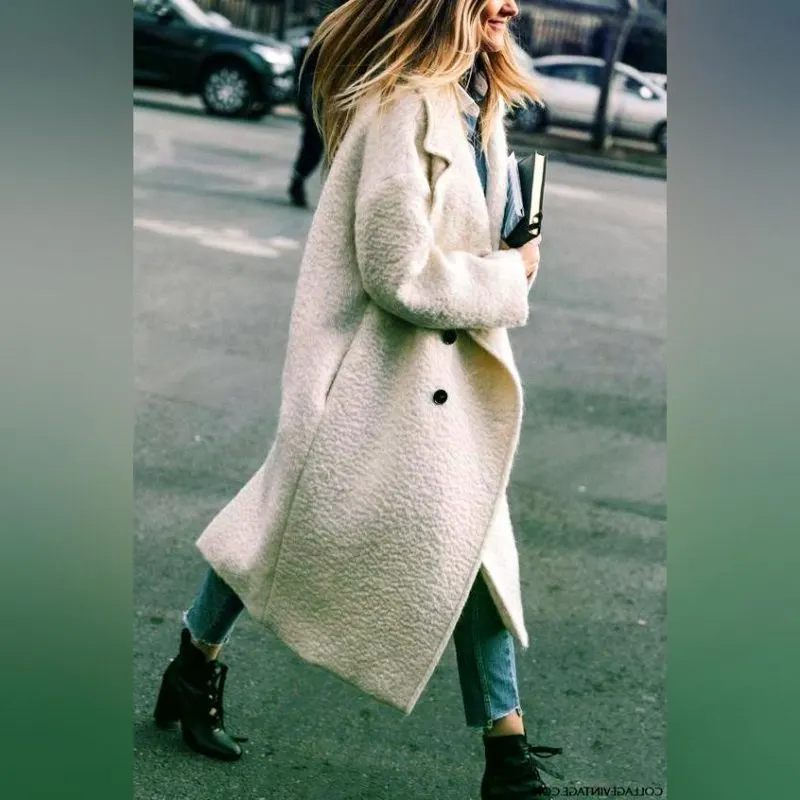 Buy Similar Here
With Knee Ripped Skinnies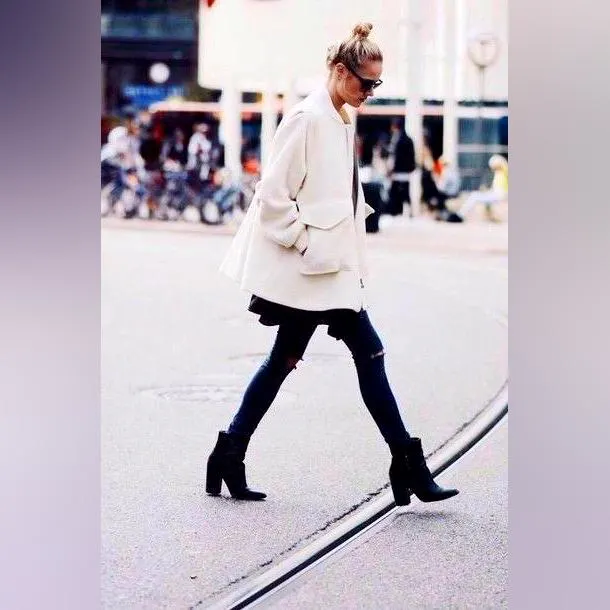 Buy Similar Here
With Wide White Pants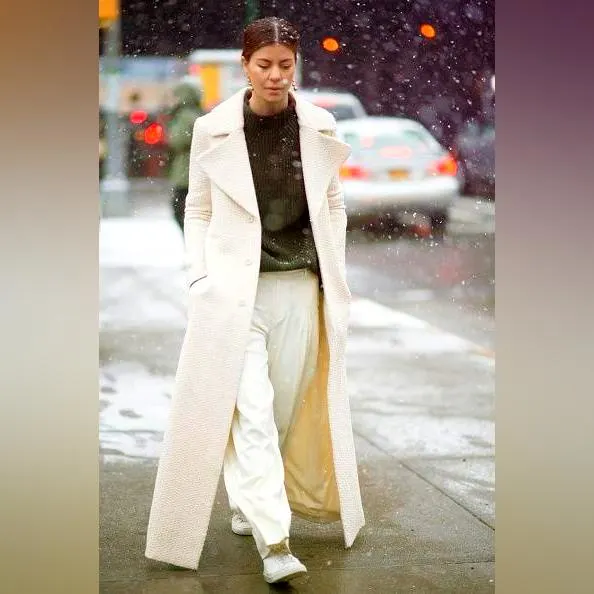 Buy Similar Here
With White Skinny Pants
Here we see a coat layered over a blush cropped sweater teamed with white skinny pants: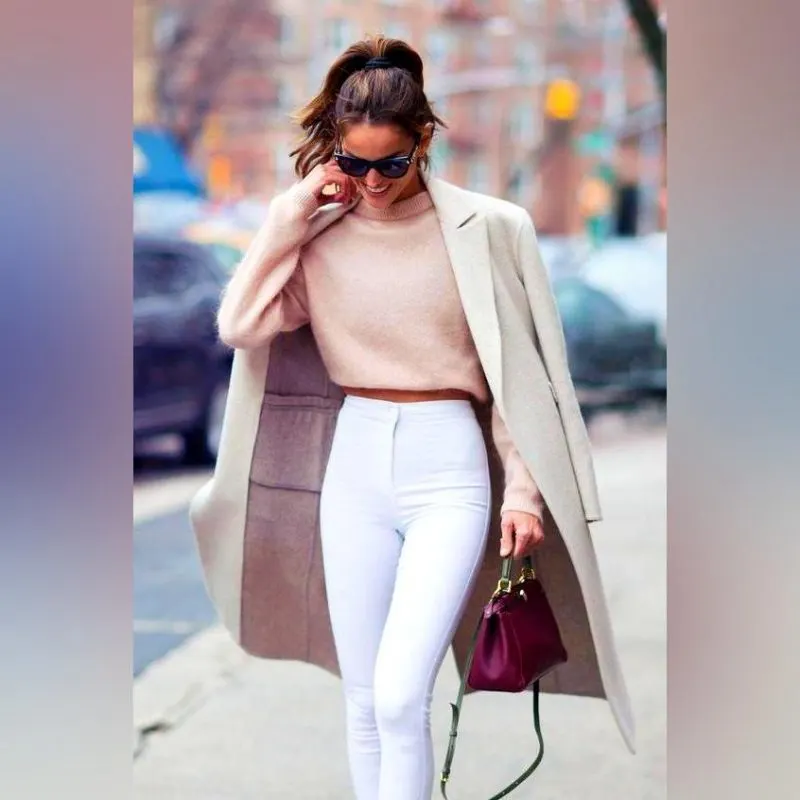 Buy Similar Here
Just be sure that your look is not too over-the-top or gaudy when it comes to jewelry and accessories. Remember that this is all about looking classy and putting your own unique spin on things instead of following the latest trends blindly like there is no tomorrow.