Today I will share with you some of my favorite summer airport outfit ideas that can be used when it's hot and when you want to feel comfortable. If you plan to create a casual outfit for your summer getaway, then I am here to share with you simple, yet eye-catching outfit ideas to copy. One of my readers asked me: I'm wondering what would you suggest for an outfit that can work at the airport and for traveling during the Summer months? So, I am here to show you some basic outfit ideas you can easily try out this year.
Buy Similar Here
We see thong sandals styled with ripped skinny jeans in dark blue completed with a causal grey t-shirt. Add a chunky cardigan in case if it's cold.
Summer Airport Outfit
When you are traveling for a summer vacation to sunny places, it is common to pack for the beach in your casual wardrobes. The world of travel has its own set of rules. The problem is that beachwear isn't always the most appropriate for traveling. Here are a few ideas on what to wear to the airport if you are ready to explore an exotic new place!
Depending on your destination, it is important to dress appropriately! Know your destination and avoid wearing clothing that screams "I am a tourist." Find clothes in earthy tones like browns, greens, and other natural colors. Bring comfortable shoes — wearing heels no matter how cute they may be will hurt after standing endlessly in line and walking countless miles of airport corridors. Wear layers so you can increase or decrease the heat as needed; bring a light sweater if you think it will be chilly where you're going.
Here are my favorite looks to try out:
1) Start off with simple pieces like a striped shirt, white sneakers, and blue jeans. Add in a camisole or blouse underneath so that you can feel cool yet look classy at the same time.
2) Go with a skirt, it can be a denim skirt or any other casual fabric piece completed with white sandals, and a loose t-shirt.
3) A simple tank top and heels that are as bright as they are comfortable will get you many looks when you are out. If you would rather be covered up but still want to dress up your outfit then try on a flowy skirt and sandals that have studs on them in the same color.
White Tee + Ripped Jeans + White Kicks
As you can see, the summer airport outfit is nothing hard, all you need is express your relaxed vibes and keep things simple. If you do like simplicity, then try on this white tee with ripped wash blue jeans and a dark blue denim jacket, update this style by adding white kicks and aviator shades: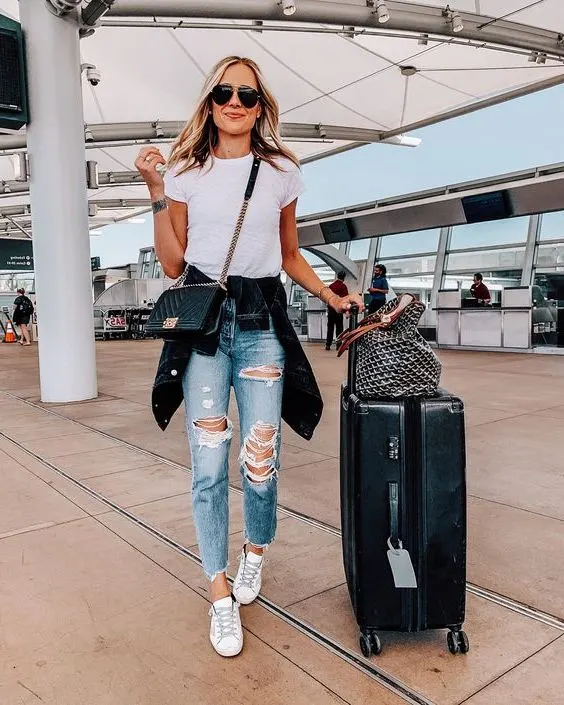 Buy Similar Here
The summer is the perfect time for a vacation and dressing up in styles that are all about comfort. Be adventurous with patterns and use layers to make your outfit seem more put together. Play around with different pieces that are just as easy to take off as they are to put on. From the beachside to the patio, these Summer cute airport outfit ideas from casual style will have you ready for anything!
Open Cardigan + Tee + Denim Shorts + White Kicks
Oh, and don't forget about the shades! A pair of white kicks look pretty awesome with denim shorts, black top and a beige cardigan: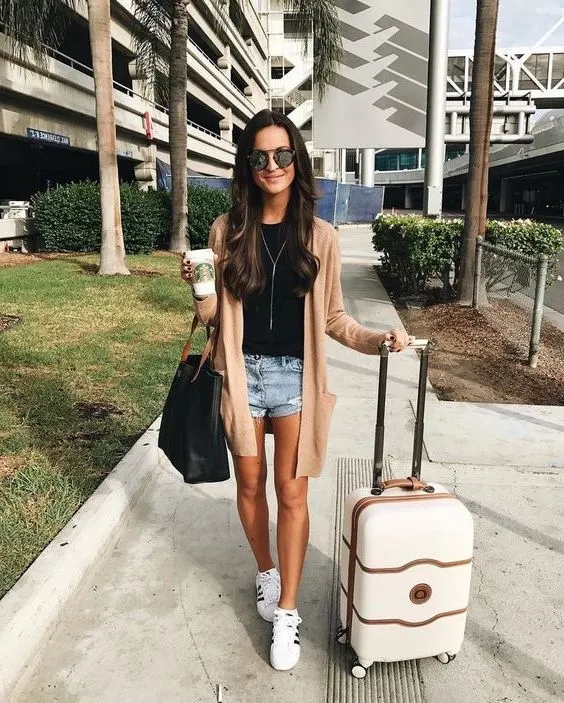 Buy Similar Here
Black Tee + Sweatpants + Sneakers
Make a sporty touch by wearing these side striped red joggers with a black tee and white kicks: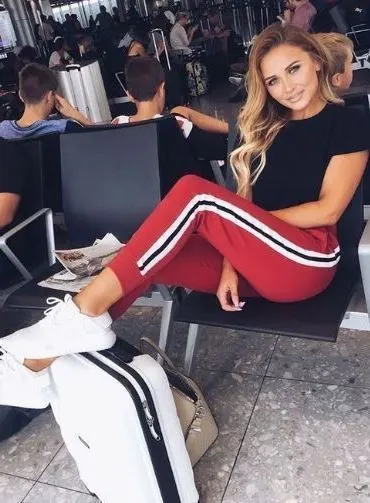 Buy Similar Here
Sporty Outfit With Joggers And Tee
A casual blush sporty look consisting of a tank top and sweatpants is completed with a denim jacket and white slip-on shoes:
Buy Similar Here
Simple Look: White Tee + Jeans + Kicks
Another simple summer airport travrel outfit consisting of a white tee, blue regular jeans and white sneakers: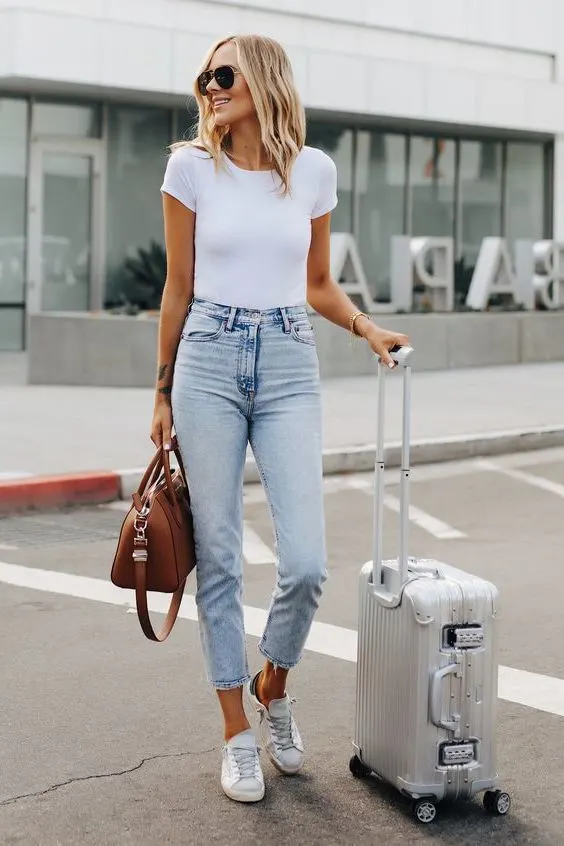 Buy Similar Here
Crop Top + Cargo Pants and Chunky Kicks
A white crop top with long sleeves looks fantastic styled with beige cargo pants and chunky sneakers: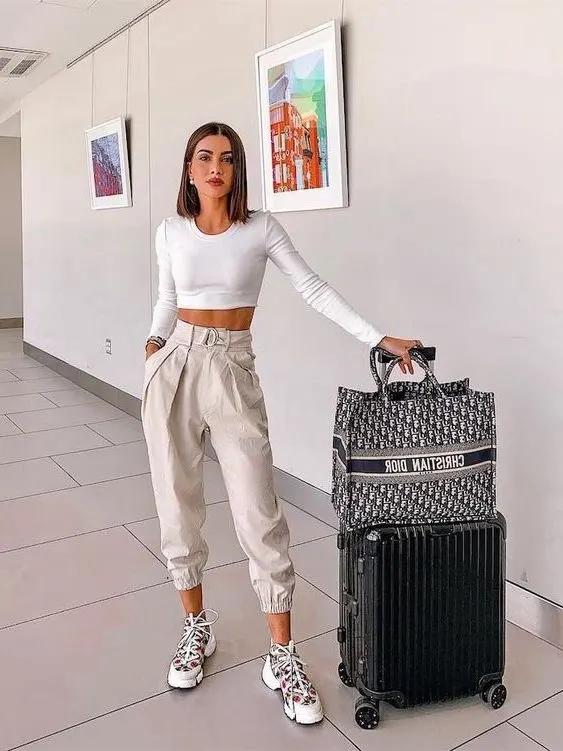 Buy Similar Here
Light Jacket With Bra Top And Sweatpants
A beige shacket is styled with a white crop top and white sweatpants completed with white sneakers: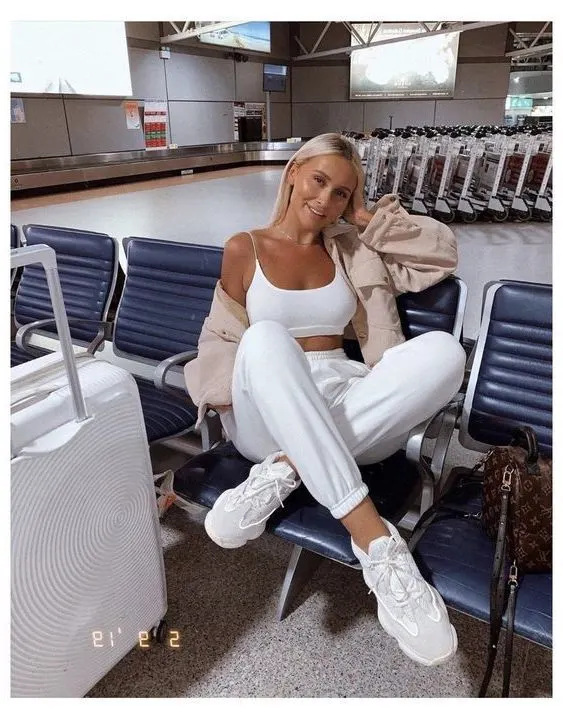 Buy Similar Here
Conclusion
As you can see, most of the shown ideas are simple and easy to style and wear. Lots of women tend to wear light clothes in a relaxed fit and completed with comfortable shoes, like sneakers. Don't overdo your airport outfit during summertime, keep things simple and easy to wear.
Here is a nice video with great tips and ideas to follow:
Source: Cosmopolitan