Here are shown some great vacation outfit ideas for women who look for original and easy-to-wear clothes. There's no better way to get ready for that big summer break than packing your suitcase with the latest fashion and style trends. This is because females are always trying to find a way to stand out in the crowd and meet all their friends on holiday. It never hurts if you're known for your unique sense of style and killer fashion sense!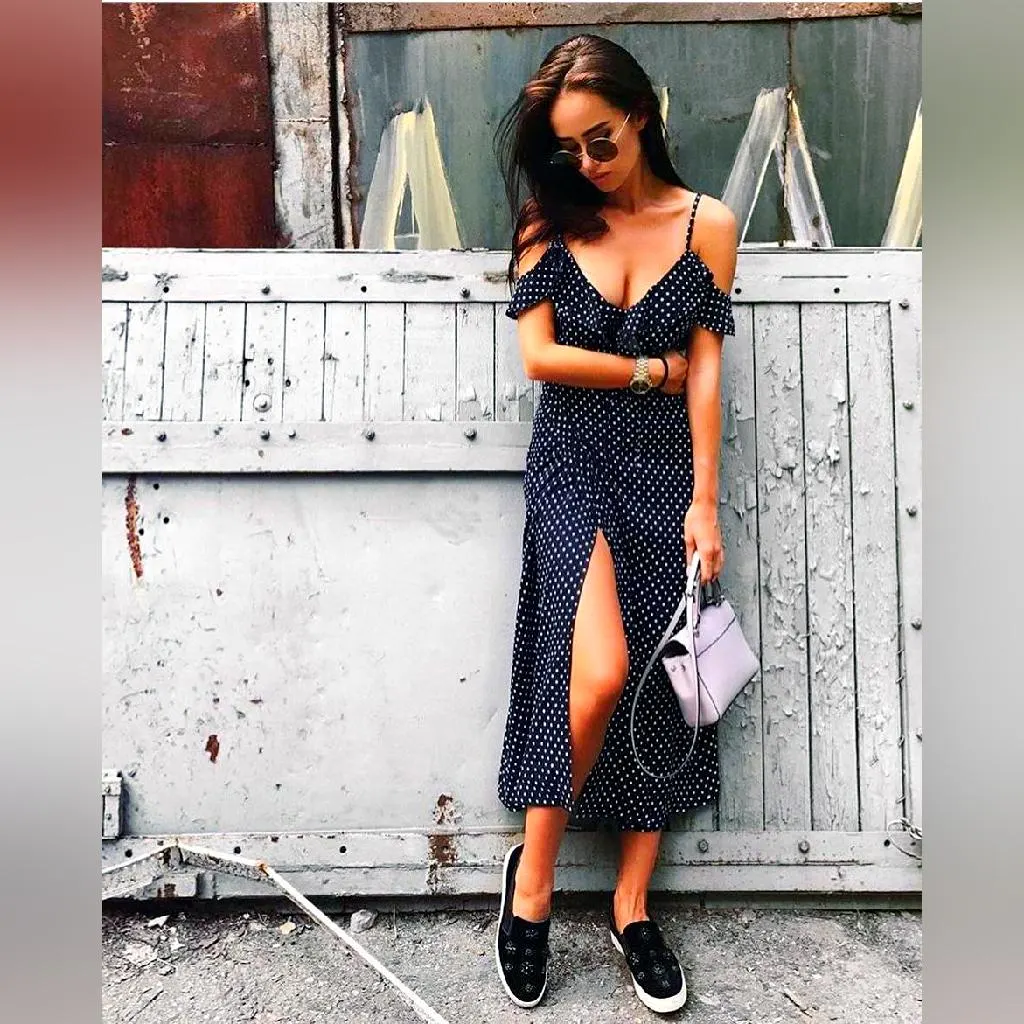 Buy Similar Here
Vacation Outfit Ideas
Light Dress With Pink Trainers
Love the lightweight shirtdress in cream-white updated with fuchsia high-top sneakers and the same color baseball cap: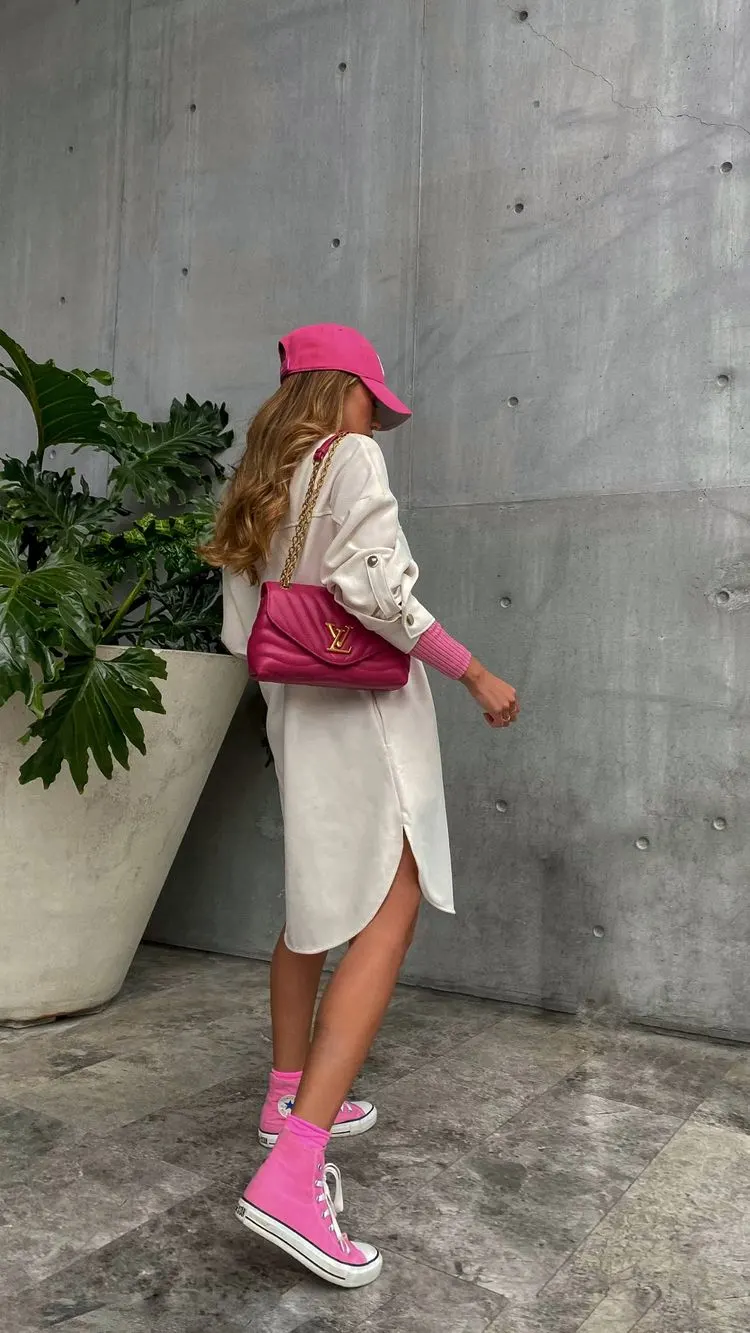 Buy Similar Here
White Shirt With Orange Maxi Dress
Keep it vibrant! Try on this white shirt and pair it with orange maxi skirt: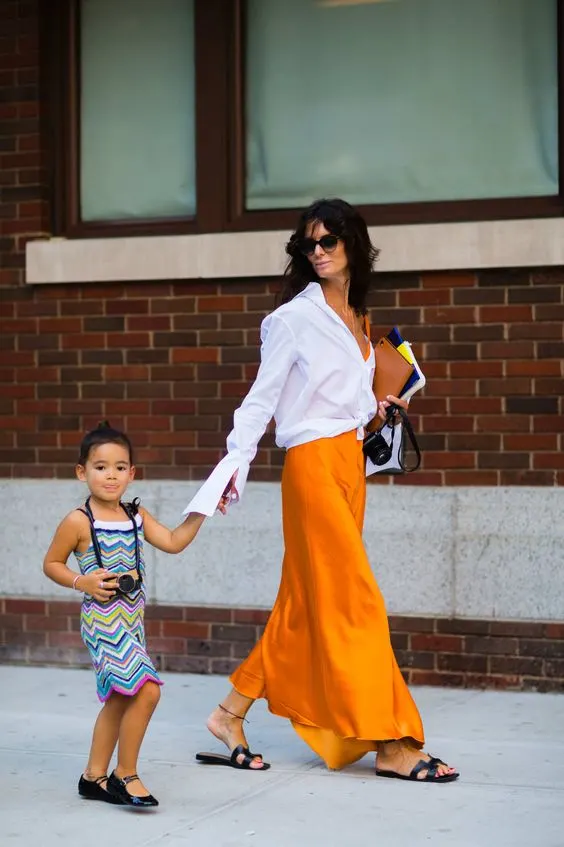 Buy Similar Here
Dark Green Shirtdress And White Kicks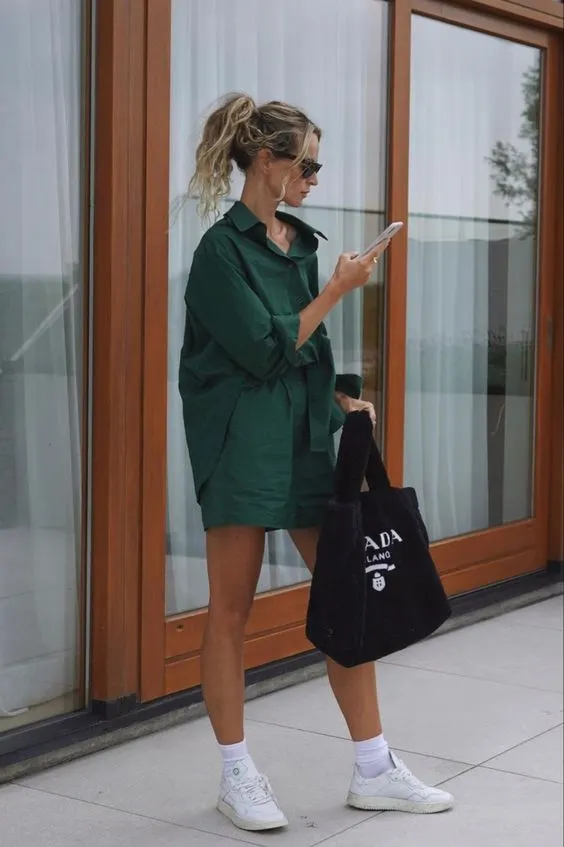 Buy Similar Here
Avoid wearing clothes that are not comfortable unless you're planning on staying home and relaxing at the hotel room all day.
White Shirt With Deep Neckline And Ripped Denim Shorts
This one is perfect for those ladies who are into disco nightclubs! Go for this combo and you will be a sexy diva on the dancefloor: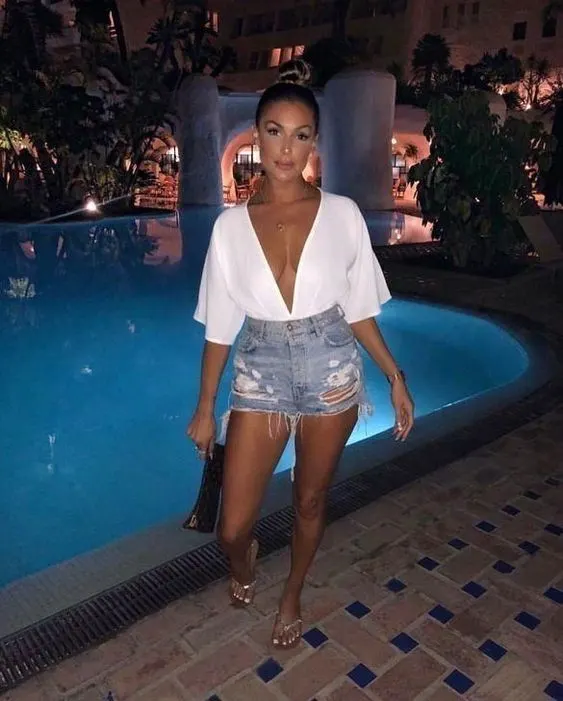 Buy Similar Here
Striped Matching Set
Another cool OOTD for those who love poolside parties, we see a striped co-ord, featuring a shirt and high-rise shorts updated with a white bikini top. Speaking of swimwear, check out my favorite white cut-out bikinis for summer, I am pretty sure you gonna love these designs: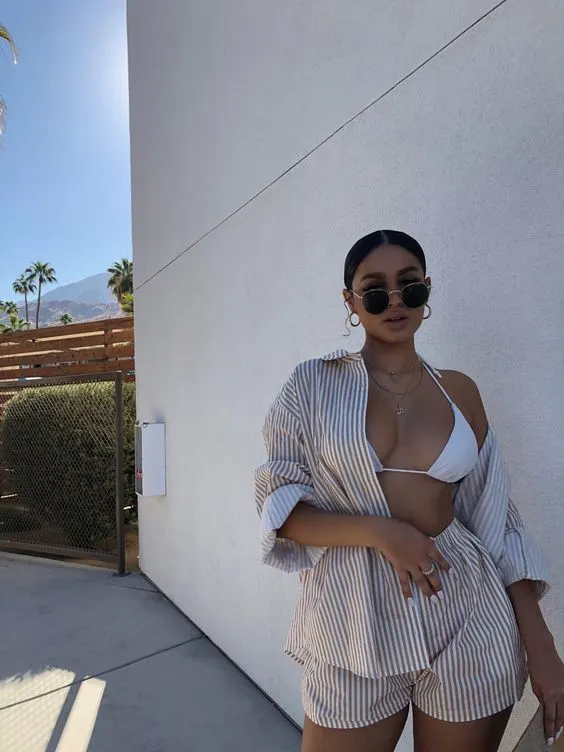 Buy Similar Here
Long Dress In White And Straw Wide-brim Hat
Spaghetti strap white slipdress looks sassy with this wide-brim sunhat: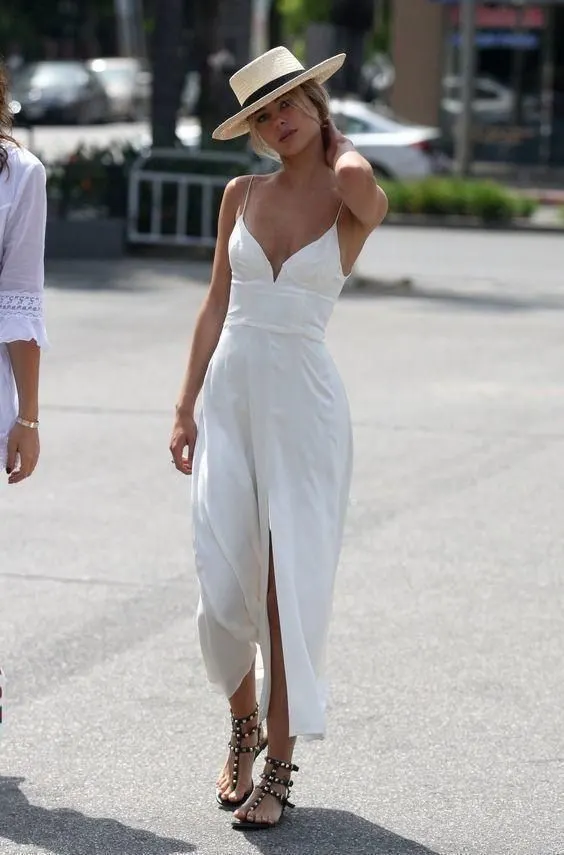 Buy Similar Here
Bring a swimsuit that is flirty and stylish. Maybe even fun accessories like sunnies or a hat! If you don't have any accessories that'll go with your swimsuit, pick out something small to accessorize such as gorgeous bracelets or barrettes! These are the best for nighttime outfits because they show that you're in style but still relaxed enough to go out without worrying about what anyone else says.
If I were to plan for a beach vacation, I would pack several dresses with my flats and my small crossbody bag. The dress is subtle but still flirty enough to wear on a beach in Miami or the Bahamas (aka tropical paradise).
Blue Shirt And Blue Jeans
You can never go wrong with a blue shirt and blue jeans combo:
Buy Similar Here
Rock Band Tee And Yellow Skirt
Have fun with a gold-yellow skirt and rock band t-shirt in white: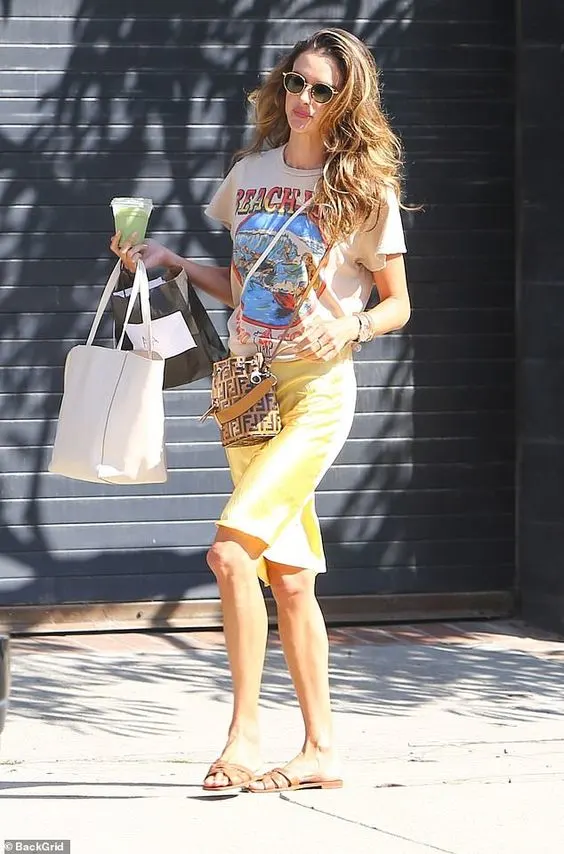 Buy Similar Here
Halter Crop Top And Wide-leg Pants
These wide-leg pants in beige can be styled with a fancy-sexy halter crop top in white:
Buy Similar Here
Bright Red Top And Long Skirt In Red
Some ladies love it in red! Try on this red sweater with a long skirt in red to underline your lady in red style. If you are into red skirts, then have a look at my post where I describe some simple wardrobe ideas you can create with red skirts: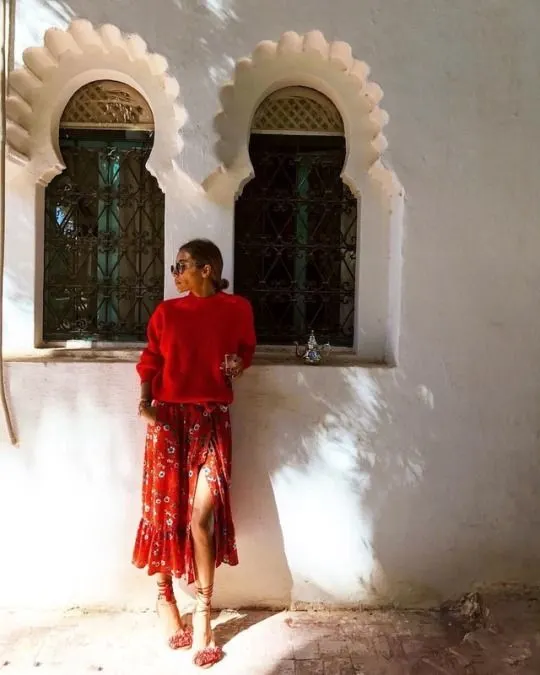 Buy Similar Here
Red Maxi Boho Dress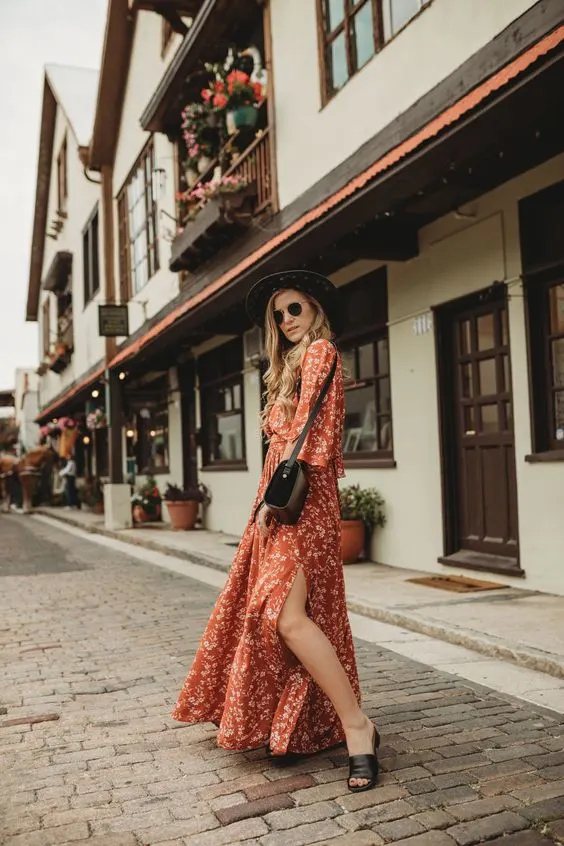 Buy Similar Here
Pastel Turquoise Two-Piece Outfit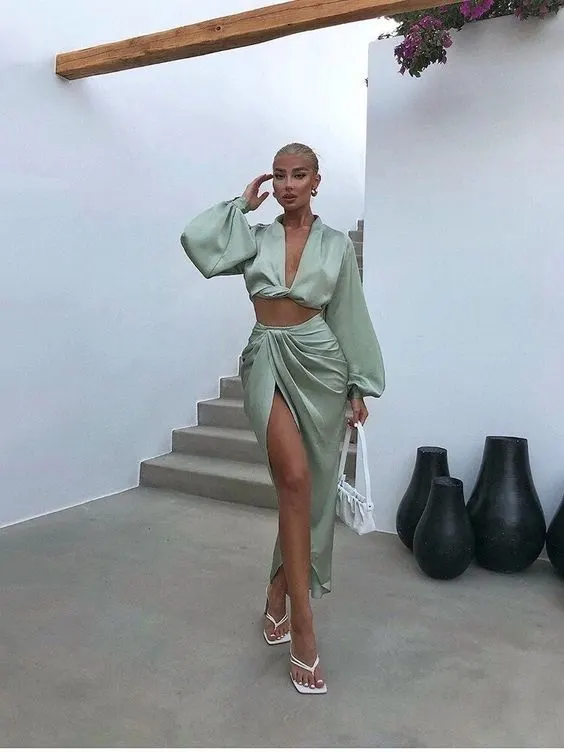 Buy Similar Here
Here are some basic rules you definitely should take into consideration in order to create fabulous summer vacation outfits:
1) Choose clothes that you love so they'll be more motivated to wear them while they're away.
2) Avoid wearing items that are too casual. If you get dressed up and then you see something cool, don't wear it! It'll all go to waste. All your hard work, hours of planning and packing your suitcase all for nothing!
3) Choose dresses with a relaxed fit or off-the-shoulder tops to make your vacation outfits more fun and fashionable than plain old jeans and a t-shirt.
4) Make sure your vacation dress is flattering so you'll look fabulous in pictures.
5) Bring a lot of accessories to jazz up that boring outfit. If you're planning on going to the beach, don't just wear a bathing suit and sandals. Try wearing capri pants or shorts and an off-the-shoulder top with shoes that are cute but comfortable. If it's a formal vacation, try wearing wedges with a maxi dress. Don't worry about being too casual. You're on vacation, so do what you want to do!
6) Pick out clothes that can be worn in more than one way. This way if you don't like the outfit that you packed for your day at the pool, you can still go out at night and have fun! Plus, it'll help you look great at all times of the day.
Conclusion
You don't need much money in order to create a fabulous vacation outfit, all you need is to use your imagination and keep things simple and lightweight. Hope these ideas will give you some sort of inspiration.