Today we talk about Bermuda shorts and are they back in fashion. This season, we see a comeback of Bermuda shorts. We see elongated, narrowed, and oversized versions. Why do I love them so much? They can be an excellent alternative to trousers. Yes, they can be worn anywhere you like, starting from the office, by teaming them with a shirt and jacket, for a casual day walk with a sweatshirt or T-shirt, or at the party adding a chiffon blouse or a crop top.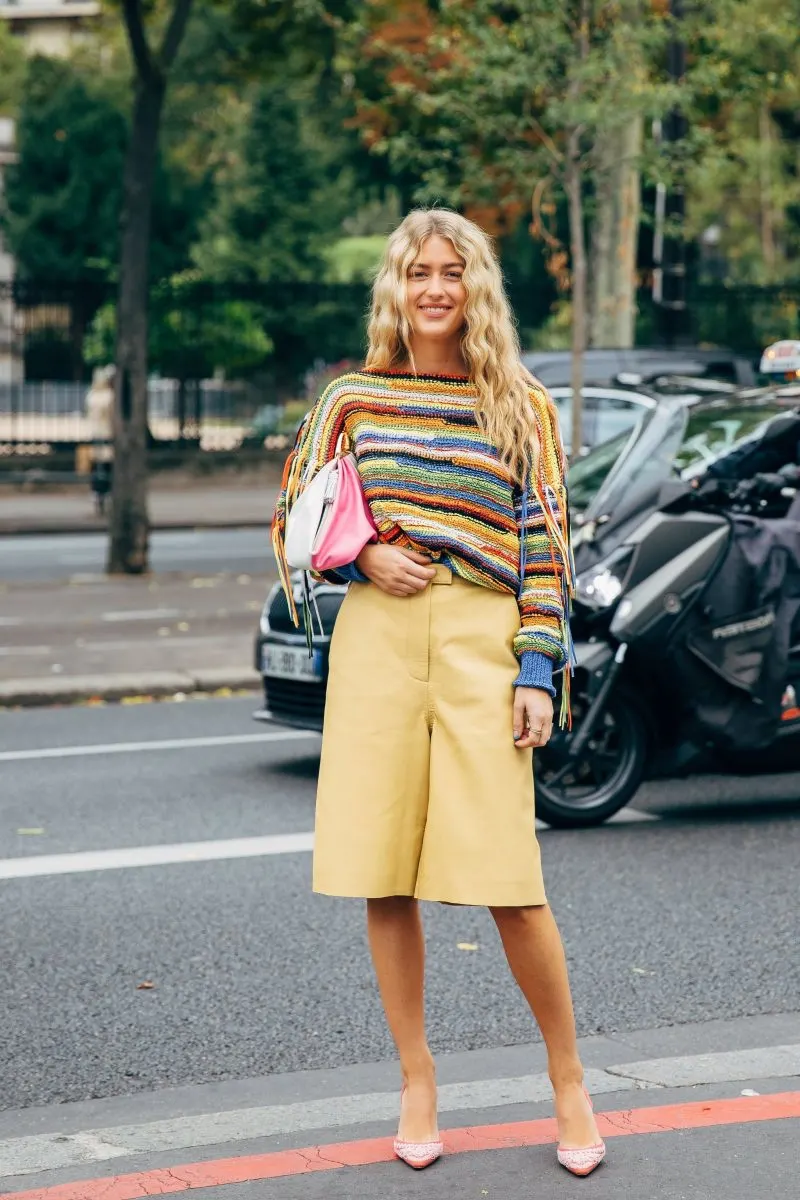 Buy Similar Here
We see a multi-striped sweater combined with safari khaki Bermuda shorts and pastel purple pumps.
Who Can Wear Bermuda Shorts
This trend is ideal for those women who want to make a statement in the streets or at work, but do not want to expose their legs. Thanks to the hem length these shorts are incredibly versatile for updating your summer style, as you can go from office to elegant dinners, parties, and weekend getaways. The only thing is to find the right fabric, cut, design, and appropriate length, as you can go for a few inches above the knee or just across the knees.
A chunky oversized sweater in cream-grey color is tucked in cargo Bermuda shorts made of wool and paired with platform high black Chelsea boots: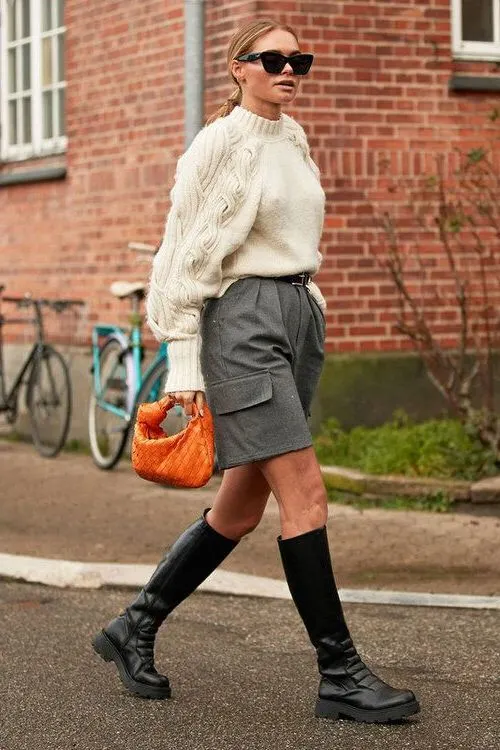 Buy Similar Here
A perfect suit for business lunches. We see a double-breasted suit jacket paired with matching color Bermuda shorts and brown leather high boots. Add a quilted black leather clutch to complete the outfit: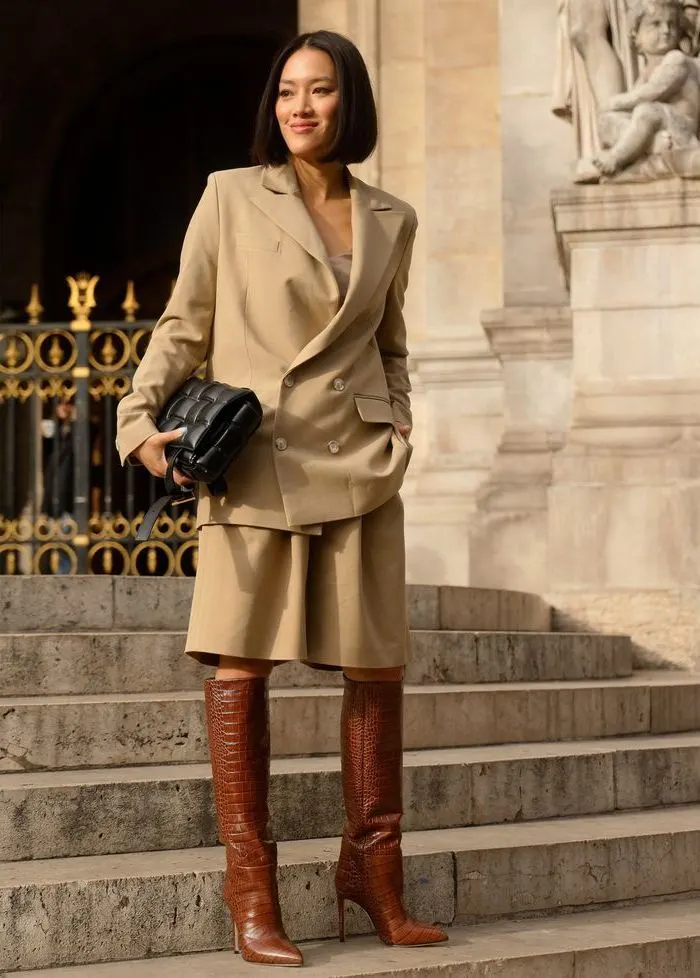 Buy Similar Here
An oversized chambray shirt in light blue is combined with denim slim Bermuda shorts and pointed-toe black heels: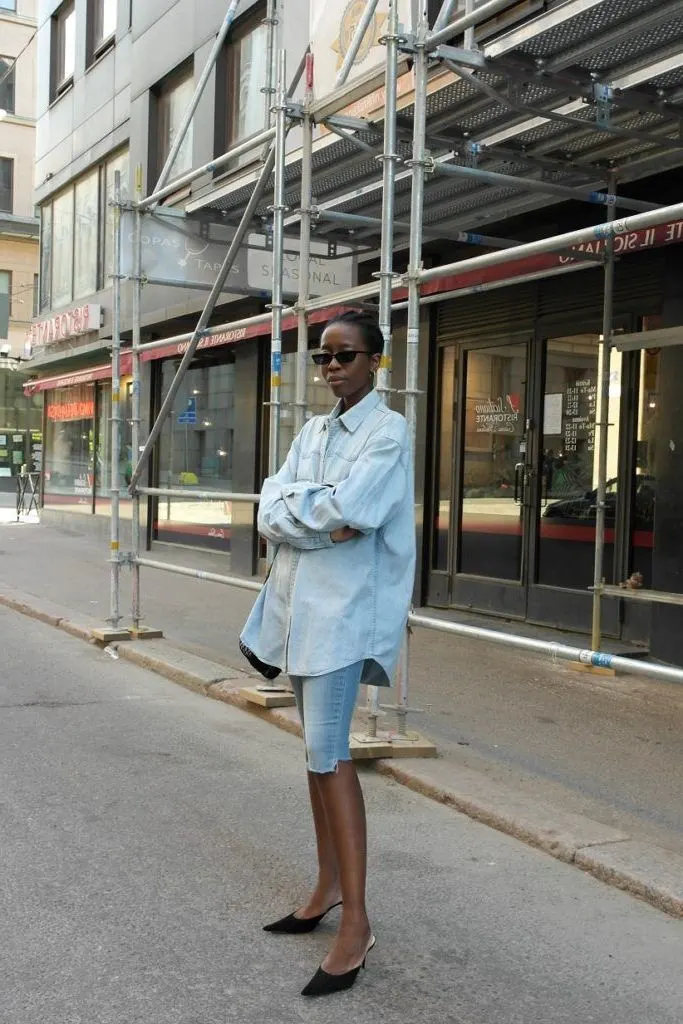 Buy Similar Here
We see a white sweater in chunky knit worn with black leather Bermuda shorts and white slides: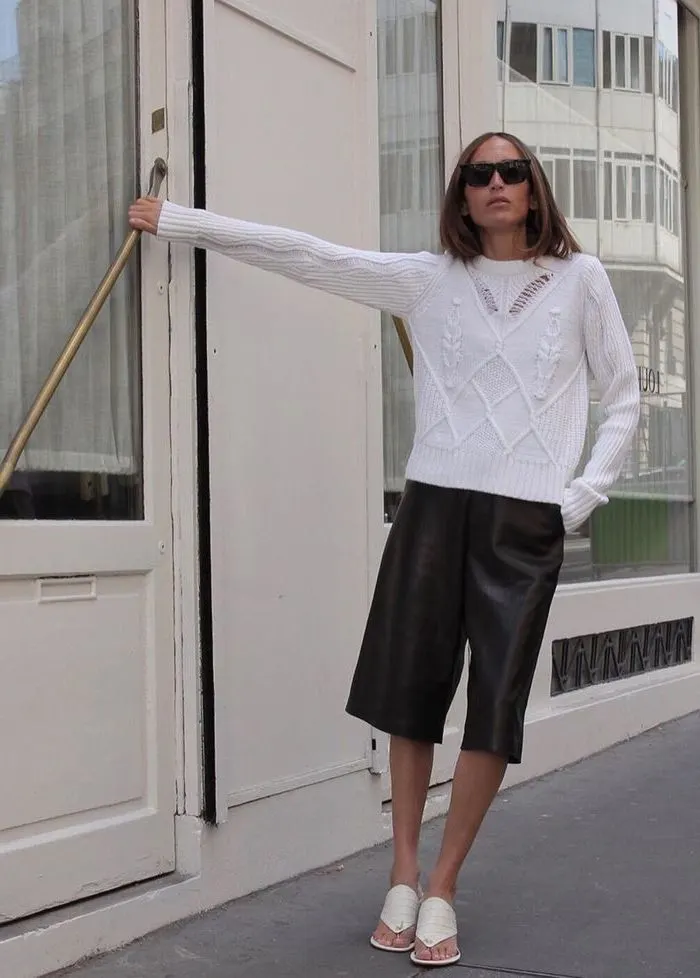 Buy Similar Here
Let's be honest, on tall and slender women, any clothing looks great. Bermuda shorts are no exception. But these shorts not only highlight the predominant features of the body but also hides well the shortcomings of the figure, creating a visual balance of the silhouette.
What to wear with Bermuda shorts in the summer
The only thing you should worry about is about creating a harmonious combination. Make sure the rest of your look is balanced. Summer Bermuda shorts look great with a tank top or a top with thin straps. If you thinking of doing hiking or long walks, then the best option might be ballet flats or moccasins. If you like an active lifestyle and sports, then sneakers are more suitable.
These shorts can be updated with additional accessories, like stylish sunglasses, a spacious bag, large jewelry. The most suitable shoes to wear with Bermuda shorts for a beach holiday are slides, sandals with thin straps, open sandals.
What to wear with Bermuda shorts in Winter
Winter Bermuda shorts are characterized by an increased density of fabrics and the presence of a warming layer of fleece. It is recommended to wear dark tights under them or woolen leggings. Add a tight-fitting turtleneck or a thin sweater on top, complete the set with a jacket, coat, or cardigan.
Another black colored suit with a blazer and Bermuda shorts. Complete this combo by adding a cream blouse and black heels: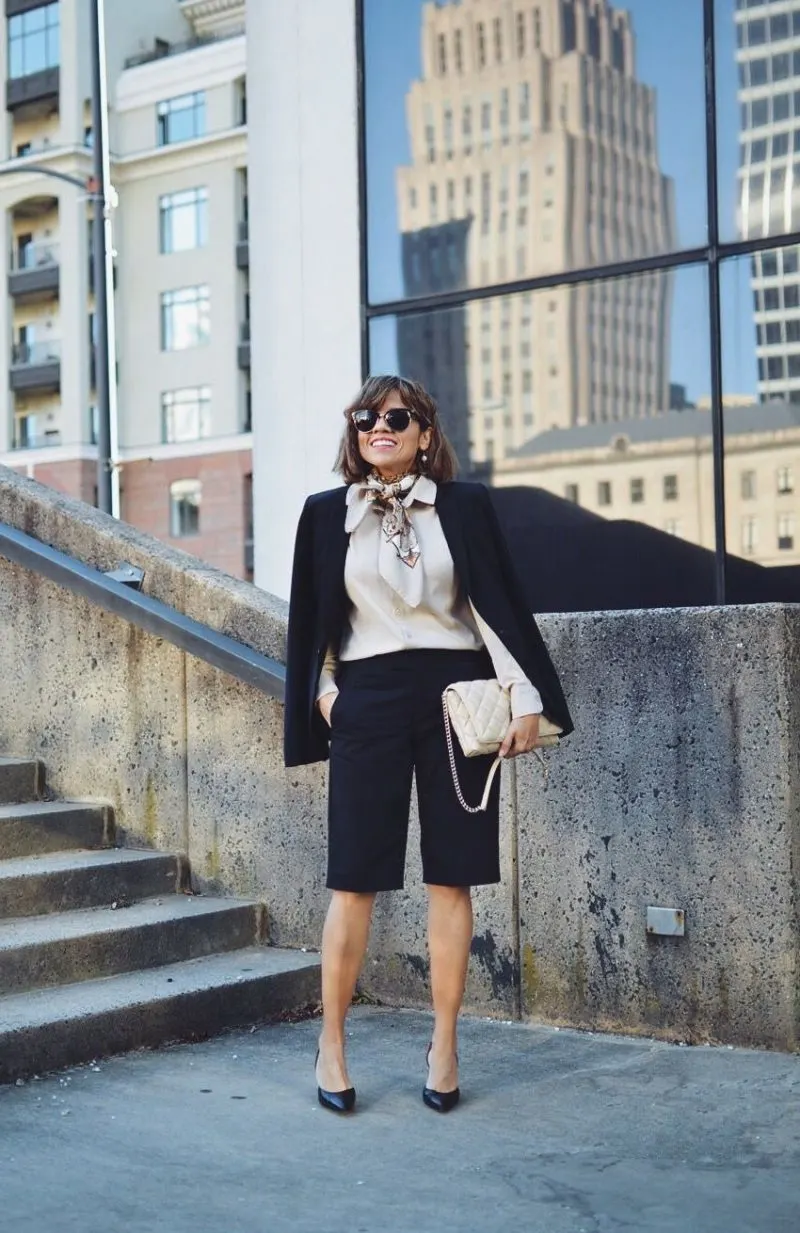 Buy Similar Here
Brown leather loafers look pretty cool teamed with wool Bermuda shorts and a black cardigan: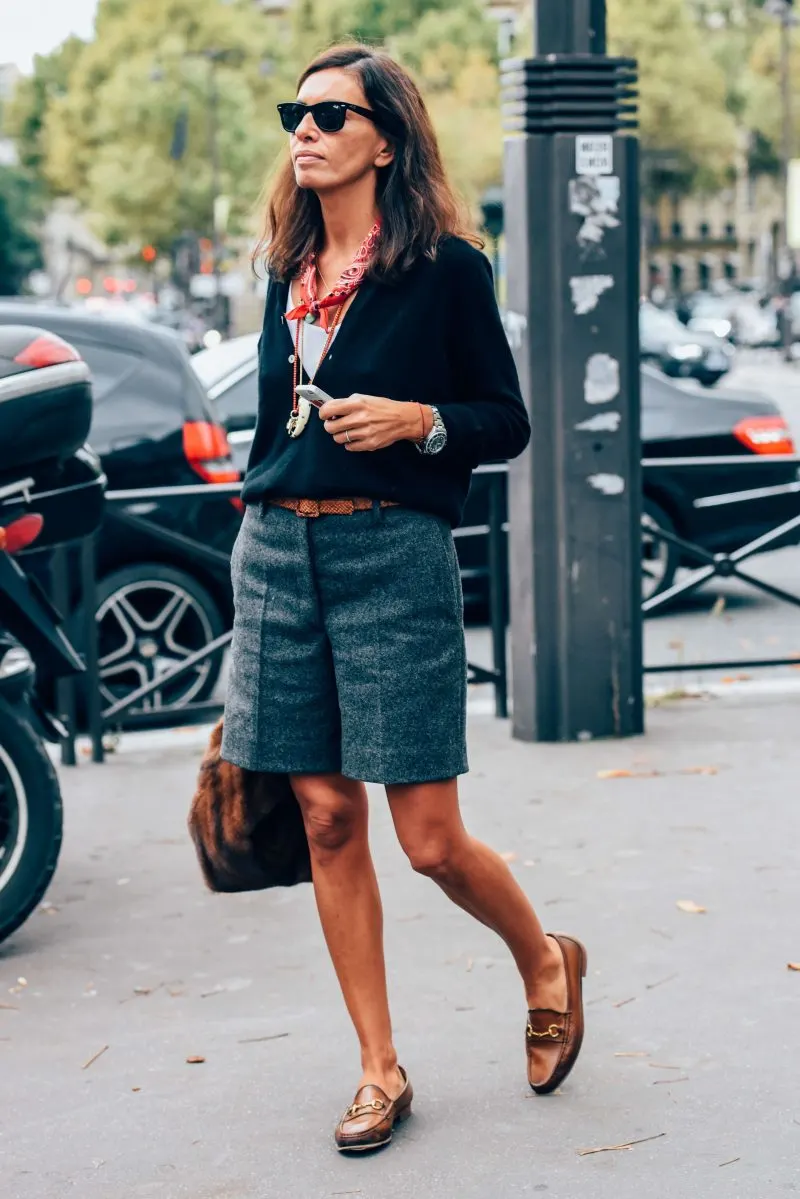 Buy Similar Here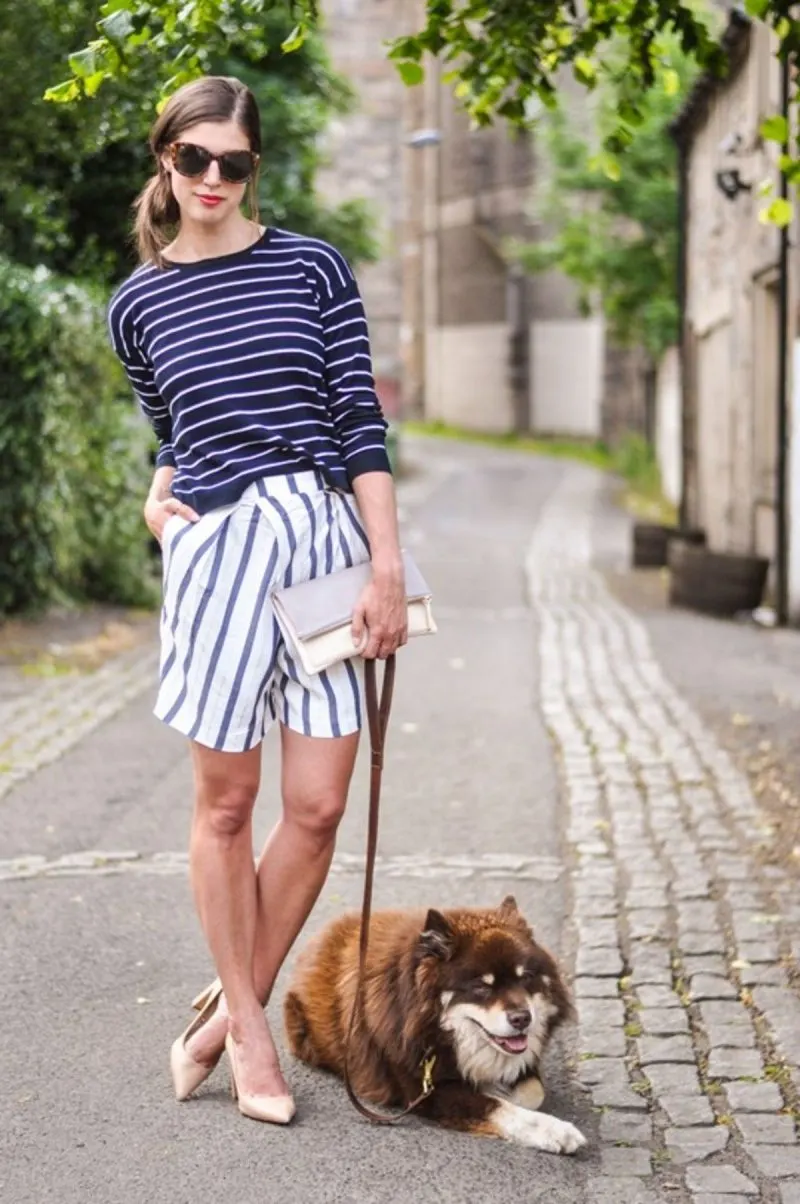 Buy Similar Here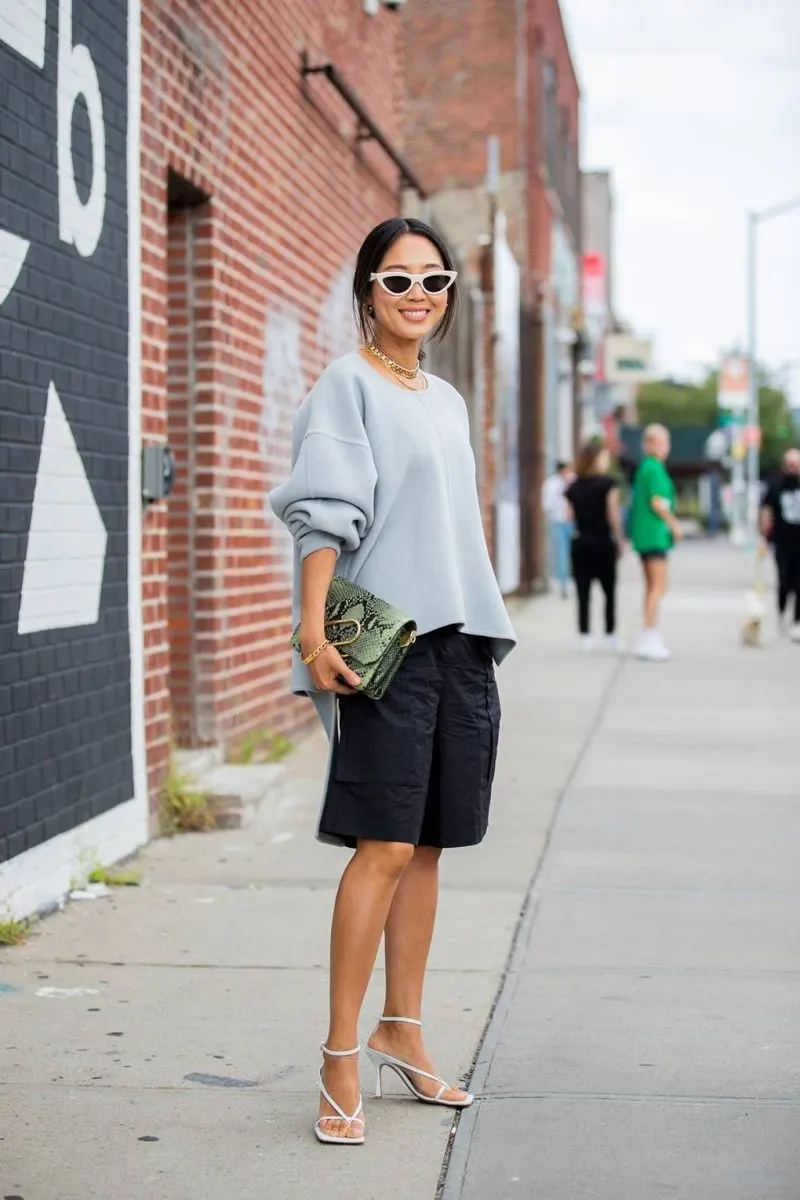 Buy Similar Here
How To Style Denim Bermuda Shorts
Women's denim Bermudas are designed in a casual style with a relaxed touch. They can be used for a walk around the city, a date with a beloved one, or a fun party with friends. Wear them with a T-shirt, or a polo shirt. Be sure to wear these denim bottoms with comfortable shoes, like wedge sandals, moccasins, or espadrilles.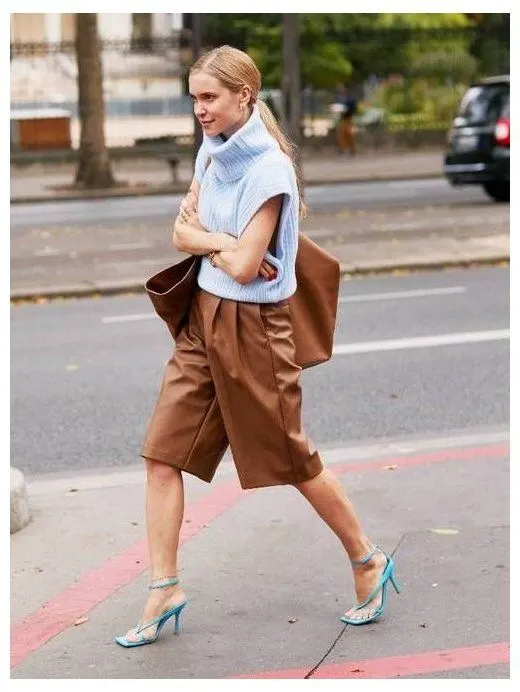 Buy Similar Here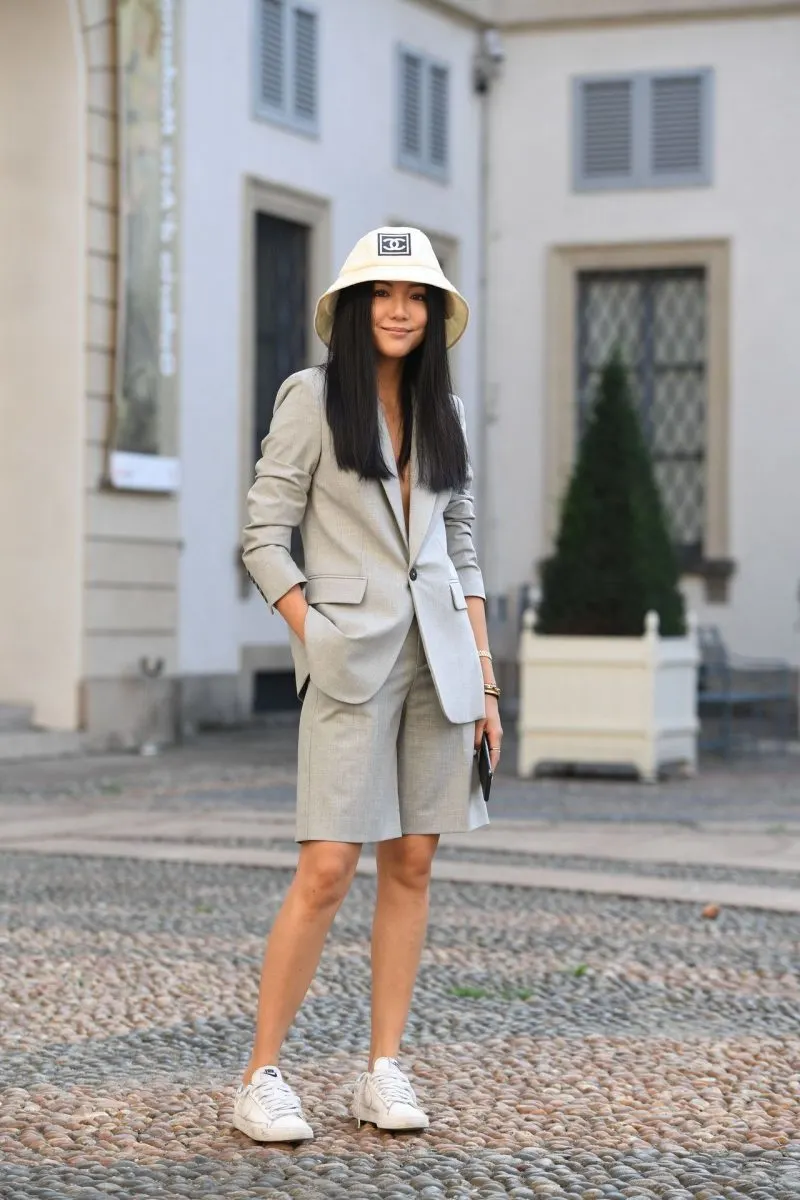 Buy Similar Here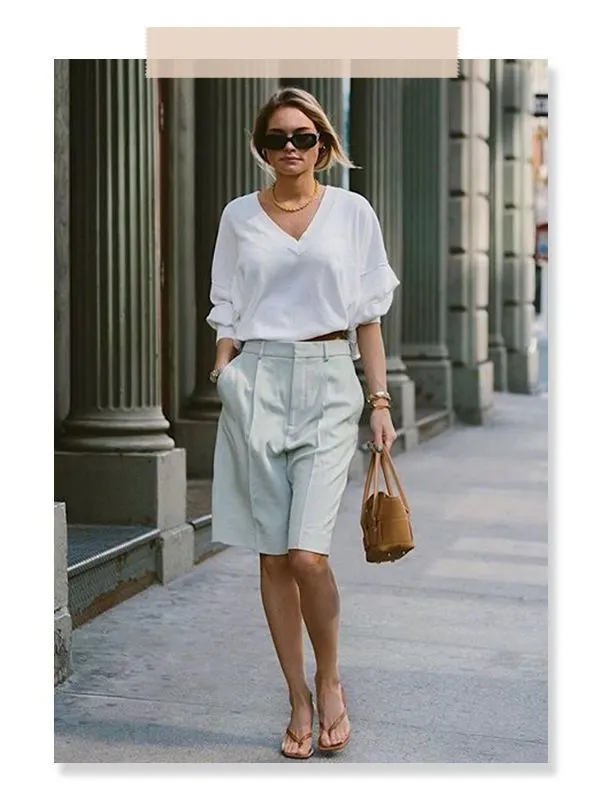 Buy Similar Here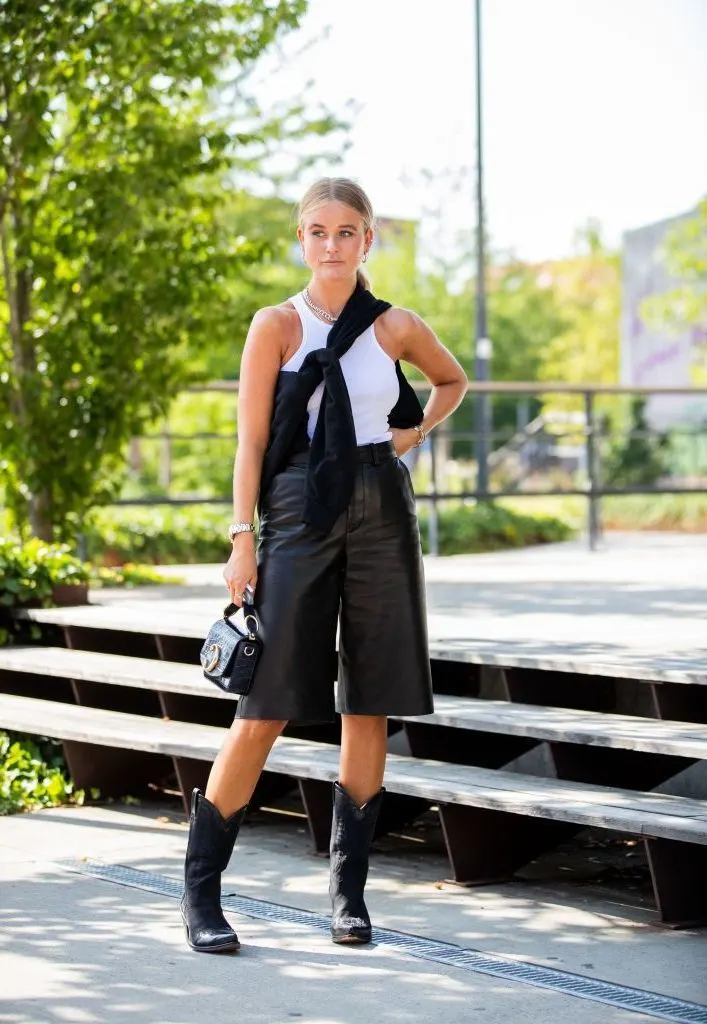 Buy Similar Here
How To Wear Bermuda Shorts to The Office
The bermuda for the office are sewn from natural and qualitative linen or cotton. They are matched with sheer-through blouses and fitted jackets. Complete the look by adding high heels.
What To Wear With Bermuda Shorts In The Evening
Evening shorts will look elegant if you skillfully complement their simple cut with spectacular accessories and bright shoes. The ones made for special occasions are made of silk, guipure or satin fabric.
Bermuda shorts are distinguished by their versatility – they are suitable for meetings with friends, as well as for office wear and studies. Bermuda shorts start their history with the British military colonialists who used to wear such shorts in the XIX century. The shorts were comfortable to wear and walk around in hot tropical climate countries.
Bermuda Shorts and Knitwear
You can start from minimalistic casual sets. The basis of the look can be a knitted top, like a cardigan or a jumper. I love seeing contrasts, like dark bottoms and a light-colored top, or vice versa. Choose sneakers or sports sandals to complete the outfit.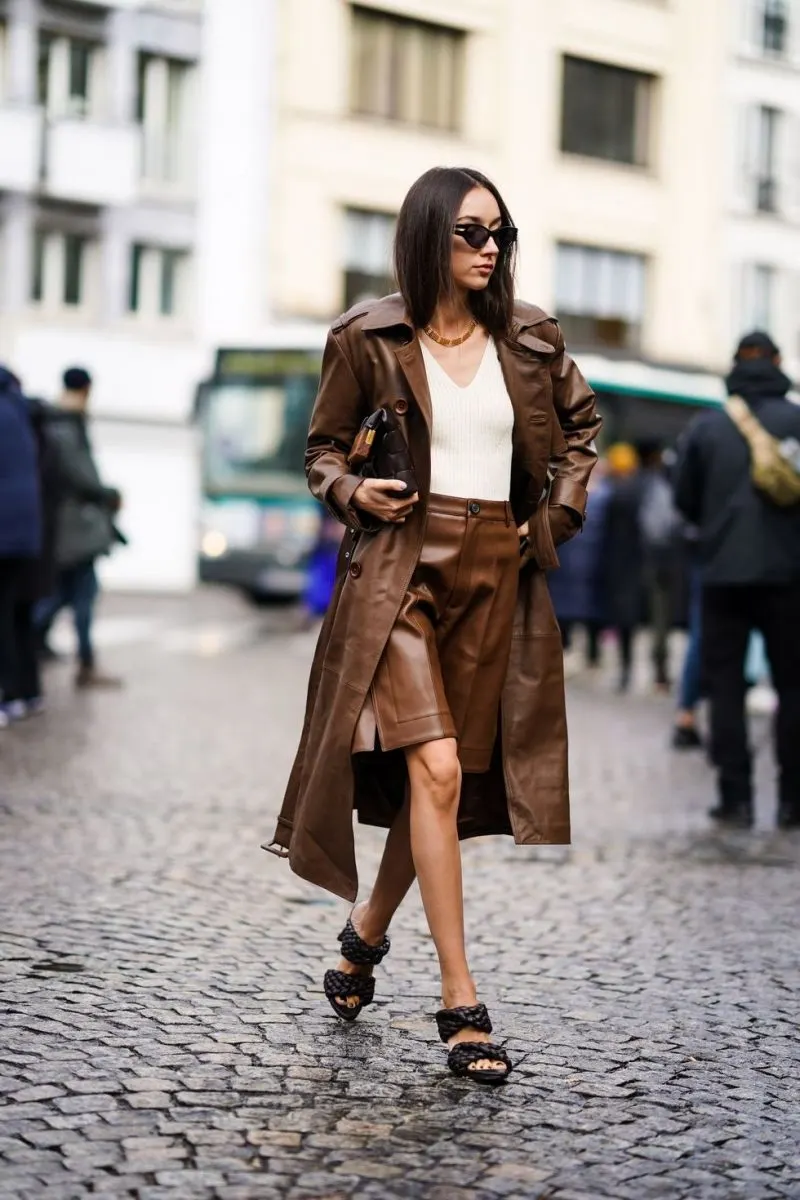 Buy Similar Here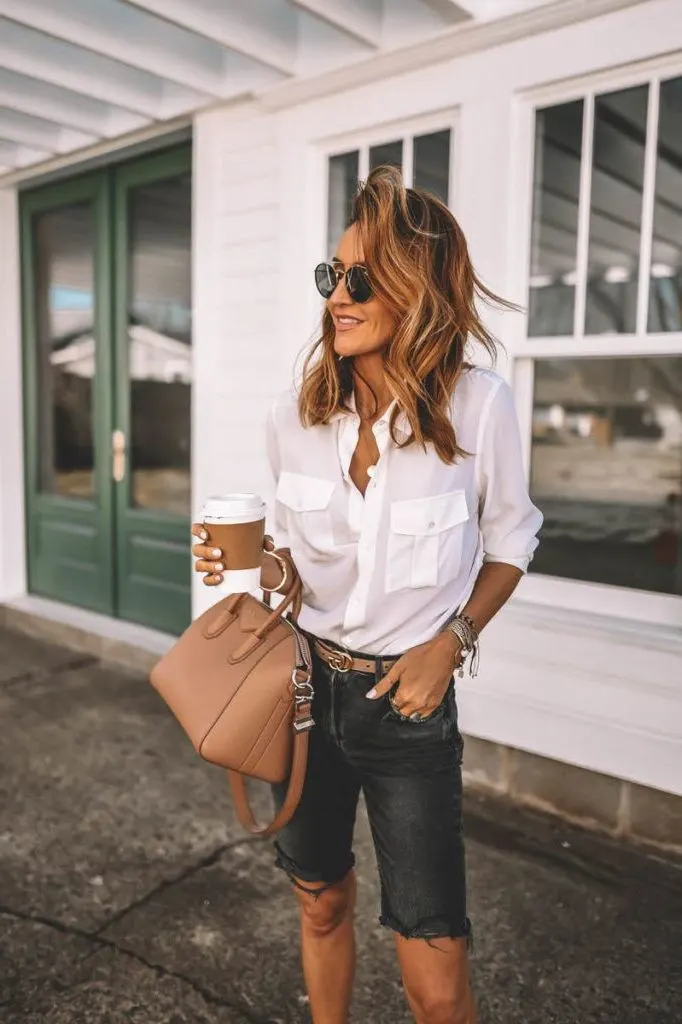 Buy Similar Here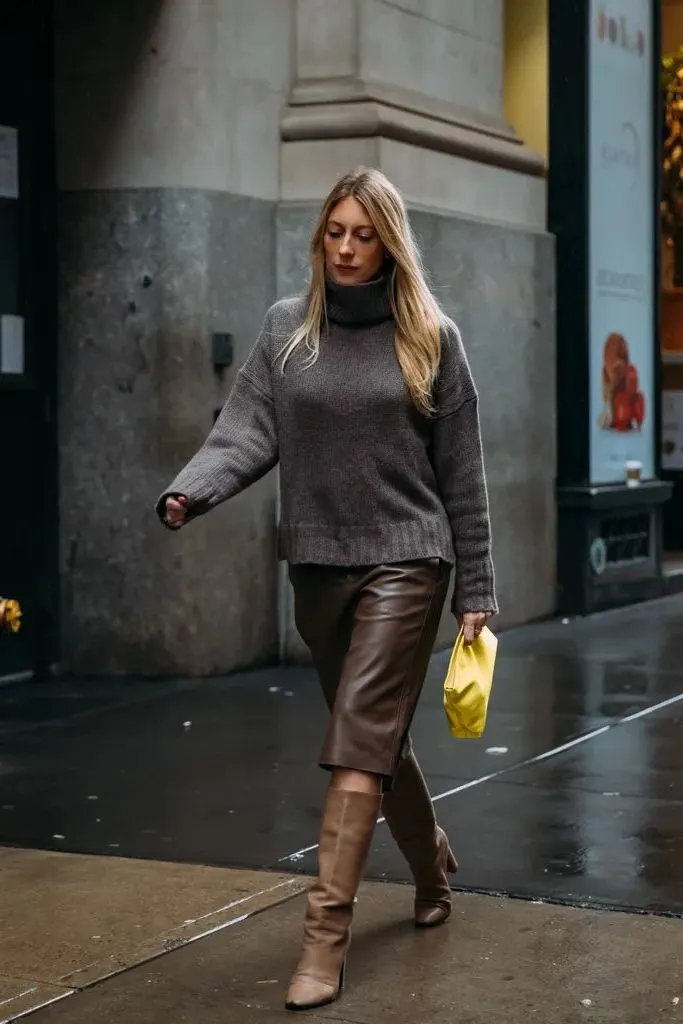 Buy Similar Here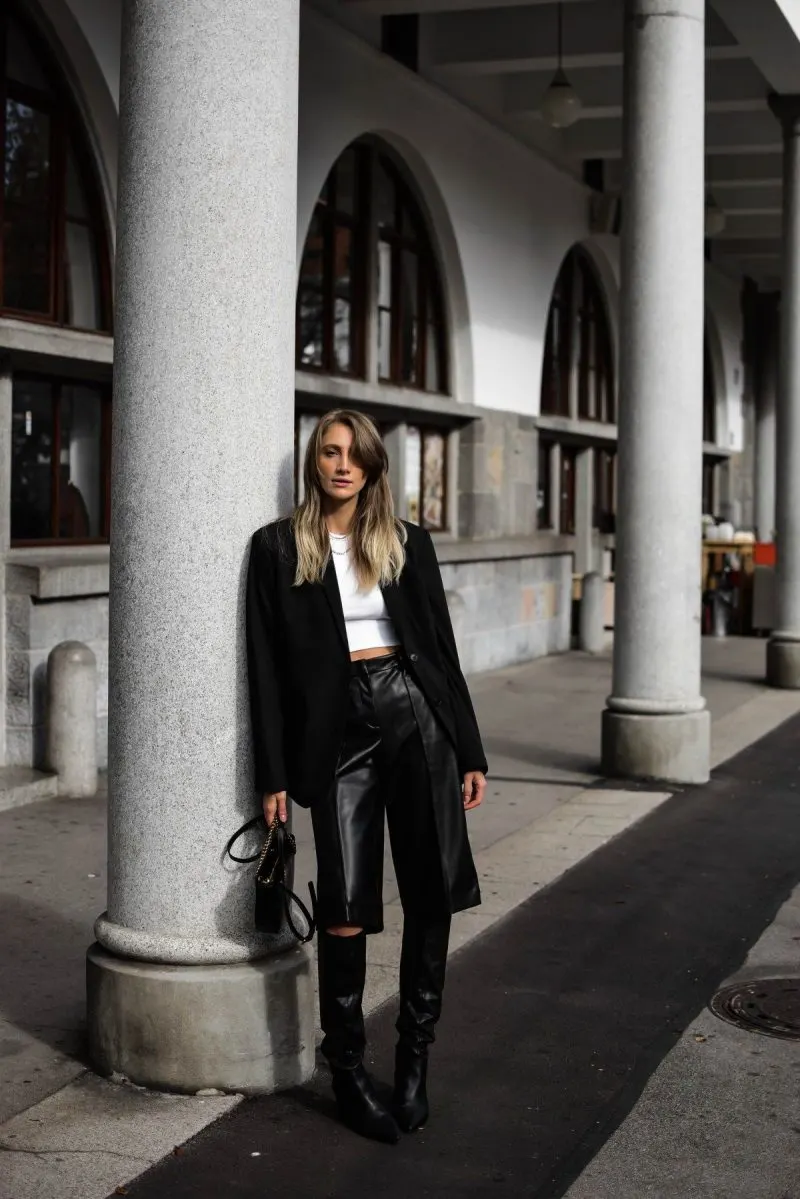 Buy Similar Here
Blazer with Bermuda shorts
A monochrome suit is a must-have for summer. When choosing a color, stick to the classic shades of the season and do not let them scare you with their brightness: go from white, mint, cream, to lavender and peach. The style and length of the Bermuda shorts can be different: both loose and wide models above the knee, and narrowed versions just below the knee gonna look awesome along with a suit jacket.
Bermuda shorts and a T-shirt
A simple and versatile combination – Bermuda shorts and a loose-fit T-shirt, can both come in monochrome colors. Speaking of shoes, then I would go for sneakers, mules, loafers, or classy sandals with thin straps.
Bermuda shorts and a classic button-up shirt
Surely in every woman's wardrobe should be a regular button-up shirt and your closet is no exception. It will help you make another eye-catching combination with the Bermudas. Complete the look by adding a bag in an unusual shape and massive jewelry. The shirt can be tucked inside, or worn untucked.
Leather Bermuda shorts
Leather clothes are one of the main trends of this year. There are several possible interpretations: leather Bermudas and a light cotton top, or a leather shirt, jacket paired with cotton Bermuda shorts.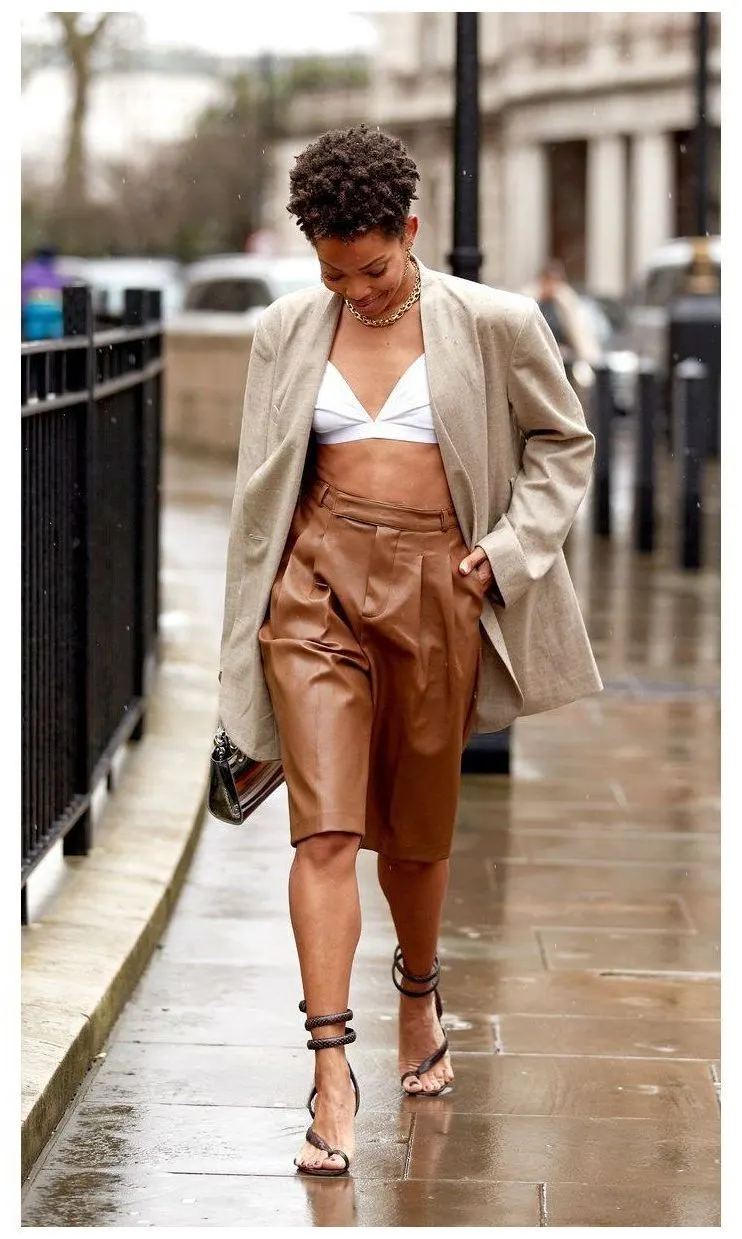 Buy Similar Here
The Bermudas can be tight, high-waisted, knitted, made of denim or leather, trust me, there are a lot of options. Focus on your style and taste.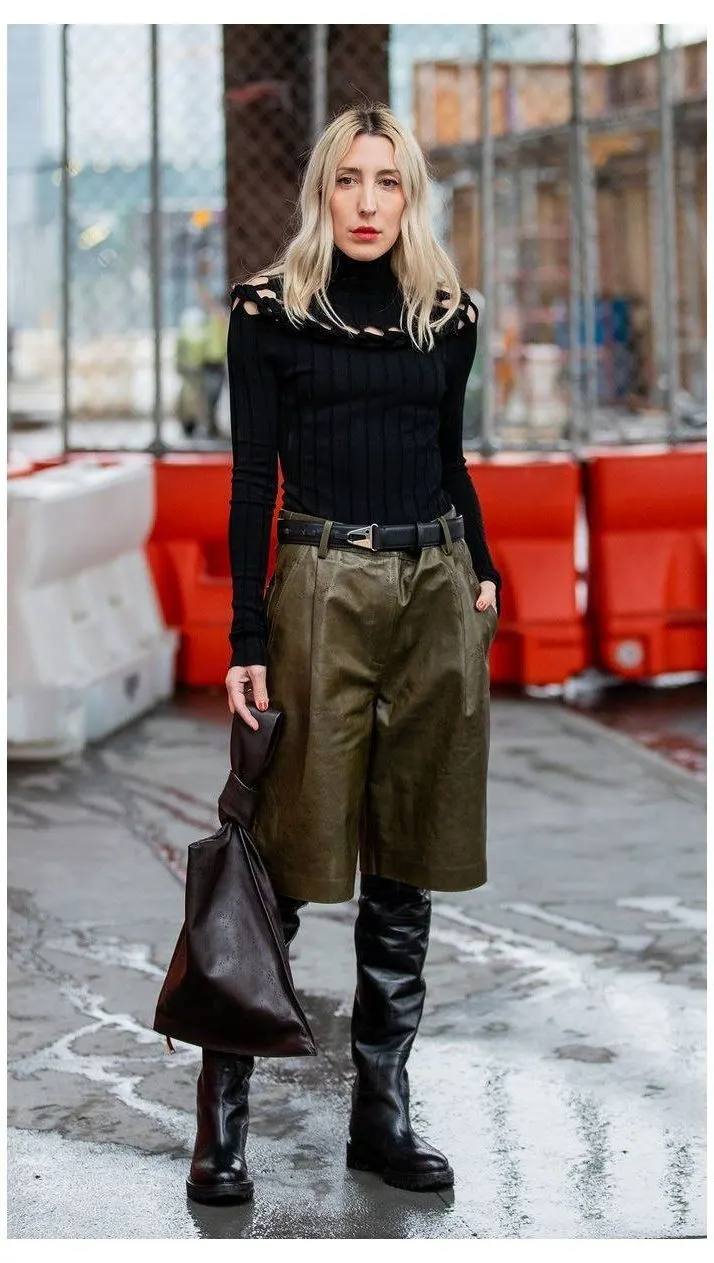 Buy Similar Here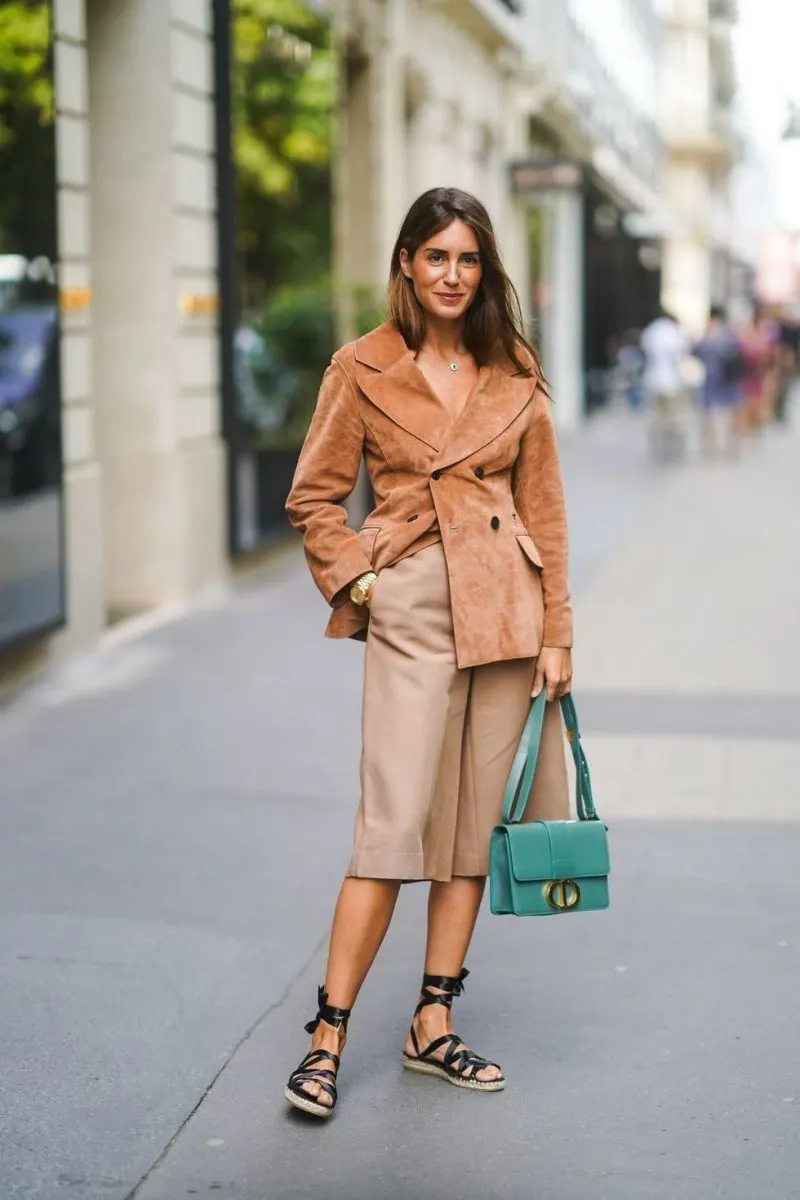 Buy Similar Here