Yes, we are here to talk about blue dresses and what you can wear with them. I will show you the best collection that is ideal for any occasion, no matter if it's a cocktail party, home gathering, a garden party of a semi-formal event.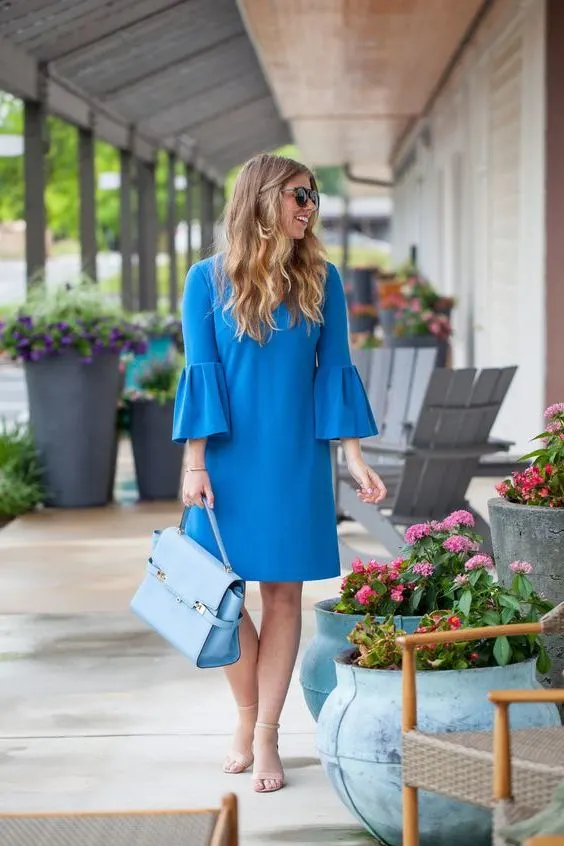 Buy Similar Here
We see a sweet sea-blue shift-dress with bell sleeves styled with ankle-strap heeled sandals in nude. Complete this style by adding a blue handbag and cat-eye sunglasses.
Blue is a gentle color that goes well with most colors and fabrics, so it's easy to mix and match. These dresses can be worn in any season as they have a suitable style whether you wear them in summer or winter. For example, you can wear a casual top or cardigan over a blue evening dress with some high heels, looking elegant even for an occasion where classiness is required.
The Best Colors That Go With Blue Dress
Why do I love blue dresses so much? You are free to wear them in numerous ways. The blue color is quite calm, and sophisticated. Why so many women in love with it? It suits absolutely everything, every body shape, and skin color.
You are free to combine the blue dress with any color, starting from classic black to beige-brown, including bright green, red, pink, yellow, and violet. I love seeing women wearing blue dresses with golden jewelry and accessories.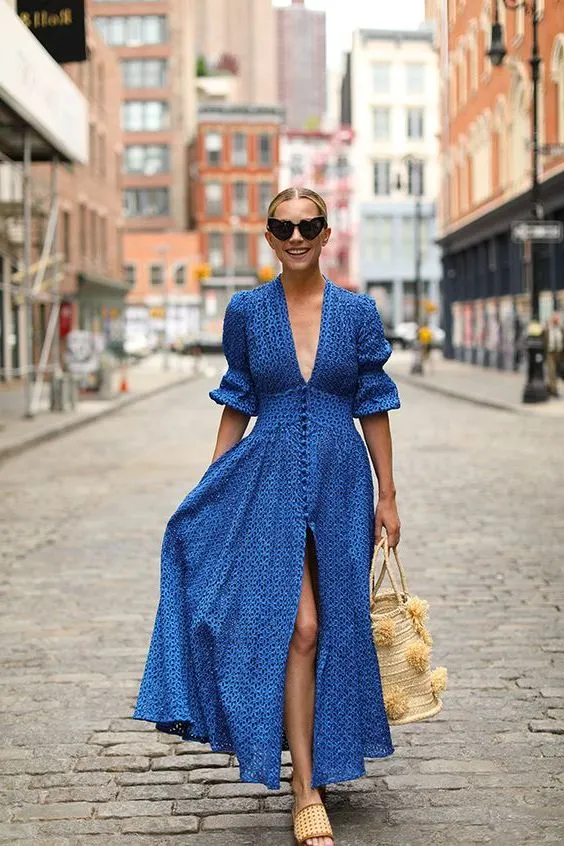 Buy Similar Here
A maxi dress with a deep neckline in rich blue color looks pretty chic. Style it with heart-shaped sunglasses and straw slides. A perfect choice for summer season months.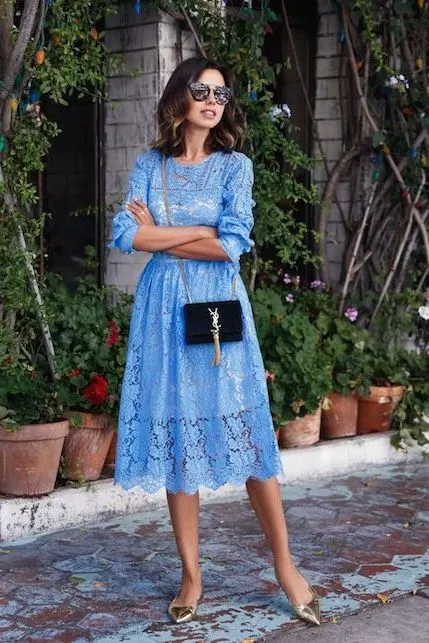 Buy Similar Here
This light blue lace dress with long sleeves can be used by guests for summer weddings. Complete this look by adding cool modern shades, shoulder clutch-bag, and metallic pointed-toe heels.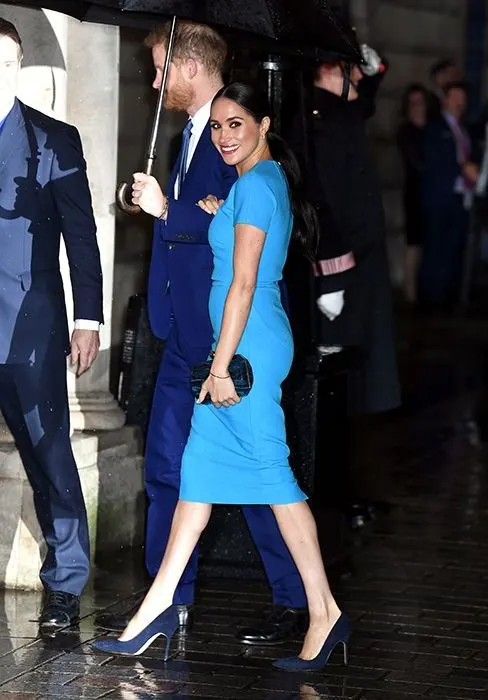 Buy Similar Here
Here we see a bright blue short-sleeve pencil dress completed with navy heeled pumps. A classic choice for semi-formal events.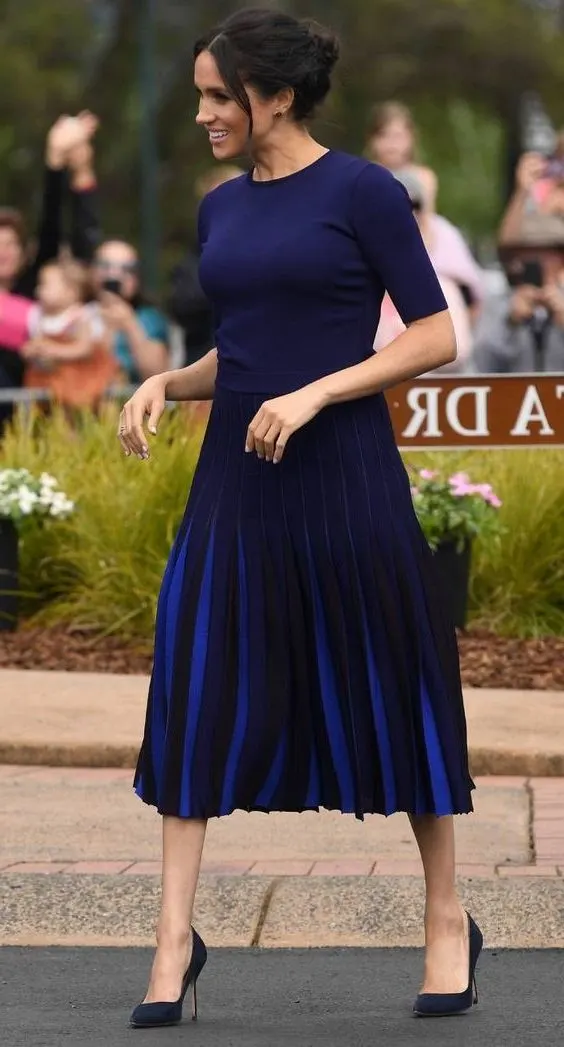 Buy Similar Here
You can also try on a dark blue dress with a pleated skirt and complete it with navy heels. A lovely combo for garden parties.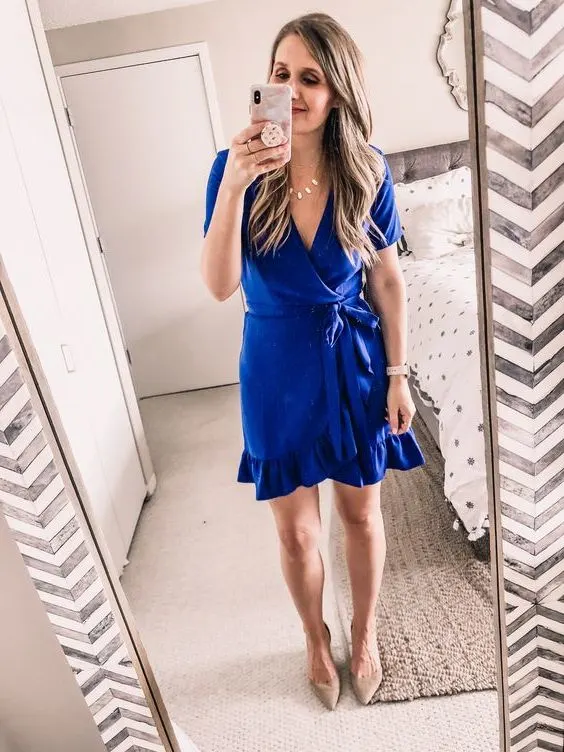 Buy Similar Here
A wrap rich blue dress with ruffled hem looks so sweet in combination with nude heels.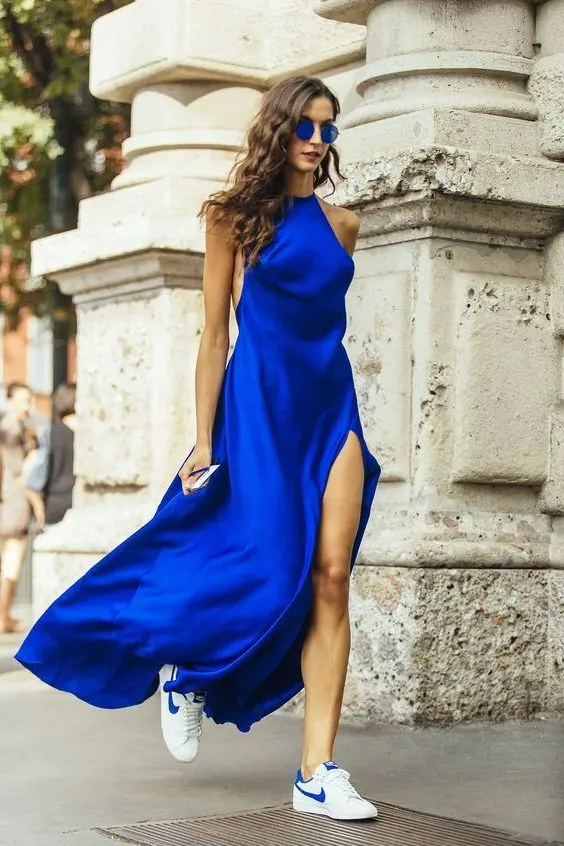 Buy Similar Here
A halter-neck maxi dress in rich blue is updated with white sneakers. Update this style with blue rounded sunglasses.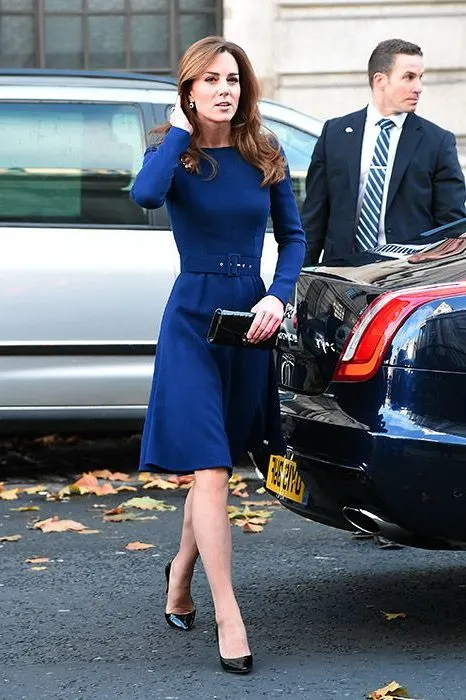 Buy Similar Here
I am in love with this belted long-sleeve frock. Complete it with glossy black heels and a black leather clutch bag.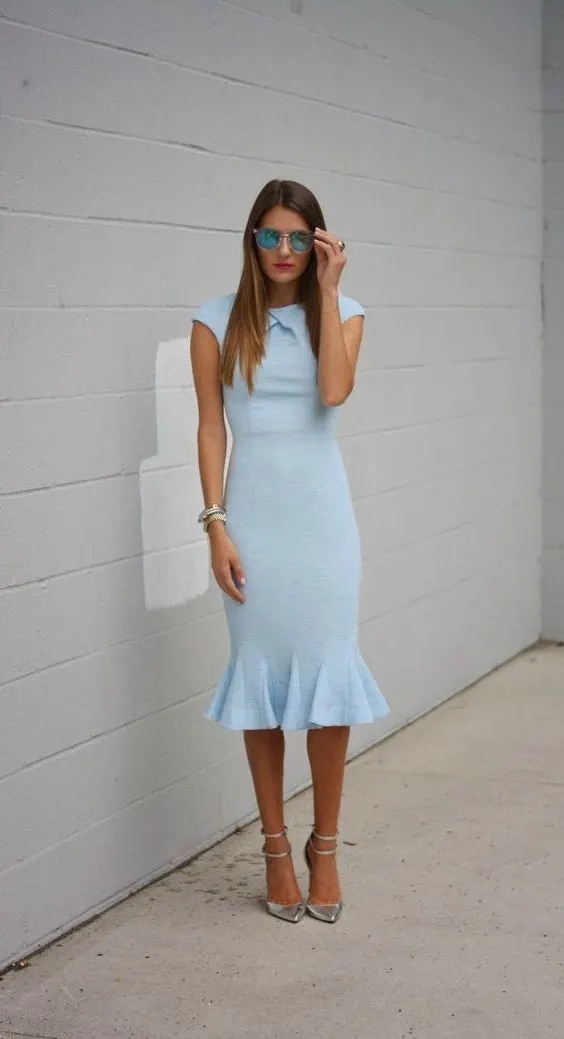 Buy Similar Here
A pastel blue sleeveless dress with ruffled hem looks ladylike and very special. Update it with mirrored sunglasses and silver heeled pumps.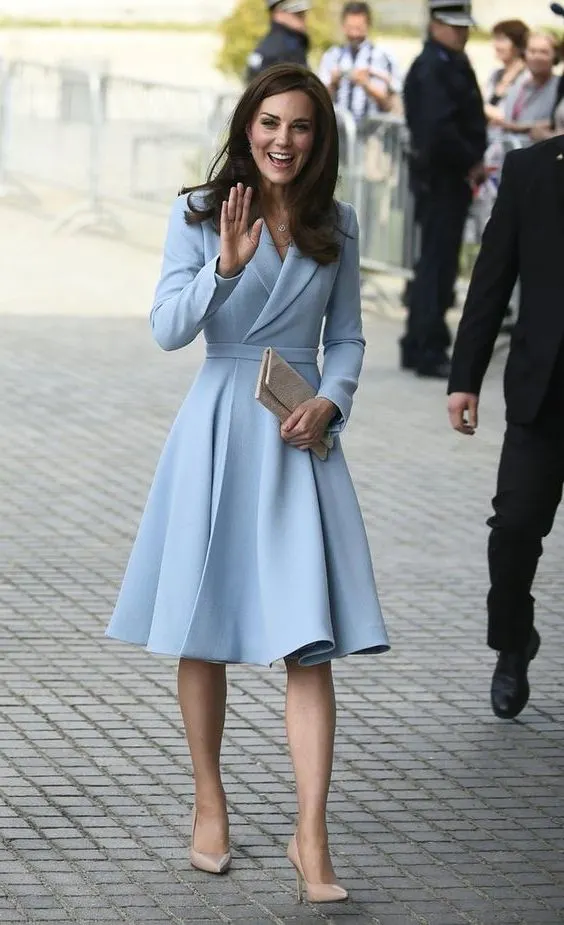 Buy Similar Here
If you want to create a classic business vibe, then you should go for this pastel blue coat-dress and add beige heeled pumps.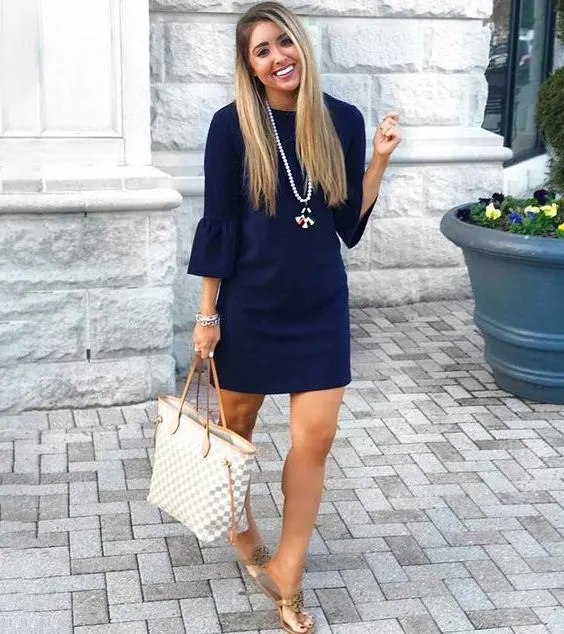 Buy Similar Here
A dark blue sheath dress with shortened bell sleeves is styled with flat thong sandals. Update this look by adding a pearl necklace and a plaid tote bag.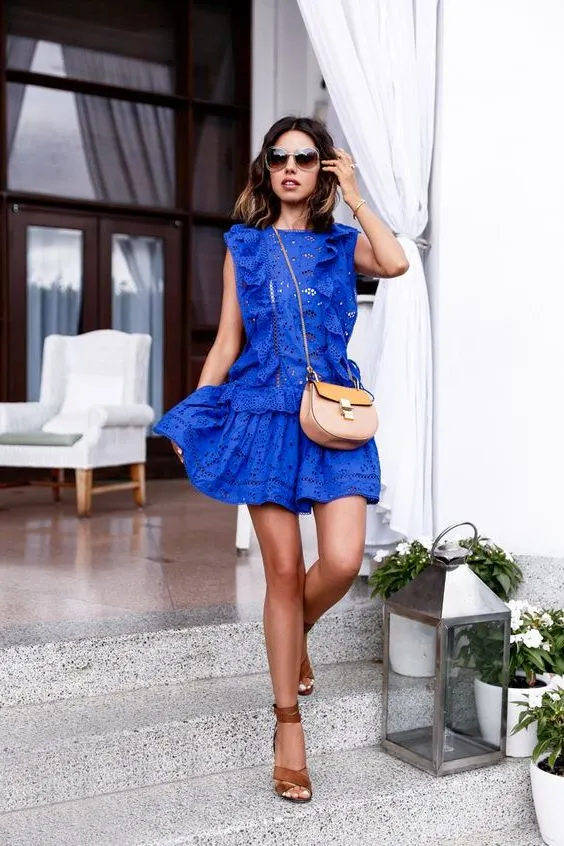 Buy Similar Here
A bright blue lace dress with no sleeves and a flared skirt comes with ruffled details. Complete it with oversized sunglasses, saddlebag, and ankle-strap heeled sandals.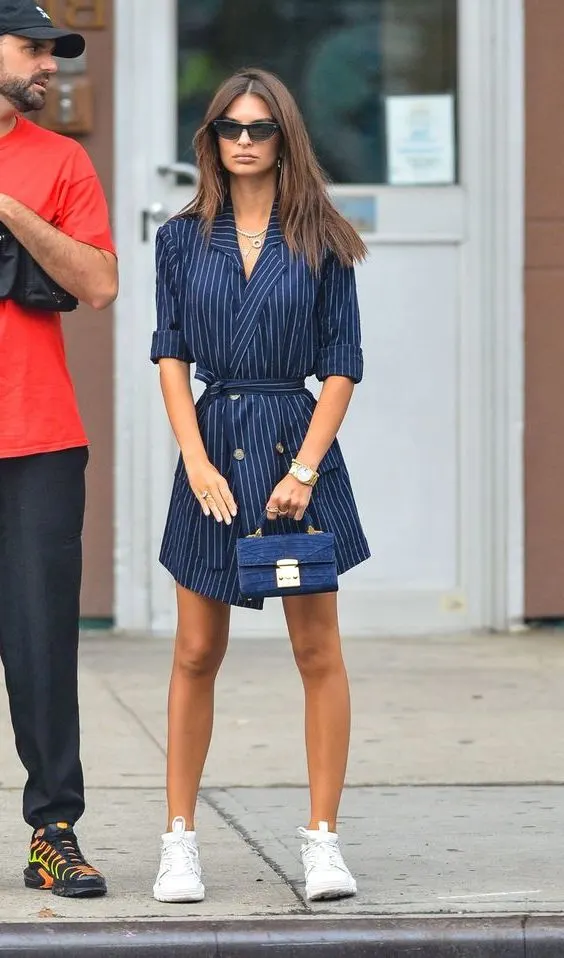 Buy Similar Here
I am so much in love with that pinstripe navy double-breasted coat-dress worn with white sneakers and cat-eye shades.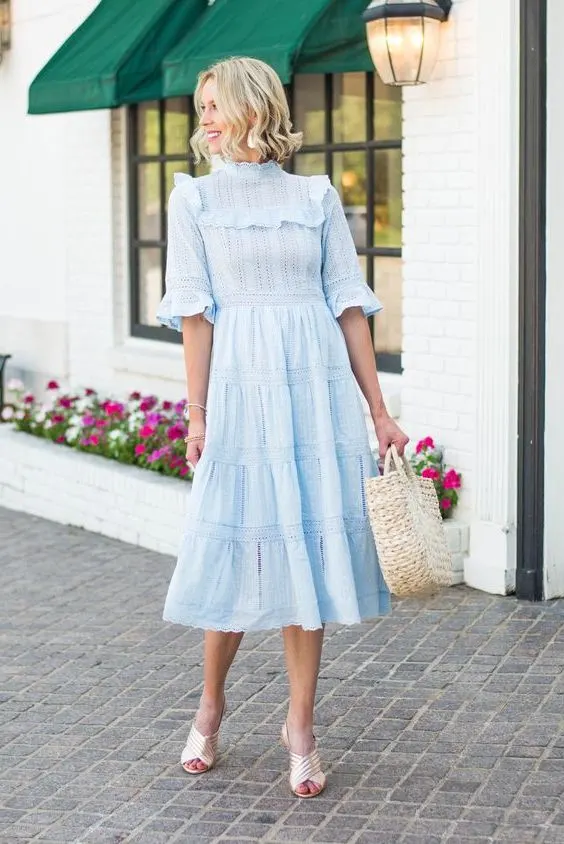 Buy Similar Here
A pastel blue retro style frock with ruffled short sleeves is completed with metallic heeled sandals and a straw tote bag.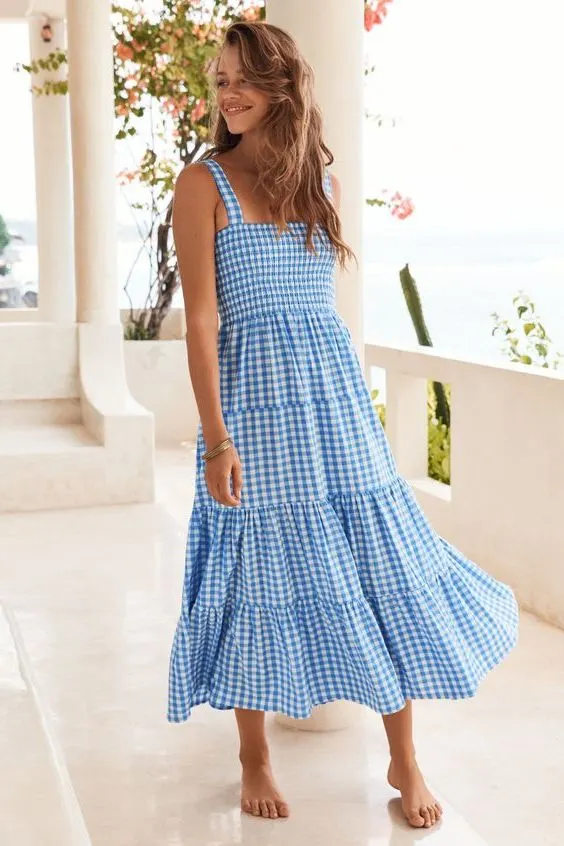 Buy Similar Here
A gingham print pinafore long dress in a lightweight fabric is a great option for summer beach parties. You are free to wear it on its own without any shoes.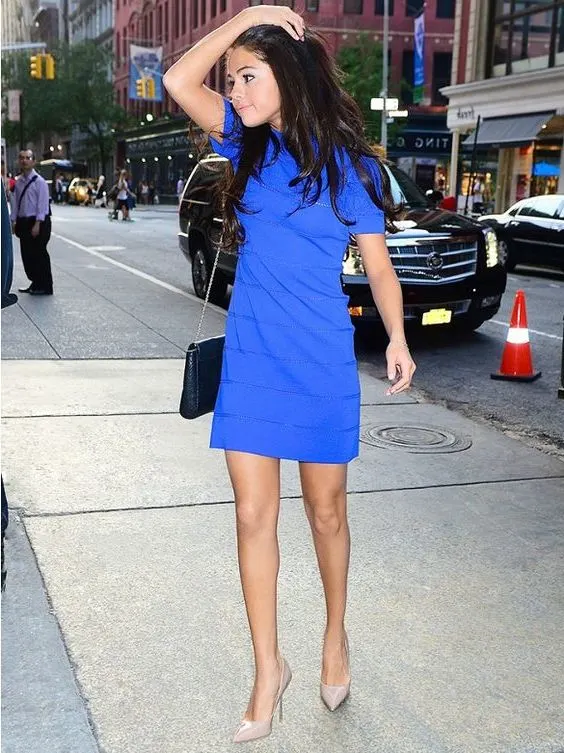 Buy Similar Here
A perfect dress for clubbing. We see a short-sleeve classic blue sheath dress completed with nude pumps.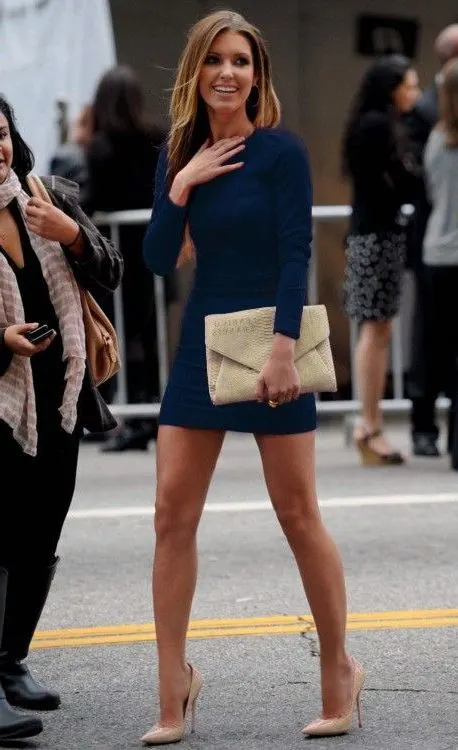 Buy Similar Here
A mini slim-fit dress with long sleeves in dark blue looks sexy and chic. Update it with nude heeled pumps.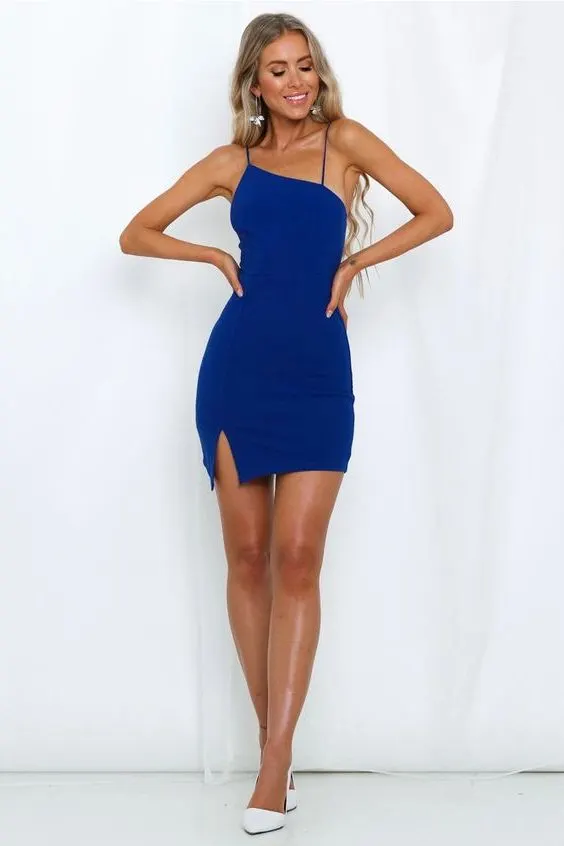 Buy Similar Here
A rich blue body-hugging dress with spaghetti straps is completed with white pumps. An ideal choice for summer clubbing.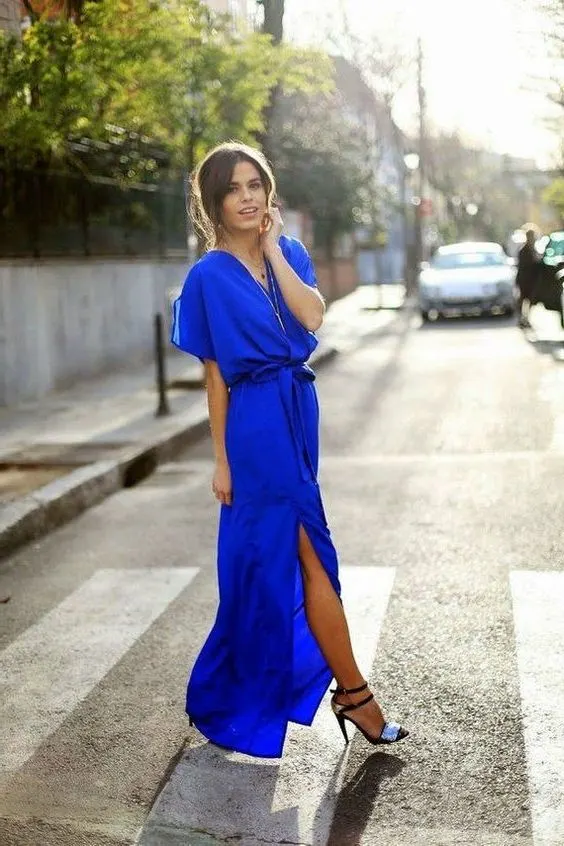 Buy Similar Here
A maxi dress in rich blue with a belt is completed with heeled sandals. A perfect style for making a wow statement on the streets.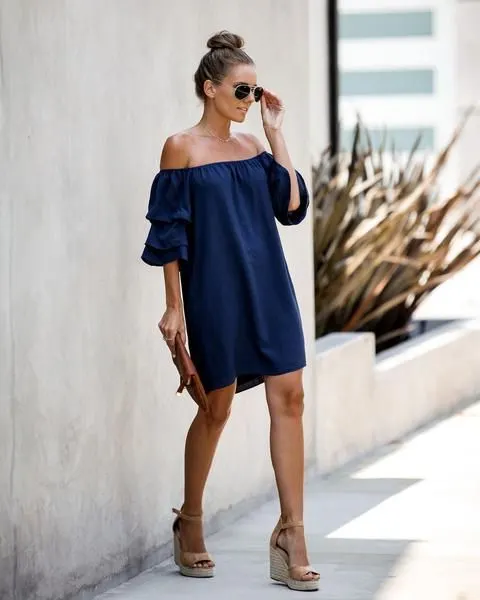 Buy Similar Here
An off-shoulder tunic dress in navy color is updated with wedge espadrilles.
Update
What To Wear With A Blue Dress
If the color of your dress is blue, you can choose to wear a colorful necklace that matches with the shade.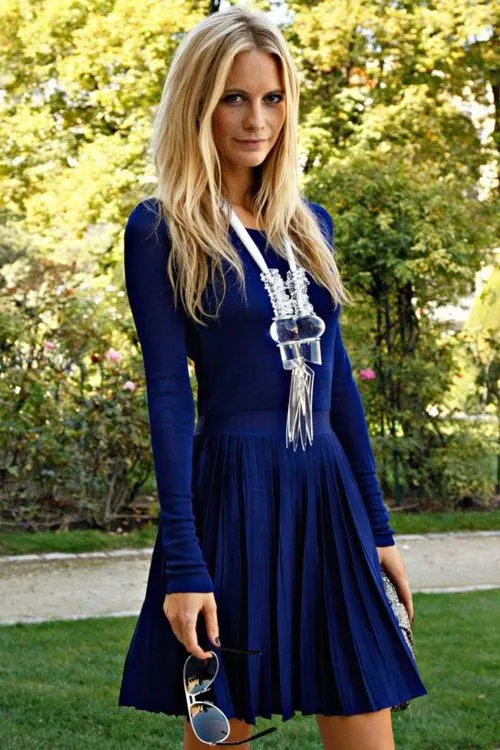 Buy Similar Here
Choose a bag that also fits in with the rest of your outfit, such as this green one, and shoes that are not too flashy but matches well. That way you will look elegant but still be comfortable for a night out.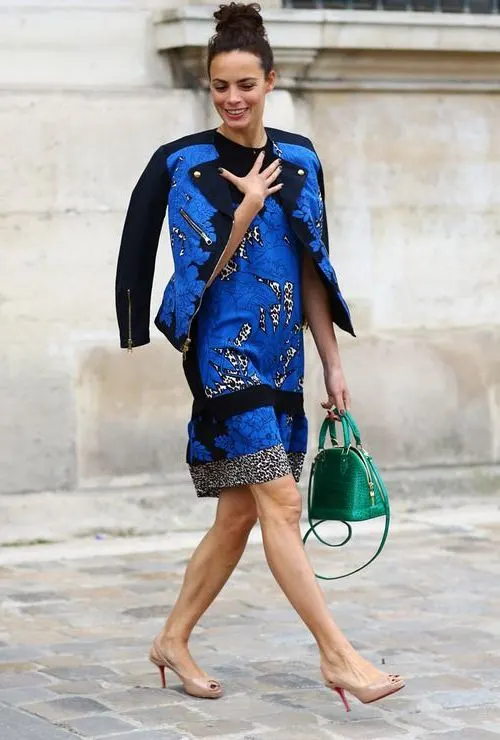 Buy Similar Here
How about wearing an off-shoulder dress? It looks pretty sexy and classy at once! You need to show off enough skin for something like this, so I would advise going braless or wearing a strapless push-up bra under the dress.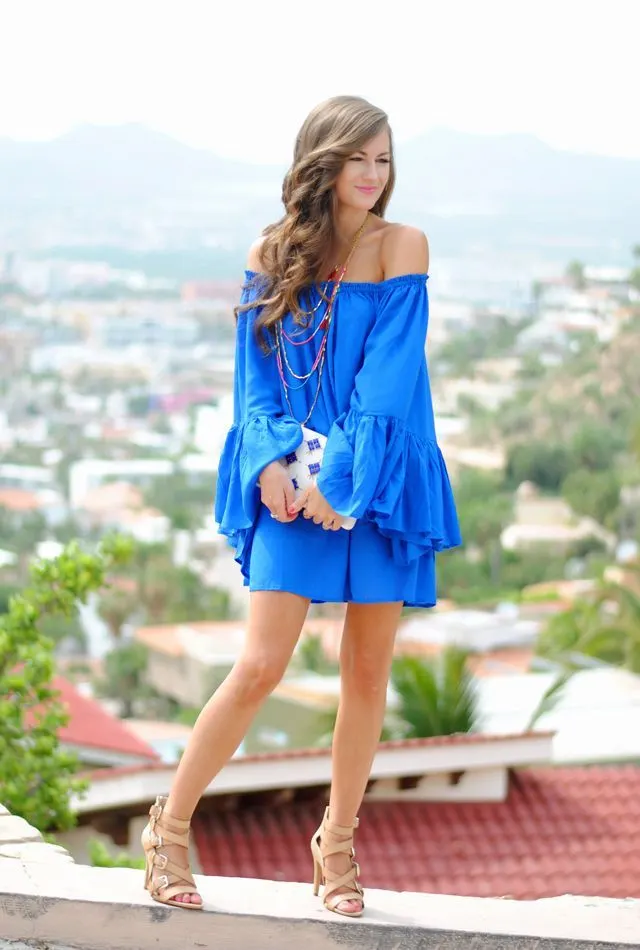 Buy Similar Here
You can easily wear a navy blue dress with a dark blue coat. Add some tights for winter and something warm like a scarf in the office, and you are all set.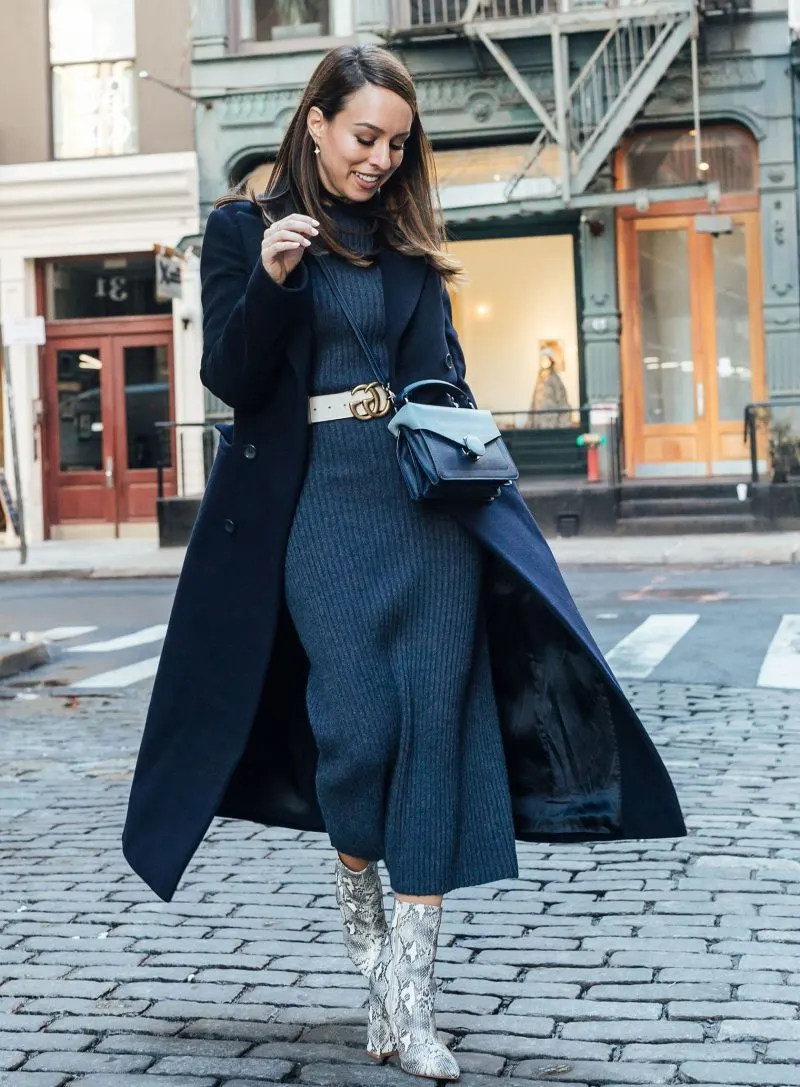 Buy Similar Here
Why not add a little sparkle into your look by wearing sequined blue dress? You can style it with a white blazer.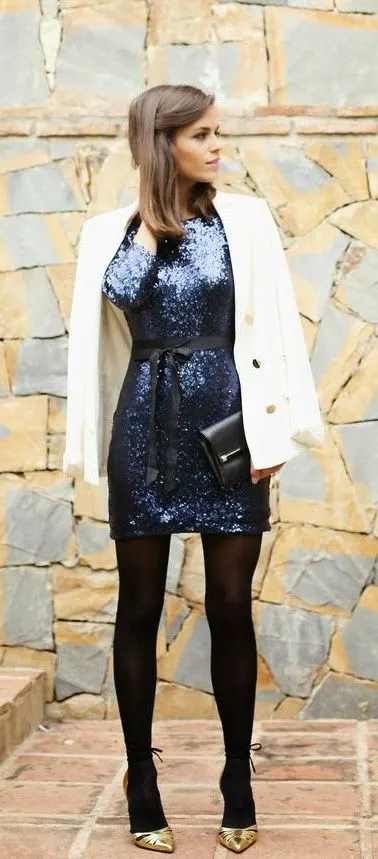 Buy Similar Here
And if you want to wear a short blue dress, I suggest looking for something that is not too short or tight. Go practical for this outfit with some red peep-toe heels.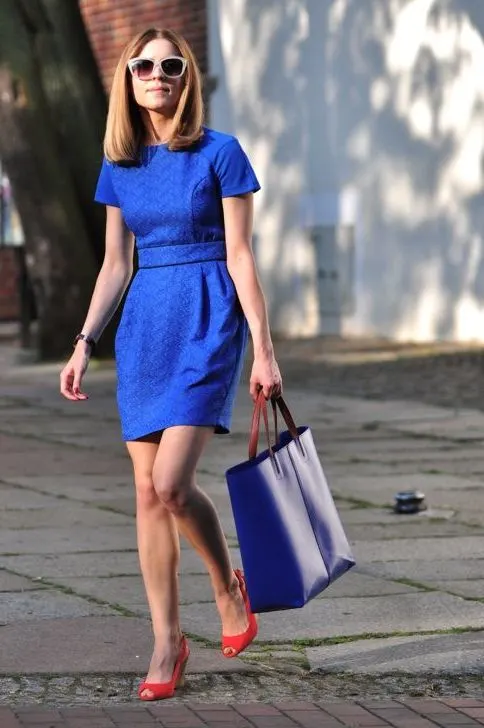 Buy Similar Here
If you are going for something more elegant, then I think a knee-length dress with some heels would be perfect. This outfit is suitable for everyone and you can wear it anywhere, even in the office or when you go out to dinner. If you want to dress up even more with this outfit, then I recommend that you wear gold accessories such as rings and bracelets.
Buy Similar Here
You can just throw on a blazer and go with this look, even in winter! If you want to be really warm, then I suggest wearing this outfit with boots and a coat. Wear a cute scarf around your neck for some extra warmth.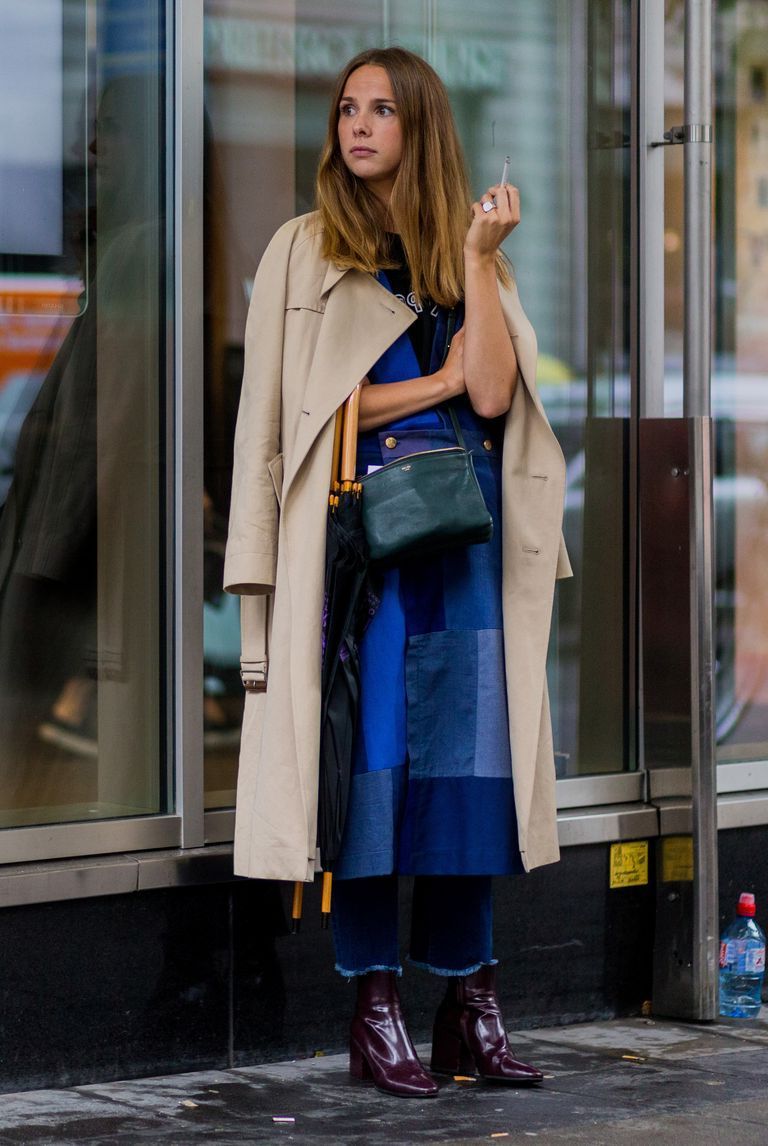 Buy Similar Here