It's neither hot nor cold. That's why you need an outfit that can work for chilly and warm weather. I've got a perfect solution for you: a blazer and shorts combination. An ideal combination of warm layering and summer essentials. In today's article, we are about to see ways how to create a fabulous glam up look for walks and working hours.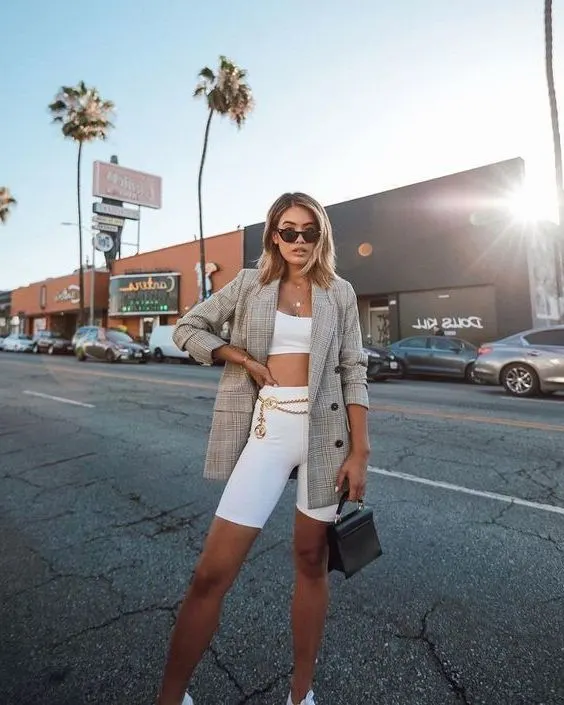 Buy Similar Here
A classic elongated plaid blazer looks pretty chic with a white sporty bra top and matching white bicycle shorts. Update this look by adding white kicks, cat-eye sunglasses, gold chain belt, and a mini black leather clutch bag.
A blazer and shorts is a combination that has proven to be successful and we have rounded up some of our favorite outfits for you!
A key thing when creating a blazer and shorts outfit is to make sure the colors match. You want something that looks intentional not like a complete accident. The color combinations are endless with this particular outfit so we can't show you any specific ones but think about what colors your blazer is or what colors you would like the shorts to be and try to employ them in your outfit choice!
For accessories, keep it simple but make sure they match your new ensemble. A pair of sandals can be a great addition to this outfit. If it's hot out, a cute pair of sunglasses or a hat would also be in order. The blazer will make you look elegant and put together and the shorts are so trendy as well.
How To Choose A Perfect Blazer And Shorts Set
We all know that shorts are a super casual wardrobe piece that is usually worn in the parks, dog walking and beach walks, while a blazer is a more dressy piece that ideally suits for office hours and business meetings. But today, these two pieces can look harmoniously chic together, yes, they are a perfect combination that looks incredible and feminine.
They not only look stylish together but are also functional in such a transitional season. The jacket provides warmth, and the shorts keep you feeling relaxed and fresh once the clouds clear up and the sun comes out.
You can also go for a more summery outfit by teaming linen jacket with the same fabric shorts. If you want to go further, then I recommend mixing and matching various fabrics and prints. For instance, a plaid oversized blazer looks stunning with bike shorts, as well as with jersey shorts.
Elongated blazers look impressive this pair. They add even more formality to the overall look, which makes you look sophisticated and more stylish. You can go for a blazer that ends up around the same area as your shorts, this will make your blazer look like a tailored dress.
For summer months I recommend choosing lightweight and natural fabrics, such as cotton, linen, or even silk suits.
How about wearing cropped shorts? The cropped shorts are considered the ones which length ends above the mid-thigh. But these shorts are suitable only for skinny girls. Nevertheless, I recommend starting with long shorts. The Mid-thigh or the knee-length styles work awesome along with cropped blazer or classic length suit jackets.
No matter if you go for short or long shorts, you need to complete them with eye-catching accessories. If the weather is cold I suggest adding a scarf with a small print or a neutral solid color design. Update your look with some luxe touches by adding jewelry, like large chains, bracelets, or rings. They can be made of precious metals or have a "gold" or "silver" coating.
What Accessories To Wear With Blazer And Shorts
Choosing the right accessories for a blazer and shorts set is not an easy task. If the suit comes in a bright color, then a contrasting belt will set off the outfit. Traditionally, girls choose a black belt for bright sets. It should not be too wide, otherwise, the belt will look bulky.
Speaking of watches, I would go for the ones with a large dial in light colors. But they are ideal for wearing in the summertime. You better choose a watch with a thin strap when it's chilly outside.
Add a glamour bag as a finishing touch. It can be any size from a mini-clutch to a shopper tote. It all depends on the style and season. Think of a matching color design to wear with neutral or monochrome outfits. Or make sure it is the same color palette as your shoes.
What shoes to choose?
You should pay special attention to shoes. Heeled sandals emphasize the elegance of your ankles. You can choose footwear in a complementary color to match your suit or go for vibrant shades, so you draw attention to your footwear. Heeled pumps will give your outfit a glamour touch and an extra feminine update.
If the length of shorts tends to be cropped, it is better to complete them with ballet flats, flat sandals. Oxfords or derbies will certainly add a mannish touch to your outfit. Don't forget about brogues, they look absolutely gorgeous with a Tomboy style look. You can still add sneakers to this combo, but you will end up looking athleisure-inspired.
Look at these beautiful street style outfit ideas that have been collected specially for you:
Black Blazer And Paper Bag Waist Shorts
We see a black long blazer styled with a white slip tank top tucked in paper bag waist cream-beige shorts completed with black pumps. Update the look by adding rounded sunglasses and a black leather shoulder bag with a gold chain strap: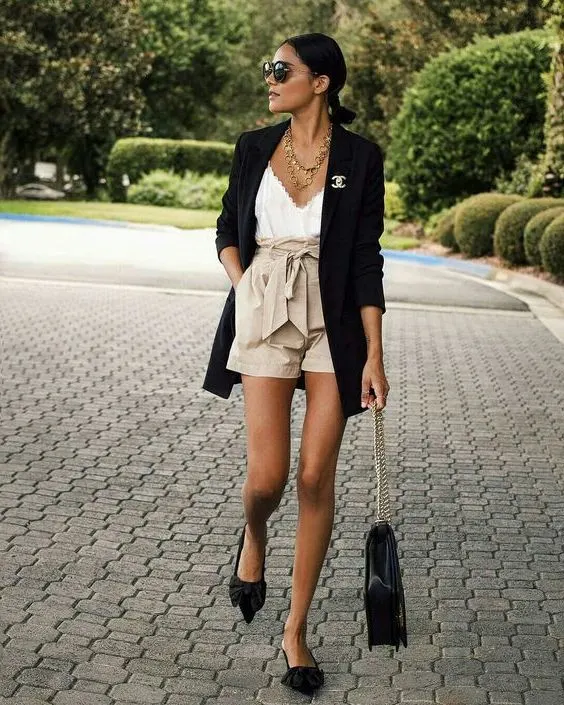 Buy Similar Here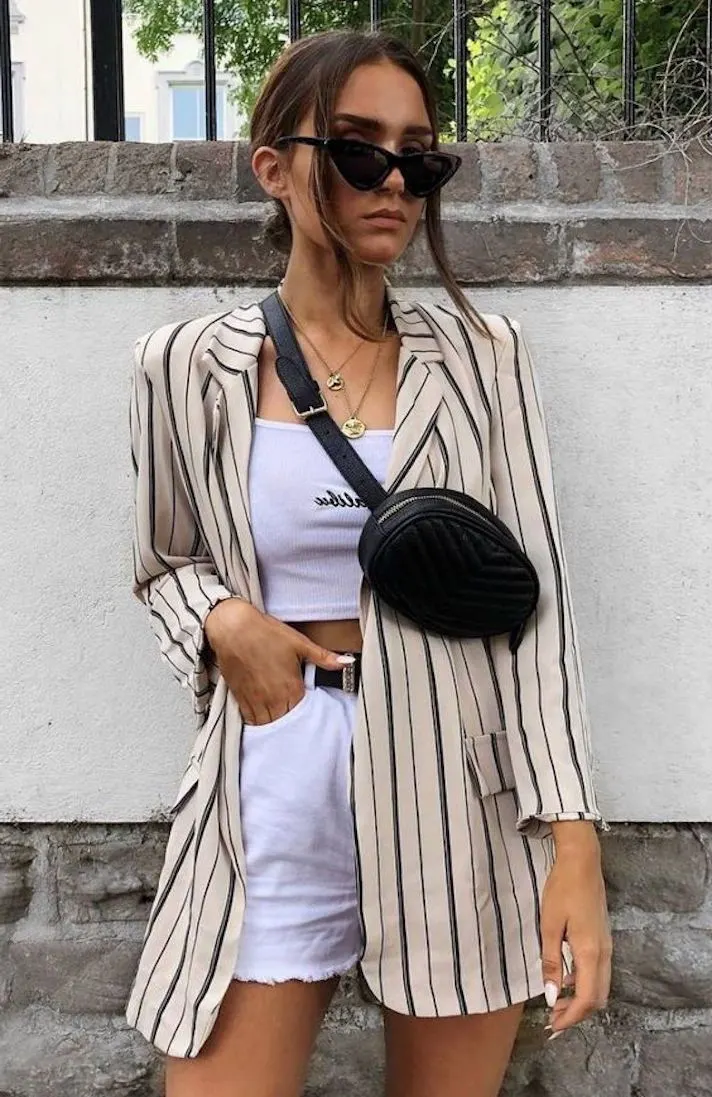 Buy Similar Here
Blazer And Bicycle Shorts
You can start with a very basic look. If you have bicycle shorts and a formal black jacket, combine them and you will be ready for work as well as for fashionable street walks around the city.
Tartan Blazer And Black Bicycle Shorts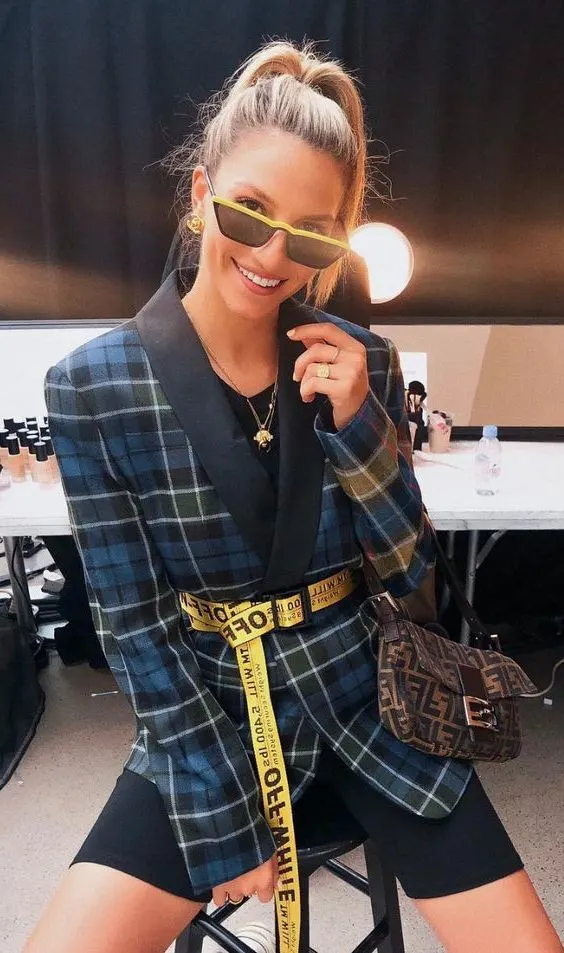 Buy Similar Here
Suede Beige Blazer And Black Bike Shors
Buy Similar Here
Pinstripe Blazer And Black Bicycle Shorts
In love with this sporty look consisting of a pinstripe black blazer, rock band tee in black and black bike shorts completed with high top black sneakers: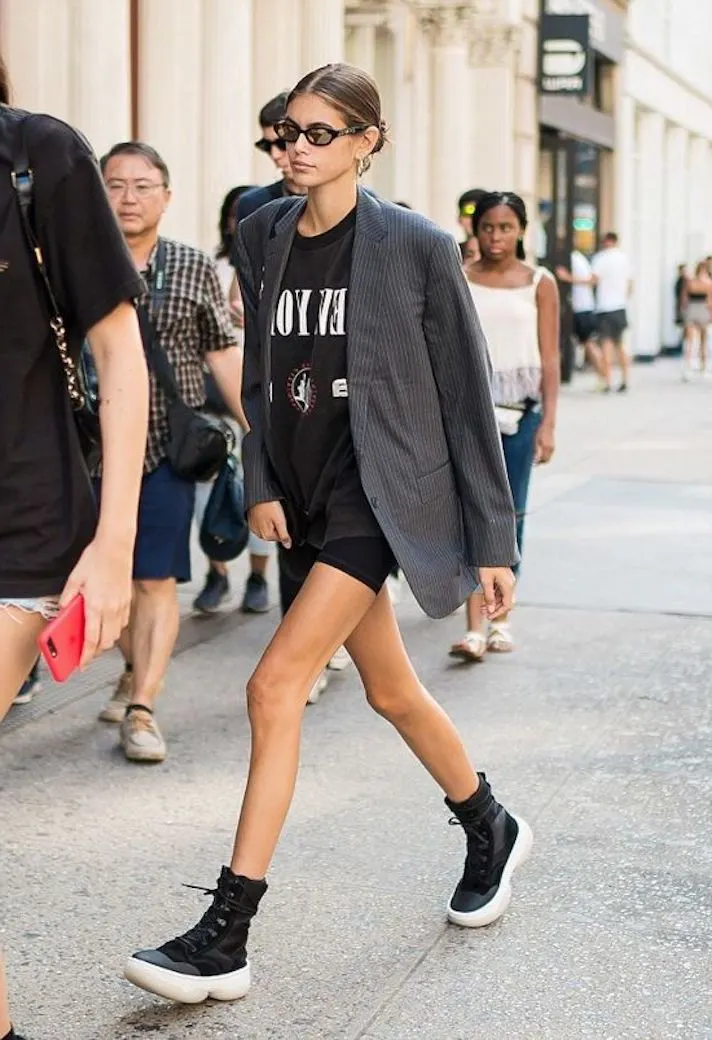 Buy Similar Here
Belted Tartan Suit Jacket With Turtleneck And Black Bike Shorts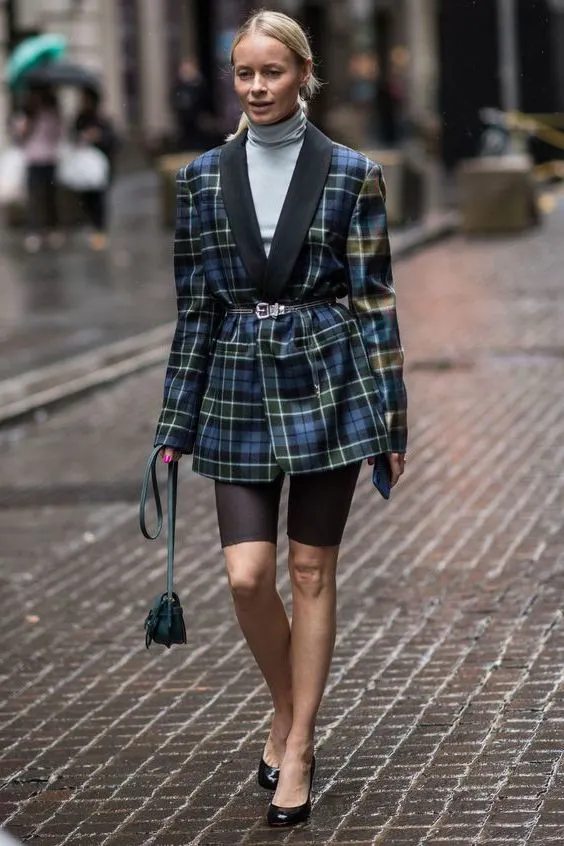 Buy Similar Here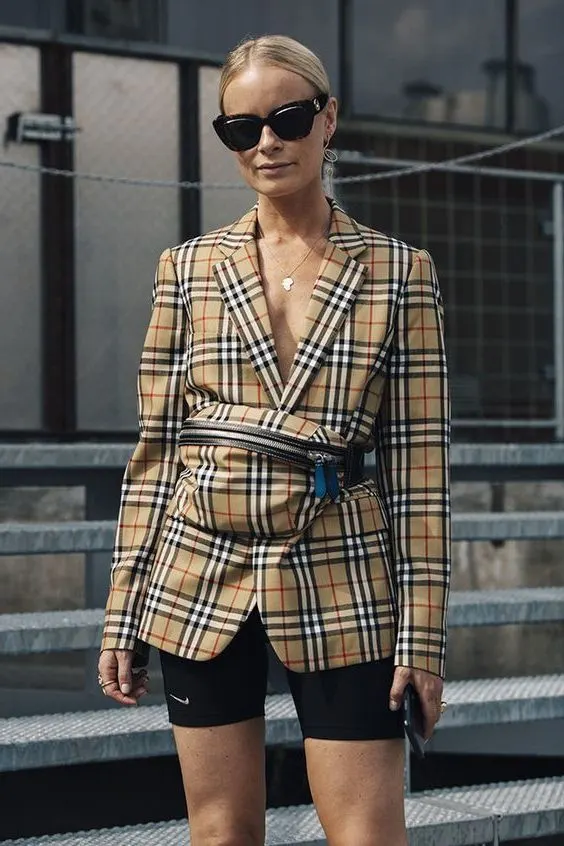 Buy Similar Here
Snakeprint Blazer And Black Bicycle Shorts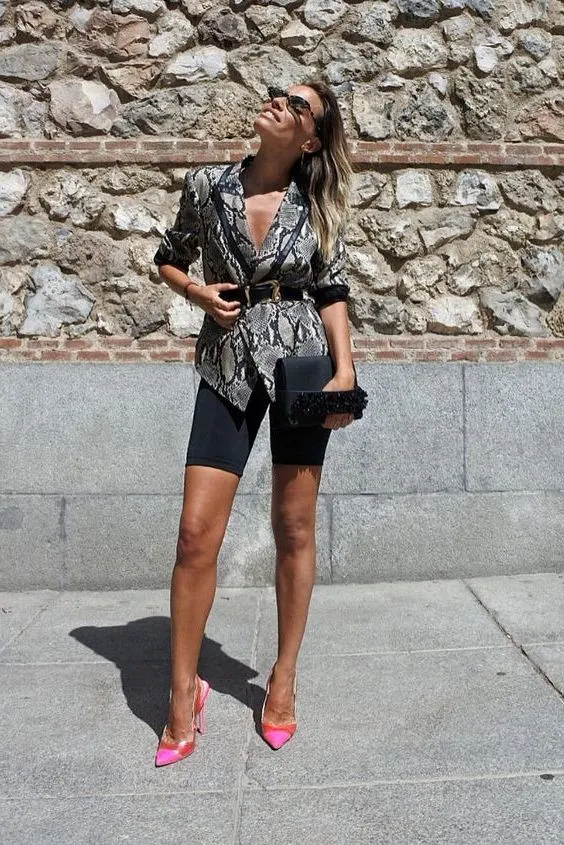 Buy Similar Here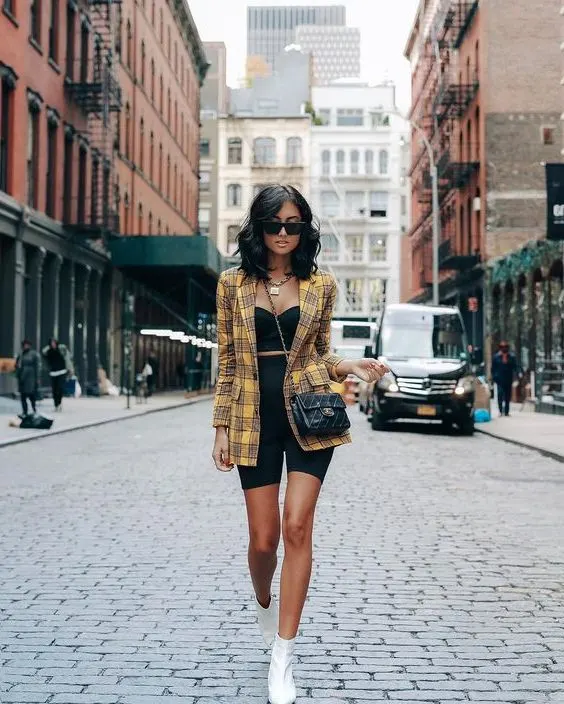 Buy Similar Here
Plaid Shorts Suit And Beige Ankle Boots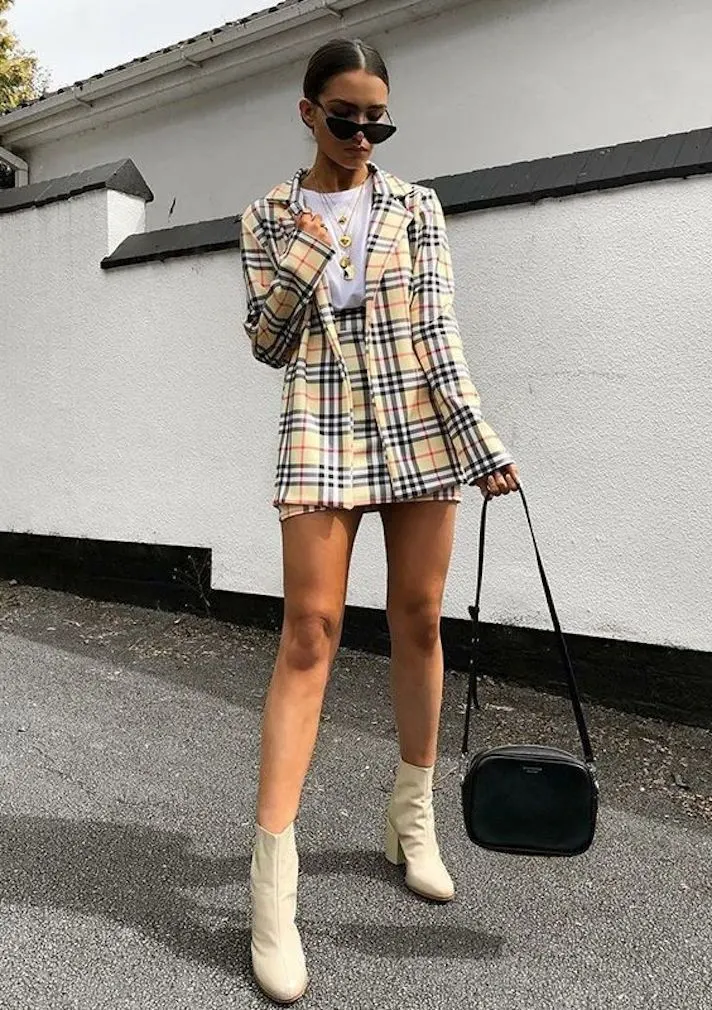 Buy Similar Here
Linen Shorts Suit And A Straw Boat Hat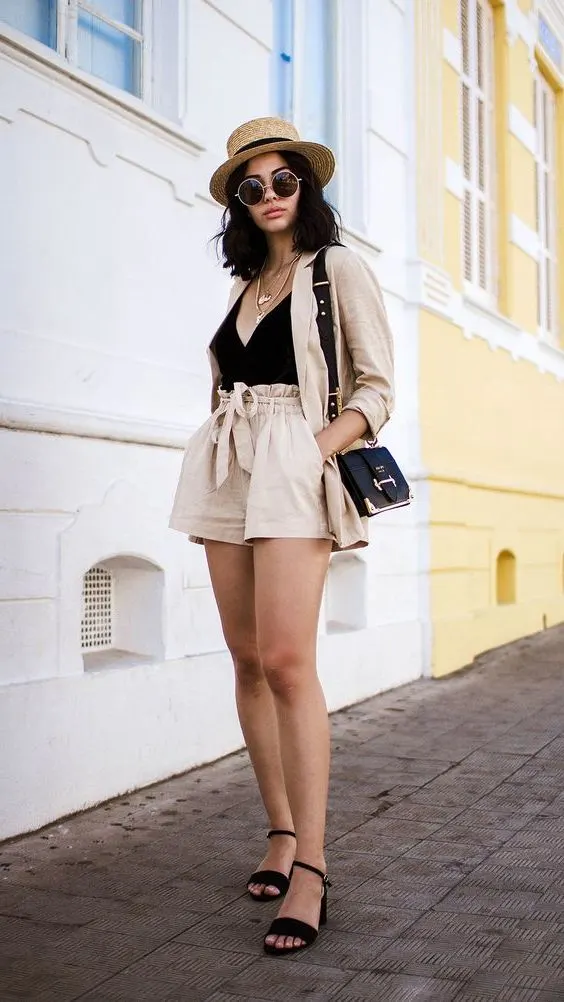 Buy Similar Here
Monochrome Pale Yellow Shorts Suit And White Heeled Sandals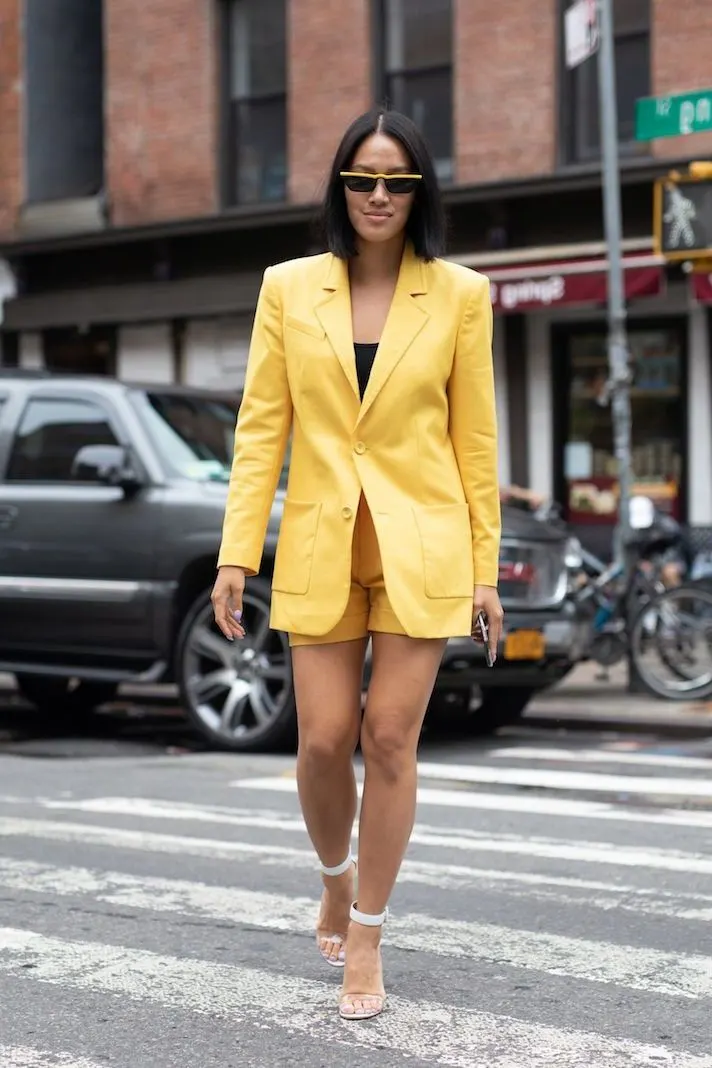 Buy Similar Here
White Linen Shorts Suit With A Thin Brown Belt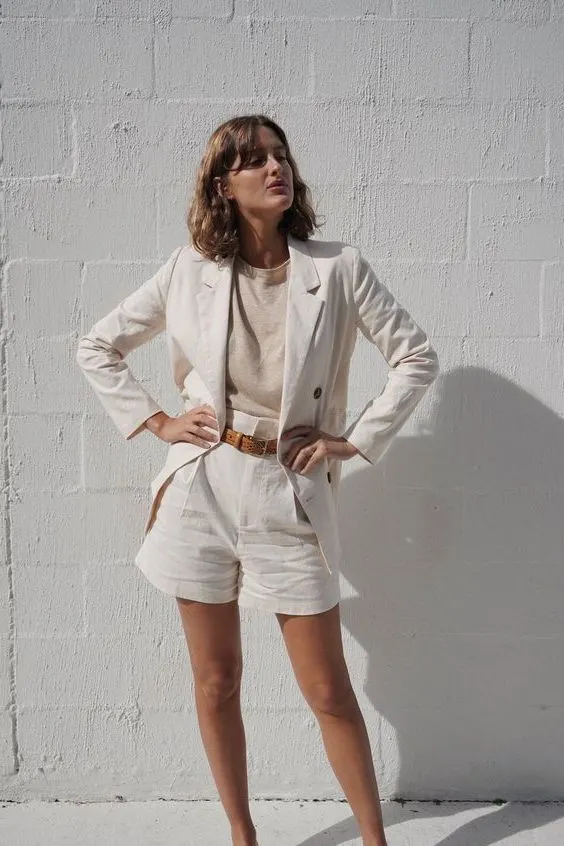 Buy Similar Here
Cocoon Shorts Suit In White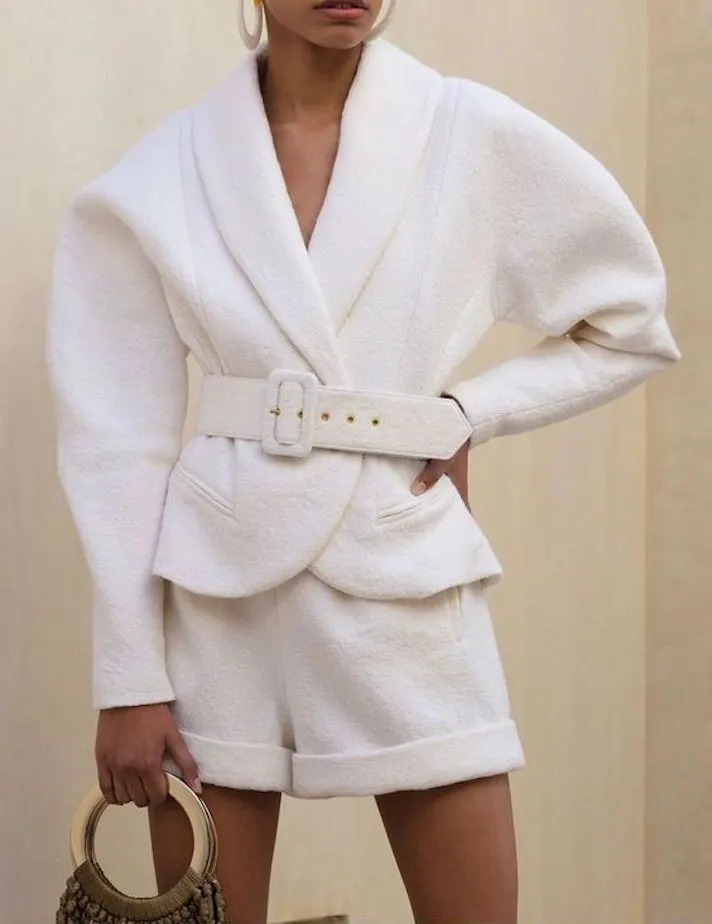 Buy Similar Here
Blue Shorts Suit And White Tank Top With Nude Sandals
Buy Similar Here
Plaid Blazer With High Rise Shorts In Black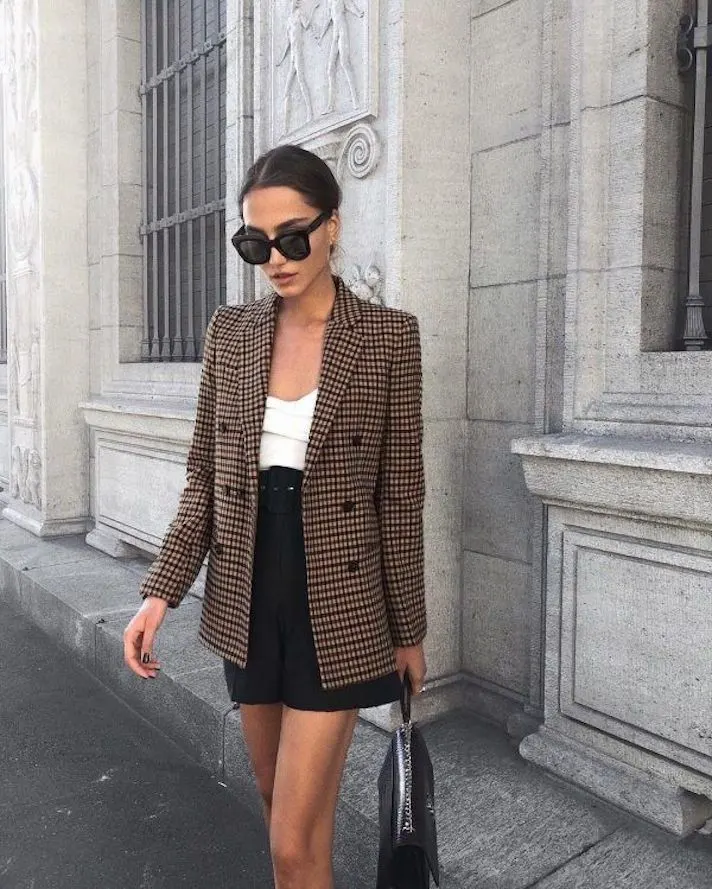 Buy Similar Here
If you're looking for a stylish, yet comfortable way to transition your favorite blazer into summer, look no further than this bold ensemble. We love this look because it proves that you can still rock that favorite cardigan while it's hot out. The key here is to add some bright colored accessories. The wedges are so fun too.
Linen Shorts Suit In Safari Beige And White Crop Top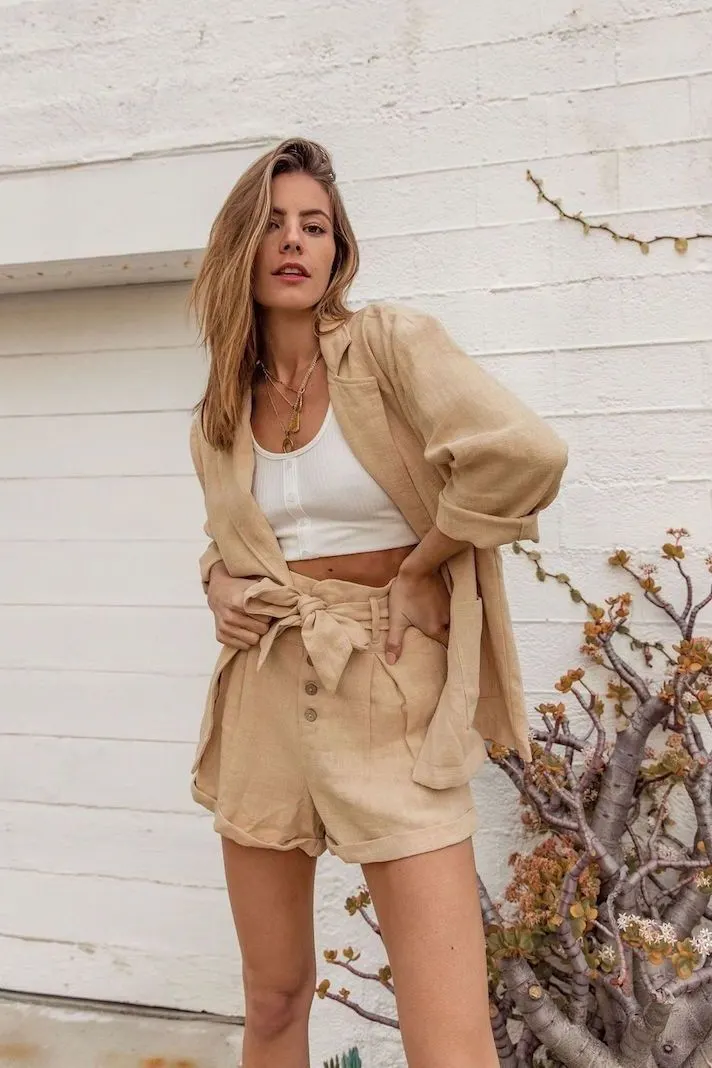 Buy Similar Here
Safari Beige Shorts Suit And White Tank Top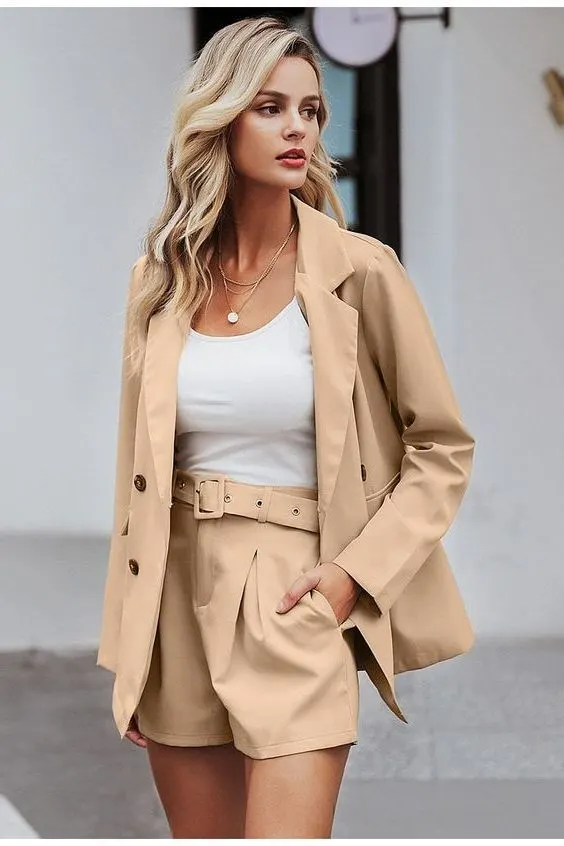 Buy Similar Here
Blazer And Denim Shorts
If you are more into casual looks, then denim shorts and a blazer can make things work.
Black Blazer Mesh Top And Denim Shorts
In love with this simple day look consisting of a black blazer, mesh top in black, and denim shorts. By the way, check out my post on ways how to wear mesh tops this year, there are lots of inspiring ideas to follow right now: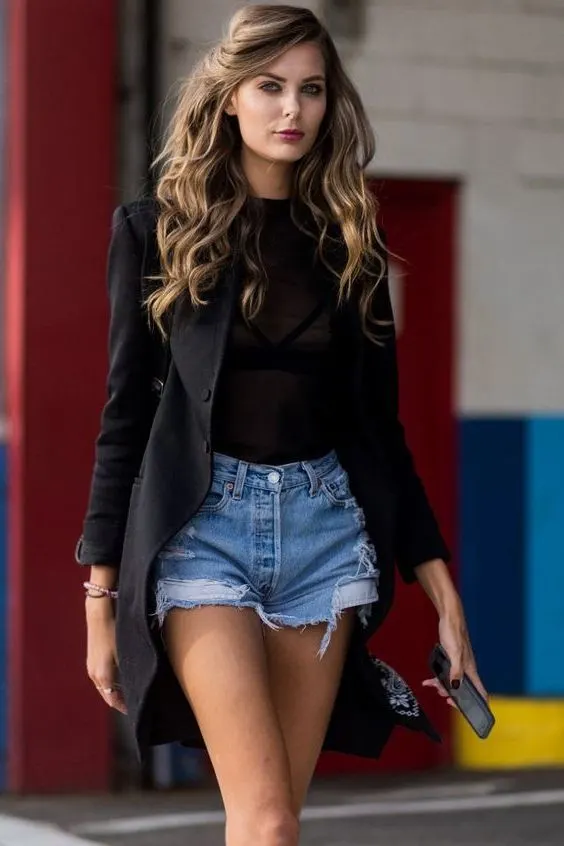 Buy Similar Here
Pinstripe White Blazer With Ripped Denim Shorts And Lace Up Ankle Boots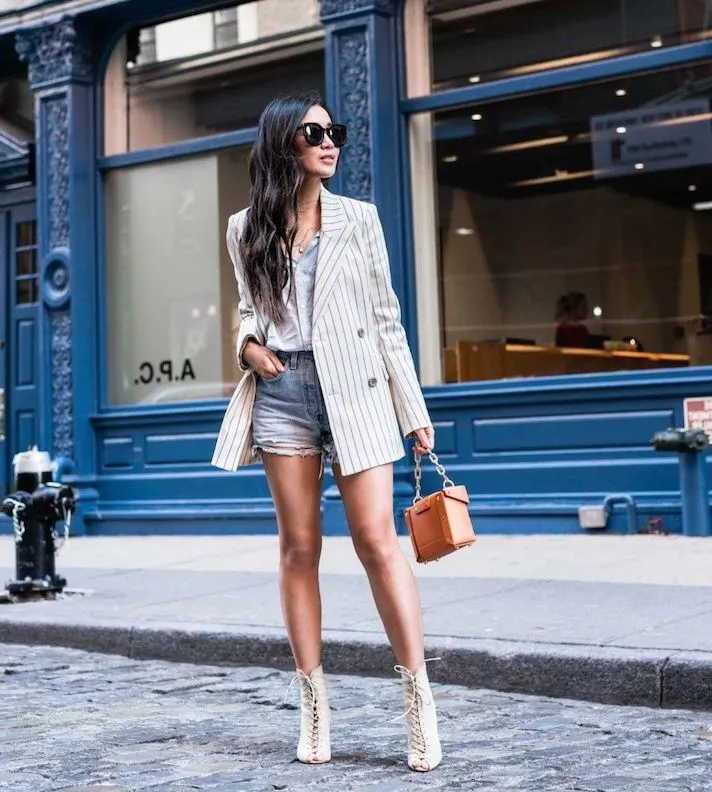 Buy Similar Here
Snakeprint Blazer And Ripped White Denim Shorts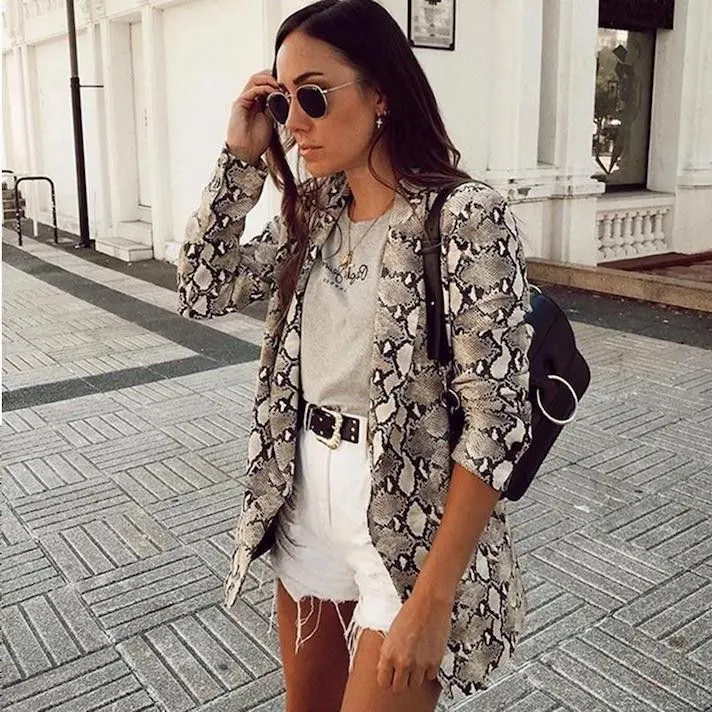 Buy Similar Here
Blush Shorts Suit And White Lace Bodysuit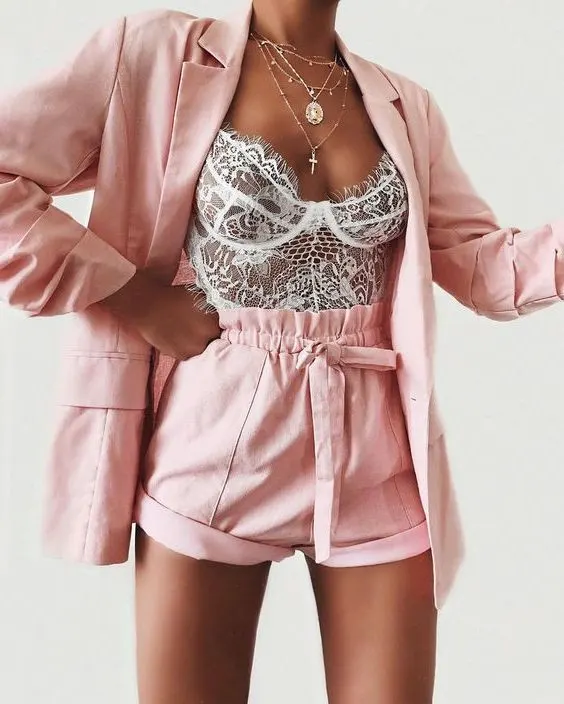 Buy Similar Here
White Pinstripe Shorts Suit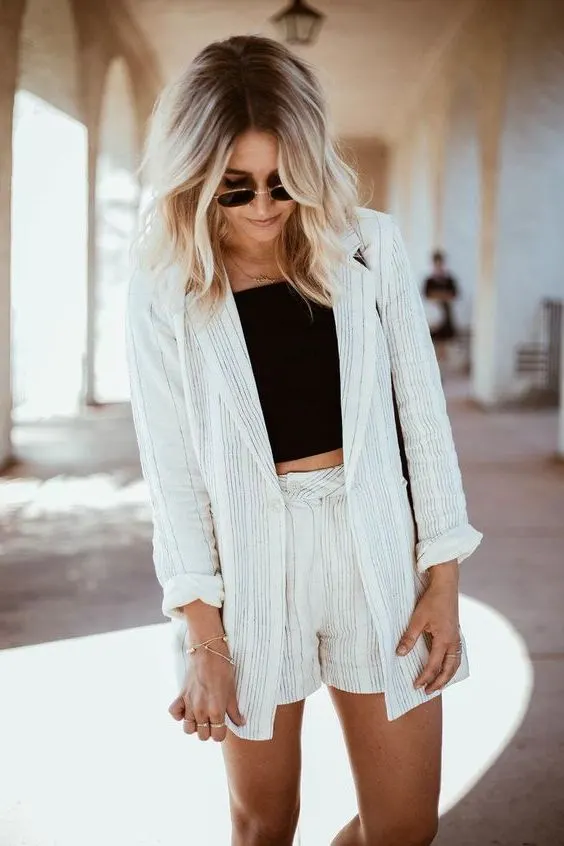 Buy Similar Here
You can totally get away with wearing your denim cutoffs to the office and making them work appropriate by styling them with an oversize blazer and cute headband — that is, if your dress code is a little more relaxed.
The key to pulling off this look lies in making sure the length of the shorts and blazer are proportional. With this in mind, we strongly suggest you dust off your blazer and start innovating your style with this combination. Ahead, we're counting down 28 breezy ways to style your blazer and shorts. Read on to get a dose of fresh outfit inspo.
Source: PopSugar