Today's topic is dedicated to my favorite boyfriend jeans and ways how to wear them this year. When it comes to comfort, the only jeans you think of are boyfriend jeans.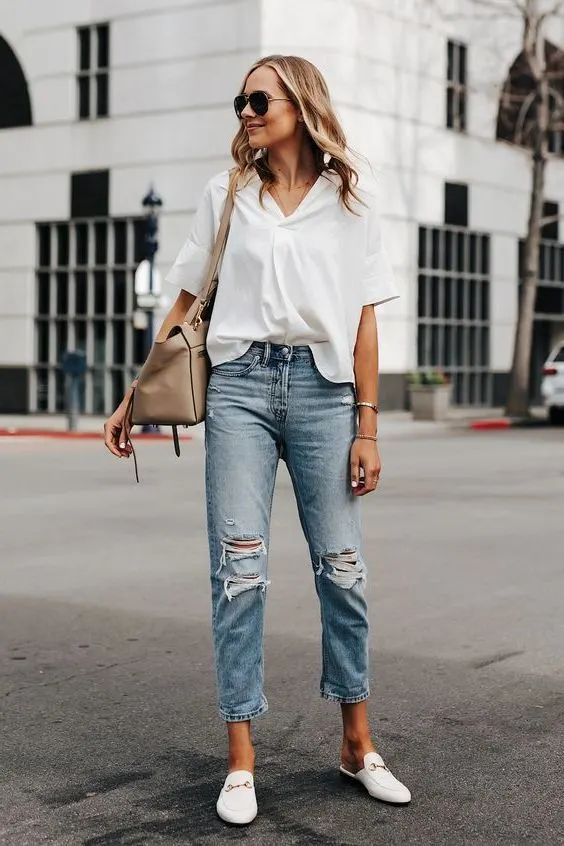 Buy Similar Here
White shirt ideally matches these ripped bf jeans completed with white loafer slides.
For those of you who don't know, boyfriend jeans are typically shapeless or baggy at the ankle that flares out slightly and are generally seen on men. However, this year has seen a rise in women wearing these jeans in a more feminine way and I am here to show you how to do it! Boyfriend jeans are usually come in a variety of washes. The different washes give different looks, from perfectly worn to newer, fresher and lighter. They can be dressed down with sneakers or dressed up with heels and accessories.
What is so special about them anyway? They are loose-fit, come with borrowed from the boys look, and can be cuffed. They are ideal for those who want to create an ultra-laidback style as well as for those ladies who want to look dressed up. Sure, this look can be quite challenging to wear, so why don't you lay back and see how to wear this trend and look at your best.
A loose-fit long cardigan is styled with a white slip tank top tucked in ripped cuffed boyfriend jeans: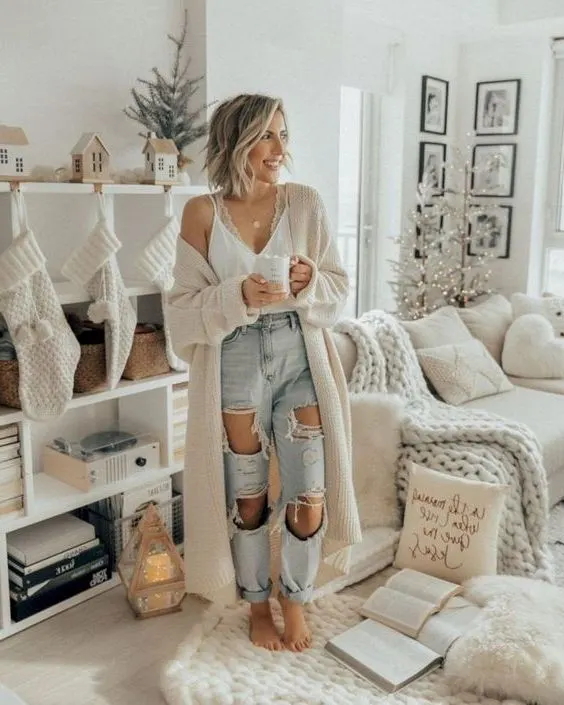 Buy Similar Here
The wide jeans trend is pretty massive right now. Boyfriend jeans appear everywhere on the streets. Thanks to our beloved fashionistas and style editors we can find the best ways how to rock this look, just make some notes and find out some easy-peasy tricks and tips.
The black blazer looks cool with a white tee, cuffed bf jeans and metallic boots: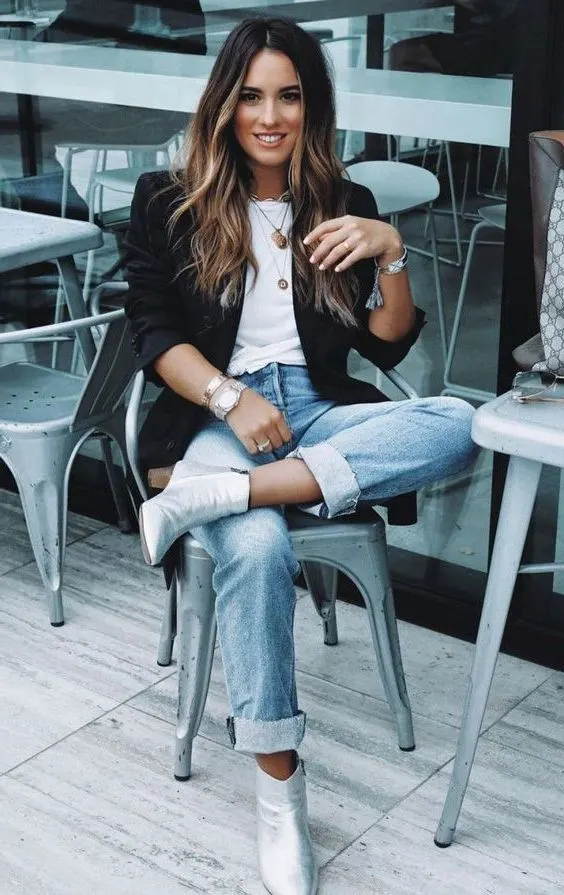 Buy Similar Here
What should I wear with my boyfriend's jeans?
Now, as I have already told you, everything depends on what look you wish to create. If it's a casual one, then you are free to style this denim with basic tees, cozy sweatshirts, cropped tops, short cardigans, flared tops, etc. Complete such basic combos with sporty shoes, like sneakers, trainers, Converse, high-top kicks, and whatever styles you like. A cool-girl style can be created with the same boyfriend jeans updated with a dressy white shirt, oversized denim jacket, and cool chunky kicks.
Why do I love boyfriend jeans so much? They ideally work for skinny ladies, as well as for curvy and full girls. In order to make BF jeans look harmoniously, there are some very simple and basic rules to follow:
If you want to create an office style outfit, you should go for classic blue color design, just make sure these jeans come with no tiers or rips;
If you are a petite lady, then go for slimmer boyfriend jeans, otherwise, you risk to look even shorter, or you can go for heels;
If you don't want to look mannish, I recommend updating your style with a feminine top and heeled pumps;
You can also fresh up your look with eye-catching jewelry;
Keep an eye on voguish accessories, like a bag or eyeglasses;
Add a belt, this accessory will complete boyfriend jeans, I recommend to buy a thin one.
With what shoes to Wear Boyfriend Jeans?
Well, you are free to try any pair of shoes, just make sure that footwear ideally complements the whole outfit.
Can I Wear Boyfriend jeans with pumps
This look is my favorite, it might look strange at first, but then you realize how cool is the result. Try on boyfriend with stiletto heels.
If your work dress code allows wearing smart-casual looks, then how about choosing classic light-blue BF jeans worn with low heel pumps. Complete such look with a dark neutral color turtleneck, sweater, or a slim blouse.
For a meeting with friends, I would go for monochrome shoes with medium-height heels. The same shoes can also work for going outs, cafes, cinemas, and informal meetings with your work colleagues.
If you want to combine BF jeans with printed shoes, then be careful, as they can make your outfit look heavy. But, there are some nice examples of how to play around and keep your outfit balanced.
Boyfriend jeans with sneakers?!
Yes, that's the first footwear I imagine when someone talks about BF denim. Go for classic sneakers, high top designs, slip-on shoes, and whatever pops in your mind.
Also, the white converse combined with a white t-shirt will help you look fresh and modern while wearing these cool bf jeans. Don't forget to add a nice jacket and a large clutch to complete this combo. If you want to add some sassy-nasty touches, then you can simply add a crop top.
Boyfriend jeans with sandals
That's a 100% versatile look. Loose-fit boyfriend jeans can be styled with gladiators, classic ankle-cuff sandals and other open-toe shoes.
Boyfriend jeans and Boots
In the cold season, I recommend wearing these jeans along with edgy shoes that look like from the "Wild West". Make sure to have spikes, pins, and other metallic details on your boots, this will only make them look gorgeous. Plus, you can either tuck your jeans inside or roll them up, so your skin peeks out a bit.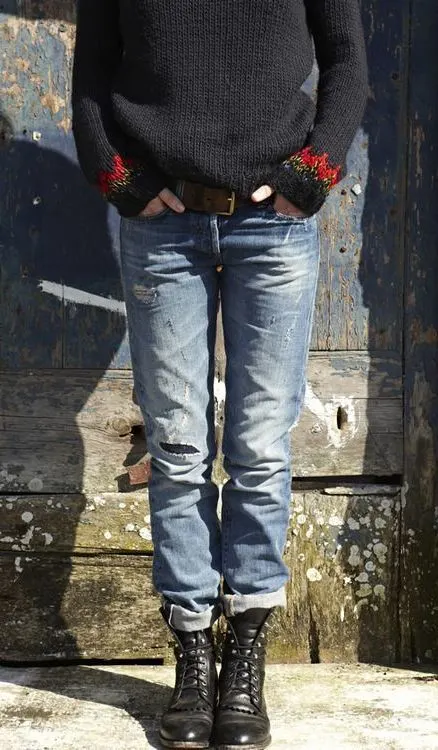 Buy Similar Here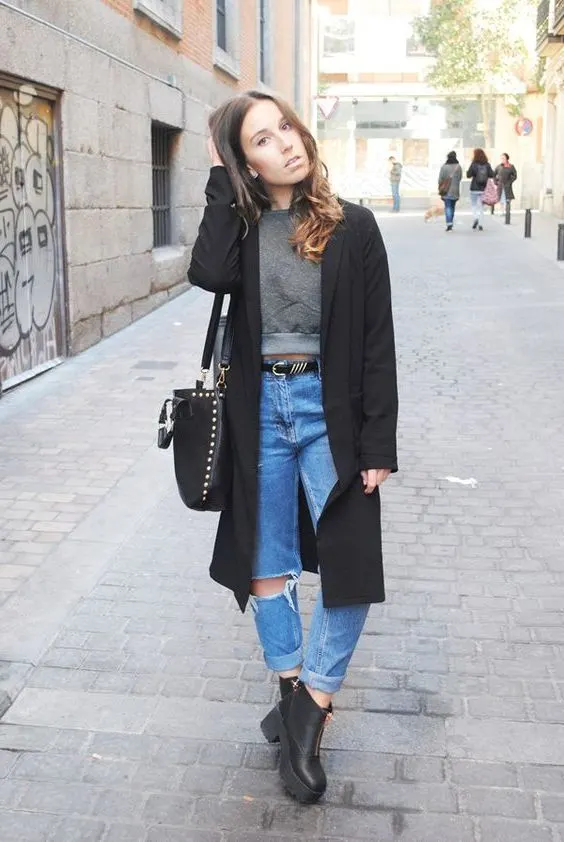 Buy Similar Here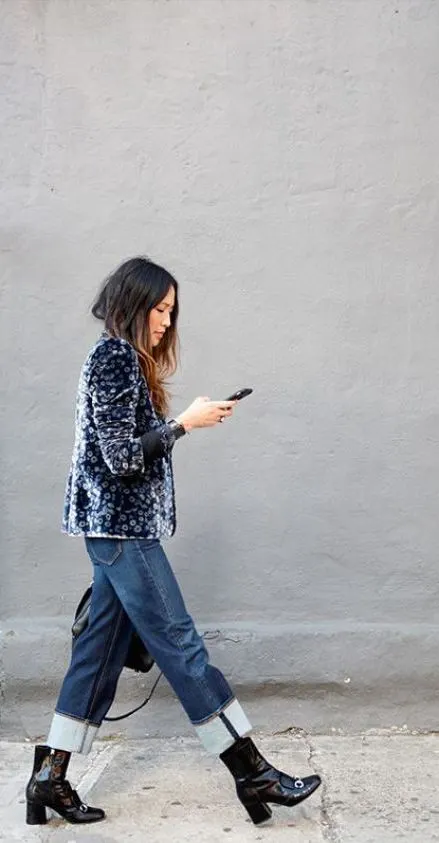 Buy Similar Here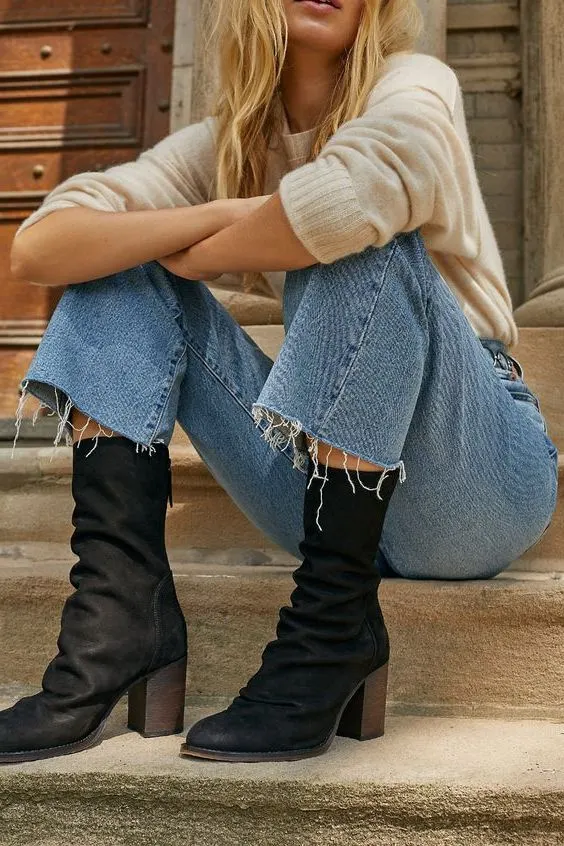 Buy Similar Here
What tops I can wear with Boyfriend jeans?
Boyfriend jeans with t-shirts and crop tops
The white top looks perfect: it adds a pure simplicity to the Boyfriends, but you can also add a kind of coolness feeling to the overall style. As I have already told, BF jeans can be teamed with solid plain color tops, or with rock band tees completed with cool logo prints.
If you are plus-sized, then my personal suggestion is to choose high-waisted boyfriend jeans and style them with a classic or cropped top.
Boyfriend jeans with a shirt
Another ageless trend – shirts of all styles, styles, and colors. Your fashion journey should start with the classics – a basic white shirt and jeans. A perfect choice for work and fun. Oh, yes, I almost forgot: men's shirts look amazing with BF jeans. You can either tuck the shirt inside or wear it loose-fitted
Speaking of prints, you can make a real statement by adding a flannel shirt. It can be either tucked in or opened and layered over a white tee.
Boyfriend jeans with sweaters
Voluminous knitted pullovers are also suitable for Boyfriends. This combination will create a cozy and autumn-like outfit. A scarf and glasses will only add some charm.
Thin summer cardigans will help you stay warm on a cool during the evening. Think of long cardigans, they can be teamed with slim and mesh tops. A perfect multilayering outfit.
For petite girls, I recommend wearing sweaters tied around the waist. This combo will visually make you look taller. Just don't forget about heels.
For curvy women, there is another idea to try: a voluminous soft sweater over an elongated t-shirt peeking out a bit. The main thing here is to choose sweaters of neutral light shades that can visually hide extra pounds.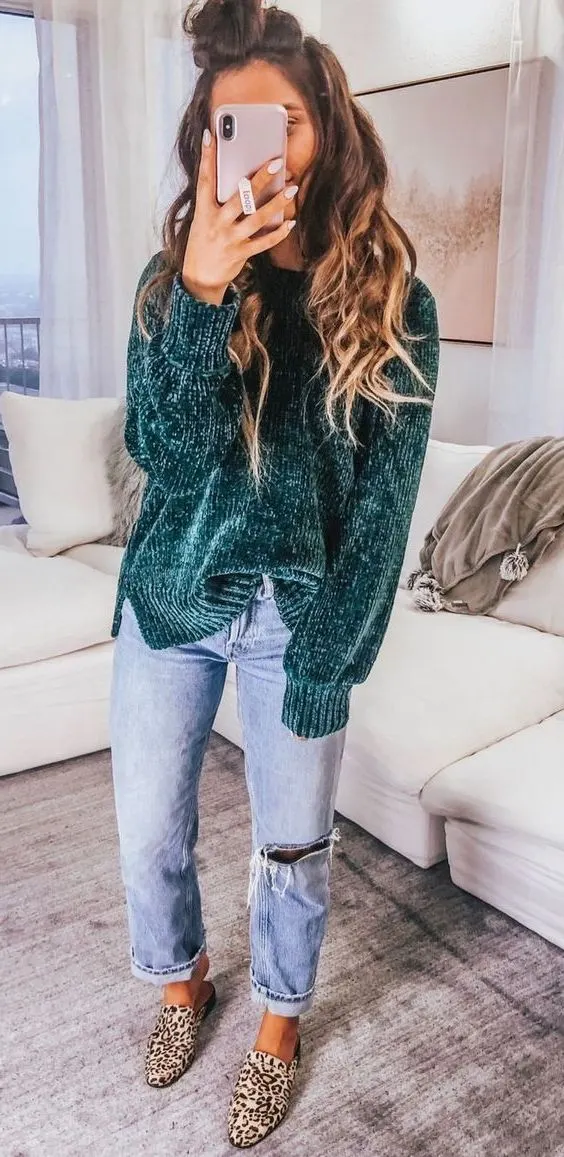 Buy Similar Here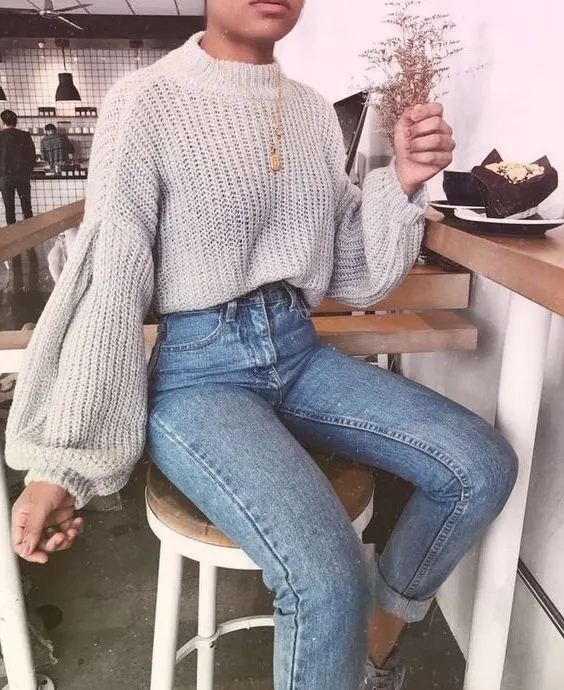 Buy Similar Here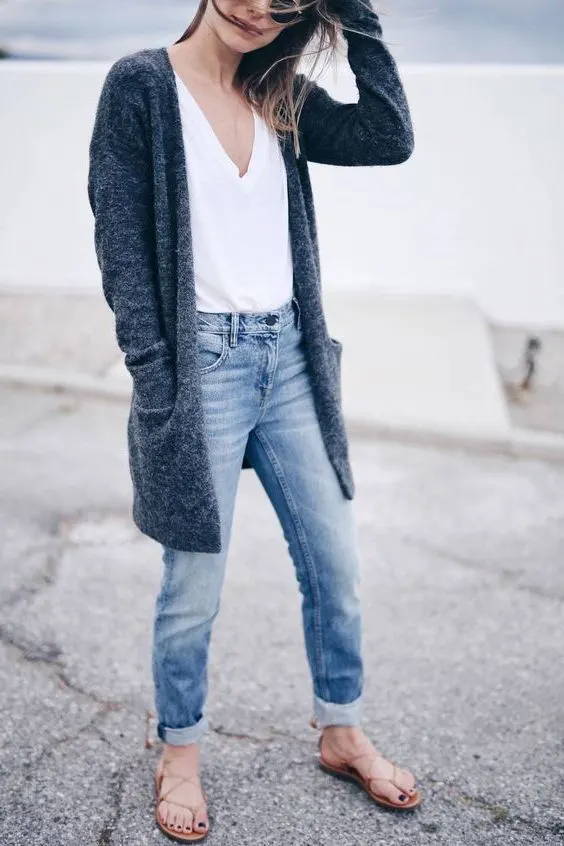 Buy Similar Here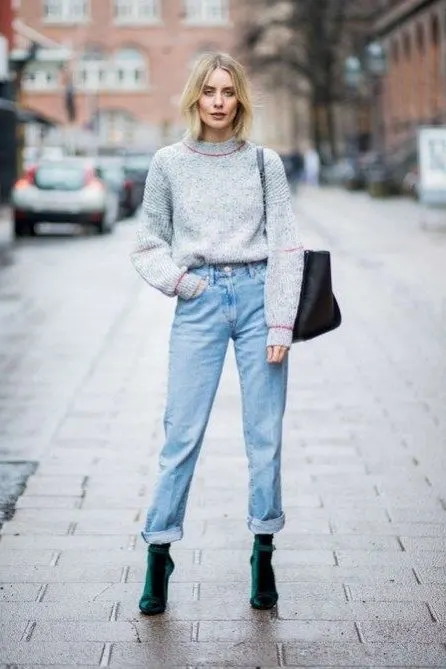 Buy Similar Here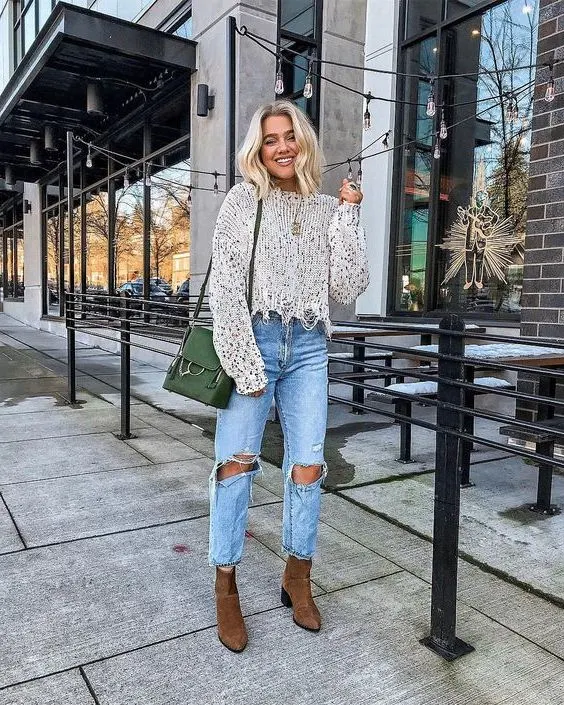 Buy Similar Here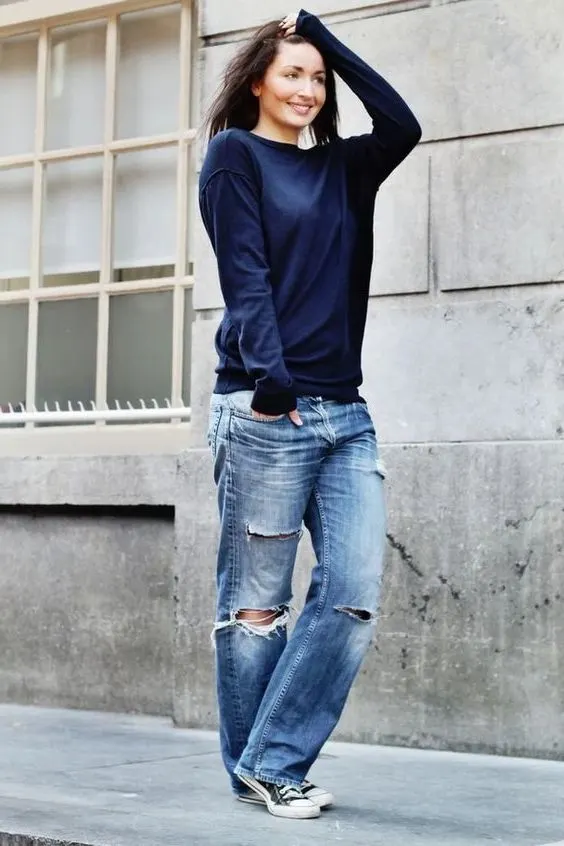 Buy Similar Here
Boyfriend jeans with blouses
Yes, you are free to mix and match. How bout teaming boyfriend jeans with a lace top? The result looks amazing! You can even add a peter pan collar blouse that will upgrade your style into new level.
There are other cool tops to choose from, like strapless tops, sleeveless tops, cold shoulder blouses, and other eye-catching designs.
What Jackets To Wear With Boyfriend jeans
I like to see girls who combine boyfriends with elongated jackets. This combo works cool for office hours. A win-win option for all fashionistas might be a double denim look! Yes, we are all into this trend right now, update the look by adding a light neckerchief, and a voluminous clutch. Or you can go for a leather jacket, the color may vary depending on your mood, but the black one is always IN!
It is impossible to avoid fashionable cocoon coats, they are in trend for several seasons. They gonna look stunning in combination with Boyfriends and updated with chunky sneakers. If you want to add a coat, then my personal recommendation is to go for a classic, neutral-colored design and layer it over a lovely sweater in the same color palette.
Another trick for overweight ladies, avoid adding pastel colors. They will visually add up some extra pounds. It is better to choose neutral shades.
If the jeans look baggy, then I recommend styling them with a streamlined coat or a trench coat. The last but not least, boyfriend jeans look pretty chic with fur vests or fur coats.
How to wear boyfriend jeans over 40
There are no special rules for ladies who are over 40. This denim is okay to wear even if you are over 80. Just make sure to complete the look by adding comfortable footwear.
I hope this review helped you to understand how you can wear boyfriend jeans and what tops, jackets and shoes can easily complete the whole outfit. Anyway, here are some cool street style inspiring outfit ideas:
Cropped Cardigan With BF jeans And White Kicks: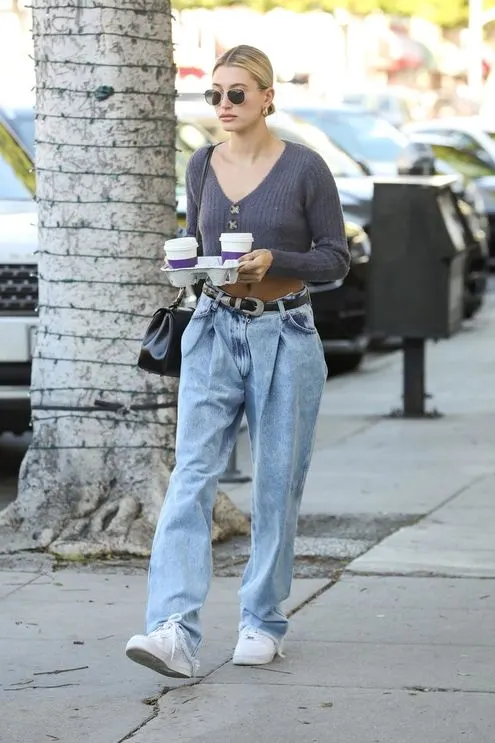 Buy Similar Here
Cuffed boyfriend jeans With A Long Blazer And Chunky Scarf: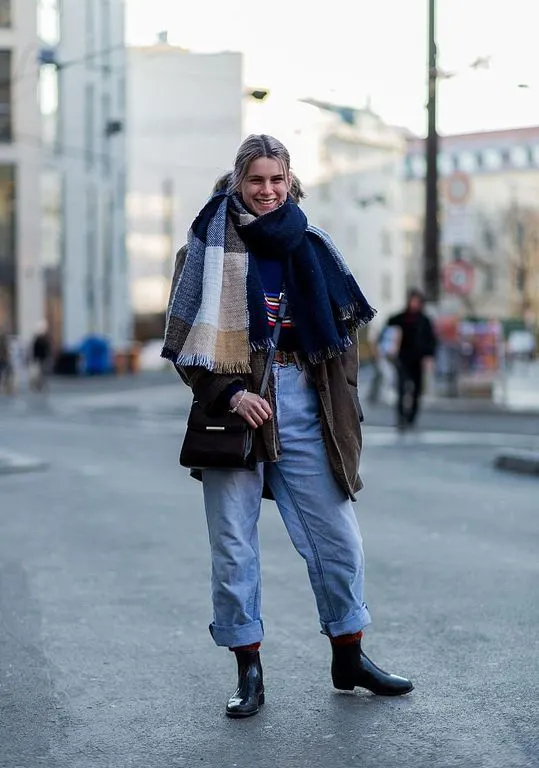 Buy Similar Here
Double Denim Look And Lace-Up Boots: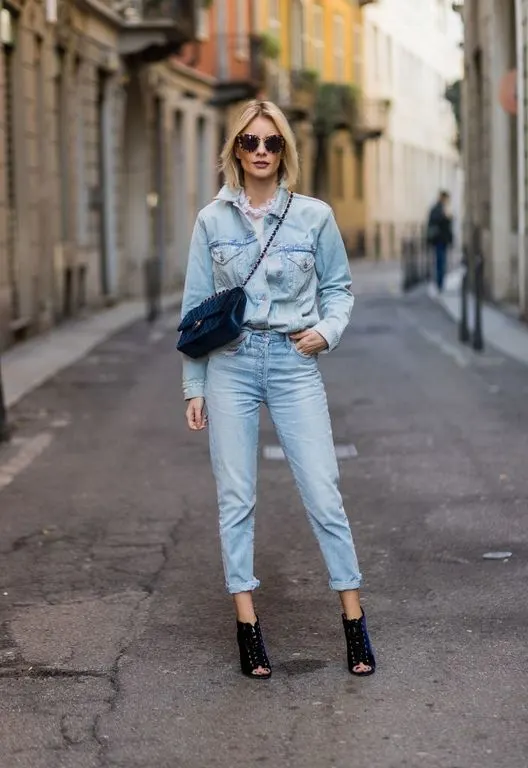 Buy Similar Here
Red Sweater And Cuffed Jeans With Heeled Chelsea Boots: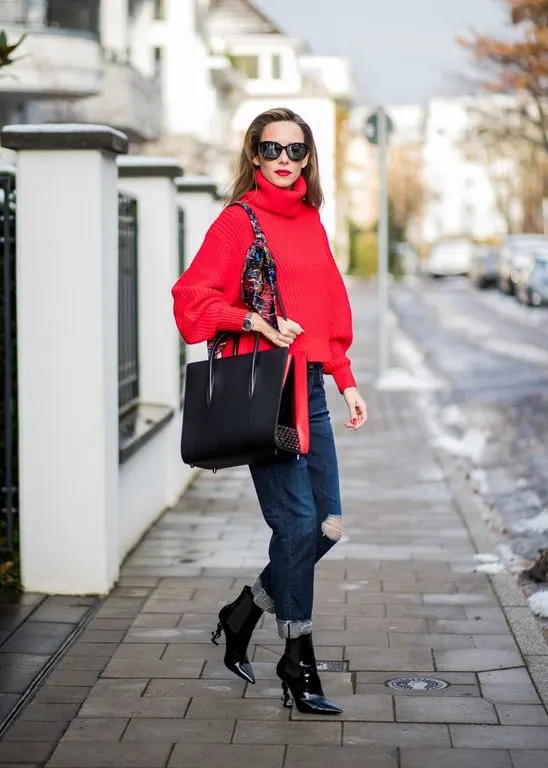 Buy Similar Here
Aviator Jacket With Red Top And Cool BF Jean: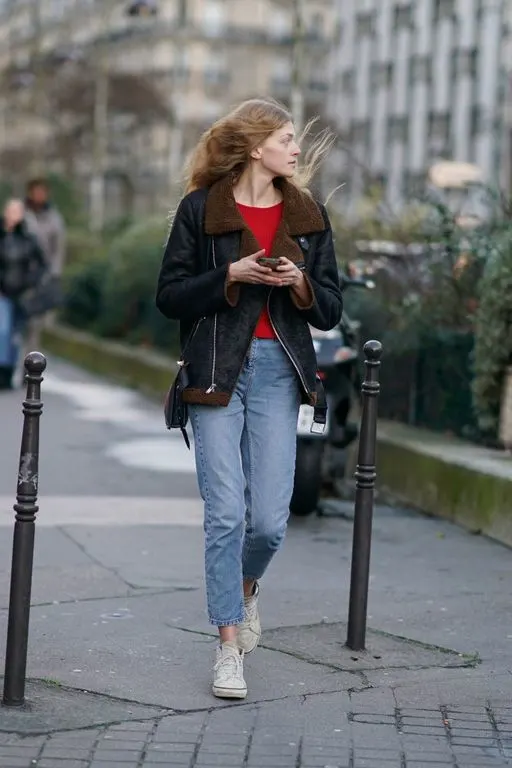 Buy Similar Here
Red Bomber With Cuffed Jeans And Black Boots: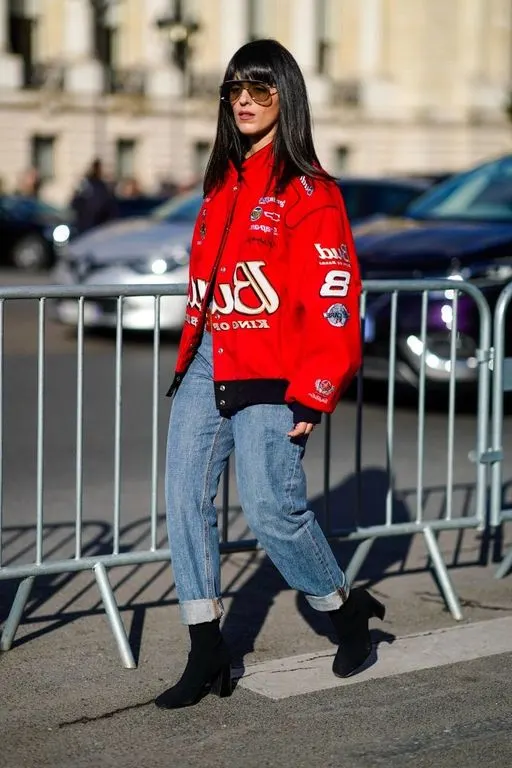 Buy Similar Here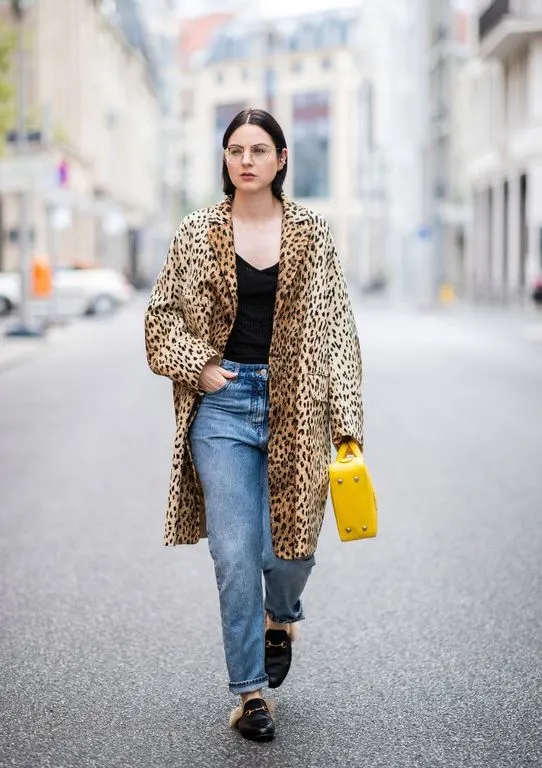 Buy Similar Here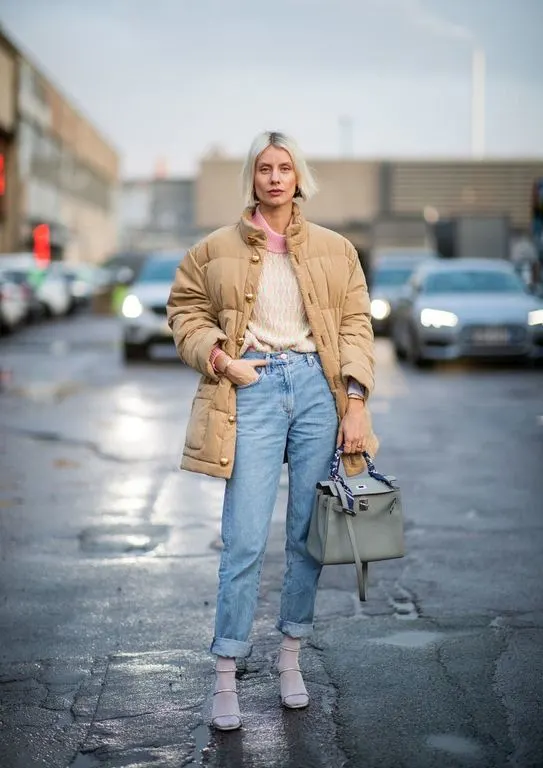 Buy Similar Here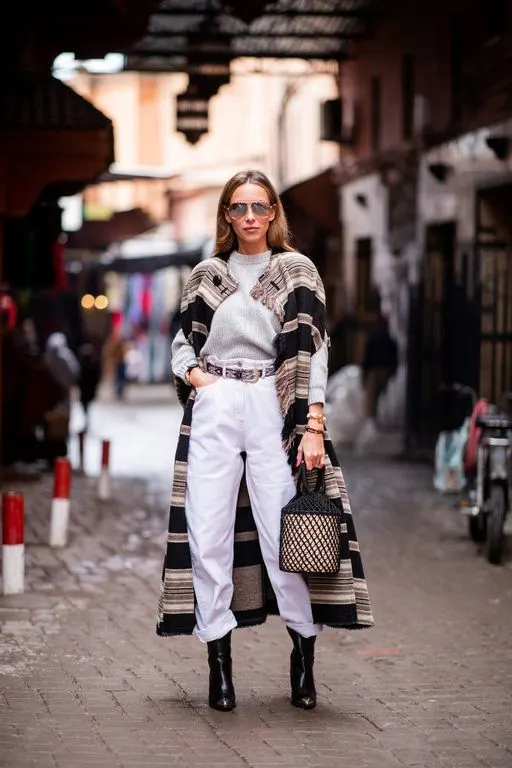 Buy Similar Here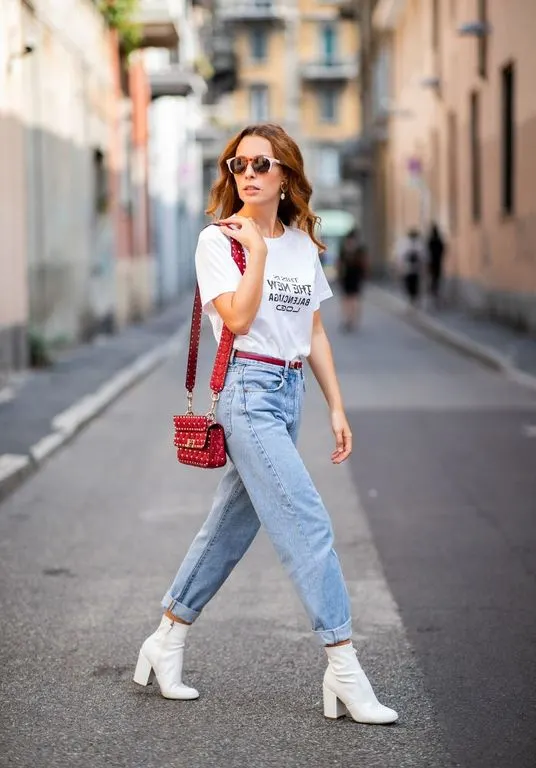 Buy Similar Here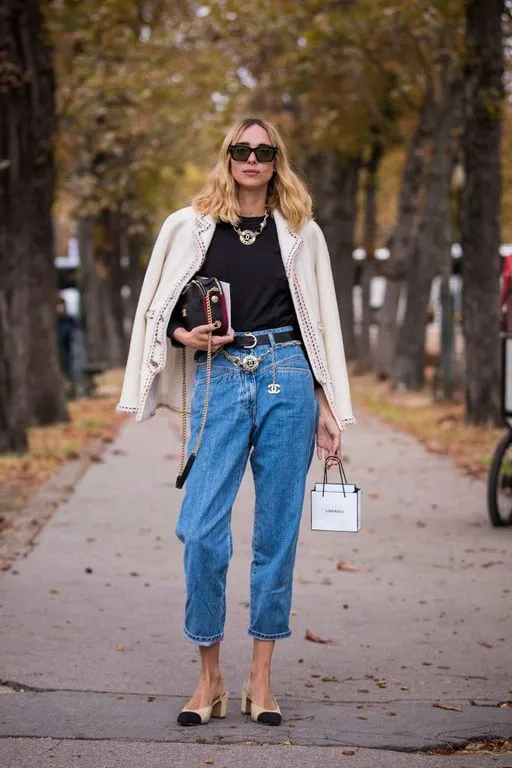 Buy Similar Here
Rock Band Tee With Ripped Jeans And Backless Loafers: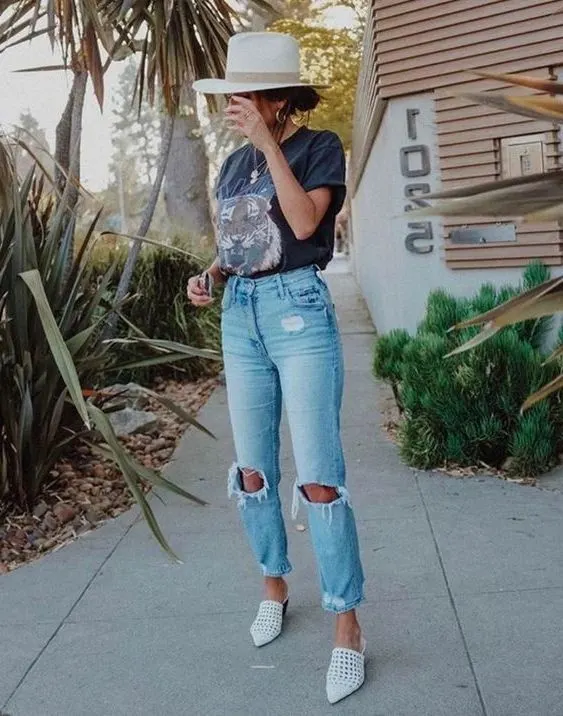 Buy Similar Here
A classic combo of a black sweater, jeans and Converse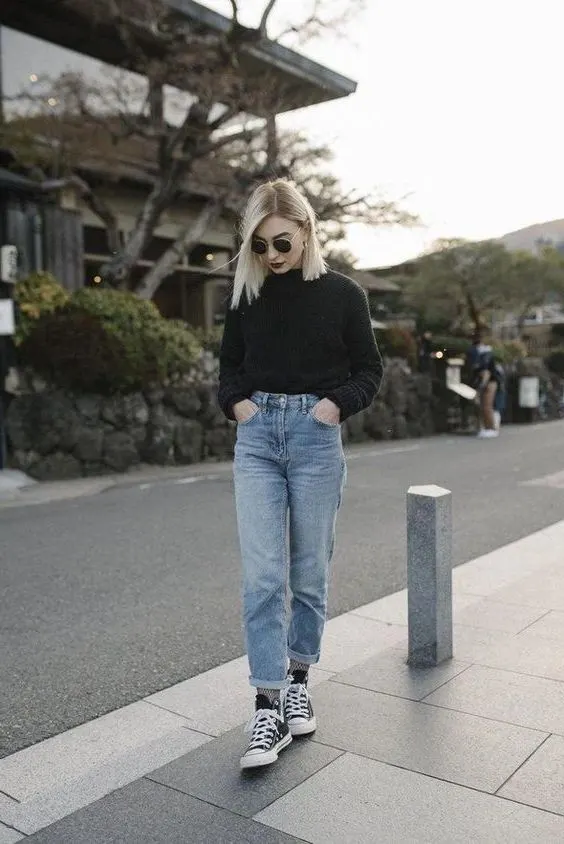 Buy Similar Here
When it comes to being comfortable, no jean has your back quite like the boyfriend jean. Loose, cuffed, and infused with the perfect touch of masculinity—the look works whether you want to keep things ultra-laidback or all dressed up. Though it may appear effortless, the borrowed from the boys look can be challenging to style, so take note from the fashion set who does it best. Boyfriend jeans, mom jeans, baggy jeans – whatever you want to call them, they're trending hard. And because you can't keep wearing the same sweater, jeans, boots, repeat all winter long, it's time to start looking for some new fit options. Thankfully, all your favorite celebs have officially nixed skinny jeans from their wardrobe, swapping for loose-fitting blues with major style.
Update:
When wearing boyfriend jeans, make sure not to make it too much of a statement. Don't go overboard with the accessories and don't follow these rules so closely that you have no idea how to wear them.Remember that boyfriend jeans do not require heels when styling for maximum femininity.
1) When wearing boyfriend jeans with sneakers, I recommend that you pair them with a more preppy look, such as a cropped sweater and flats. This look is both casual as well as dressed up.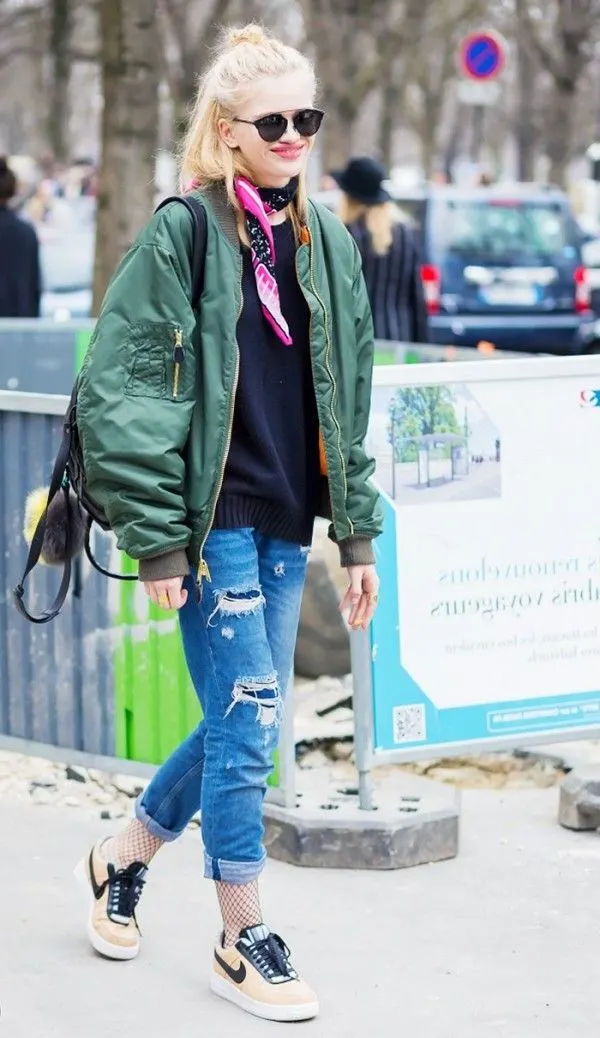 Buy Similar Here
2) Here we see boyfriends paired with heels because it is a great way to wear these jeans that are not too overdone. They do not have to be paired with a t-shirt as you would generally see. When wearing boyfriend jeans with heels, I recommend that you pair them with a more preppy look. Something like a cropped sweater and high heels would be perfect.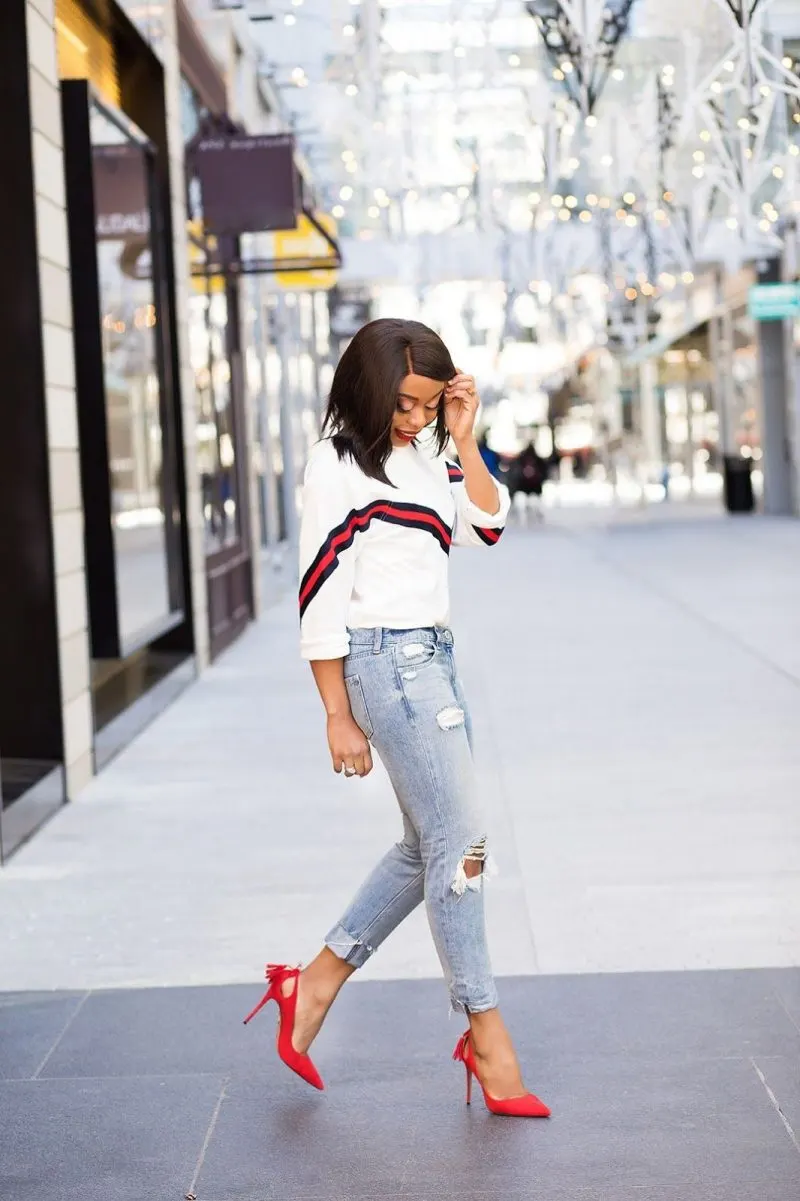 Buy Similar Here
3) A great way to wear boyfriend jeans is by pairing them with an oversized sweater and boots.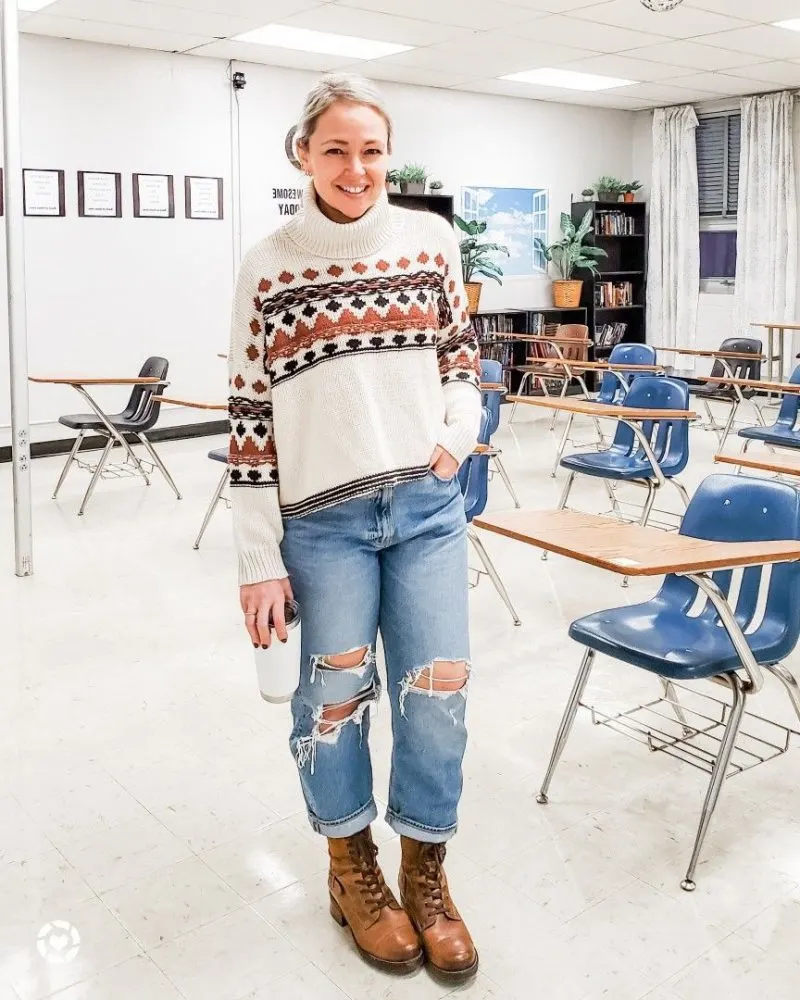 Buy Similar Here
Source: HarpersBazaar, Seventeen