Today's style lesson is all about high necks. We are here to see what to wear with a turtleneck. If you need some really cool inspiration, then I am here to show you my favorite street style looks to follow right now. You are about to see celebrities, style editors, and models wearing turtlenecks in some crazy and chic ways combined with dresses, suits, and skirts.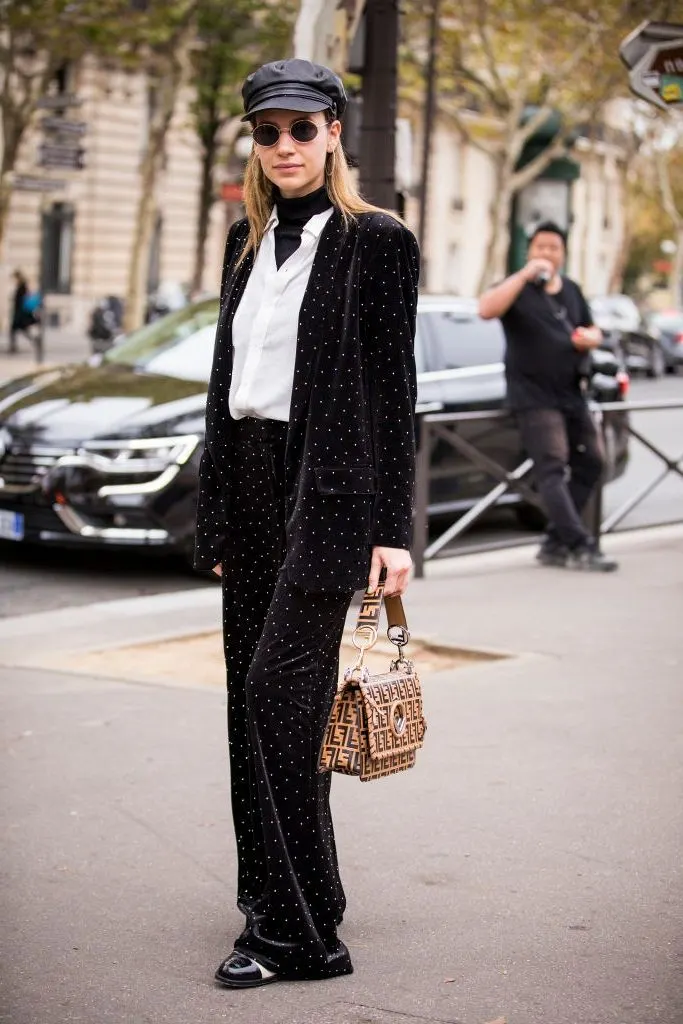 Buy Similar Here
Turtleneck is a basic element of every lady's wardrobe. I would recommend having at least three pairs of turtlenecks: the one in black, other in white, and the third one in beige color.
It can be a really difficult to figure out the best outfit to wear if you don't have a plan. Turtlenecks are great for warmer days, because they keep your neck warm without having to wear a scarf! They're also surprisingly versatile as well, and they look great with some jeans and boots in the wintertime. This post is going to go over how you can dress up or down turtlenecks, what colors work well with them, and we'll give you some outfit ideas.
Turtlenecks look awesome with jeans or pants to wear with it (jeans will be best, as they sit ideally on women's body), but you can go for a skirt or even for a dress under the turtleneck. I personally complete the look with a cute scarf as accessory – I recommend a reversible one!
What Body Shapes Look Great With Turtlenecks?
If your figure type is a pear-shaped body (you have wide hips and a small breast), then most likely, you should either give up on wearing turtlenecks or wear it in combination with a big scarf that will visually balance the figure.
If your figure type is still the same pear-shaped body, but the difference between the chest and the hips is not big, then feel free to wear a turtleneck.
The hourglass-shaped women can wear everything, and they will still look gorgeous.
If your figure type is inverted triangle then go for a tight turtleneck and combine it with a full skirt or flared trousers. If you do like oversized fashion, then buy yourself boyfriend jeans and wear them with a neutral colored turtleneck.
If your figure type is "Apple", then you better be careful: a slim turtleneck can add a couple of unwanted inches. Most likely, you will look great while wearing an oversized turtleneck.
How To Great In A Turtleneck:
1. First things first, you want to make sure your turtleneck fits in all the areas that matter. For how it fits around your neck, be sure to keep the bottom edge of the turtleneck hanging down approximately ¾-1″ below your jawline. The bottom edge must also cover the tops of your shoulders. If you're having trouble finding one that fits, try a turtleneck with a bit of a longer length in the bottom than usual.
2. Next, you want to find something that goes well with your look. Lay your outfit out and show it to your friends/family/etc, and see what they say about it. For instance, if they like the jeans but think the turtleneck is boring, match them with a scarf and change it up!
3. Now you can decide if it is a good idea to wear your turtleneck with the fashion you are trying to go for. If you want to wear it with something a little more dressed up, like a blazer and nice shirt, then go ahead and pair your turtleneck with that. If you want to wear it more casual, just add on your scarf or jacket and be done!
4. If the weather is either really cold or warm, use the following tips for both: If it's cold and windy, consider going with a darker color. Especially if you want to wear it over jeans, which are already more prone to being cold. Use layers, like a leather jacket or a lightweight coat. If it's really warm and sunny, consider going with a lighter color and wear it alone without layering. Especially if you want to wear it at night or in the evening, which is when turtlenecks get too hot!
9. If you have problems with how your turtleneck falls around your shoulders, try picking up a tank top in the same color and wearing it underneath. It will make your turtleneck look fitted. If you have problems with your top being too loose around your neck, try putting on a simple necklace underneath.
Easy Outfit Ideas With Turtlenecks
White Turtleneck and Black Pants Outfits
White turtleneck top and black bottoms, or vice versa is a good start for creating a fabulous outfit. Some of you might hate this monochrome look, but the result is eye-catching and makes you look special.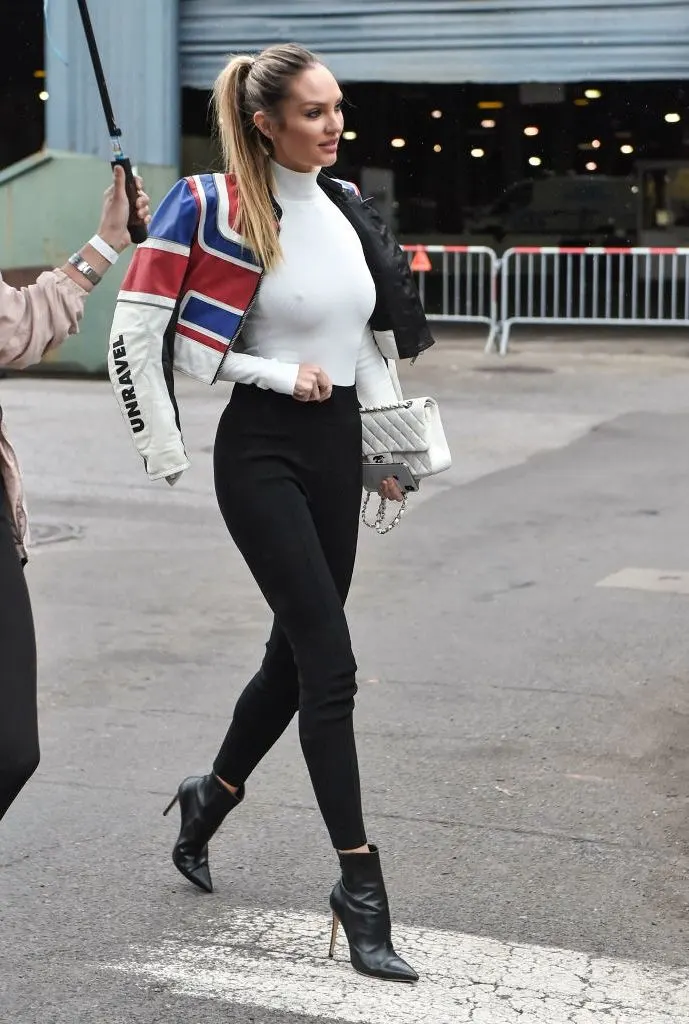 Buy Similar Here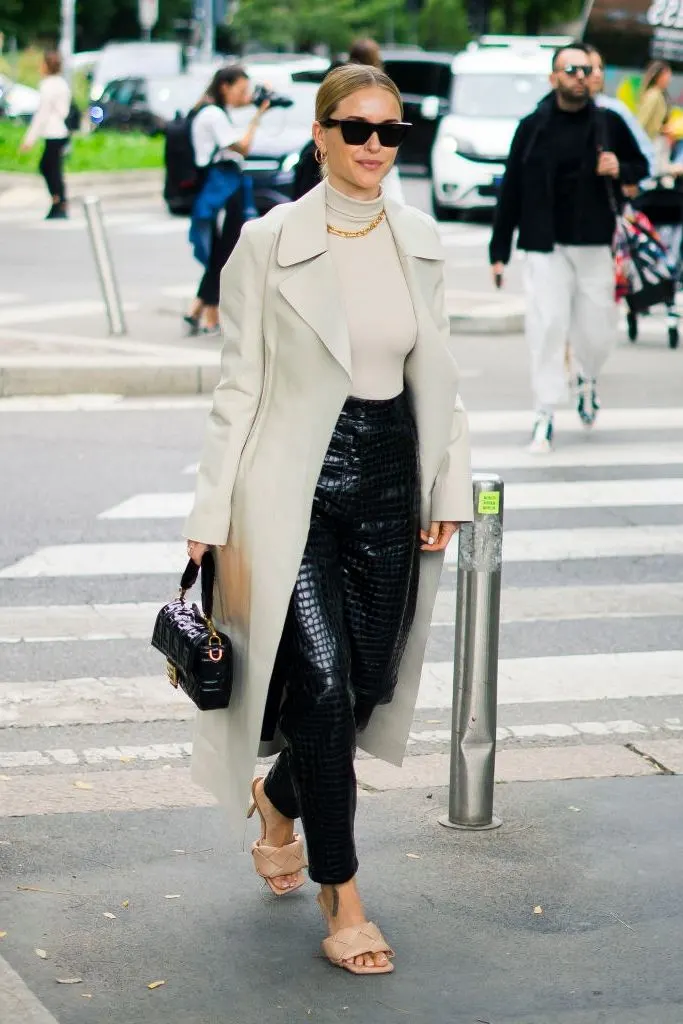 Buy Similar Here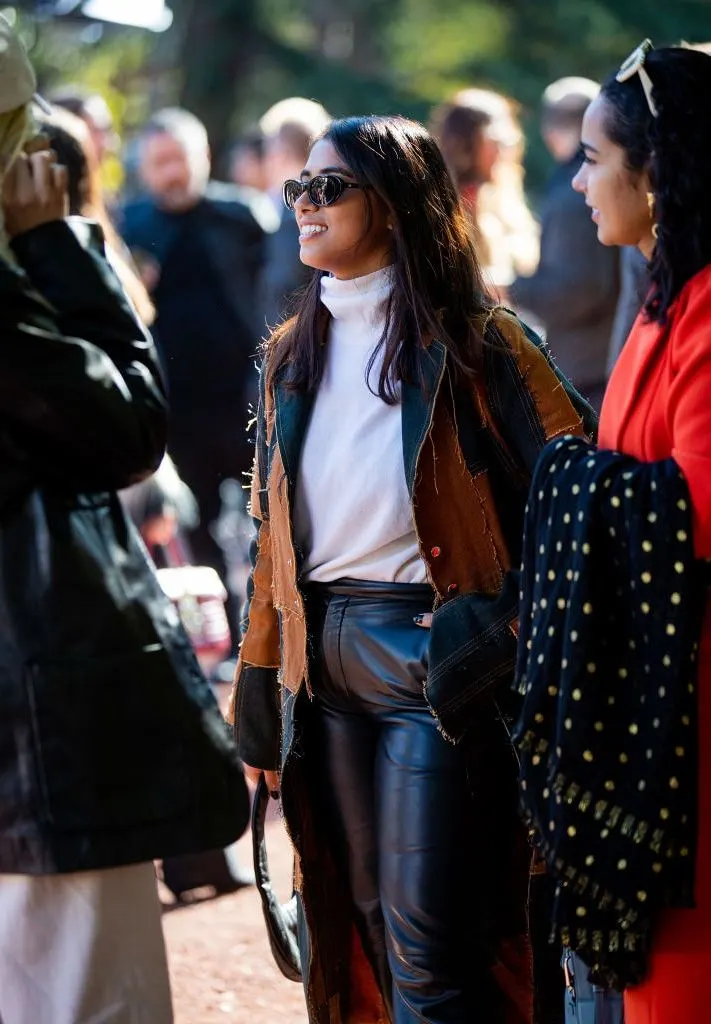 Buy Similar Here
Total Monochrome Look With Turtleneck
Why not creating a fully monochrome outfit with your favorite turtleneck? Style it with your favorite accessories and outerwear pieces.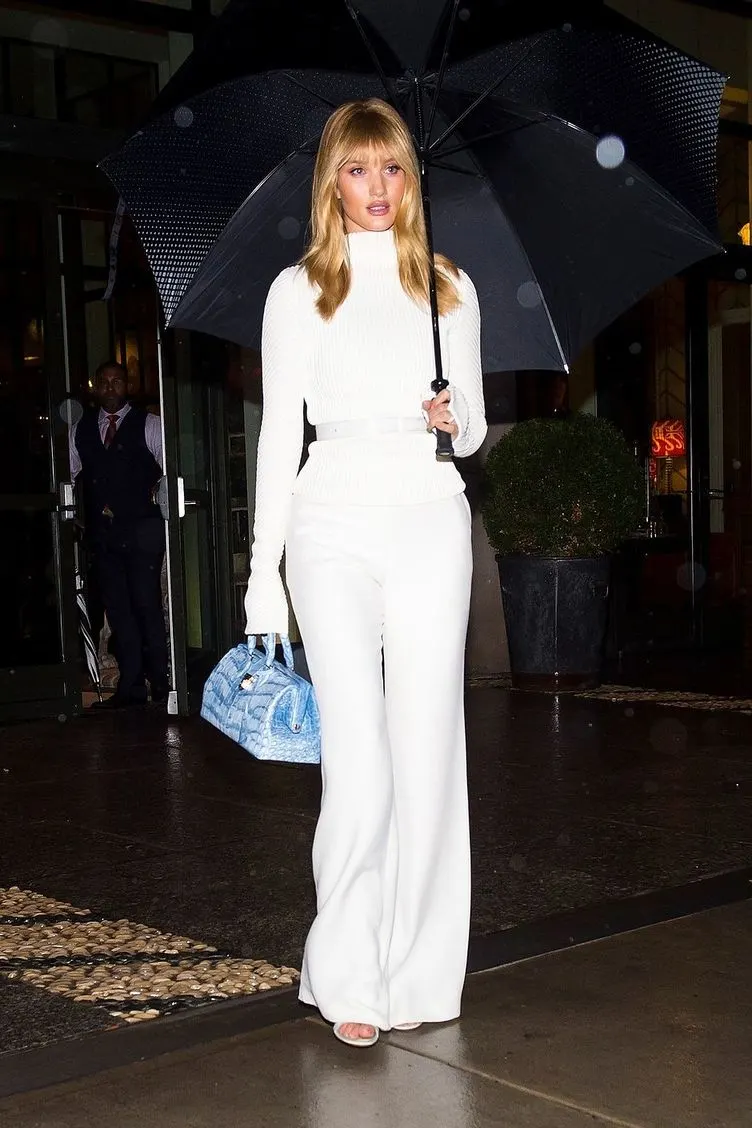 Buy Similar Here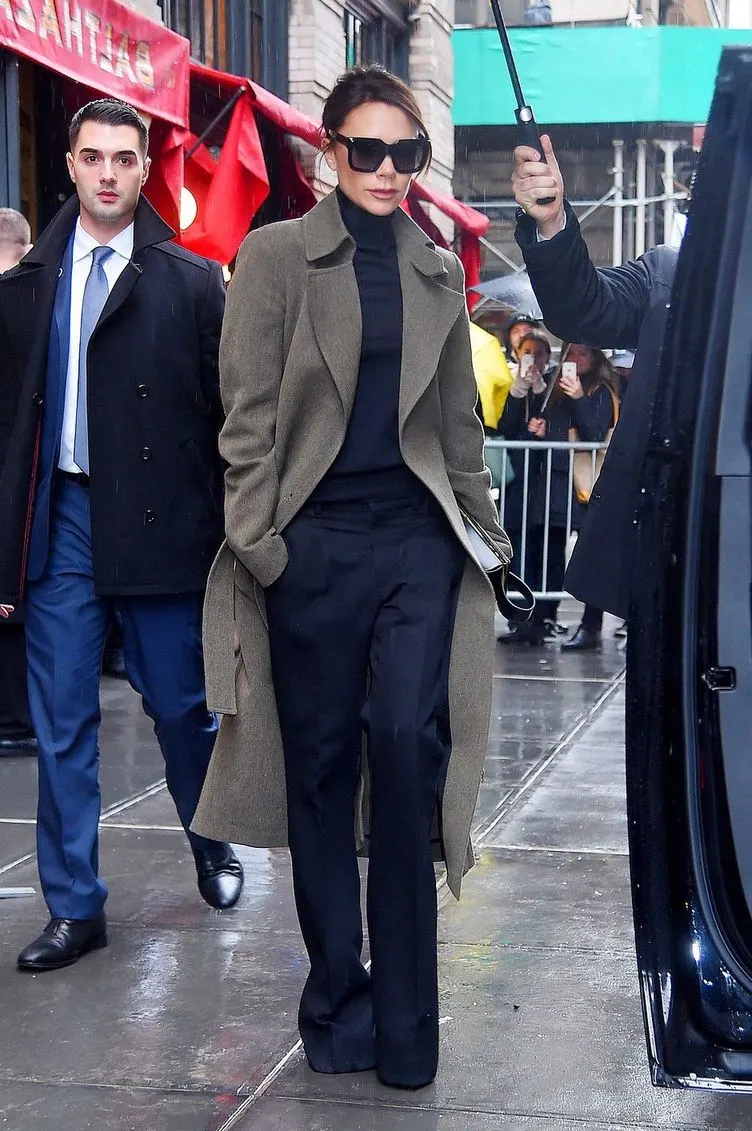 Buy Similar Here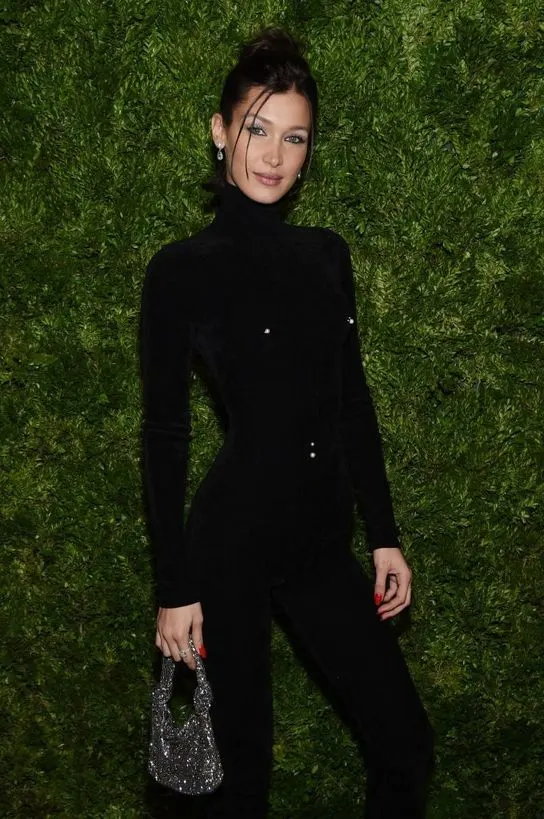 Buy Similar Here
Buy Similar Here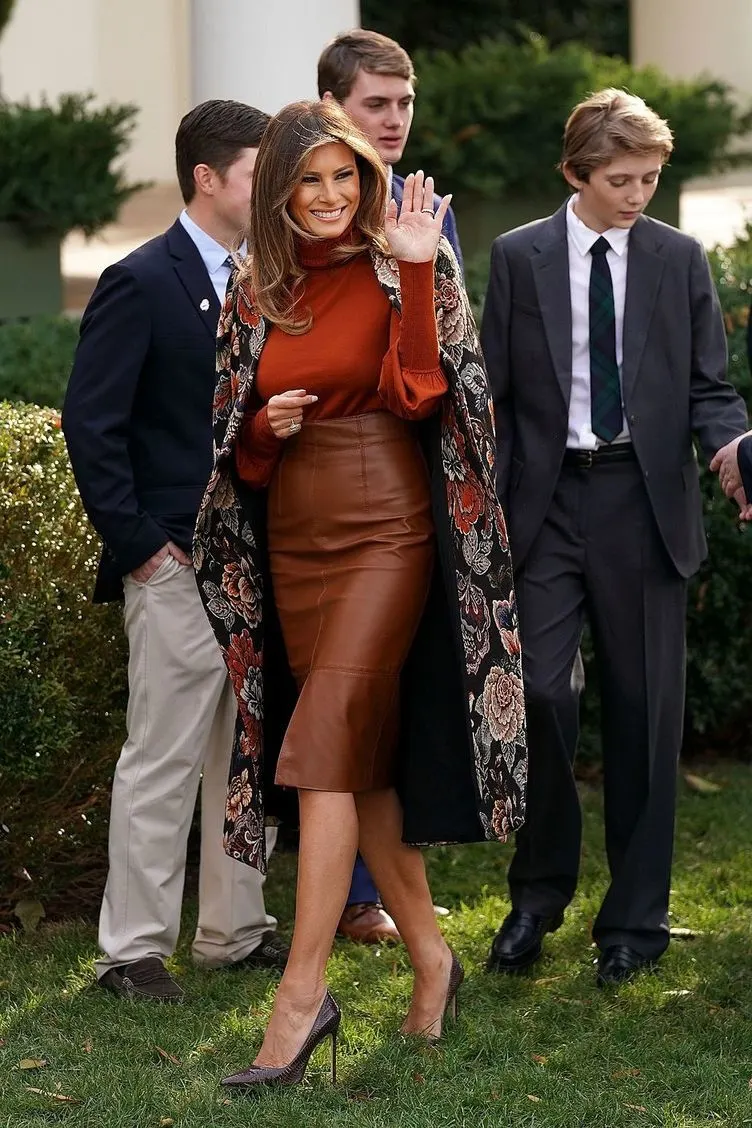 Buy Similar Here
Turtleneck And Mini Skirt
If you want to add some sassy touches to your style, then how about teaming your favorite turtleneck with a short skirt? The turtleneck is an appropriate top for all kinds of events: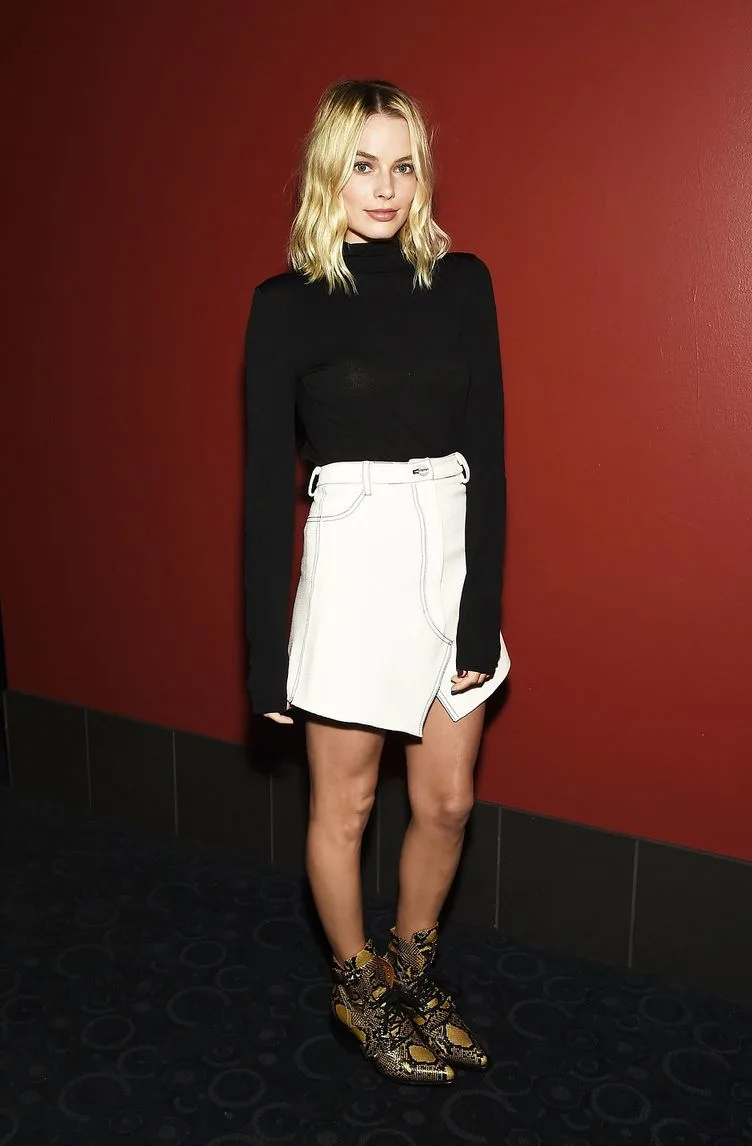 Buy Similar Here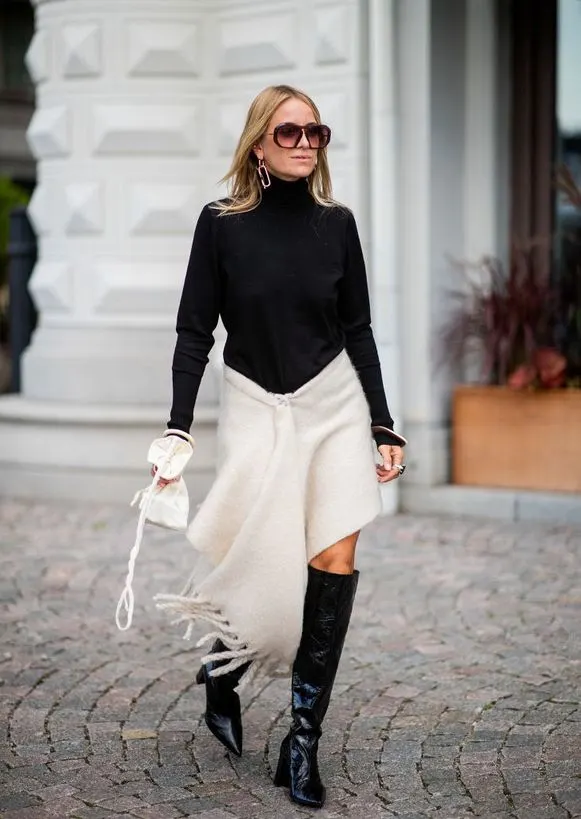 Buy Similar Here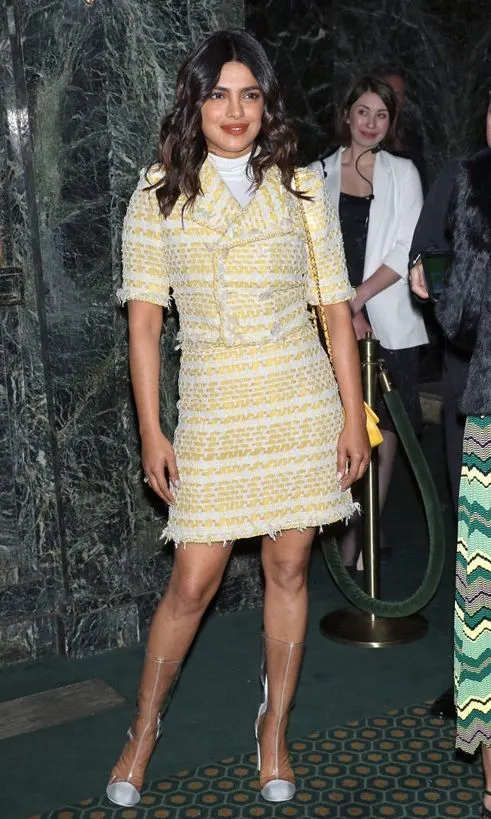 Buy Similar Here
Turtleneck With Jeans
If you want to know how to wear basic things and not look boring, then go for a bright turtleneck and team it with cropped blue jeans and a contrasting color coat, it will attract everyone's attention. Anyway, denim and turtlenecks look perfect together.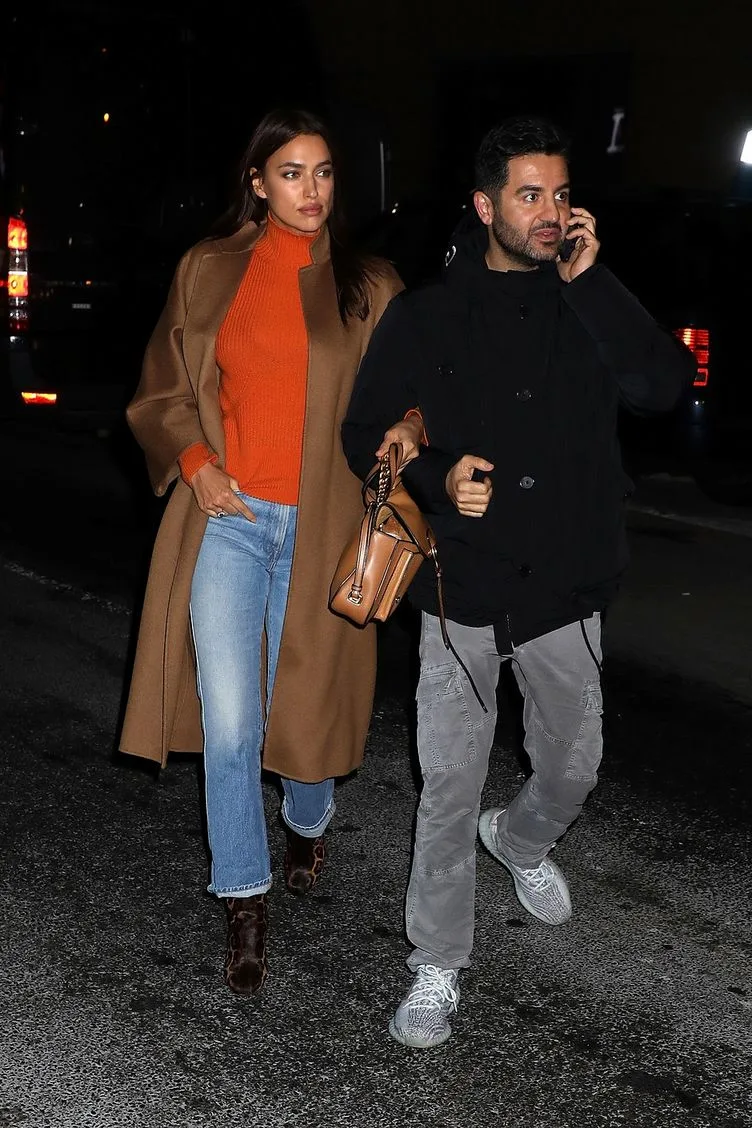 Buy Similar Here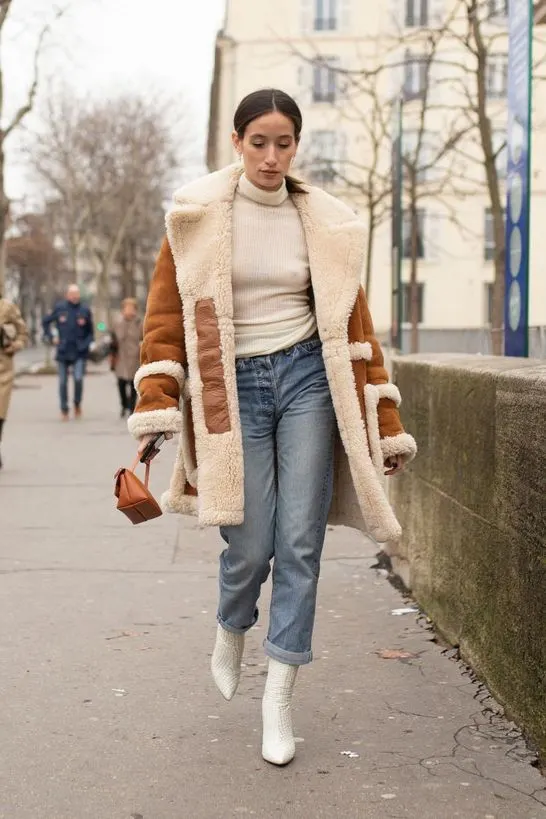 Buy Similar Here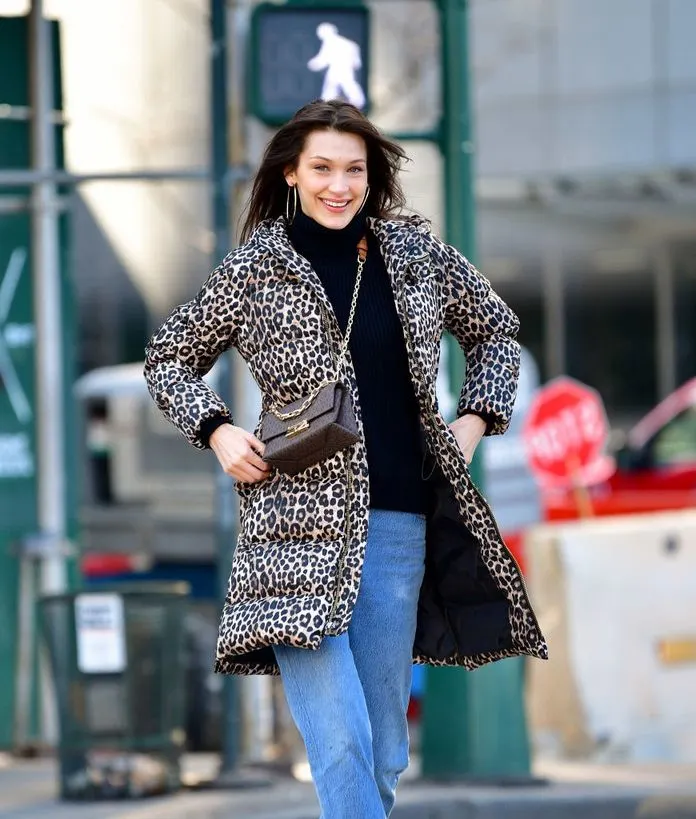 Buy Similar Here
Turtleneck With Tailored Pants
A turtleneck is a great alternative to a top or blouse. It will perfectly match a suit, trousers or skirt, allowing you to look strict and elegant at the same time. The perfect combination for office workdays: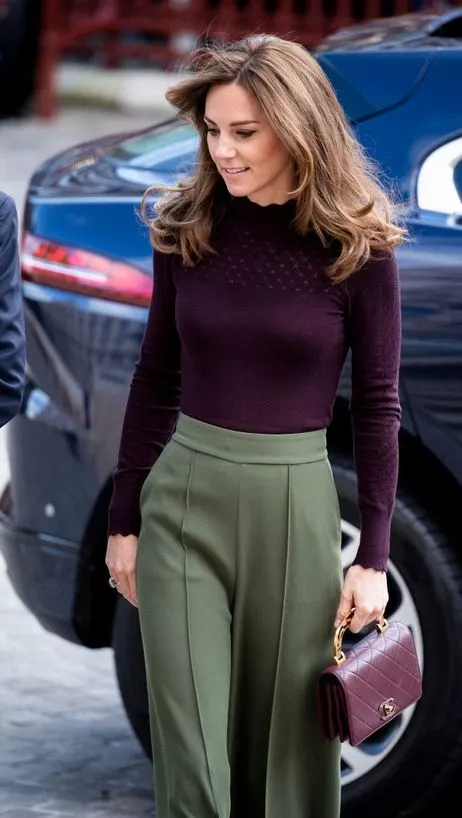 Buy Similar Here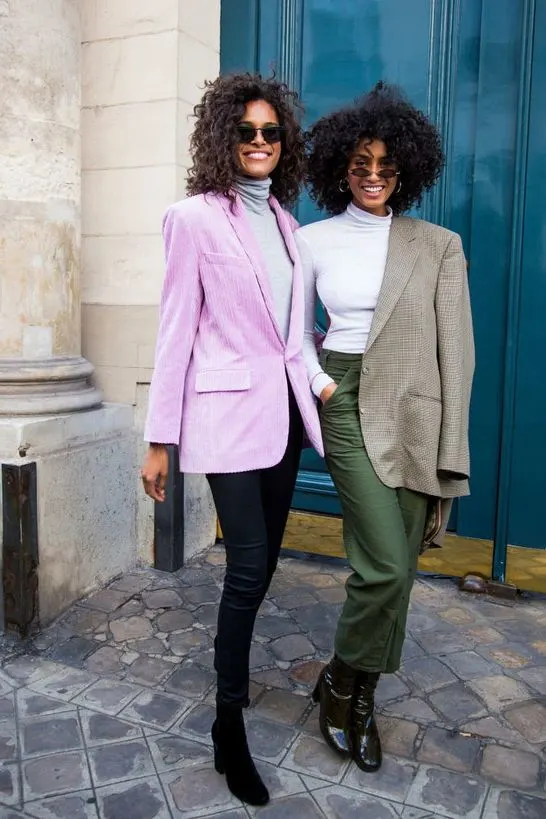 Buy Similar Here
Turtleneck And Midi Skirt
Another must-try for fashionistas is a turtleneck and midi skirt combination. I recommend to give this combo a try if you wish to cover yourself from head to toe, but still look feminine: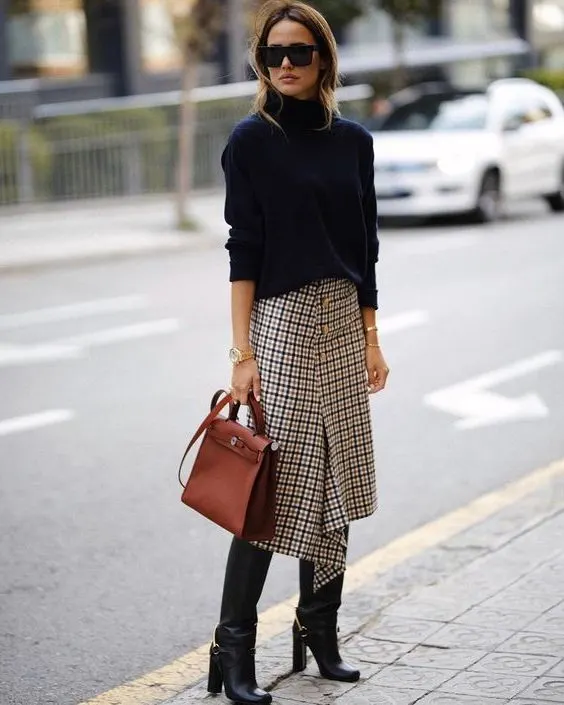 Buy Similar Here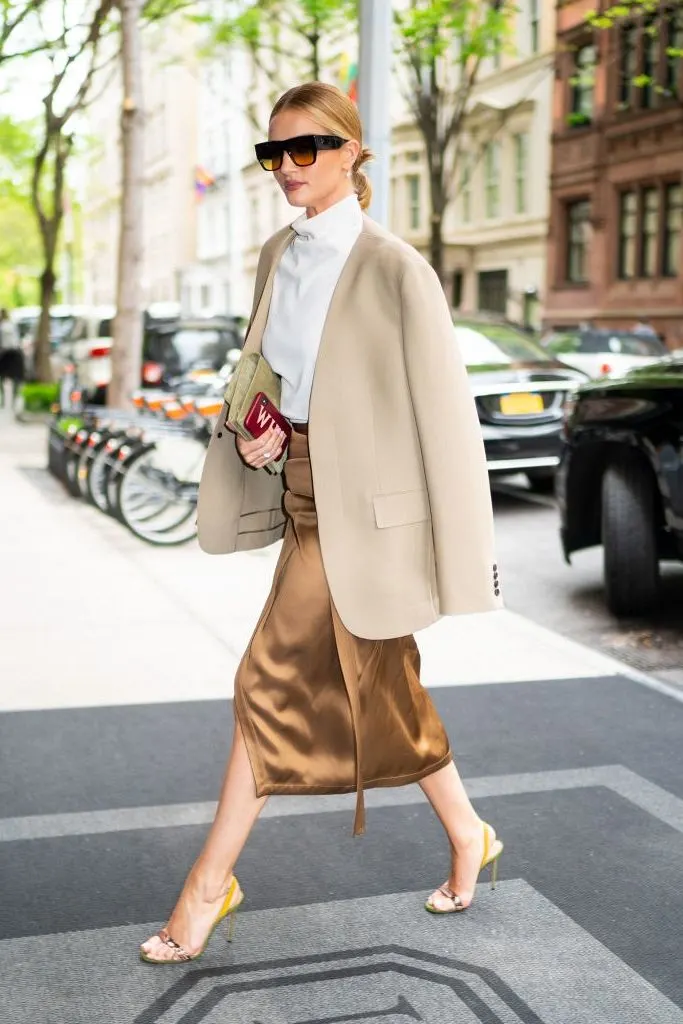 Buy Similar Here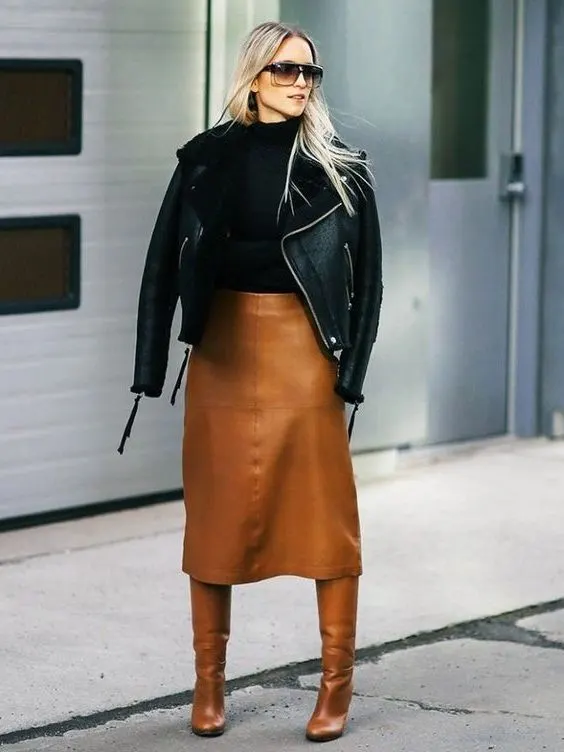 Buy Similar Here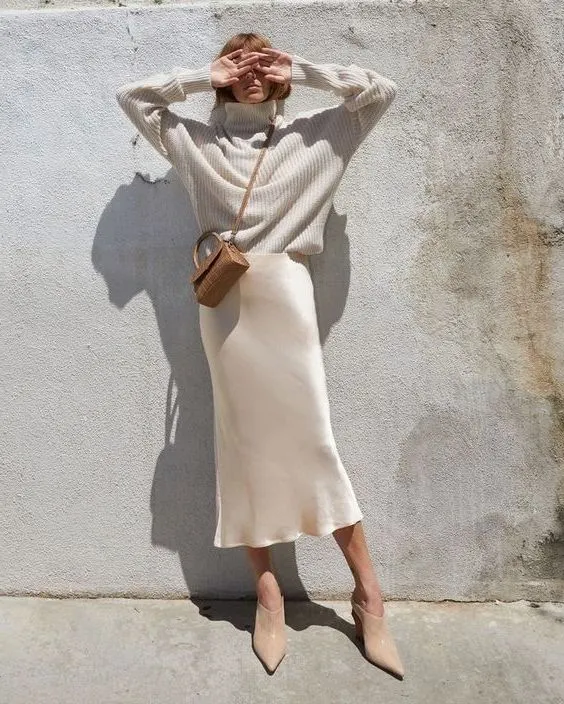 Buy Similar Here
How To Wear Turtlenecks With Dresses
Your favorite summer dress with open shoulders or without sleeves can be worn during fall season time, just make sure to layer it over a turtleneck. You can think of some deep cleavage dresses designs and make them appropriate to wear in the office, all you need is to add a plain turtleneck under it.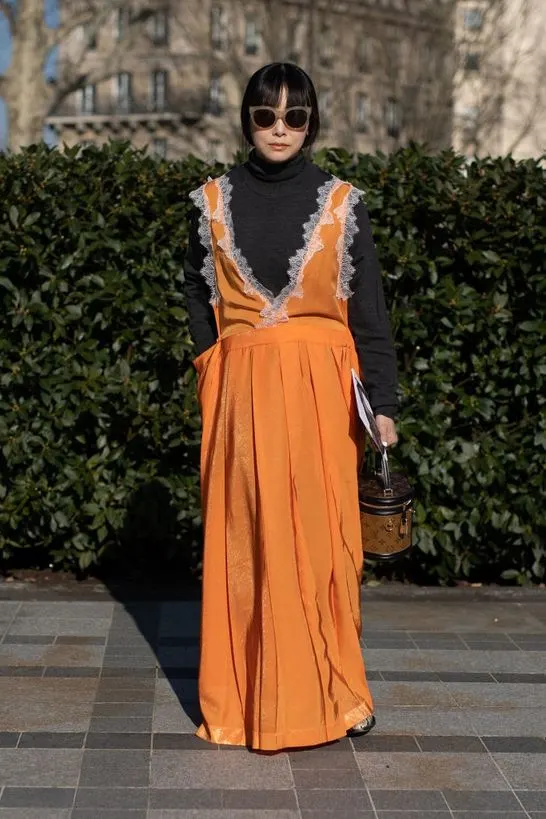 Buy Similar Here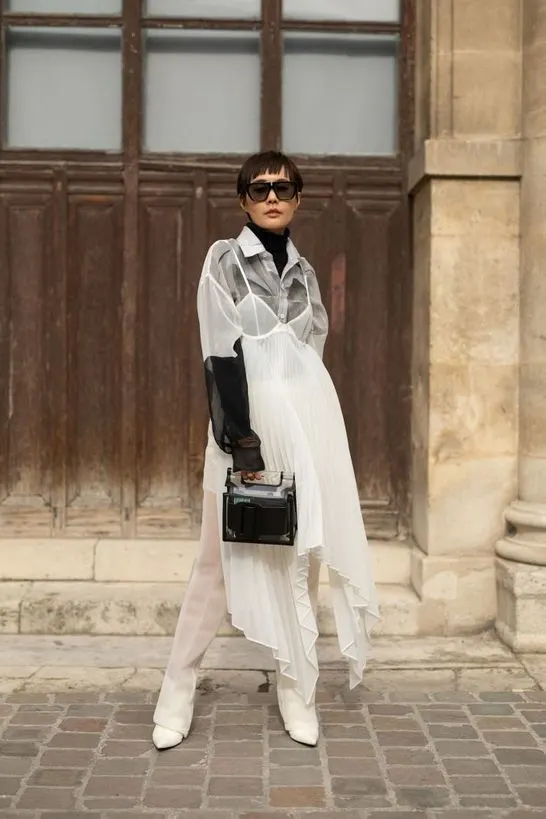 Buy Similar Here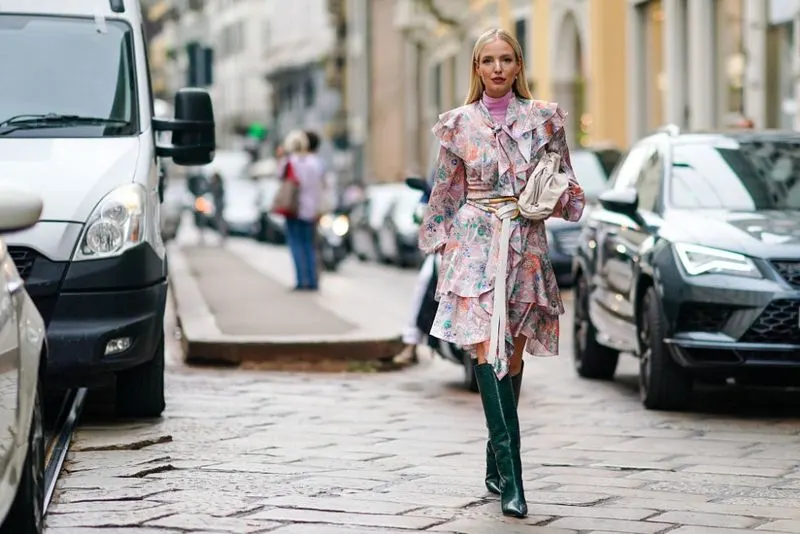 Buy Similar Here
Colored Turtlenecks
Don't hold back in color: choose a turtleneck in yellow, maroon, or green colors.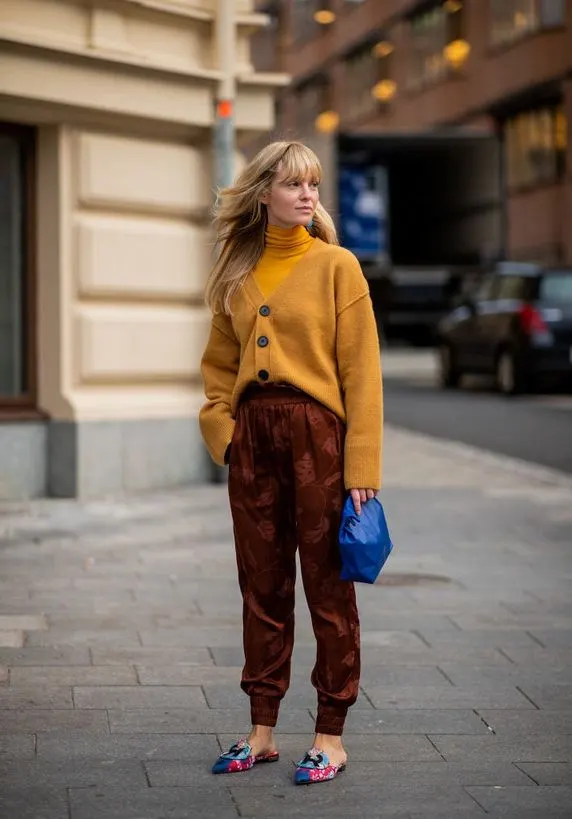 Buy Similar Here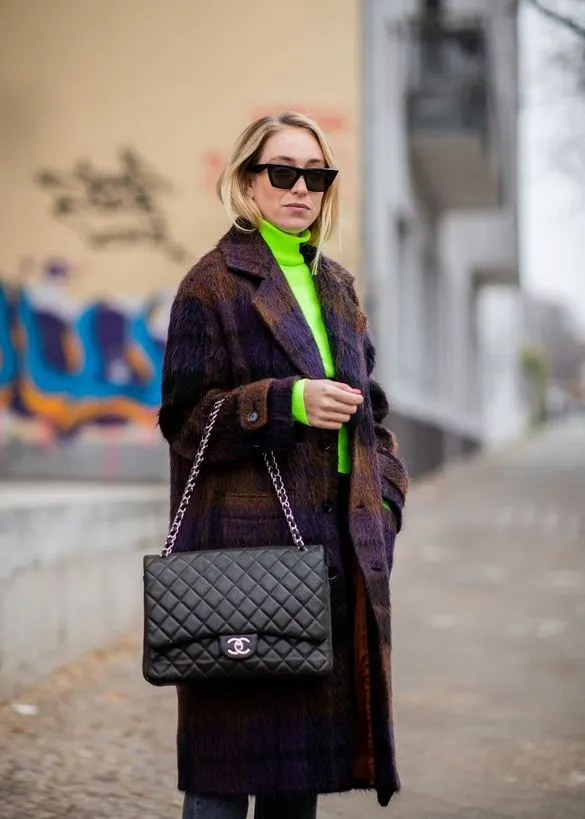 Buy Similar Here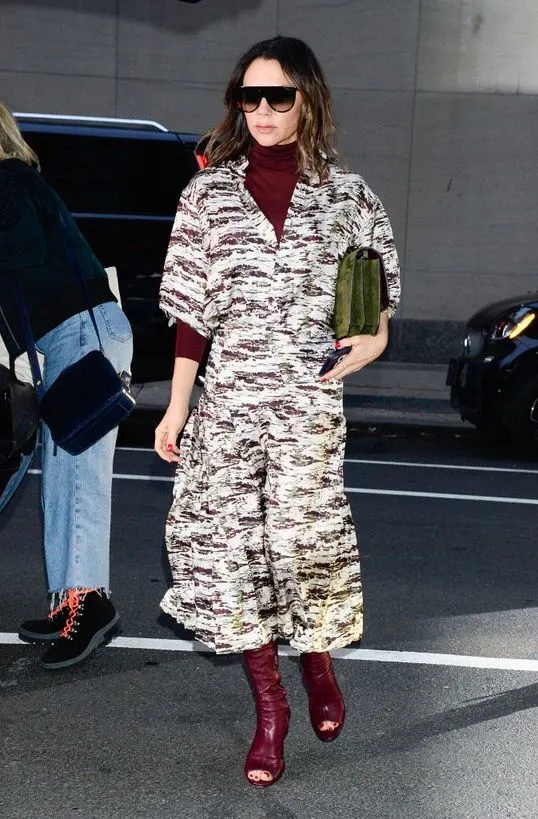 Buy Similar Here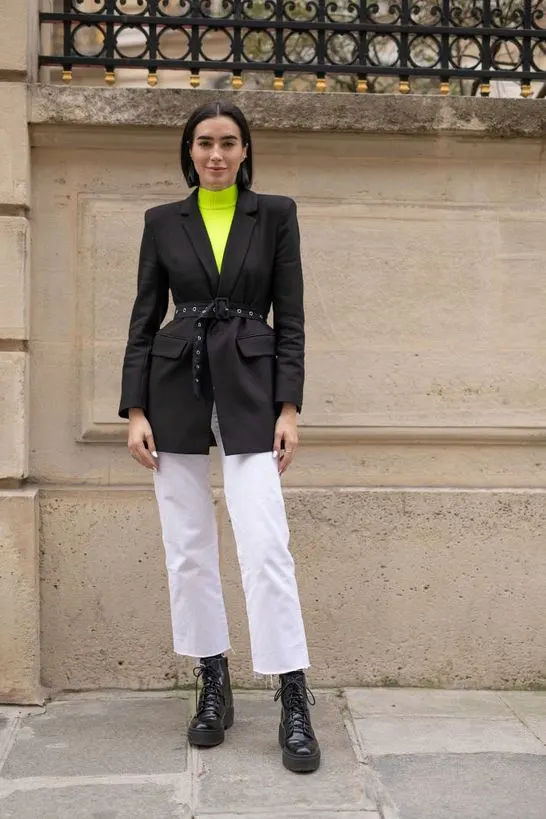 Buy Similar Here
Somewhat inexplicably, turtlenecks have become a vital part of your wardrobe once again. Spurred by celebrities like Gigi Hadid, Selena Gomez, and Gisele Bundchen, we're suddenly quite positive we can't go another day without a range of turtlenecks to wear over, under, and every which way.
If you're wondering how to pull it off, we've got you. We rounded up different inspiring ways to wear a turtleneck sweater or t-shirt with just about anything.
Whether you want to wear a chunky sweater with a silky skirt or dress, or tuck a ribbed knit into your favorite vintage-inspired jeans, just remember it's not as hard as you think (in fact, it will look totally breezy and casual, trust us!). Have fun being adventurous with what you wear! You can't really go wrong when you're wearing a turtleneck 🙂 Which one of these looks is your favorite?
Source: LiveAbout