We have already covered LBD, now it's time to see ways how to style black maxi dresses. In today's collection, I am about to show you easy ways how to wear floor-length dresses in black color. Why do we love so much this kind of dress? First of all, they add a sophisticated and mysterious touch to its wearer.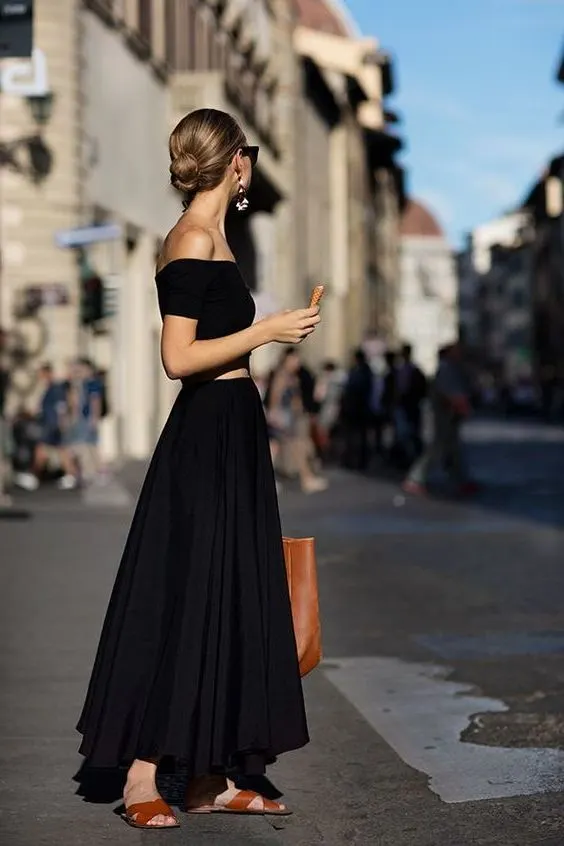 Buy Similar Here
A black maxi dress is a key piece in your wardrobe. It works as well in the office as it does at night, and tackles any occasion with ease. But what if you've never owned one before? This style guide will take you from clueless to clued-up so that you can get dressed and out the door in no time! Read on to discover some of the best tips for styling this classic cut.
Secondly, this kind of dress suits all women, regardless of your body shapes. Today's designs are decorated with all sorts of details, including drapery, lace, feathers, and glamour rhinestones.
Sure, black maxi dress is a timeless investment, but you can always add a modern touch to it and look absolutely stunning.
Luxe black floor-length dresses are presented in so many styles and cuts, like the ones with an open back and a figure-hugging silhouette, mesh skirts, sleeveless, long-sleeves and many more. I love to see women wearing floor-length dresses with sexy cleavage or with a side split.
The most beautiful styles come from designer brands like Zuhair Murad, Dior, Elie Saab, Jean-Paul Gaultier, and others. Which one of these is your favorite?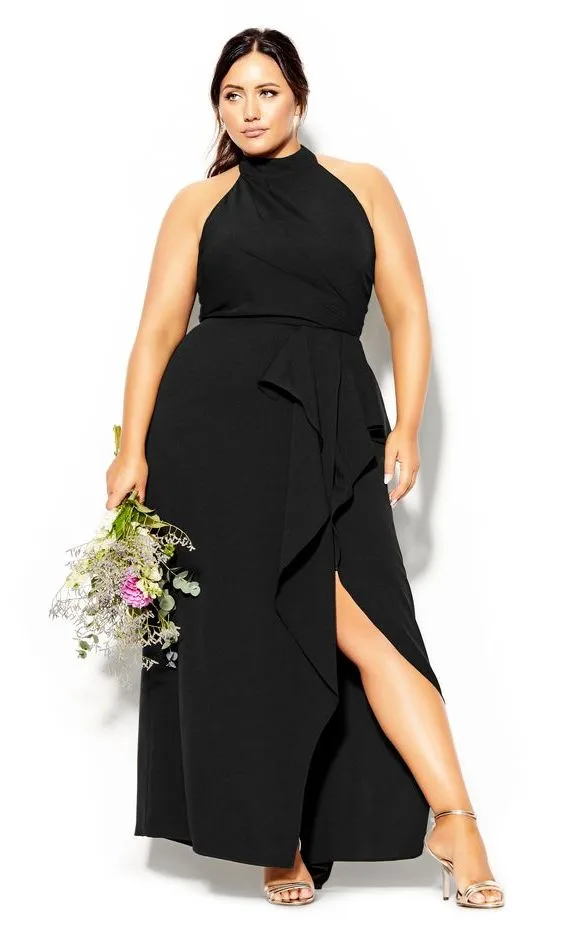 Buy Similar Here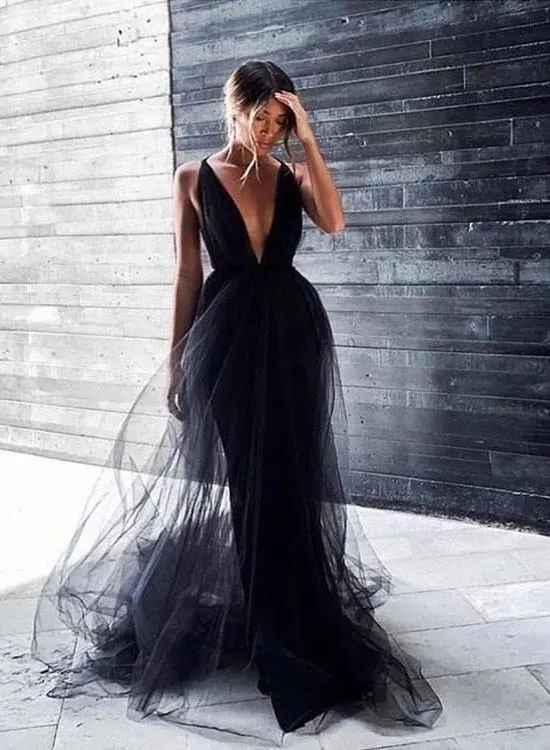 Buy Similar Here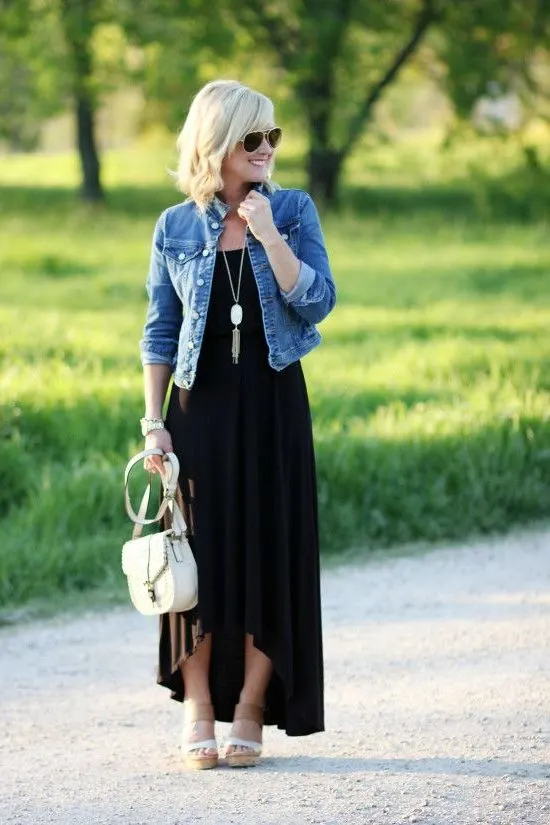 Buy Similar Here
Know Your Size and Measurements
A maxi dress accentuates even the smallest details in your body. If you're unsure of what size to choose, it's best to get a size bigger than what you normally fall for. The bigger size will give your curves room to move, and most clothing fits around your body rather than squeezing you in.
A great tip is to know your bust, waist and hip sizes. This will be helpful when you're choosing garments that look good on you. For instance, if you're a size six but have a 32-inch waist, then you'll need to know if the dress will fit below your waist or above it. Make sure that your maxi dress fits comfortably but doesn't look too big on you.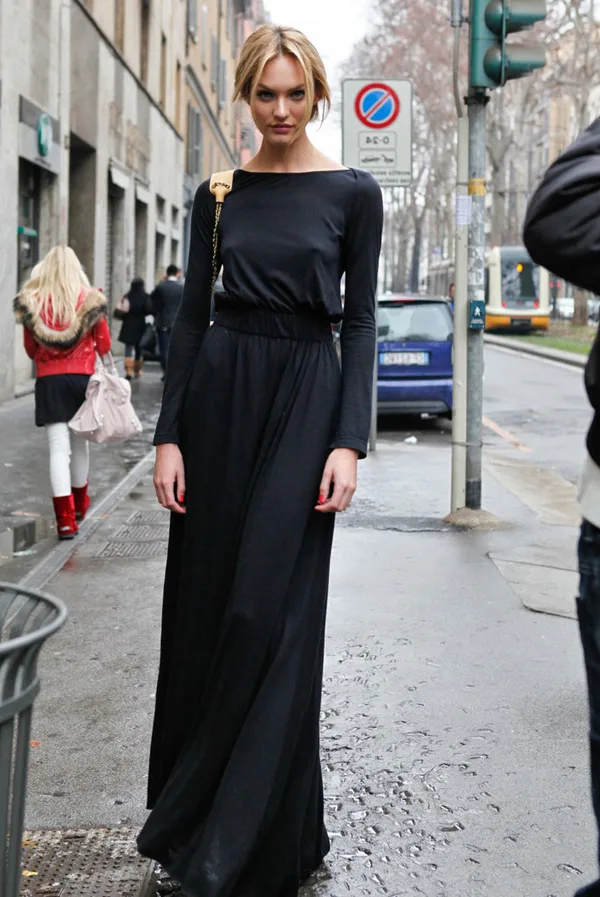 Buy Similar Here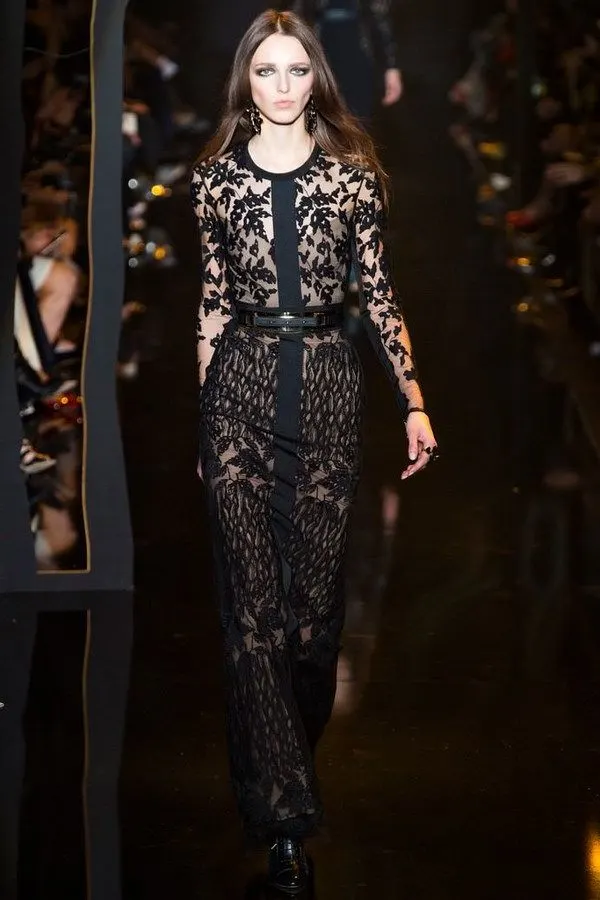 Buy Similar Here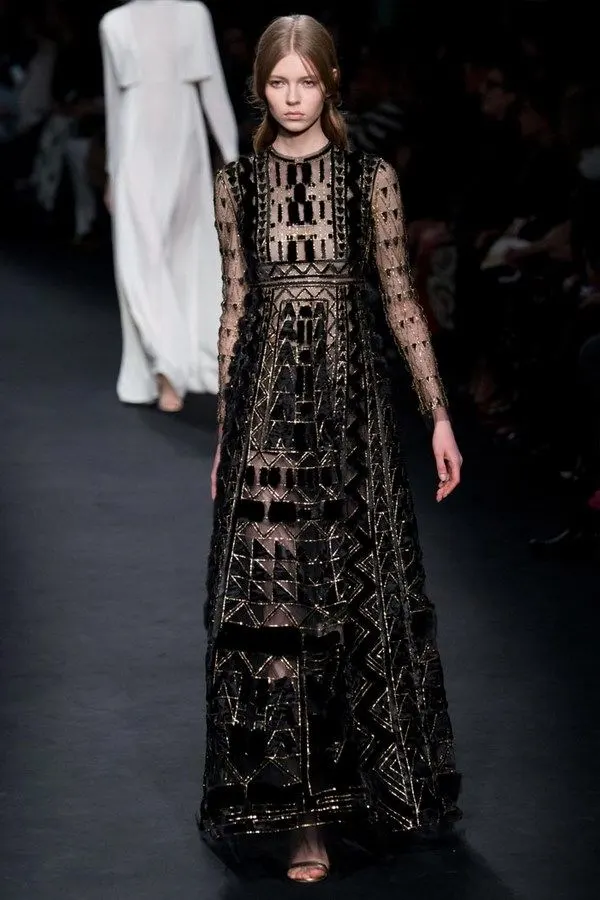 Buy Similar Here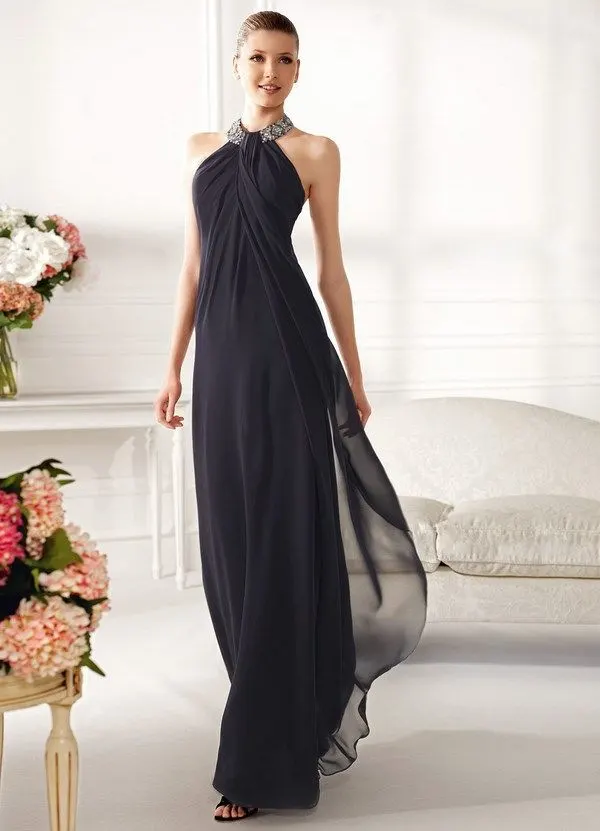 Buy Similar Here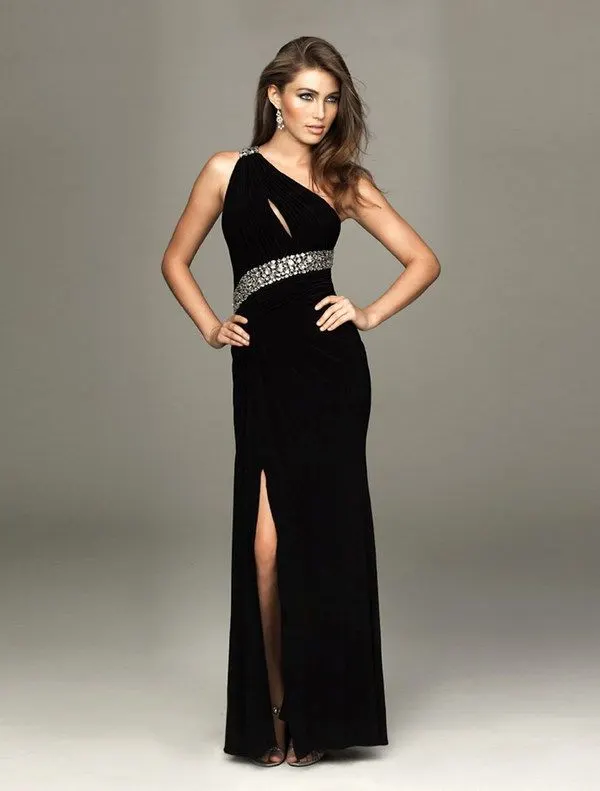 Buy Similar Here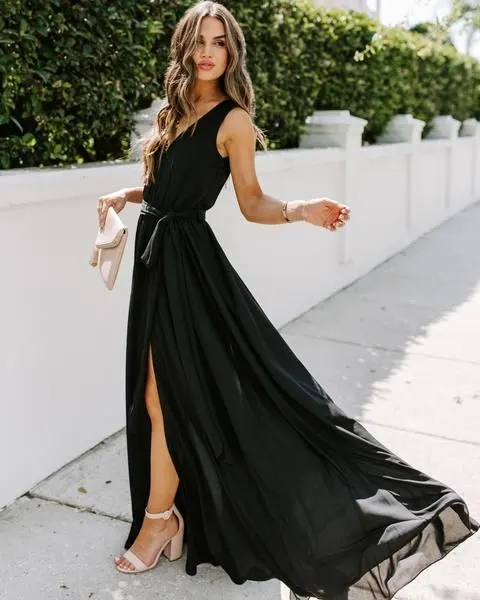 Buy Similar Here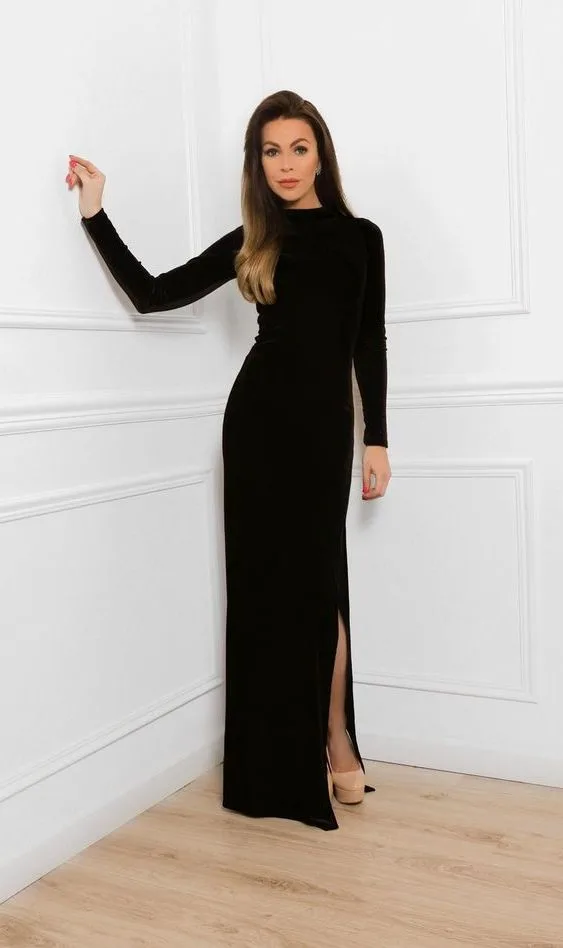 Buy Similar Here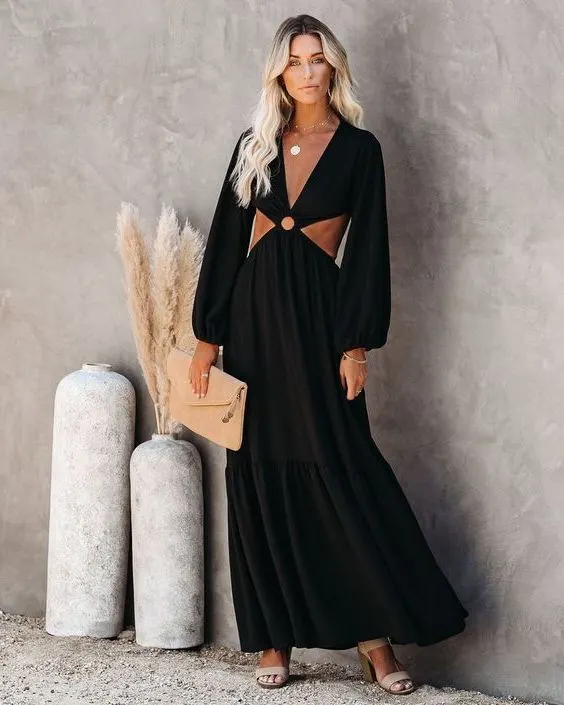 Buy Similar Here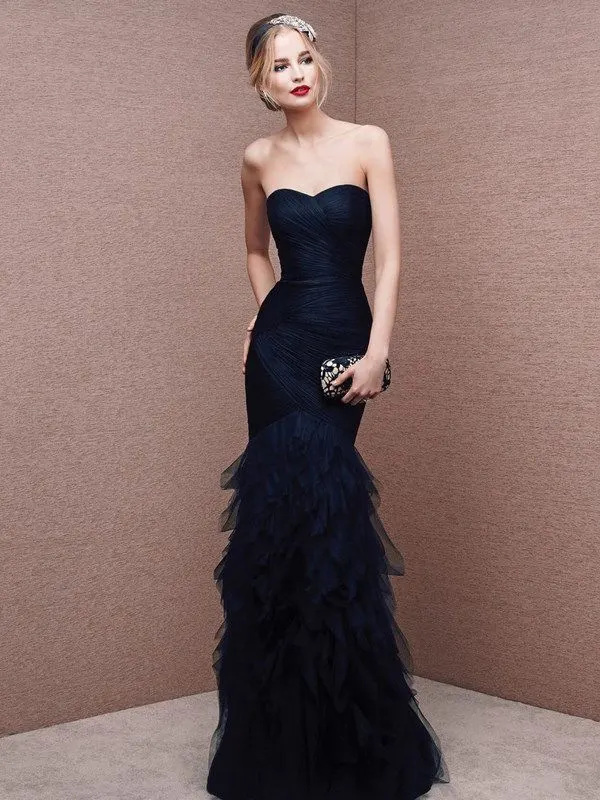 Buy Similar Here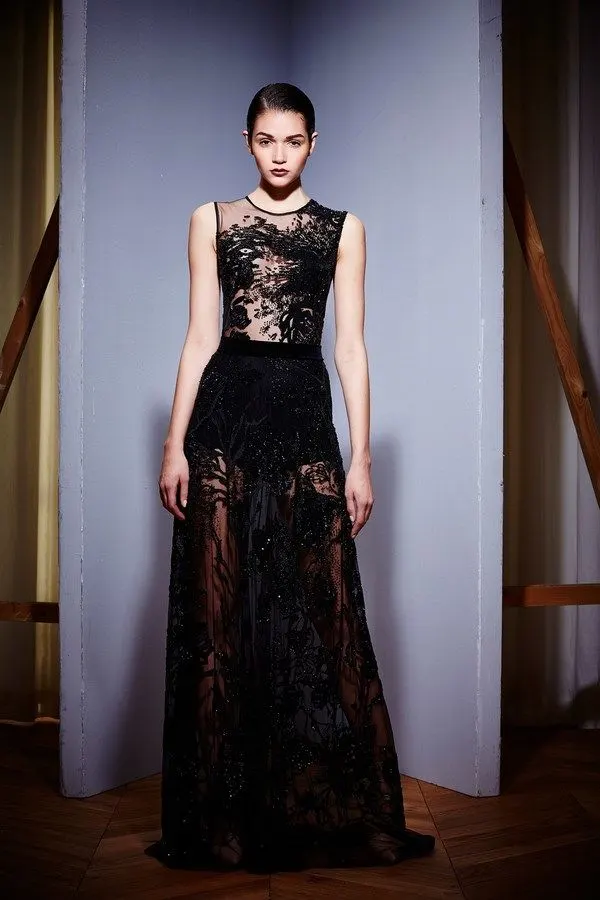 Buy Similar Here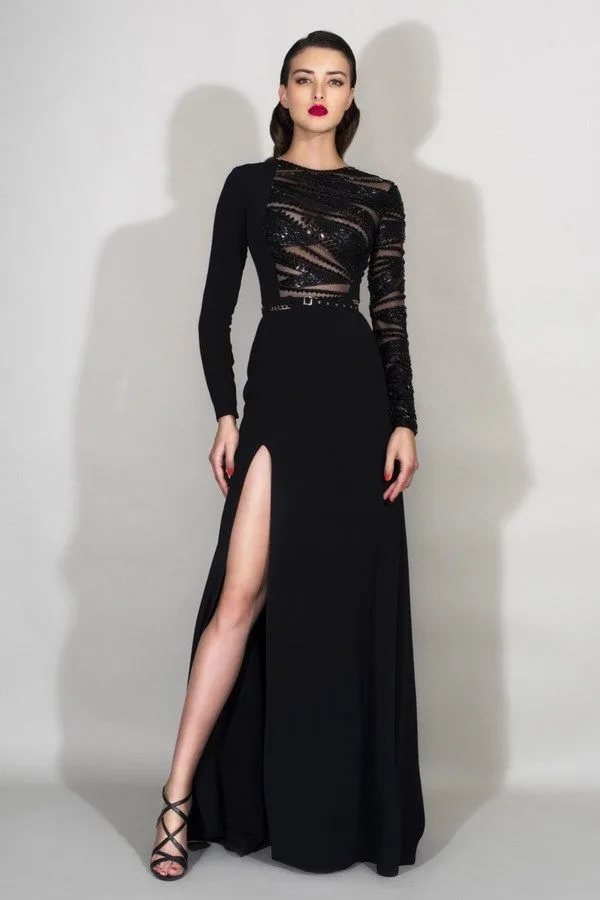 Buy Similar Here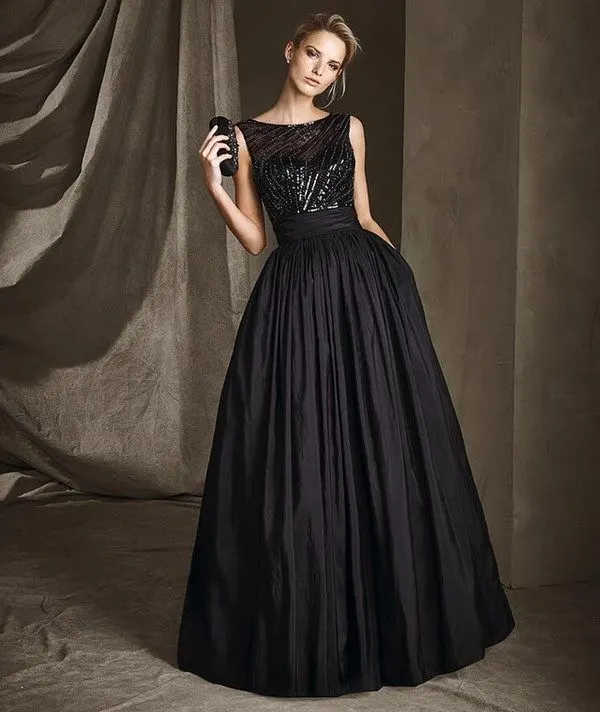 Buy Similar Here
Black is such a classic color and NEVER goes out of style. In my eyes, anything looks good in black, from dresses to shirts, to shoes and accessories. On top of loving black, I love maxi dresses as well, so that's why I decided to show you these black maxi dresses. This look is good to run errands, for brunch, for a daytime date, barbecue, picnic, evening dates, operas, prom parties, you name it! The trick for wearing black during the day or night is to style it with the right accessories.
For example, I believe that black maxi dress with lycra inserts is the most stunning thing I have ever seen. It is perfect for work because it is extremely glamorous but very sophisticated.
UPDATE
When deciding on what type of dress you will wear, think about your wardrobe. You can always try out different combinations to find one that suits you the best.
#1. Pair it with a blazer for the office
If you're going to a job interview, or equally if you just need to look professional for work, a black maxi dress is a great piece to choose. It's formal enough to wear with a blazer and can be quite conservative for workplace attire. To pull it off, choose a dress that is knee-length or shorter, so that it doesn't look too formal or like you are trying too hard. A slit could also make your legs look longer, but be careful that the hemline isn't too risqué for work!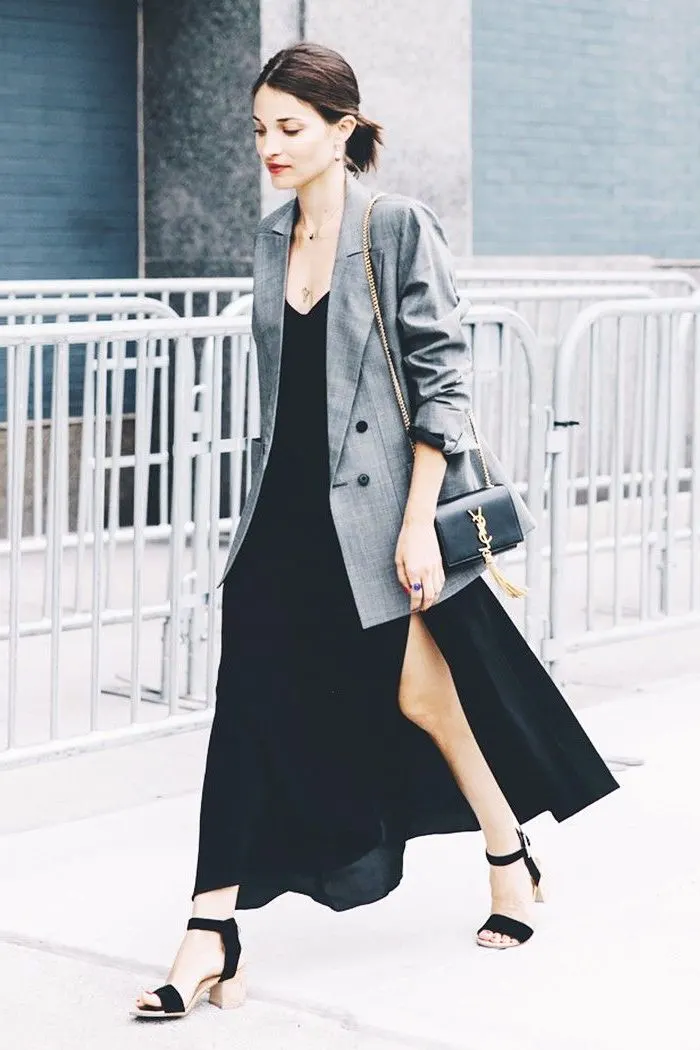 Buy Similar Here
#2. Keep it simple with floral headband
There are no rules about how many accessories to bring with you for dressing up a maxi dress. Although some women like to wear as much jewellery as they can get their hands on when they are feeling flirty, others prefer to go all natural and invest in just one hair accessory: a plain pink or purple headband.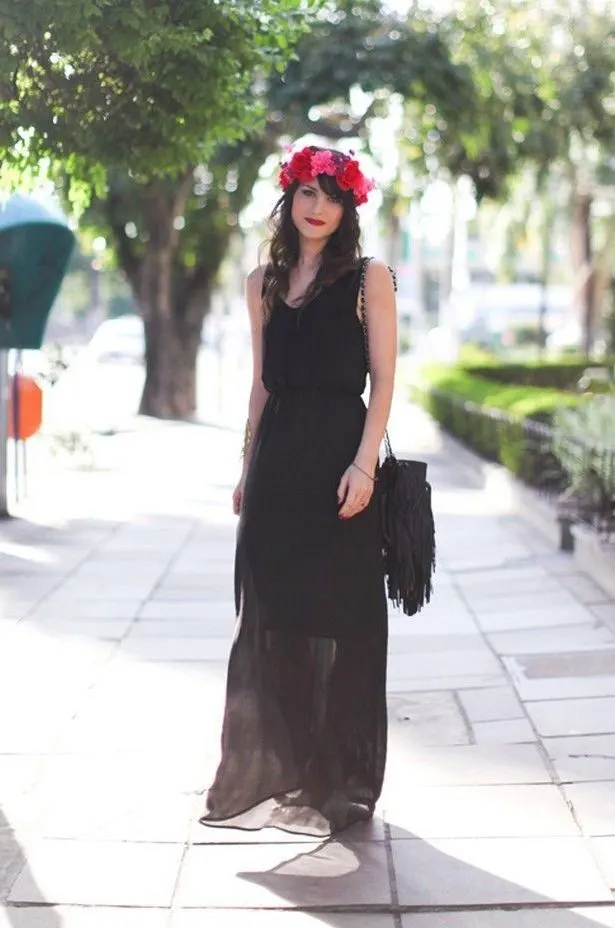 Buy Similar Here
#3. Don't forget the printed silk scarf
If you do choose to add some extra pieces to your outfit, remember that less is more. A possible combination would be a printed silk scarf with a pair of simple earrings and a thin gold ring. This could work for an afternoon wedding or a night out!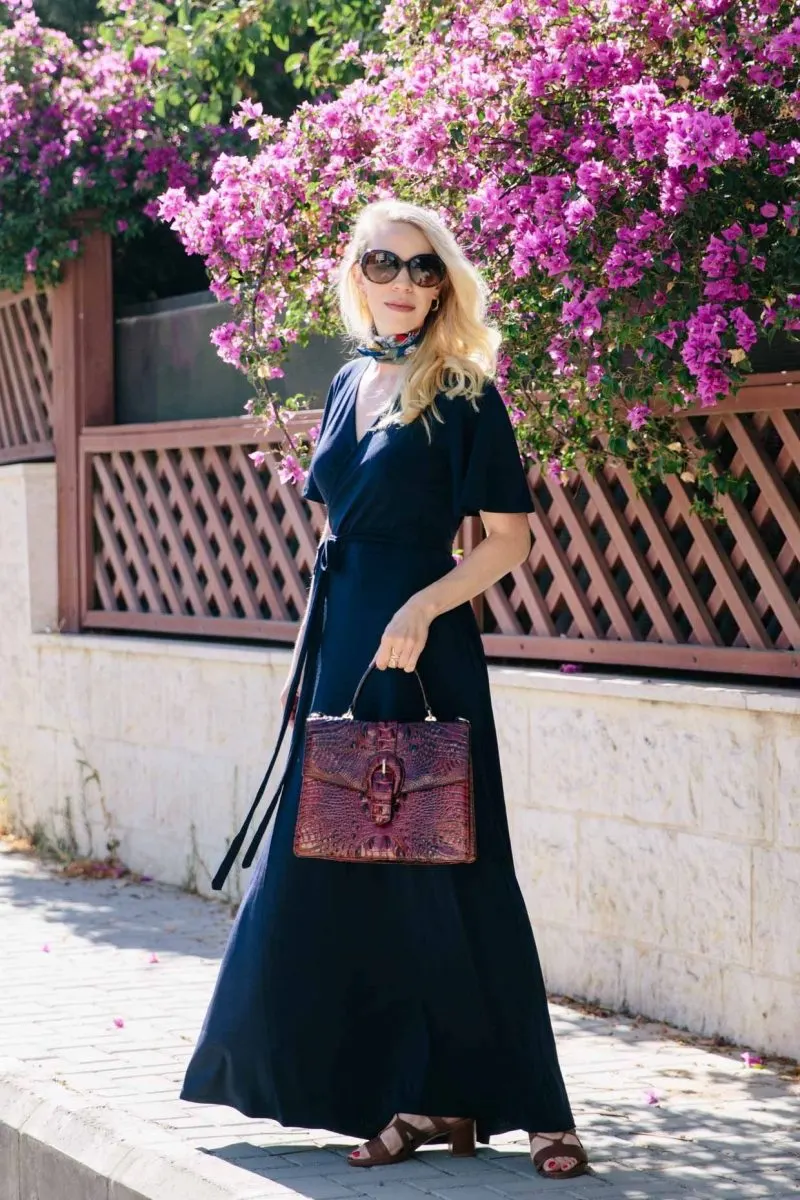 Buy Similar Here
#4. Add a pair of heels
If you are going to be out in the streets for a significant amount of time, add a killer pair of heels to your outfit and you're good to go. If you have long legs, don't forget to show them off!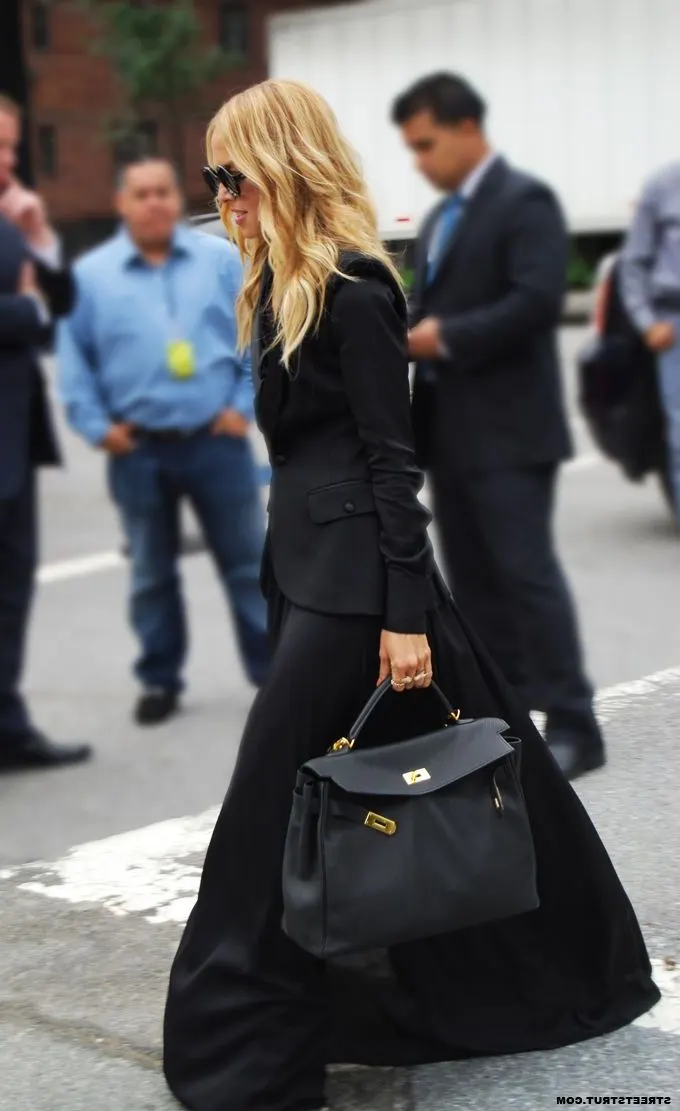 Buy Similar Here
#5. Keep it classy
For a more formal look, add a pair of black patent heels and a black handbag. It's considered chic by many not to add any earrings!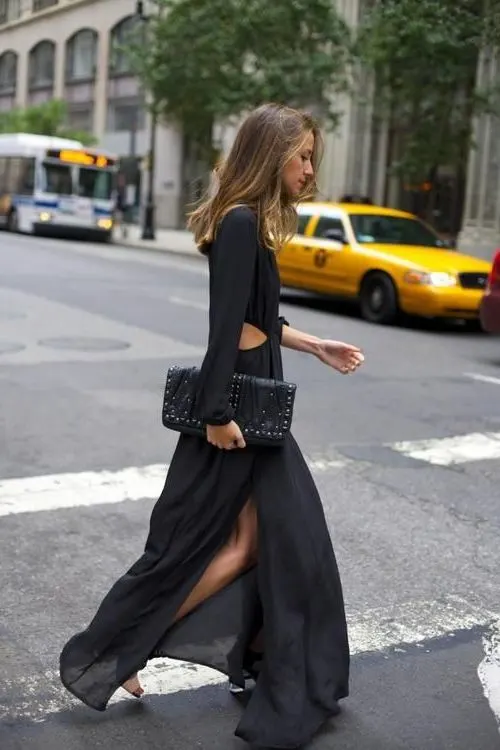 Buy Similar Here
#6. Bring out the sex appeal with a necklace and a skinny belt
If you have been feeling a bit down lately, or if you are going on a summer date with your boyfriend, go back to basics! Black always looks good, but the addition of some extra details will definitely spruce up your outfit. If you're looking for something that will lift your spirits while simultaneously turning heads, try adding delicate earrings with a matching necklace and a skinny black belt. The belt will also make a great addition to the overall look.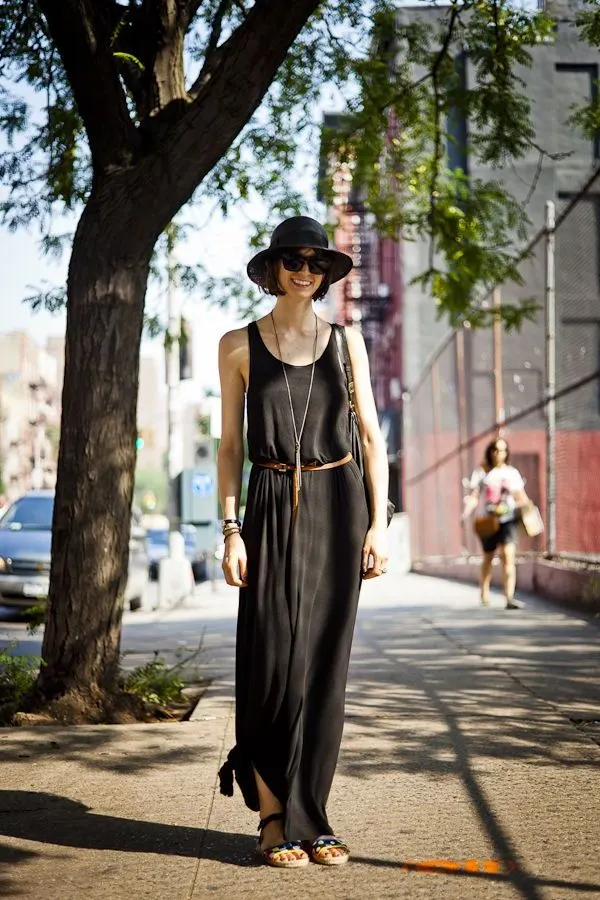 Buy Similar Here
#7. Add a cardigan
For example, if you already have a black maxi dress with high waist belt, then I suggest wearing it with a cardigan over it. The result will be stunning and elegant.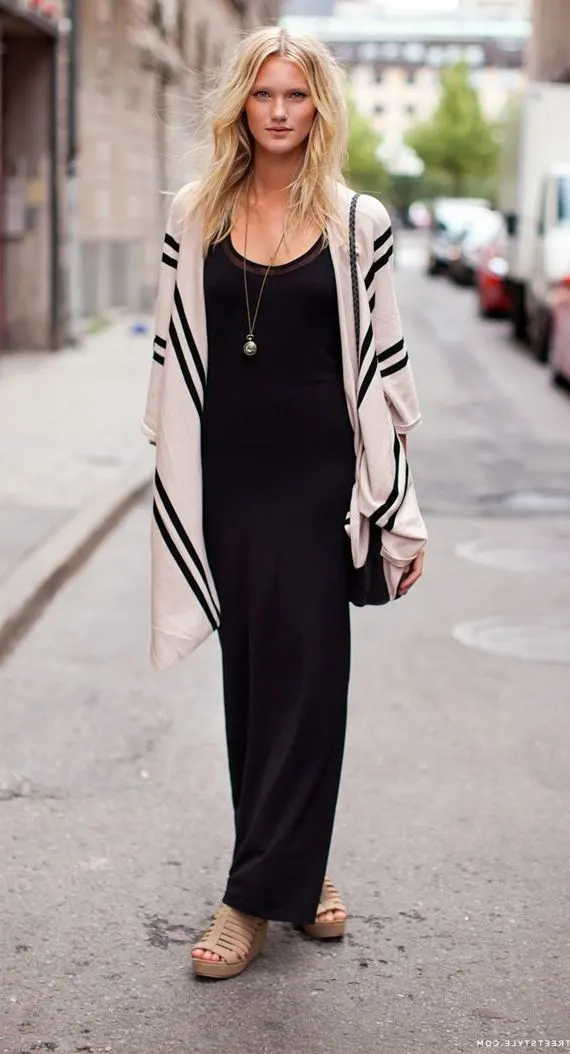 Buy Similar Here
#8. Add a beautiful leather jacket
Another great idea is to wear simple black maxi dress with a cool biker jacket on top of it. It will also make an amazing impression.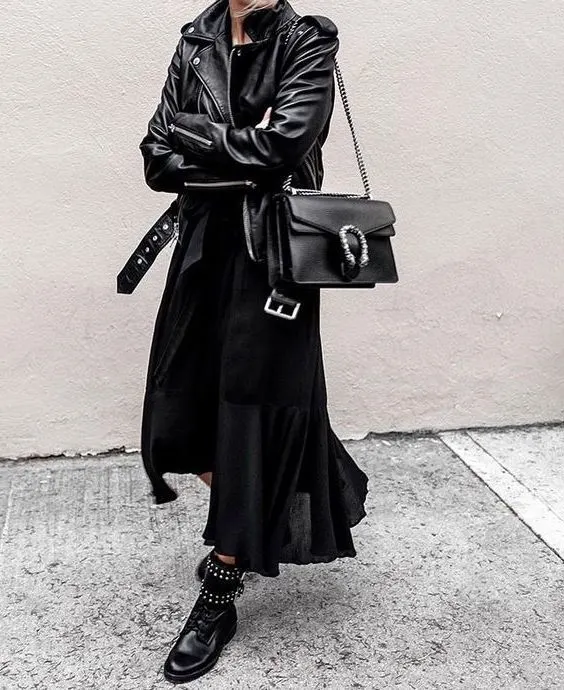 Buy Similar Here
If you want, I suggest looking for some cool ideas on Pinterest or watch some fashion videos online.They will help you figure out what type of look you are going for and how to style your dress accordingly.