It is the season of light, bright colors and one of the most versatile additions to any wardrobe are red blazer outfit ideas. But what does it mean to wear such a blazer? Does it mean wearing one with jeans? A skirt? Khakis? How about dressing up in an evening gown with one on, or wearing it to work with slacks and pumps-can you do that?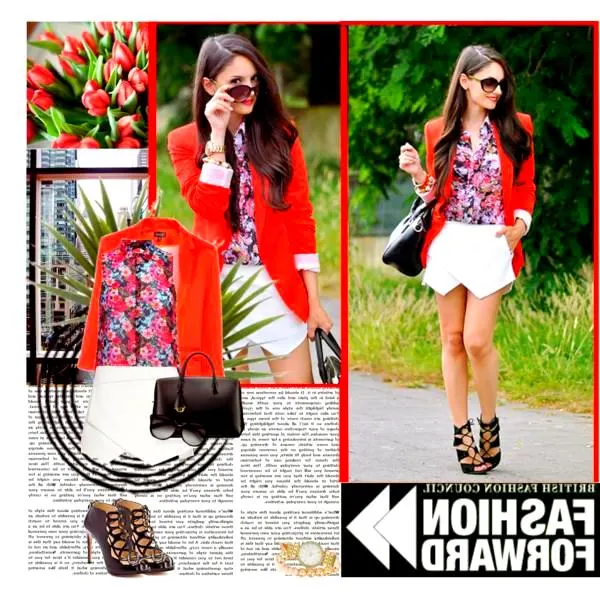 Buy Similar Here
As you can see, a red blazer does look great with a white skort and chic black heeled pumps.
Red Blazer Outfit Ideas
A red blazer is a classic piece of attire to have in your closet. While they are typically associated with the professional world, they can be worn by women of all ages and styles. This is an excellent way to dress up in a formal office, go out for lunch, or even to the grocery store. They can be worn with a variety of outfits from dresses and skirts, to pants and tanks. A lot of women opt for this classic piece of clothing because it can be worn with many types of apparel. When choosing what you want to wear with your red jacket, make sure it is appropriate for the occasion at hand and it will help you stand out!
With White Tee And Camel Pants
A slouchy red blazer is paired with a white tee and camel high-rise pants completed with nude heeled sandals, love these white sunglasses! By the way, check out my post on what sunglasses are in trend this summer right now, there you will see some inspiring designs you might be interested in: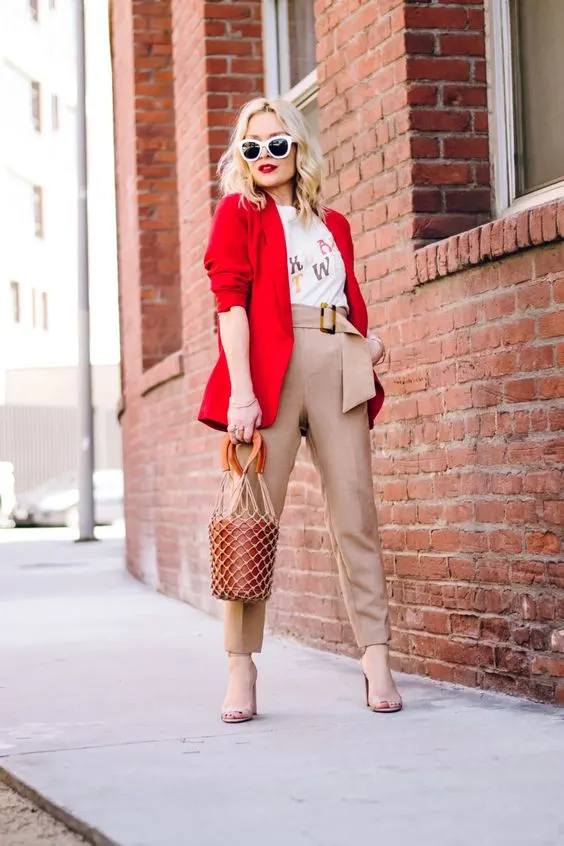 Buy Similar Here
With White Top And Regular Fit Jeans
A dark red blazer looks fresh and chic with a white top and regular jeans completed with black heeled sandals: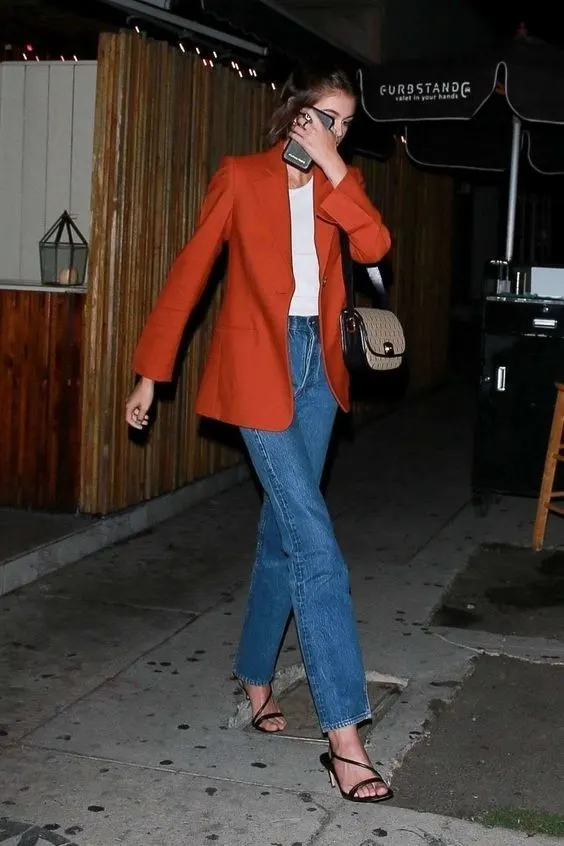 Buy Similar Here
With Chambray Shirt & Black Coated Pants
How about wearing a red blazer with a chambray shirt and black coated pants updated with leopard print heels! By the way, have you checked my post about ways how to wear leopard print shoes to make a real stand out from the crowd? Check it out and let me know your thoughts: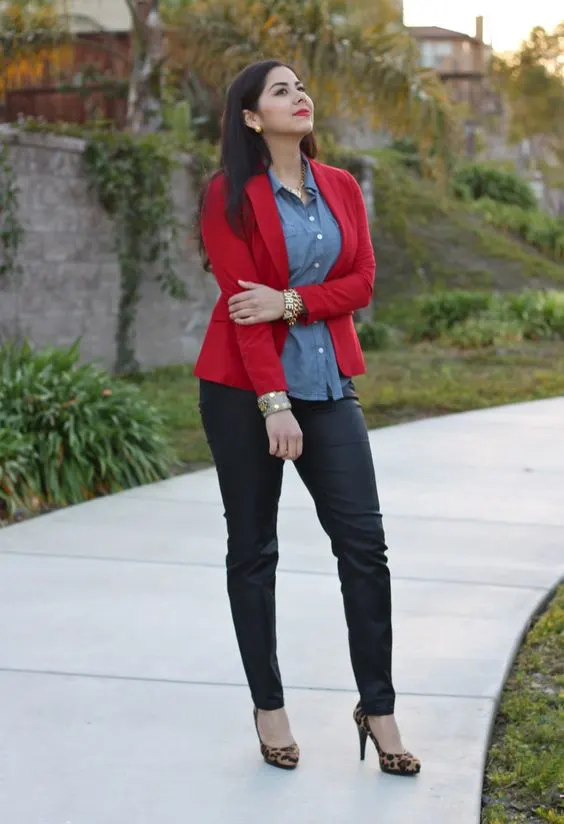 Buy Similar Here
With Black Top And Cuffed jeans
Love the red blazer with a black top and slim cuffed jeans updated with color-blocking heels: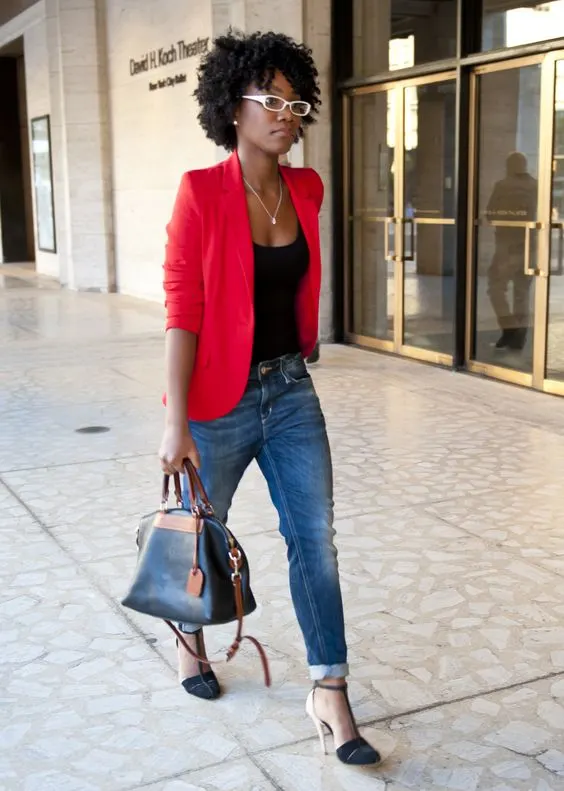 Buy Similar Here
With White Tee, Blue Ripped Jeans And White Kicks
You can have so much fun with a red suit jacket, printed white tee and ripped jeans completed with white sneakers, love these oversized shades: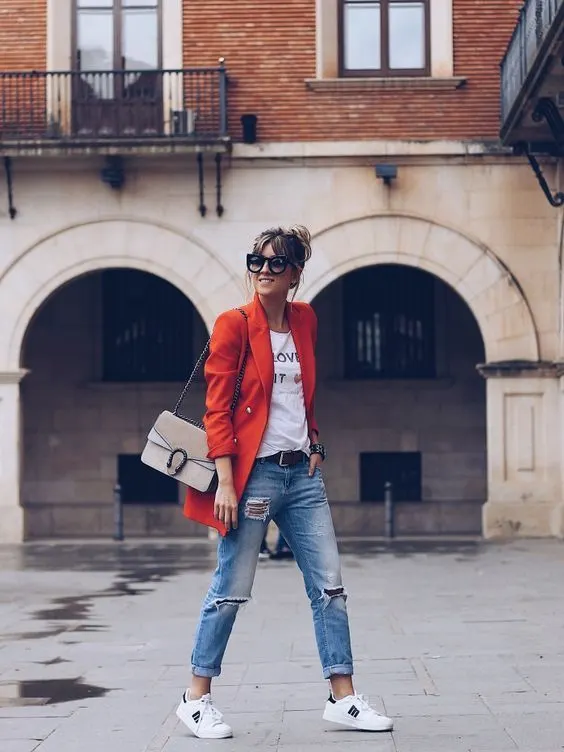 Buy Similar Here
With White Top And Cropped Black Pants
We see a red suit jacket styled with a white top and cropped black pants: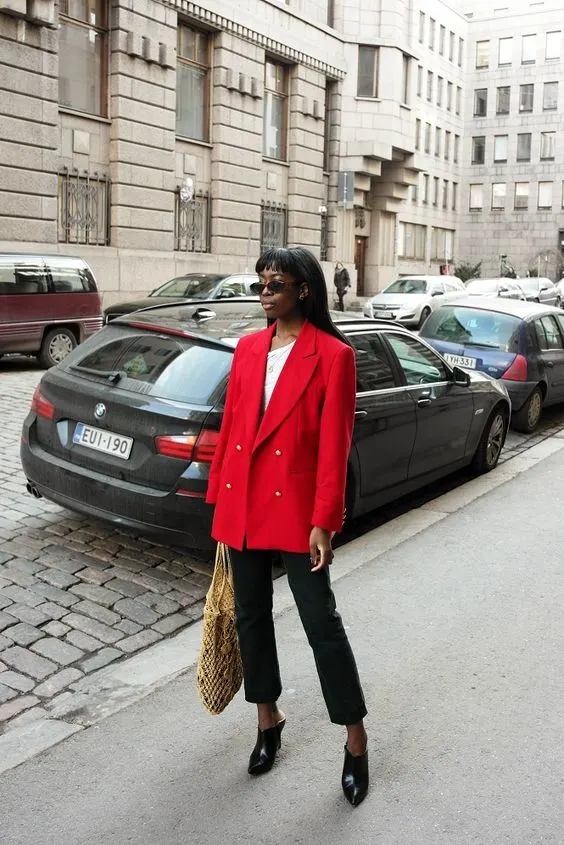 Buy Similar Here
Or you can style it with a white top, blue ripped jeans and white boots: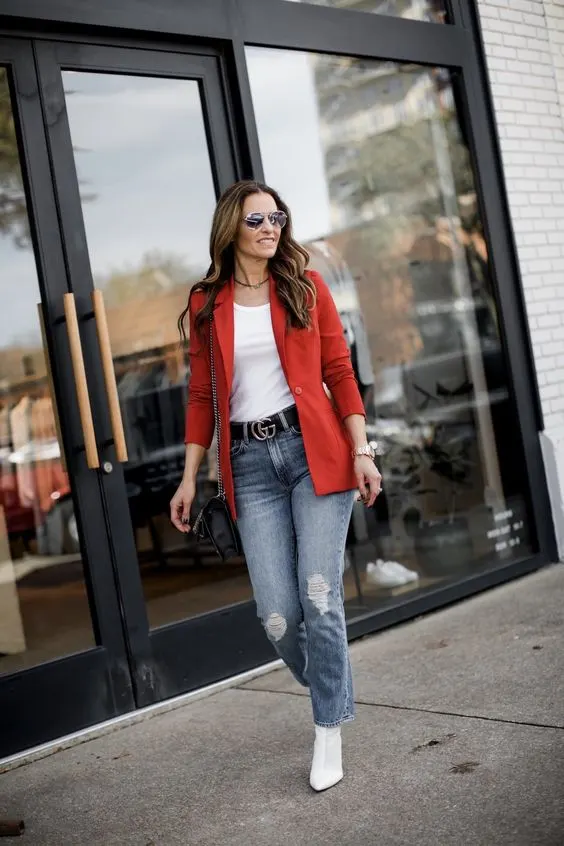 Buy Similar Here
With What You Can Wear Red Blazers
A blazer has the ability to completely change your personality and look. It adds an air of sophistication, elegance, and class. It is an essential piece that can be worn from day to evening depending on what you are wearing.
Red is the color of love, passion, and desire and can be worn in many different ways:
* A red blazer can be paired with a white shirt, black slacks and a pair of brown shoes. The shirt will bring attention to the blazer while the white pants and shoes give it a conservative look. This outfit can be worn with an evening gown if you want to dress up or just wear it casually.
* You can wear it with jeans or slacks without any problem. Just make sure to have light-colored accessories and make sure not to overdo it by wearing full-length skirts or dresses. This can be worn at a casual office party or for your company's annual golf outing.
* Just make sure to match the hue of the blazer with your pants. This is also a nice look to have because of its versatility.
* You can wear it with a white shirt and black pants for a conservative look, yet very fashionable too. Pairing this outfit up with a tuxedo jacket makes it formal enough; only pair it up with pumps if you want to dress very conservatively.
What Color Accessories Look Great With Red Blazers
It can be worn with black, blue, white, brown, or tan accessories. Just make sure to have a contrast between the blazer and your bottom half. But don't just wear it as an outfit piece; make sure to create a well-put-together look by pairing it with the right pieces.
I love when women pair red pieces with white basics, like here we see a red jacket teamed with a pair of red pants and a white blouse, complete this summer look by adding a chic panama hat in white and white kicks:
Buy Similar Here
All In Red
But you can try on a total red look, if you dare: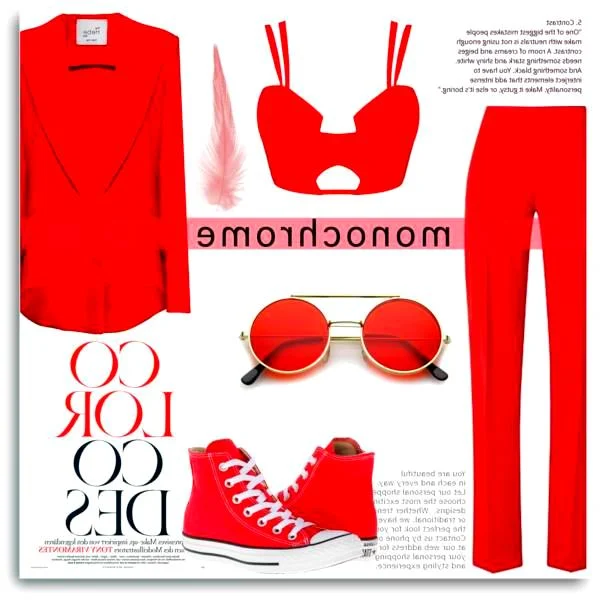 Buy Similar Here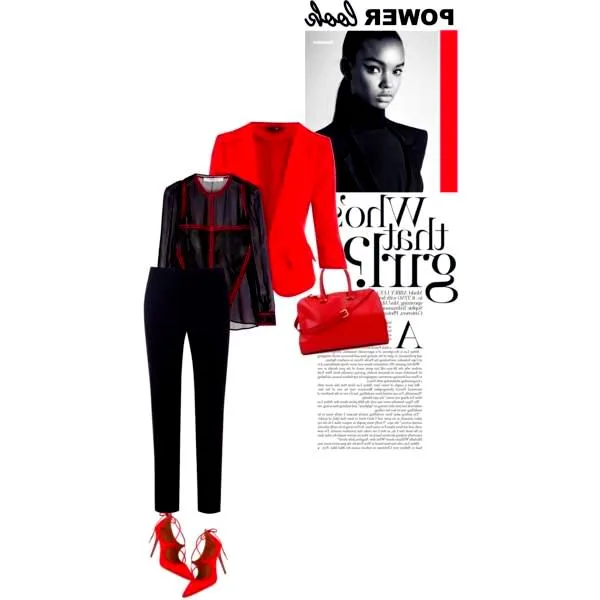 Buy Similar Here
I know ladies who go beyond extra and mix up red with leopard print: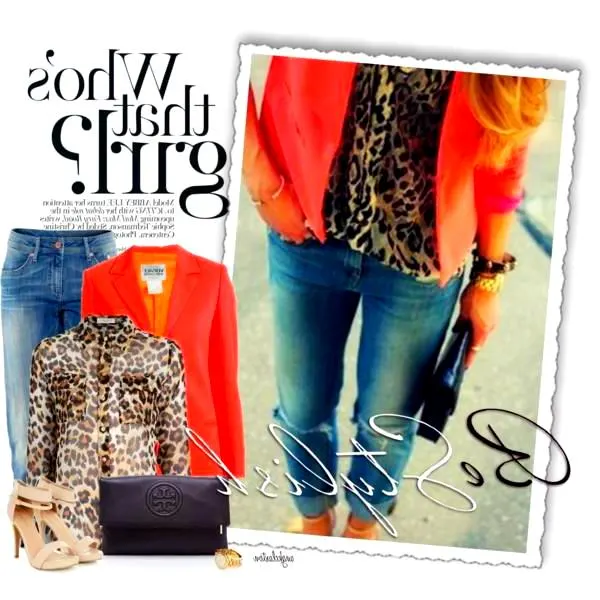 Buy Similar Here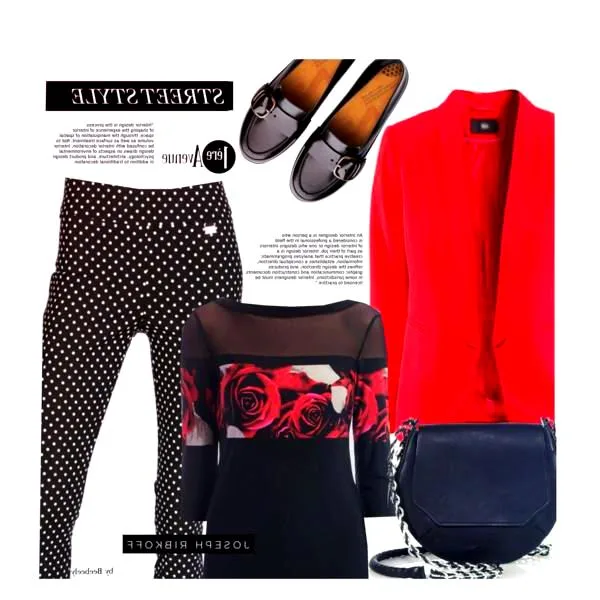 Buy Similar Here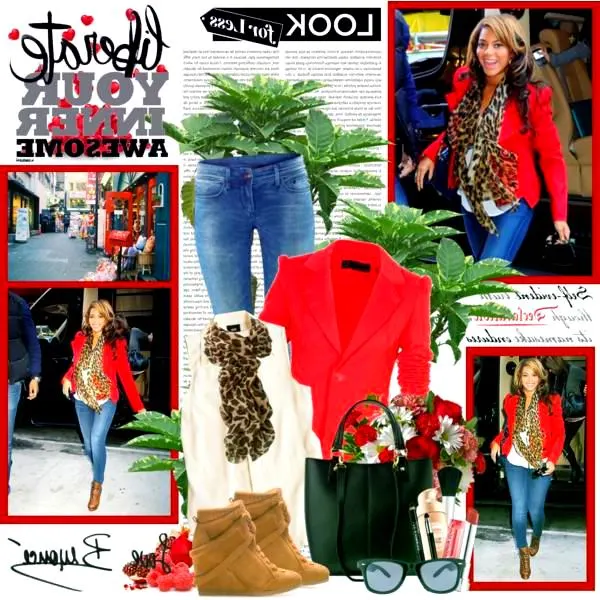 Buy Similar Here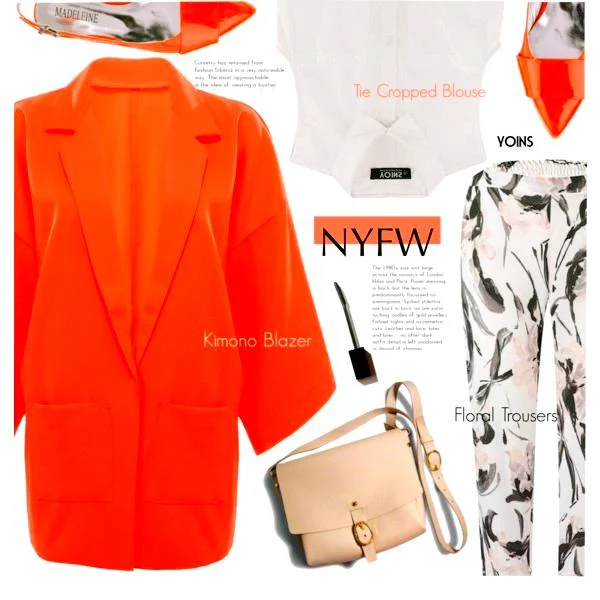 Buy Similar Here
This might be my favorite look for fall season months, go for a red jacket and team it with a grey-white sweater and front-buttoned brown suede mini skirt: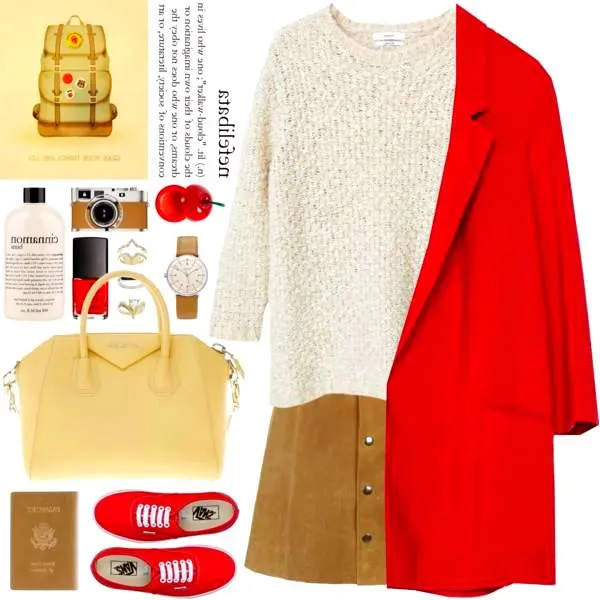 Buy Similar Here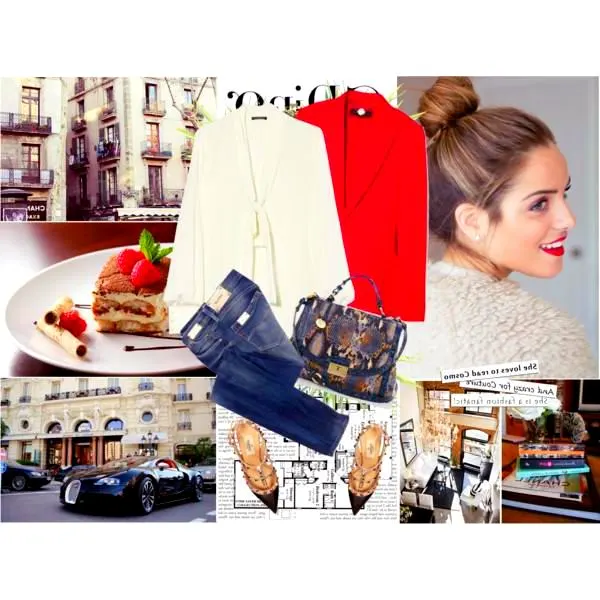 Buy Similar Here
Red blazer and white Birkenstocks, why not: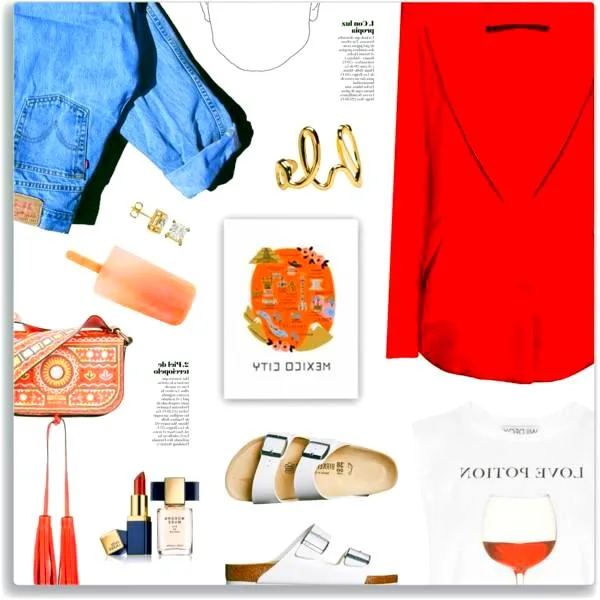 Buy Similar Here
With Blue Shirt And Black Skinnies
A perfect idea for office hours, try this jacket with a basic shirt and black skinny jeans: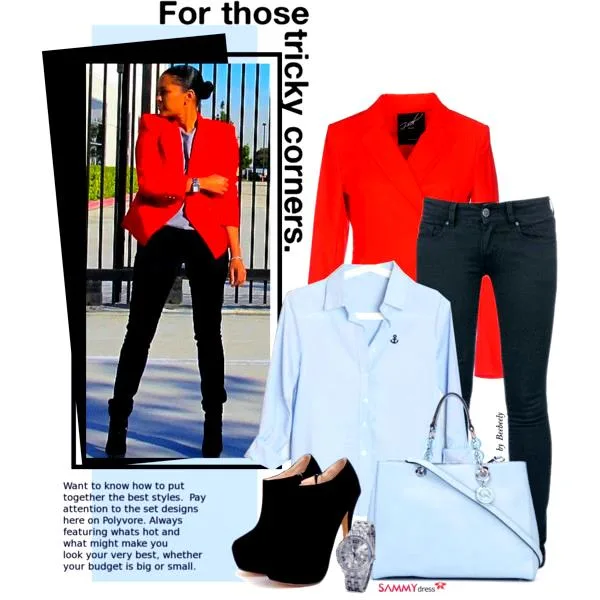 Buy Similar Here