We love the simple style and yet trendy looks, that's why I decided to share with you some of the best blazer and shorts outfit ideas for Summer. Perfect for summer, we can wear it with anything from a pair of jeans to a dress, but in today's article, I want to show you some easy ways how to incorporate it with matching color shorts. The color blends with anything and you don't have to worry about clashing colors if you are wearing it in different outfits. This is an inexpensive outfit that doesn't require much maintenance and is comfortable to wear all day long.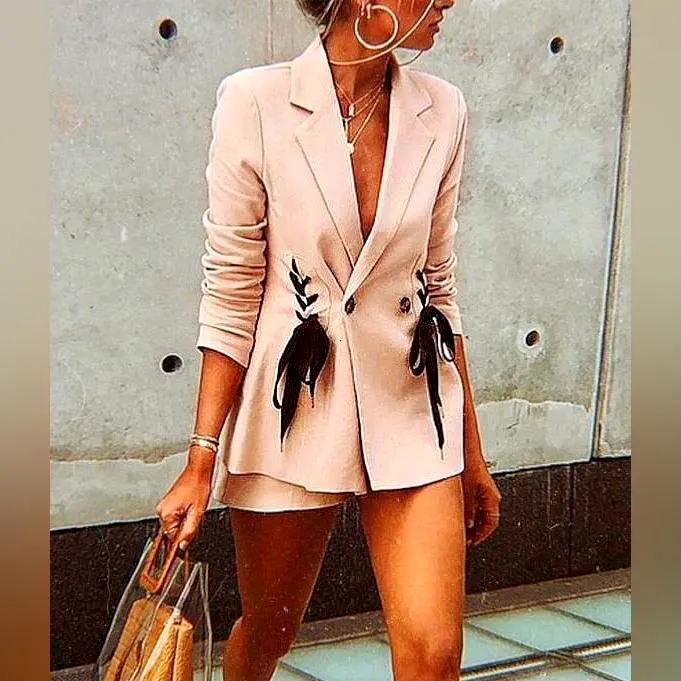 Buy Similar Here
Blazer And Shorts Outfit
If you are looking for the right outfit for your holiday vacation, you will love this blush blazer and shorts combination. It is lightweight so you will love to wear it all day long. The blazer is comfortable to wear and you can stay cool in the heat of the summer with this outfit. It has a relaxed fit and fits most body types. The material is light but the size runs true to size.
It also looks adorable paired with high-waisted shorts. The blazer does not have a lining and is not scratchy against the skin.
It fits well and is trim so we will look slim with this outfit on. This outfit is also versatile because you can combine it with various accessories and jewelry. It has pockets that are small and do not hold much but they do help to keep things organized while you are in a hurry.
You can wear a blazer with shorts in the summer. Wearing a bright-colored top and bottom will make your outfit look fresh, especially if you wear both colors together. You can wear it to the park or catch-a-bite, to school or even at a picnic! A cream-colored blazer goes well with any color. If you want to dress up the look, add some jewelry like a watch and earrings. This is the victory of light-colored clothes; wearing light-colored clothes in summer makes you refreshing.
We see a fresh pink blazer styled with a V-neck white shirt tucked in paperbag waist shorts, the outfit is completed with a gold necklace and a silver watch: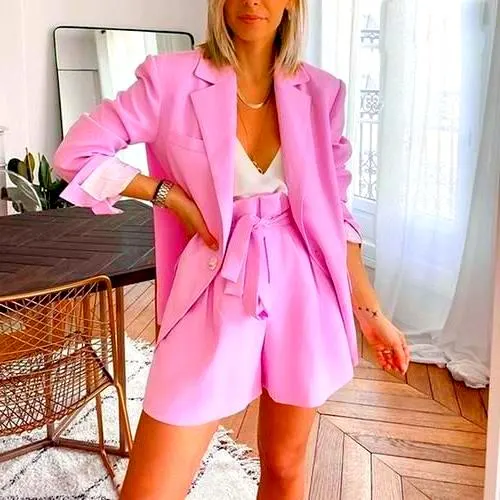 Buy Similar Here
All in pink! Go for this blazer, lingerie top and shorts completed with clear heels:
Buy Similar Here
We see a blush set updated with a white corset body top, love the layered necklace set: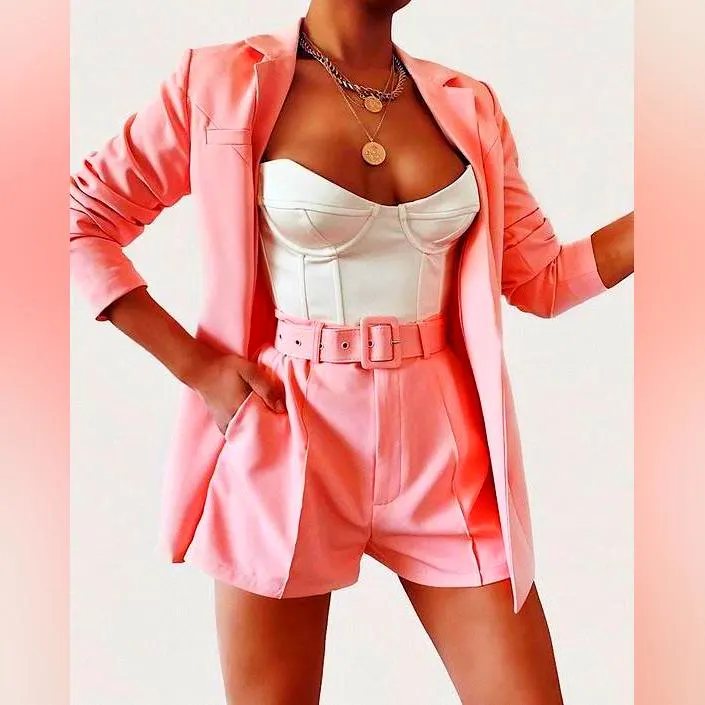 Buy Similar Here
These shorts suits are sexy and a must-try set: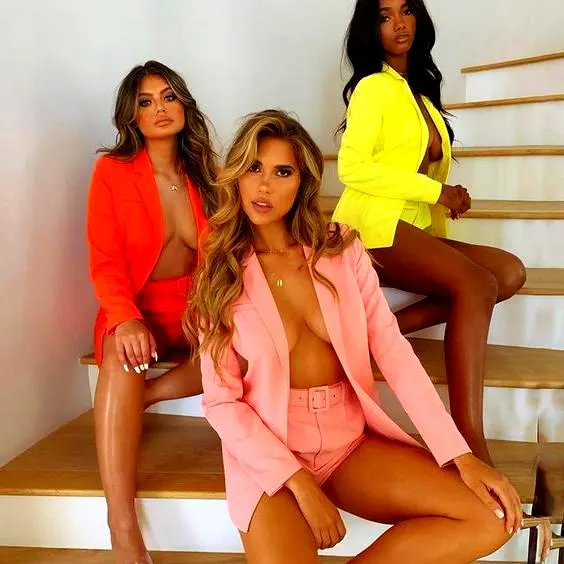 Buy Similar Here
We see another gorgeous outfit with a blush blazer and shorts set completed with a white bra: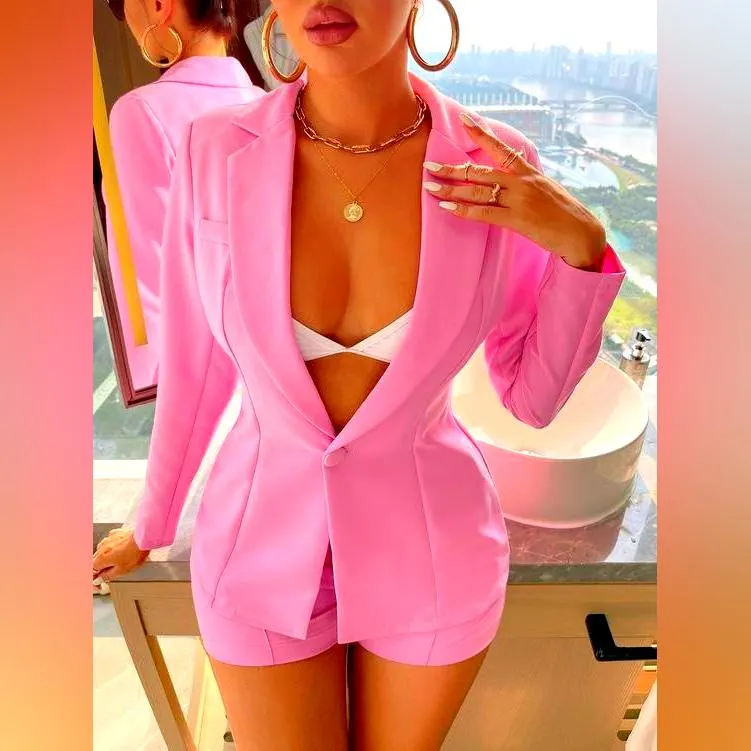 Buy Similar Here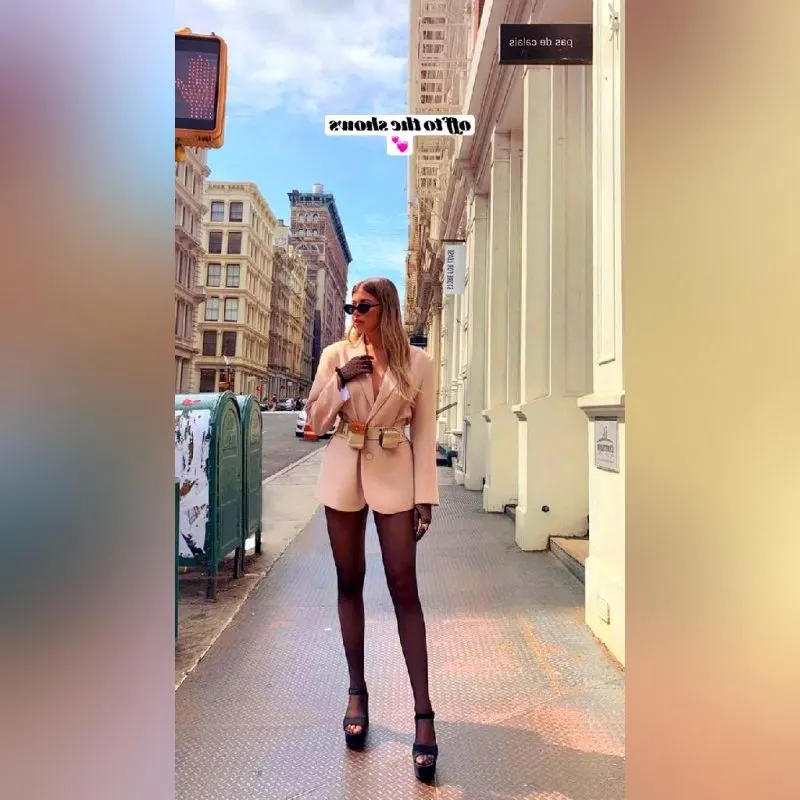 Buy Similar Here
We see a short suit in blush completed with a black sheer bodysuit: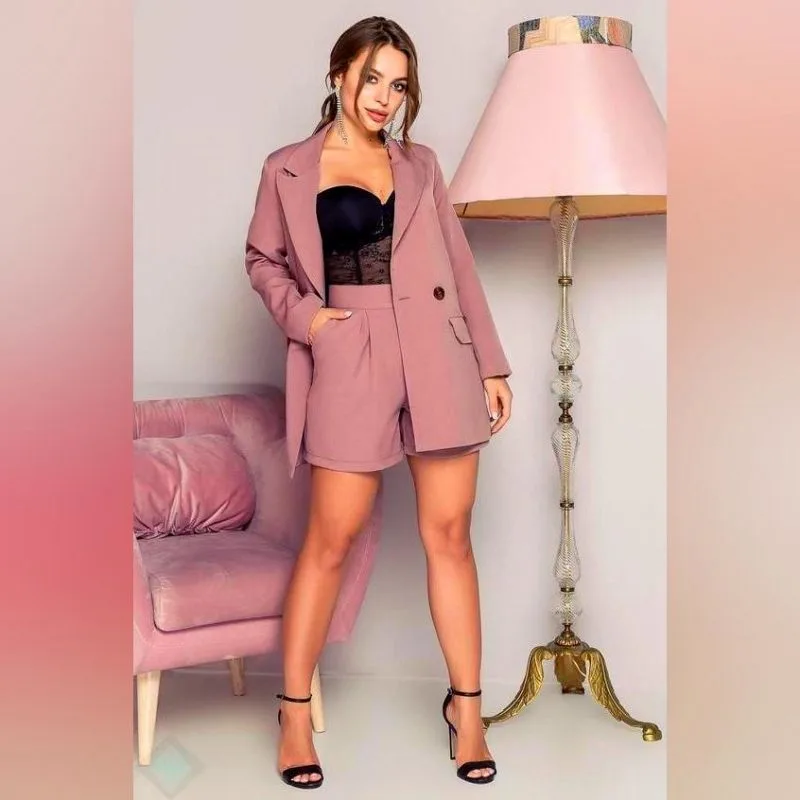 Buy Similar Here
Conclusion
This is the perfect outfit for women of all ages, especially women who want to look stylish at an affordable price point. The shorts are also made from a cream blush-colored material and are long enough to cover your butt. The shorts have a straight hemline and fall just below the waist. The material is lightweight and breathable so that you do not feel hot or sweaty while wearing it.
You can wear this outfit on your next vacation or at the office during the summer months if you don't want to be too warm while working in an air-conditioned office environment. You can roll up the sleeves if you prefer to wear it that way.