In this article, we are about to see different ways how to wear leopard print shoes, no matter if it's summer, fall, or winter outside.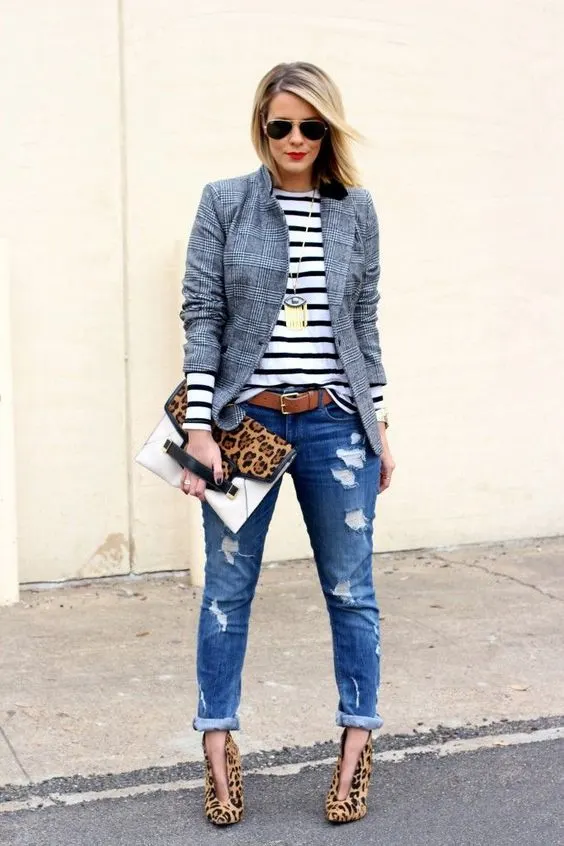 Buy Similar Here
Leopard print booties look astonishing with a plaid blazer, striped long sleeve top, and ripped boyfriend jeans. You can complete the look by adding glamour aviator sunglasses and a leopard print clutch bag.
You will find amazing street style looks completed with leopard print pumps, slip-on shoes, flats, and even sneakers. I am about to tell you what colors can you wear with leopard print footwear and what are other rules you can follow in order to look at your best.
If you are into eye-catching shoes, then you need to buy printed shoes. But what print is trending right now and will be in trend for a long time? It's a leopard! Yes, they are still in high demand and it will be a smart investment.
If you think that animal print is too bold for you and you aren't ready for leo dresses, then you can start from shoes.
All you need is to pick up the right pair of shoes for you according to your overall look. Anyway, I'm not good at compiling a guide from one to ten, that's why I made this collection, where I describe the pros of wearing leopard print shoes. Please follow these pics and choose your favorites.
For all the ladies out there who have a pair of leopard print shoes, congratulations because they are one of the latest fashion items for women to own. You'll want to know how to style them up in different manners depending on the season, but don't worry because we got your back with some stylish ideas.
The different colors of leopard print go great with different fabrics and textures such as; leather, cotton, denims; you can apply leopard print in any form or shape you want. There are also many awesome accessories that can be paired together with a pair of leopard print shoes.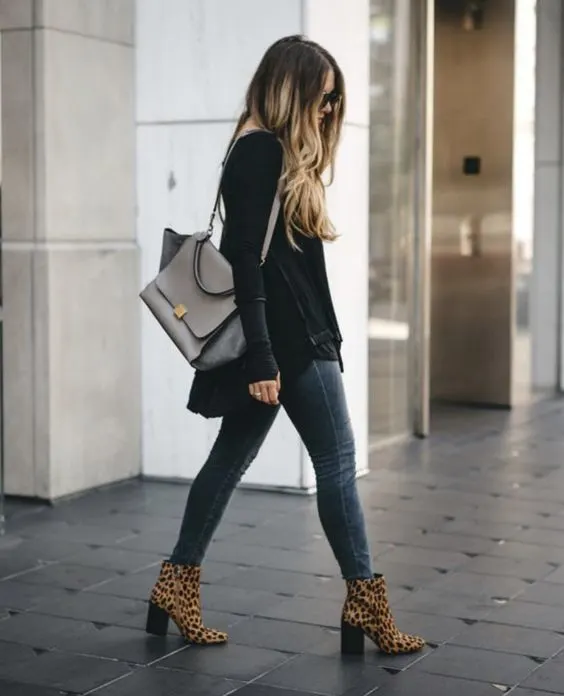 Buy Similar Here
If you are into grunge fashion, then I suggest choosing these ankle boots worn with grey skinny jeans and a black tunic top, a perfect combo for fall season months.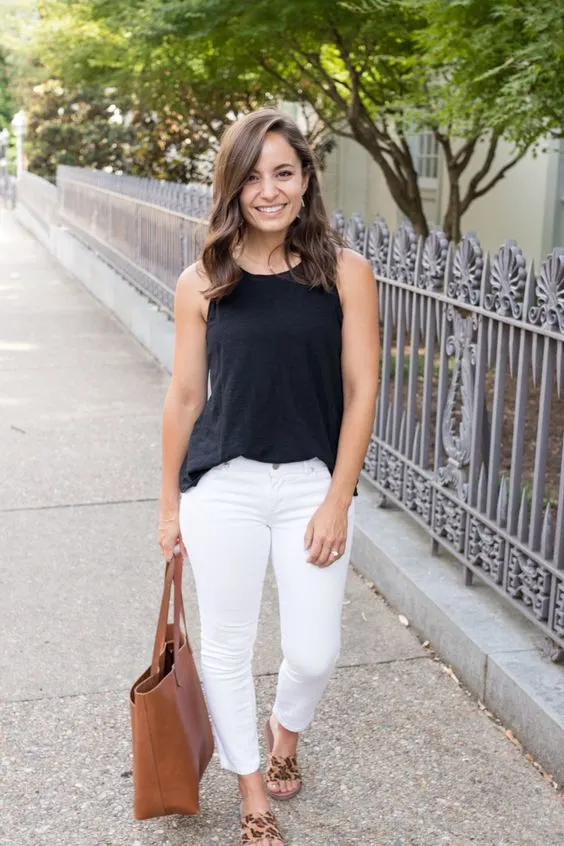 Buy Similar Here
If you thinking of wearing leopard print slides for summer, then go for this cool combo in a monochrome palette, like a black tank top and white skinny jeans. If you are into this color palette trend, then check out my post on ways how to wear black and white fashion in the summertime, I am pretty sure, you gonna like those ideas.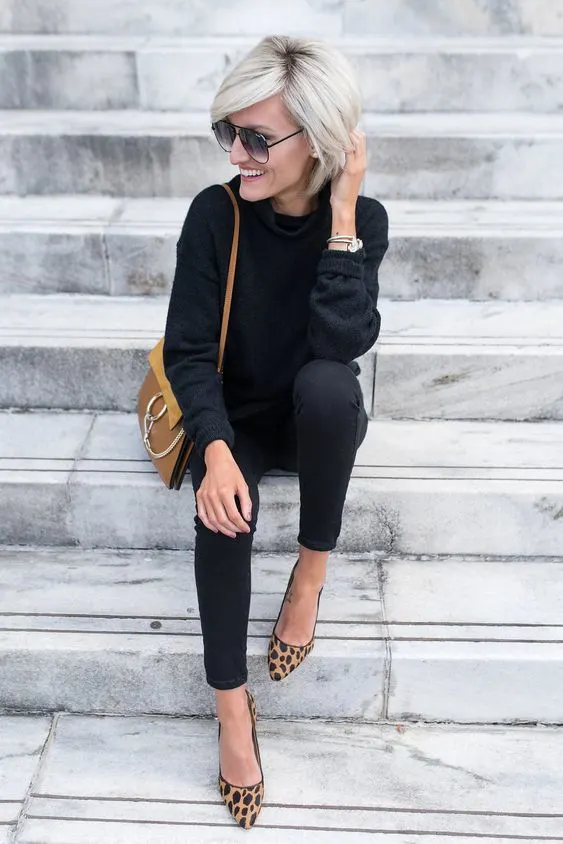 Buy Similar Here
If you are not into white, then go for all black! We see a black sweater with black skinnies and leopard print pointed-toe pumps. Love that shoulder bag and aviator shades.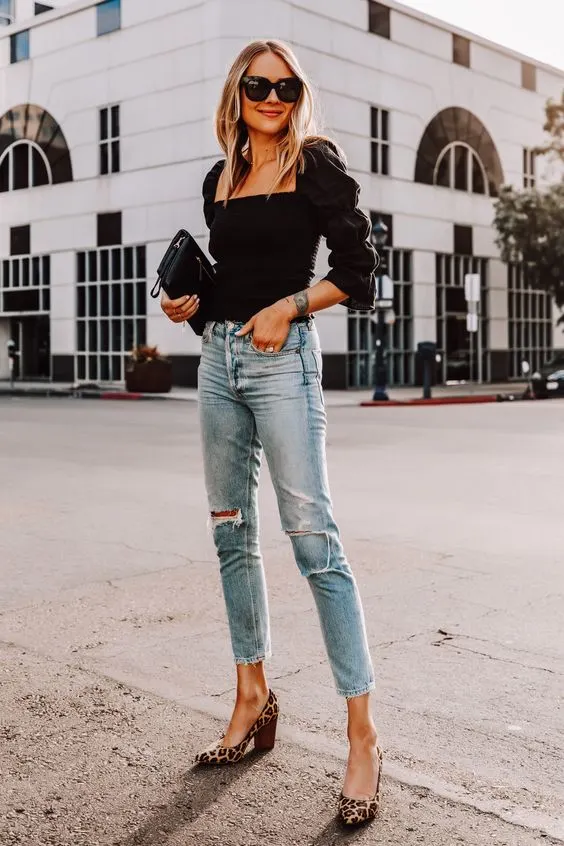 Buy Similar Here
If you are thinking of a glamour look but still want to keep things casual, then you should go for these block heel leopard pumps and style them with knee-ripped slim jeans and that black pinafore top with puffy sleeves.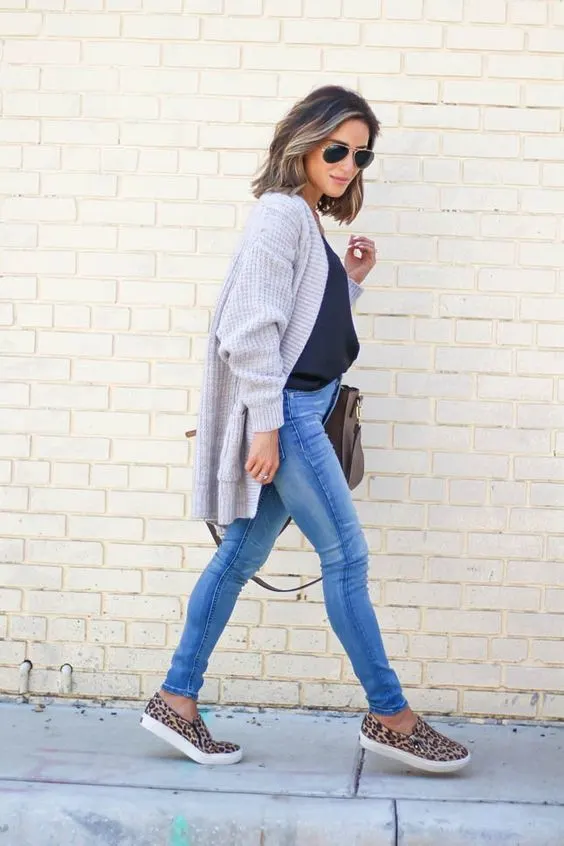 Buy Similar Here
A pair of leopard slip-on shoes are ideal for teaming with blue skinny jeans, loose-fit black top, and ribbed-knit cardigan in grey. Update this style by adding aviator shades and a classic shoulder bag.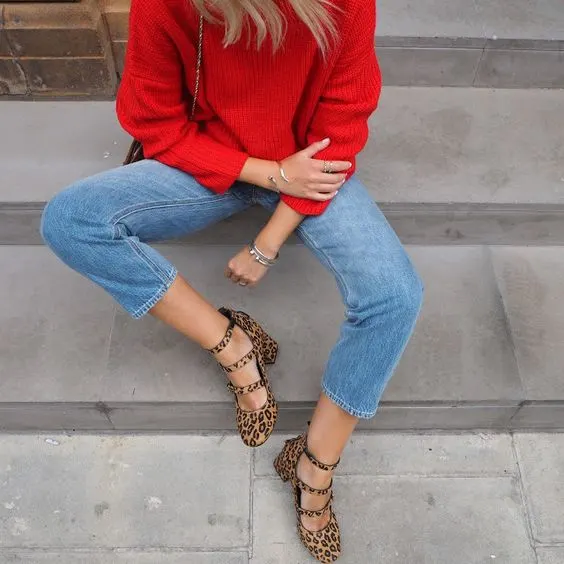 Buy Similar Here
Another cool update for fall days is that red sweater styled with blue jeans and block-heel strappy heels. Yes, I am a big fan of knitwear, that's why I want to share with you my best sweaters to try this year. I am 100% sure you gonna love my ideas.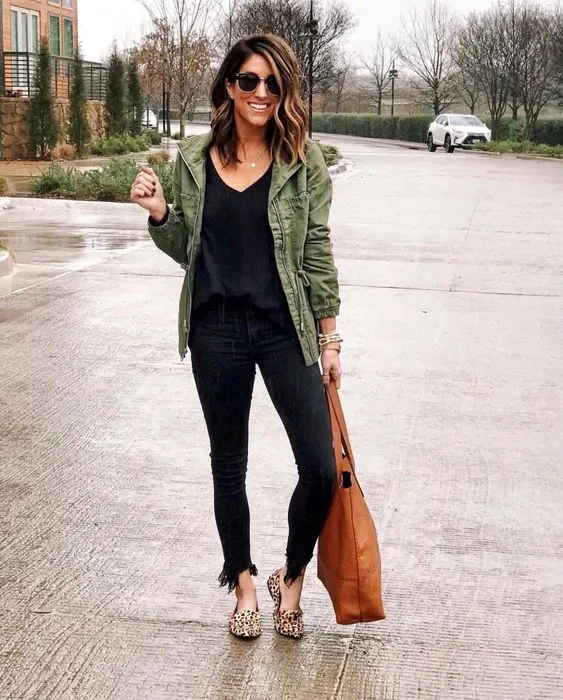 Buy Similar Here
Looking for a cool way to underline your hipster style? Go for this green parka, black V-neck top, and black skinny jeans completed with flat pumps in leopard print. Love these Clubmaster shades.
Buy Similar Here
A pair of ankle boots in a leopard print can make a wow effect to your casual look, just style them with black skinny jeans, leopard tee and a camel sweater layered over. Love that bucket bag in brown leather. Check out my post on ways how to wear camel coats for women, I gonna show yopu some bright outfit ideas to copy.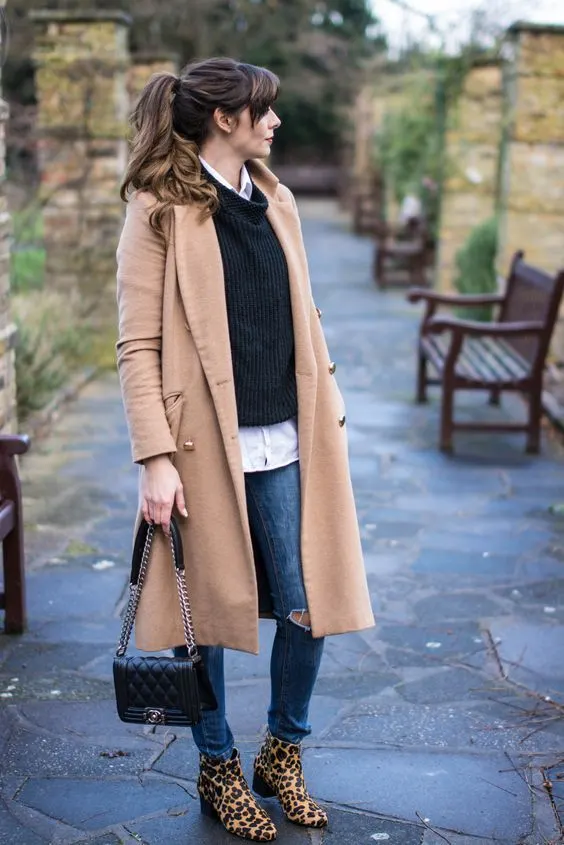 Buy Similar Here
A camel coat looks damn chic with that layered look combined of a black ribbed sweater worn over a white shirt teamed with knee-ripped jeans and leopard print boots. A lovely look for warm autumn days.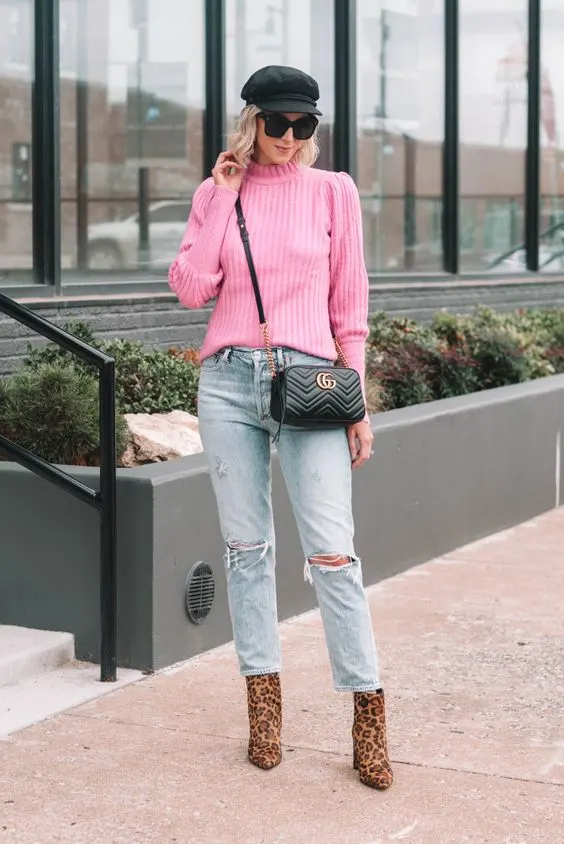 Buy Similar Here
How about wearing leopard print boots with some pink clothes? Go for that pink sweater and wear it with ripped jeans in wash blue paired with leopard print boots.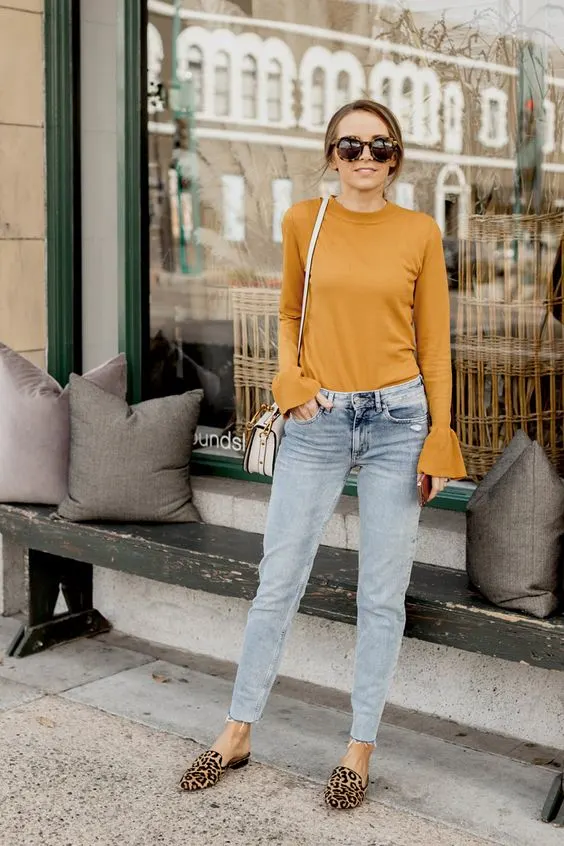 Buy Similar Here
That mustard top ideally suits wash blue jeans completed with flat mules in leopard print.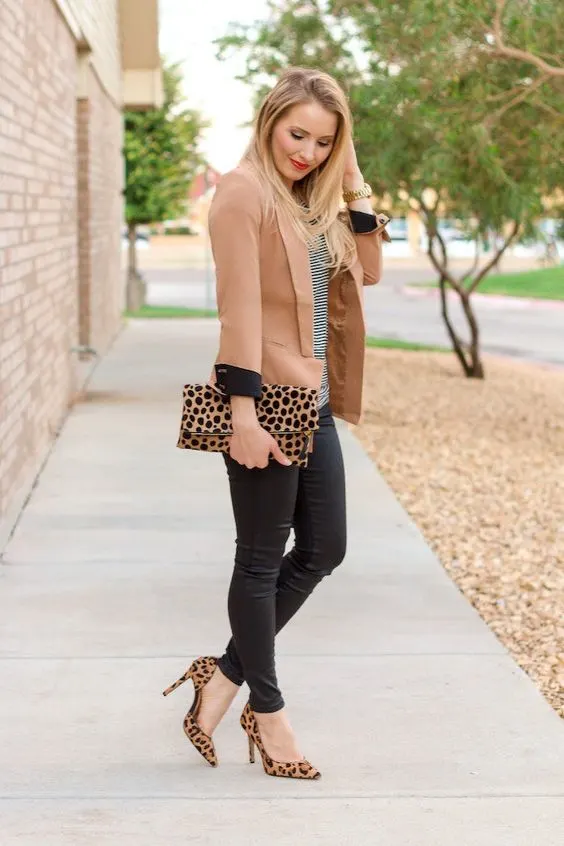 Buy Similar Here
You can never go wrong with a camel blazer worn with a striped top, black coated skinny pants, and leopard print heeled pumps.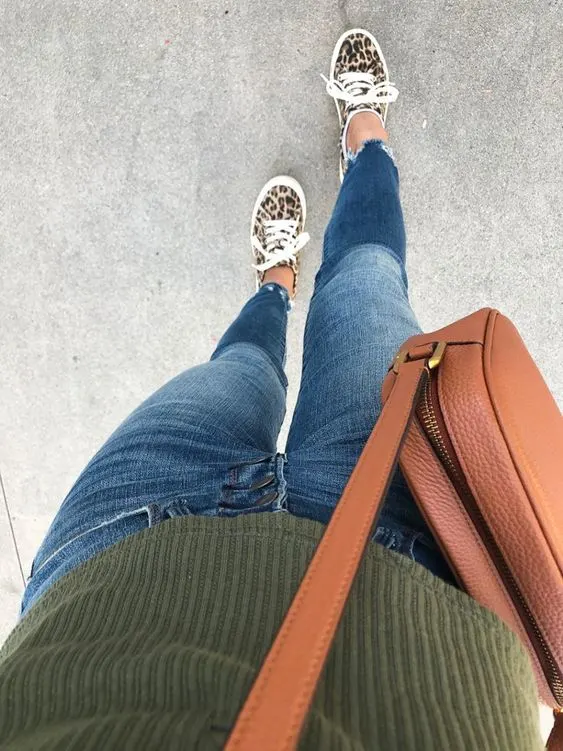 Buy Similar Here
Lace-up leopard print sneakers do look sassy and sporty styled with skinny jeans and that khaki green ribbed knit top.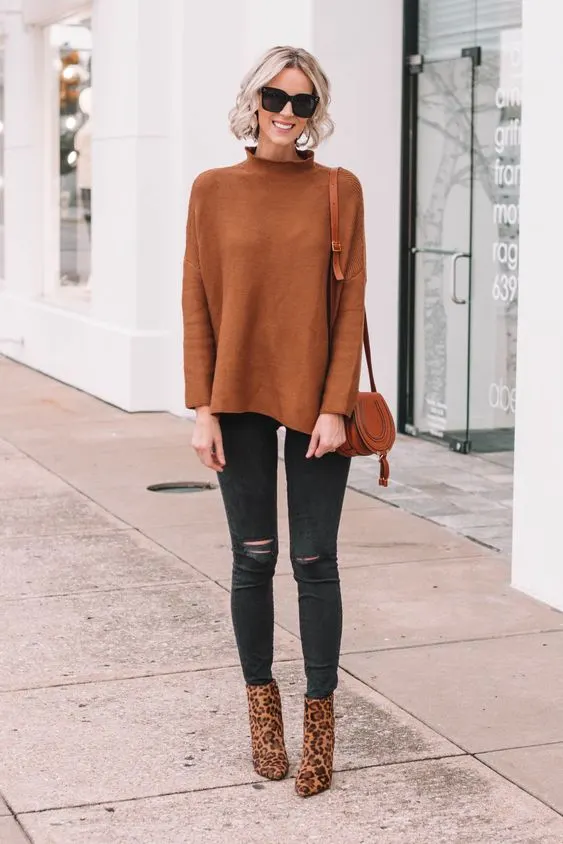 Buy Similar Here
A brown sweater with charcoal skinny ripped-knee jeans and leo boots is a cool choice for the autumn season.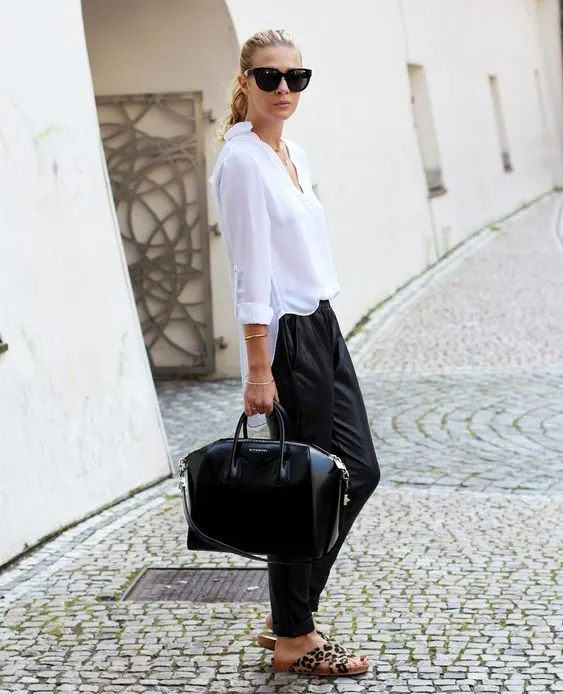 Buy Similar Here
A hot summer day can be updated with some monochrome touches, go for that white semi-sheer shirt, and tuck it inside black leather pants. Complete the look by adding oversized sunglasses and leopard print Birkenstocks.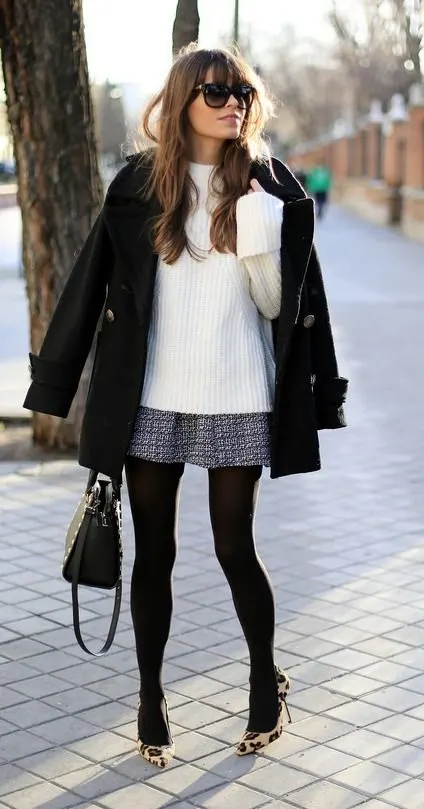 Buy Similar Here
Have fun this Winter, all you need is a black pea-coat, white long sweater, tweed skirt with black tights and leopard print heeled pumps.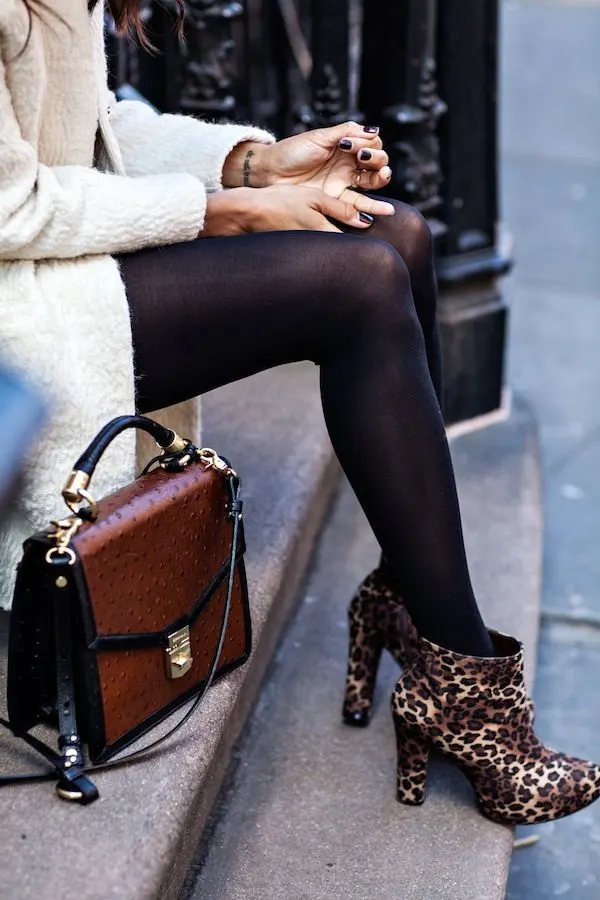 Buy Similar Here
I can't say why, but I fell in love with these leopard print ankle boots worn with tights and a white coat.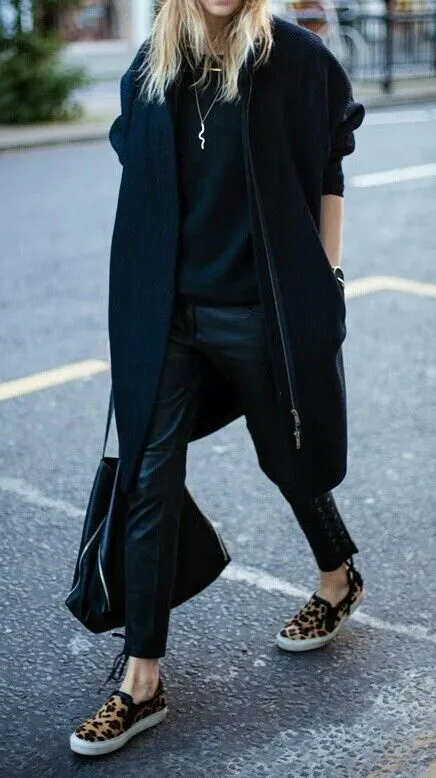 Buy Similar Here
Another cool urban chic style for black color lovers. Go for a black coat, black sweater, black leather pants, and leopard print slip-on shoes.

Buy Similar Here
Yes, another all-in-black look for spring days. We see a black coat layered over a black slim top tucked in a full skirt. Update this stylish look by adding sassy shades, oversized black leather belt, oversized bag, and leopard print heels.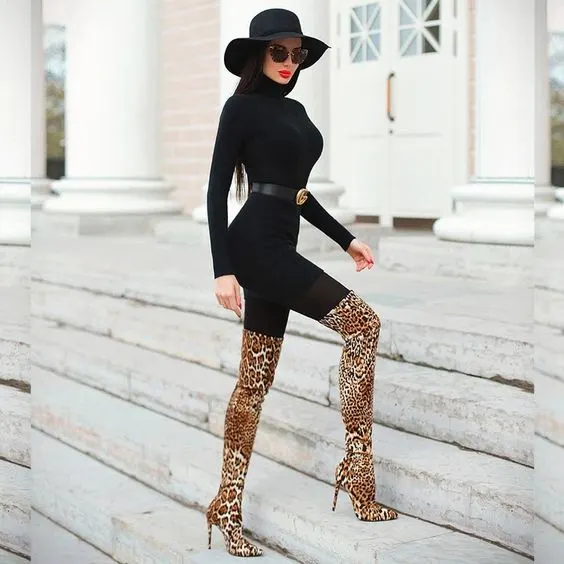 Buy Similar Here
Yes, don't forget about OTK boots in leo print! Style them with an all in a black outfit.
Conclusion:
as popular and fun as they are, leopard prints don't really work with everything. In fact, I can probably name more colors and outfits that leopard print shoes don't work with than I can items they will. The good news is, when you get the right combination, it's a tough one to beat for drama, glamour, and sex appeal. Below are a few tips on what to wear with leopard print shoes.
Update:
Here are some other cool ideas for styling up your leopard print shoes:
1) These leopard print sandals look great when you pair them with a leopard print short dress or a mini skirt, pair them with some shorts for the summer and don't forget to add some nice thick tights underneath for the colder days. You can also put on your favorite denim jacket to keep warm in the winter.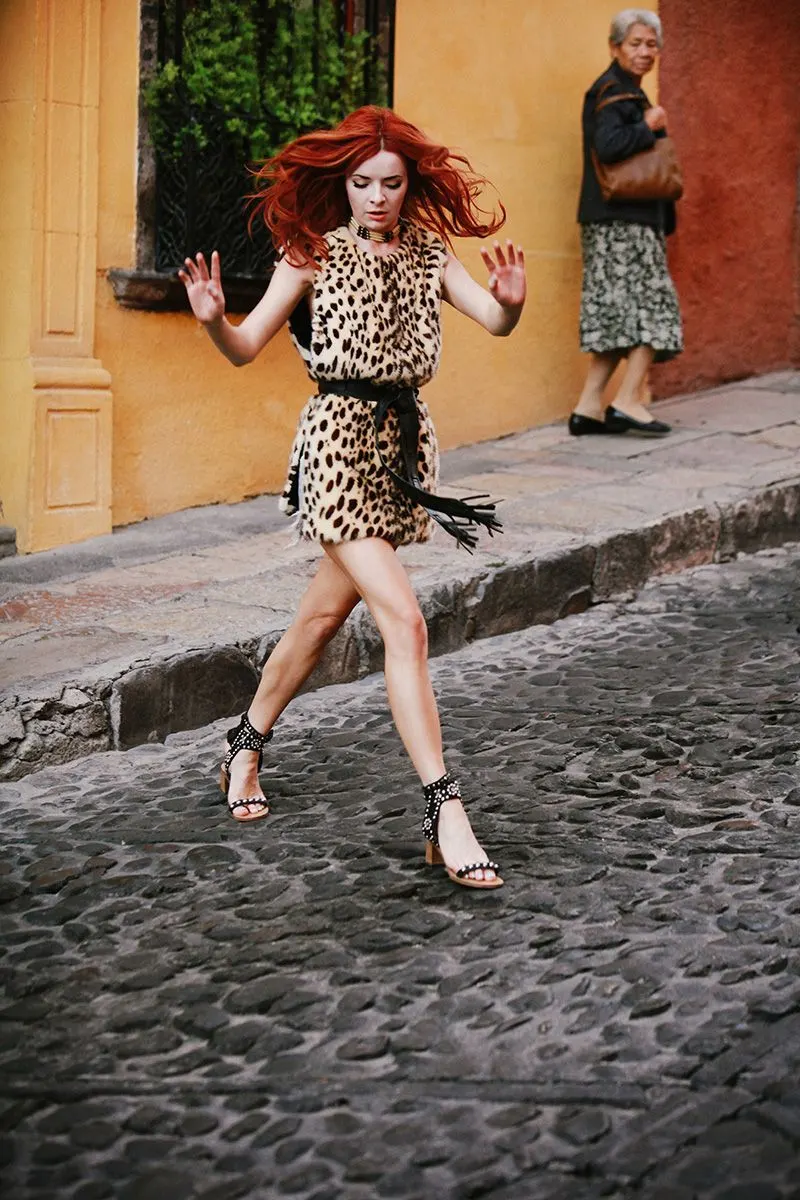 Buy Similar Here
2) You can also go all out with the leopard print pumps and pair them with a suede biker jacket, a simple top, and knee-ripped jeans. Go bold on your outfit by going for some bold eye make-up to bring out the best look of your outfit.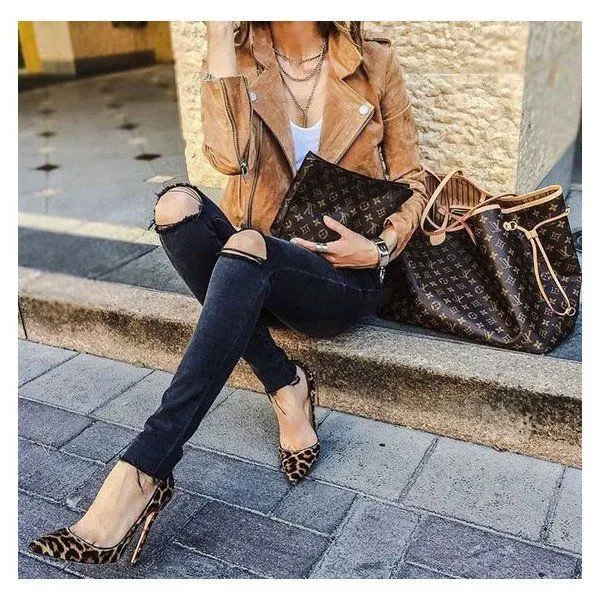 Buy Similar Here
3) If you want to go with something a little more casual for your outfit, pair them with a pair of boyfriend jeans.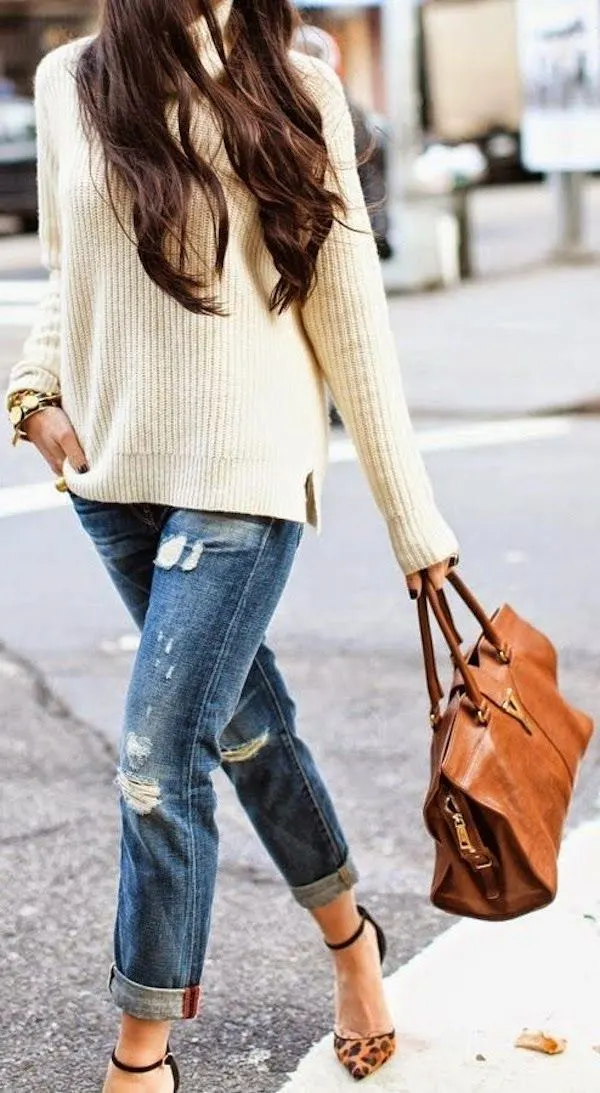 Buy Similar Here
4) For evening purposes, you can trye on leopard ankle boots by adding a black leather skirt and leather jacket with cute accessories such as a pair of sparkly jewelry, your favorite clutch, and some bright colored make-up.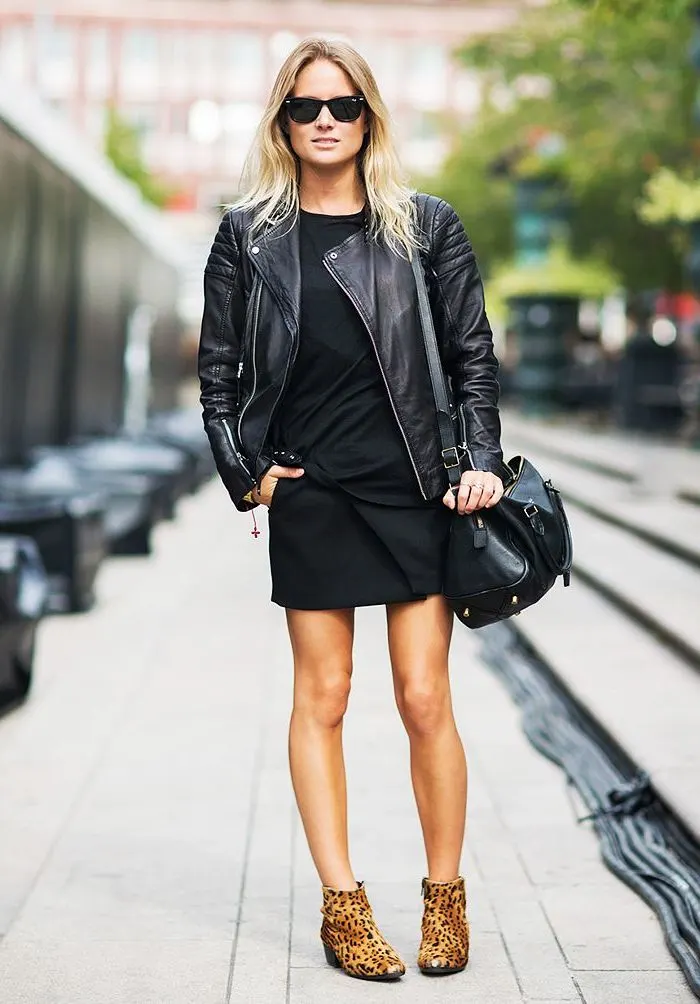 Buy Similar Here
5) Another way to style up these leopard print shoes is to wear them with a simple black lace dress.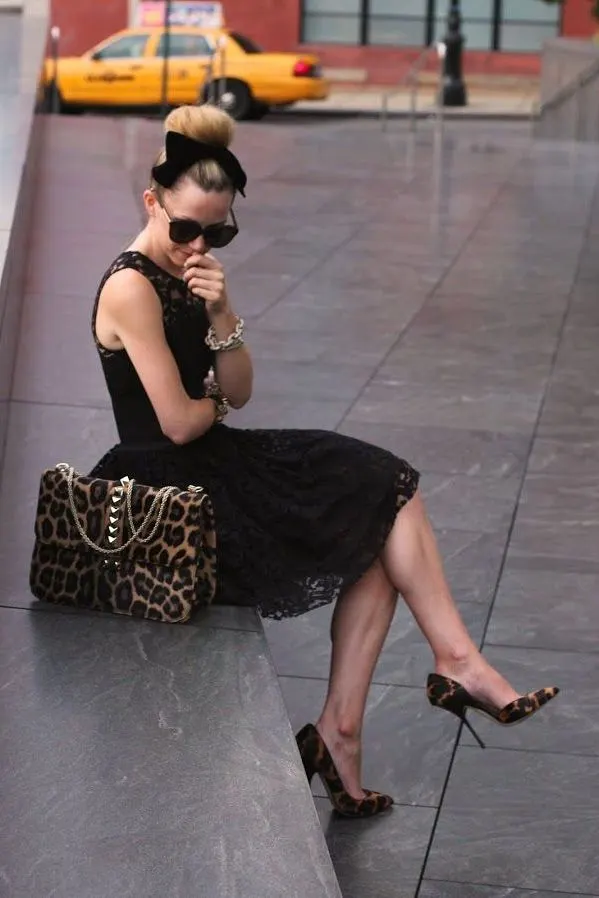 Buy Similar Here
With that said, you can choose to style up your leopard print shoes with any thing in your wardrobe, just make sure that the leopard print color is included in the outfit.
Source: LiveAbout