Let's speak about pink pants outfit ideas you can create this year. It's no secret that pink pants are back in our everyday lives, right? That's why my mission for today is to show you some easy ways how to incorporate these bottoms with your casual and dressy clothes.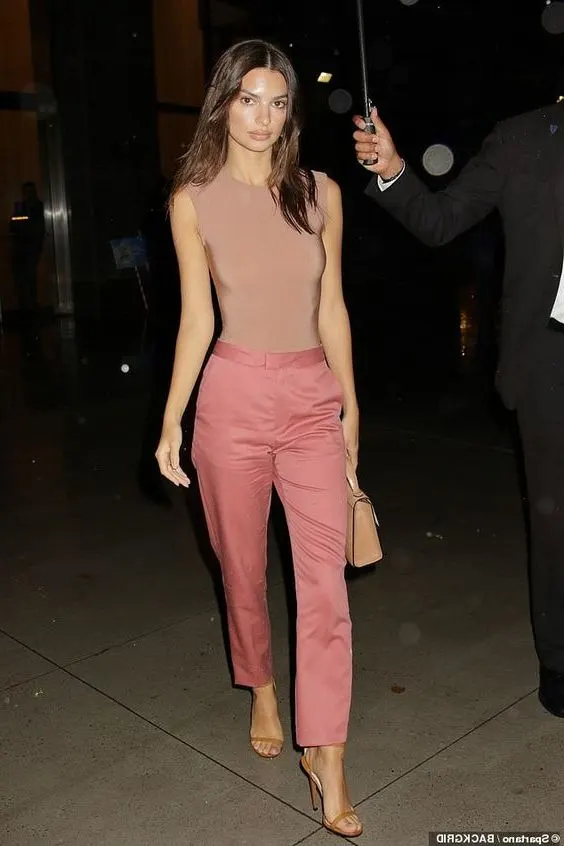 Buy Similar Here
If you feel daring, then the best choice is to try on this nude sleeveless bodysuit with classy tailored pants in a light pink color completed with heeled sandals.
Pink Pants Outfits
In general, pink pants is all about showing everyone that you are in a party mood and can enjoy the night. Ladies should wear these outfits as a tribute to spring season that is happening all around the world right now. So with that said, let's get to it! Even if you don't have them yet, you can always use your imagination and see some great ideas you can implement in nearest future.
These pants are a great way to beat the winter season and if you are stylish enough, you can wear them all year round. Don't be afraid to try it out because in the end it is a great style that will make you stand out from everyone else. The best part is, these pants are suitable for almost all occasions and would look great on any girl.
We are here to see simple ways of what to wear with pink pants no matter if they are hot pink or blush color. You gonna be wowed to know that pink is not just for Barbies, it can be a versatile color for all women, no matter their shape or age.
If you are in search of an adorable look that looks perfect on everyone, then you are on the right page, darling! I am going to observe great outfit ideas for women and the ways how you can wear them in your everyday life. These bottoms are ideal for wearing through hot spring and summer days, as well as for Fall and Winter months.
With Camel Coat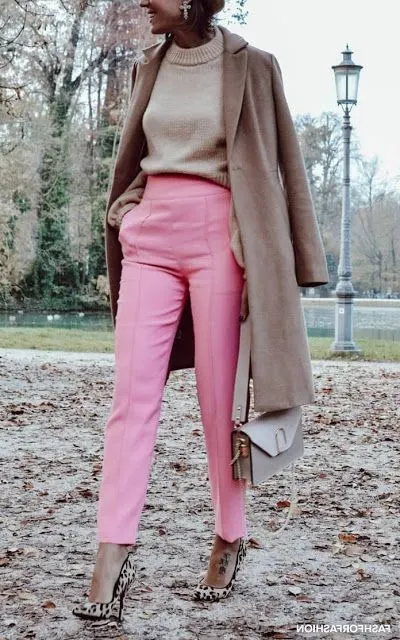 Buy Similar Here
A lovely pair of fresh pink pants in classic fit are worn with a cream-grey sweater and a camel coat layered over it. Update this look by adding leopard print heels and a cute cream-beige handbag.
With Pink Sweater Monochrome Outfit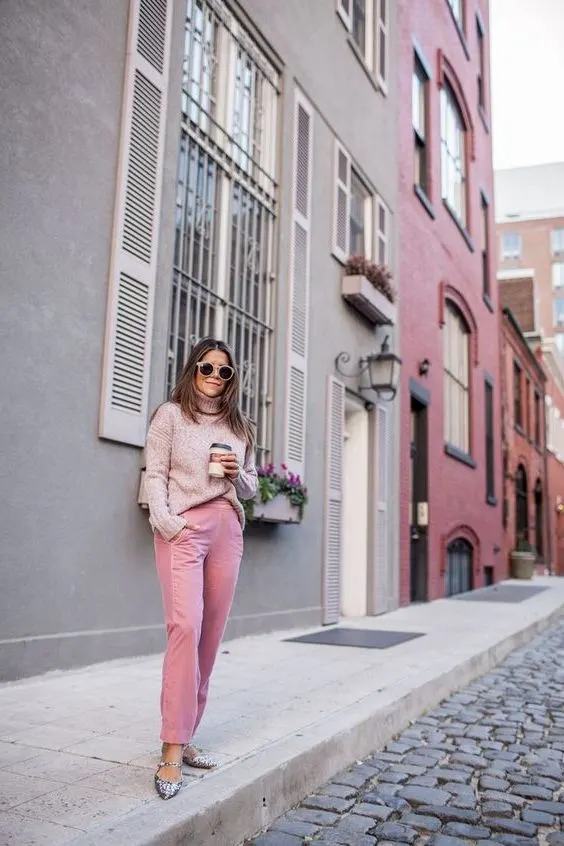 Buy Similar Here
Tailored light pink trousers can be easily teamed with a cream-beige turtleneck sweater. Complete the look by adding rounded shades and silver sequined flat pumps.
With Denim Jacket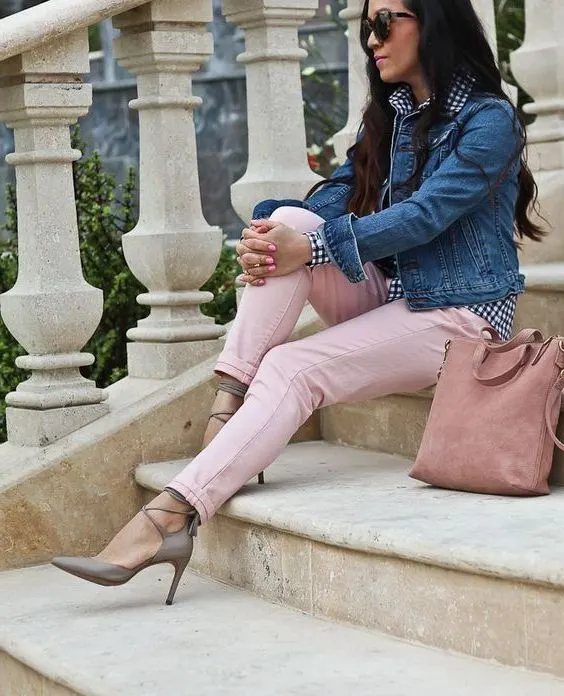 Buy Similar Here
Pink jeans look great with casual apparel, Try them on with a blue denim jacket, plaid print shirt, and beige-grey heeled pumps. Love this simple day look. An ideal choice for easy street walks around town.
With Brown Coat & Black Trainers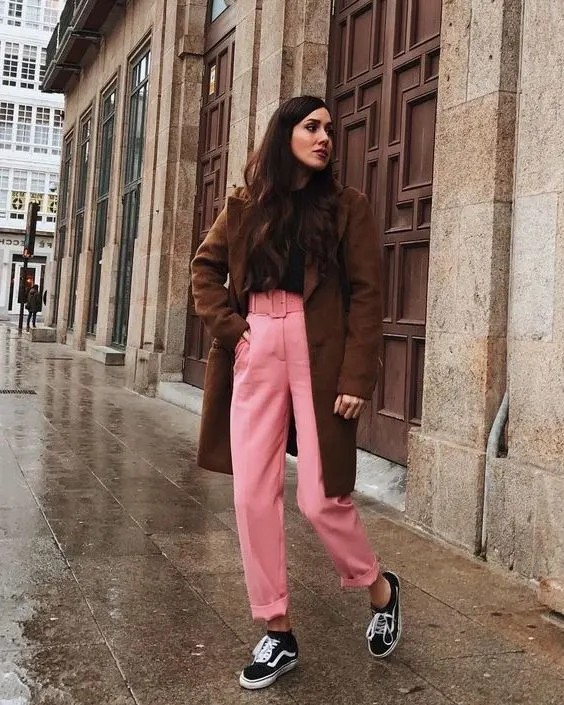 Buy Similar Here
Fresh pink belted cuffed pants look tremendous styled with a black sweater and a dark brown coat. Update this look with our beloved classic Vans. Check out my post on how to wear crop tops with cargo pants, there are some great ideas to follow now.
With Crop Top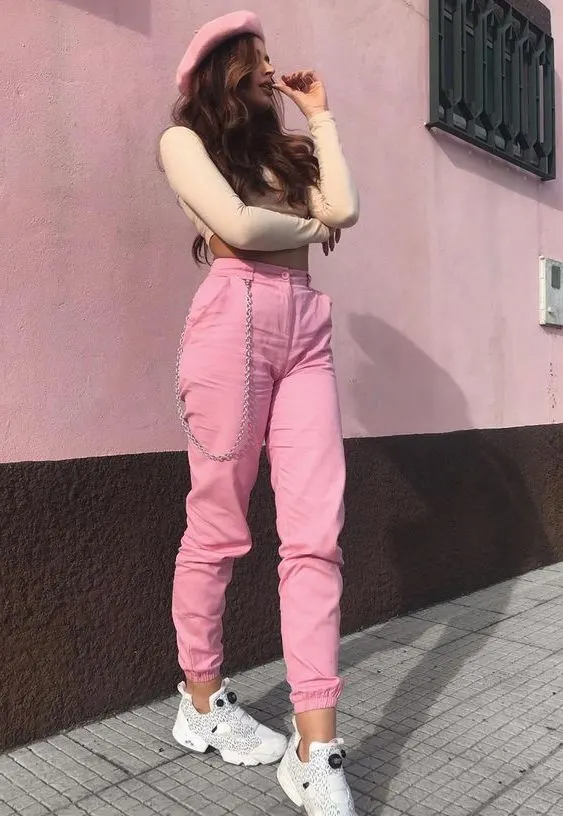 Buy Similar Here
If you are more into the sporty side, then go for these cool pink joggers and update them with a beige crop top, cool chunky sneakers, and a pink beret hat.
With White Peplum Top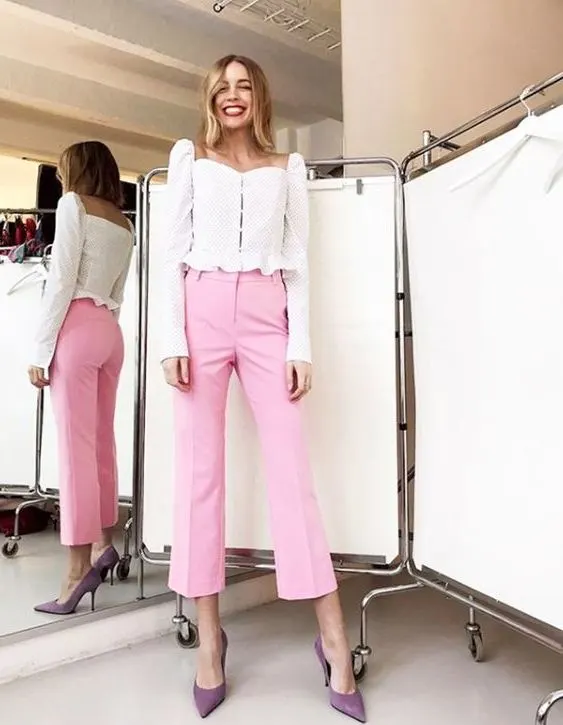 Buy Similar Here
In love with classics, but still, want to look modern? Go for this white peplum top and style it with cropped tailored pants in pink completed with sherbet purple pumps.
With Navy Top
Buy Similar Here
Keep it relaxed and functional! Go for that navy long-sleeve top and tuck it inside light pink office-appropriate pants completed with beige heeled sandals.
Pink Pantsuit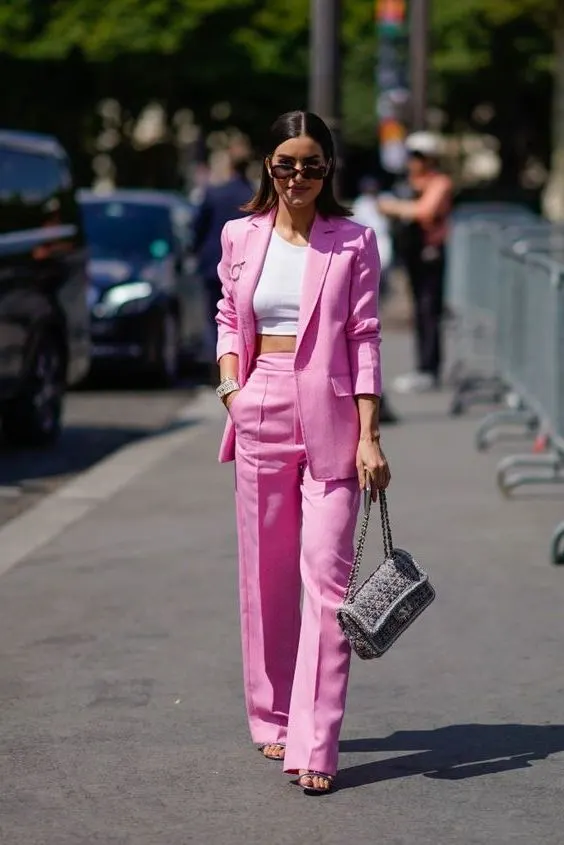 Buy Similar Here
If you feel like wearing a totally pink look, then go for this power suit in hot pink color. Update it with a white crop top and 1990 style sunglasses.
With Burgundy Coat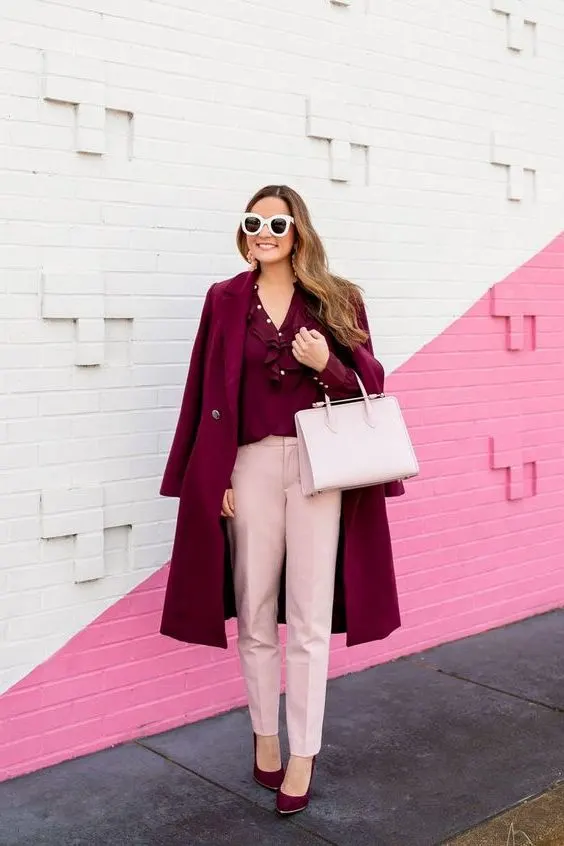 Buy Similar Here
How about wearing burgundy clothes mixed with pink? Go for that oxblood coat layered over a burgundy blouse tucked in tailored pants in blush color completed with glossy burgundy pumps. Yes, those white sunglasses are the best!
With Hot Pink Tank Top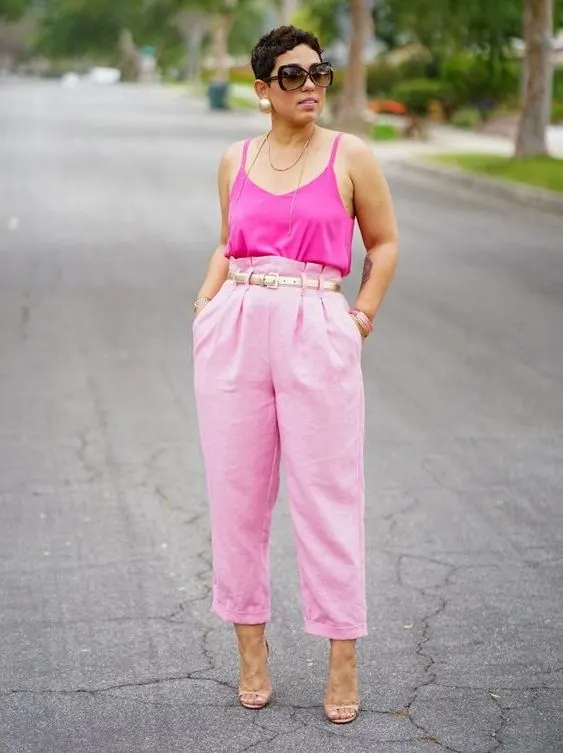 Buy Similar Here
A hot pink top with spaghetti straps can be tucked in light pink gathered pants. Complete this relaxed style by adding oversized shades and nude heeled sandals.
With Simple White T-Shirt

Buy Similar Here
Keep things simple! Go for a white short-sleeve top and tuck it inside pink pants updated with white heeled sandals. Love that chic necklace and a classic black leather handbag.
With Green Sweater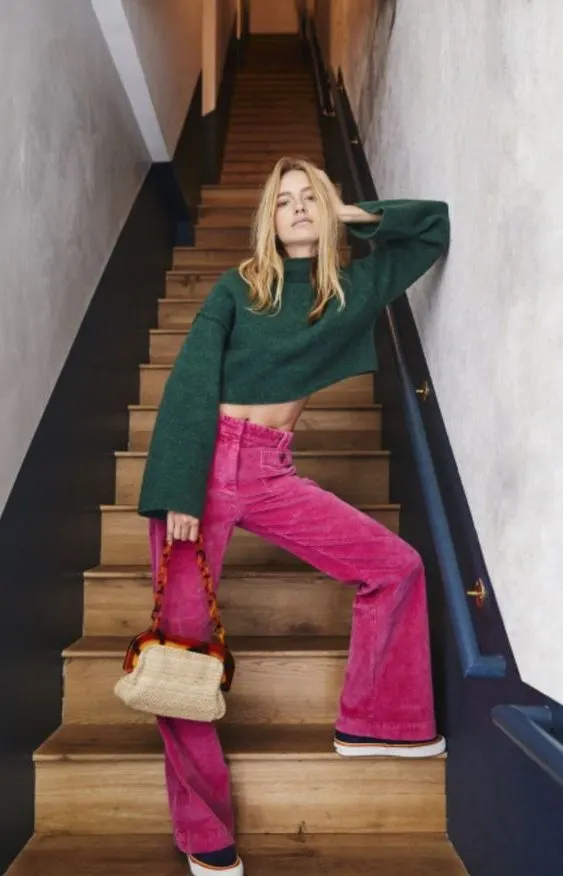 Buy Similar Here
Make a wow statement by wearing chic colors! Go for a dark green cropped sweater and pair it with flared velour pants in rich pink color.
With Leopard Coat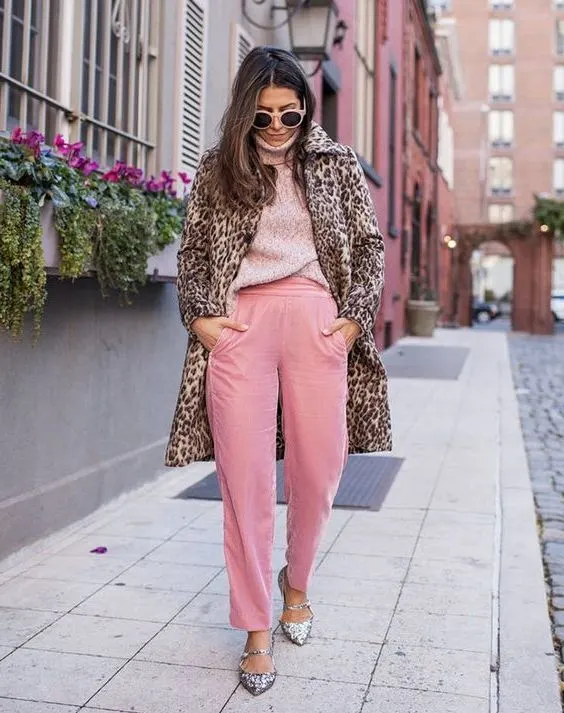 Buy Similar Here
Leopard print coat is a cool choice to team with a cream-blush turtleneck sweater tucked in blush joggers completed with sequin silver flats.
With Black Turtleneck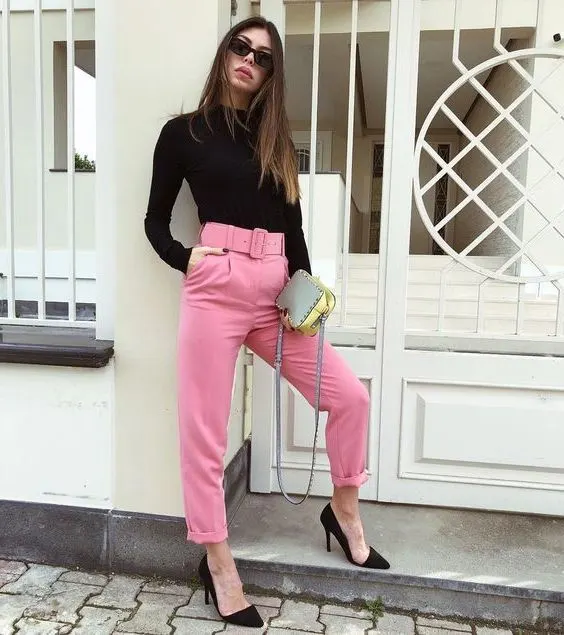 Buy Similar Here
Love in black and pink? How about mixing them together? Go for a long-sleeve black top and tuck it inside belted pink pants. Complete this combo with classic black heels.
With Striped Shirt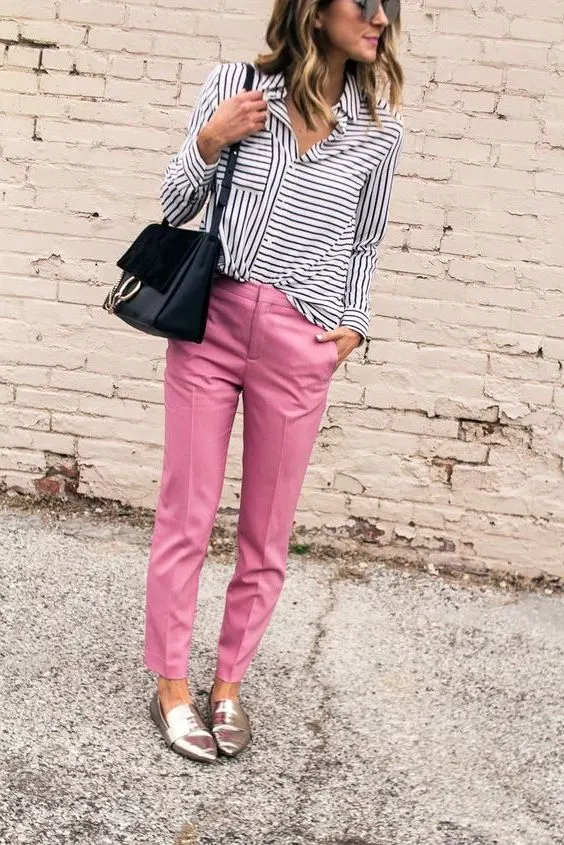 Buy Similar Here
Striped gonna save your life! Go for that black-white striped shirt and team it with tailored pink pants completed with gold flat loafers.
With Printed Black Tee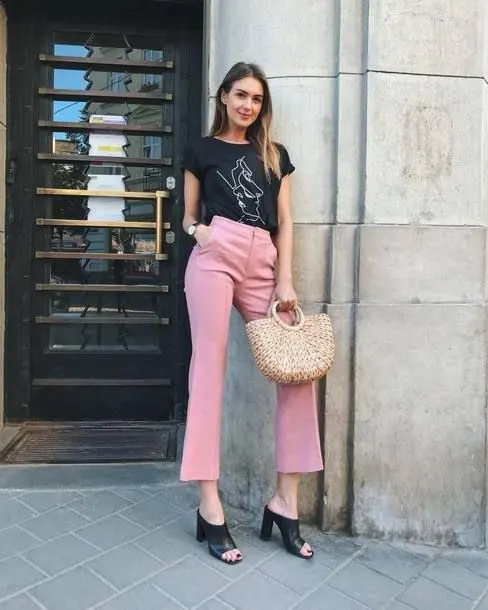 Buy Similar Here
A classy black tee can be tucked in flared cropped pants in pink color. Complete the look by adding a straw tote bag and peep-toe heeled mules in black leather.
With White Cowboy Boots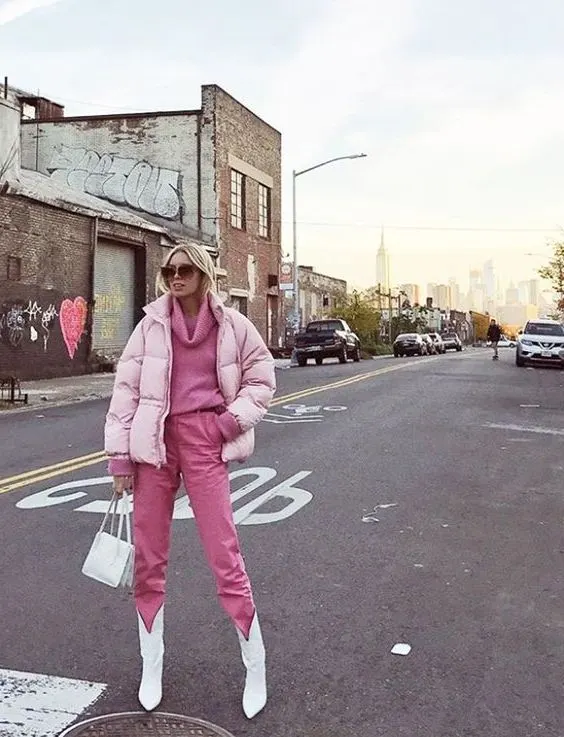 Buy Similar Here
An ideal total pink look for Winter! We see a light pink puffer jacket worn with a slouchy pink sweater tucked in pink pants completed with white cowboy boots.
With Classic Black Coat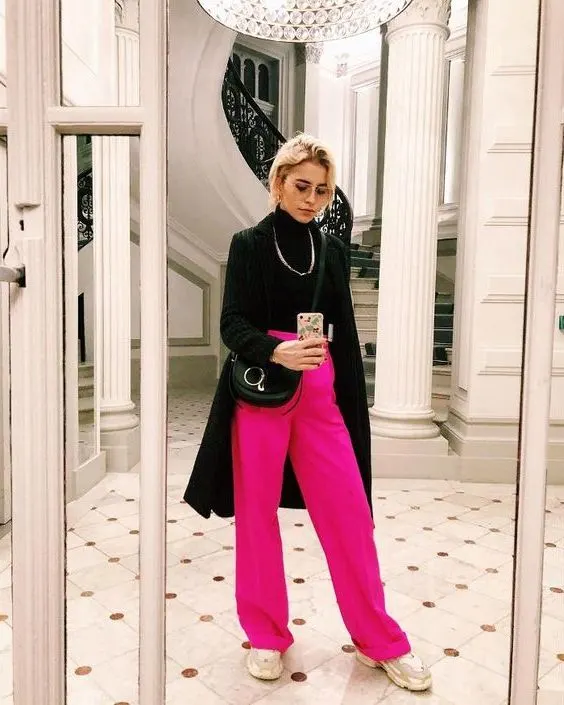 Buy Similar Here
A classic black coat looks gorgeous with these wide pink pants and blush sneakers.
With Chambray Shirt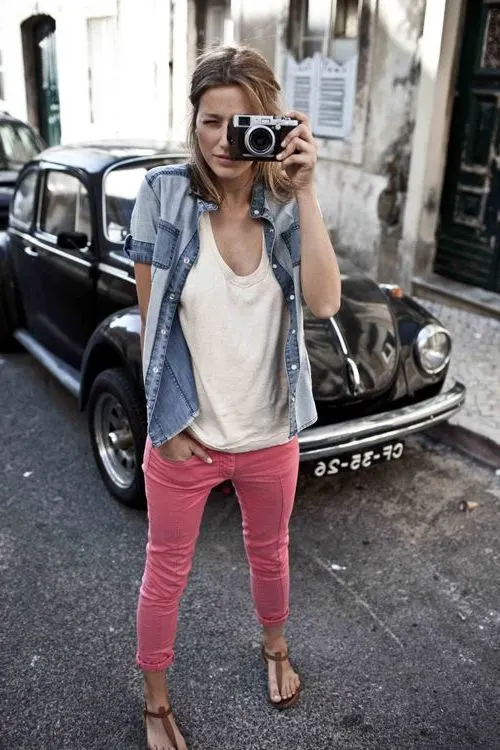 Buy Similar Here
A lovely casual summer trip look. We see a denim short-sleeve shirt teamed with a white tank top and pink skinny jeans completed with T-strap sandals.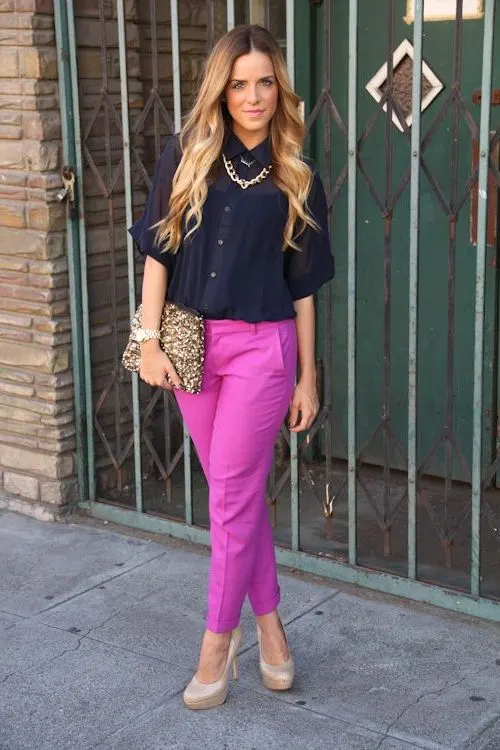 Buy Similar Here
Another classy look for office hours. Go for a semi-sheer navy blouse and tuck it inside bright pink tailored pants completed with beige heels.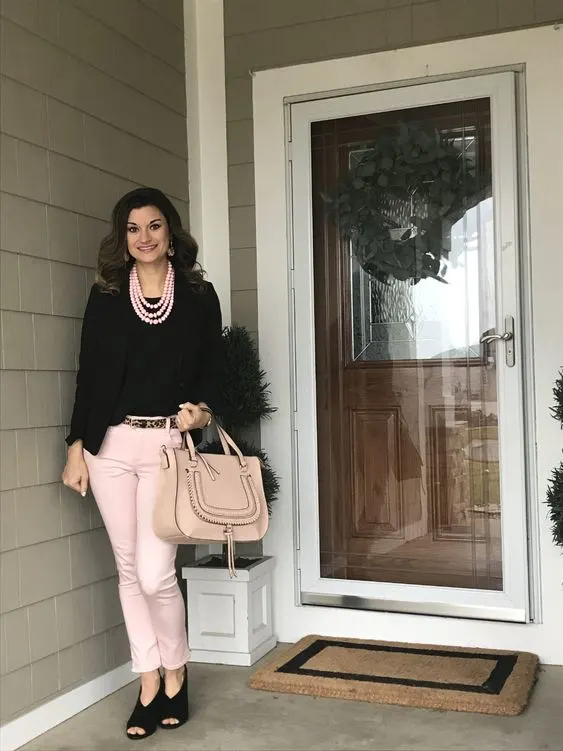 Buy Similar Here
Here we see a stylish Winter combination for adult ladies. A black blazer is with a black top, blush pants, and peep-toe heels.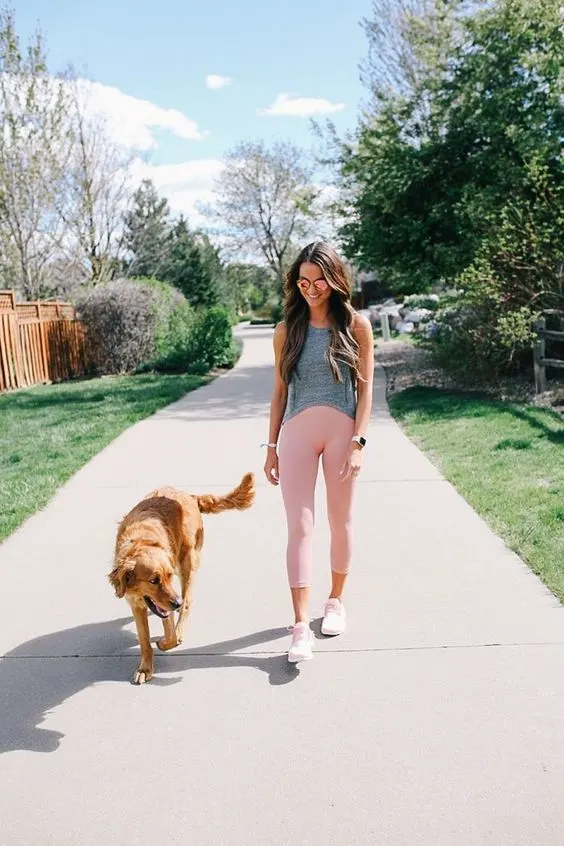 Buy Similar Here
A perfect summer day for wearing blush leggings. Style them with a grey sporty top and blush sneakers. Complete this athleisure style with mirrored sunglasses.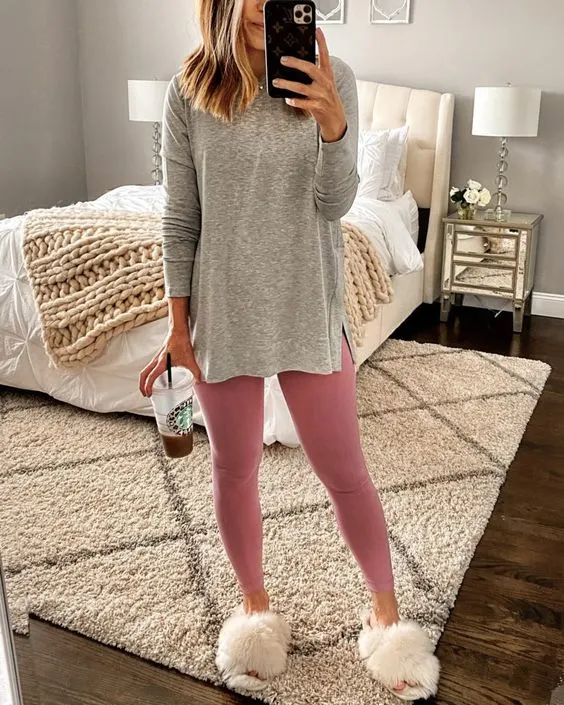 Buy Similar Here
A grey tunic is paired with light pink leggings and white fur slides. A nice choice to stay at home.
A tee-shirt is a good start for pairing with shortened pink pants and some high heels.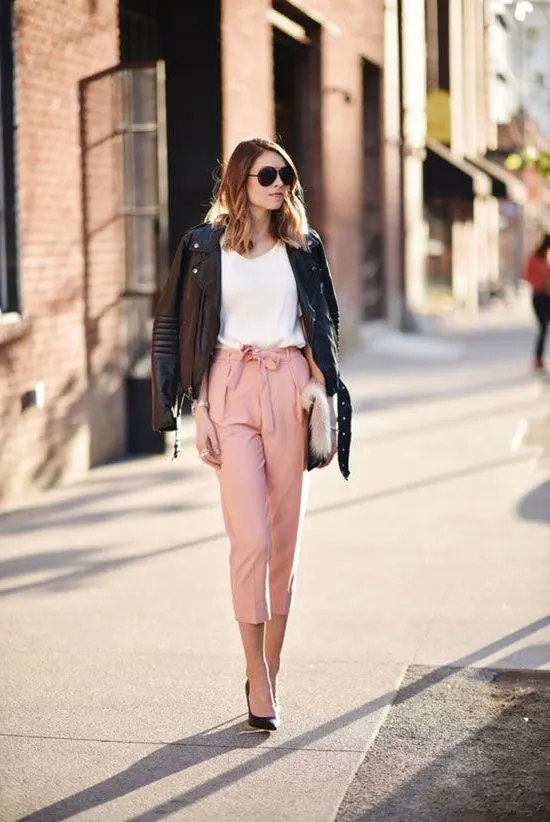 Buy Similar Here
They look awesome on any girls and will definitely not disappoint. Wear them with confidence and you will have a great time. Here we see a rock band tee with twill pink pants and cool sneakers.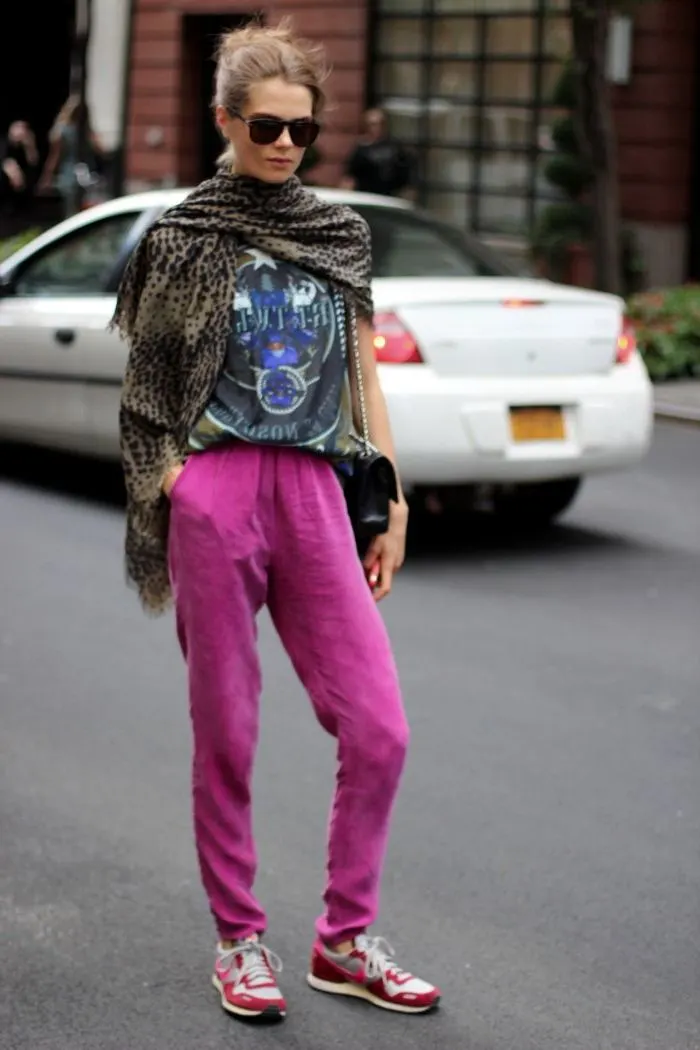 Buy Similar Here
With Basic White Shirt
If you are looking for something more formal, just dress your favorite pair of pink pants with a classy shirt. It is cute and adorable at the same time. You could go to a casual event by wearing these pants with a white shirt.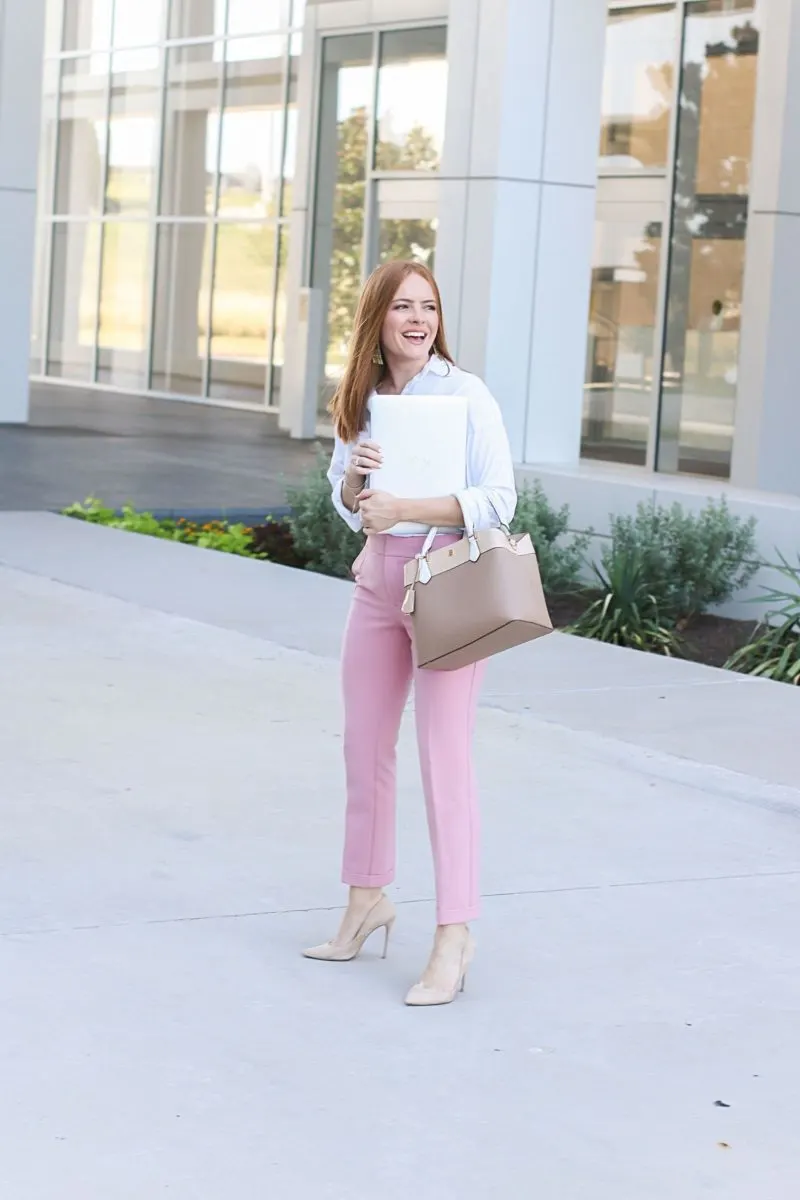 Buy Similar Here
Hot Pink Suit
For an awesome night out with friends, you can't go wrong by wearing a pair of pink pants with an oversized jacket. You might even want to try one of these cute and warm pairs of blush pants: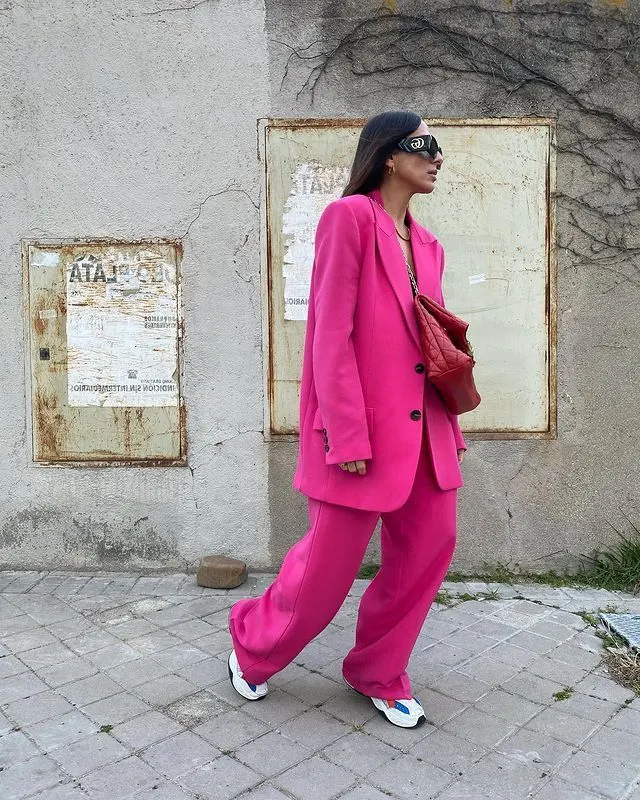 Buy Similar Here