I decided to create a full guide on blazers. This guide is about my favorite ways how to make blazer complete your style and underline your personality. A perfectly tailored blazer will only underline the beauty of your outfit, that's why it's important to choose the appropriate design for an appropriate event.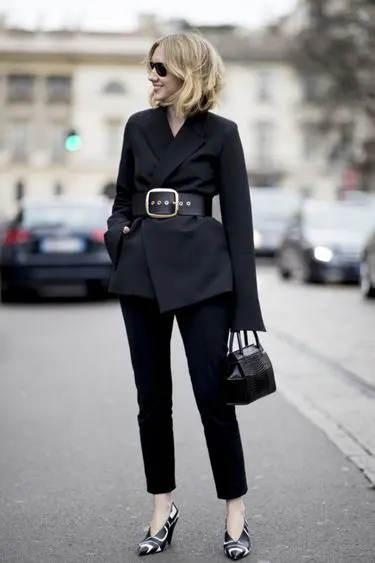 Buy Similar Here
This is a long read article, so you better take your time and choose your favorites. If you don't mind, please leave me a comment, so I know what kind of blazers you like.
A blazer is a basic clothing staple that can be found in almost every woman's closet. This is the most versatile wardrobe piece that will be appropriate for both business meetings and parties. The main thing is to understand how and with what to wear this beautiful layering piece. This season, street style celebs and fashionistas appear in oversized jackets so-called boyfriend blazers, as well as in blazers with patch pockets, fitted styles, plaid jackets, and leather suit jackets.
The modern blazer comes with so many designs, lengths, shapes, colors, and details that you can simply get lost and confused while choosing the one that you need. The market offers us absolutely everything, starting from classic office must-haves and versatile styles that are both great for work and leisure, to festive and trendy pieces. You are now allowed to mix and match whatever you like, from pants to skirts and dresses.
Find out how you can wear blazers full guide for women! This is for the woman that needs to know just about everything about blazers. Yes, this guide is for you! Have a read and find out how to wear blazers full guide for women.
Why Blazers?
Blazers are one of the most important wardrobe items for all women. Blazers are a great investment, as it can be worn with just about everything. Blazers can be worn with skirts, dress pants, jeans and shorts! You can pair them up with almost anything in your closet! That is why blazers should be part of every womens clothing collection.
Many different styles of blazers exist out there from cropped to long jackets to 3 piece sets. A well-fitted blazer is very flattering and can really make you stand out in a crowd if you know how wear them. Below are guides on how to wear blazers to get you started on your way for a well-dressed woman.
Blazer Style Tips:
#1 – The most important tip regarding blazers is that it should fit you properly. If your blazer does not fit you well, then it will look like a box instead of looking like a flattering jacket on you. Always try on the smallest size available first before trying on the bigger sizes since most jackets tend to have extra room in the fitting in order to give off a more relaxed shape than fitted look.
#2 – Blazers come in many different styles and sizes. It's usually based on your height, top size and bottom size. Taller ladies may prefer a longer blazer while shorter ladies would go for the cropped or mid-thigh length blazers. As for the top, if you are smaller chested you can opt for a single button jacket while if you are larger chested then double button blazers would work best. As for the bottom, most sleeves should end at your wrist area giving it a more feminine look to it and not looking like an oversized dress shirt. Just know that a blazer is the perfect way to make any outfit look more dressy and put together. You can wear them anytime and anywhere. Blazers are truly an important wardrobe item for all women!
#3 – When wearing a blazer, always try to pair it with something else like a brocade or printed dress shirt underneath. A blazer on its own is just too dull so pairing it up with a dress shirt underneath will give you more of an elegant look. Having the right type of blazer to enhance your outfit is very important. There are many different types of jackets that you can choose from so make sure to research on the type and styles that work with your body shape and suitable for your style.
#5 – If you want to give off a more vibrant and fun look, then blazers made of bright and pastel colors are perfect for you! They will really catch people's eyes as they walk by or sit beside you in a restaurant. Most black or white blazers are guaranteed to make any outfit look more put together.
#6 – Blazers can be worn with almost anything! You just have to experiment by putting it together with other items. You can wear them with jeans, shorts, pencil skirts and even your summer dresses.
#7 – Adding flair to blazers is important because it truly does make any outfit look more classy and sophisticated. You can even put together different pieces on top of the blazer itself. For example, you can wear a scarf or a shawl for some contrast or accentuation.
Best Blazers To Try This Year
Belted Blazers
This year we see a comeback of oversized and menswear-inspired blazer completed with buckled belts. Play with belts structure, it can be a casually tied leather or fabric belt, the one with a contrasting color, or in the same color of your blazer. You can also experiment with belt bags, this will underline your individuality and keep your look complicated.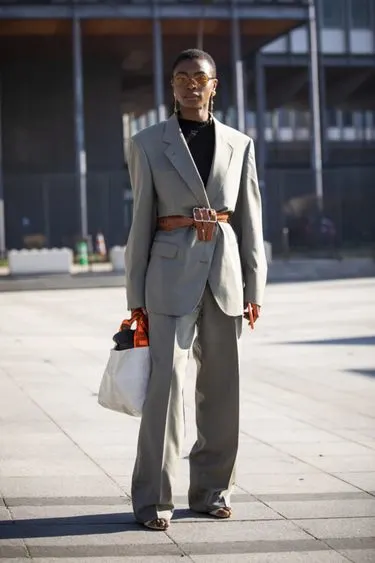 Buy Similar Here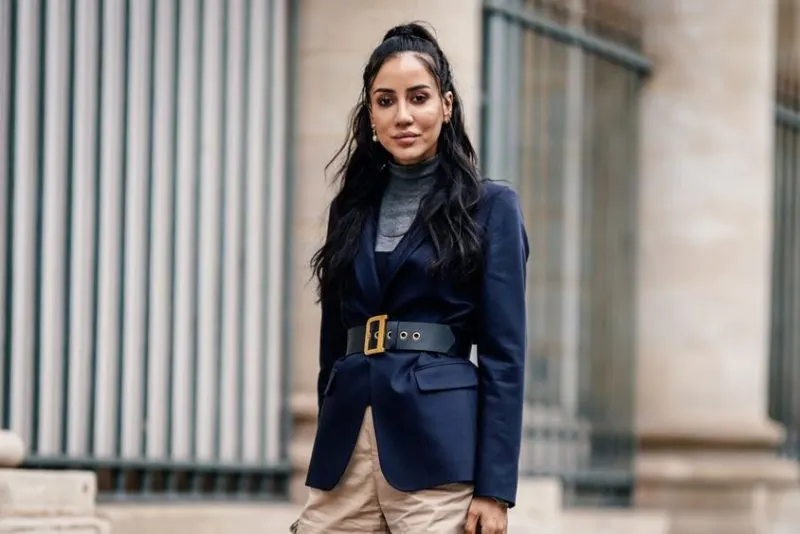 Buy Similar Here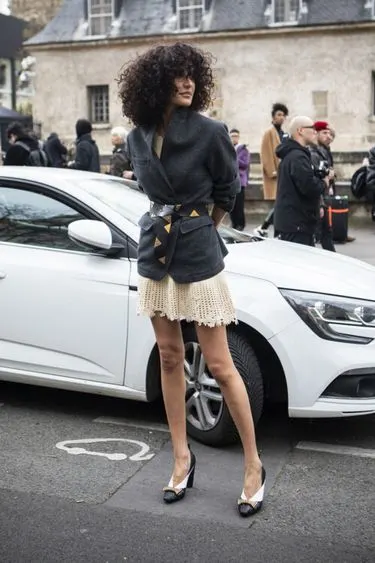 Buy Similar Here
Buy Similar Here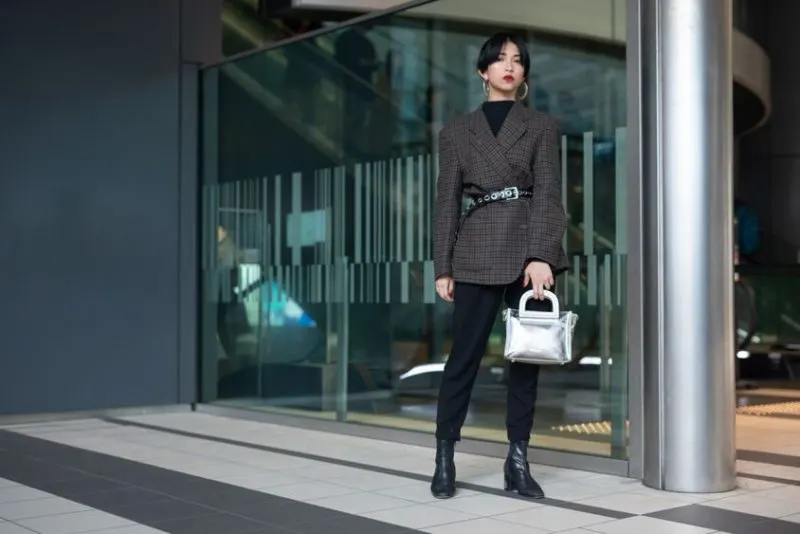 Buy Similar Here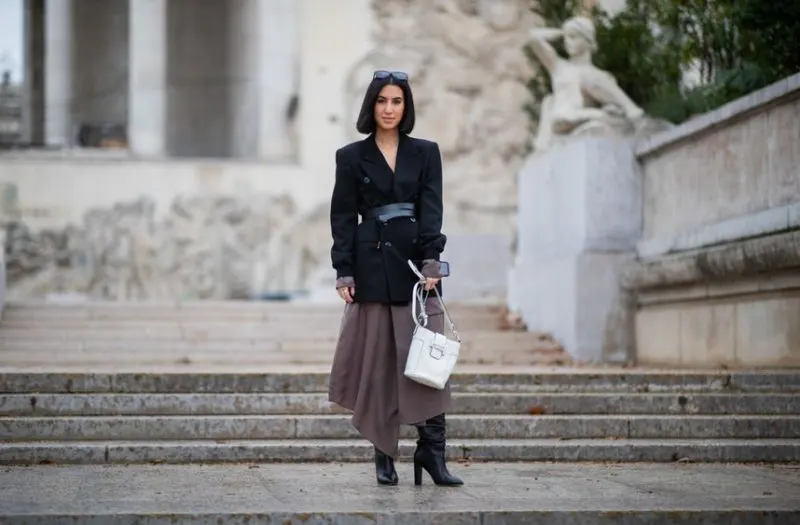 Buy Similar Here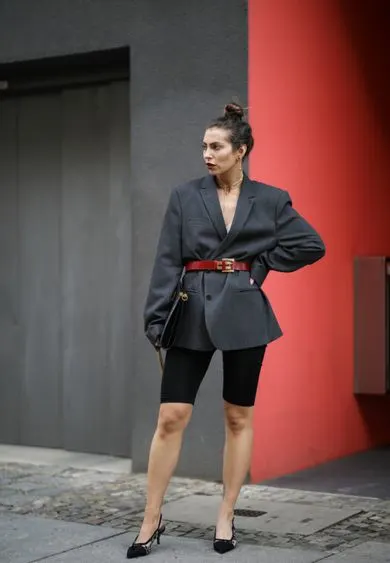 Buy Similar Here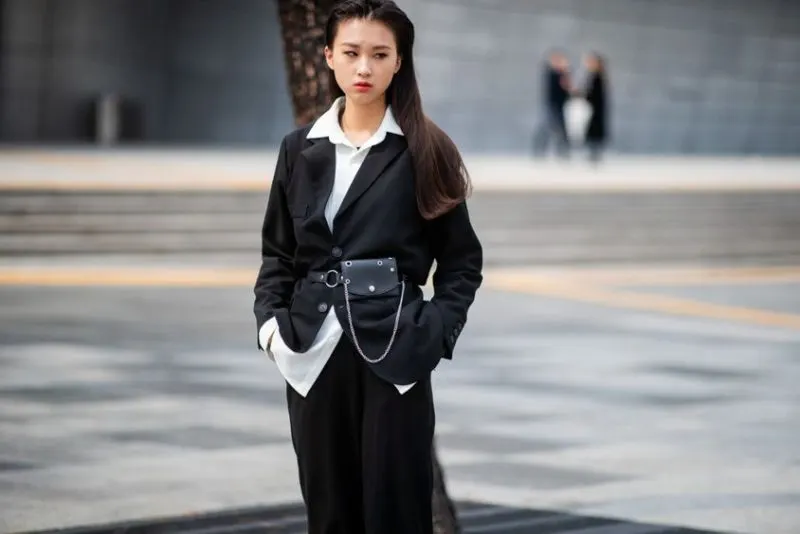 Buy Similar Here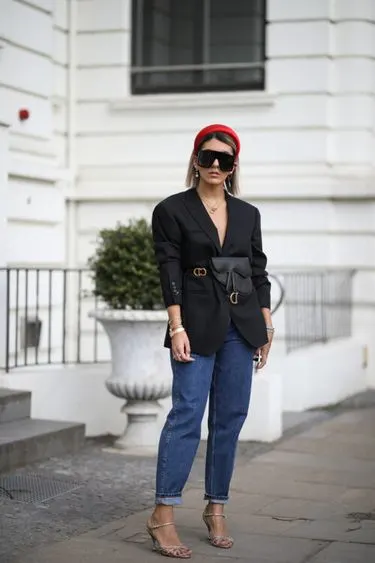 Buy Similar Here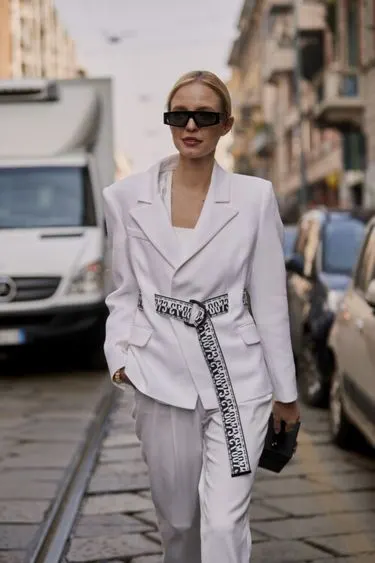 Buy Similar Here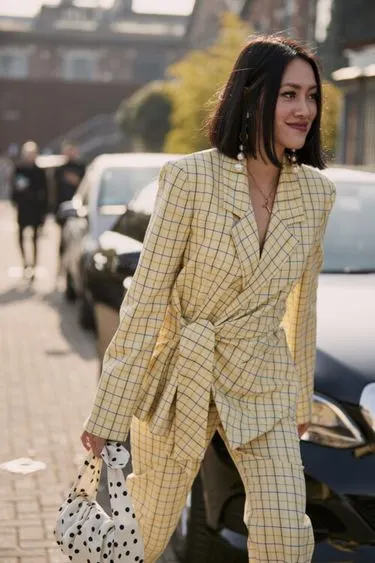 Buy Similar Here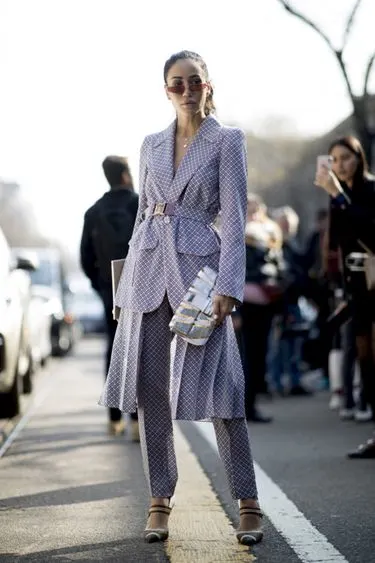 Buy Similar Here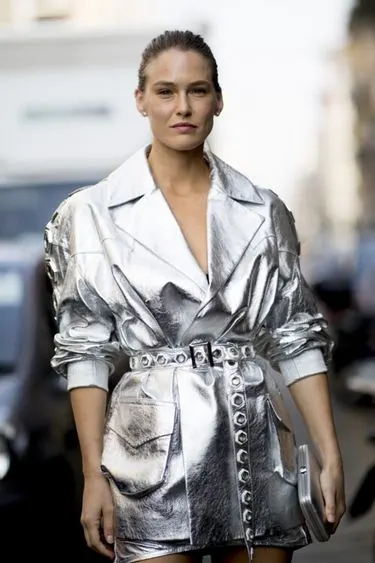 Buy Similar Here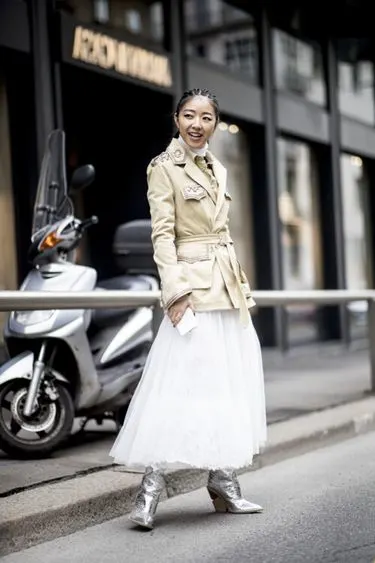 Buy Similar Here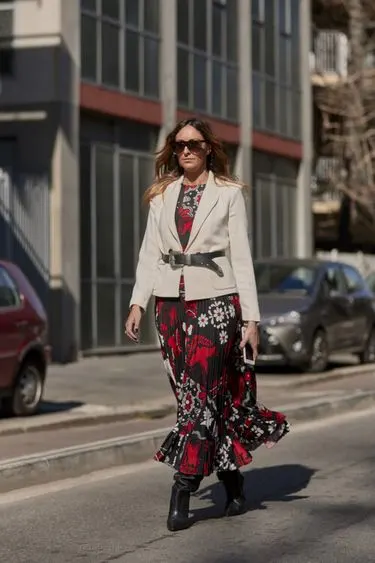 Buy Similar Here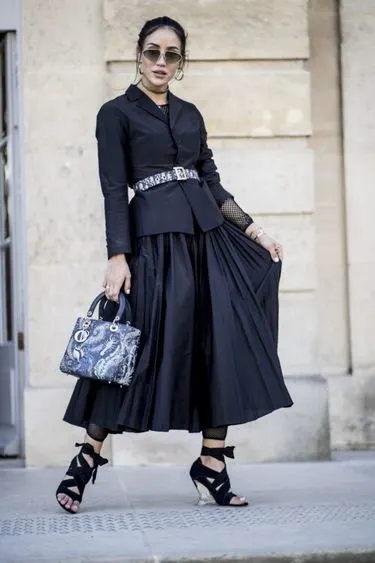 Buy Similar Here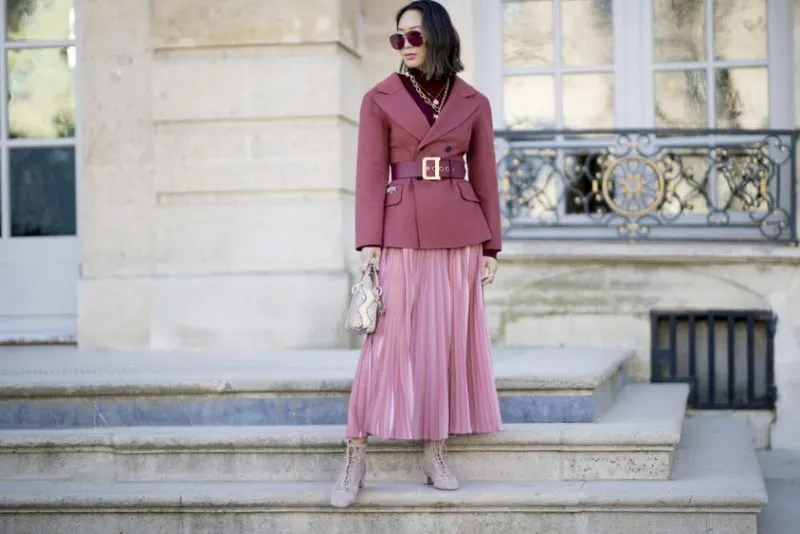 Buy Similar Here
Embellished Blazers
If you want to make a wow statement with your blazer, then go for the one decorated with sparkling stones, embroidered with sparkling sequins, textured velvet design, embellished with garden flowers, etc.
Sequined Blazers
My personal favorites are sequined blazers. I love jackets decorated with thousands of shiny sequins in gold, copper or silver color. You can simply update such style with a cute monochrome dress and some festive pumps.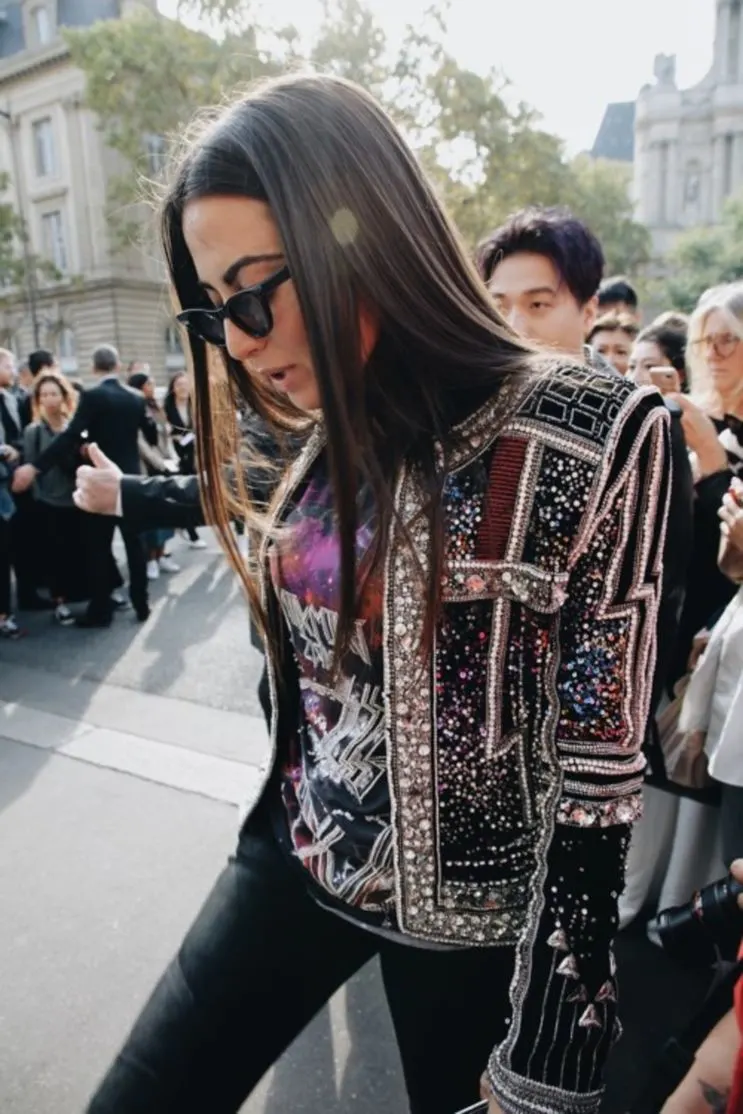 Buy Similar Here
Velvet Blazers
An excellent alternative to a shiny jacket is an aristocratic velvet jacket. It can easily highlight your outfit and add some aristocratic touches. Go for complicated velvet blazer in deep rich shade and style it with a semi-transparent dress or a daring mini skirt. This will add playfulness and sexuality to the whole outfit.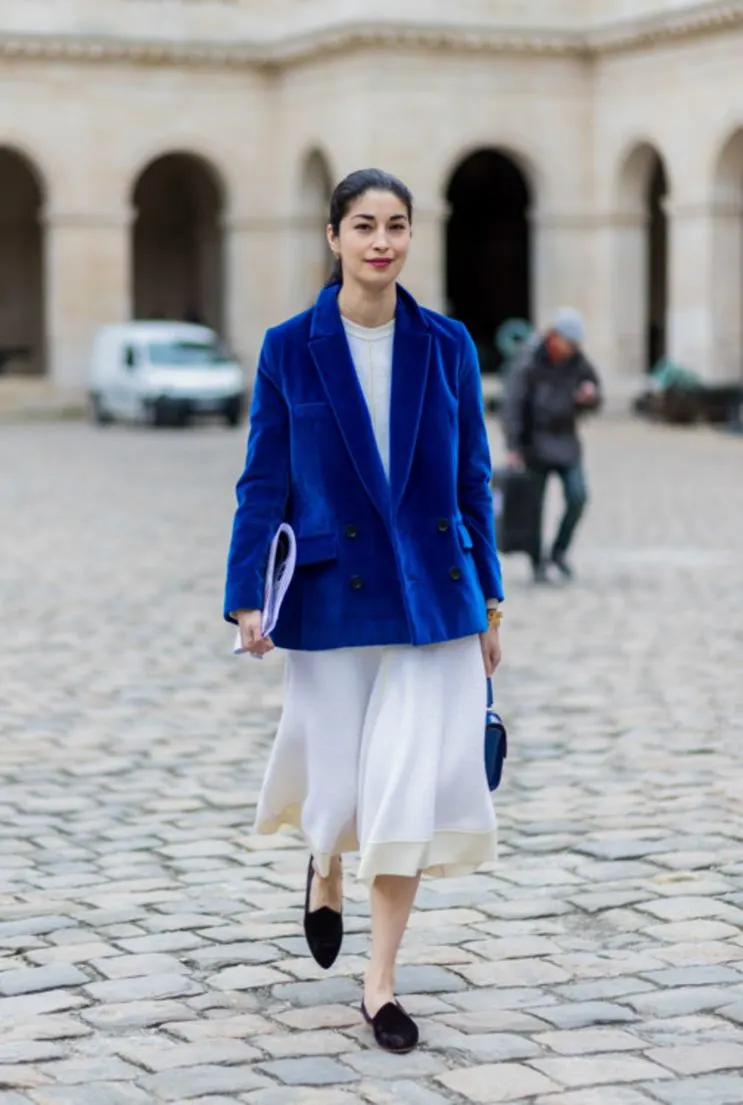 Buy Similar Here
Satin Blazers
The satin jacket looks elegant. Go for the one with contrasting lapels. You are free to choose either a cropped version, fitted or a loose-fit design, the choice is yours. Style it with sheer tops or dresses, Complete the look by adding flared pants, to create the seventies inspired look.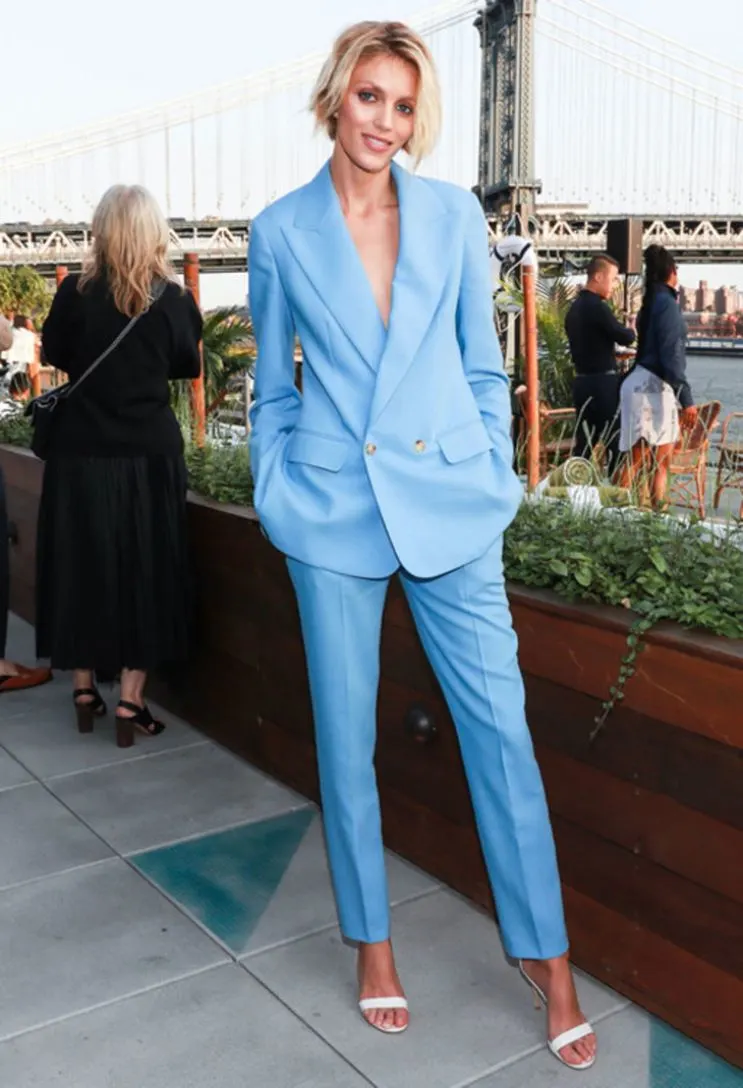 Buy Similar Here
Floral Blazers
The suit jacket is the secret weapon of every fashionista. Why? It looks equally stylish both in the office and at the glamour party. A new season offers us flower embroidered blazers made of satin, velvet and other fabrics. They look great with pleated skirts, solid blouses, and kitten heels.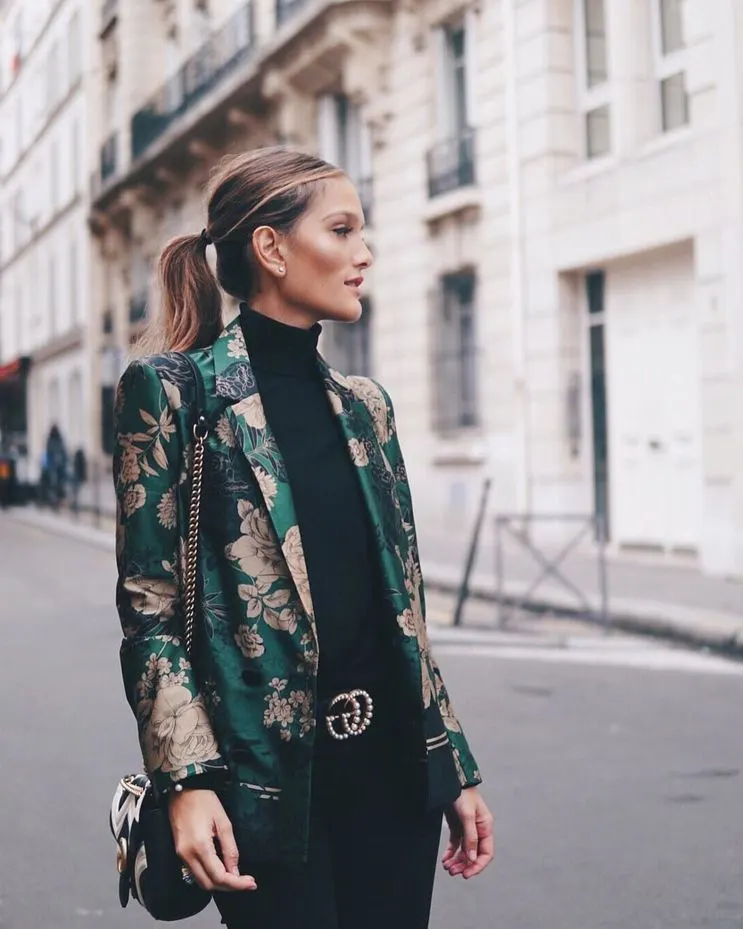 Buy Similar Here
Double Breasted Blazers
Another fashion trend for women who want to underline their power is a double-breasted suit jacket. Designers offer us classic cut designs with creative details. You are free to choose a blazer with no lapels, elongated designs, extra buttons, and rigid pads. Update them with wide-leg pants, jeans, or midi skirts.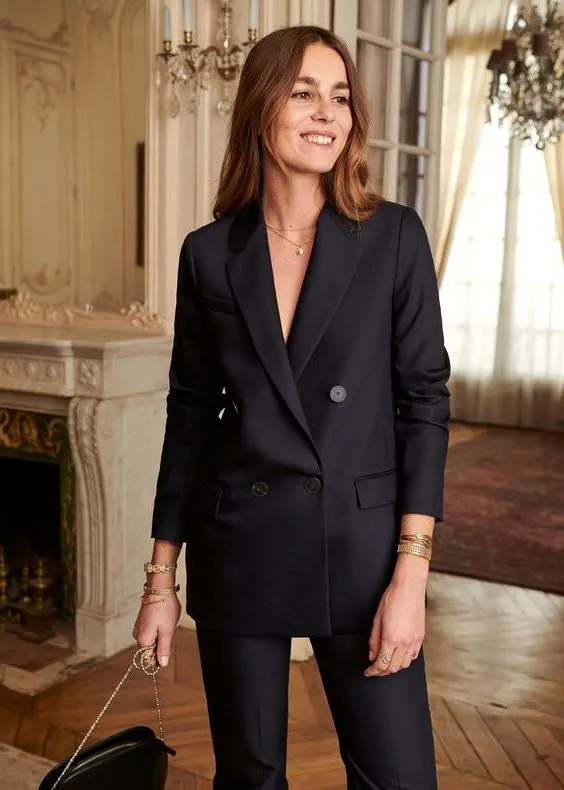 Buy Similar Here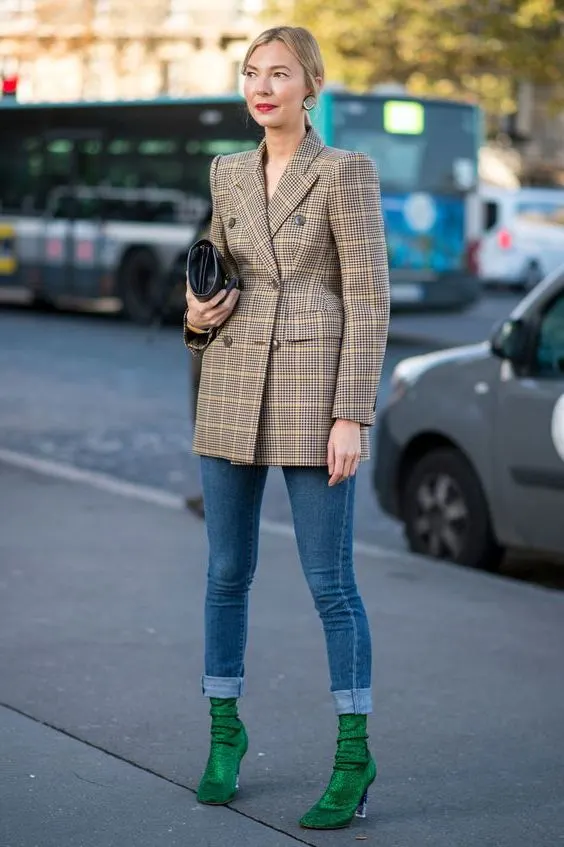 Buy Similar Here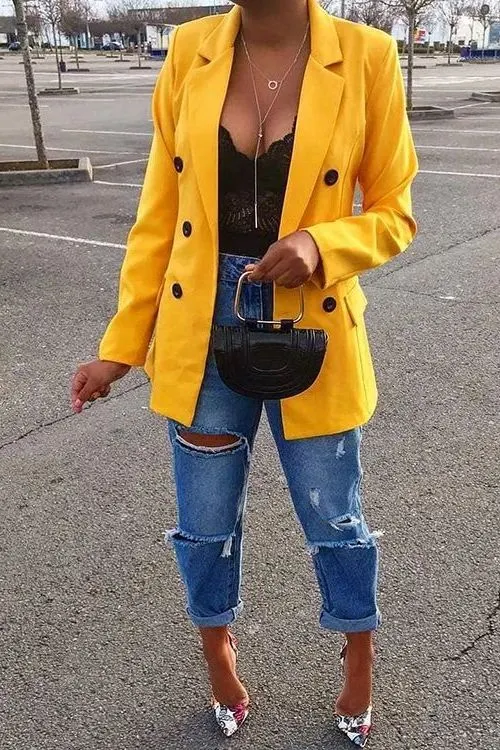 Buy Similar Here
Cropped Blazers
Another must-try for this season is a cropped blazer. They can look like cropped office blazers, as well as bright colored and printed designs with puffy shoulders and asymmetric cut. The cropped blazers can be worn with pretty much anything, from monochrome jumpsuits to skinny jeans, from silk blouses to cargo shirts, from pumps to army boots.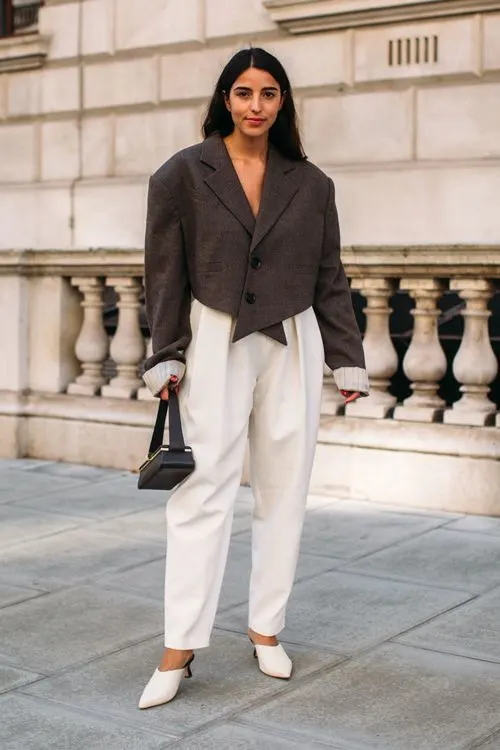 Buy Similar Here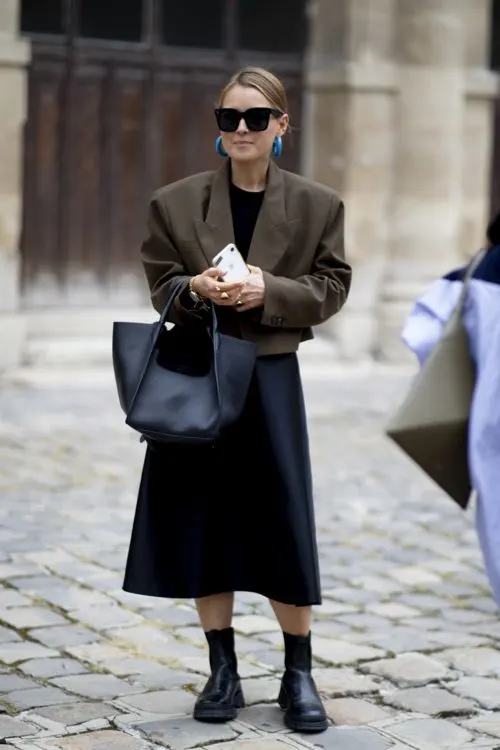 Buy Similar Here
Buy Similar Here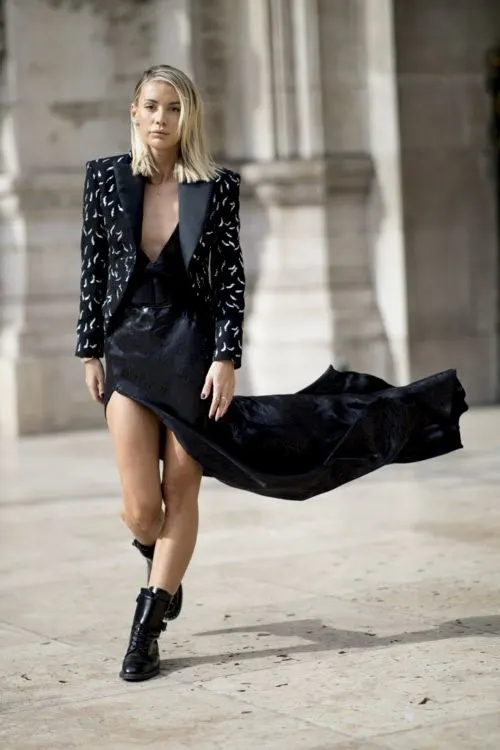 Buy Similar Here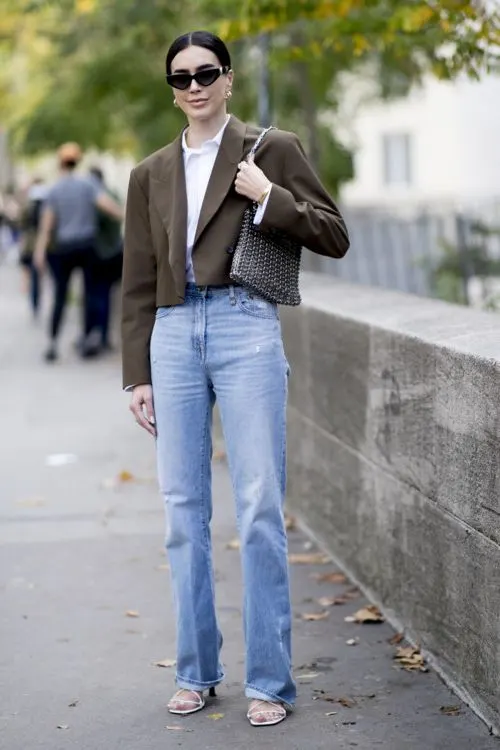 Buy Similar Here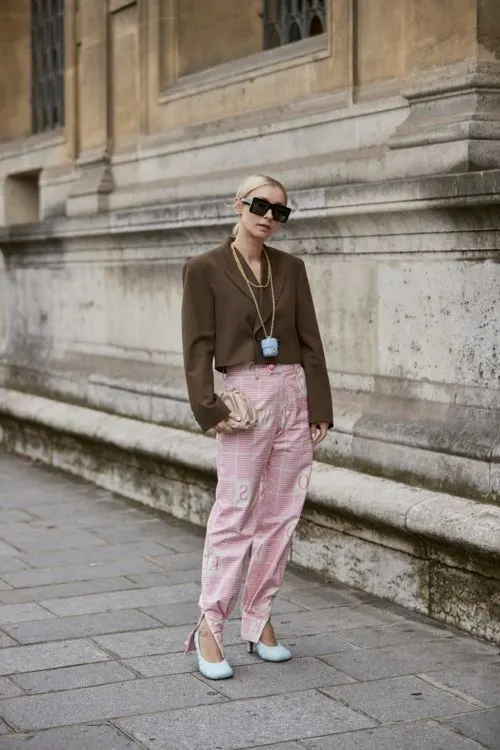 Buy Similar Here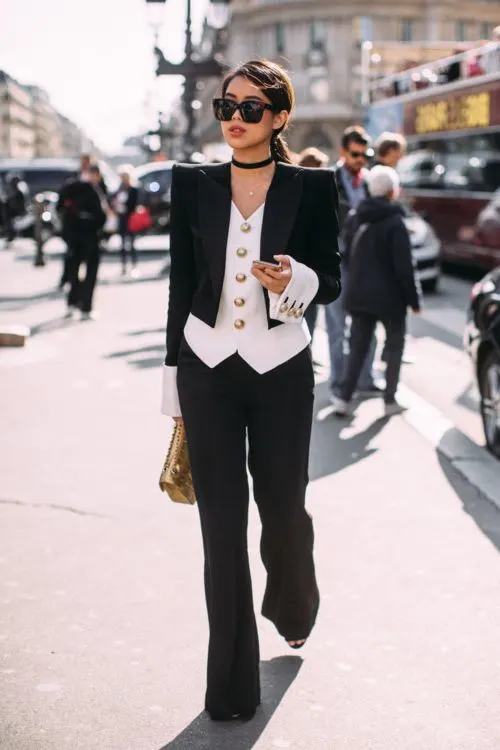 Buy Similar Here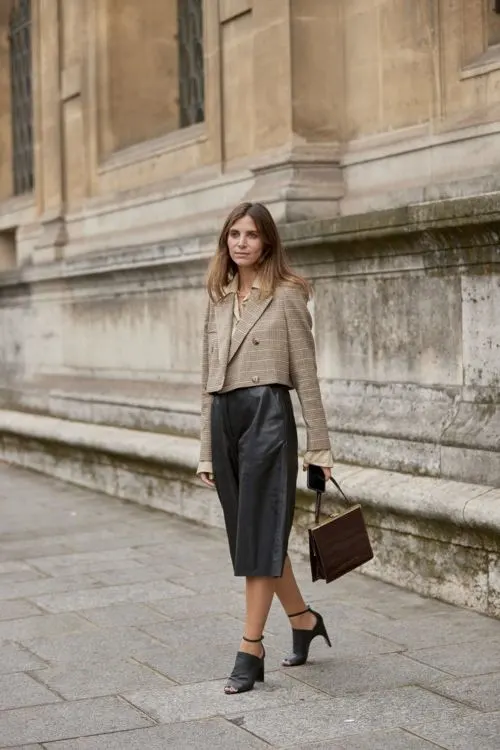 Buy Similar Here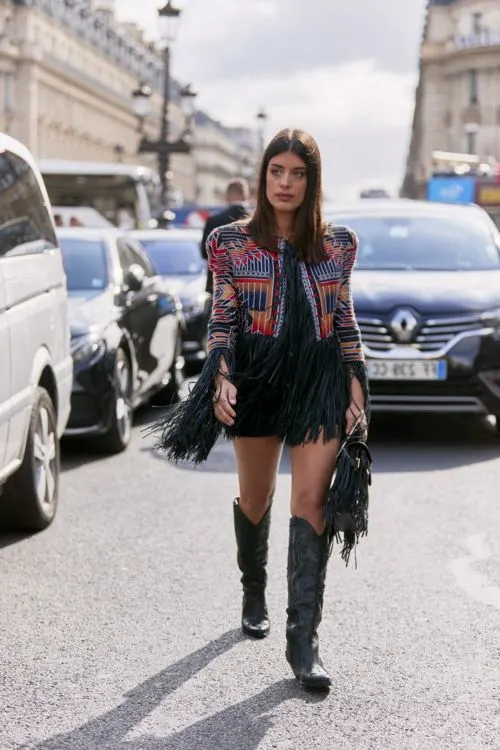 Buy Similar Here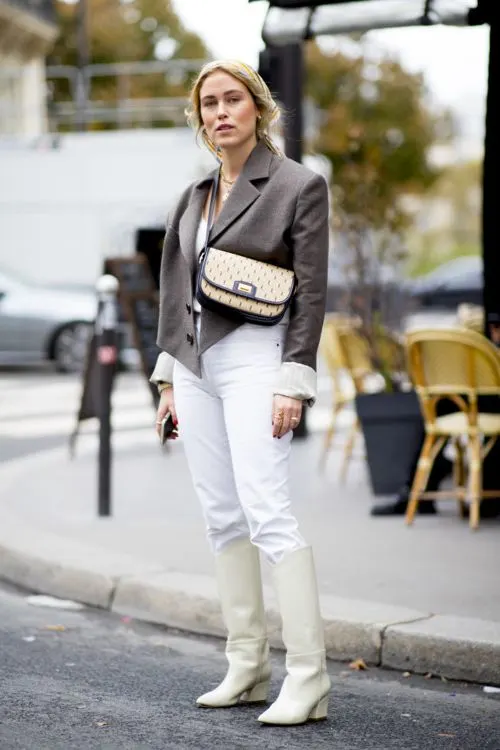 Buy Similar Here
Leather Blazers
The leather no matter if it's faux or real, is seen everywhere, from jackets to pants and shorts. Now, we see a comeback of leather blazers. This year we see cool 1990 inspired leather blazers in a minimalistic straight cut, as well as cropped versions, double-breasted, elongated, and many other gorgeous designs. You are free to choose whatever color you like, but most retailers advise us to buy them in muted shades, like black, caramel or maroon. You are free to wear them however you like, by teaming with denim, classic pants, pleated skirts or shorts.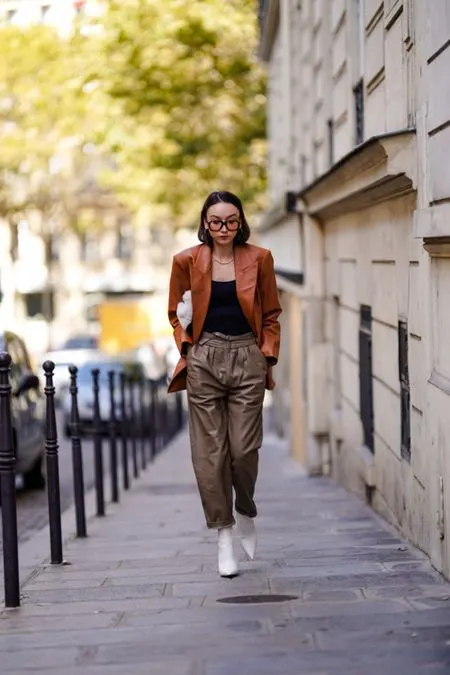 Buy Similar Here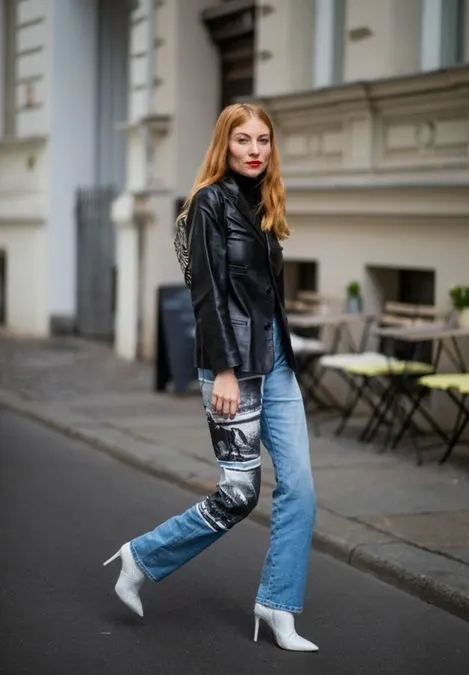 Buy Similar Here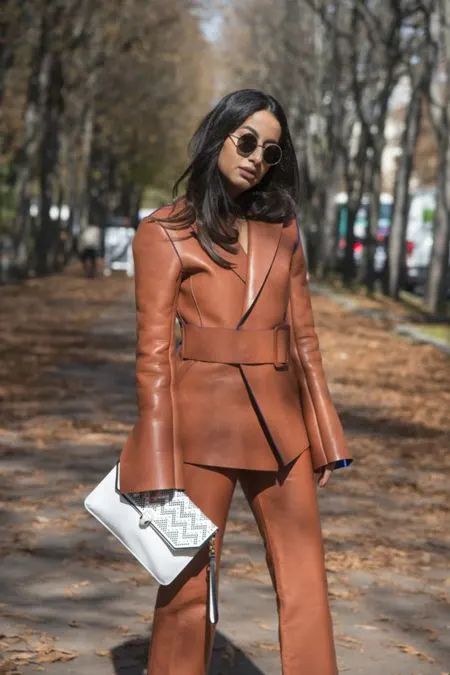 Buy Similar Here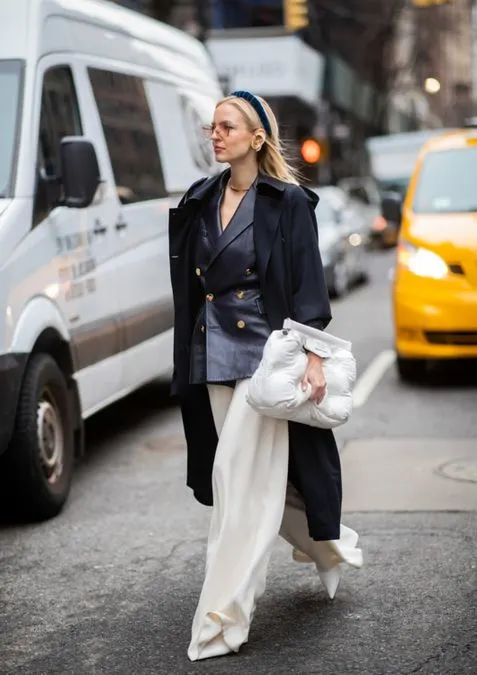 Buy Similar Here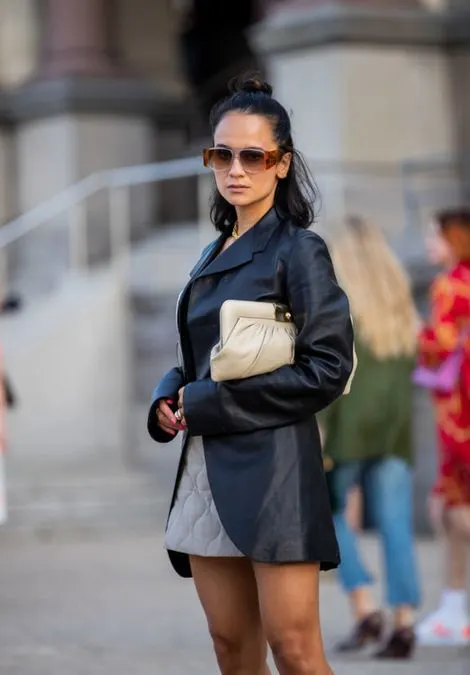 Buy Similar Here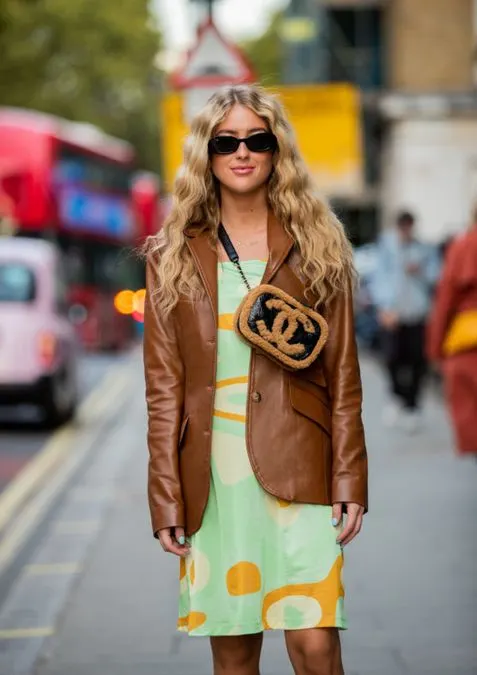 Buy Similar Here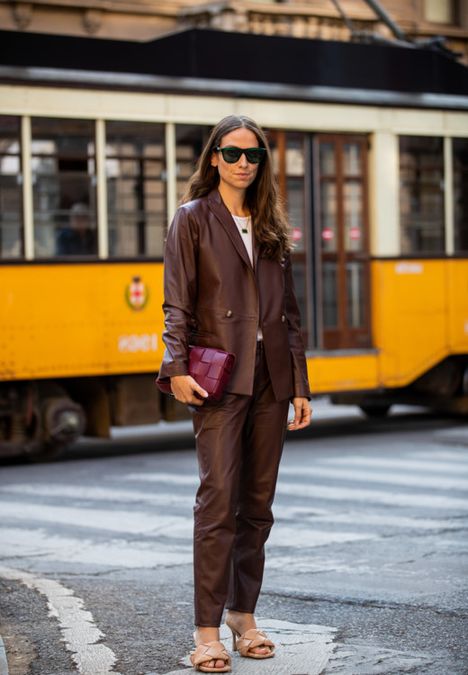 Buy Similar Here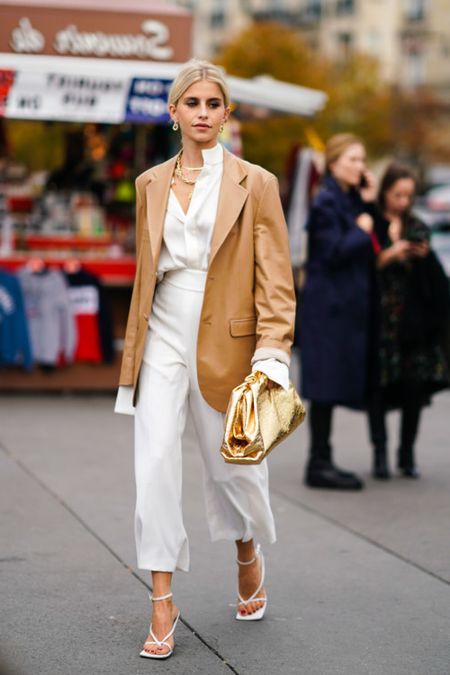 Buy Similar Here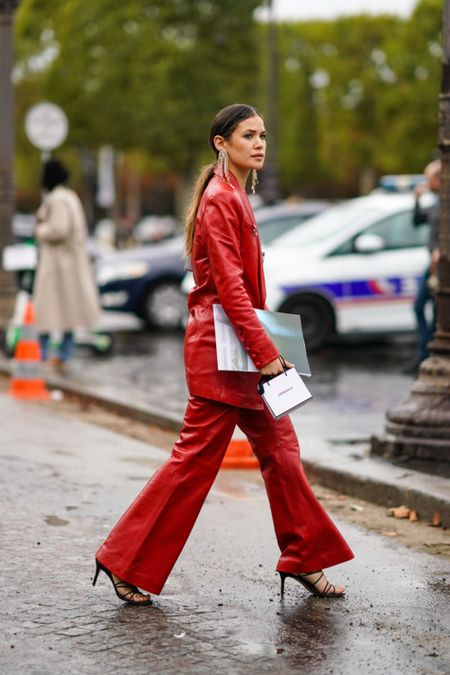 Buy Similar Here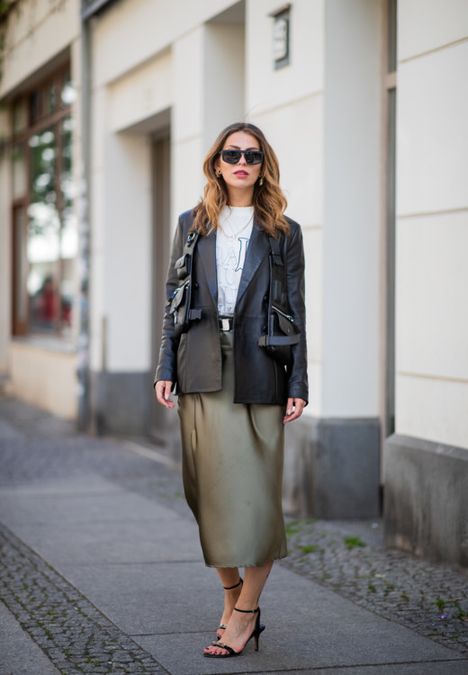 Buy Similar Here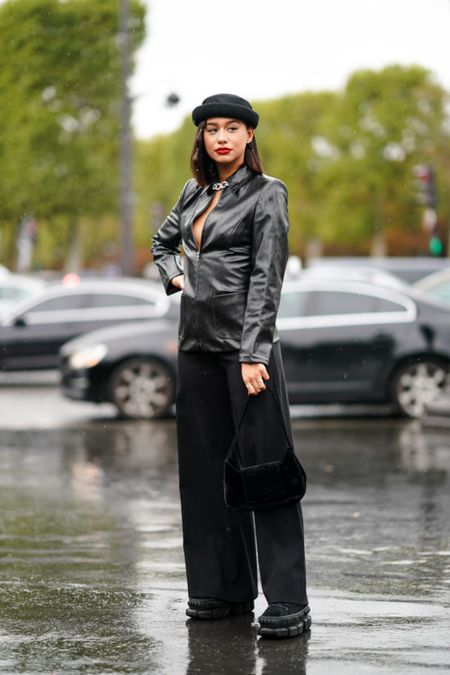 Buy Similar Here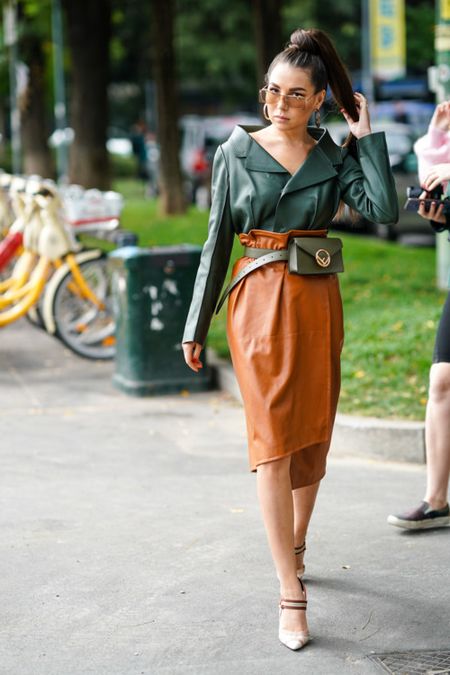 Buy Similar Here
Fringed Blazers
Last year we saw the popularity of the Wild West trend and today the cowboy style is back with this fringed blazer. The fringes make this jacket stand out from the rest. Regardless of color or material, fringes are an ideal way to show off your uniqueness. Think of natural colors in bright or muted shades. Try them on with classic denim, leather, or suede. I love to see ladies who combine fringed jackets with midi dresses or skirts. This combination makes them look creative and cowgirl inspired. If you want to see more cowgirl outfit ideas, check out my article, where I show some easy ways how to wear this style in real life.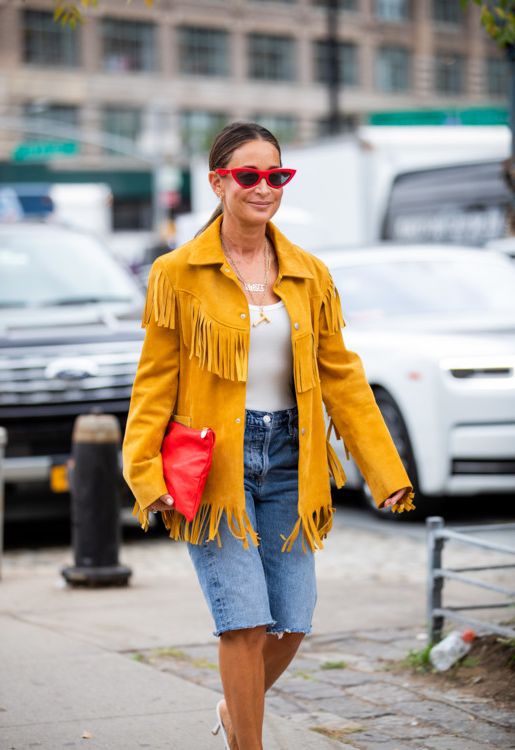 Buy Similar Here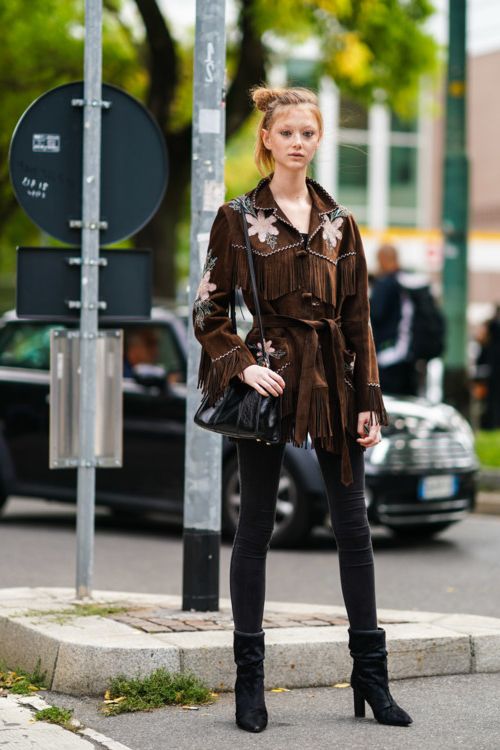 Buy Similar Here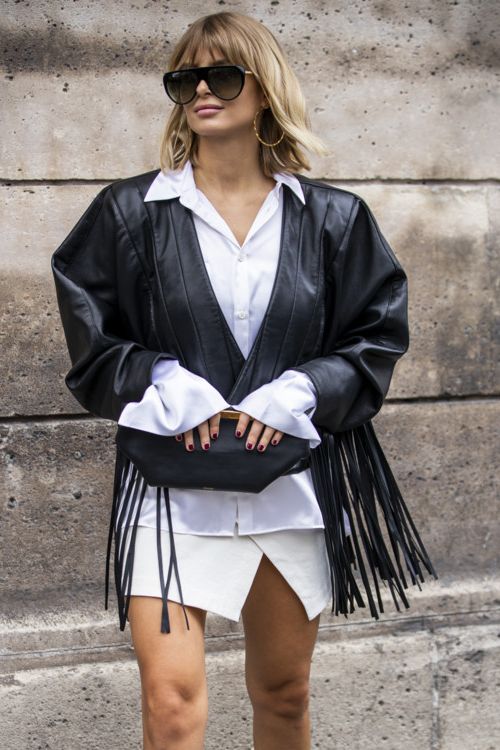 Buy Similar Here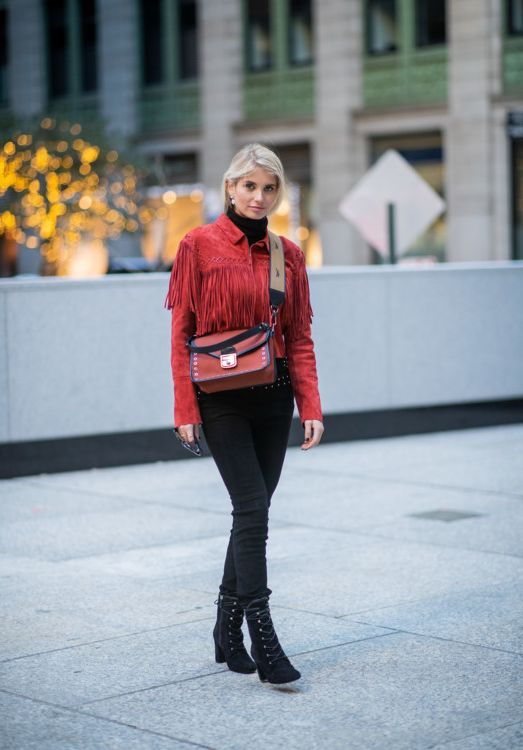 Buy Similar Here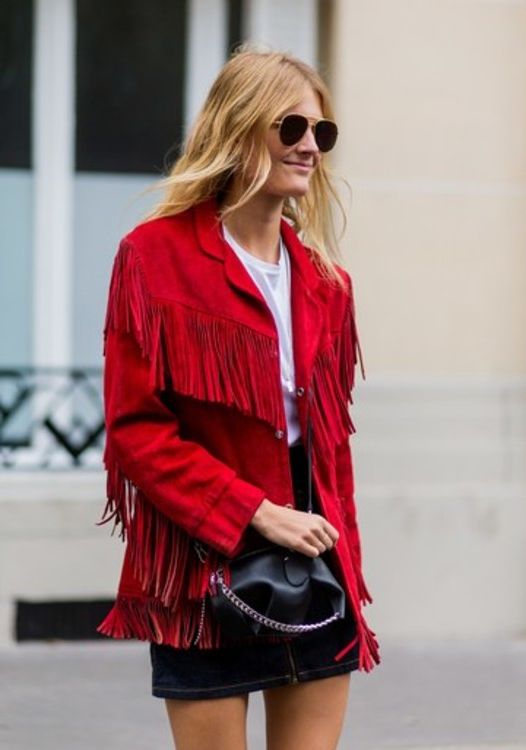 Buy Similar Here
Plaid Blazers
Plaid is still on its high peak this year. It feels like it stays in fashion for a long time. Why we love it so much? It's pretty obvious, plaid looks great both with jeans and tracksuits. Plaid blazers look gorgeous with other prints, like leopard, florals, and stripes. In other words, there is no boundary in combining a plaid suit jacket. Speaking of styles, I recommend buying shortened versions or elongated designs, they both work great with everyday essentials. Plus, this checkered blazer looks awesome with leather Bermudas, silk skirts, and mini dresses. Speaking of shoes: elegant pumps, sneakers, or platform boots can be easily combined with plaid jackets.
Buy Similar Here
We see a plaid blazer styled with a black hoodie, black joggers, and white loafers. If you want to see other approved ways how to style hoodies for spring, then check out my post, I've gove pretty combos that are here to stay.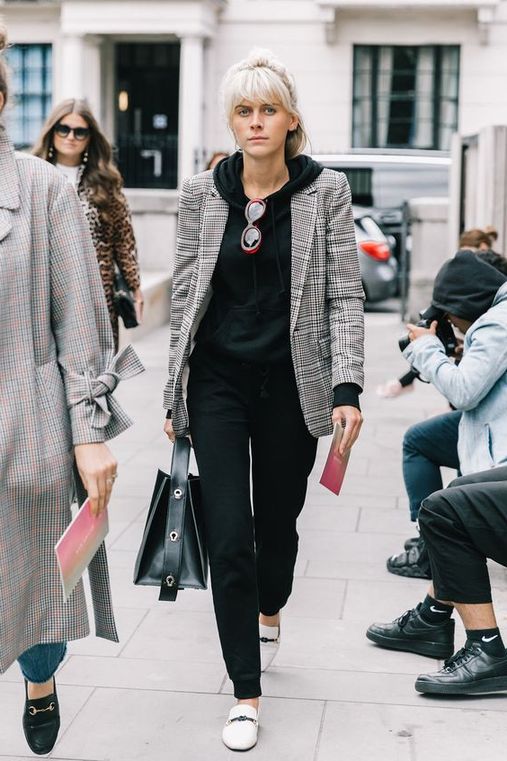 Buy Similar Here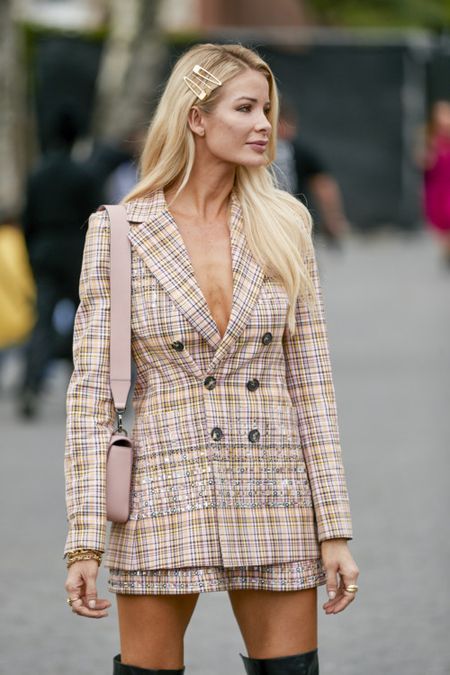 Buy Similar Here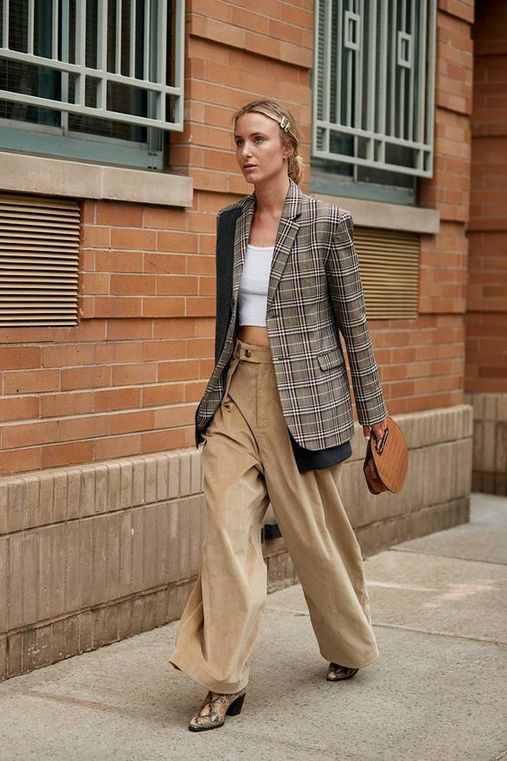 Buy Similar Here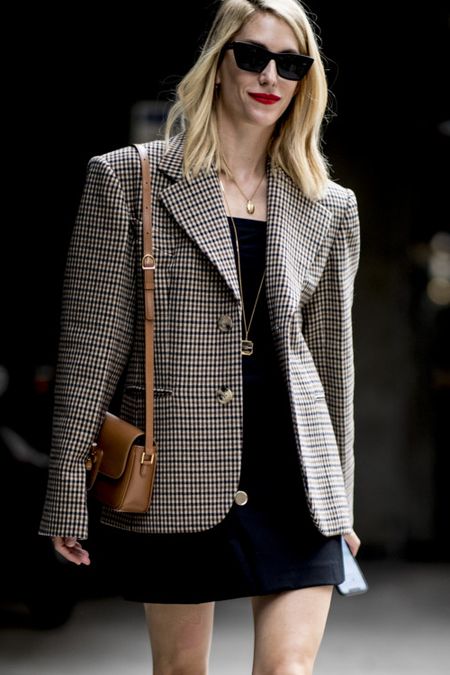 Buy Similar Here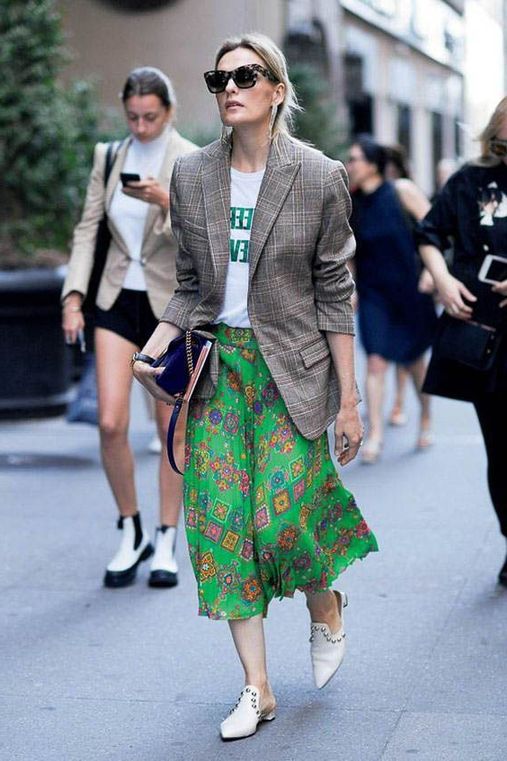 Buy Similar Here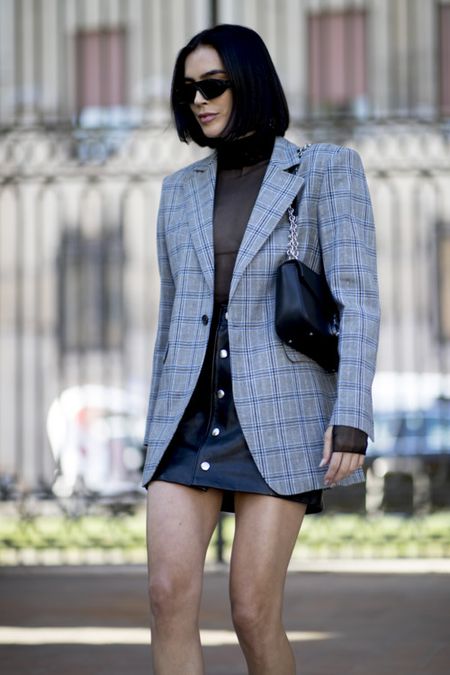 Buy Similar Here
Buy Similar Here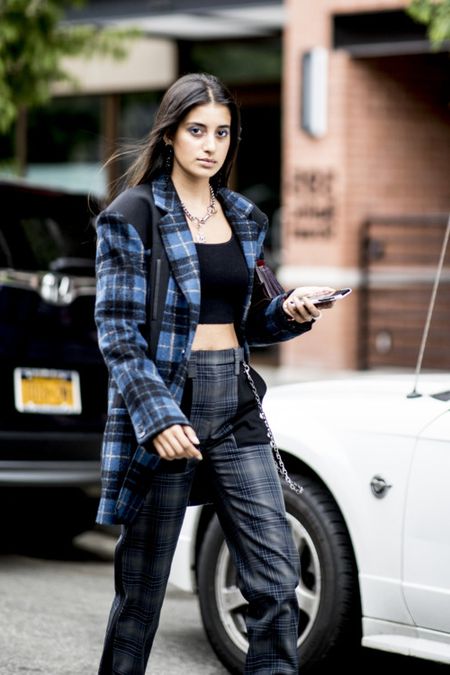 Buy Similar Here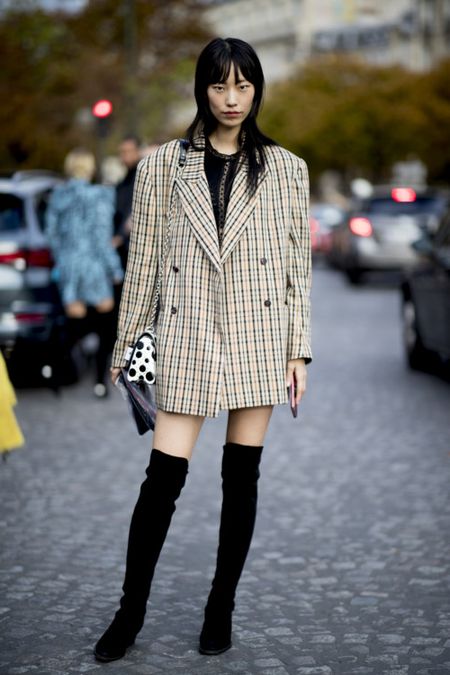 Buy Similar Here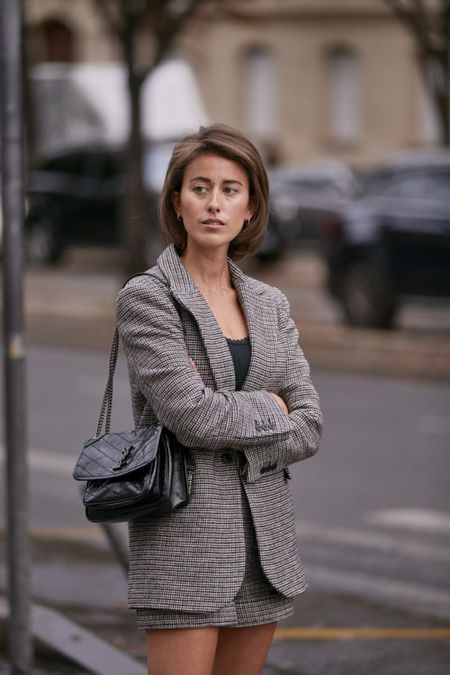 Buy Similar Here
Blazers aren't meant just for the office anymore: Celebrities, bloggers, and certified Fashion People are fans of them for pretty much any occasion, from brunch to date night. These jackets are meant for more than just the daily grind. Favorite fashion bloggers love wearing their own blazers in fresh ways. The results will easily transform your closet.
Blazer Style Guide:
Take in the important information first before you get started. To help you shorten this article, I will only be covering the key points instead of going into full details.
1. Pair Blazer with Dress Pants
Dress pants are the most common pants to pair with blazers and they go well together. When you wear a matching color between the dress pants and your blazer, it gives off that business professional look as well as giving off that polished look. If you are wearing a black colored blazer, then I would opt for either black dress pants or gray dress pants depending on your skin tone. If you are wearing a colored blazer such as blue, purple or red then just about any nice color of dress pants will work like beige, gray or black.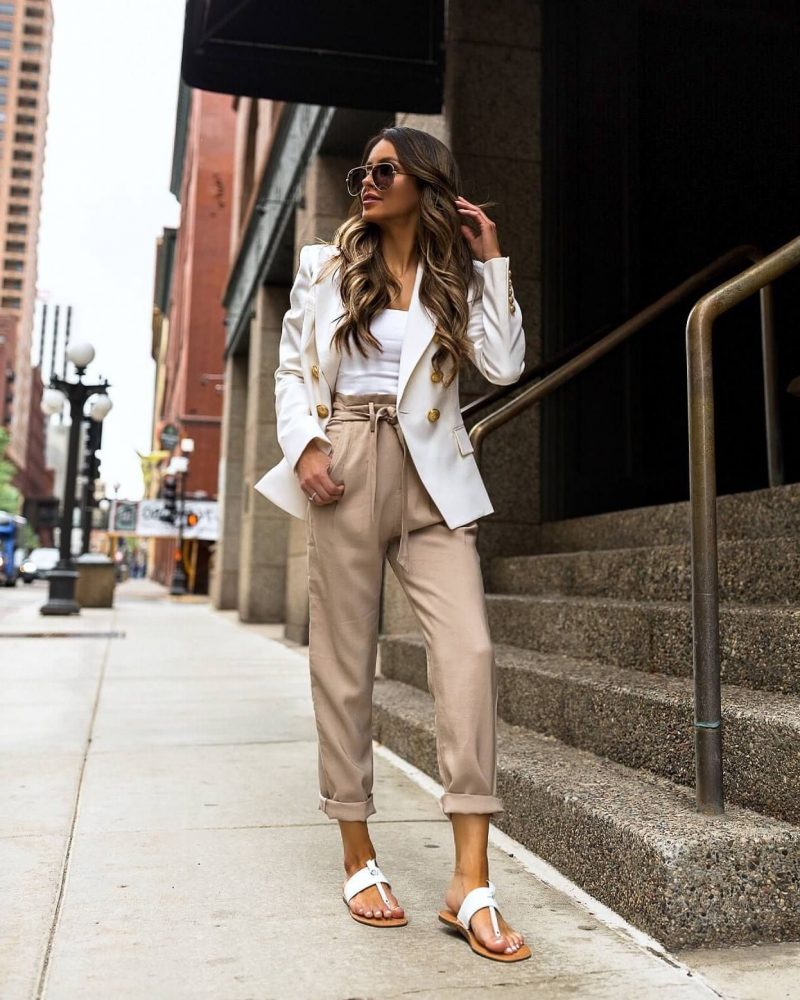 Buy Similar Here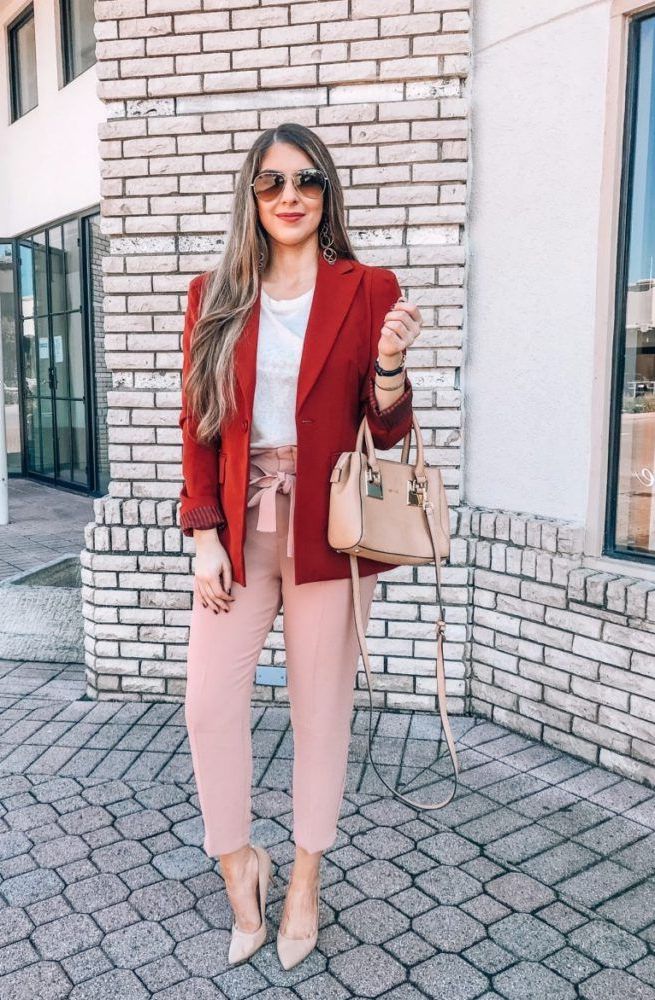 Buy Similar Here
2. Pair Blazer with Jeans
Jeans are also great to pair with blazers depending on your style. If you prefer to wear jeans and a blazer, then I would definitely go for a denim blazer so that it blends in better to save the less dressy look people expect from denim jeans.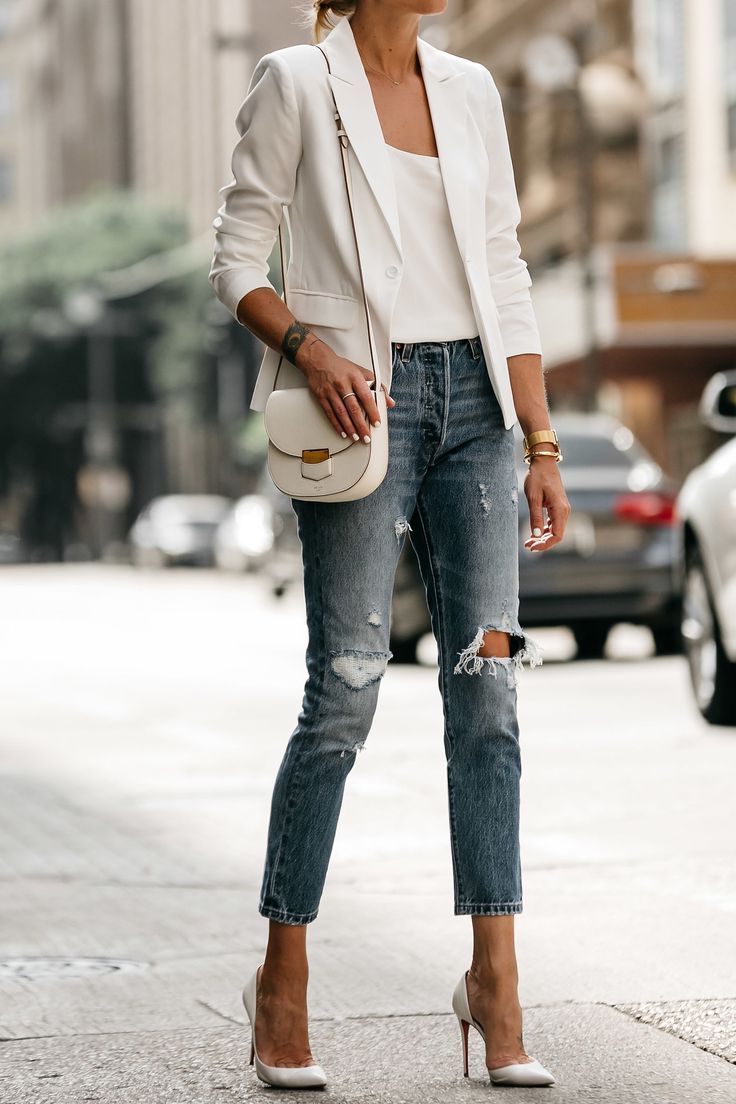 Buy Similar Here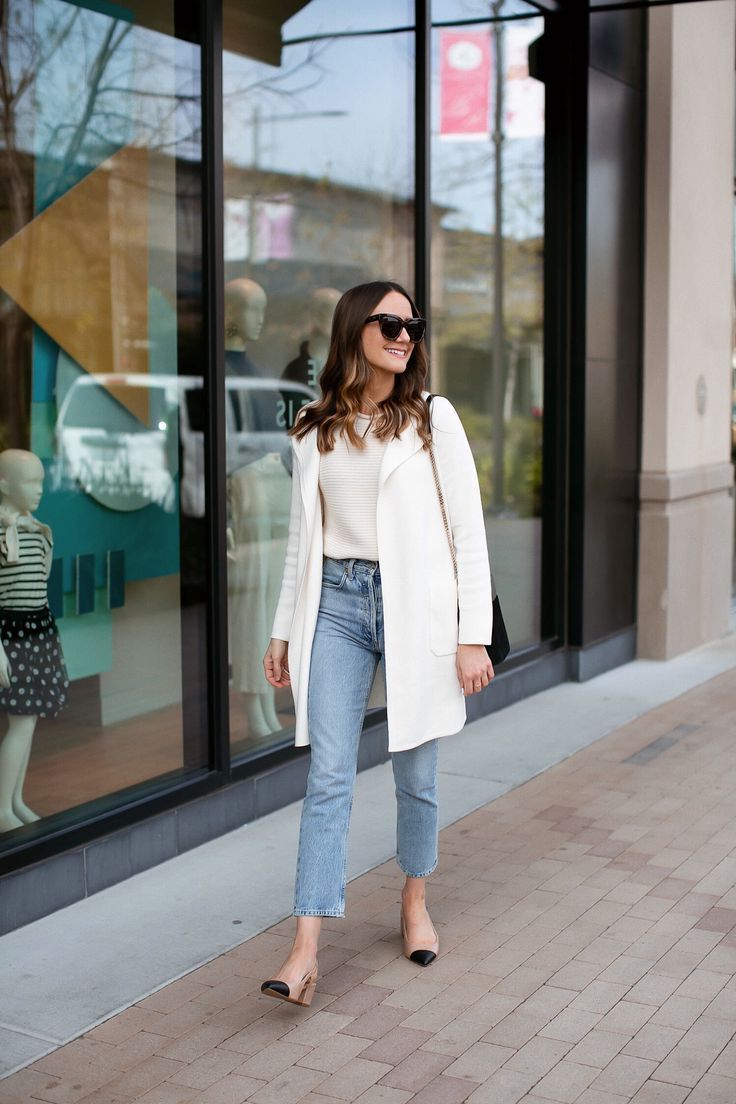 Buy Similar Here
3. Pair Blazer with a Tee Dress
Blazers and tees go together! You can wear a blazer over just about any kind of tee dress from plain to printed ones. This is the perfect outfit to wear to a party or even at a casual street walk. Also, it's a great outfit for casual Fridays where you can complete the look with sneakers but still looking dressy at the same time.
4. Pair Blazer with a Floral Dress
Floral dresses are feminine and gorgeous to wear on their own. Adding the blazer to the floral dress will give you a sophisticated look. The floral dress can be made of silk as well as from chiffon, satin, lace, cotton in various patterns. Print floral dresses are great for pairing up with a blazer so that it won't be too busy and your outfit will stay simple yet still very classy looking.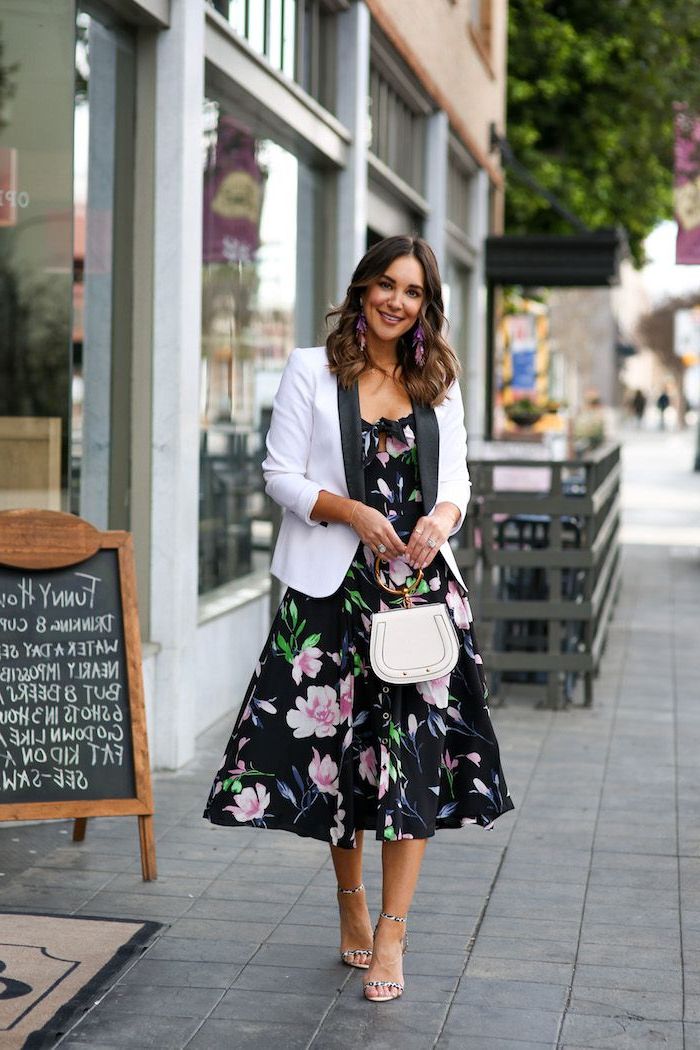 Buy Similar Here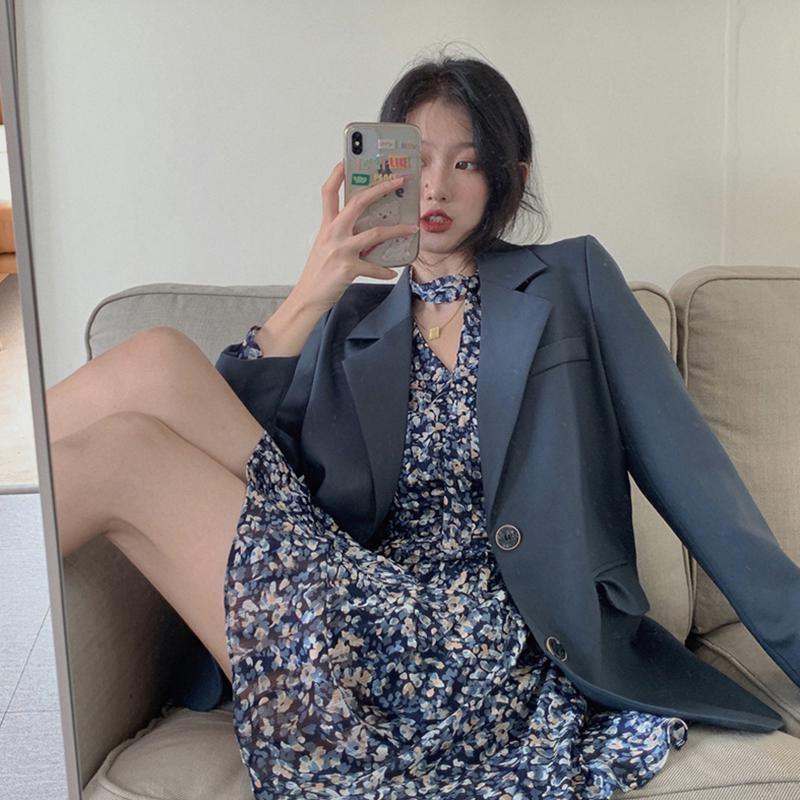 Buy Similar Here
5. Pair Blazer with a Playsuit
The playsuit is the perfect outfit for the summer. Pairing up your blazer with a playsuit in white or black is very chic and can be worn for any social outing or just for hanging out in the summer. The blazer can be matched up with a playsuit made of denim, cotton or leather. Most of them have florals or printed designs which really adds to the outfit as well making you look put together and ready to go!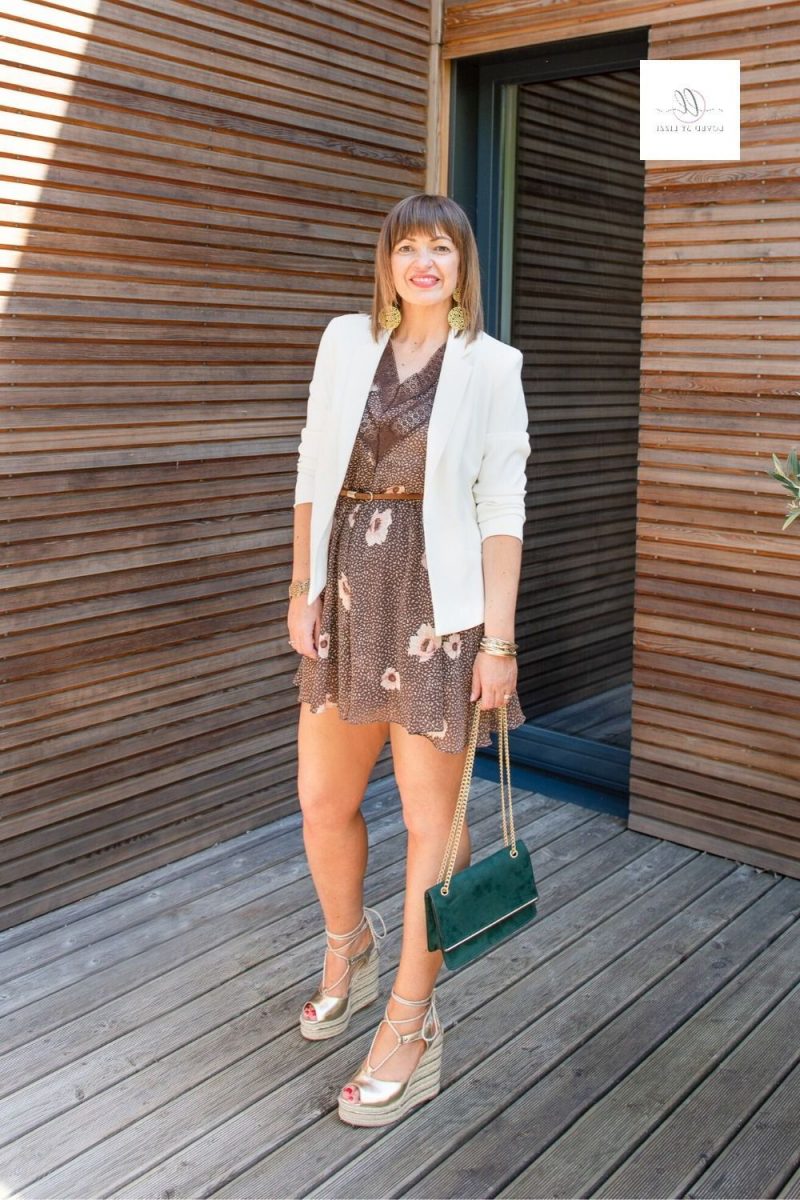 Buy Similar Here
6. Pair Blazer with a Tunic
Tunics are so versatile in today's fashion world. They seem to be made for blazers! Tunics like the one shown above can be worn with jeans, leggings, dress pants, tights, skirts and shorts! The great thing is you can also pair the same tunic up with another blazer of a different color to create an all new look. This way you can have multiple ways of wearing tunics and blazers interchangeably.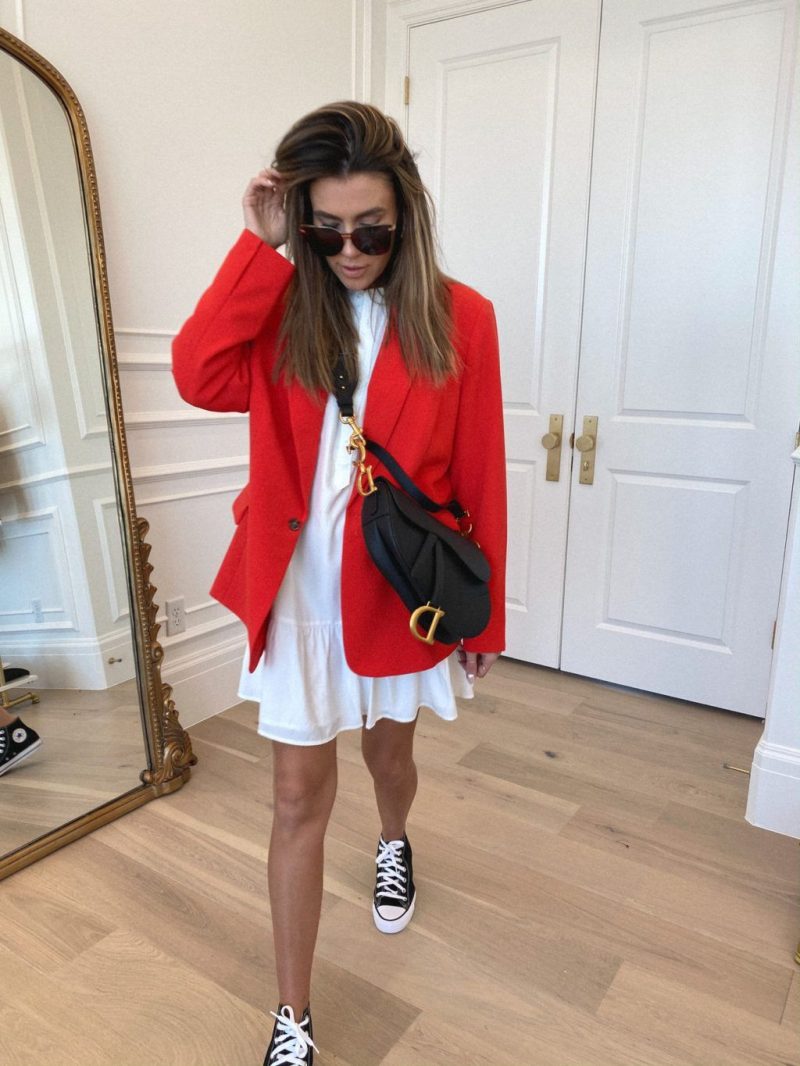 Buy Similar Here
Source: Glamour