If you ever wanted to try something new and cool, then a cowgirl style look is something that might make you appear cool and unique. I personally like this style for a free-spirited vibe. It's a kind of mixture: casual with boho and some edgy touches.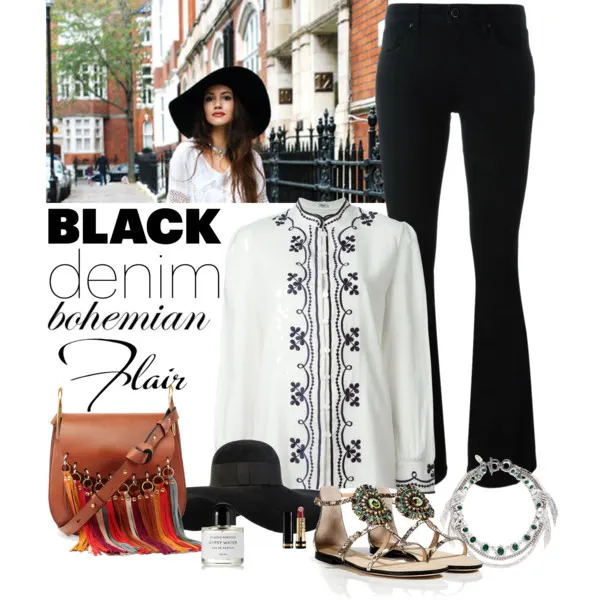 Buy Similar Here
That's not an ordinary countryside look, this is a unique wardrobe idea that involves black bootcut jeans, white peasant top with black embroidery and a black floppy hat. Love those flat sandals and a brown leather shoulder bag embellished with multi tassels.
Yes, this might not be a perfect style for urban chics and ladies who live in the city center, but believe me, once you own a kind of look, you will never want your fancy trendy business attire back.
Oh, yes, you can still wear a country girl inspired looks while living in the city, just need to harmonize it with the stone jungle environment. If you do want to make a wow statement with western outfits, then read on. I've got some nice ideas to share with you.
Girls look amazing in country style fashion; you can put on a cowgirl outfit in many different kinds of ways for both informal and formal occasions. Cowgirl outfits can help you carry a wide range of moods and attitudes. They are cute and sophisticated. They are hot and rowdy. Go through our gallery of 25 different cowgirl styles to help you dress up like a country girl.
How To Wear Cowgirl Outfits for a Stylish Look?
If you want to make a country-style look a part of your everyday wear, then follow some easy tips and tricks:
Leather Jacket can be a nice addition to your casual style, it will symbolize the country style (go for a brown leather design, or you can use a black colored as an alternative);
Countryside boots, cowboy boots are essential that will easily stand you out from the crowd;
Use accessories and jewelry, like beaded neckpieces, boho bracelets, and some feather items;
Plaid shirts, denim, and some tribal prints can totally steal the show.
Use fringes, you can either go for a fringed jacket, fringed bag or fringes boots;
…Oh, yes, belts are important. Go for some statement designs with big-buckles.
In other words, cowgirl fashion can be both practical and stylish. Yes, it has some fancy feminine and masculine touches, but that's what makes it so chic and individual.
A cowgirl style look is something that might make you stand out from the crowd of other girls who show up to the prom in a sparkly dress. However, this does not mean that you need to go all out and buy some old timey-looking dress with a petticoat. There are plenty of ways to show off your cowgirl style without going overboard.
Suggestions include: wear something colorful like blue jeans, floral print top with layers, leather cowboy boots paired with your favorite wedges or sneakers for a more rugged take on the outfit, or try a feminine blazer jacket layered over your tank! You can also wear colorful accessories like round sunglasses and a big clip for curly hair.
Remember, what matters is not so much what you wear, but how you wear it. The cowboy boots with a dress is something we have seen before and while it is a fun pairing that can certainly work on prom night, choosing a simple outfit for cowgirl style means that you will have to make up for it in the accessories. A denim shirt with embroidered details paired with a petticoat is one way to be carefully minimalist. Start out with some leggings and go from there!
You can also show your cowgirl style in a more casual way by simply wearing your hair like you normally do or bringing along some cowboy attire like hats or belts.
The key to a good outfit is simplicity, so make sure you get a basic look and then accessorize as much as you want. Hats are always a great accessory for your cowboy outfit. You can go for simple cowboy hats or more fun options like corsages or flower crowns. It's all up to you! Just wear what makes you happy!
What To Wear To Have A Cowgirl Style
Maxi Skirt
We see a khaki brown maxi skirt updated with a striped long-sleeve top and a leather jacket. Update this cowgirl boho-chic combination with a stylish suede backpack and wedge sandals: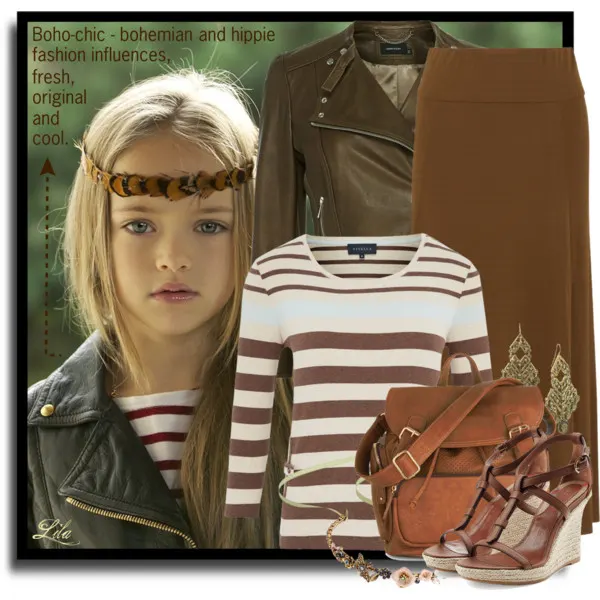 Buy Similar Here
Cowboy Boots With Denim Jacket
We see a cute country girl look for the school prom. I am so into that cowgirl style maxi skirt in tie-dye print and a beige crop top. Update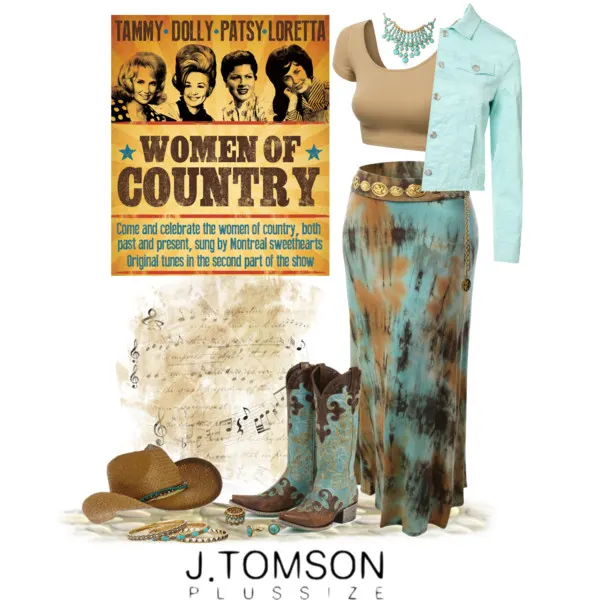 Buy Similar Here
Cowboy Boots And Pink Dress
A western-style cowgirl dress in fuchsia looks amazing with cowboy boots in brown leather and that tasseled leather bag: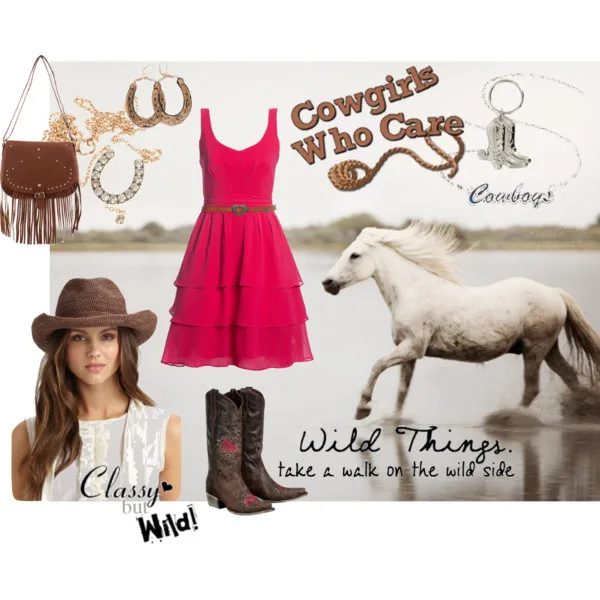 Buy Similar Here
Cowgirl Ankle Boots And Leather Jacket
A Fancy cowgirl outfit summer look can be made of dark clothes. Go for this black floral shirtdress and update it with a black fedora hat, black leather jacket, and cool floral print cowboy ankle boots. By the way, check out my cool ideas on how to wear black leather jackets, I will show you some of the best looks to try on this year: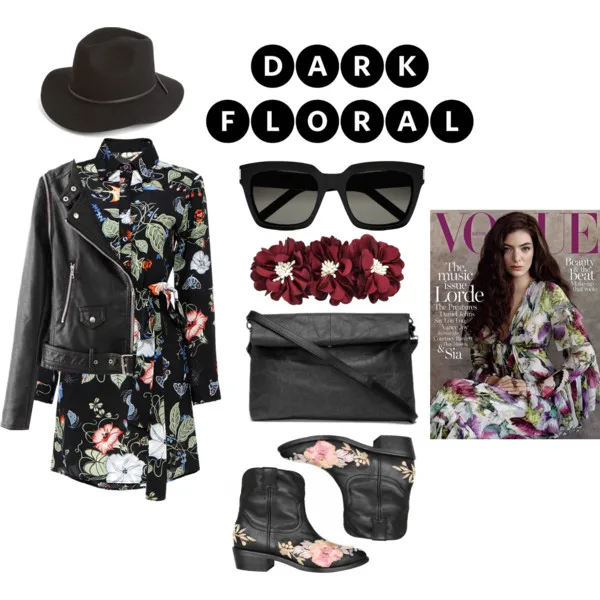 Buy Similar Here
Floral Dress For Cowgirl Ladies
You can always make some fun with an orange leather jacket, just style it with a black floral dress and black suede ankle boots embellished with florals: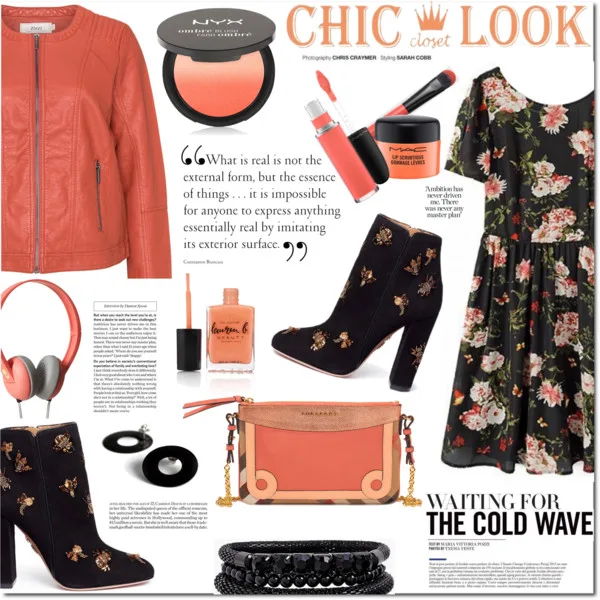 Buy Similar Here
Poncho And Black Denim Shorts
Another fancy cowgirl outfit idea completed with a printed poncho made of wool styled with a printed sweatshirt and black denim shorts. Update it with a black fedora hat and cool black booties: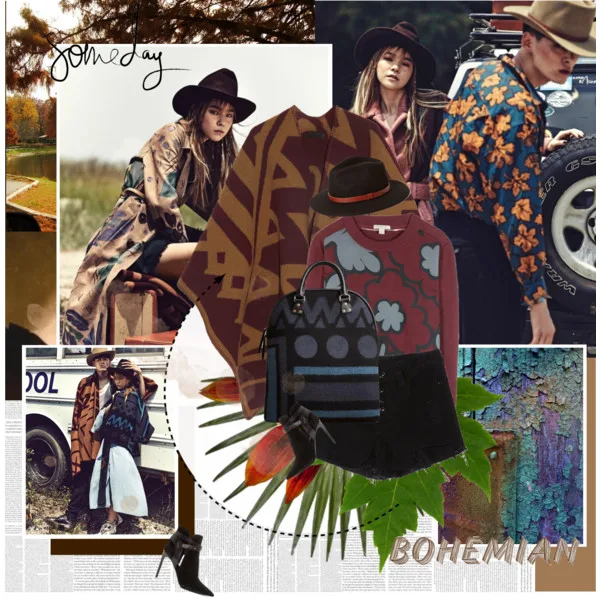 Buy Similar Here
Maxi skirt With Black Leather Ankle Boots
A marvelous cowgirl outfit for plus size ladies. We see a black leather jacket with a cute white blouse and a striped maxi skirt updated with black ankle boots made of leather.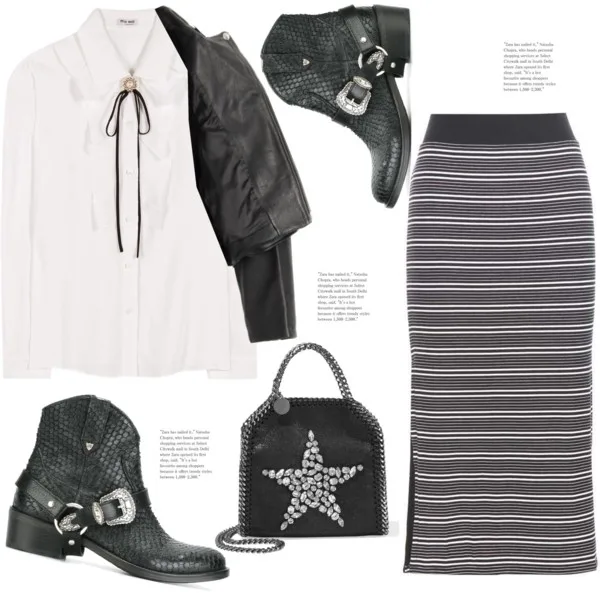 Buy Similar Here
Denim Jacket With Peasant Dress In White
A perfect weekend cowgirl outfit dress. We see a blue denim jacket worn with a white peasant dress and suede boots: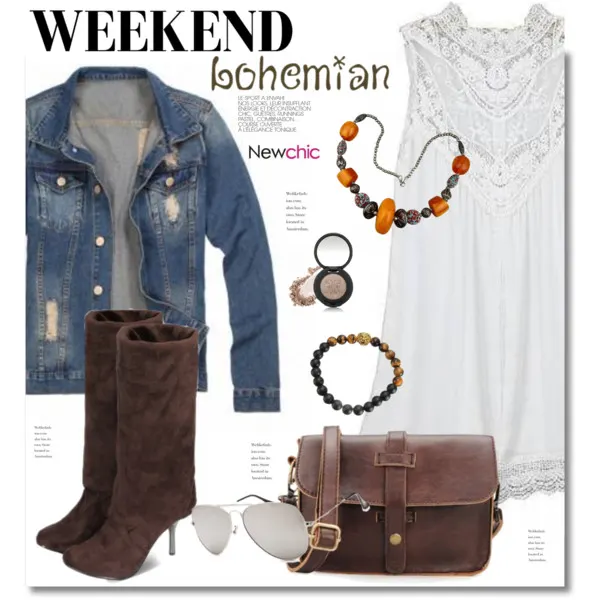 Buy Similar Here
Floral Crop Blouse
Check out the best accessories for cowgirl ladies. We see a white floral peasant crop blouse with denim shorts and suede cowboy boots:
Buy Similar Here
Flared Jeans And Long Cardigan
Make a real statement with these ripped blue jeans updated with a long charcoal cardigan and multi-striped t-shirt: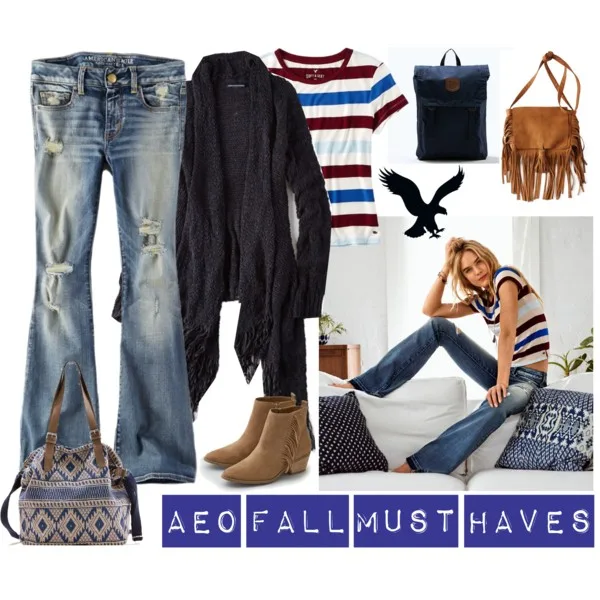 Buy Similar Here
Flared Jeans And Peasant Top
If you wondering how to wear cowgirl boots with jeans, then check out this simple day look consisting of a white peasant blouse, flared jeans, cowgirl boots, and fringed suede bag: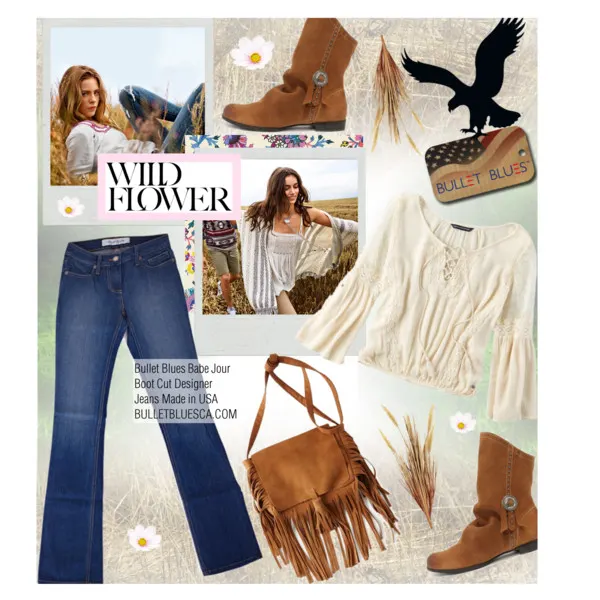 Buy Similar Here
Peasant Blouse And Brown Skirt
Here we see a printed peasant blouse styled with front buttoned brown skirt and beautiful sandals: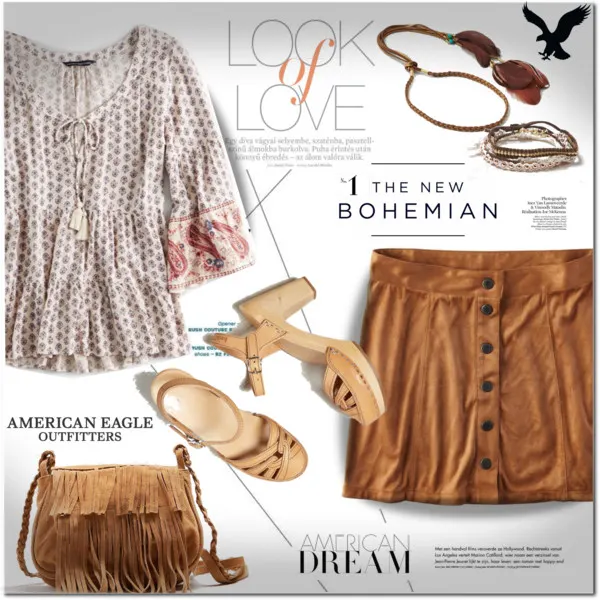 Buy Similar Here
Maroon Dress And Black Ankle Boots
Another marvelous cowgirl style dress in maroon color updated with black leather ankle boots and a striped long cardigan. If you want to see more ideas on how to wear long cardigans, check out my latest post, there are some nice ideas to follow: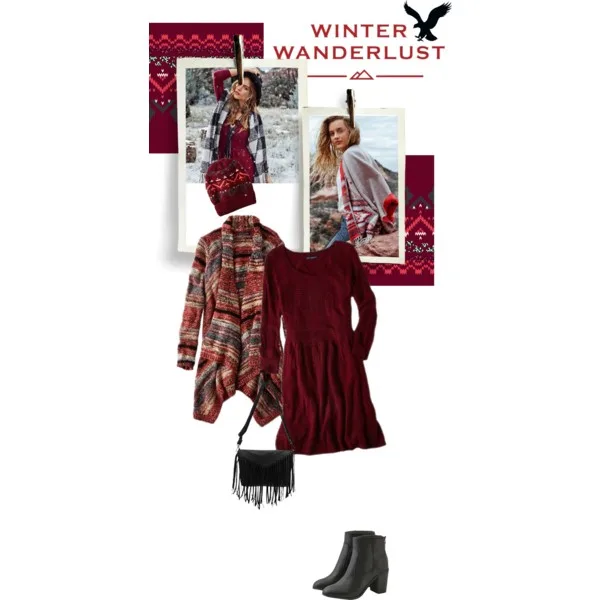 Buy Similar Here
Get out your prairie dresses, denim shirts, big-buckled belts, and square-toed boots because it looks like the western trend is IN, folks. I mean, just look at all the runway shows that featured cowboy-esque ensembles. Labels like Isabel Marant, Calvin Klein, Chloé, Coach, Alberta Ferretti and more are in on the trend, which is obviously great news for all the secret (and not-so-secret) horse girls out there!
Source: WikiHow, Cosmopolitan