I don't know how about you, but I am into an oversized fashion trend. Today's topic is oversized T-shirts and ways how should you wear them on the streets. Yes, I know, this is nothing new, but trust me, you can always look cool and trendy in these staples. So, what are you waiting for, give it a try one day and follow these easy tips and tricks in order to look super fabulous?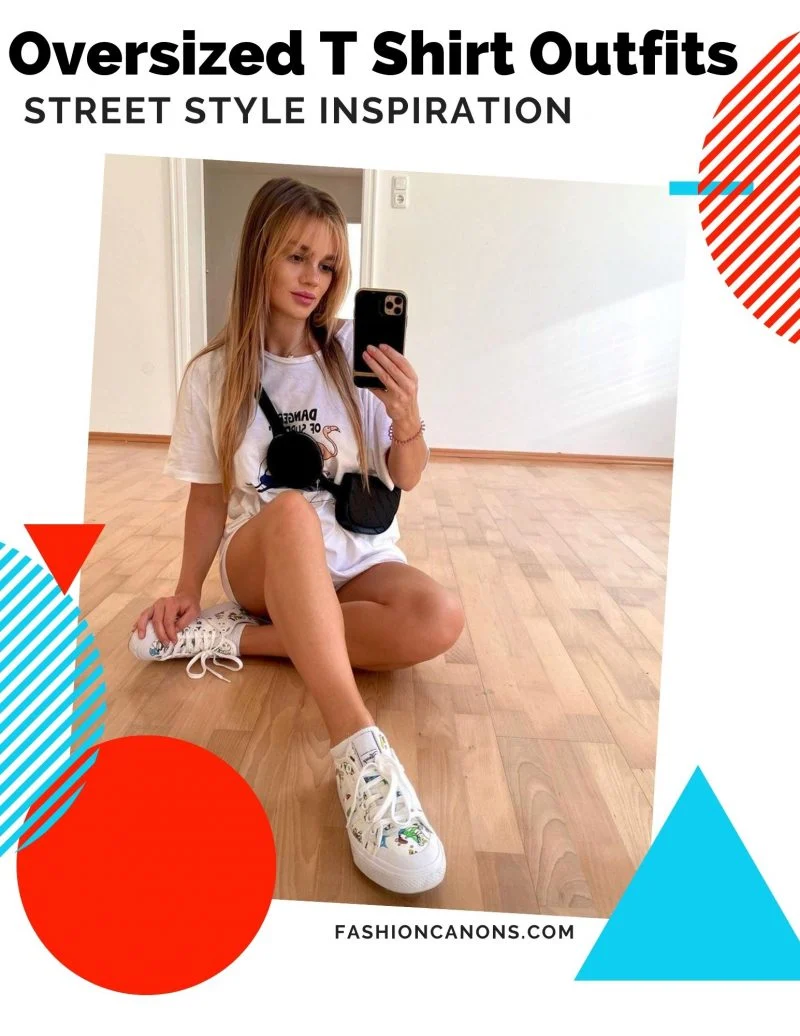 Buy Similar Here
Oversized T-shirts are a trendy way of wearing clothes nowadays. Women have a chance to express their individual style, elegance and attractiveness by making this fashion piece their own. The good thing is that it is rather simple to find an appropriate oversized shirt for any occasion and any style.
One color of these pieces is enough to make every woman look bright and elegant, without putting much effort. In order to look successful in oversized shirts one has to pay attention in choosing the right style, if not your shirt will be either too oversized or a little bit too tight.
Our article helps you find the best way of styling these trendy fashion pieces. No matter if you want to wear a white or black oversized shirt, please do not forget that it must match your trousers, shoes and accessories set. In addition, remember that the fabric should also fit you properly so that you do not have strange bulges around your middle and the fabric should be gentle and feel soft.
How Should You Wear Oversized T-Shirts
Why oversized tees are so popular lately? I guess we still into this trend, I mean, these tees can be terribly versatile, as you can forget about the fit, and go with the flow. These tops can be styled with various shoes and layers.
Indeed, you are free to combine these exaggerated tees with sporty shoes, combat boots, and sandals. If you are into sports, then you gonna love oversized tees. Most of the looks you can create with these tops are super easy to wear and I recommend starting from the easiest ones.
I will show you cool ways how to style oversized t-shirts with cycling shorts, mini skirts, as well as worn on their own, as dresses. Most oversize tops are comfortable, cool, and easy to move around in. Sure thing, if you don't know how to wear it, then you might look undone or sloppy. That's why you better see what you can create with this garment.
First of all, you can wear it with leggings or cycling shorts, as well as with high rise jeans. If the shirt is too loose, you can always belt it with a shirt, buckled belt, or a fanny pack. Cinching the waist can help prevent looking bulky, as well as accentuating your shape.
As an alternative, you can always leave it hanging loose and keep the baggy silhouette. If you are not into this style, you can tuck it in. Or you can also add a blazer, this will make you look professional and even let you try it at the office.
With Black Cycling Shorts And White Kicks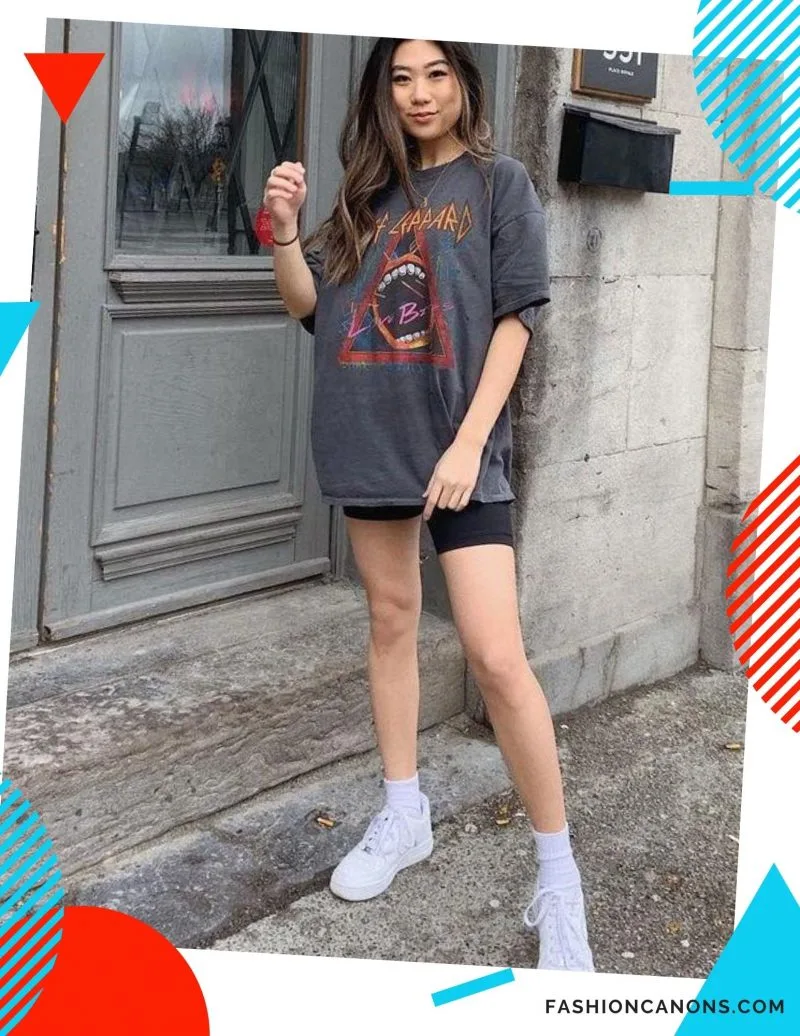 Buy Similar Here
With White Sneakers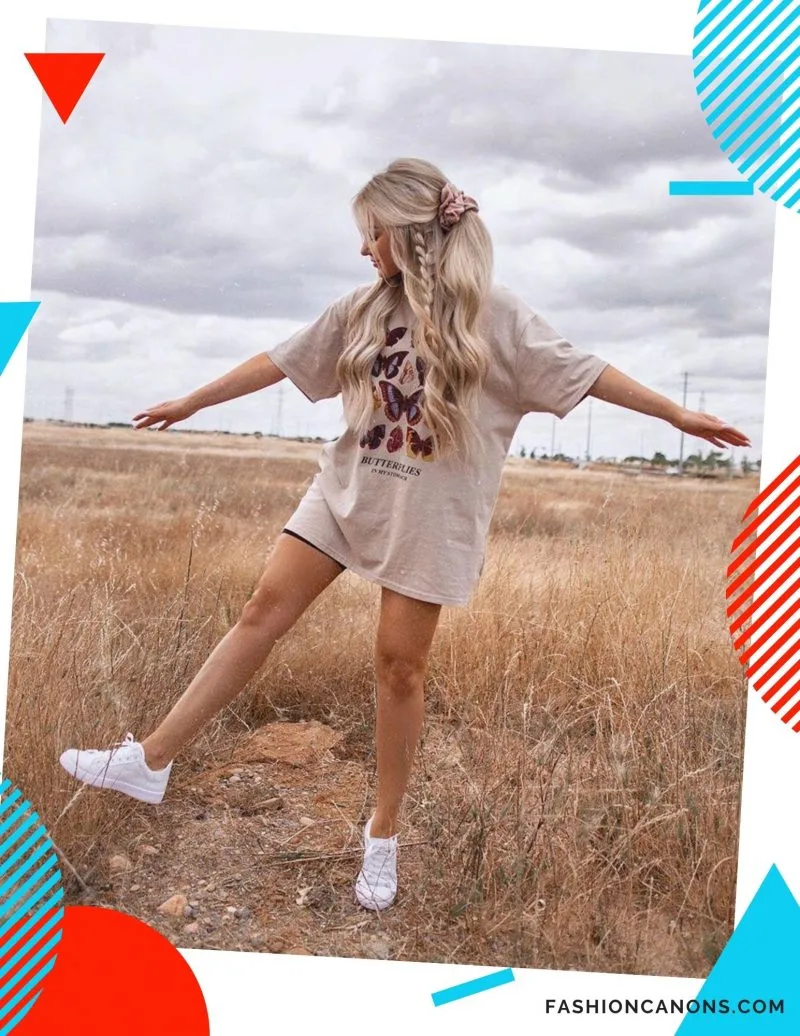 Buy Similar Here
As a Dress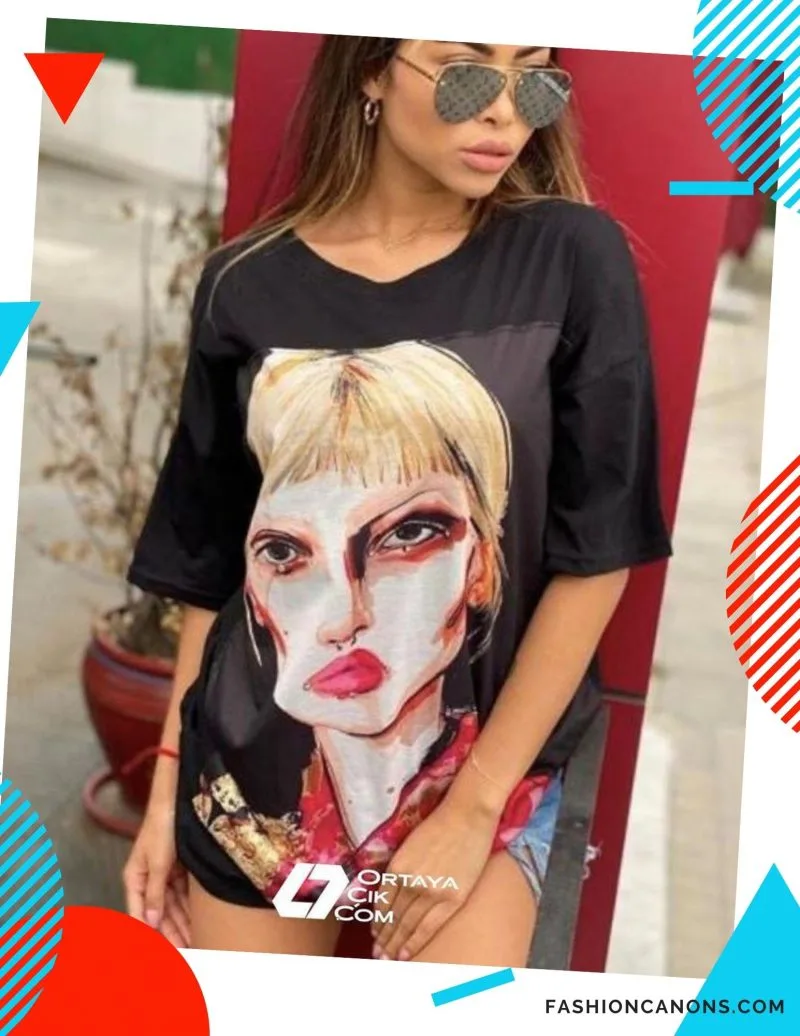 Buy Similar Here
On its Own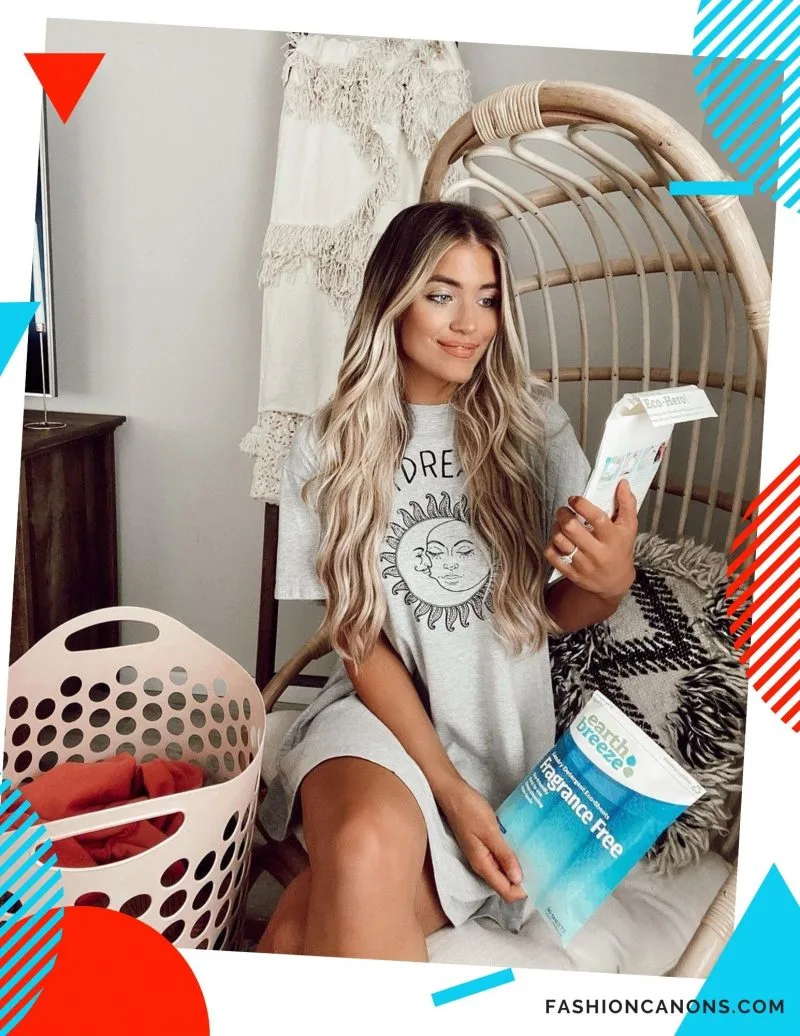 Buy Similar Here
With Camo Cycling Shorts And White Runners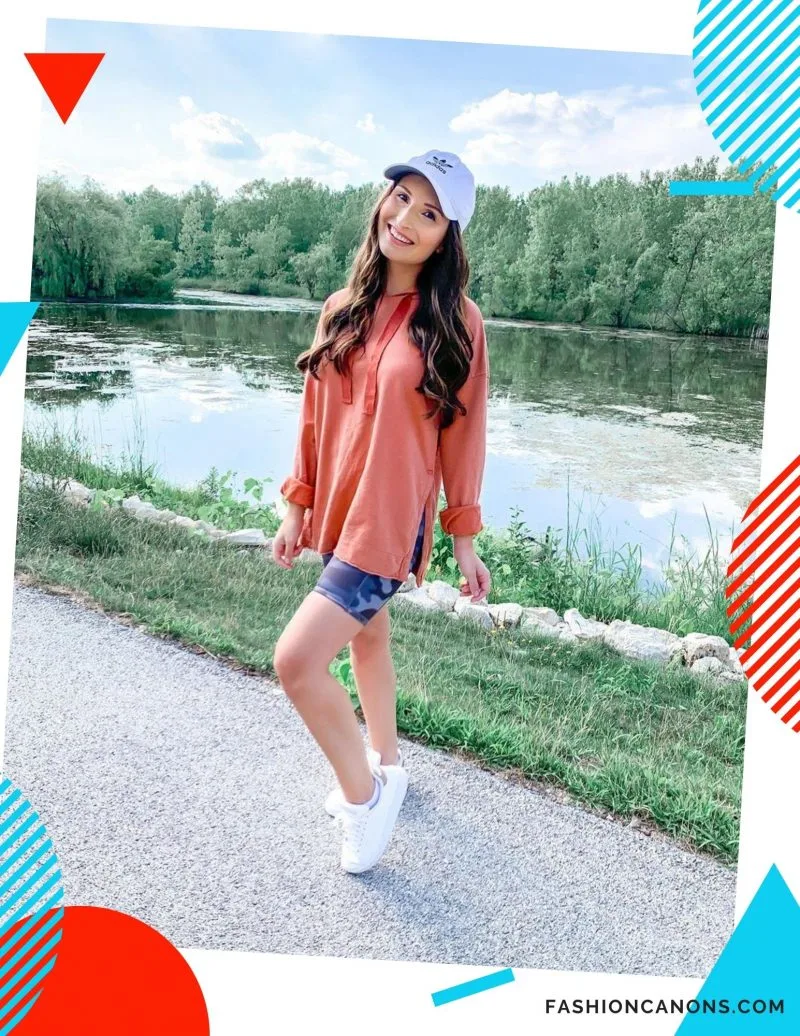 Buy Similar Here
With White Tall Boots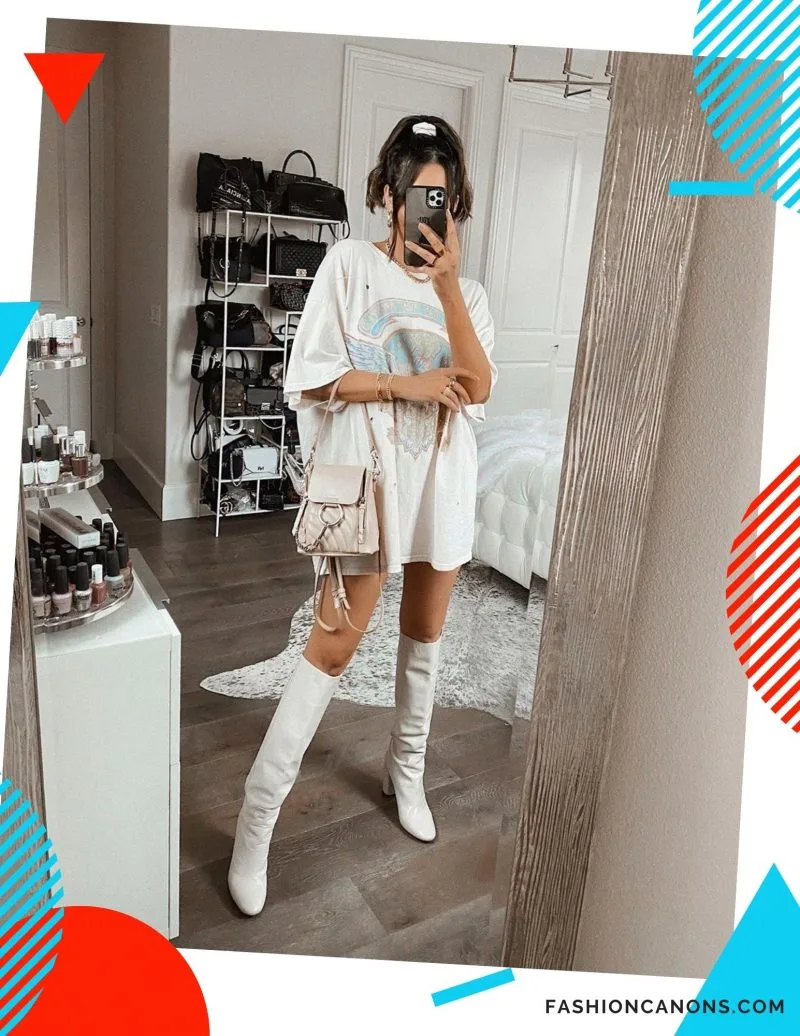 Buy Similar Here
With Mustard Cycling Shorts And Combat Boots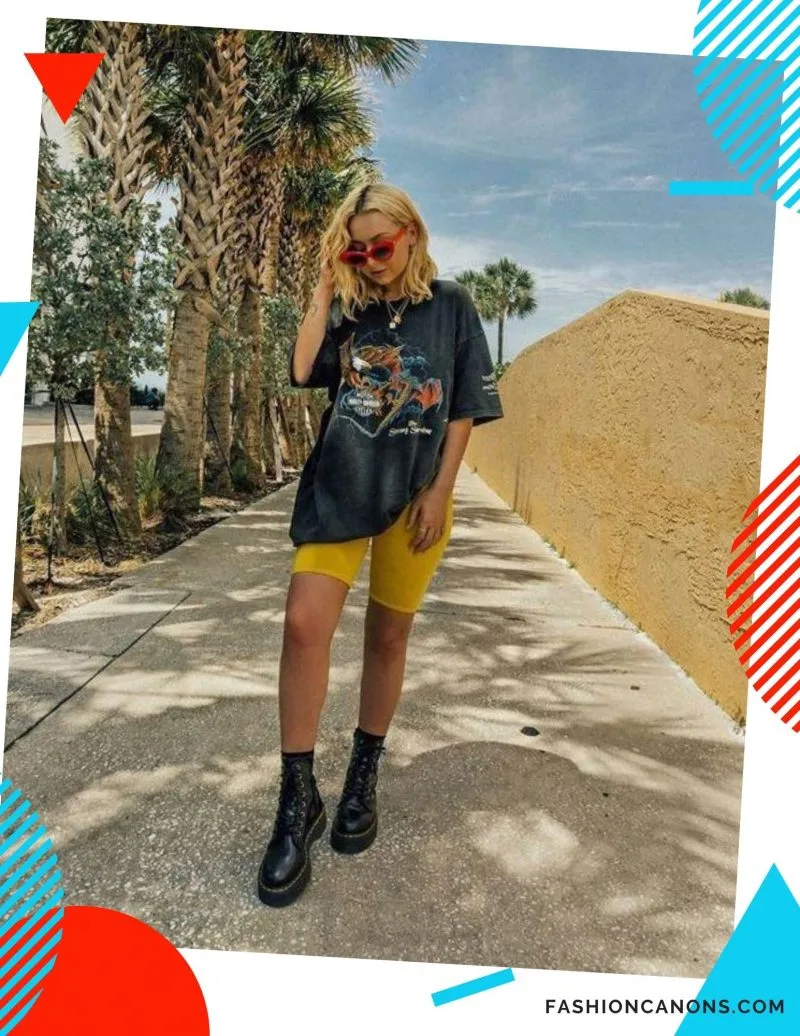 Buy Similar Here
With White Grey Sneakers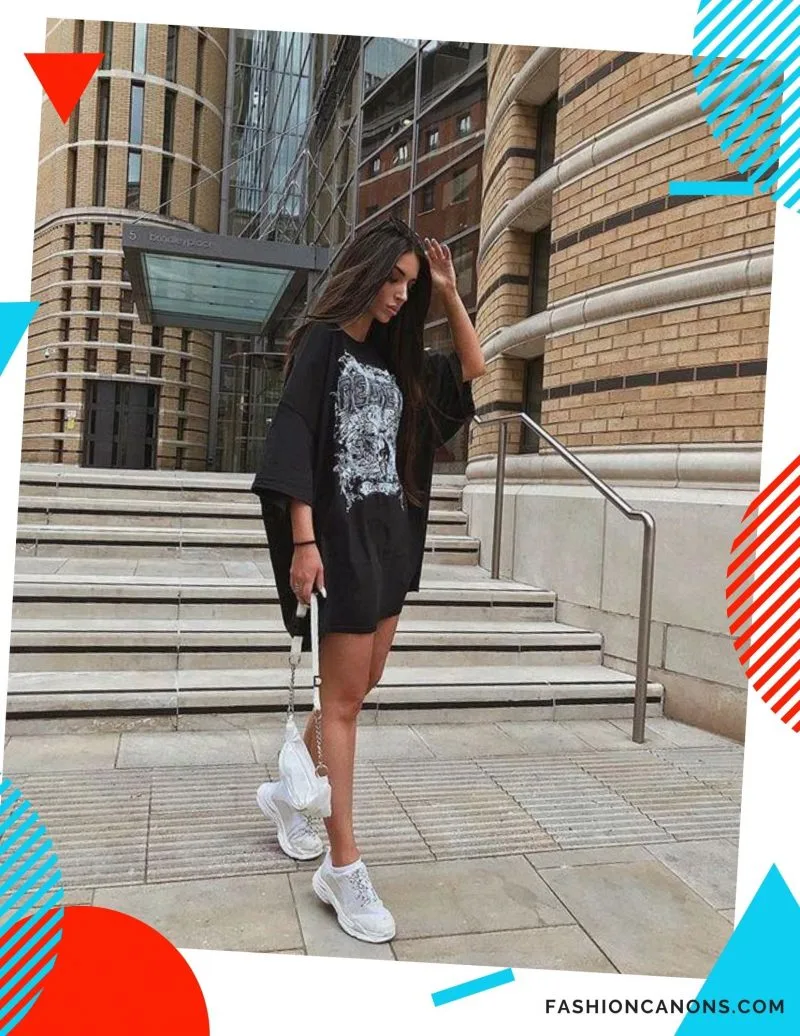 Buy Similar Here
With A Bum Bag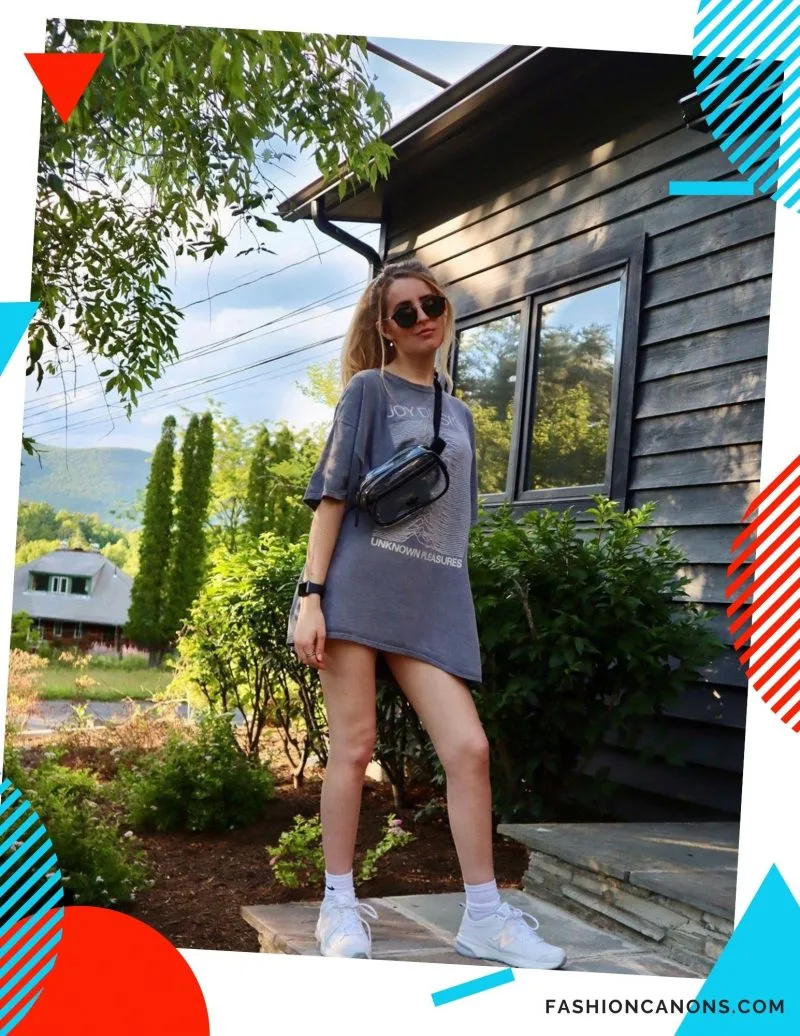 Buy Similar Here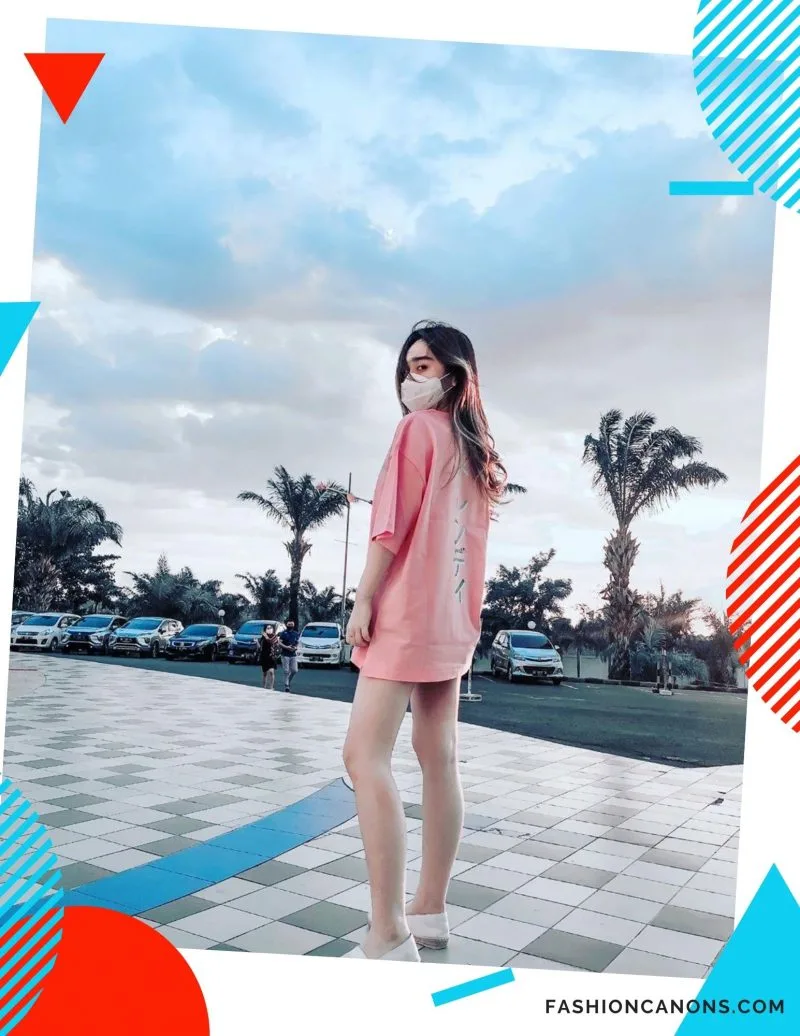 Buy Similar Here
With Platform Boots
Buy Similar Here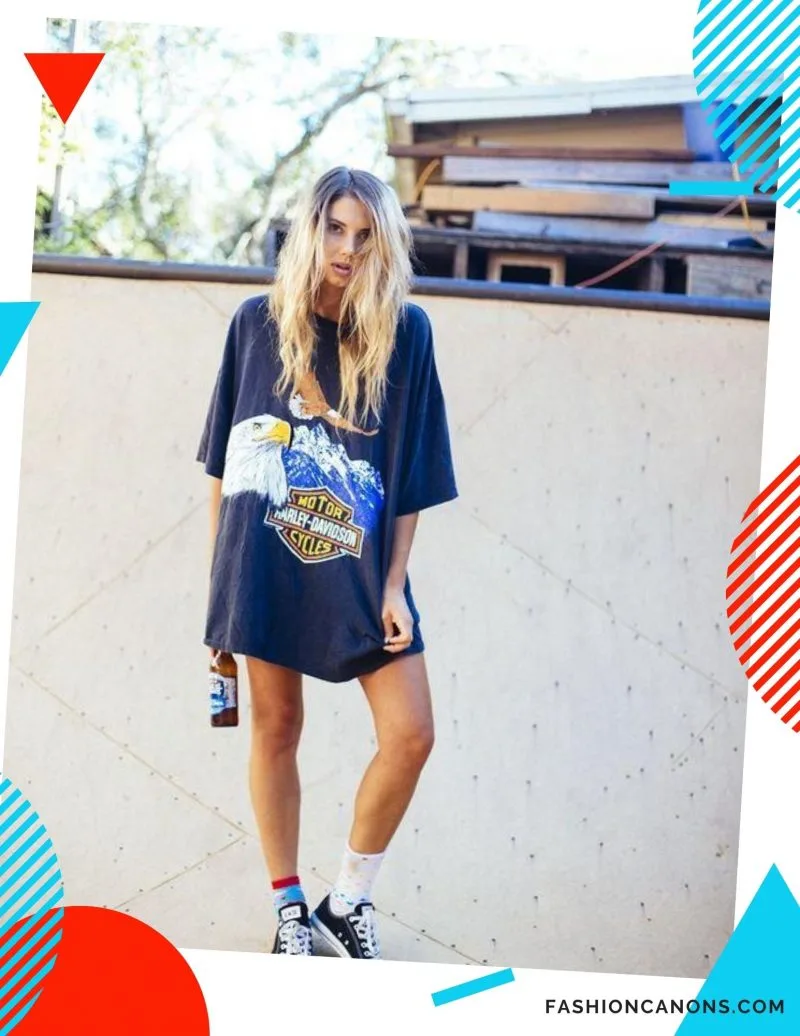 Buy Similar Here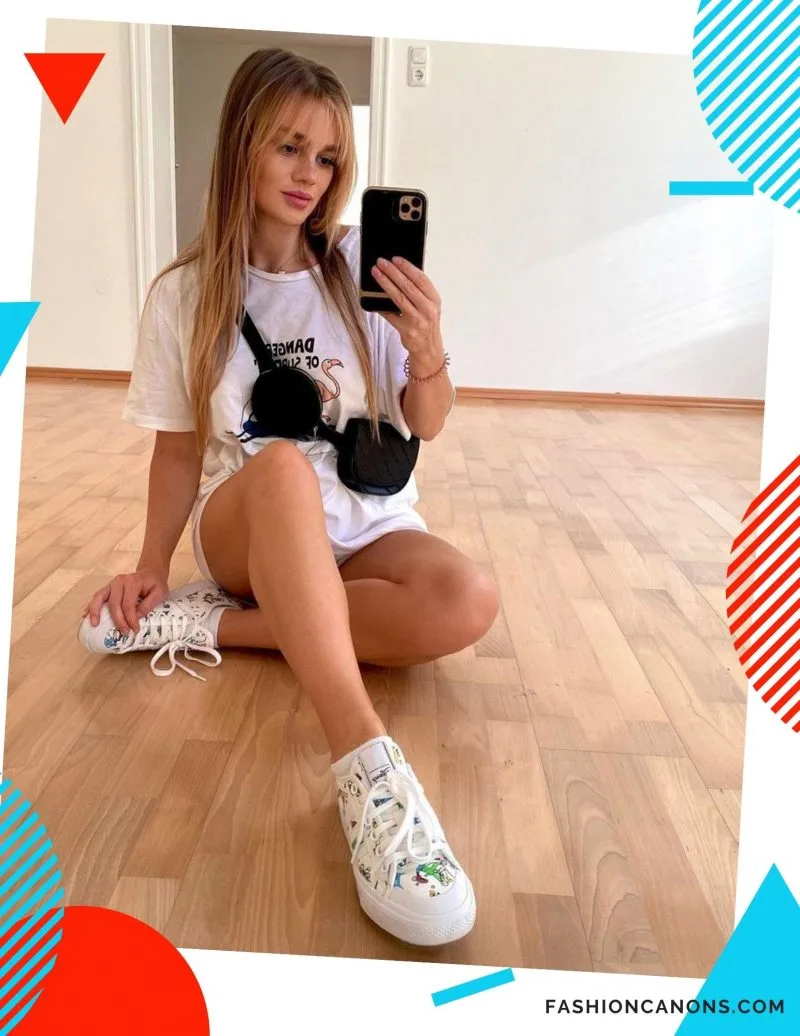 Buy Similar Here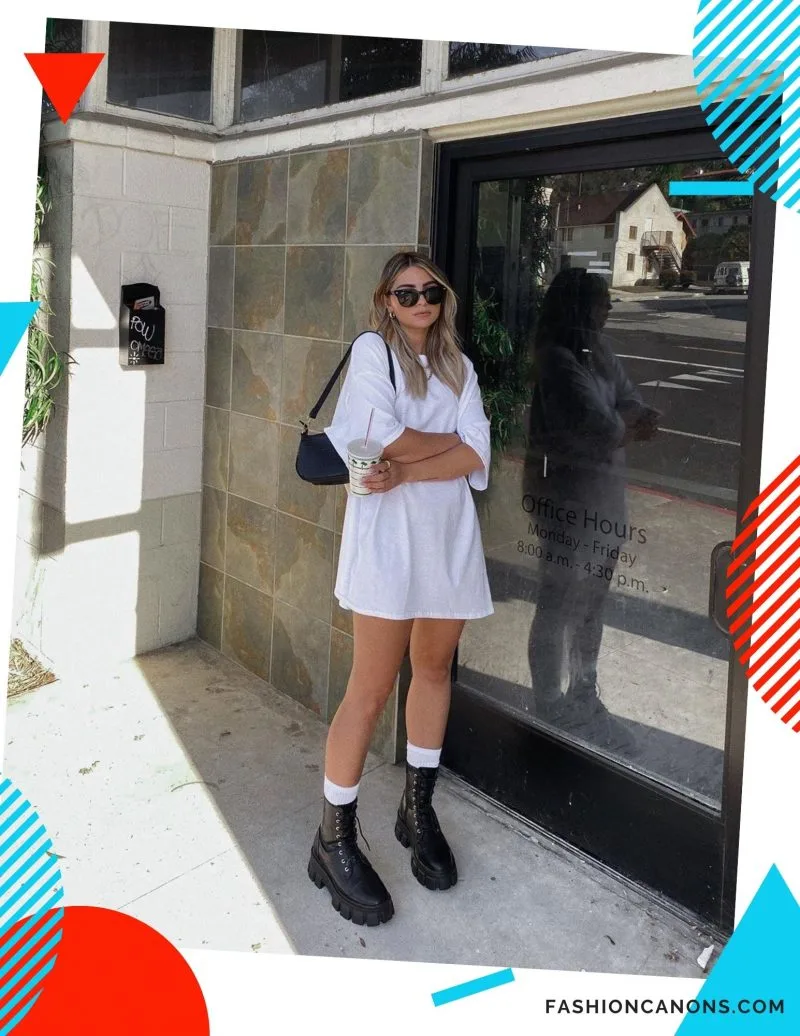 Buy Similar Here
My Favorite Oversized Shirts For Ladies
Long oversized shirts in white color look especially good on tall women. As a rule these pieces are made of light and breathable materials so that they do not attract heat and keep you fresh all summer long. The best idea is to match a white oversized shirt with a pair of dark skinny jeans and black booties or pumps. And, if you want your style to be truly original, pick up a colorful clutch bag and there you are – whole ensemble is ready to impress anyone.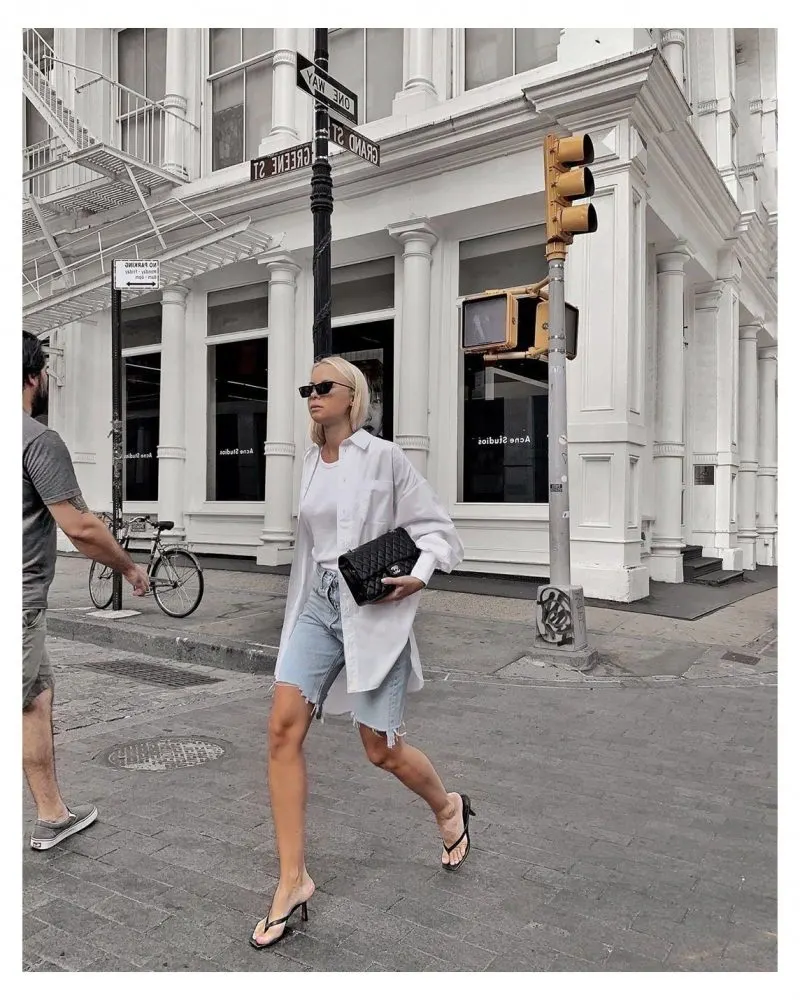 Buy Similar Here
An oversized shirt with printed flowers is also very popular among young ladies these days. If you have rather curvy figure, do not forget that this design has rather loose cut so it will not accentuate any bulges and look really good in combination with leggings or skirts. When choosing an oversized shirt like this one, pay attention in the fabric it is made of because it must be light and comfortable for wearing in warm weather.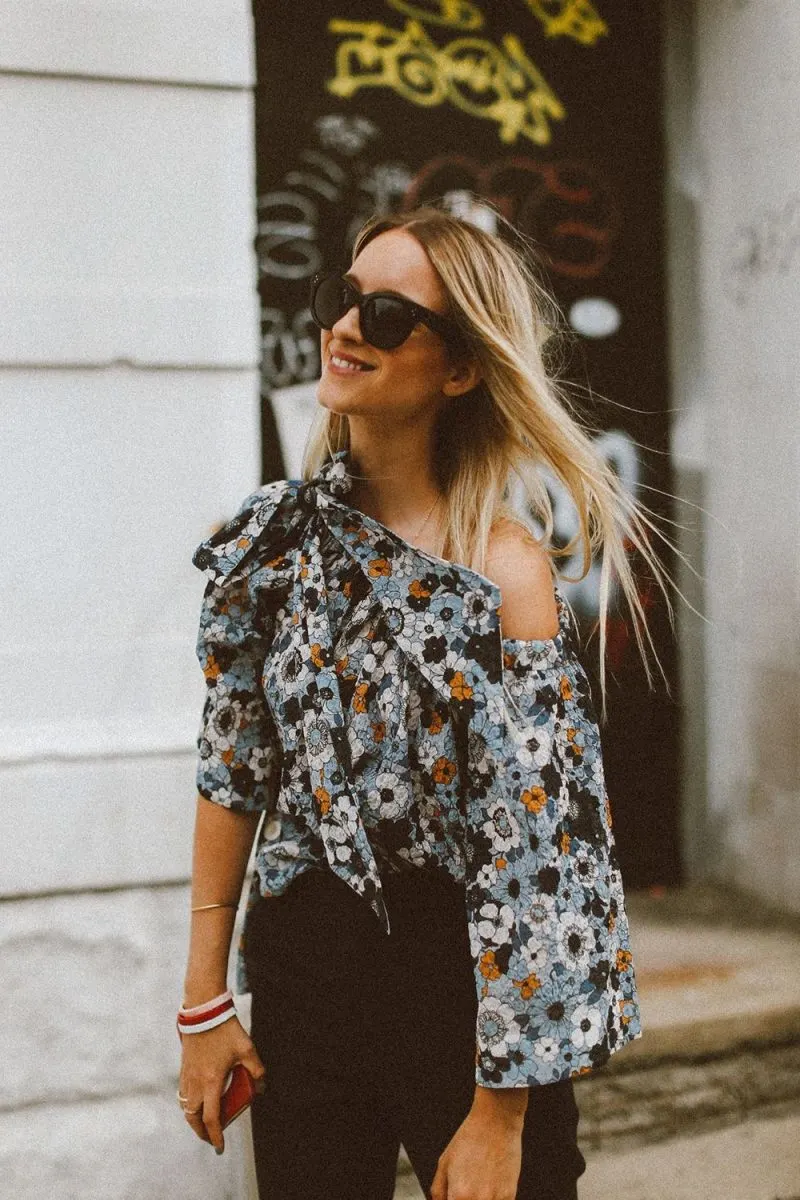 Buy Similar Here
Graphic print is another classic option when it comes to choosing an oversized shirt. This kind of prints can be found on discount sales out there so if you want to spend less money, do not forget to check our website where you can find a lot of fashionable and affordable clothes for all occasions.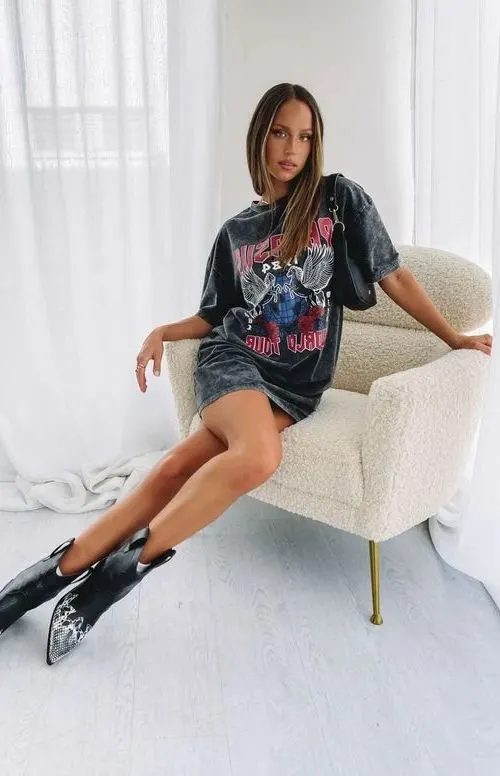 Buy Similar Here
Black oversized shirts look especially good when wearing this style in a casual way. If you like to wear oversize clothes, don't forget to put on the right shoes.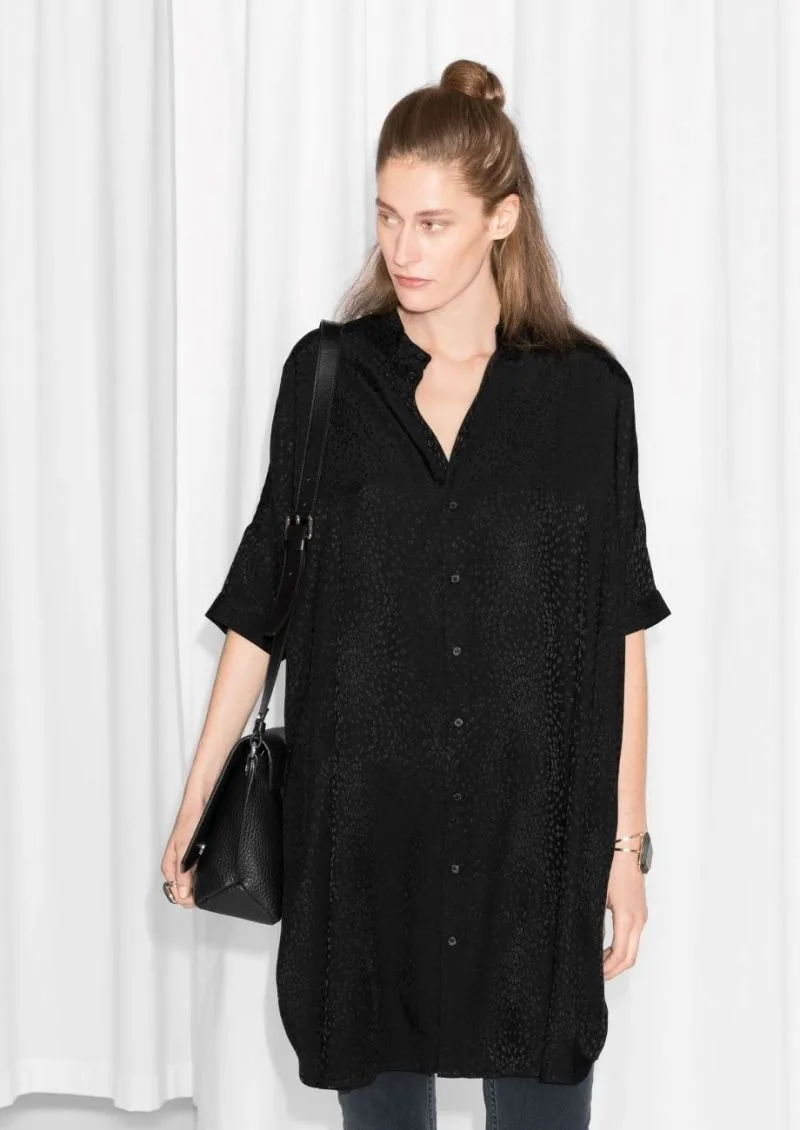 Buy Similar Here
The last and also very popular one is pink oversized shirt for women. The best idea is to wear it in a casual way – on a walk or when hiking around your city, just enjoy the bright colors of this dress on your skin and feel free and comfortable all the time. It is perfect choice if you need something bright but so simple that you are not afraid to wear in any occasion.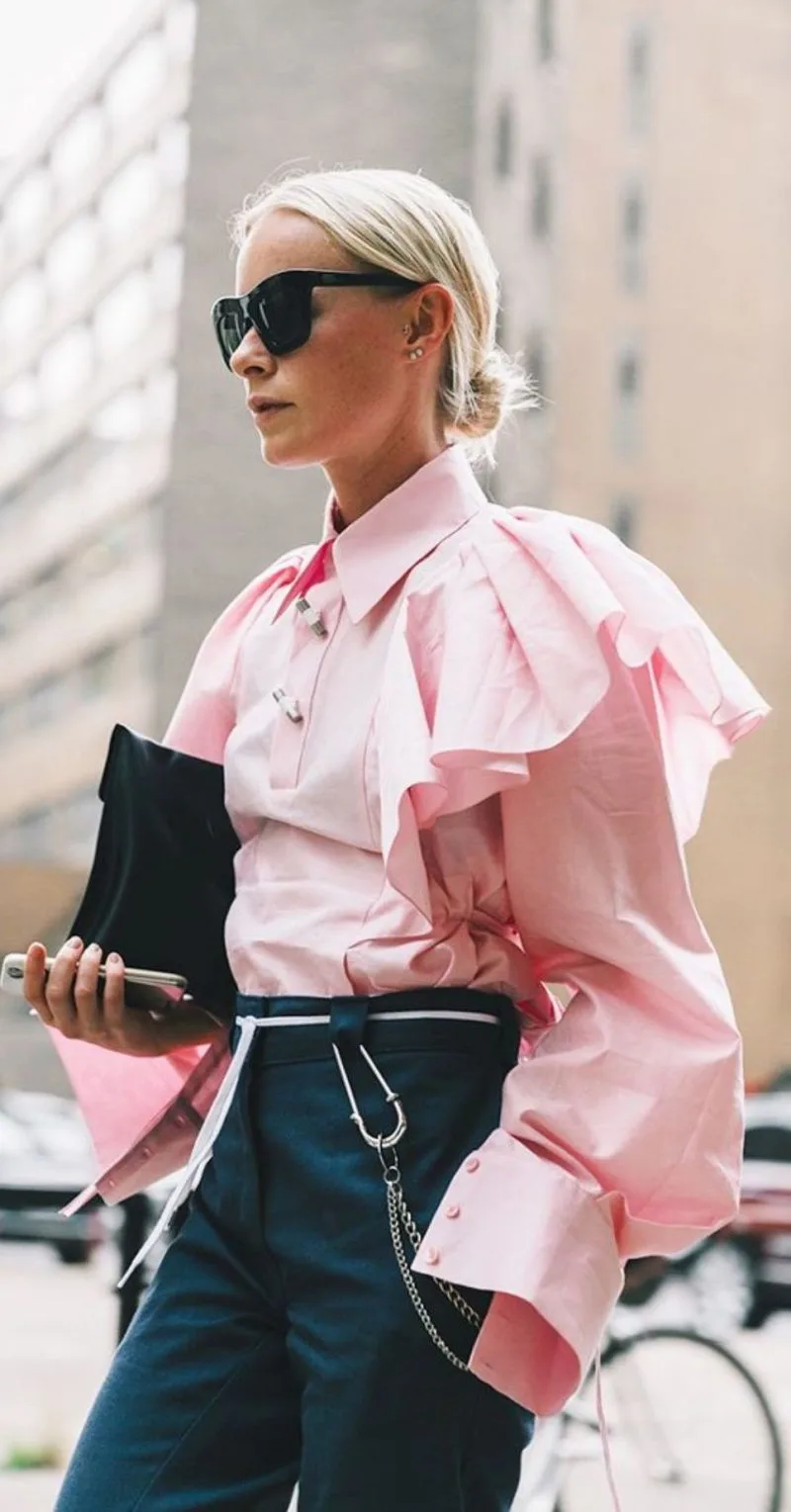 Buy Similar Here