Today we are here to see cool street style ideas on how to wear cargo pants and crop top. No matter the time of year there are always new fashion trends that are emerging. This is especially true during the summer months when women are looking for ways to dress up in order to stay fashionable. One of the hottest new trends this summer has been pairing cargo pants with a crop top. This style is a great way to show off your toned stomach while also showing off just a hint of skin. Here is how you can stay fashionable this summer by pairing cargo pants with a crop top.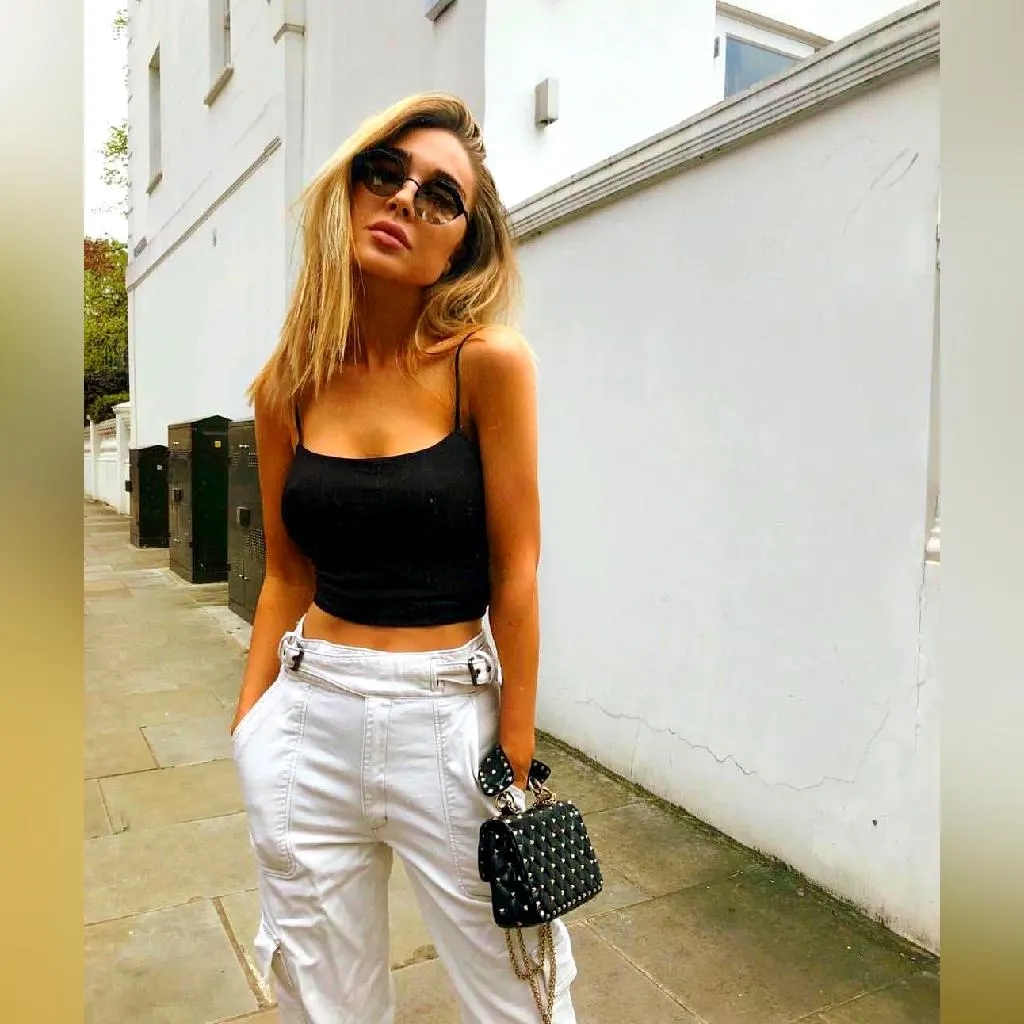 Buy Similar Here
We see white cargo pants styled with a black spaghetti strap crop top.
Cargo Pants And Crop Top Outfits
Crop Top: This can be any black cotton crop top that is made of nice material. While you can wear any type of crop top, the best ones are ones that are very form-fitting and hold their shape. They should also not be see-through and allow people to see the bottom half of your outfit underneath them.
Cargo Pants: This can be made of any type of material such as denim, linen or a nice cotton blend material like khaki or grey. It needs to fit you comfortably with a little bit of room because even though these outfits are tight, they still have to stretch out so that you do not feel like you are wearing tight jeans on your body.
Not only are cargo pants and crop tops stylish, but they are also very comfortable to wear. They can be worn for almost any occasion whether that be for work or a night on the town with friends. The cargo pants and crop tops can be worn separately or together to create a stylish look that is perfect for whatever the occasion might be.
With Military Jacket
Go wild with these camo print cargo pants and white crop top covered with a military green coat:
Buy Similar Here
Love this white crop top with one shoulder worn with high-rise khaki-green cargo pants: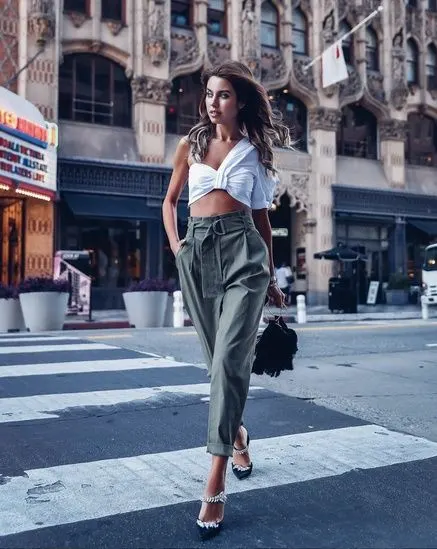 Buy Similar Here
We see a striped crop top with military green pants and a green bomber jacket, love the mirrored shades: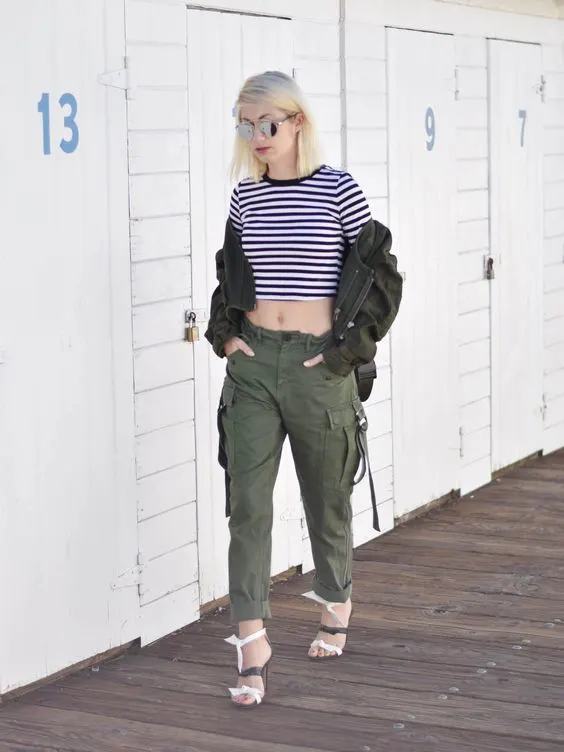 Buy Similar Here
We see a casual khaki crop top with military pants and white sneakers: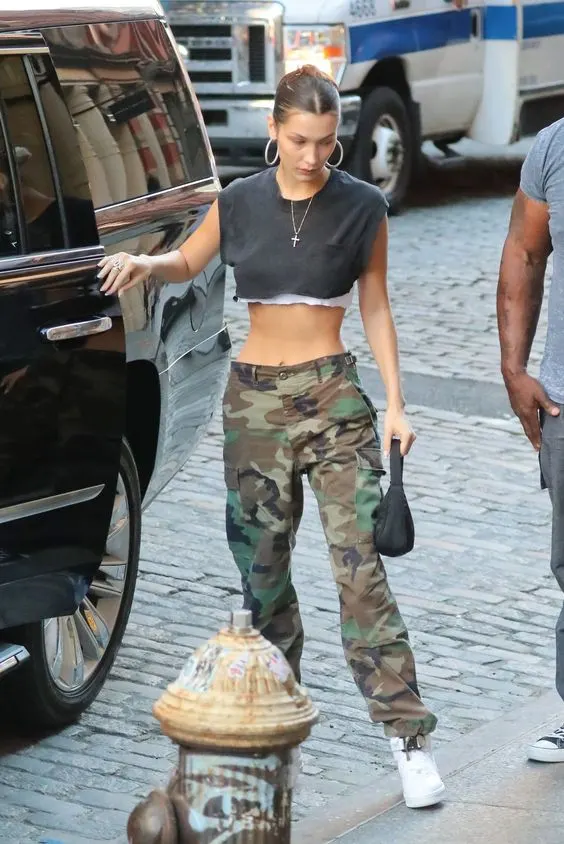 Buy Similar Here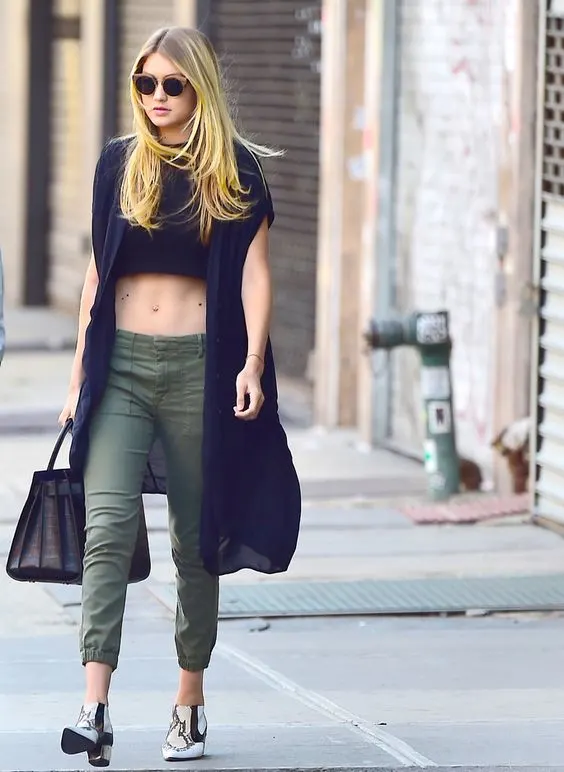 Buy Similar Here
Total White Look
A total white looks is always a perfect match! Check out my article on best all white looks for summer, there are some pretty cool outfit ideas you might like to try on this year. Here we see a white shirt styled with a brown crop top paired with a pair of cargo pants in white: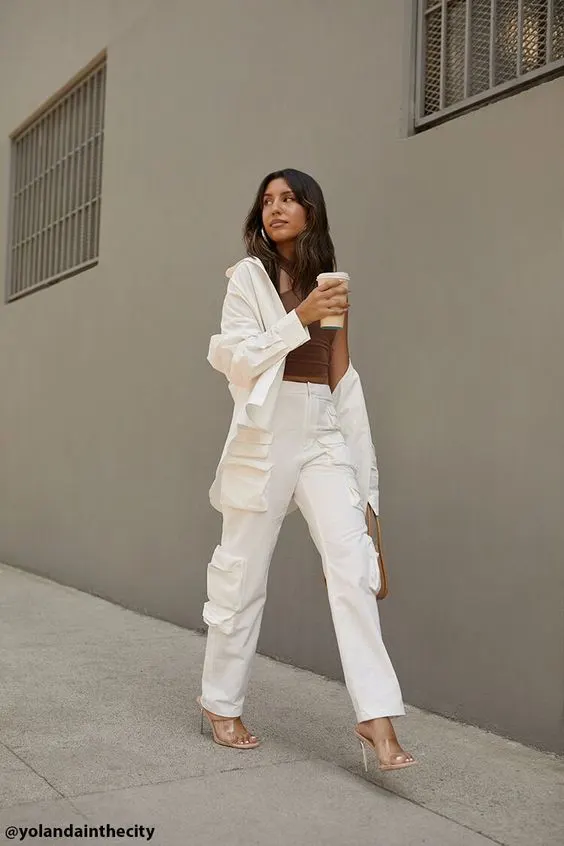 Buy Similar Here
This outfit gives the impression of being a little bit more professional which makes it an ideal option for wearing to work or even out on a date with your boyfriend or girlfriend. So this summer when you want to look good and wear something that will make your body stand out in a crowd, then you need to consider wearing cargo pants with a crop top. They are great for all seasons and occasions so you will not have any problems wearing them at all. They are so popular that women everywhere have been wearing them this past year which is why you should consider doing the same with them. They are comfortable, stylish, and look great on all body types.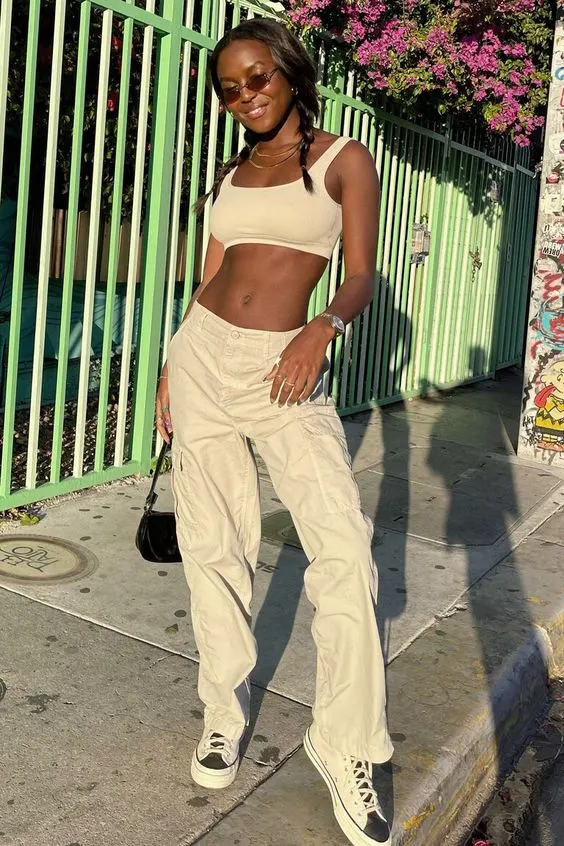 Buy Similar Here
Because cargo pants and crop top looks are becoming very easy and fashionable to wear, you need to be prepared to wear them this coming summer season. Cargo pants with crop tops look great for almost any occasion so you can wear them nearly all year round. The best thing about these outfits is that you can both wear them separately or together depending on the occasion or your mood.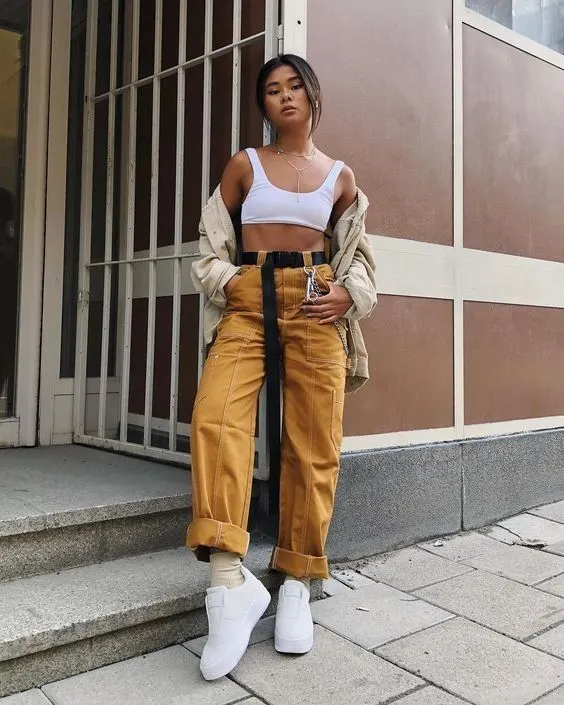 Buy Similar Here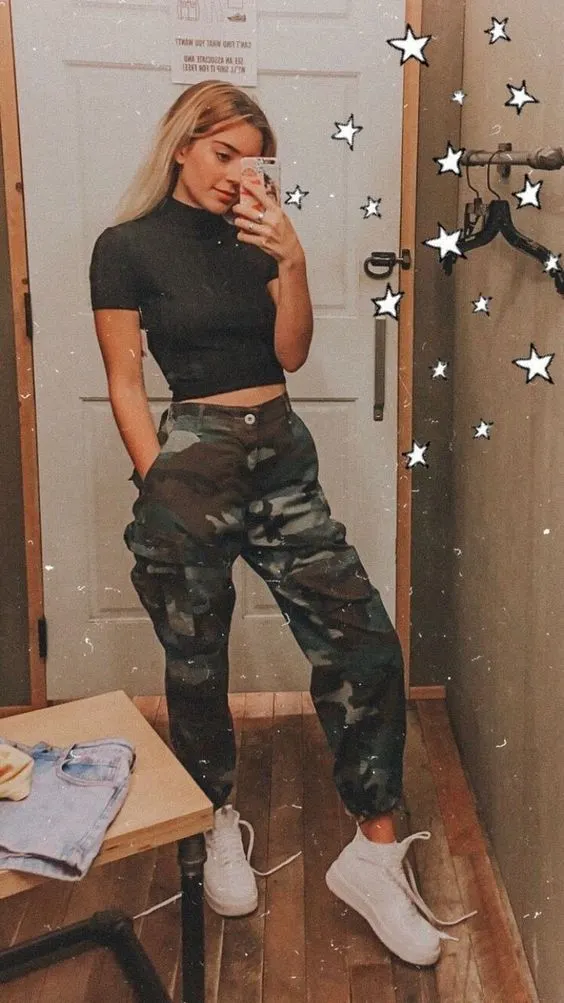 Buy Similar Here
With Black Blazer & Leopard Heels
The combination of cargo pants with a crop top will look great for any occasion especially when worn under a nice blazer. This look can be worn on your day off from work or when attending an event with your parents or friends. This versatile outfit can also be worn to dinner at a fancy restaurant and so many other places where you want to look nice and stylish without looking too formal. You can also wear this outfit to church if you are religious, but add a blazer or something else to cover up or out shopping for groceries on a normal day at home. The possibilities are endless when it comes to wearing these outfits in order to stay fashionable all year round.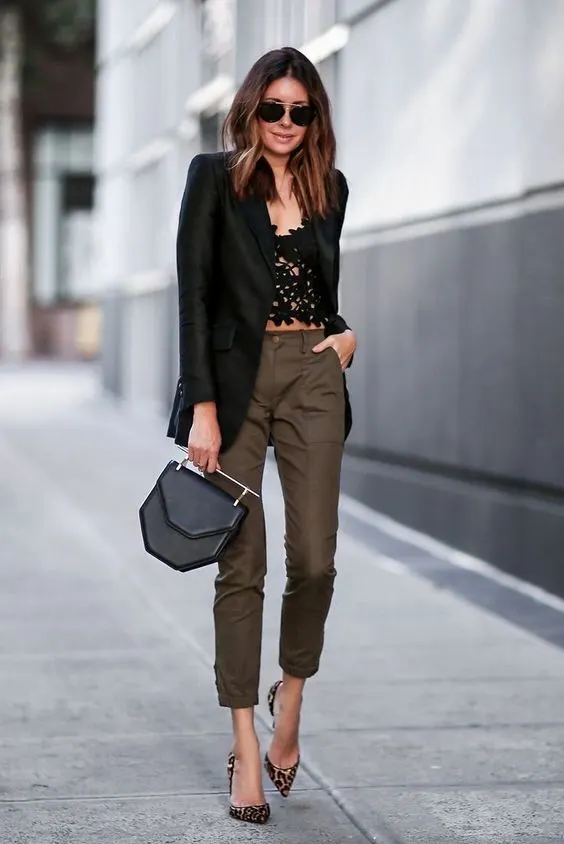 Buy Similar Here
With Plaid Blazer
A blazer looks smart-casual with this black crop top and desert khaki cargo pants: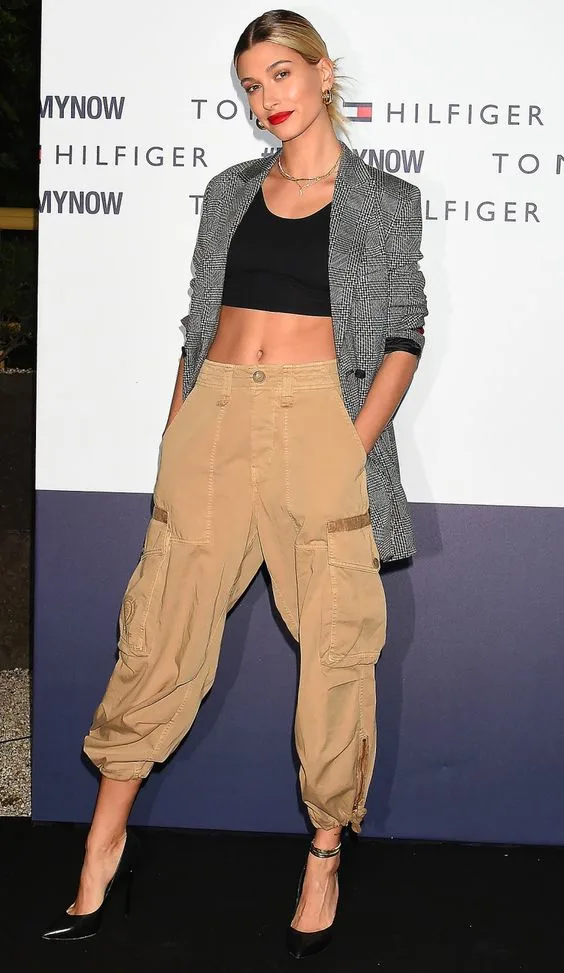 Buy Similar Here
With Plaid Shirt
A perfect urban style, we see oversized clothes and cool crop tops: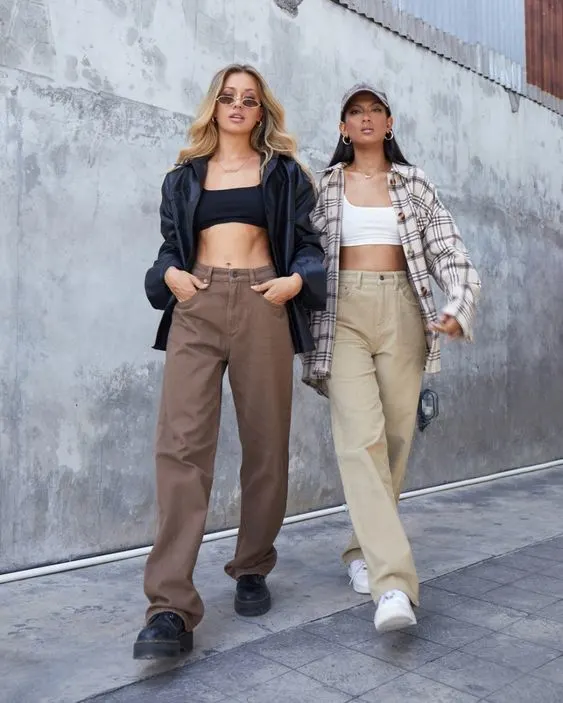 Buy Similar Here
With Nude Heels
If you are dating someone or in a relationship, then you can also wear this outfit to impress your boyfriend or girlfriend. After all, it is a perfect combination when looking to impress the person you love. The great thing about this look is that while it is very flattering and attractive, it also gives off the impression of being professional so that your boyfriend or girlfriend will feel comfortable bringing you out to an elegant place like a nice restaurant for dinner. This fun black and white outfit looks great during any time of year whether it be during the summer months or even in the colder winter season.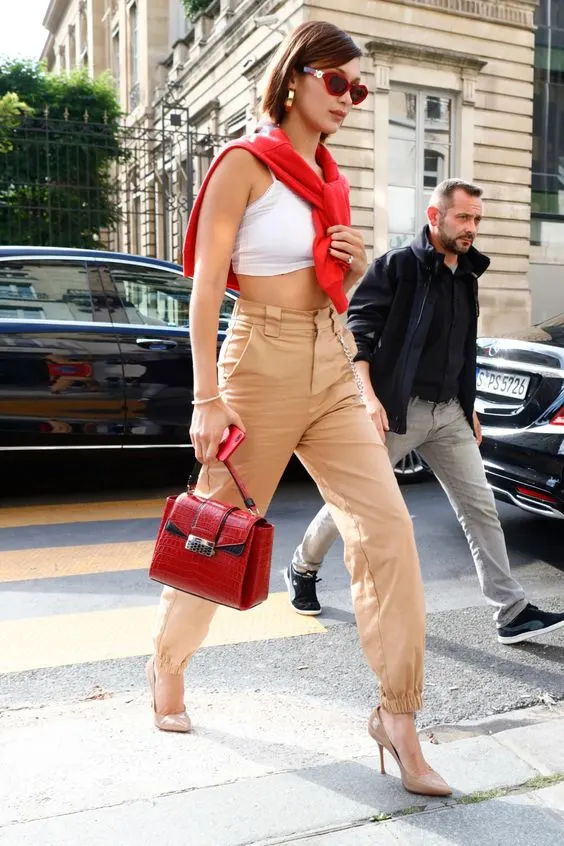 Buy Similar Here
Conclusion
Both cargo pants and crop tops are very versatile and can be worn for different occasions during the summer. For example, you can wear these outfits out in public when going to a bar, hitting up the market or picking up a snack. You can also pair them with sandals or even with flip-flops if you are planning on doing some shopping at the local mall. You can also wear them on your weekend trip to go camping or hike through a beautiful area of nature to relax. But even when it is not hot outside, these outfits would still be great for wearing because they both show off your fabulous body and make you look extremely fashionable.