I want to show you some easy ways how to create an Italian lady style. We all want to have that hot Italian temperament, but how about Italian style? Why we are so into their outfits and the way how Italian women look? Well, the thing is that Italian ladies have a passion for fashion. They take great pride in the way they look. No matter if this is just a 5 minutes walk, or a business lunch, they will dress elegant and chic.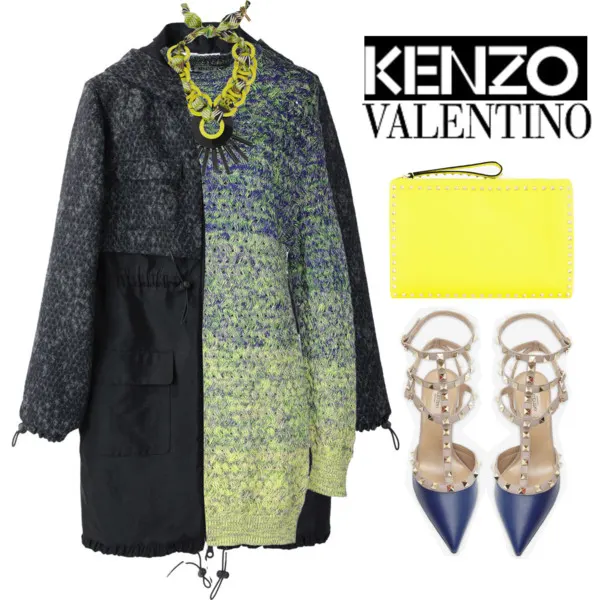 Buy Similar Here
A nice example of an Italian woman outfit idea. We see a cocoon style black coat worn with a lovely sweater dress and pointed-toe pumps embellished with studs. Update this look with a yellow necklace and a neon yellow clutch bag.
In today's article, we are about to see some fancy and everyday looks that are easy to copy and wear. When you want to dress like an Italian, you have to keep in mind two things: an easygoing style with a bombshell look. In other words, keep your style relaxed and elegant.
First things first, in order to create that stunning appearance, you have to build your outfit from scratch. No matter, if it's a simple casual day-off combo or a statement look, you have to think over every detail.
Lingerie is an important part of any Italian outfit, once you get beautiful and high-quality underwear, everything changes. Trust me, that feeling of wearing luxury lingerie is amazing. That's why it's important to invest in qualitative essentials that are going to serve you for a long time.
When I say about essentials, I not only mean lingerie but also things like pants, skirts, white shirts, shoes, etc. You need to have some basic apparel made of qualitative materials. So, keep in mind that all those neutral clothes should be luxurious. Creating a fabulous Italian look should feature all those essentials that can be mixed up with trendy items.
Don't forget about jewelry, wear expensive pieces, don't wait for a special day. A white shirt completed with a gold necklace is a nice example of how to underline your femininity and Italian style.
There are a lot of things which could say that you're in Italian style: sandals, mini skirt with tights or stockings, a top with blazer or cardigan. We all know that Italians are fond of colours – this is the main point because they want to enjoy life! They like to wear pink, yellow green clothes. I use most of these colours too!
Please note that you can combine all the colours and do something unexpected. It is not necessary to be absolutely black or white – you have your free will. For example if you want to wear tight navy jeans with a white shirt – I don't think it looks too sophisticated, but if you think so then go for it!
I want to show you some easy ways how to create an Italian lady style. It's really very simple, just follow some tips and tricks, and you will be in the fashion.
We see a marvelous sleeveless fit-and-flare dress in brocade print completed with a gold clutch and wedge heels. A perfect combo for cocktail parties: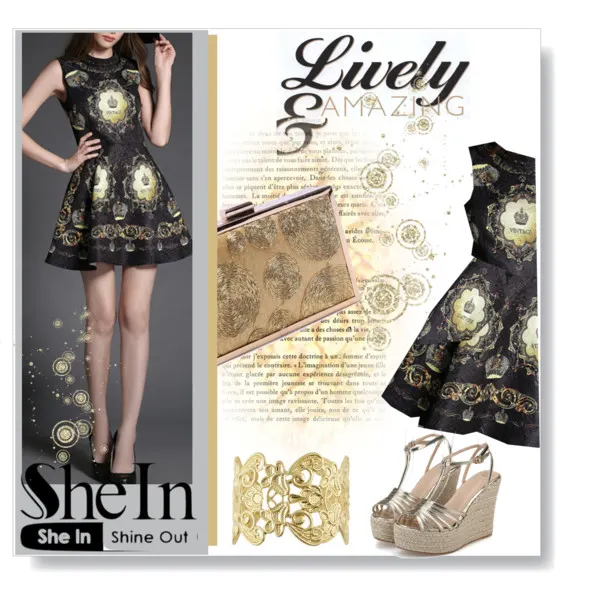 Buy Similar Here
Keep it simple and comfy. Remember I told you about lingerie, it should be expensive. Go for a mesh bra top, a peplum white tee, slim jeans, and denim slip-on shoes. Complete this outfit by adding a grey saddle bag: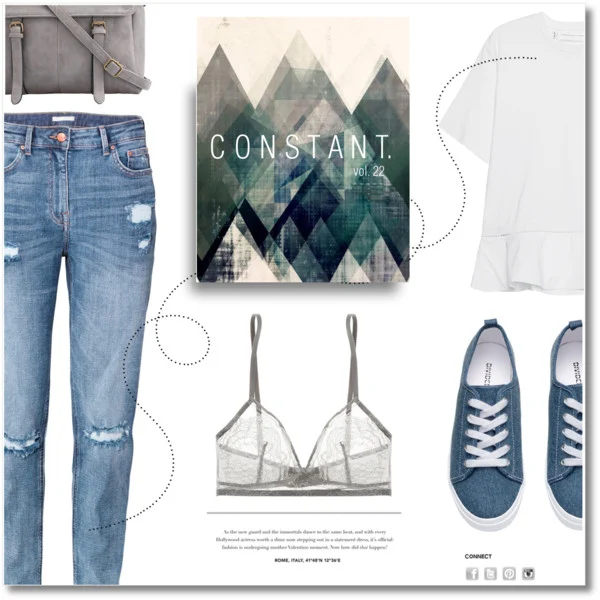 Buy Similar Here
Keep an eye on this simple day look consisting of a white crochet sleeveless crop top paired with blush shorts and T-strap sandals. Update this combo by adding cool aviator shades and a blush shoulder clutch bag: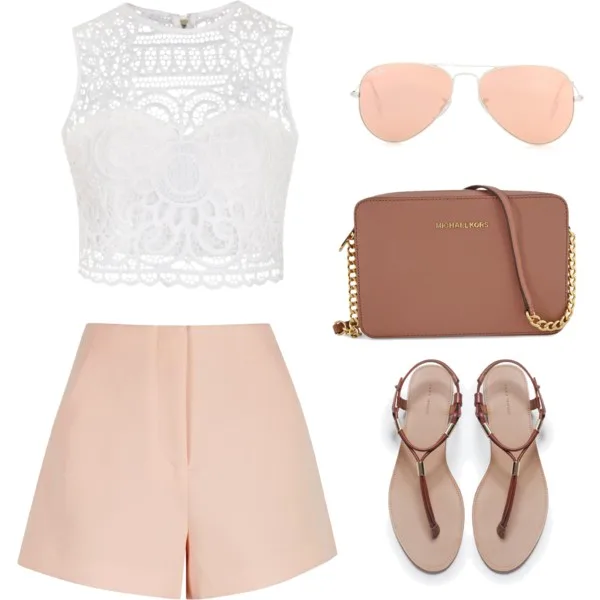 Buy Similar Here
A kind of boho touch is felt in this look, but it still looks Italian inspired. Go for a printed kimono, white top, denim shorts, and cut-out brown suede ankle boots, don't forget completing this combo with a fringed leather bag. If you want to see more ideas on how to wear kimonos, check out my blog post, I have some really nice ideas to share with you: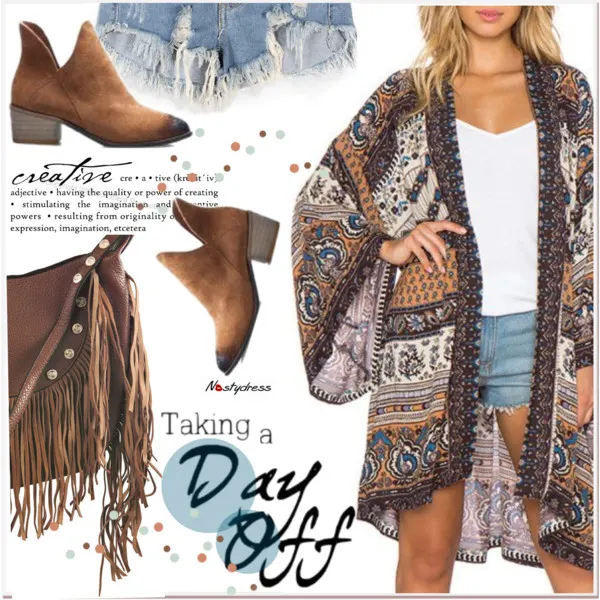 Buy Similar Here
We see a basic combo with some bright colors. Go for a black tank top, black cardigan and mustard-yellow shorts. Complete the look with gold jewelry, camouflage print bag and simple sandals: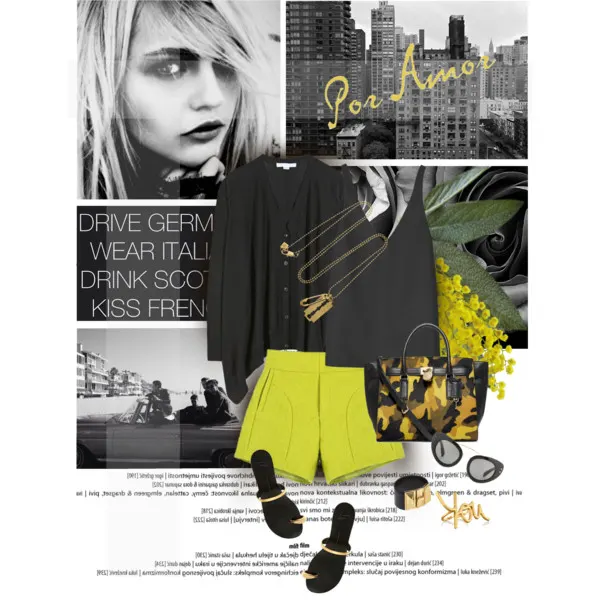 Buy Similar Here
I love to see Italian women wearing neutral outfits. Here we see a basic jumpsuit in black updated with a gold leaf belt and classic slides: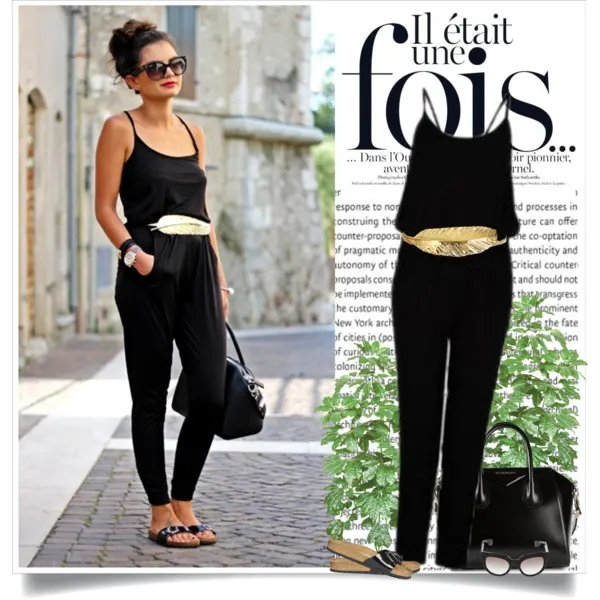 Buy Similar Here
A white sleeveless top embellished with fringes looks glamour paired with gold shorts and white loafer slides embellished with florals. Don't forget about a wide-brim straw hat and cool shades: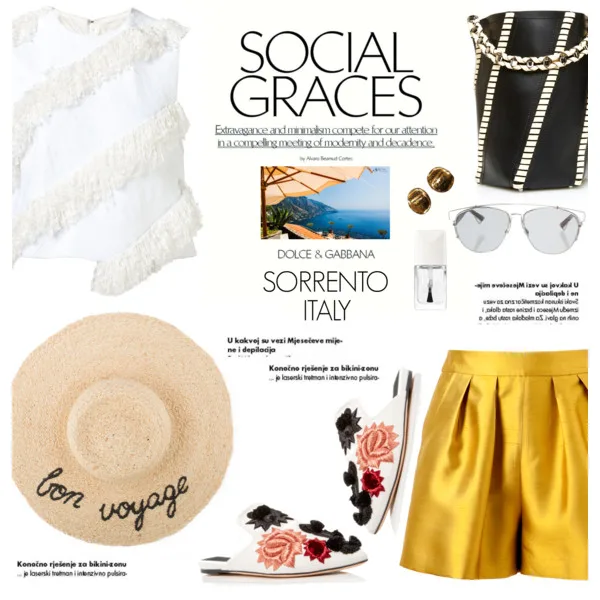 Buy Similar Here
A sleeveless white crop blouse can be a perfect match to wear with a brown suede skirt and block heel ankle-cuff sandals: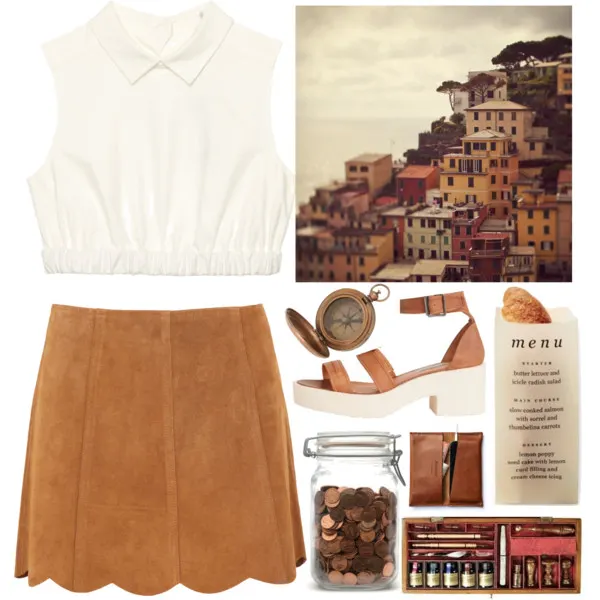 Buy Similar Here
A perfect example of how to dress if you are traveling to Italy. We see light blue skinny jeans, a blush blouse, cool blush sneakers, and a white trench coat: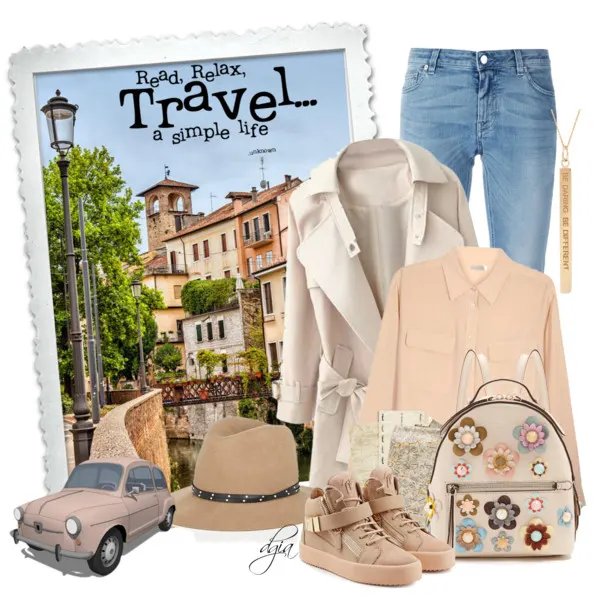 Buy Similar Here
A beautiful scarf can make a drastic change in the way you look. Go for this blush printed silk scarf and style it with a silk blouse, denim shorts and blush flat pumps. If you want to see my favorite ways how to wear scarves, then please read my article, I will show you amazing street style ideas o copy this year: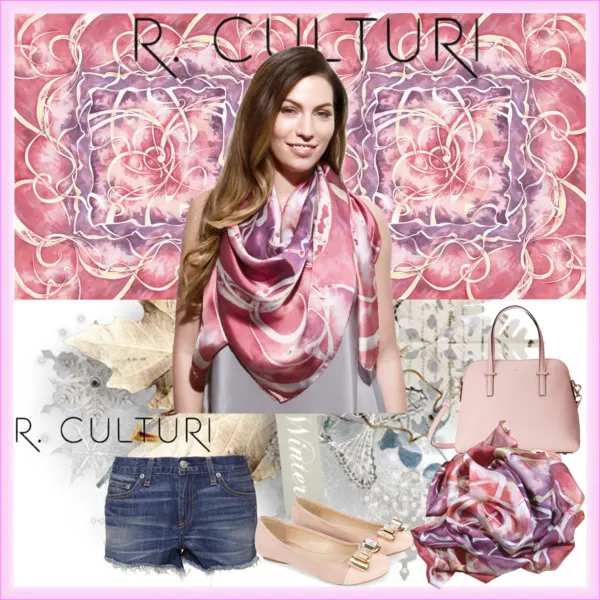 Buy Similar Here
A perfect summer outfit for Italian ladies. We see a black romper made of lightweight fabric layered under a white kimono embellished with fringes. Complete this style by adding a black floppy hat and chic blush heeled sandals. If you want to see a full guide on rompers, then I recommend checking out my post, where I show amazing ideas on how to wear this beautiful clothing staple on the streets: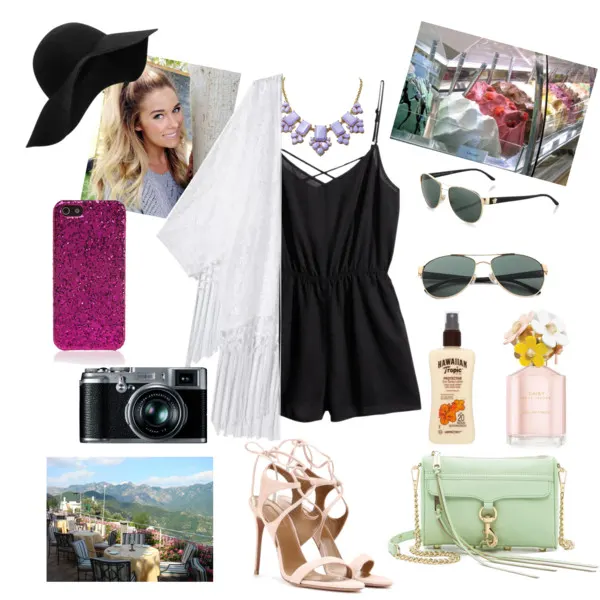 Buy Similar Here
Go glamour with this pastel lime sleeveless dress. Complete it with gold jewelry and heeled neon yellow sandals: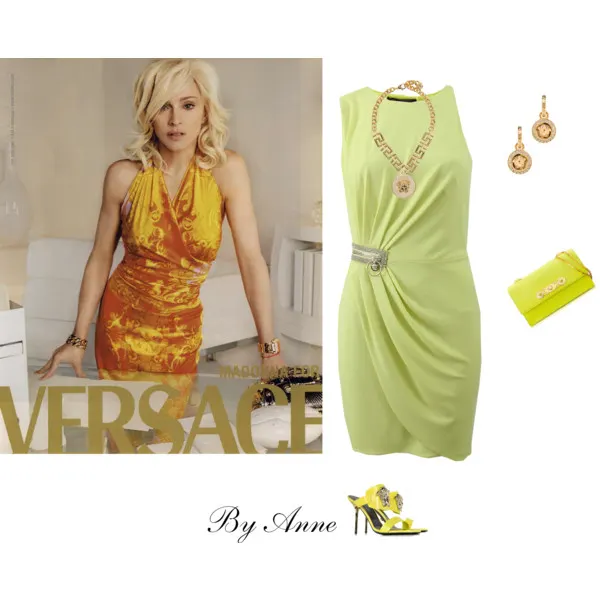 Buy Similar Here
A lovely Palermo style, we see an off-shoulder pink dress embellished with lace completed with fancy heeled sandals and chic sunglasses: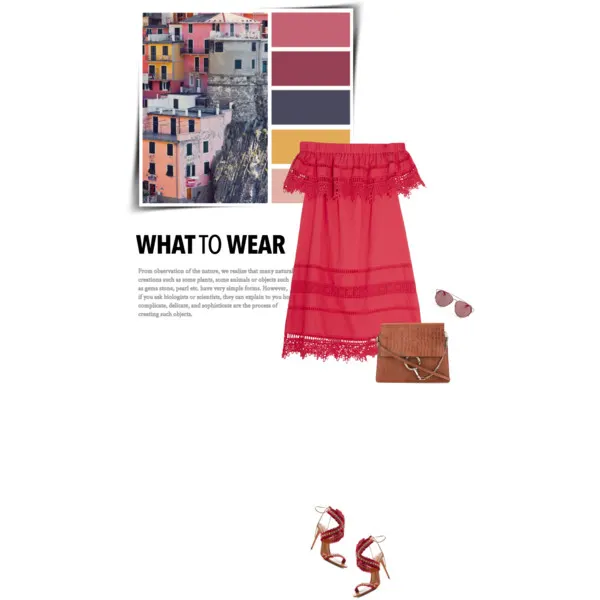 Buy Similar Here
The Italians have a long and storied fashion culture. Not that you need reminding but a country that's responsible for houses like Gucci, Prada, Valentino, Armani, Ferragamo, Bottega Veneta, and Missoni must know what they're doing.
What are the tenants of the Italian style? First of all, embrace your femininity. That means emphasizing your figure in a way that makes you comfortable. Do you love your waist? Cinch it with a gorgeous leather belt to show it off. Still feeling your gams? Rock a skirt that shows them off! And the Italians always approve of a little décolletage. Second of all, Italians believe in investment pieces and wearing them over and over. That's part of the reason why they always look so nice.I am pretty sure you gonna fall in love with these easy street looks.

Source: CNTRAVELER, GetInTheGroove, AlexandraDecurtis