Today we are here to talk about slingback shoes and what types are in trend right now. Slingbacks are back in style and you better give these shoes a try, as we are going to see them everywhere during this year.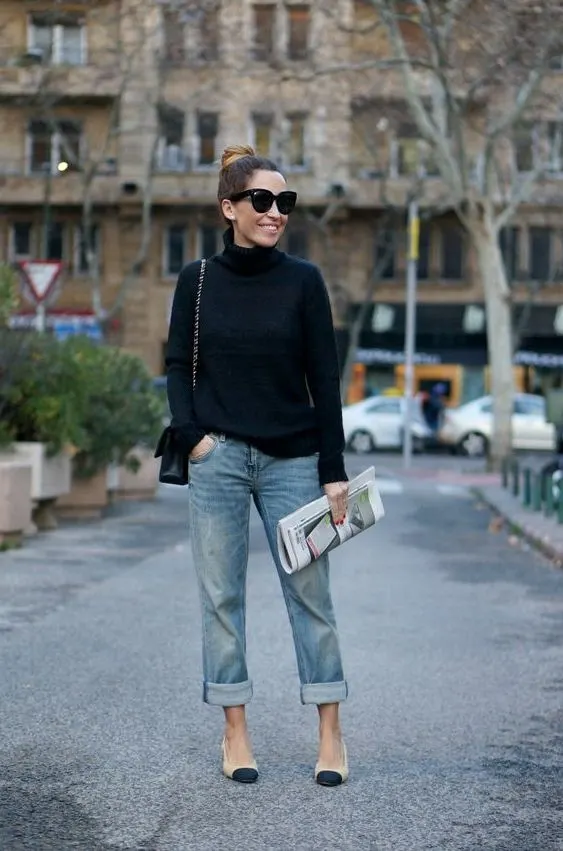 Buy Similar Here
Here we see a nice OOTD consisting of a black turtleneck jumper paired with cuffed boyfriend jeans completed with color-blocking heeled slingback pumps and oversized sunglasses.
I am here to show you some of the best ideas on what clothes you can wear them with and how to match them perfectly. Stay tuned to find out your favorite designs and style them with some great bottoms.
What is a slingback shoe?
First of all, this is a type of footwear that has an ankle strap crossing around the back and sides of the heel and ankle. Yes, they have a strap that secures the back of your shoes so they don't fall.
Go for a smart-casual look, all you need is a denim jacket, knee-ripped black skinny jeans and block-heel slingback heels: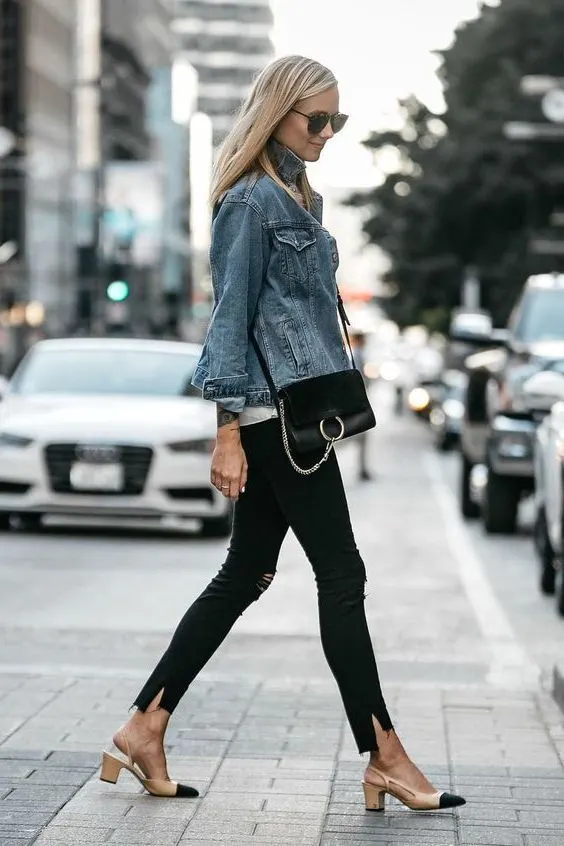 Buy Similar Here
Are slingback shoes in style?
Yes, they are in style this year and you can find lots of cool designs that can make a wow statement and add a wow effect to your personality. A few seasons ago these shoes made a comeback and you can find brilliant designs, starting from kitten heels, block heels to flats and stilettos.
A lovely white top embellished with lace sleeves is tucked in high-waisted cream-grey loose-fit pants completed with white pointed-toe heeled slingback pumps: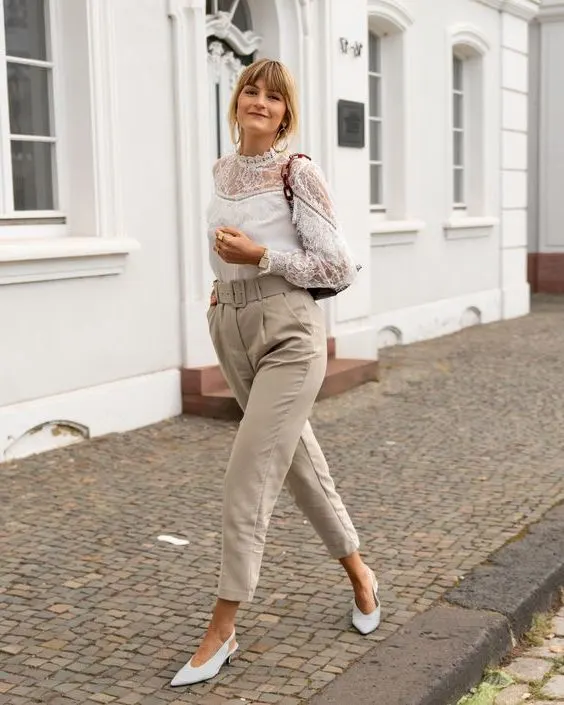 Buy Similar Here
Are slingback shoes appropriate for work?
Slingbacks can be OK. Women say that even judges use to wear peep-toe slingbacks and this type of footwear is okay for wearing in a business-casual office.
We see a stylish office-friendly look consisting of a white tweed blazer paired with cropped slim jeans in black color updated with black heeled slingback pumps: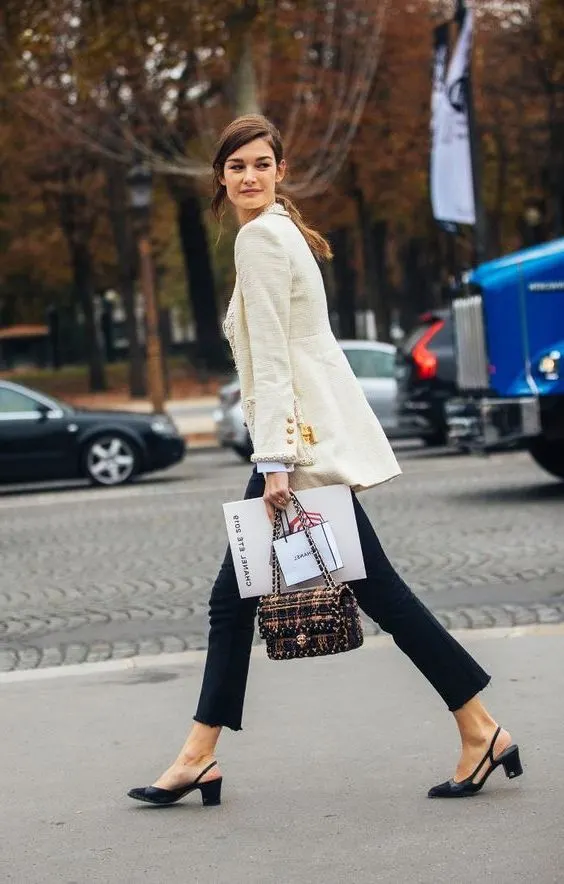 Buy Similar Here
Can I wear stockings with slingback shoes?
DON'T wear hose with slingbacks, better get the toeless hose to wear with open-toe shoes.
Keep things casual, yet ladylike, go for a V-neck ribbed-knit sweater in khaki with bell sleeves and tuck it inside black straight jeans completed with flat slingback pumps in black: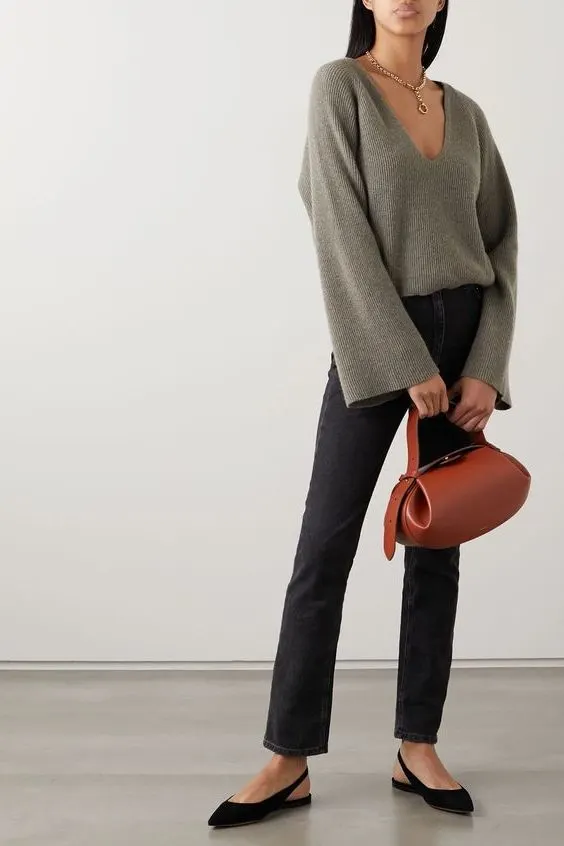 Buy Similar Here
Can you wear slingbacks to an interview?
Yes, they can work well, plus, if a pantsuit feels too dressy for the interview, then why not go with slingbacks, they will work for most interviews.
A perfect interview look for ladies, we see a white shirt tucked in black pants completed with block-heel slingback pumps: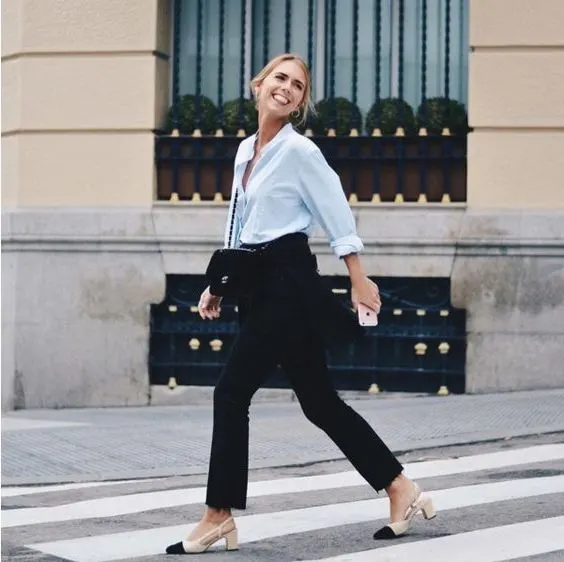 Buy Similar Here
White shirt + skinny jeans in blue and block heel slingbacks, what can be better for a warm summer day: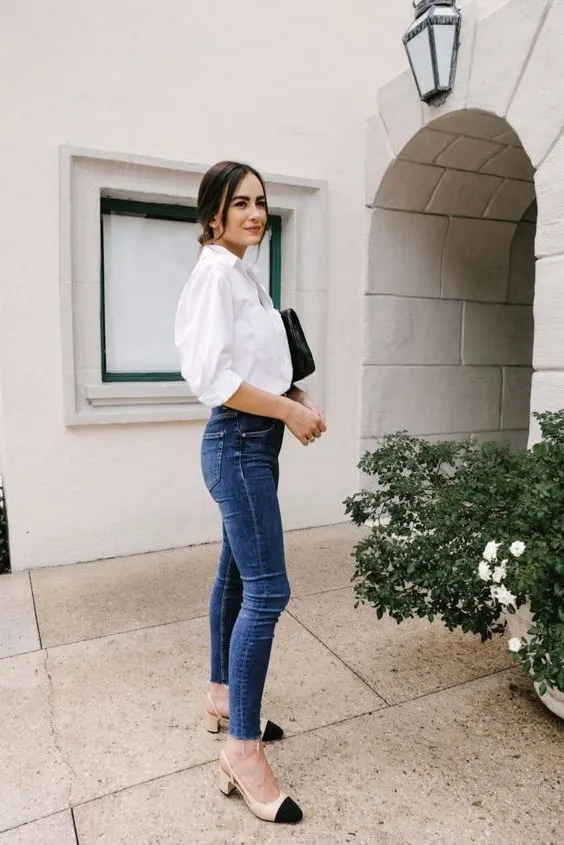 Buy Similar Here
How about going black and white? We see a black leather jacket layered over a white T-shirt teamed with black skinny jeans updated with block heel slingback pumps: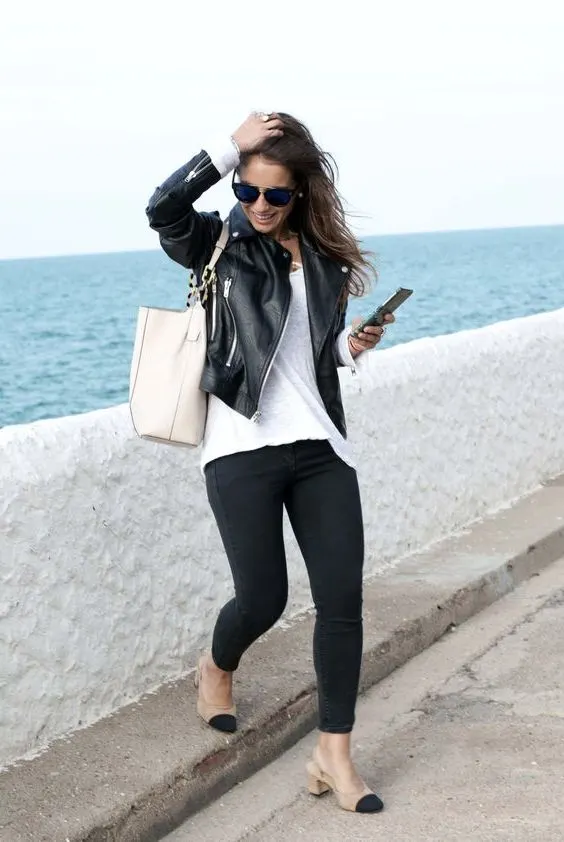 Buy Similar Here
White tee and grey-blue skinny jeans look pretty nice completed with pointed-toe slingback heels and white sunglasses: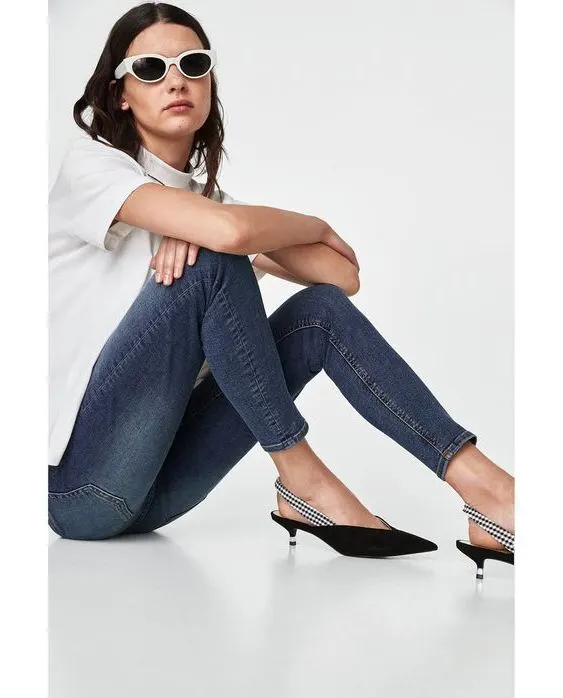 Buy Similar Here
We see a plaid long coat worn with a maroon jumper teamed with slim jeans and glossy pointed-toe heeled pumps in black leather, a cool combination for New York City walks: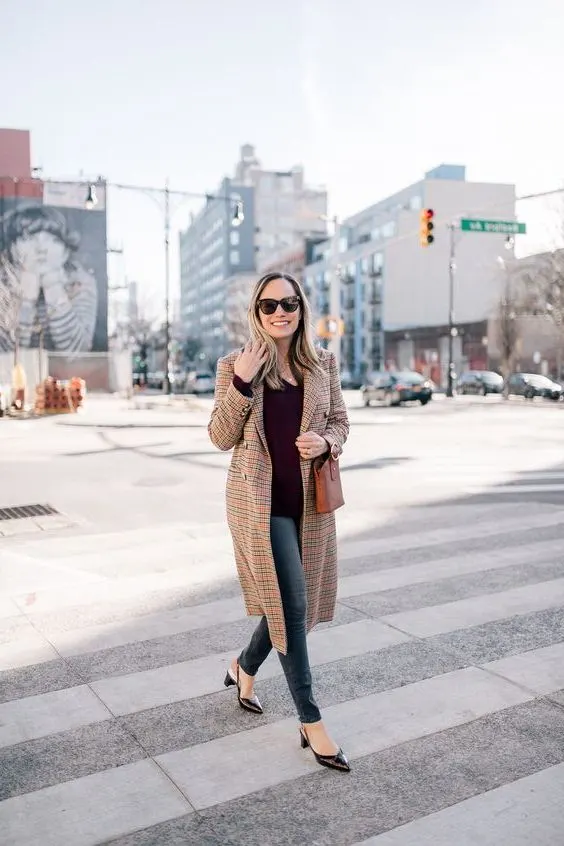 Buy Similar Here
An all white look and black details. We see modern cat-eye sunglasses, bulky bomber in white with straight cropped jeans in white completed with black pointed-toe slingback heels: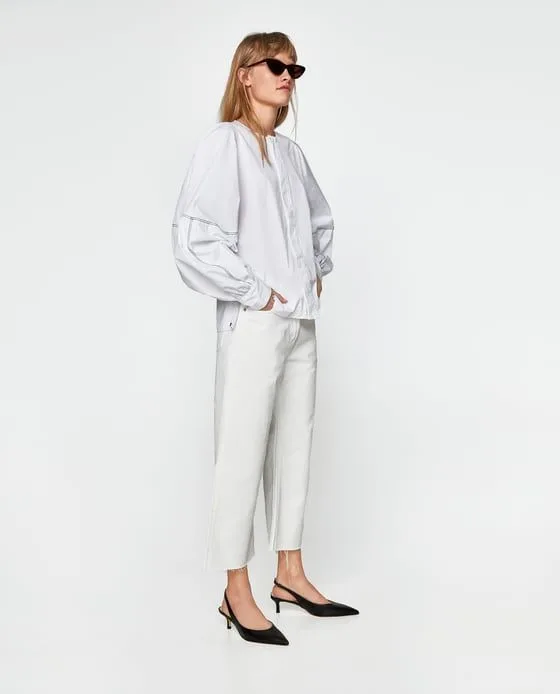 Buy Similar Here
Love that white long blouse worn with slim jeans in wash blue completed with pointed-toe slingback heeled pumps in black: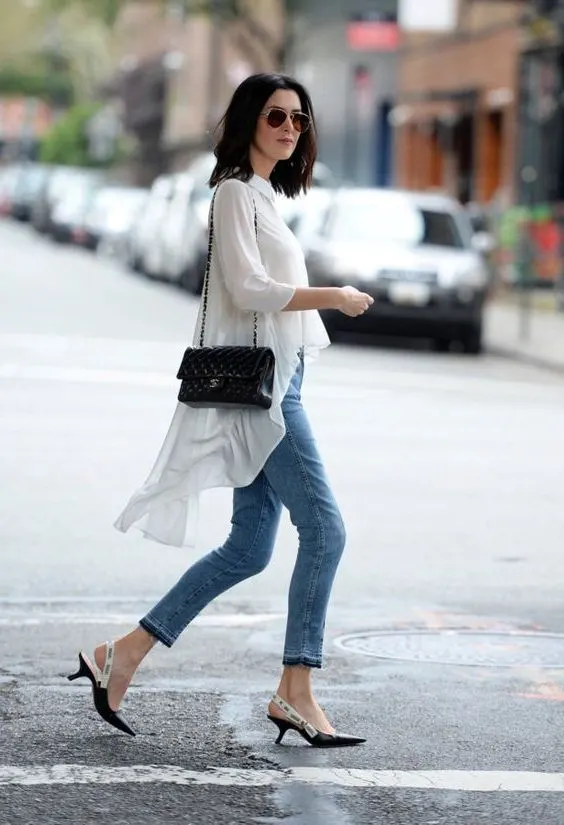 Buy Similar Here
A camel coat looks outstanding layered over a ribbed knit sweater tucked in knee-ripped blue jeans styled with sliongback shoes: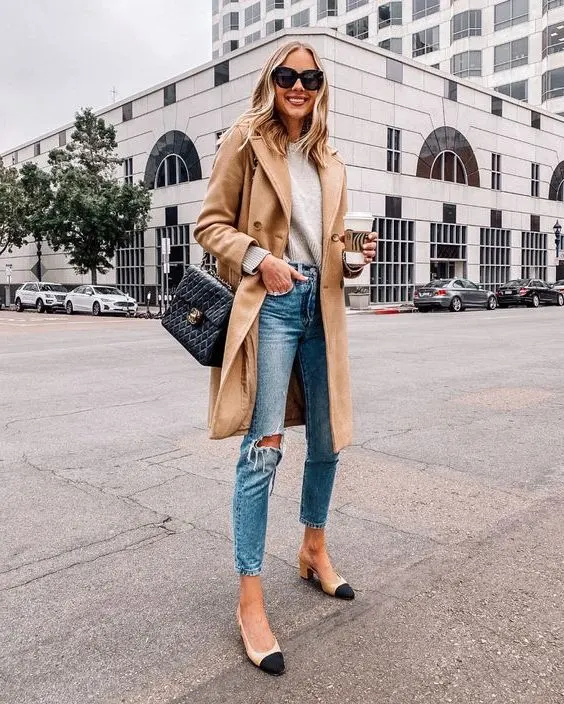 Buy Similar Here
A wool long cardigan in light grey looks gorgeous teamed with a white shirt tucked in ripped blue boyfriend jeans completed with slingbacks: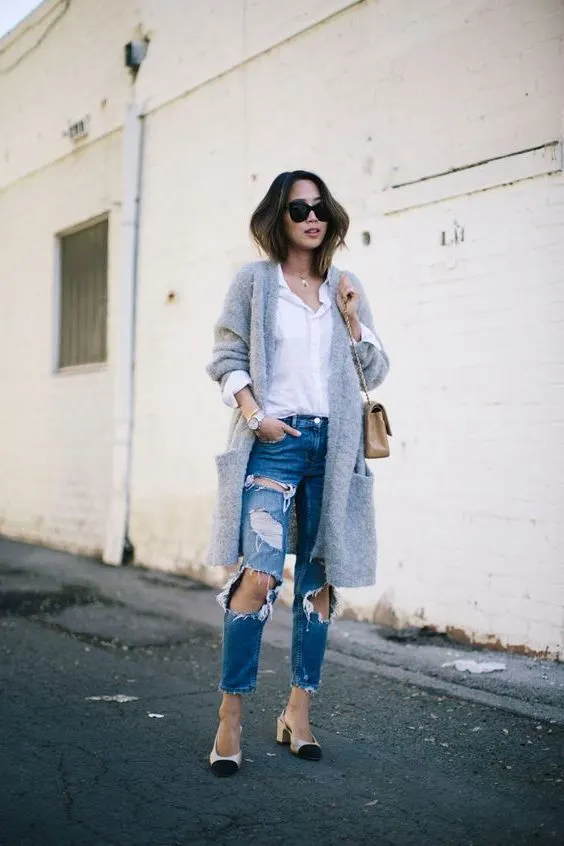 Buy Similar Here
V-neck top with bell sleeves in white ideally suits these dark-grey skinny jeans updated with block-heel slingback pumps, a lovely choice for casual meet with friends: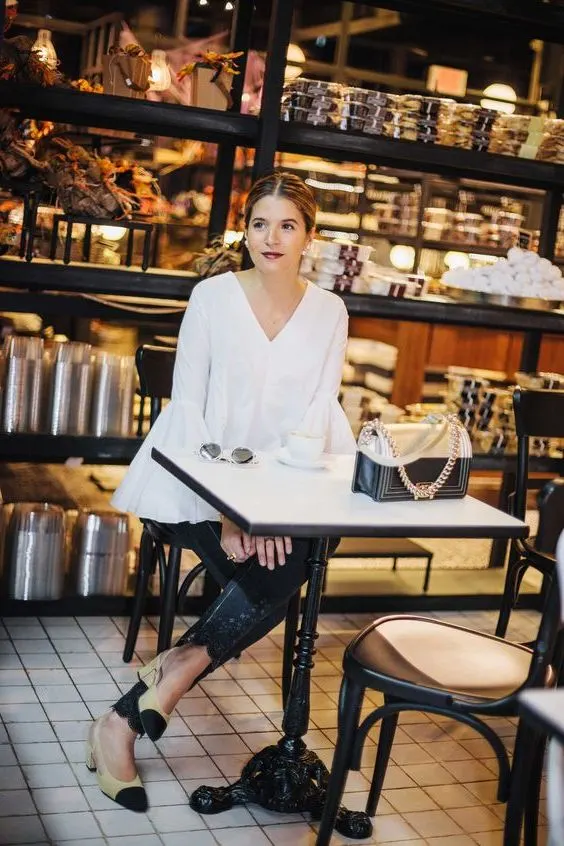 Buy Similar Here