In my first blog post, I want to show you elegant outfits for ladies. You gonna find here easy outfit ideas on how to dress up elegantly and underline your individuality. You will see stylish and classy combinations that can underline your elegance.
Buy Similar Here
We see a perfect all-white outfit idea for ladies. A white collarless blazer is styled with a slim knee-length dress completed with nude heeled pumps.
Elegant Outfits For Ladies
Simple Ways How To Look Classy And Elegant For Ladies. If you are sick and tired of wearing casual outfits, then you better check out this amazing street style collection of stylish and classy outfit ideas that will underline elegance and make you stand out from the crowd at special events.
Tips On How To Dress Classy And Elegant
Below are 5 tips on how to dress classy and elegant for women!
– Wear clothes made of high-quality materials in neutral colors such as black, navy blue, grey or white. A well-made dress shirt or blouse is often all you need for an elegant outfit.
– Always keep in mind that your clothes should complement each other and not clash with another.
– Good quality accessories such as jewelry, scarves and belts all help you look classy.
– Looking classy does not mean you have to spend a fortune on all your clothes. Instead, look around the thrift store and buy new items at reasonable prices.
– Stay away from cap-sleeves and sequins to avoid looking like a Punk rocker or 80's fashion diva. A simple blouse with thin straps and classy jeans will make you look stylish instead of cheap.
Black Blazer With White Roll Neck Sweater And Black Skinny Pants
If you still wondering on how to dress elegant and simple, then check out this outfit idea consisting of a black blazer teamed with a white roll-neck sweater combined with black skinny pants and pointed-toe heeled pumps in black color: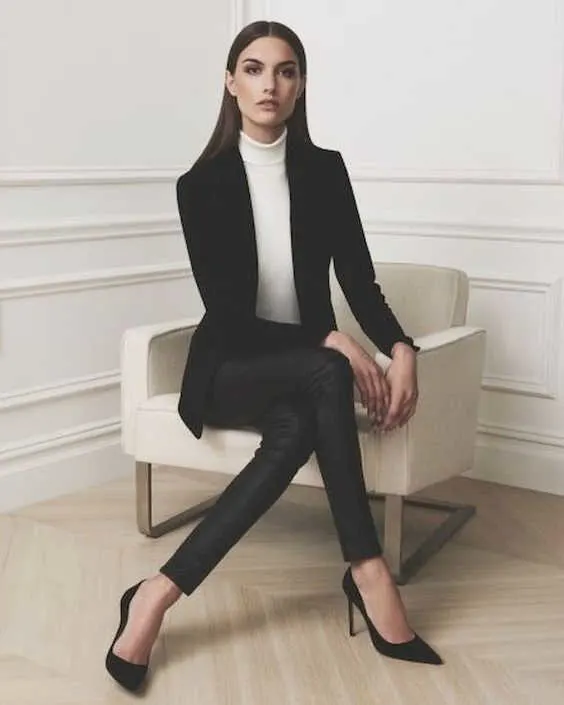 Buy Similar Here
Believe me, these dresses will make you look sophisticated and original. All those ladies who want to achieve an elegant and glamorous look, then you should take a tour through these outfits.
Black Pantsuit And Beige Turtleneck Sweater
A black blazer ideally suits this beige turtleneck tucked in high-waisted black pants. Complete this modern look with cat-eye sunglasses and drop earrings: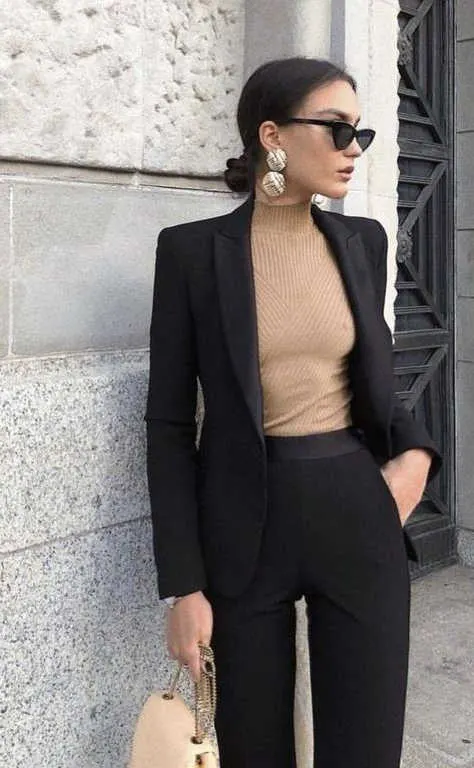 Buy Similar Here
What comes to your mind thinking of a sophisticated lady? I believe a polished woman with a streamlined silhouette and head-turning outfit. She appears in a striking dress that is completed with small and eye-catching accessories that are ideal for wearing on the streets and special occasions.
White Grey Shirt With Black Pinstripe Pants And Gold Shoes
A white-grey pinstripe shirt can be tucked in black pinstripe pants. Complete this office style look with a neckpiece and gold shoes:
Buy Similar Here
For instance, a black dress is a must-have in every woman's closet, right? If you want to make it look polished and classy, then you better style it with amazing heels, fitted blazer and beautiful handbag.
Brown Tee And Black High Rise Gathered Midi Wrap Leather Skirt
Now, if you wondering how to dress casual and elegant, then check out this simple day look consisting of a brown tee tucked in high-waisted black leather midi wrap skirt completed with black pumps: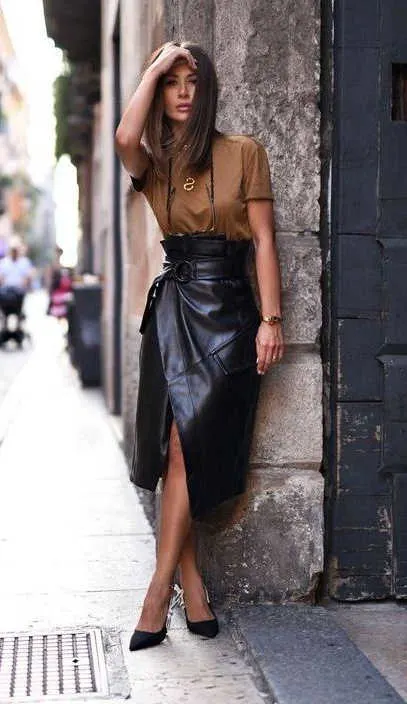 Buy Similar Here
If you are in search of a summer look, then how about wearing a floral print frock that can be completed with bright accessories. Don't forget about black and white garments. Try on this combo for special occasions, like birthday parties and special moments.
Elegant Red Dress For Dinner
Another gorgeous day and night outfit for ladies. We see a bell-sleeve red knee-length dress completed with cream-white heeled pumps: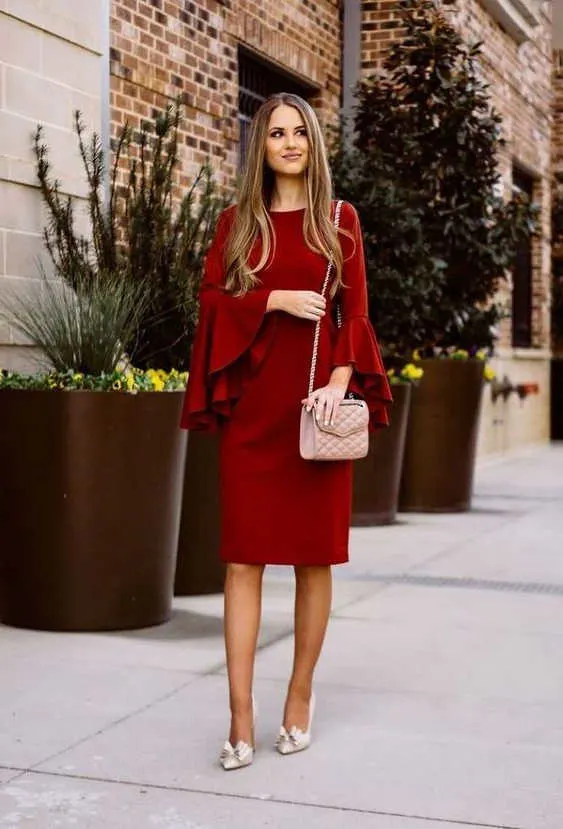 Buy Similar Here
I believe, most of these outfits will make you look elegant and stylish. All in all, read on and find your best outfit combos.
Green Dress And OTK Boots
A silken dark green wrap dress with bell sleeves is updated with black over the knee boots: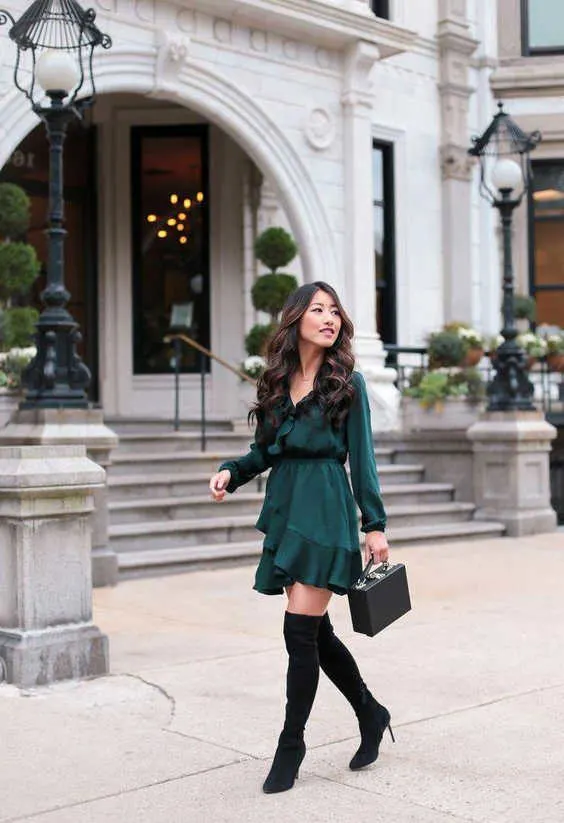 Buy Similar Here
Navy Cashmere Sweater And Cream White Pants
Another way how to dress classy and elegant is to team basic clothes. We see a navy cashmere sweater teamed with light grey slim pants completed with black leather loafers: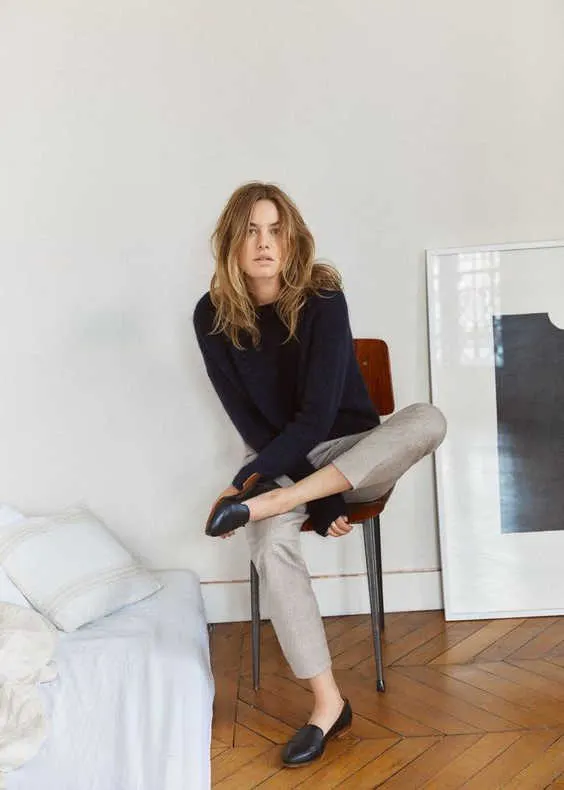 Buy Similar Here
Total Navy Simple Outfit Idea
If you are into navy color, then you definitely gonna fall in love with this navy outfit idea. We see a ribbed knit sweater in dark blue paired with tailored navy wide pants and white sneakers. If you are a big fan of such bottoms, I recommend checking out my post on ways how to wear palazzo pants, there are some great ideas you might give a try someday: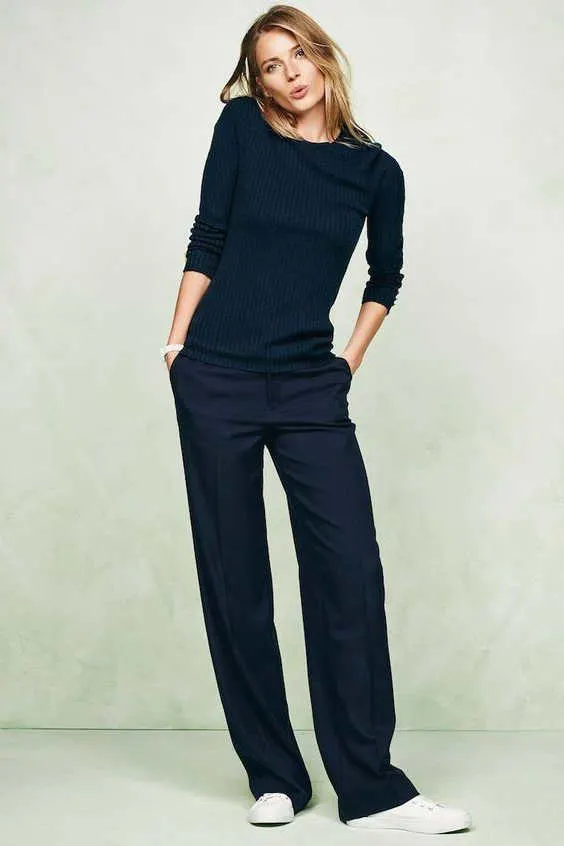 Buy Similar Here
Navy Sweater And Knife-Pleated Knee Skirt
Another navy shades. We see a navy color sweater tucked in knife-pleated midi skirt completed with tall brown leather boots. Classic, yet casual elegance is felt in this combo. Look at this bottom piece, I made a marvelous post on ways how to wear midi skirts, there are great ideas you can asily copy in real life: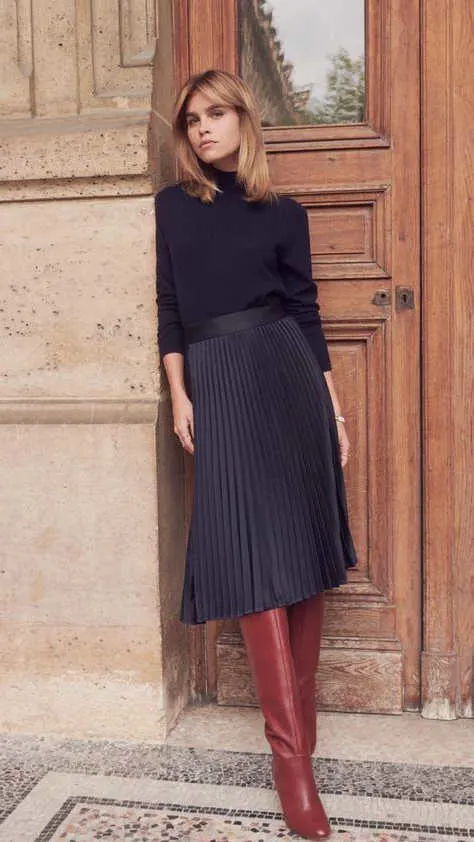 Buy Similar Here
Plaid Pantsuit
If you want to know how to dress for an elegant dinner, then check out this classic slim plaid suit completed with a black turtleneck and lace-up sandal-booties: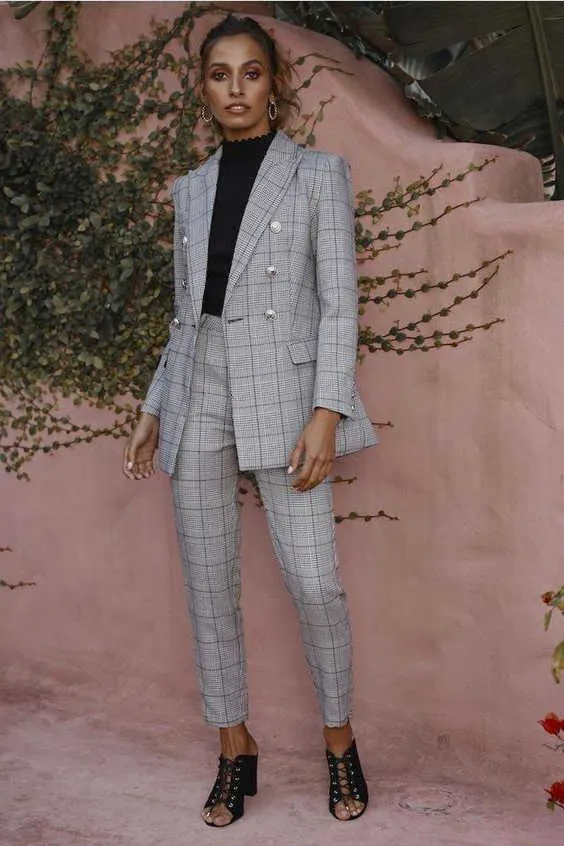 Buy Similar Here
Plaid Skirtsuit And Animal Print Boots
A plaid skirtsuit looks a bit retro-inspired. Style it with a cream-white roll-neck sweater, cute sunglasses, and animal print ankle boots: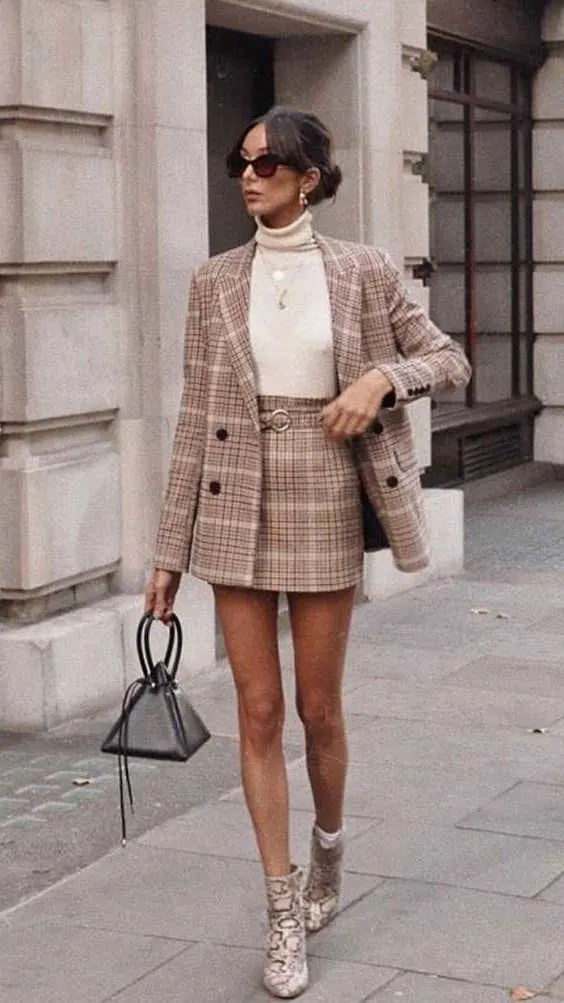 Buy Similar Here
Silk Long Sleeve Top And Black Pants
If you love simplicity, then go for a cream-beige silk long-sleeve top and tuck it inside high-rise black ankle-pants completed with nude pointed-toe heels: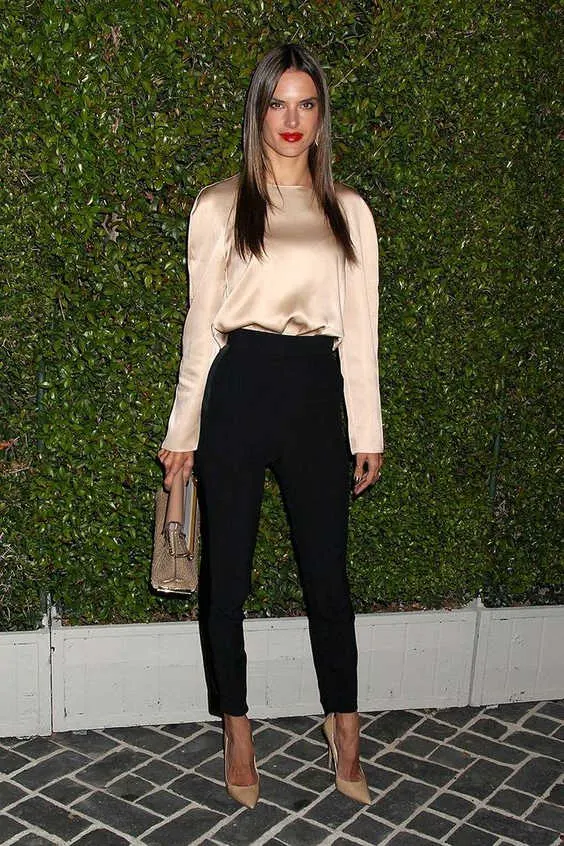 Buy Similar Here
Tweed Skirtsuit In Maroon
A maroon tweed skirtsuit ideally matches the maroon turtleneck and slouchy dark-grey tall boots: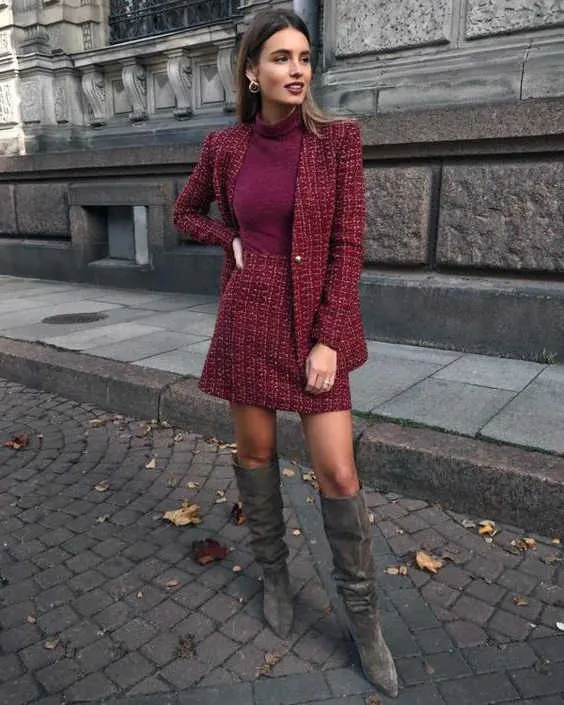 Buy Similar Here
White Blouse And Khaki Grey Skirt
A deep V-neck white blouse is tucked in khaki grey pencil skirt updated with beige heeled sandals. Love the necklace and classic black leather bag: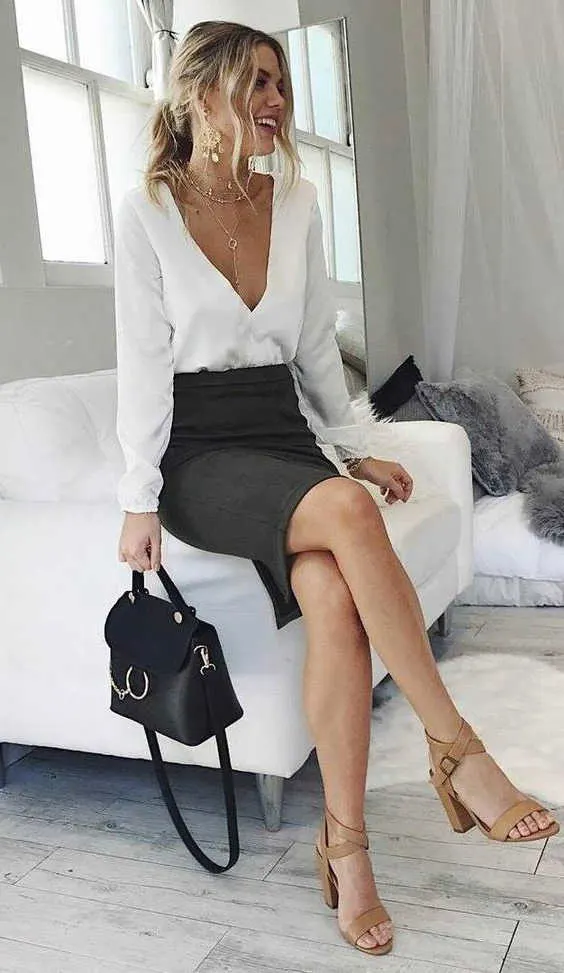 Buy Similar Here
White Blouse And Black Pants
A classy OOTD for work and leisure. We see a white blouse tucked in belted gathered black pants completed with black heeled sandals: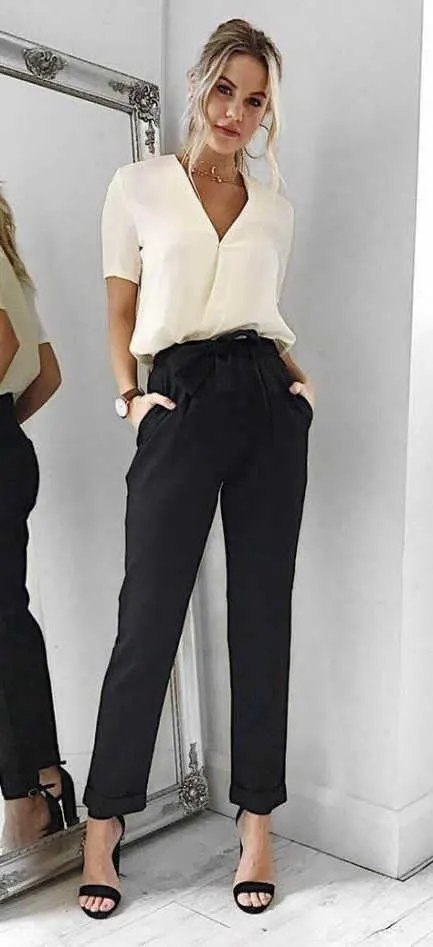 Buy Similar Here
White Coat And White Dress
If you want to know how to dress elegant but simple, then how about wearing a white coat draped over a white mini dress completed with nude platform heels: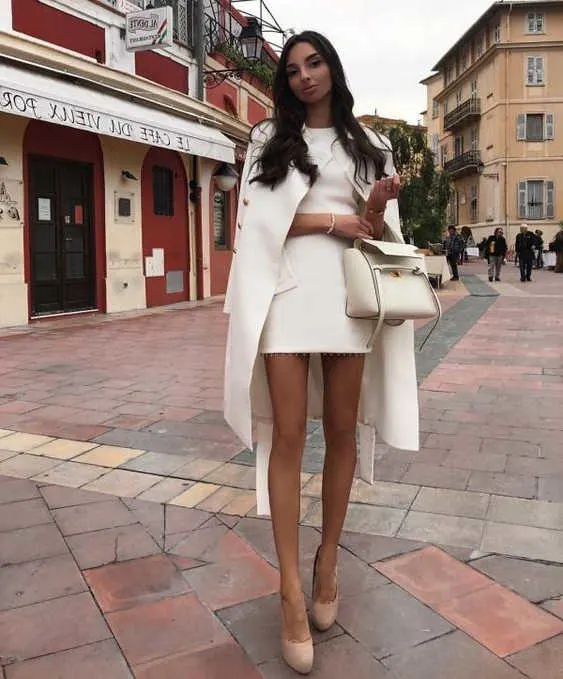 Buy Similar Here
White Silk Blouse And Fuchsia Pencil Skirt
Here we see another cute elegance touch. A white silk V-neck blouse is tucked in fuchsia pencil midi skirt updated with black heeled leather pumps: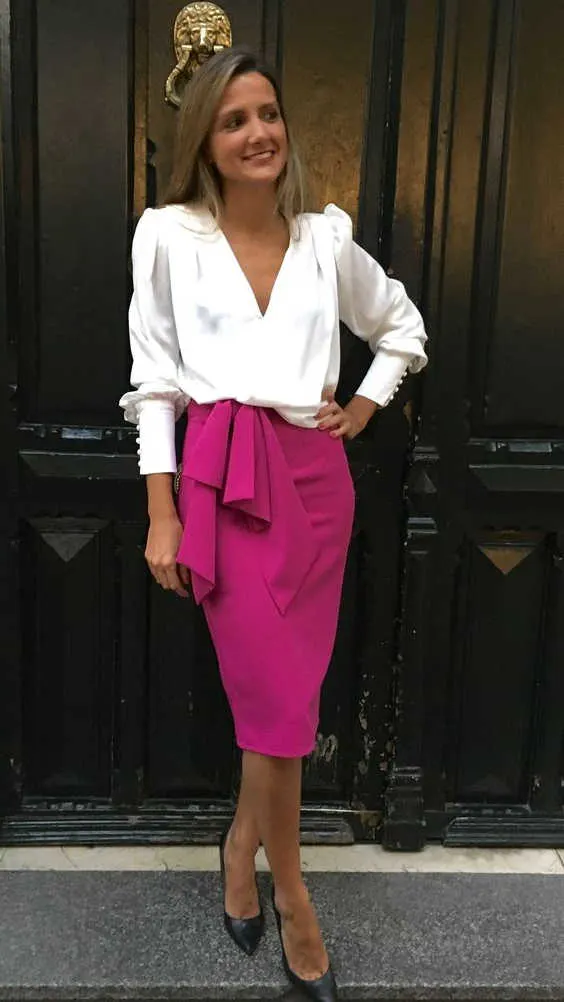 Buy Similar Here
Source: WikiHow, StylishlyMe