In this blog post, I will show you my favorite outfit ideas for those who think of going out on the streets AFTER the Coronavirus decease, IMHO: These are just theories on what to wear, but there is some logic in my outfit advice. Anyway, let's get down to the business and see how should we dress AFTER the COVID-19 pandemic. Yes, I use word AFTER, because it's better to STAY AT HOME when Corona is all around you. So, please, people, stay home and think of how many lives you might save.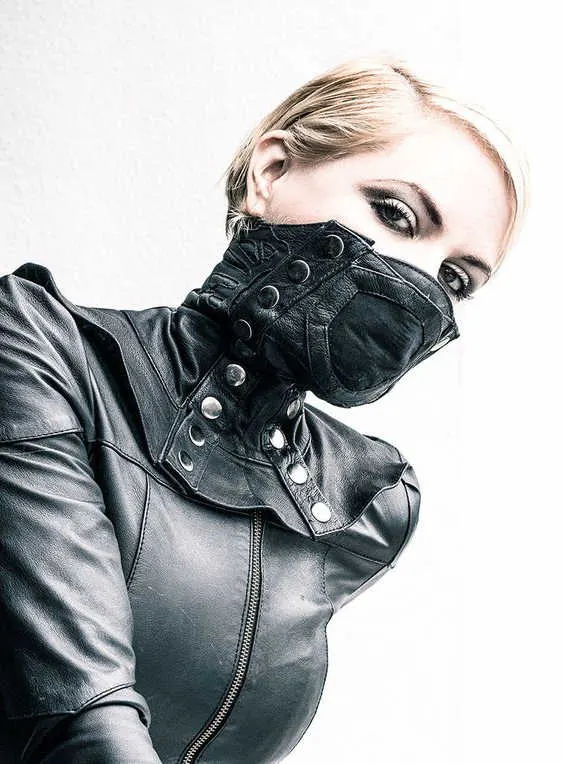 Buy Similar Here
A face mask can lower the risks and prevention of the virus. As the virus is thought to spread mainly from person-to-person, through respiratory droplets produced when an infected person coughs or sneezes. Officially, it is said that persons who are not sick shouldn't wear masks, therefore it can psychologically "protect" you. Plus, we unconsciously touch our faces every minute, that's why such masks can protect our faces from potentially dirty hands. The following leather mask is an ideal example of what style you might try out during this pandemic.
I suggest you find out more information about COVID-19 and its symptoms, please take this decease serious and check out World Health Organization official page, there you will find all the necessary information.
Today's story is dedicated to already a well-known virus called Coronavirus (COVID-19). All industries have been shaken recently, most cities are on quarantine and people should rethink the way they behave in public and how they dress.
Every theory has a place for living, that's why I just want to make it clear and say that I am not a doctor and these are just my personal thoughts and observations that might be logical. Anyway, stay with me and see what I think about ways how to dress during this pandemic.
Should You Wear Gloves During COVID-19
The next thing is wearing gloves. Sure, the centers for disease control and prevention do not say anything about wearing the gloves either, but I have my own theory about it. Wearing gloves protects your hands from spreading the virus, just make sure you are not touching your face with these gloves, right? The best gloves to use are the ones made of leather.
We see a nice outfit idea for those who are thinking of going out during the spread of COVID-19. A dark blue coat is styled with a grey sweater, black skinny pants and a heavy scarf in grey wool. The outfit is completed with aviator sunglasses (that also somehow protect us from the virus) and black leather gloves: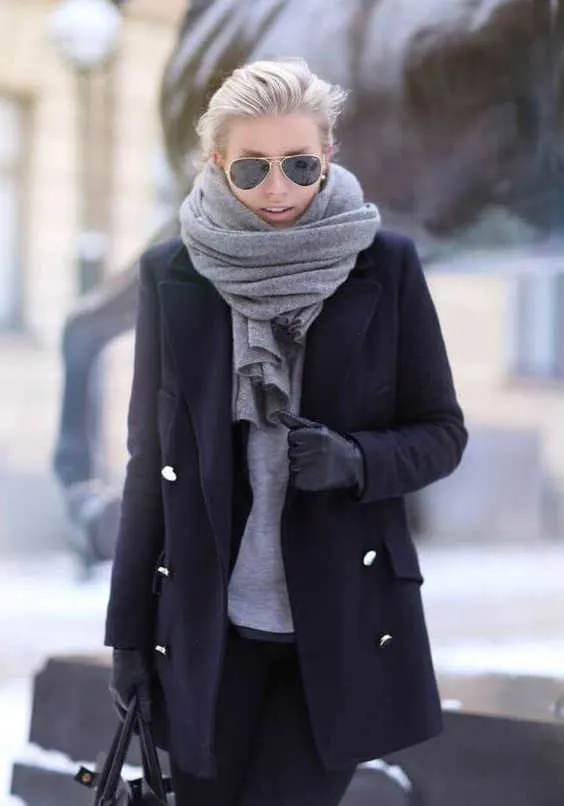 Buy Similar Here
A pair of black leather gloves ideally match this red shirtdress completed with black tights, OTK boots in black suede completed with oversized sunglasses: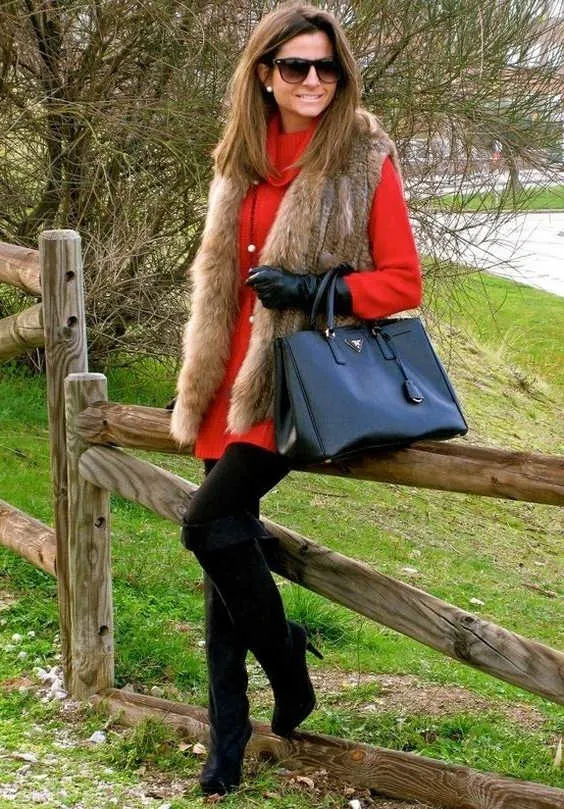 Buy Similar Here
Should I Wear Hats During COVID-19
Another great accessory that can help protect yourself from the coronavirus is the headwear (IMHO). Why? Okay, let's assume you are in the streets without a hat and you are trying to avoid any contact with people, but what if someone coughs or sneezes at you from behind? The bacterias will eventually settle down on your hair. How to protect it? by wearing a hat or a hoodie, I personally go for a hoodie that will minimize contact with bacterias. But the hat helps you with another thing. If you have long hair, then it may contact with your face, that's why wearing a hat you can pull the hair back. But once again, this is only my personal theory, I am not saying that I am right.
Here we see a young lady wearing a boy hat in navy color styled with aviator sunglasses and a black blouse: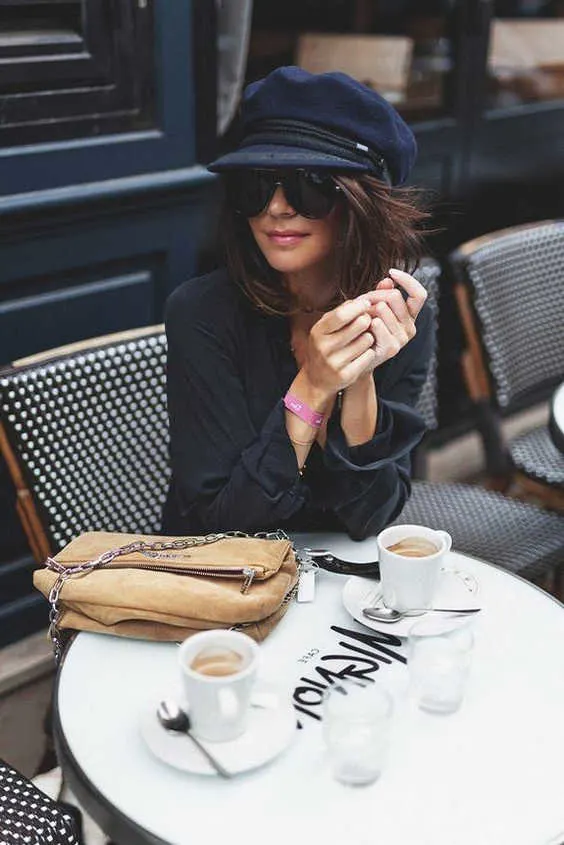 Buy Similar Here
A white beret hat is worn with a cream-beige coat and cable-knit white sweater teamed with white skinny jeans, just make sure to pull the hair back, here is shown a wrong way of wearing the hat during the pandemic: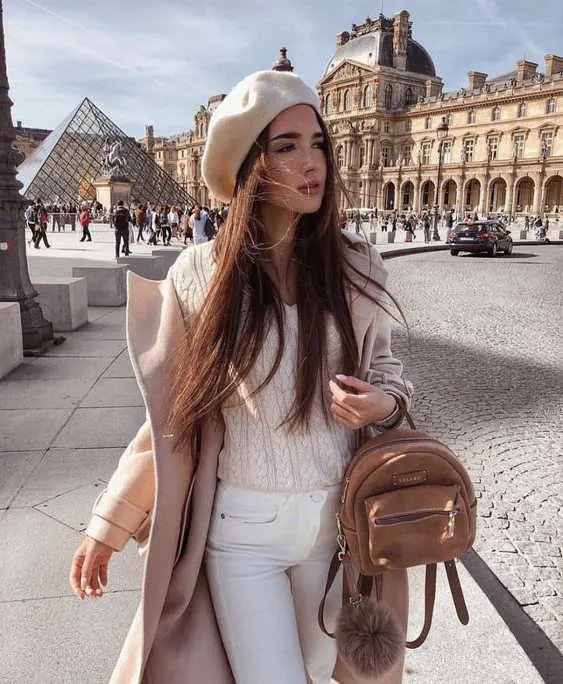 Buy Similar Here
A nice example of wearing a black boy hat styled with rounded eyeglasses, red-white striped long sleeve top and ripped blue jeans completed with white high top trainers. I am a big fan of stripes, that's why I do recommend checking out my post on how to wear stripes this year: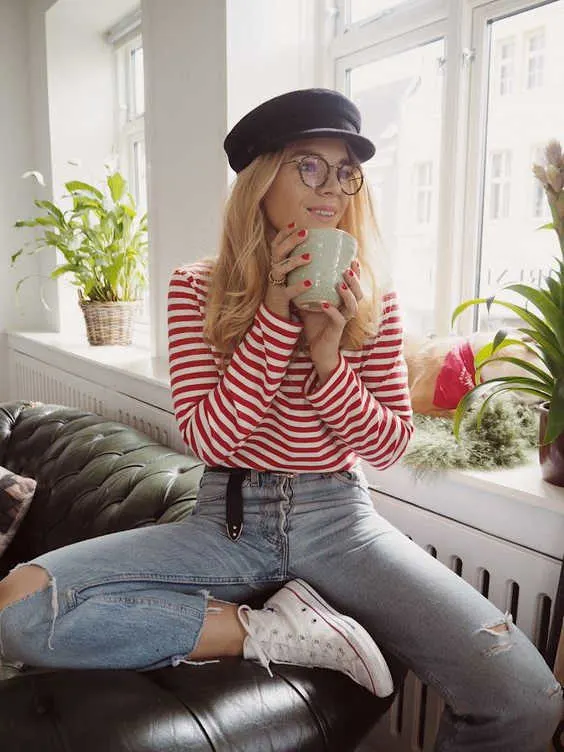 Buy Similar Here
Will Hoodie Save Me From Coronavirus?
Read the paragraph about the hats, as I mentioned there about hoodies. Hoodie might be nice protection during this disease. Here we see a grey hoodie styled with a black leather blazer, black skinny jeans, and peep-toe black ankle boots: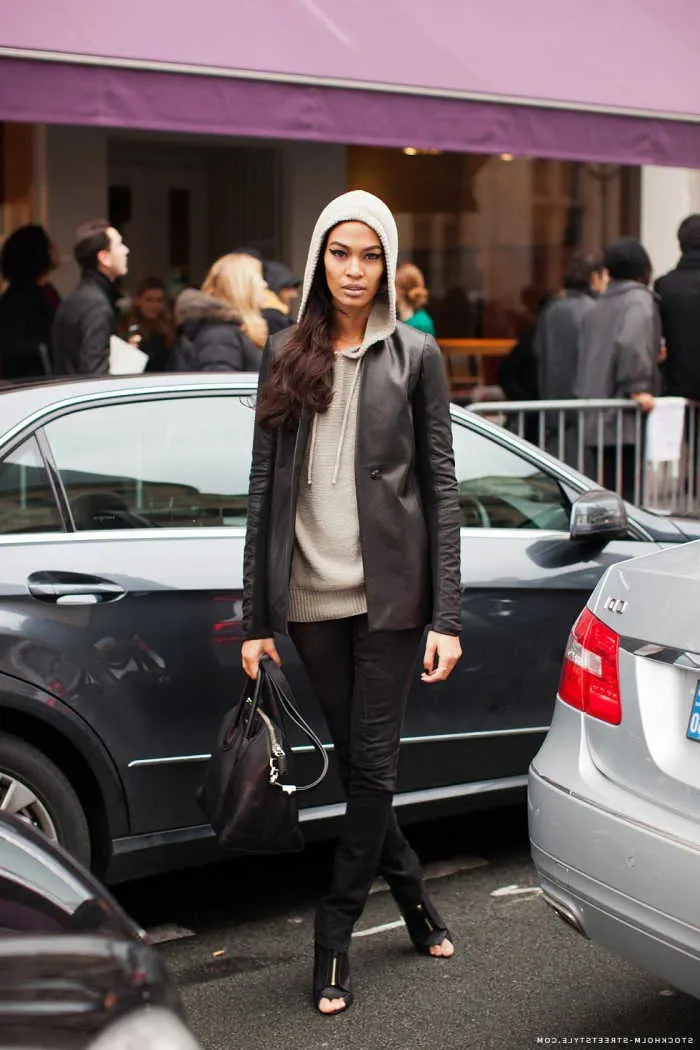 Buy Similar Here
Will Layering Protect Me From COVID-19?
This is another theory, but it has a place for a living. Yes, layering can help you to protect yourself. How? Use an additional layer as a shield which can be immediately thrown in a washing machine.
Here we see a layered outfit idea consisting of a grey cardigan layered over a flowy midi dress styled with a turtleneck layered under the dress. Complete the look by adding a belt tied around the cardigan and dark maroon leather OTK boots: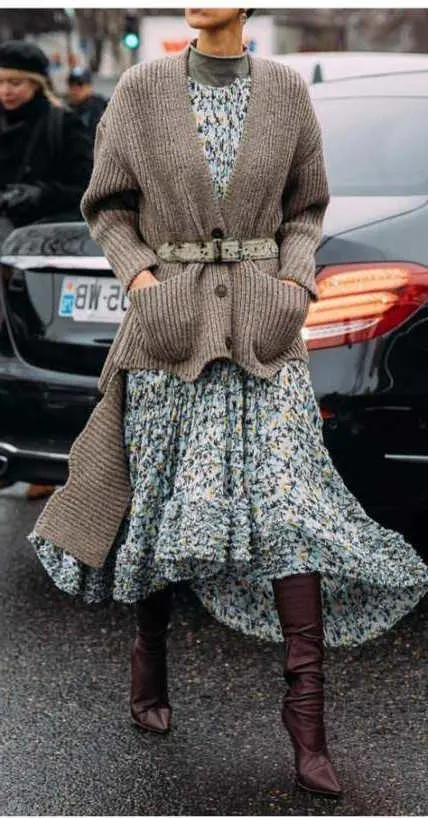 Buy Similar Here
We see a camel oversized coat layered over a cream-brown sweater teamed with leopard print midi skirt and black leather slouchy boots: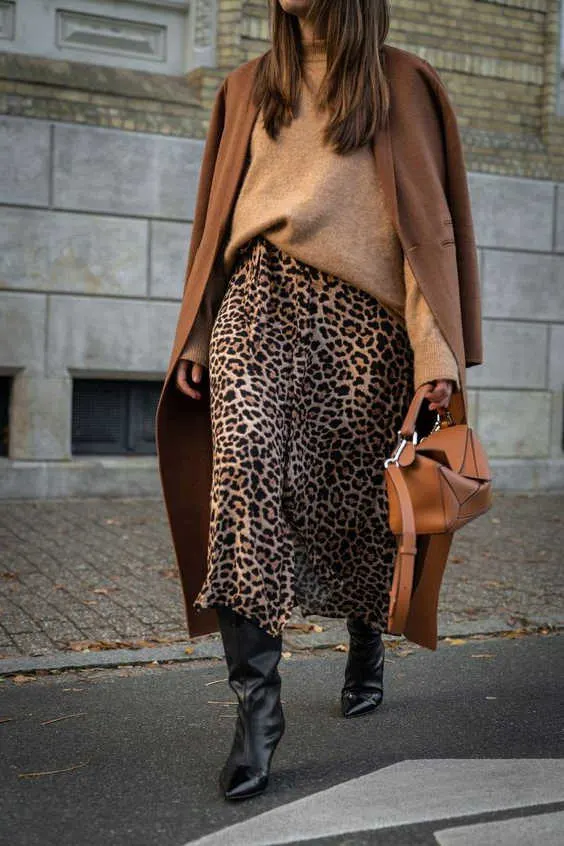 Buy Similar Here
Will Sunglasses Protect Me From Coronavirus?
The last, but not least theory is about sunglasses. They also might protect you. How? Use them to protect your eyes from touching them with your hands or if someone sneezes at you. Go for oversized sunglasses, they will protect more area of your face.
We see aviator sunglasses worn by a blonde lady. Who completed her look with a pinstripe shirt: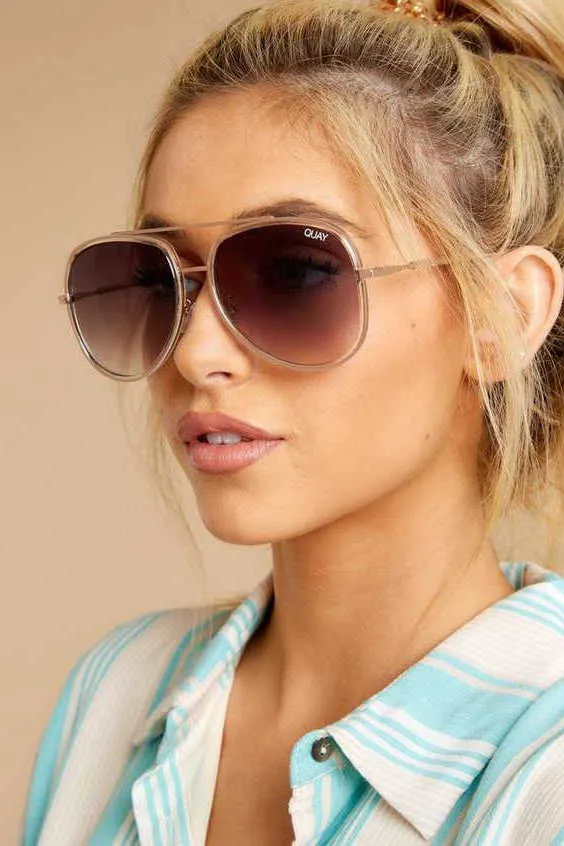 Buy Similar Here
Geometric shaped black oversized sunglasses look amazing and ladylike. Love these shades: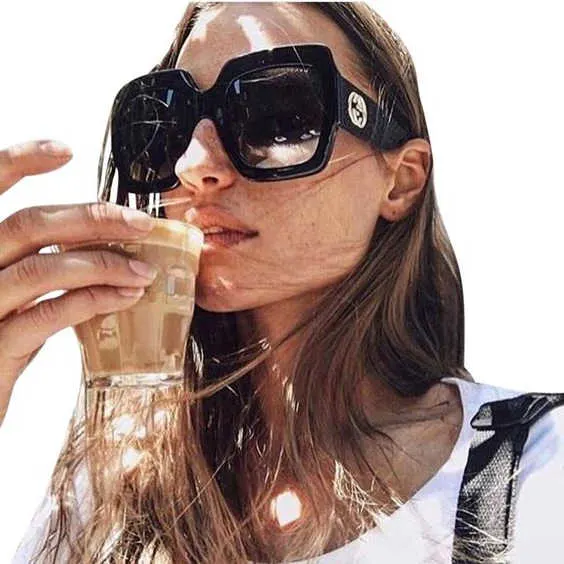 Buy Similar Here
Another pair of oversized black sunglasses that are perfect for summer and protecting your eyes: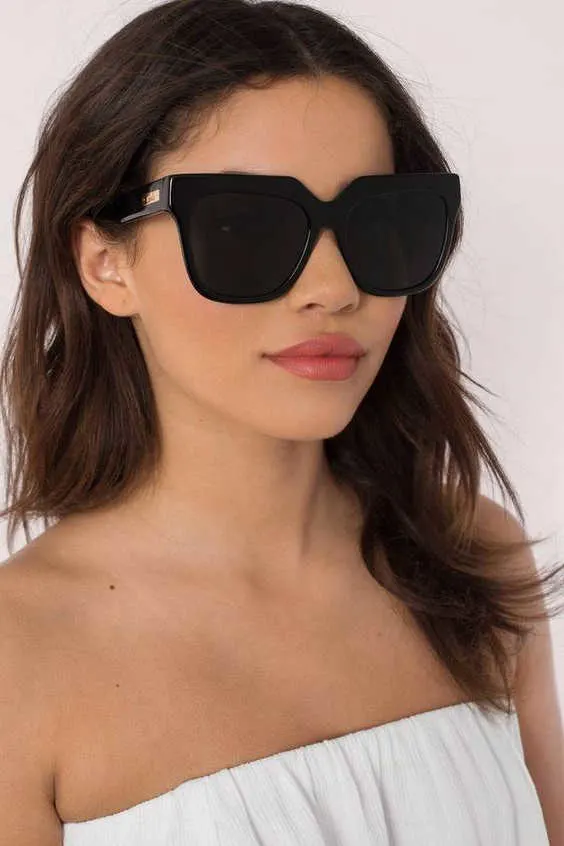 Buy Similar Here
Flat brow sunglasses in oversized frame look stunning and easy to style: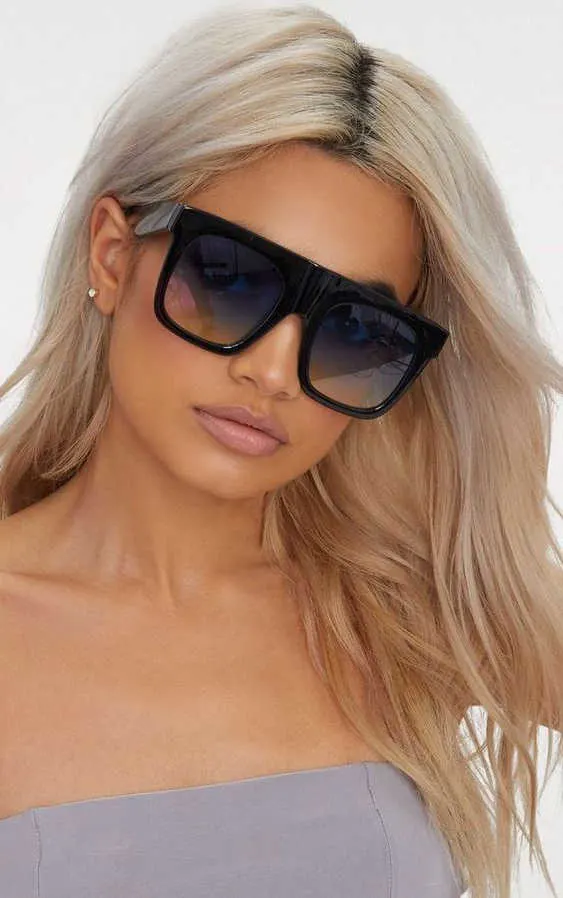 Buy Similar Here