Today's article is dedicated to the best ways how to wear hoodies for women this Spring. I am about to share with you my favorite and the most stylish combinations for this spring. Looks like we are back in the 90s and it feels like we can wear them anywhere we want.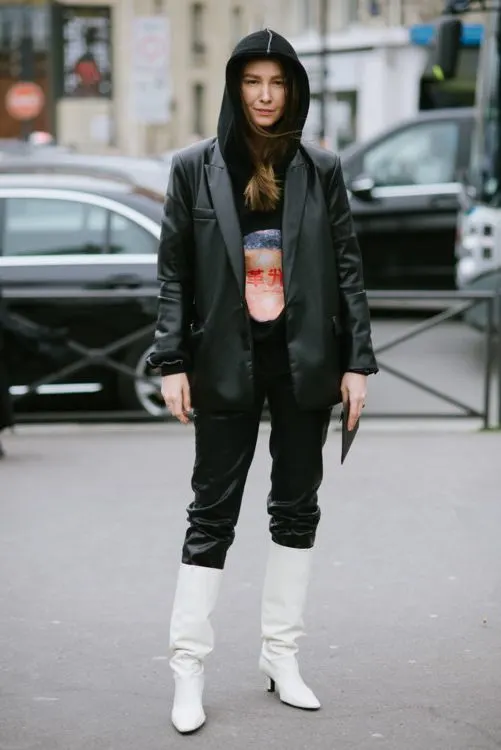 Buy Similar Here
We see a total black outfit consisting of a black hoodie styled with a black leather blazer, black leather pants tucked in white slouchy boots.
We will go through the top ways how to style your hoodie while getting ready for spring. You are probably used to wear your hoodies as a layering piece, but now with the warmer days coming it's time to style them in a way that fits the season.
UPDATE
Fashion Rules Wearing Hoodies This Spring
-The obvious way is wearing your hoodie open over a dress or sweater – You can also download this guide on how to put together fashionable spring outfits in 3 steps, and I promise you will find several ways of wearing your sweatshirt.
-There is no need to wear your hoodie with jeans if we are talking about getting ready for spring or summer outfits because skinny pants and jeggings can do the job as well, or even skirts if you know how to make things look right.
-If styles do not suit you, try mixing and matching items. Add a hoodie over a dress for instance.
-Take your time to find the right fit: You can't mess up when it comes to your body measurements, but finding a good sweatshirt that fits well is probably the most important part of wearing it as an outfit with style.
-When choosing your hoodie, pick one that is not too loose or tight to look out of place on you (the same goes for jeans).
-This is an especially important issue if you have a thinner body and want to show off the shape of your upper body. Don't do anything with layering that does not fit well in terms of proportion.
-It is worth paying attention to the type of sweatshirt you choose: You may want to invest in a knit, because sweatshirts with a lighter lining are much more comfortable than those with a heavier material.
-Another important aspect is the length of the hoodie: The longer the better to show off your silhouette.
-Avoid wearing too loose hoodies, they may look strange on you.
-You will need to find a way to lengthen your already long torso, so when you layer, it does not matter so much whether you know how to wear sweatshirts properly or not; as long as you know how to combine pieces well, no one will notice that it's your first time wearing a hoodie.
-A loose hoodie offers the possibility to add long trousers, or even skirts and shirts for many occasions (try for instance to look different from your friends with the same outfit by wearing shorter pants).
-Wearing a hoodie as outerwear is possible, but make sure that it fits you well. You can not just throw one on over anything and expect it to look fine.
-If you are looking for a more practical way of wearing your hoodie with style, try combining it with jeans or pants.
A cozy hoodie is now a basic piece that should be in every fashionista's closet. A sudden quarantine regime when you go out only to a store, pharmacy, or to a nearby park for a walk with a dog has made us wearing hoodies. This is a favorite choice for most women, because of its comfort and practicality.
Best Ideas How To Wear Hoodies
However, buying a new hoodie is not only an opportunity to look trendy during this time, but it feels like we are having a new trend going on when the hoodie is styled with pretty much everything. That's why you don't need to say goodbye to your hoodie even when the quarantine regime is over.
I love to see ladies wearing hoodies as a part of a multi-layered outfit. Love seeing women combining soft fabric hoodies with leather bottoms, like skirts or pants. If you are not into all this trendy stuff, you can always style hoodie with classic raincoats, elegant heels, blazers, etc. Anyway, let's get down to the business and see what combos are trending right now.
Hoodies With Jackets
Surprisingly, hoodies look damn hot with business dress code staples. For example, you can easily replace a blouse or any other top with a hoodie and layer it under a suit jacket. Choosing this combination might look creative, but the result is perfect. Just make sure to buy an oversized blazer, so that the hoodie looks harmoniously under it.
A black hoodie is combined with a khaki green velour blazer and white pants. Complete the look by adding modern Wayfarer sunglasses: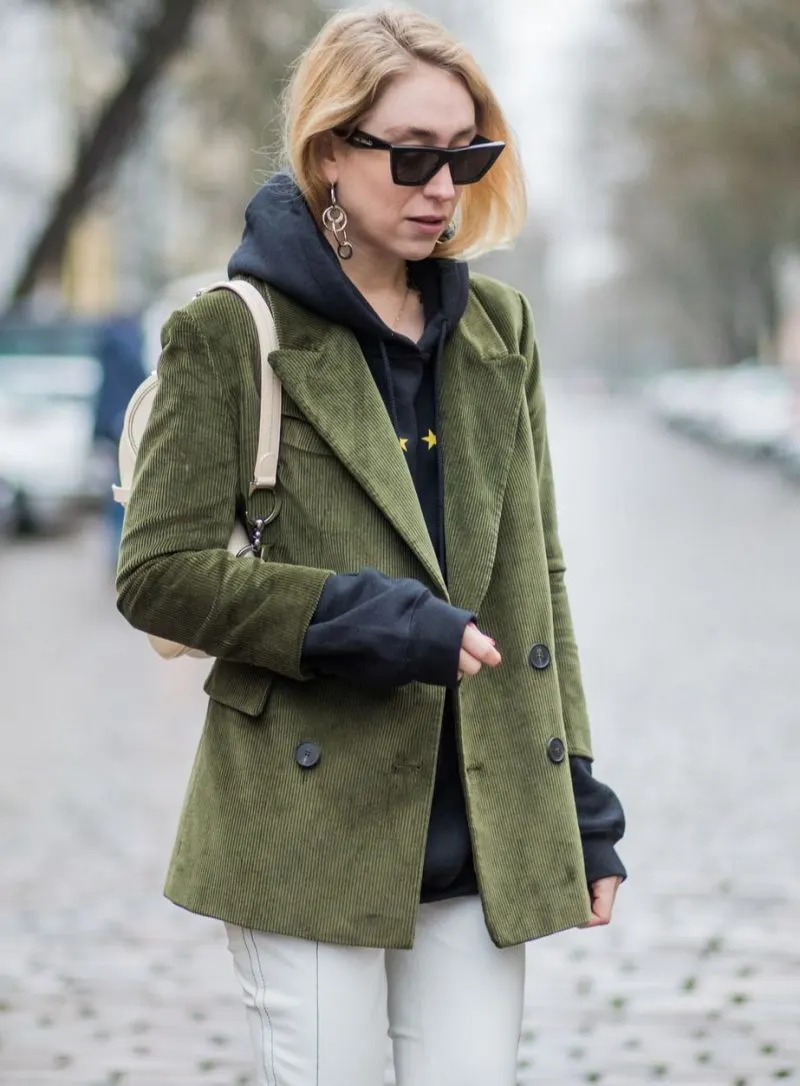 Buy Similar Here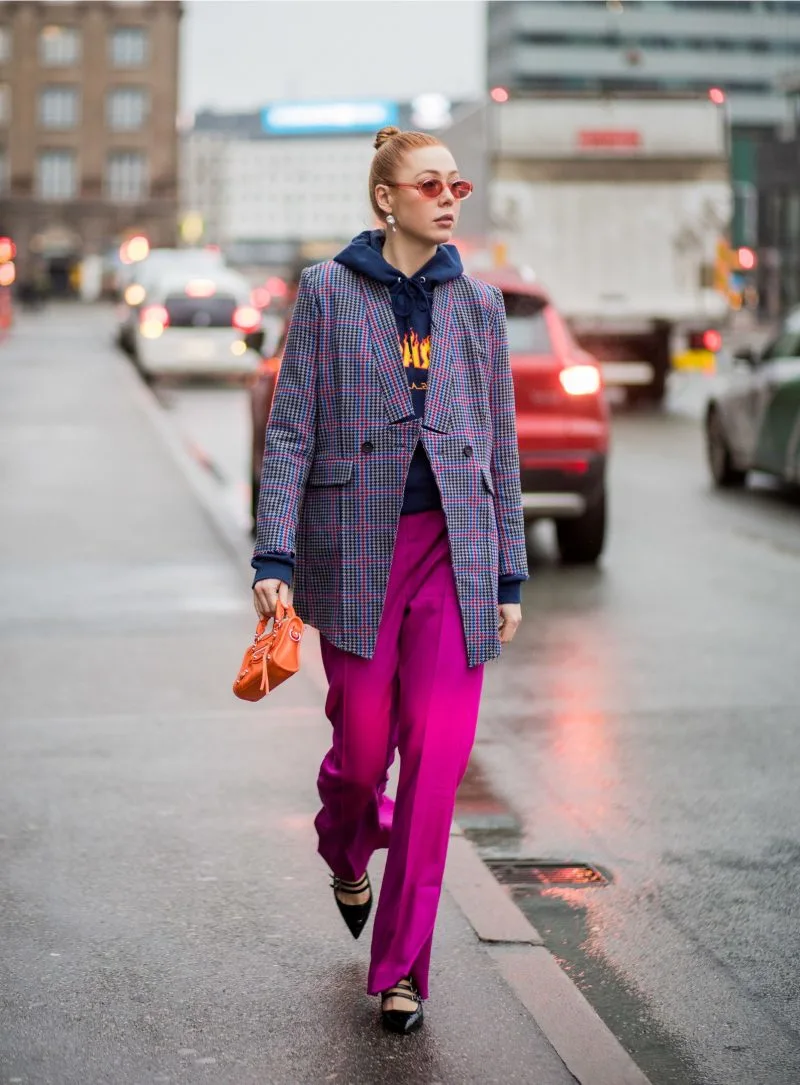 Buy Similar Here
Hoodies Worn As Dresses With OTK Boots
This might be my favorite combination. When I see hoodies worn as dresses, they remind me of balloon dresses. You can upgrade them with fashionable accessories – corset belts. Anyway, complete them with OTK boots. The result gonna look stunning and original: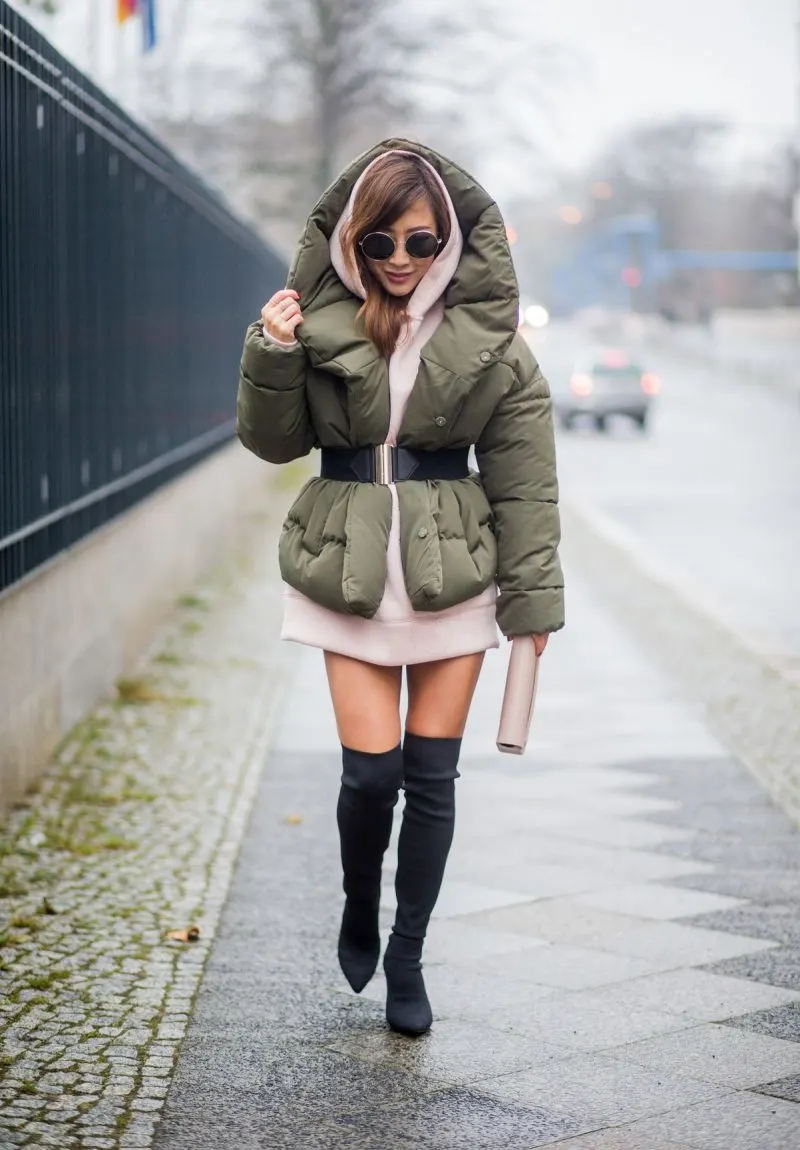 Buy Similar Here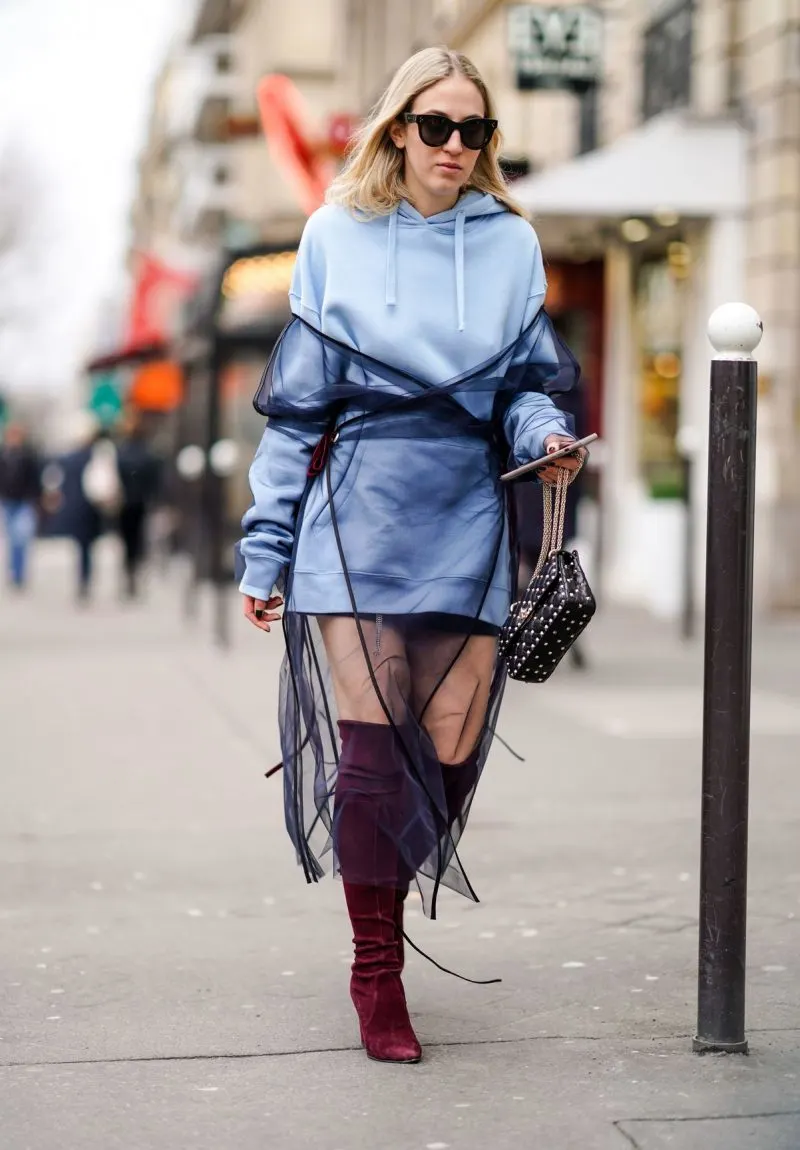 Buy Similar Here
Hoodie With Jeans
This combo does not need any explanation, the hoodie looks spectacular with any type of jeans: starting from cropped to wide jeans, from flared to boyfriends. Complete this combo by adding high-heeled shoes, sneakers, or edgy boots. If you are into knitwear, then check out my post on ways how to wear long cardigans, I've got some inspiring ideas to share with you: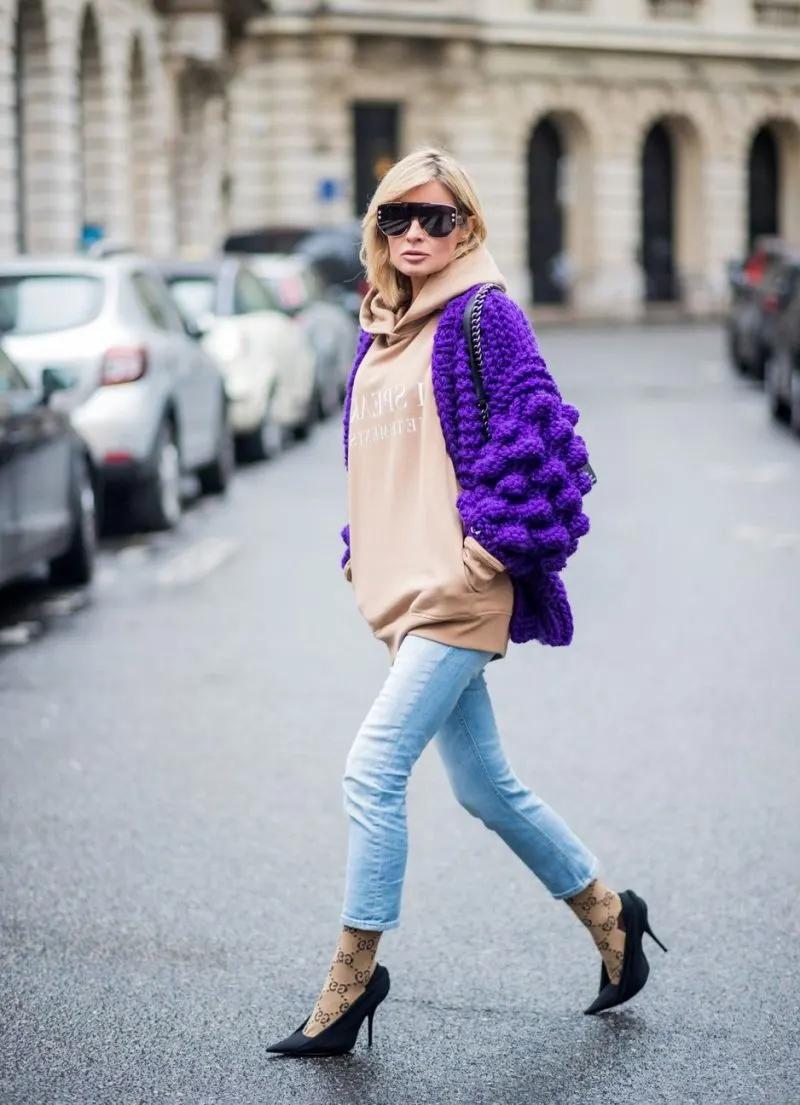 Buy Similar Here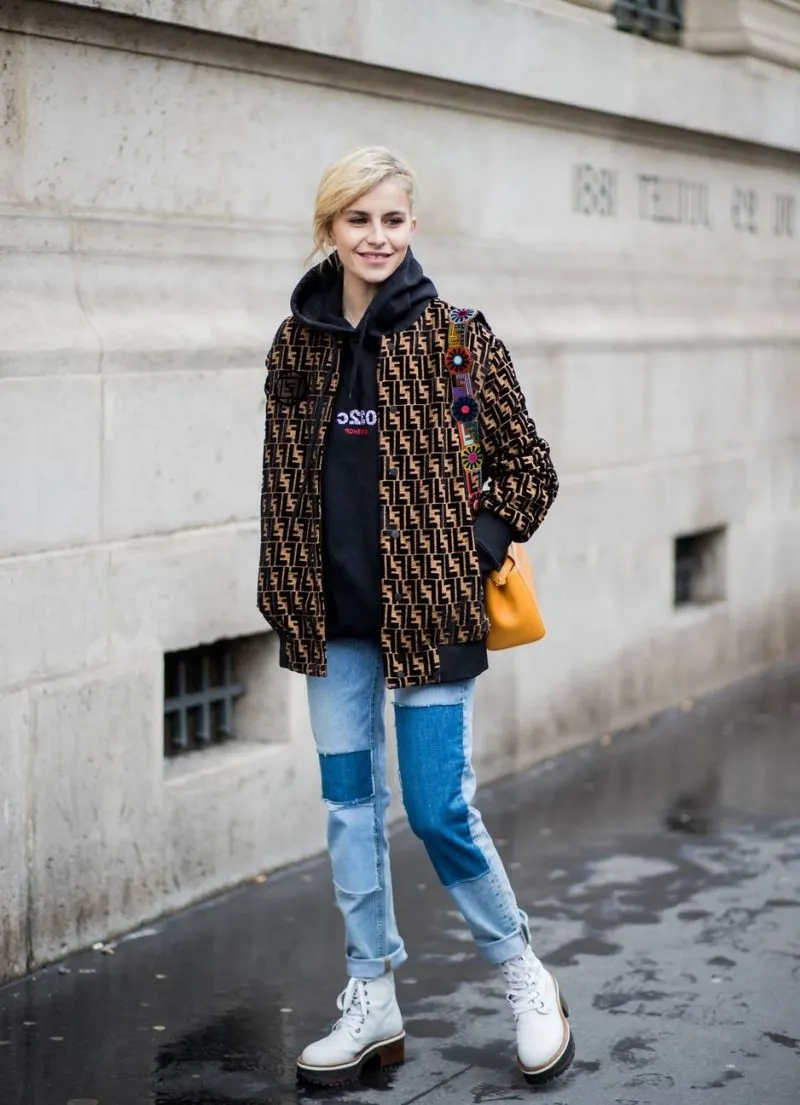 Buy Similar Here
Hoodies With Midi Skirts
Midis are my favorites. I remember when in 1990s girls appeared on the streets wearing hoodies with mini skirts, but today everything has changed. You are free to combine hoodies with any type of midi skirt, starting from pencil-cut to pleated and denim midis. Just make sure to play with your waistline, so your silhouette remains feminine. I definitely recommend checking out ways how to wear grey hoodies this spring.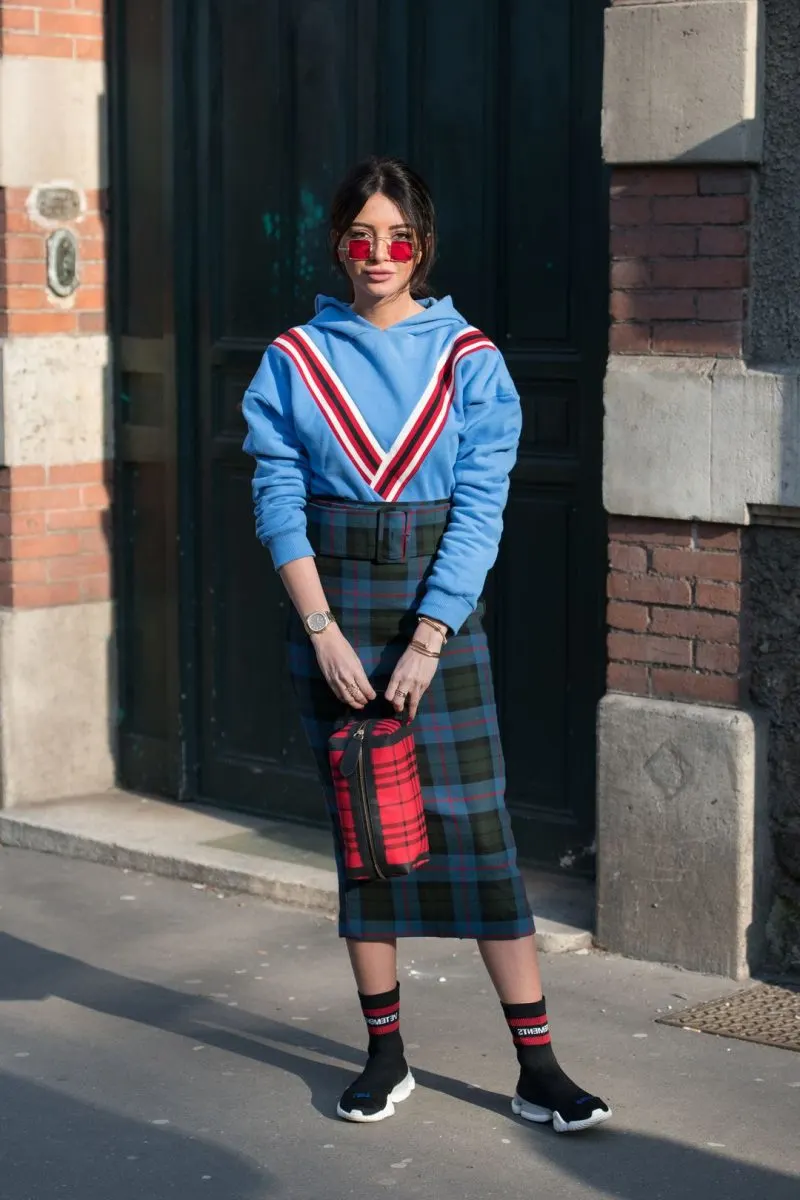 Buy Similar Here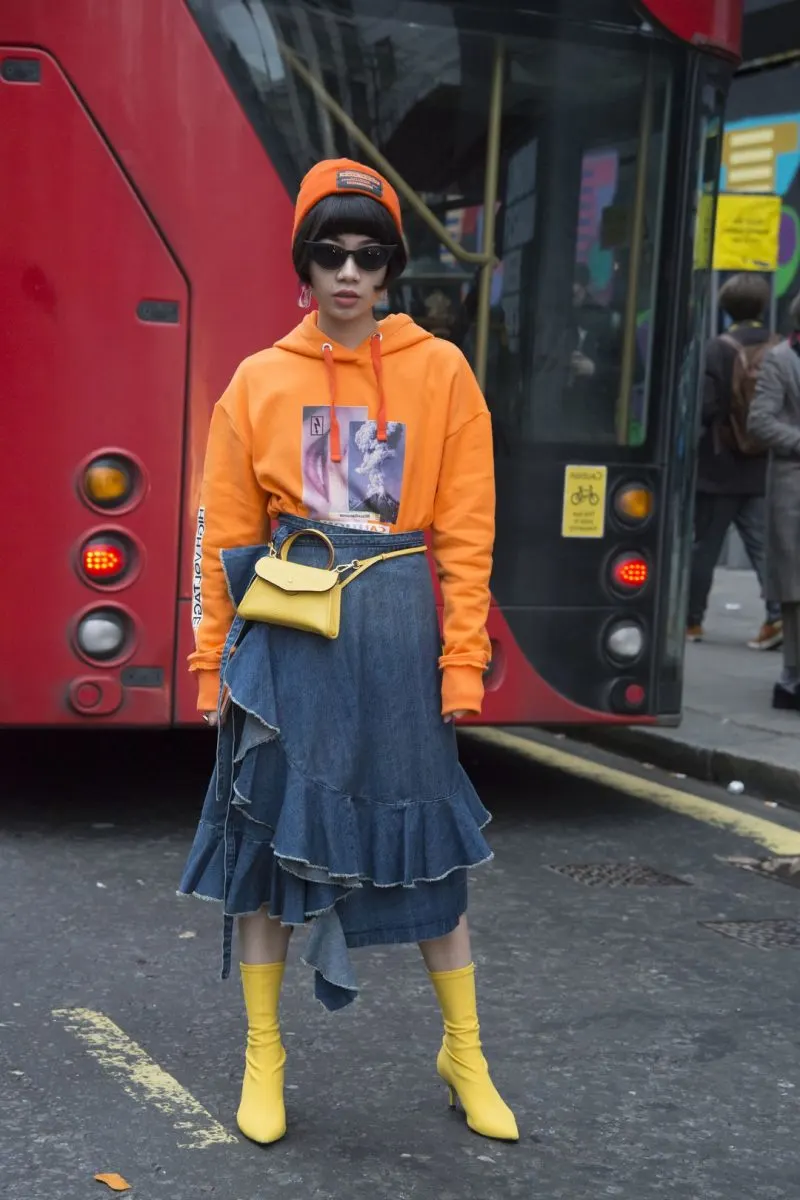 Buy Similar Here
Hoodie With Track Pants
Now, this combo is pretty interesting. Forget about the athleisure style and tracksuits. Today's fashion recommends us to keep things festive and complete these combos wth classic bags and pumps.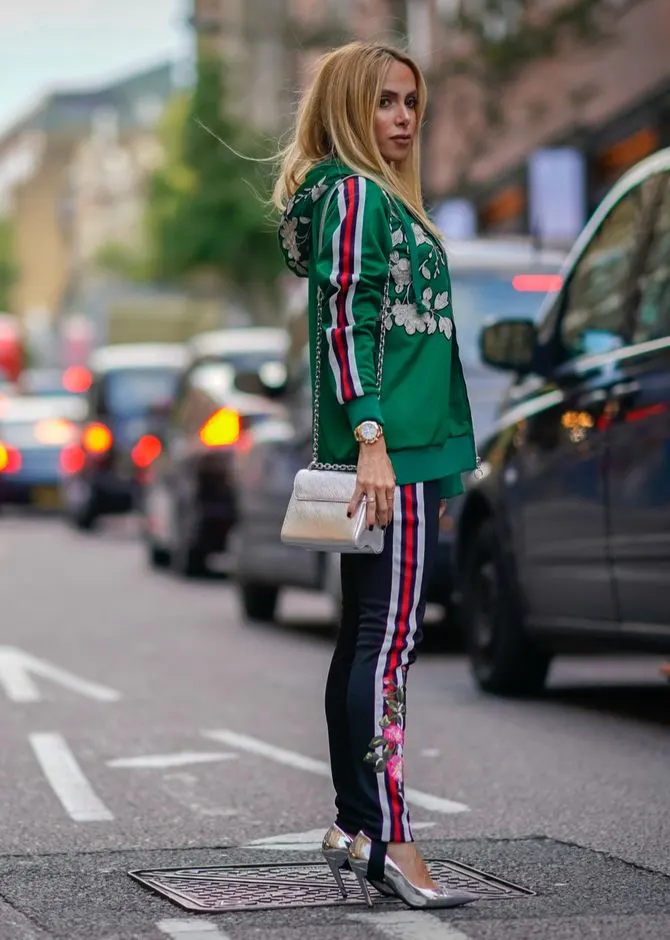 Buy Similar Here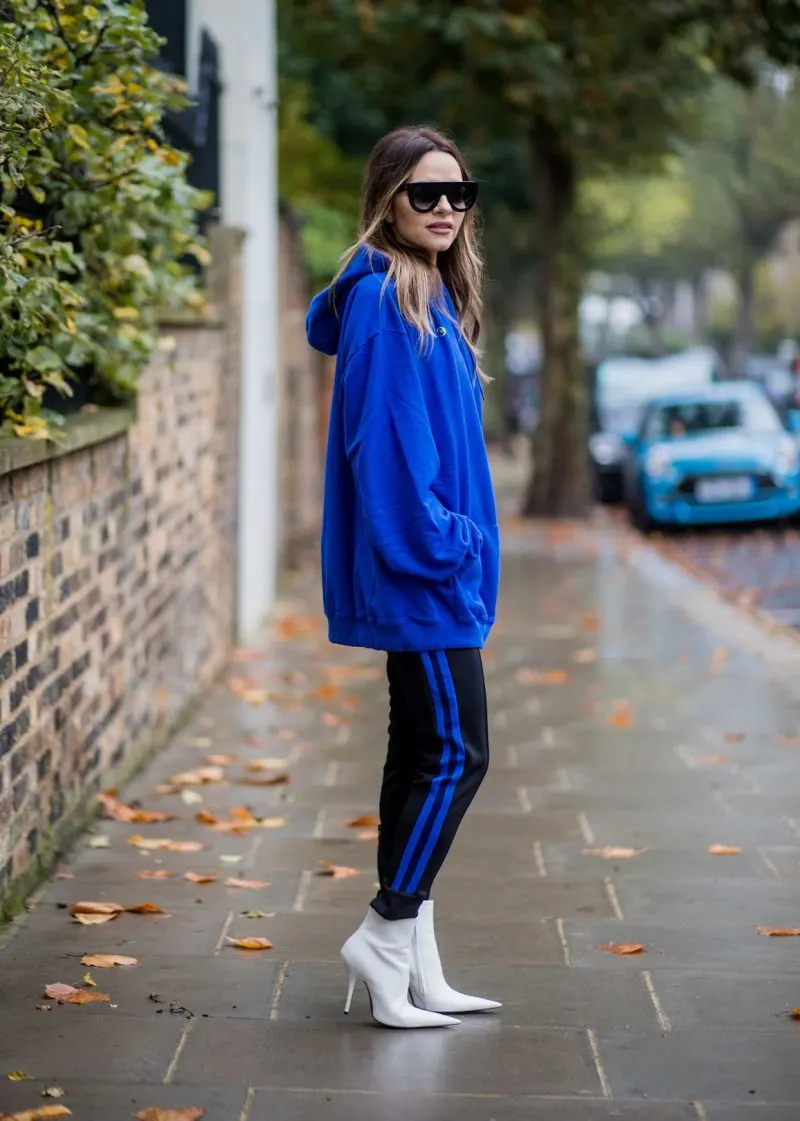 Buy Similar Here
Hoodies With Dresses
Why do we love this combo so much? It's all because you can layer the hoodie over your favorite summer dress. The warm hoodie will complete your style and make you fabulous: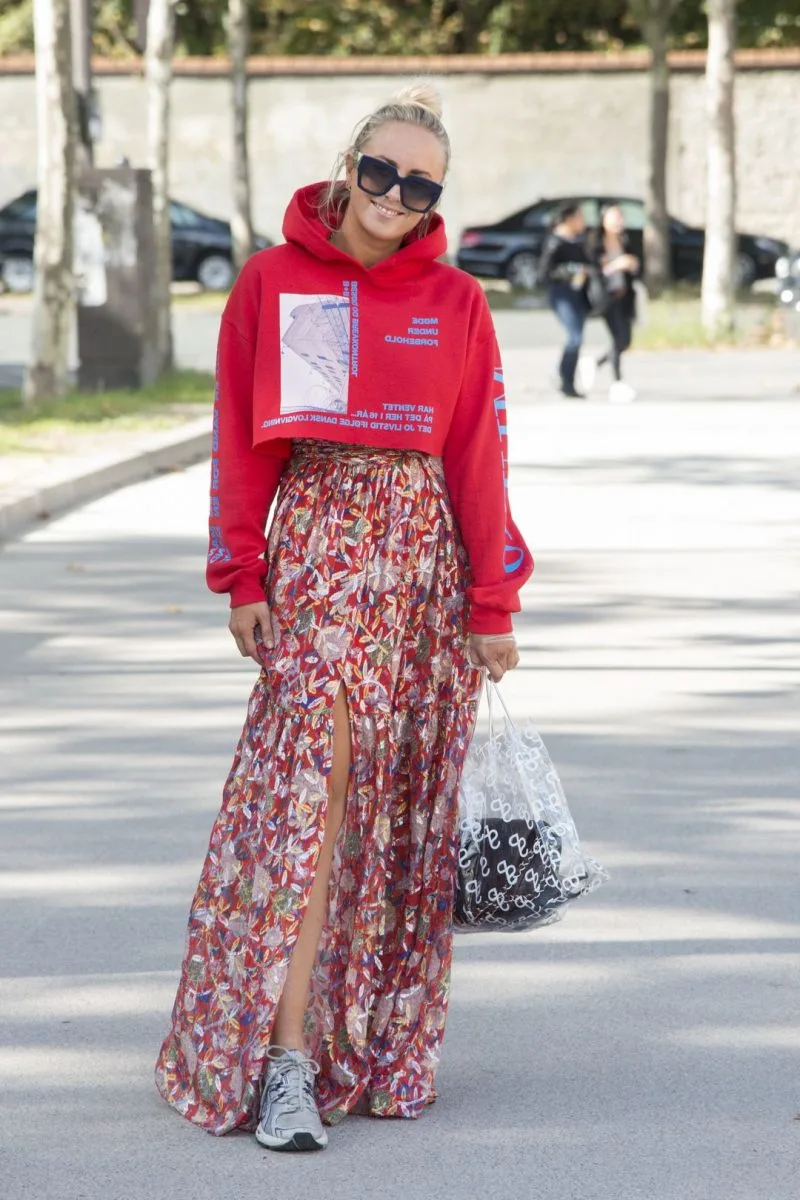 Buy Similar Here
Buy Similar Here
Hoodies With Wide-leg Pants
If you want to keep your style relaxed and smart-casual, how about wearing a hoodie with wide-leg pants? Make your style urban sporty by adding ugly sneakers, a baseball cap, and cool sunglasses.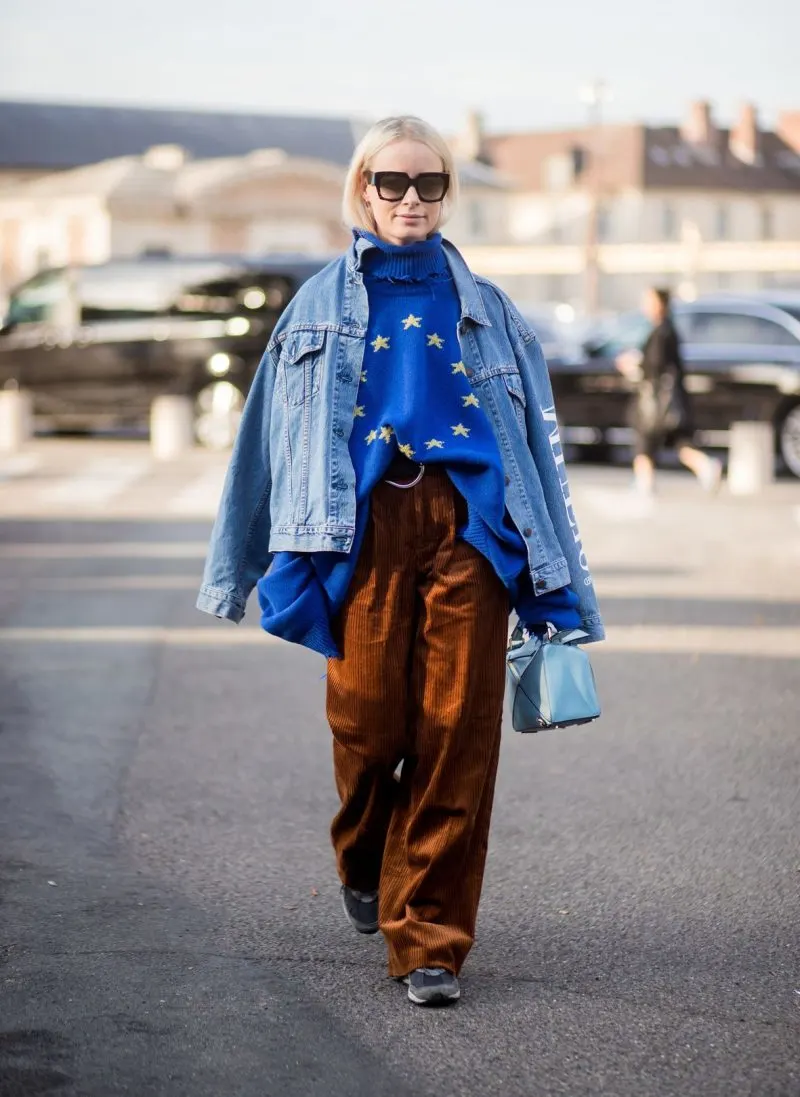 Buy Similar Here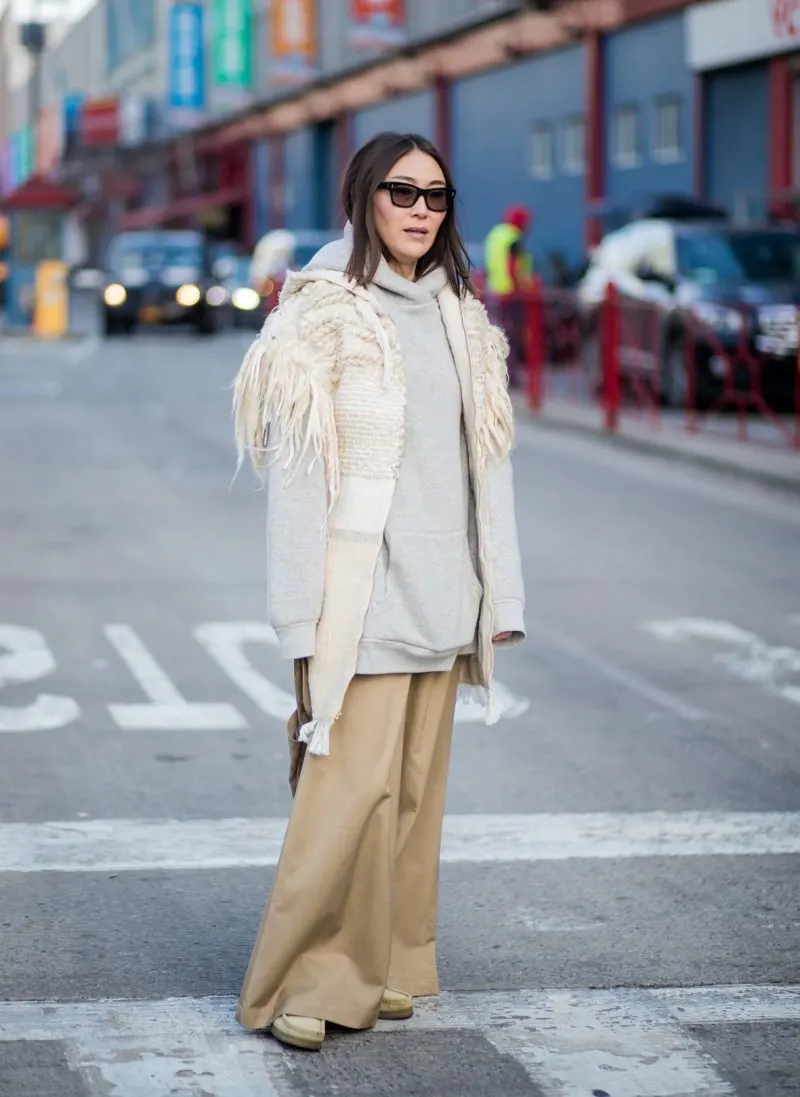 Buy Similar Here
More Street Style Inspiration
We see a plaid coat styled with a neon yellow hoodie tucked in brown pants: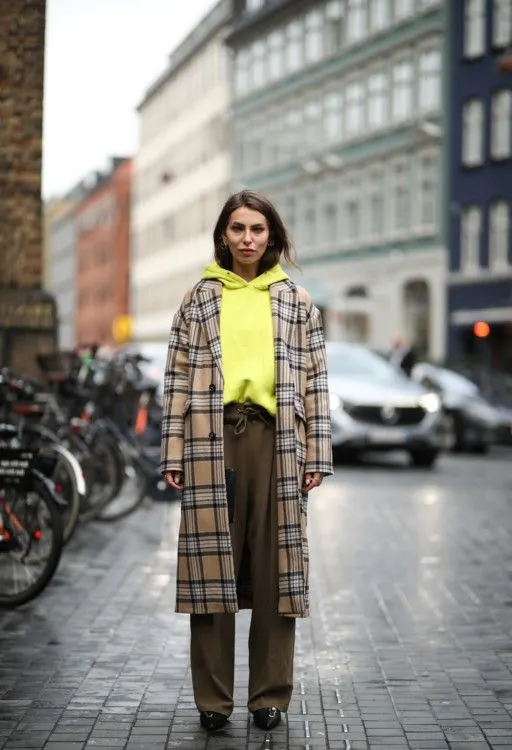 Buy Similar Here
A cream-white blazer is styled with a white hoodie paired with beige skinny pants and high-top sneakers: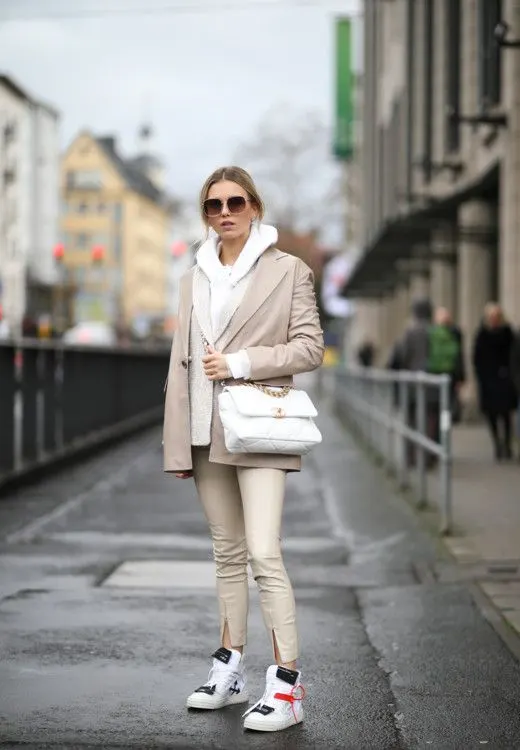 Buy Similar Here
A cream white hoodie looks casual tucked in orange pants completed with neon turquoise pumps: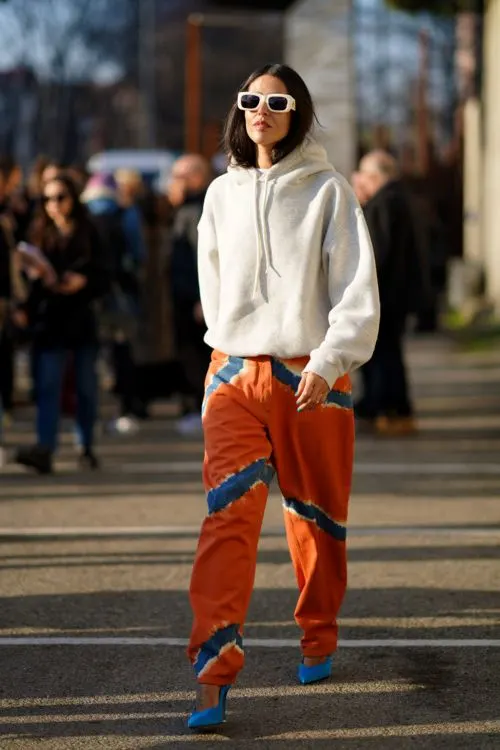 Buy Similar Here
A grey hoodie can be tucked in brown leather wide pants completed with white pumps: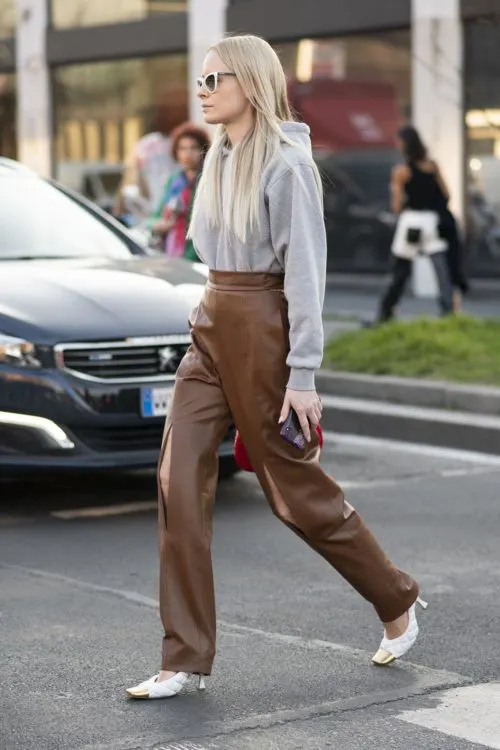 Buy Similar Here
A white hoodie ideally suits that white blazer teamed with black leather pants tucked in platform boots in black leather: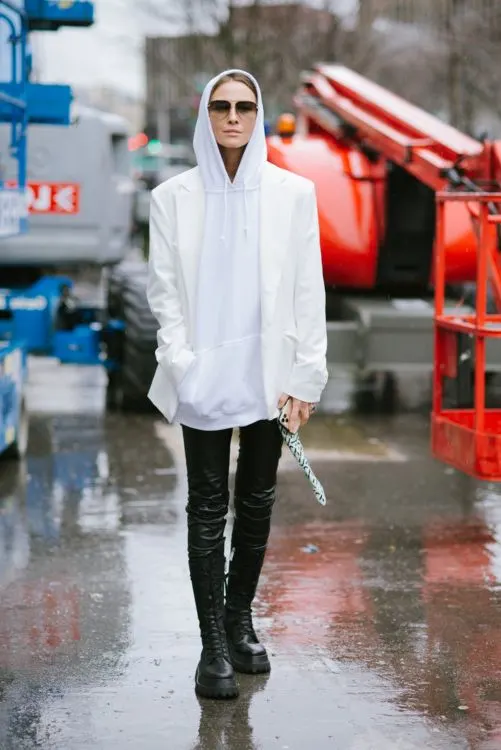 Buy Similar Here
A grey hoodie is tucked in khaki-brown leather cargo skirt: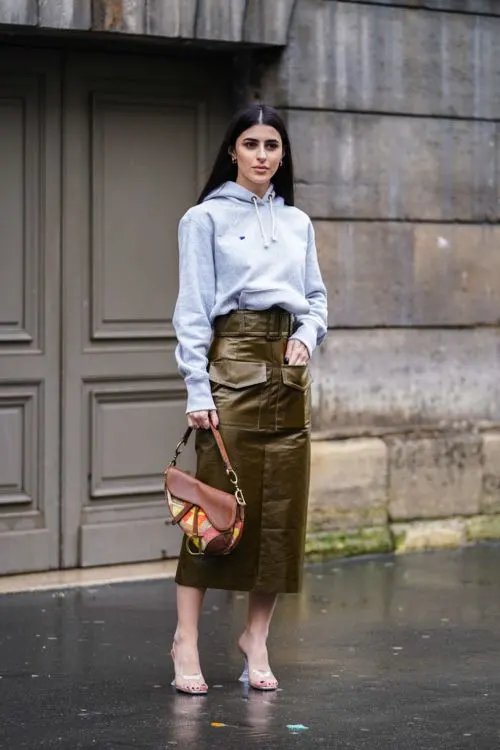 Buy Similar Here
A pinstripe bright blue oversized blazer is worn over a black hoodie teamed with black skinnies: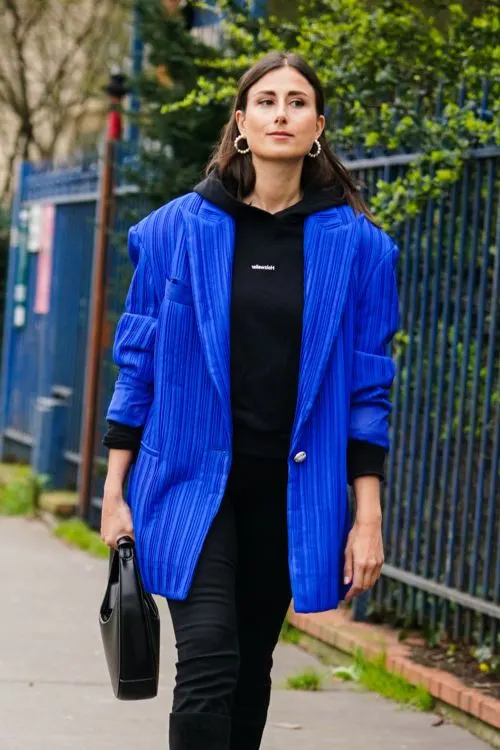 Buy Similar Here
A black hoodie looks stunning teamed with a knife-pleated multi-printed mini skirt, wide black leather belt and black combat boots: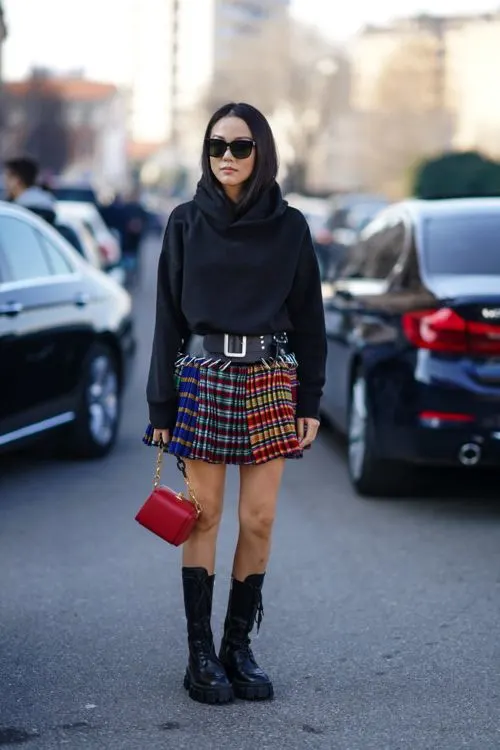 Buy Similar Here
An oversized grey coat is layered over a cream-white hoodie teamed with matching color sweatpants completed with black boots: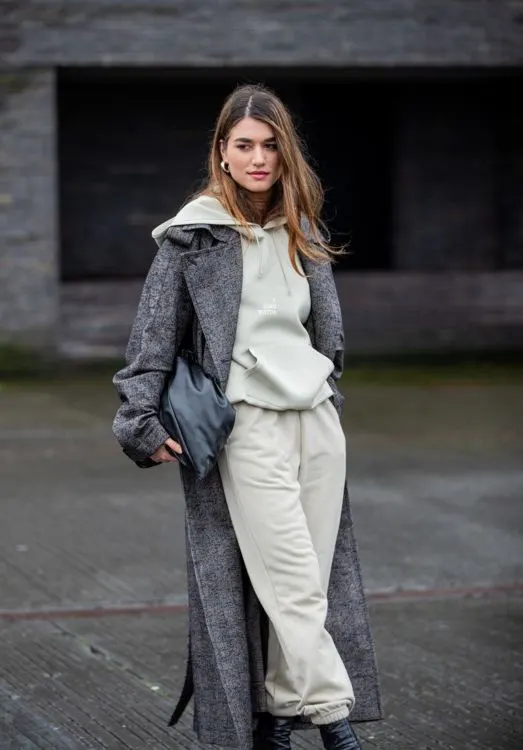 Buy Similar Here
A white hoodie looks fabulously worn under an oversized double-breasted blazer: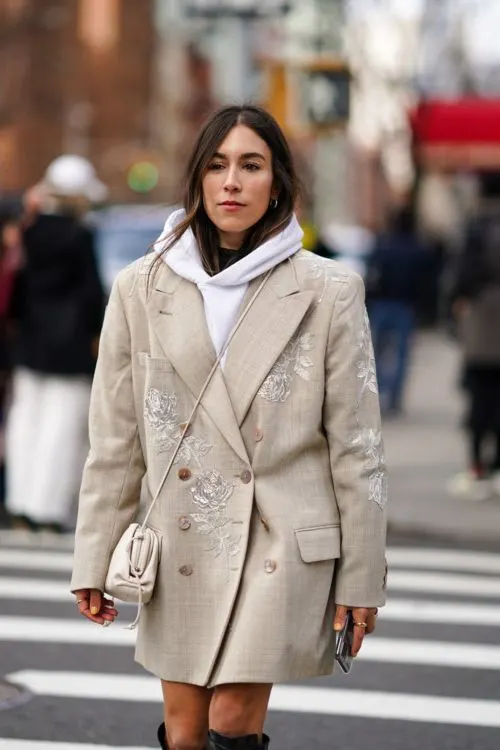 Buy Similar Here
A grey hoodie is layered under a belted grey blazer completed with matching color pants and pastel green boots: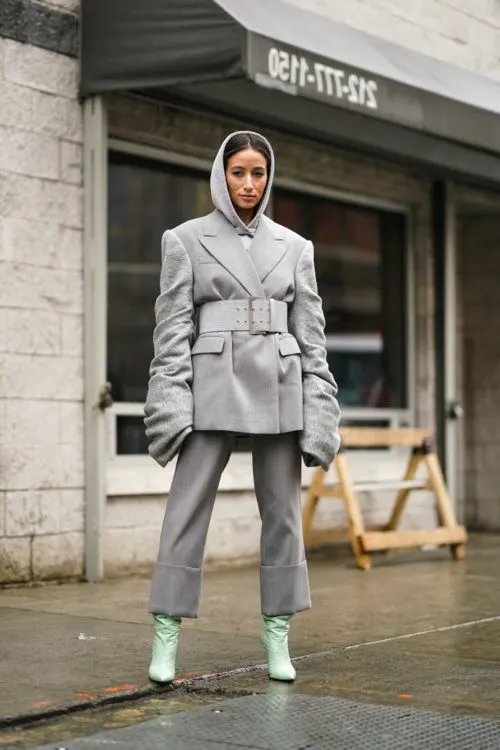 Buy Similar Here
A brown hoodie is paired with brown pants with side slits, update this look by adding brown leather pumps: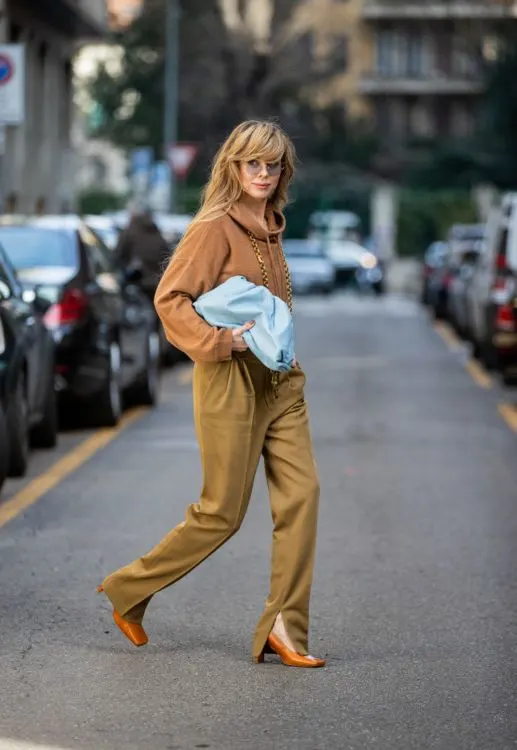 Buy Similar Here
A chevron printed neon green hoodie is paired with wide jeans. Love the cat-eye sunglasses: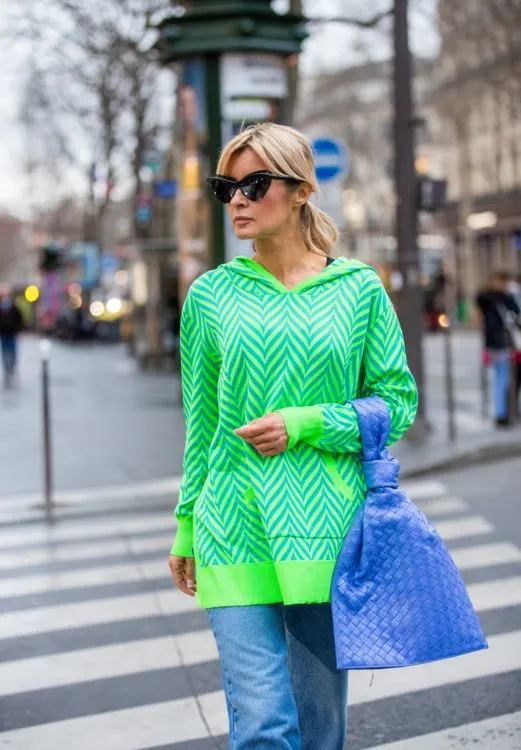 Buy Similar Here
All in black! We see a belted trench coat over a black hoodie styled with black pans and cool sneakers: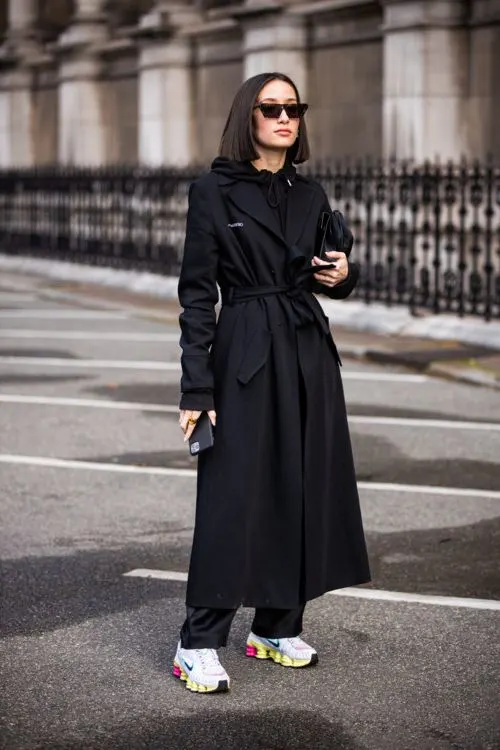 Buy Similar Here
A khaki green coat looks chic with a beige hoodie, update this combo by adding a beige colored clutch bag: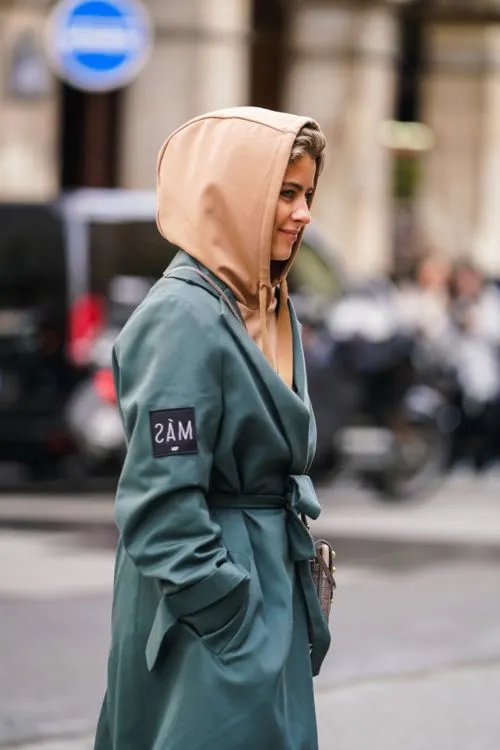 Buy Similar Here
A yellow jacket can be styled with a bright blue hoodie and wide pants in brght blue: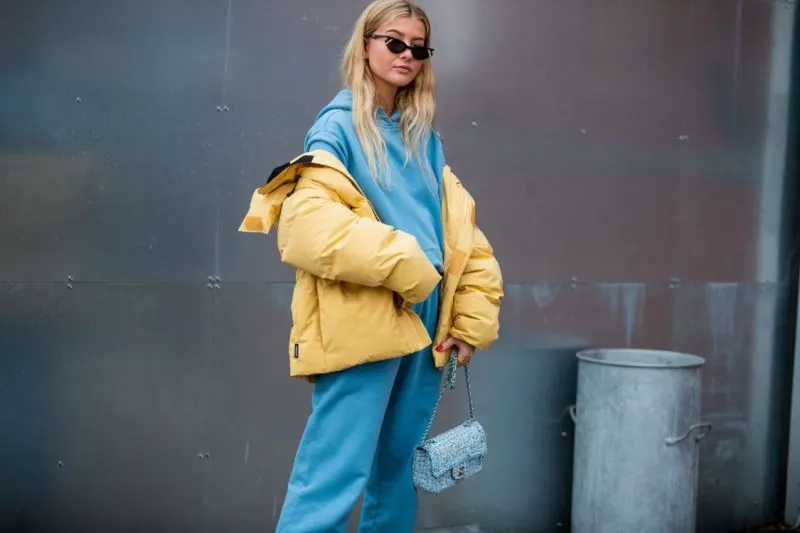 Buy Similar Here
A classic oversized trench coat in light brown with a white rope belt is styled with a black hoodie and tall boots in brown leather: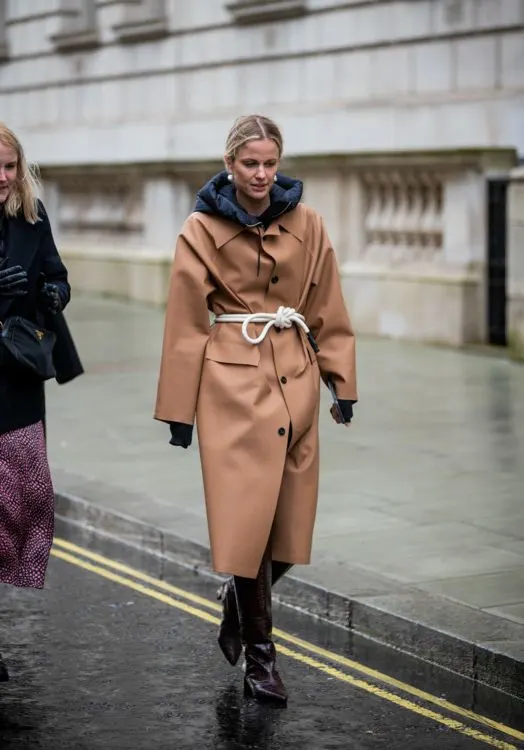 Buy Similar Here
A classic light grey hoodie is tucked in high-rise white pants. Complete it with cool shades and a black-white zebra print bag: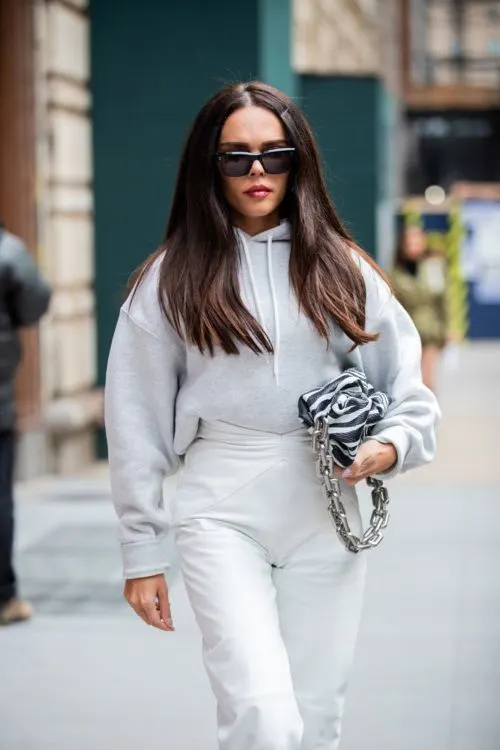 Buy Similar Here
Hoodies were once like sweatpants. They were staples in our wardrobes, but were normally reserved for lazy weekends watching Netflix. That has quickly changed in just a short time. Hoodies have been given a high-fashion makeover, thanks in large part to Vetements and its cult-favorite hoodies. Street style stars are leaving leather jackets and printed coats in the closet and topping off their looks with casual hoodies instead. We've seen hoodies outfitted with everything from leather minis to cropped flares. All of the looks are fierce yet decidedly more comfortable than some organ-squishing styles. And who's going to say no to a look that's fierce and comfortable? It's no wonder hoodies have made a comeback.
Source: Vogue, TheFashionSpot