This time we are here to talk about easy street style ideas on how to wear power suits for women. I am a big fan of these suits, for their dressy appearance. My favorite ones are with high-waisted pants and side pockets. No doubt, this is a precious investment. Of course, you should keep attention to its quality. But let's start from the beginning.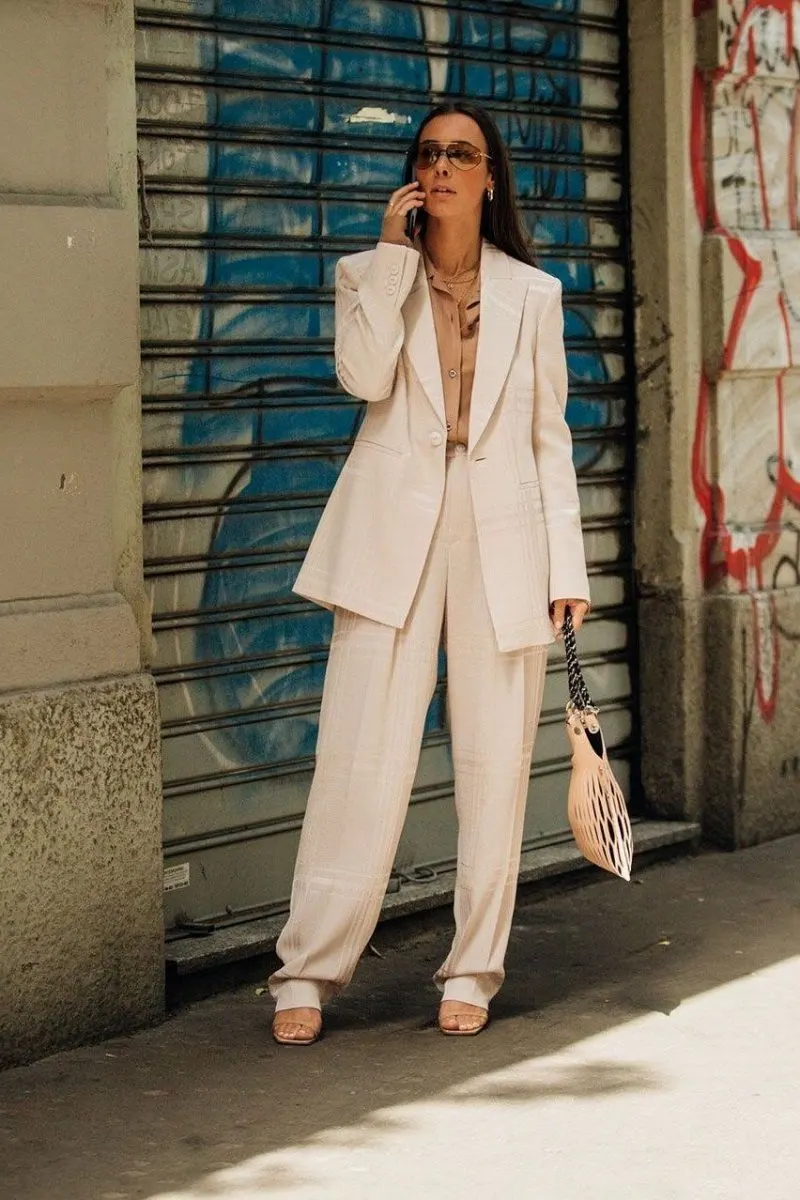 Buy Similar Here
A classic beige power suit with wide pants and a relaxed blazer. Complete this look with nude sandals and a dark caramel blouse worn under. Love the rounded shades for hot summer days.
Don't be afraid of having fun with colors, as you can go crazy with classic white, black, as well as purple, nude and pink suits. If you want to know which design fits you best, then you should approach this question by looking at your body shape, you are free to choose boyfriend inspired sizes, with loose-fit pants, as well as fitted ones with slim pants.
A double-breasted loose-fit pantsuit in cream-white looks gorgeous with these white chunky sneakers: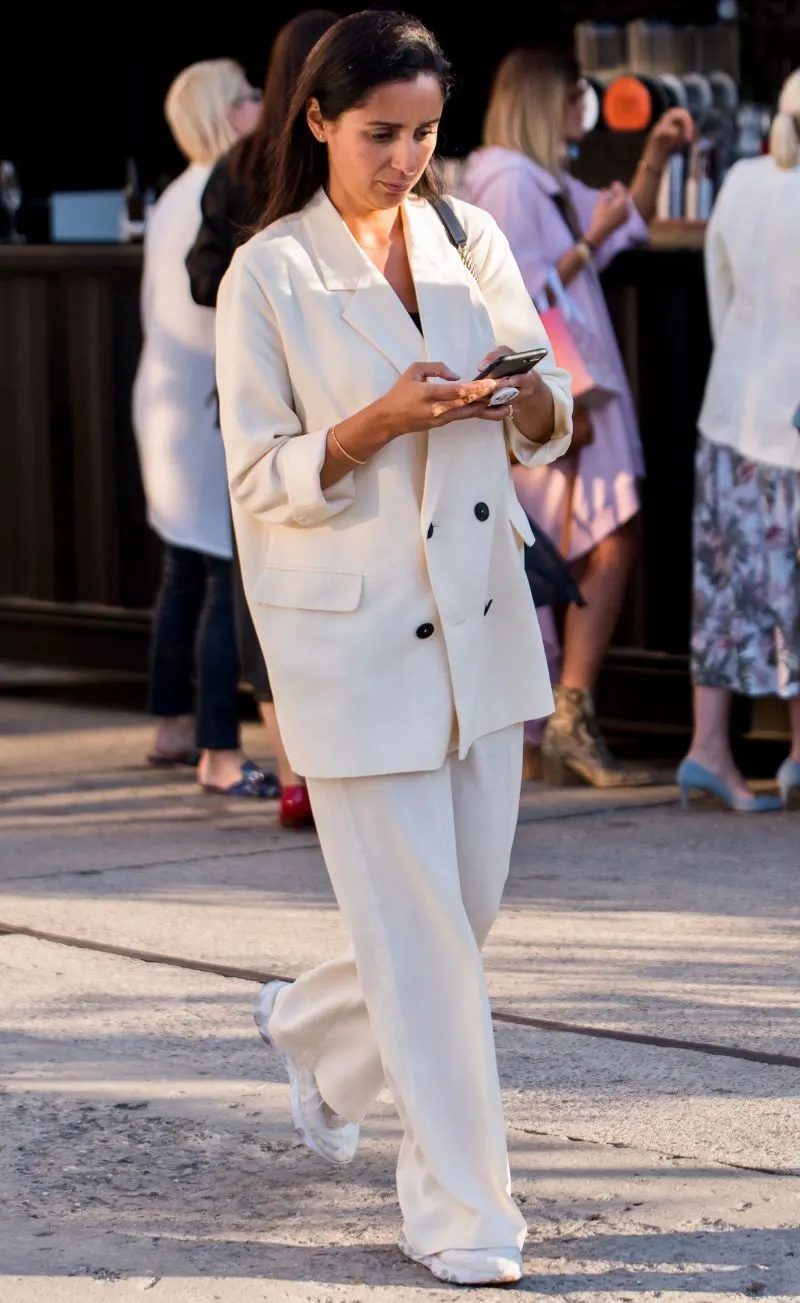 Buy Similar Here
Sorbet pink-colored pantsuit makes a wow appearance completed with a white tee tucked in and Chanel slides in pastel pink: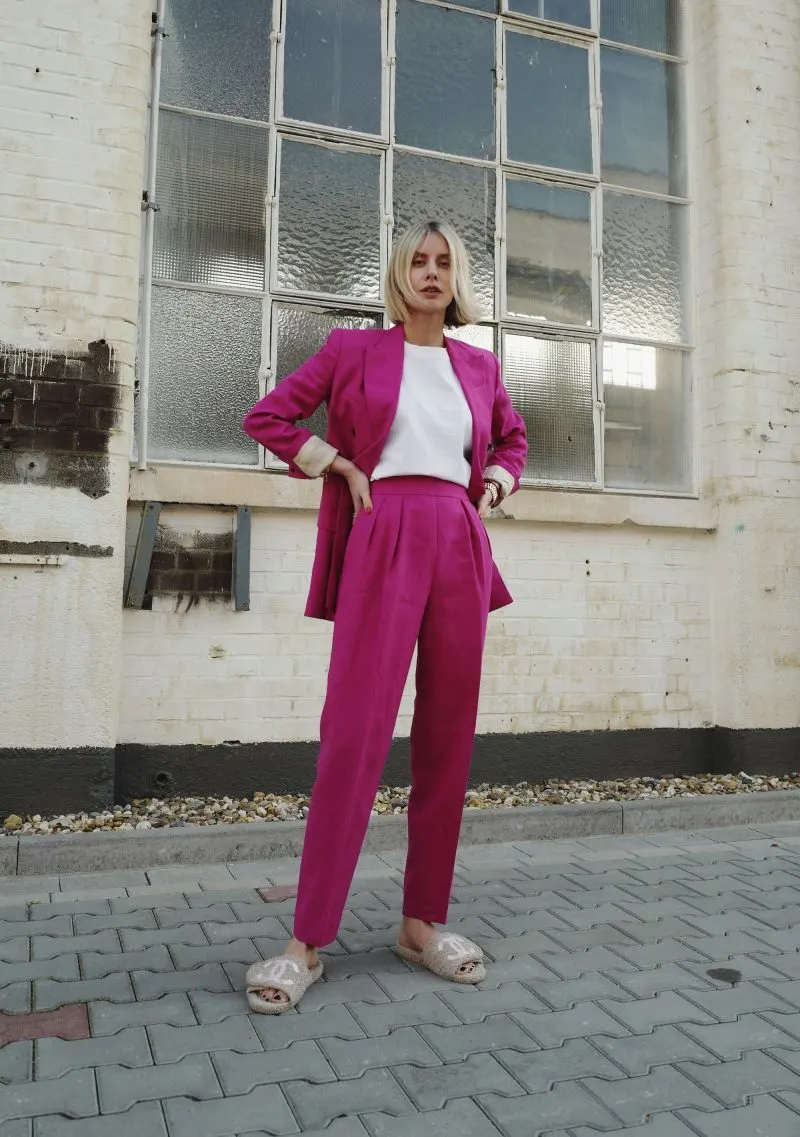 Buy Similar Here
Speaking about jewelry and accessories: then I recommend keeping your look bold, sexy, and eye-catchy, think of bold red lips, stiletto heels, plunging-necklines, wide-brim hats, statement sunglasses, spacious or little bags, but you can also make things look classy and simple.
Once you try it on, you will automatically look like a BOSS. Some ladies think that wearing a suit is an easy thing, but you should be very careful in choosing the right fit. It's always a smart choice for buying classic cuts that are influenced by the 1980s and 1990's fashion.
A red suit looks baggy styled with that white hoodie, Wayfarer sunglasses, and white trainers: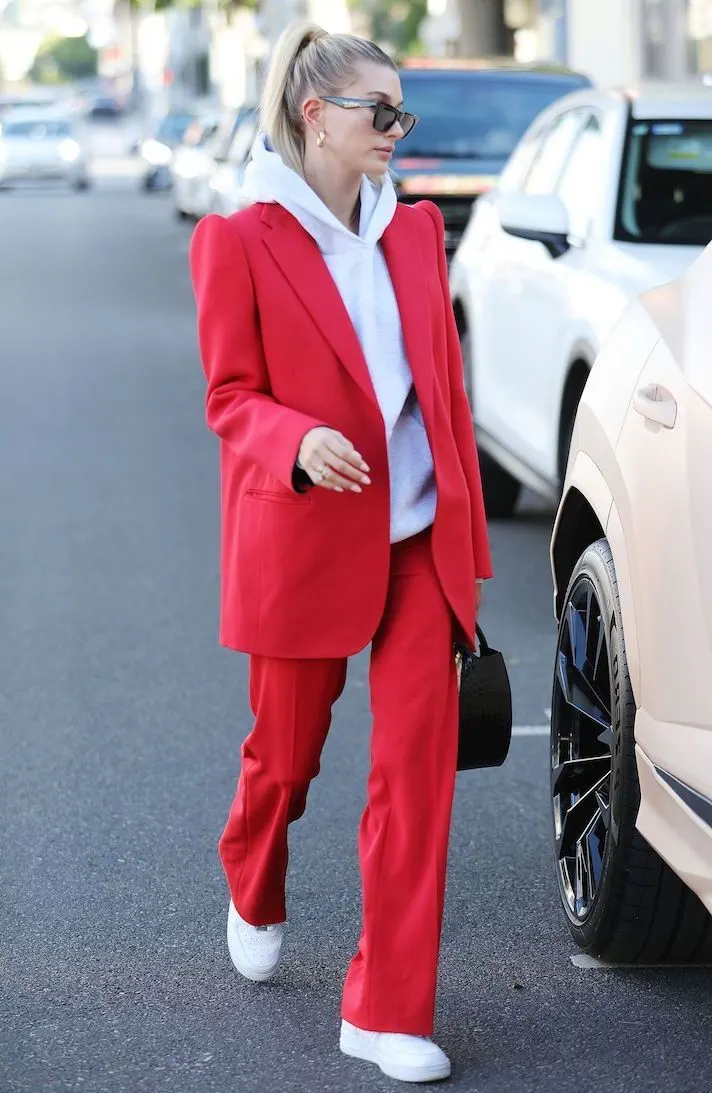 Buy Similar Here
A pantsuit is an ideal choice for ladies who are in need of serious autumn attire for their office hours. This outfit was popular back in the 1980s. It comes in so many different styles, cuts, shapes, and colors! It's fair to say: this is the most versatile (both professional and smart) outfit ever invented by humans!
The great thing about it is the versatility and easiness of styling options. In other words, you don't need much in order to make it look chic or cool. Go for a plaid colored style and complete it with your favorite bag and shoes. The fashion brings it back on track, as we see it everywhere, like street style images.
A kind of retro touch is felt in this look, love that purple suit with a white tee and bright purple heeled pumps: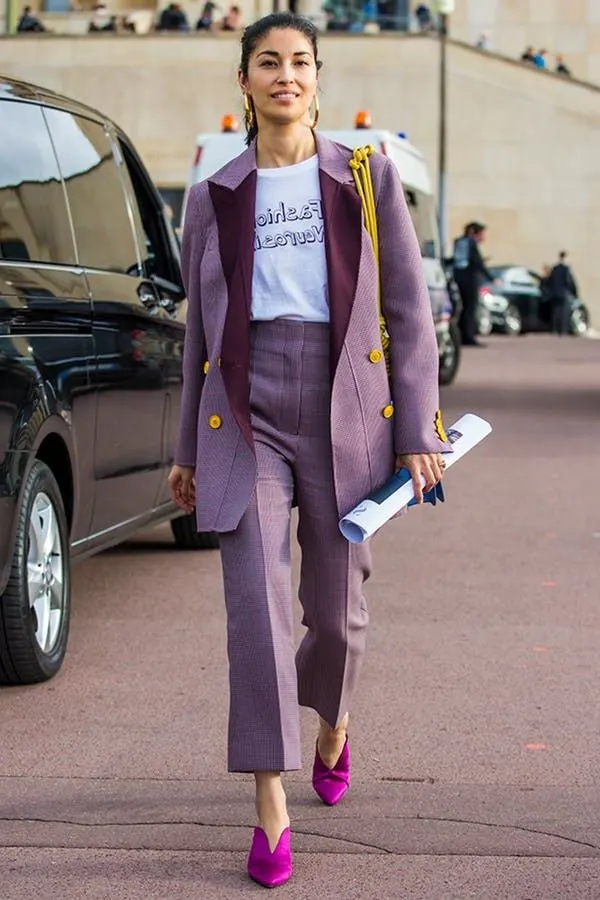 Buy Similar Here
A pastel blue suit in a classic fit is updated with a white tee and color-blocking chunky sneakers:
Buy Similar Here
How did pantsuits enter the women's wardrobe?
Now pantsuits look equally appropriate on both men and women. Although this was not always the case. At the beginning of the twentieth-century women were obliged to wear only skirts and dresses. Pants were meant only for riding, and only the most "strong and independent women" dared to wear pants on a daily basis. But thanks to the feminist movement, women were allowed to wear trousers.
And as a result, in the early 1930s of the twentieth century, European fashion designers broke the taboo on women's pantsuits. In 30's the Hollywood diva Marlene Dietrich appeared in a men's suit in the movie called "Morocco." This was a real revolution in woman's fashion. Nowadays a woman in a power suit looks usual. But still, these ladies stand out from the crowd and always attract attention.
Back to the suit styles, the variety is huge: different lengths and widths of pants, fitted, classic or oversized jackets. Of course, every style of pantsuit looks amazing on slender girls, but the owners of curvy bodies need to carefully approach the choice of the power suit.
How many likes for this pinstripe black power suit? Complete it with a black tee and black heels: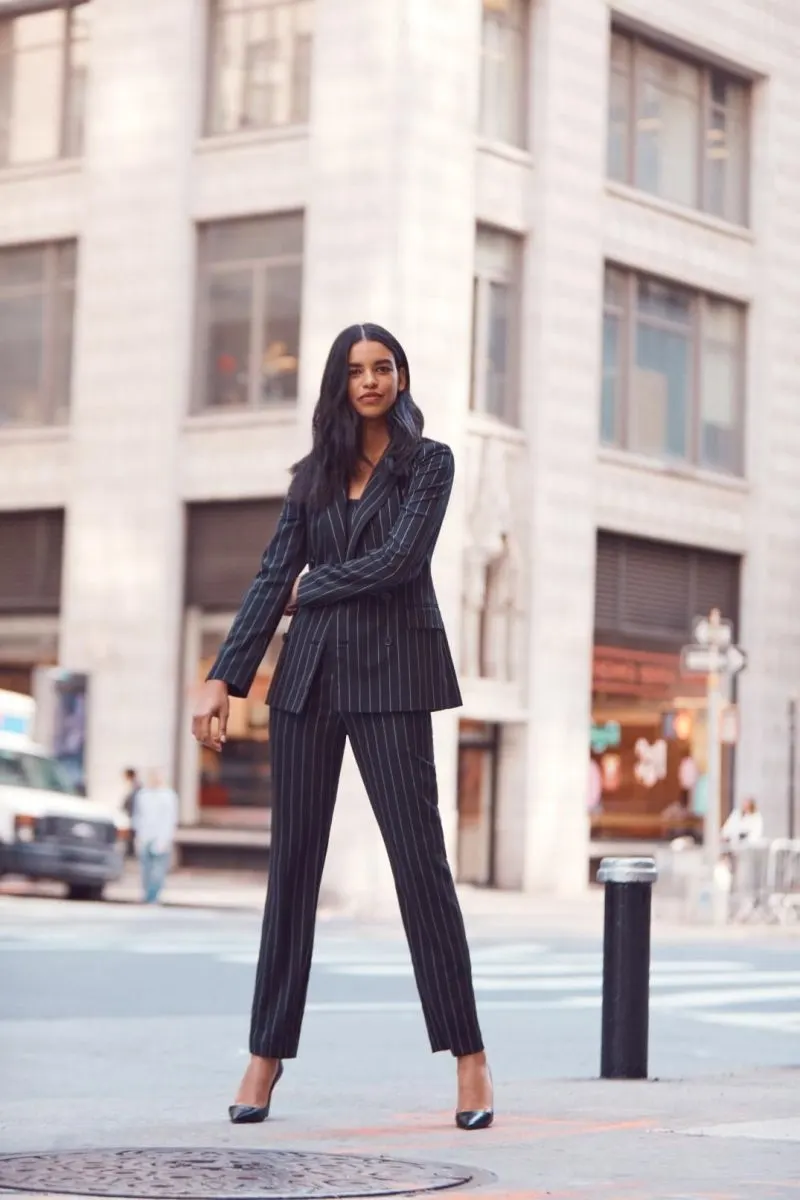 Buy Similar Here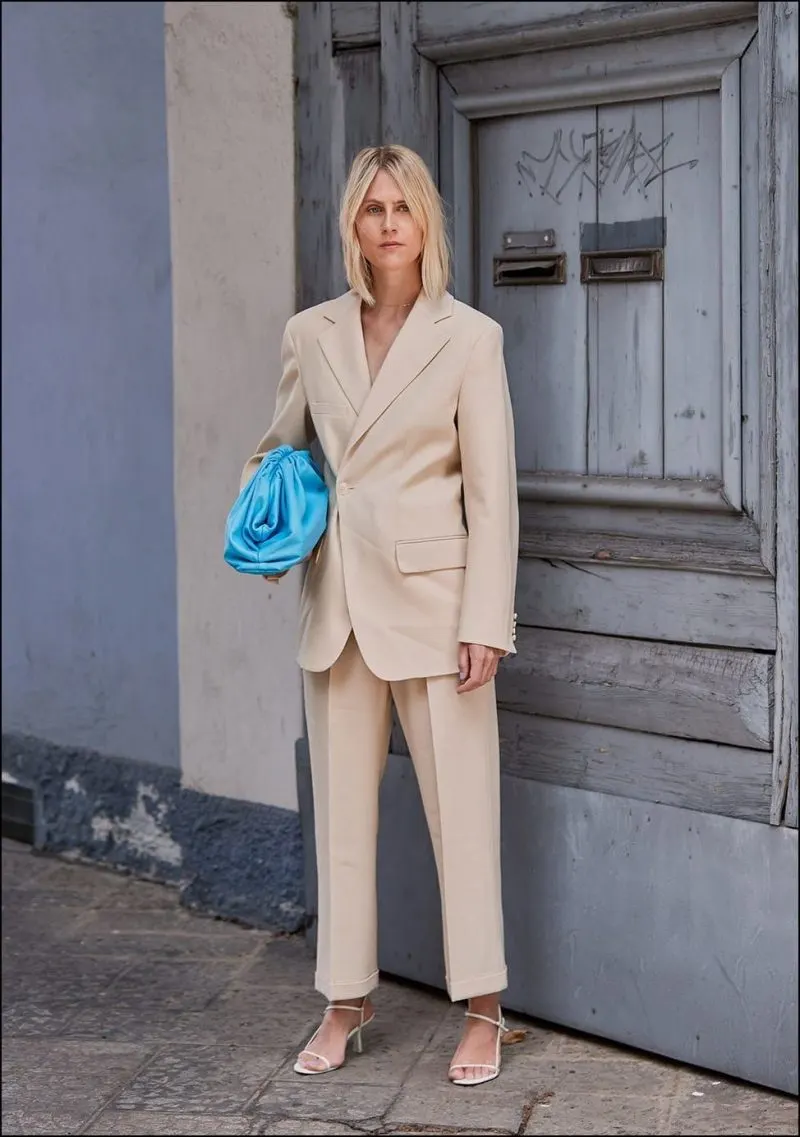 Buy Similar Here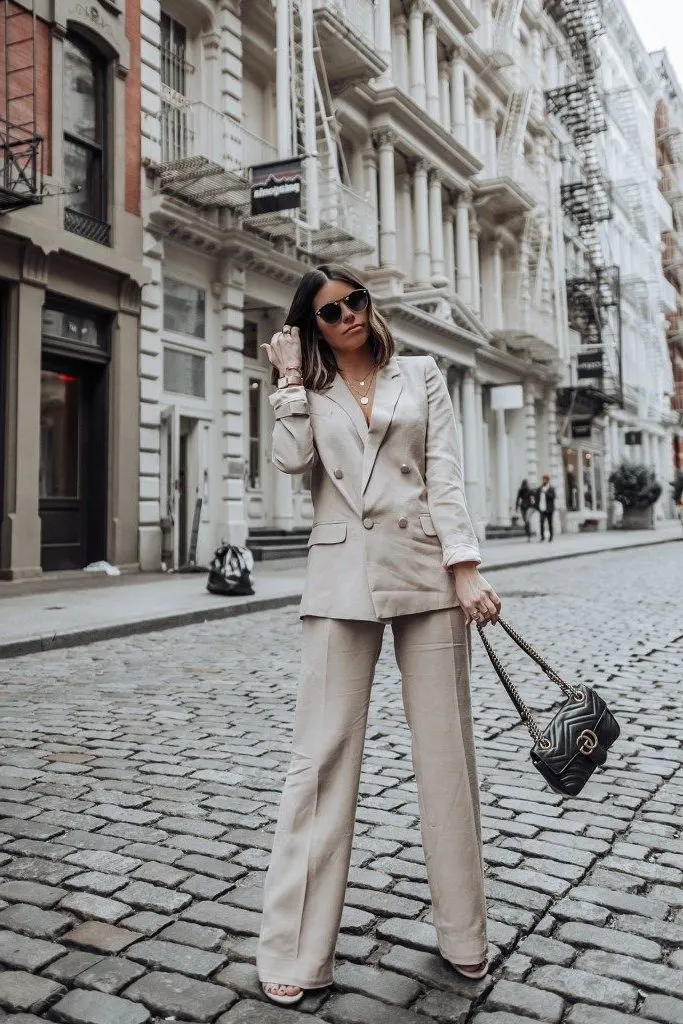 Buy Similar Here
What top Should I Wear Under the suit?
As you know, a women's pantsuit consists of at least two elements: a jacket and trousers. And something must be put on between them. Of course, we have all seen photos of girls wearing a jacket on a naked body. It looks super sexy. But I don't think such an idea is nice for wearing at work, your boss is unlikely to appreciate it. Therefore, there are several options to choose from:
The classic shirt is the most classic and at the same time attractive choice. The most winning set: a black suit and a white shirt. Unbutton the top buttons and you will get a slight carelessness appearance it will surely add a chic touch to your outfit.
There is a sassy alternative to classic shirts, and these are blouses. You can try on a multi ruffled blouse and wear it under the blazer, this will make you look glamorous, but it is a nice option for parties, not for a daily office routine.
If you are more into casual style, then try on a T-shirt. Whether you choose a short sleeve or a long-sleeved option, both are okay. The main thing is to choose a tee with a comfortable cleavage, you can either go for the one with a polo collar, boatneck, or crew neck version.
Crop-tops are no longer as popular as they were in the past, but you should not give them up, especially if you are slim and have a flat tummy. My personal suggestion, if you choose a crop top, then give preference to trousers with a high waist, it will cover most of your skin. Remember, the line between sexuality and vulgarity is thin, don't cross it.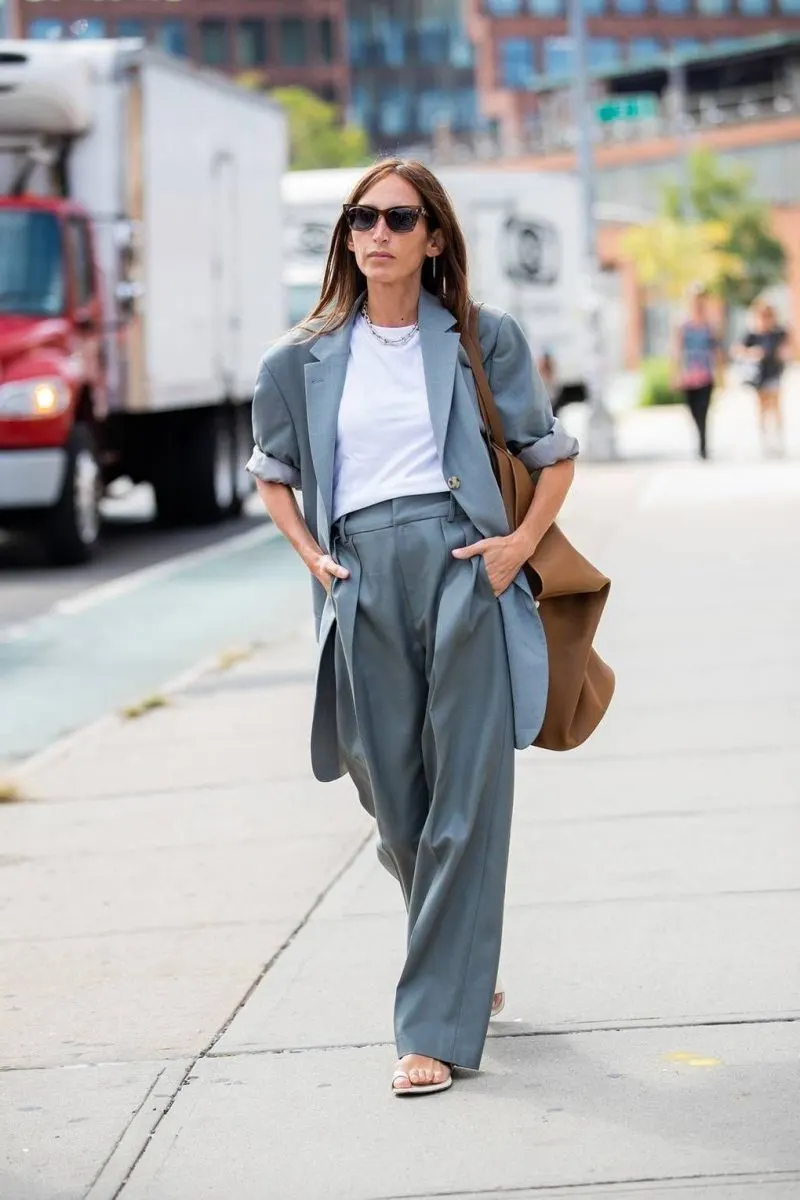 Buy Similar Here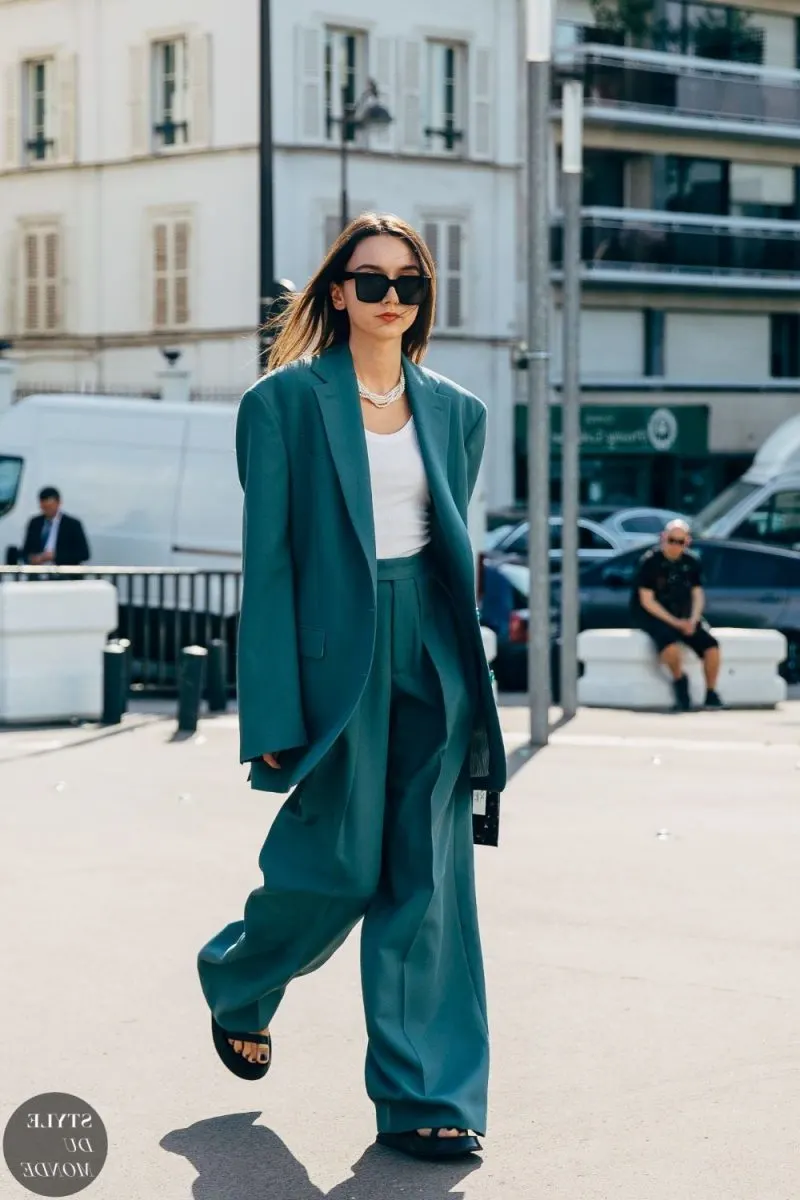 Buy Similar Here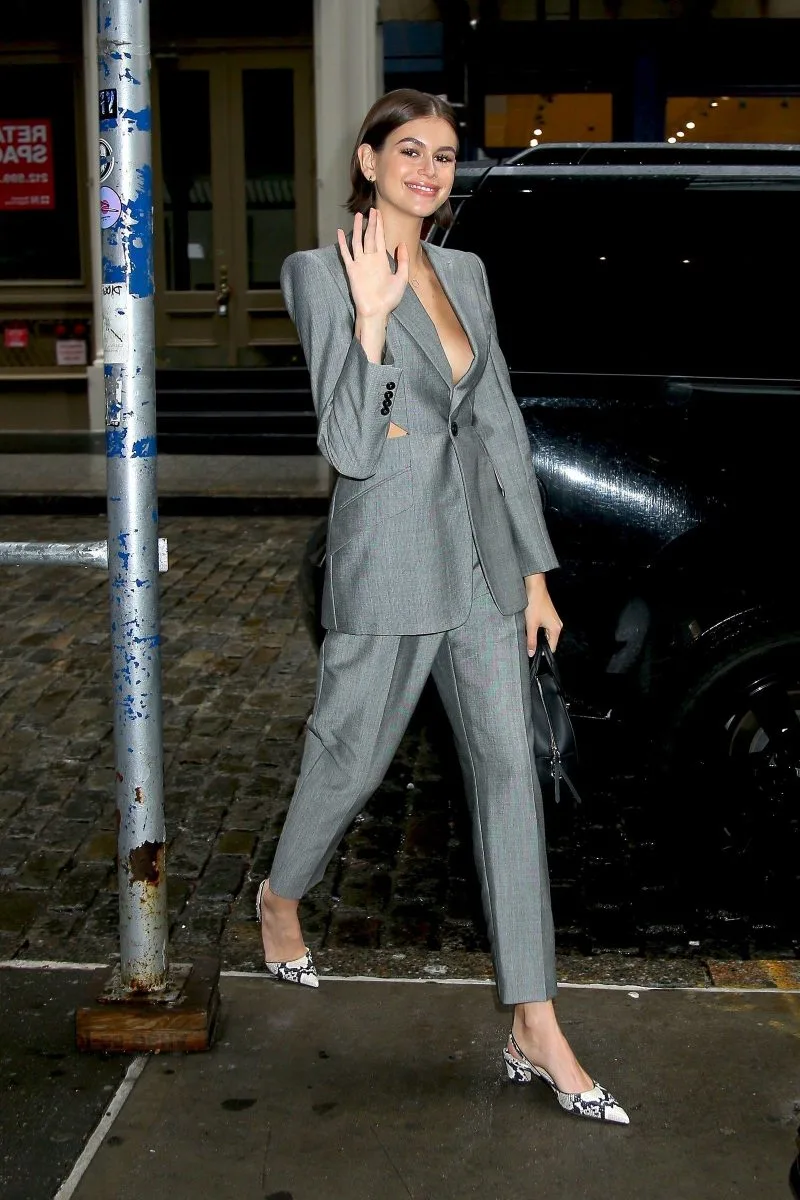 Buy Similar Here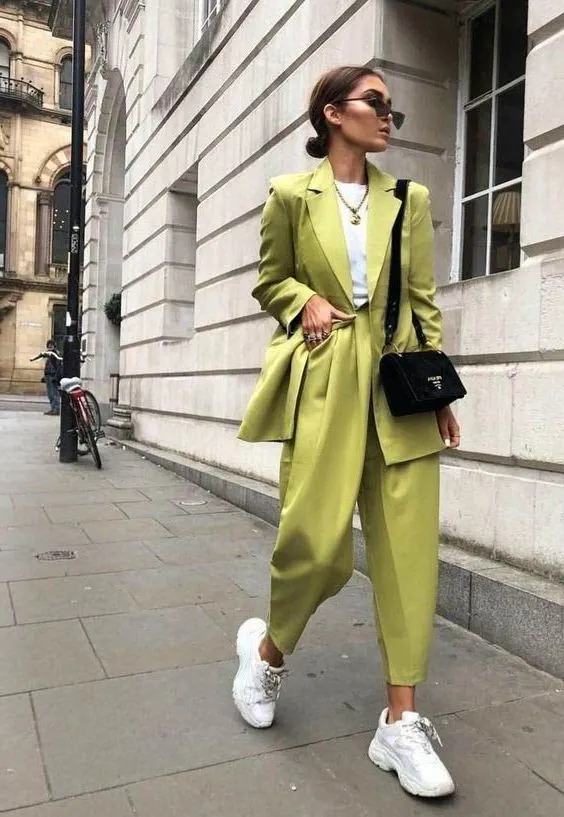 Buy Similar Here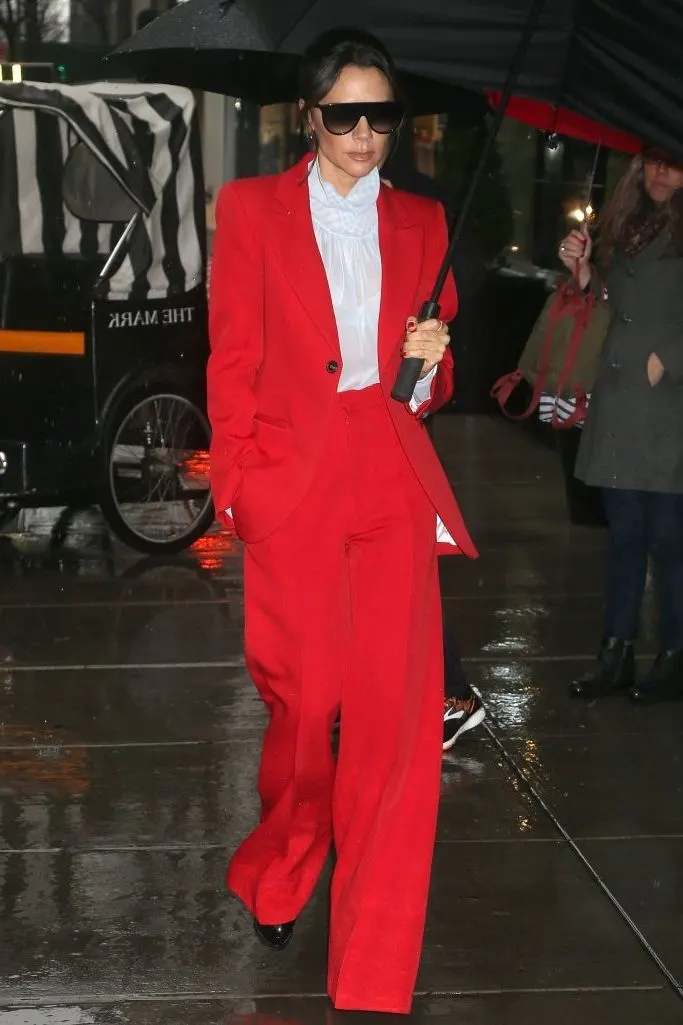 Buy Similar Here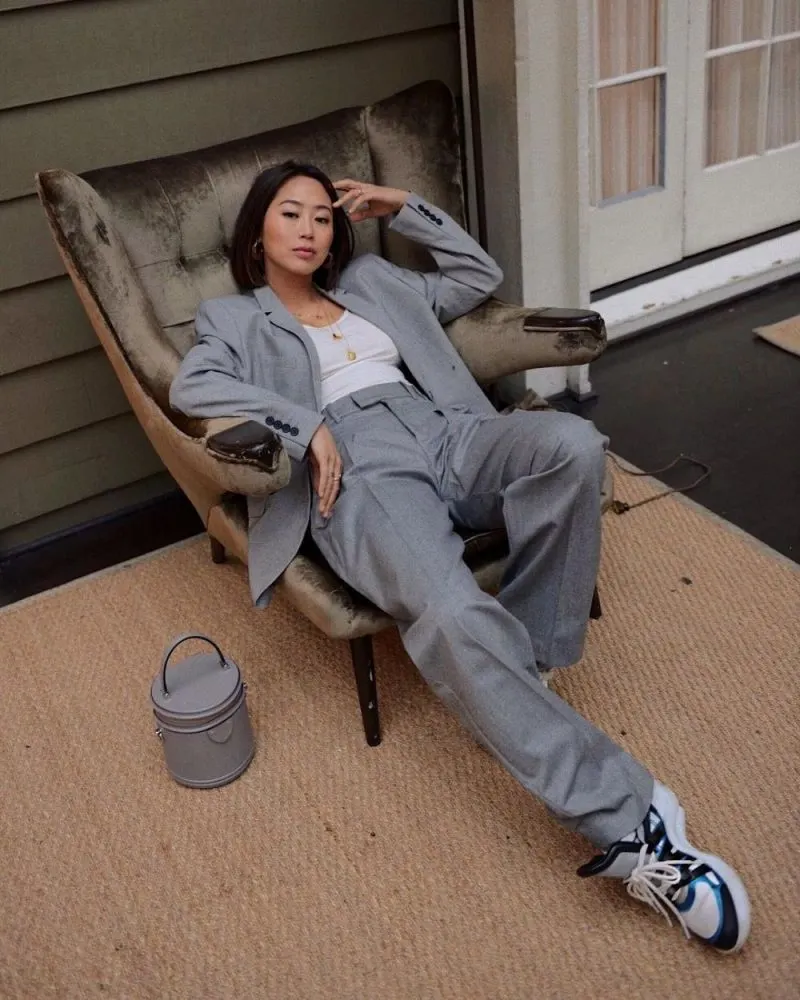 Buy Similar Here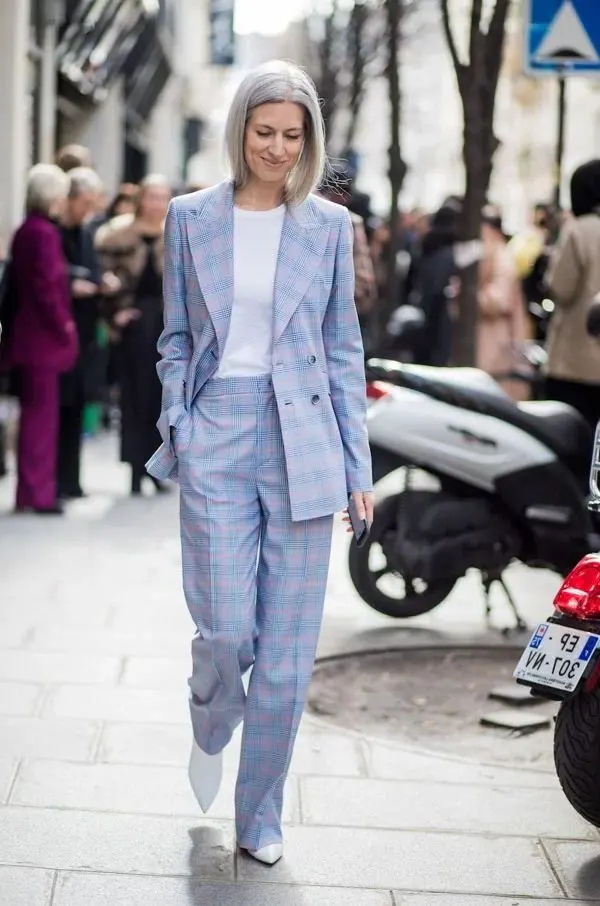 Buy Similar Here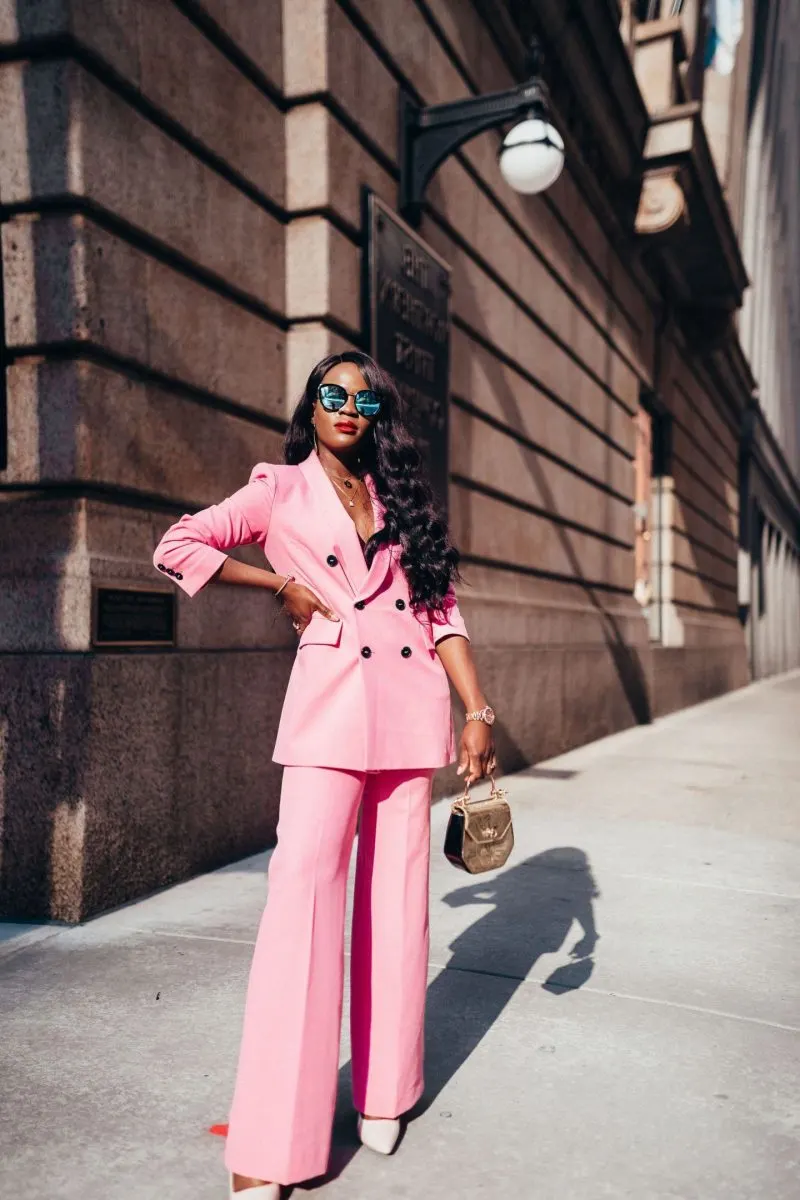 Buy Similar Here
What kind of footwear is best combined with a pantsuit?
Modern fashion is very democratic, so shoes can be very diverse, ranging from sandals to ankle boots or sneakers. Flat-soled sandals go well with cropped pants or long bell-bottoms. High-heeled sandals look awesome with long trousers so that there is no exposed skin between the strap and the bottom of the pant leg. Otherwise, you risk visually shorten the legs. Loafers and Oxfords demand classic suits, so keep your look timelessly chic. Ankle boots can be worn with standard length trousers.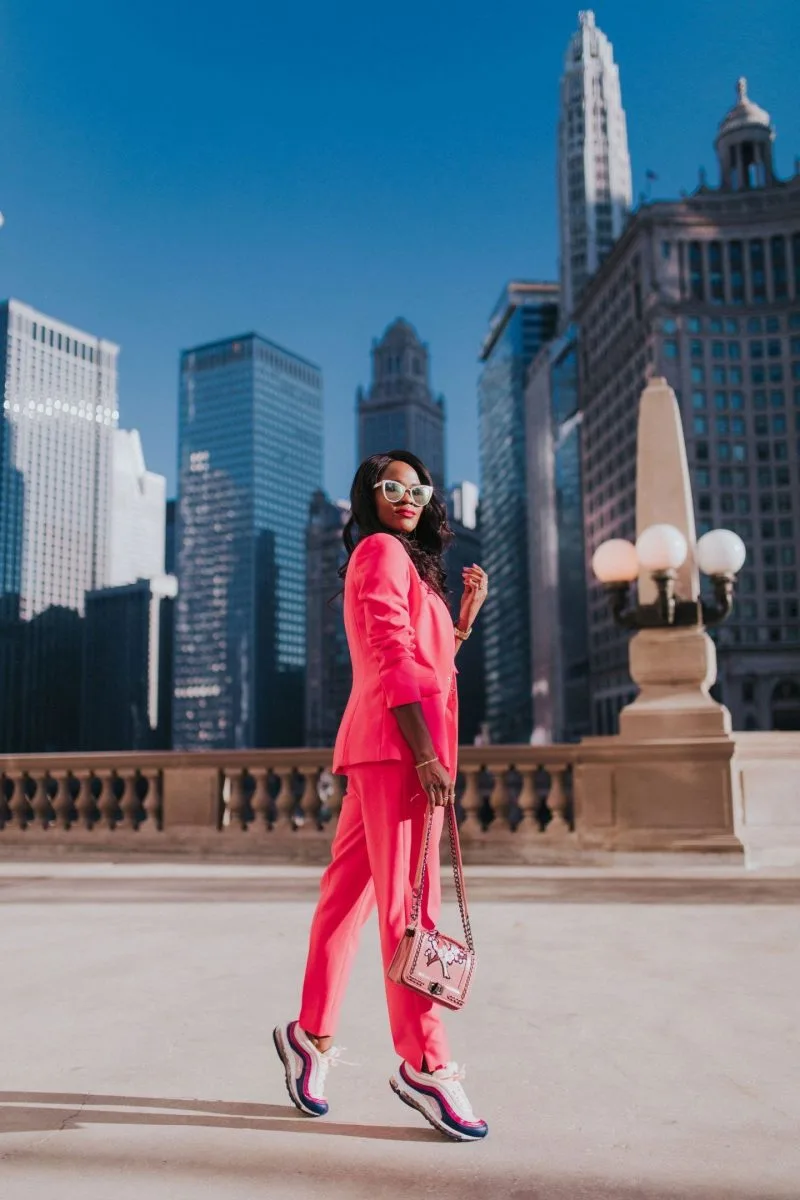 Buy Similar Here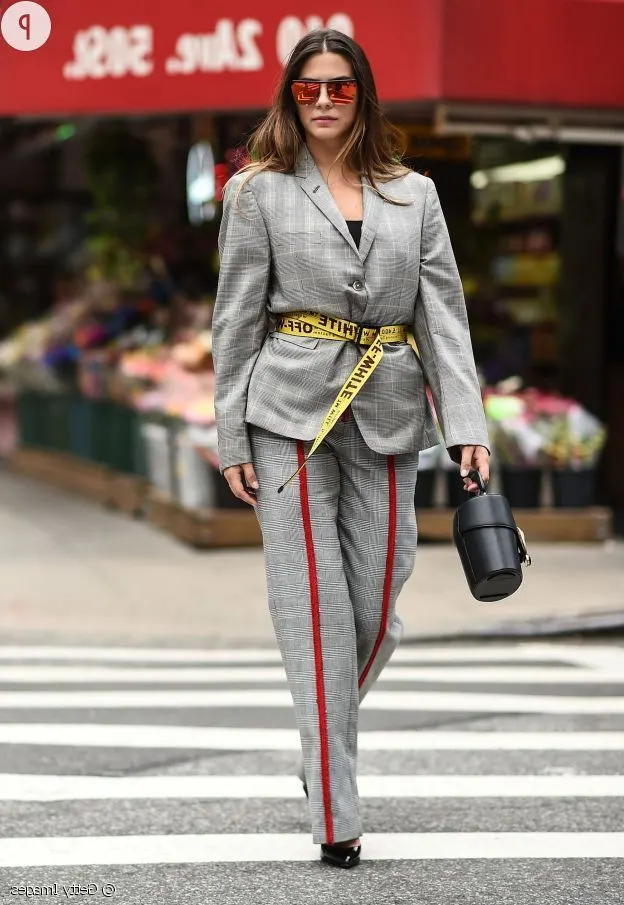 Buy Similar Here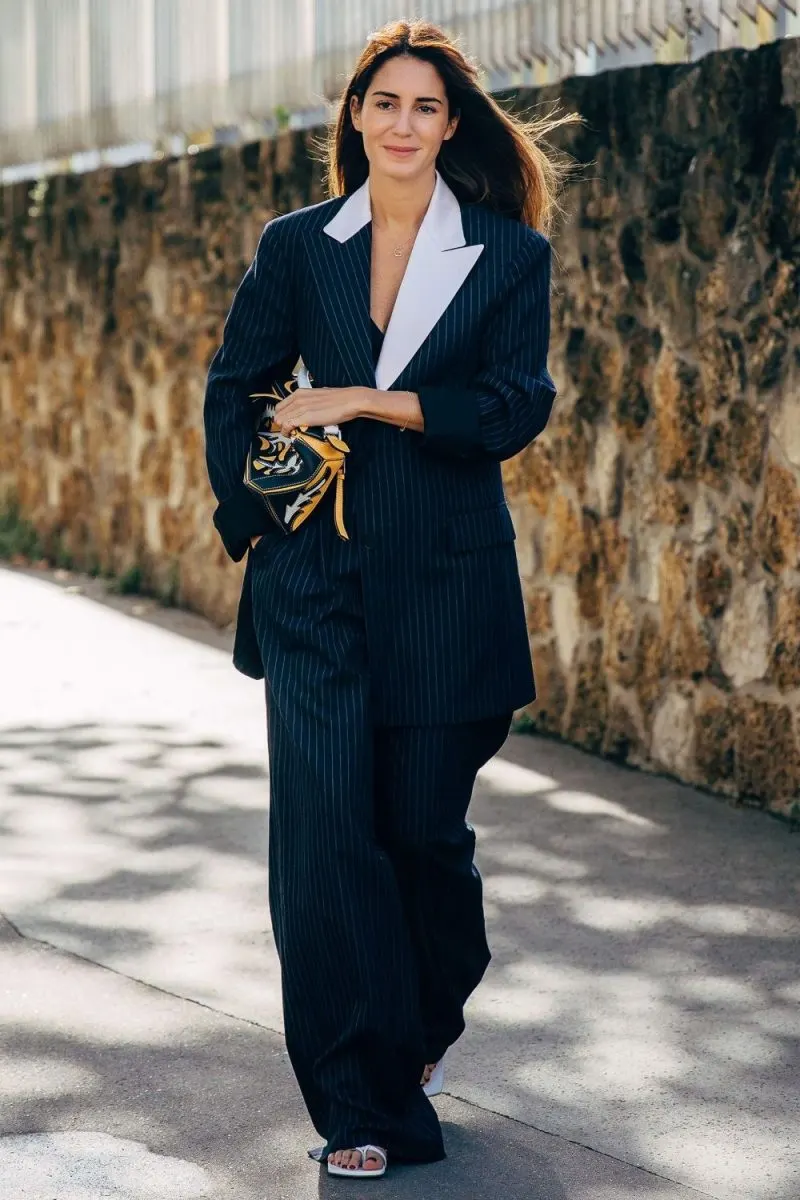 Buy Similar Here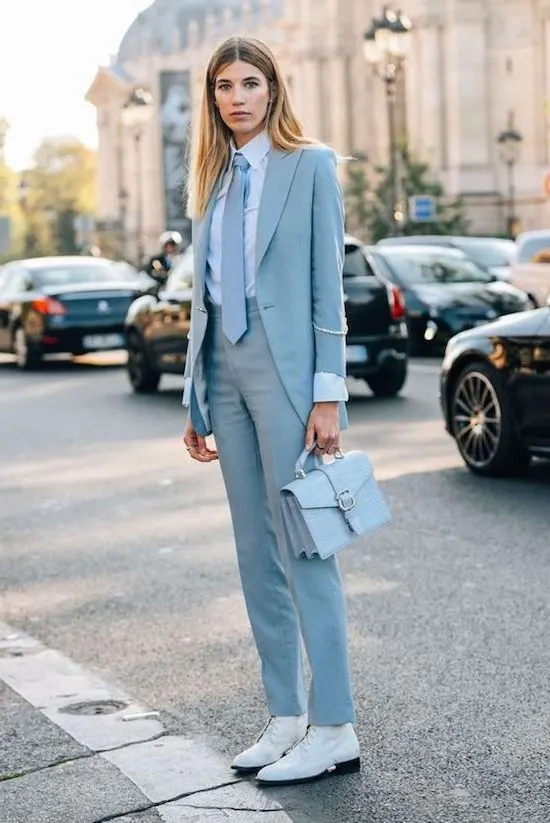 Buy Similar Here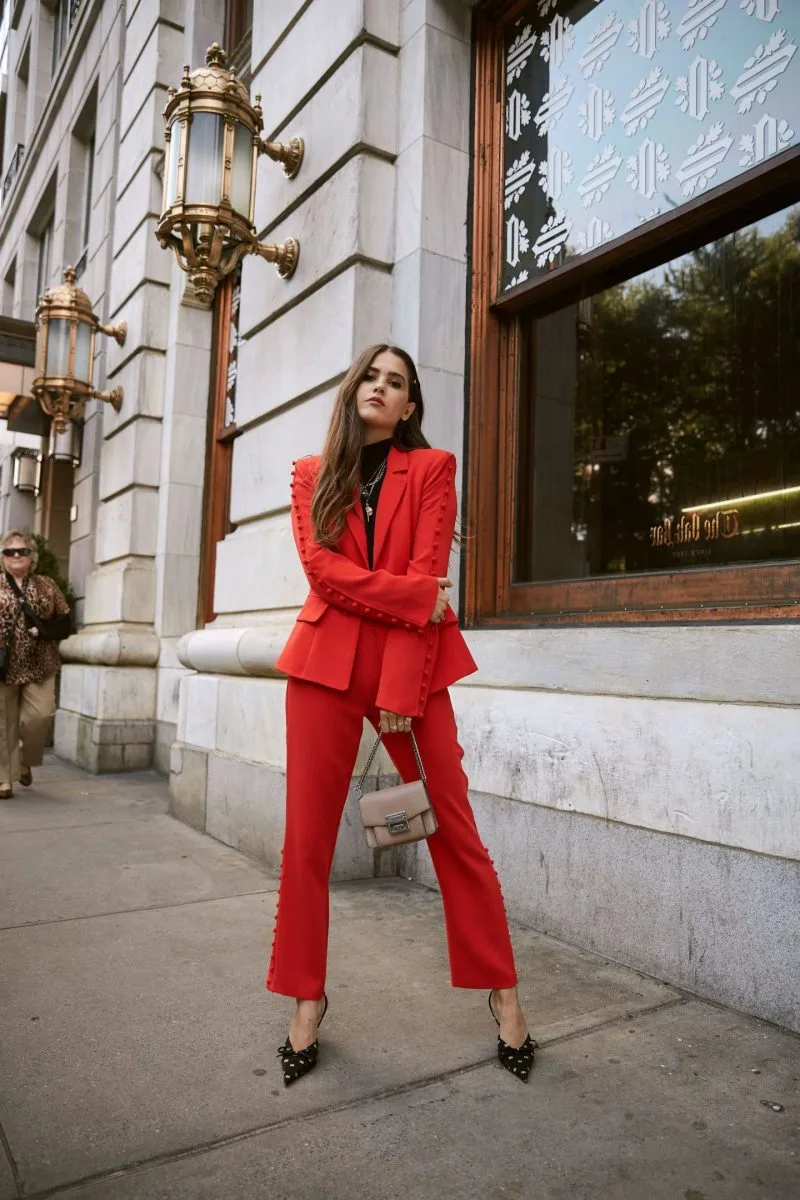 Buy Similar Here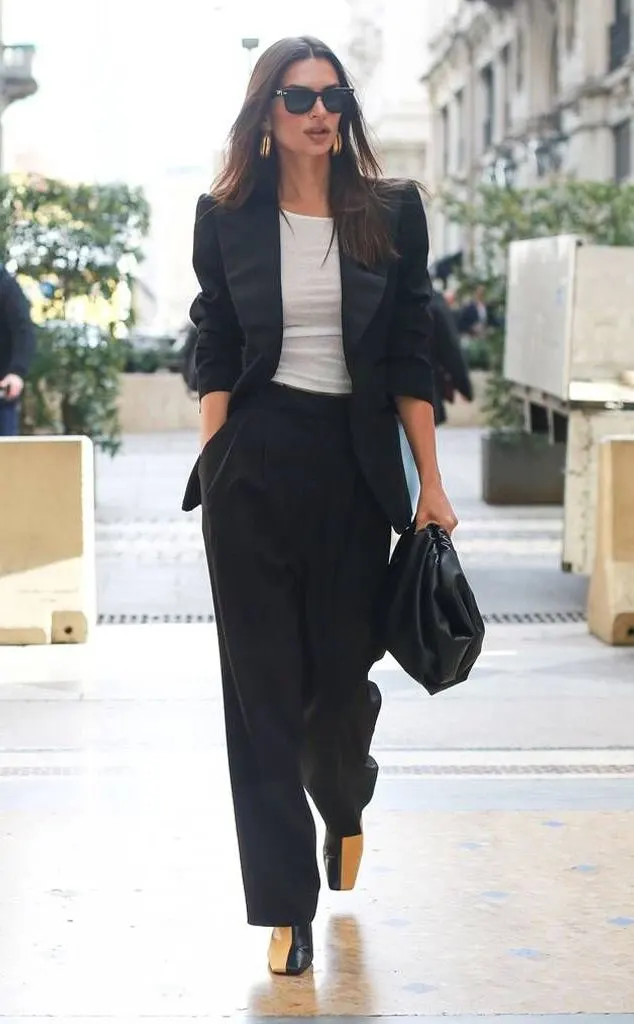 Buy Similar Here
What should I wear over the pant set?
A jacket is already outerwear, that's why I would not recommend wearing something on top. But you can go for a chic coat. You can also try on a cape, or poncho. Probably this would be the best option. For warm autumn / or spring weather, you can also go for a light trench coat, you can also try on an oversized design. If you want to wear a classic coat, then make sure it is made of high-quality wool.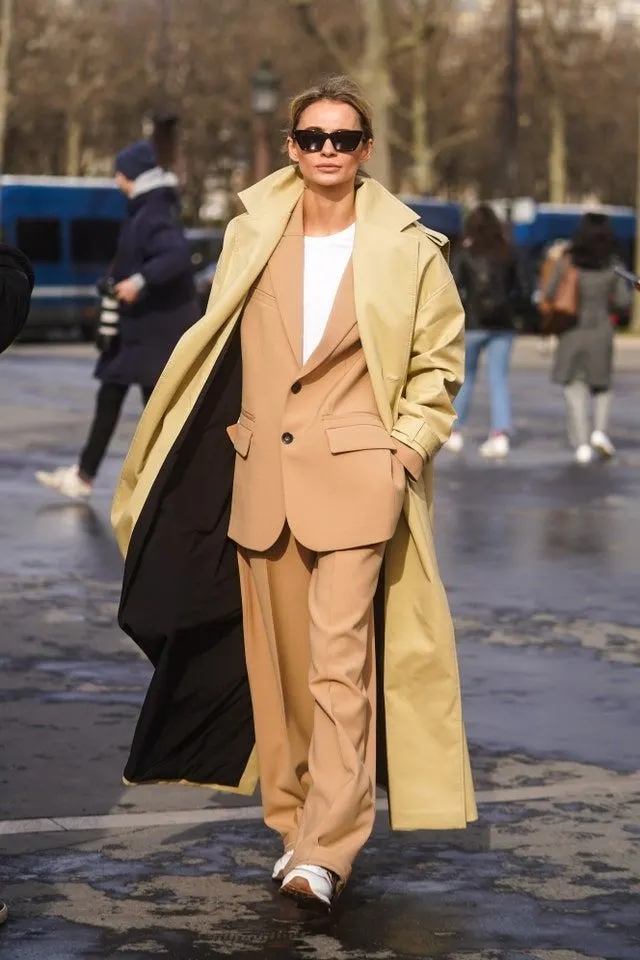 Buy Similar Here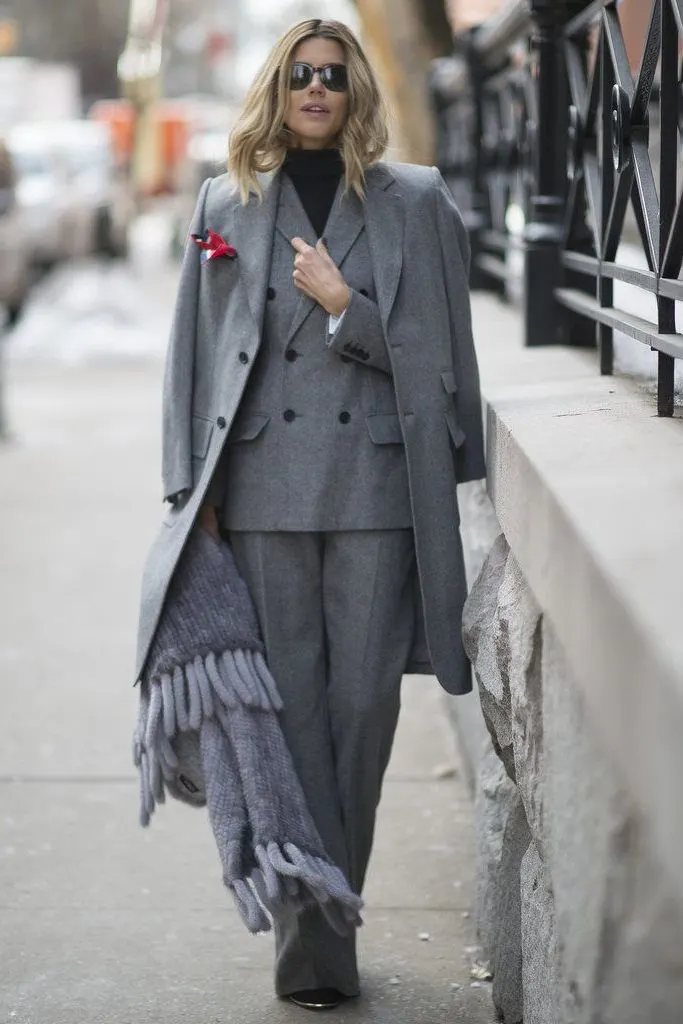 Buy Similar Here