Today's article is dedicated to my favorite wardrobe piece called pleated skirts. You are about to see easy and functional outfit ideas on how to wear them with style. You definitely don't want to miss this season's trend, that's why we are here to see ways how to male pleats look astonishing and gracious!
Buy Similar Here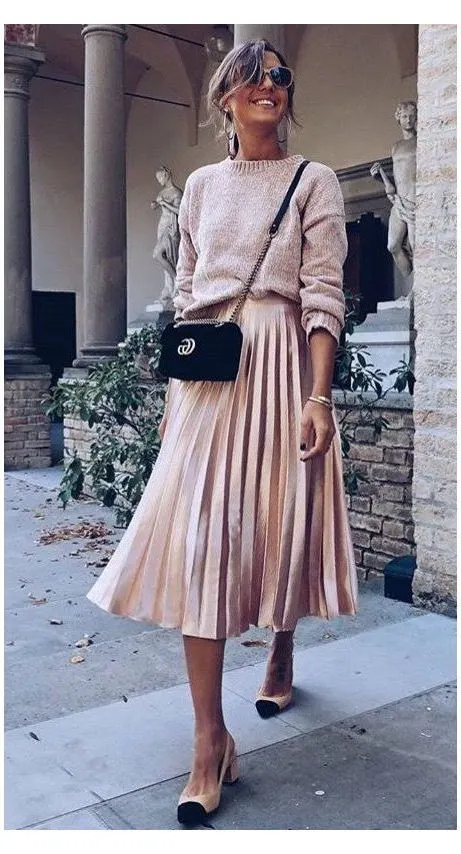 Buy Similar Here
This garment will be a win-win solution for almost any occasion. It's no secret, pleats continue to remain at the peak of popularity. Why? They are versatile, can easily fit into a sporty style, or become an organic part of the office look. What is the best way to wear a pleated skirt and how to combine it with other clothes and accessories you can find out by scrolling down.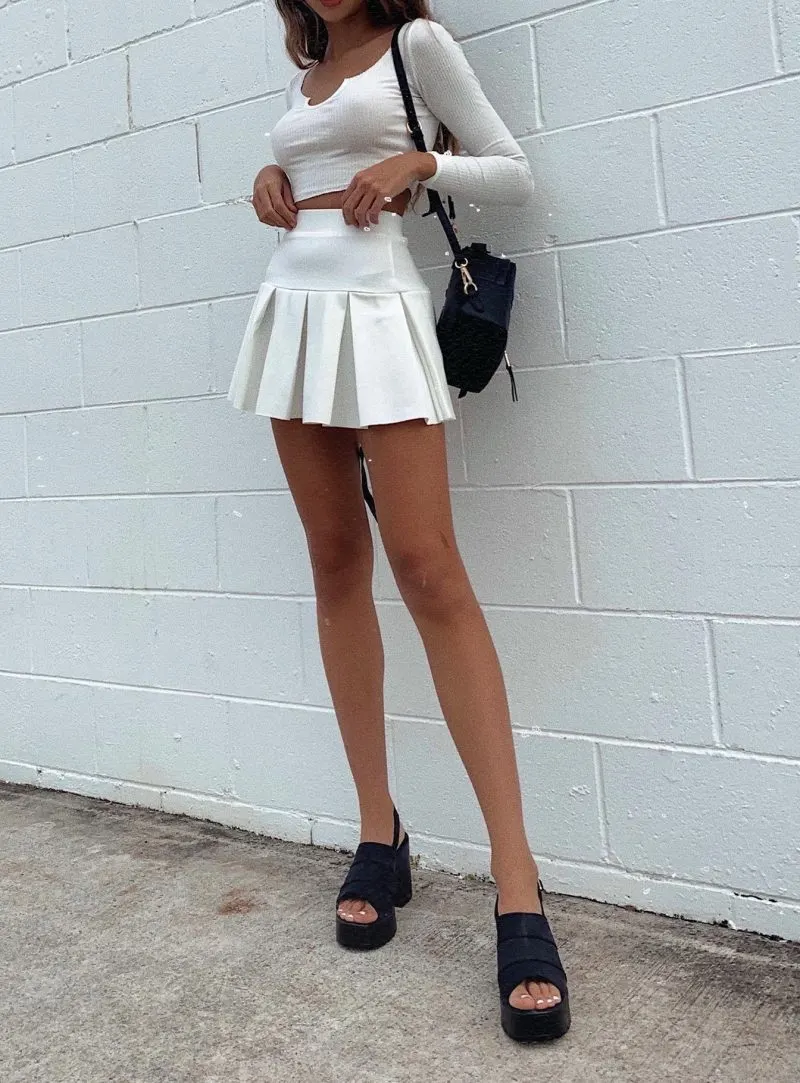 Buy Similar Here
The unprecedented popularity of pleated skirts continues to gain its fashion moment. There were a lot of them in the winter collections, and they will not give up their positions in the spring and summer months. So if you still don't have a pleated skirt in your closet, then you better buy one for creating super fabulous outfits.
What kind of pleated skirts will be the most fashionable during this year? How to wear them correctly and with what shoes? Let's see how to wear various lengths and what tops you can easily add to look special.
Length
The pleated skirt comes in different lengths: maxi (floor length), midi (medium), and mini (short). The most popular styles have a midi or maxi length.
Floor-length pleated skirt
Great for tall girls and women. Designers recommend choosing ankle-length styles to balance the proportions. If you want to visually make your legs look taller, then buy skirts with a high waist. Wearing a maxi pleated skirt you can create both casual outfits (like the one with a jumper and sneakers) and elegant ones (with a blouse, lace top, heeled shoes, and a clutch).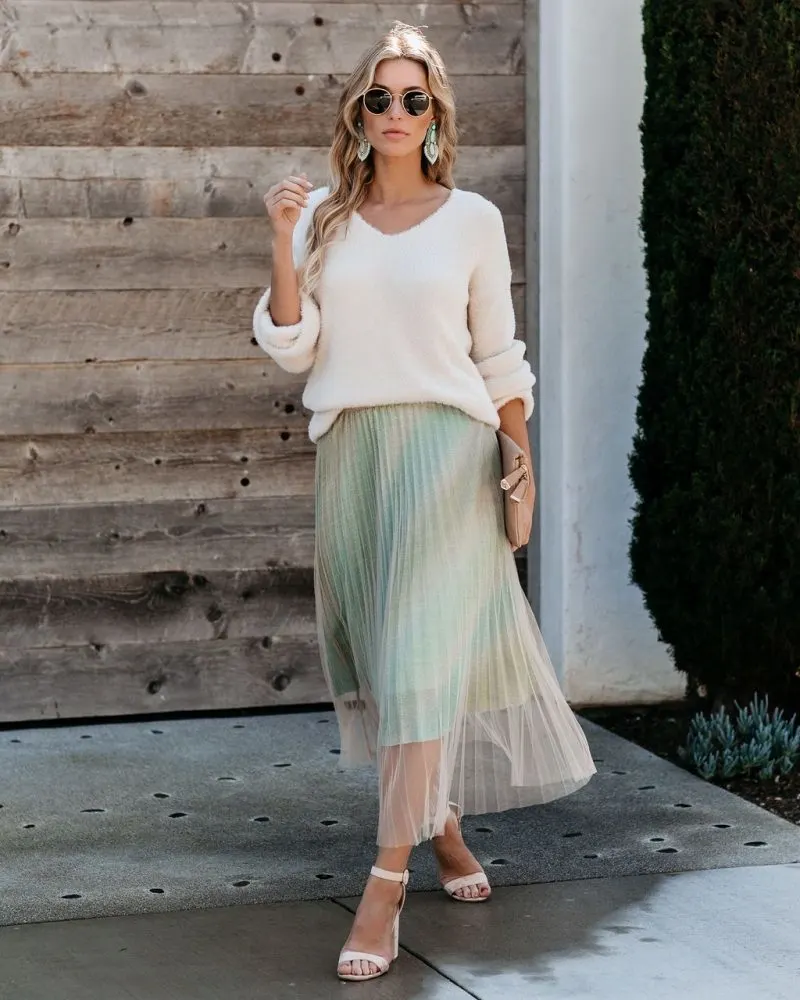 Buy Similar Here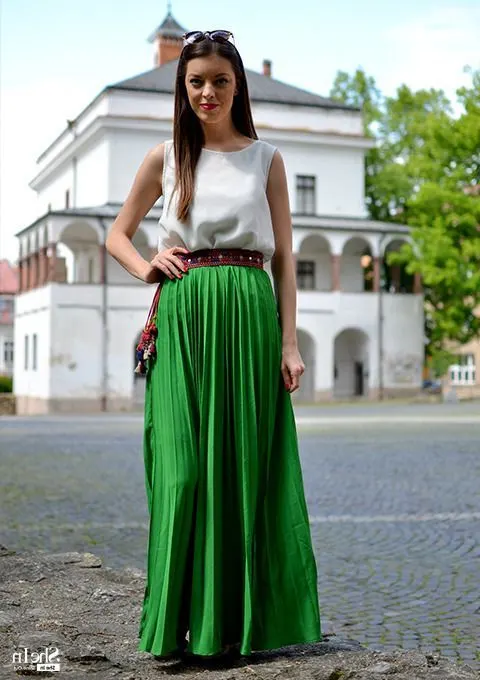 Buy Similar Here
Pleated Midi Skirt
Medium length (up to the knee and below) pleated skirt can be worn by women who want to create noble, romantic looks. Such a skirt is also considered to be the most versatile for creating fabulous outfits. It is suitable for office or informal events.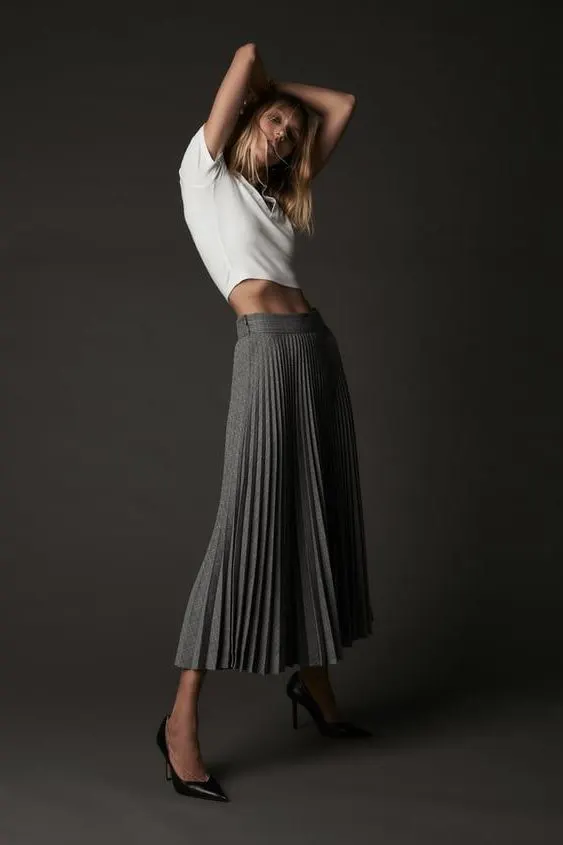 Buy Similar Here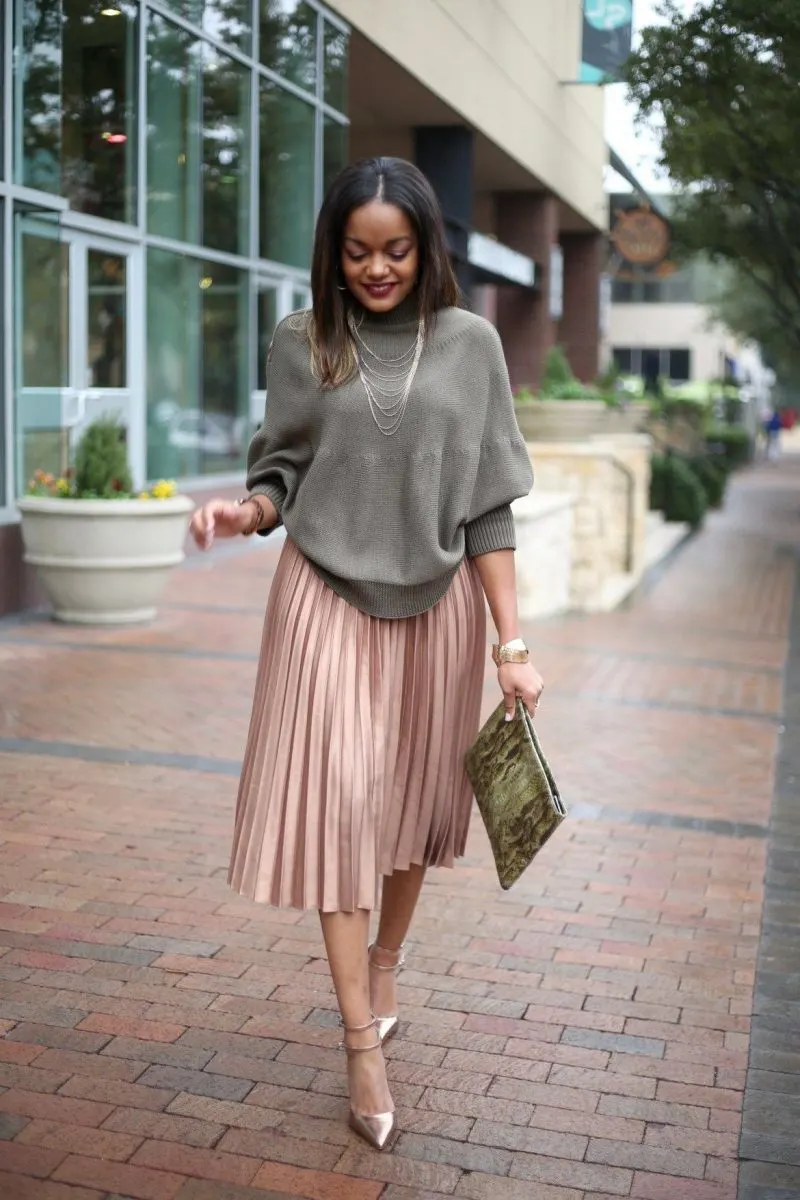 Buy Similar Here
Buy Similar Here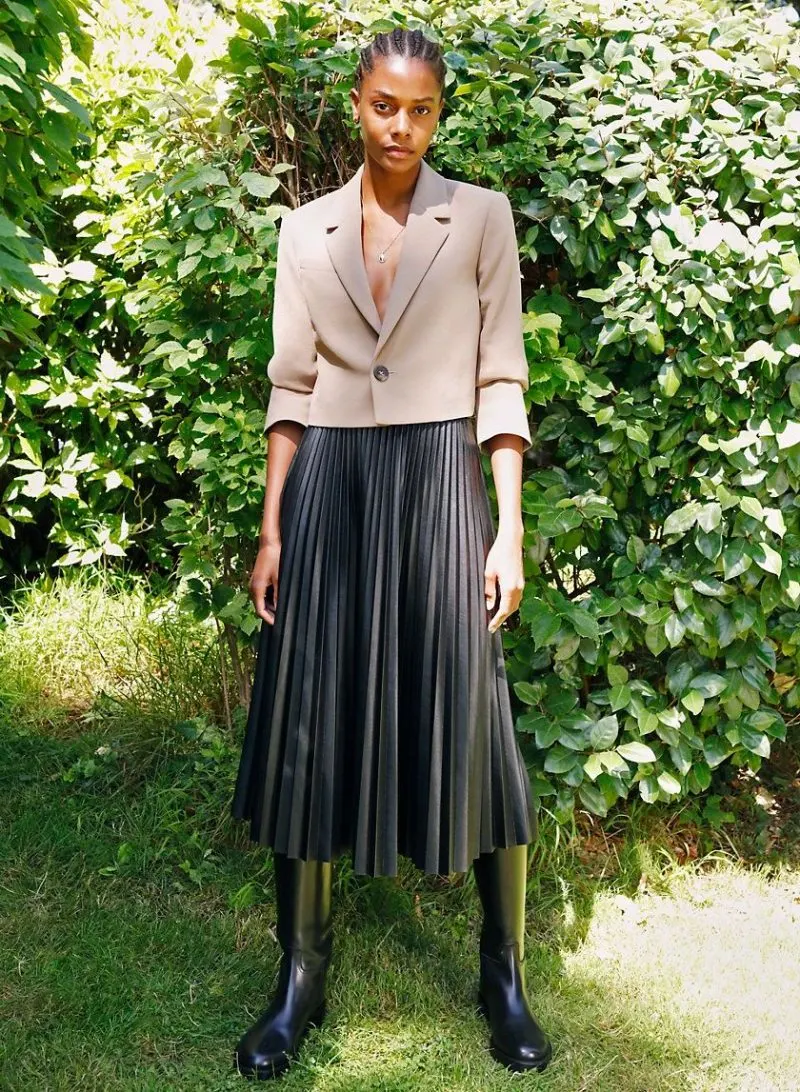 Buy Similar Here
If you choose a skirt in a neutral shade (beige, brown, white, black, gray, cream), then you can combine it with both classic and sporty clothes and accessories.
If you are the owner of a "pear" type body (with wide hips and a heavy bottom), then most stylists recommend buying pleated skirts with the folds starting a bit lower, this will visually stretch the silhouette and the wearer's body automatically looks proportional.
Mini Pleated Skirt
This is definitely not an option for the office hours, but rather for a walk around city with your best friend or a trip to a cafe. Today, designers recommend wearing such skirts with voluminous sweaters, which should completely cover the skirt. If you are not into knits, then blouses, shirts, and lightweight tops will also be a nice alternative.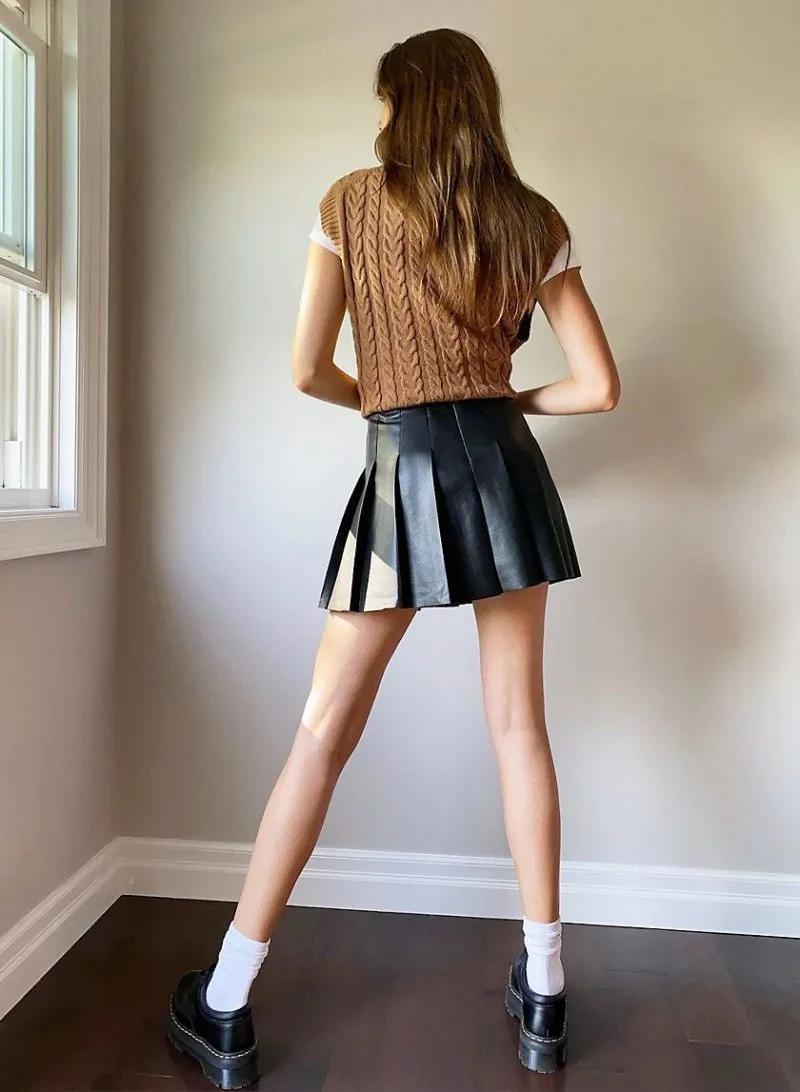 Buy Similar Here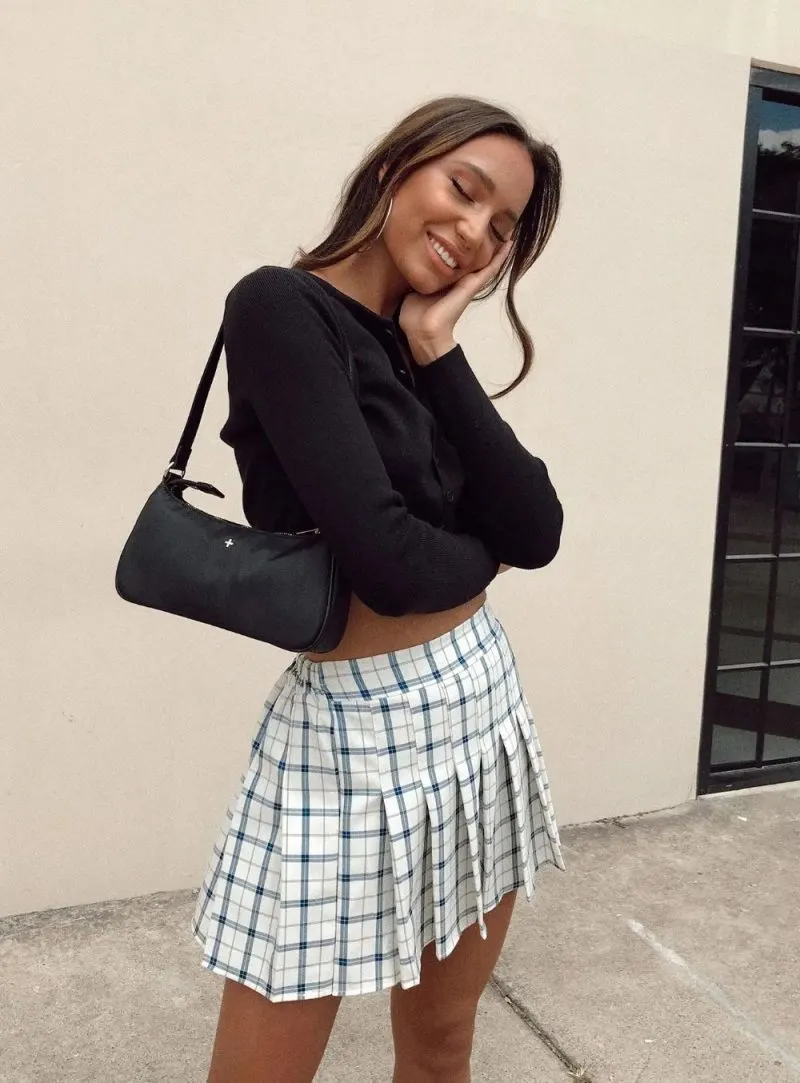 Buy Similar Here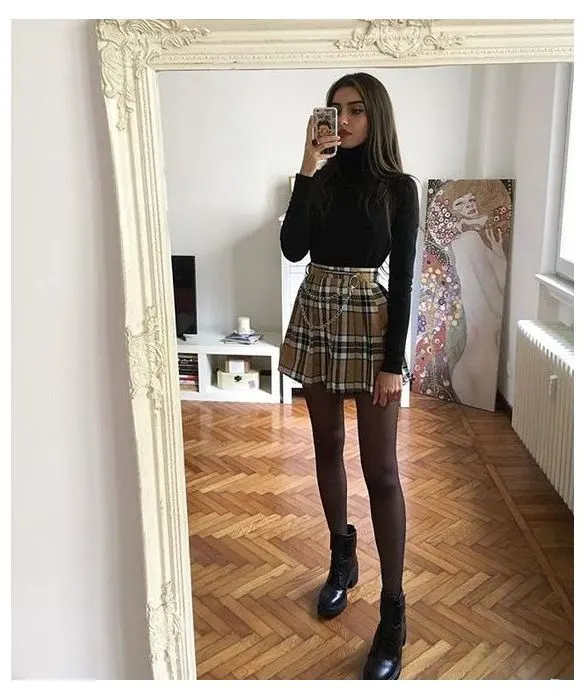 Buy Similar Here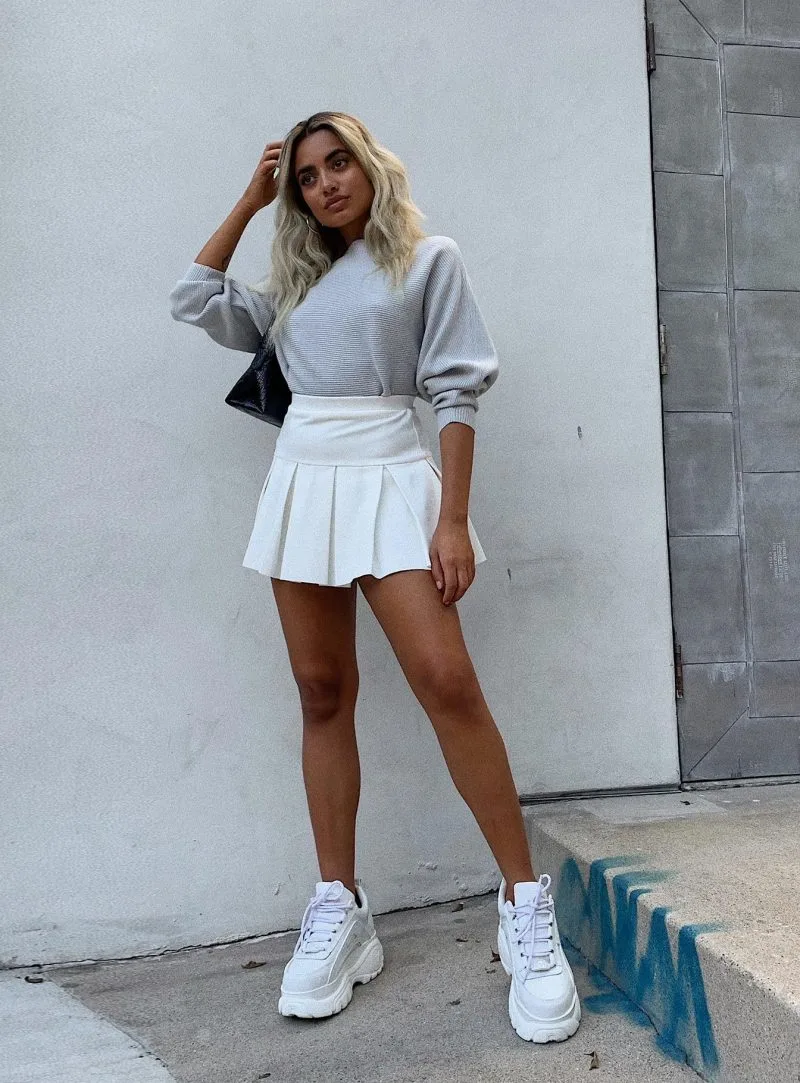 Buy Similar Here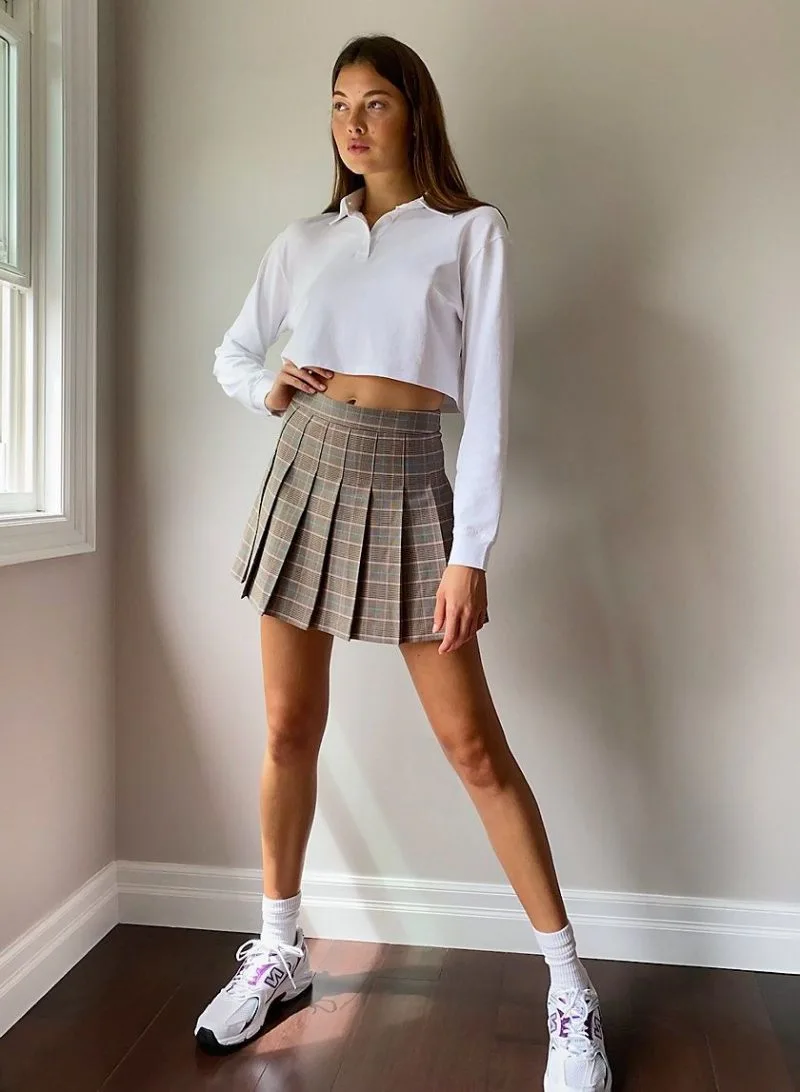 Buy Similar Here
Material
The pleated skirt's fabric is better to choose depending on the season. Usually, during the spring, summer, and autumn months ladies tend to wear styles made of chiffon, crepe or leather. Whilst during the winter the best fabric is considered to be wool.
Footwear
You can create amazing outfits in combination with almost any footwear — pumps and sandals with heels, ankle boots, sneakers, trainers, ballet flats, slip-on shoes, loafers, shoes with rough soles. During the summer season, the best shoes to wear with a pleated skirt are as follows: sandals, gladiators, platform sandals.
What to wear with a pleated skirt?
With A Shirt
If you are a beginner in this trend, then the best solution is to start from a basic option, you can try on a classic white shirt, or keep things sophisticated with a printed one.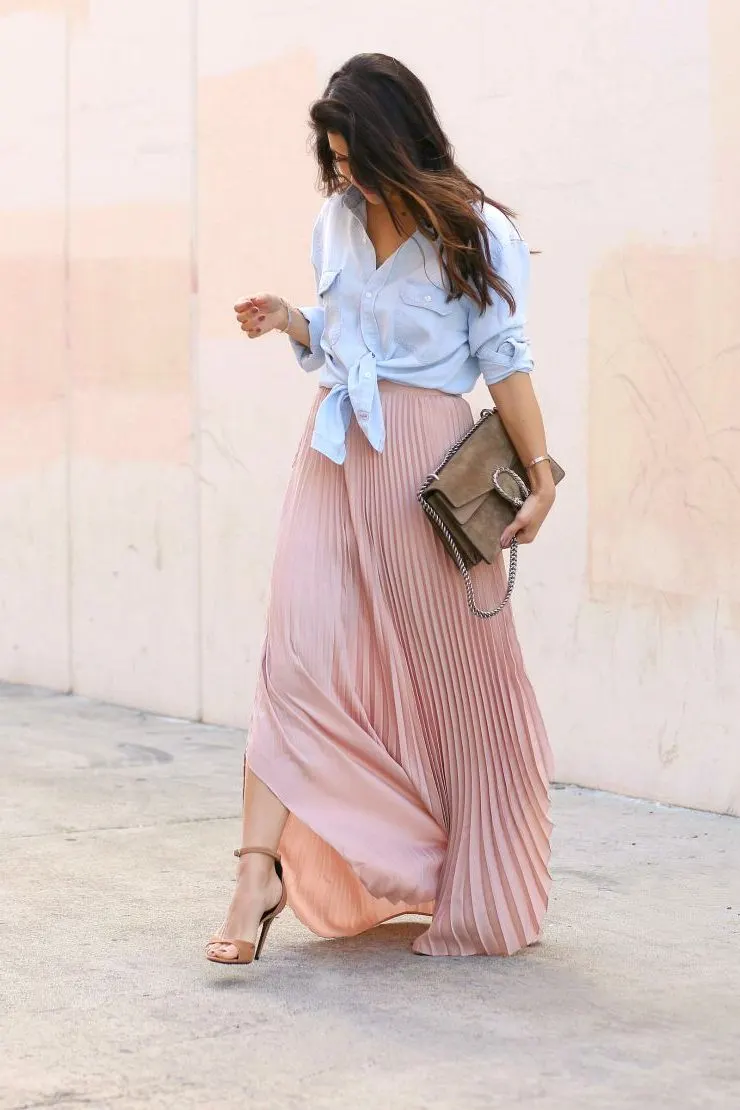 Buy Similar Here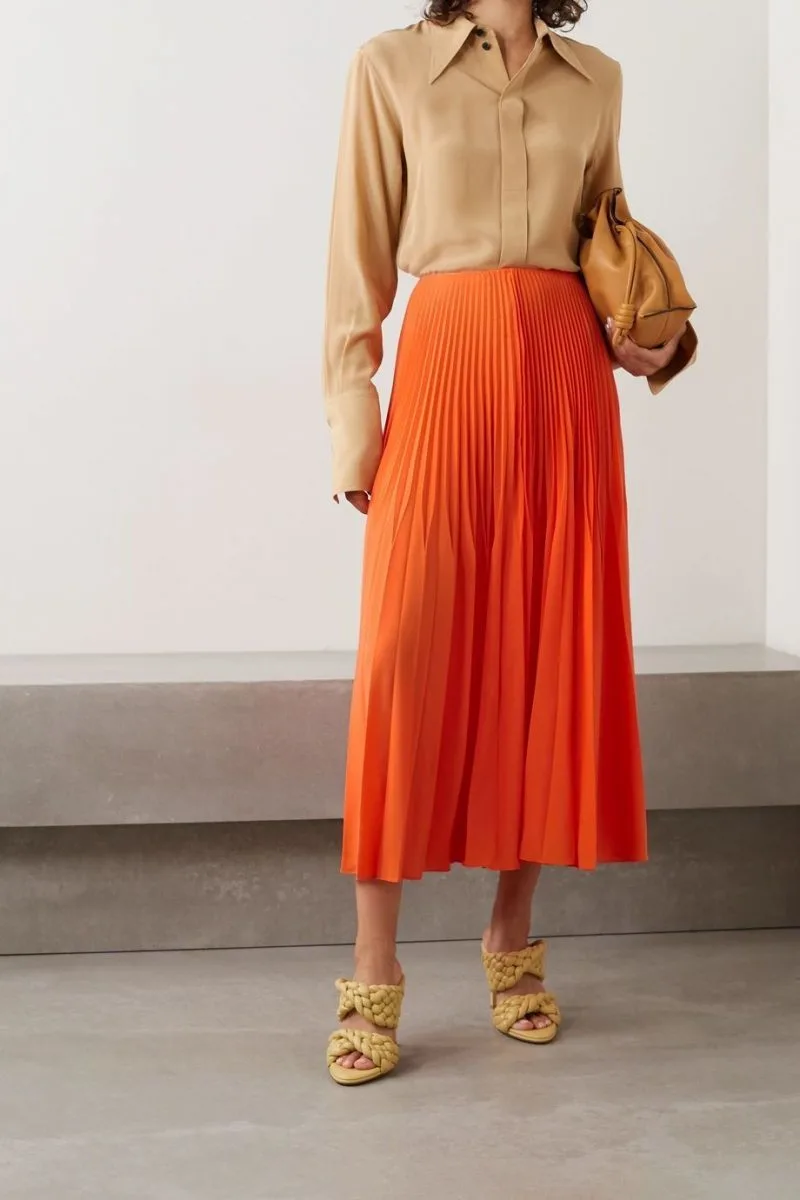 Buy Similar Here
Buy Similar Here
Midi made of dark fabric (brown, dark green, maroon) is typical for office wear. The most advantageous color solutions will be a black or dark blue skirt with a white, blue, light yellow, gray-blue, lilac, pale pink shirt.
An interesting belt will make a beautiful accent on the waist, and an elegant necklace will make the outfit more feminine. To complement the look, you can also try other pieces of jewelry and accessories: bracelets, glasses, a scarf, a clutch, a purse or a backpack. In the cold season, throw a short jacket or leather jacket.
Pleats look great with a denim shirt to which you can add shoes with heels or flat sandals, sneakers, or ballet flats.
Denim may not be the only top to team with a pleated skirt. How about wearing a T-shirt under the denim shirt, you can simply unbutton the chambray shirt, creating a casual look.
With a Jumper, or Pullover
If it's a Fall or Winter season outside, then how about combining the skirt with a jumper. Complete such look with stilettos or sneakers.
The pullover can be tucked into a skirt if it is made of light fabric (cotton, viscose, acrylic).
Long pleated skirts in delicate pastel shades like sand, cream, dusty pink, fawn, gray-beige, milk, or cream will perfectly harmonize with thin pullovers made of natural fabrics like cashmere, wool, mohair in the same delicate colors.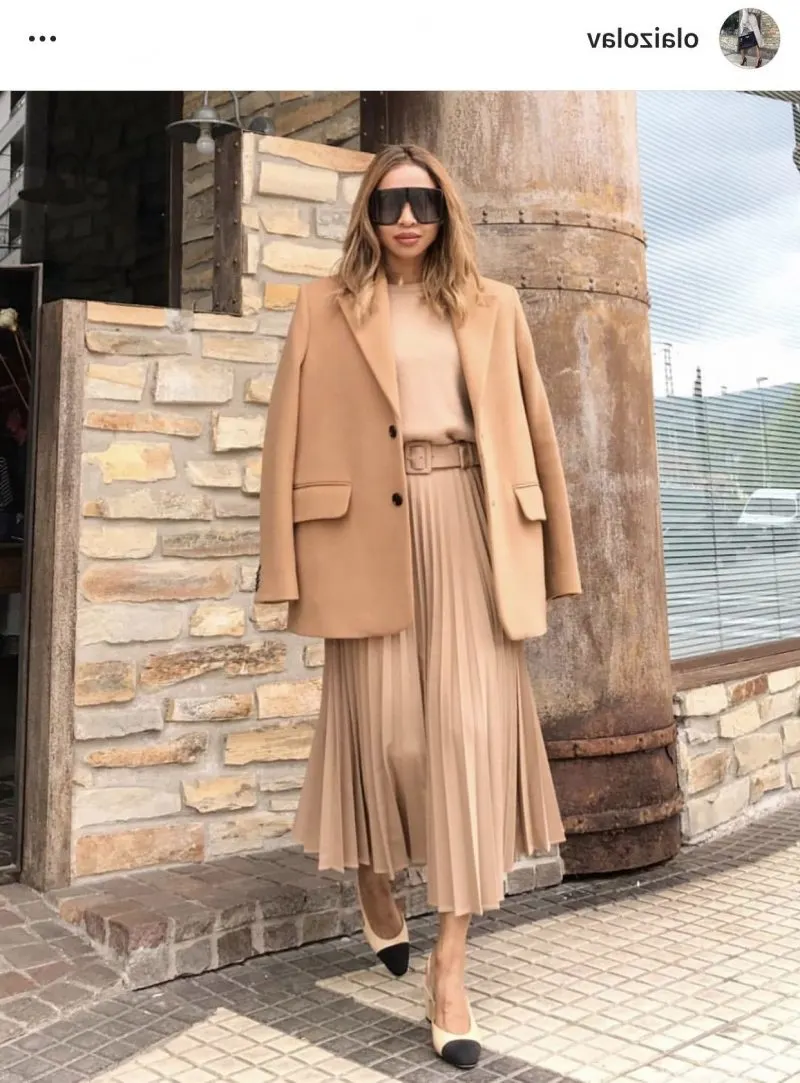 Buy Similar Here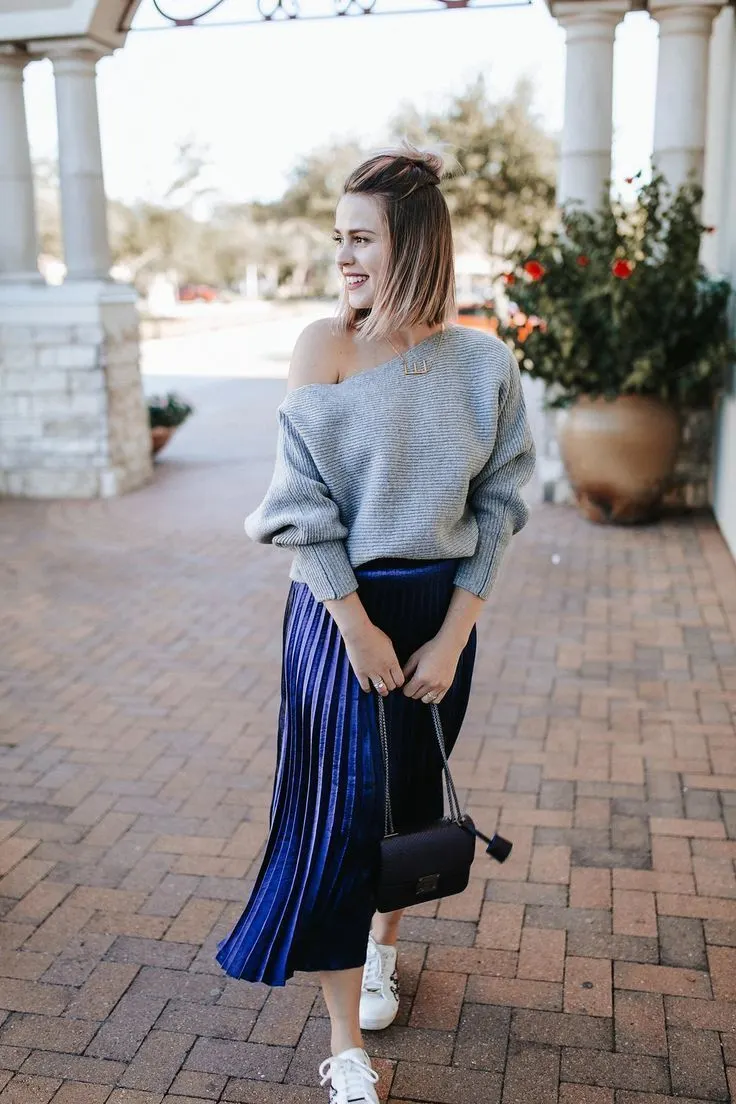 Buy Similar Here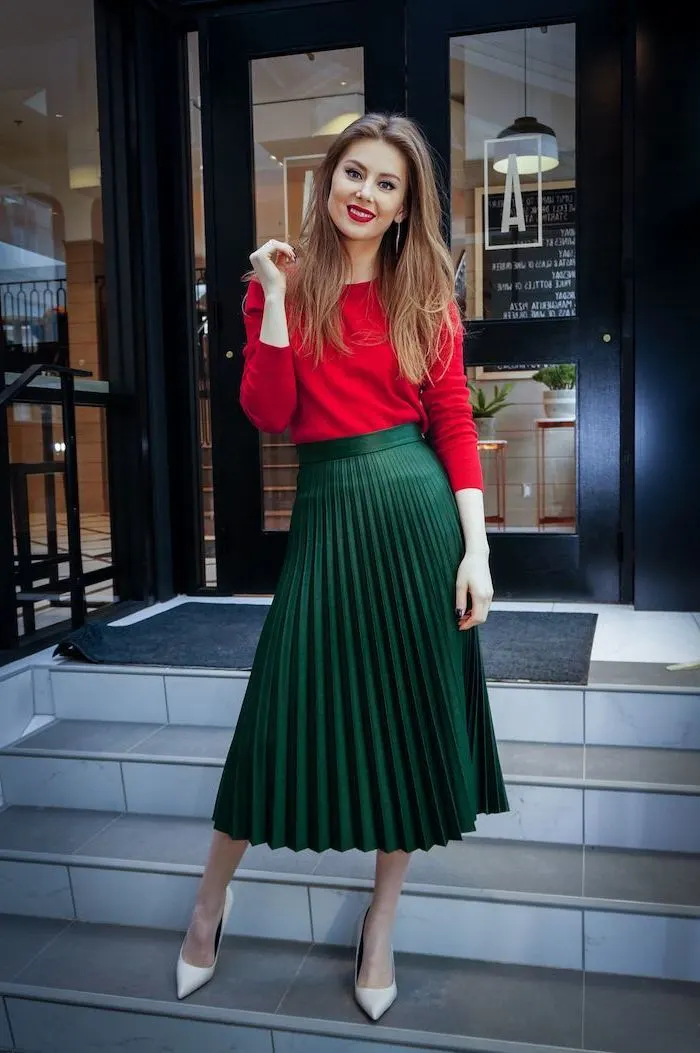 Buy Similar Here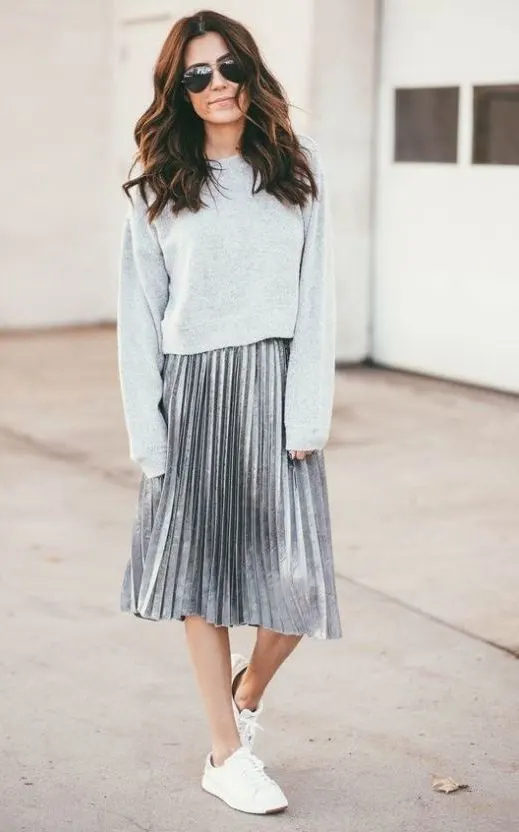 Buy Similar Here
It is best to combine a long midi skirt with sneakers and complete the look with a loose-fitting jumper. This will emphasize the loose and slightly sporty touch of the outfit.
The shirt can be worn under a pullover to peek out, this will give the look more seriousness, which is great for typical office wear. Rough, informal shoes and a few expressive accessories like a belt with spikes, a cool hat, and a pair of bracelets will make the set more modern and youthful.
With Leather Jacket
A leather jacket can be found in the wardrobe of almost every girl. Yes, this is an outerwear piece for a basic wardrobe. Trust me, the delicate flowing fabric of the pleated skirt is ideal in contrast to the rough leather. Complete this combo with classic shoes or high-heeled sandals, if you want to look more sophisticated, If you want to create a sporty update, then add sneakers.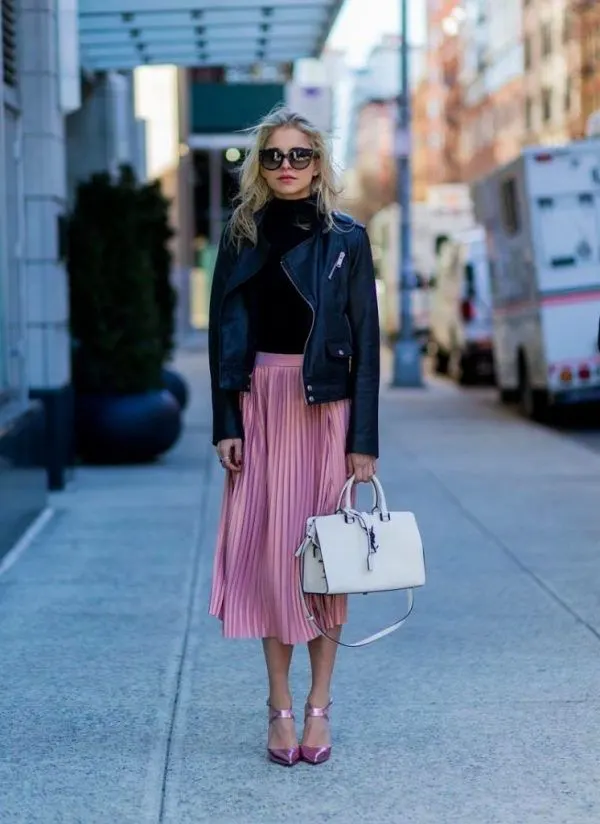 Buy Similar Here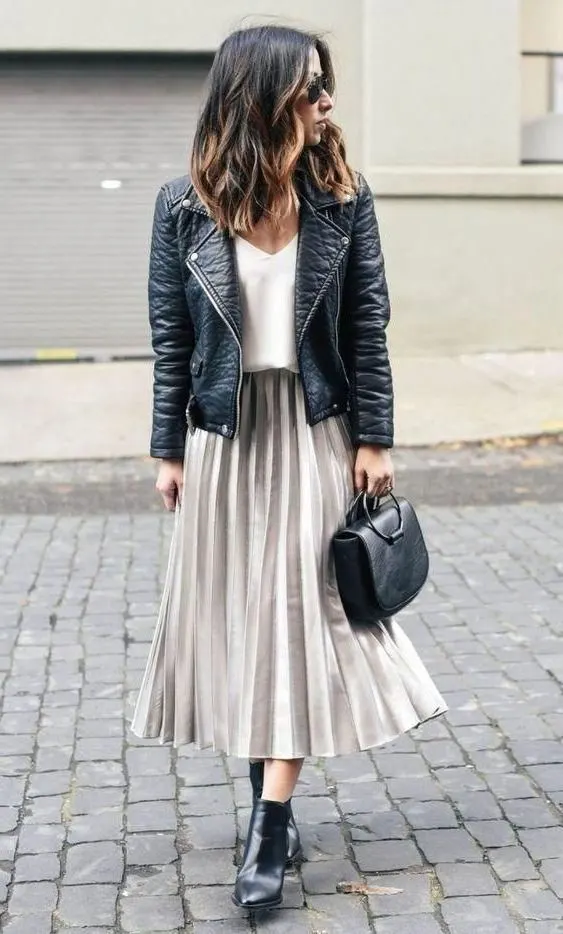 Buy Similar Here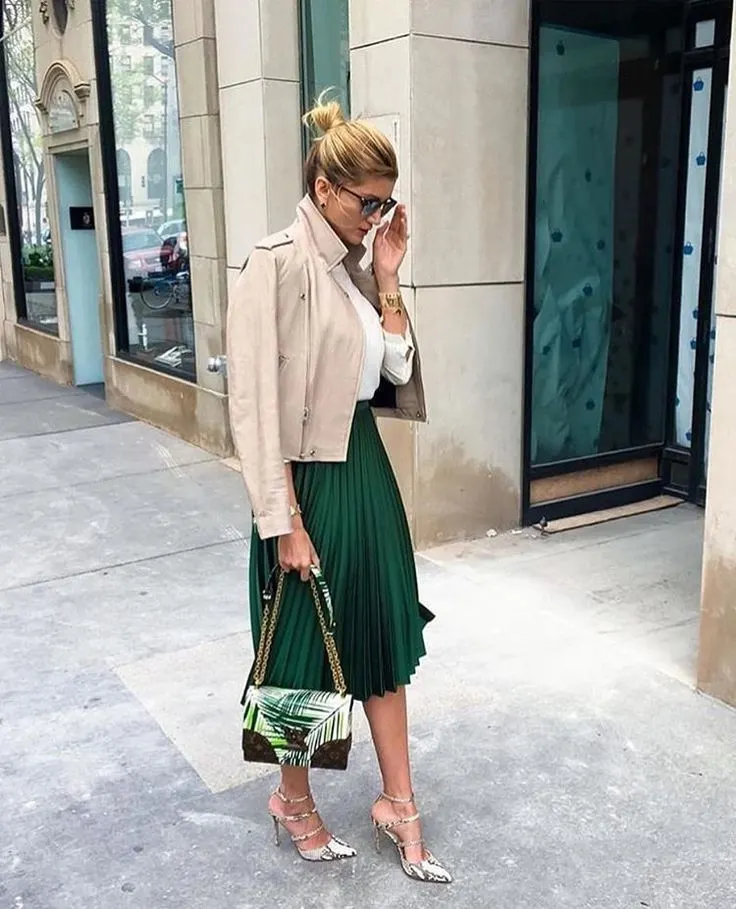 Buy Similar Here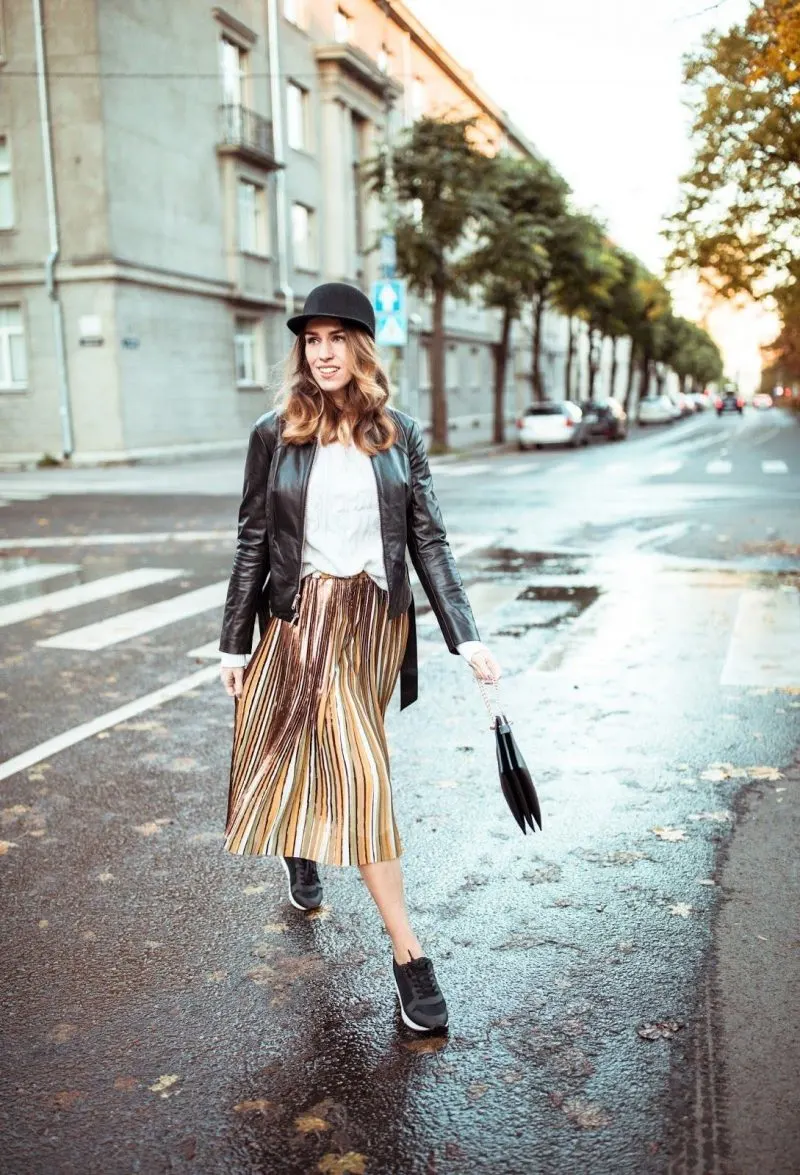 Buy Similar Here
If you want to complete a leather jacket and a pleated skirt with ankle boots with heels, then I recommend completing the outfit with a voluminous bag in the matching color of the shoes.
With Denim jacket
A denim jacket will give the pleated skirt a casual update. You can wear a T-shirt (plain, striped, decorated with a print or pattern) or a jumper under the denim jacket.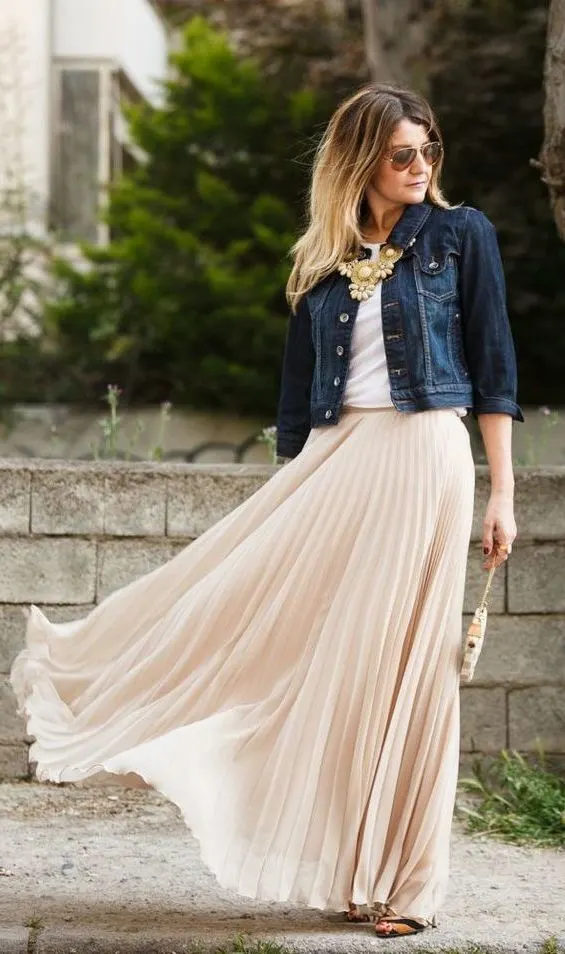 Buy Similar Here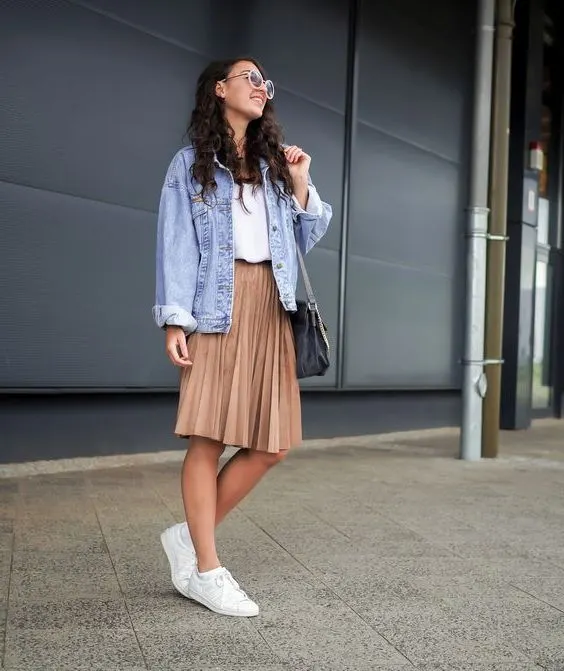 Buy Similar Here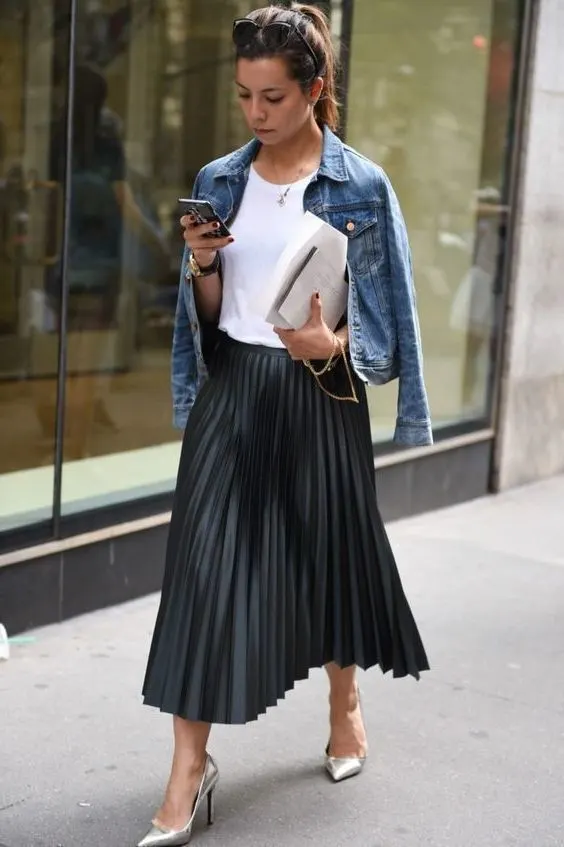 Buy Similar Here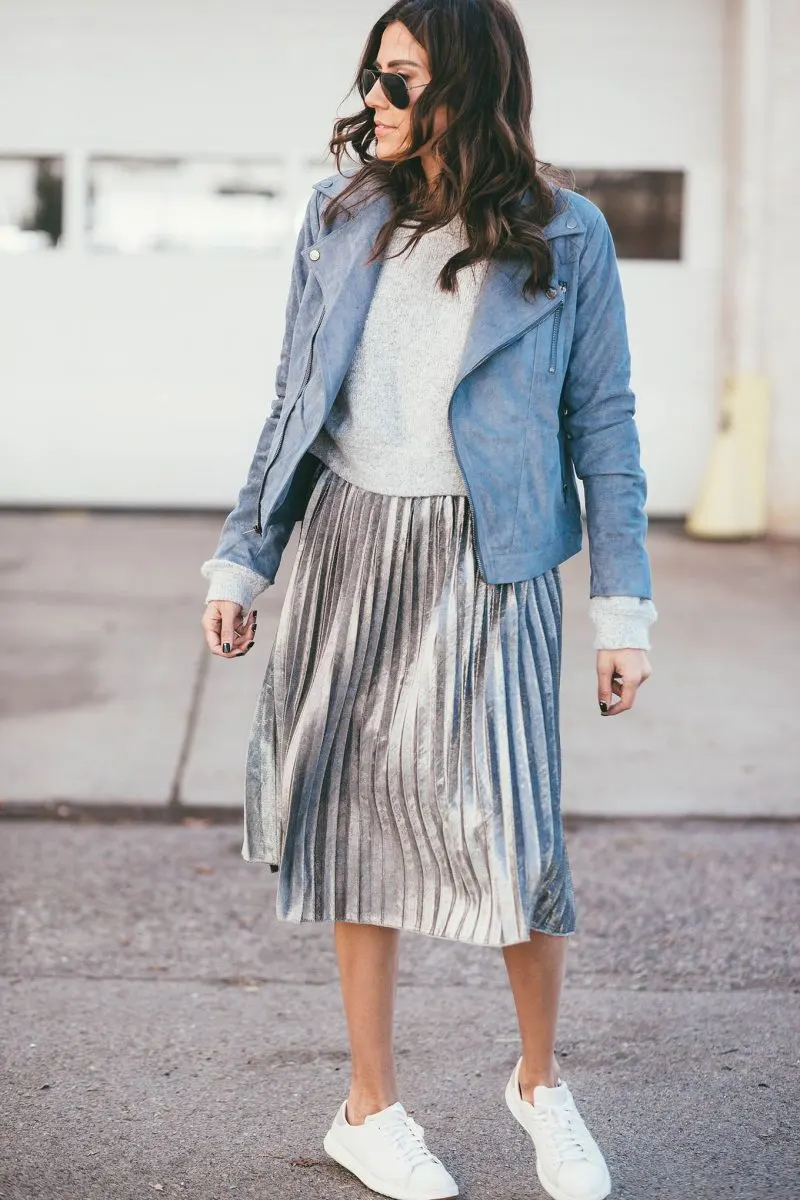 Buy Similar Here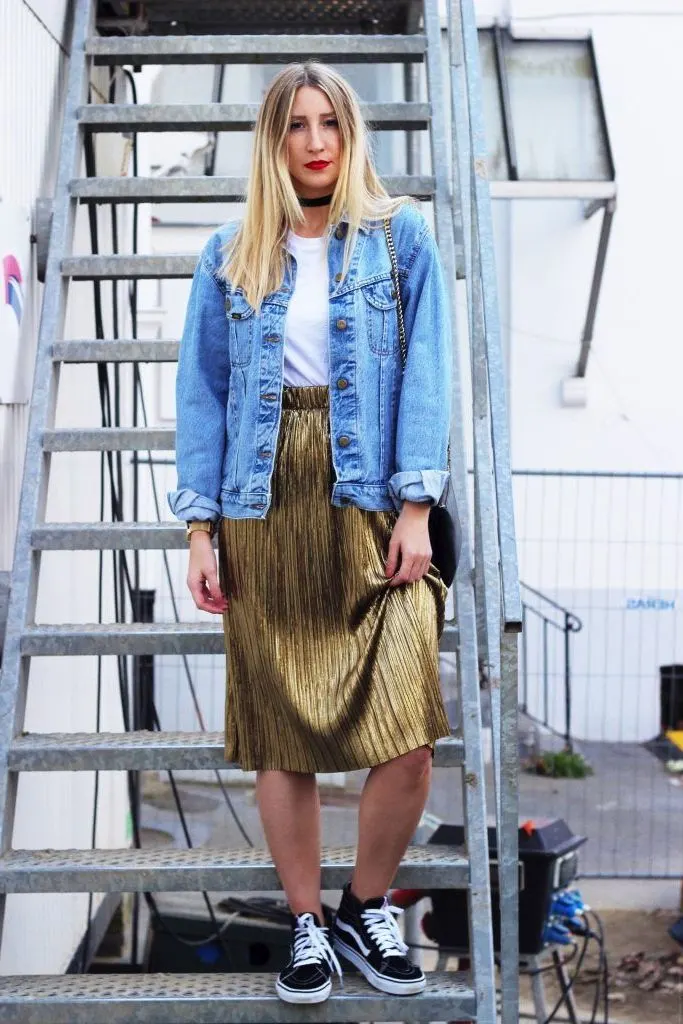 Buy Similar Here
Any shoes are appropriate. High-heeled shoes will make your look more elegant, ankle boots will help to emphasize the simplicity and if you want to look sporty cool, then add a pair of sneakers.
If you want to wear a maxi pleated skirt, then it is best to add a cropped versions of a denim jacket. In the cool season, I recommend completing the look with a turtleneck, ankle boots, opaque tights, a hat and a bag with a thin strap ( or a backpack).
With A Blazer
The blazer will perfectly complement the pleated skirt. A fitted elongated suit jacket will make the silhouette look visually slender. It can also be simply thrown over your shoulders. Cropped blazers look especially impressive with a long skirt.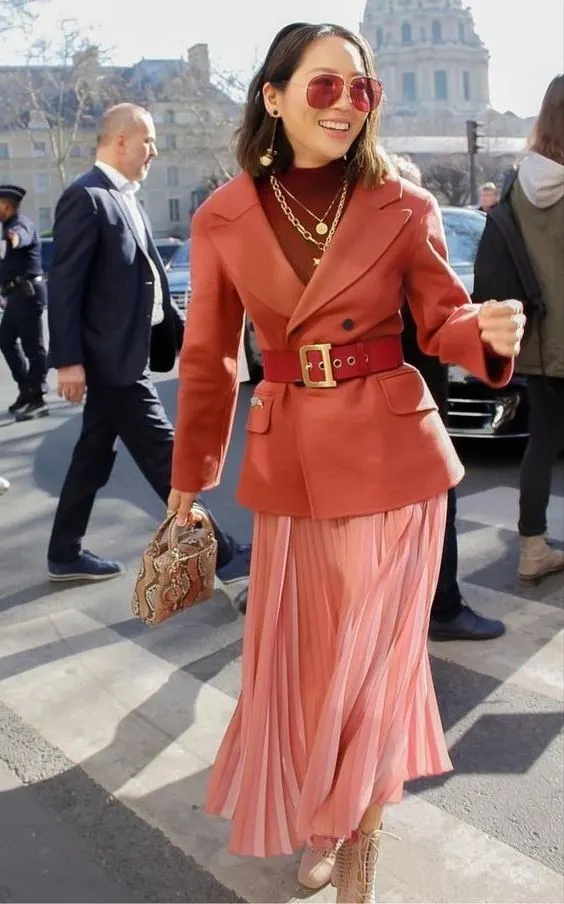 Buy Similar Here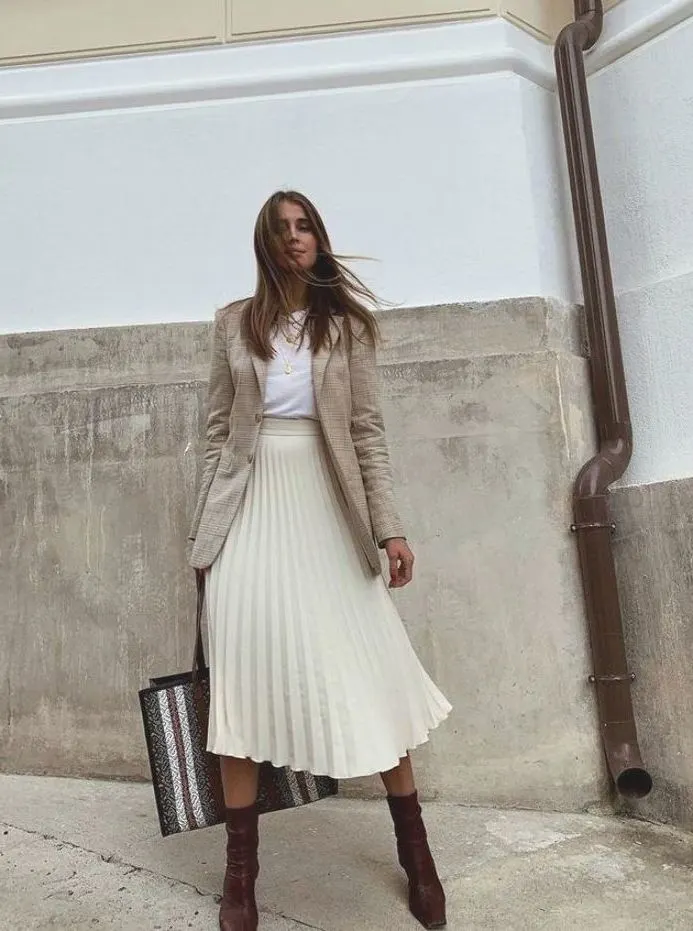 Buy Similar Here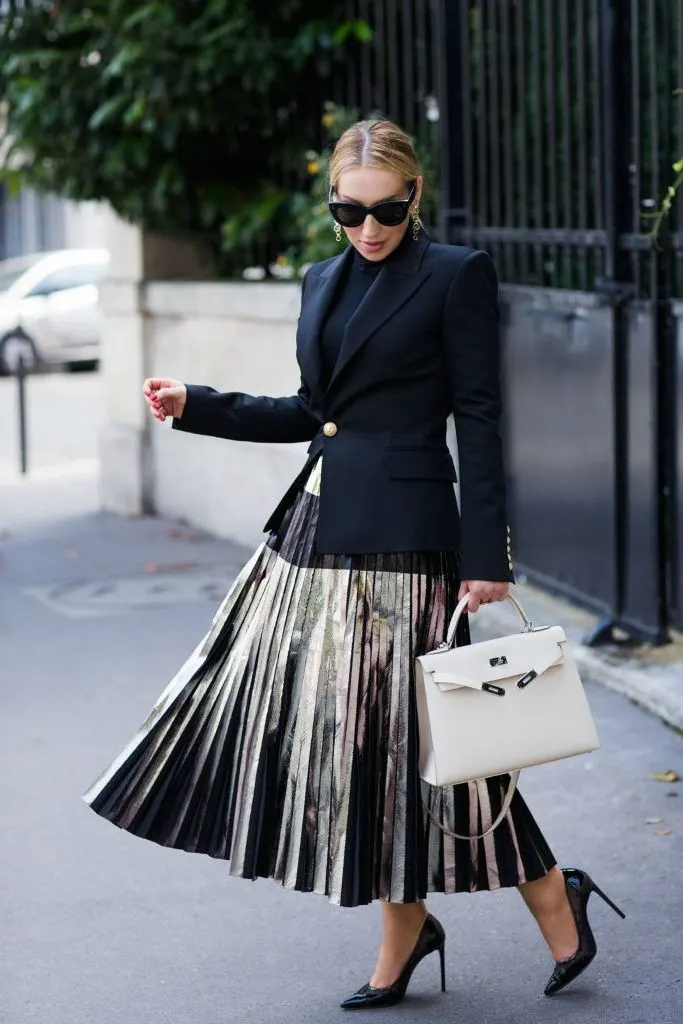 Buy Similar Here
Buy Similar Here
With T-shirt
A T-shirt can be a very stylish addition to the skirt. The T-shirt can be worn over a skirt or tucked into it. Sneakers will emphasize the sporty style, and a small chain handle handbag will add zest and uniqueness to the set. Pumps or sandals with heels will make you look more elegant. In the cool season, you can wear a bomber jacket over a T-shirt, or a warmed version of a leather jacket.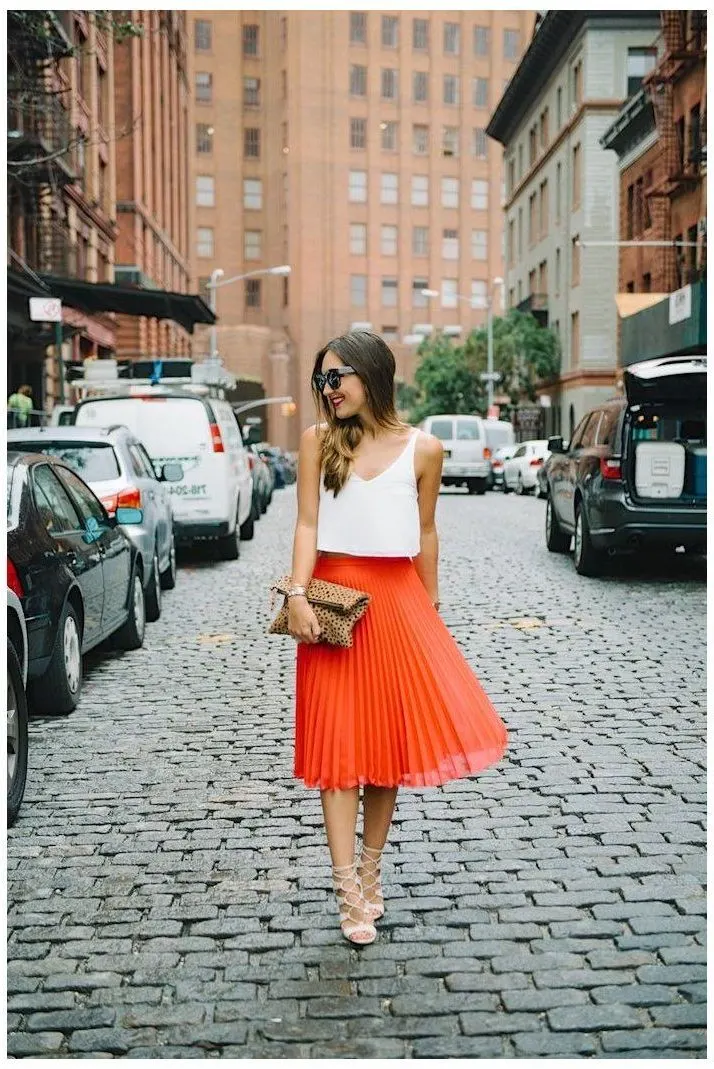 Buy Similar Here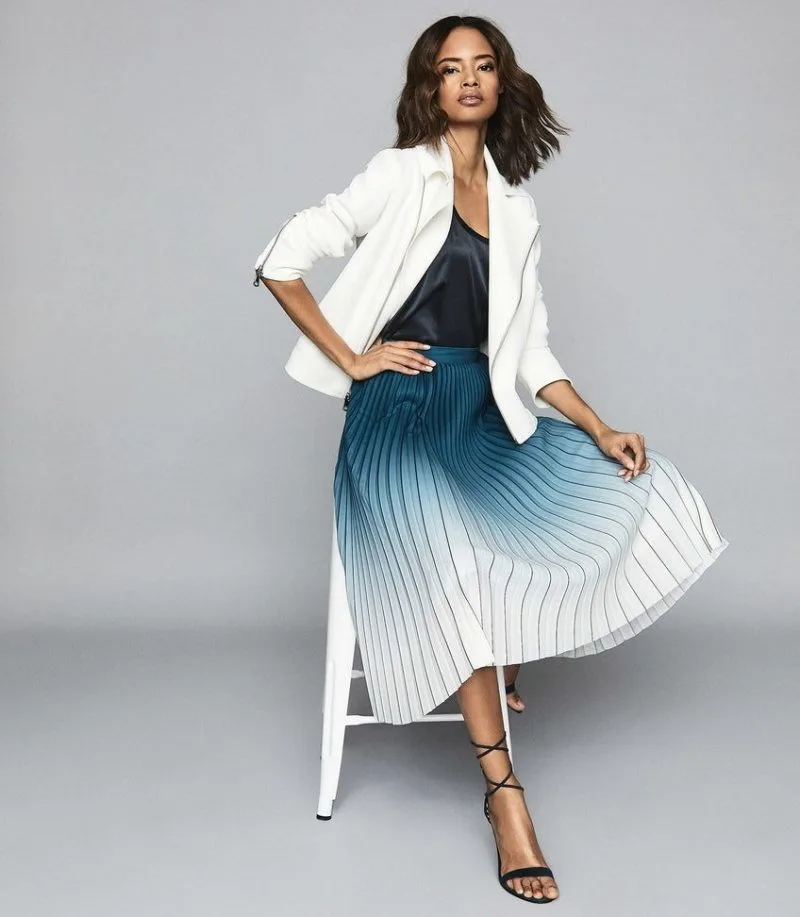 Buy Similar Here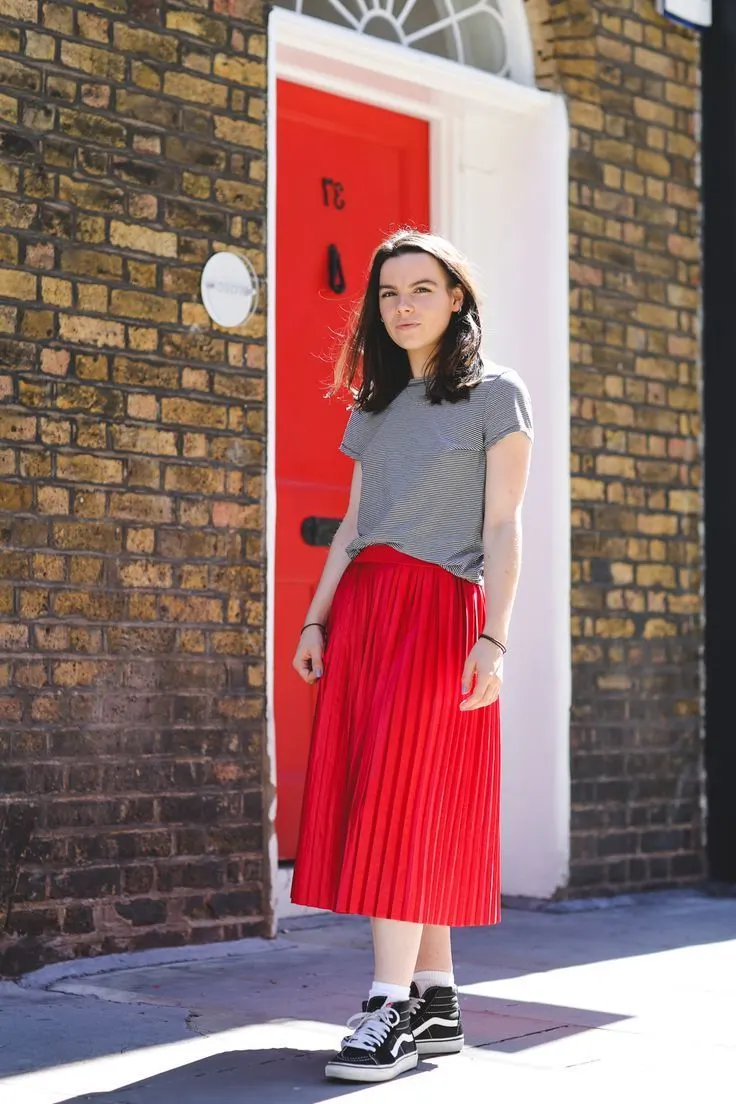 Buy Similar Here
With A Crop top
For the happy owners of a beautiful belly, a combination with a cropped top is the ideal choice. Choose a top made of silk, lace, guipure and complement it with heels and a clutch bag so it matches the top.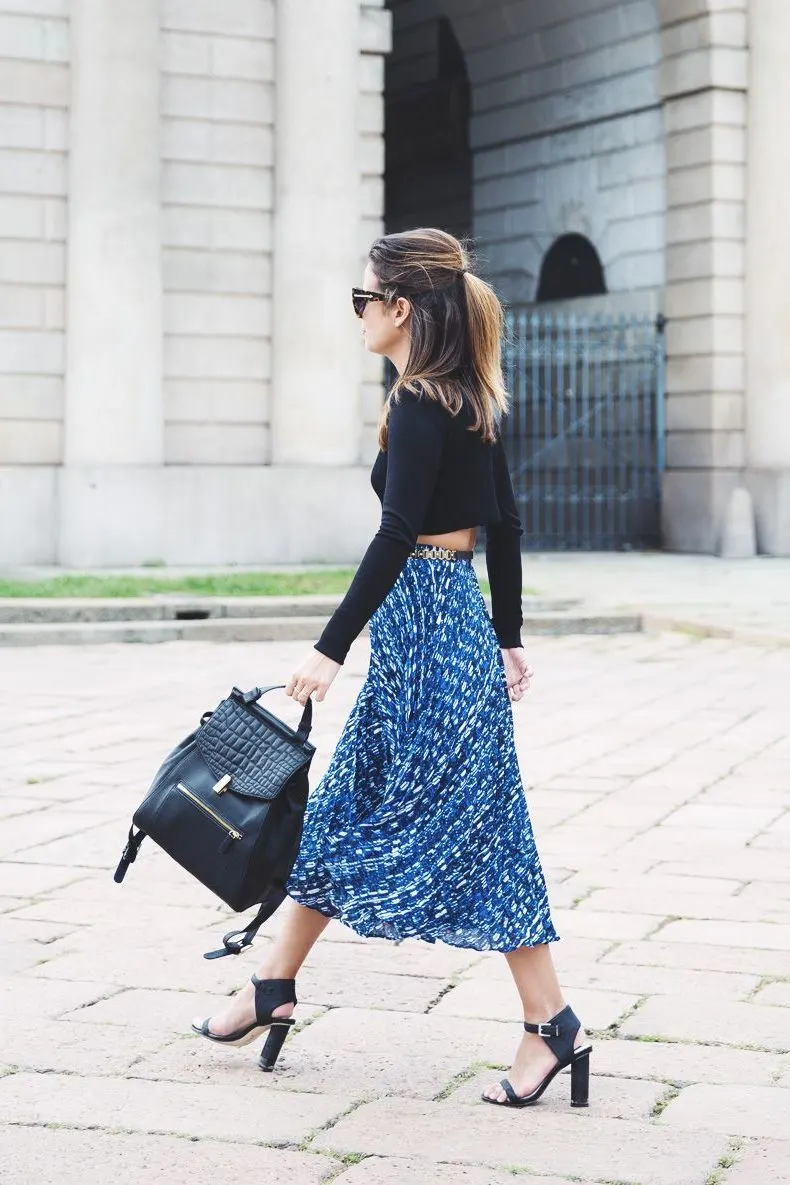 Buy Similar Here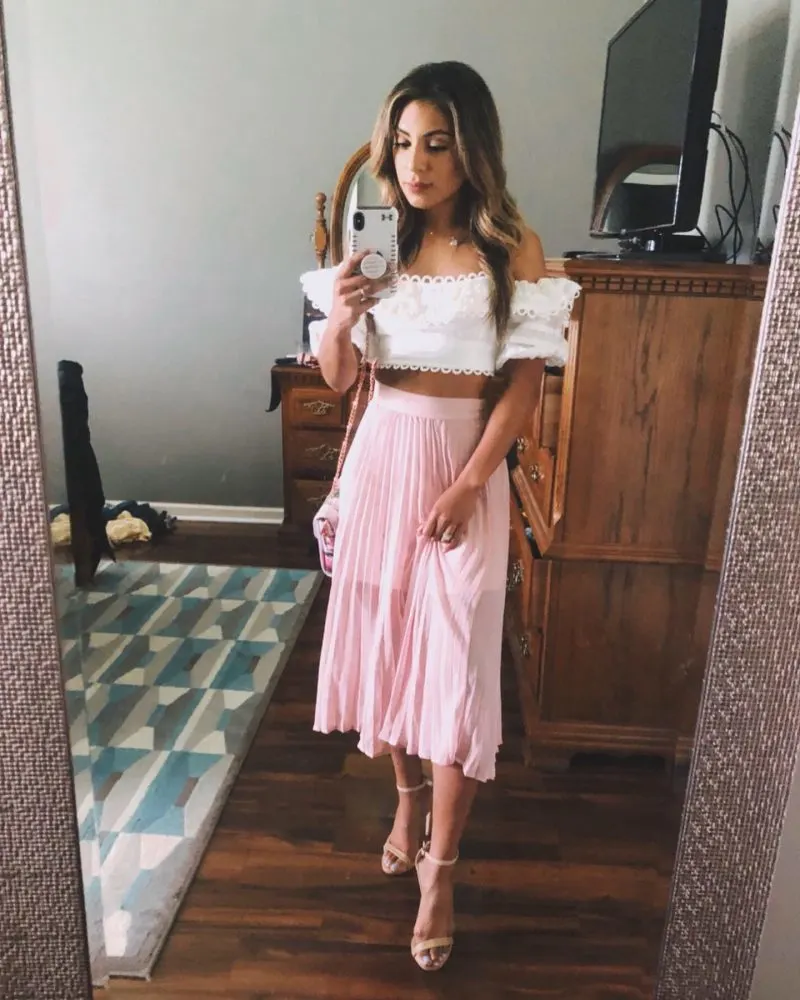 Buy Similar Here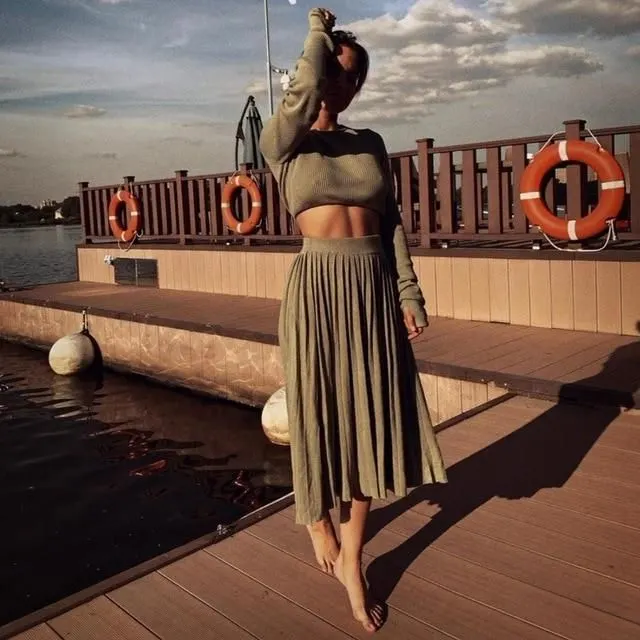 Buy Similar Here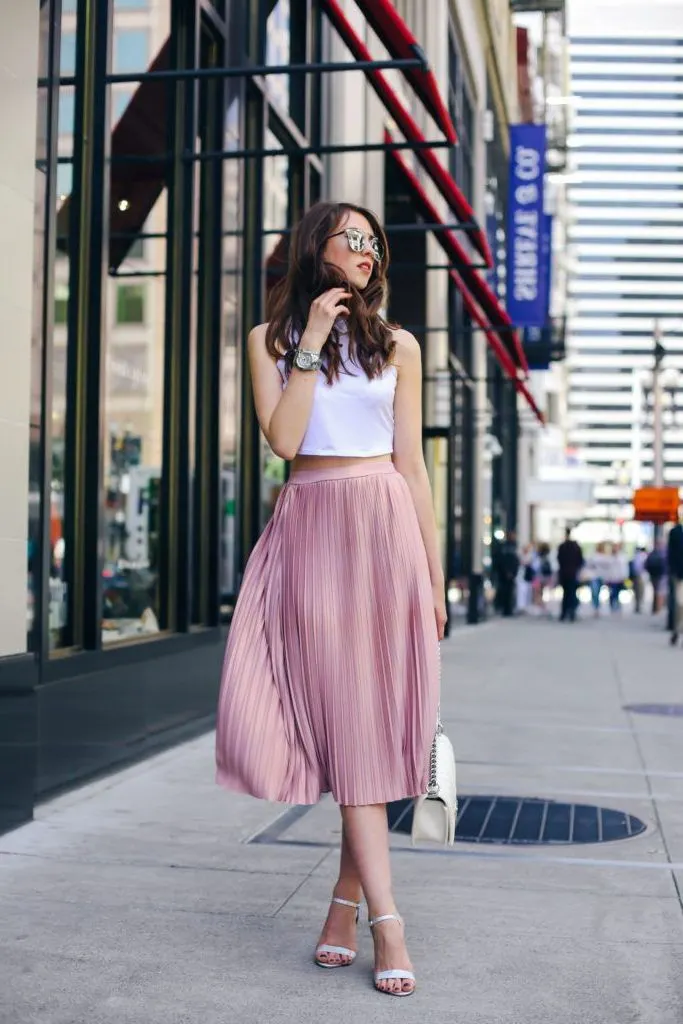 Buy Similar Here
With A Turtleneck
A pleated skirt made of bright metallic fabric or rich color is perfectly combined in the cool season with a turtleneck, especially a black one.
Buy Similar Here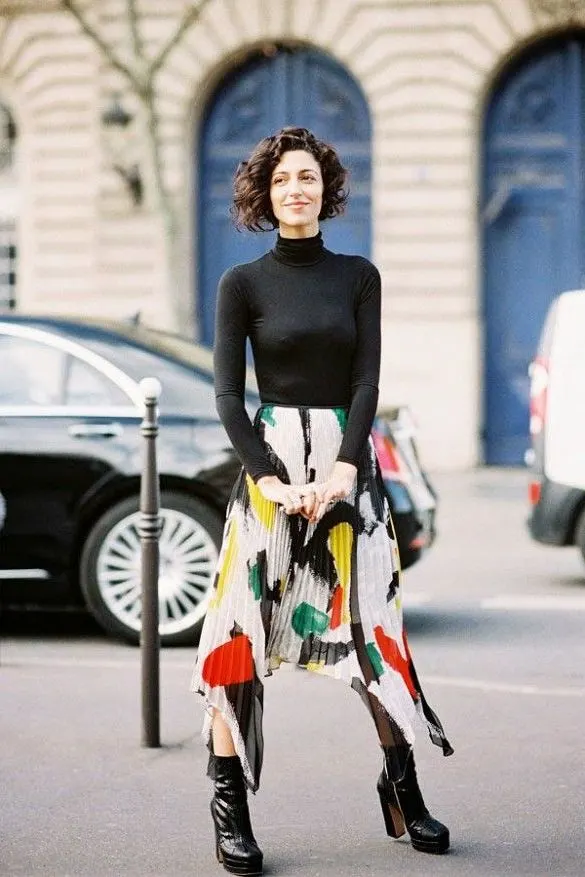 Buy Similar Here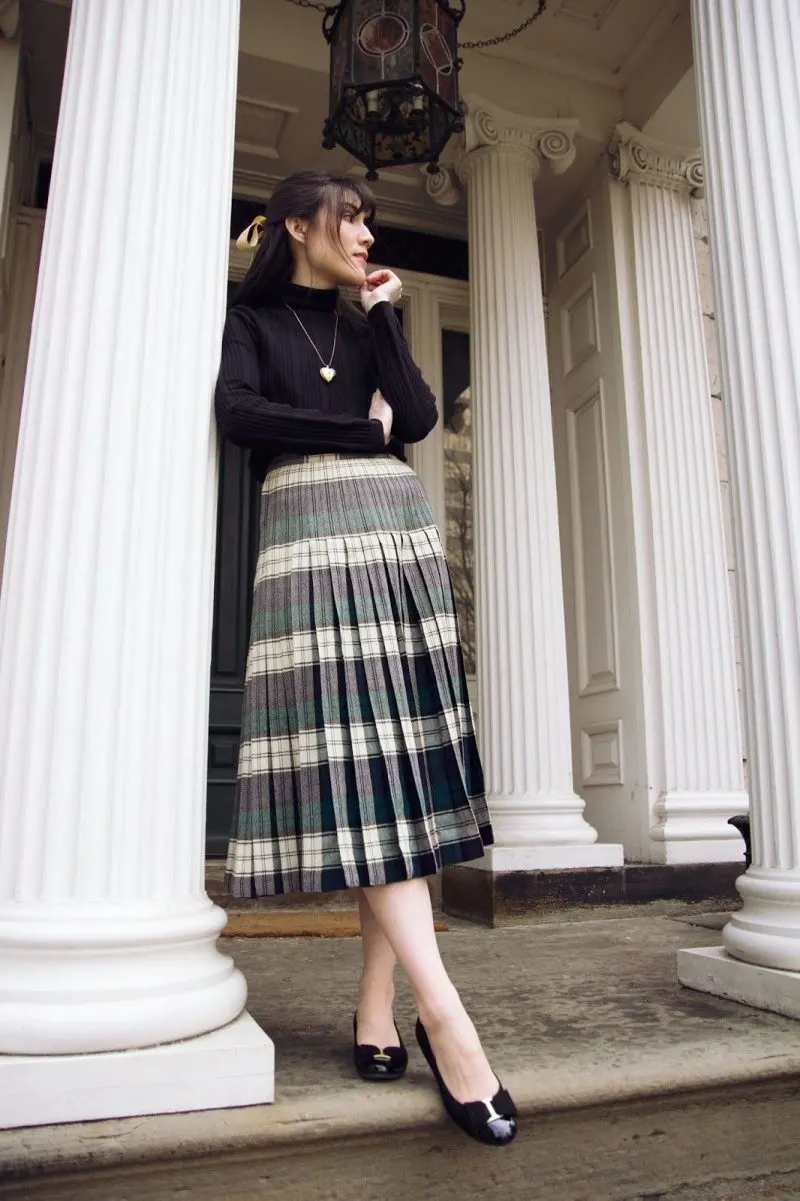 Buy Similar Here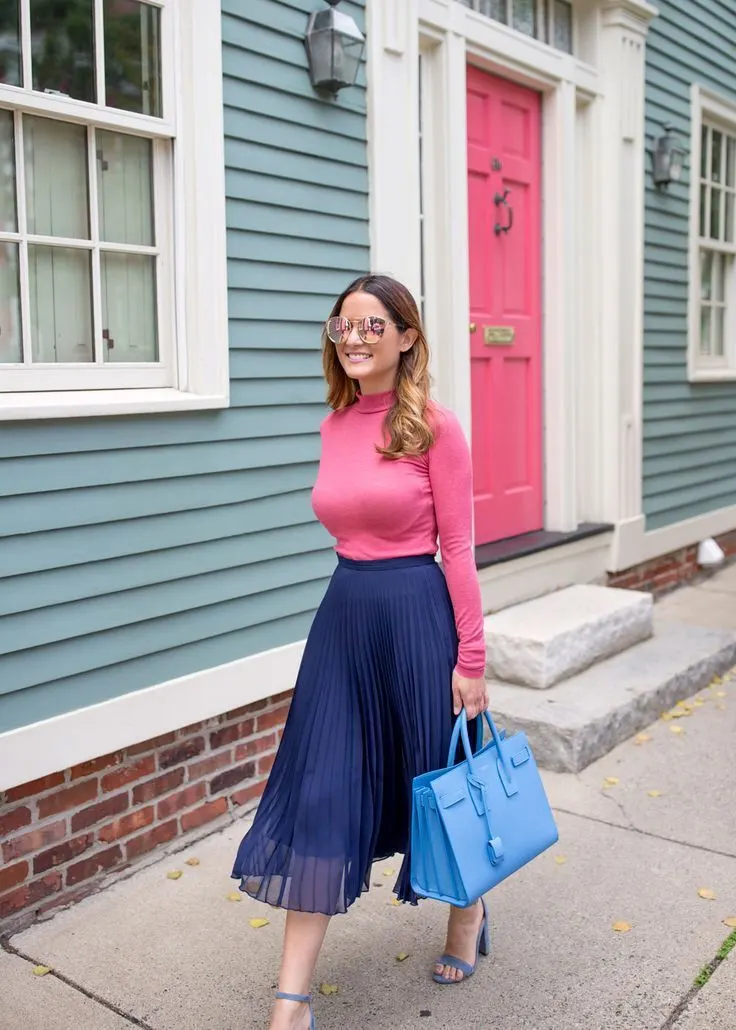 Buy Similar Here
With Oversized sweater
A pleated skirt looks amazing with lots of tops and shoes. For instance, a baggy knitted top, no matter if it's a sweater or cardigan can be a perfect idea for those who want to keep things relaxed and simple. I definitely recommend giving a try for a sweater with a billowing silhouette. Trust me, an oversized knit will be an ideal accompaniment to your knife-pleated skirt. The knitwear can be either worn tucked-out or tucked in.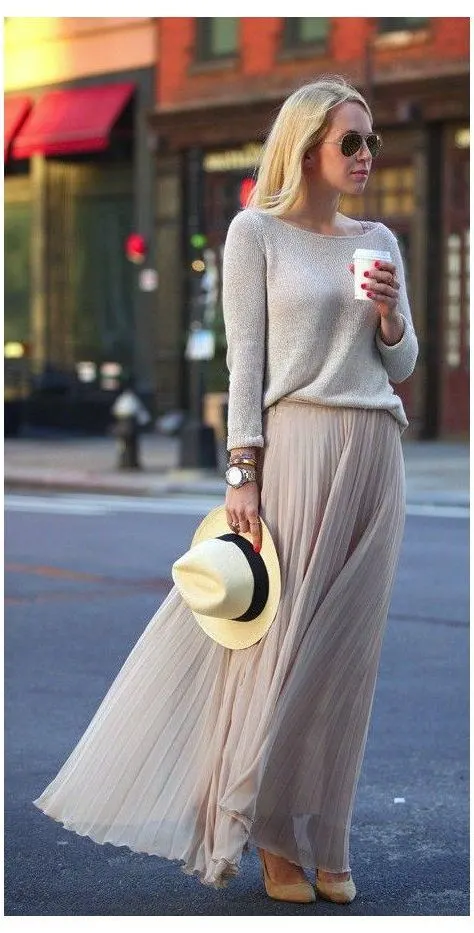 Buy Similar Here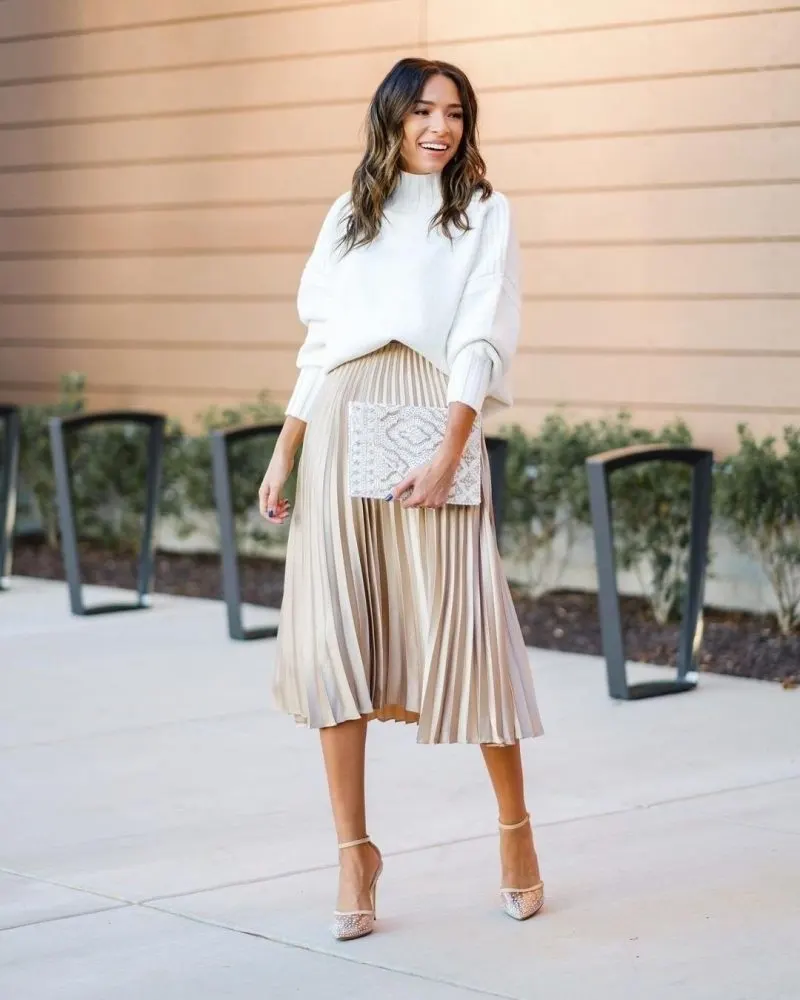 Buy Similar Here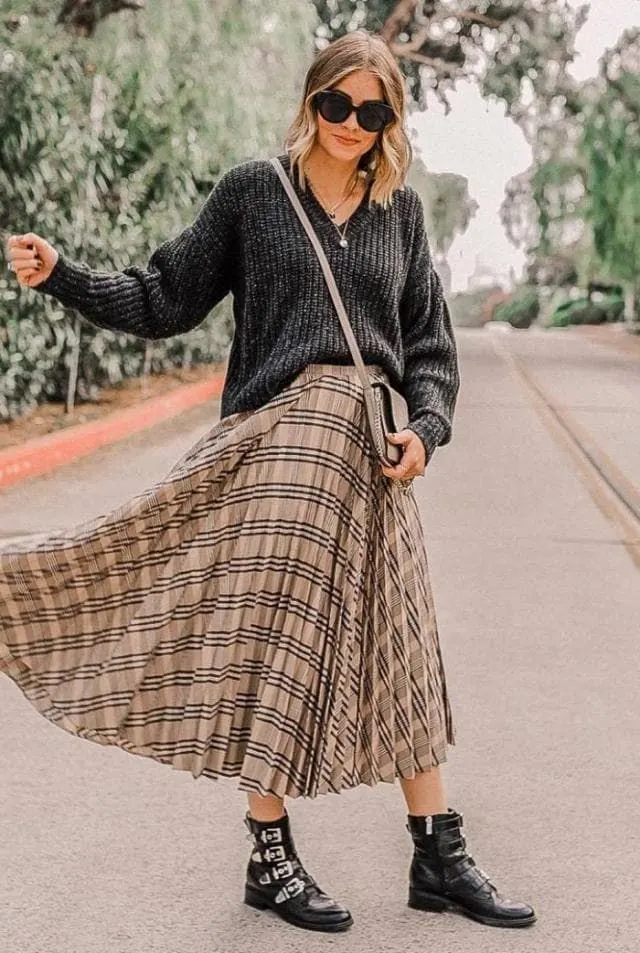 Buy Similar Here
Buy Similar Here
Voluminous knitwear in cable knit and classic knitting look pretty chic with pleats. Speaking of shoes, then any pair is appropriate, starting from boots to sneakers. This combo can be decorated with a belt, just make sure that the belt matches the color of the skirt.
How To Style During SPRING and AUTUMN
For the spring or autumn season, you can choose a pleated maxi or midi skirt. It is better to combine it with plain sweaters. A sleeveless coat will warm and complete the combo. In addition to sweaters, complete it with a leather or denim jacket, cardigan, or windbreaker. A scarf, matched in the color of your skirt, will perfectly complement your look.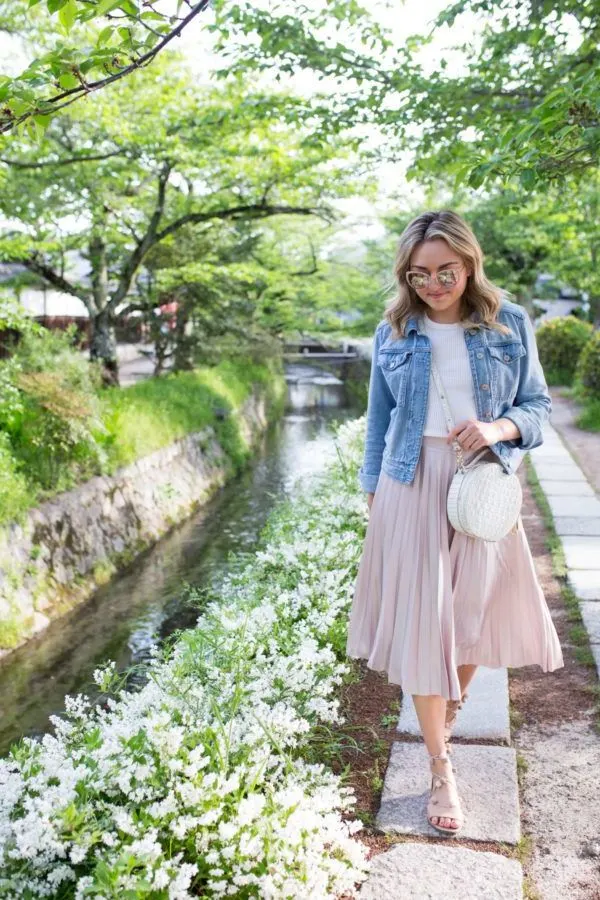 Buy Similar Here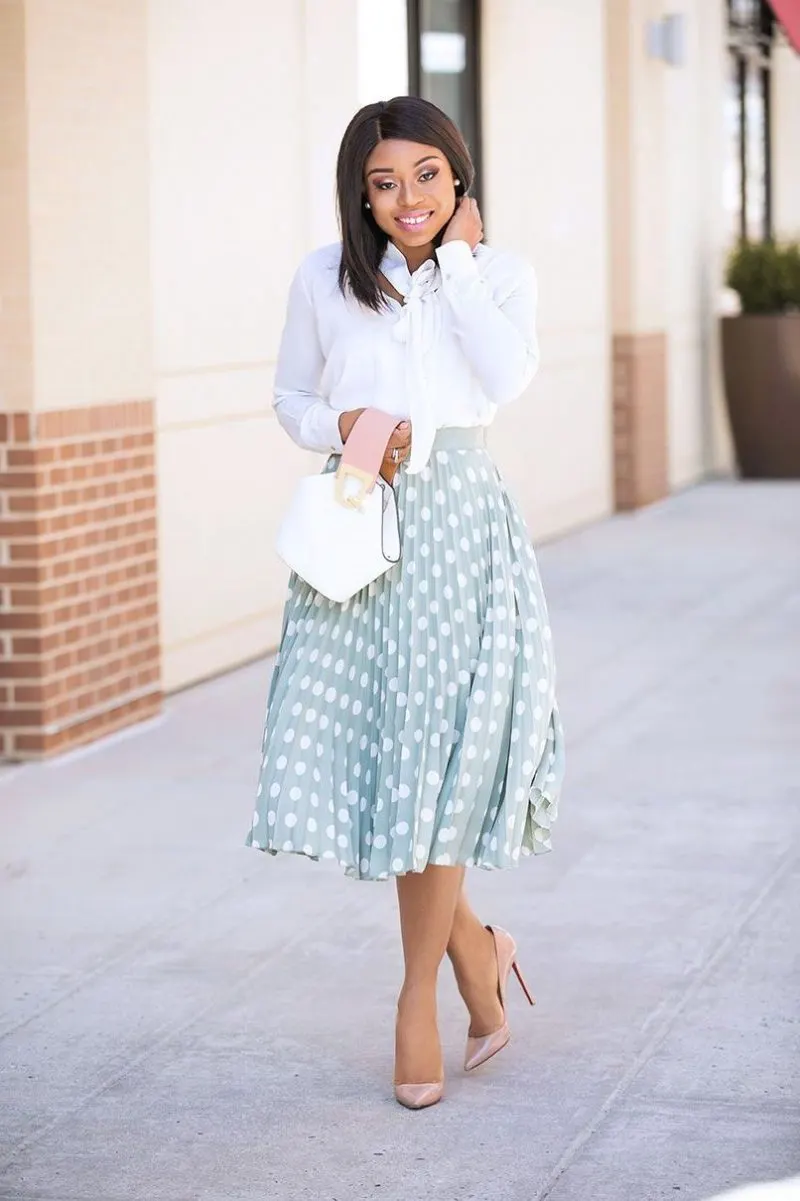 Buy Similar Here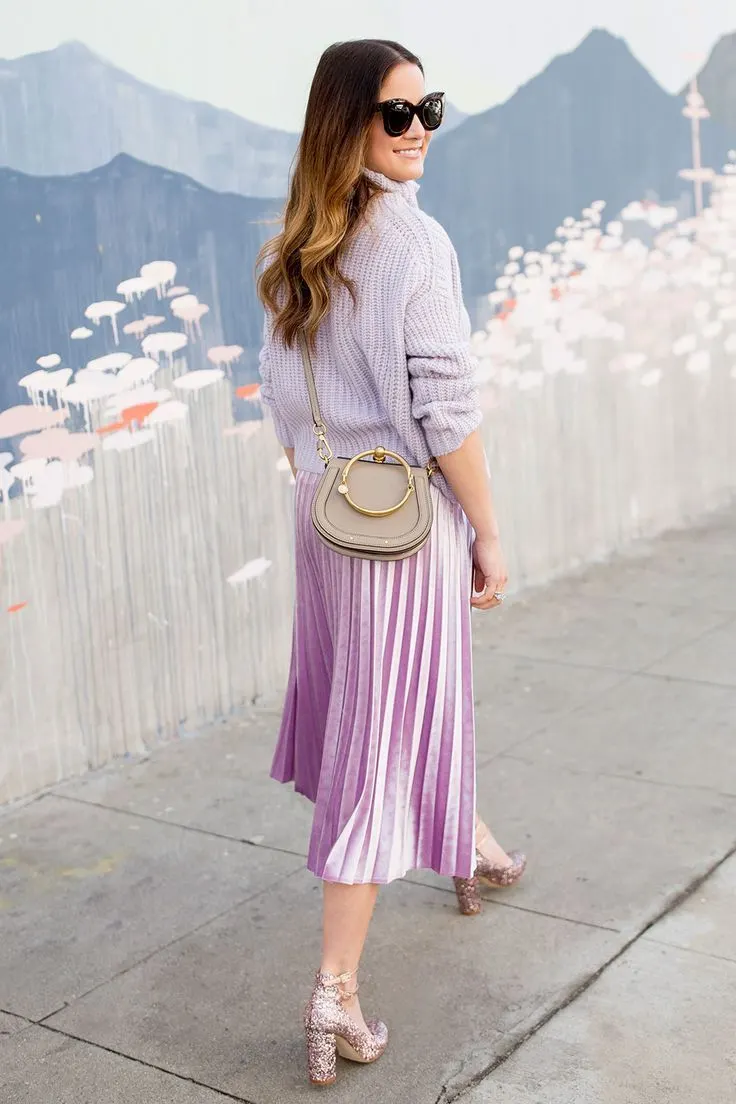 Buy Similar Here
What to wear in the SUMMER
When it's hot, wear a pleated skirt with light tops, T-shirts, and sleeveless blouses. If it suddenly becomes cool, then throw on a leather (denim) jacket or a cardigan made of thin fabric. Pleated outfits are always comfortable and easy to style. Add some loose t-shirt and colorful sandals for an effortless weekend outfit combination.
How To Style During WINTER
Mix a midi pleated skirt with a voluminous top and a short fur coat. Boots and a bag can be in the same color so you balance the whole look.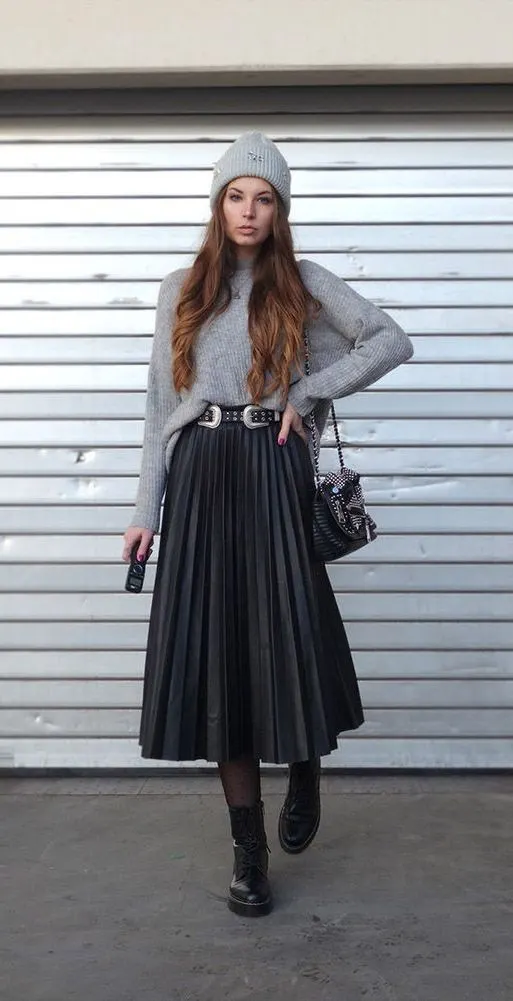 Buy Similar Here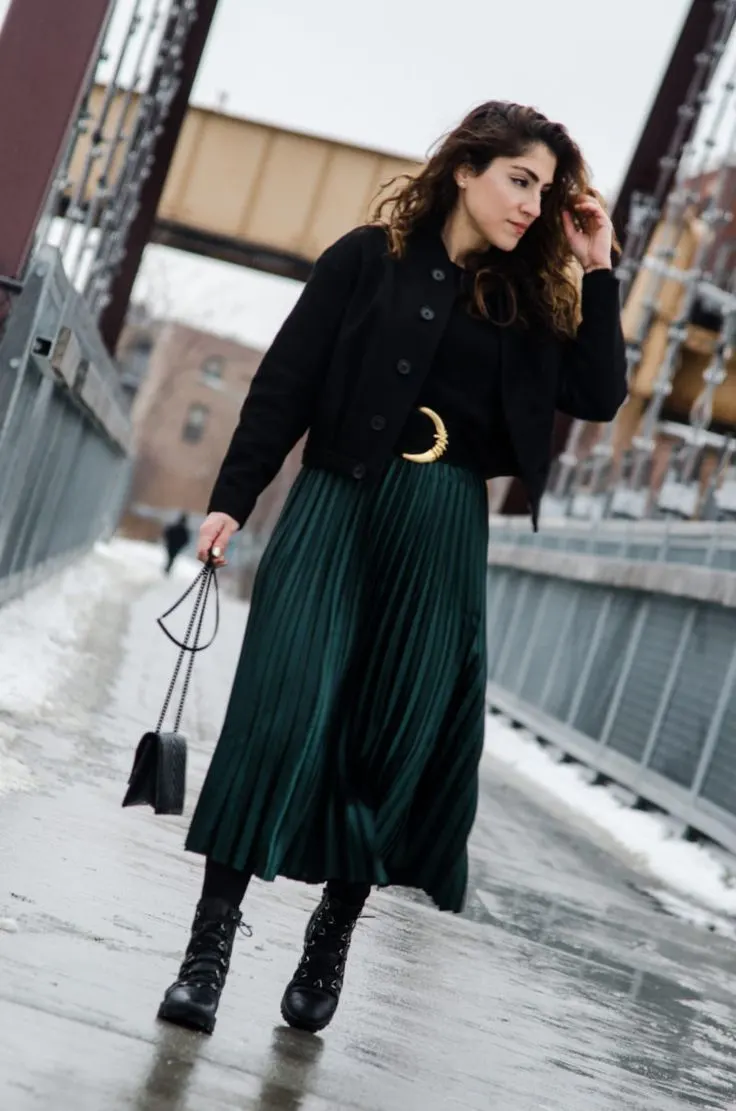 Buy Similar Here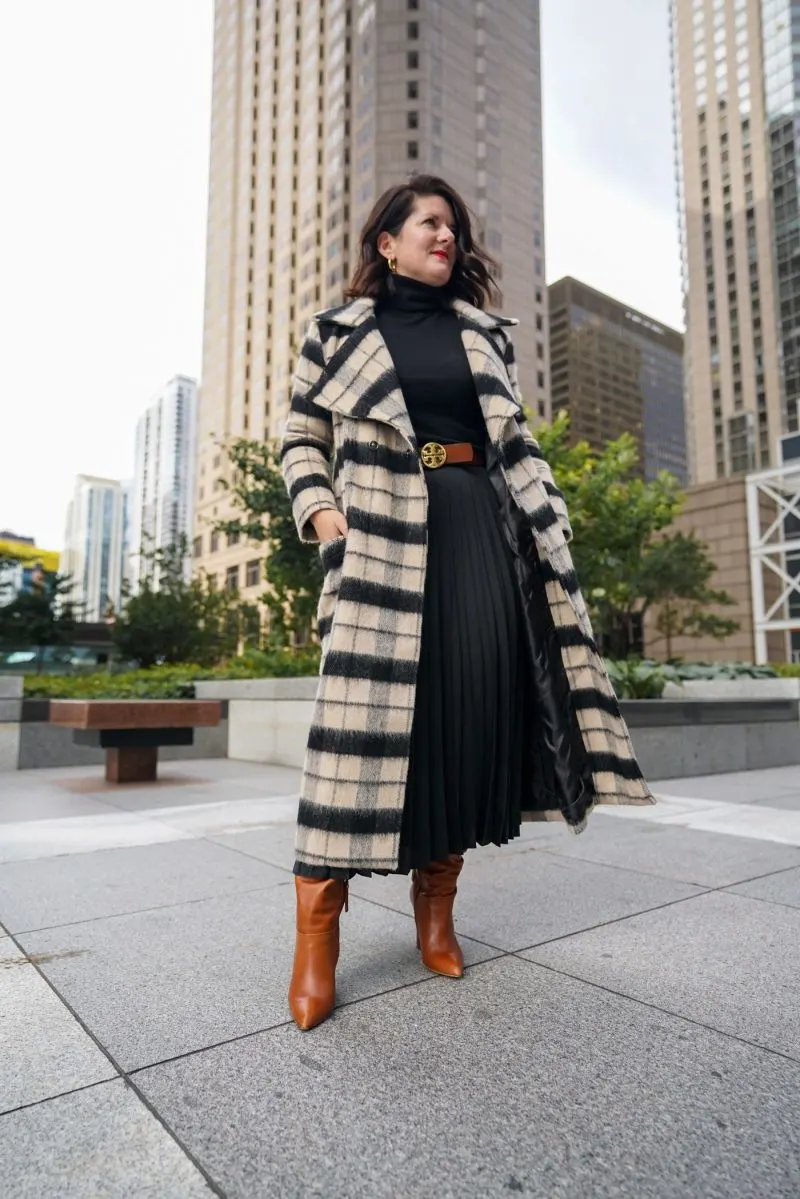 Buy Similar Here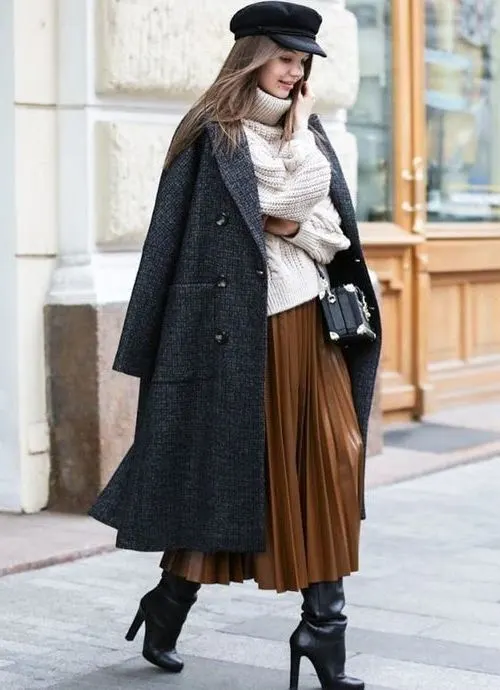 Buy Similar Here
UPDATE
In today's update I want to talk about inspiring ideas you can use with pleated skirts. Did you know that nowadays these skirts are used as a wardrobe staple for an everyday wear. I mean, some time ago we used to wear them as a dressy bottom piece but nowadays they are both versatile and flattering. There are numerous pleated skirts of different colors, cuts and lengths to choose from. Let's take a look at the most chic ways to wear pleated skirts:
How to wear pleated skirts in the office
Pleated skirts in navy, black and dark grey are great for work. You can wear them with a classic blazer, a white shirt and some high-heeled sandals or ankle boots. Pleated skirts look fashionable and feminine when worn with a white or navy blouse tucked in a waistband. You can also pair it up with leopard print flats or chic ankle boots for a more edgy look.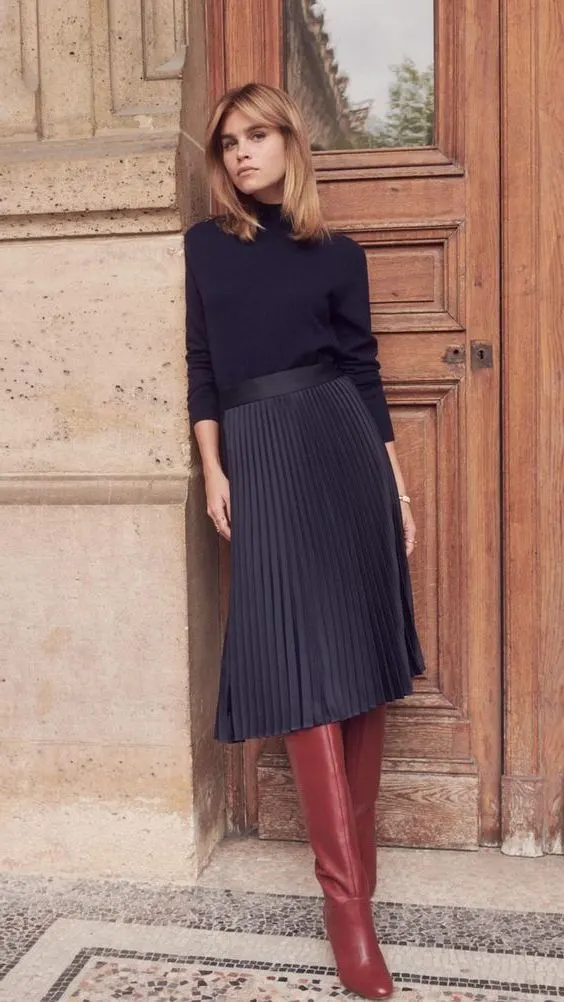 Buy Similar Here
Pleated skirts back to school style
School is back in the air and you have a lot of shopping to do. Pleated skirts are perfect additions to your wardrobe and they can be styled in many ways. Be creative! Play with color and make the most of the pleats by adding a scarf, colorful bracelets or other accessories.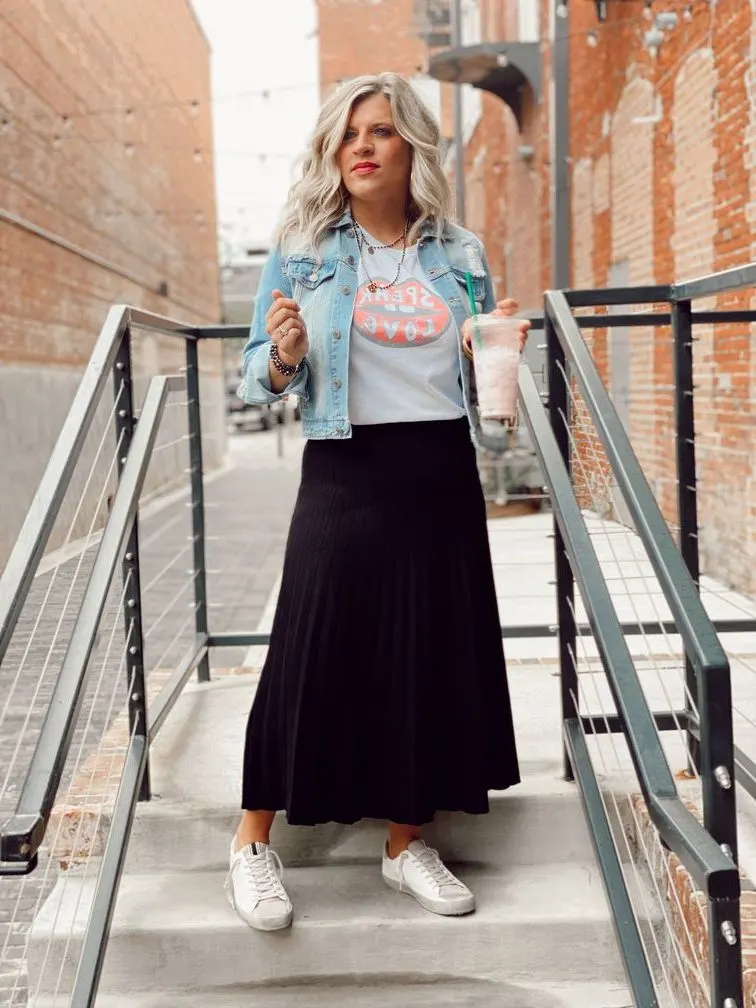 Buy Similar Here
How to wear pleated skirts for women around town
Since pleats are ideal for summertime, you can wear them everywhere! It's great both as a coverup for white or braless shirts and as a cute alternative dress on its own. You can pair it up with different colored tights, sneakers and ankle boots.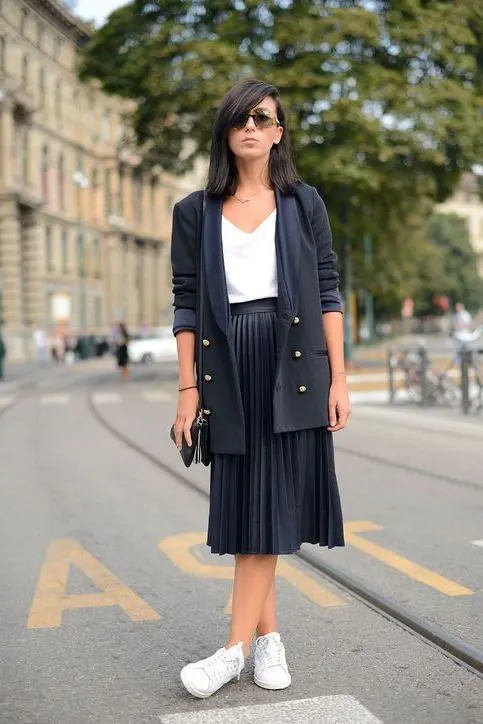 Buy Similar Here
How to wear pleated skirts for girls night out
For a great night out, it is always good to look chic and stylish. Pleated skirts are perfect for any occasion, especially when you want to feel and look great. Pleated skirts work well with a cardigan or jacket, high-heeled booties or even simple flat sandals and platform sneakers. Remember that pleats are not just for the workdays!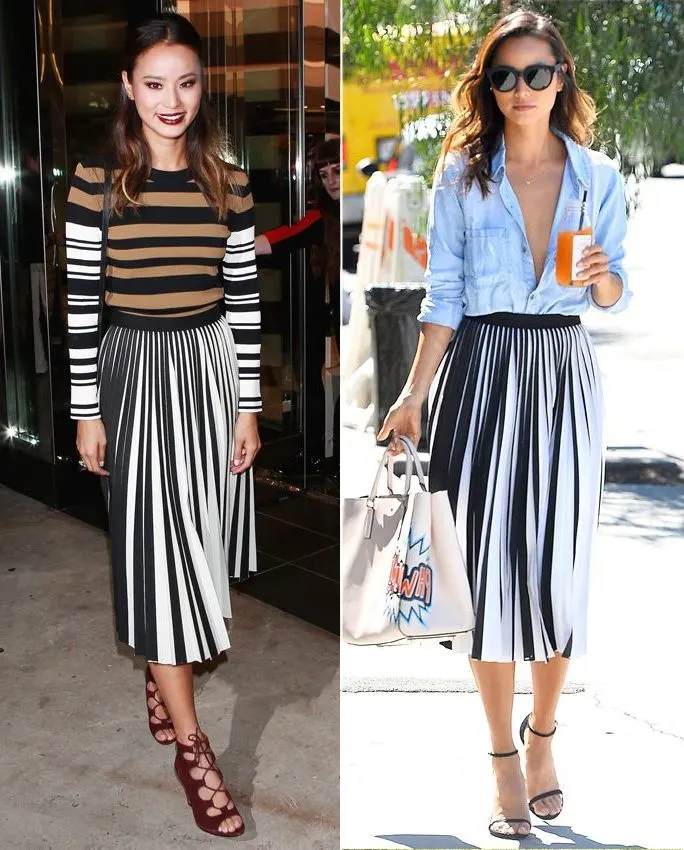 Buy Similar Here
How to wear pleated skirt for bridesmaid ideas
A classic pleated skirt is a must in every girl's wardrobe! It can be worn as an alternative wedding guest dress.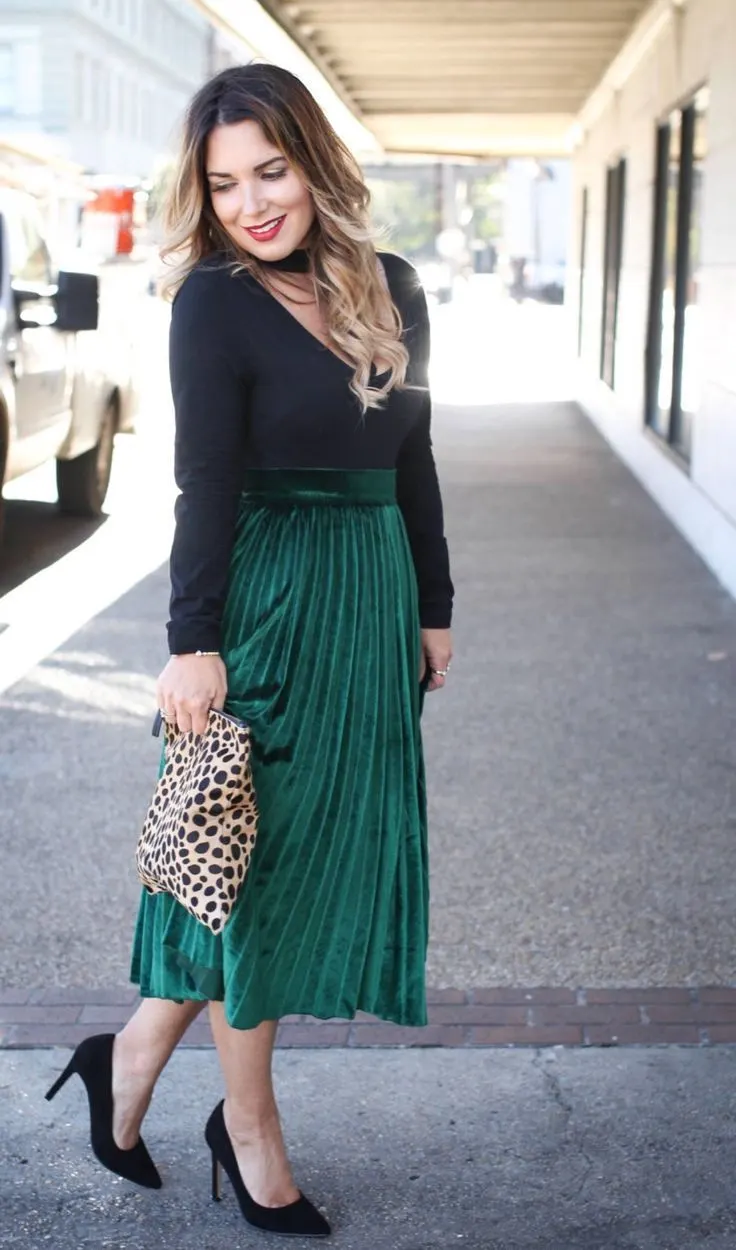 Buy Similar Here
How to wear pleated skirt for weddings as a guest
Weddings are the absolute best occasion to wear pleated skirts. There are so many to choose from, everything from classic white to vibrant colors or prints that can easily be paired with a blazer, strapless gown and high-heeled sandals. There are also options for vintage style wedding dresses. If you have a simple outfit in mind, then you can always pair it up with any of your main tops, just keep things in one tone. By the way, check out more ideas for wedding guest midi skirts you can easily try this year.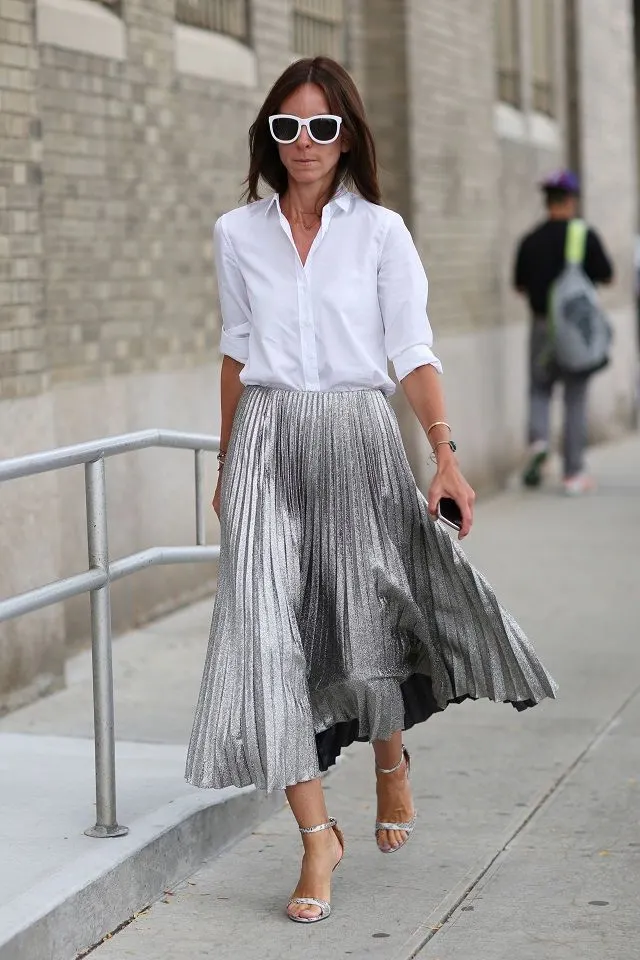 Buy Similar Here
If you do like watching videos, then here is a cool guide on how to wear pleated skirts for you: