For a lot of women, black leather mini skirt outfit ideas are a great way to add a little edge to their fashion sense. These short skirts can look great with any number of outfits and shoes. I know what you're thinking, "The only style of clothes that you wear are tight jeans and t-shirts." I didn't think it was possible to wear black leather miniskirts anymore, but it looks like the old-school style has made a comeback for spring!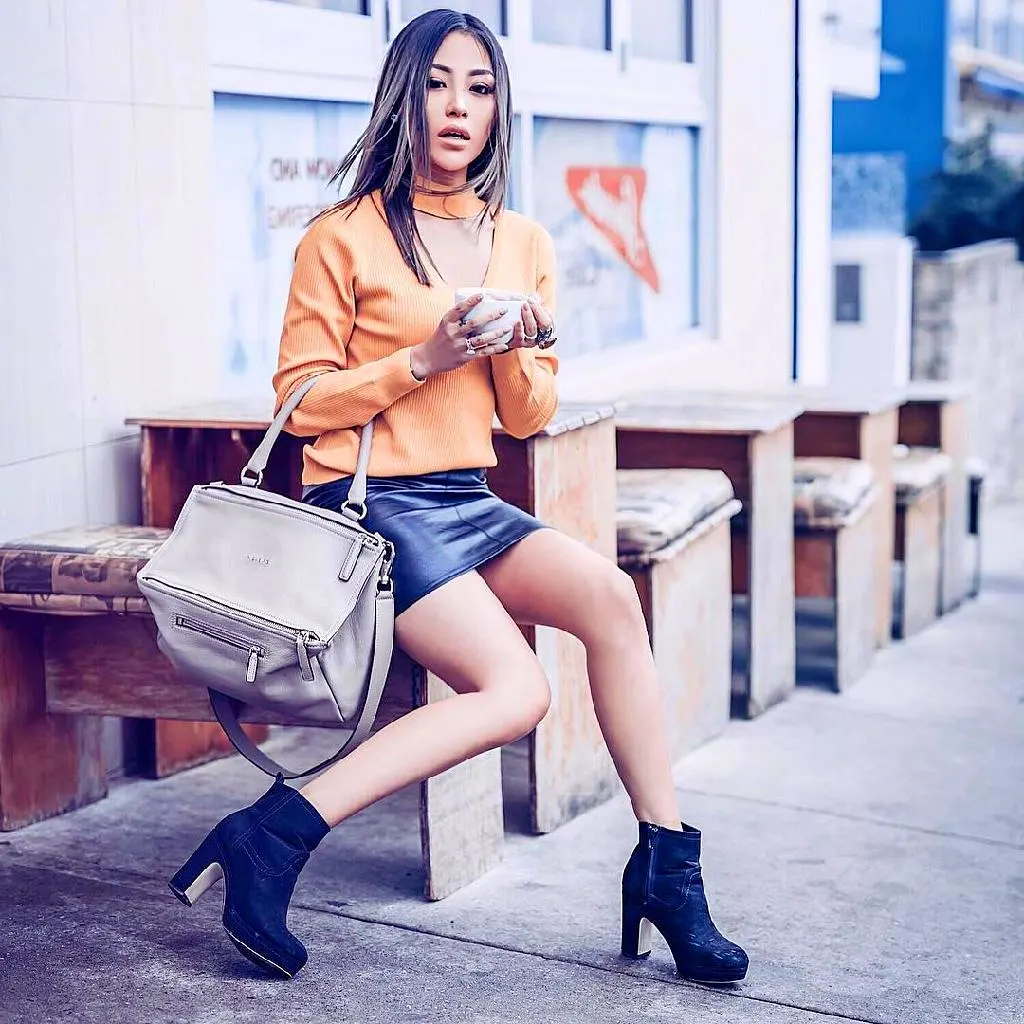 Buy Similar Here
Black Leather Mini Skirt Outfit
Black leather mini skirts are very stylish and are a good choice for wearing during the spring. They make a great fashion statement anywhere and can be worn with any type of shirt or top. They are sexy and never go out of style. Showing your skin is always in style, so make sure you are always up to date with the latest apparel styles and trends. Below you will find some tips and street style ideas on how to wear black leather mini skirts this spring.
With Simple Black Tee
A black mini skirt made of leather looks great with a simple black T-shirt tucked inside: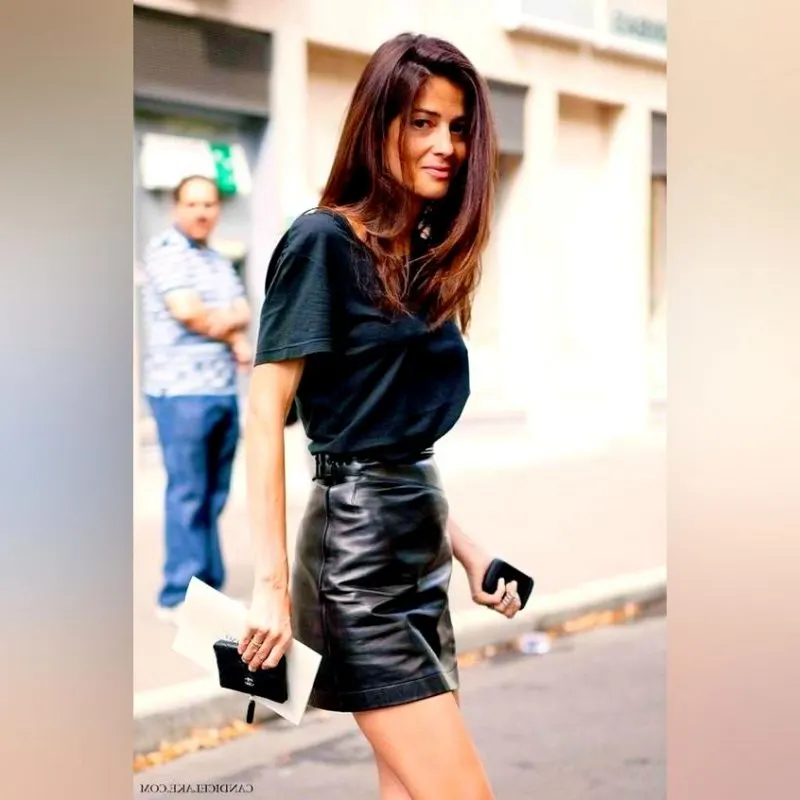 Buy Similar Here
All In Black Look
A total black look consisting of a shirt, mini skirt and ankle boots with chunky heels: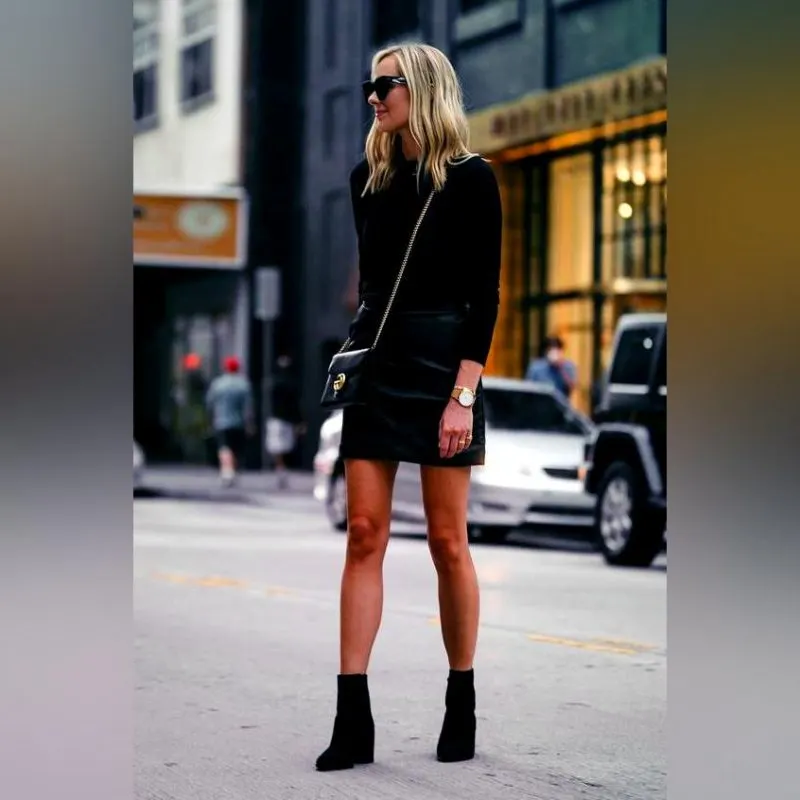 Buy Similar Here
With Graphic Black Tee
A lovely rock chic style, we see a black tee tucked in high-rise black mini skirt completed with black leather ankle boots, love that black choker: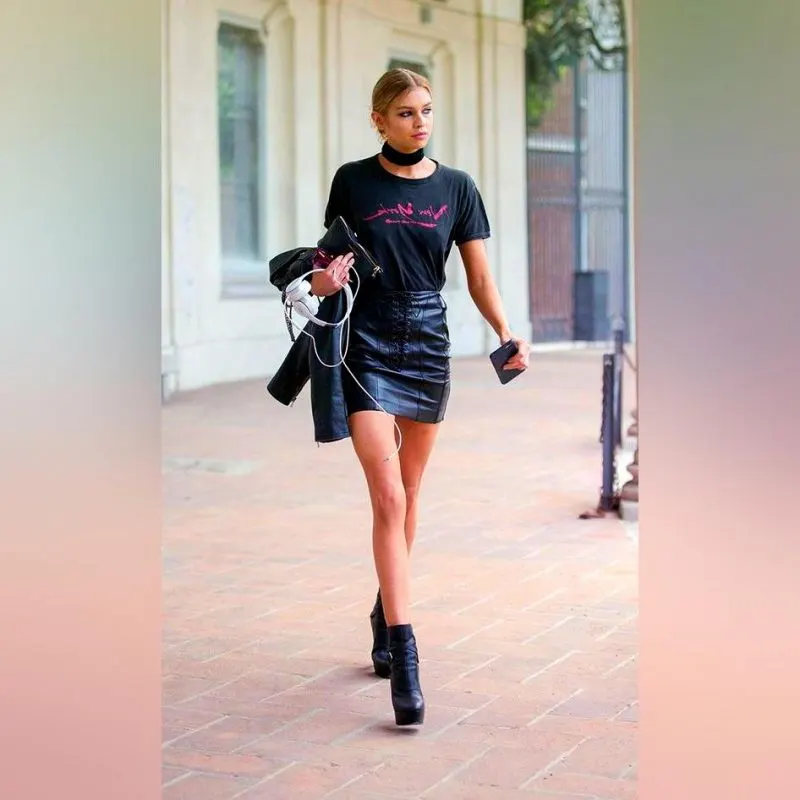 Buy Similar Here
With Deep V Neck White Shirt
Have a sexy day! We see a white deep V-neck shirt tucked in A-line black leather mini skirt completed with ankle strap heeled sandals: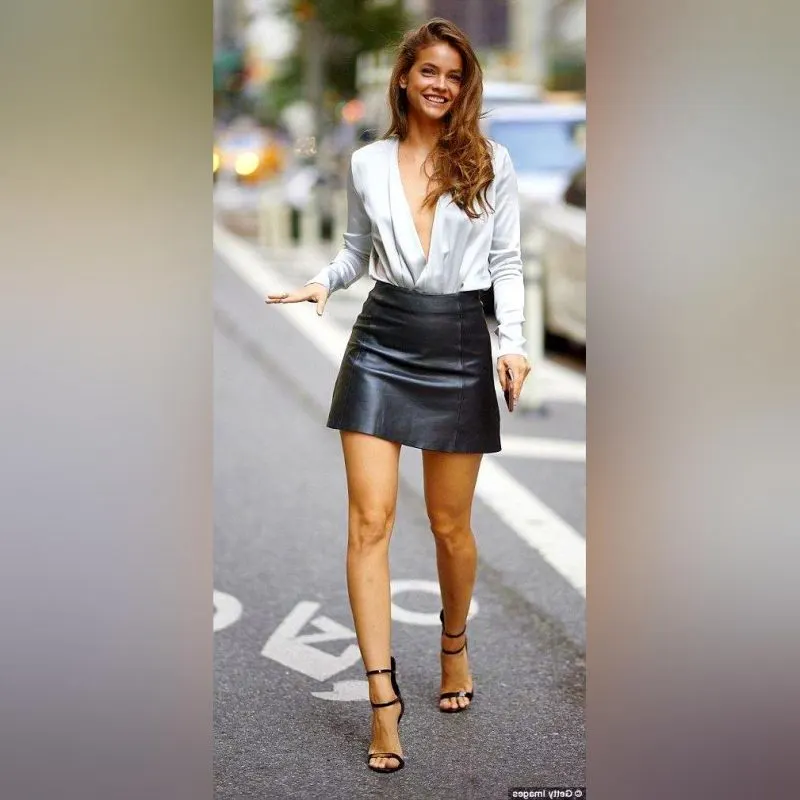 Buy Similar Here
In order for these mini skirts to make the cut, it should be done very well. The main thing is the fit of the mini skirt. Make sure that it fits tightly around your waist. One thing that I like to recommend is to wear a black choker with your clothes as well. This can be done with any black leather accessories as long as they match up with your outfit and color scheme.
With Oversized Sweater
We see an oversized grey sweater paired with black leather mini skirt, love these sock ankle boots. If you need more ideas on how to wear grey sweaters with black leather skirts, here you will find plenty of cool outfits.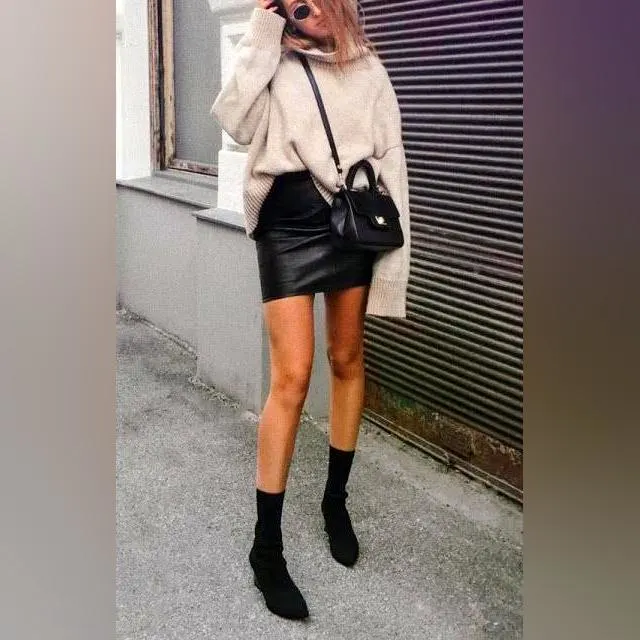 Buy Similar Here
With Light Cardigan
We see a lightweight cardigan with a white sweater paired with a black leather mini skirt and black tights: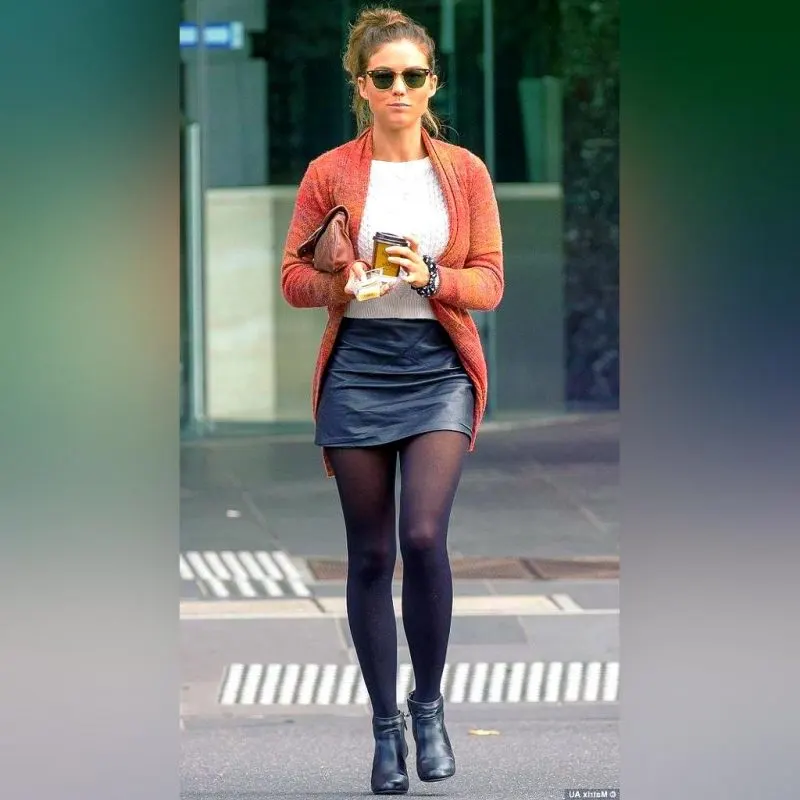 Buy Similar Here
With Multicolored Sweater
A multicolored sweater can be a perfect fit for this patent black leather mini skirt completed with tights and ankle boots: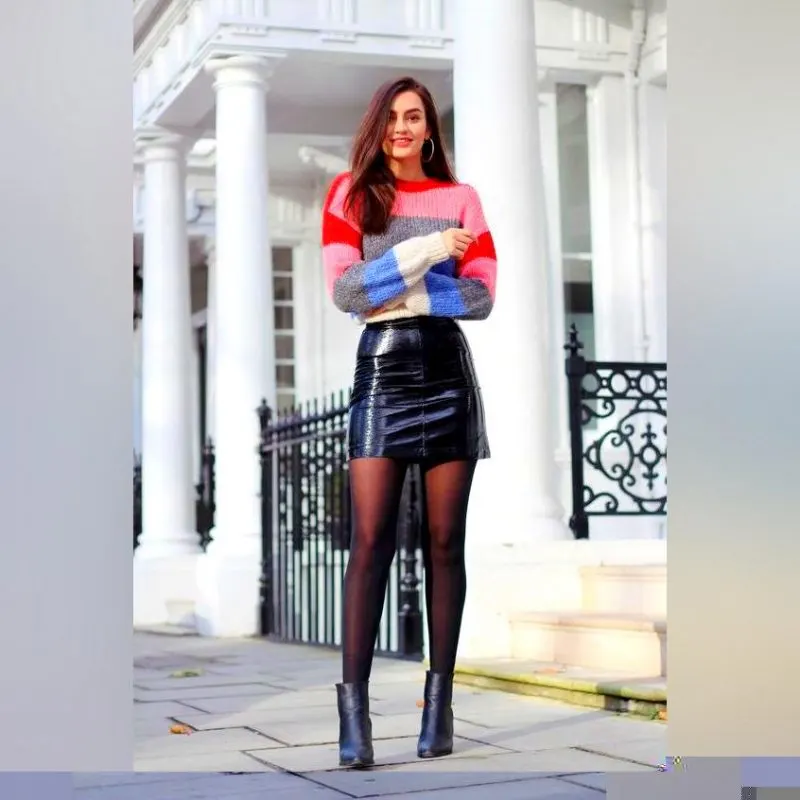 Buy Similar Here
With White Turtleneck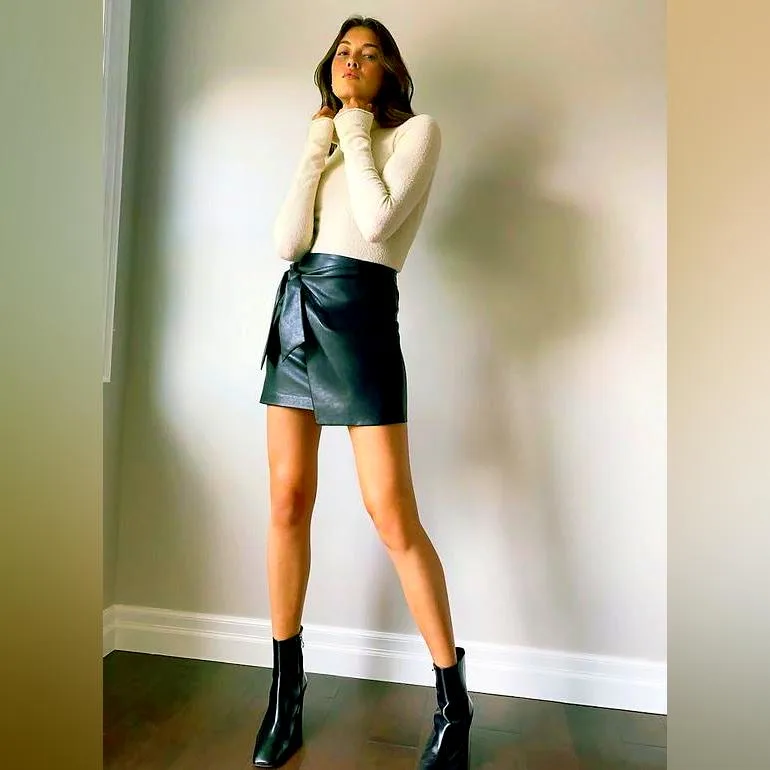 Buy Similar Here
With Ribbed Knit Sweater
Love this ribbed-knit brown sweater in oversized fit completed with a mini skirt and multi-buckled boots: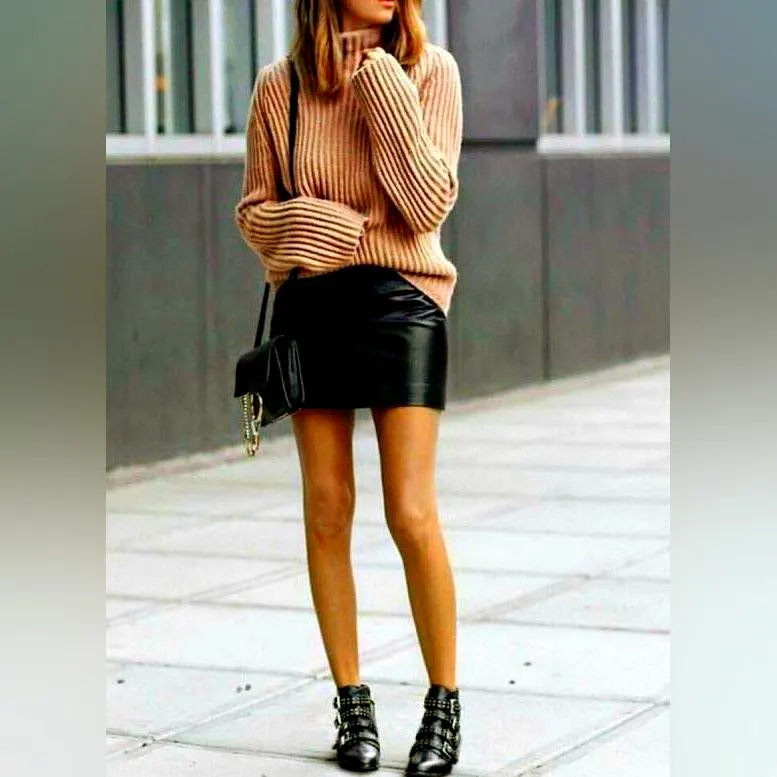 Buy Similar Here
I would also recommend wearing ankle boots with that black leather mini skirt. As far as footwear goes, I love to wear my ankle boots for the spring season, but you can really match up whatever you want for the season. I like to wear dark blue suede boots for spring, but you can wear whatever you want. Either way, keep it classy. You can finish off your look by pairing it with a pair of opaque tights.
If you have lots of black clothing, you can always wear different color shoes and accessories to help change the overall look. Shoes should be in the same dark color as your clothes, not light colors or pastels.
You need to make sure that the rest of your outfit is coordinated with the skirt and the shirt/blouse that you are wearing. If you have not bought them at the same time, consider getting them both in one color or style so that they fit together better.
With White Oversized Pullover
We see an oversized pullover in white teamed with a black leather mini skirt and sexy heeled boots: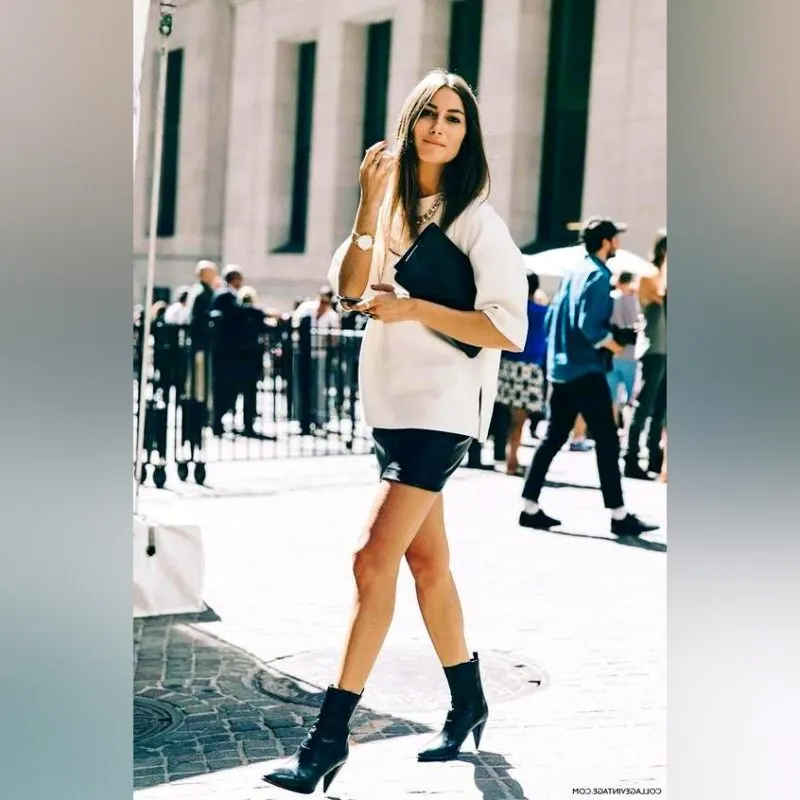 Buy Similar Here
With Black Blazer
A lovely idea for office wear, go for a black blazer, white t-shirt and black leather mini skirt completed with classic heels: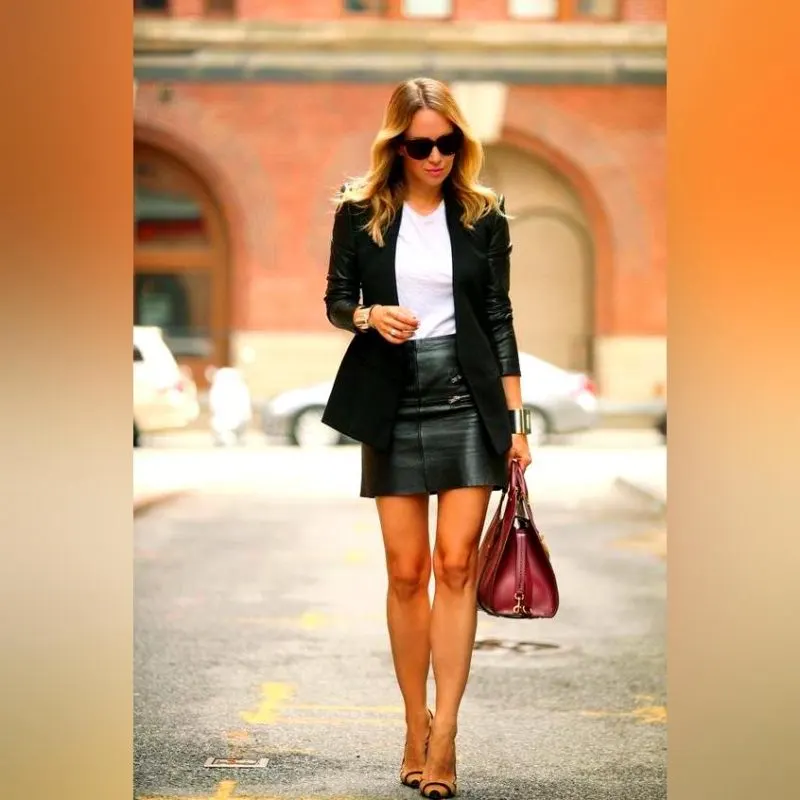 Buy Similar Here
With Pinstripe Shirt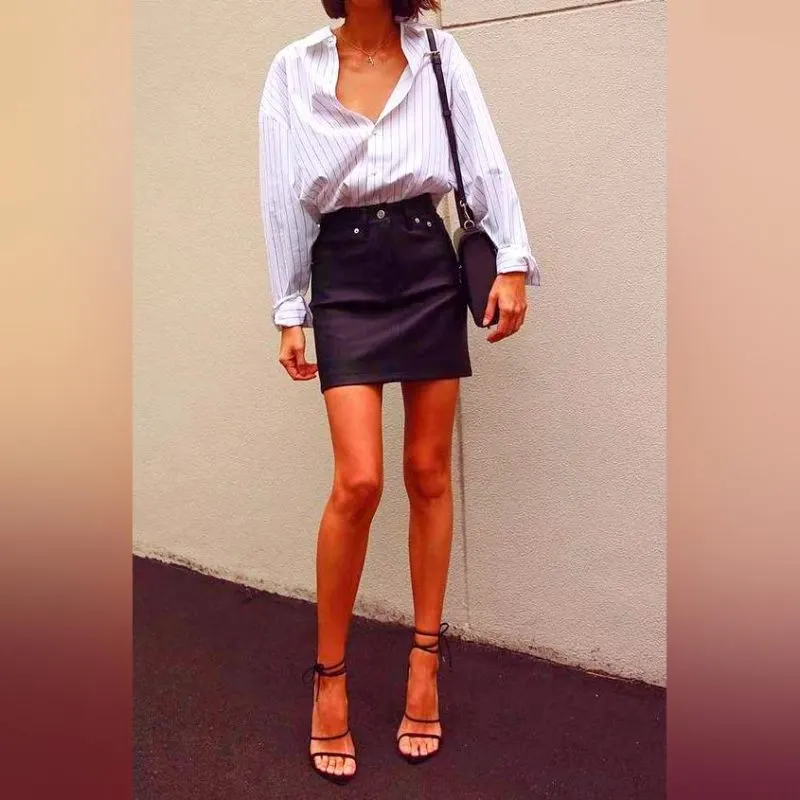 Buy Similar Here
A white sweater looks perfect with a black mini and black ankle boots: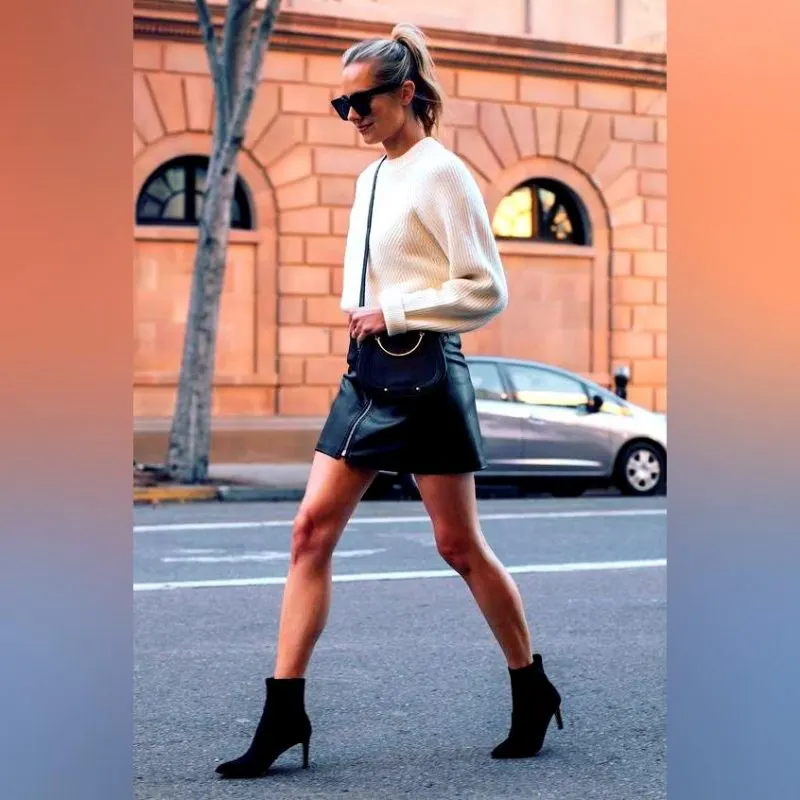 Buy Similar Here
With Chambray Shirt
A light blue shirt can be tucked in a black leather mini skirt, update this look with rounded sunglasses: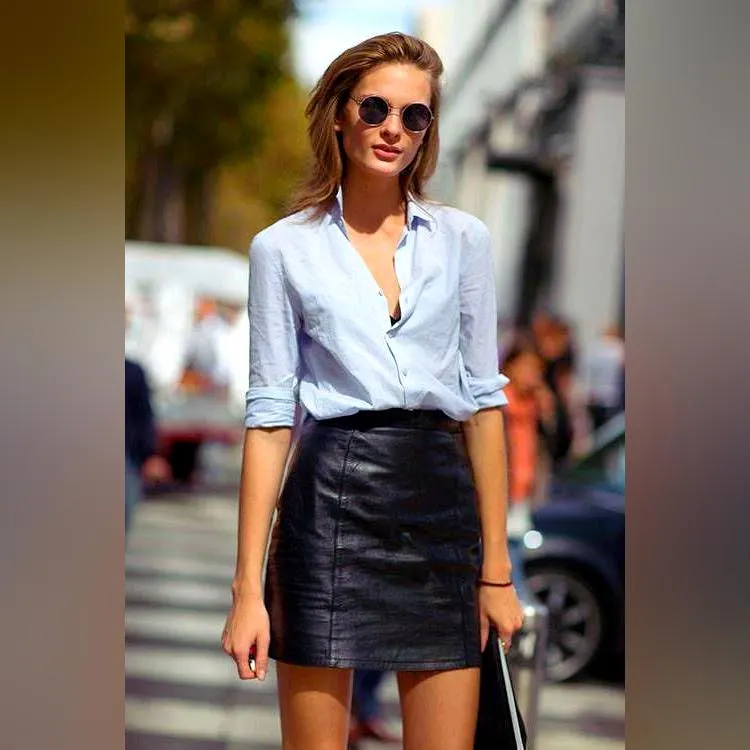 Buy Similar Here
A chiffon sweater in black looks divine with a white shirt tucked in black leather mini-skirt: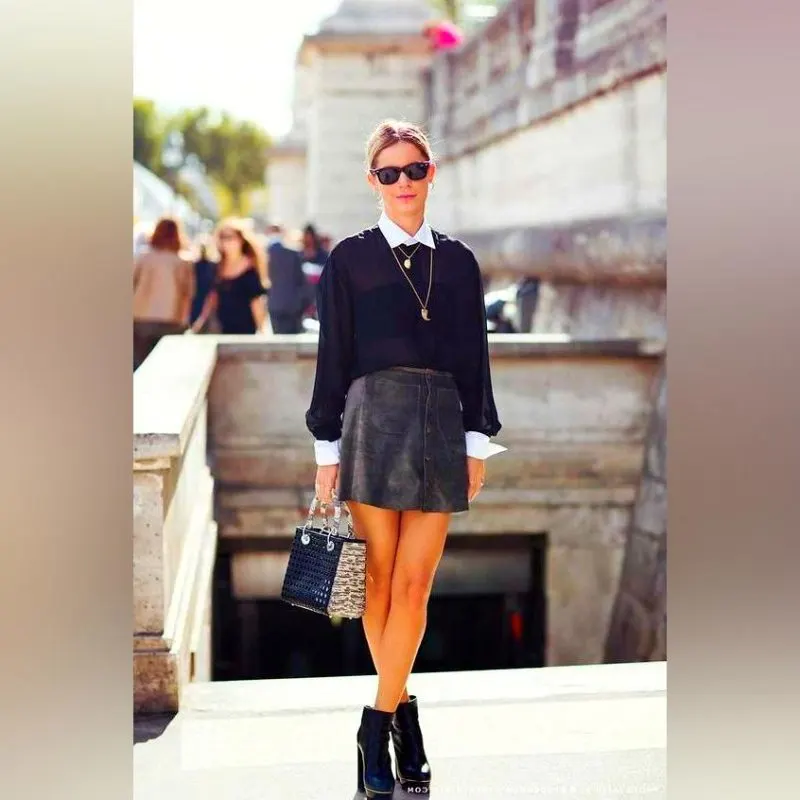 Buy Similar Here