That's not just another wedding party! You can have so much fun with midi skirts wearing them for weddings. In this article, we are about to see amazing midi skirts designs you can wear to various weddings. Plus, I will share with you outfit ideas with midi skirts you can wear during fall and summer weddings. That's our plan for today, hope you'll enjoy this collection as much as I do.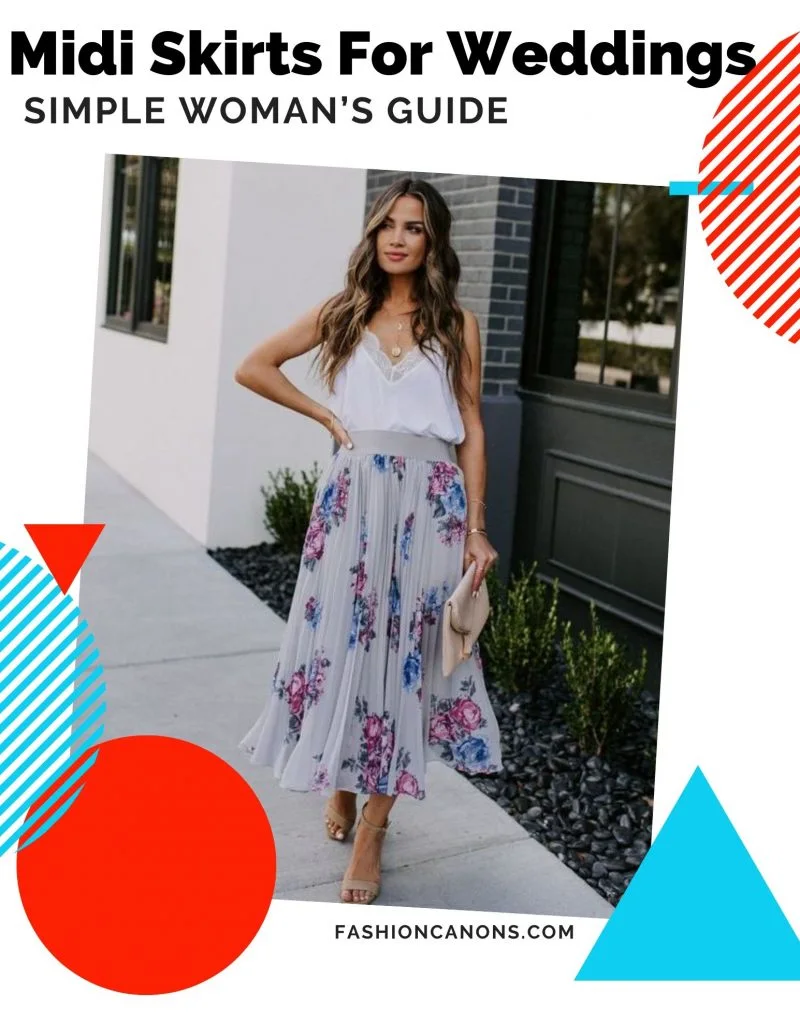 Buy Similar Here
Winters are coming and the snow is falling. However, you don't have to hide under your blanket anymore because the fashion world is about to deliver some great options for you. Besides amazing dresses, midi skirts can keep you warm during fall as they are made of 100% pure wool fabric. So, what would be the best midi skirts designs for fall weddings?
Best Midi Skirts For Wedding Guests
Midi skirits with fringes: that's one of the best way to style a midi skirt as it add a touch of femininity into your overall look while keeping you warm and cozy regardless of the weather conditions.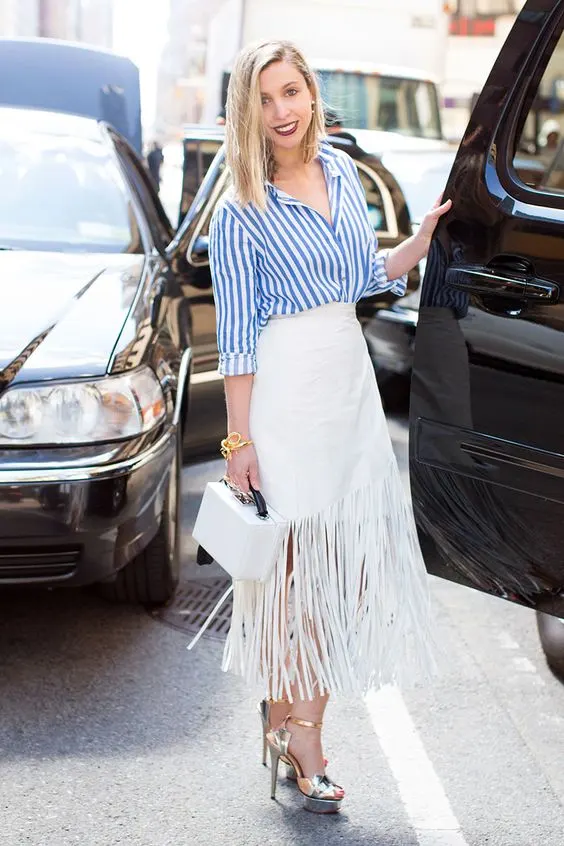 Buy Similar Here
Midi skirts with prints: you have a wide option to choose from as you can obviously opt for floral prints or else. Then, it really depends on your overall look what your actual print will be. For example, if you're going to wear a a printed top, the skirt can be then be in the same print or similar, while if you are wearing an elegant solid color top, opt for a classic simple print.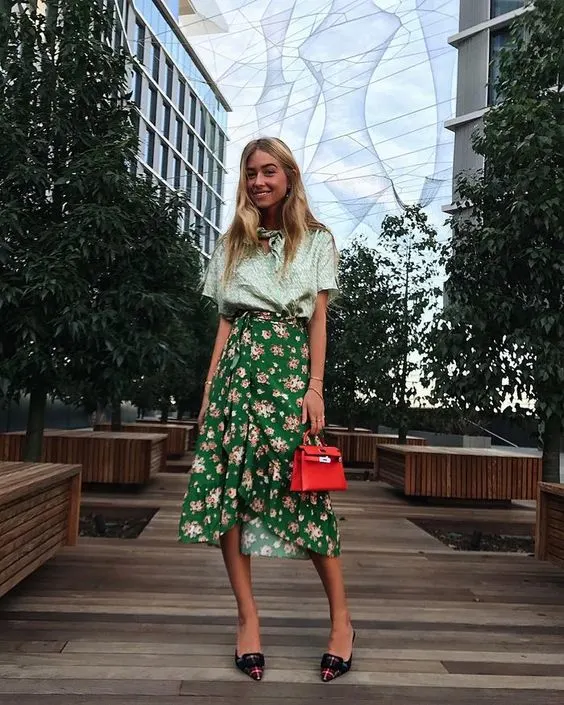 Buy Similar Here
Midi skirts with belts: one of the best ways to wear a midi skirt is to add a belt as that will accentuate your waist. If you don't want to wear a belt, there are still some other possible ways to style your midi skirt: pairing it with a nice top in black or else; wearing high heel shoes; wearing an elegant coat can be another solution for keeping yourself warm.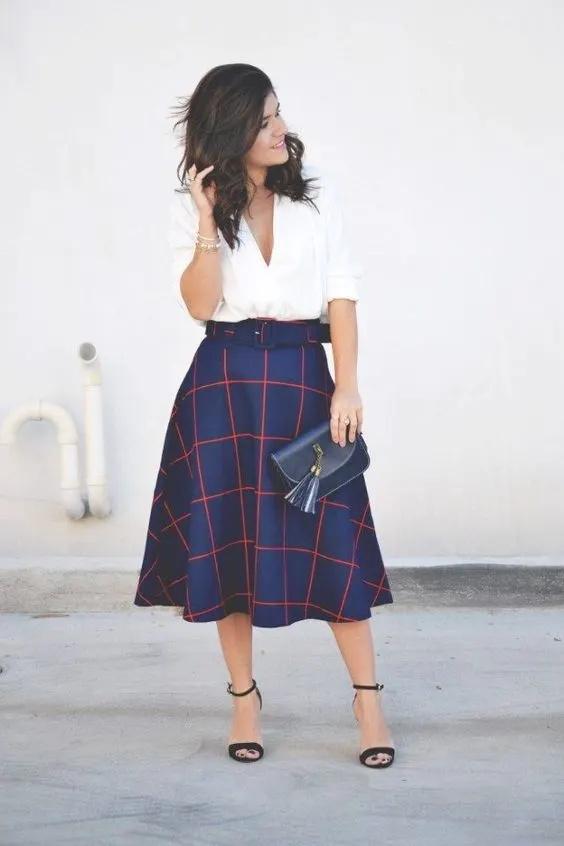 Buy Similar Here
Midi skirts with tights: that's the most classic solution as you can wear a lovely wool midi skirt and then add some leggings; either in black or white. That's the best way to keep your legs warm in a wedding!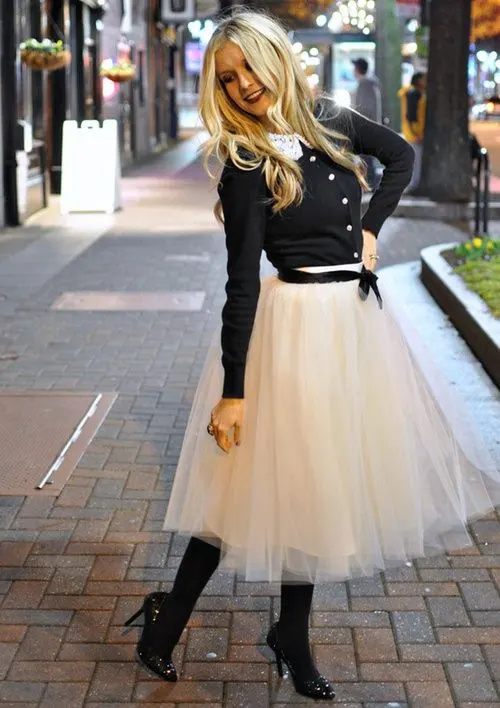 Buy Similar Here
Midi skirts with boots: wearing boots during fall is the most popular choice of fashionista all around the world. That's because it gives your outfit a touch of edge without being too flamboyant. So, you can easily wear your midi skirt during fall weddings with a pair of stylish boots and look really great.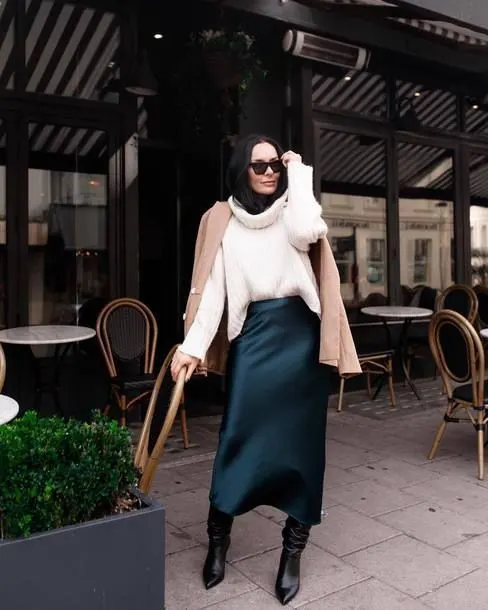 Buy Similar Here
Midi skirts with denim: if you are not into wool, you can choose denim instead. Denim has never been out of fashion as it's always fashionable during fall. Denim is a perfect option to keep yourself warm during the wedding and it does look cool with midi skirts.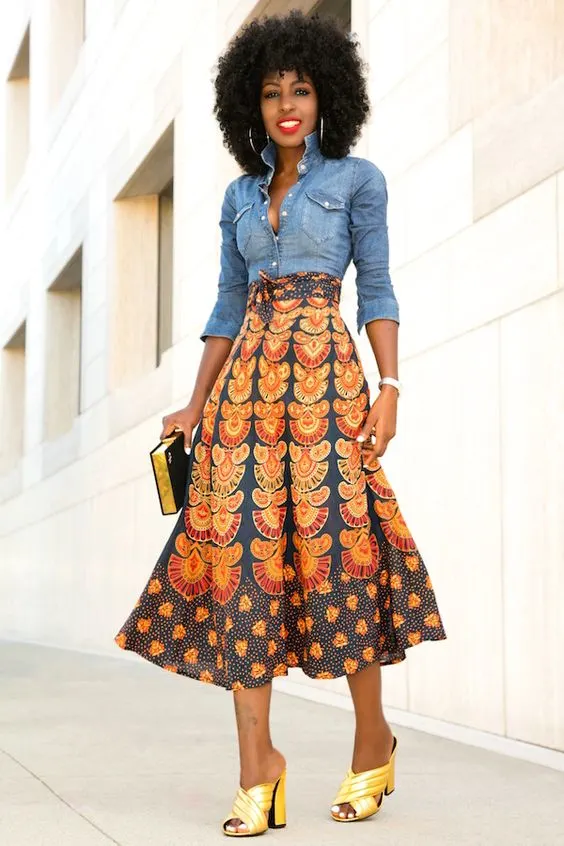 Buy Similar Here
Midi Skirts With Mini Leather Jackets: another great idea is to wear a nice leather jacket over your midi skirt especially if the weather is not so good for walking in high heels due to ice and snow.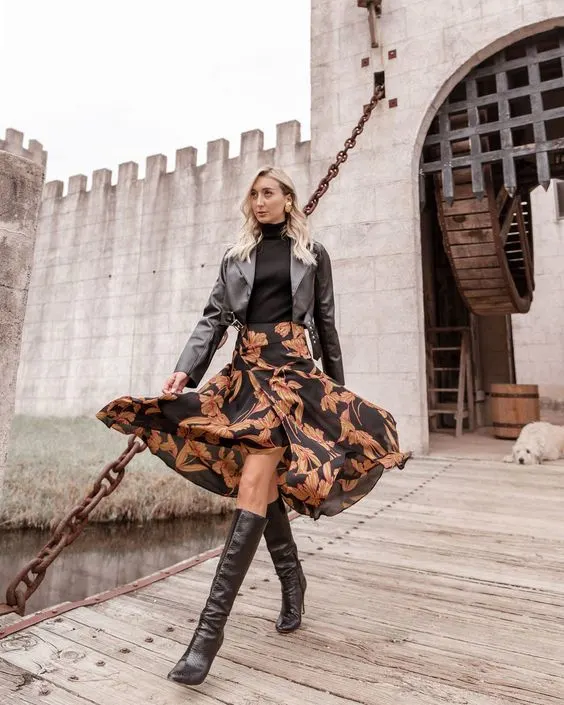 Buy Similar Here
Midi skirts with scarves: if the weather is getting cold, you can wear a scarf for your neck and still look gorgeous! That's the best way to keep yourself warm and chic.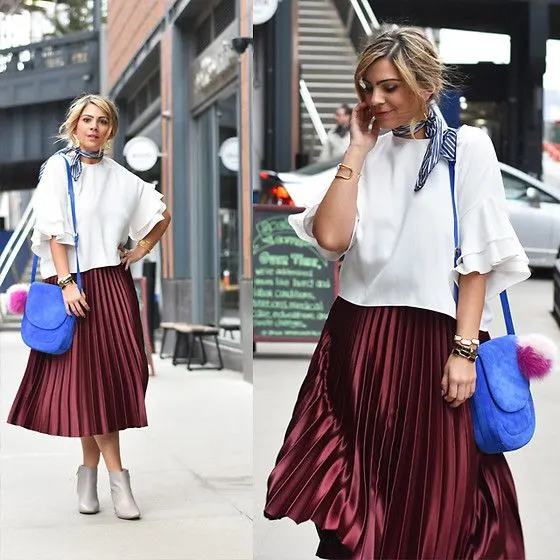 Buy Similar Here
There are so many great options for you to wear midi skirts at wedding, so make sure that you choose the perfect option to fit your particular needs. So, what would be the perfect midi skirt designs for fall weddings? That depends on your overall outfit look as well as your own personal style. Below are shown my favorite ideas for each weather season.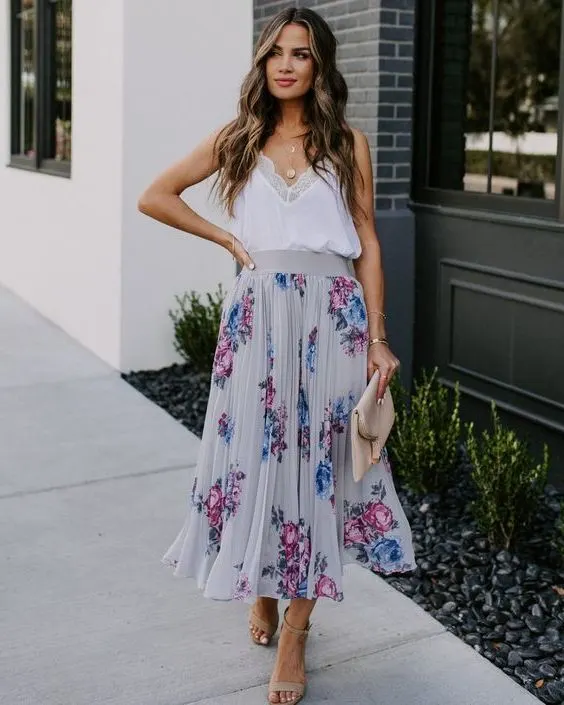 Buy Similar Here
We see a lovely white slip tank top tucked in a pleated midi skirt in pastel color with floral print. Complete this summer wedding guest look by adding beige sandals, folded clutch bag, and layered necklaces.
What can I wear with a midi skirt to a wedding
Here are gathered my favorite guest wedding midi skirts outfit ideas that are ideal for summer and fall season months. You will find pretty cool ideas on what tops can go with midi skirts, so you look fancy, feminine, and appropriate.
Just to make it clear, I am not here with the ultimate wedding guest outfits. I am here just to cover a very small part of possible wedding guest outfit ideas you can create during fall and summer seasons. But, I am sure, you can wear these looks for every possible church, city, location, and vibe during this year.
A midi skirt is just one of the possible garments that can help you in your quest to be the coolest guest. Most of the showcased ideas are classy and feminine. I am not saying that other clothes, like dresses, jumpsuits, and suits are abandoned, contrary, you can feel free to experiment with all kinds of shapes, lengths, and styles.
There are no rules in wedding guest looks, all you need is to open your imagination, look smart and feel comfortable. Anyway, let's get down to the business and see through this gallery for some fancy and chic combos you can always rely on.
What Midi Skirts Go For Fall Weddings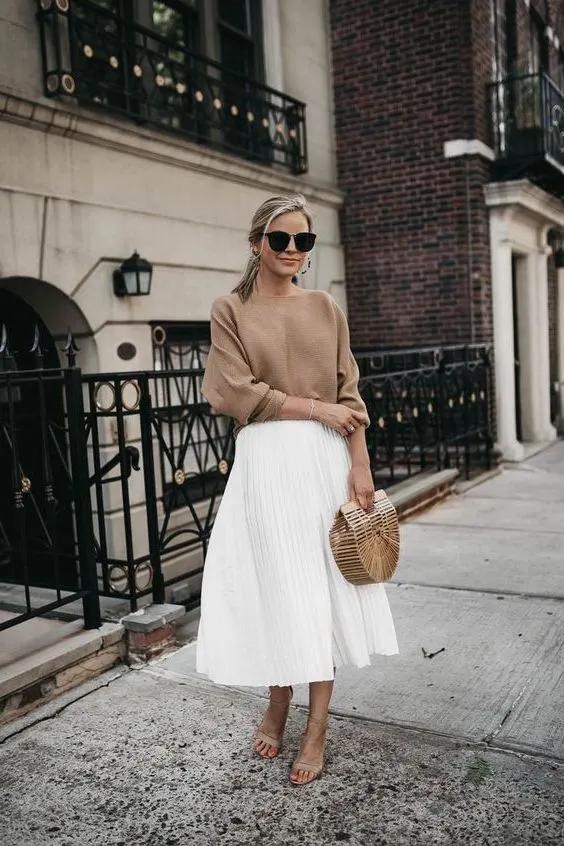 Buy Similar Here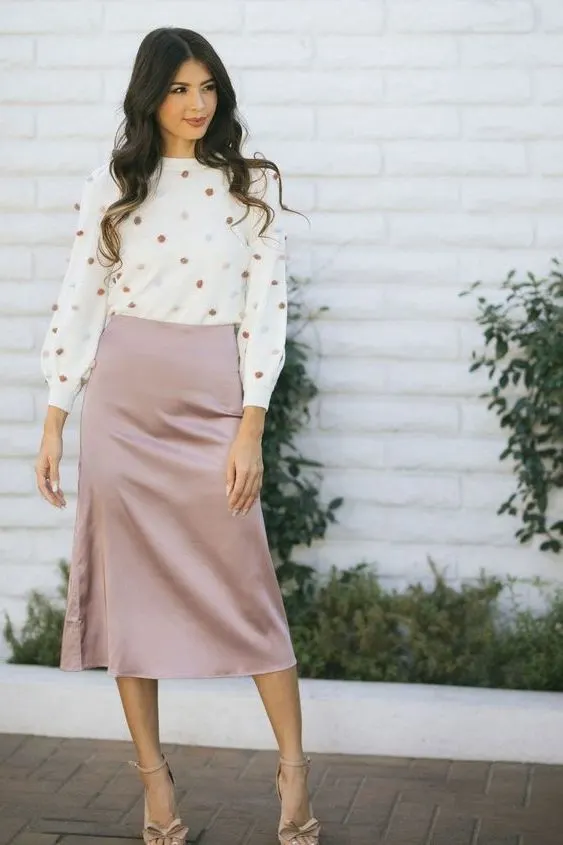 Buy Similar Here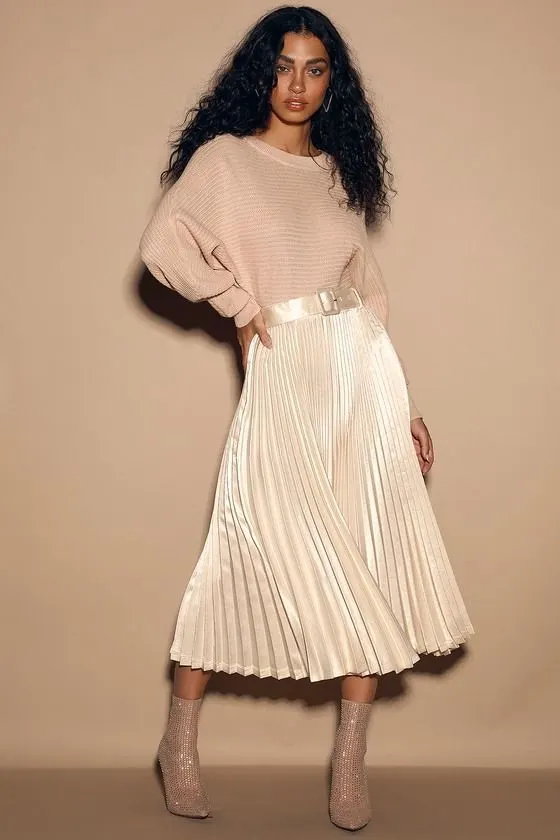 Buy Similar Here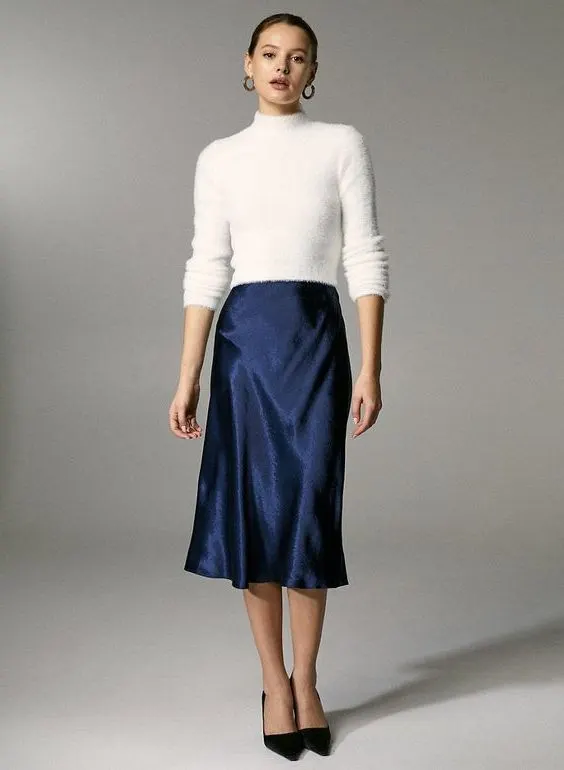 Buy Similar Here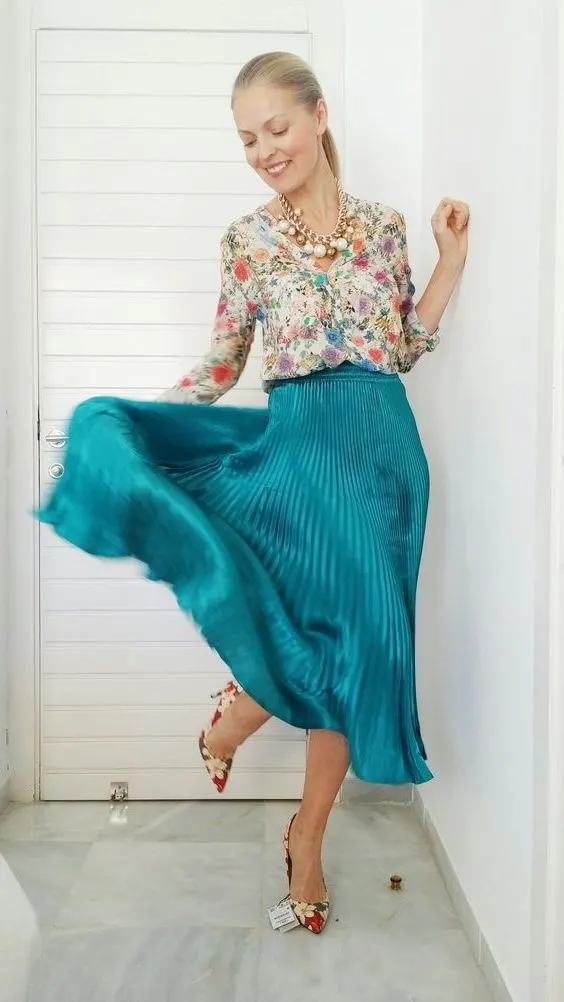 Buy Similar Here
A pretty white lace top can be a lovely choice to team with an emerald green midi skirt and white heeled sandals: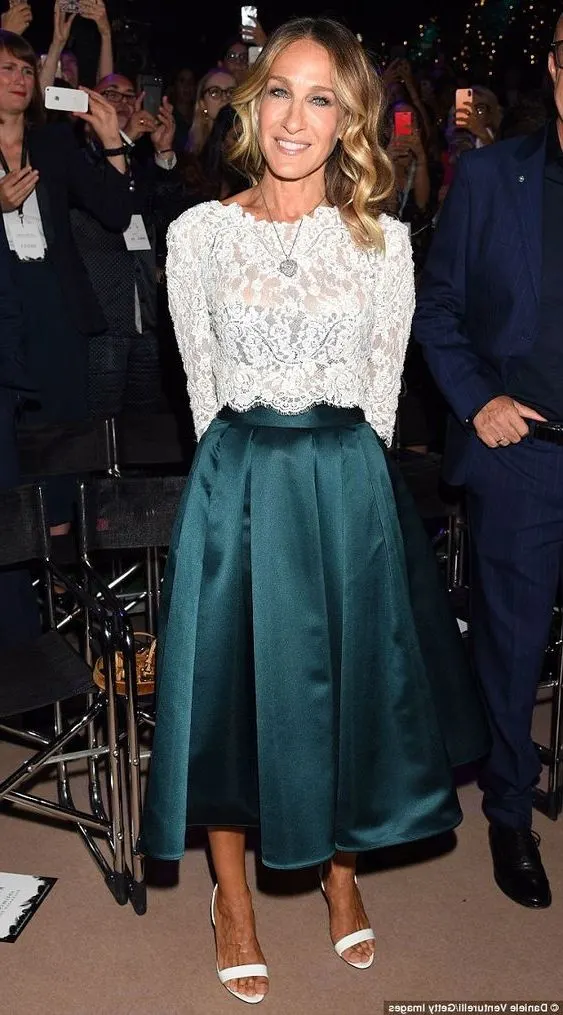 Buy Similar Here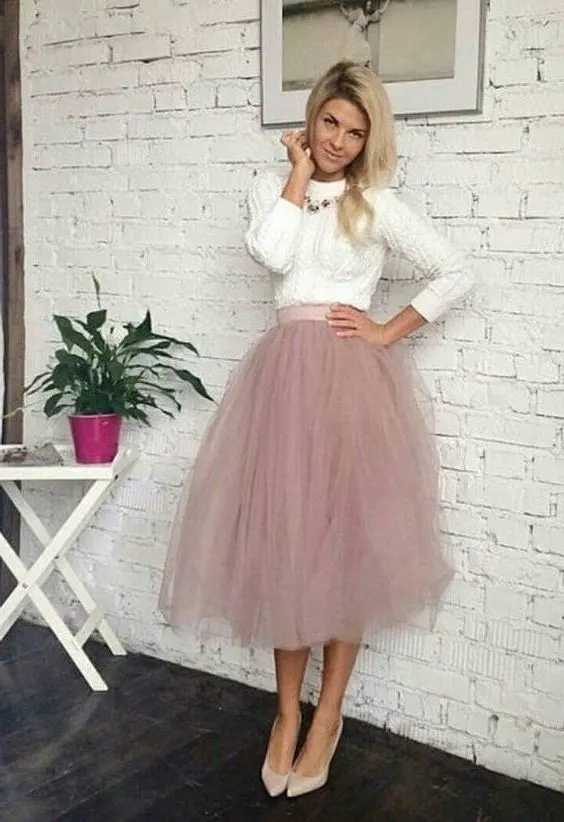 Buy Similar Here
What Midi Skirts Go For Summer Weddings
Buy Similar Here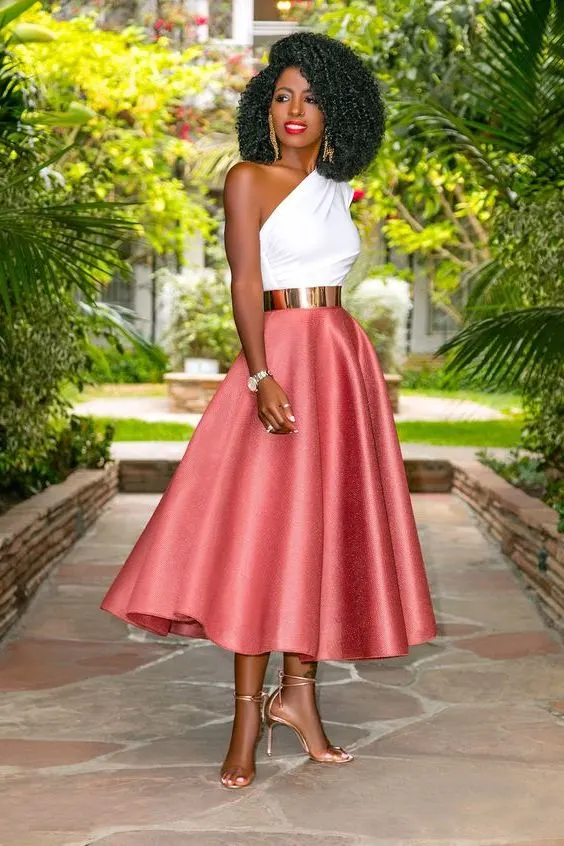 Buy Similar Here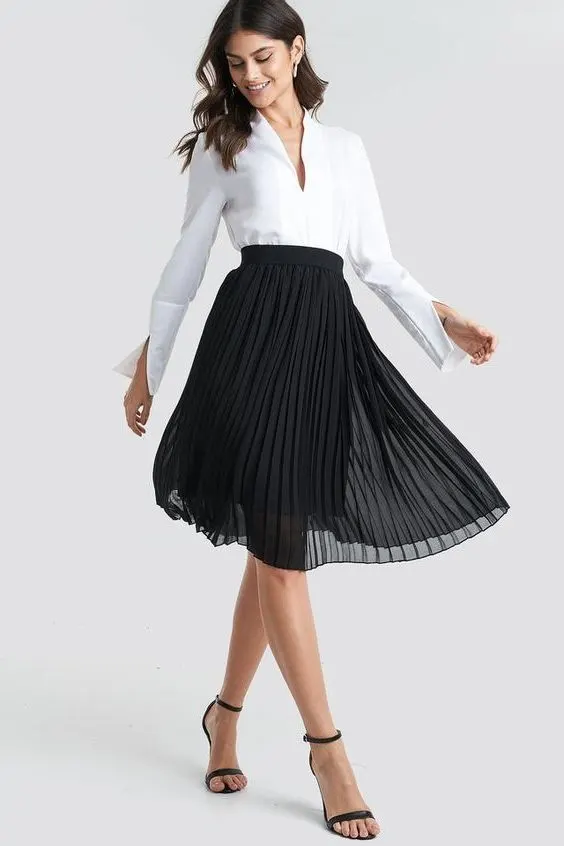 Buy Similar Here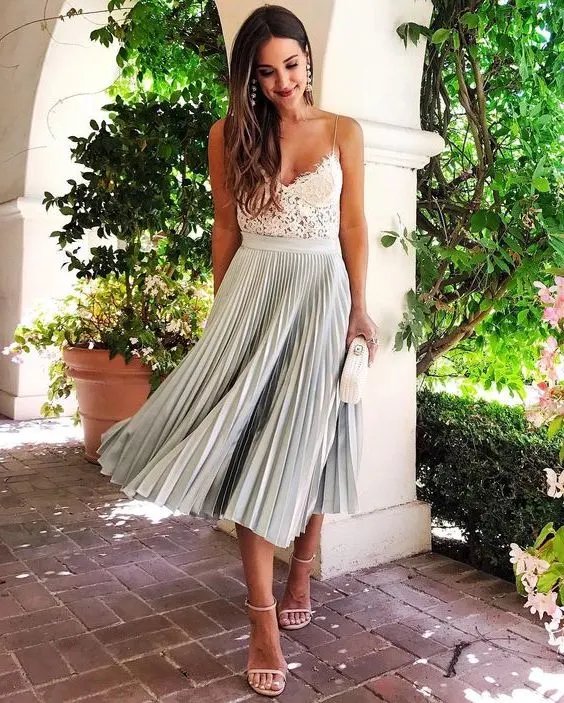 Buy Similar Here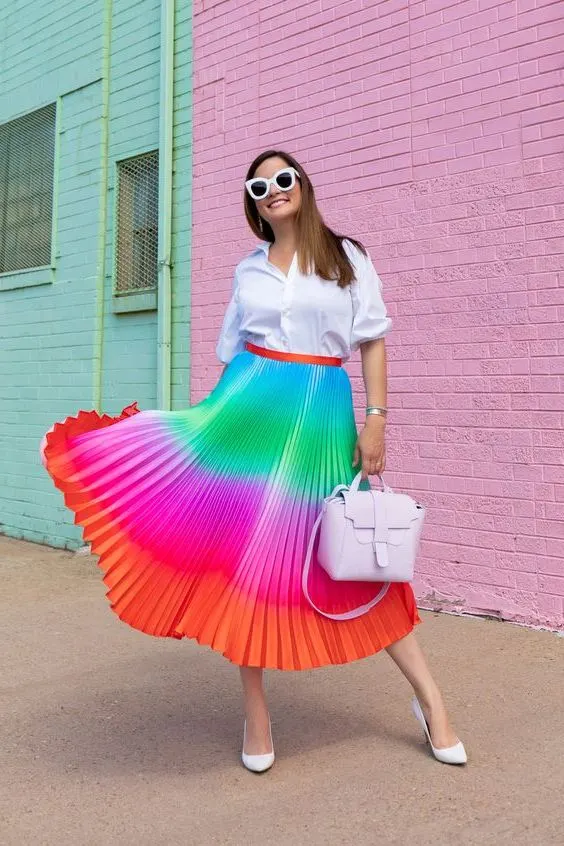 Buy Similar Here
A kind of retro style, we see a white blouse tucked in jacquard print pastel blue midi flared skirt completed with white heeled sandals: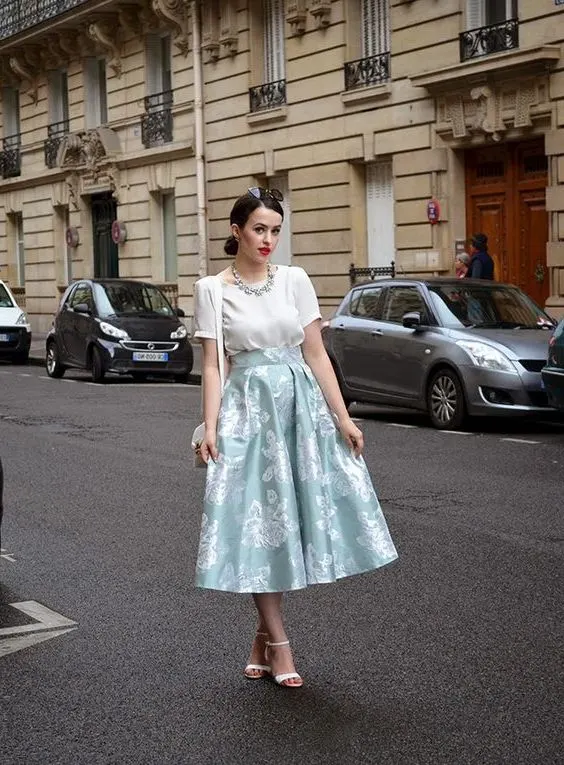 Buy Similar Here
This might be one of my favorites, a white shirt is tucked in silver-metallic knife-pleated midi skirt updated with silver heeled sandals: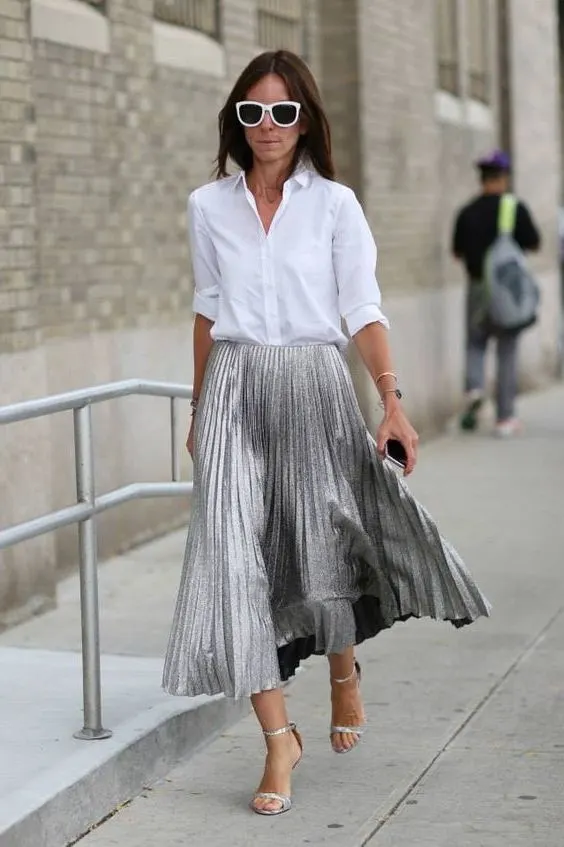 Buy Similar Here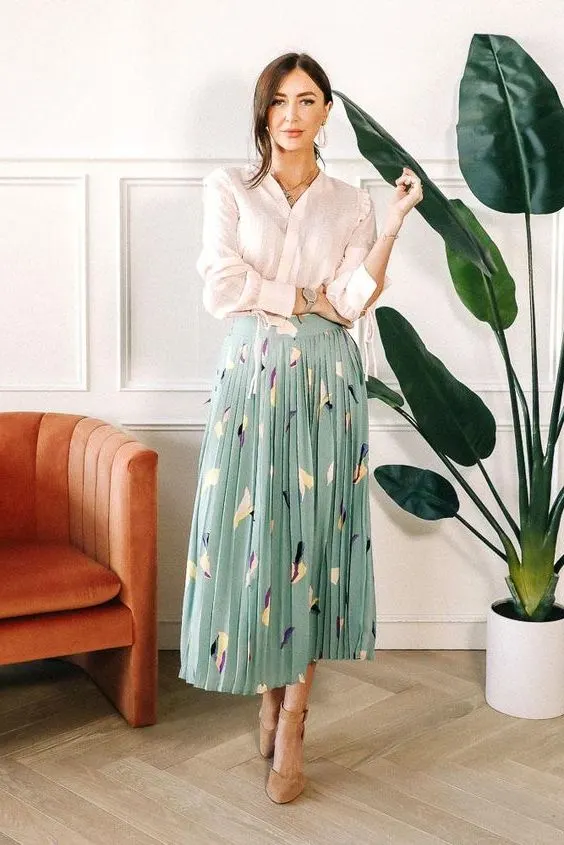 Buy Similar Here
Some like it classy and simple. Go for a white shirt and tuck it inside high-waisted pale pink midi skirt updated with ankle strap heeled sandals in black color: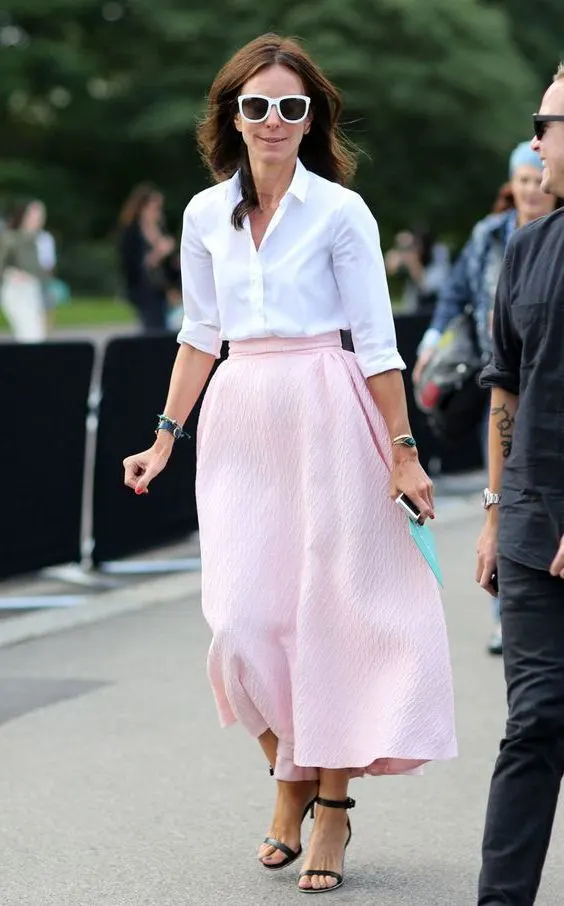 Buy Similar Here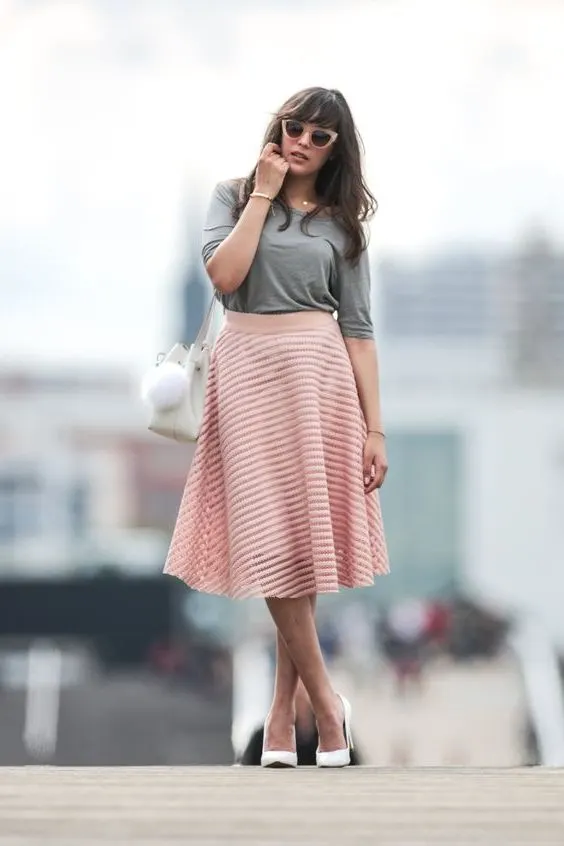 Buy Similar Here
Buy Similar Here
A perfect look for those who want to underline their individuality, we see a semi-sheer white long-sleeve cropped blouse teamed with a pastel blue layered midi skirt updated with white ankle-strap heeled sandals: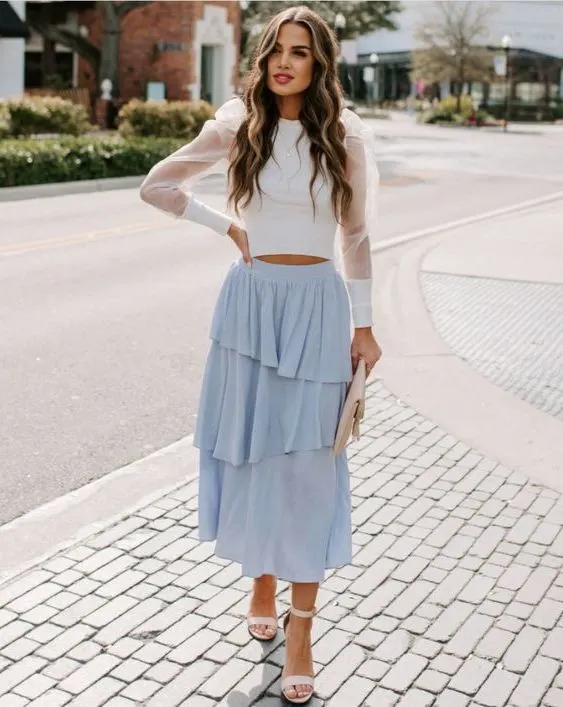 Buy Similar Here
Conclusion:
Wedding guest attire should be formal but also appropriate. Any clothing that might attract too much attention is not a good idea. This is not your day to shine. It belongs to somebody else. The idea is to be elegant and charming and not detract from the bride. A midi-skirt is simple, cute, and fashionable if styled the correct way. The wrong choices can make this outfit look office-like. If you choose a black or neutral skirt, go for a top with simple decorations like ruffles. Avoid pairing a skirt with a button shirt, especially if it is white. When buying a skirt with slits, make sure the slits aren't too high.
Source: Bellatory