We've all seen women in the playground or down at the park wearing casual sporty outfits that can be both used for playing with their kids on the playground, going to the coffee shop, or just chilling around the town. They look effortlessly beautiful! But how do they do it? It's only recently that I realized how much what you wear has to do with whether or not you can look effortlessly beautiful.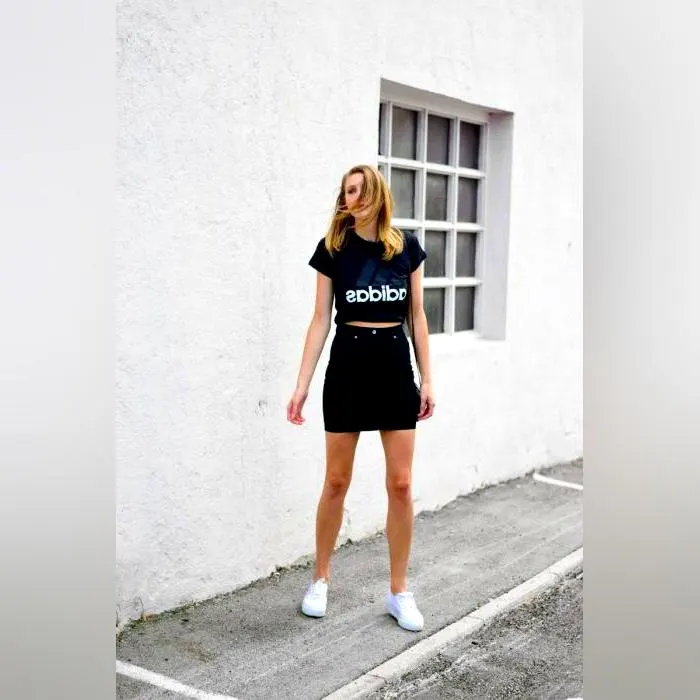 Buy Similar Here
A cropped adidas top in black looks cool and simple teamed with a black denim mini skirt and white sneakers.
Casual Sporty Outfits
There are lots of ways on how you can create a sporty look for yourself without going for very expensive clothing. Trying different things will give you more ideas about what works and a better idea about what doesn't work. You can also take inspiration from all types of exercises when it comes to clothing fashions.
White Shirt + Grey Pants And Grey Kicks
Shirts are great for women because they can be worn for almost any occasion. They're just as comfortable as hoodies and jeans but don't necessarily have to hug your body the same way. With shirts, you can add some edge to your outfit with a bold statement or go more conservative with a more subtle top. They're great because they hide most of your body and only show what you want to show – this makes them extremely versatile and easy to mix and match with different pants and shoes.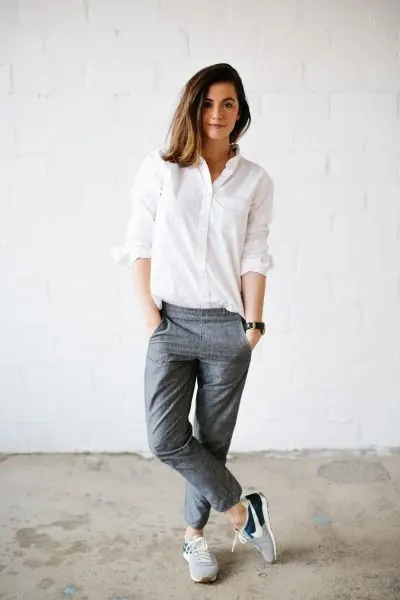 Buy Similar Here
Rock Band Tee And Pleated Skirt
A simple white shirt tucked in grey pants completed with sneakers, shoes work great with this look!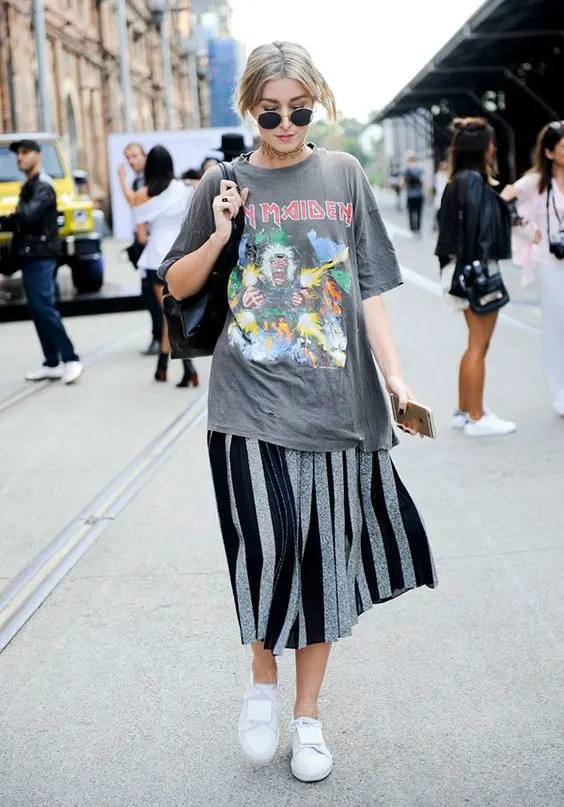 Buy Similar Here
We see a rock band shirt with a pleated midi skirt and cool white sneakers.
Camel Coat And Black Jeans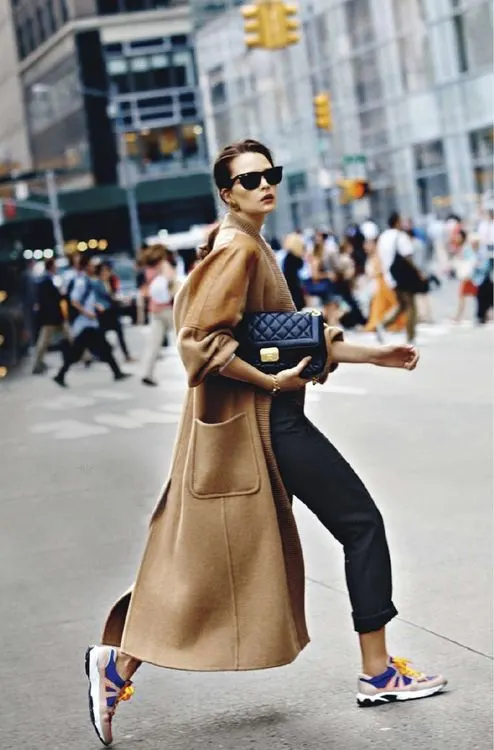 Buy Similar Here
Multi-colored sneakers look fabulous with that camel coat completed with black slacks.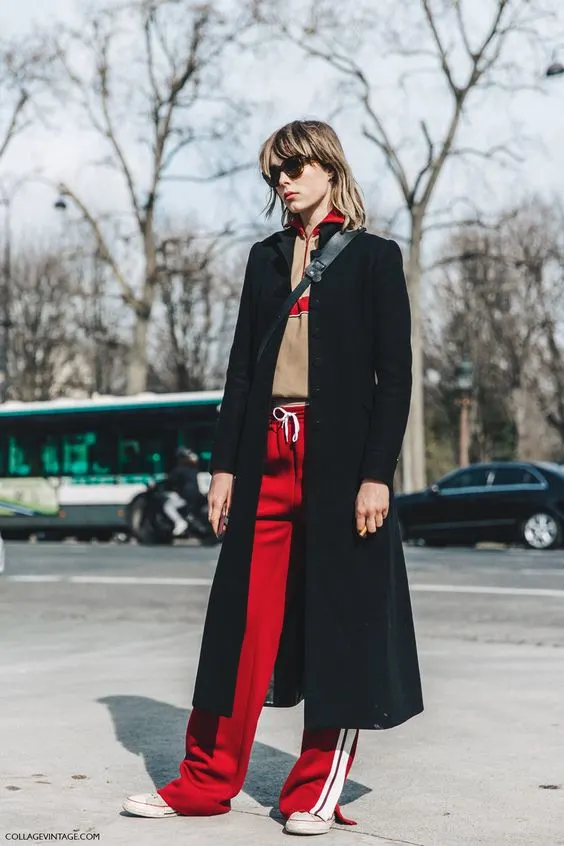 Buy Similar Here
We see red pants with white side stripes worn with white Converse shoes, and a long black coat.
White Tank Top And Knife Pleated Maxi Skirt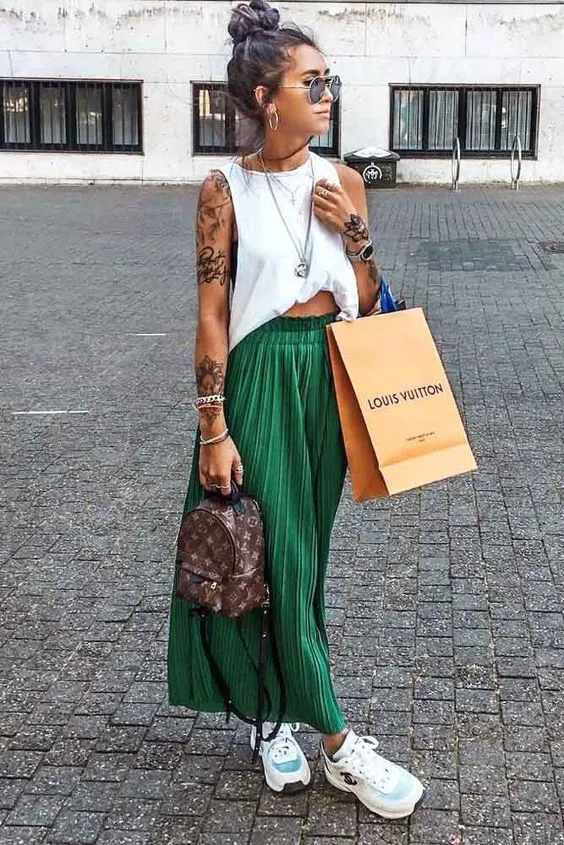 Buy Similar Here
A white tank top looks cool teamed with a pleated green maxi skirt and chunky sneakers.
Hoodie With Regular Jeans
Hoodies are considered an essential piece of clothing by most women because they are so versatile. There are so many different types to choose from now – some with thumbholes, some with drawstrings, etc. They can be worn for various occasions like lounging around at home or going out on a casual date. Depending on the style, they can vary in price. I would recommend you pick up a hoodie that is most comfortable for your body type and wear it according to your needs.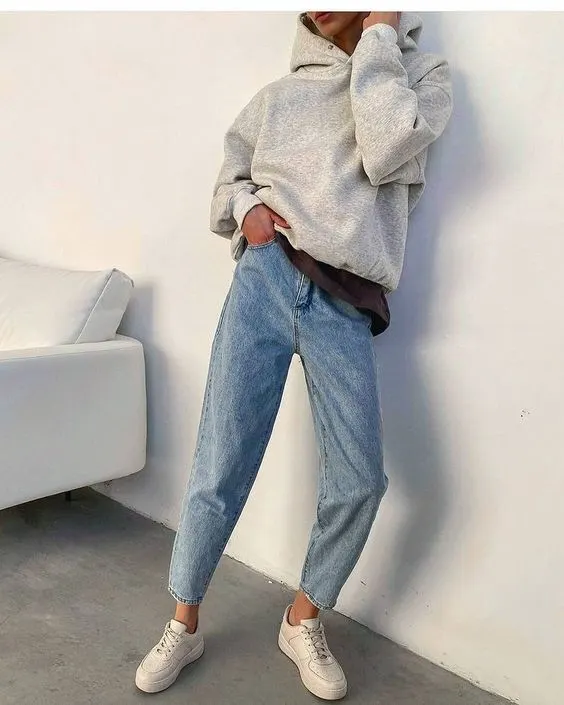 Buy Similar Here
Love that hoodie teamed with regular jeans and white sneakers.
Neon Suits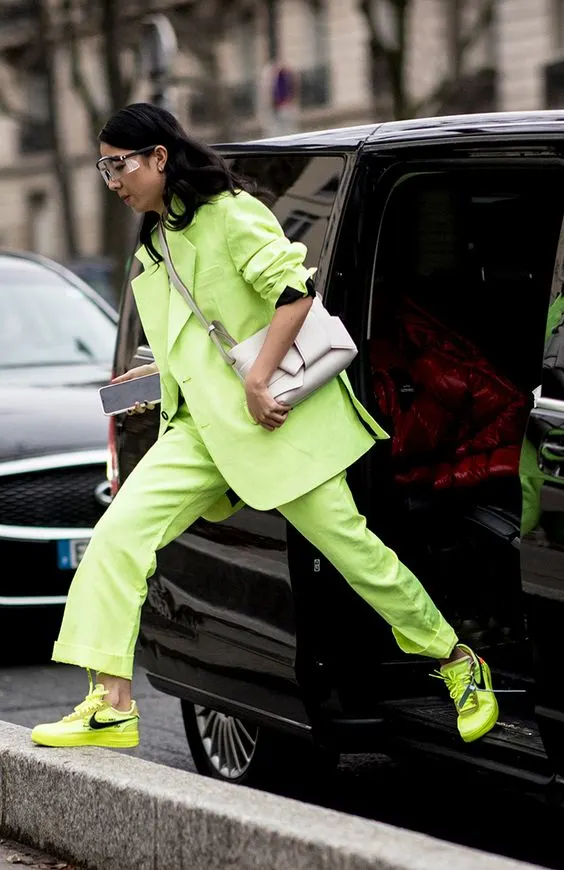 Buy Similar Here
A neon green suit is completed with matching color sneakers.
There are many sports items that can give you inspiration for your outfit for the day. If you want to be fit then go for a run or do any other workout but if your goal is just looking good, pick up any sport that you like and follow its rules when it comes to clothes so that there will be no question about which clothes match each other and which doesn't.
If you want to look perfect and sporty you will need to create an outfit that is based on mixing and matching different items. You can use the same pieces but you will get a different look each time. For example if your pants are black, then your shirt can be white or another color such as pink or blue. You can even use your favorite accessories that are colorful making sure they are coordinated with the rest of the outfit.
You may not want to run in your high heels when you are going out for a jog, but this doesn't mean that you should go with the cheapest pair of sneakers available. If you are looking for exercise shoes then go for something that is mid-range and makes sure it has a good arch support so that you will feel comfortable and because the wrong pair of shoes can cause injuries.
The key lies in finding sporty clothing that is casual enough for your day-to-day lifestyle without being over-the-top. So, I decided to do a little research and find sporty clothes and items that will make you look effortlessly beautiful beyond the playground/gym.
Sporty looks are very popular right now and it's a look that will never go out of style. If you have an athletic body type this look is perfect for you. You can wear some of the items you already have in your closet and make different combinations or visit a couple of shops to get some sporty clothes.
A black fur coat is layered over a cool white t-shirt tucked in orange track pants completed with sneakers: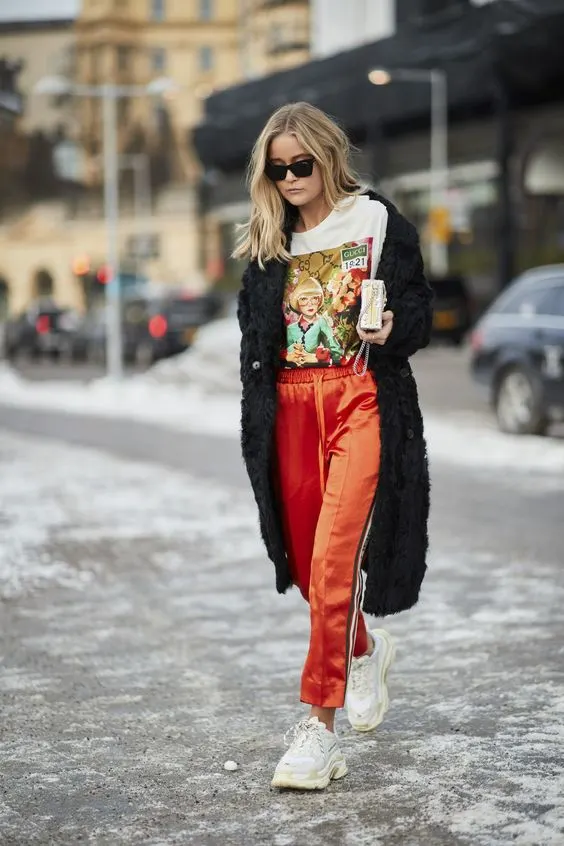 Buy Similar Here
Brown Sweater With Black Leggings And Grey Slip On Shoes
Flats are essential for women because they look great with pants so they can go from day to night in just one outfit change. Flats come in many different styles and can sometimes look more casual than heels with an outfit. I would recommend you get a pair of flats that aren't too high because it can sometimes look awkward and uncomfortable if the shoe is too high for your body type.
With sweaters, you're just as likely to be able to pair them with jeans as you are with leggings. They're great because they keep you warm and cozy without being too hot. They tend to be a little on the pricey side but are definitely worth the investment if you plan on wearing them often. I would recommend that you get something with a loose-fitting (so it's not too tight) as well as a comfortable material like cotton or wool.
A brown sweater looks cool teamed with black slim pants and black leather slip-on shoes: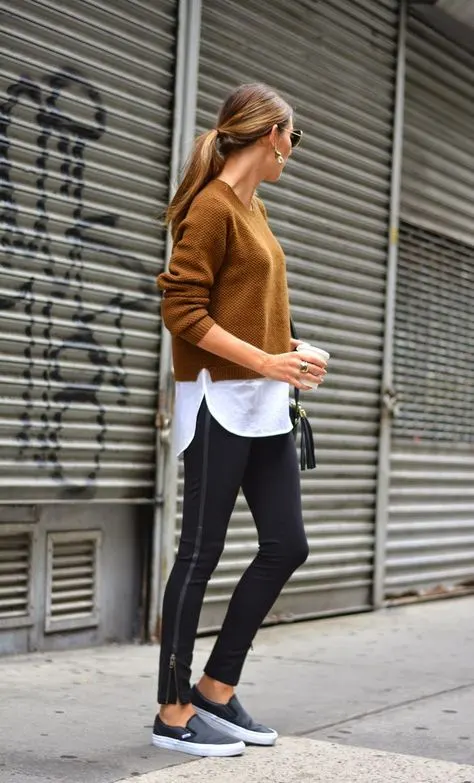 Buy Similar Here
Brown Coat Ripped Jeans And White Kicks
Jeans are considered one of the most versatile pieces of clothing ever since they were invented. There are various types of jeans now and they come in different lengths – from knee-length (also known as bootcut or honeycombs) to ankle-length jeans (also known as mom jeans). Jeans are great because you can wear them with anything from a cute top and jacket to an athleisure tracksuit bomber depending on what's required at the time. They're also very comfortable due to their stretchy ability. They can be a little pricey but are definitely worth it.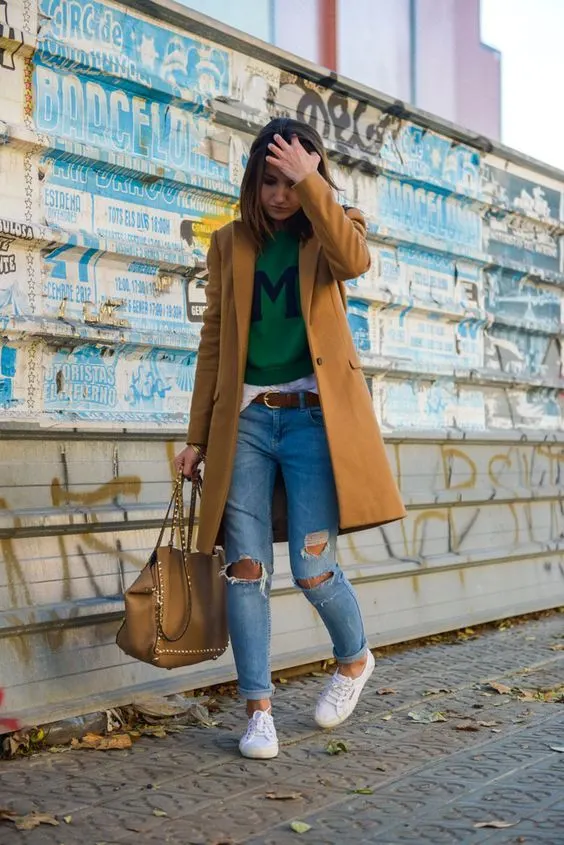 Buy Similar Here
Pink Hoodie With Knitted Skirt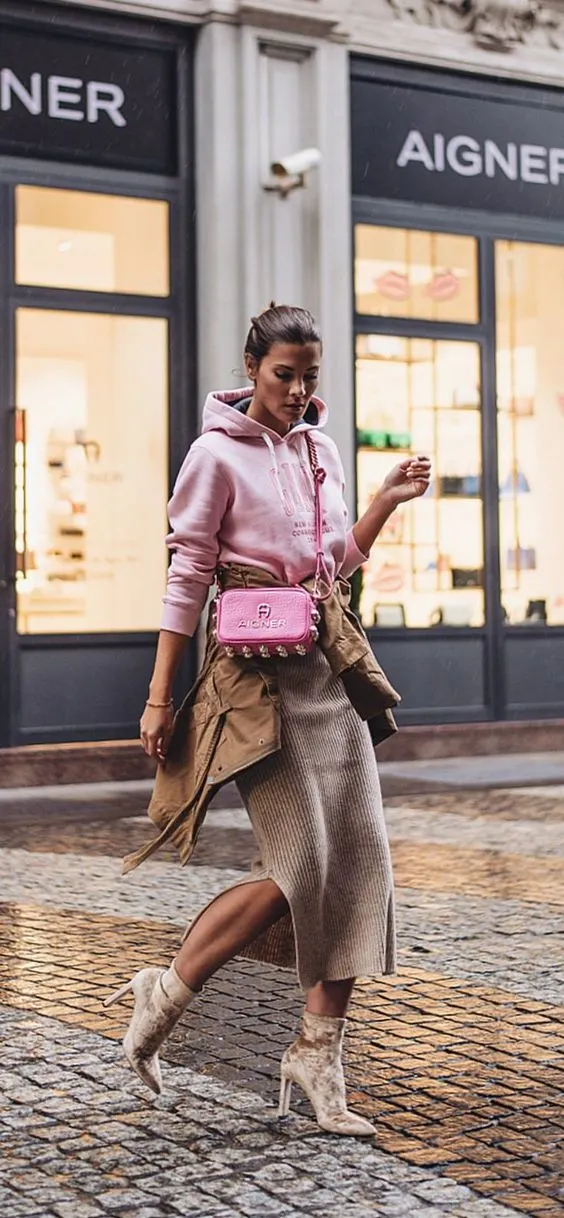 Buy Similar Here
When it comes to accessories choose shoes that match your outfit without being predictable and boring. If you want to look unique consider wearing the same shoes with different types of color or patterns. You can also try to find another type of shoe that goes well with your outfits such as high heels or boots. Accessories for sporty casual women's outfits include a sports bag, belt, sunglasses and other accessories to help signalize how sporty you are.
Oversized Camel Coat And Leggings
Leggings are great for women who like to be comfortable with their outfits. Leggings are great because you can wear them with just about anything from a t-shirt to a sweater. They come in many different fabrics – some are similar to jeans while others are made out of spandex, making them a little more body-hugging or giving the material the ability to stretch.
Love that camel coat in oversized fit styled with a matching color hoodie paired with black leggings and white kicks: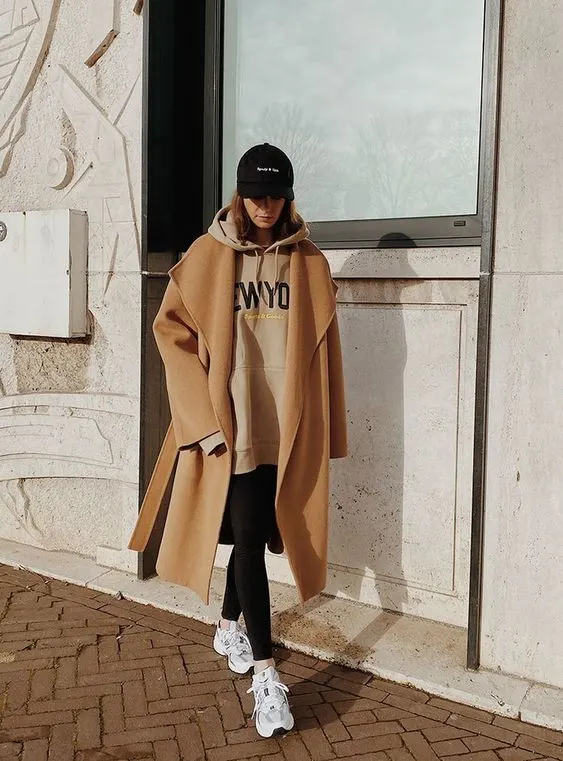 Buy Similar Here
Black Blazer Jean Shorts And White Sneakers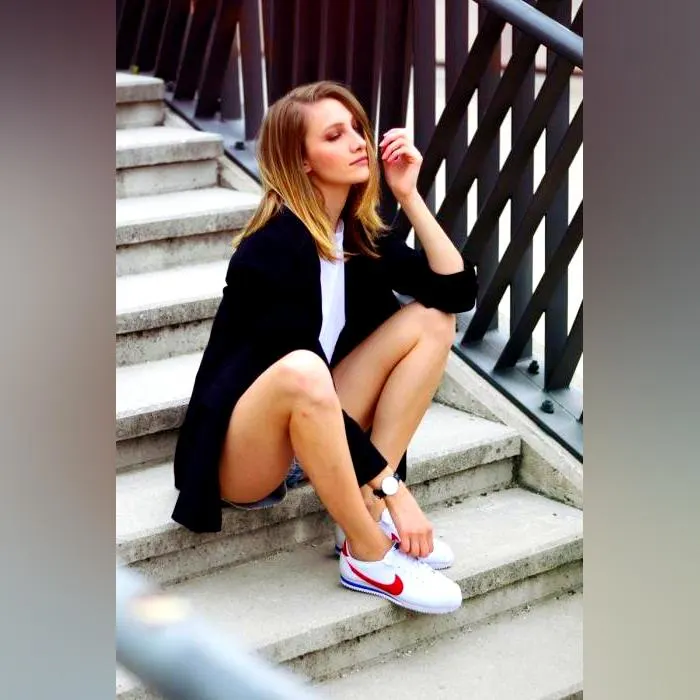 Buy Similar Here
Double Denim
A double denim look is completed with white sneakers: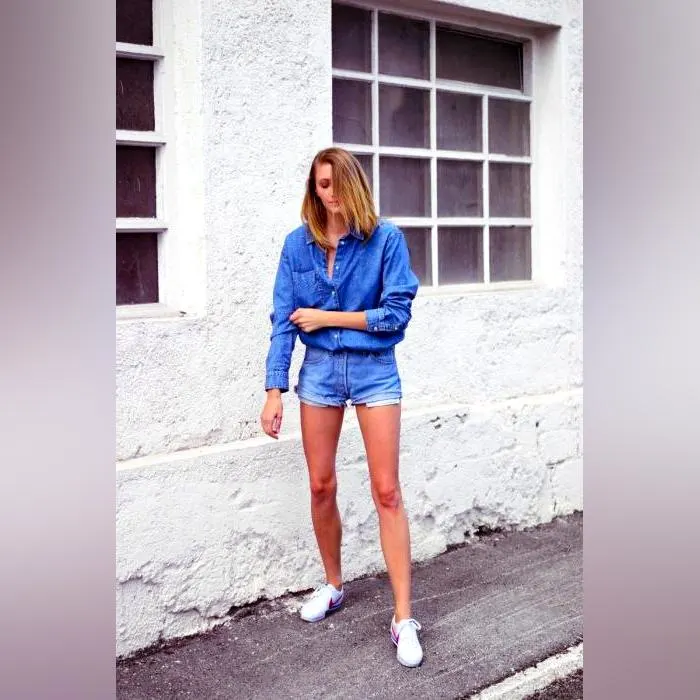 Buy Similar Here
White Shirt And Denim Skirt
Black Converse look pretty chic with that white shirt tucked in blue denim mini skirt: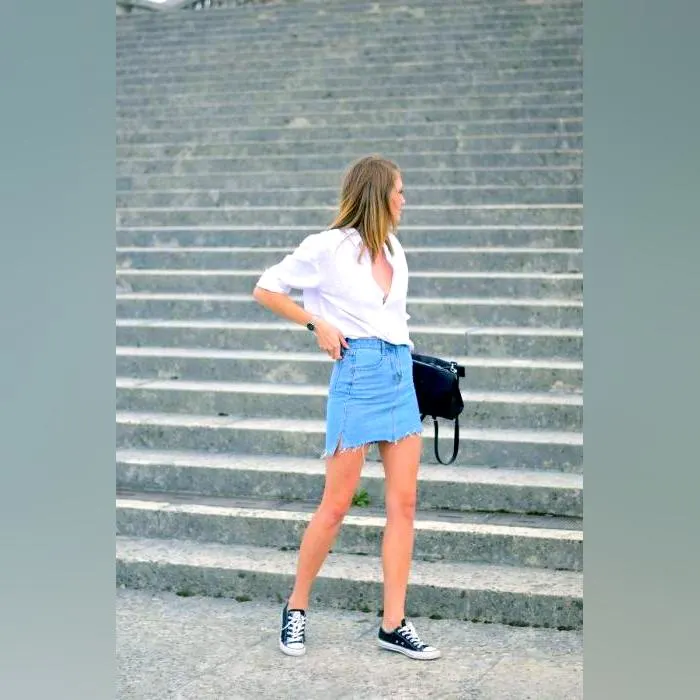 Buy Similar Here
Striped Top And Denim Shorts
A striped red-white top can be teamed with denim shorts and white kicks: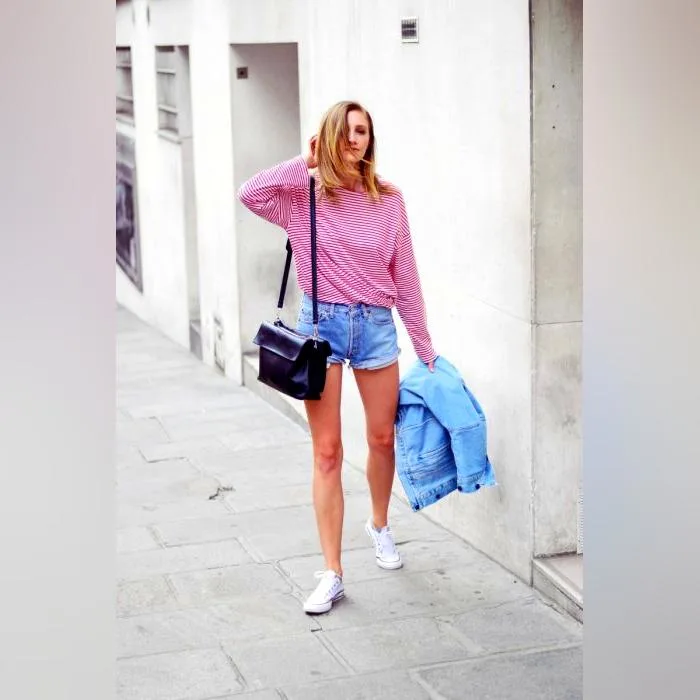 Buy Similar Here