Have you ever felt like you are into some military accents? Well, read on for some new takes on the traditional, always-trusty ways how to wear khaki pants you can recreate this year.
Buy Similar Here
The khaki pants are an ideal uniform staple for preppy professionals, country club members, and rugged outdoorsmen alike. And it's not just for the boys anymore. Whether you want to clean up your look with a sophisticated belt bag or dress down with chunky sneakers and a blazer, khakis offer the perfect balance of sophistication and comfort.
Why We Love Khaki Pants
We love the ease with which the right pair of khaki slacks can turn into polished daytime pieces, especially when they're designed and cut like a classic pair of trousers, rather than ripped or frayed. And because they're all slim-fit and have side seams, even if you decide to wear yours with flats (as I do), you'll look polished. So, when you don't have time to change but still want to look put-together, pair your favorite pair of khakis with a blazer or cardigan for a polished day look.
They're comfortable enough for everyday wear and you can dress them up or down depending on your look of the day. You can also wear these pants with a simple shirt or tank top and add an interesting necklace or belt to give the outfit an edge. Some colorful shoes and you're all set!
How about making things fresh and girlish by teaming these pants with a mint top: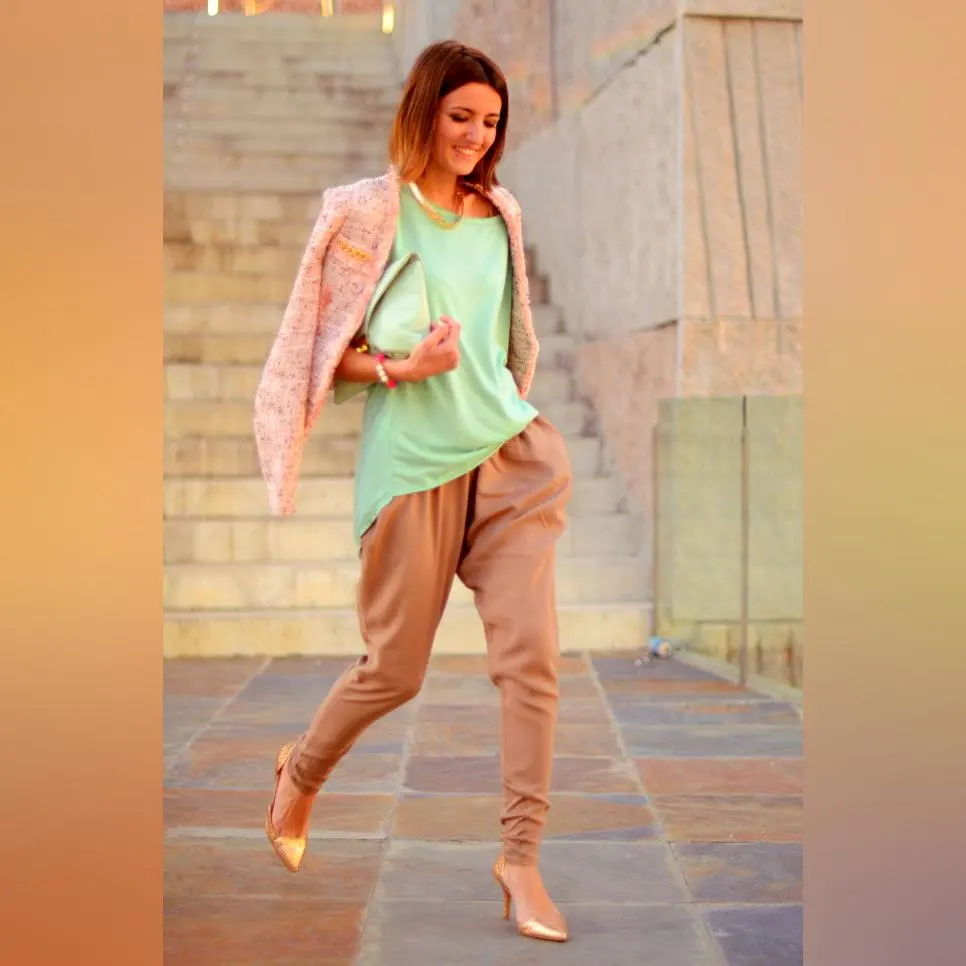 Buy Similar Here
You can also keep things smart and classy by styling them with a white shirt and a blue vest: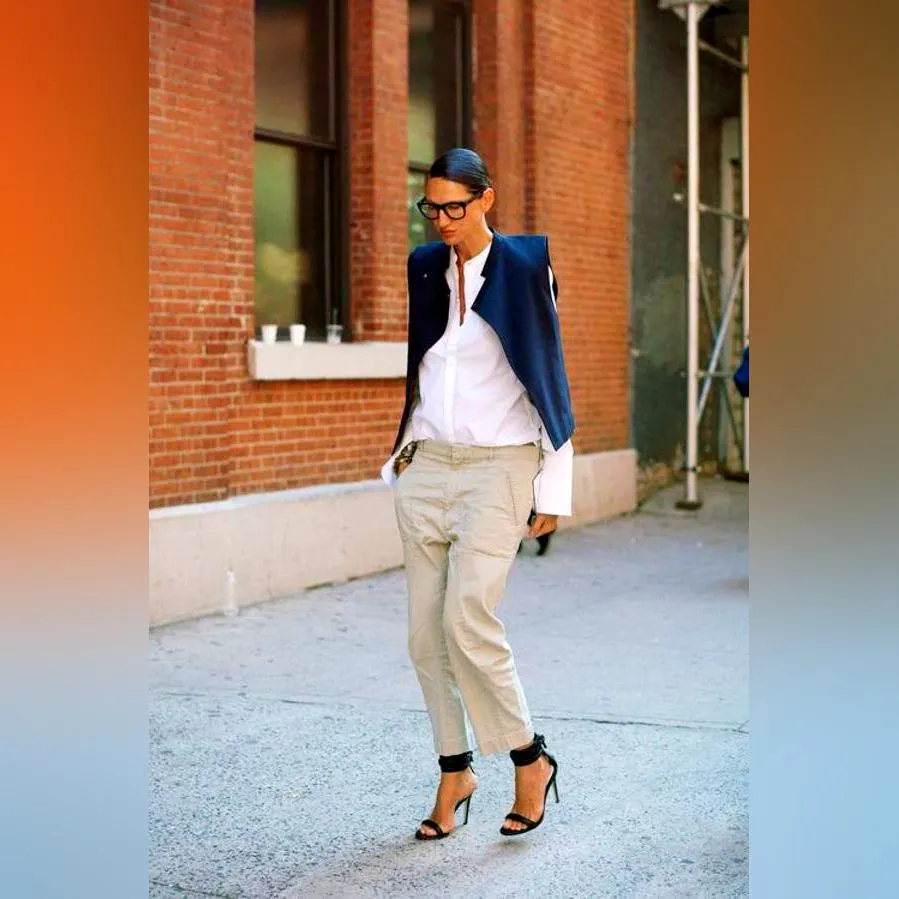 Buy Similar Here
You can easily try them on with a bright top, like this yellow sweater: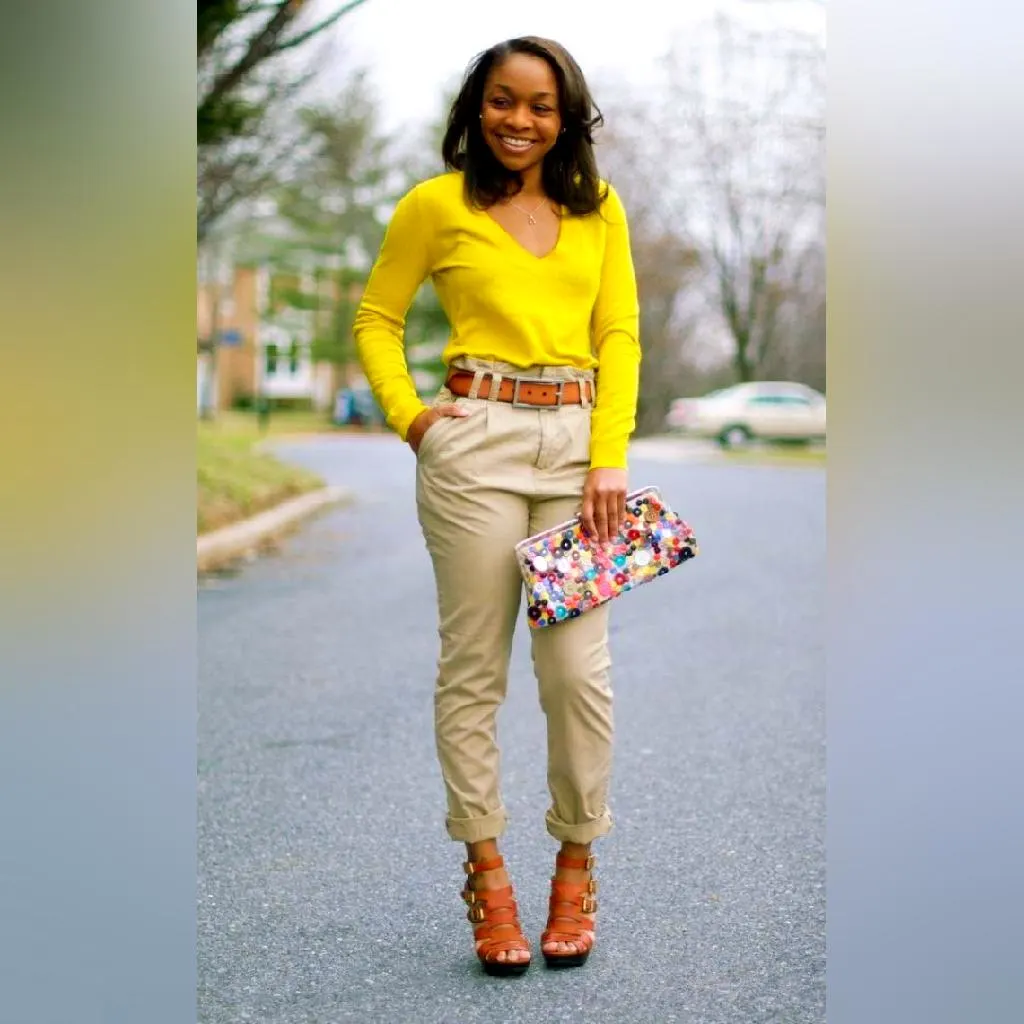 Buy Similar Here
Most of us have at least one khaki pant in our closets, but how do you know how to wear khaki pants to look and feel your best?
What does the perfect pair of khaki pants look like? They should fit comfortably, allowing for a bit of wiggle room (nothing a good belt can't fix) and be slightly cropped, at around 10 inches above the ankle. Khaki colors range from light to dark depending on time of year and style; light shades work well in summer while darker colors are more suitable in autumn and winter.
They pair well with a variety of shirts and accessories. For example, white shirts can be worn with khakis in any season. As a rule of thumb, wear bolder accessories when you're adding bold details to your outfit such as scarves, belts or jewelry. A good rule is to select one or two eye-catching accessories that complement the rest of your look; if you have too many items competing for attention, you'll end up looking like a walking billboard.
If you're trying to stay on a budget, a white button-down shirt will suffice as your top. However, you can easily invest in an understated statement piece such as a handcrafted belt, or pick up an old pair of classic sneakers.
Because khaki pants are casual and easy to wear, you have the option to mix and match your t-shirt with it. Depending on your shirt's color and style, you can wear khaki pants with black shirts that make your outfit look interesting and fun.
What shoes can I wear with khaki pants?
Again, it depends on the style you're going for. If you want to dress up a pair of khakis and make them seem less casual, consider a pair of well-polished loafers. Your shoes should match your belt bag; this will help complete your look. You can also wear them with a pair of chunky sneakers or even sandals if you are heading to the beach for the day. If you're headed out to brunch with the girls or just want to look put-together without looking too dressed up, find a pair of pumps that's still casual but looks chic and fashionable.
What Jackets look great with khaki pants?
Khakis can be styled with blazers. This is especially useful when you are in the office. A blazer will make your pants look smart and polished. You can even use the blazer to create a feminine look; there's no reason why you can't add flair to a pair of khaki pants. When it comes to jackets, you don't have to limit yourself to just one type. You can mix styles as long as they complement each other well.
They do look great with a denim shirt, the result is chic, smart and casual: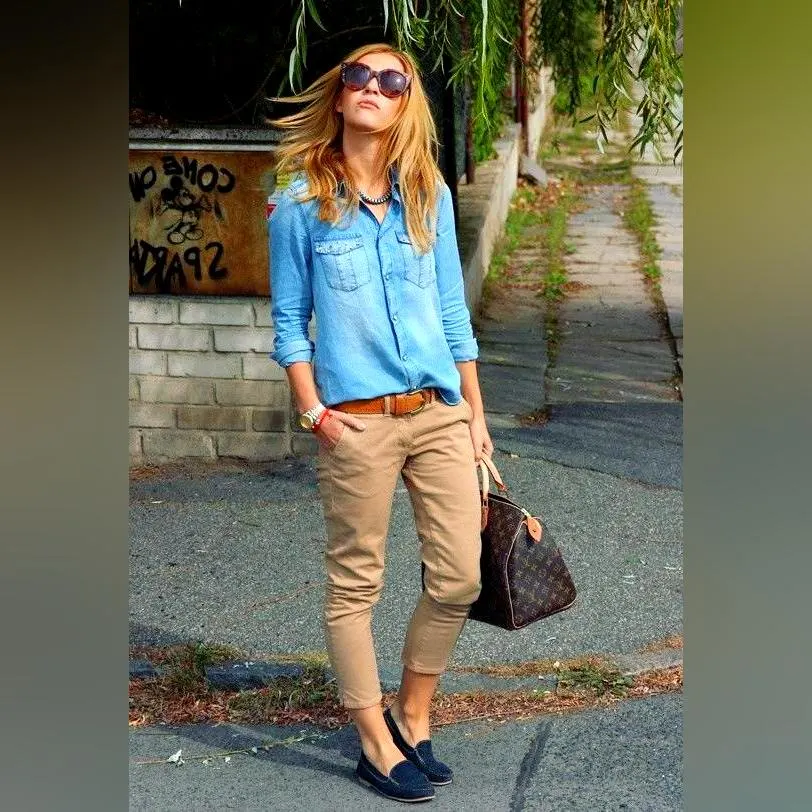 Buy Similar Here
I do love to see women who style their khaki pants with white shirts: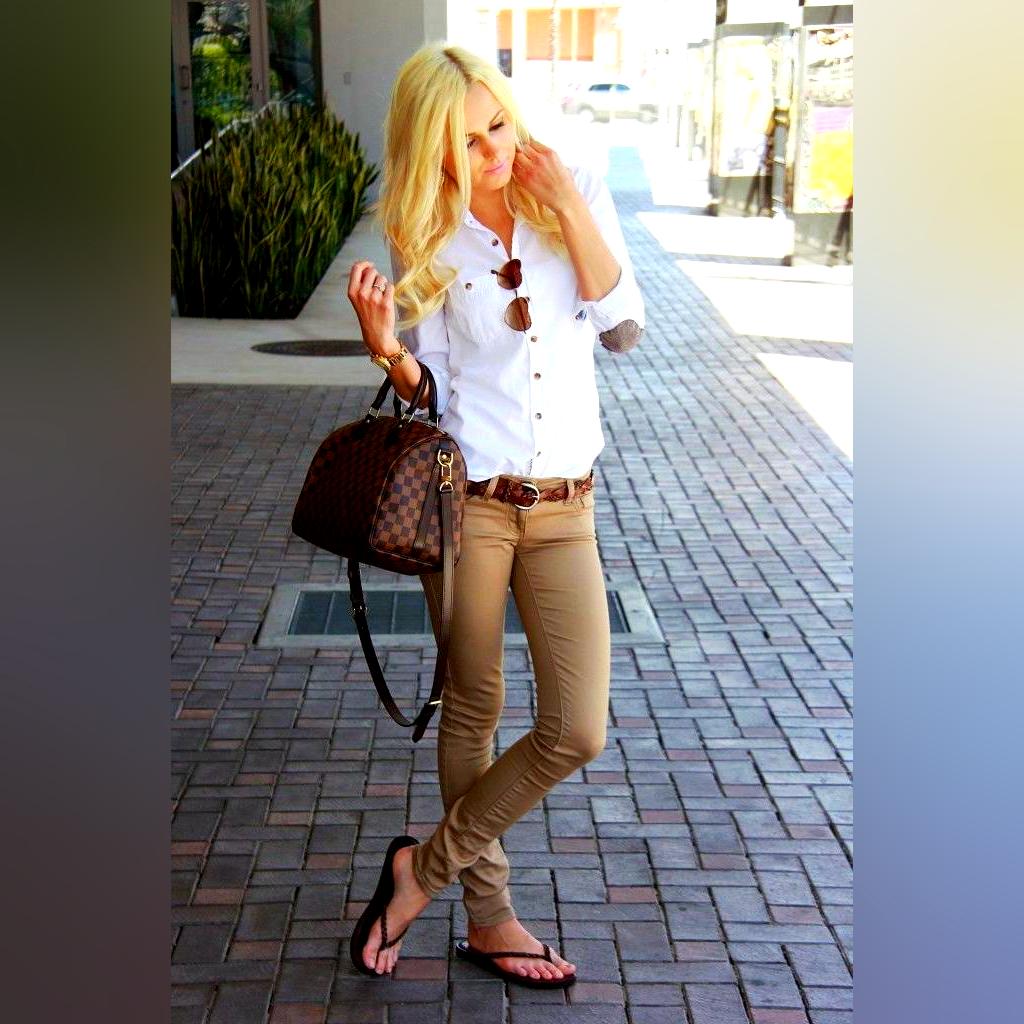 Buy Similar Here
Love this red sweater, it does look cool with khakis: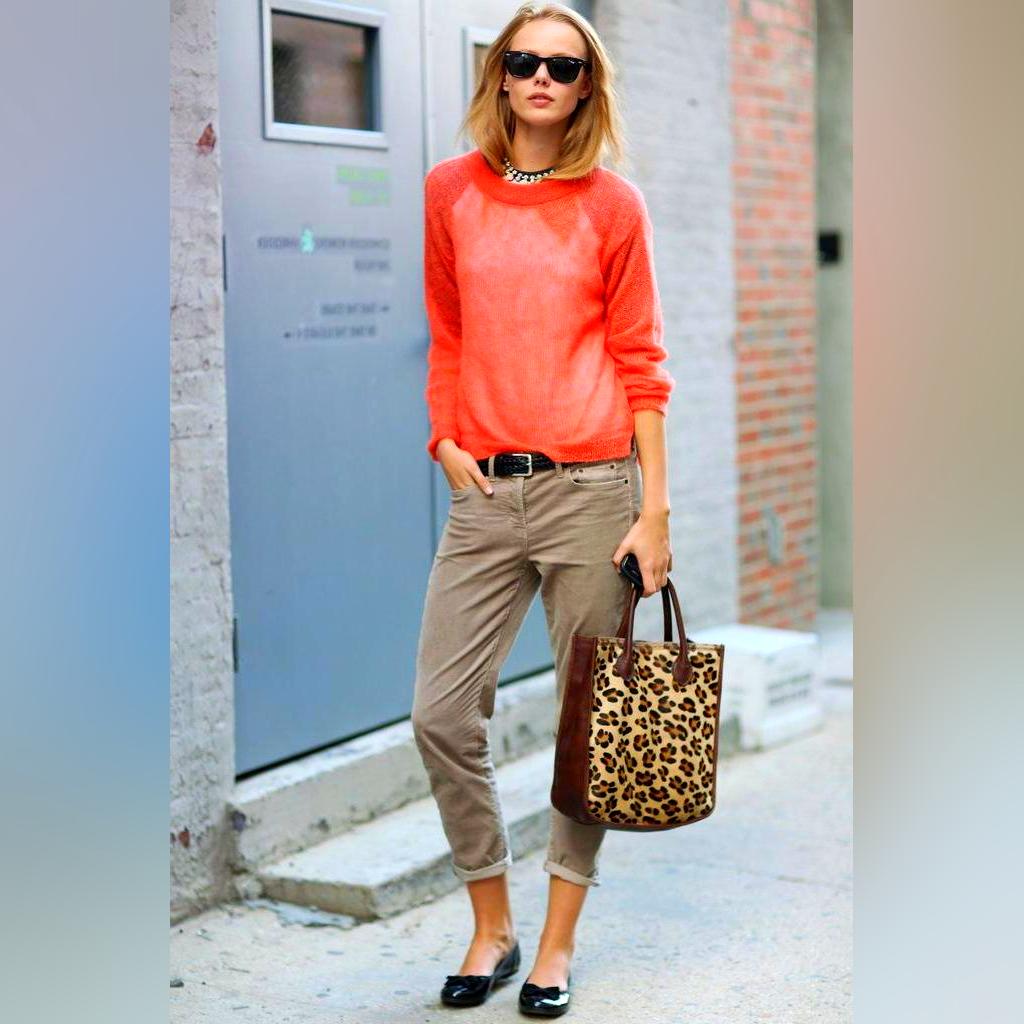 Buy Similar Here
Keep things classic and go for a black top and a black leather jacket: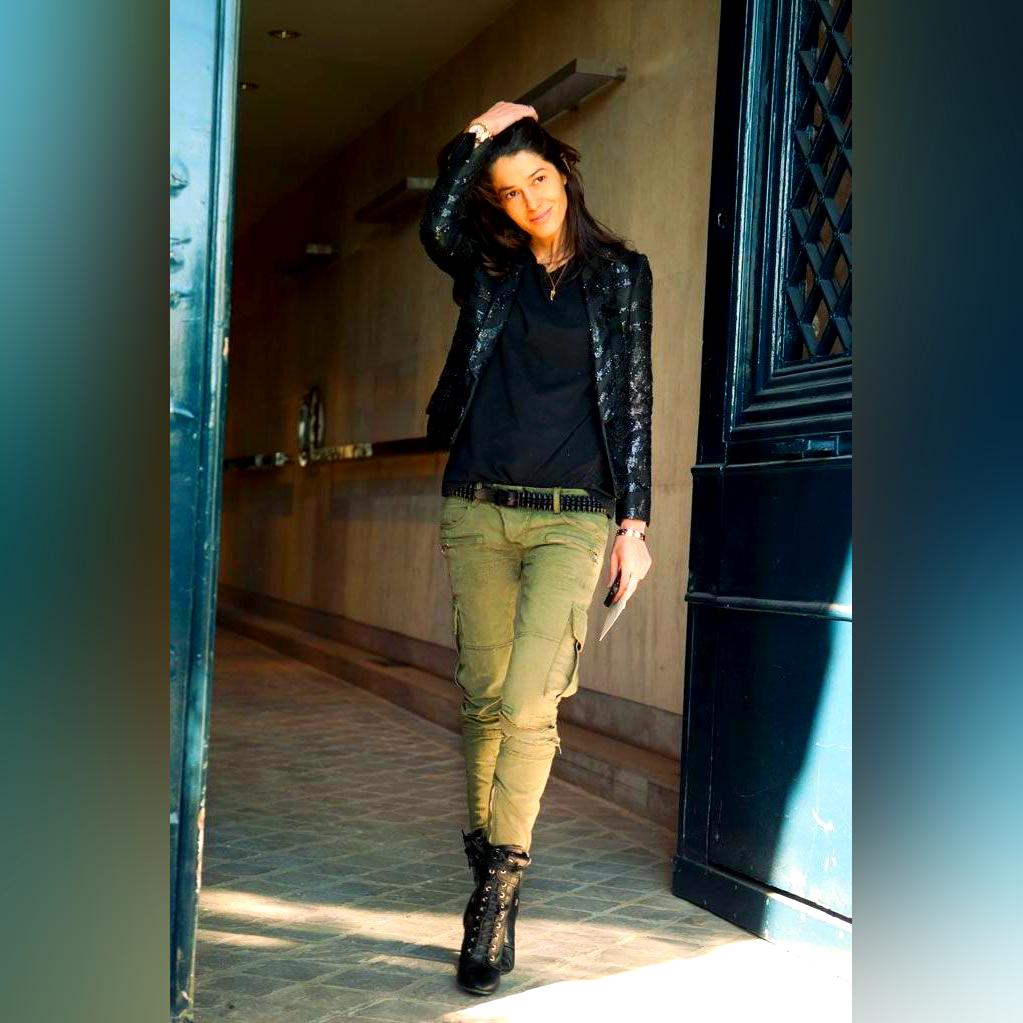 Buy Similar Here
How about adding a pastel-colored sweater: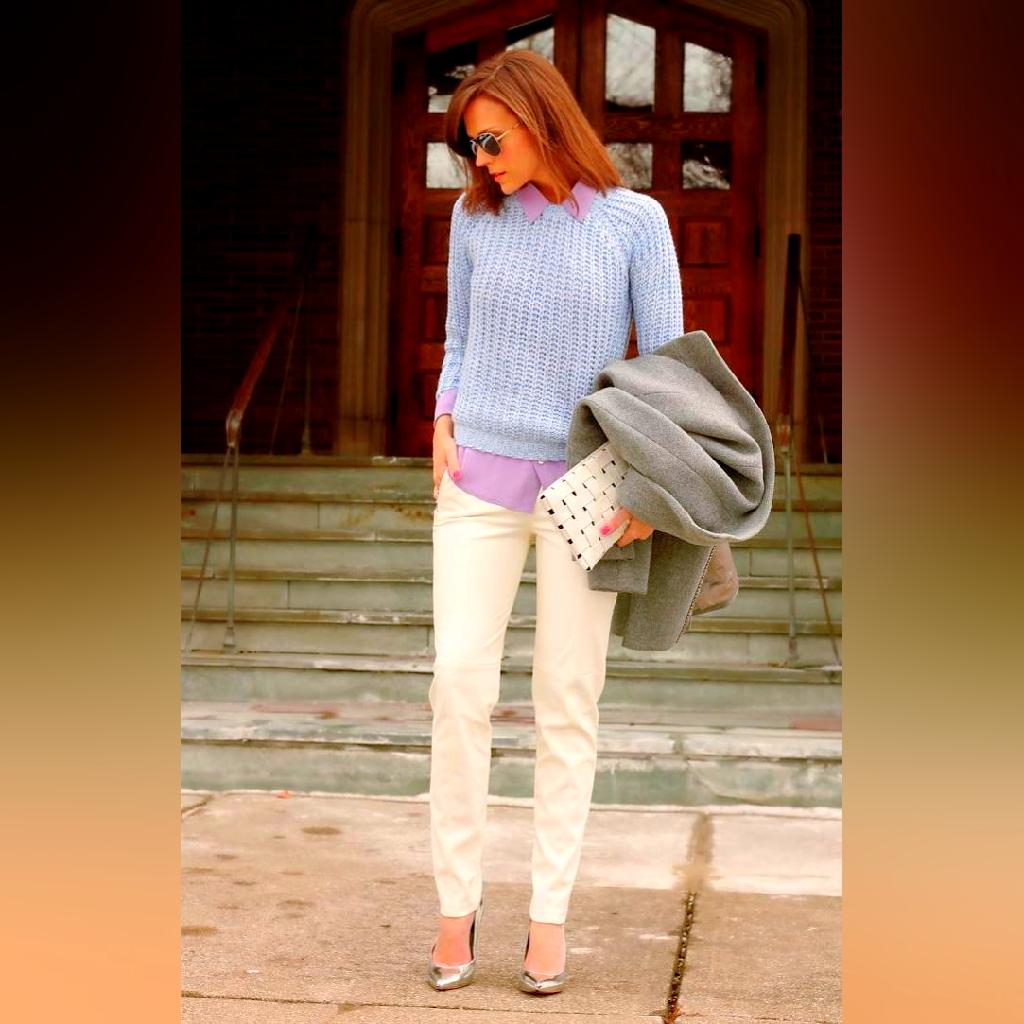 Buy Similar Here
As I have already mentioned, khakis look cool with denim shirts: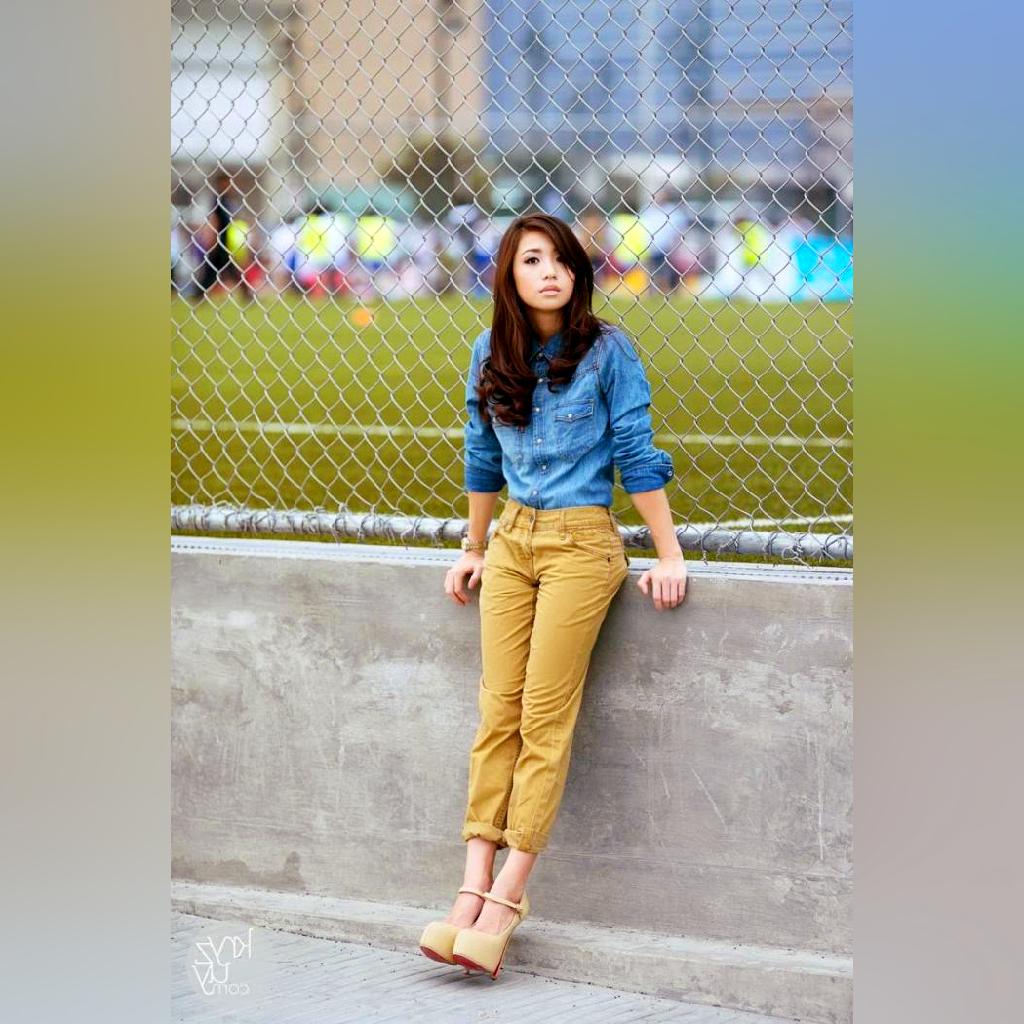 Buy Similar Here