I am not a big fan of jogger pants, but it feels like I should make a post about this type of pants. Why women are so into this trend anyway? I guess it's all because of functionality and comfortable feeling that makes us wanna wear them everywhere. In this collection, I've got some cool ideas on how and with what to wear jogger pants. Stay tuned and see the best street style looks you might copy this year.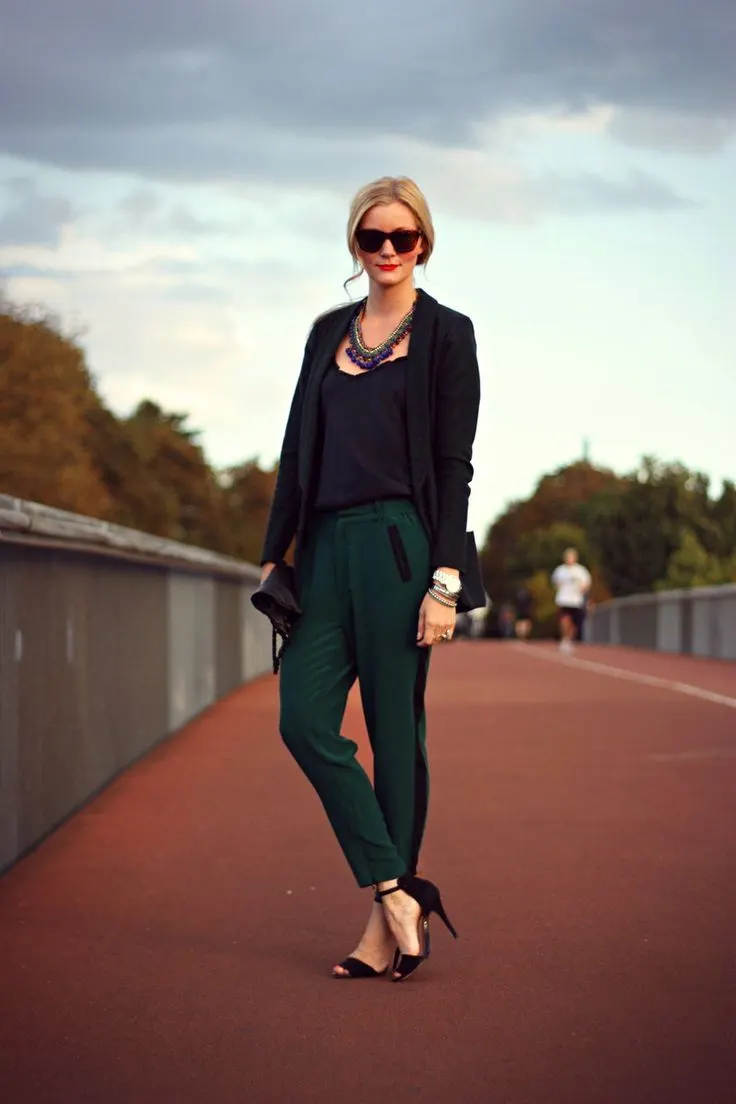 Buy Similar Here
We see a pair of silken jogger pants combined with a silken top. A wonderful combination for summer days at work. A black blazer is layered over a black top tucked in emerald green joggers completed with heeled sandals.
I have found the best way to style a jogger pants with the rest of your outfit. It is so easy to do that I thought you need it in your life. The article deals with how to wear them and tips about styling.
Jogger pants are what is in these days, but it can be overwhelming to figure out how to style them. They come in different styles, colors, patterns and lengths. To help out a bit I will give you some tips on how to wear jogger pants for women.
The first thing is that the most important part of the article is knowing your body type and finding the right jogger pants for it. There are different styles available and they all fit differently. If you have found the perfect pair, you could wear them with anything ranging from a casual t-shirt to formal shirts – you just need to know how and where to wear them properly.
Which style to choose is solely based on your preferences. I will tell you how to wear them and some styling tips that go from casual to formal.
Basic Rules For Styling Jogger Pants
The first thing is that the basic rules about styling jogger pants stay the same no matter what type of jogger pants you have chosen. You are required to have a solid tee or a basic button-up shirt paired with the pants. It is crucial, so bear this in mind when selecting what goes with your joggers.
The second rule is about color and pattern that you choose for your jogger pants and shirt. You have to blend them together and keep the pattern of both of them in mind. It is important that you do not wear a shirt that goes well with one color of jogger pants and not the other.
The third rule about styling jogger pants is about the length. It can be very hard at times to figure out what goes with your pants. A lot of women seem to think that shorted pants are what goes best with their shirts, but it is not quite true. Jogger pants come in different lengths, and they all look great on different body types and fits. You will see what I mean when you read more below about how to style jogging pants for women.
Lace-up sweater in beige is tucked in black belted joggers completed with strappy heeled pumps. I love that corset-like belt and these oversized sunglasses: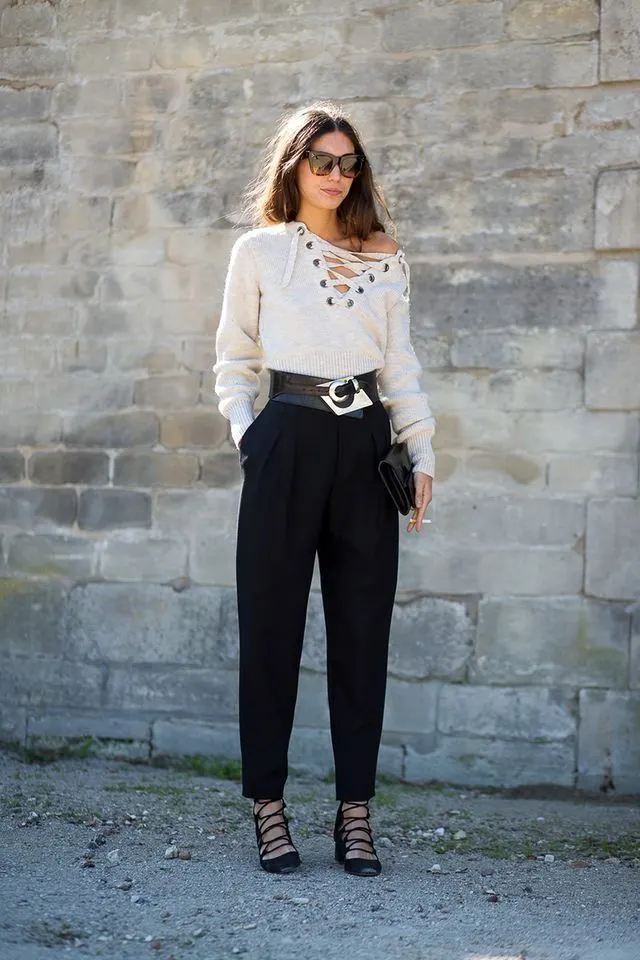 Buy Similar Here
I am pretty sure, this type of pants might be the most comfortable trousers in the world. They are versatile as a hack, they can be used for workouts, for casual street walks, as well as at work. Some time ago, I would say it's banned to use these bottoms at the office, but thanks to the latest office rules we are safe to wear these pants at the office, as well as while working from home.
A striped blazer looks ideal layered over a cream grey tee tucked in black joggers completed with black patent pumps: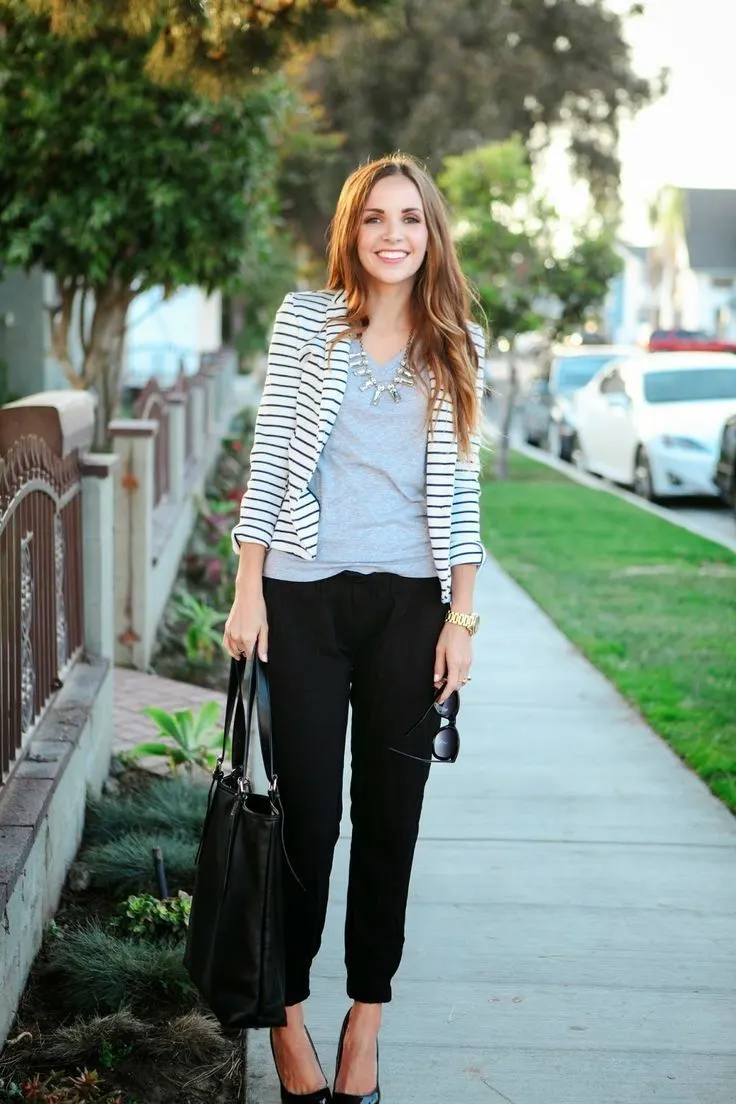 Buy Similar Here
Something tells me, the following look is absolutely amazing! We see a semi-sheer white shirt styled with a white crop top and cream-grey joggers. Complete this look by adding white Birkenstocks: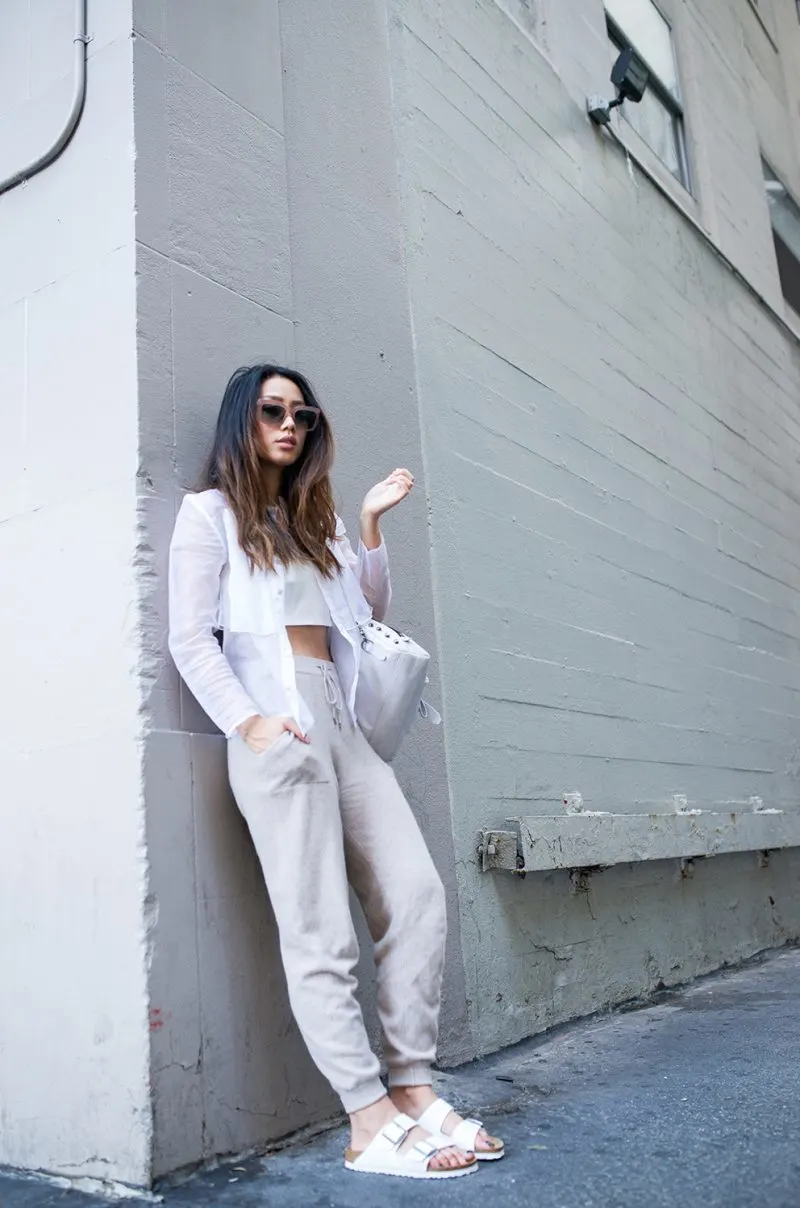 Buy Similar Here
Speaking of comfort, you are free to wear these pants by teaming with crop tops, tank tops, basic tees, blazers, leather jackets and whatever heart tell you.
A lovely cargo shirt in white is tucked in grey-blue joggers updated with cream-beige flat loafers: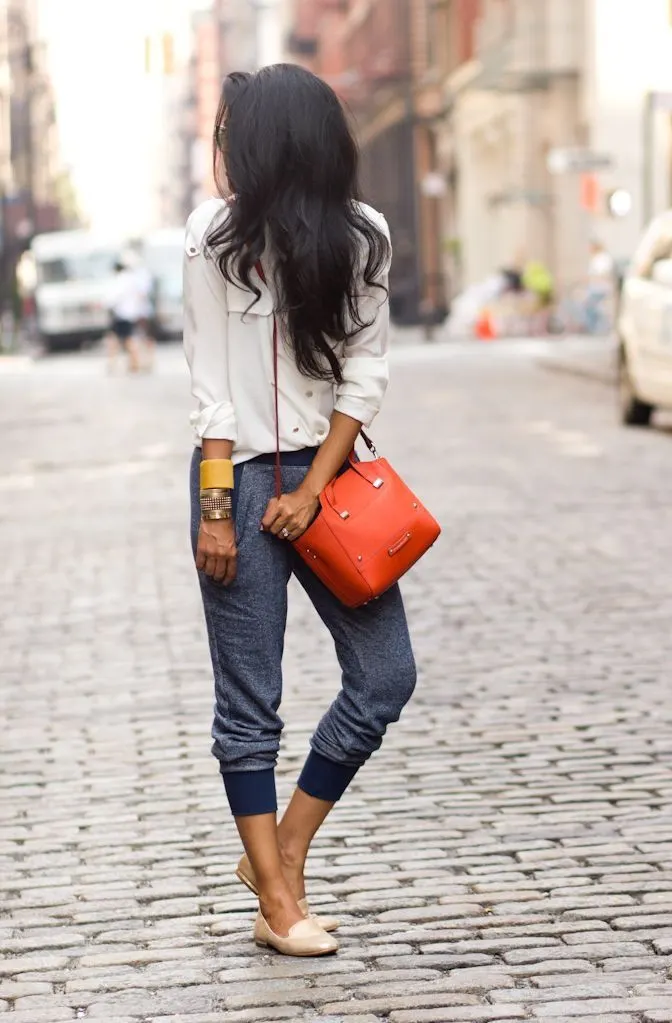 Buy Similar Here
A classy black leather jacket is worn with a grey tunic and turquoise-blue joggers styled with black heeled sandals: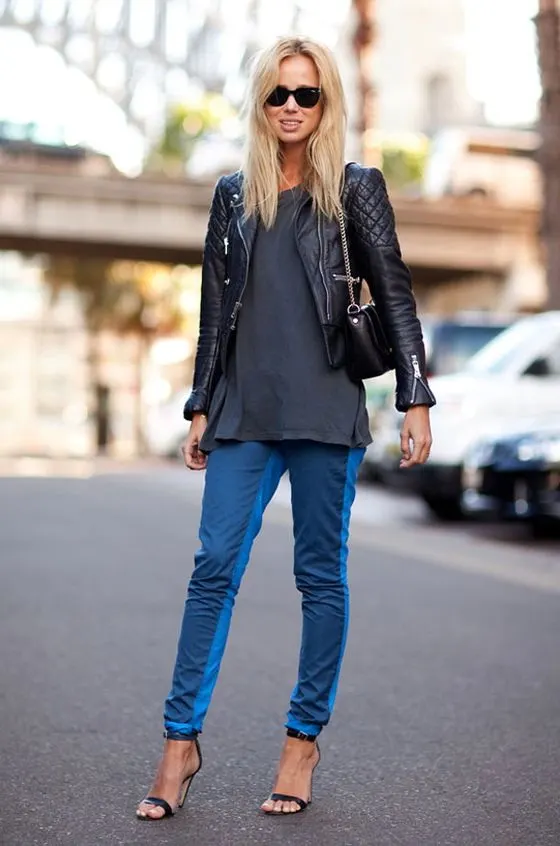 Buy Similar Here
A white crop top with long sleeves looks terrific accompanied with plaid print joggers: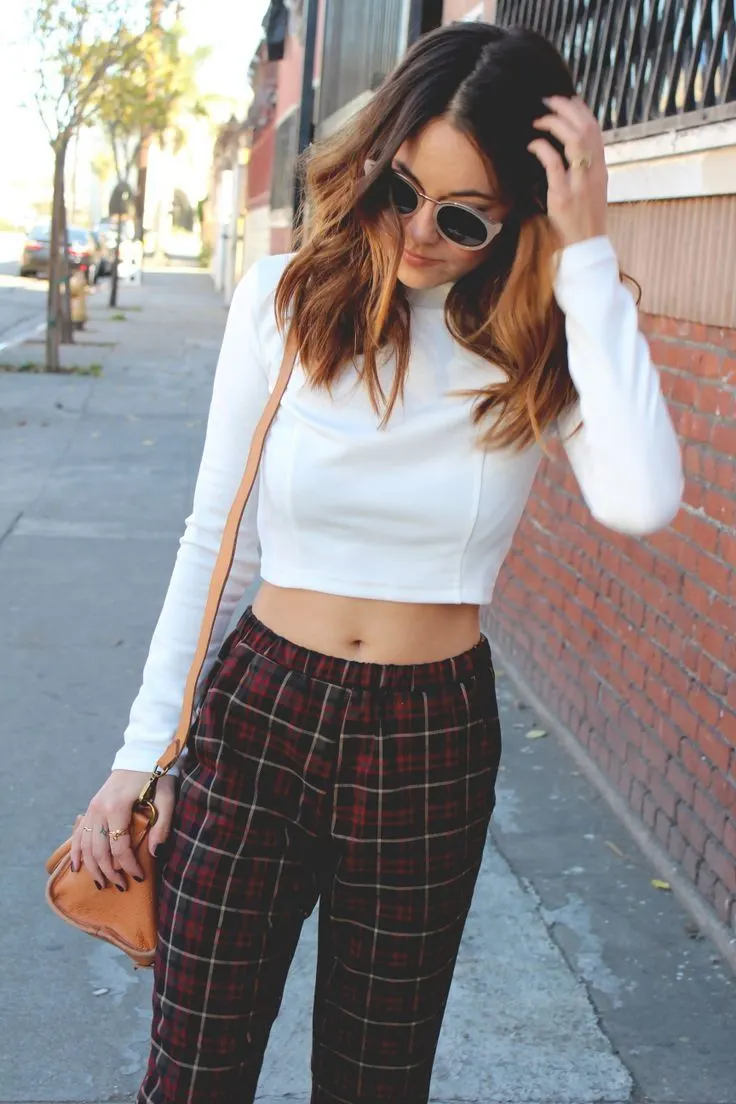 Buy Similar Here
Do you know how to dress up jogger pants? If not, then here is a nice example, all you need is to go for black slim joggers with white sidelines and pair them with a fluffy black sweater and black heeled pumps: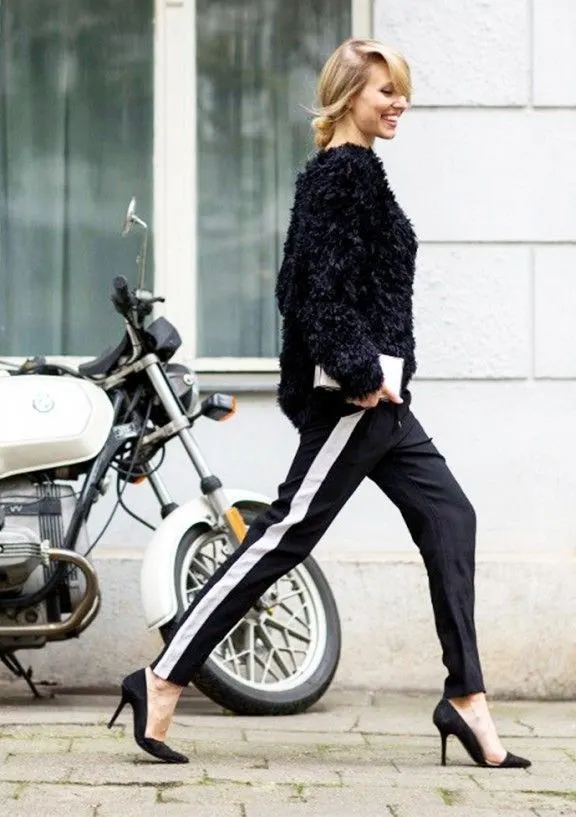 Buy Similar Here
A silken cargo shirt in olive-green is tucked in black-brown joggers: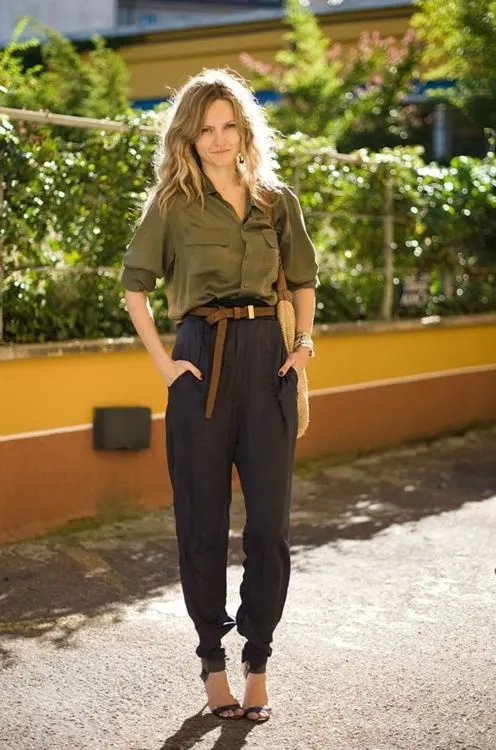 Buy Similar Here
The jogger pants are great for showing off your relaxed style and off-duty looks. If you want to create an exciting appearance, then you better go for fresh colors, cool prints, and simple combos. I advise to try them on with leather boots and leather jacket, making yourself look like a real rock star. Forget about styling, as it's a process of experimentations, you better think of your body shape, so you find the perfect fit.
Here we see olive-green jogger pants worn with a relaxed, loose-fit tank top in cream-beige. A styling combo for casual trips: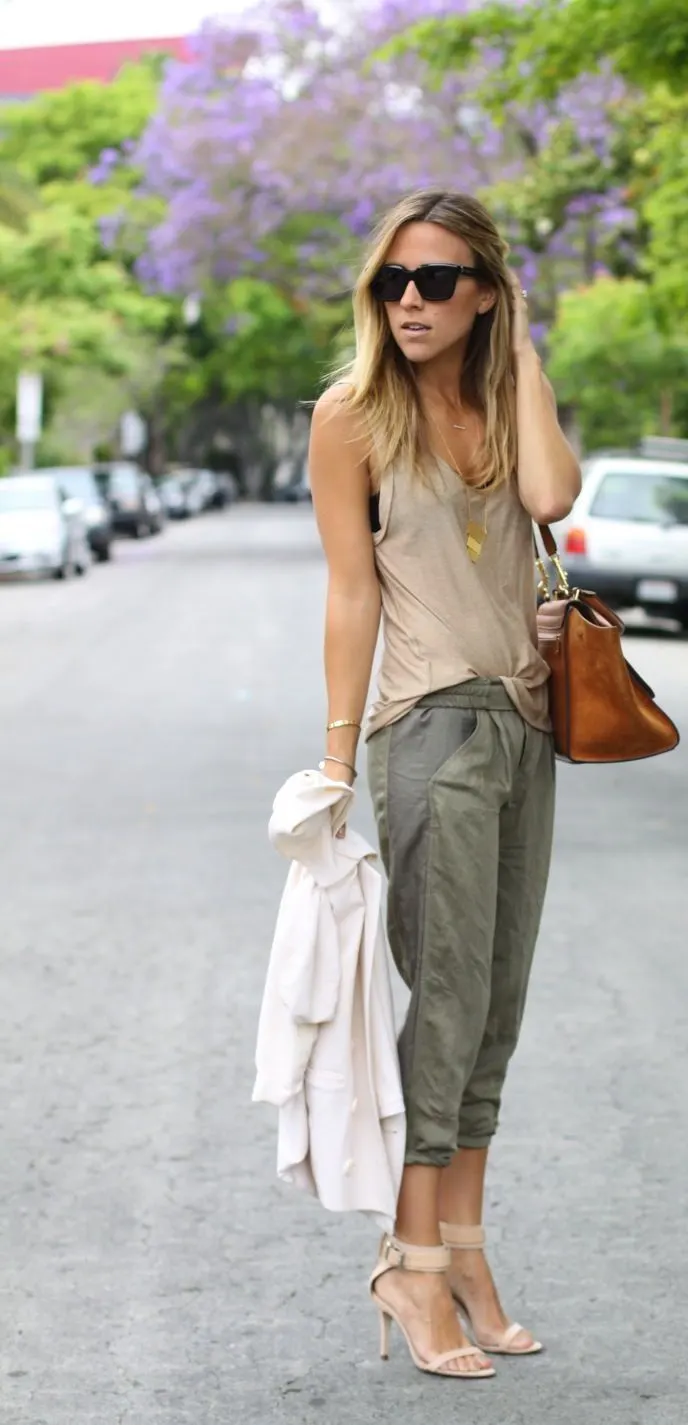 Buy Similar Here
A pair of grey joggers is teamed with a white shirt and a printed sweater layered over: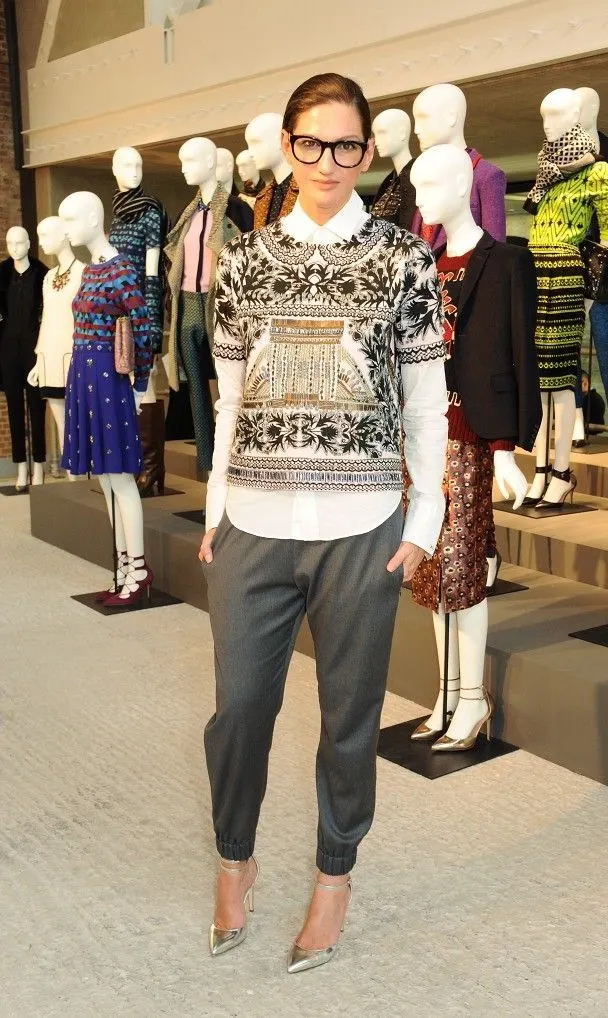 Buy Similar Here
I love seeing women wearing jogger pants and shirts. This combo is so simple and easy to create. Here we see a black shirt half-tucked in grey joggers completed with ankle-strap heeled sandals in black:
Buy Similar Here
Another cool combo of jogger pants and top set. We see a pinstriped blue shirt tucked in black coated joggers completed with red ankle-strap heeled sandals: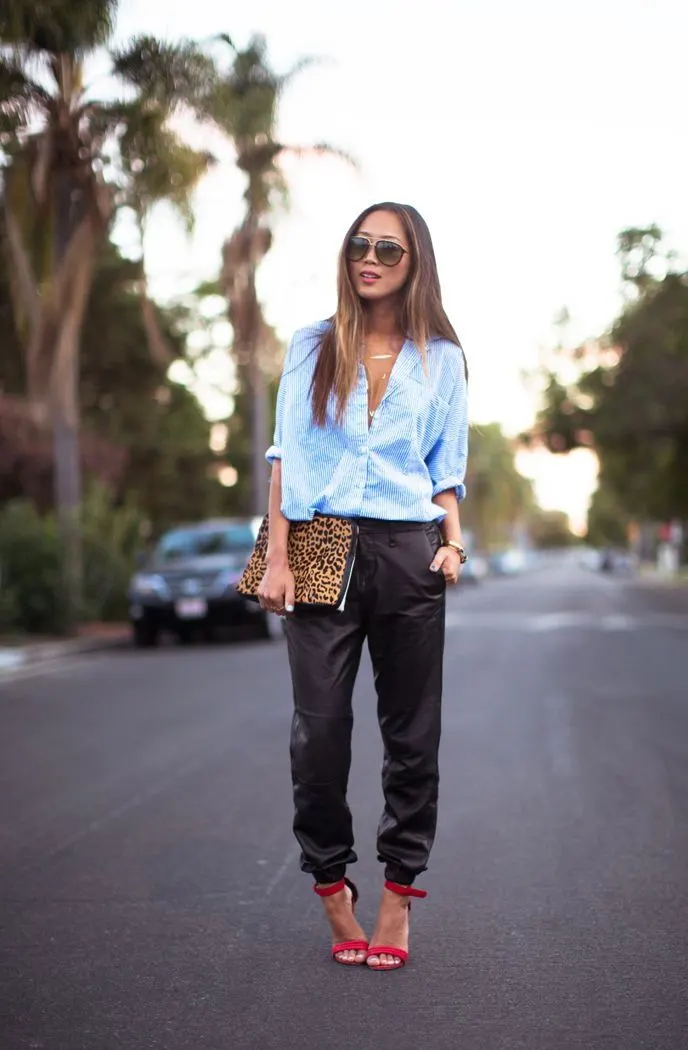 Buy Similar Here
If the weather is cold, then you might go for jogger pants and a sweater set. We see a ribbed knit grey sweater paired with black leather joggers completed with black leather loafers: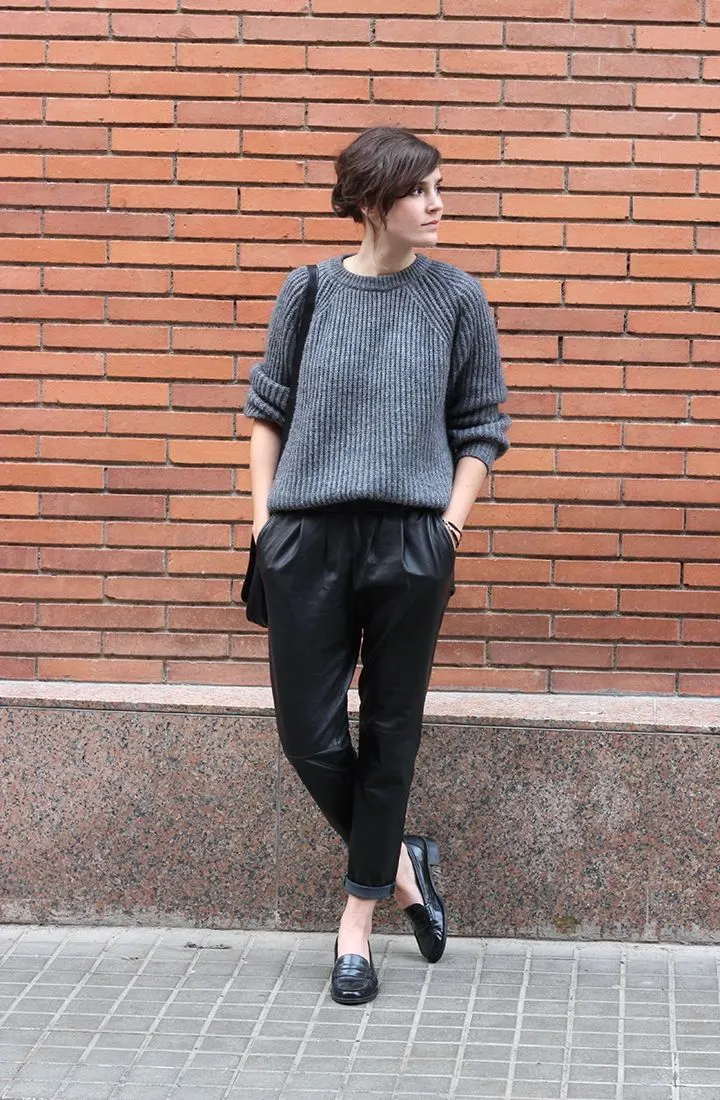 Buy Similar Here
I love seeing ladies in jogger pants and relaxed fit tops. Here is a nice example, a blonde is wearing a loose-fit top tucked in black leather joggers updated with heeled sandals: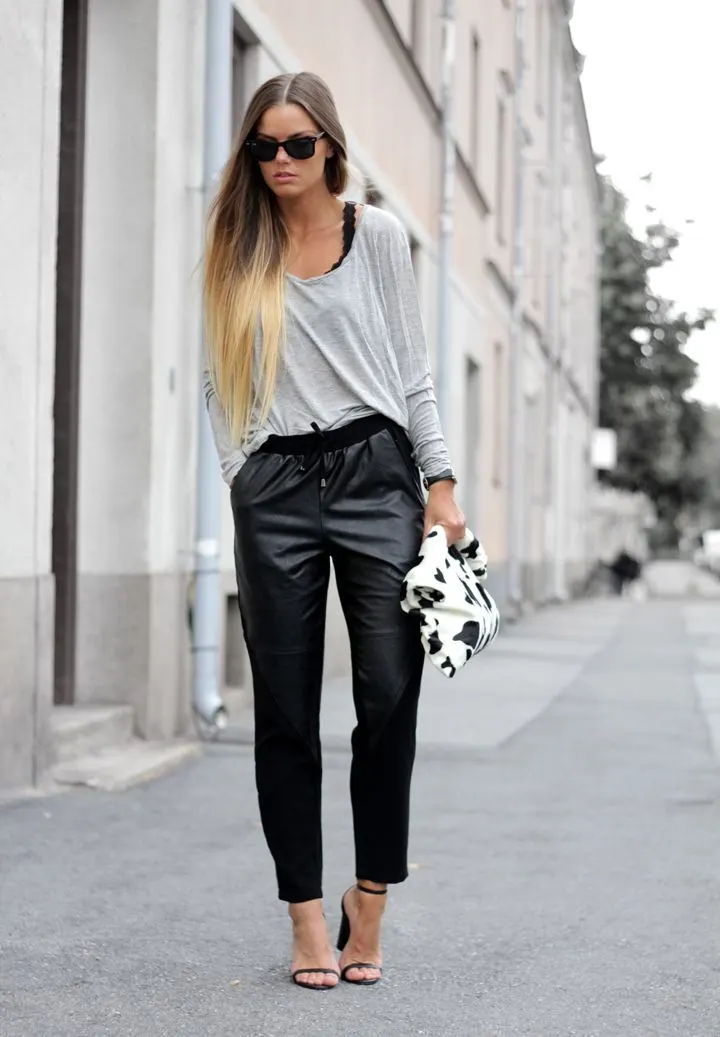 Buy Similar Here
Lovely blush joggers can be paired with a lace top in white: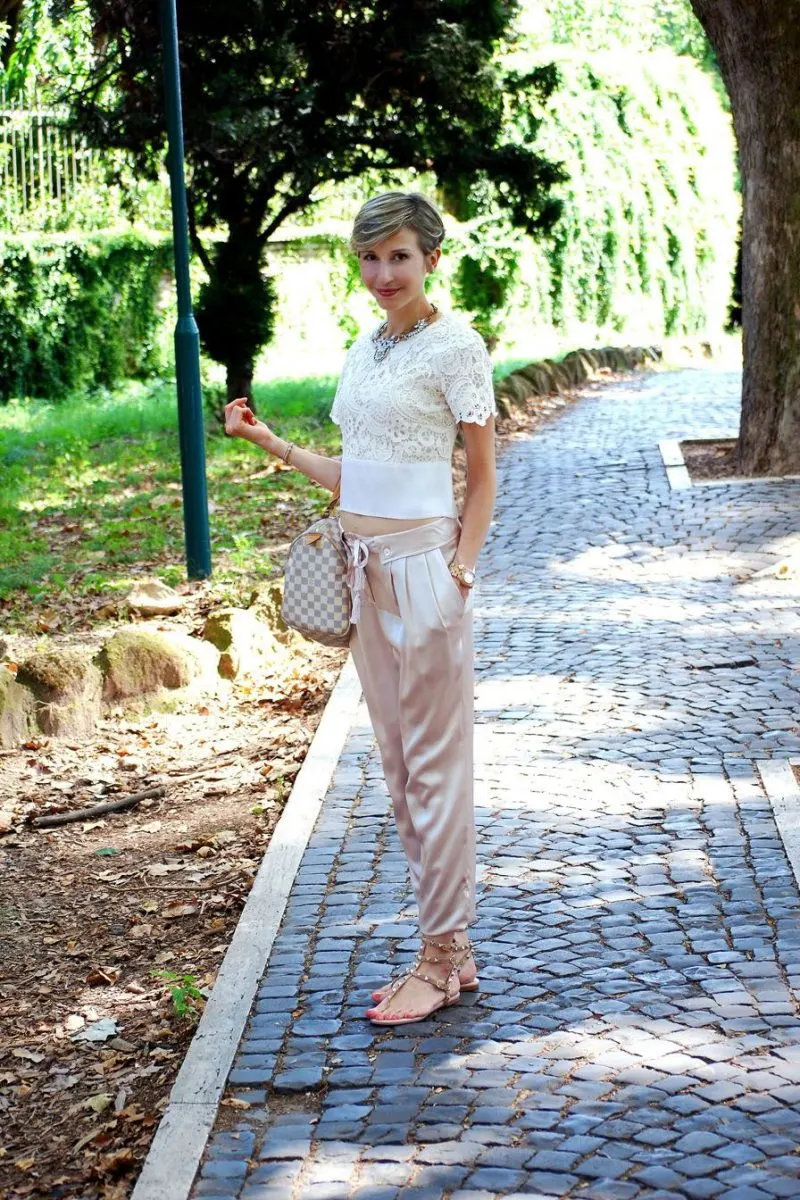 Buy Similar Here
Anchor printed blue joggers look fabulous teamed with a white lace top and nude heeled sandals: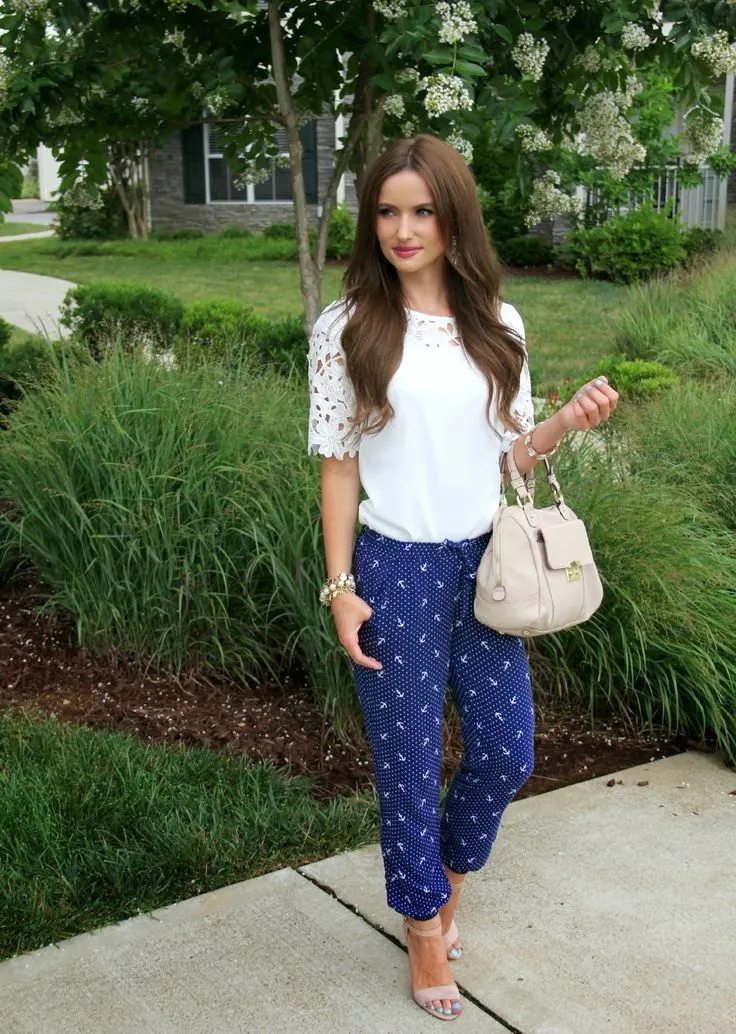 Buy Similar Here
Leather joggers and a knitted top in black can be worn during chilly summer days. Love this all in black look:
Buy Similar Here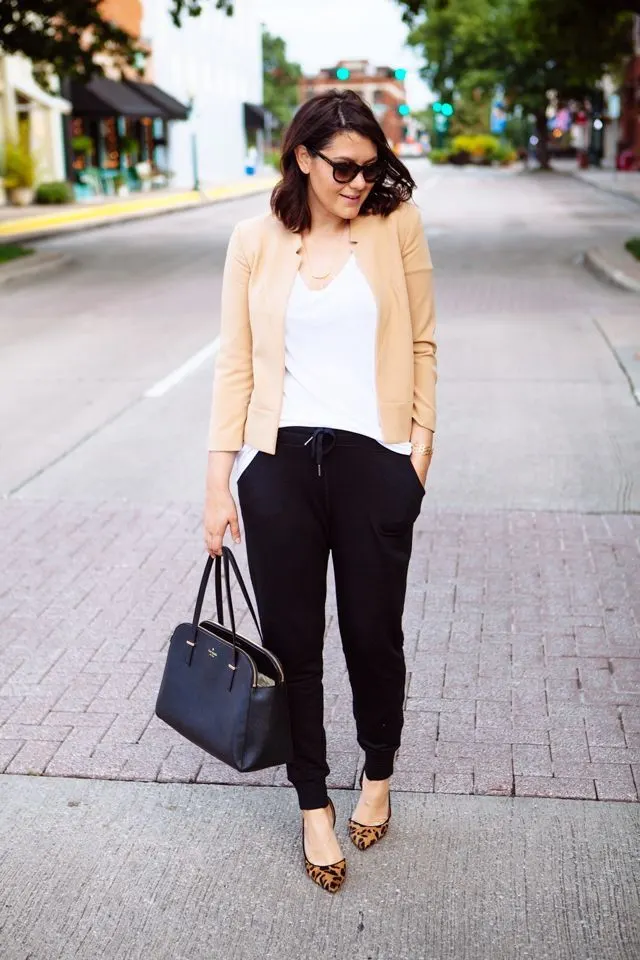 Buy Similar Here
Black White Aztec print joggers and yellow blazer is another cool choice for those who are in love with the bright style. If you are into vibrancy, then you should check out my post on ways how to wear printed pants:
Buy Similar Here
How about teaming jogger pants and a crop top? A lovely look featuring a black knitted crop top paired with low-rise joggers updated with burgundy espadrille slip-on shoes: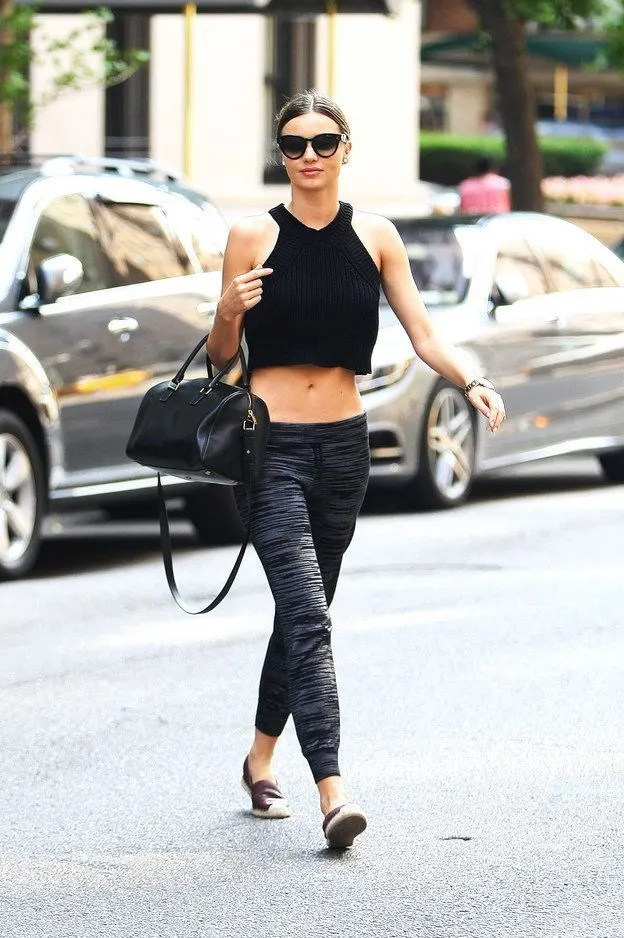 Buy Similar Here
Jogger pants and sweatshirt is another alternative. A girl is wearing a black-white striped sweater paired with black leather joggers and studded caged pumps: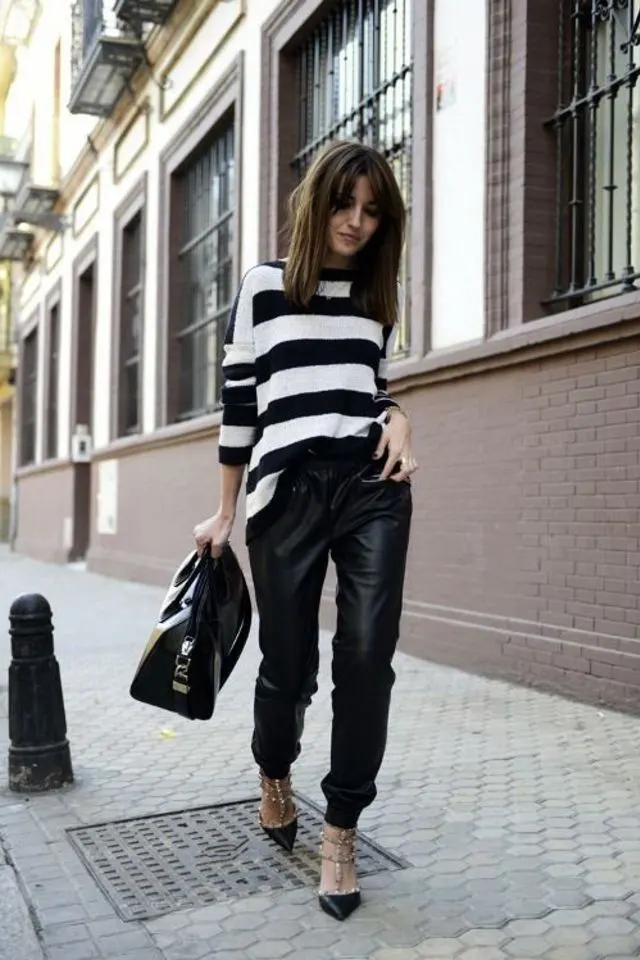 Buy Similar Here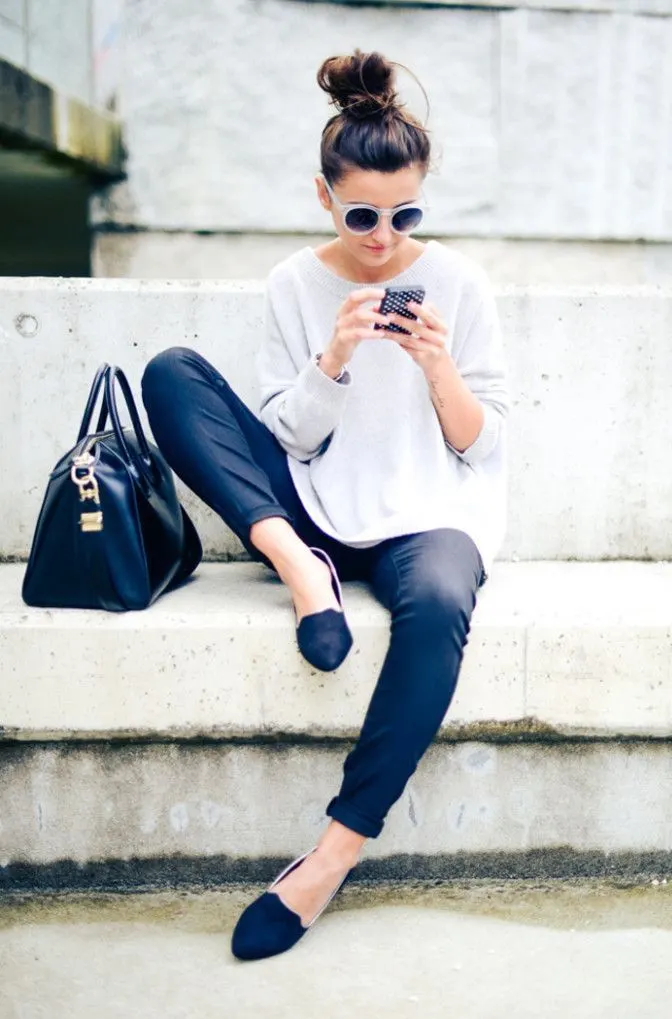 Buy Similar Here
I love to see ladies who wear joggers with blazers, here we see a matching color set: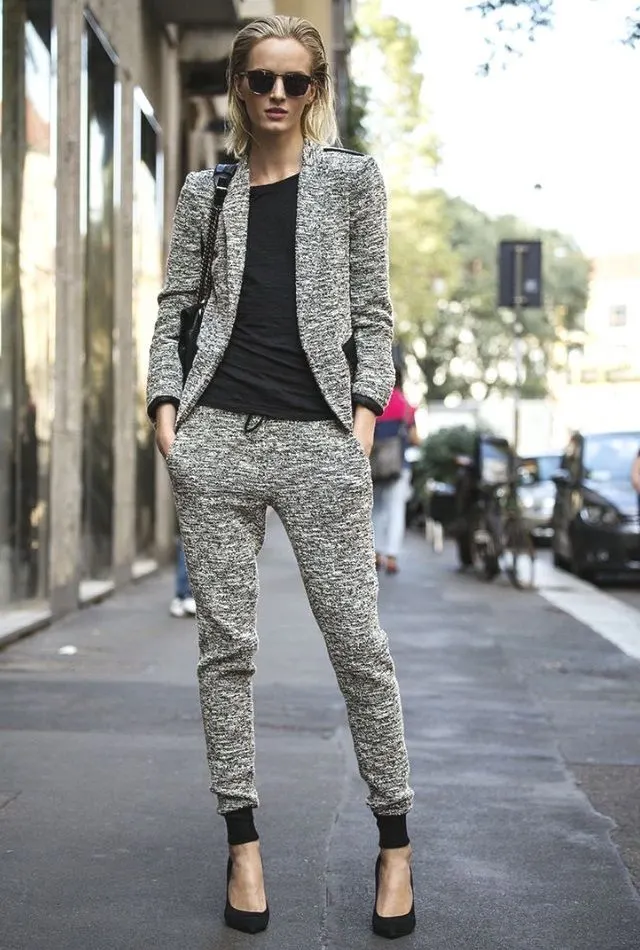 Buy Similar Here
A sleeveless white top and sea-blue joggers look fresh, simple and ladylike: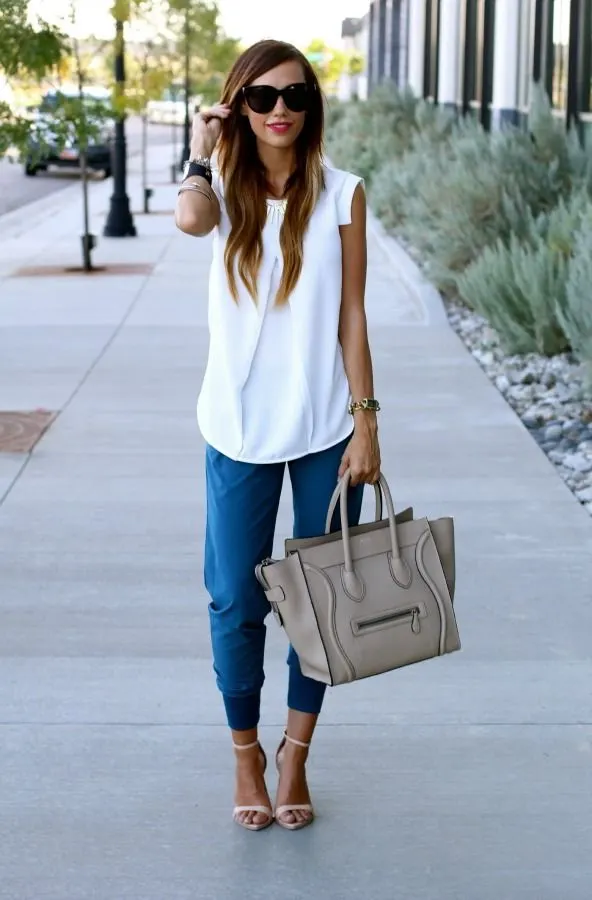 Buy Similar Here
Joggers are here to stay, at least for Winter. As much as we would like to give up this lazy-girl staple, it's January and it's cold, making joggers an easy outfit pick. Though we often see It-girls like Gigi Hadid wearing the bottoms to the airport, it goes way beyond just certified loungewear. You can easily take joggers to the streets with a change of shoes or top. Don't discount the versatility of these trousers. Which of these street-style-approved outfits with joggers is your favorite one?
Source: Popsugar