What do you think of pencil skirts? Do you wear them? If your answer is no, then my mission for today is to show you my favorite designs, and ways how to wear them in real life.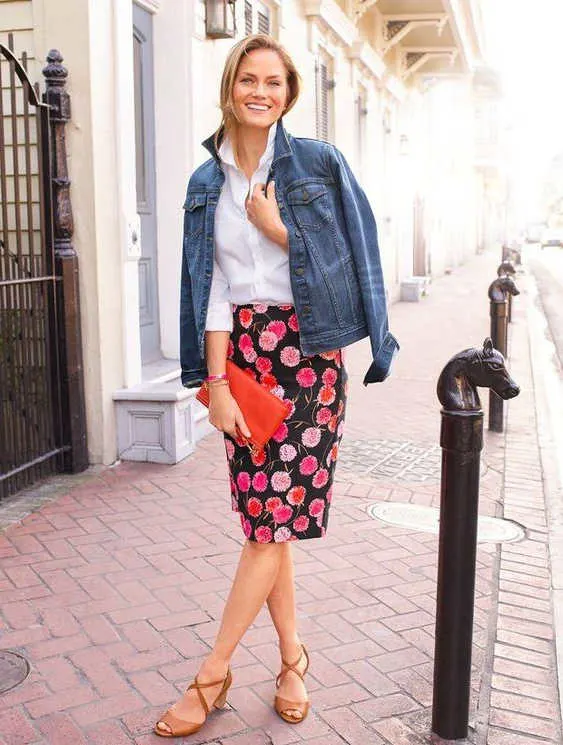 Buy Similar Here
I will show you how to wear pencil skirts like a pro! Pencil skirts have been around for centuries. In fact, the name itself comes from how sharp and straight the lines are in the fabric. The skirt follows your natural curves and is very slimming. This article will provide tips on how to purchase a classic pencil skirt as well as illustrate outfit ideas that we think work best with this versatile style staple that every woman should have in their wardrobe. A classic pencil skirt is timeless while still being instantly recognizable. Adding a little extra flare with an elegant watch or clutch keeps this staple versatile.
Top 3 tips for wearing pencil skirts:
1) Accentuate the waistline: If you have a smaller waist, opt for a pencil skirt that is fitted around the waist. This will help create curves and slim your figure.
2) Go for straight lines: if you have more curves, opt for a pencil skirt that is straight fitted throughout. You can also try altering your belt placement so that it highlights your hips or wear it low to balance out your proportions.
3) Try going minimalist: If you don't want to wear too much jewelry or accessories, you can always forego this style altogether and go for a black blazer and basic pair of black trousers instead.
Pencil Skirt s For Different Body Shapes:
A pencil skirt can make any woman feel sexy no matter her shape. Every body is different, and what works for one person may not work for another. Here is a quick guide to help you decide what works best for you:
Hourglass body type: For a classic pencil skirt, opt for one that has an elastic waistline with plenty of room in the hips and thighs. Wear heels to elongate your legs or boots to add height and balance out your proportions.
Pear-shaped body type: A pencil skirt provides the illusion of curves by drawing the eye down and away from any problem areas. Wear heels with a pointed toe or boot to elongate your leg and balance out your proportions.
Petite body type: You have the option of wearing a pencil skirt that is fitted from the waist down or one that is straight down almost to the knees. Wearing heels will add height, but if you want more height avoid wearing them.
Tall body type: To add length opt for a long pencil skirt that has plenty of room in the length and hemline. Adding boots adds height and balance out your proportions, while accessories can be added to draw attention away from your legs and up toward your face.
The pencil skirt is very slimming. If you want to wear it with a large bottom half, you can wear high heels or boots with short tops. I chose to use a chiffon skirt for my outfit ideas because the material makes it drape well and adds volume to the waistline.
Why are we so into pencil skirts? This item is the epitome of femininity. It hugs woman's curves and show-offs your best features. This is a ladylike piece of clothing that drives most men crazy.
Most times we see them on businesswomen as office wear, but thanks to modern fashion, we can buy ourselves amazing designs that can be worn on different occasions.
If you do want to know what to wear with a pencil skirt, then it depends on where you want to wear this type of clothing. You can try it on with formal or semi-formal essentials for creating a fabulous office look or make a wow-statement at a cocktail party by showing off your sex appeal. Anyway, I am here to show you the best ideas on how to make a sleek look thanks to pencil skirts.
As I have already mentioned, this type of skirt suits most body shapes and all you need is to understand ways how to style it. You are about to see a variety of cool blouses you can pair with these skirts, what outerwear pieces look best with this bottom piece and many other interesting tips and tricks.
I will show you easy ideas on how to add some illusion to your curves, how to look slim if you are curvy, how to look taller, etc.
With What To Wear Pencil Skirts
Now we are about to find out what are best looks you can create this year by teaming a pencil skirt with various tops and jackets.
Pencil Skirt And Blazer
A perfect day look for business ladies. We see a black skrtsuit consisting of a black blazer and matching color pencil skirt. Update it by adding a scalloped white blouse, slim belt and heeled pumps: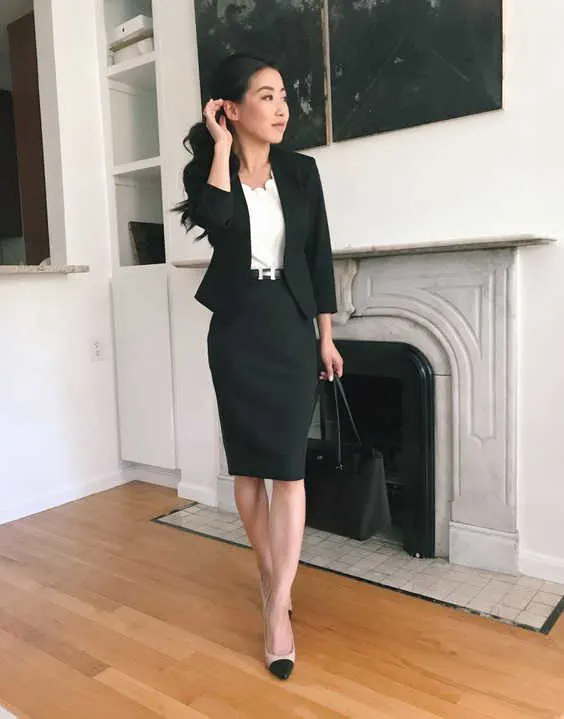 Buy Similar Here
Pencil Skirt And Blouse
Another great combination you can create with a cream-beige midi pencil skirt. Style it with a white lace sleeveless blouse. Complete the look by adding a cream-beige leather tote bag and nude heeled pumps: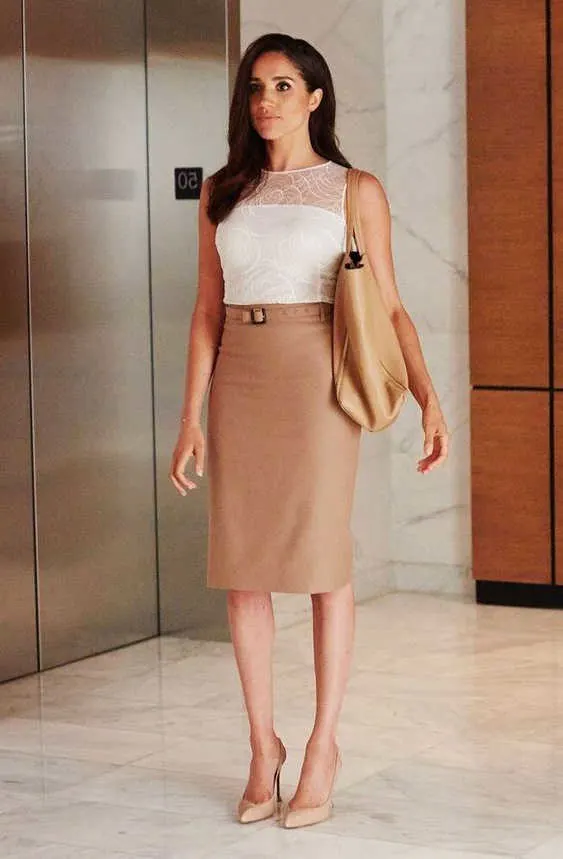 Buy Similar Here
Pencil Skirt And Crop Top
A basic white crop tee ideally suits this black-white houndstooth printed midi pencil skirt, complete this combination by adding a pair of red heeled pumps, if you are into crop tops, then be sure to check out my post on ways how to wear crop tops: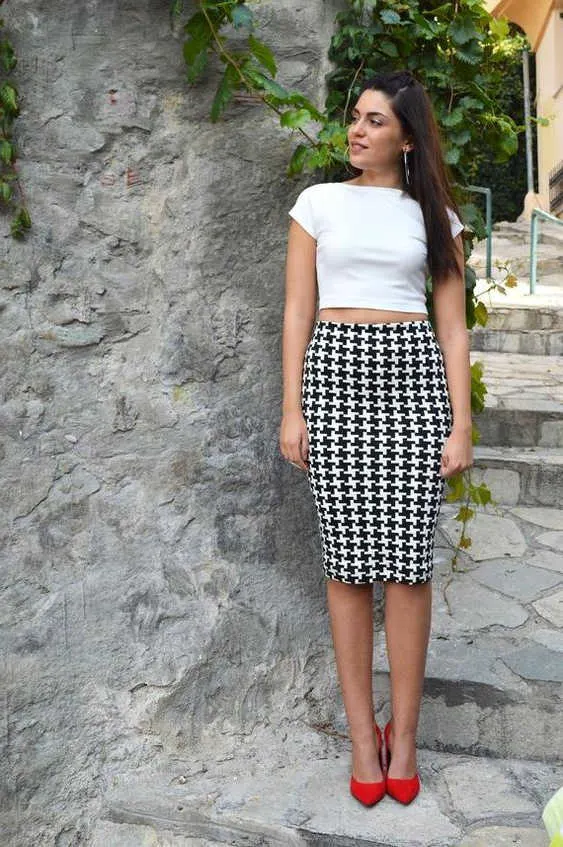 Buy Similar Here
Pencil Skirt And Shirt
Some like it simple and classy, go for a black fedora hat, front-tie cream-blush shirt and pair it with a midi black pencil skirt with a front slit. Update this look by adding ankle-strap heeled sandals: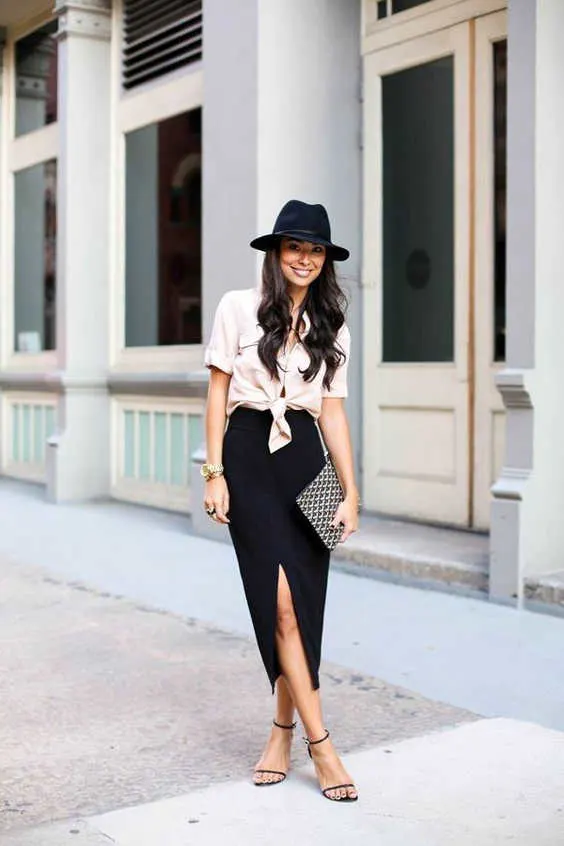 Buy Similar Here
Pencil Skirt And Sweater
My favorite idea! Go for a dark green sweater and tuck it inside grey midi pencil skirt. Update this combo with a pair of dark maroon velour pumps: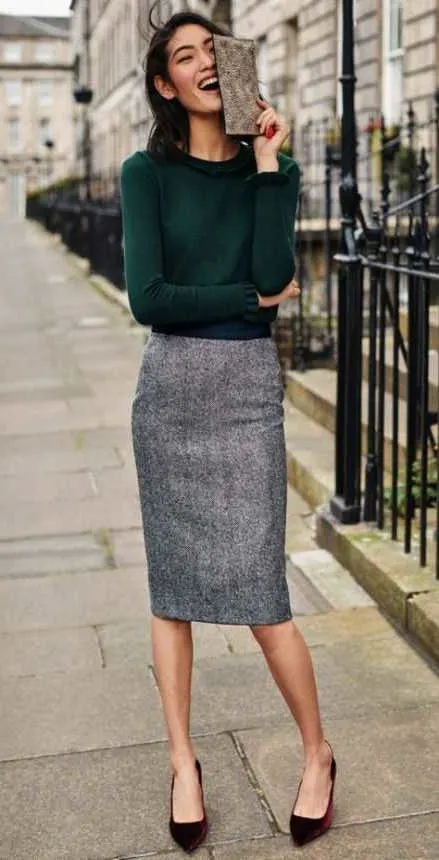 Buy Similar Here
Pencil Skirt And Tee
A basic white tee can be tucked in a black high-waisted knee-length pencil skirt. Update this simple style by adding mirrored aviator sunglasses and yellow pumps: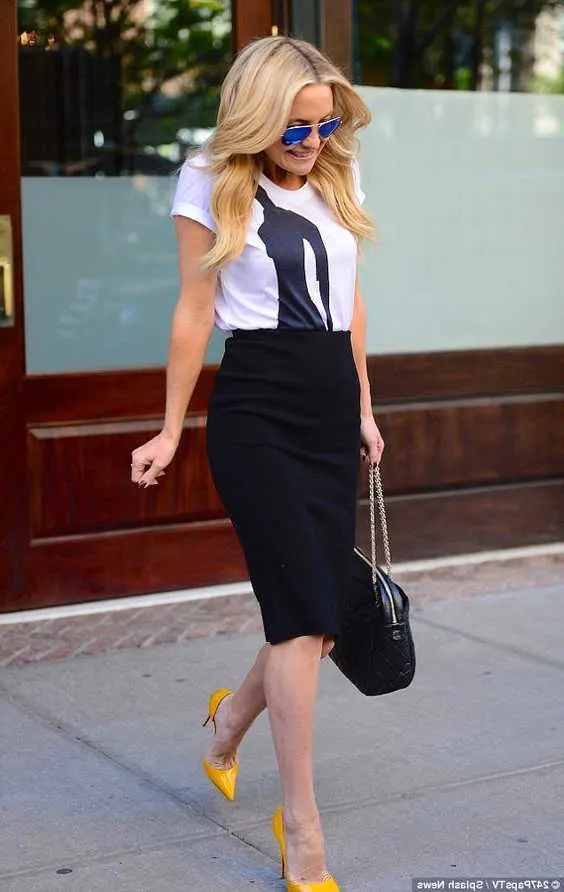 Buy Similar Here
Pencil Skirt And A Belt
In love with this office-friendly style. Go for a black short-sleeve top and tuck it inside a high-waisted pencil skirt in beige color completed with a skinny belt. Love the aviator sunglasses and that black leather tote bag: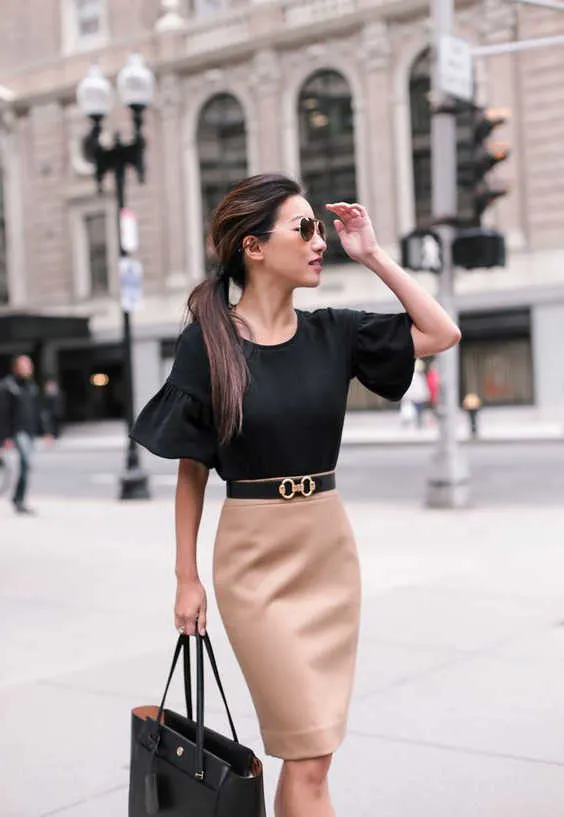 Buy Similar Here
What Shoes To Wear With Pencil Skirts
Here are shown my favorite outfit ideas on what shoes you can try on with pencil skirts.
Pencil Skirt And Boots
An all in black OOTD. Go for a black sweater, black midi pencil skirt and complete the look by adding chunky black leather lace-up boots and black leather biker jacket: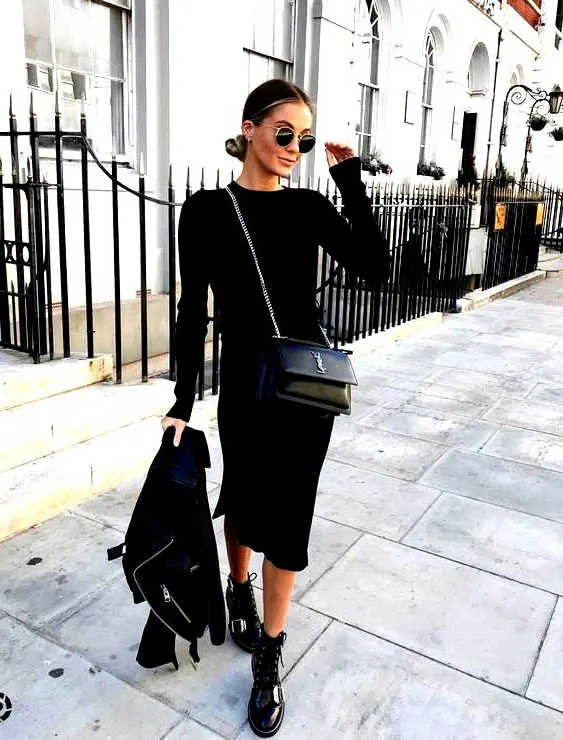 Buy Similar Here
Pencil Skirt And Sneakers
Yes, another inspiring combo is the following one, where we see a tailored black coat draped over a black sweater tucked in a cream-blush midi pencil skirt completed with white sneakers. Update this style with rounded shades and a cute clutch bag: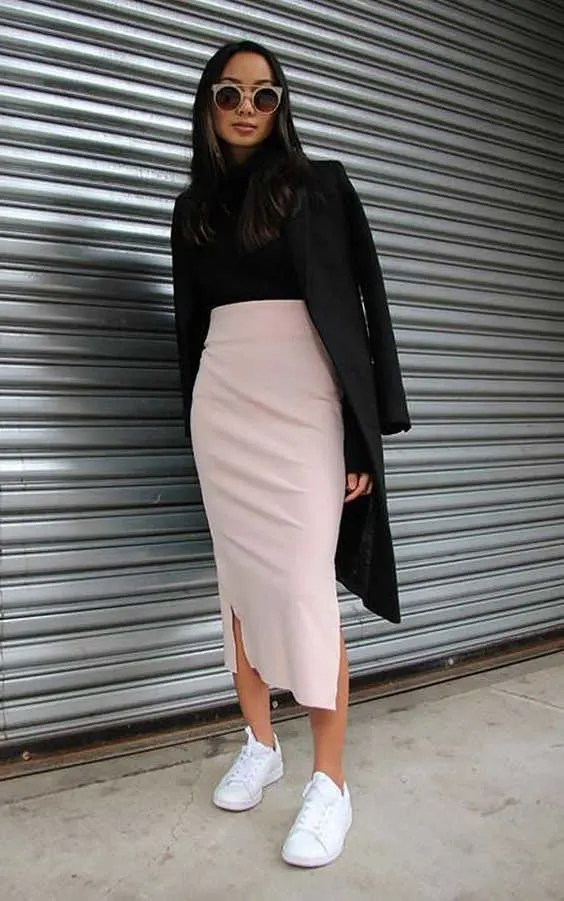 Buy Similar Here
Pencil Skirt And Flats
A black leather pencil skirt looks inspiring with a white top and black leather loafers, easy, simple and ladylike combo: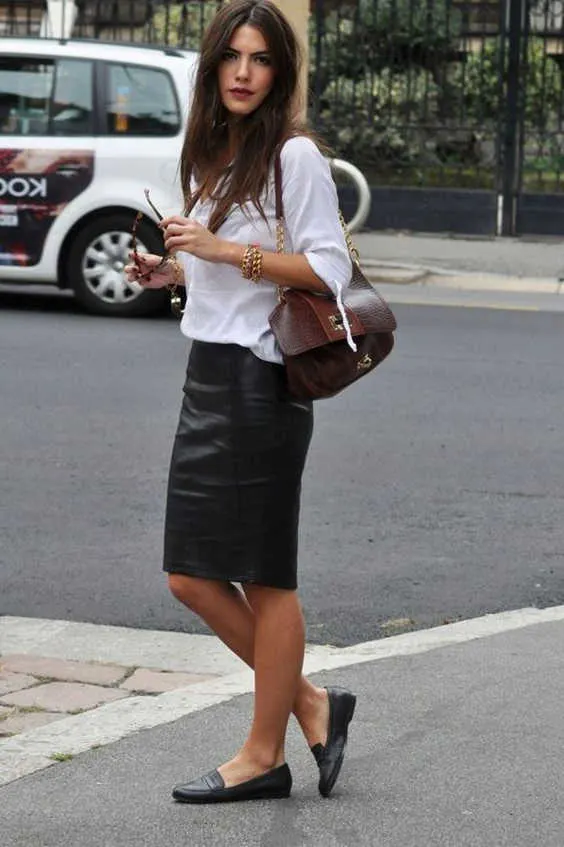 Buy Similar Here
Best Pencil Skirts Designs
Get inspired by my favorite pencil skirt designs that are going to stay in trend this year. Find your favorite looks and let me know your thoughts in the comments below.
Denim Pencil Skirt
We see a simple day look for office workers, a light blue shirt is tucked in wash-blue knee-length denim pencil skirt completed with ankle-strap heeled black sandals. If you want to see more ways how to style denim skirts, then you better check out my post, where I share inspiring outfit ideas: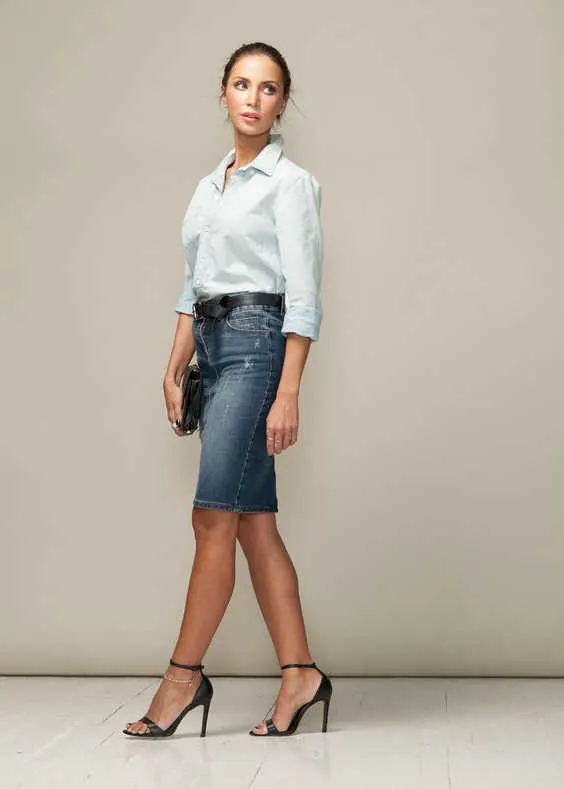 Buy Similar Here
Leather Pencil Skirt
Another stunning OOTD, we see a white roll-neck sweater in black stripes tucked in a high-waisted black leather pencil skirt. Update this style by adding oversized Wayfarer sunglasses and cream-grey handbag: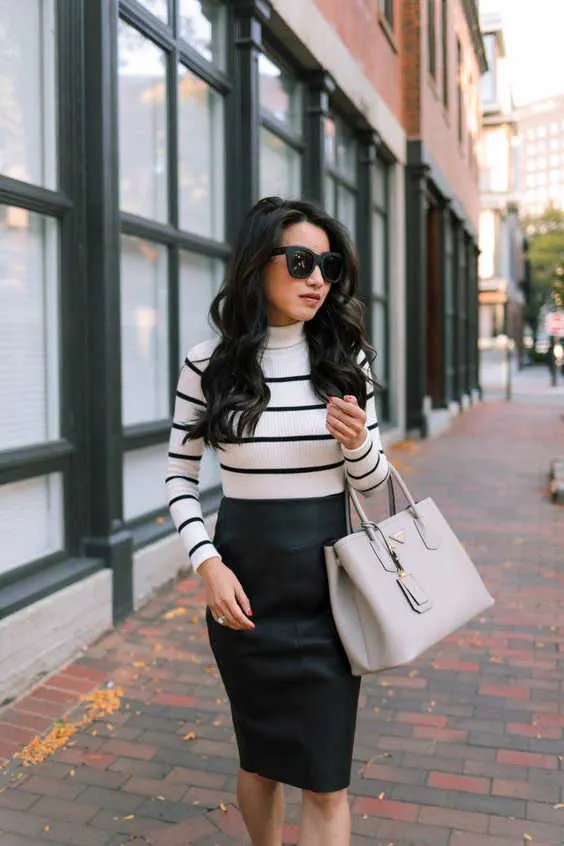 Buy Similar Here
Pencil Skirt With Slit
A touch of boho country style, we see a beige ribbed knit slouchy sweater tucked in a maroon pencil skirt with slits. Complete it by adding a beige fedora hat and suede ankle boots: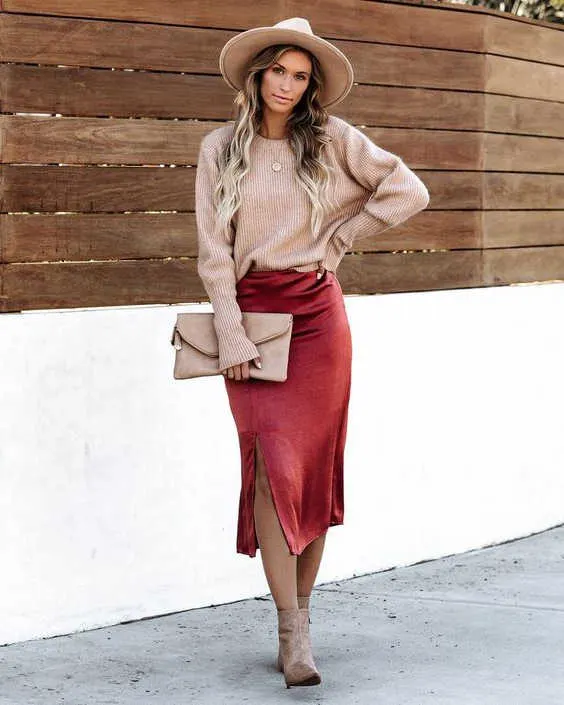 Buy Similar Here
Plus-size Pencil Skirt
A double denim trend is pretty massive right now! Go for this front-tie chambray shirt and pair it with a midi denim pencil skirt. A fabulous look for plus size ladies. Update this combo by adding flat brow sunglasses and caged heeled sandals: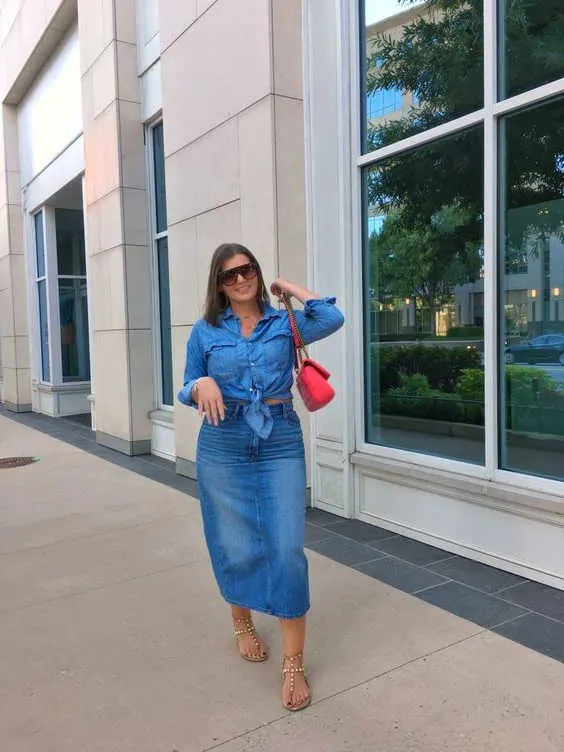 Buy Similar Here
Another cool plus size outfit idea, we see a floral pinstripe blouse tucked in a black pencil skirt. Complete this combo by adding a belt tied around the blouse and dark maroon heels: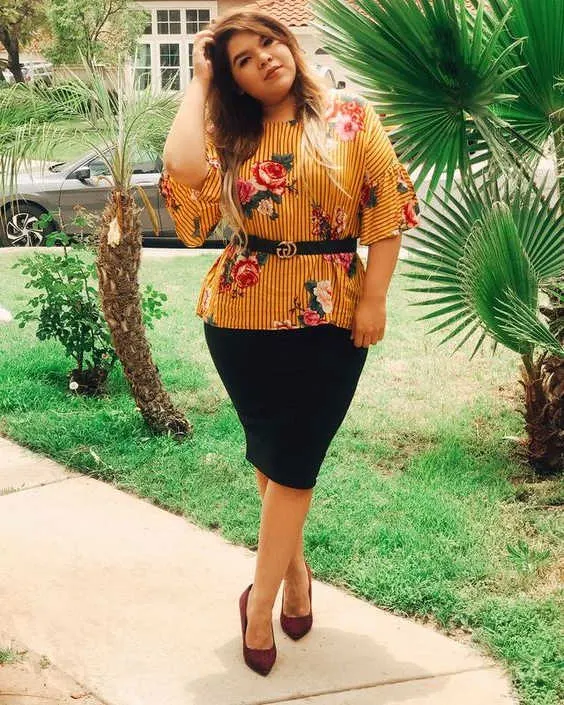 Buy Similar Here
Ruffle Pencil Skirt
Here we see a black ruffled pencil skirt combined with a sleeveless purple blouse and ankle-strap heeled sandals in black color: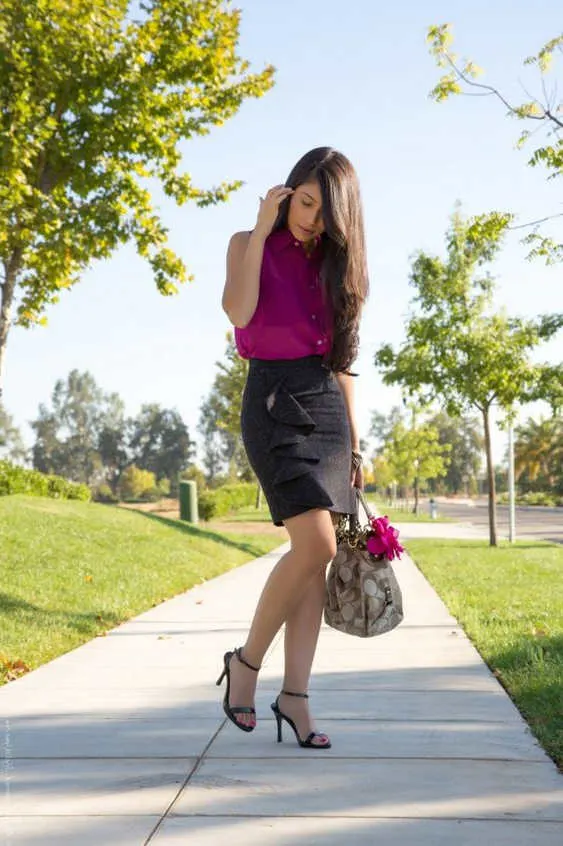 Buy Similar Here
Tweed Pencil Skirt
A lightweight white short-sleeve tee is tucked in a grey tweed pencil skirt. Complete this look by adding rounded sunglasses, grey leather handbag and nude heeled pumps: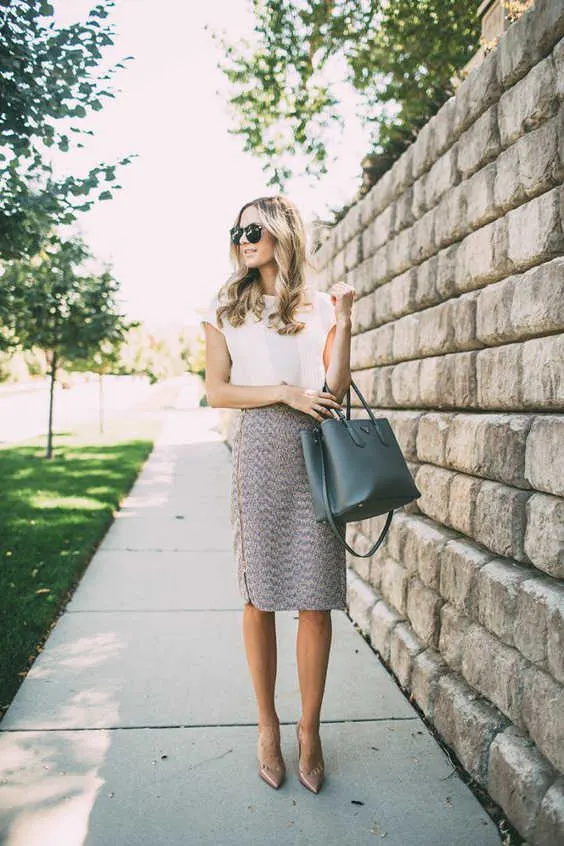 Buy Similar Here
Best Colors For Pencil Skirts
Find out the best colors for pencil skirts you can try out this year. I gathered some classic and trendy styles you might be interested in.
Beige Pencil Skirt
A beige high-waisted velour skirt is worn with a black long-sleeve top and strappy heeled pumps in black color. Would you give this combo a try: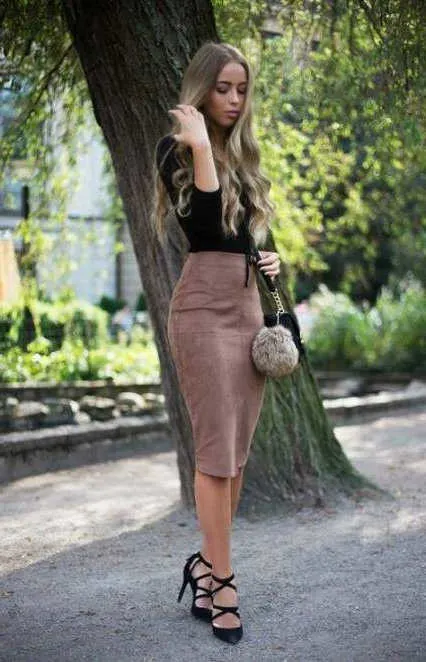 Buy Similar Here
Black Pencil Skirt
Black and white color palette is what I need! Go for this white blouse with bell sleeves and tuck it inside a high-waisted midi pencil skirt in black color. Complete the look by adding ankle-strap heeled sandals:

Buy Similar Here
Brown Pencil Skirt
A brown leather high-waisted pencil skirt is completed with a black shirt and snakeskin printed heeled pumps: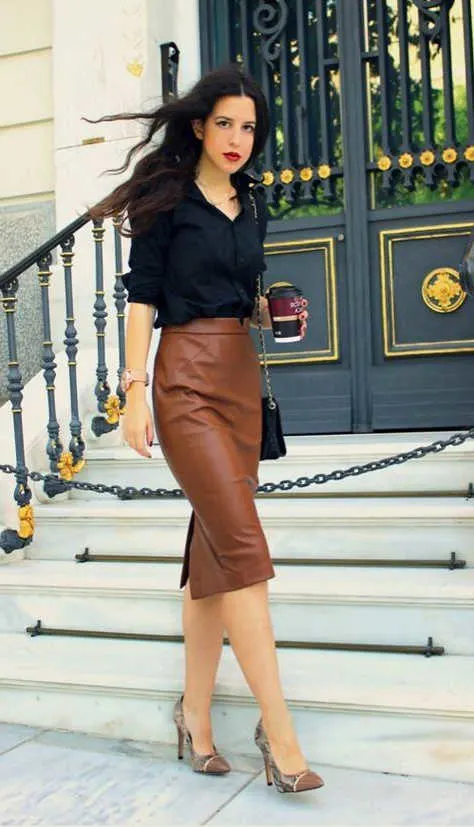 Buy Similar Here
Gold Pencil Skirt
If you want to create a glamour style, go for this white bra top and team it with a high-waisted shiny gold metallic pencil skirt. Complete the look by adding ankle-strap heeled sandals: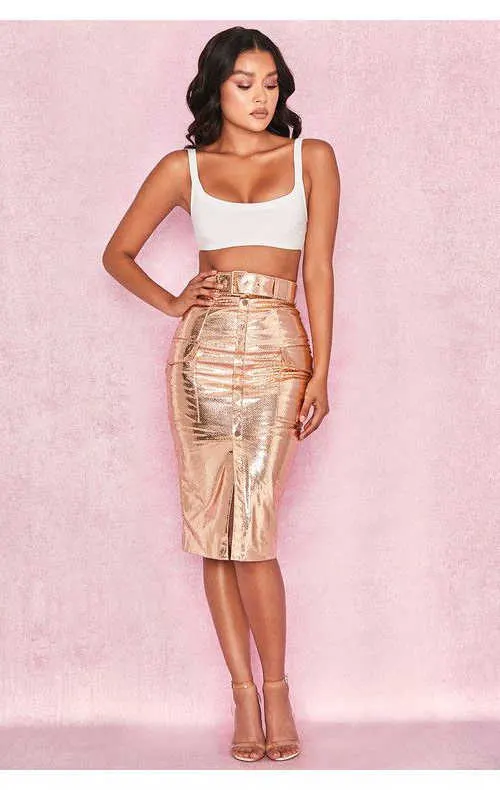 Buy Similar Here
Green Pencil Skirt
A turtleneck in the black color is tucked in a ruffled green pencil skirt, complete this style by adding green snakeskin printed pumps: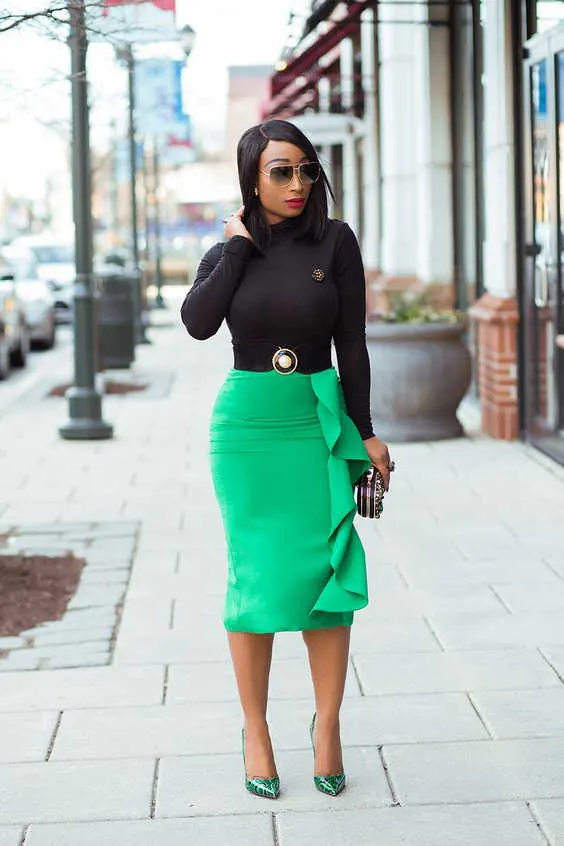 Buy Similar Here
Grey Pencil Skirt
We see a fabulous office idea, a white shirt is tucked in high-waisted grey knee-length pencil skirt. Complete this combo by adding black leather pumps: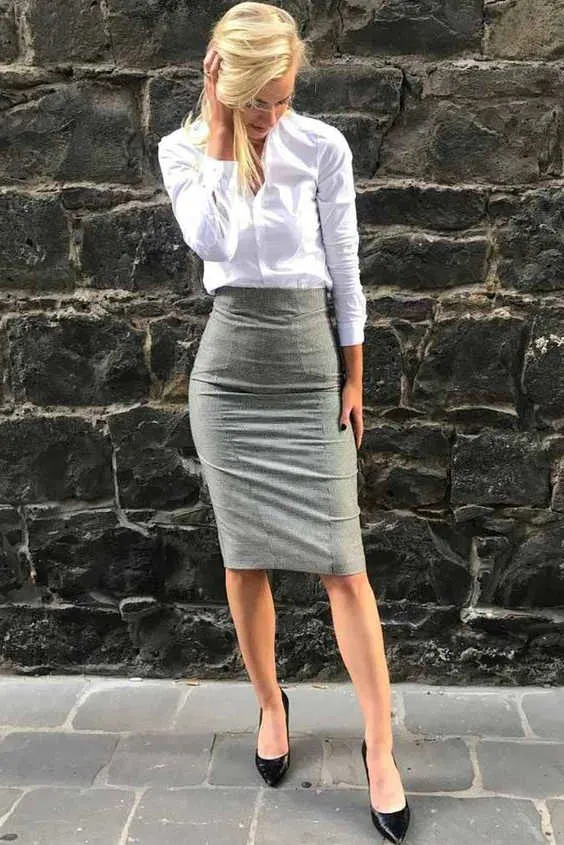 Buy Similar Here
Khaki Pencil Skirt
A khaki beige knee-length pencil skirt is completed with this black sweater in white windowpane print. Update this combo by adding pointed-toe nude pumps: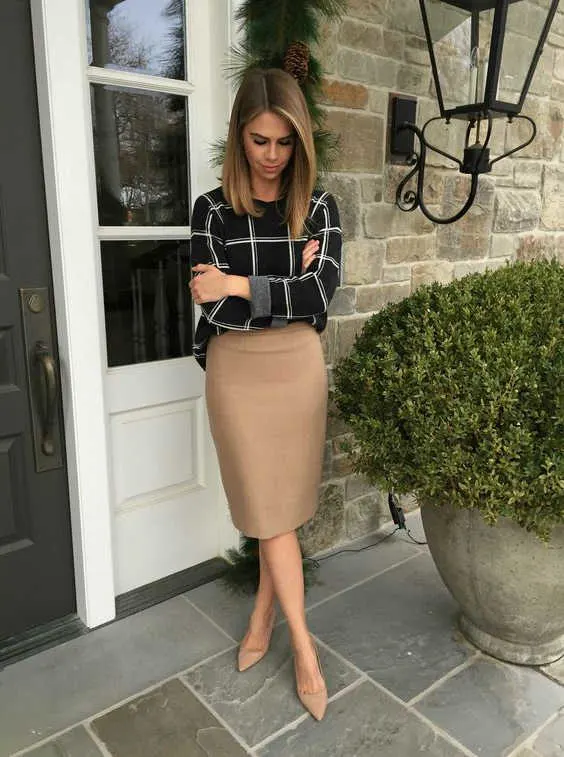 Buy Similar Here
Maroon Pencil Skirt
A blue denim shirt is tucked in a maroon high-waisted knee-length pencil skirt, complete this combo by adding nude heeled sandals: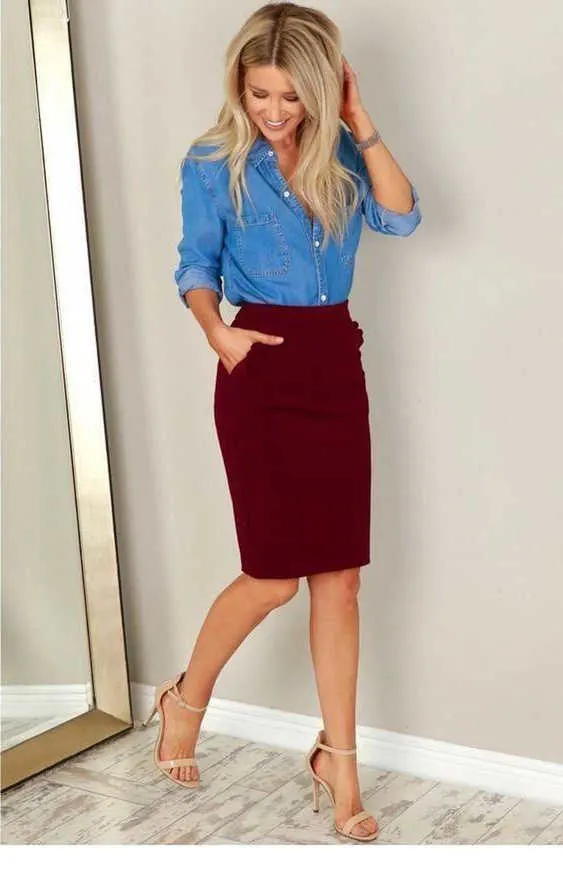 Buy Similar Here
Mustard Pencil Skirt
A cute mustard pencil skirt is styled with a white blouse, light grey coat, and grey tights: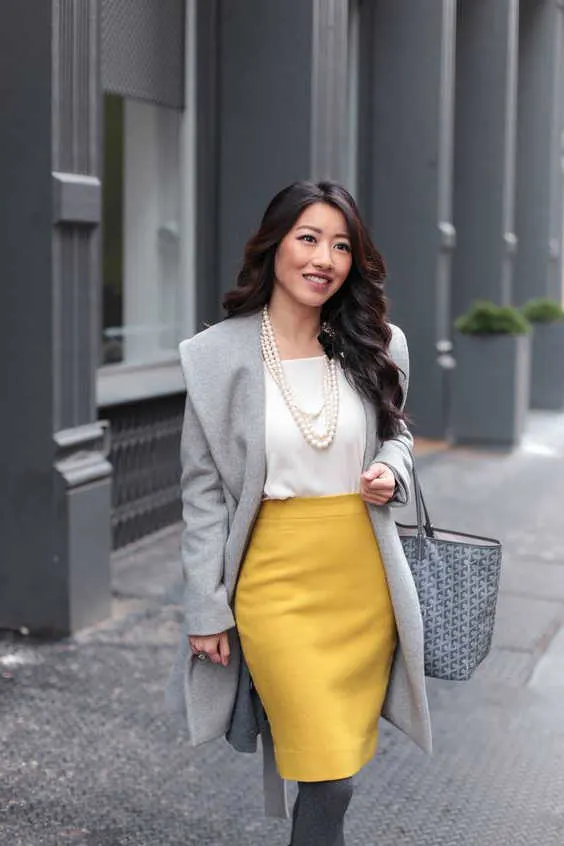 Buy Similar Here
Plaid Pencil Skirt
A white V-neck blouse is tucked in a plaid black-grey pencil skirt. A perfect office styling, don't you think? Complete it by adding cat-eye sunglasses, tights and ankle strap heels: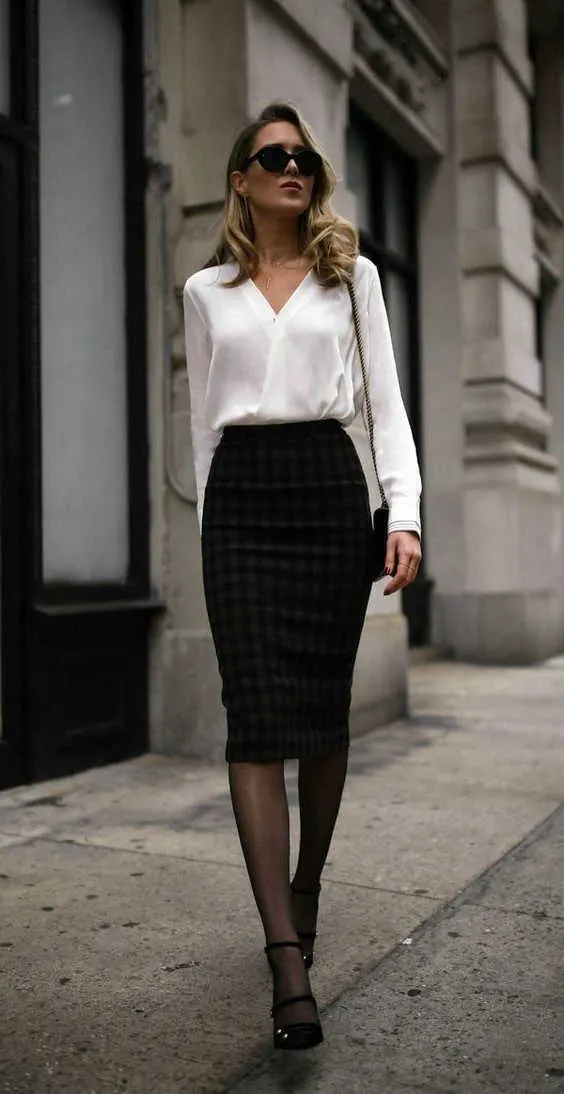 Buy Similar Here
A scalloped plaid print pencil skirt is styled with a ruffled white blouse and dark blue blazer. Update this look by adding tortoise cat-eye sunglasses: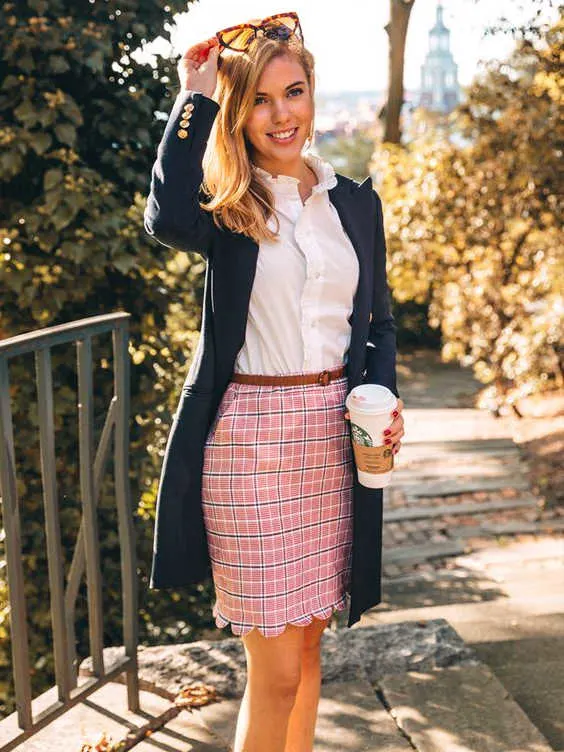 Buy Similar Here
Red Pencil Skirt
An impressive combo, right? We see a cold-shoulder black sweater tucked in a red pencil skirt in a midi length. Complete it with Wayfarer sunglasses and black pumps: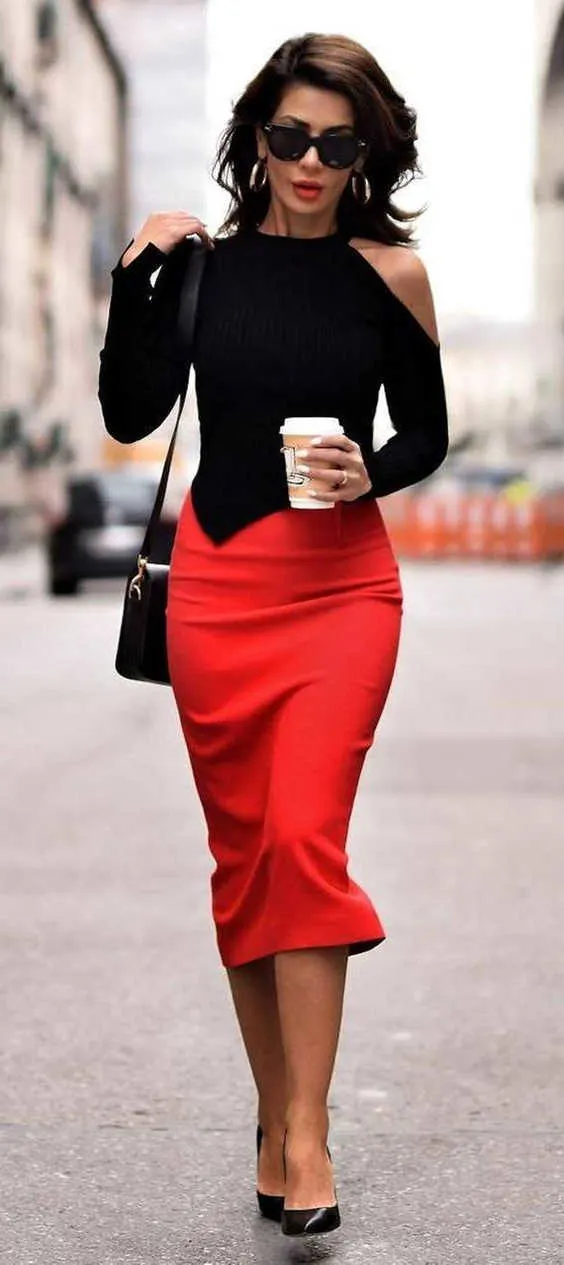 Buy Similar Here
White Pencil Skirt
We see a black-purple bodycon top tucked in a white high-waisted pencil skirt with a side-slit. Complete this combo by adding white pumps: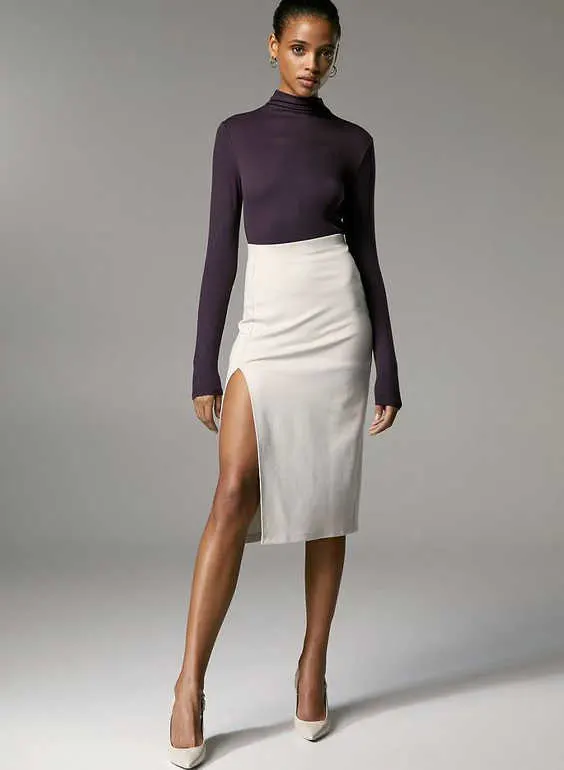 Buy Similar Here
Yellow Pencil Skirt
A yellow pencil skirt looks fabulous with a roll-neck white sweater, white blazer and leopard print heeled pumps: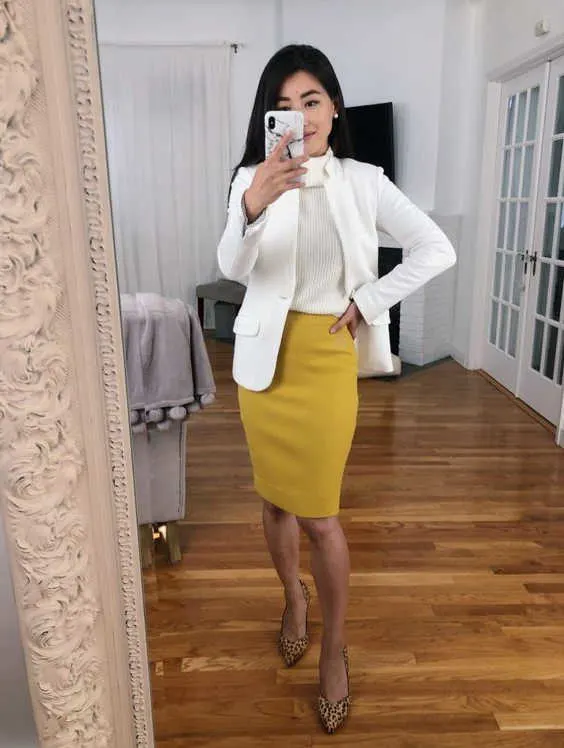 Buy Similar Here