Some women are quite committed to dressing in the style of their youth, but if you're not quite so wedded to your past, there are ways to make "mom jeans" look chic. But today we are here to show you some easy ways how to wear knee ripped mom jeans look cool on the streets.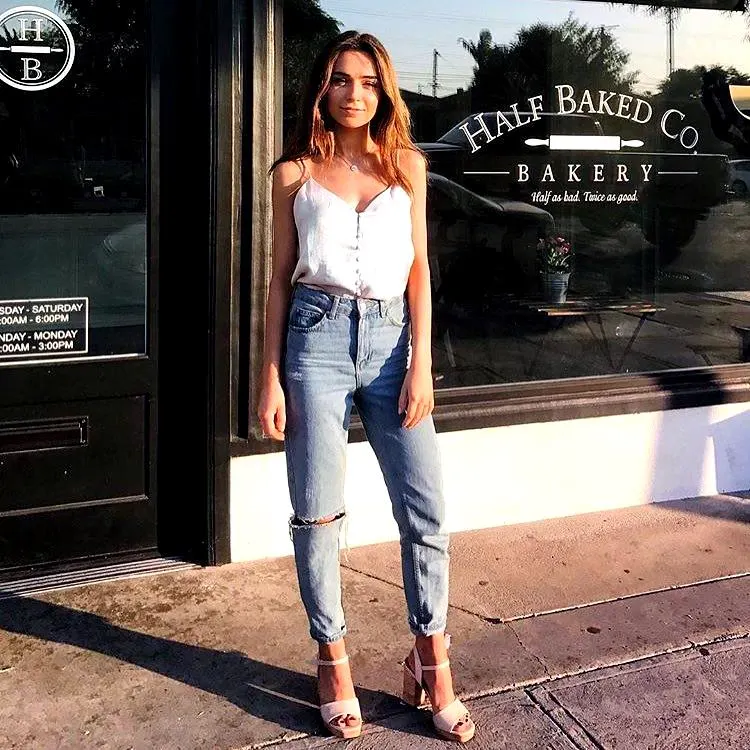 Buy Similar Here
You can't beat the simplicity of the mom jean look, even if they aren't your favorite pants. Opting for a cropped top or tank instead will make choosing an outfit fun again and give your jeans an added pop of color on their own. There's some debate about which fit is most flattering, but there's no reason to avoid just because the style doesn't fit perfectly in other ways. By the way, if you are into black ripped mom jeans, then all these ideas with blue ones will also work with black-colored denim!
Best Shoes To Wear With Mom Ripped Jeans
Here are some ideas on what shoes you might try on your favorite ripped mom ripped jeans this year. Yes, these are my favorite ones.
Mom Ripped Jeans and Sneakers
Love this black sweater with denim and white kicks: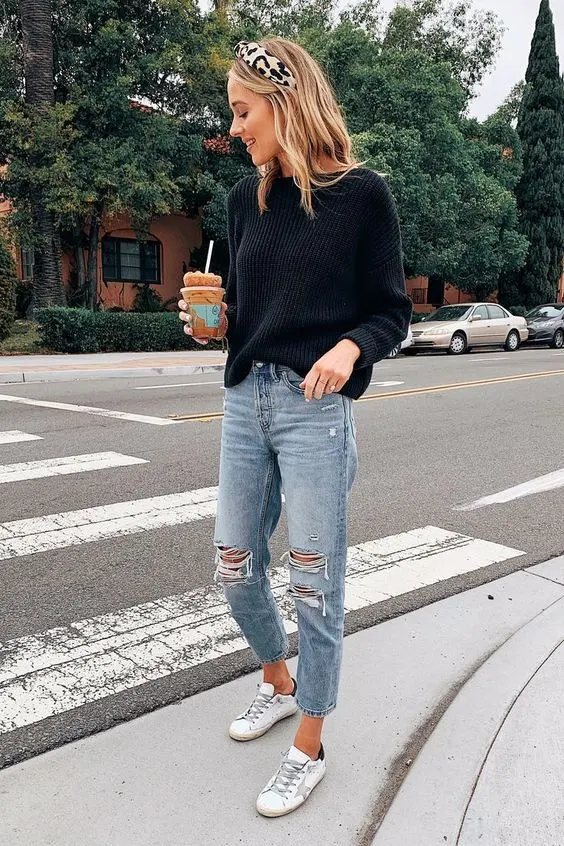 Buy Similar Here
Mom Ripped Jeans and Converse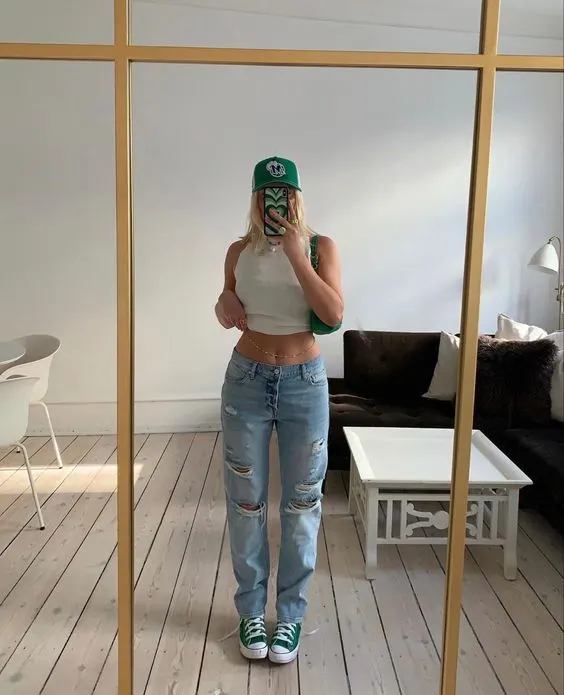 Buy Similar Here
Mom Ripped Jeans and Heels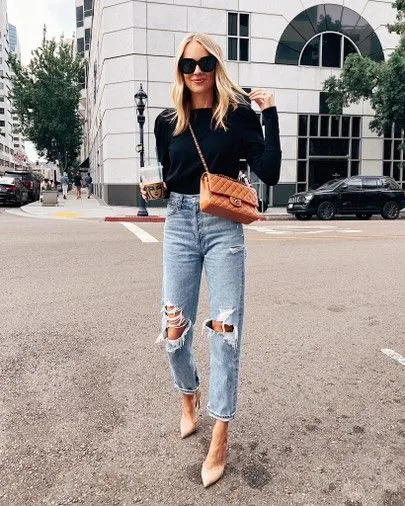 Buy Similar Here
Mom Ripped Jeans and Boots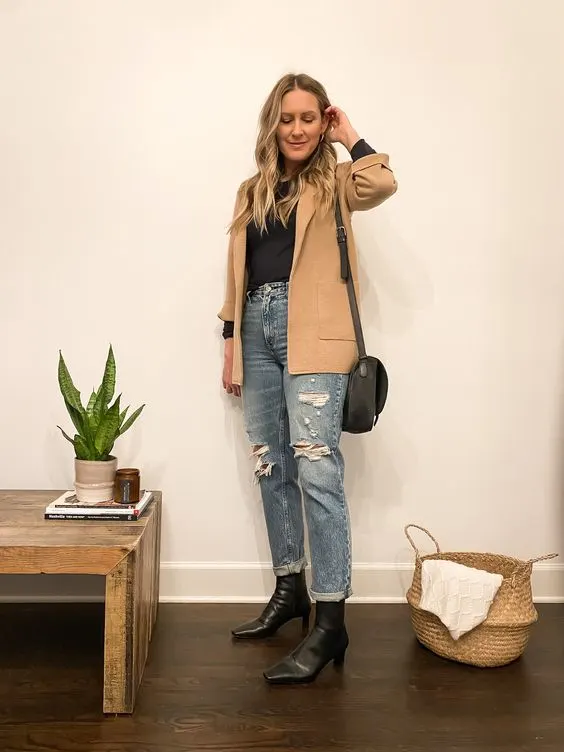 Buy Similar Here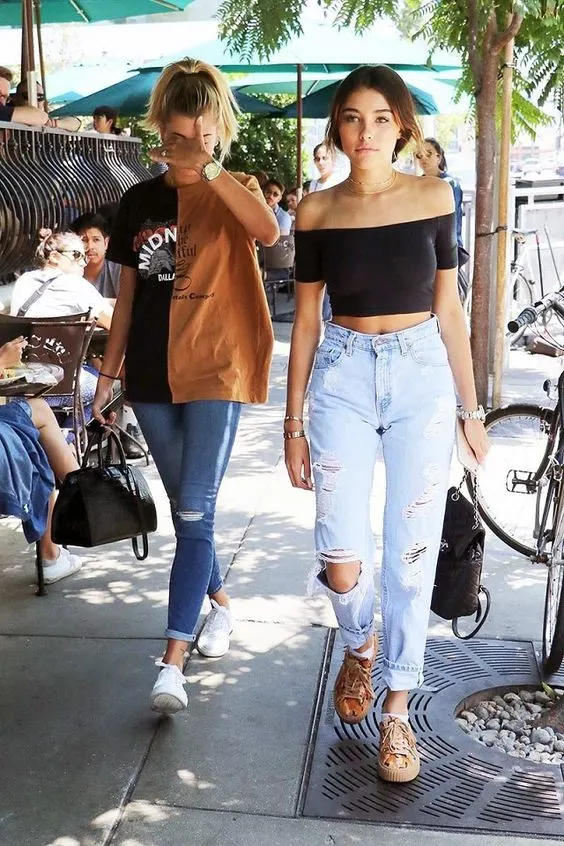 Buy Similar Here
A white crop top looks fancy with these classy blue jeans completed with chunky sneakers: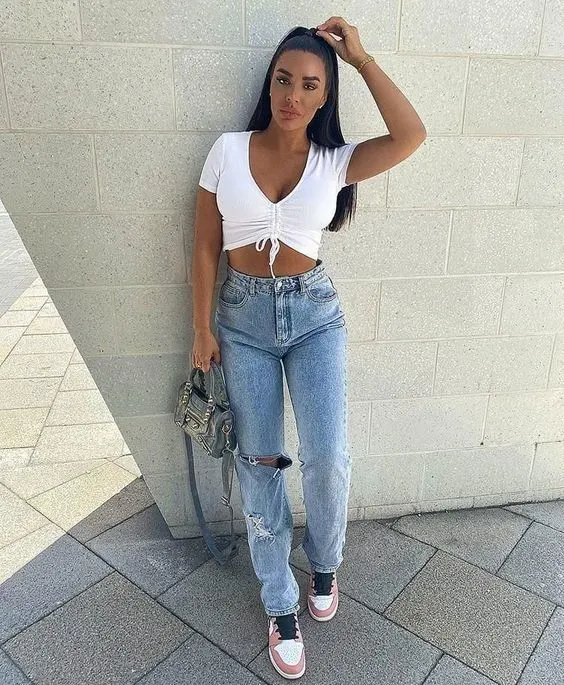 Buy Similar Here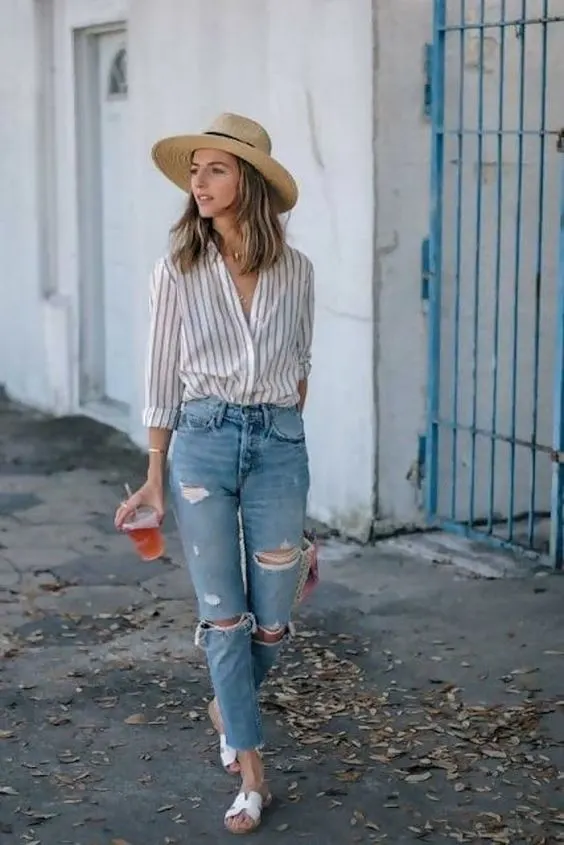 Buy Similar Here
In the fashion world, it's all about what's in and what's out. It's a constant cycle of things being in vogue then fading into oblivion. One trend that has been making its way around blogs, catwalks and magazines alike is the "Mom Jeans Style". Although the name may put you off a little, I can assure you that this look really does make a statement in a good way! The Mom Jean style doesn't necessarily mean uncomfortable high-waisted ripped mom jeans with a huge amount of distressing; it's about taking your favorite pair of jeans and bringing them up to date by adding rips and new details. Such as rips in the knees, pockets, and new details such as embroidery or studding. This will give your Mom Jean a unique look to it.
One of the most common suggestions is wearing them with an oversized shirt or with a crop top. This way they don't make you look like you're trying too hard for an 80s aesthetic and you can show off your favorite tees. You can also layer two denim pieces that each have their own personality for an eclectic mix that's all your own.
Buy Similar Here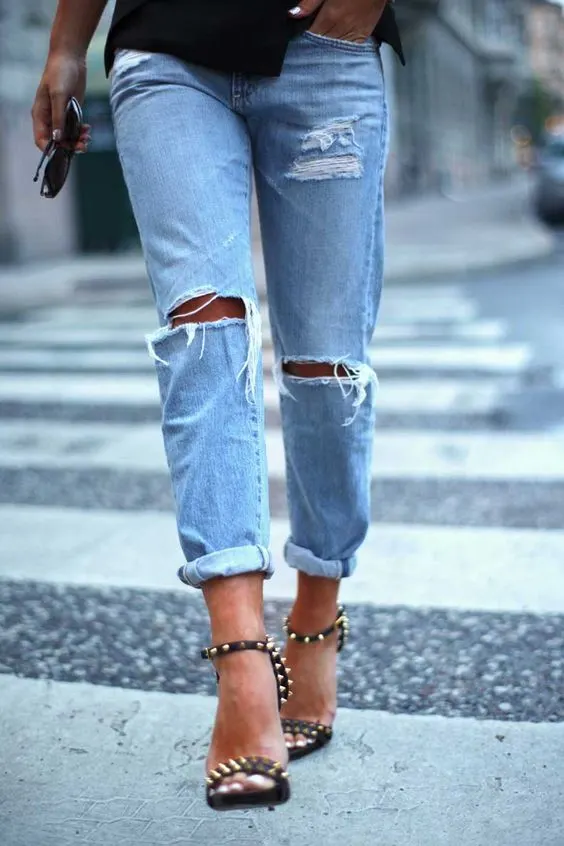 Buy Similar Here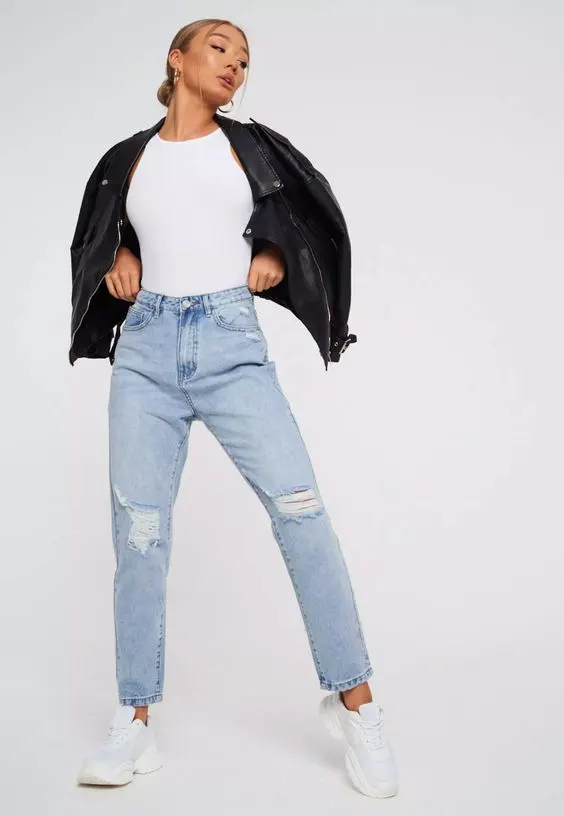 Buy Similar Here
If you're a little more daring, try wearing mom jeans tucked into boots or over a pair of sleek booties. Cuffed jeans are also a great way to wear them without looking like you're playing it too safe.
It may not be easy to look hip when you dress like your mom, but it's probably easier than trying to look hip in a style that constantly calls attention to itself. Whether you're trying to bring back the 90s or just make your favorite jeans more trendy and fresh, try out some of these tips for different ways to wear these denim bottoms.
The thing that makes this trend so appealing is how easy it is to achieve. It doesn't take much money or effort to create an "upgrade" for an existing pair of jeans. This is perfect for those who don't have a lot of money to spend on new jeans. There are so many ways in which you can go about taking mom jeans from boring to stylish, but here are just some of the different ways you can achieve this look:
-Pairing them with a plain v-neck t-shirt;
-Pairing with a plain black shirt;
-Pairing with a plaid blouse (this is my personal favorite!).
The most obvious way to incorporate this style into your wardrobe is by pairing your faded and ripped-up pair of these denim bottoms with a wide range of different items, creating layered looks. This will make your outfit look so different and unique. For example, you could wear them with a black v-neck t-shirt, paired with an oversized denim jacket and black boots. The type of shoes that you choose is completely up to you, but if you can add in some color to your look it would be great!
Best Tops & Jackets To Wear With Mom Ripped Jeans
Mom Ripped Jeans And Oversized Hoodie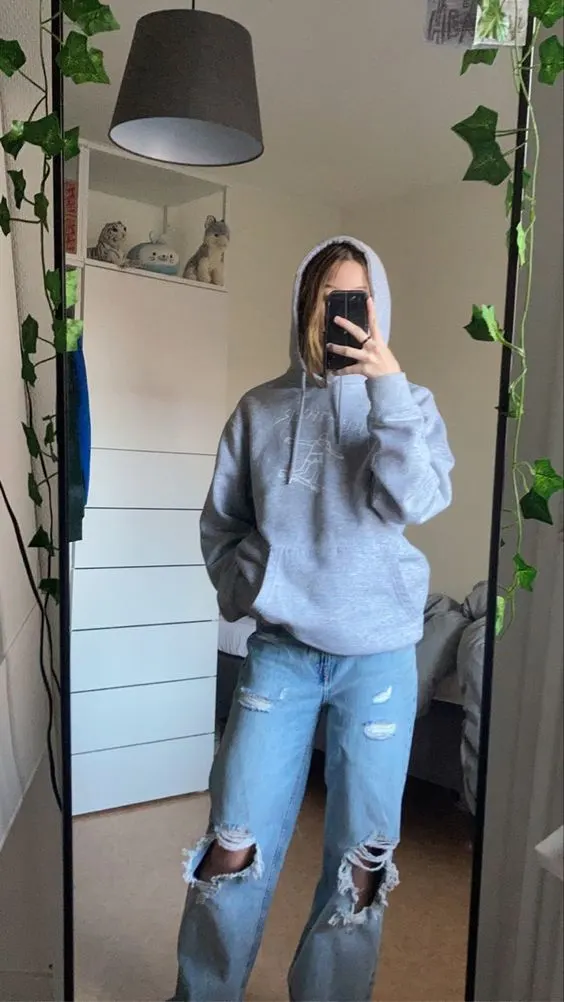 Buy Similar Here
Mom Ripped Jeans And Crop Top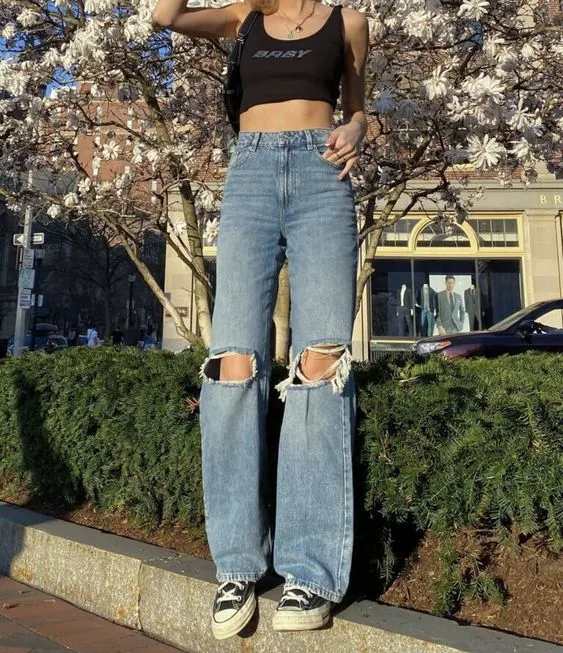 Buy Similar Here
Mom Ripped Jeans And Sweater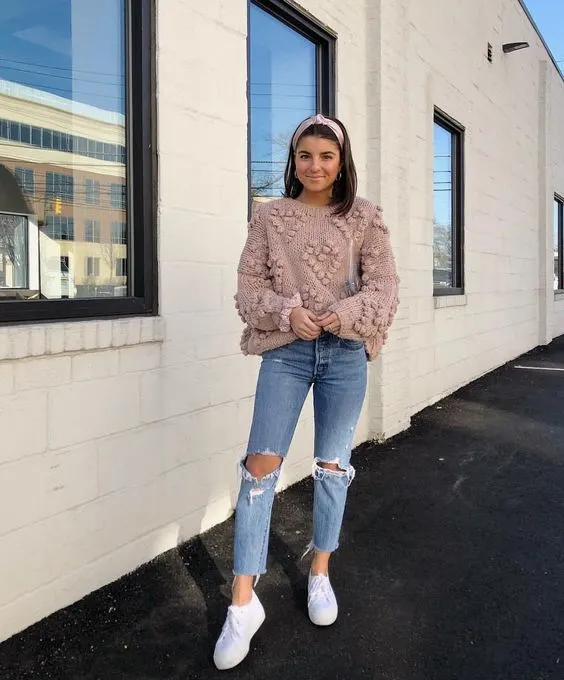 Buy Similar Here
Mom Ripped Jeans And Oversized Shirt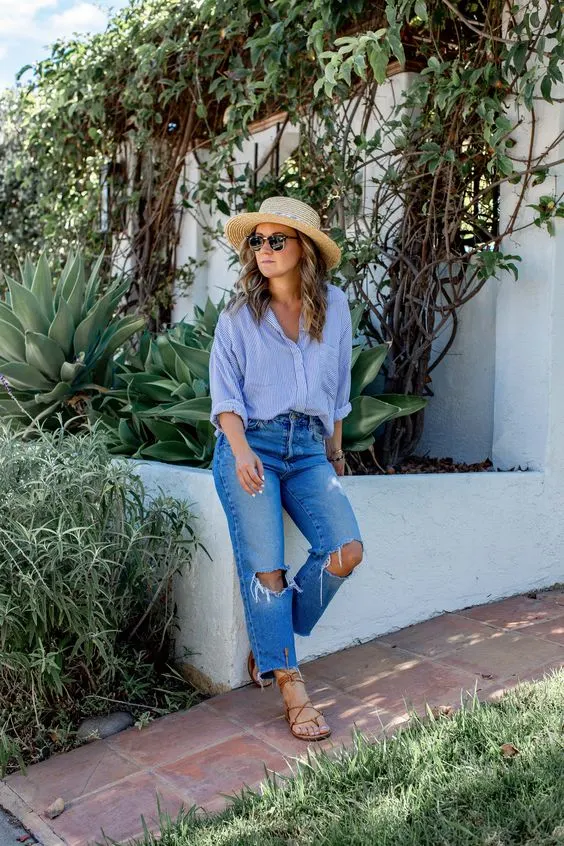 Buy Similar Here
Mom Ripped Jeans And Denim Jacket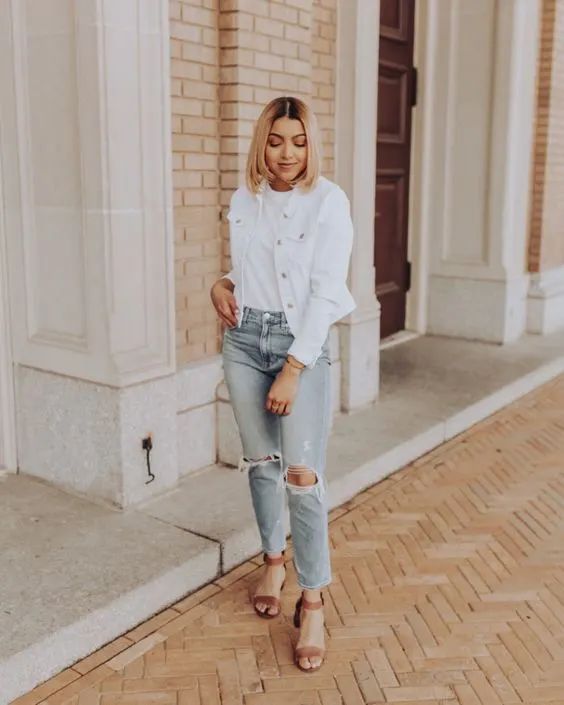 Buy Similar Here
Mom Ripped Jeans And Leather Jacket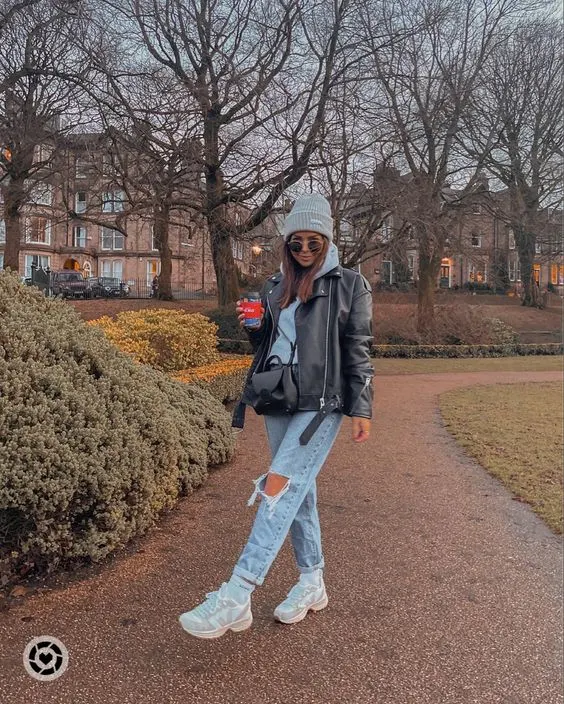 Buy Similar Here
In order to really create a perfect outfit with your jeans, you need to choose a top that will fit well with your jeans and complement them, without being too much. Although I don't think the outfit will work if it's too much of contrast; however I do think that for those who are afraid of wearing such "out there" styles, would be able to adapt this into their wardrobe easily as it isn't too different from what most people wear on a daily basis. You don't want to look too overdressed or underdressed.
The reason why I love this trend so much is because it's not only affordable but also easy to achieve! You don't need to go out and spend a lot of money on brand new jeans in order to make these distressed jeans fashionable. You should also be wary of cheap-looking accessories. I would advise you to invest in some subtle yet interesting jewelry pieces that will look great with your outfit. I would recommend a long necklace, a pair of earrings or even just a simple bracelet.
When I think of the Mom Jean style, I always have in my mind the image of an edgy, confident and ladylike woman. She is the kind of woman who knows what she wants and makes it happen. She is one who jumps out of bed, puts on her mom ripped up Jeans and completes her look with a nice top and shoes. This is not to say that a woman cannot wear these jeans without a top or without anything else, it's more about the style and look you like.
Whether you decide to wear these jeans with a plain t-shirt or pair them with more bold accessories, I think you will definitely look great in this style.
Some street style ideas on how to wear ripped mom jeans: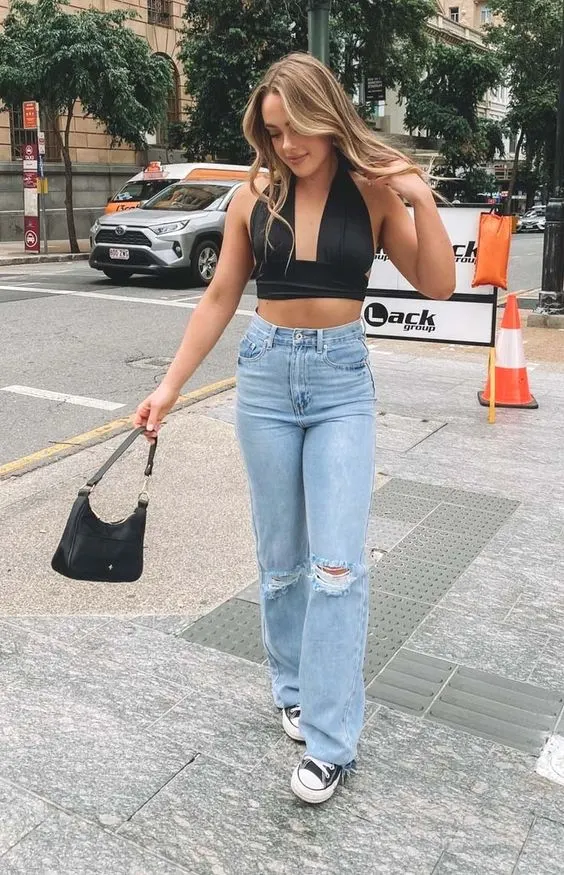 Buy Similar Here
Buy Similar Here
Buy Similar Here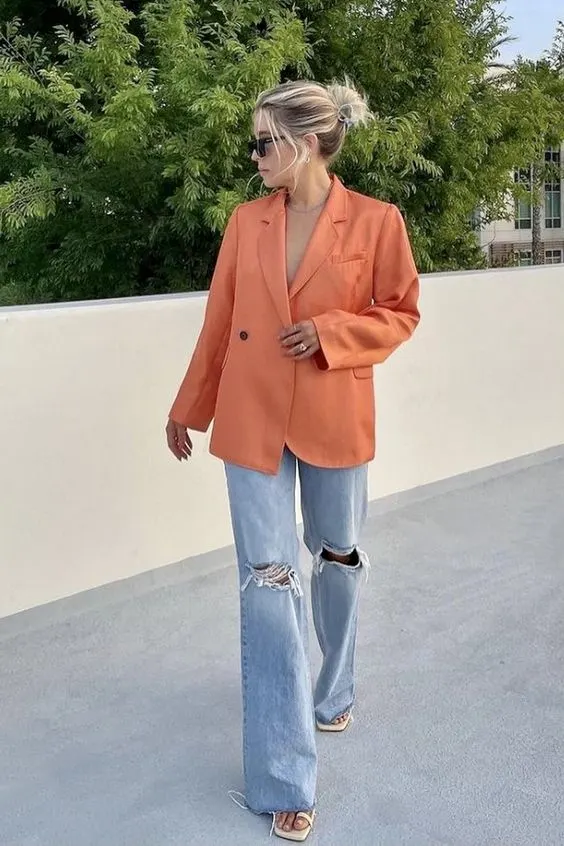 Buy Similar Here