Today's topic is all about red dresses. You are about to see easy ideas on what shoes to wear with red dresses. You will find the best and inspiring street style ideas. I will share with you some easy shoe colors you can style with a red dress.
We see a retro-inspired outfit idea consisting of a long-sleeve lightweight red dress with a pussy-bow. The dress is combined with patent black leather loafers and rounded sunglasses.
Red Dress And Shoes Outfit Ideas
A red dress is my favorite choice, it easily makes me stand out from the rest of the crowd, underlines my individuality and makes me look daring. Sure, not every woman is brave enough to wear such a bold dress. But, there is nothing to worry about.
Red Dress And Black Shoes
The easiest way to wear a red dress is by teaming it with black shoes. Here we see a short-sleeve red knee-length slim dress styled with rounded sunglasses and patent heeled pumps. Update this look by adding a chain strap black leather bag: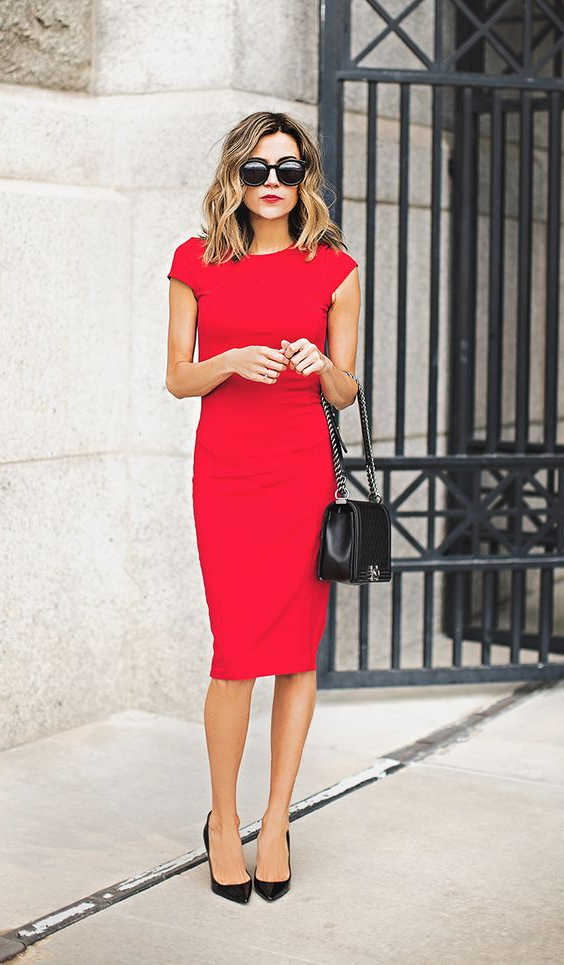 Red Dress And Black Boots
If you are not into black pumps, then you can try on classic suede OTK boots in black color. Style them on with a red sweater dress and mini shoulder clutch bag in black color: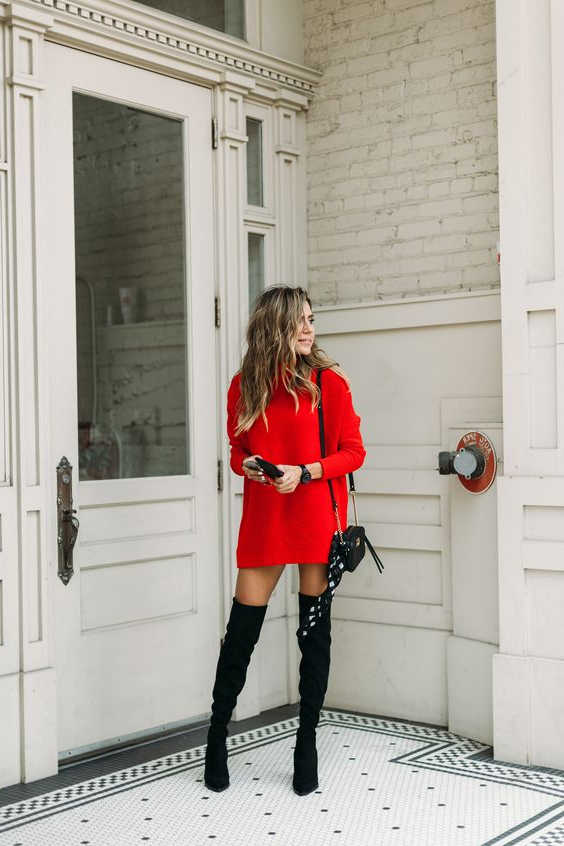 Red Dress And Black Heels
A pair of heeled ankle-strap sandals in black color ideally match that lace red dress with an open back: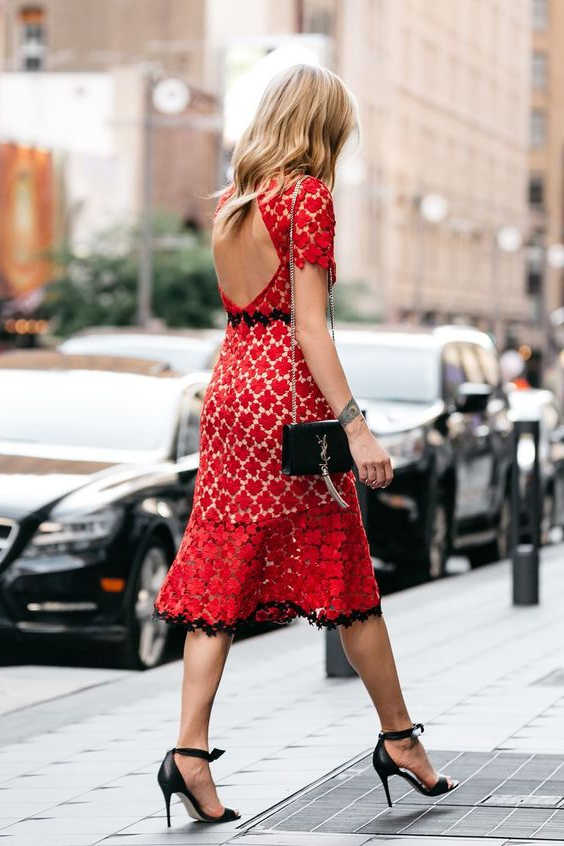 The only thing you might be stressed, it's the footwear. I mean, what color shoes to wear with a red dress, so you don't overdose your outfit. Read on to find out easy ideas on what shoes to wear with red dresses.
Red Dress And Cowboy Boots
A pair of cowboy boots is a nice choice to style with an off-shoulder red shift-dress. If you want to see more ideas on how to wear cowboy boots, check out my post, as I have some easy tips to share with you. If you are into wild-wild west trend, then I recommend checking out my post on ways how to wear cowgirl outfits, you gonna see some inspiring ideas on how to make this trend look chic on you: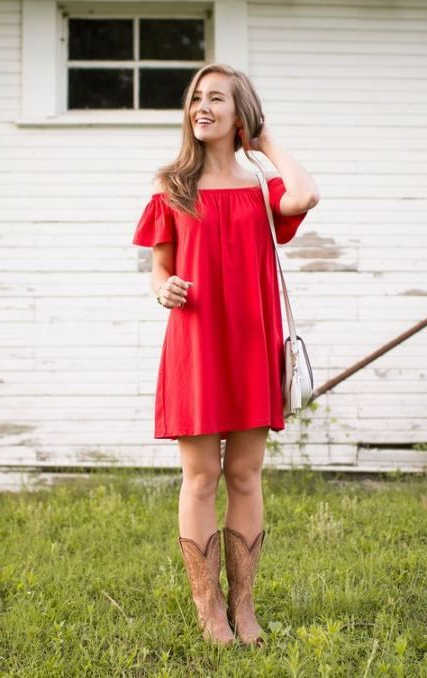 Red Dress And Matching Shoes
A light red dress with long sleeves ideally matches red-heeled sandals. Update this look by adding black sunglasses and a quilted red leather shoulder clutch:
This is an easy guide for beginners to help you select the best shoe color and style that will certainly complement your beautiful dress.
Red Dress And Pink Shoes
Red midi dress with long sleeves and flared skirt looks stunning with a pair of pink heeled pumps: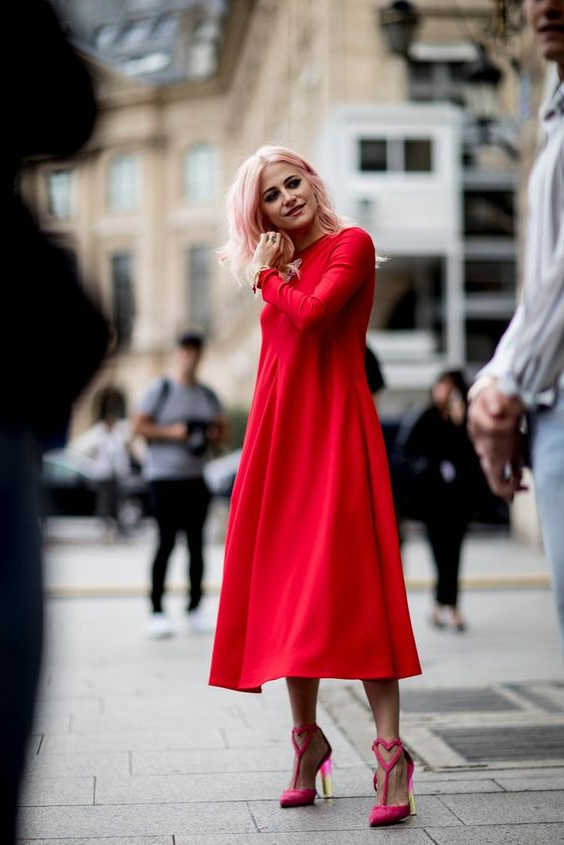 Red Dress And Red Shoes
A lightweight red midi dress with a deep V-neckline is styled with OTK red suede boots, a nice combination for fancy evening occasions: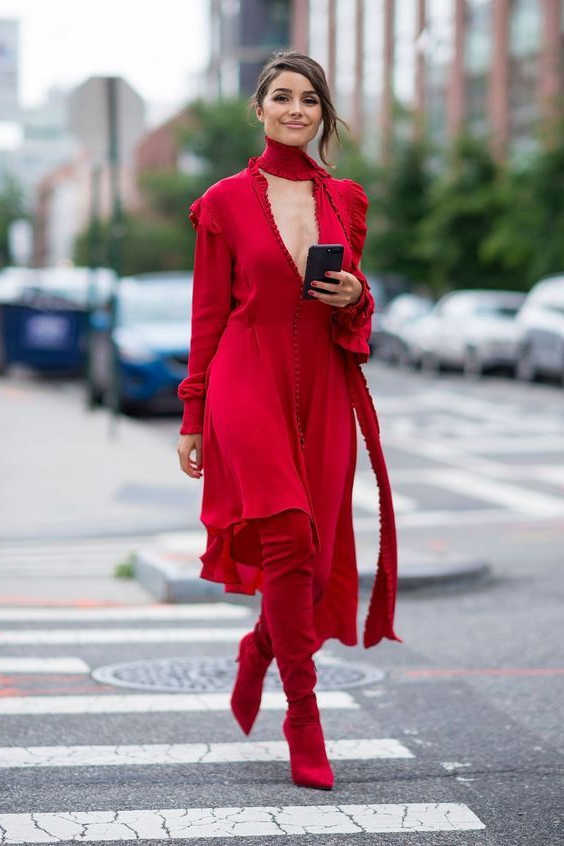 No matter if you have a bright red, dark or pastel red dress, all the showcased combos are tried, so you will have a visual material on how things got combined one with another.
Red Dress And Red Boots
A rich red sweater dress looks stunning with a pair of suede red OTK boots. Update this monochrome outfit by adding classic sunglasses and a red leather clutch bag: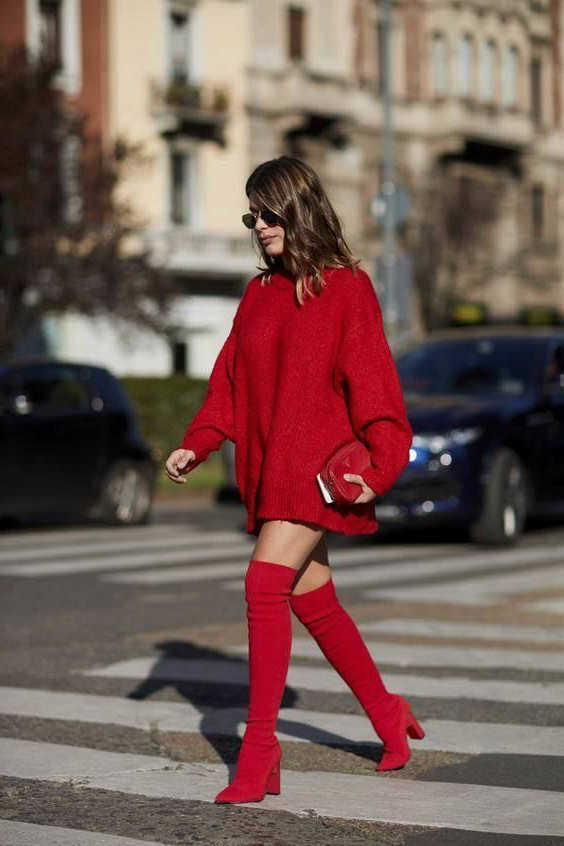 Red Dress And Gold Shoes
My absolute favorite footwear match for a red dress is a gold metallic shoe. Gold makes the red dress look special and rich. I think gold and red is one of the best color choices. We see a fabulous maxi red sleeveless dress with a deep cleavage and high side-slit completed with beautiful gold heeled sandals: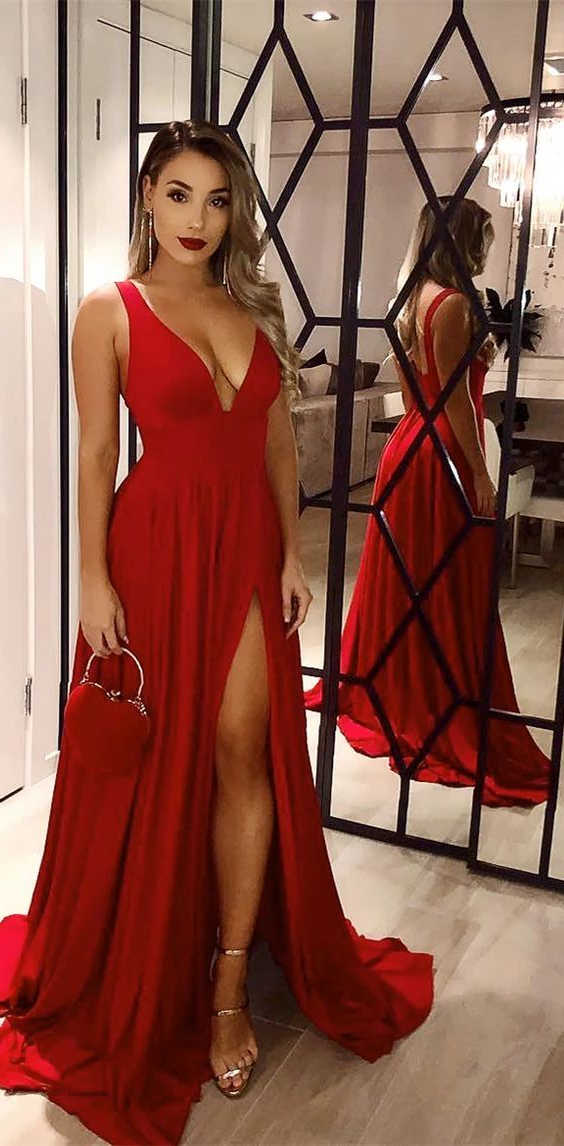 Red Dress And Gold Heels
Shiny gold metallic heeled sandals look awesome with a one-shoulder midi slim dress: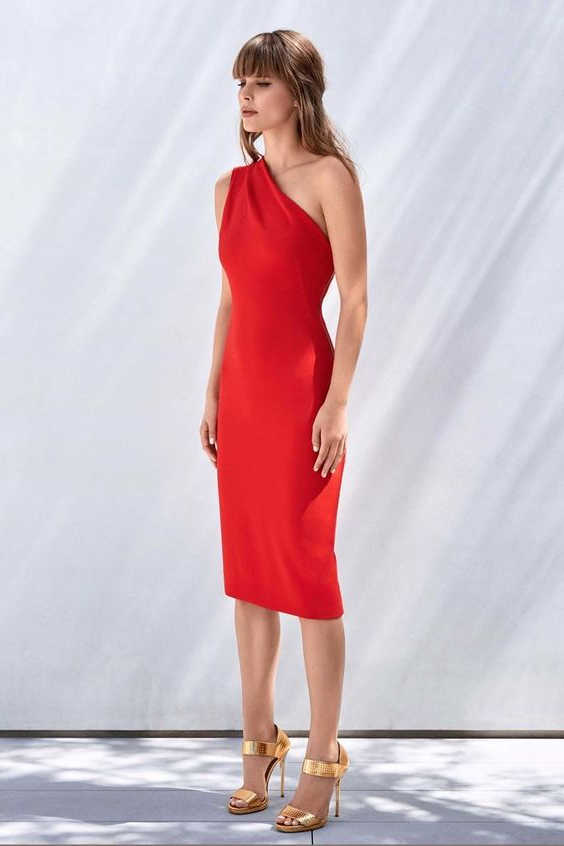 Red Dress And Tan Heels
A pair of tan heeled sandals will make your legs look leaner and taller. Try them on with a strapless fit-and-flare midi dress: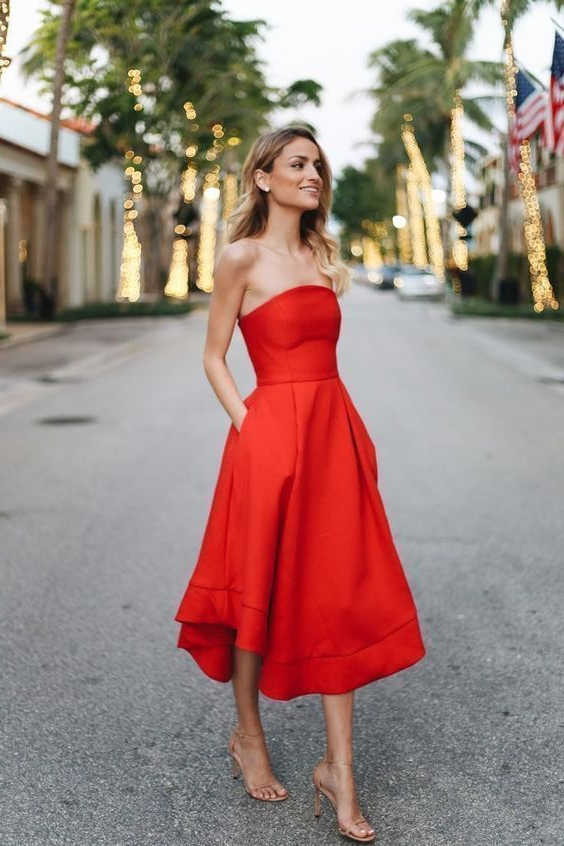 Below are shown specific ideas on what shoes can be paired with various red dresses, feel free to choose your favorites. I personally like keeping things matchy-match, that's why I go for red dresses styled with red shoes. But, I know there are tons of great color combinations to follow.
Red Dress And White Shoes
My next favorite color combination after the gold color is white footwear. Red and white do look awesome together. Here we see a strapless red lace midi dress styled with white heeled pumps. Update this combo with black shades and a white mini clutch bag: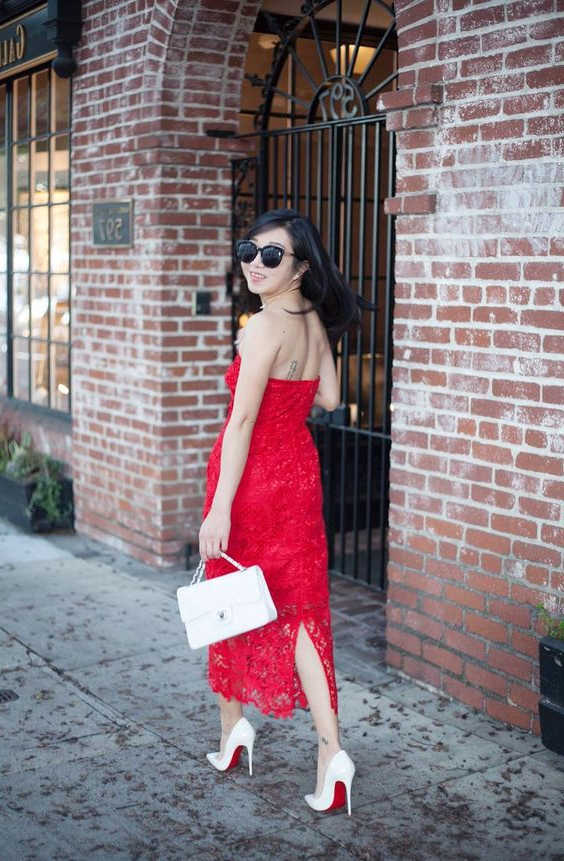 Red Dress And White Boots
White ankle boots can be a nice choice to team with a red sweater dress: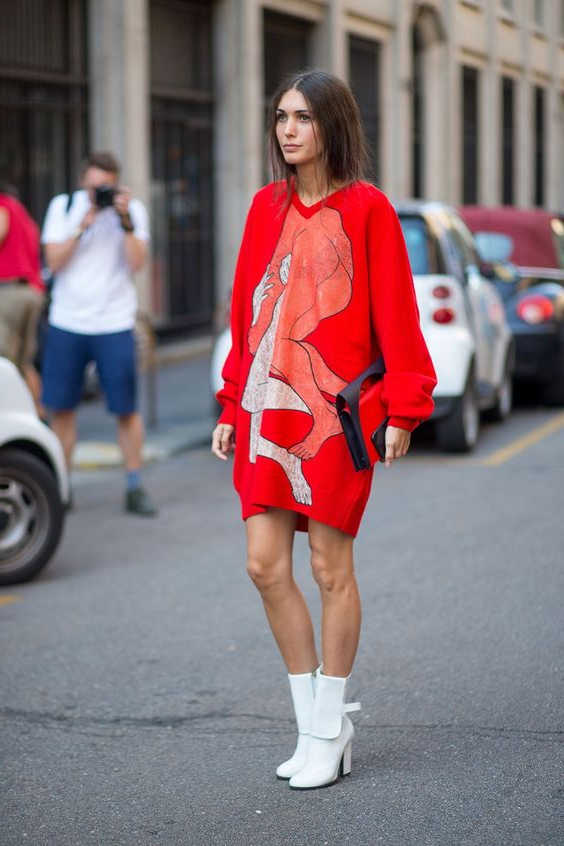 A long-sleeve cherry red dress looks sophisticated teamed with white sock boots: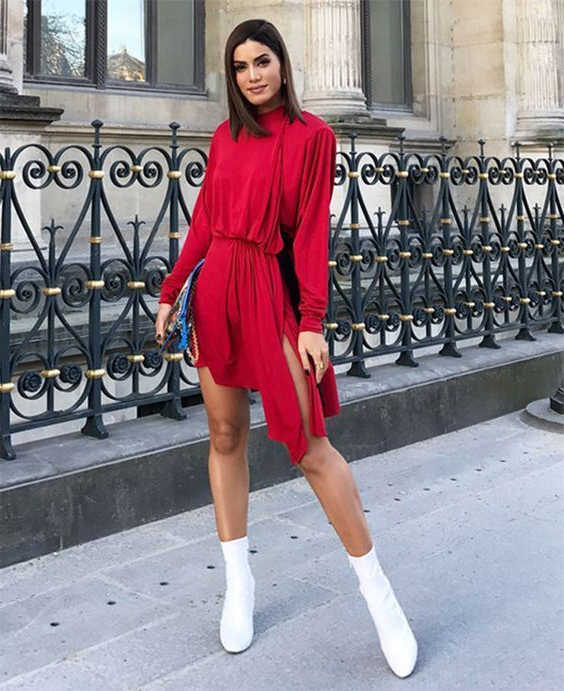 Red Dress And White Heels
White heeled pumps and a fit-and-flare red dress look elegant and classy: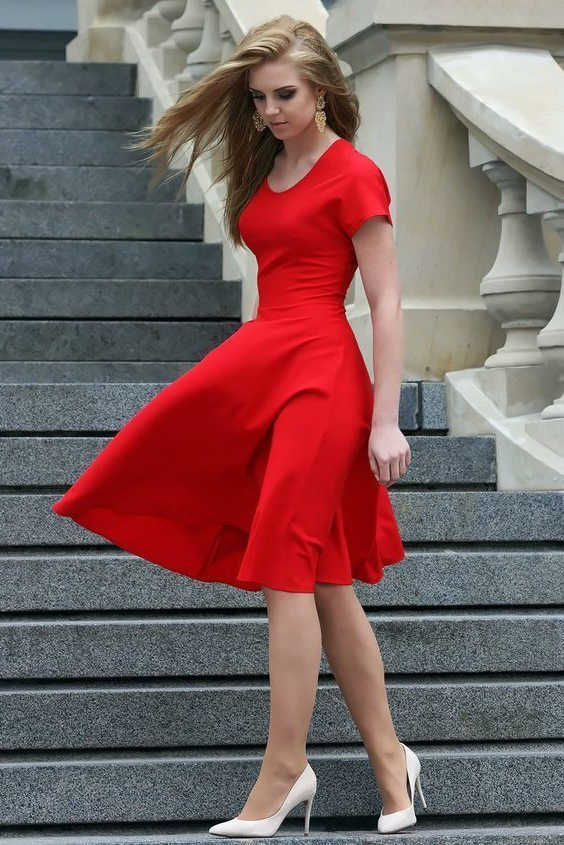 Red Dress And White Sandals
A semi-sheer pleated red dress looks pretty chic with white heeled sandals: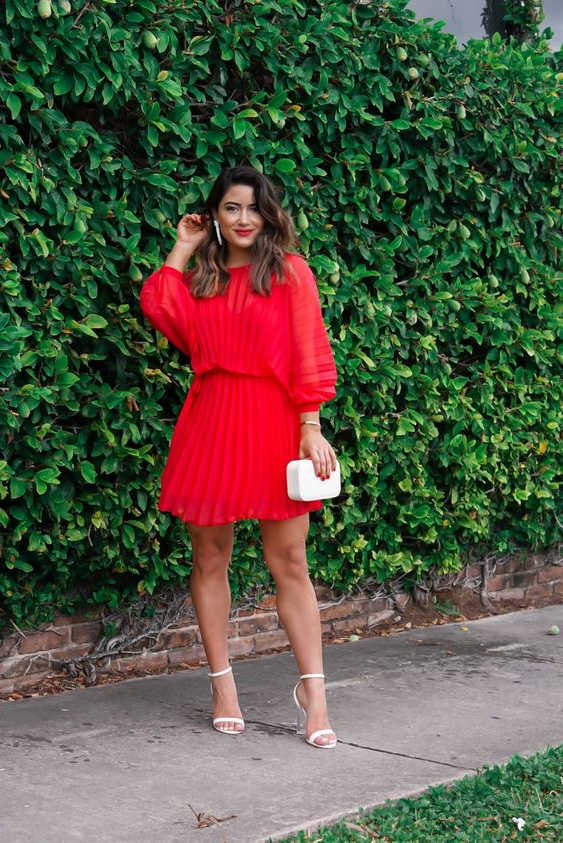 Red Dress And White Sneakers
A pair of white sneakers can be a good match for this red shirtdress. I love to see that easy combo for your daily routine: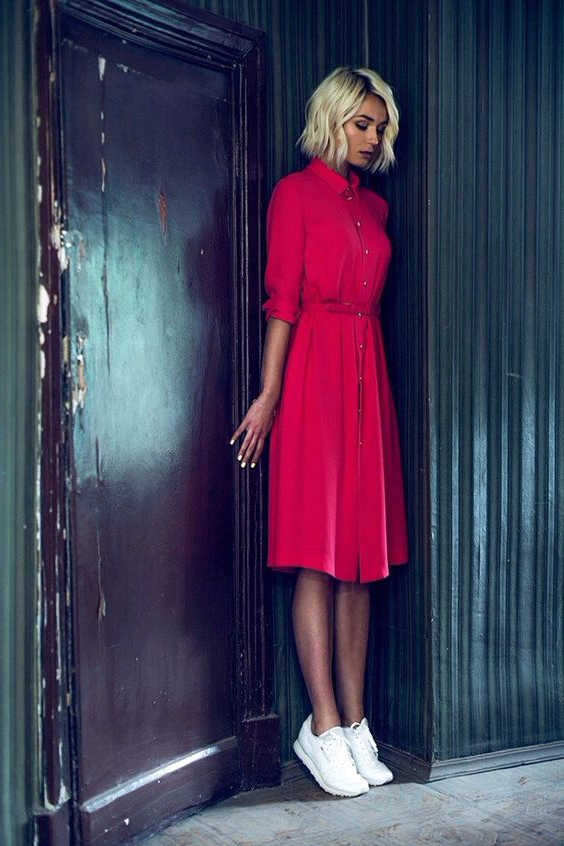 Red Dress And Animal Print Shoes
Orange animal print heels look lovely teamed with a sleeveless red bodycon knee-length dress: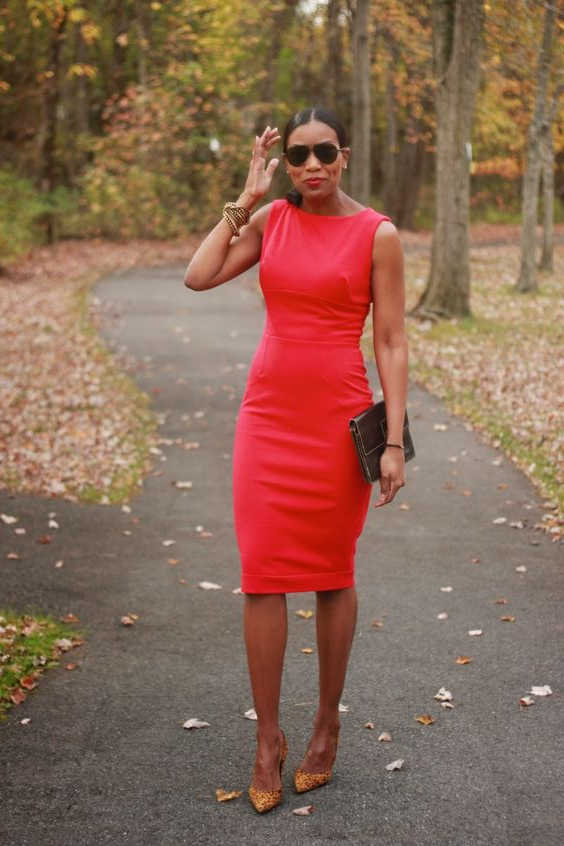 Red Dress And Leopard Heels
A v-neck peplum red knee-length dress with long sleeves ideally matches leopard print heeled pumps: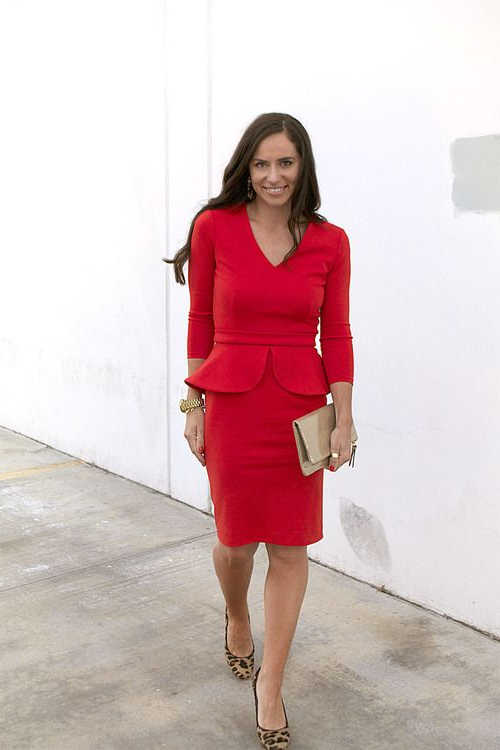 Red Dress And Thigh High Boots
How about wearing knitwear during fall season days? A red turtleneck knitted dress looks stunning with grey OTK boots: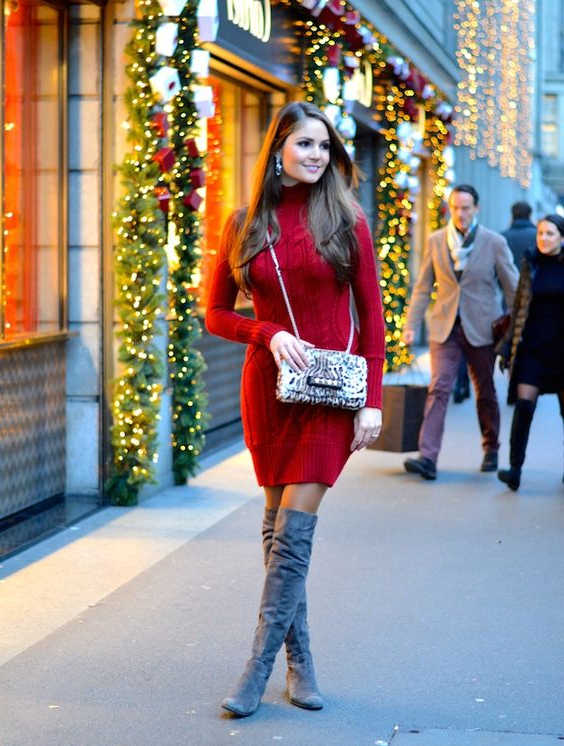 Red Dress And Sneakers
A bodycon red mini dress can be a nice combo to team with white sneakers: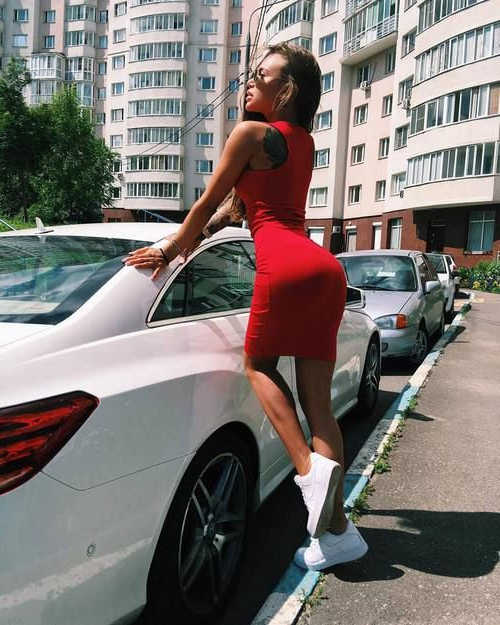 A red dress with long sleeves and a V-neck is completed with black trainers. A lovely combination for your warm summer days: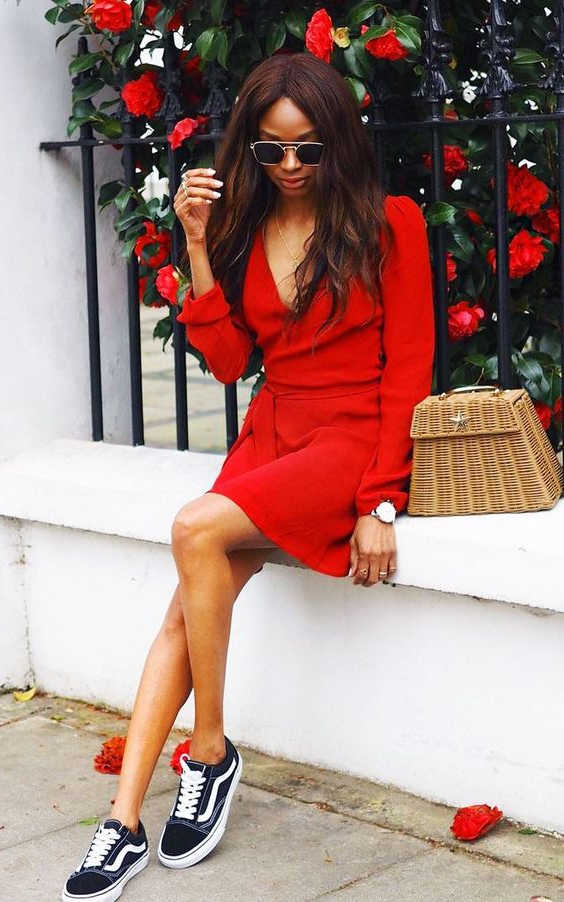 A red midi dress with a mesh red overlay looks original with a pair of white sneakers: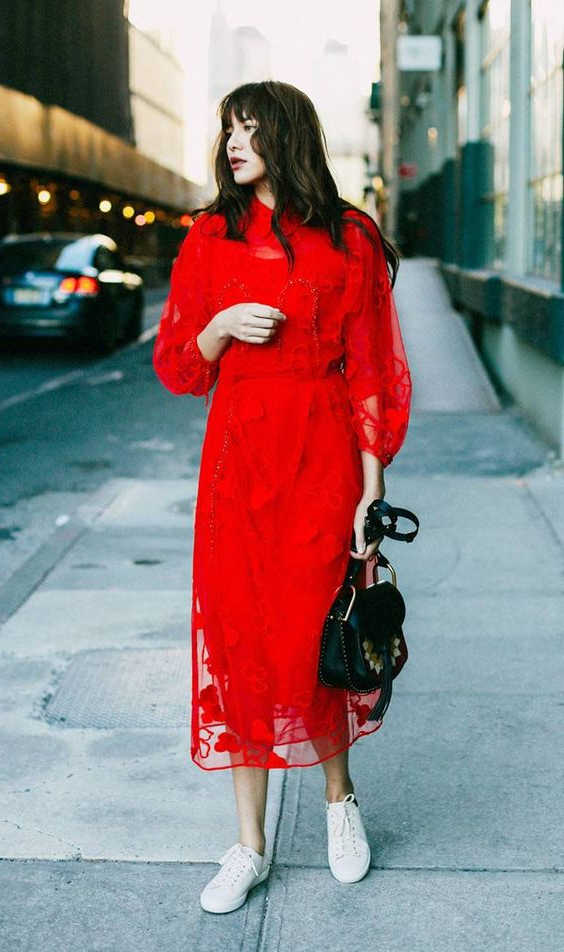 Red Dress And Flat Shoes
A pair of flat ankle strap pumps ideally match that simple lightweight dress in red color completed with a black leather jacket and modern aviator sunglasses: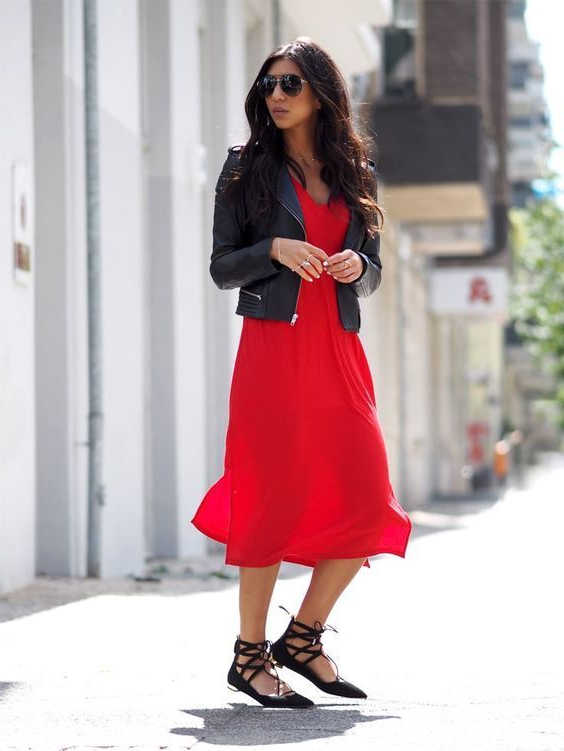 Red Dress And Boots
A pink teddy bear coat is layered over a red roll neck dress completed with red sock ankle boots, love the oversized sunglasses: