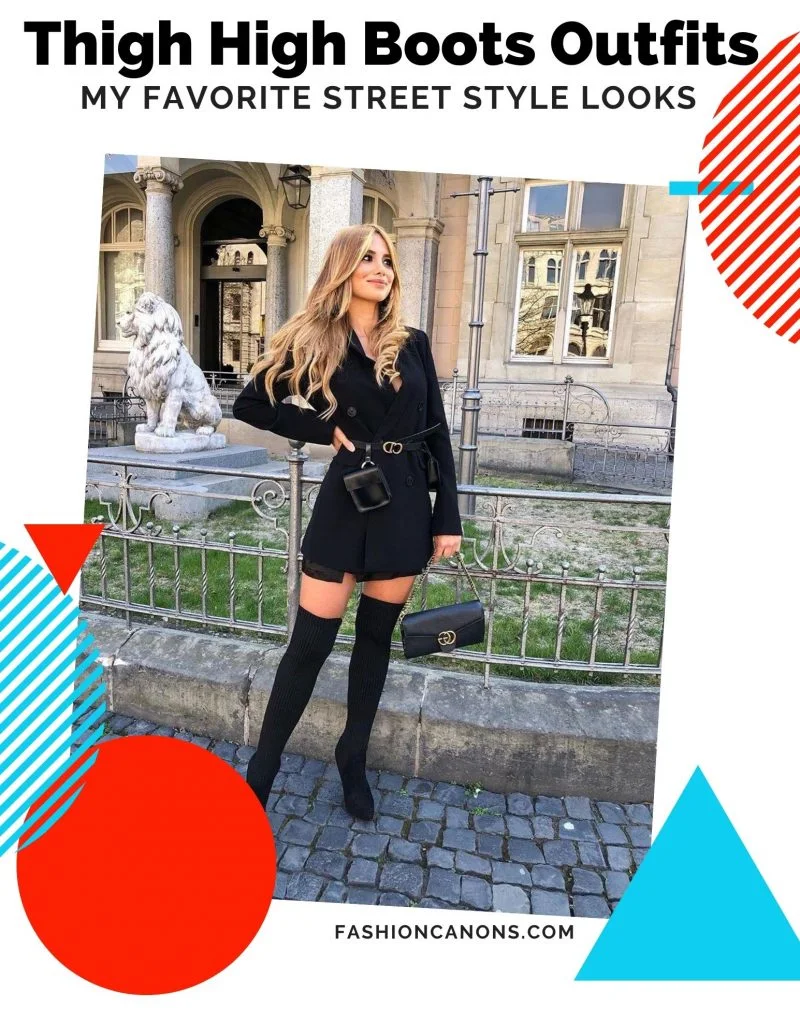 Buy Similar Here
Thigh-high boots are still in style and you can make them look fabulous! My mission for today is to share with you these stunning street style images for your inspiration. I am pretty sure every lady will find here something interesting and chic. Why women are so in love with this footwear? These boots are not only for walking but also for making a sexy statement no matter where you go.
Thigh high boots are ideal for those who want to underline their personality and show-off pretty legs. Even if they are not the trendiest footwear, they still have a significant place in women's fashion.
But first things first. What are thigh high boots? (Skip this sentence if you know) They are typically over-the-knee boots that stop at the upper part of your thigh. They have a lot of variations – from low cut and chunky to slim and sleek. Chances are, in the last few decades you were seeing them on every season's runways. They were a staple for modern fashionistas as both street style and red carpet wear.
What Can I Wear With Thigh High Boots To Look Trendy
These shoes are okay to wear with:
Skirts;
Dresses;
Slouchy pants tucked in;
Shorts;
Long T-shirts.
No matter how boring your clothes are, these shoes will instantly make you look sexy and very special. Just make sure you dare to wear them in real life. I am not joking, there are not many ladies who don't shy sporting these boots on the streets.
So, how to make these boots look stylish on you?Now, if you want to make them look hot, then you should decide where to wear them: during your daytime walks, at the office, dates or night clubs. As you already understood, everything depends on the occasion.
Oh, I almost forgot to mention one big stereotype about these boots. They might look like the ones that wear prostitutes, but no worries, everything depends on how you gonna style them. That's why my collection will show you only the best outfit ideas.
As I have already mentioned, these boots can either look smart-casual, professional, sophisticated, or uber-sexy. Suede and leather ones are my favorites. I love to see girls who team leather boots with heavy knitted dresses, the result is amazing. Suede thigh highs look cool with silken dresses or leather skirts. By the way, thigh highs look chic with pencil skirts. Anyway, let's see what's trending right now:
Off Shoulder White Dress
If you still wondering what kind of dress with thigh high boots looks perfect, then try out this off-shoulder white dress with your favorite black leather footwear: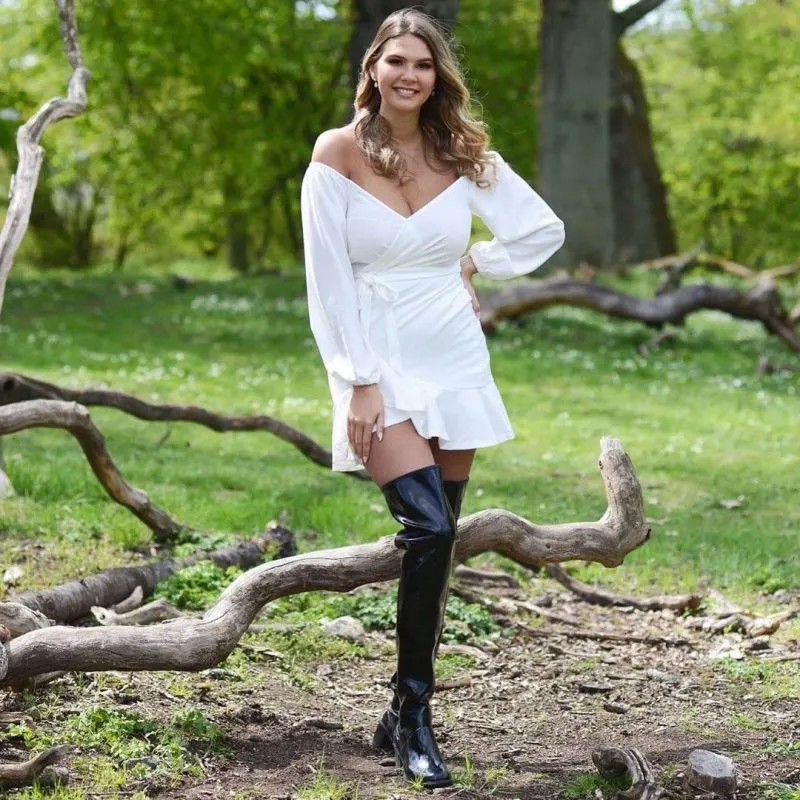 Buy Similar Here
Pastel Romper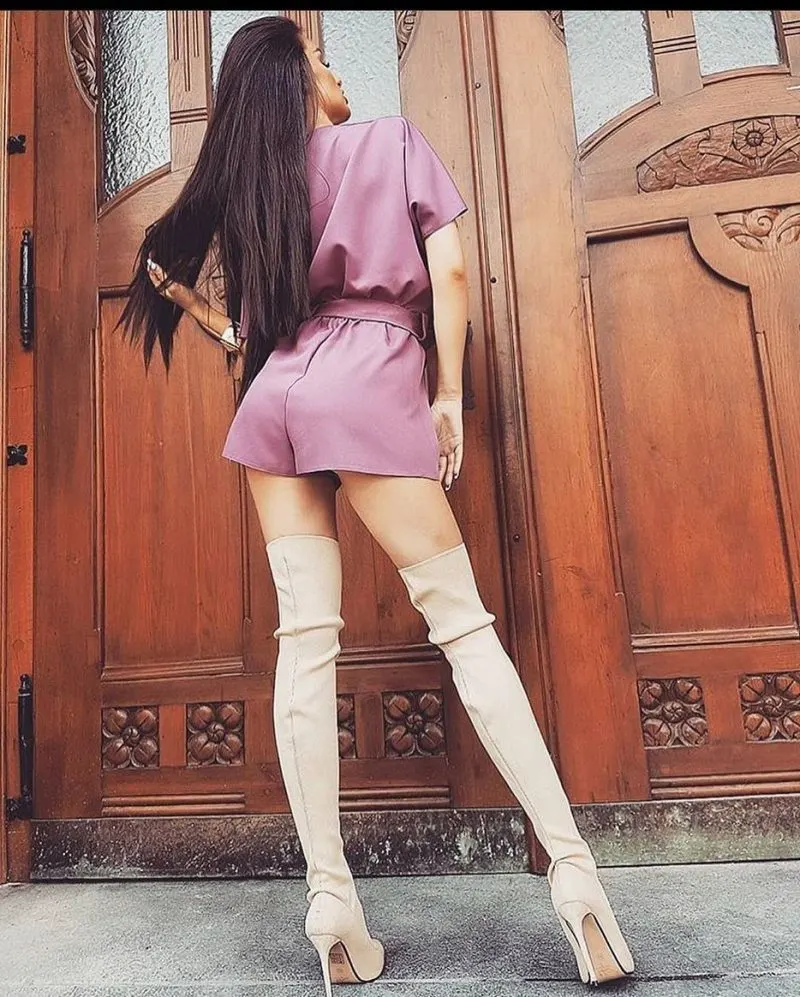 Buy Similar Here
White Sweater And Mini Flared Skirt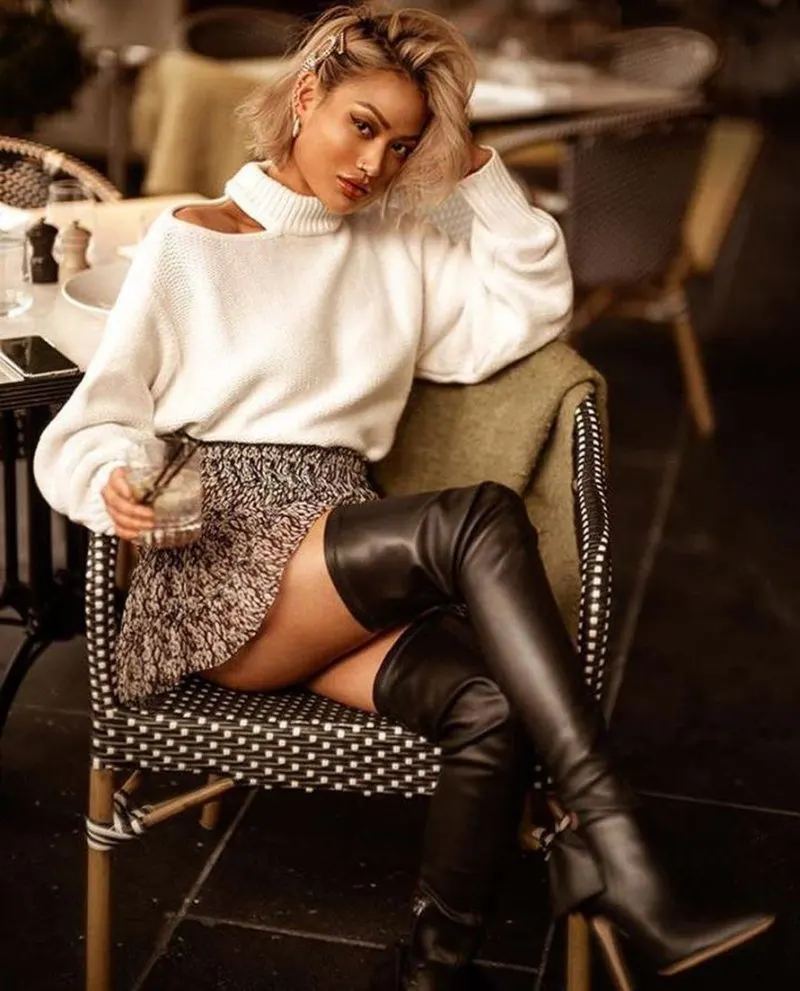 Buy Similar Here
Black Bodysuit And Denim Shorts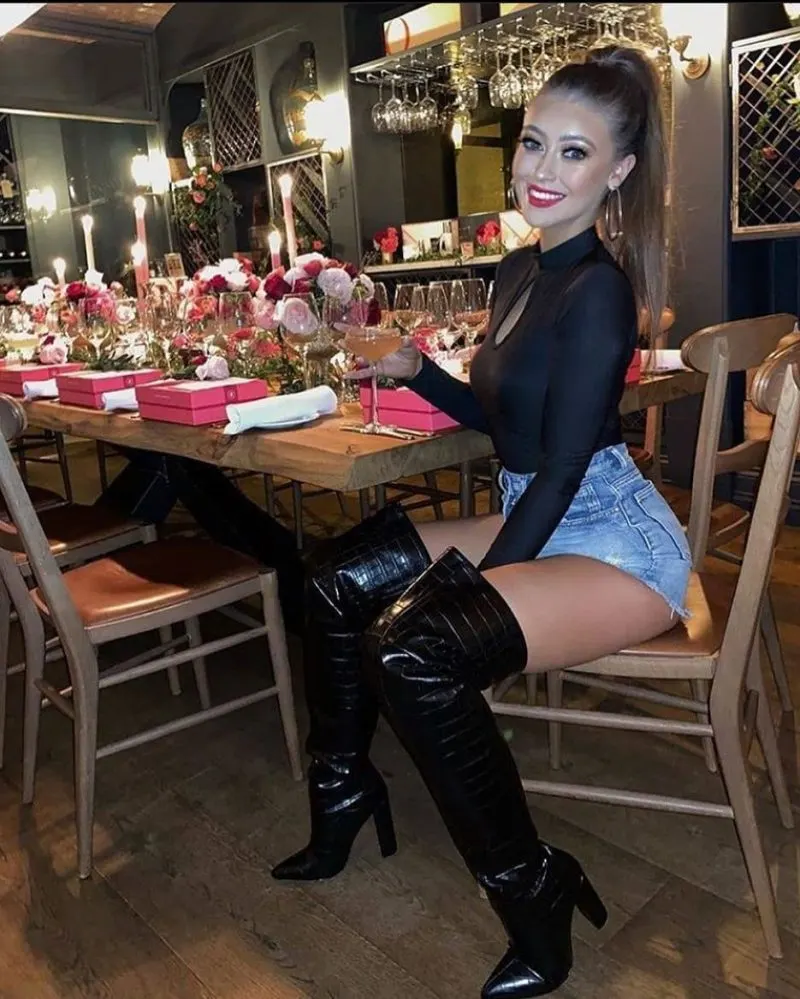 Buy Similar Here
Leopard Bodysuit And Skinny Jeans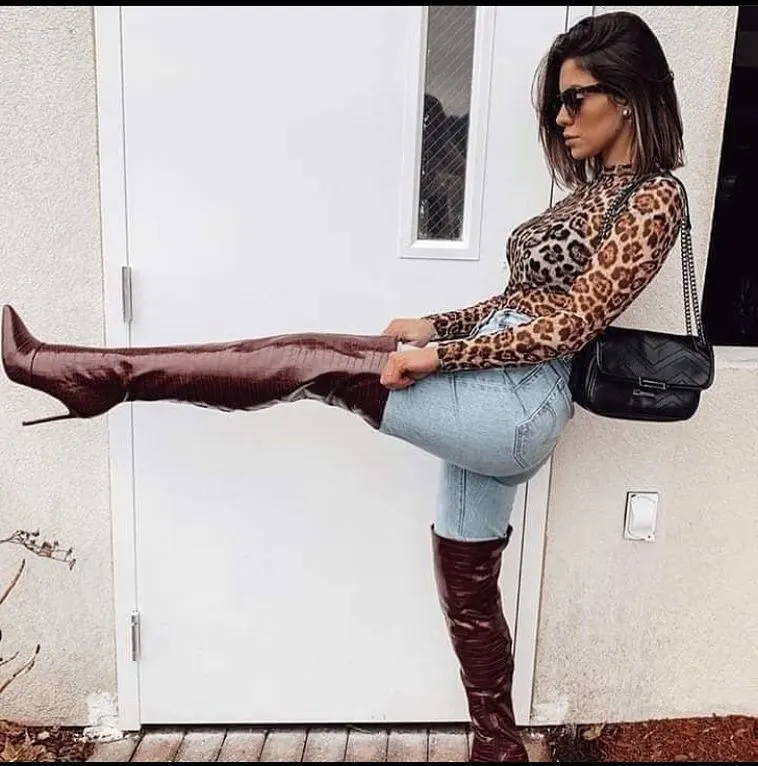 Buy Similar Here
Long Sleeve Sweater Dress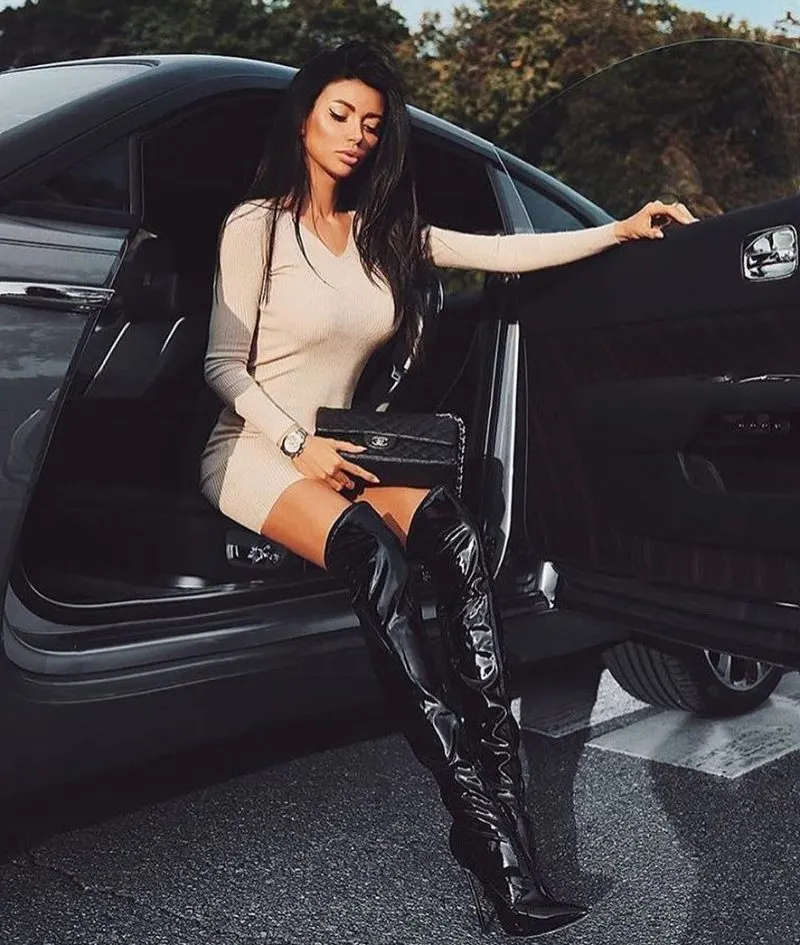 Buy Similar Here
Black Turtleneck And Checked Skirt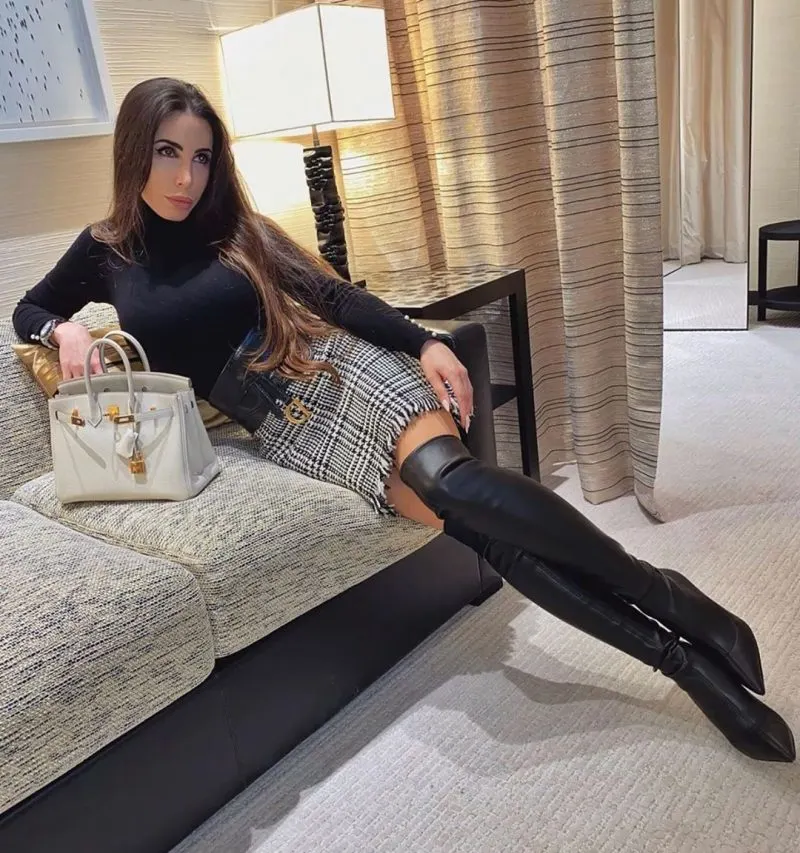 Buy Similar Here
Black Lace Crop Top And White Shorts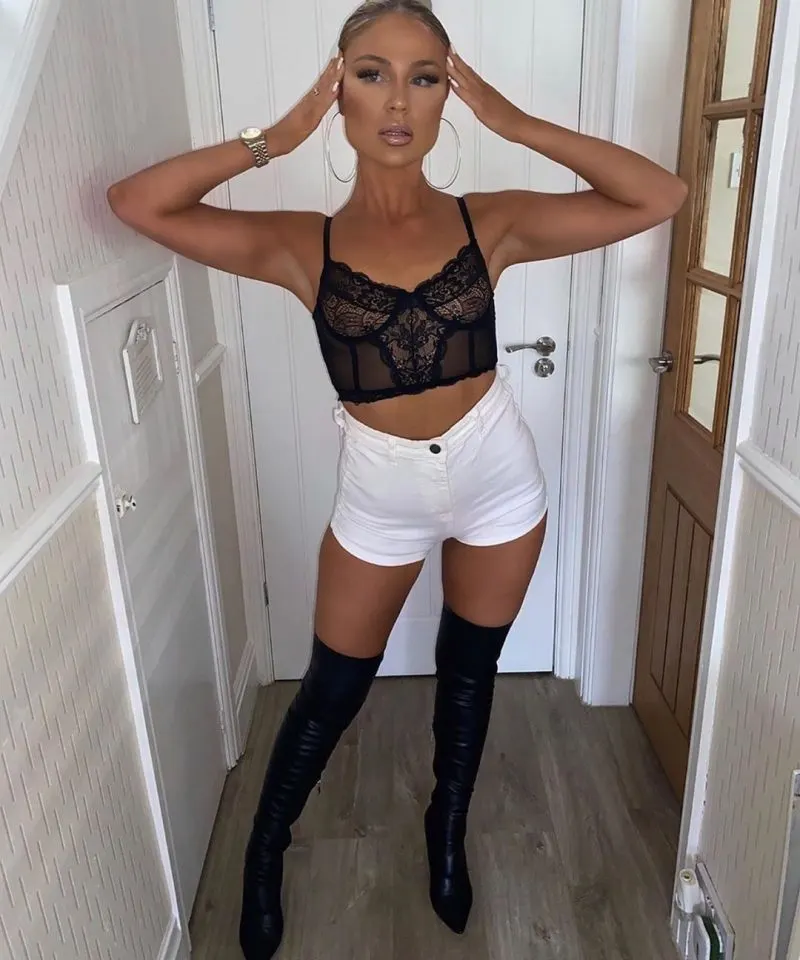 Buy Similar Here
Blazer Dress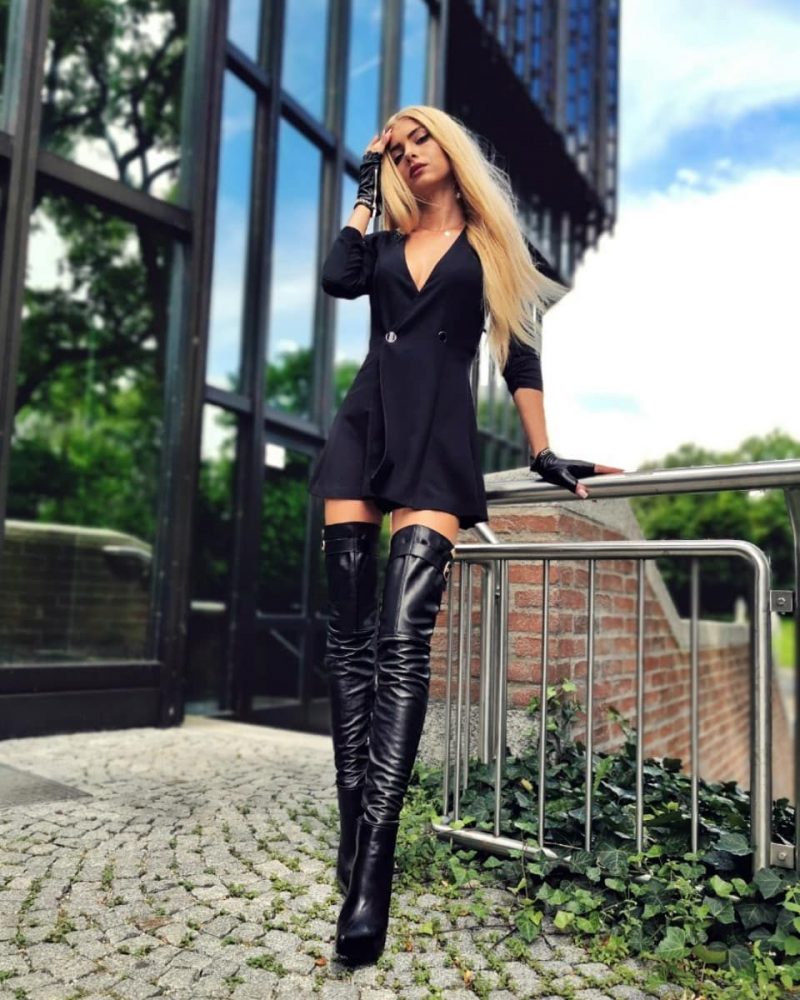 Buy Similar Here
Fur Vest With Sweater Dress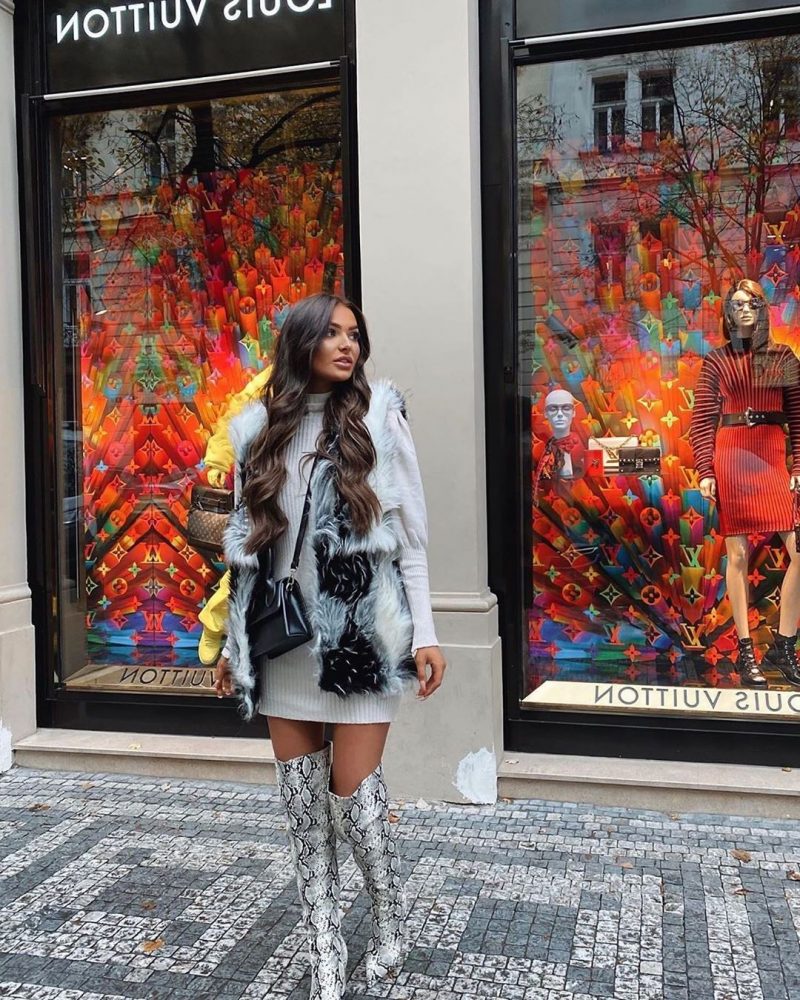 Buy Similar Here
Long Blazer As Dress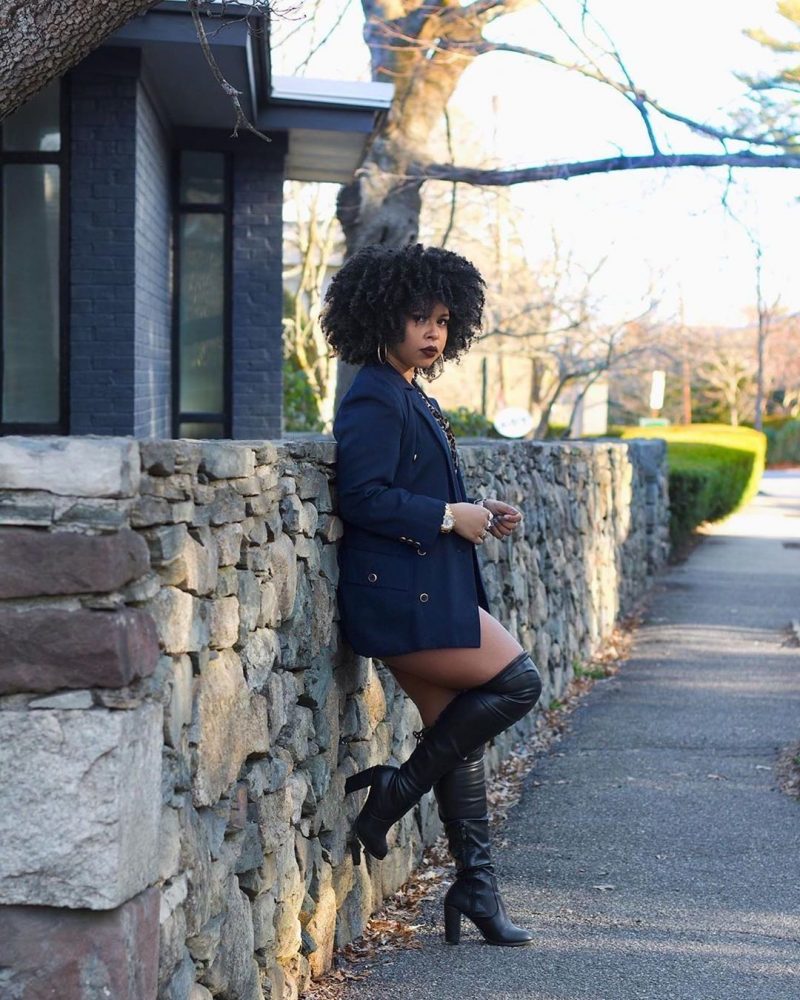 Buy Similar Here
Double Breasted Blazer And Mini Skirt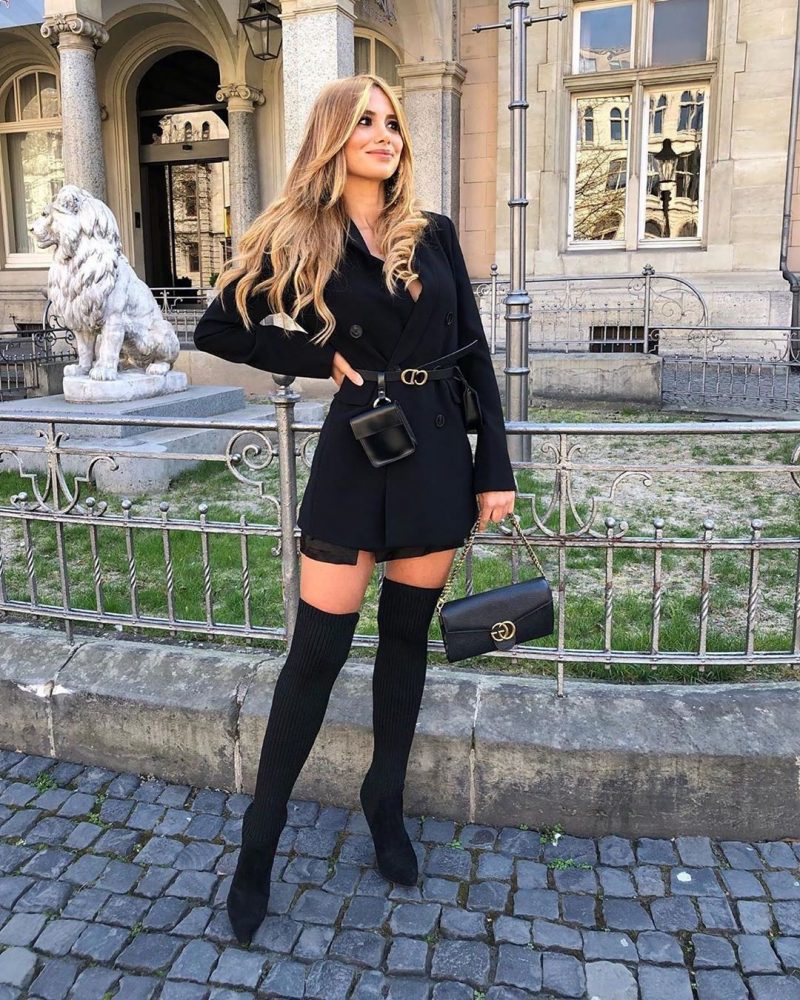 Buy Similar Here
Skin Color Tight Separates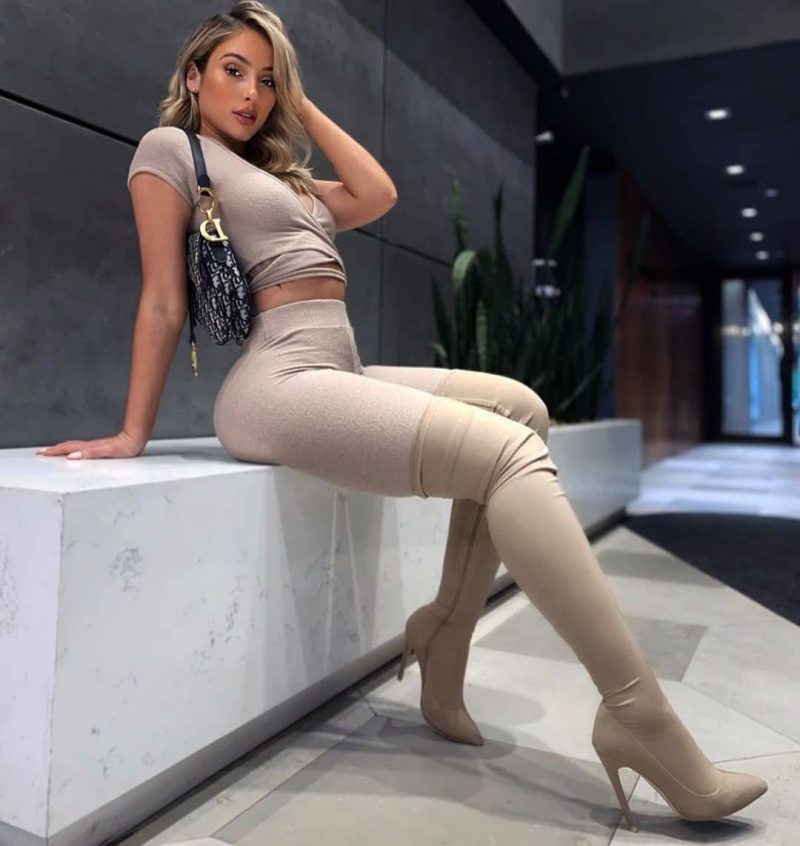 Buy Similar Here
Leather Dress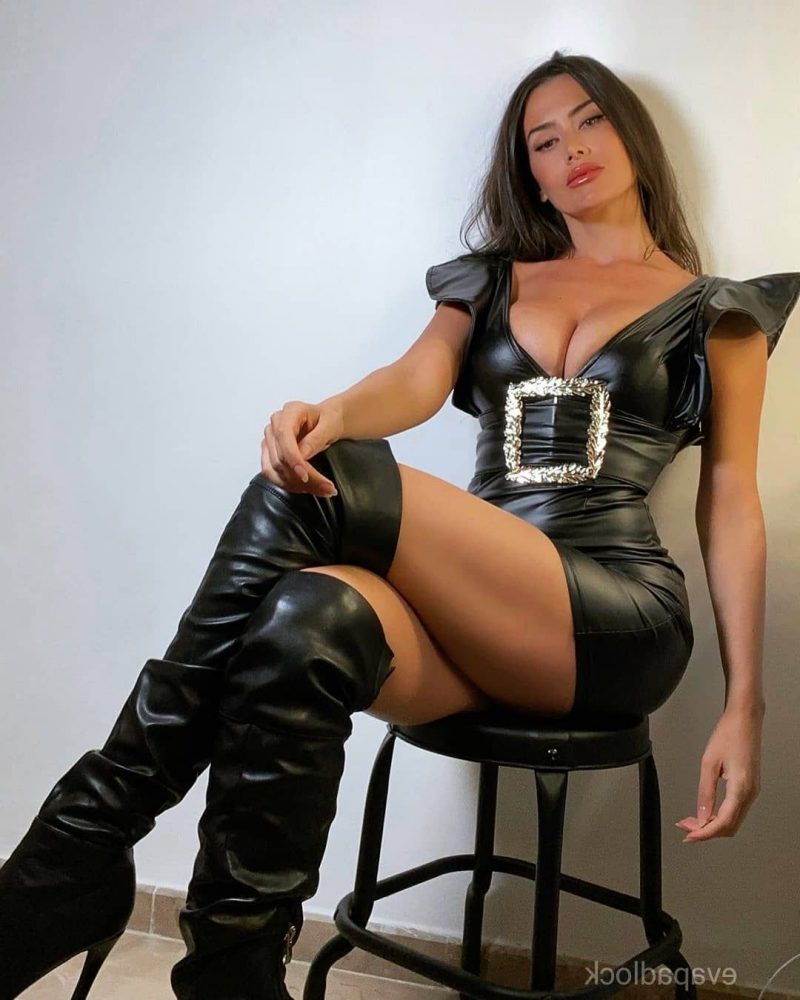 Buy Similar Here
Lace Spaghetti Strap Dress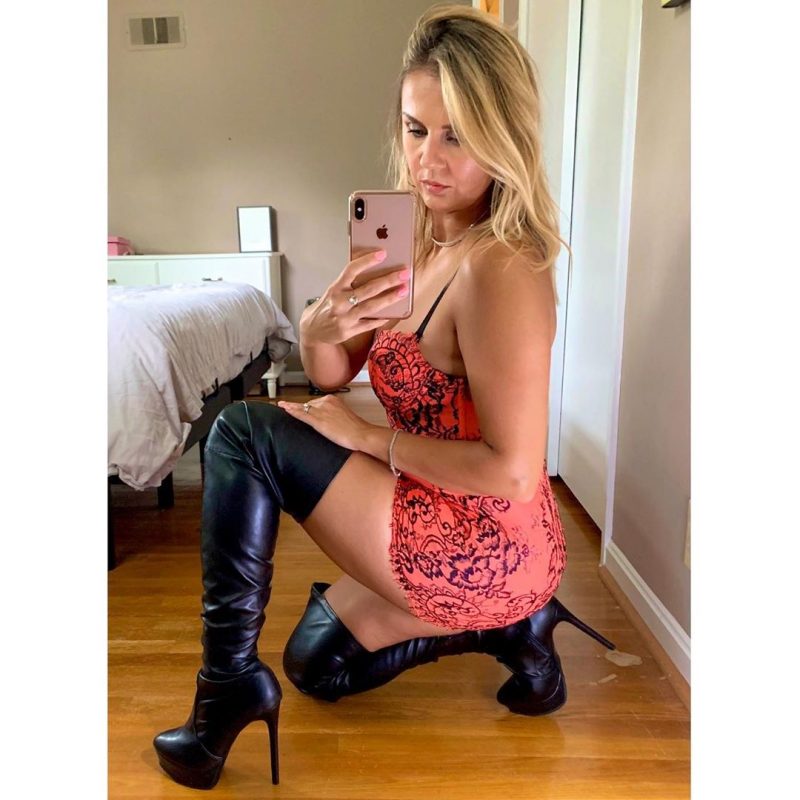 Buy Similar Here
Oversized Shirt In White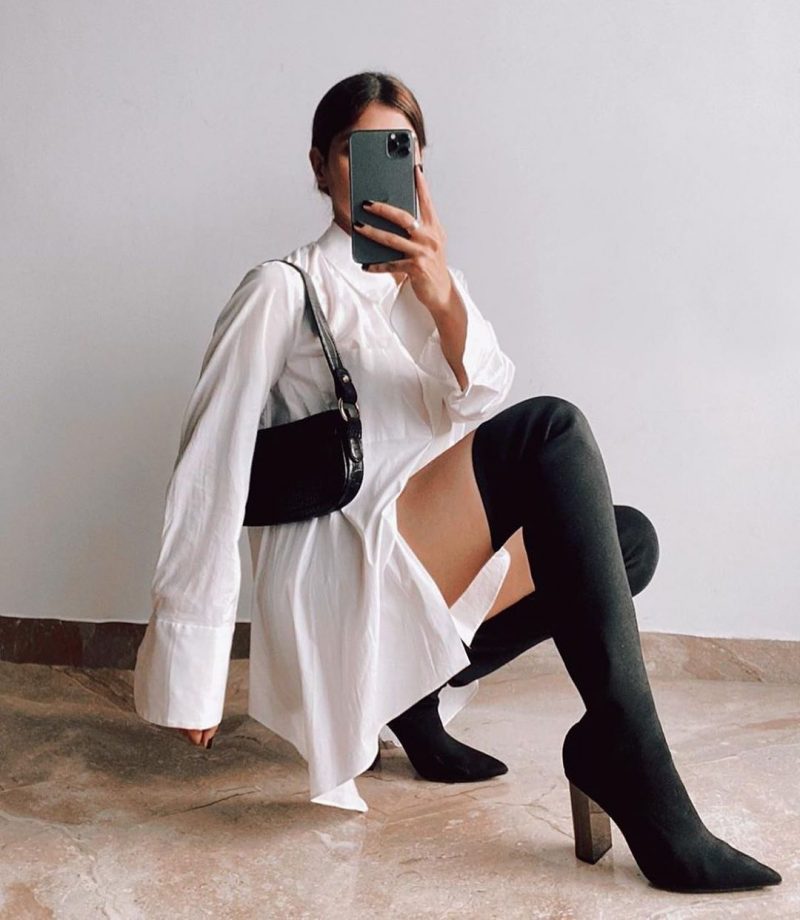 Buy Similar Here
Blue Leather Blazer Dress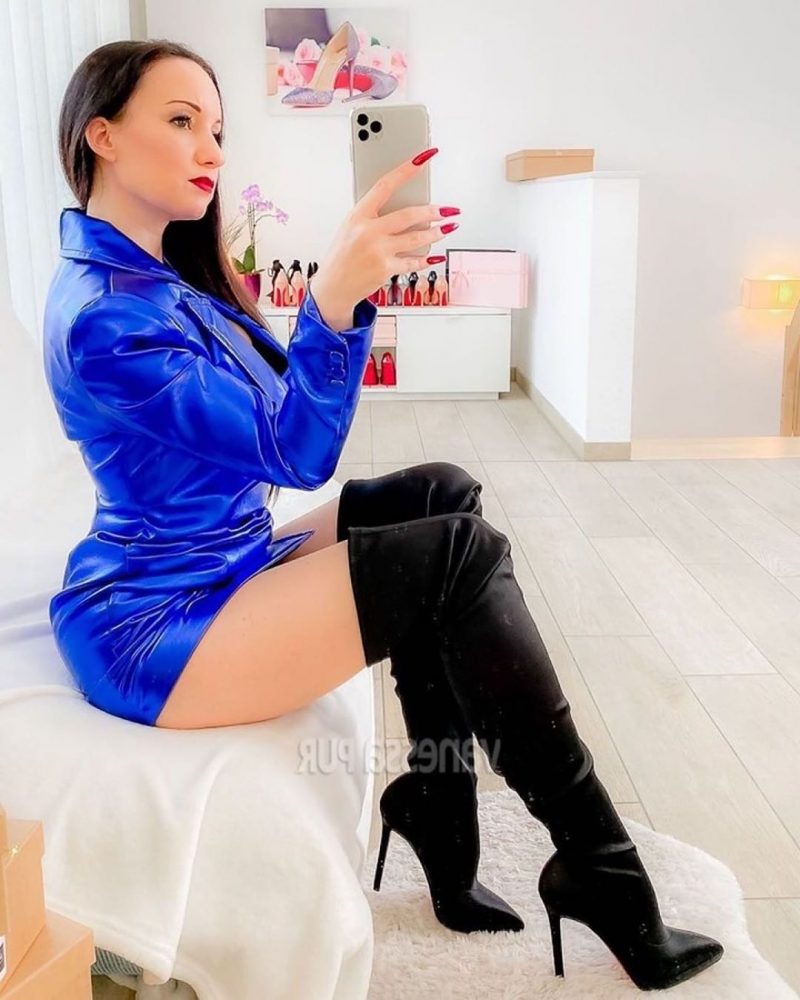 Buy Similar Here
Rock Band Tee With Denim Mini Skirt
Buy Similar Here
Grey Sweater Dress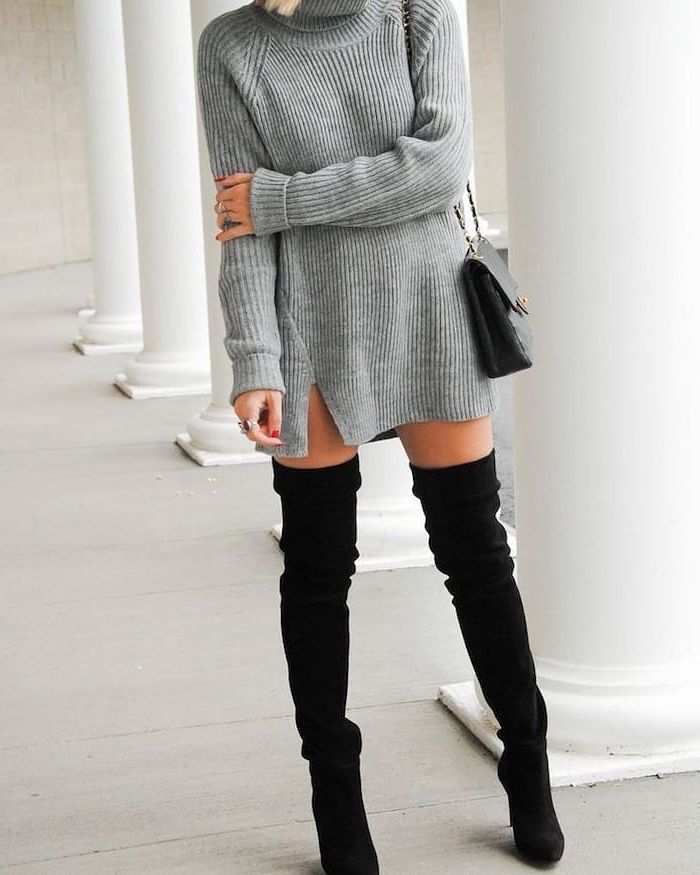 Buy Similar Here
UPDATE
Thigh high boots are still in style just not the way they used to be like a few years ago when they were literally everywhere. Here is how to wear them this year. Today I made up this cool update to make sure you know how to wear thigh-high boots this year.
The Latest Outfit ideas for thigh high boots
Thigh high boots are a very versatile kind of shoes that can be worn with skirts, dresses and trousers. They make your legs look longer and slimmer. They are also great for creating a more sophisticated look during the colder months when you don't want your legs all over the place but still need to look trendy! The same goes for office outfits when you want to look smart but casual enough. We have some ideas for you below.
First let's go more casual by combining a simple pair of skinny jeans with a loose fitting sweater. The fact that the jeans have a high waistband makes them look very edgy and chic. Add a pair of knee high boots to the outfit and you will have a very stylish look!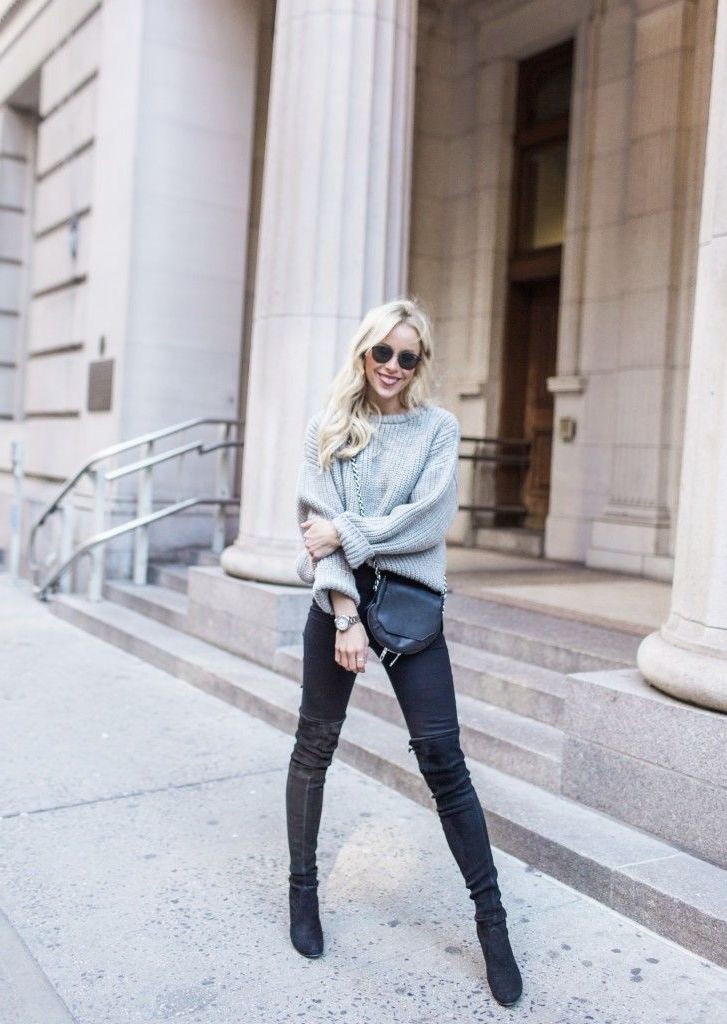 Buy Similar Here
Another casual look with thigh-high boots is by teaming them with a wrap mini skirt and crop top and get some very trendy street wear effect.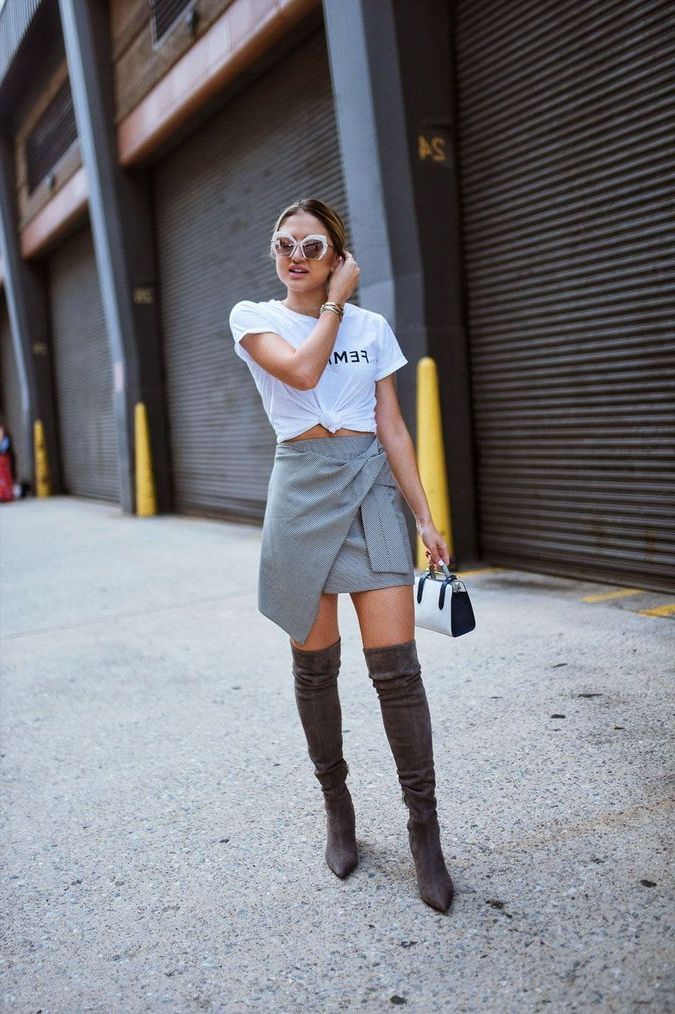 Buy Similar Here
If you want to go for something more dressy, try this emerald-green outfit. By now we know that you are a champion when it comes to street style so just throw on some accessories and a blazer and you will be ready to go! If you want the outfit to be even more stylish, add a belt or some red lipstick…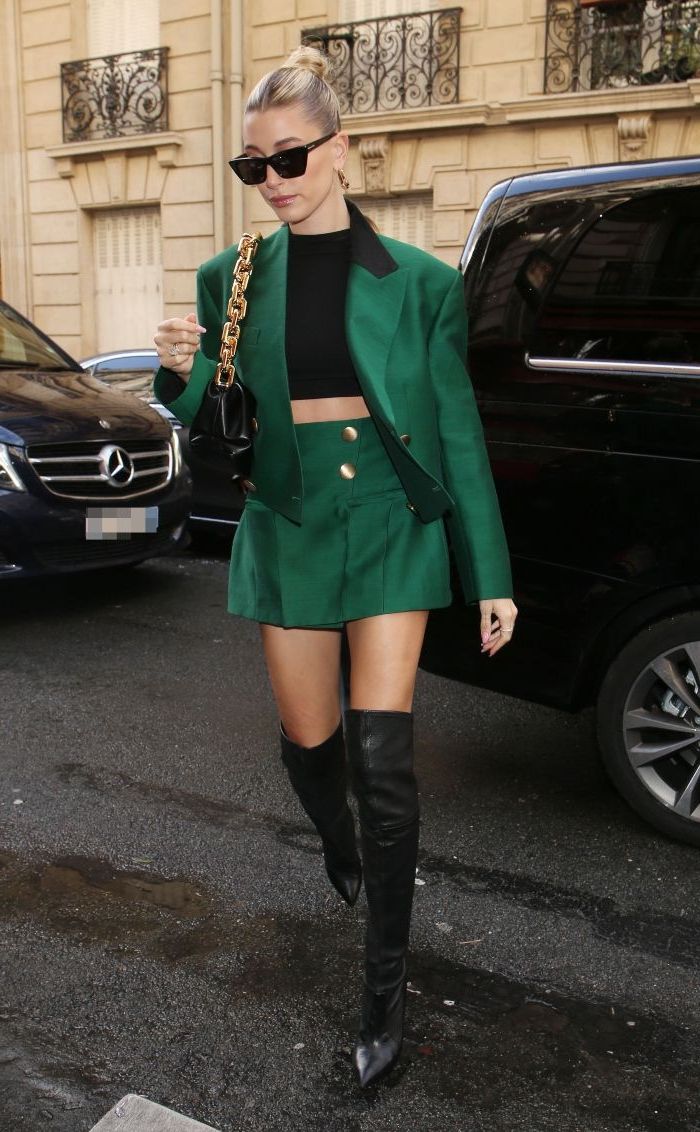 Buy Similar Here
Now let's try the most iconic style of all. We like how these lace ups are very simple yet elegant. Believe it or not, on their own they are good enough to go with almost anything you have in your closet. You can wear them with a variety of outfits – with a pair of jeans, trousers, a skirt and even over the knee boots for the ultimate winter street style!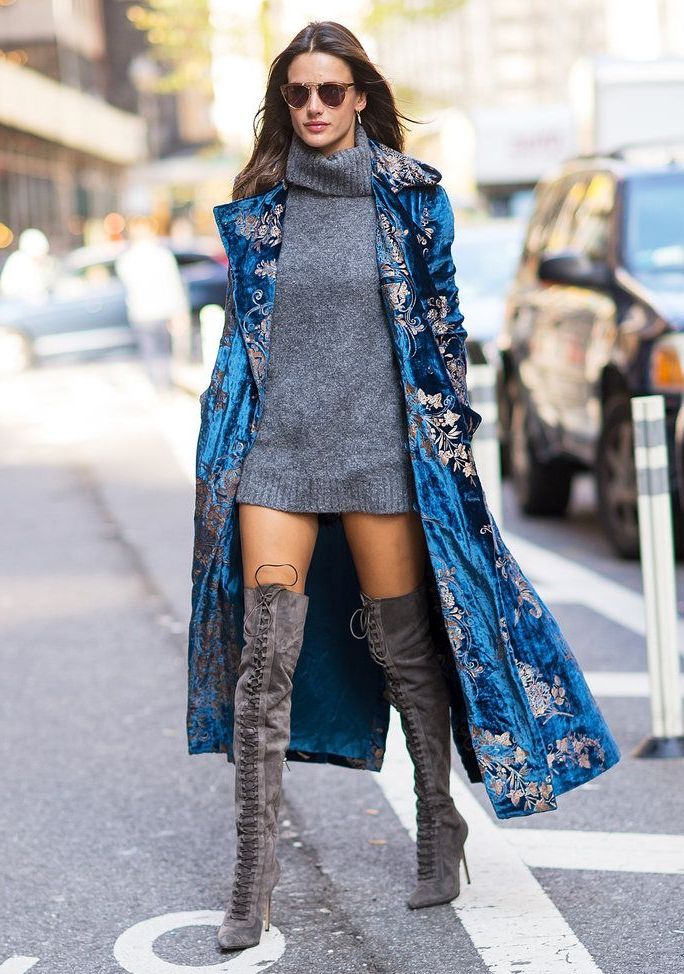 Buy Similar Here
So these are some ideas for you to try but like every year we leave it up to you to experiment. Just make sure that you don't commit any fashion blunders and everything will be good. Good luck!