Today's blog post is dedicated to my favorite cargo pants trend. Yes, this is not a new trend, but every woman loves it! We are here to see what women's tops to wear with cargo pants and how to make these pants look chic and individual.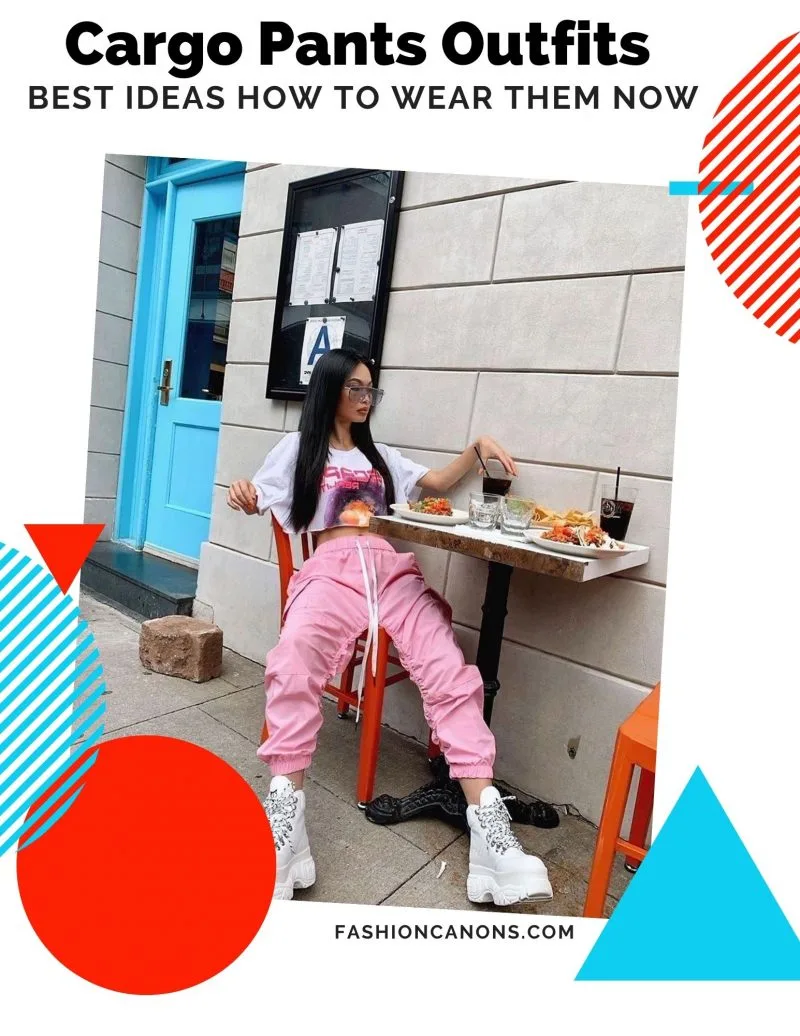 Buy Similar Here
What Can You Wear With Cargo Pants
I am about to show you what to wear with loose cargo pants, as well as classic versions and other trendy designs. Yes, there is something army inspired with these bottoms, but you definitely can style them any way you like, making them look classy and smart-casual. Indeed, you can make these military pants look damn chic with your everyday clothes.
You are about to see my favorite looks that feature cargo trousers teamed with cool tops and jackets. But why so many women are obsessed with these pants right now? what is so special about them? Frankly speaking, it's a kind of paradox, they don't as se3xy as skinny jeans nor trendy as palazzo pants, but they are extremely comfortable and can be a perfect choice for your everyday errand. They look awesome styled with gingham shirts, sweaters, fitted blazers, leather jackets, and other tops. So, what are you waiting for, take a look through these awesome ideas and let me know which one is your favorite.
With A spaghetti Top In White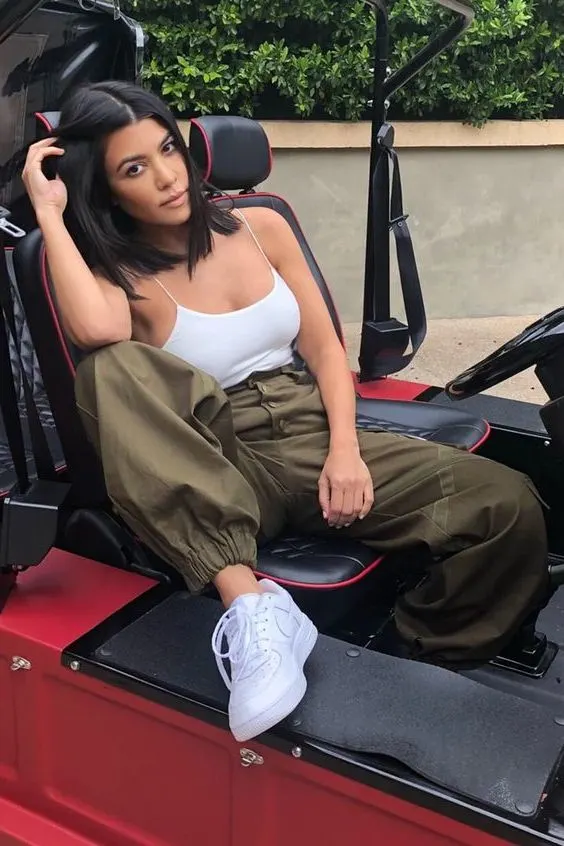 Buy Similar Here
With White Crop Top And Doc Martins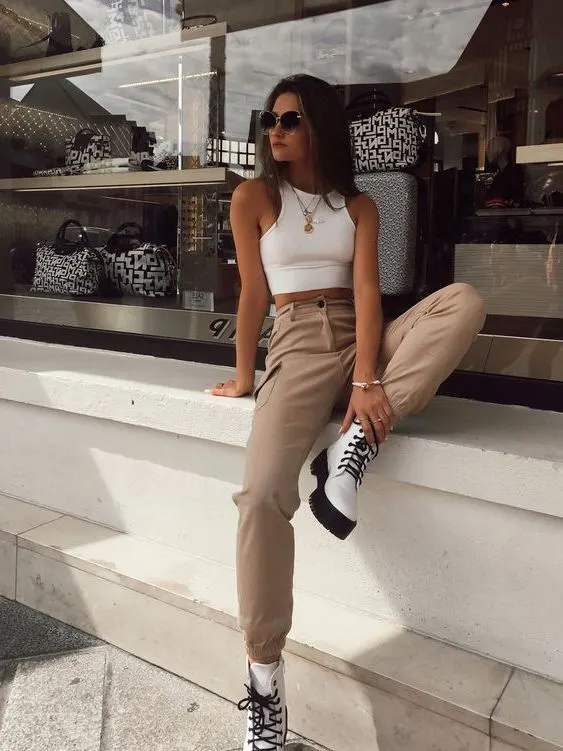 Buy Similar Here
With Peasant Top In White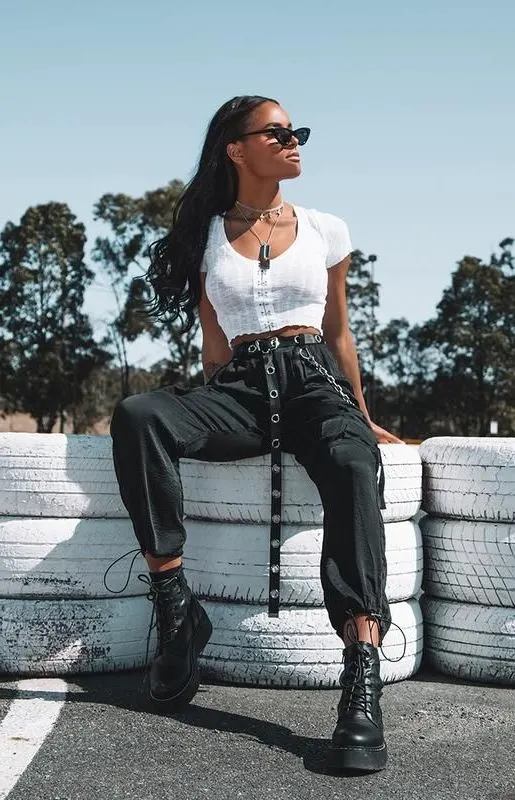 Buy Similar Here
With Beige Denim Jacket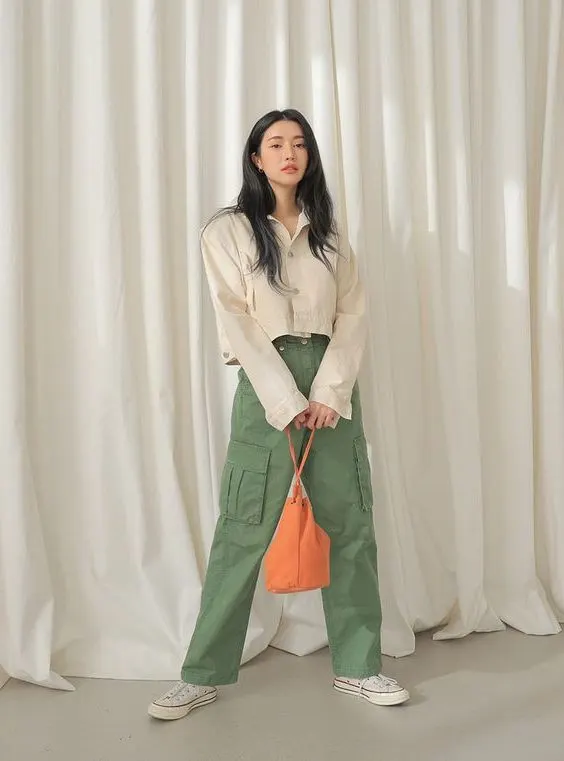 Buy Similar Here
With Silken Blouse In White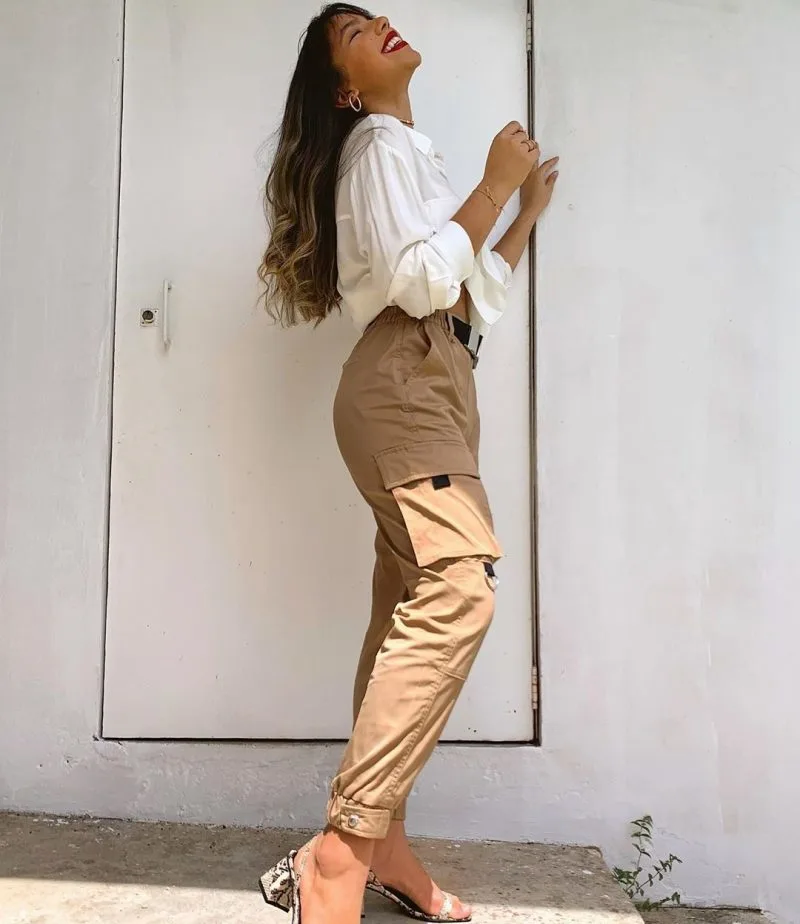 Buy Similar Here
With Crop T-shirt In White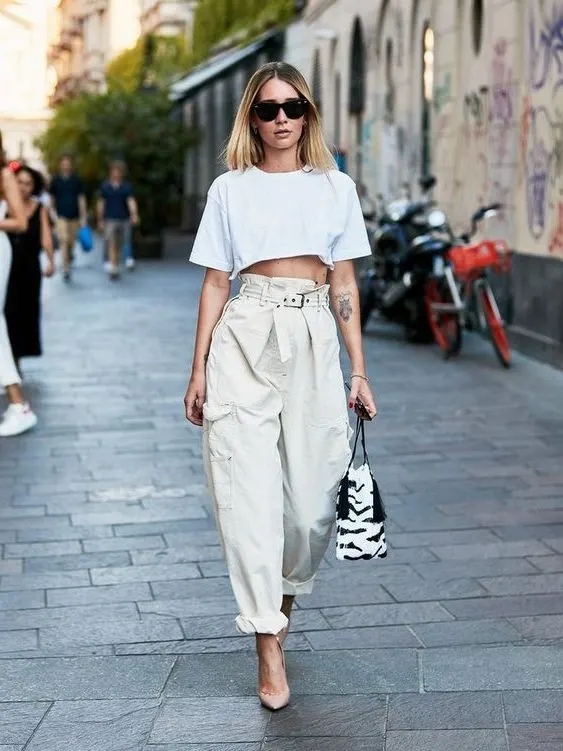 Buy Similar Here
With Sleeveless Turtleneck Bodysuit In White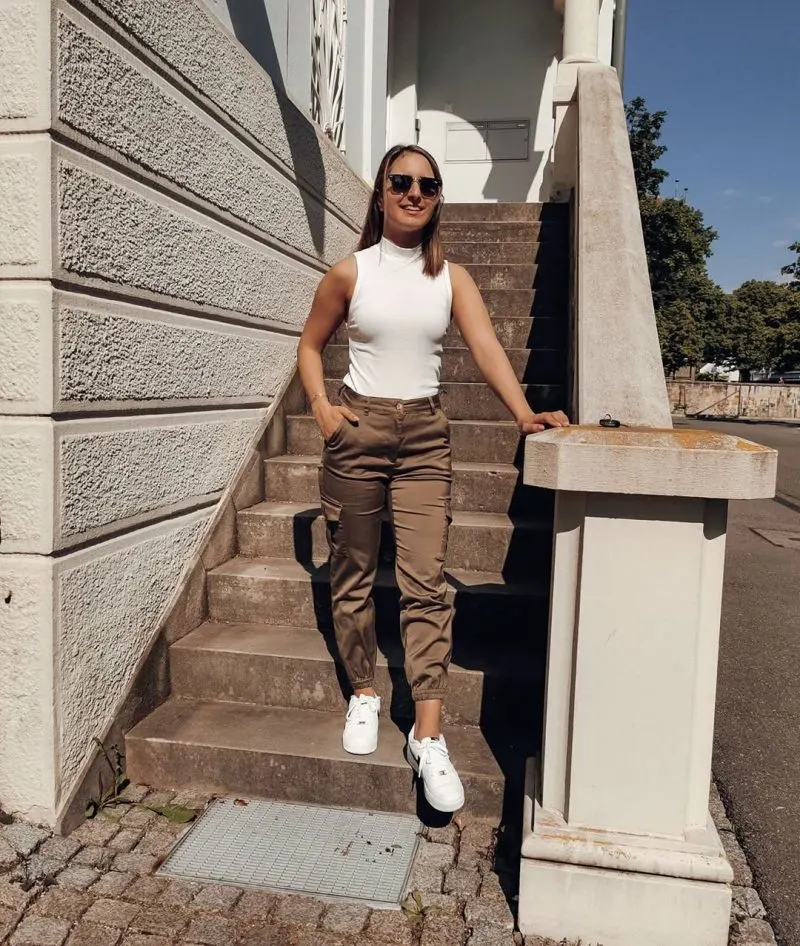 Buy Similar Here
With Ribbed Knit Off-Shoulder Long Sleeve Top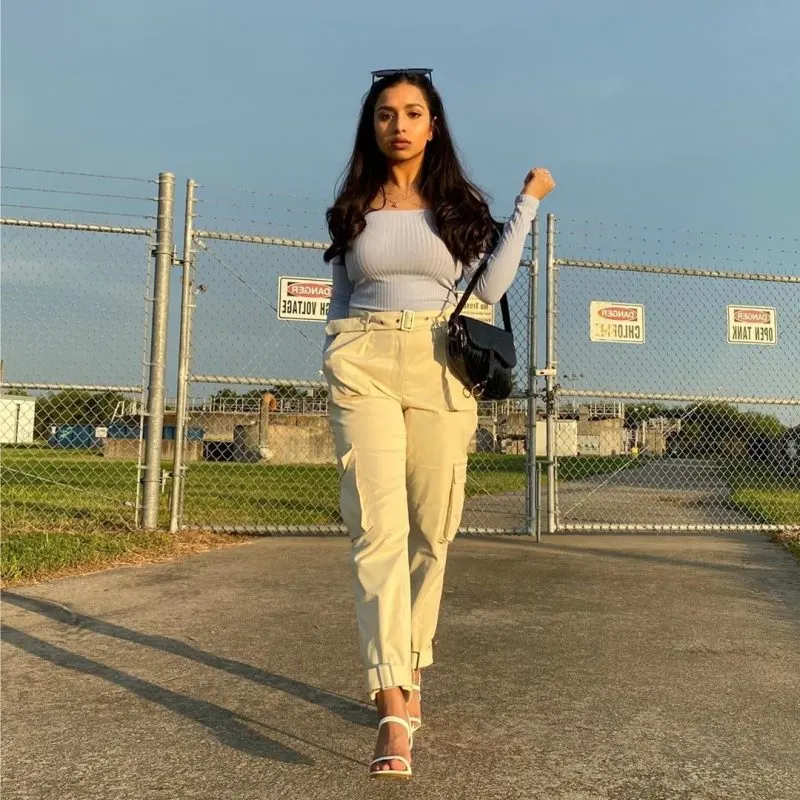 Buy Similar Here
With Red Sweater
Buy Similar Here
With Striped Tank Top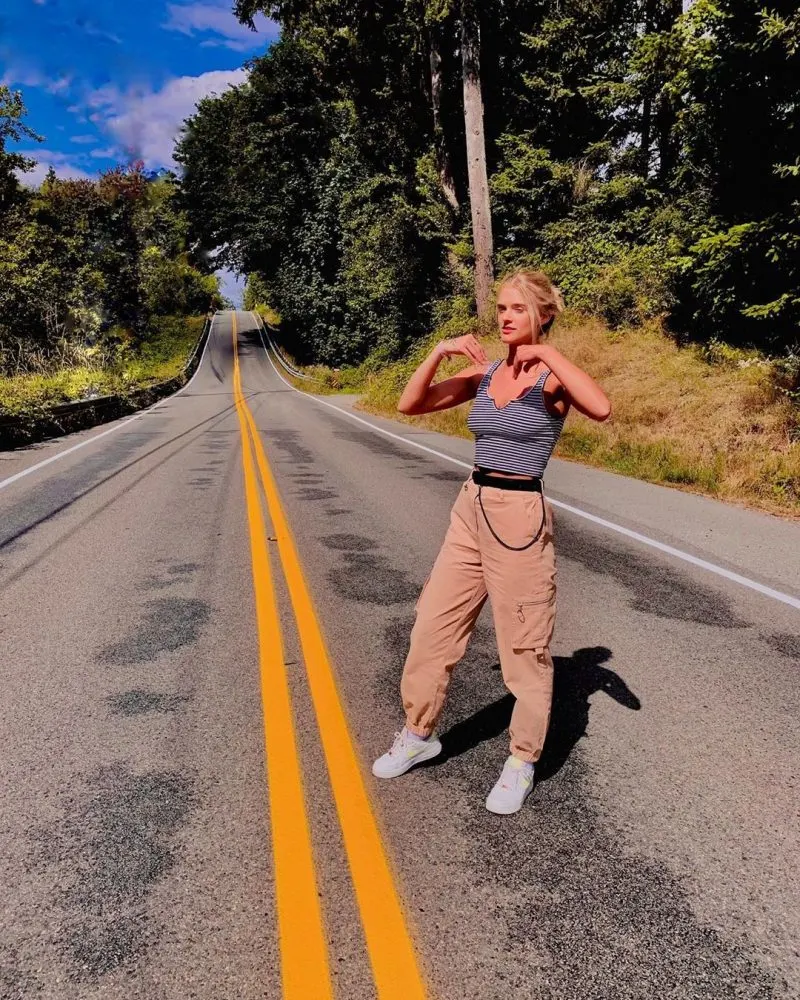 Buy Similar Here
With Off-Shoulder Top In Black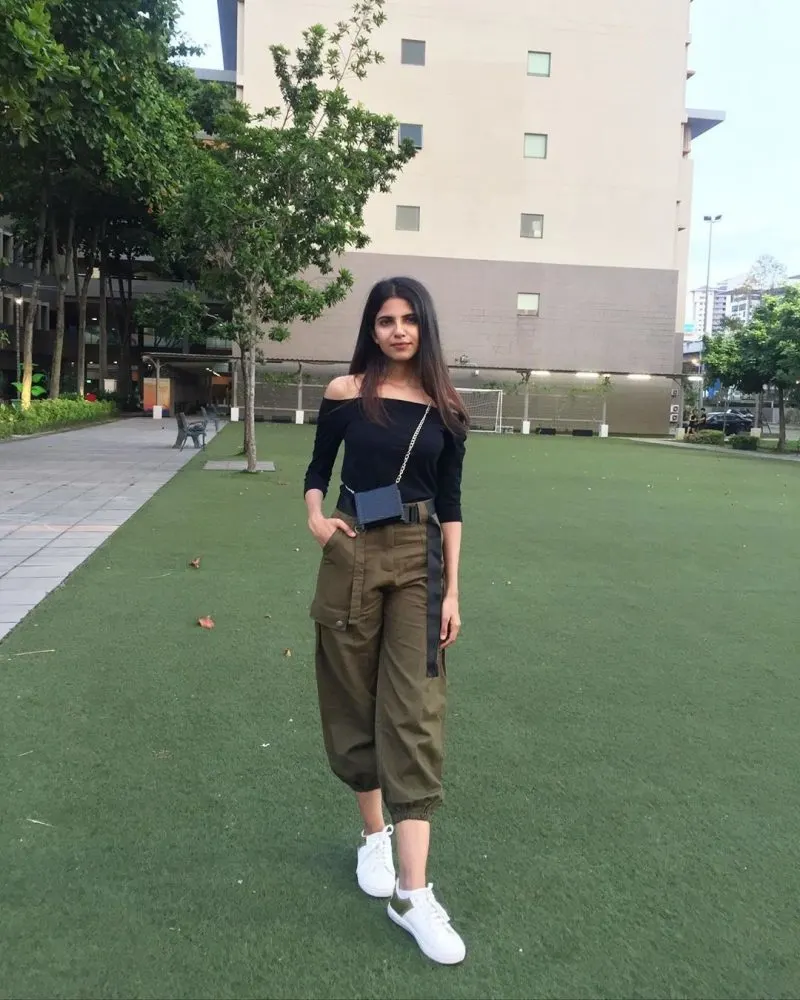 Buy Similar Here
With Black Cropped Blouse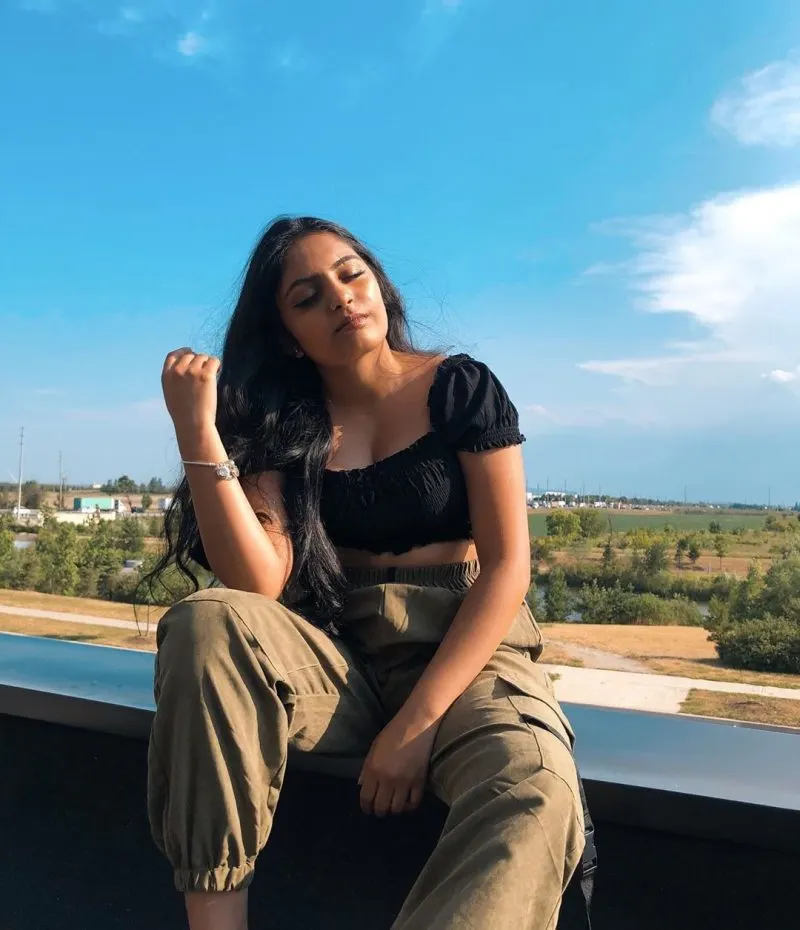 Buy Similar Here
With White Crop Top And White Sneakers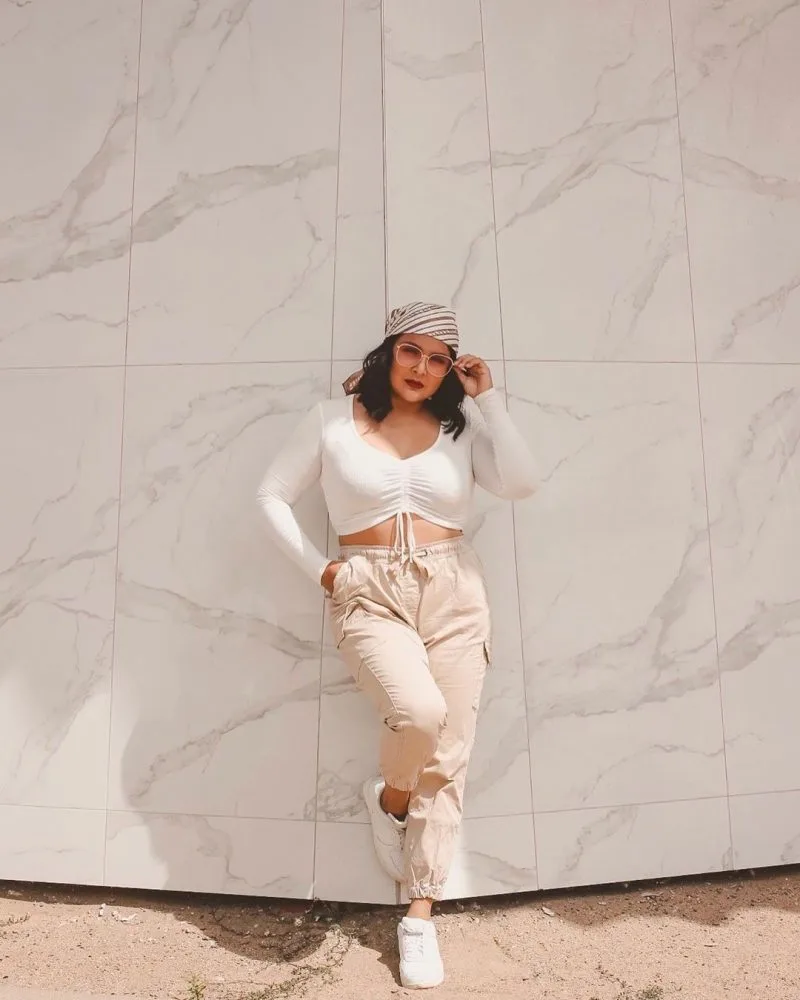 Buy Similar Here
With White High Neck Crop Top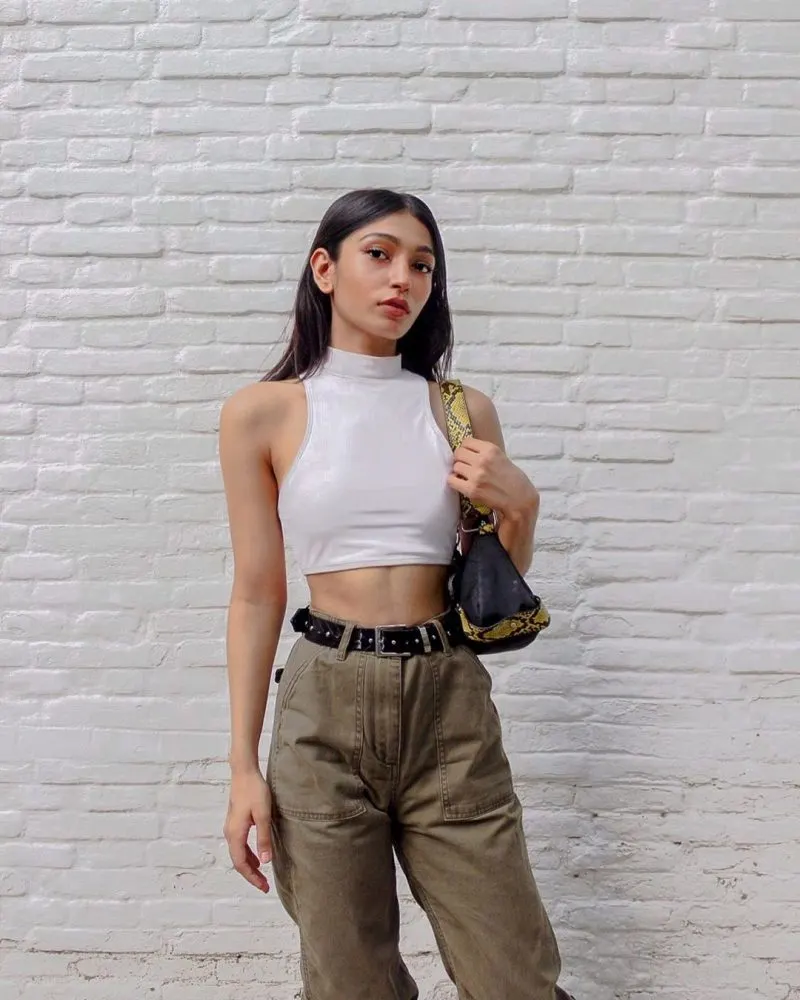 Buy Similar Here
With Blue Denim Jacket And White Bandeau Top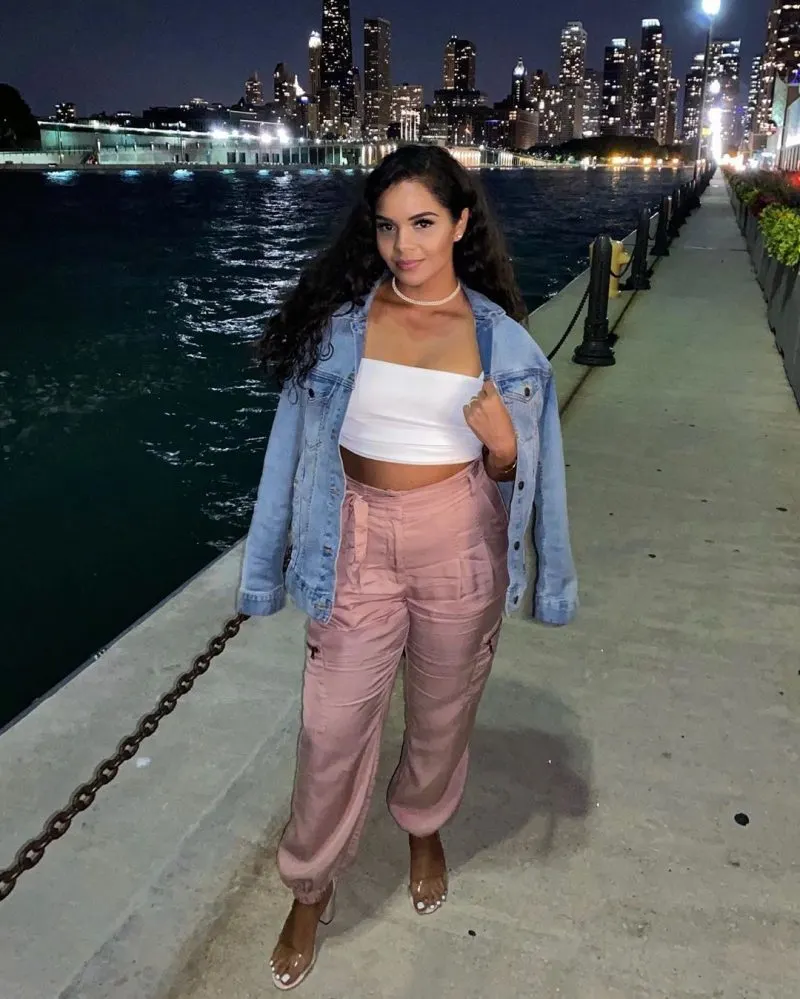 Buy Similar Here
With One Shoulder Black Bodysuit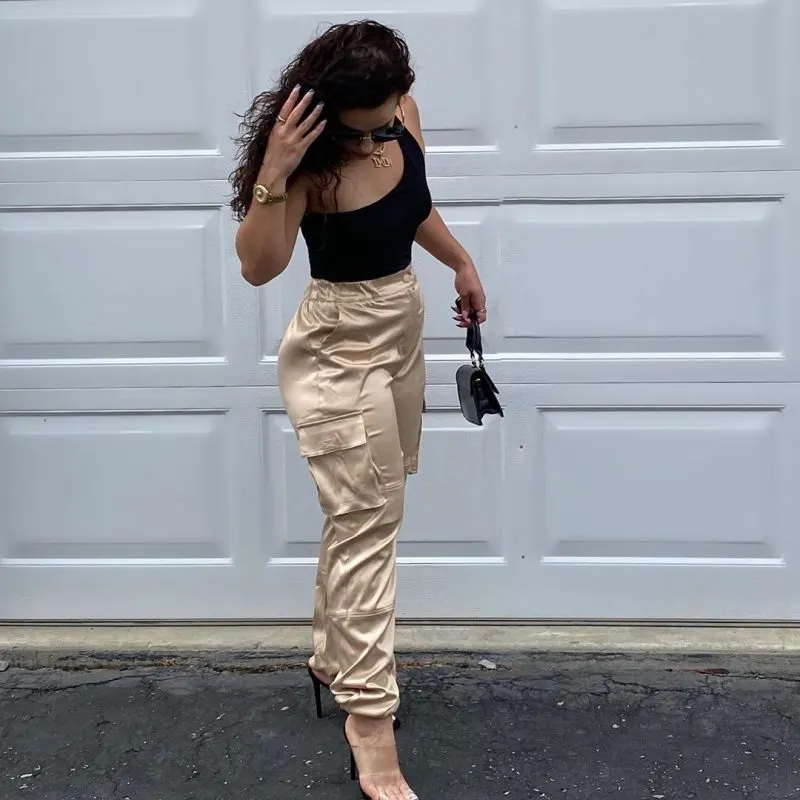 Buy Similar Here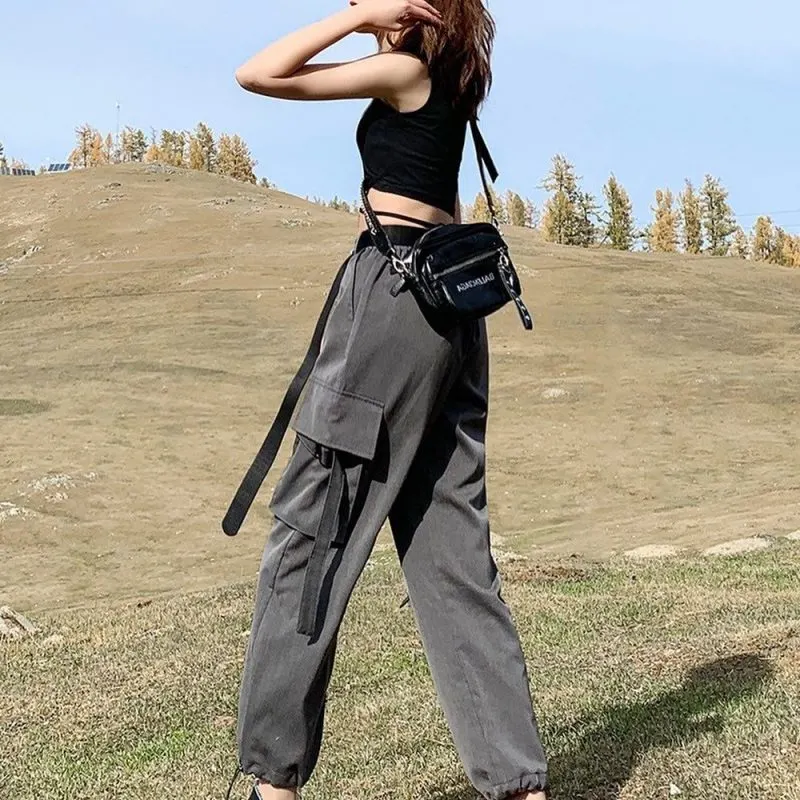 Buy Similar Here
With Printed White Crop Tee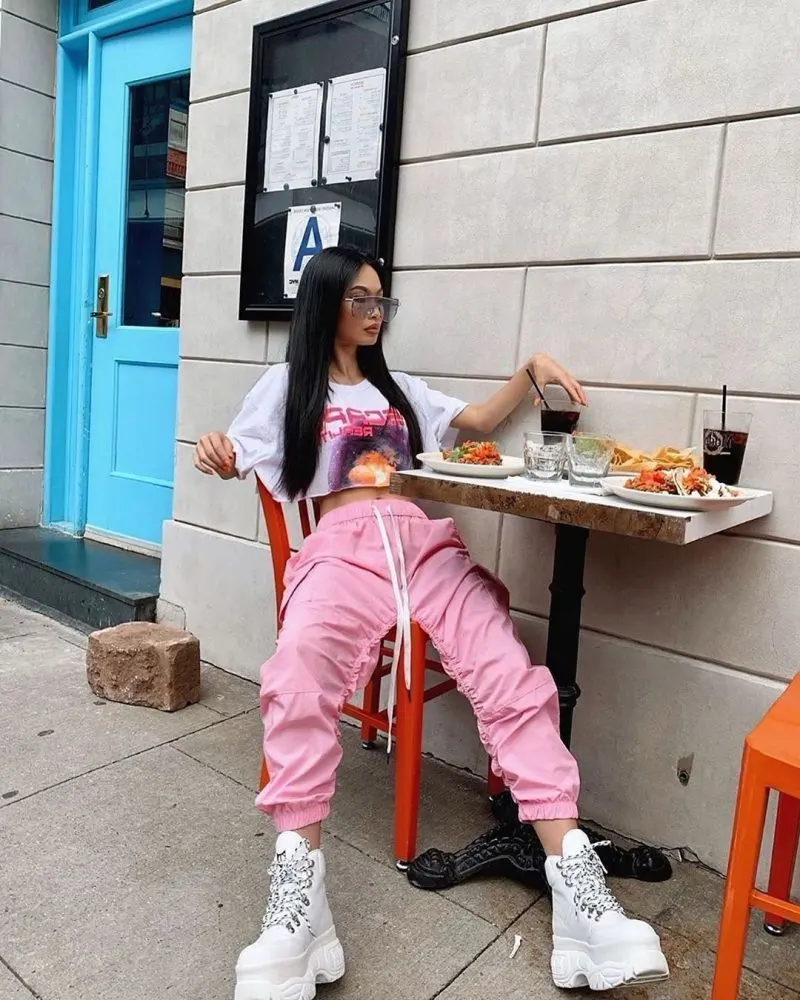 Buy Similar Here
UPDATE
Cargo pants are hip, trendy, and can be worn in many different ways. This article will cover the best ways to wear cargo pants according to a woman's body shape.
Here are some ideas about your body type and which cargo pants you should try on:
Women with an hourglass figure (pear shaped) should wear their cargo pants high on the waist and with a cropped top that covers the hips. This will draw attention to her feminine curves while covering up any unflattering areas of her waistline.
A women with a long shape looks great in cargo pants that fit on the hips and not so much around the waist. They look best when paired with a crop top.
If you have an hourglass figure, we recommend wearing ankle length cargo pants so that your waist is elongated.
Women with the hourglass figure will look very chic in these pants. No need to pair them with a crop top because they are quite boxy and cut off at the bottom, which makes them more flattering for this body type.
My Favorite Outfit Ideas With Cargo Pants
Before you have to choose the right pair of pants for yourself, you need to be prepared for what tops to wear! For example, if you are going for a long journey, don't forget your leather jacket and sneakers. This is because they are more convenient and comfy. Also try not to mix too many patterns. And please remember that you don't always have to wear your cargo pants with long tops.
1) Cargo Pants With A Blazer
Blazer looks chic and smart on any pair of pants and even on trousers. This is because it covers a significant part of the body. It makes your hip and waist look thinner. Plus, it has a chic silhouette that flatters any athletic figure.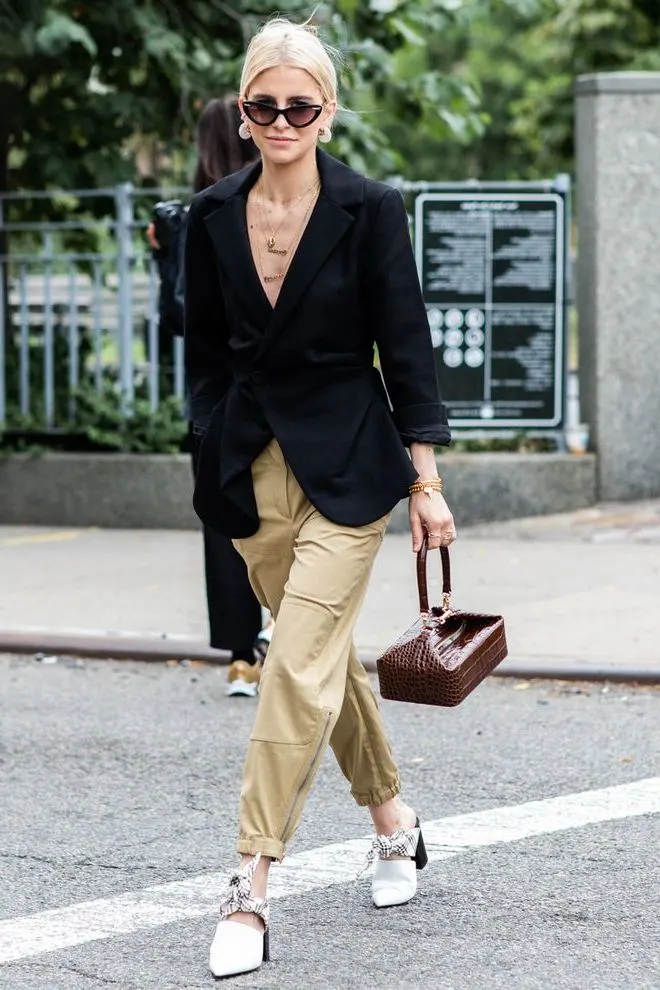 Buy Similar Here
2) Cargo Pants With A T-Shirt
You can also pair your plain t-shirt with cargo pants. It's very easy to wear and convenient! Although it's "basic", there are still a lot of fashionable details that you can add. One of the most popular options is a red lip and a fierce brow! In addition, you can choose between sneakers or pumps. Both will make your look cool and contemporary.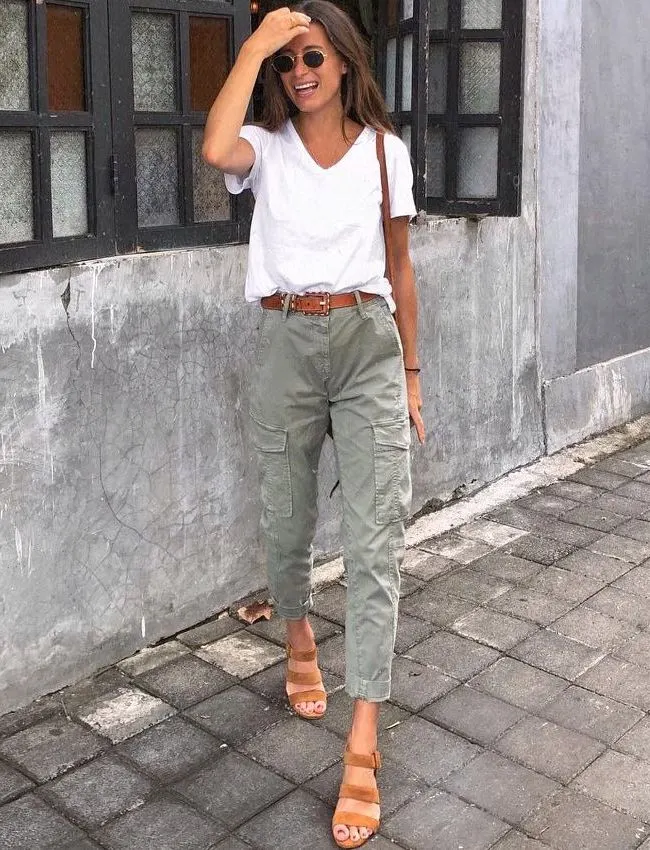 Buy Similar Here
3) With A Plaid Shirt
This long-sleeved shirt has become one of the most popular items for adolescents. And it looks great with cargo pants. In fact, they look so cool together that it's hard to choose which one to wear together! But try to avoid wearing sneakers and heavy jewellery. Opt for a simple earring or a bracelet!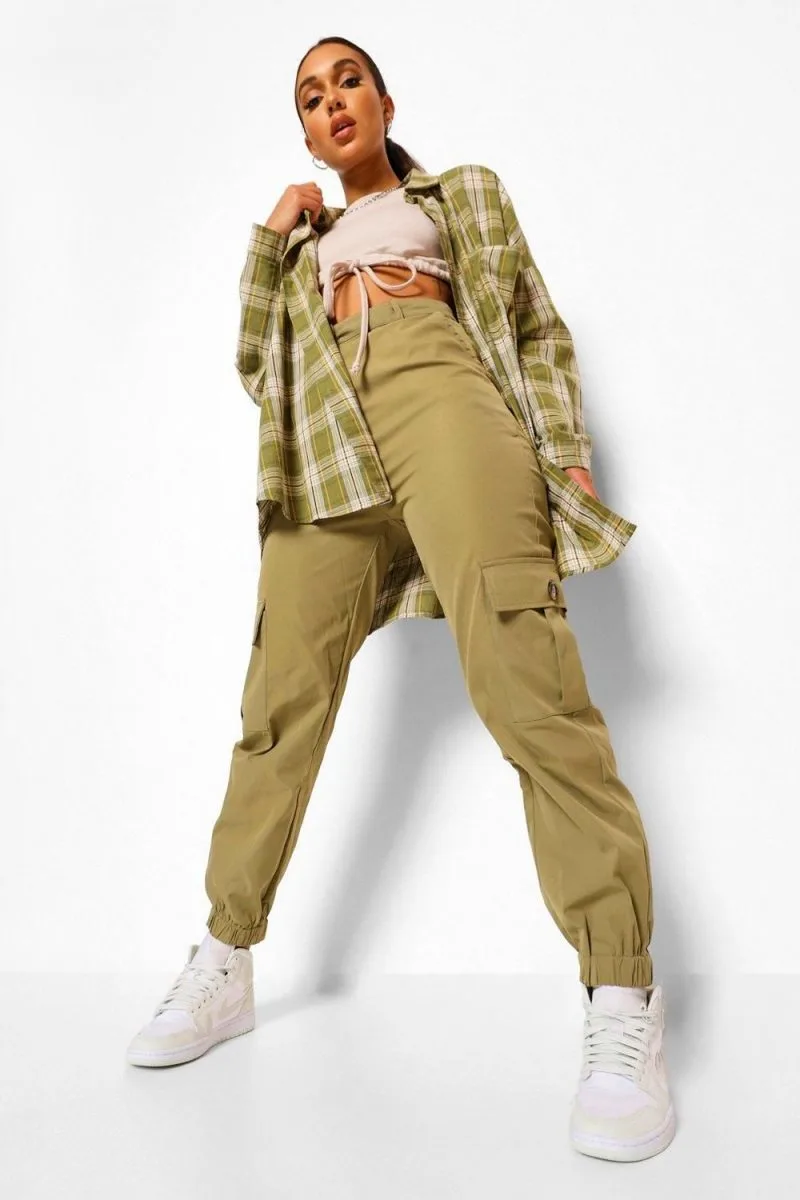 Buy Similar Here
4) Cargo Pants With A Sheer Top
This outfit combination is probably the most daring choice because it is very feminine and sexy. But it definitely can be a great idea for the night out with your friends. You can go for high heels. But you should wear the jacket over the transparent crop top. Otherwise, it will look like a "burka"!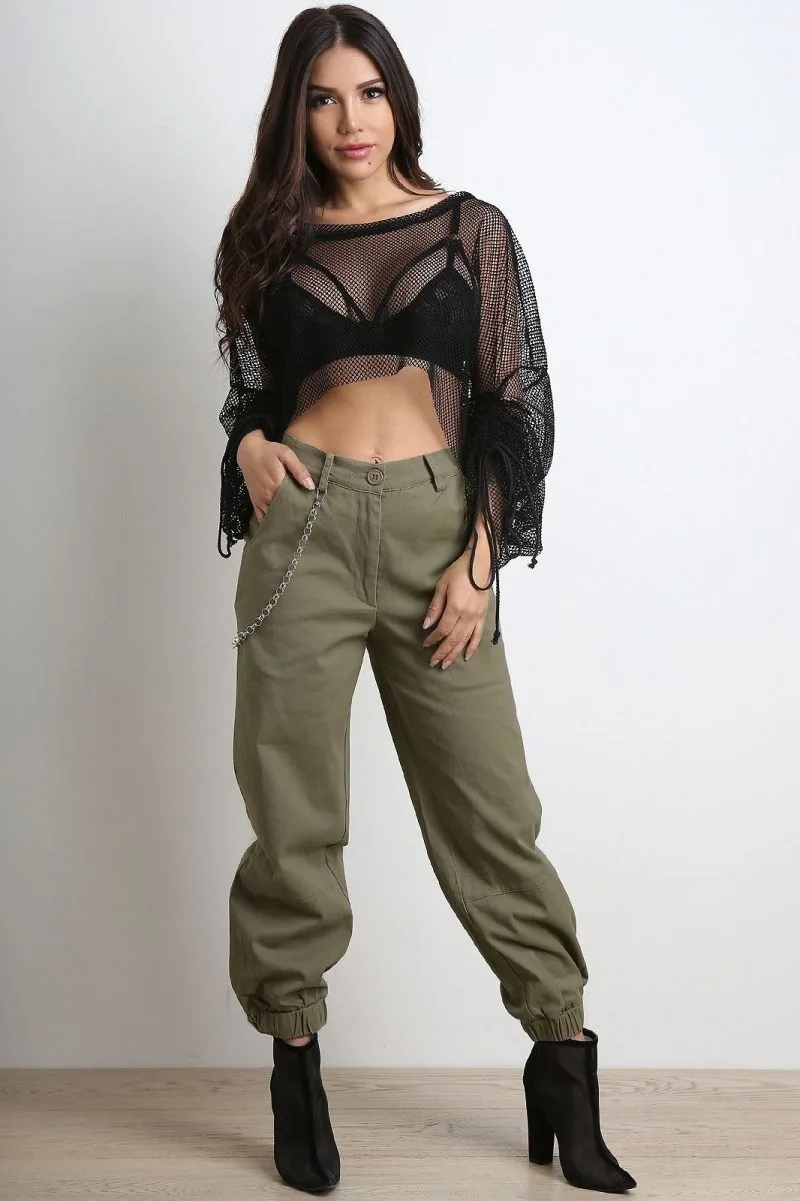 Buy Similar Here
5) Cargo Pants With A Hoodie
The hoodie is another popular choice. It looks good with the cargo pants and sneakers because it covers your chest and gives your legs shape. This is a perfect outfit to wear in the city. If you go for a more casual look, you can wear the same outfit with cap or a hat!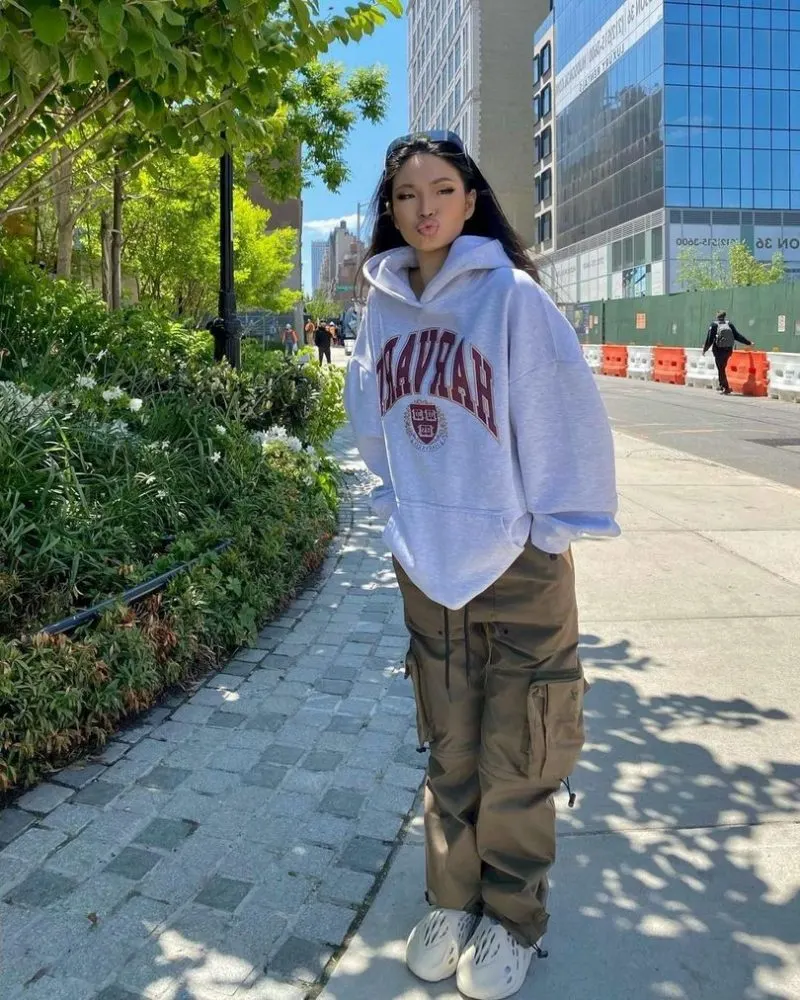 Buy Similar Here
6) Cargo Pants With A Button-Up Shirt
Instead of using an old shirt, it's better to buy a new one and make it fit for you. You don't have to worry about buttons or v-neck! Just make sure that the collar is as large as possible; otherwise, it will ruin the look of your outfit.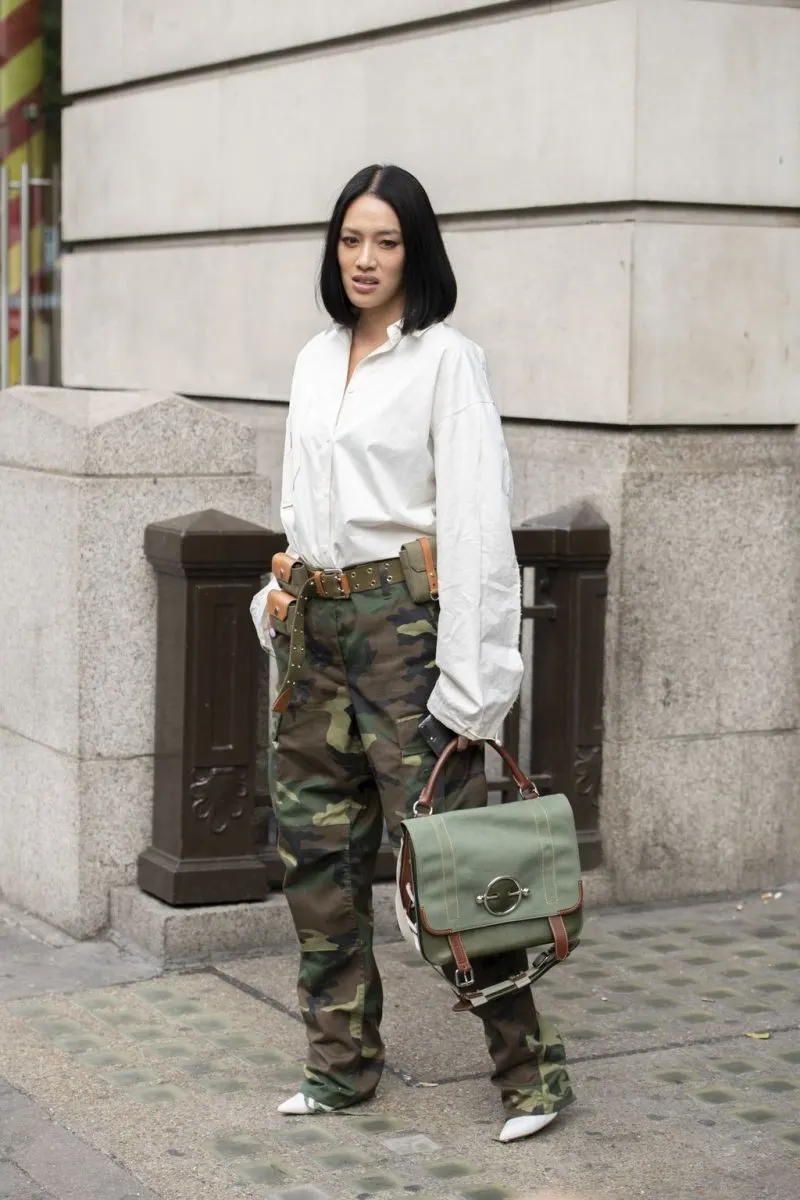 Buy Similar Here
7) Cargo Pants With A Sweater
This outfit looks great both in winter and summer. In fact, you can combine your leather jacket with this look whenever it gets cold outside! And if you go for a more girly version, just skip the jacket and add a bag or a hat instead.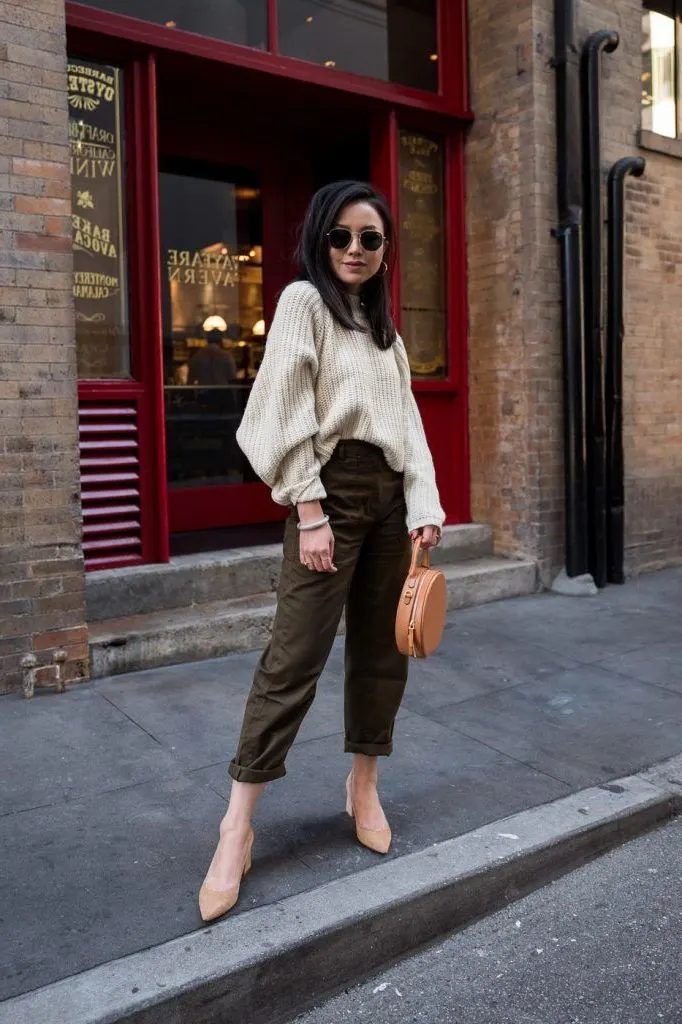 Buy Similar Here