Today I want to show you some of my favorite ideas on what shoes you can wear with flared pants. Yes, flared pants are everywhere this year and you better know how to wear them the right way. I think it's cool to see various pants that are so in trend right now. Stay tuned to find out more.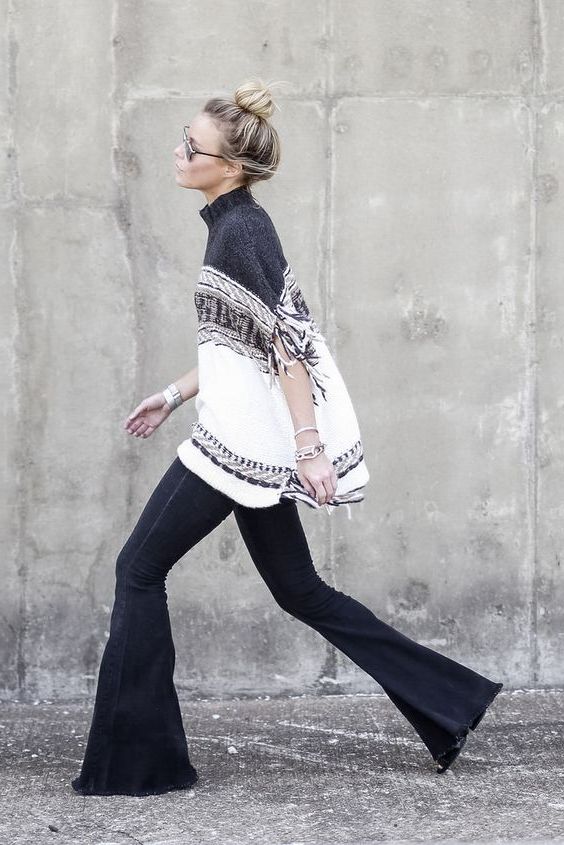 We see black maxi flared jeans styled with black heels and a long two-colored sweater. Update this vintage style by adding fancy sunglasses.
Why we are so into these flares? First of all, they are absolute winners and should be worn by all hippies and open-minded ladies. Personally, I like them for their appearance that smells like 1970's fashion. Another thing is the comfortability that makes them practical than skinny jeans.
Flares look good with almost any shoes, why? They can easily hide your footwear, so you can experiment in any way you like. No matter if you are wearing flare jeans, flared leggings, dress pants, or any other fabric trousers. As you can see from the images below, the lares can go well with boots, sneakers, heels, and even flip-flops.
One thing is known for sure, they should be balanced up with the rest of your outfit. The right balance is an important part of the game. I have some nice ideas on what shoes and what tops and jackets you can wear with these flares. You can still experiment with your look by pairing flares with high-heels, platforms, and wedges.
Keep it relaxed and casual, as you can always go for a classic light color shirt and team it with a bandeau top tucked in velvet flared pants in mustard-brown color. Complete the look by adding white trainers: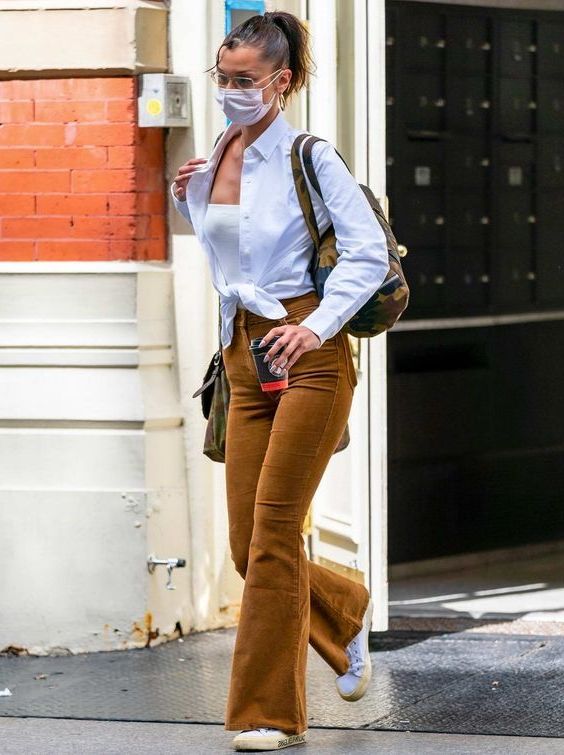 A kind of 1970 style, we see a seventies-style corduroy jacket in brown teamed with a printed blouse tucked in cream-beige flared pants completed with color-blocking heeled sandals: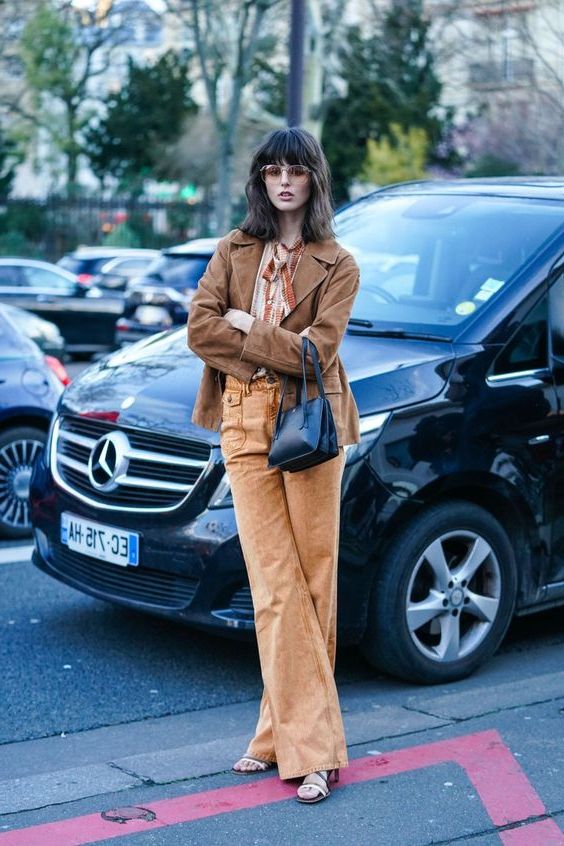 If you feel like keeping things classy and elegant, then go for this pinstripe grey suit jacket with black fur lapels layered over a relaxed V-neck sweater in grey paired with extremely trendy black flared pants completed with black boots: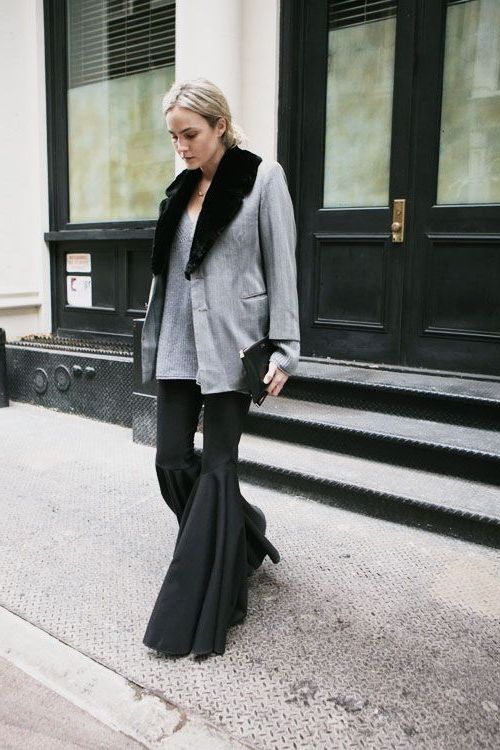 Star printed navy flared trousers look amazing with black Dr. Martens and a black leather biker jacket: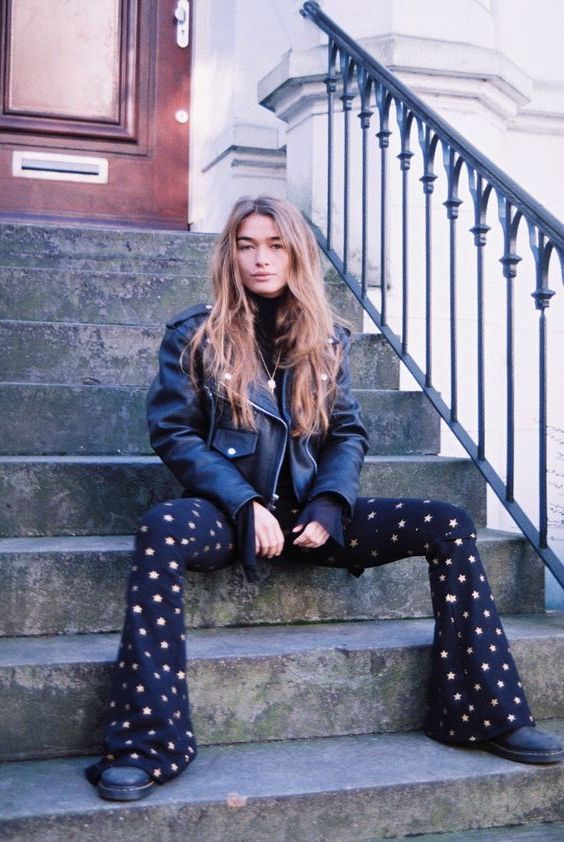 We see a striped jumper worn with black flared pants updated with lace-up black suede boots, complete this look by adding a floral print clutch bag with a chain strap: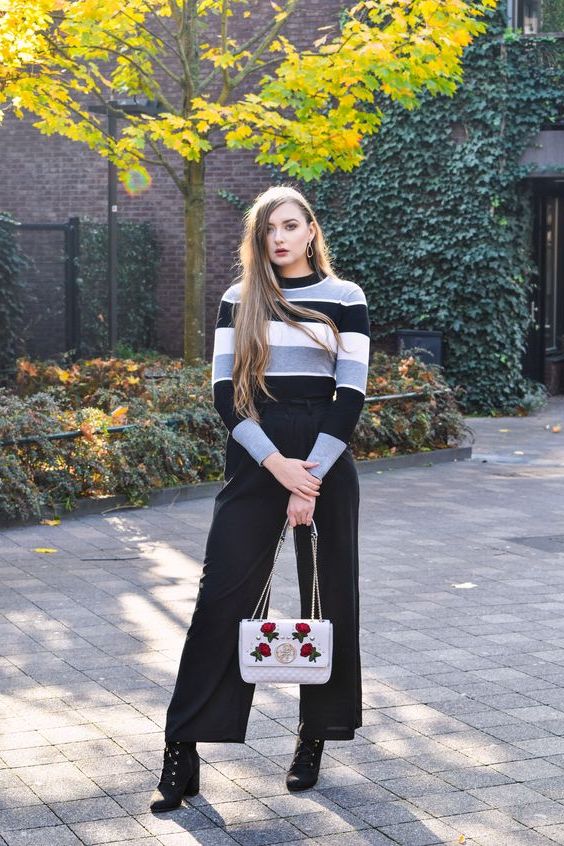 Keep it cool and urban during summer months, go for a sleeveless black top and pair it with ripped flared jeans and cool black heels: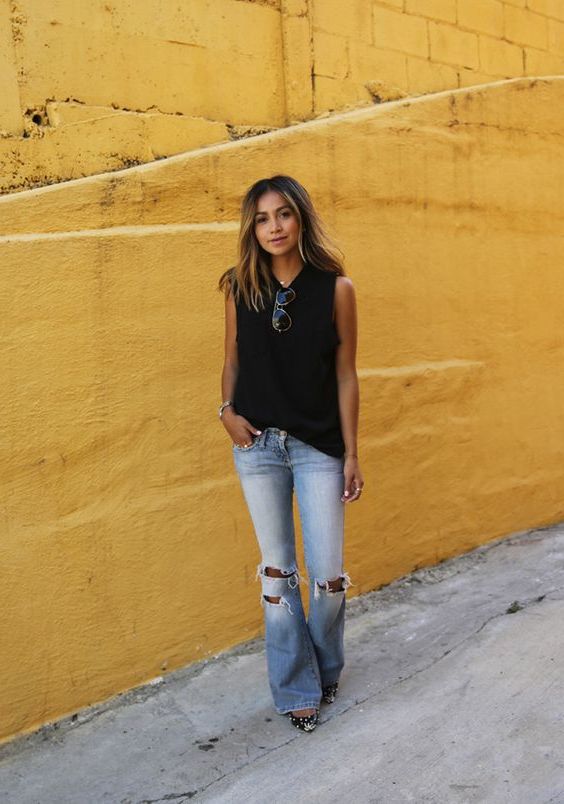 Black pants in flared design look cool with a black top, black leather jacket and a charcoal fedora hat, complete this combo by adding white sneakers: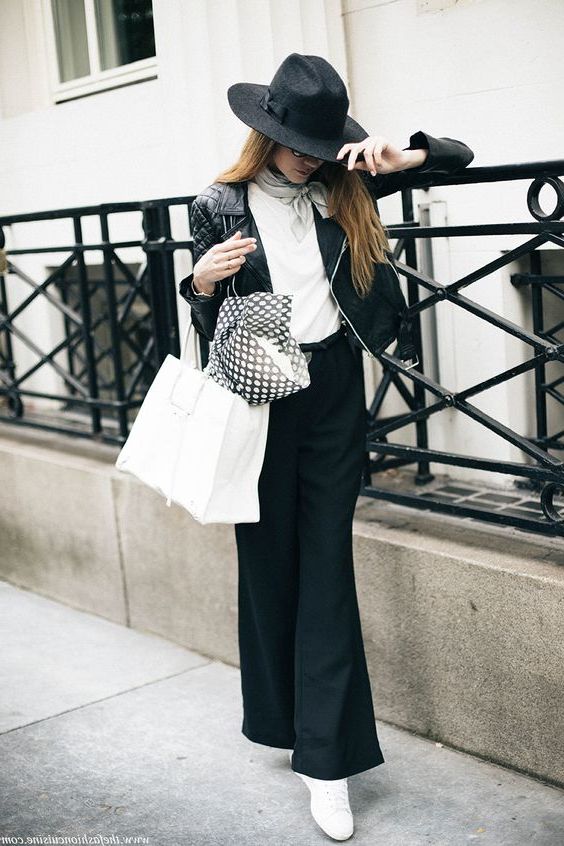 A total black look is a must-try! Go for a relaxed black sweater and pair it with black flared pants completed with pointed-toe black boots: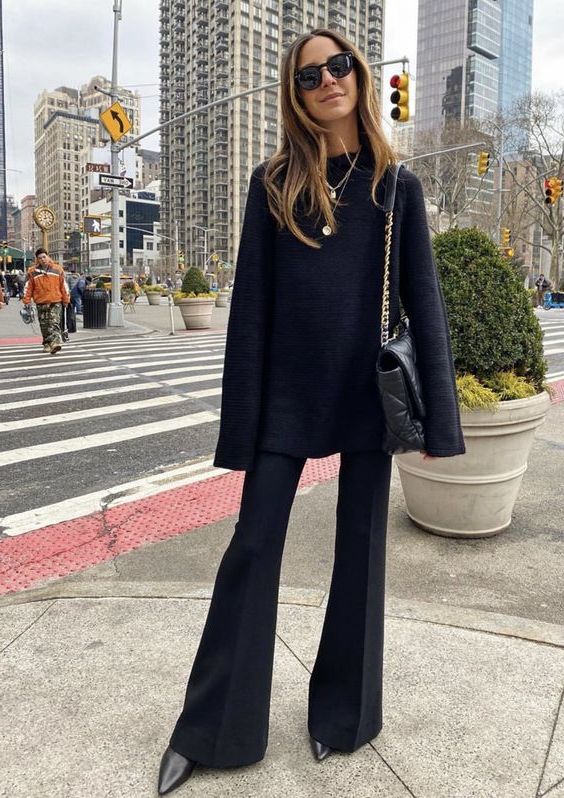 A loose-fit grey sweater is half-tucked in flared pants in black color updated with brown boots, an ideal combo for street walks around town:
A total black ootd, we see a relaxed black blazer paired with flared pants and snake print heeled pumps: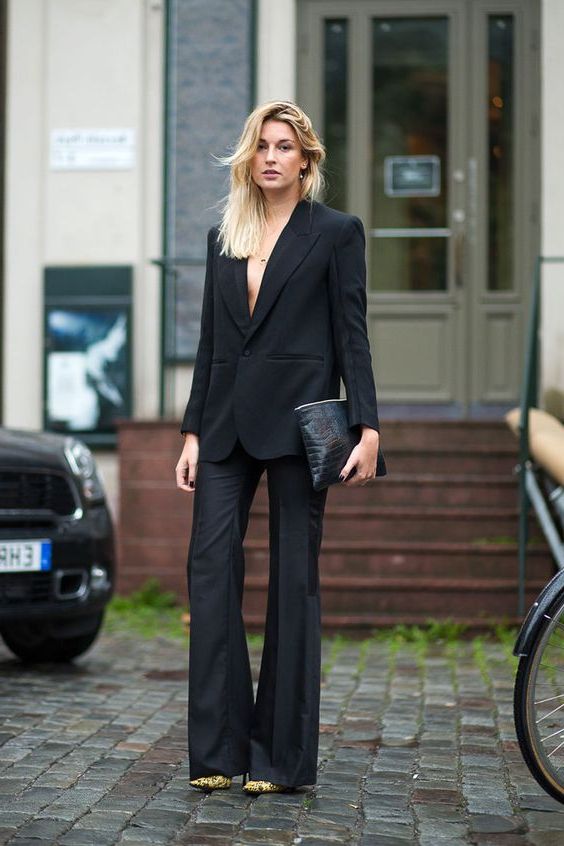 A short leather biker jacket looks cool enough to team with beige flared pants and black boots: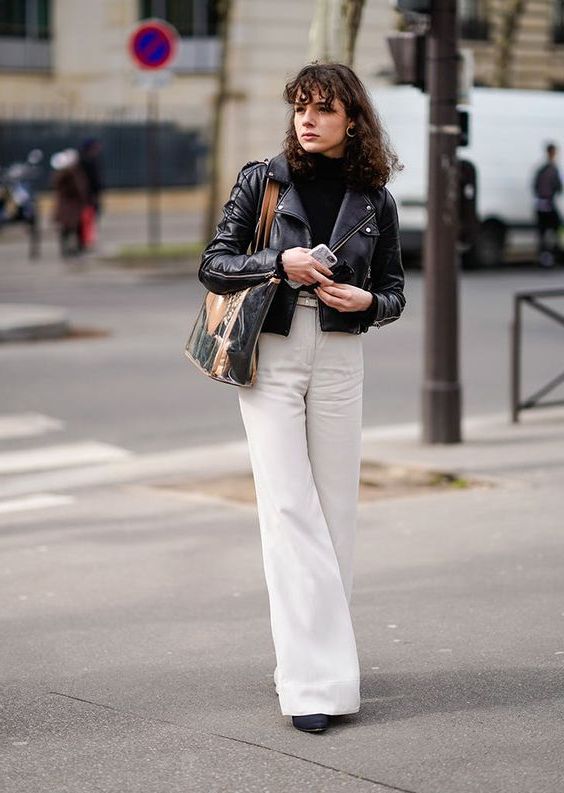 Keep things sassy and rock chic! Go for a black biker jacket, black roll neck, black short flared pants and black leather boots: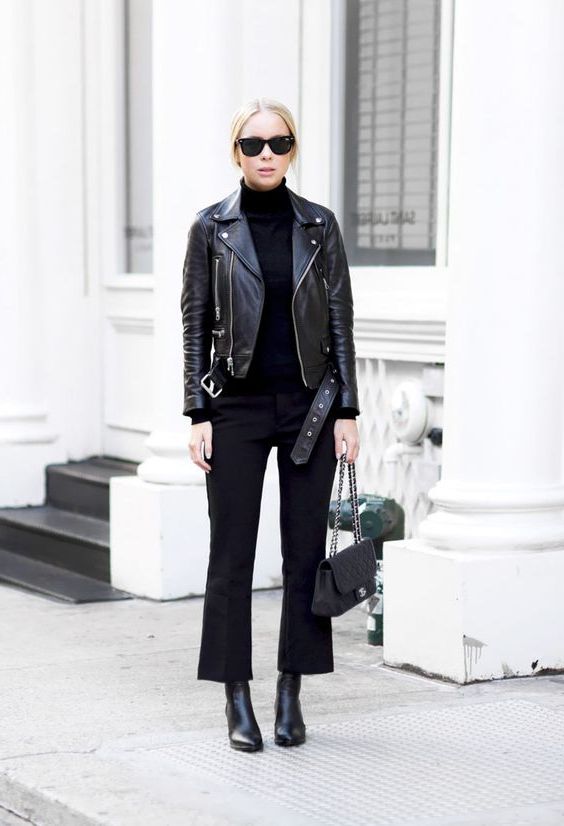 A maroon leather jacket with fur collar is styled with flared jeans in light wash blue color: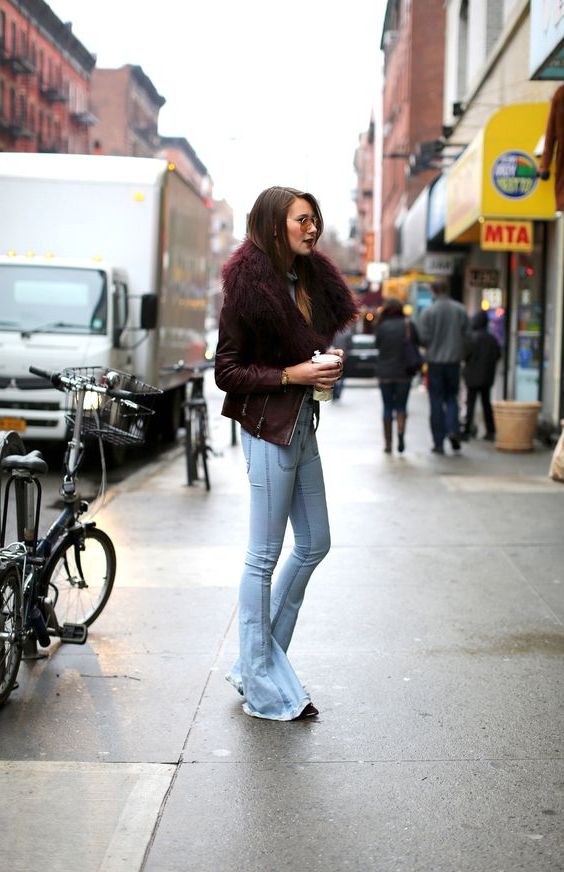 A perfect office look for ladies, we see a black blazer with extra flared black pants and black heels: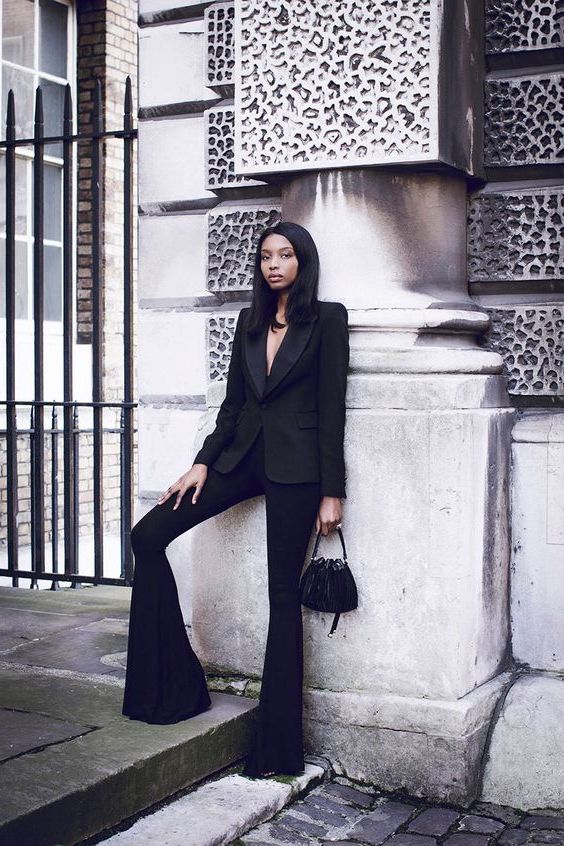 Another 1970 style look, we see a brown velour jacket with fur collar styled with a white sweater, black flares, and black heeled boots: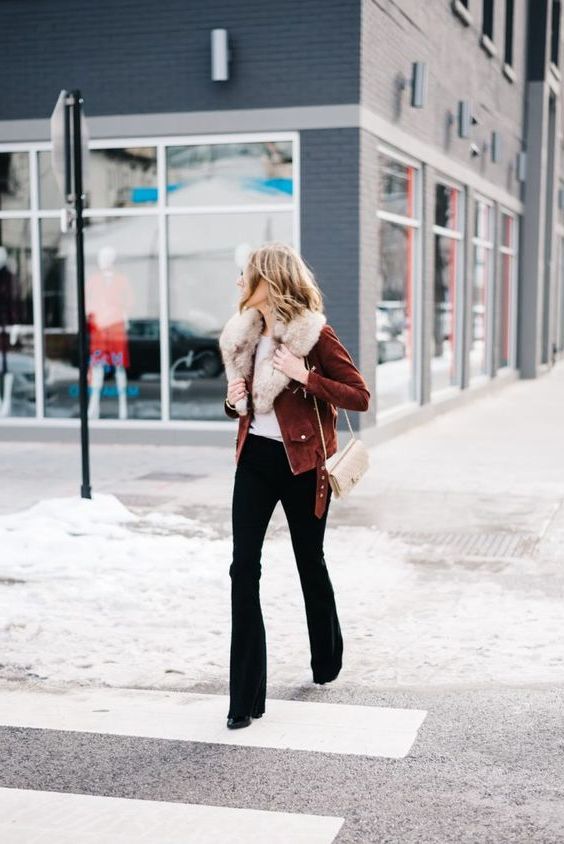 A kind of cowboy look! We see A cream-white cowboy hat styled with a mustard-orange fur jacket paired with black velvet flared trousers and white boots: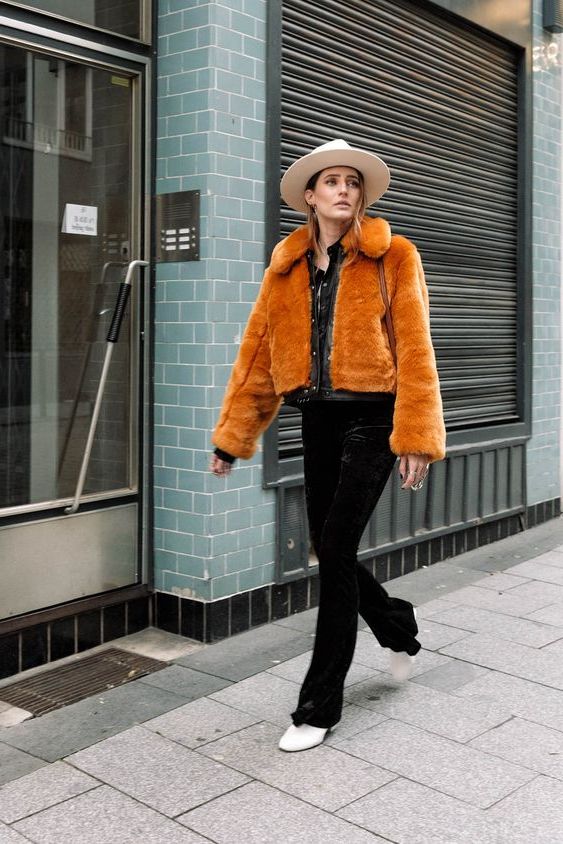 A relaxed fit sweater in black looks amazing with burgundy velour flared pants completed with black heels, add marble sunglasses to improve your uniqueness: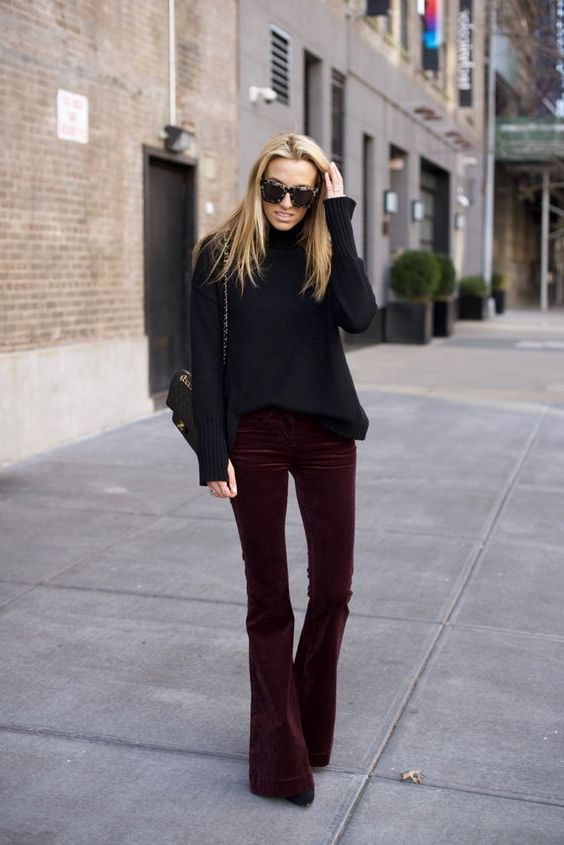 A gorgeous navy blazer looks stunning worn with a black blouse paired with grey flared pants and floral heeled sandals:
Keep it girlish yet business-casual! Go for a pink pantsuit with flared trousers and update this 1970 look by adding platform heels: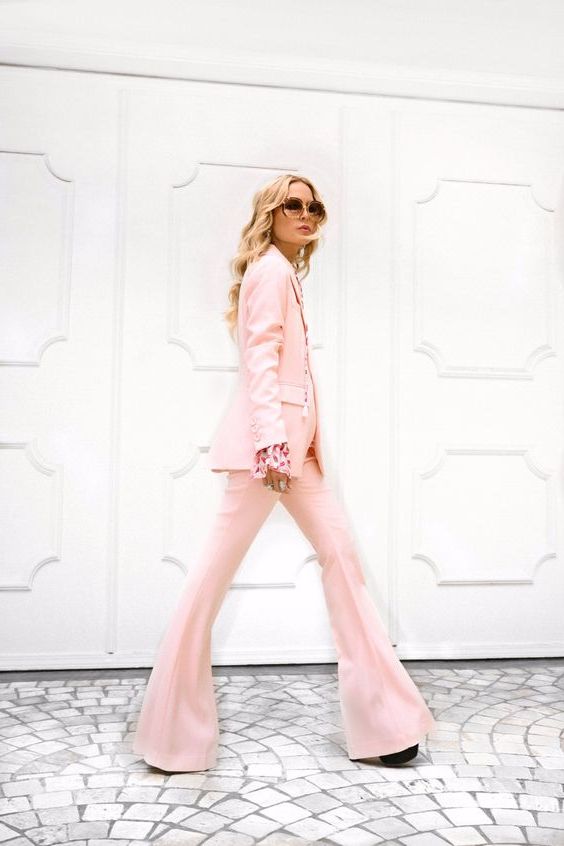 A kind of hippie touch! Go for a light brown jacket and pair it with a white blouse tucked in black flared jeans completed with casual black leather shoes: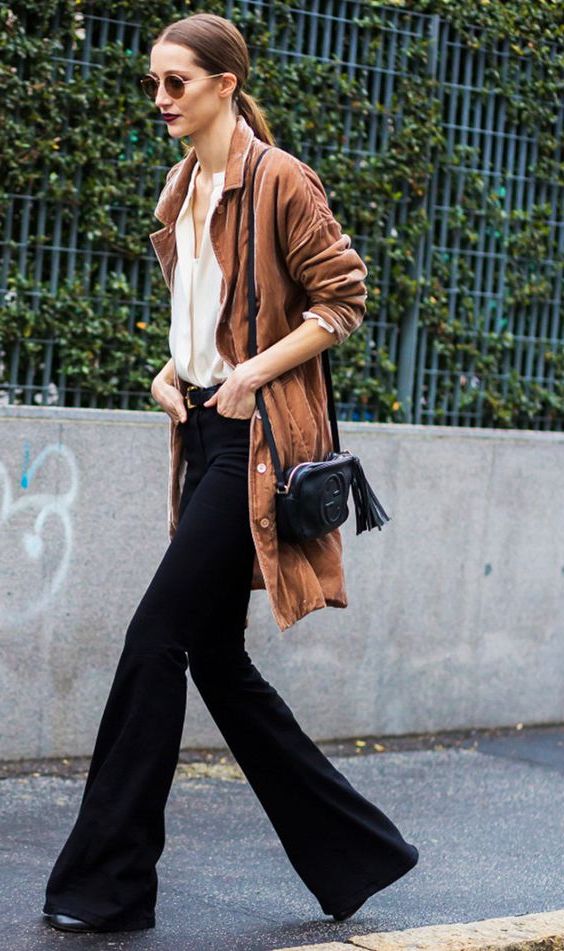 We see a cream-white suit jacket styled with a turtleneck top in black paired with black denim flared pants completed with classic black shoes, a perfect look for France street walks: