If you are into black shirts, then here are some easy ways how to style a black shirt. There is nothing hard in making this top look chic and special. I personally, am a huge fan of wearing black color clothes and an all-black look is not something unusual to me. In this article, we are going to see some basic ideas on how to make a black shirt look amazing on you.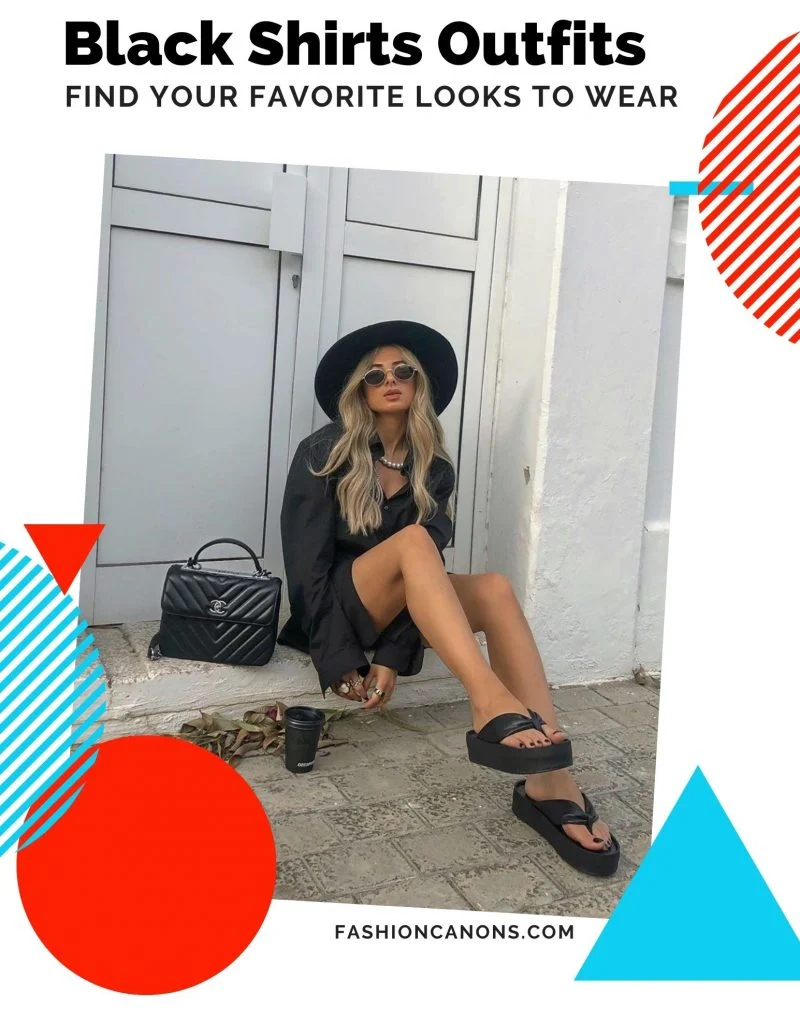 Buy Similar Here
Thank god I work in the office! The following black shirts are ideal to wear during work hours and cocktail parties, you just need to style everything correctly. Personally, I've got some kind of Gothic feel about everything that is shown in this collection, don't you think the same?
Here are my personal…
Best ideas for black shirt looks:
-First thing that comes to my mind then it's the jeans combo. It looks simple but still chic and elegant.
-You can always add golden details that ideally look with black color, by adding a touch of luxury. You can add a golden bracelet, collar, or a glamour gold belt.
-You can also add a leopard print. It looks ideal styled with black garments. If leopard is not your thing, you can add floral leggings or trousers.
-How about a totally black looks? It's an extremely versatile style that will make you sophisticated and elegant.
-Don't wanna wear a black shirt? Well, try on a black shirtdress instead. You can wear it either belted or loose-fit.
-Another great choice is called monochrome. Black and white is a timeless classic that will never go out of fashion.
Anyway, here are the stunning ways how and with what to wear black shirt these days. I've already told you about the gothic feel, right? But I've got other feelings about this top and these are classics, elegance, plus grunge and heavy metal rock.
What really impresses me in this garment, then it's the versatility, as you can wear it with almost everything you want. That's why you better include this top in your everyday looks.
Another great thing about the black color makes you look slimmer. I prefer relaxed fit silhouettes, which will make a kind of laidback look.
Black Shirt + Black Leather Pants
We see a long black shirt teamed with black leather pants, looks damn hot: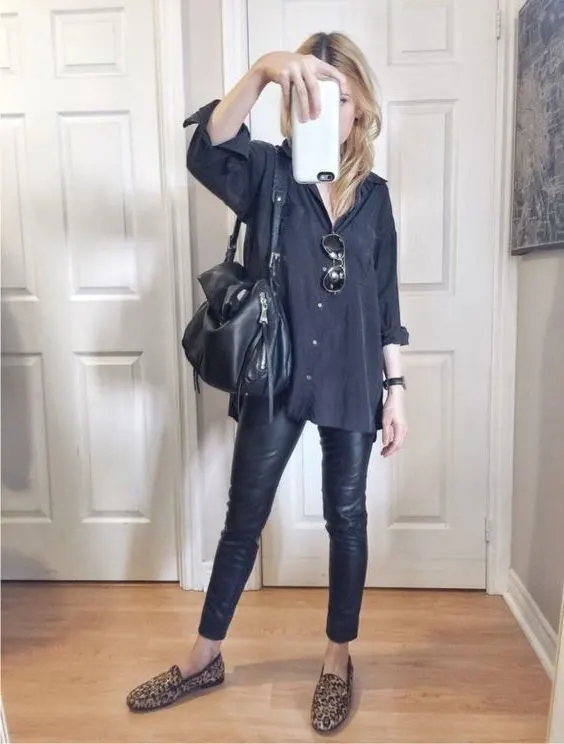 Buy Similar Here
All in Black OOTD
Love this all-black look consisting of a black shirt, knee-ripped black jeans and classic black keds: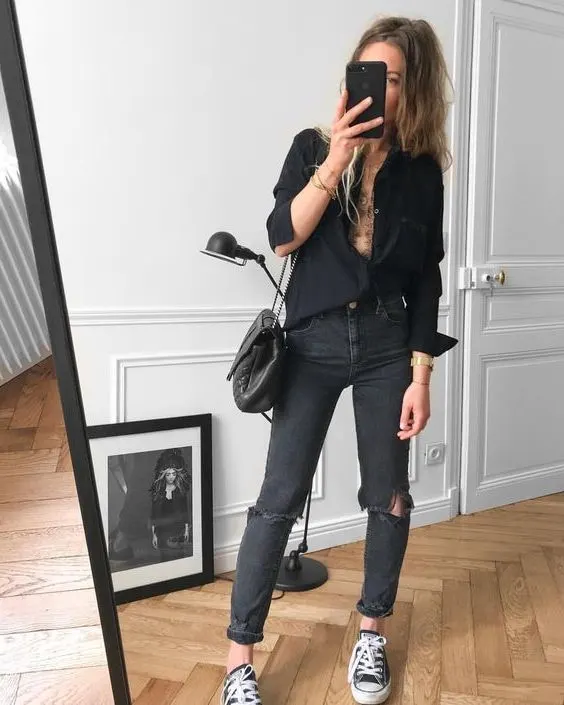 Buy Similar Here
Oversized Black Shirt + Blue Jeans
We see an oversized black shirt tucked in blue high-rise jeans and pointed-toe heeled pumps: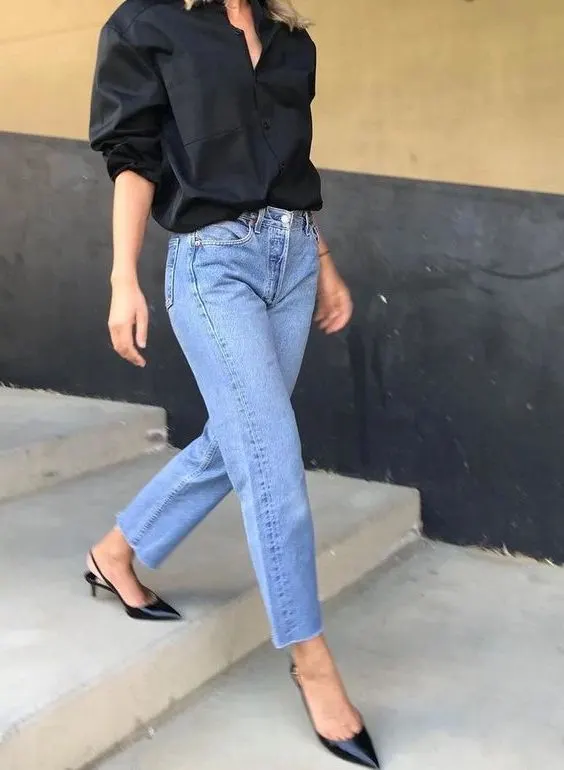 Buy Similar Here
Black Shirt + Camel Pants
A kind of desert look, we see a beige wide-brim hat with a black shirt tucked in camel pants completed with beige flats and rounded sunglasses: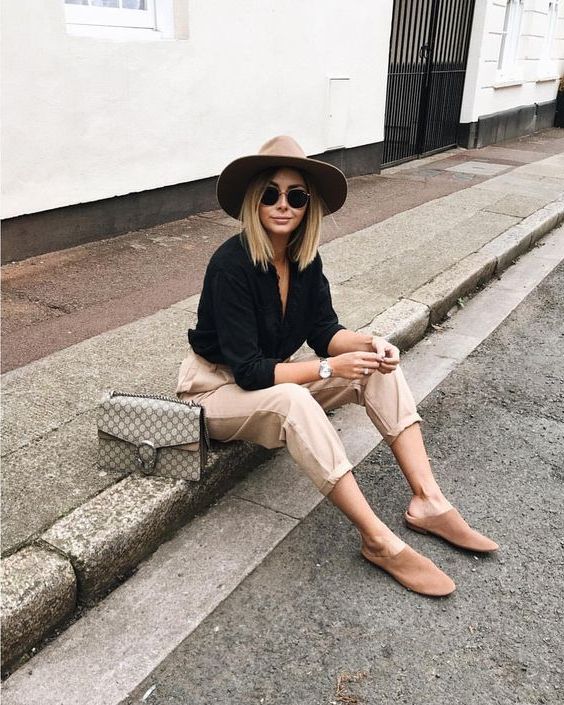 Buy Similar Here
Black Shirt + Polka Dot Skirt
A belted black shirt with a black belt looks damn hot updated with a polka dot skirt in white color: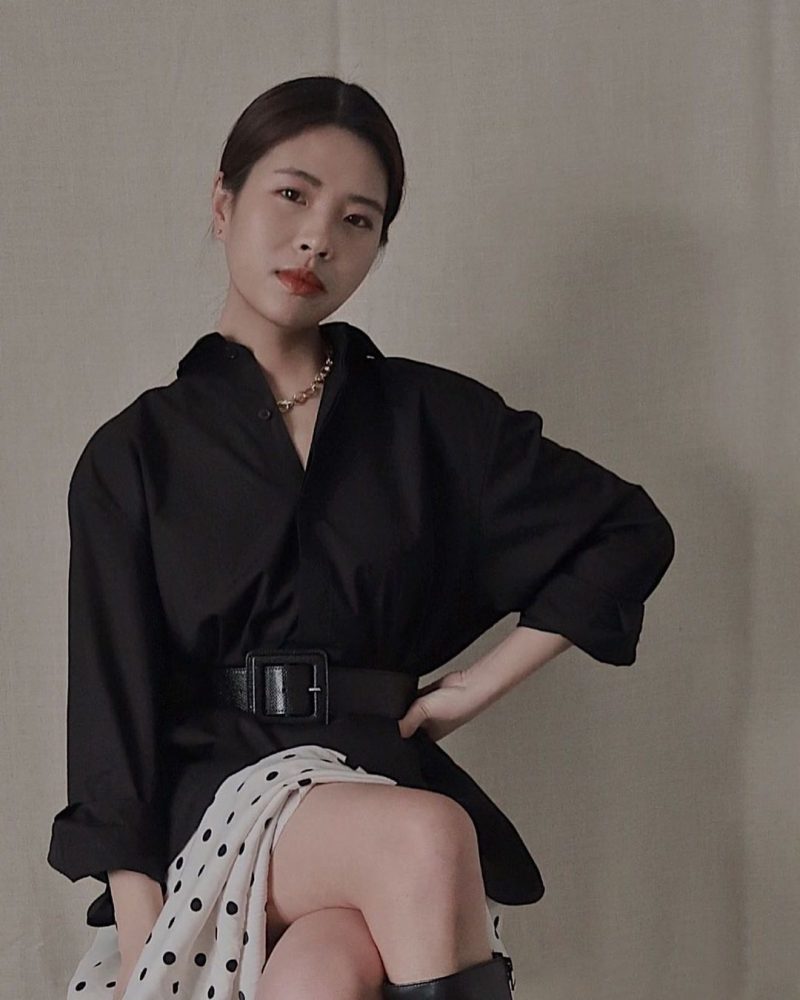 Buy Similar Here
All In Black Outfit For Office Hours
A perfect look for office wear, we see a black shirt paired with black tailored pants and black loafers: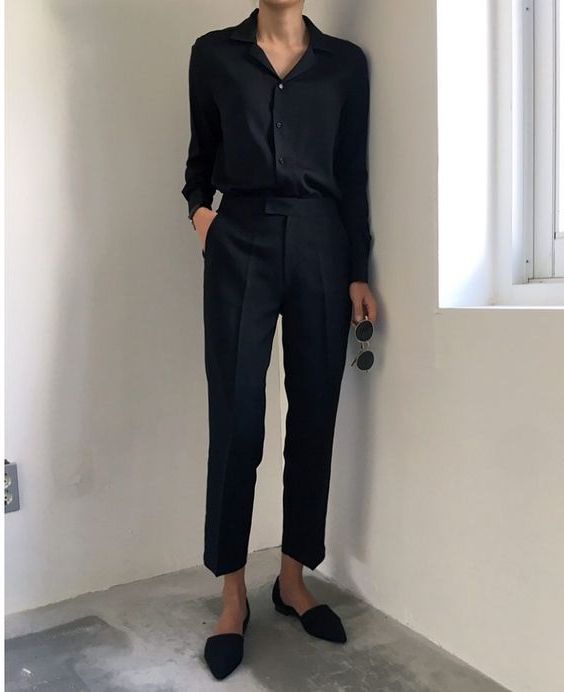 Buy Similar Here
Black Shirt As A Dress
Keep it sexy and sassy! Go for a black shirtdress and update it with platform slides and a brimmed hat: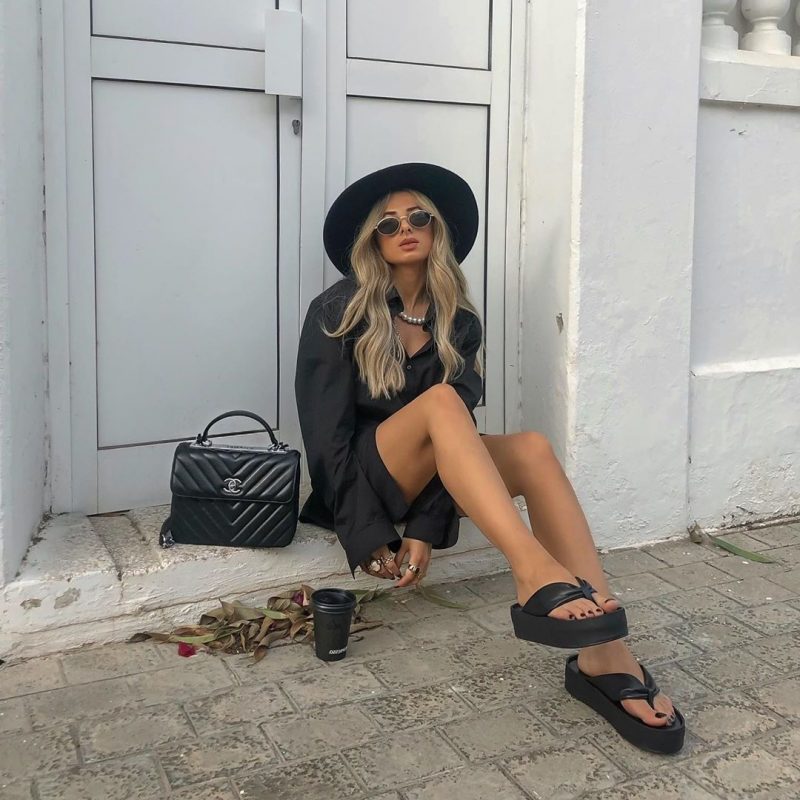 Buy Similar Here
Black Shirt For Plus Size Ladies
Yes, even plus size ladies can rock black shirts worn as dresses, here is a cool example. Go for a sleeveless cargo shirt and update it with a chain belt and black ankle boots: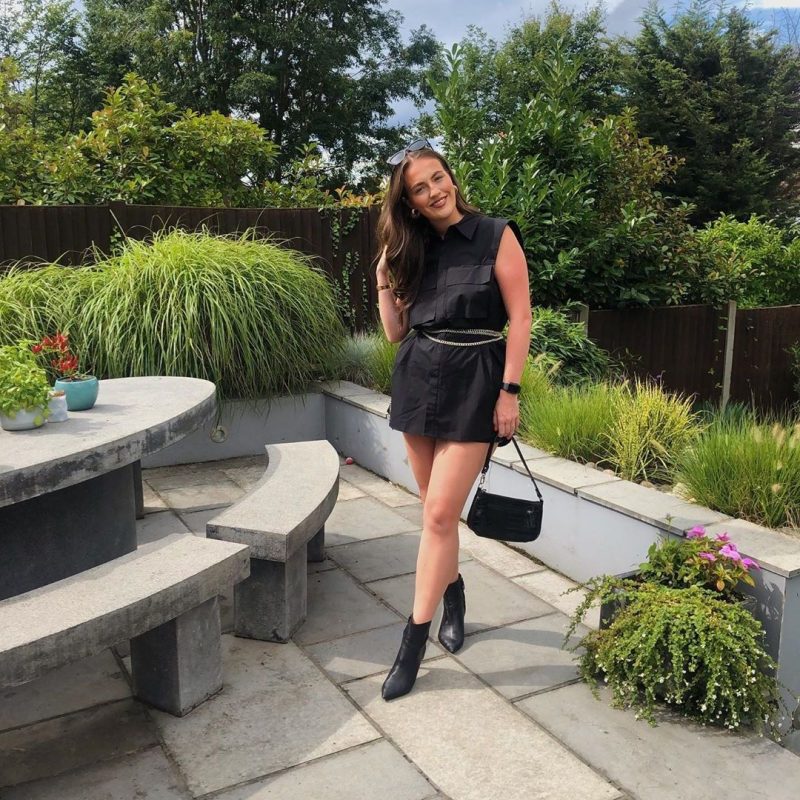 Buy Similar Here
UPDATE
Style Tips For Wearing Black Shirts
Yes, here I am with an updated article. Why I decided to add some words in? Well, as you have already understood, black is one of the most versatile colors in fashion, and it makes sense that black shirts are some of the most ubiquitous garments you can find. This being said there are a few important things to consider before throwing on that black shirt.
Rich Black Shirts Look Expensive
If you're going to buy a black shirt in the first place make sure you understand the level of "blackness" you're getting. The difference between black and really black is like the difference between milk and chocolate: subtle but altogether different. If you're going for that really-black look, consider a solid color shirt with minimal design or a more subtle pattern such as plaid or small textured stripes. A solid color with a heavier weight silk or cotton will give you that rich dark look. And you better know how to style it, darling.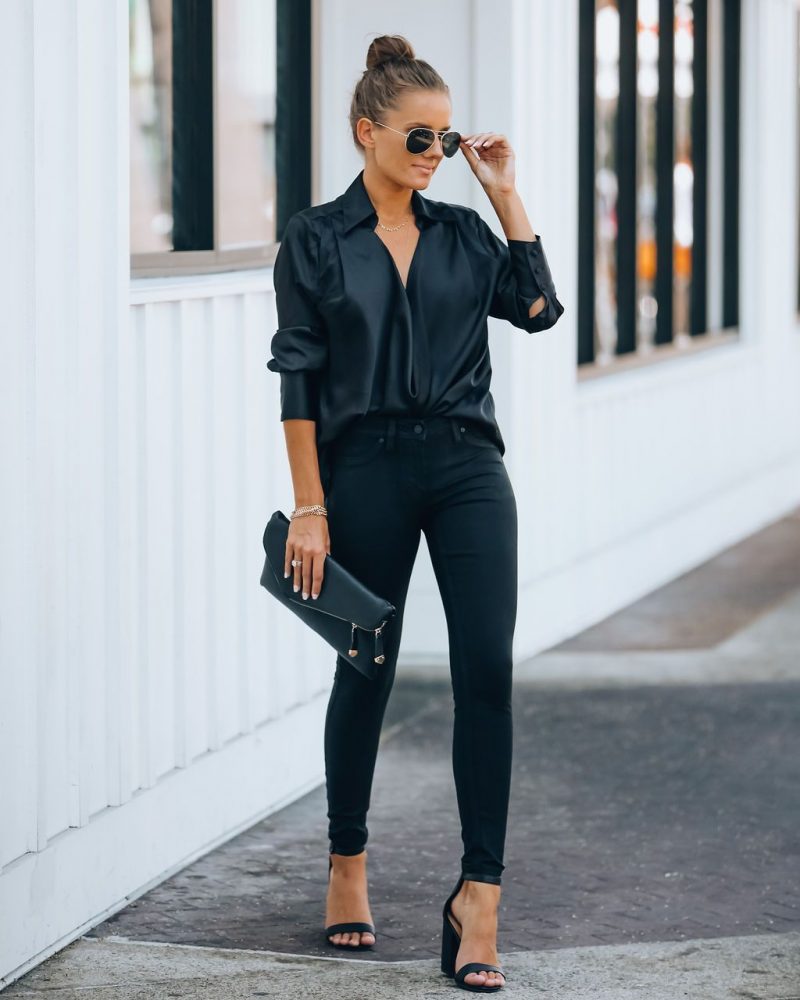 Buy Similar Here
Fitted Black Shirts Are Ideal
Also, make sure your shirt is fitted. It's not just that you'll look more polished if you've got a fitted shirt; it's also a good way to keep the shape and movements of your body intact. If the fabric is loose in the shoulders, there's a good chance that when you lift your arms or lean forward, an entire section of your shirt will hang flaccidly and leave an unsightly space at the center of your chest. Loose-fitting shirts are especially fatal for women who are wearing them with colorful jackets; this big gap looks very unflattering and can also throw off the balance between top and bottom – which can be very frustrating when trying to look professional but classic.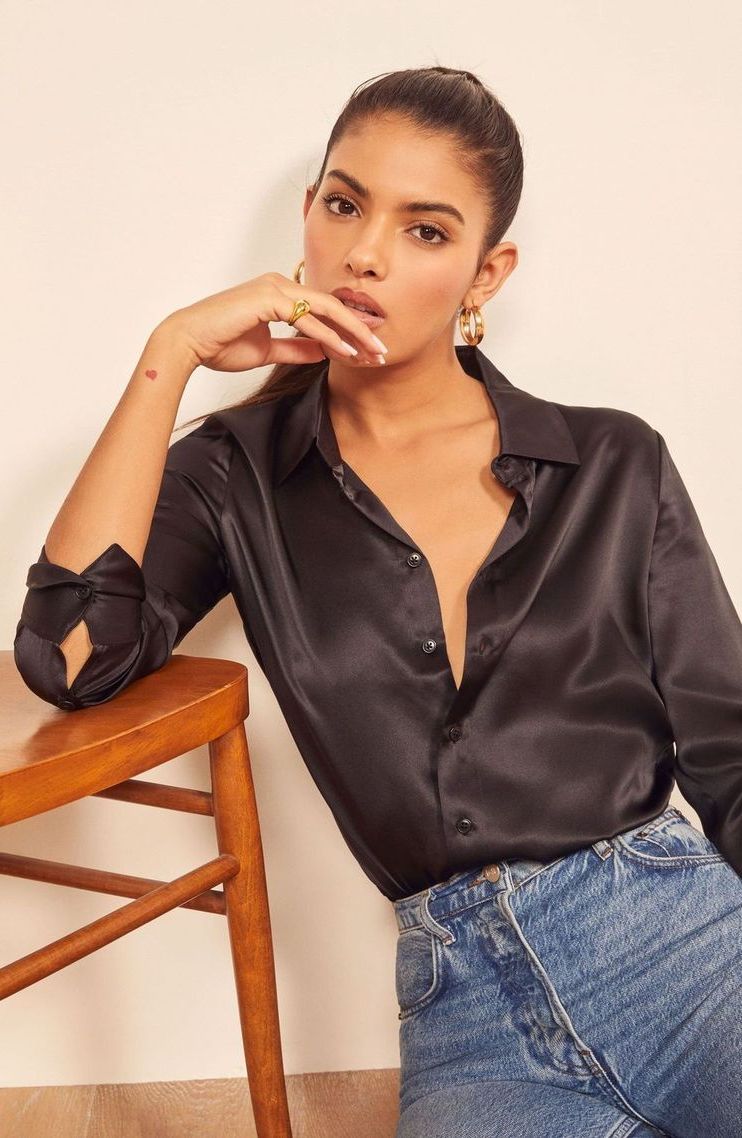 Buy Similar Here
Tuck In Or Not?
What then, about tucking it in? Well, if the shirt is fitted, there's not much difference. You can of course skip on this one if you're going for a more casual look – but the truth is that tucked in shirts make women look more professional and feminine. Tucking in helps eliminate any bulk around your chest area and gives you waist definition. If you're wearing a belt or a skirt, avoid belts that are strong with prints or colors; instead opt for subtle details such as small buckles that can be hidden by the tucked-in shirt. The same applies to skirts that are lower to the ground.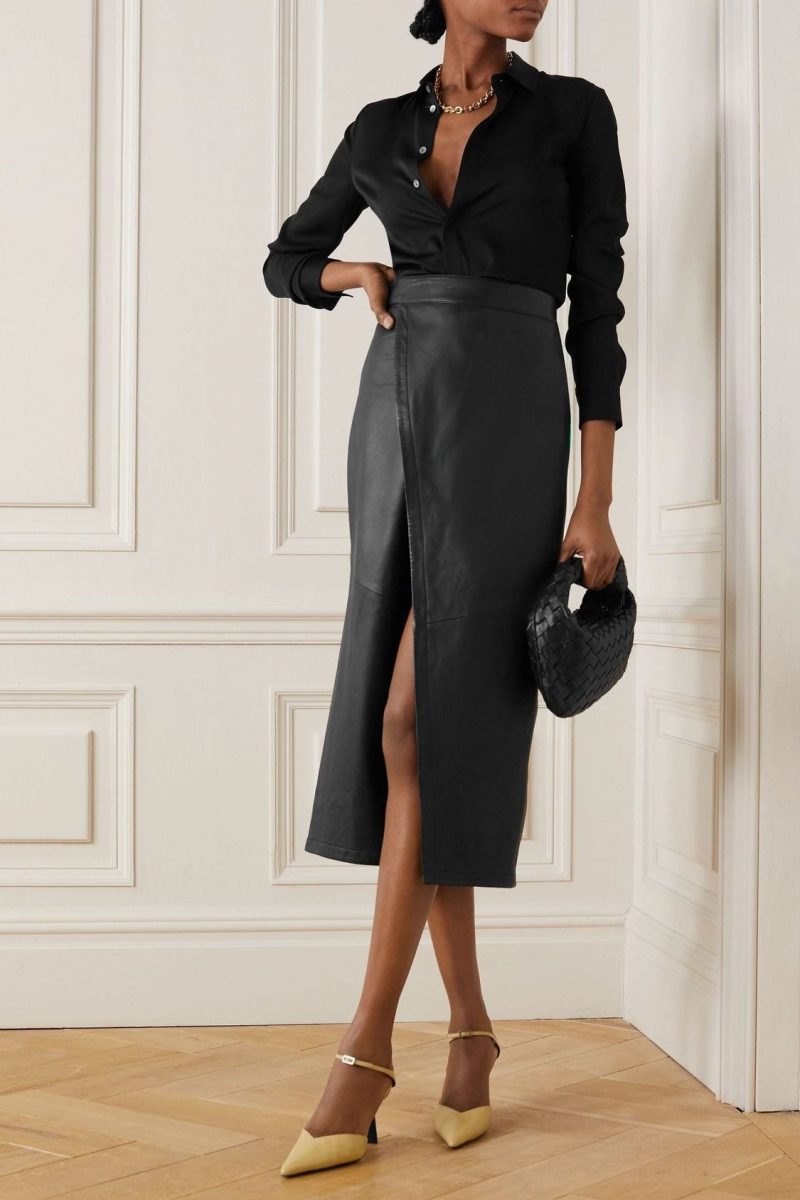 Buy Similar Here
Classic Or Casual Look With Rolled Up Sleeves
And if you're going for a classic look, show a little skin. And that means tucking in your shirt when it's pulled up. And you definitely don't want to show anything too below the belt line (say, that bra you can barely handle anymore). If you wear a skirt with the belt on the outside of your pants (or vice-versa), this creates an especially fluid look that allows for some interesting textures and detail. Plus, If you want to create a more casual style, then make sure to roll up the sleeves of the shirt.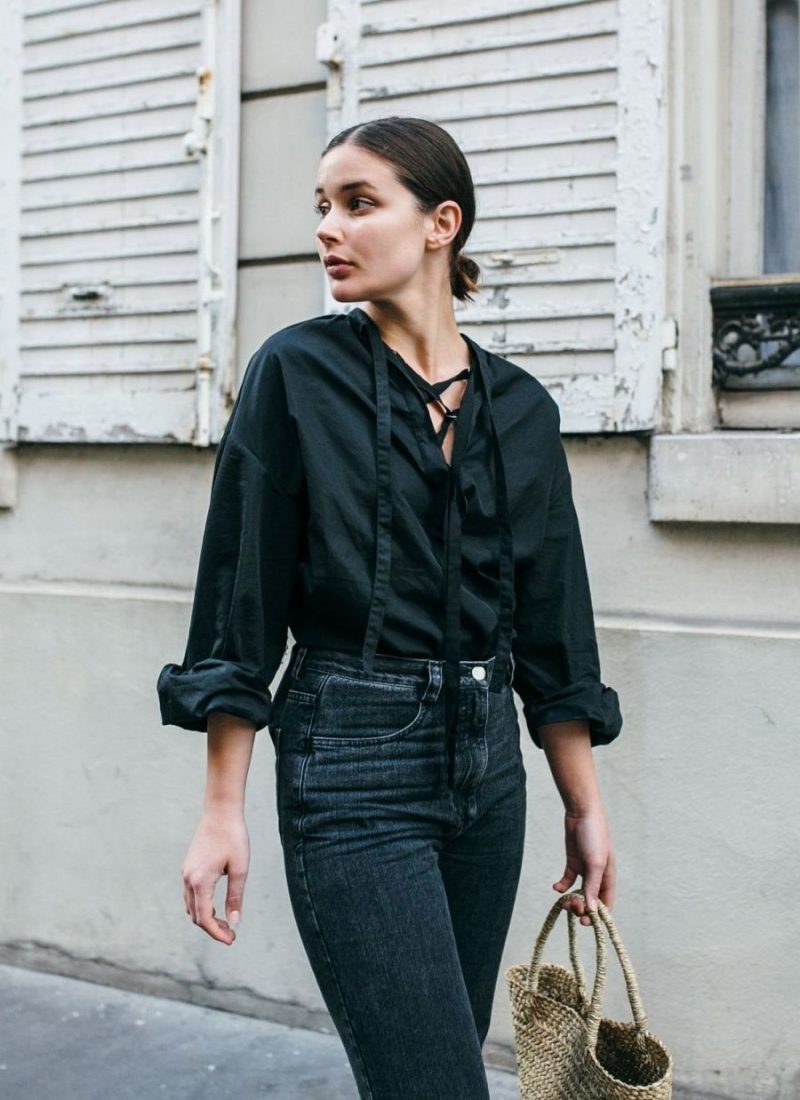 Buy Similar Here
Unbuttoned Black Shirts
For that modern, vintage touch, go ahead and unbutton a couple of buttons on your shirt. You'll definitely look more retro and give the illusion of a bustier figure. Just make sure your shirt is not too low; exposing too much cleavage usually looks tacky unless you're young and trying for the sexy-bombshell look. If you can't find the perfect spot to leave your top button undone, opt for round collars or boat necks; in these cases it's best to leave one button open at the neckline – even if it makes you feel uncomfortable and constricted (you'll get used to it).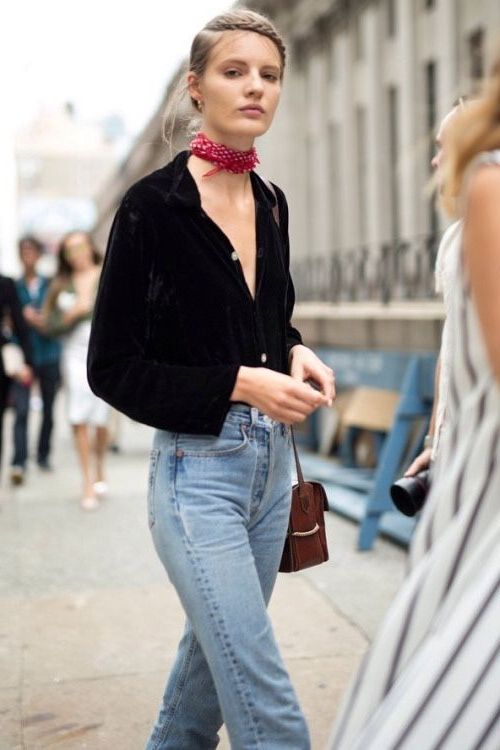 Buy Similar Here
Show Off Your Belt
And the same deal with belts: they're a total game changer when it comes to fashion, but they can also be a huge fashion faux-pas if not worn properly. If you wear your belt around your waist, make sure it's not too loose or else it will give you the appearance of having lost weight – which can lead to some awkward questions from other women or even blunt encouragements from men. If you want to wear a belt around your hips instead, go ahead and give it a shot; just make sure the belt is thin enough for the pants so as not to break up your silhouette.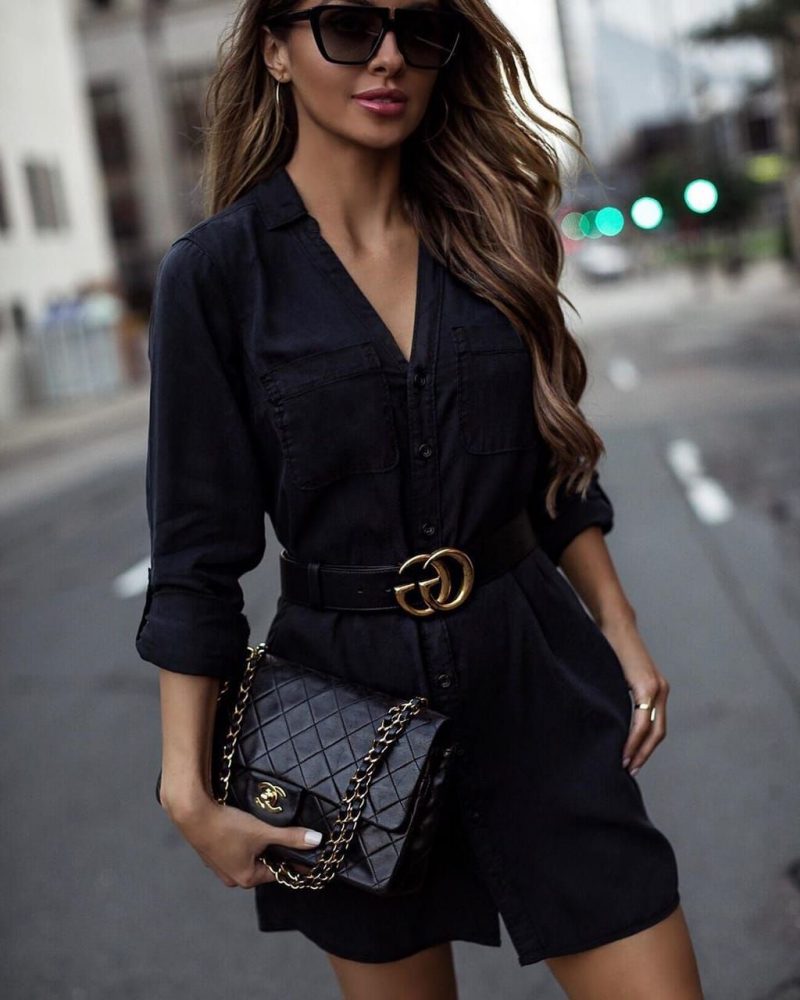 Buy Similar Here
Accessorize Black Shirt
If you're wearing a simple outfit with a plain black shirt, it's as important to consider the details as much as when you're wearing something more formal. And details are where your accessories come in. If you're going for the polished and formal look, choose accessories that involve lots of sparkle and shine: tiny earrings in classy shapes and stud earrings that are simple but have some detailing. If you want to go for something a little less formal, opt for chunky jewelry or an elegant watch that will complement any belt you choose – also try out jewelry that sits on your neckline rather than dangling from it; this leaves your shoulders free to bare other pieces.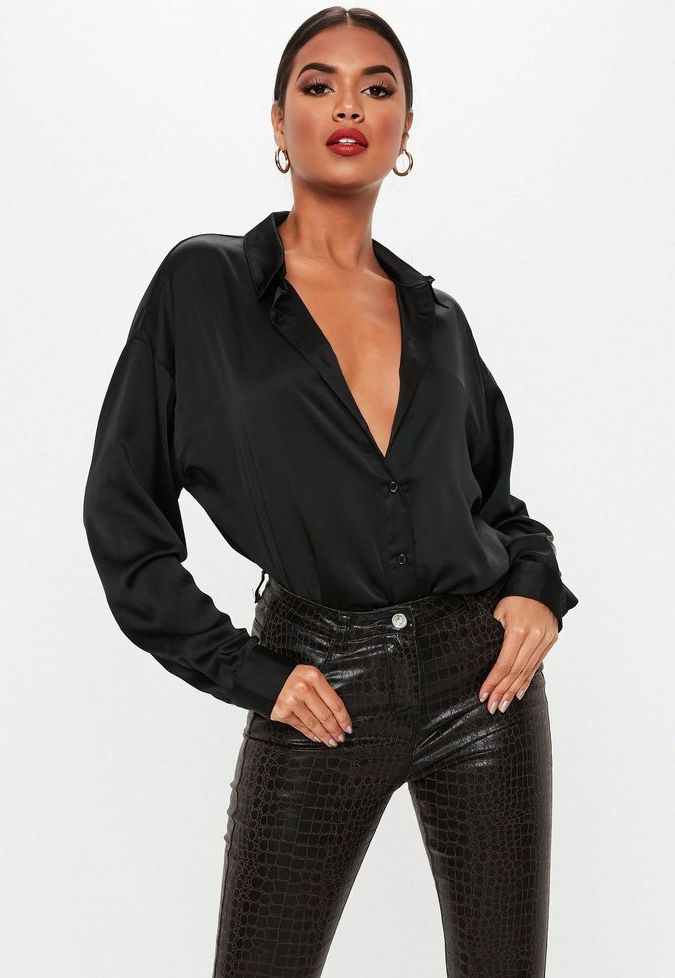 Buy Similar Here