Today's post is dedicated to oversized cardigans. We will try to understand if this trend is here to stay or it is just a micro-trend for a small period of time. I have seen lots of ladies lately who wear oversized knitted cardigans on the streets and I must admit, even celebrities and trendsetters have been spotted in that chunky layering piece.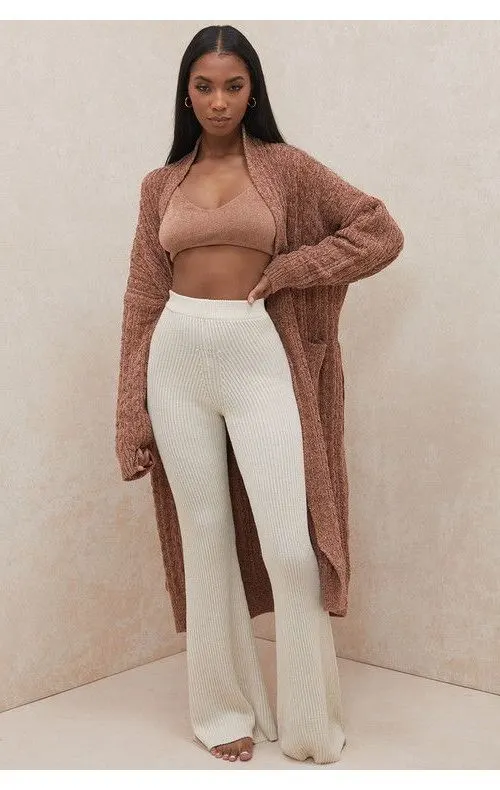 Buy Similar Here
We see a long oversized cardigan in dark beige color styled with a knitted bra-top and knitted flared pants in white color.
You are about to see some of the best ideas how to wear oversized cardigans on the streets, to special occasions, to work and other places. Stay tuned and read more.
What I love most about oversized fashion is the versatility. The oversize style clothes and accessories are suitable for both skinny girls and plus size fashionistas. Voluminous sweaters, ponchos and tunics are everywhere right now and you will not surprise anyone, but an oversized cardigan is a staple of the moment.
Keep it cool with a violet oversized cardigan in short length. Style it with boyfriend jeans and white sneakers: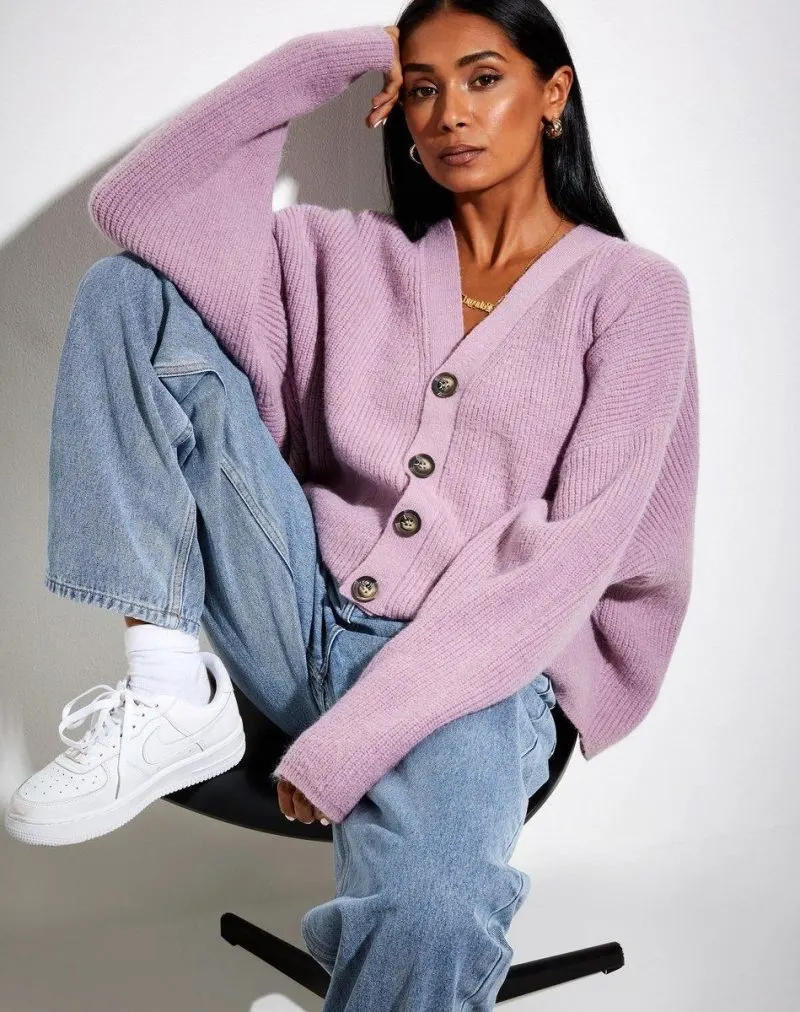 Buy Similar Here
A cable-knit cardigan in light grey is styled with a black top and leopard print skirt, would you give it a try: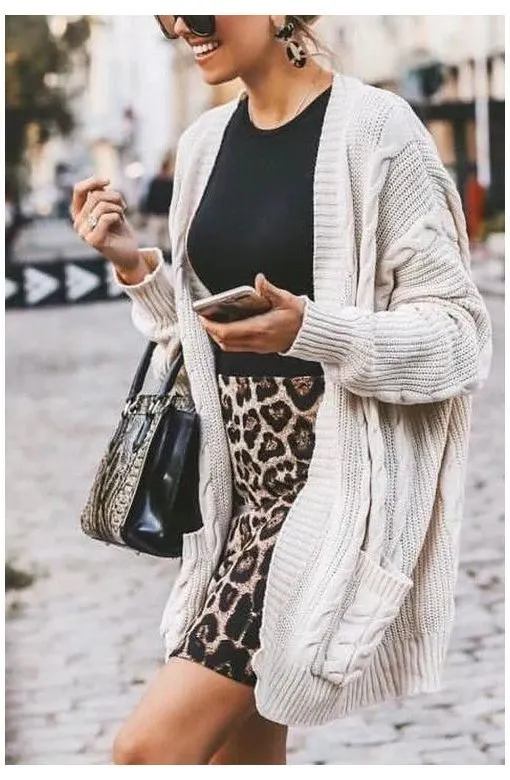 Buy Similar Here
For some girls, voluminous clothing seems baggy and ridiculous, but this kind of shit can happen to those who don't know how to style oversized fashion.If other garments are chosen correctly, then the result can look quite cool and amazing!
A classic oversized cardigan in grey looks stunning on this blonde, try it on with a black blouse tucked in black skinny jeans completed with black trainers. In love with these rounded shades: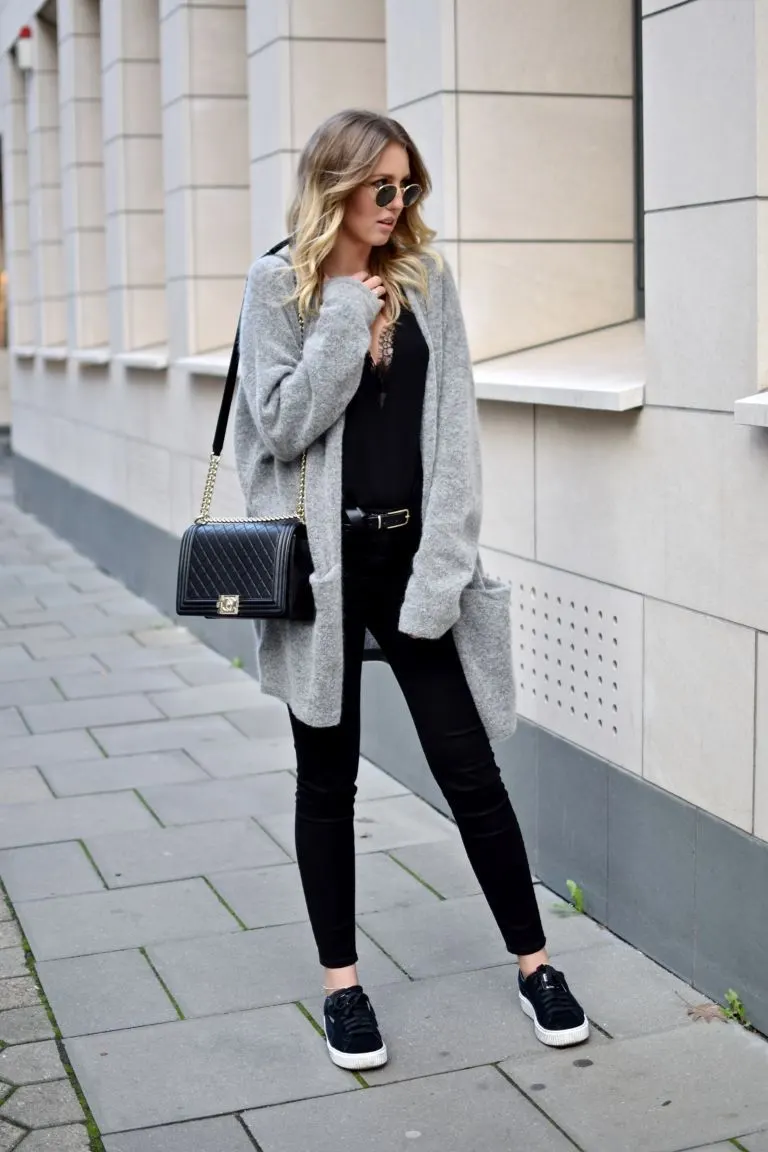 Buy Similar Here
A vintage cream-white cardigan in oversized fit looks pretty cool styled with a black roll-neck top paired with cropped jeans in light blue completed with glossy black loafers:
Buy Similar Here
With a thoughtful and right dose of combination you will get a stylish and bright look. The oversized style by itself is about wearing clothes that are couple of sizes larger than your actual size. That's why cardigans is the best way how to start experimenting with oversized fashion.
An elongated oversized cardigan in cream grey is worn with a rock band tee in white completed with blue jeans: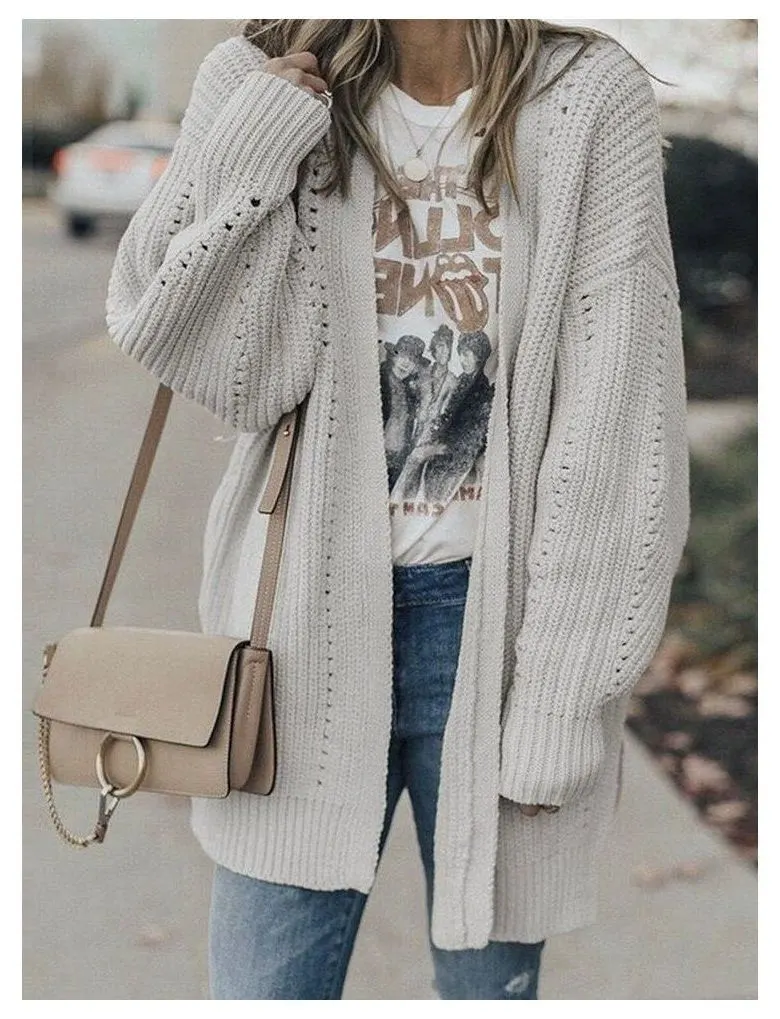 Buy Similar Here
We see a white cardigan with red-green outlines completed with a white bandeau top and slim jeans in wash blue. Love these chunky white boots: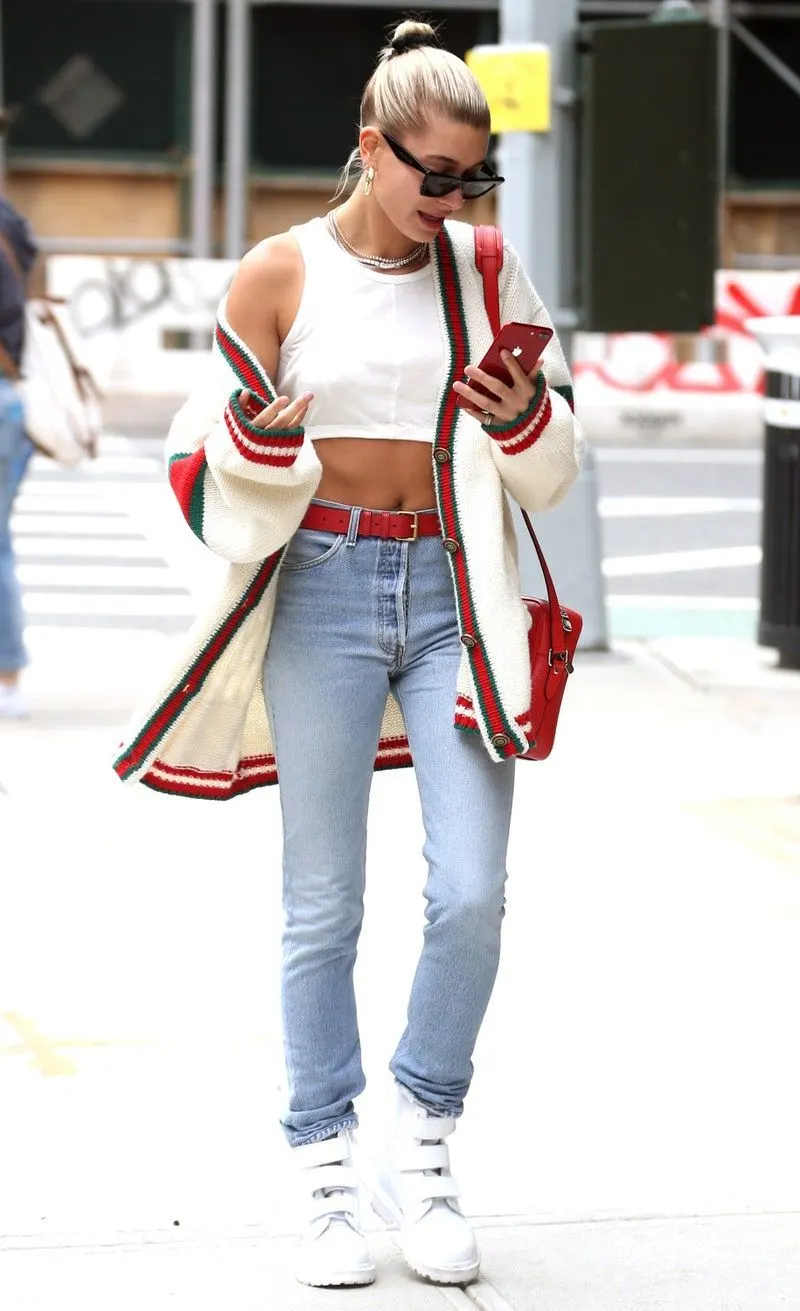 Buy Similar Here
Cardigans of large size are suitable for full ladies. It will be possible to hide the extra inches and achieve the effect of an excellent figure. Plus size girls are often afraid of voluminous apparel, but there is nothing to worry about.
We see a ribbed knit grey cardigan combined with a white tee paired with knee-ripped slim jeans and white sneakers: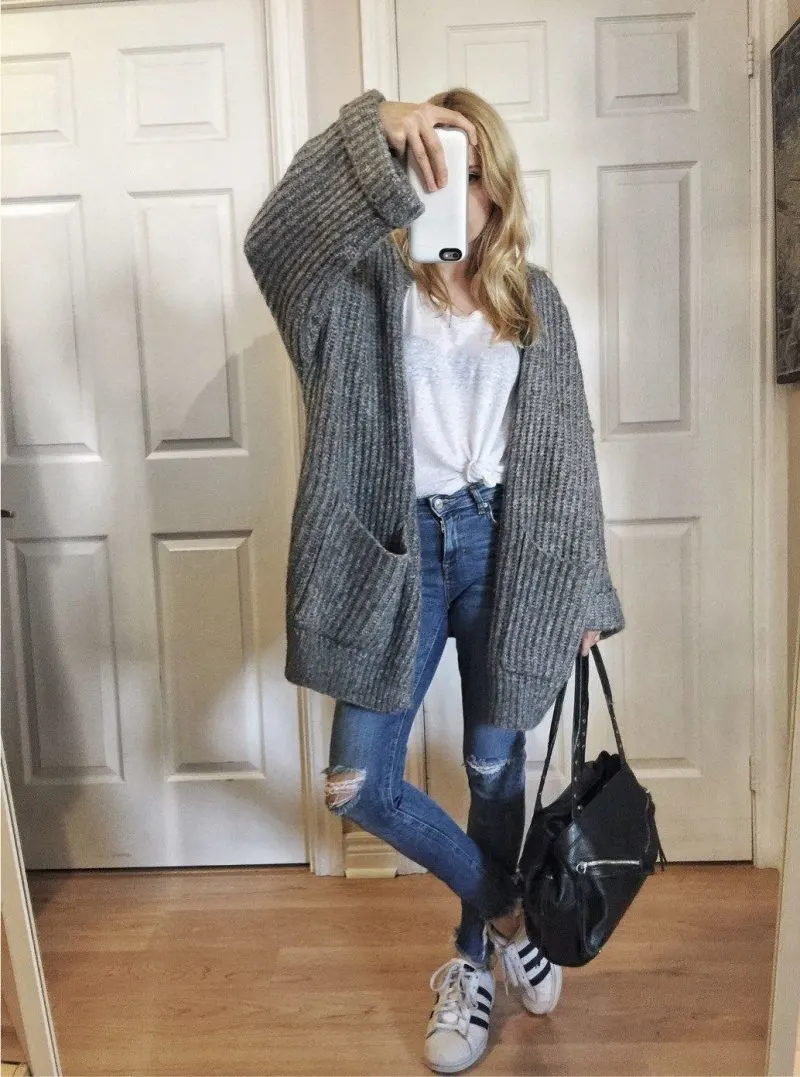 Buy Similar Here
A classic grey cardigan in oversized shape is worn with a black top and wash slim jeans updated with suede black ankle boots: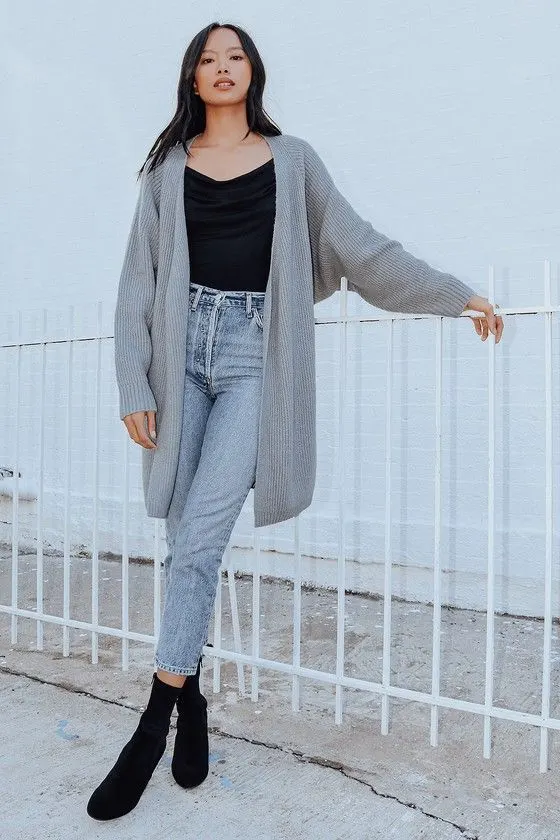 Buy Similar Here
If your outfit features one large garment, a cardigan in our case a cardigan, then other elements of the look should be as close-fitting or fitted as possible. Otherwise, the look will appear shapeless and ridiculous.
Another stunning OOTD! Go for a ribbed camel cardigan and team it with a spaghetti-strap slip tank top and skinny jeans updated with suede cowboy boots in brown: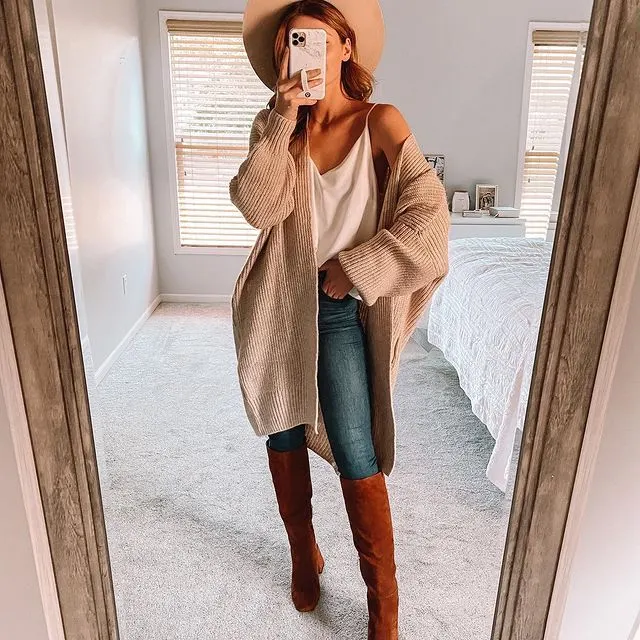 Buy Similar Here
An ideal lounge combination for those who work from home: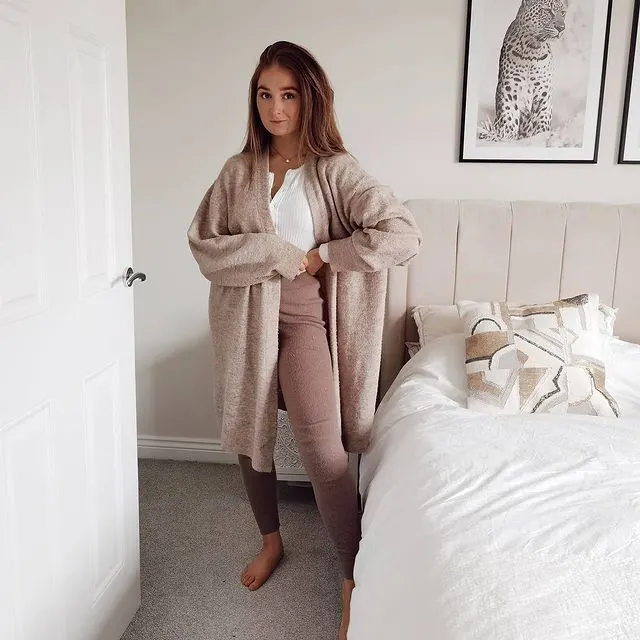 Buy Similar Here
An oversized cardigan is the best choice for a girl with wide shoulders, yet with a slender body. In this case, a voluminous cardigan will not fall off the shoulders, but at the same time it will emphasize the elegance of the silhouette. On petite girls voluminous things do not always look good, because they visually make the figure even more shorter, that's why I recommend skipping this trend for petites.
A lovely set for plus sized ladies, we see a white cable-knit cardigan in oversized fit combined with an animal print maxi dress in black-white: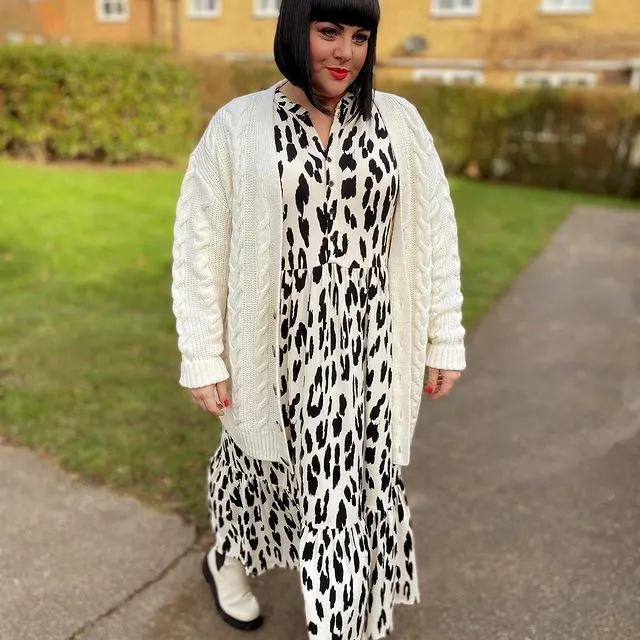 Buy Similar Here
How many likes for this simple combination? Love the curves: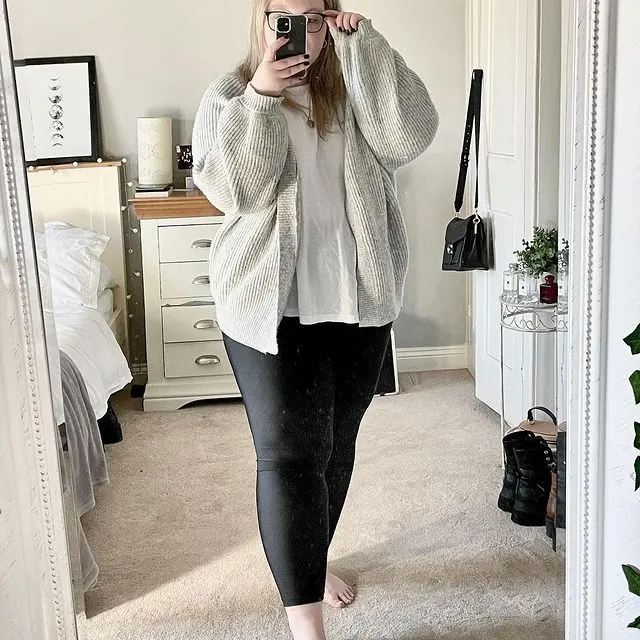 Buy Similar Here
Oversized ardigans can help out girls with curvy hips, as they visually increase the volume in the upper part and smooth out the disparity between the top and bottom. Also, thanks to a voluminous cardigan, you can hide a small tummy, massive arms and bust.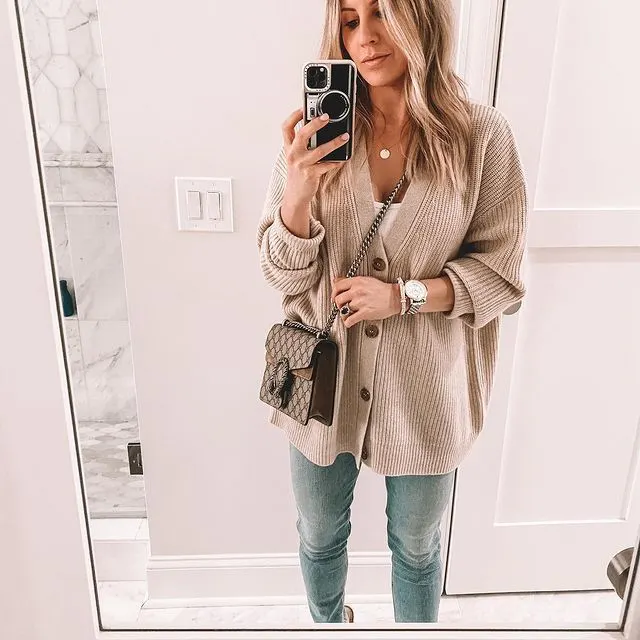 Buy Similar Here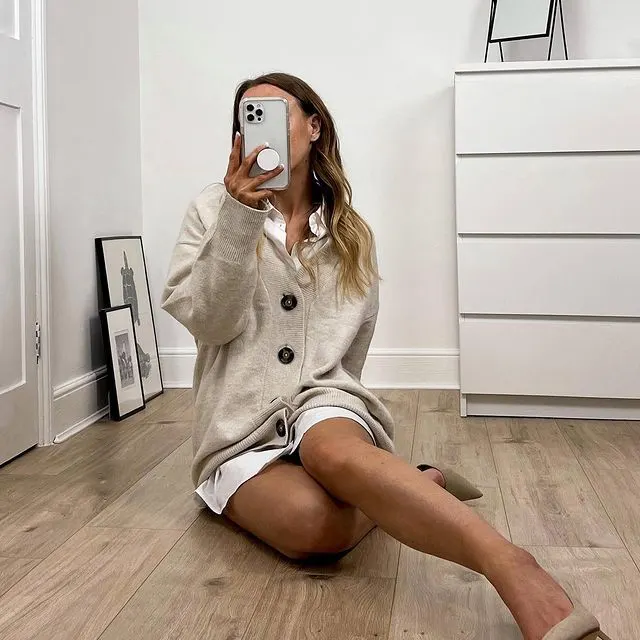 Buy Similar Here
What to wear with an oversized cardigan?
This garment can be easily combined with form-fitting bottoms, like jeggings and leggings, skinny jeans, tight-fitting bicycle shorts, denim cut-offs, leggings and narrowed trousers. Voluminous cardigans look good with regular fit ripped jeans. A good solution for a cocoon-shaped cardigan is a short sheath dress, a pencil skirt combined with a tight blouse or a turtleneck, but you an also try it on with a fitted shirt and a narrowed skirt with a high fit.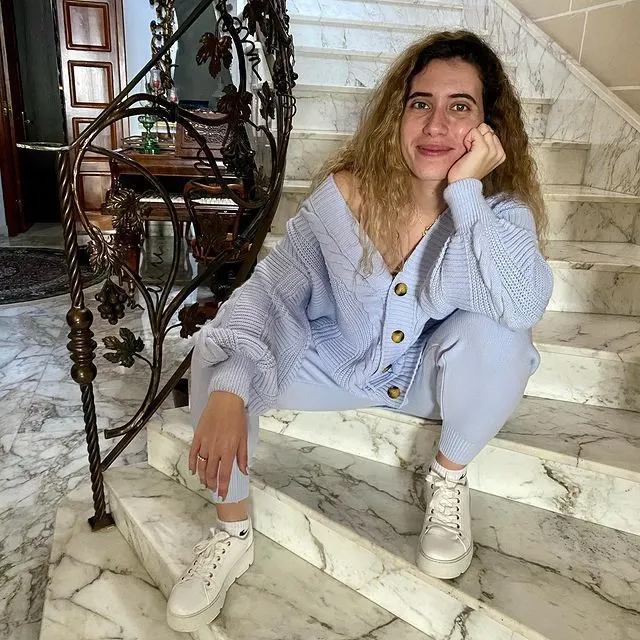 Buy Similar Here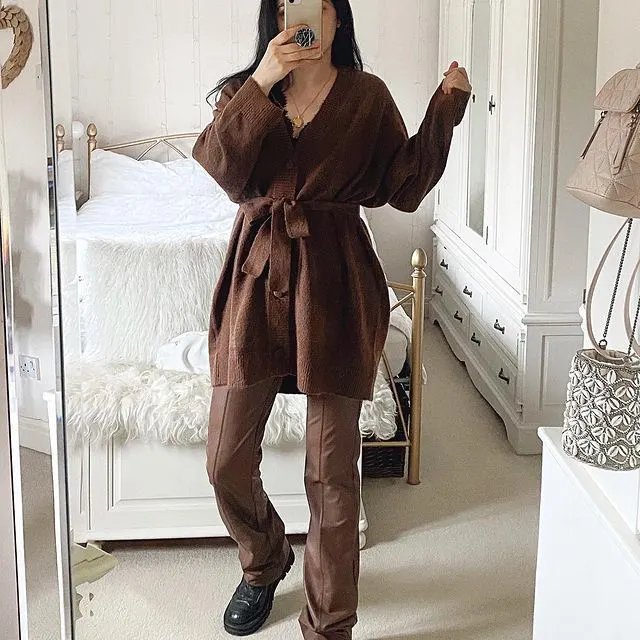 Buy Similar Here
Shoes and bags
Yes, you definitely can make an oversized cardigan look amazing with the help of shoes and accessories. An oversized cardigan, will sparkle with new colors, if the outfit is diversified by eye-catching pumps and a stylish clutch.
Buy Similar Here
We see Megan Fox wearing an oversized cardigan styled with a black crop top and wide pants in black color: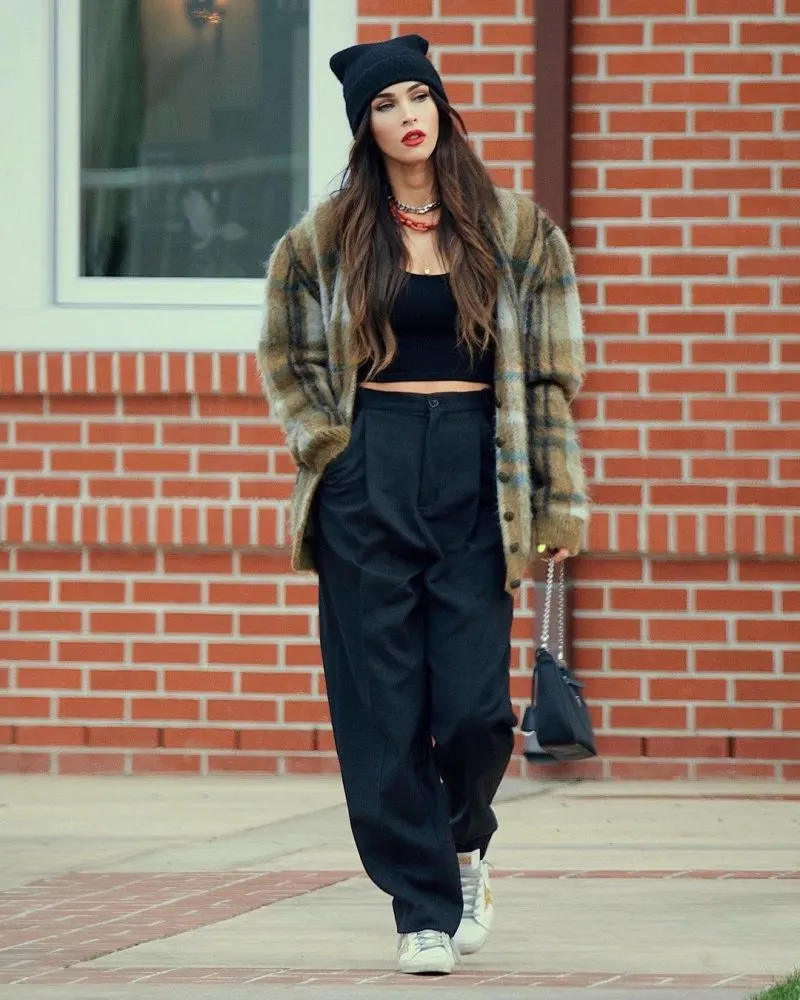 Buy Similar Here
You can try voluminous cardigans with low-running boots, ankle boots with printed heels, Chelsea boots and loafers. Bold fashionistas can complete their outfits with berets, suede boots with a brutal design. The oversized cardigan looks good with both tote bags and miniature clutches. Try on a voluminous cardigan with a belt, this will make your look be more balanced and proportional. To highlight the waist, you should add a thin belt.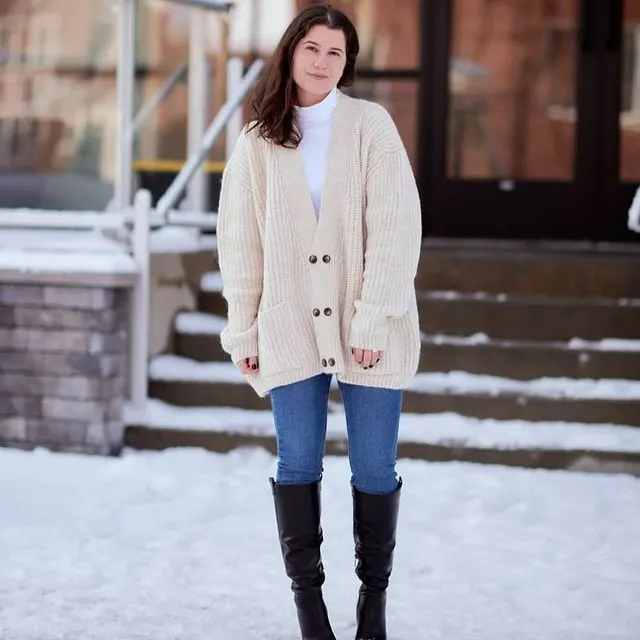 Buy Similar Here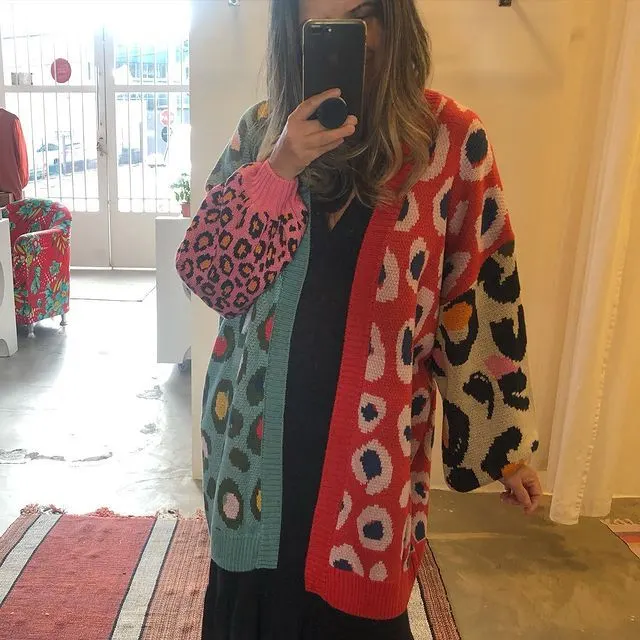 Buy Similar Here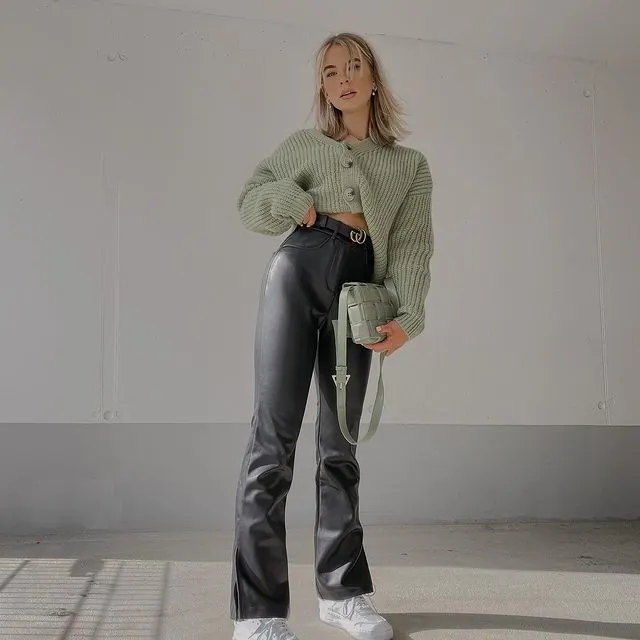 Buy Similar Here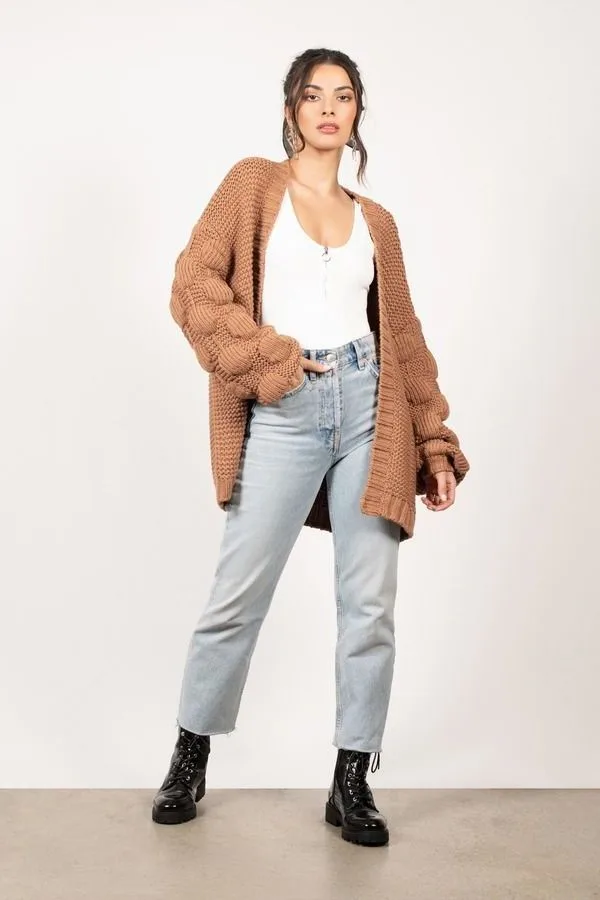 Buy Similar Here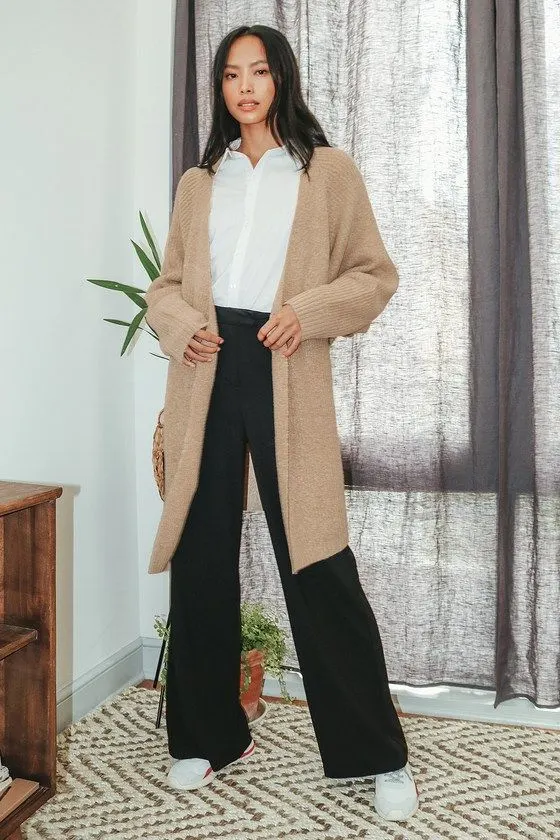 Buy Similar Here
Buy Similar Here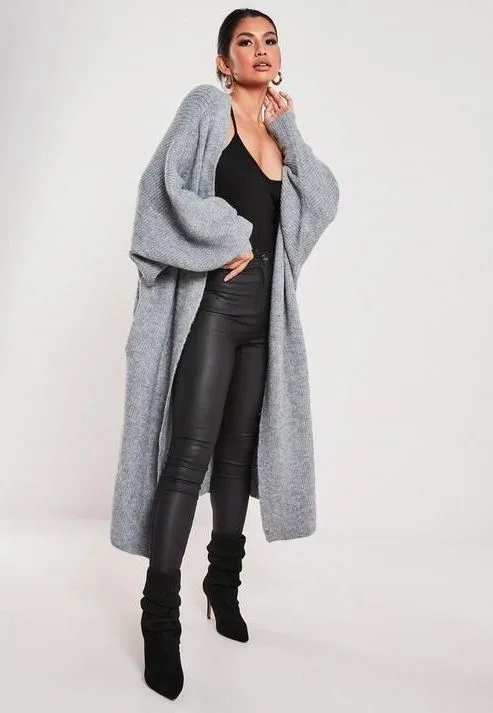 Buy Similar Here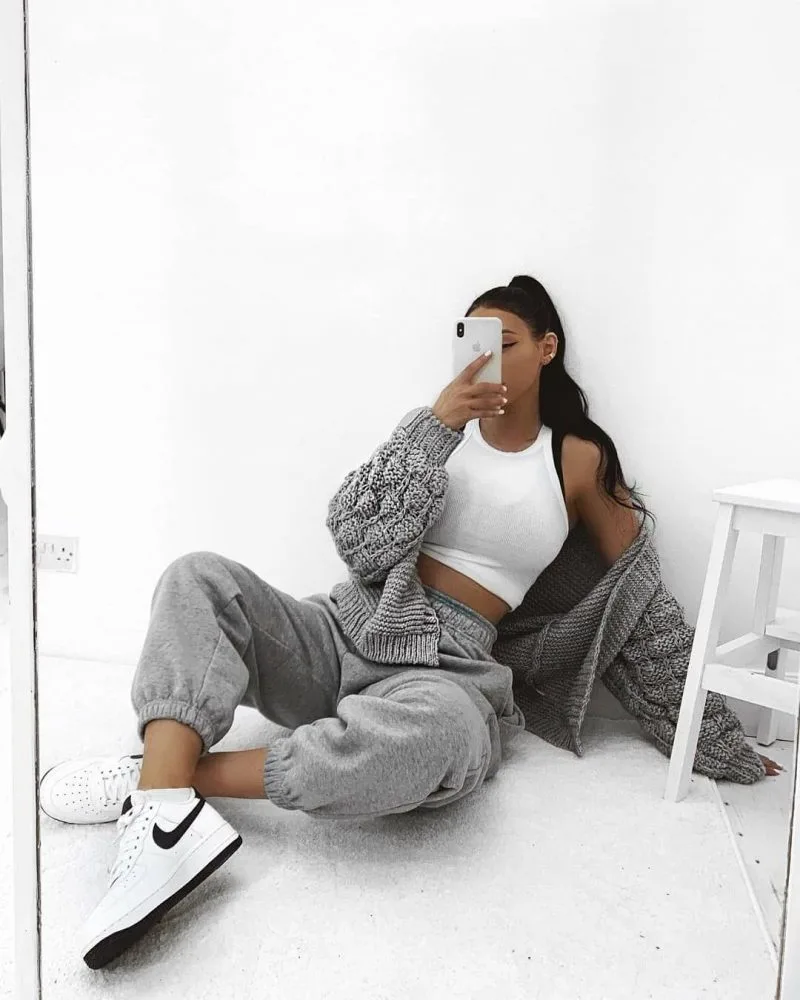 Buy Similar Here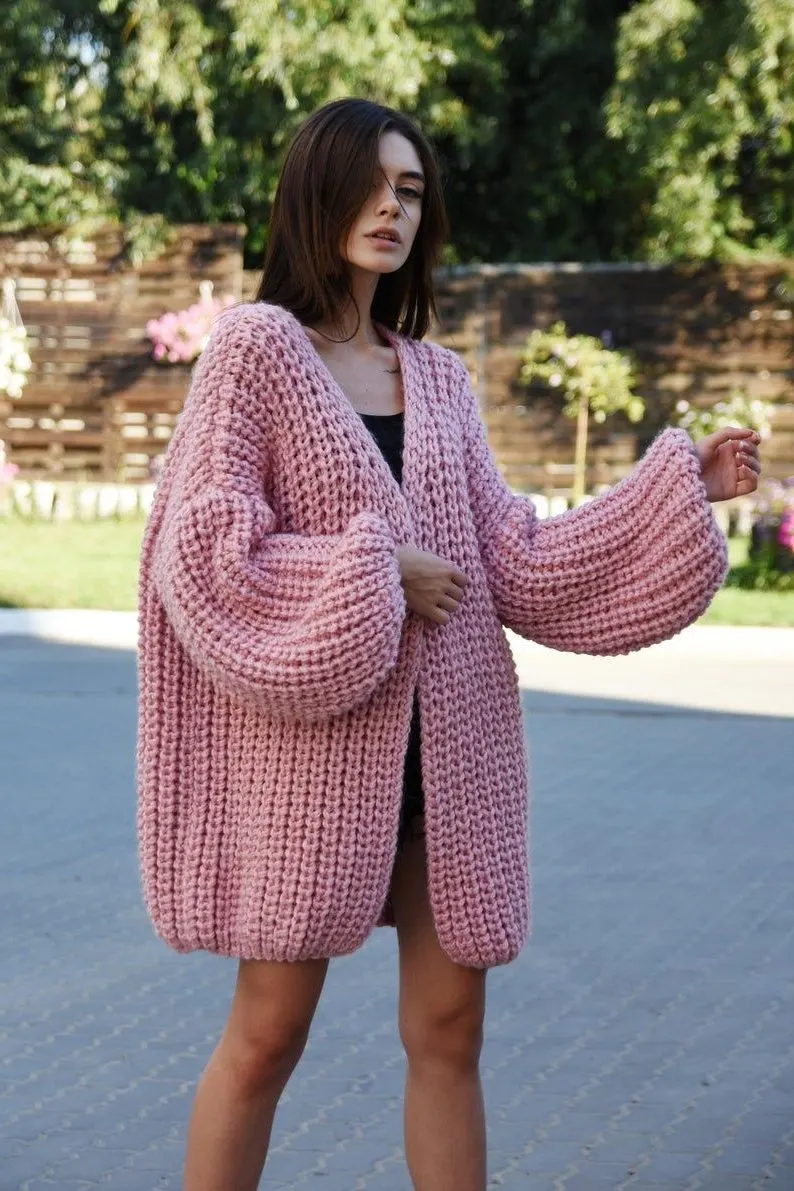 Buy Similar Here
A chunky knit mustard cardigan looks sassy! Style it with a basic top and knee-ripped skinny jeans: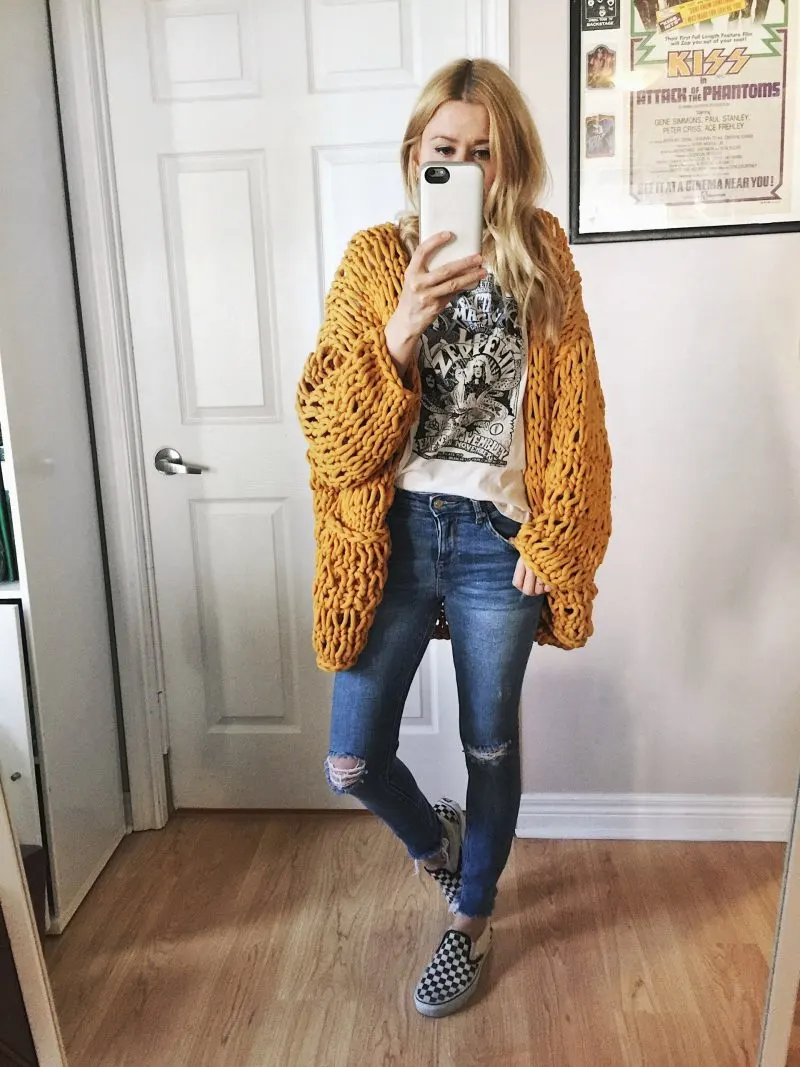 Buy Similar Here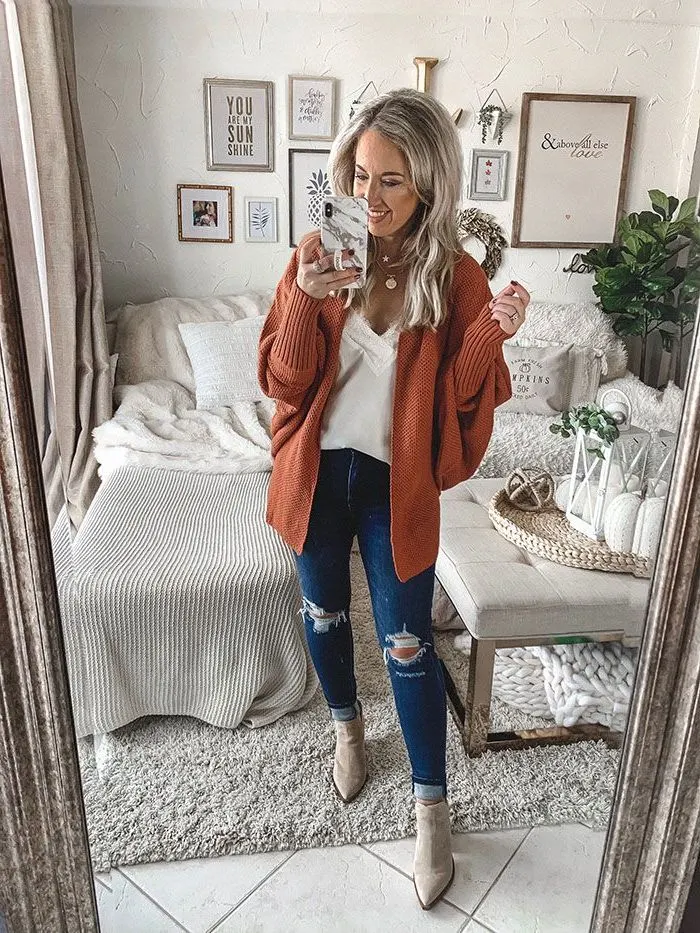 Buy Similar Here
Would you dare to wear this leopard print cardigan with black separates: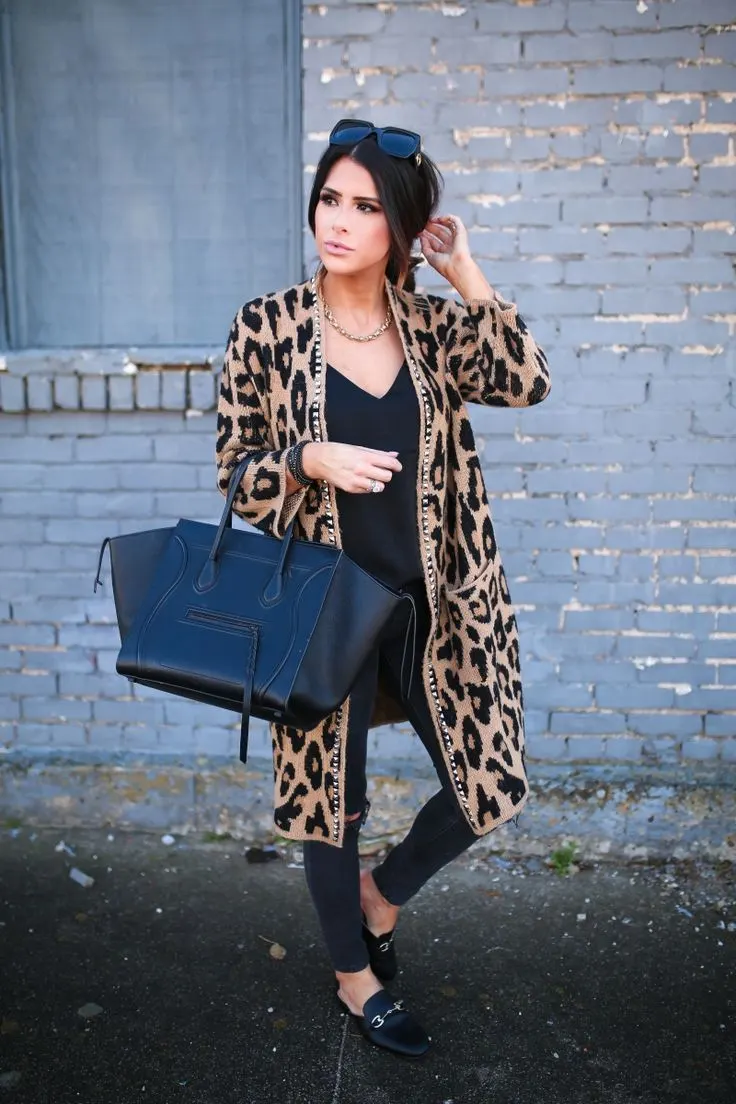 Buy Similar Here
A cropped violet oversized cardigan can be a perfect choice, style it with a white shirt and baggy jeans: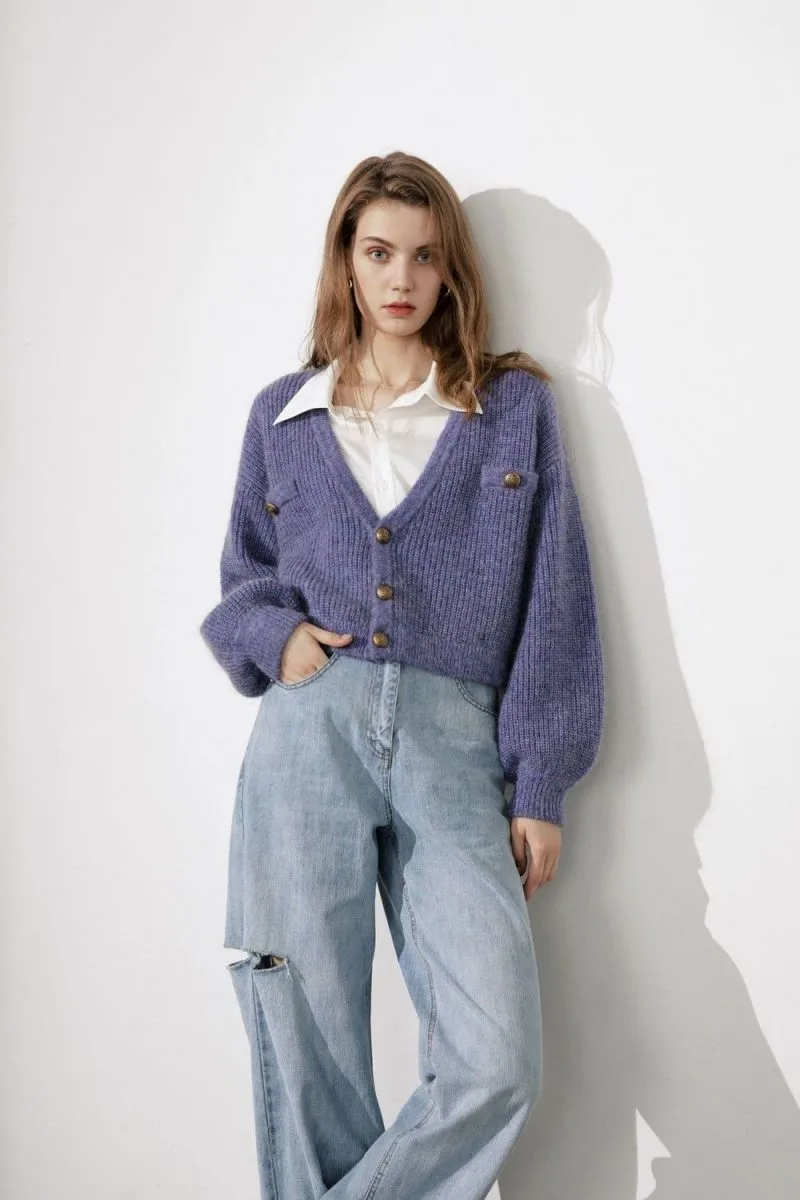 Buy Similar Here
We see a brown cap styled with a long oversized cardigan completed with a grey tee and slim jeans. Love the brown suede boots: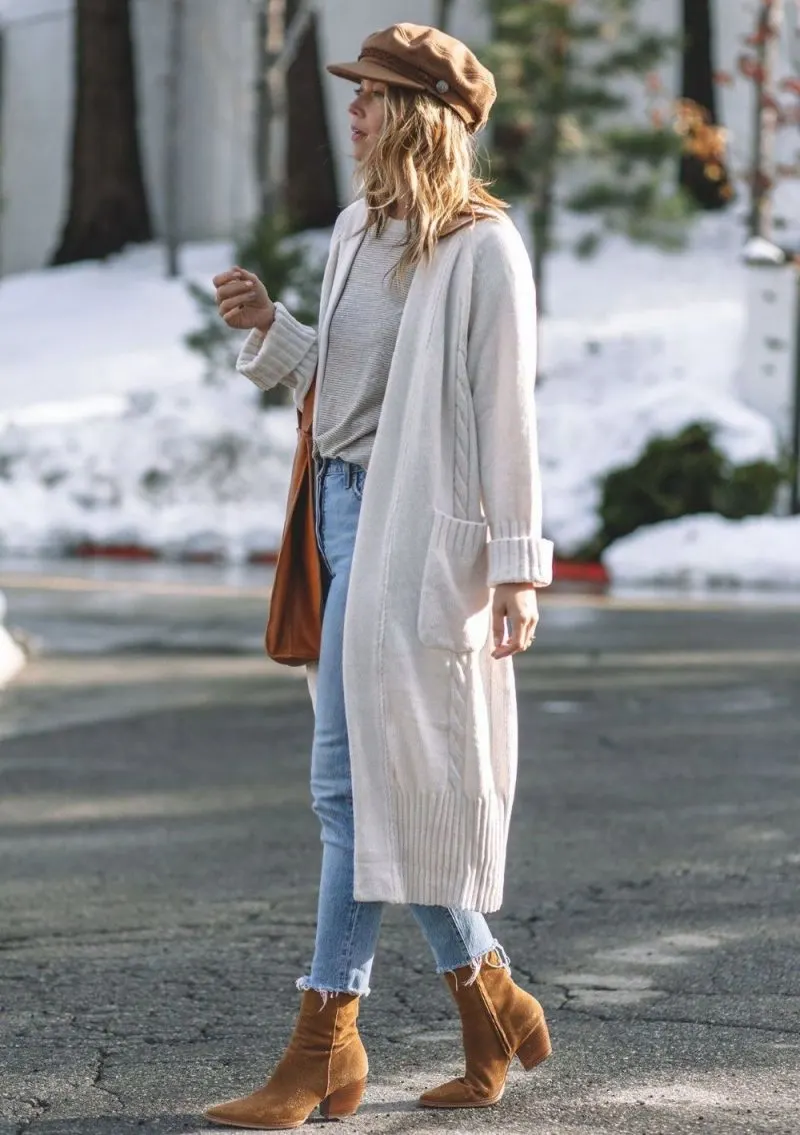 Buy Similar Here