This time we are going to talk about shorts. I am here to show you my favorite styles to wear on the streets, during beach walks, as well as at music convert festivals, parties, and even at the office during casual Friday's work hours.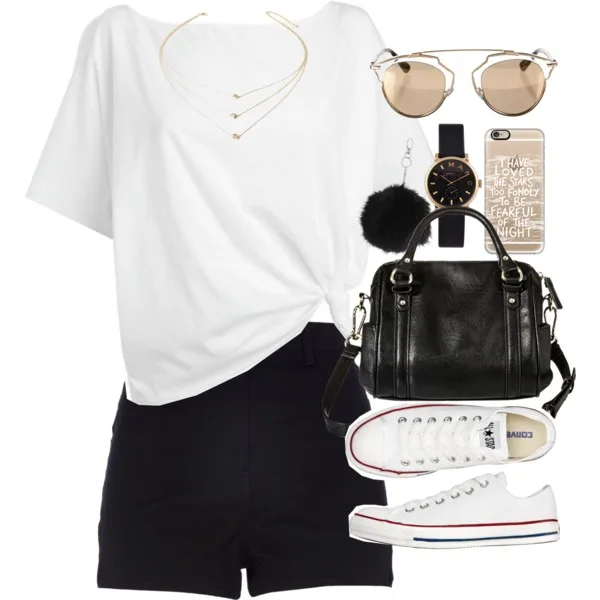 Buy Similar Here
The weather's finally warming up! And while you might be tempted to break out the sandals and sundresses, let's not forget about the quintessential summer time fashion for women: shorts. But how does one wear them? What styles of shors are there? Is showing leg allowed? We have you covered on all of these questions and more, letting you know how to wear shorts for summer in a way that makes sense and looks flattering. What do you consider "right" or "wrong" when it comes to wearing shorts? That's totally up to you—and there are no set rules, so just let your style guide you. But there are certain styles of shorts that work better with certain outfits—let's take a look at the coolest ways to wear them this year.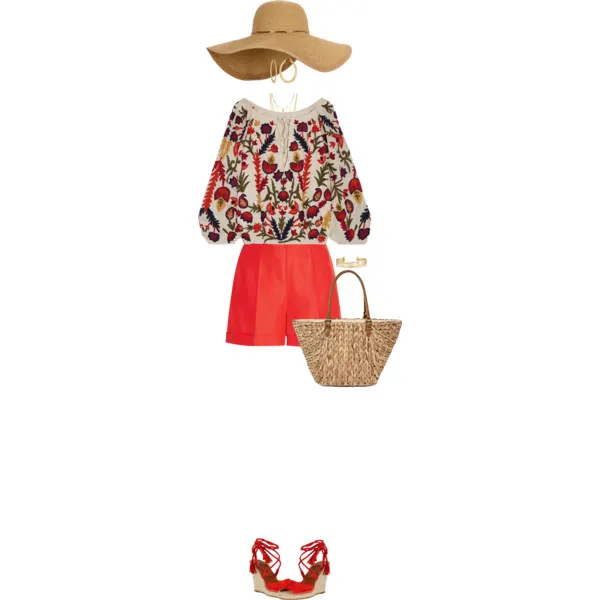 Buy Similar Here
So you want to wear shorts for summer. Great move. Who doesn't love the idea of showing some leg in the warmer weather? But don't make the mistake of thinking that showing off your legs means wearing a short skirt and tank top or even a little crop top. While it's true that shorts are one of the best ways to feel sexy and put together in warm weather, our advice is to go for simplicity. A basic short paired with a fun crop top, cool sunglasses, and cute sandals is perfect for running errands and showing off your legs without being over-the-top or looking sloppy.
The right shorts for you. Remember, it's summertime, so your shorts should naturally be lightweight and easy to move in. What kind of shorts are appropriate for a summer day? You've got plenty to choose from: cargo short pants, khaki cutoffs, denim cutoff shorts, and high-waisted shorts are all fantastic choices. You can also find lightly-distressed denim cutoffs tat look great when paired with a cute tank top or layered with an off-the-sholder crop top.
Why Should You Wear Shorts This Summer
I know many ladies who prefer to wear shorts instead of skirts. You might ask why? Well, shorts are much more functional and versatile, as you don't have to worry about walking tall or changing them into something casual.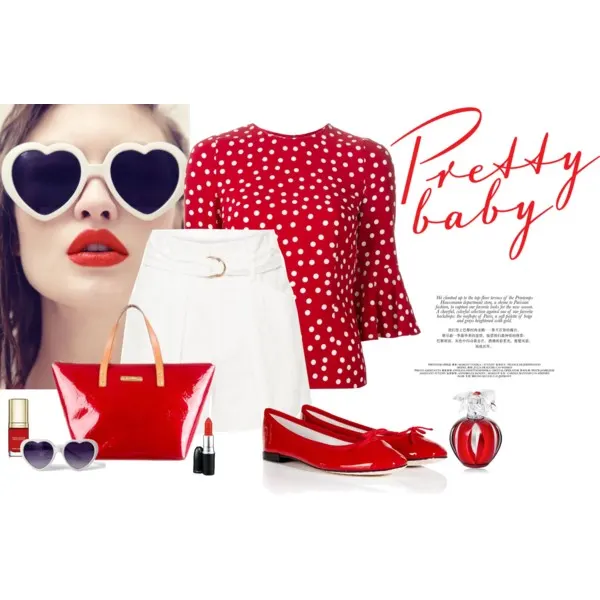 Buy Similar Here
Anyway, I recommend reading on and seeing all my favorite ideas that will surely help you create something new, creative, and unique.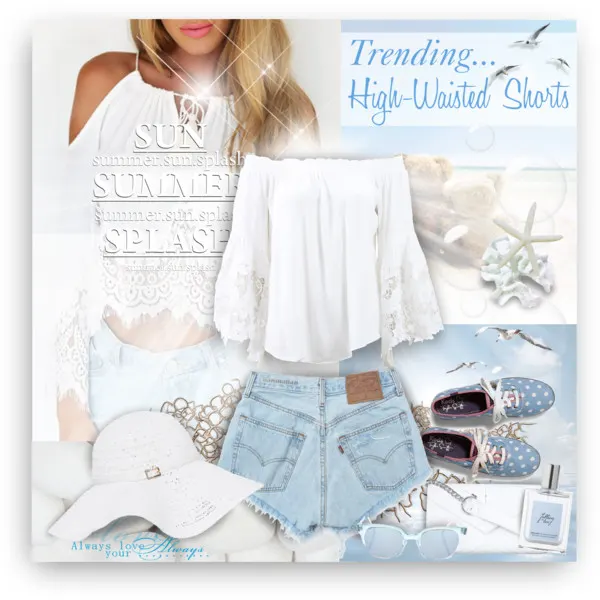 Buy Similar Here
Wearing shorts to work
Looking for a smart yet still casual look? A pair of high-waisted shorts can look fantastic with a blazer and an off the shoulder top, or with a comfortable pair of flats and some dangling earrings. Don't forget to accessorize! A fun necklace or belt can make all the difference. And don't forget: you don't have to show skin to dress sexy!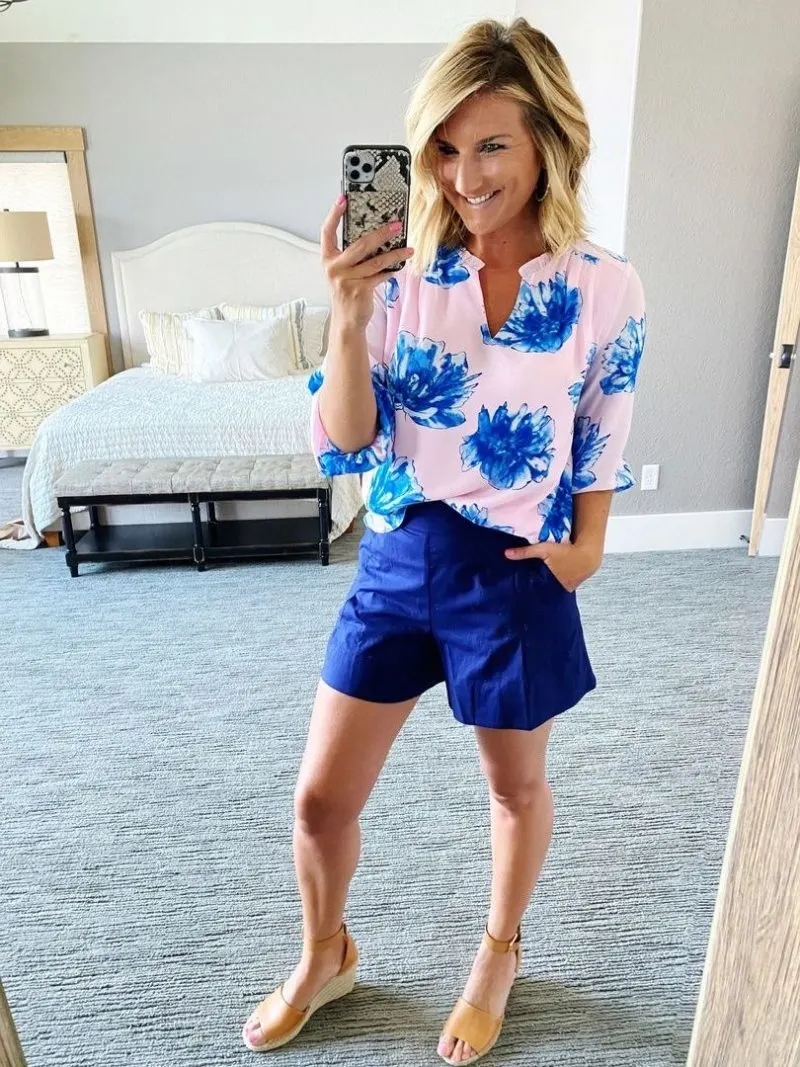 Buy Similar Here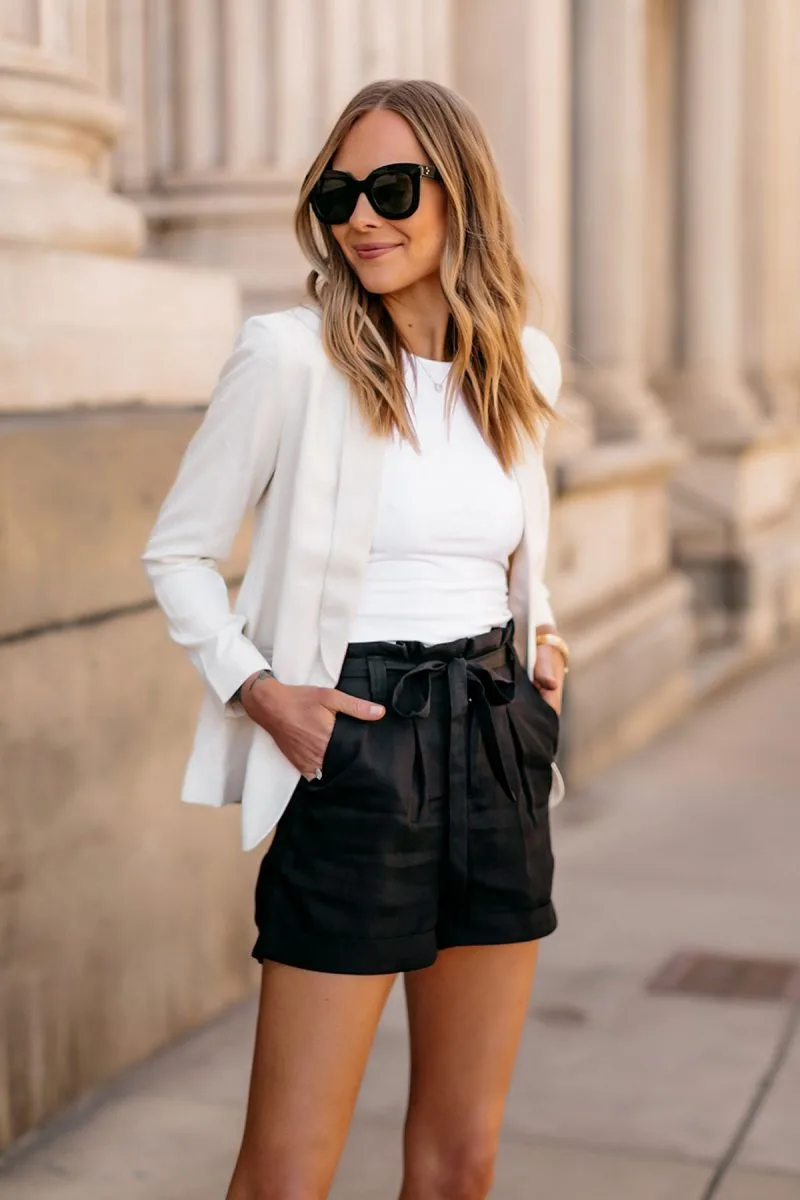 Buy Similar Here
Office Long shorts for summer.
Question: Is showing leg allowed in a professional work environment?
Answer: It depends on where you work. If you're in a creative field or work with younger people, showing your legs can be totally fine. But if you work in a more conservative field (such as finance), keep your legs covered until it gets really hot outside—or wear shorts that reach mid-thigh at least.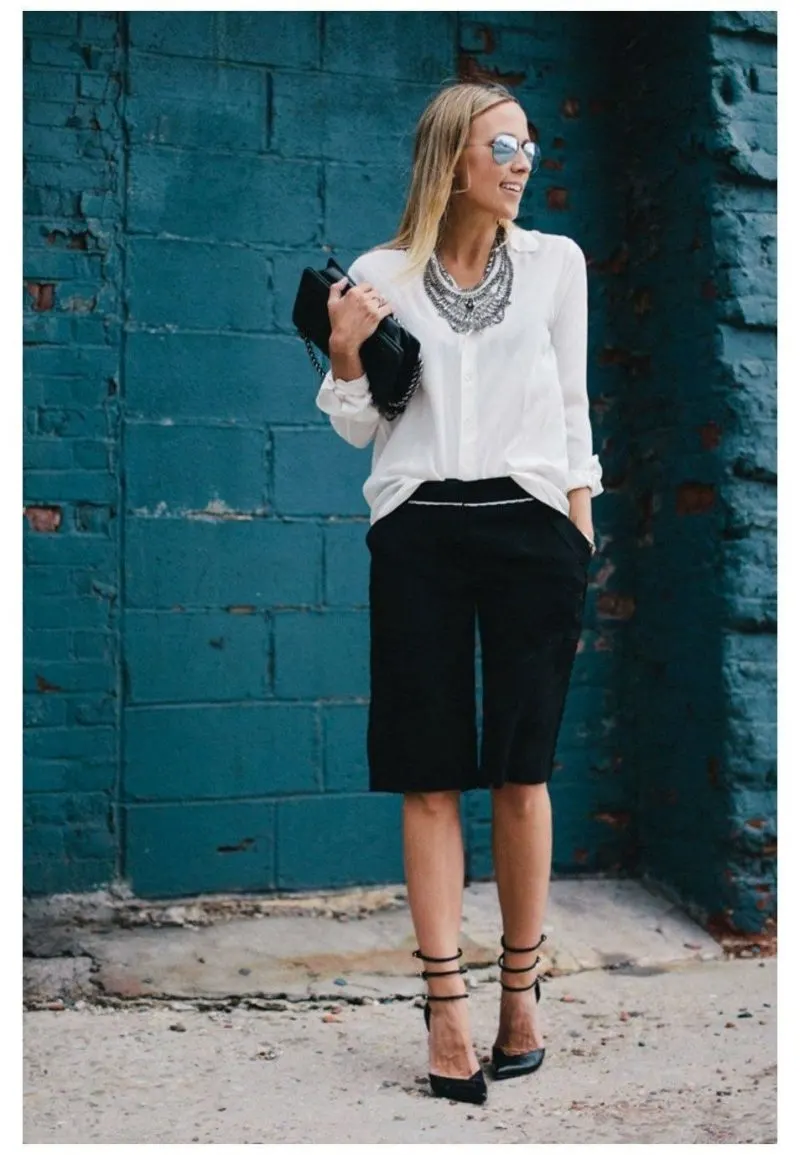 Buy Similar Here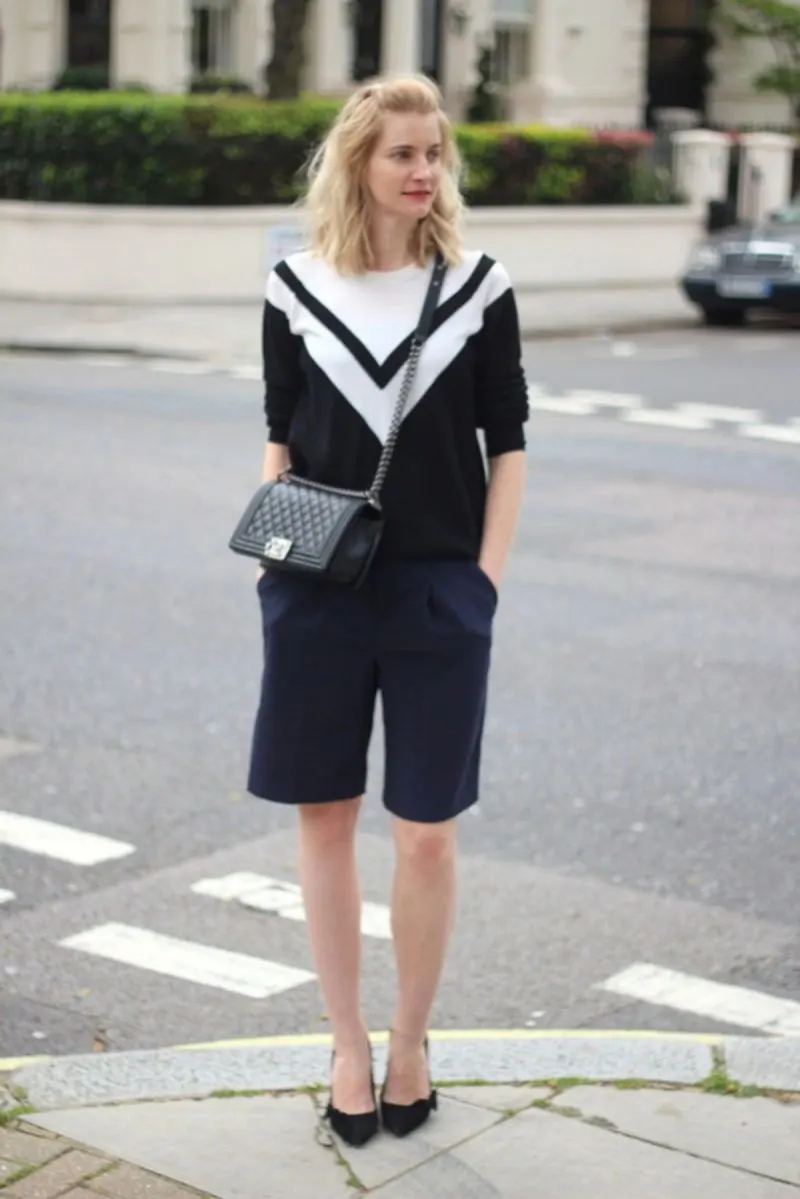 Buy Similar Here
Shorts For Casual Days
Once the weather warms up, you might be tempted to lose that skirt and spend more time in shorts. But if you're not sure what to wear them with or are feeling a little unsure about your look, here are some ways that can help. A basic tee and cool sandals : This is a great look if you want to show off your legs—with just enough coverage to keep things classy. Add some accessories like a belt, sunglasses, or rings!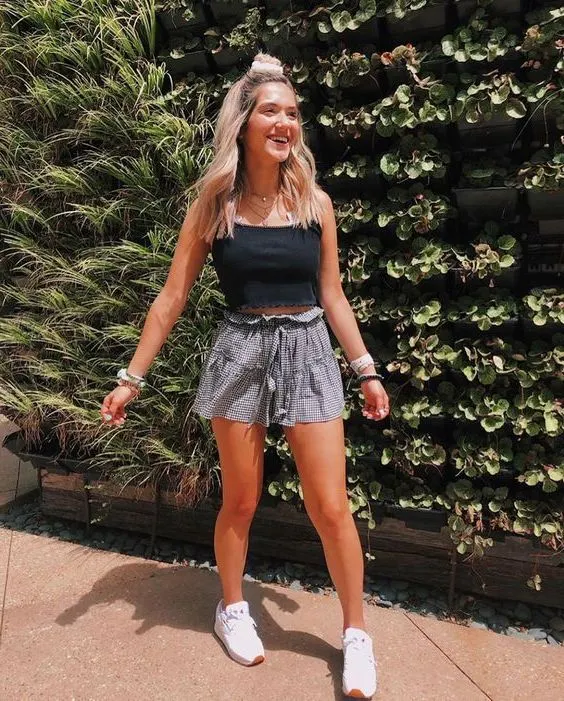 Buy Similar Here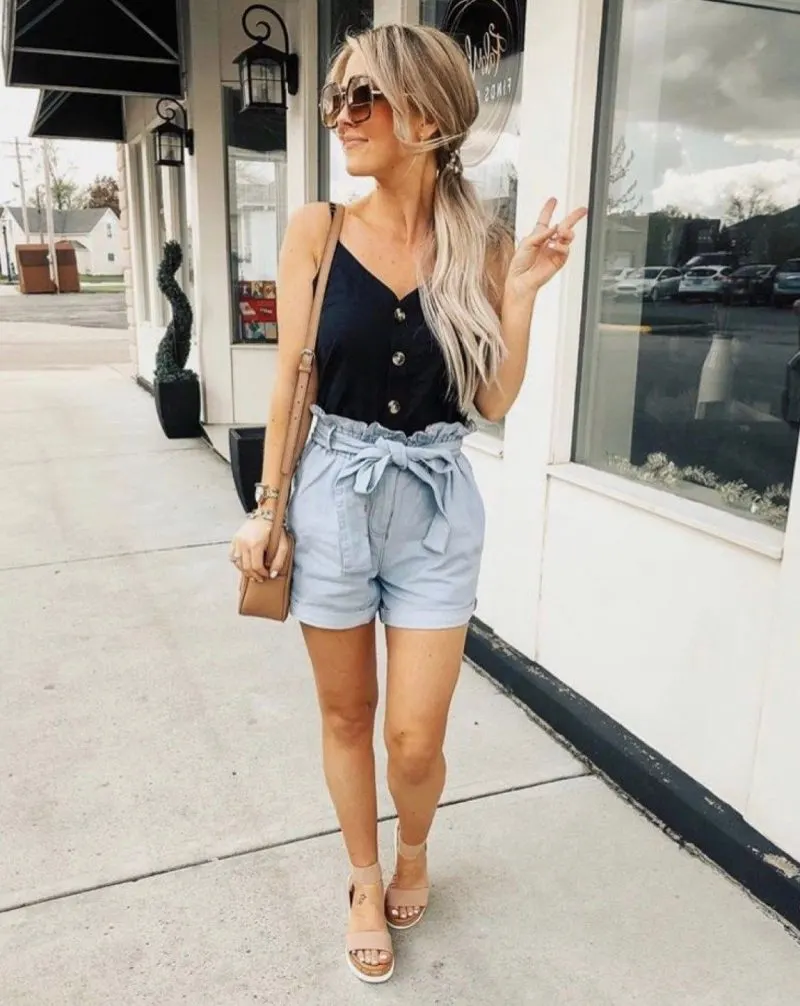 Buy Similar Here
Shorts For Summer Parties
Summer is the season of hanging out with friends and having fun. Whether you're going to a backyard barbecue, a concert, or even a wedding, we've got some cute outfits for looking your best while still having fun.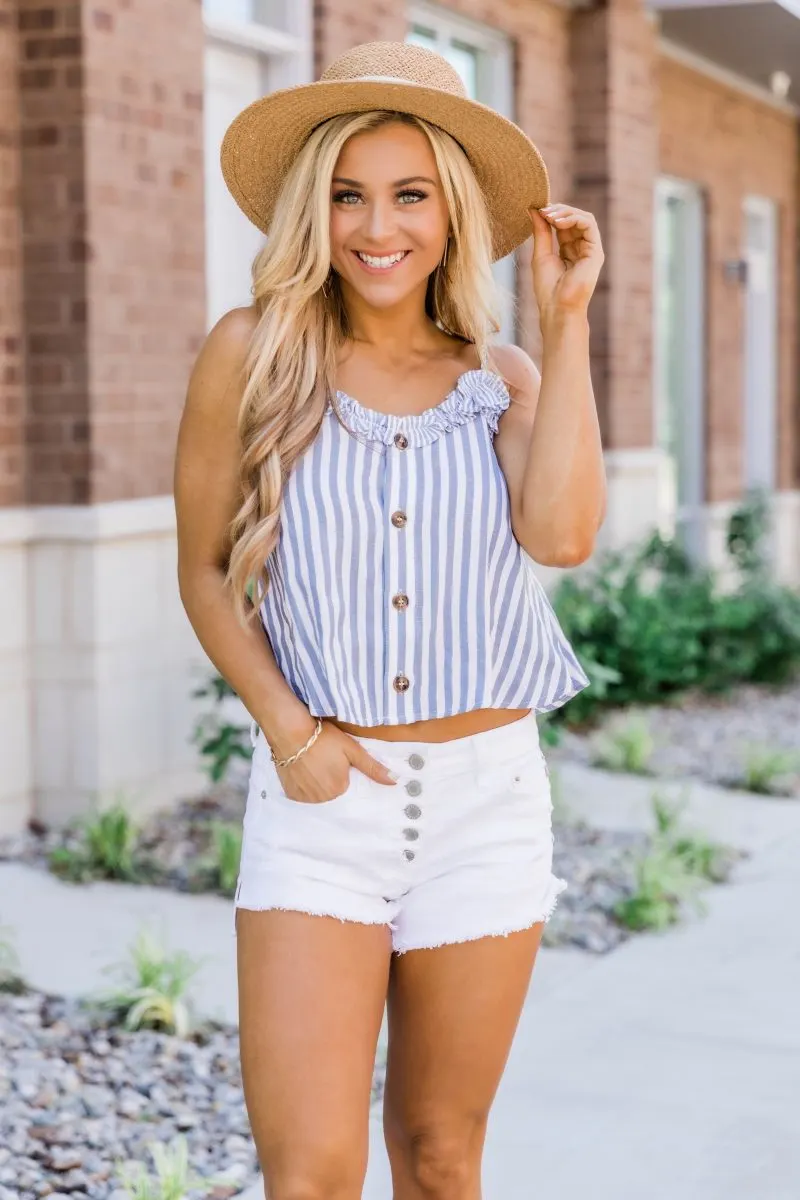 Buy Similar Here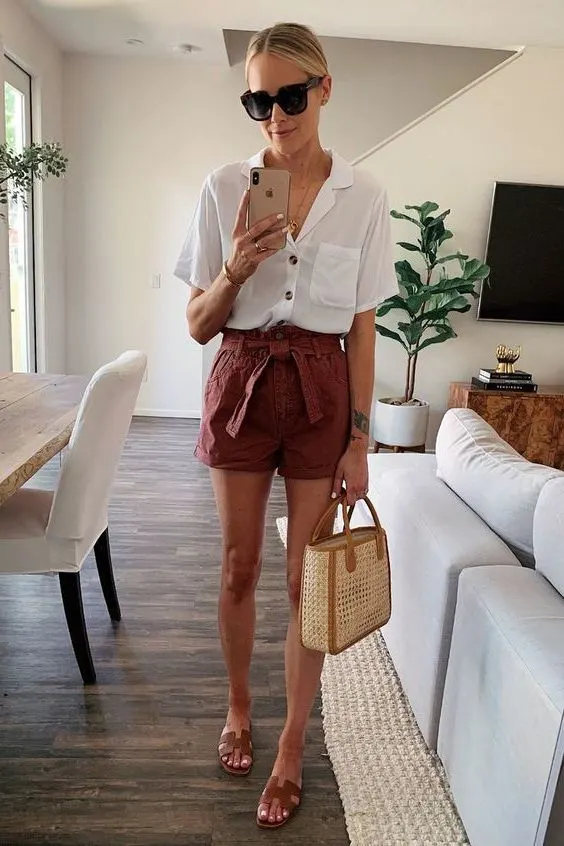 Buy Similar Here
Shorts For The Beach
Whether you're headed to the ocean or just spending the day at the lake with friends, look your best in shorts while still keeping cool! It's important to remember that shorts need to be lightweight and breathable—while you don't want to wear jeans on the beach (unless it's super hot), heavy fabrics like denim will weigh you down and leave you feeling hot. We suggest light cotton shorts that will keep you cool and relaxed on the beach. You can also find a wide variety of boho-chic styles, fun floral prints, and even some high-low hems.
Buy Similar Here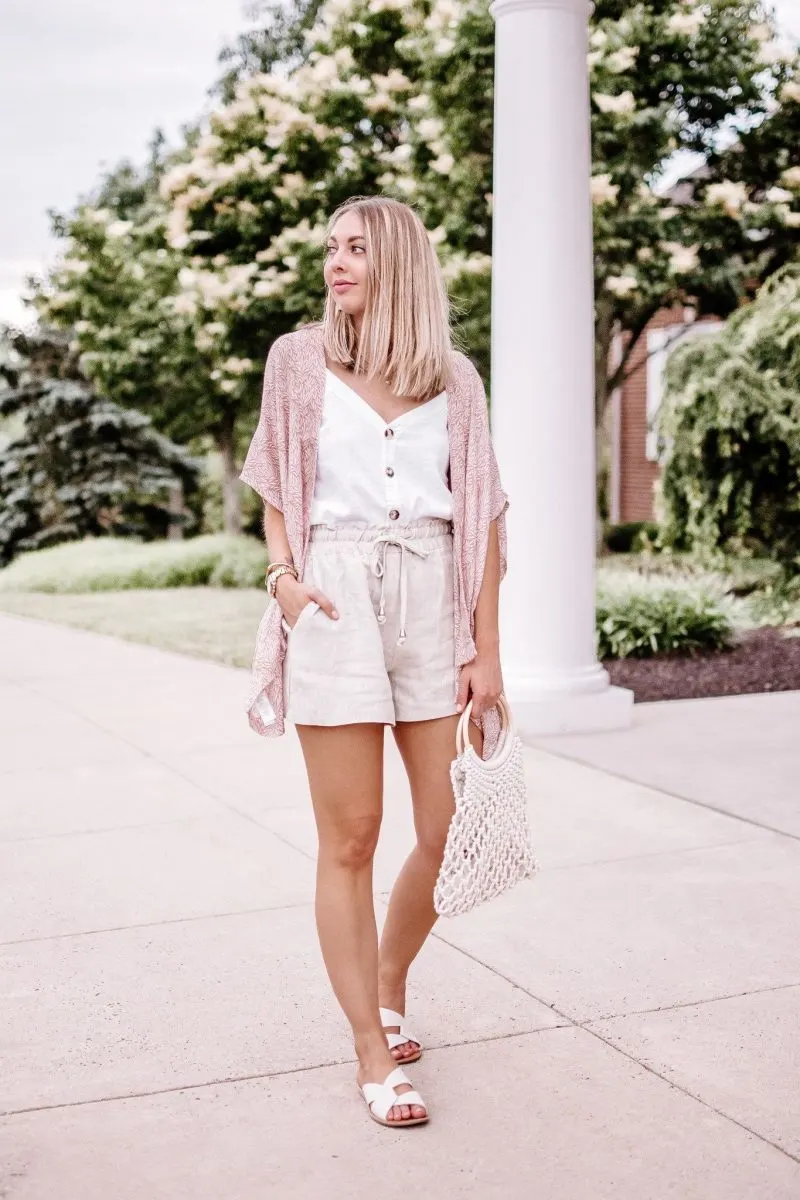 Buy Similar Here
The right shoes for wearing shorts in Summer
It's hard to look polished and organized when you're wearing the same old work dress and sneakers every day, but it doesn't have to be that way. Bring some fabulous elements into your wardrobe with these easy-to-wear yet stylish options: slip on shoes, open toe sandals, wedges, or lace up heels are all perfect additions to any work outfit this summer.
Wear them with sandals
Short shorts and sandals make any outfit photogenic and fun! Wear yours with anything from flip-flops to cute wedges. Summertime is definitely the season for shorts!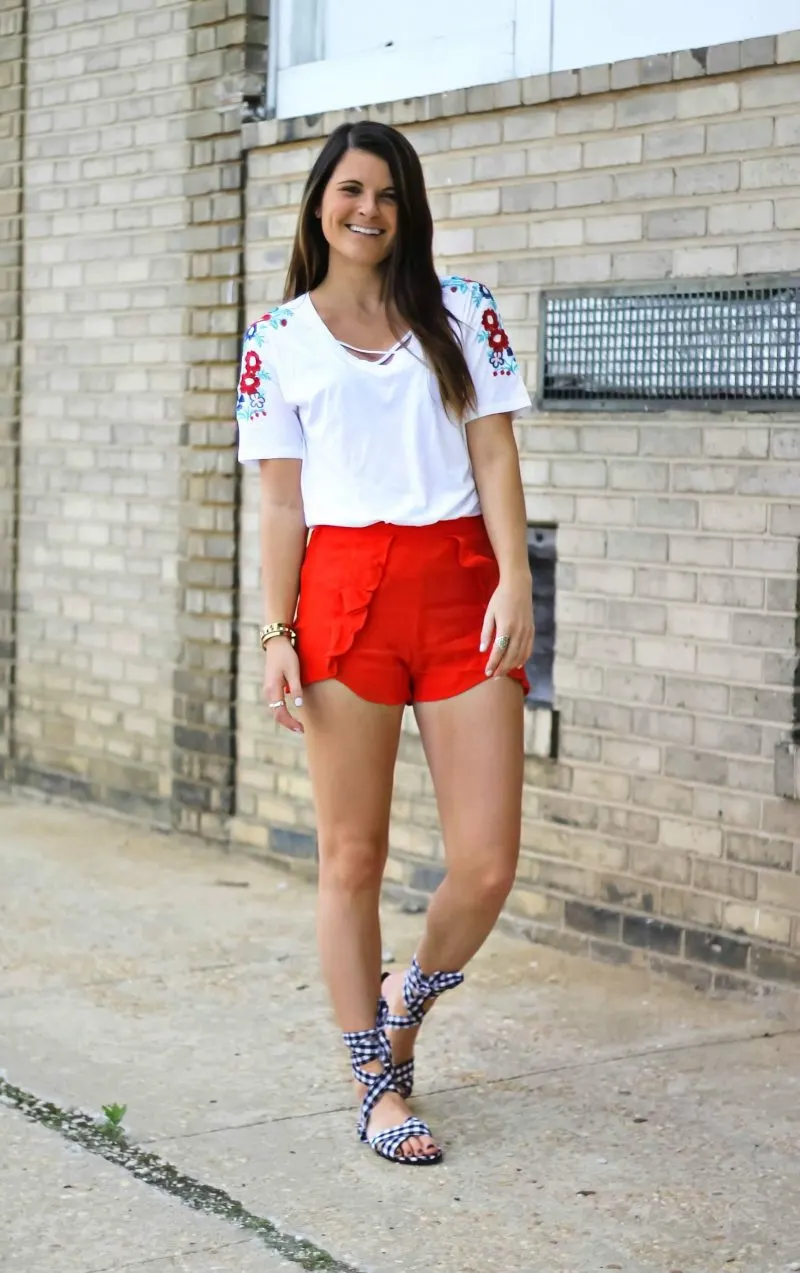 Buy Similar Here
Shorts With Heels
Want to add some height to your legs? Heels are perfect for showing off your shins and keeping things looking polished. What length do you go with? It totally depends on how tall you are—but if in doubt, we suggest an inch or more below the knee. Kick off your summer with some killer style! Shorts are a great way to express your personality this season.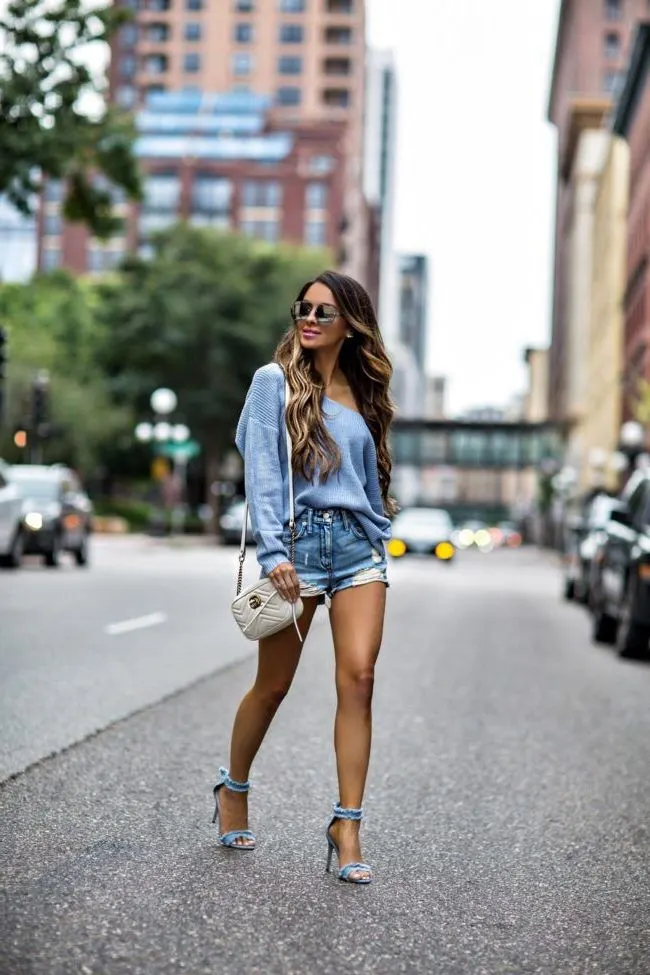 Buy Similar Here
With Sneakers
Go for a more casual and laid back look by pairing your favorite shorts with sneakers. This is perfect if you're on the go all day- start off in some comfy black shorts, put on a white or pastel tee, and finish it off with some old school kicks. Throw your hair into a ponytail or bun to top it off.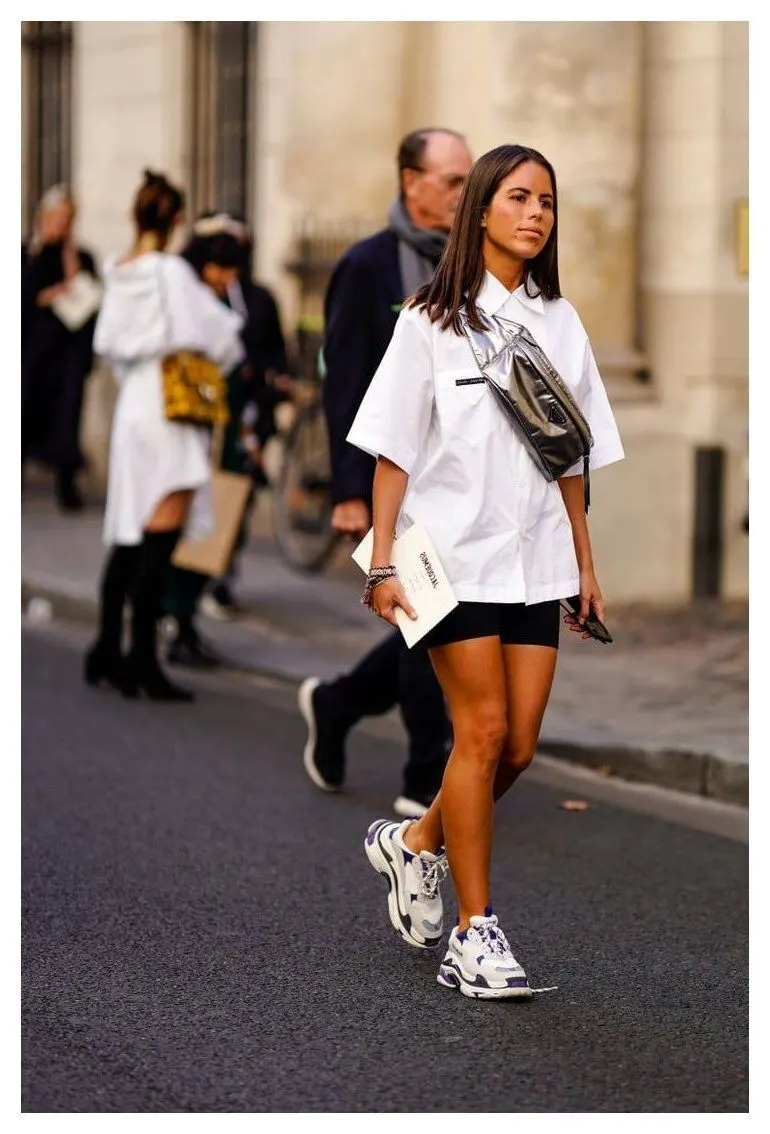 Buy Similar Here
Best Tips for wearing shorts in summer
1. Take advantage of short sleeve tops in the summer to highlight your arms.
2. Feel good about what you're wearing: if it doesn't feel right, don't wear it! If you can't carry off those really short shorts, try something more modest or invest in a few great pairs of pants instead.
3. Keep your outfit polished by adding accessories that you love: keep it classic with a bag or sandals, and be unique with jewelry like statement necklaces or bold earrings.
4. Experiment with different styles of shorts: high-waisted, cropped, high-rise, and knee length can all look amazing on you!
5. Bring color into your wardrobe if you're having a hard time starting from scratch. There are so many fun jewel tones to choose from this year! You can mix and match so many colors—just remember to keep everything else on the same color scheme or it will look like you threw together clothes in the dark!
7. Find the shorts that flatter your body type. See what you're working with—is it a hourglass shape, athletic legs, or slim thighs? Do you like giving the impression of having muscles in your thighs or do you favor a more toned and slim look? Is your waist small or large? Go for something that will flatter all of these features!
8. Keep up with trends: shorts can be worn with anything and everything from dresses and tops to blouses, wide leg pants, skirts and dresses. You can pair them with chunky shoes as well as high-heeled sandals. You can even match them with athletic wear.
What Shorts To Buy This Summer
As we all know, summer is an ideal time for wearing these functional bottoms. There are so many interesting combinations you can create thanks to the wide variety of shorts. You can either go for ripped denim cut-offs, tribal print cotton shorts, cargo safari shorts, floral retro denim ones, chinos shorts, etc. Each pair looks awesome thanks to the styling tricks. Move on and choose your favorite street style ideas.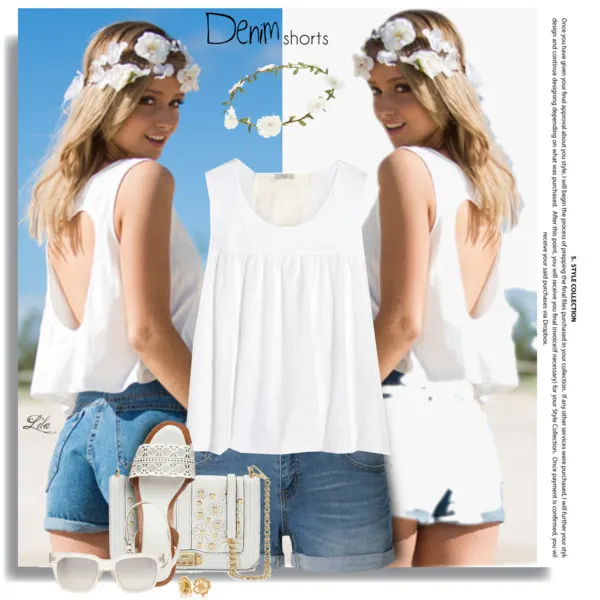 Buy Similar Here
If you are thinking of what tops to wear with shorts, then these tops can be either basics t-shirts, blouses, crop tops, embroidered tunics, lingerie, swimwear and whatever comes up in your mind. It's okay to wear bright tops and t-shirts, just make sure they match the overall style of your shorts.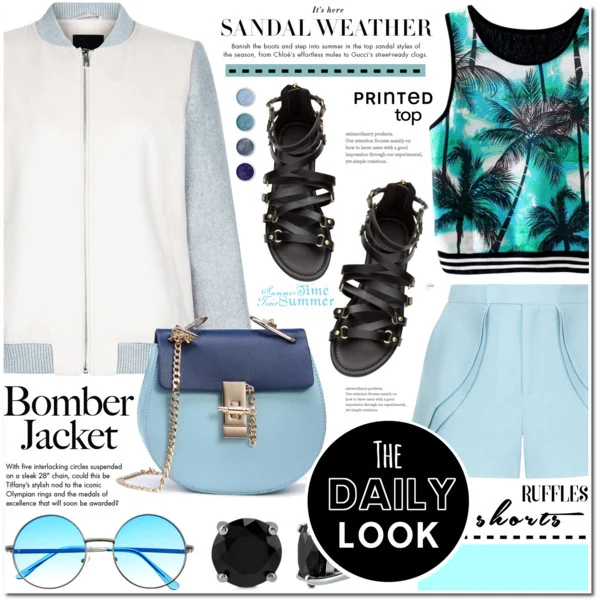 Buy Similar Here
Almost every brand offers a huge selection of shorts made of different materials. The different textures, colors, and fabrics might confuse you. My purchase decision is quite simple, I try to distinguish the beach option from the city shorts and buy what I need. Anyway, I've selected street style ideas to make your choice even easier, so that you can choose what suits you best.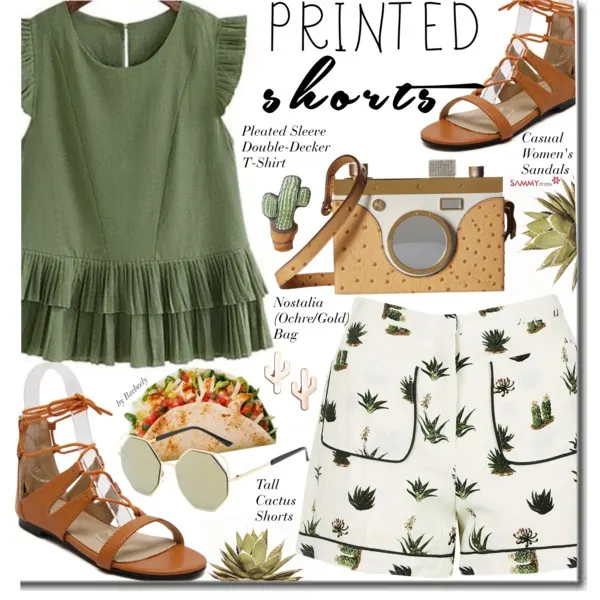 Buy Similar Here
Cycling shorts
These sporty style bottoms are still on a high peak. Why so many women are into this trend? They are extremely functional. You can wear them while cycling, while walking your dog, during a casual street walk, as well as to special events.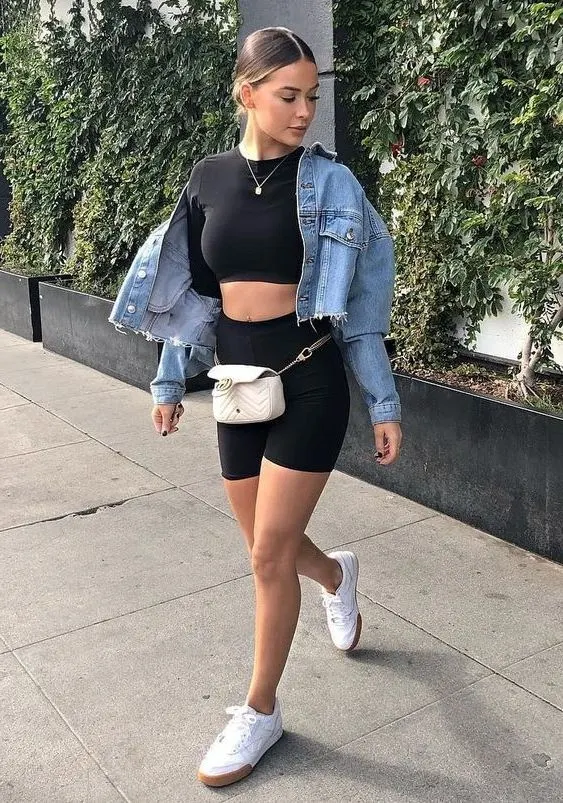 Buy Similar Here
Buy Similar Here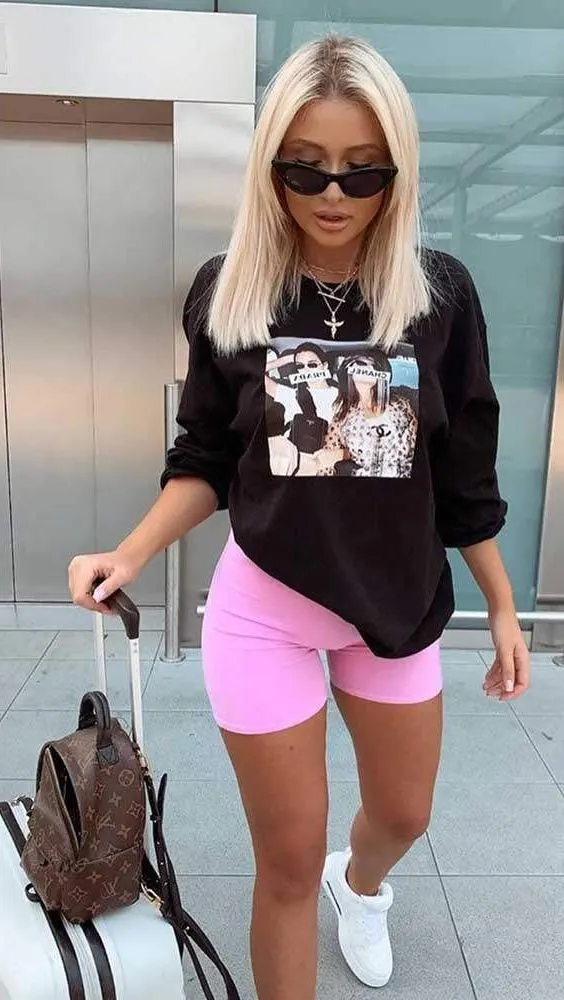 Buy Similar Here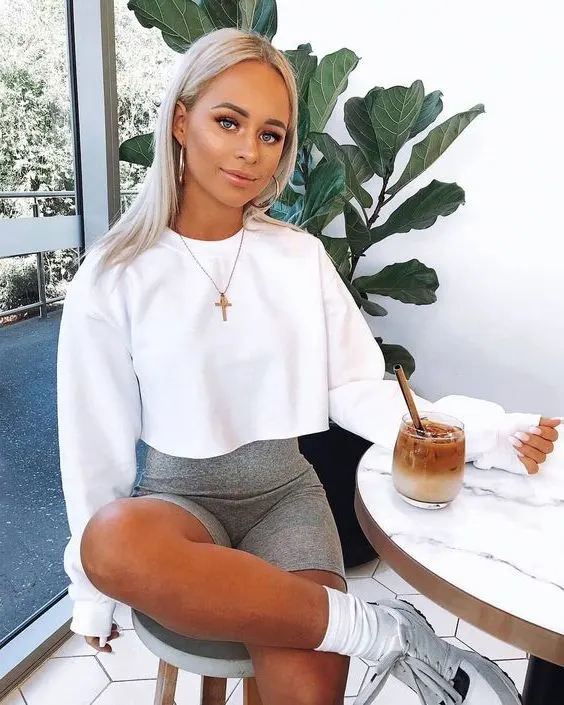 Buy Similar Here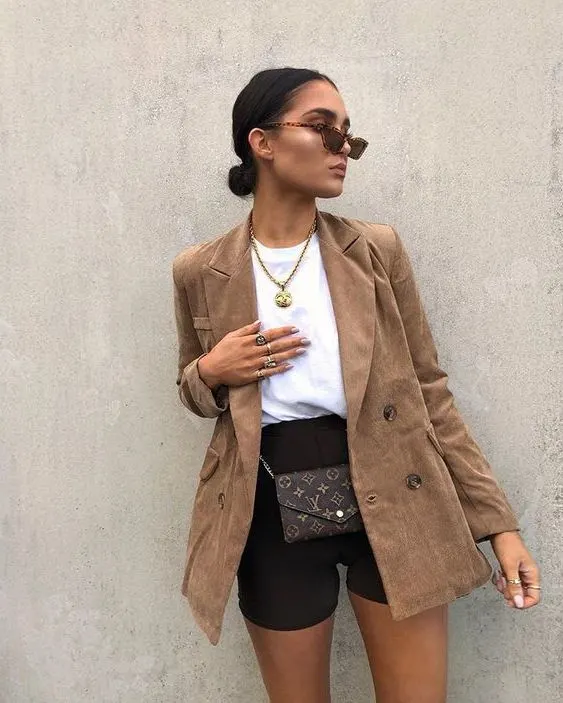 Buy Similar Here
High-waisted shorts
Keep in mind that the most fashionable shorts now are the ones that are slightly wide and high-waisted. You are free to complement such bottoms with a belt, so you can accentuate the waist and make a wow statement on the streets. The best way to wear them is with tucked-in tops. Plus, my favorite high-waisted shorts for summer are the ones with a paper bag waist.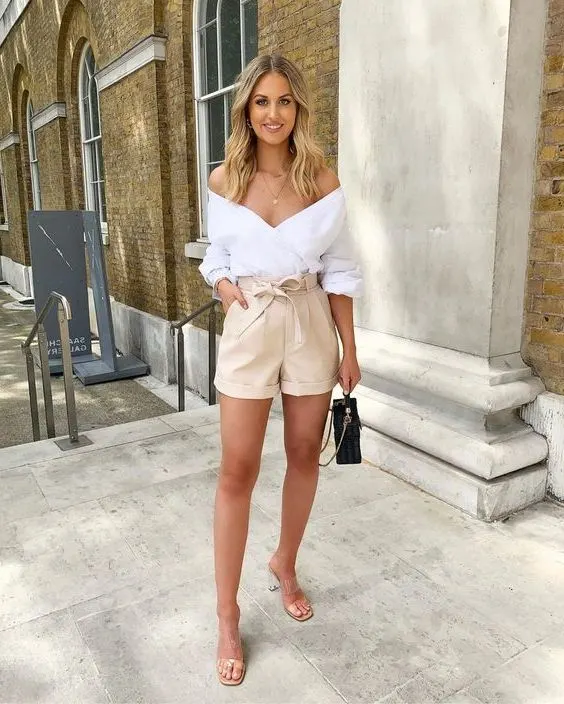 Buy Similar Here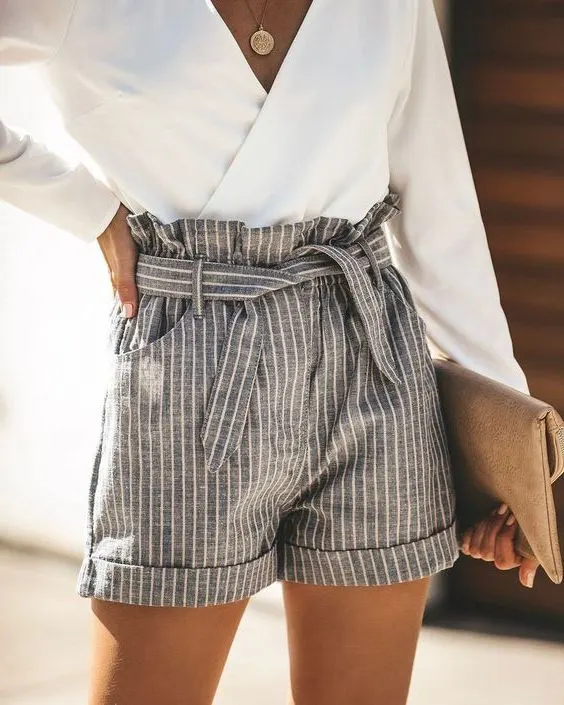 Buy Similar Here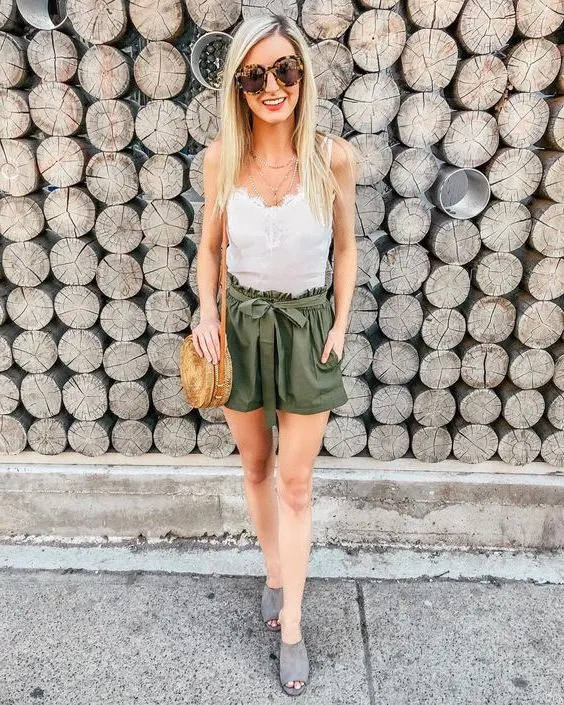 Buy Similar Here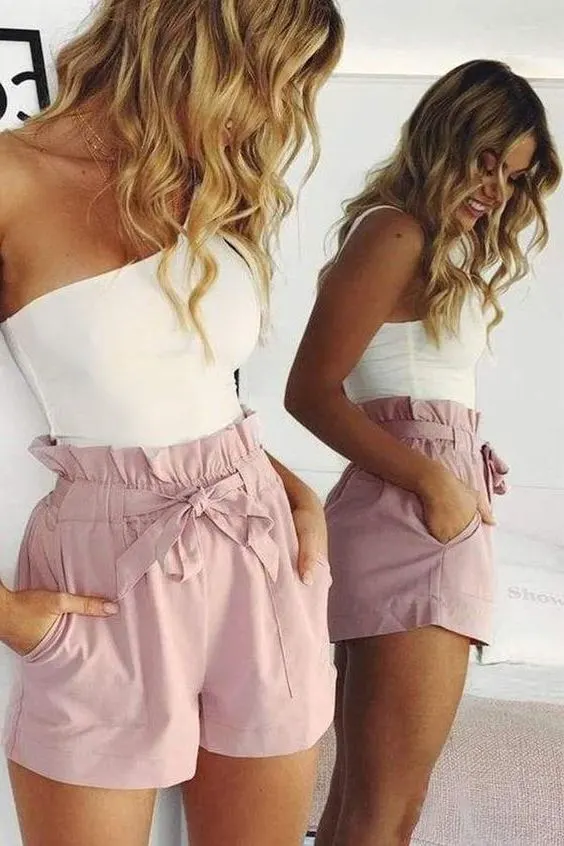 Buy Similar Here
Floral print shorts
Floral print shorts are back. This summer you can go for creativity and choose yourself shorts with abstract floral print, tropical touches, large flowers, etc. In other words, go for something that can make you look individual.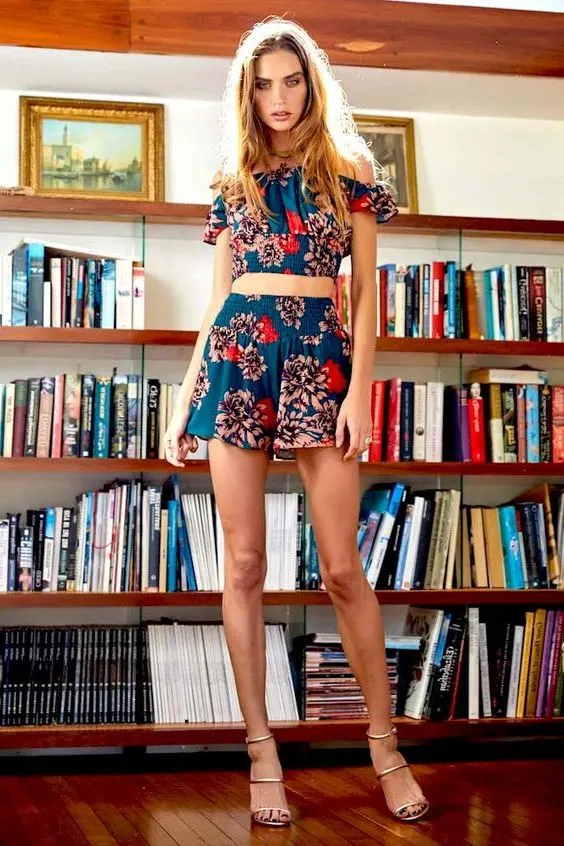 Buy Similar Here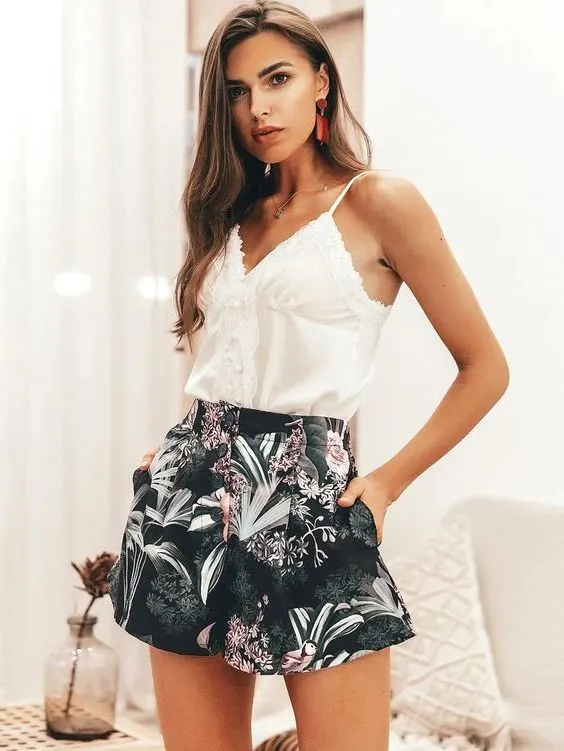 Buy Similar Here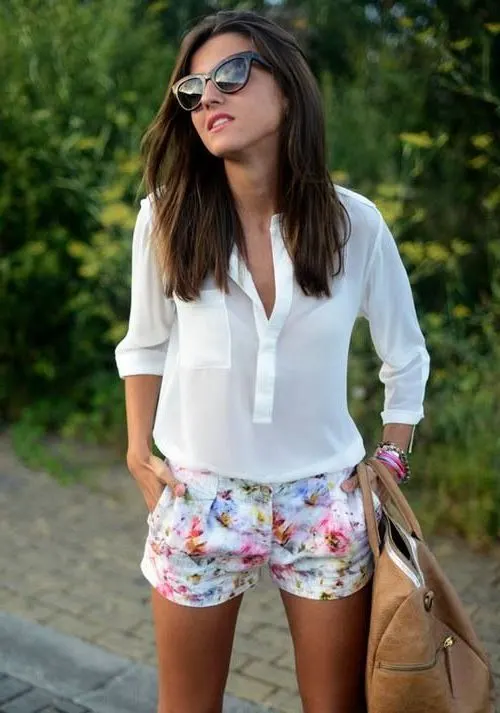 Buy Similar Here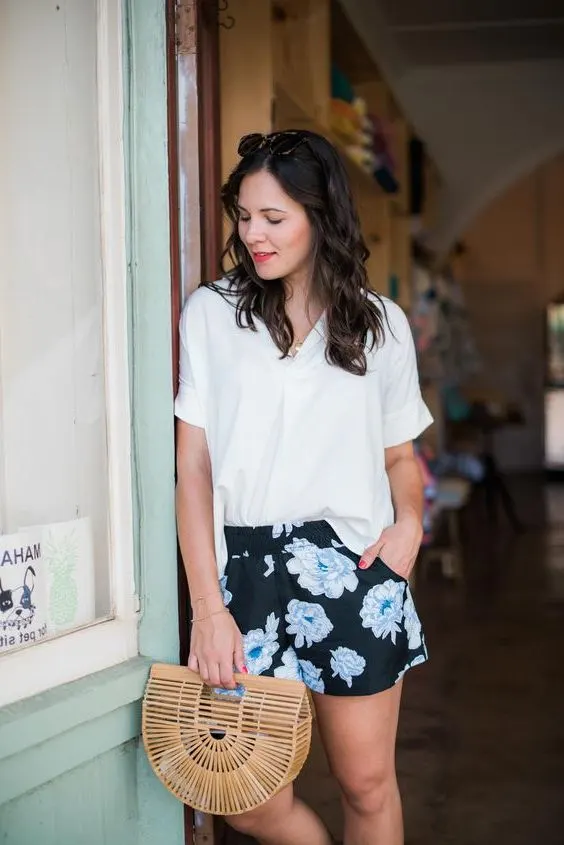 Buy Similar Here
Denim shorts
Denim shorts will never go out of style. It's more about your personal style, you can go for skinny denim shorts, or keep things cool with mom denim shorts. The choice is yours, just make sure to balance them up with an appropriate jacket and top. By the way, check out my post on ways how to wear denim cut-offs, you gonna see tons of cool ideas to try out right now.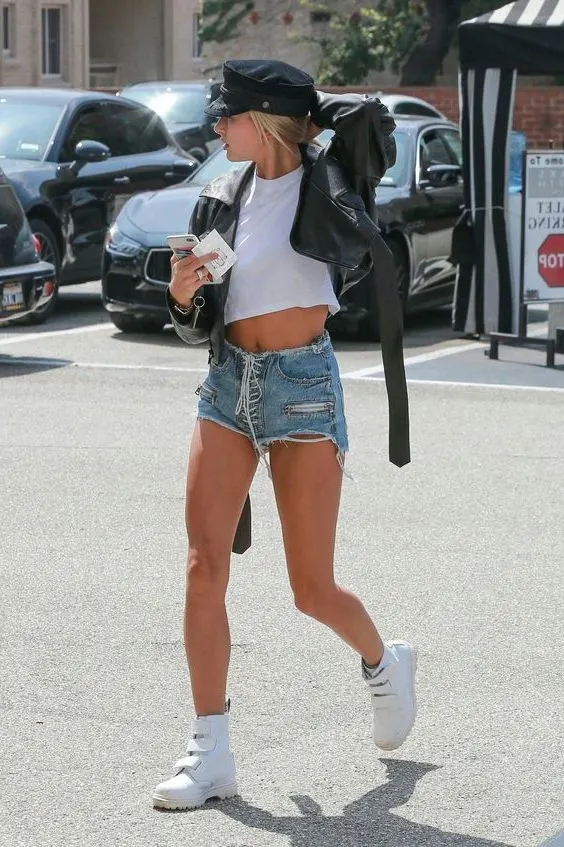 Buy Similar Here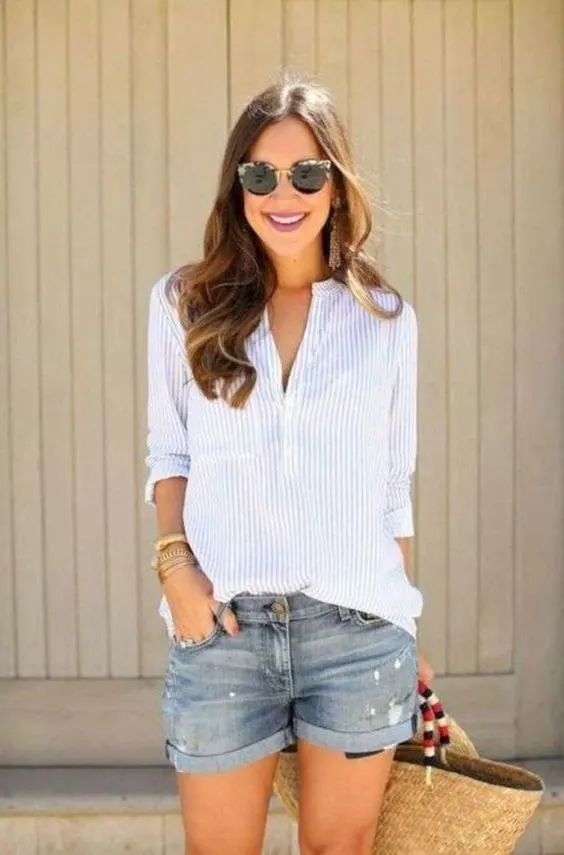 Buy Similar Here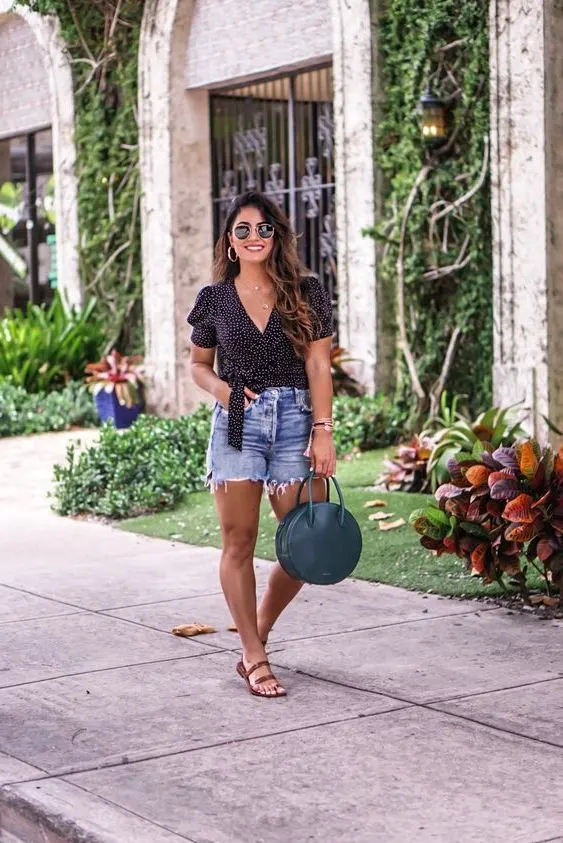 Buy Similar Here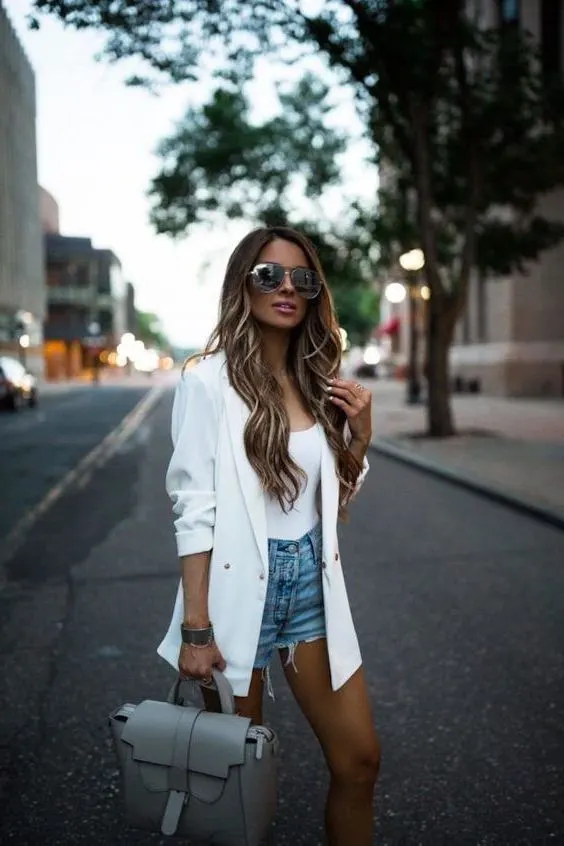 Buy Similar Here
Skorts
Yes, yes, you heard me right, skorts are back in style and you better try them on. What is so special about these bottoms anyway? They might look like a skirt, but these are shorts. That's why you are free to wear skorts while climbing a tree, or going for a bicycle ride.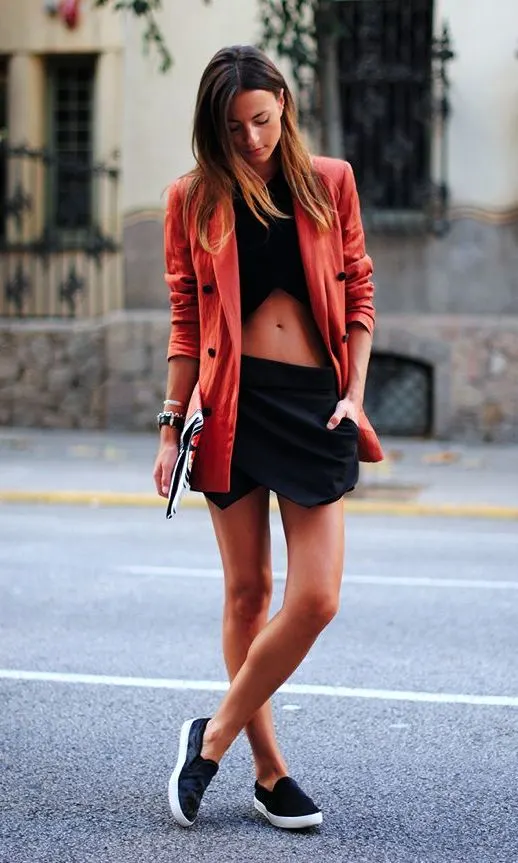 Buy Similar Here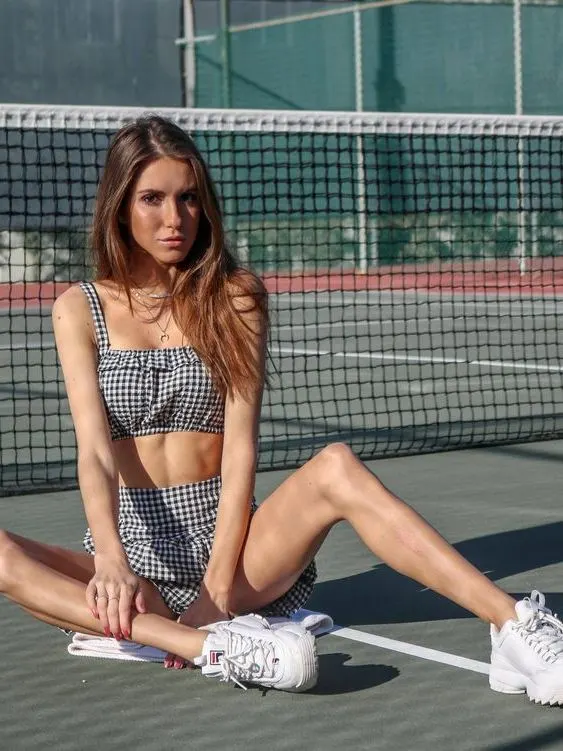 Buy Similar Here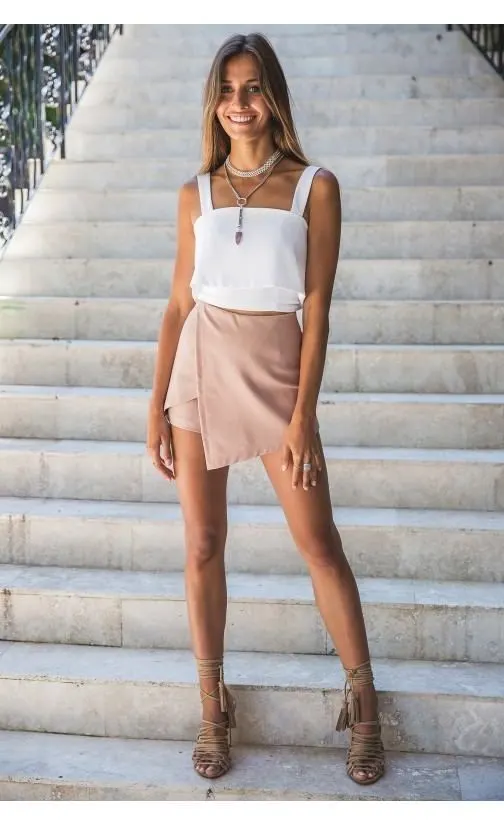 Buy Similar Here
Shorts Suit
Suits with shorts are one of the hottest trends for the upcoming summer. If your company's dress code allows wearing shorts, then I do recommend giving this combo a try. If you are not going to wear this look to the office, then you can simply add sneakers and meet your friends at the bar. You can make a daring update by adding some sassy hot lingerie under the blazer.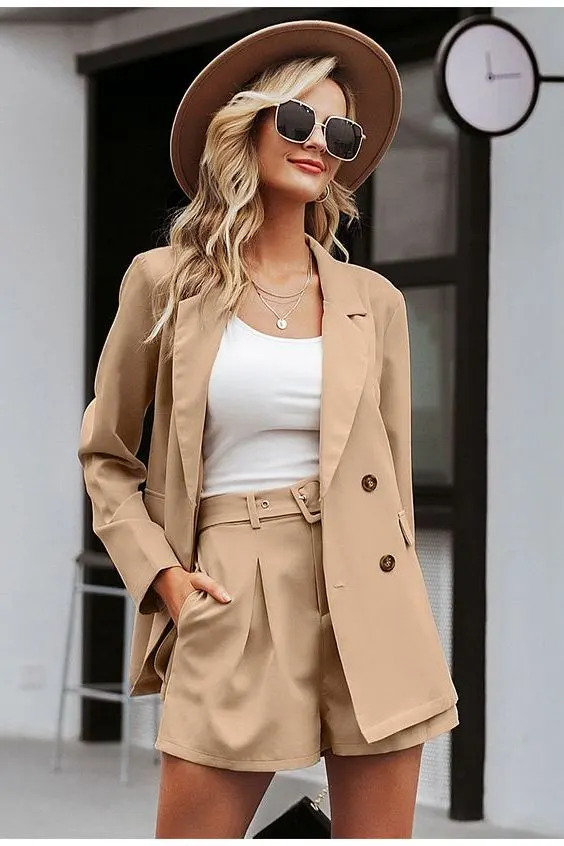 Buy Similar Here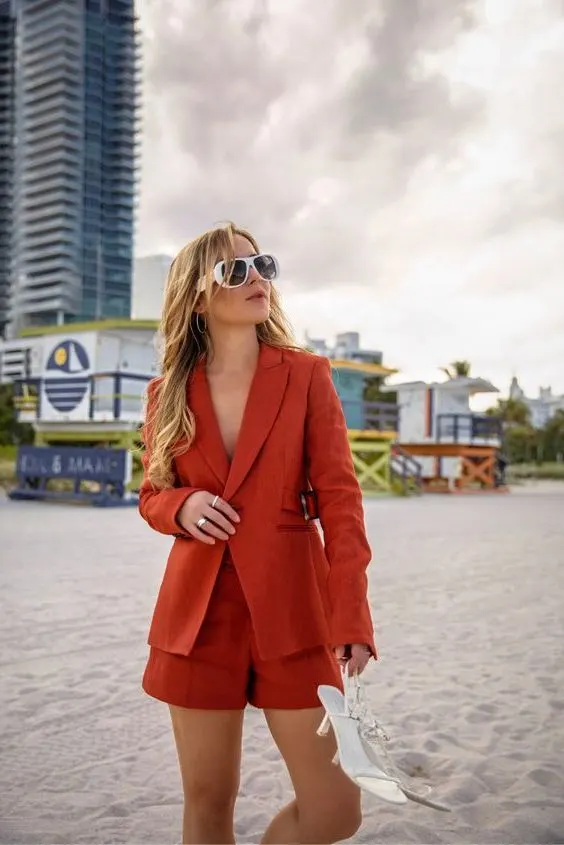 Buy Similar Here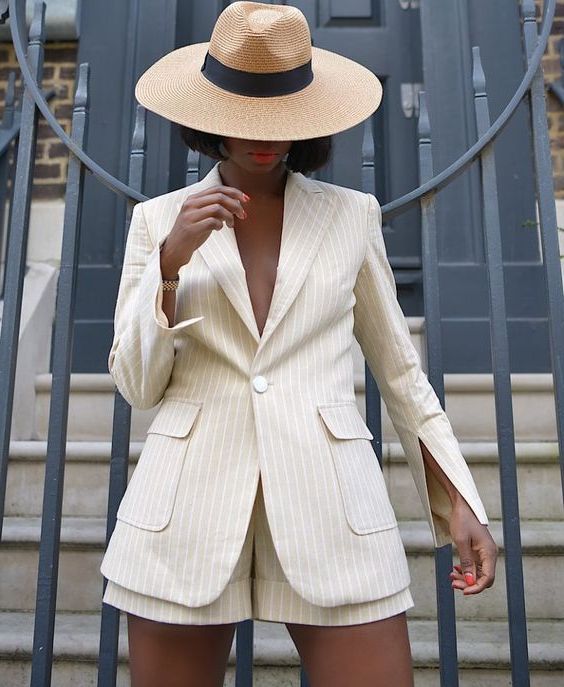 Buy Similar Here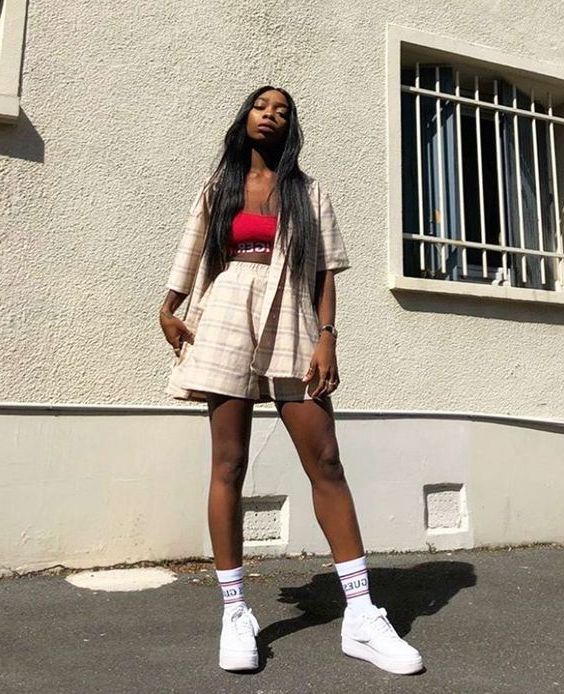 Buy Similar Here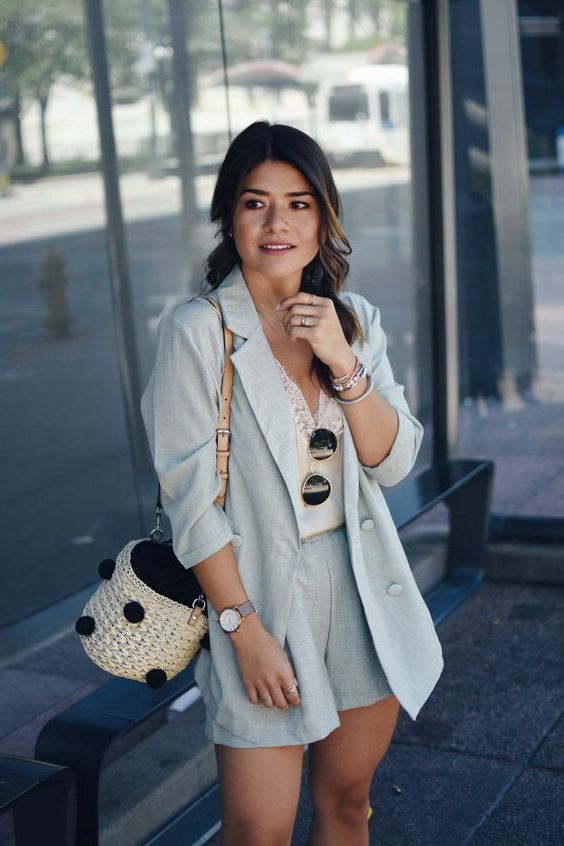 Buy Similar Here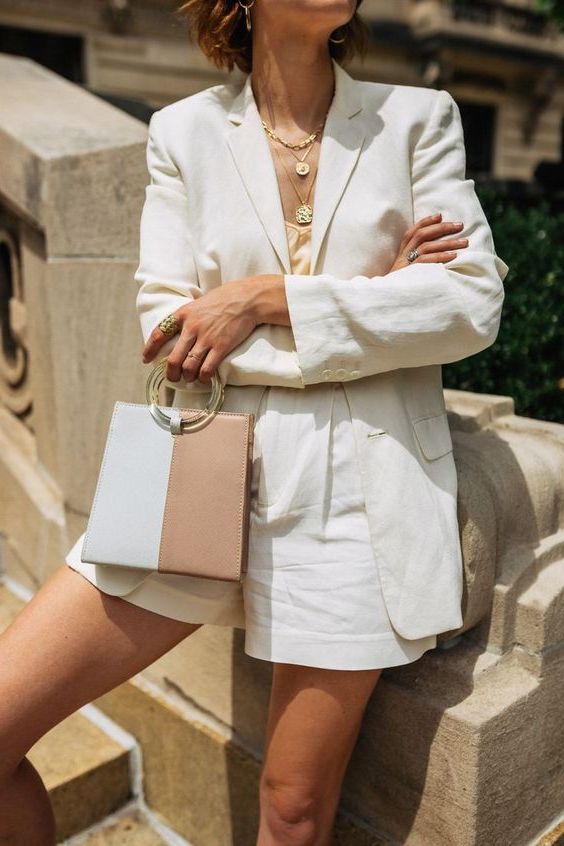 Buy Similar Here
Striped shorts
In these shorts, you can walk around the city, as well as at the beach. Just keep in mind one thing if you want to use them in the city: keep the rest of your look neutral colored. What other pieces should you add to this outfit? I recommend adding large earrings, stylish clogs, and a fashionable tote bag.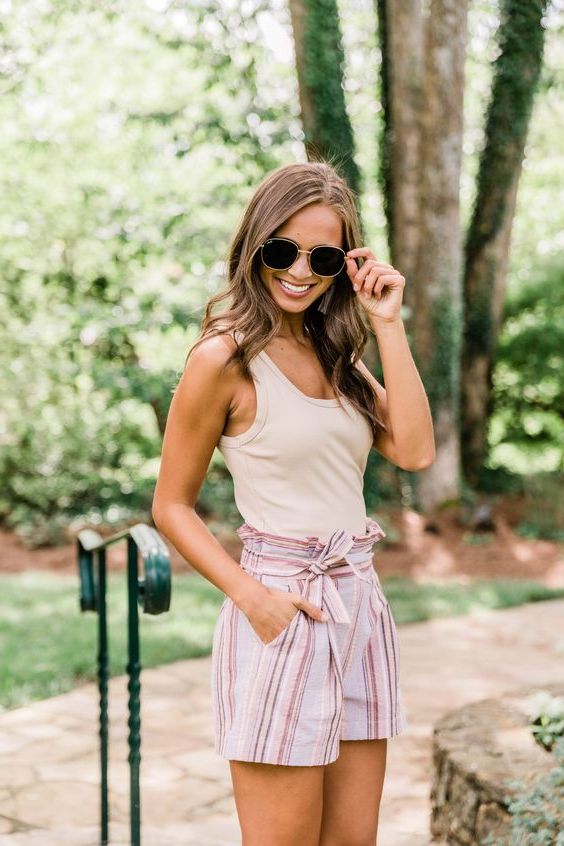 Buy Similar Here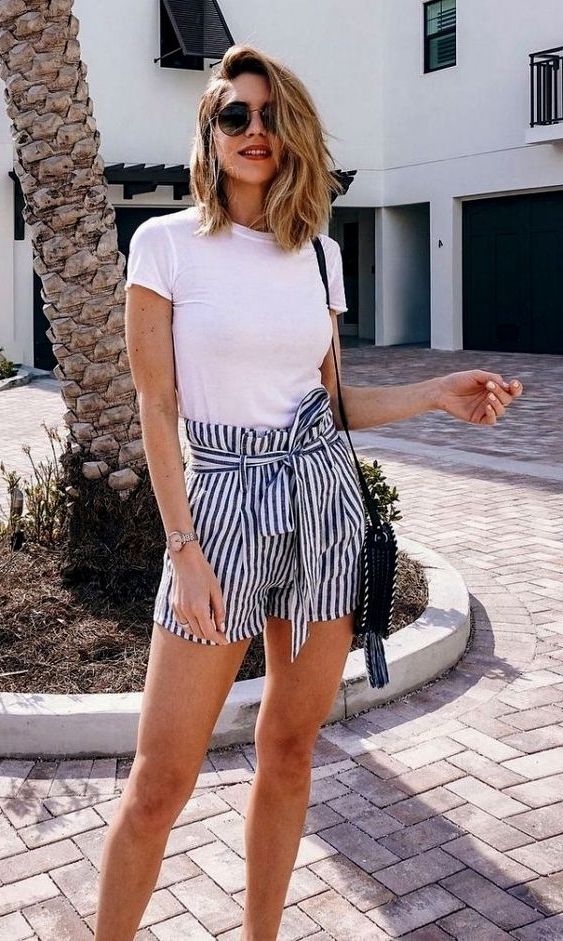 Buy Similar Here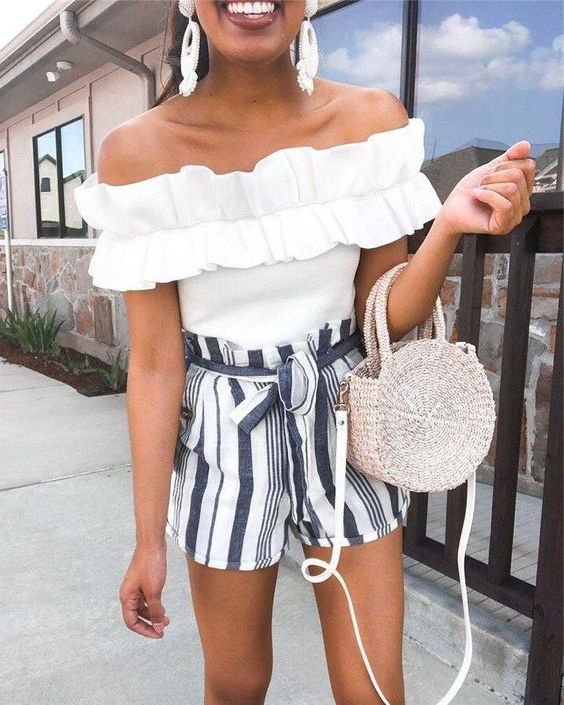 Buy Similar Here
Khaki shorts
The military trend does not want to let us go, and that's why the khaki continues to conquer the fashion industry. By the way, check out my full guide on how to wear khaki shorts, there are some cool ideas you might give a try this season. Anyway, you are free to buy shorts in this practical hue. Here I gathered some of my favorite ideas and combinations. I recommend teaming khaki shorts with beige shades and create a cool, kind-of Safari appearance, or keep things feminine by adding floral print.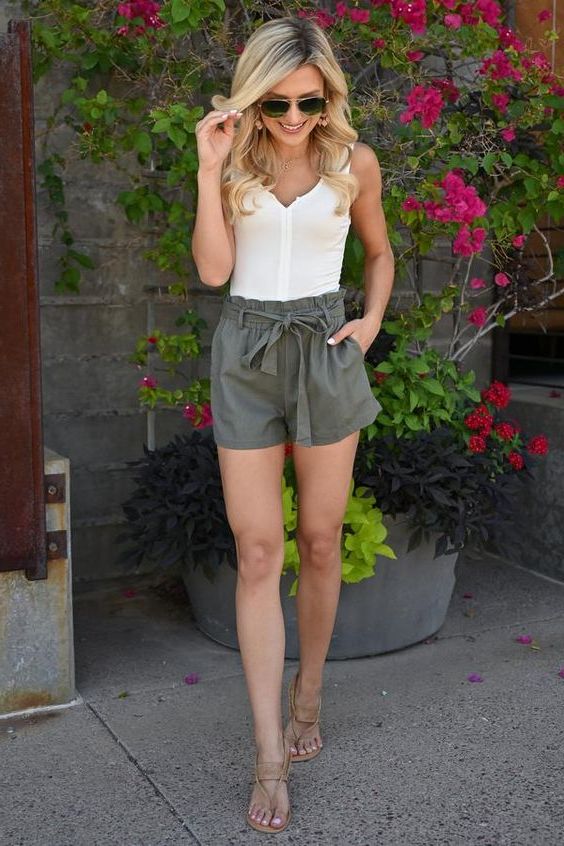 Buy Similar Here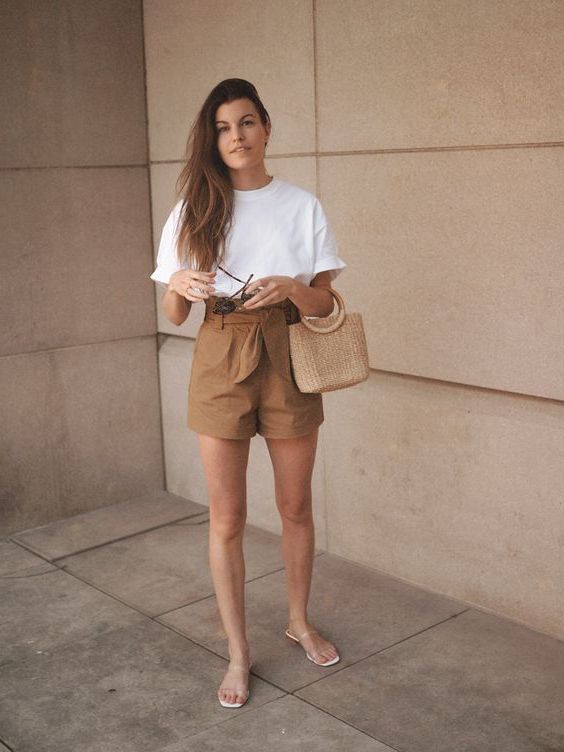 Buy Similar Here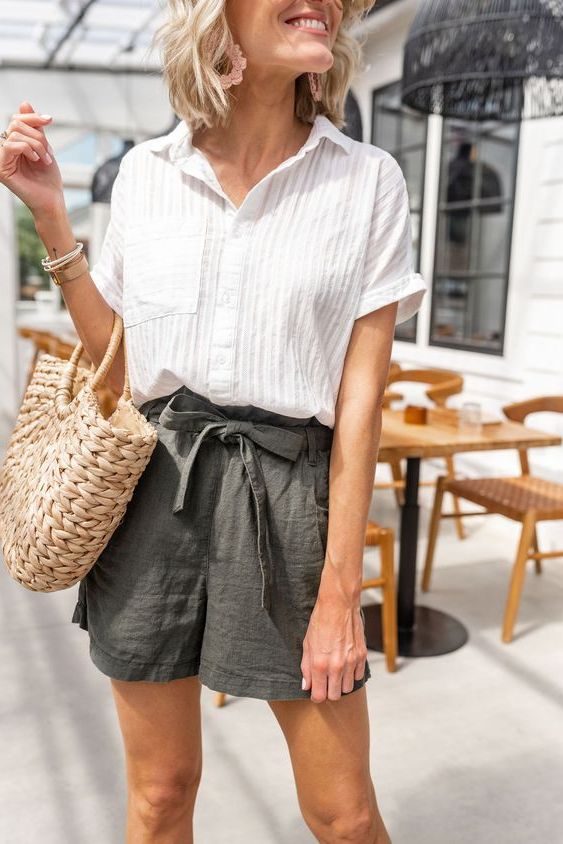 Buy Similar Here
Whether you're pulling those old ones out from the back of your closet or going shopping for some trendy ones, there are a million ways to wear 'em. Although longer shorts are having a moment, don't forget about the good old cutoffs too. They'll still come in handy for chill moments. For dressier days, go California cool in tie-dye bermudas (don't forget the matching bikini top) or take the polished route in tailored shorts and a coordinating blazer. Sometimes it's just nice to have a little help coming up with outfit ideas, no? Hope you do like these ideas.
Source: Cosmopolitan