My mission for today is to show you a wide variety of Outfits With Khaki Pants for women. You gonna be impressed by this easy and useful style guide. Why am I so excited about these pants anyway? First of all, they look fresh and can be worn from work to parties and secondly they do look great with lots of tops and jackets. So, what are you waiting for, scroll down to find out more!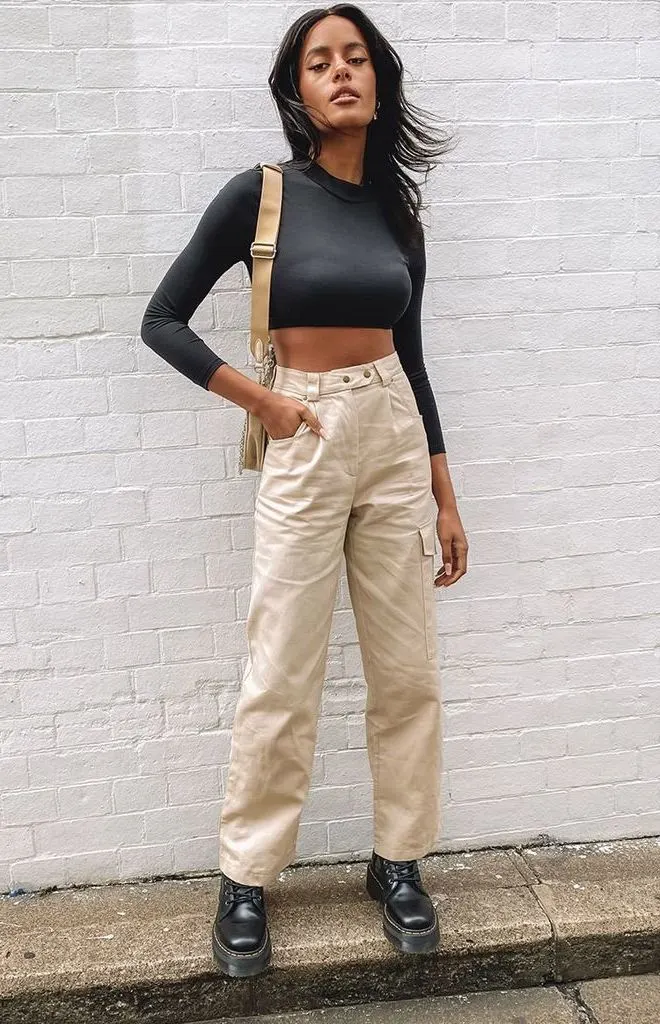 Buy Similar Here
We see a black cropped long-sleeve teamed with desert khaki pants completed with Dr. Martens black boots.
Outfits With Khaki Pants For Women
As I have already told you, these pants are really versatile, as you can see them everywhere around, from the streets to fashionable parties. I see them on club golfers as well as on horse riders, but they do look cool in everyday life outfits.
We see fur bucket hat in leopard print styled with a cropped tank top in white, brown hooded sweatshirt and desert khaki pants updated with platform Dr. Martens in black: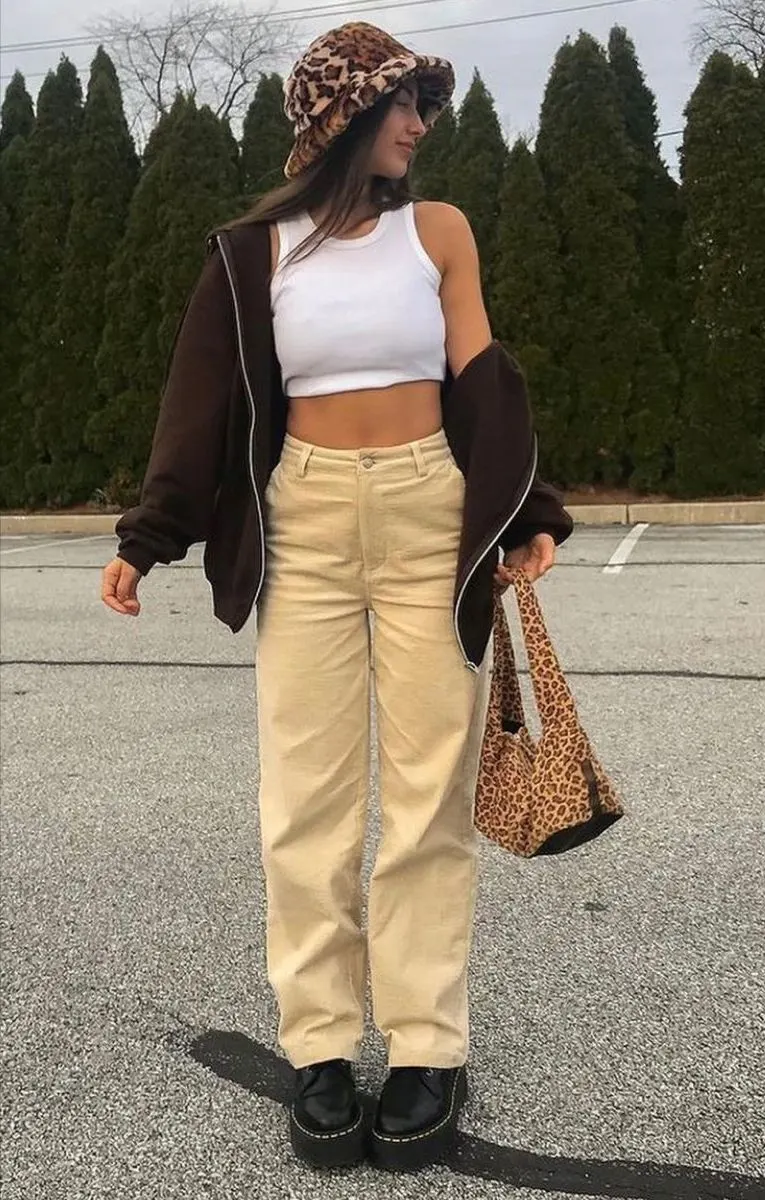 Buy Similar Here
Khaki trousers can make you look casual, smart, classy and even elegant. How can it be possible? Use the right tops and jackets. Oh, and don't forget shoes, they are as much important as a top or a jacket.
For instance, a pair of kicks looks cool if you wear them with khaki pants accompanied with a stylish bomber jacket and a polo shirt, but this look is cool for casual day-offs.
If you go for ankle boots made of black leather, then you can either go for a smart-casual style by adding a leather jacket and a semi-sheer blouse, or keep things festive by adding a colorful top and a cropped jacket. You dig it? Khaki pants are ideal for various occasions.
The khaki color is still relevant, fashionable and loved by many designers and fashionistas. That's why you can easily buy yourself a pair of khaki trousers and make some amazing outfits.
A pinstripe black-white peplum top looks amazing teamed with desert khaki pants in skinny fit completed with cream-beige heeled pumps: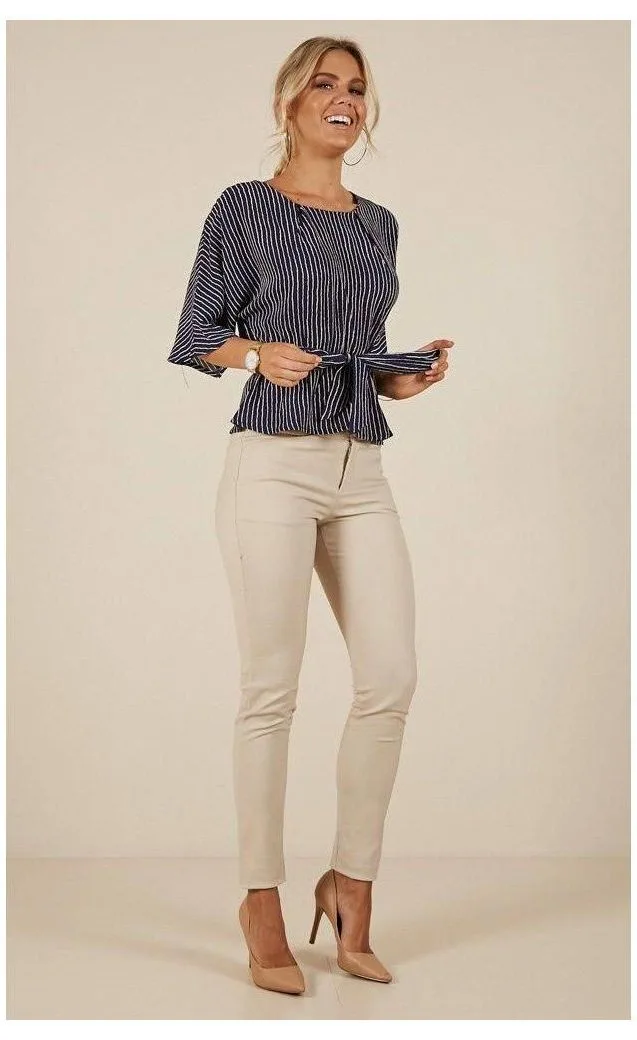 Buy Similar Here
We see a beautiful thin strap crop top in white color completed with desert khaki pants, snakeskin printed ankle boots and a geometric shaped black tote bag: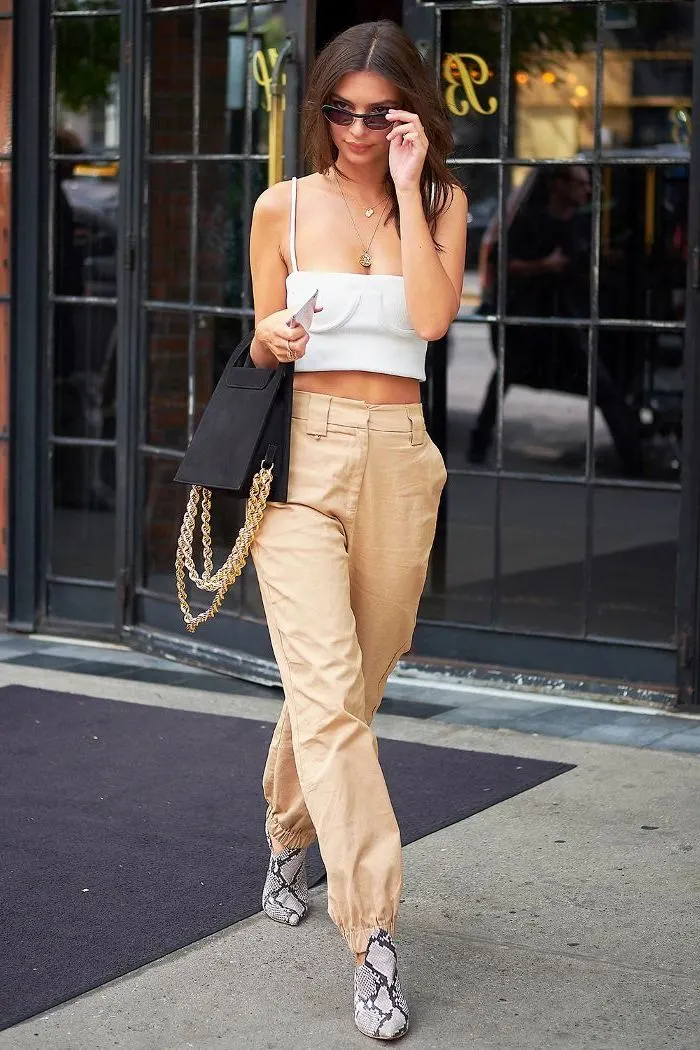 Buy Similar Here
Make a wow effect by wearing this black leather t-shirt along with cuffed desert khaki pants updated with heeled sandals in beige color: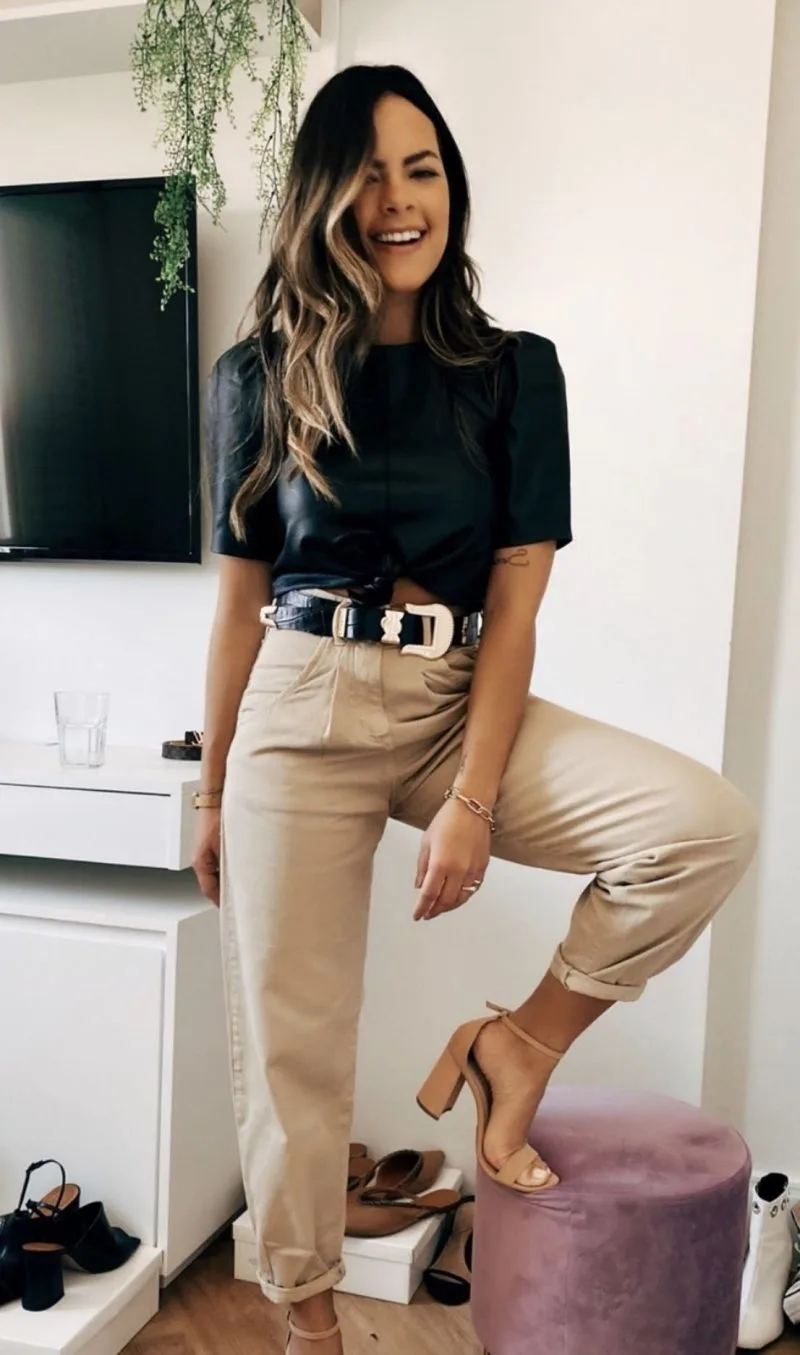 Buy Similar Here
According to fashion designers, gray-green, khaki, olive trousers can only be worn to informal occasions. Although in my humble opinion, not everything is so simple and many things depend on the pants style and their color shade.
I love wearing these kind of pants in comfortable way. That's wjhy the best idea is to start from the basic looks. Include these bottoms in casual and normcore looks that are great for wearing in your everyday lives. You can try on narrowed khaki pants with pockets or without. Team them with relaxed shirts, T-shirts, sweaters or denim jackets. If you are a fan of natural fabrics and Scandinavian style that is practical and laconic, then you should go for loose-fit khaki pants and combine them with turtlenecks, jumpers and fur vests during the Winter season and use T-shirts and long sleeves made of natural materials during Summer months.
Street style looks made of khaki pants are amazing, you can play with military style or keep things original by creating bold and edgy outfits. Yes, camouflage prints can fresh up your style, but I would use some other details and items to level up your look.
We see a navy blouse tucked in skinny khaki jeans updated with suede sandals, a nice combo for making a wow-effect during working hours: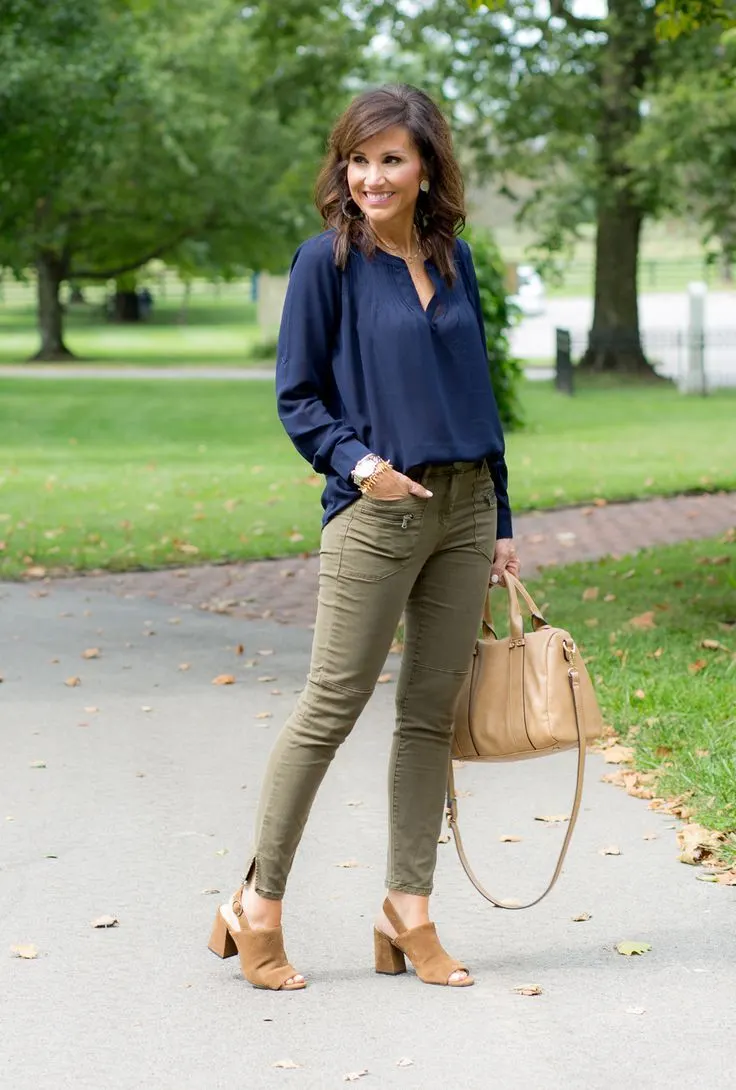 Buy Similar Here
We see an oversized white shirt tucked in wide pants in khaki desert color completed with strappy flat sandals: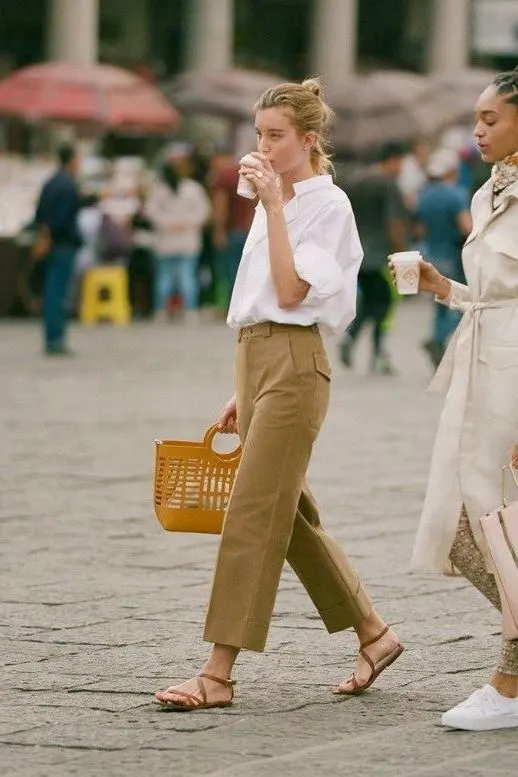 Buy Similar Here
We see a white shirt tucked in dark-green cargo khaki pants completed with blush heeled pumps, love these modern cat-eye sunglasses:
Buy Similar Here
Try combining them with all sort of jackets, loose jumpers, light blouses. The street look can be completed with a leather jacket, and of course by a classic military style jacket or by the jacket with elements of a military uniform.
Khaki pants have a clear hint of unpredictability. At first glance, you might think that creating a khaki pants outfit can be difficult, as you simply don't know which top and shoes might look good with them.
However, the democratic nature of modern fashion opens up wide opportunities for creating the most daring looks. The fashion industry promotes women's khaki pants in different styles. That's why khaki pants can be worn by any woman, no matter of her preferences, body type, age categories, etc.
We see a cream-beige cardigan looks cool with that deep V-neckline t-shirt in white tucked in olive khaki pants completed with black leather Birkenstocks: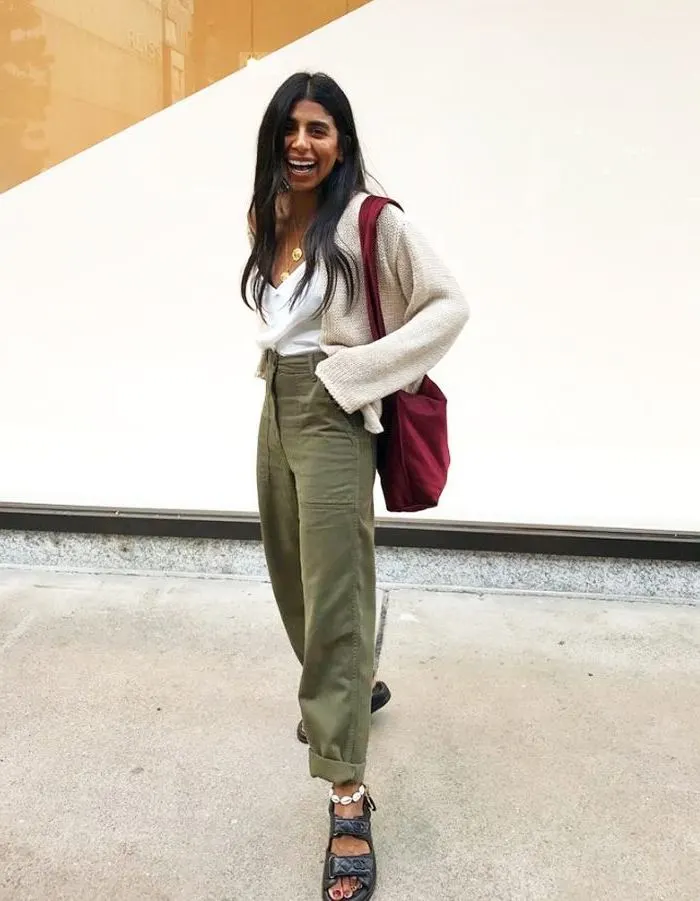 Buy Similar Here
A black blazer looks really nice combined with a white tee paired with cuffed khaki olive pants completed with strappy heeled black sandals: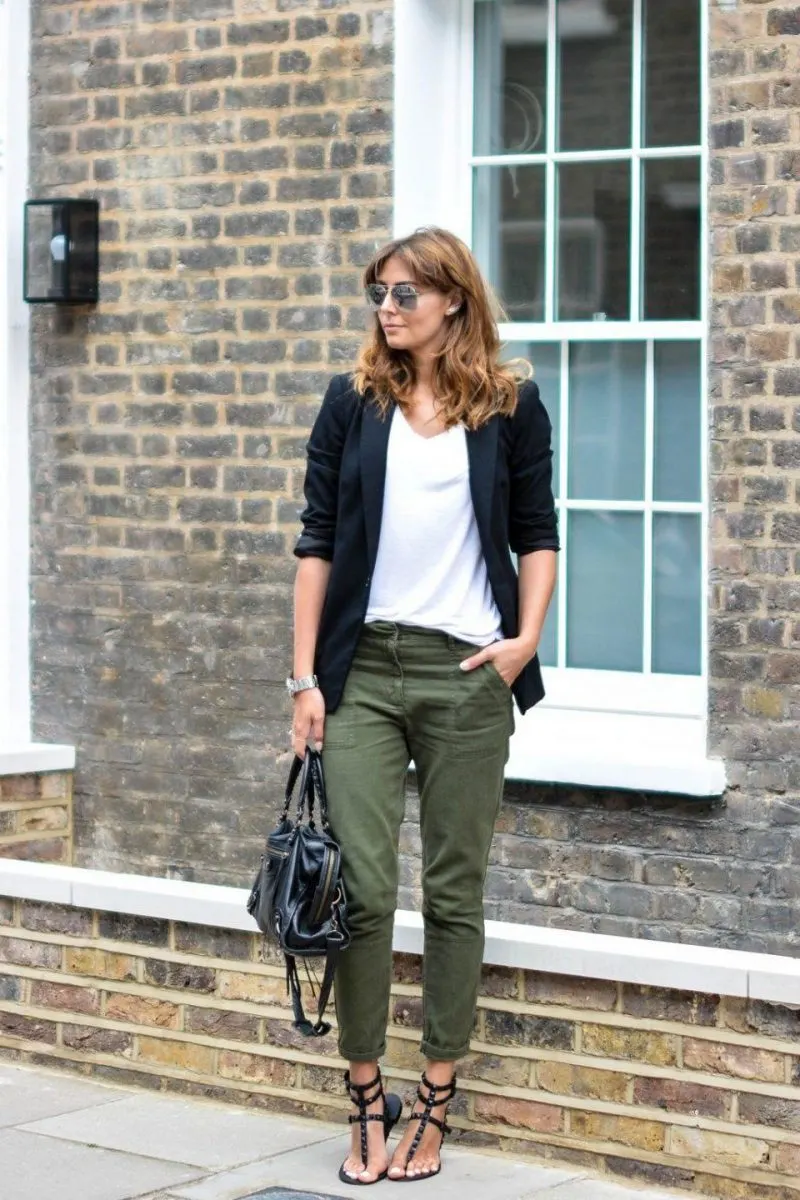 Buy Similar Here
A long-sleeve black sweater can be teamed with wide paper-bag waist desert khaki pants and eye-catching heeled sandals: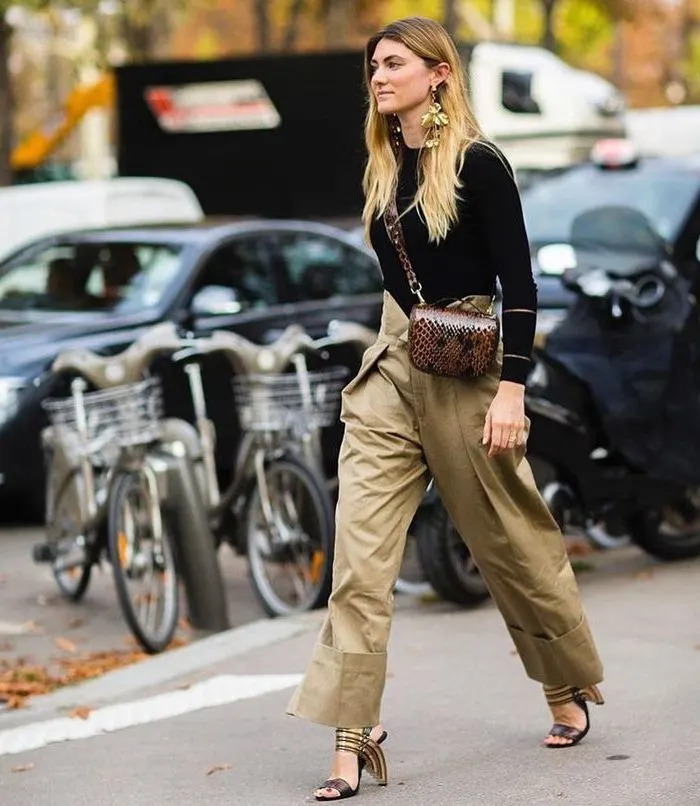 Buy Similar Here
We see a black cropped tank top styled with desert khaki pants and black trainers: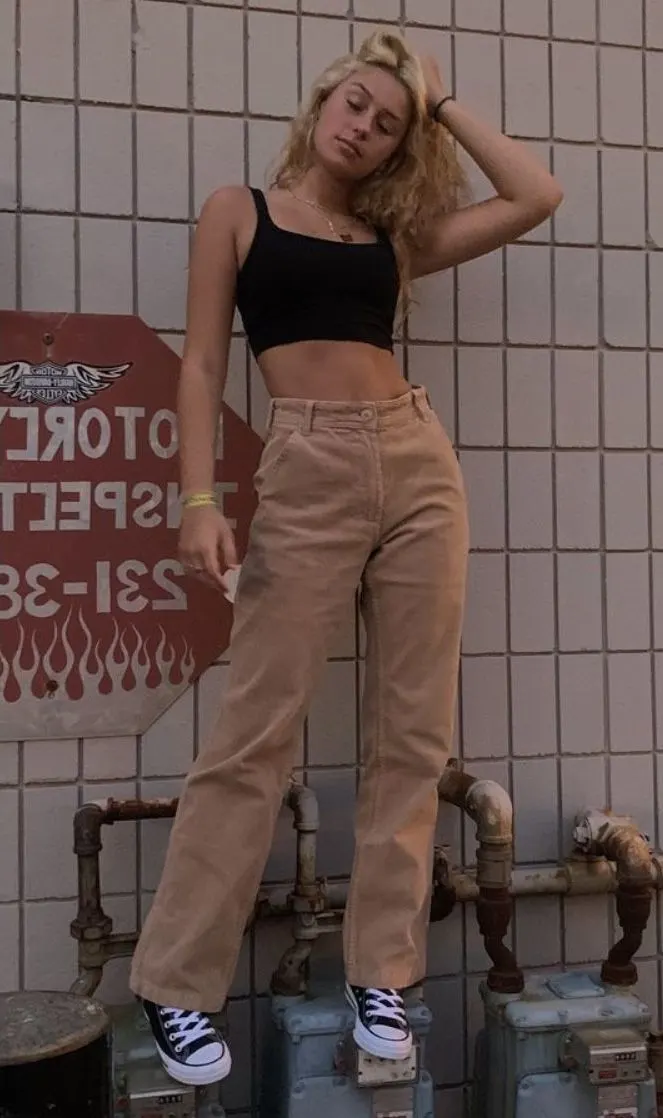 Buy Similar Here
Loose-fit khaki pants are worn in everyday life, going to the store for shopping, on a picnic, meeting with friends or a summer walk in the park. The following style can easily hide the slight flaws of the figure, allowing you to feel comfortable and confident.
Business trousers in khaki come in various styles, including the well-known "bananas", high-rise culottes, as well as classic versions that are worn my many business women.
Skin-tight skinny khaki pants are perfect for a glamorous night-out, and I recommend pairing them with a leather jacket creating an attractive youthful look.
Capri pants in khaki color will pleasantly surprise you with its convenience and practicality during the summer season. This ыенду will be appreciated by the owners of a slim figure and tall height.
Another simple combo, we see a white tank top and desert khaki jogger pants completed with clear heeled sandals: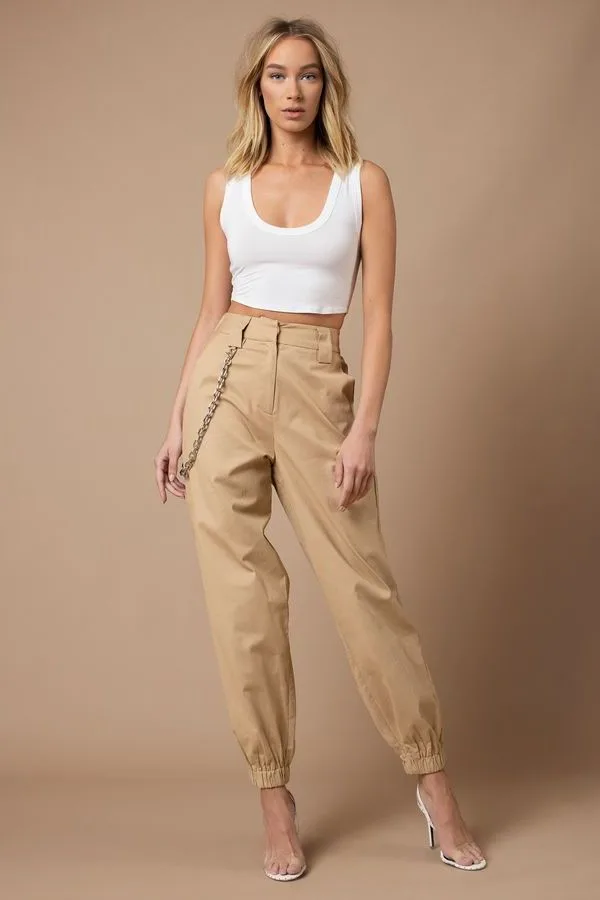 Buy Similar Here
A relaxed-fit black shirt looks incredible paired with desert khaki pants and leopard print pumps: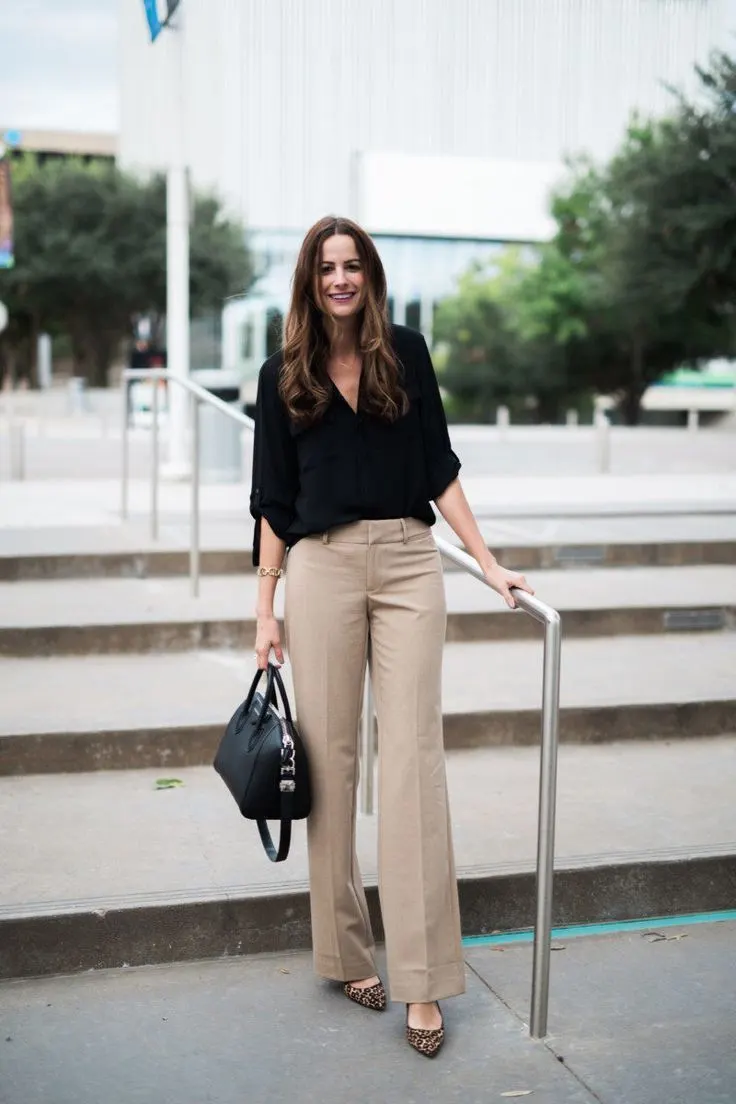 Buy Similar Here
Go for a white panama hat, loose-fit white shirt and relaxed fit desert khaki pants: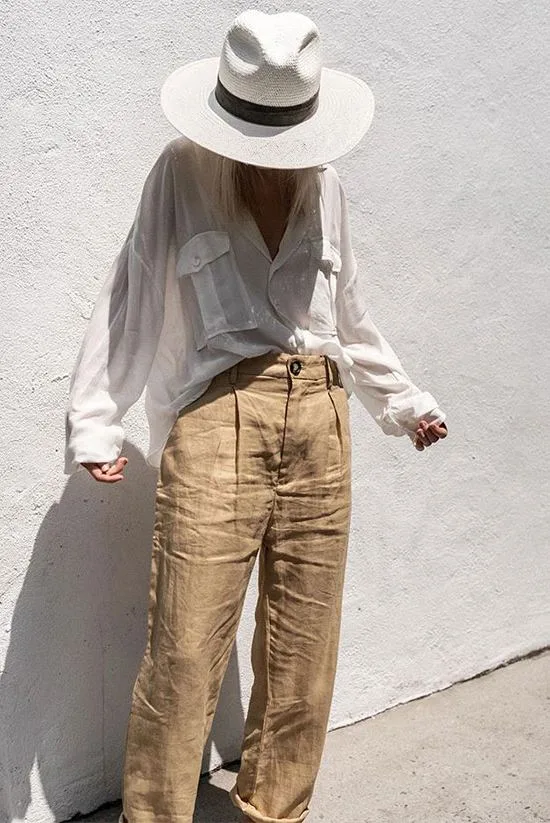 Buy Similar Here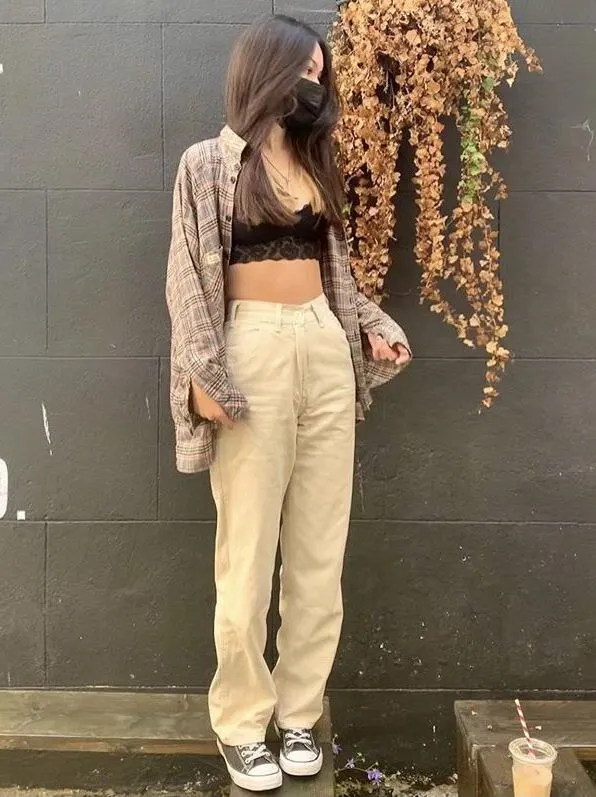 Buy Similar Here
Khaki sweatpants are an absolute must-try. The bulky, slightly baggy appearance of joggers make your moves free and easy, yes they won't restrict your movement. These women's trousers are suitable for lovers of outdoor activities.
+ White top
One of the simplest options is a combination with a white color. The white top will make your overall style look more elegant, refreshing and special. All kinds of white blouses, T-shirts, long sleeves, turtlenecks and jumpers are welcomed.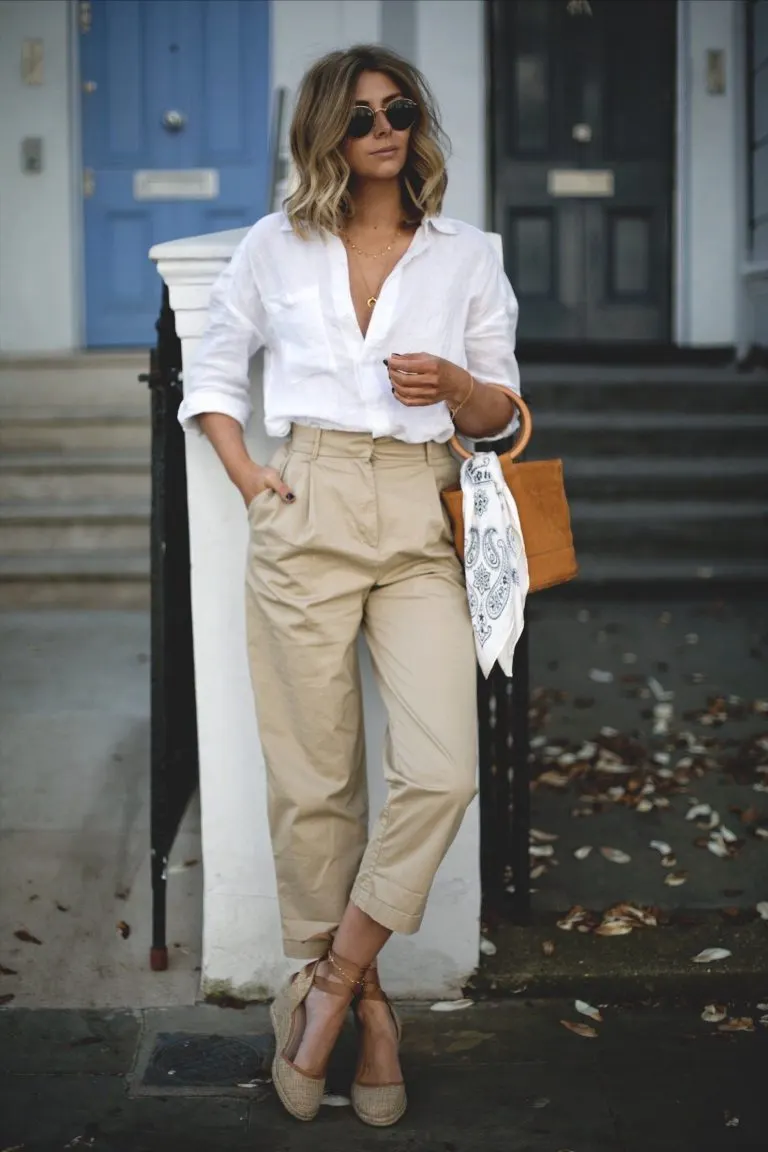 Buy Similar Here
+ Black Top
A more complex color scheme can be achieved by pairing khaki pants with a black top. It is best to wear trousers in a more lighter khaki shades, so that the outfit does not turn out to be too monotonous, but looks a little restrained and stylish. This combination is suitable even for the office, provided that your trousers are made in a classic fit and design.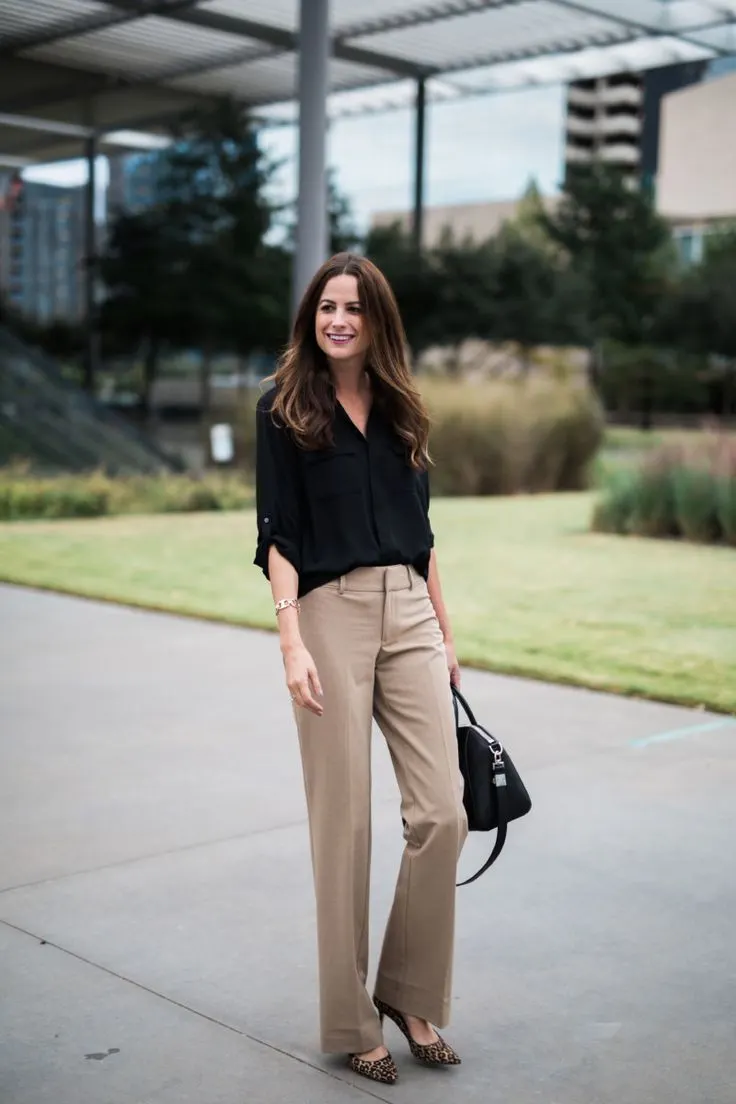 Buy Similar Here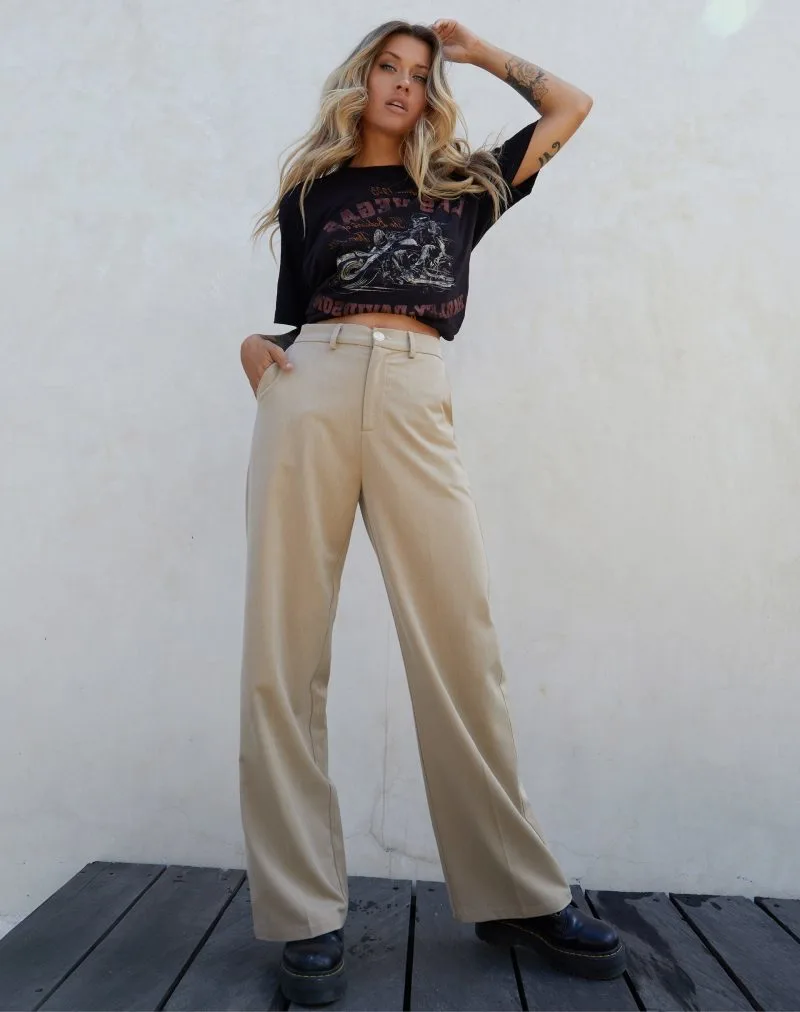 Buy Similar Here
+ Grey
No less versatile are combinations with gray. It is best to wear a light gray top with trousers, so that the outfit does not turn out to be too restrained. This pair can be an excellent base combination to which you can add all sort of accessories of bright and saturated colors, for example, yellow or red shoes or a purse.
+ Denim (Blue, Light Blue)
A denim shirt in a bright blue color is just an excellent option for khaki pants. All shades of blue will look great with that color, enhancing and supporting each other.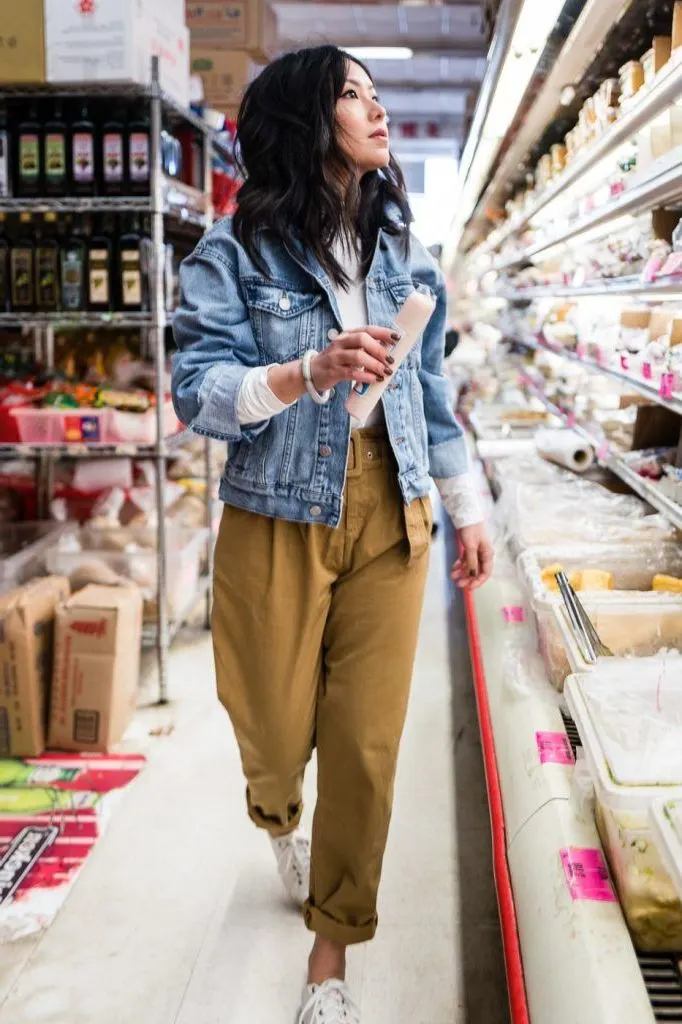 Buy Similar Here
+ Beige (Brown)
Since khaki refers to the colors of the earth, its combinations with beige and brown will look very harmonious and natural. And you can see this for yourself by looking at the photos below.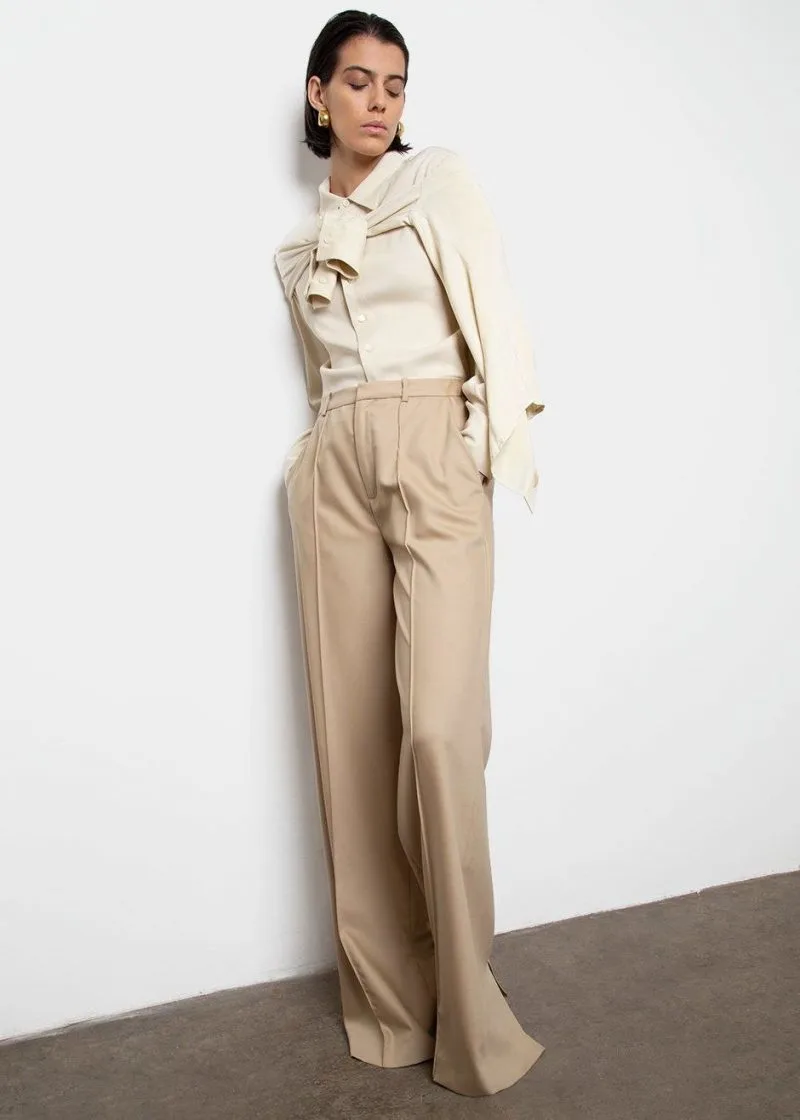 Buy Similar Here
+ Pastel top
Quite good combinations can be obtained in a pair with delicate lightened shades. Just remember that the pastel colors of the top should not be too light, otherwise they will simply be lost against the background of a darker and heavier khaki. Muted pink, soft yellow, peach, mint, lilac are well accompanied with khakis.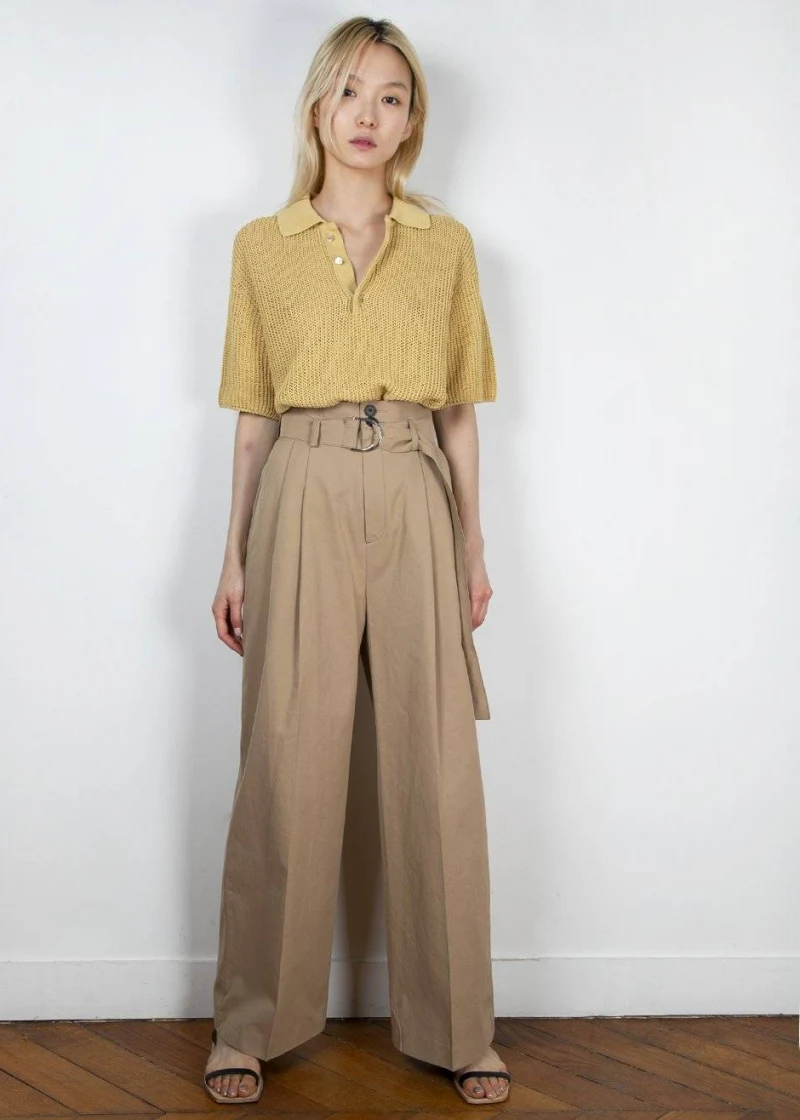 Buy Similar Here
+ Bright top
Bright colors are the perfect solution for outfits completed with khaki trousers. The contrast of a restrained protective shade and rich colors will make your outfits more dynamic, the color scheme will look stylish and impressive. Bright yellow, pink, red or orange-perfectly are definitely colors to team with khaki pants.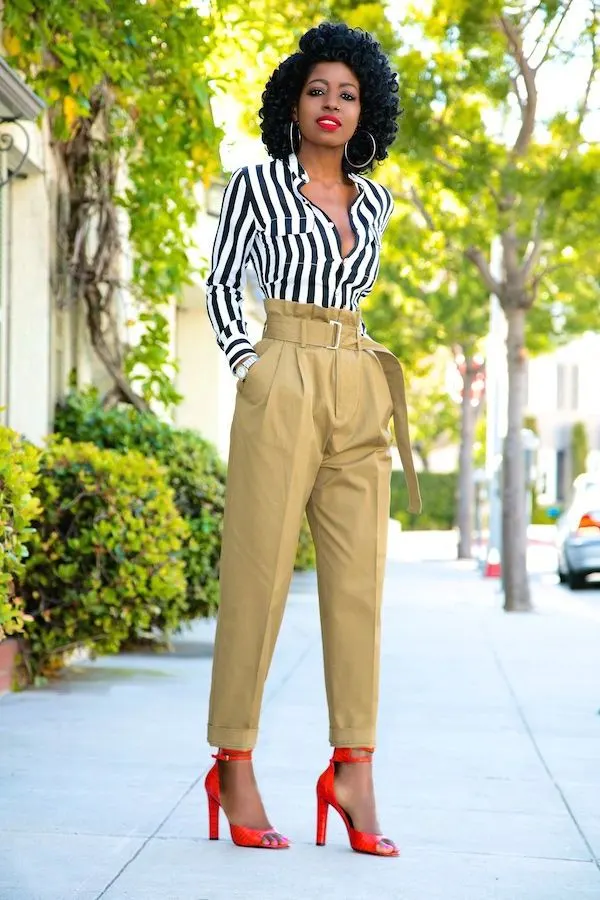 Buy Similar Here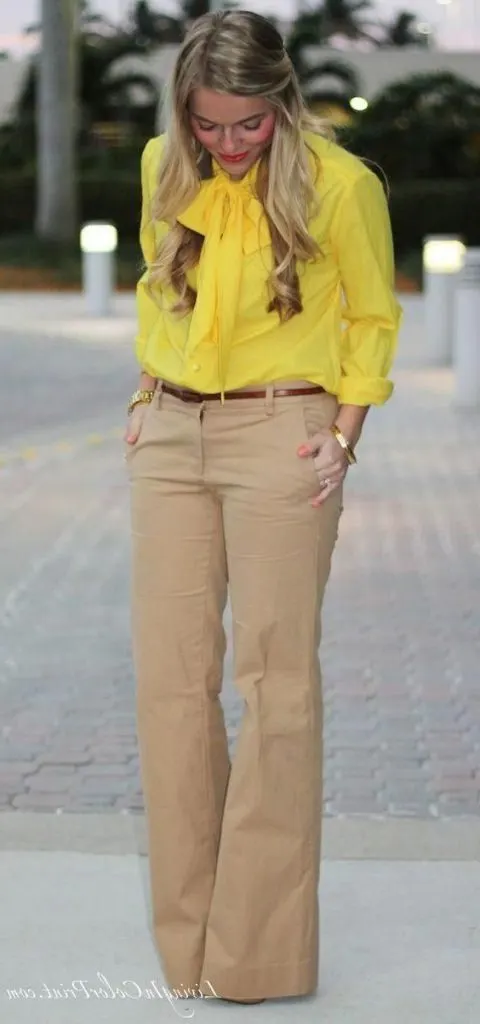 Buy Similar Here
+ Khaki
Of course, I would like to immediately note that this option is not suitable for everyone (it is not recommended to completely dress in khaki for blonde girls with light skin and blue eyes, you will simply "get lost" on its background). A brunette with a contrasting appearance and a warm skin tone is worth trying this solution. Total khaki outfit always looks impressive and stylish.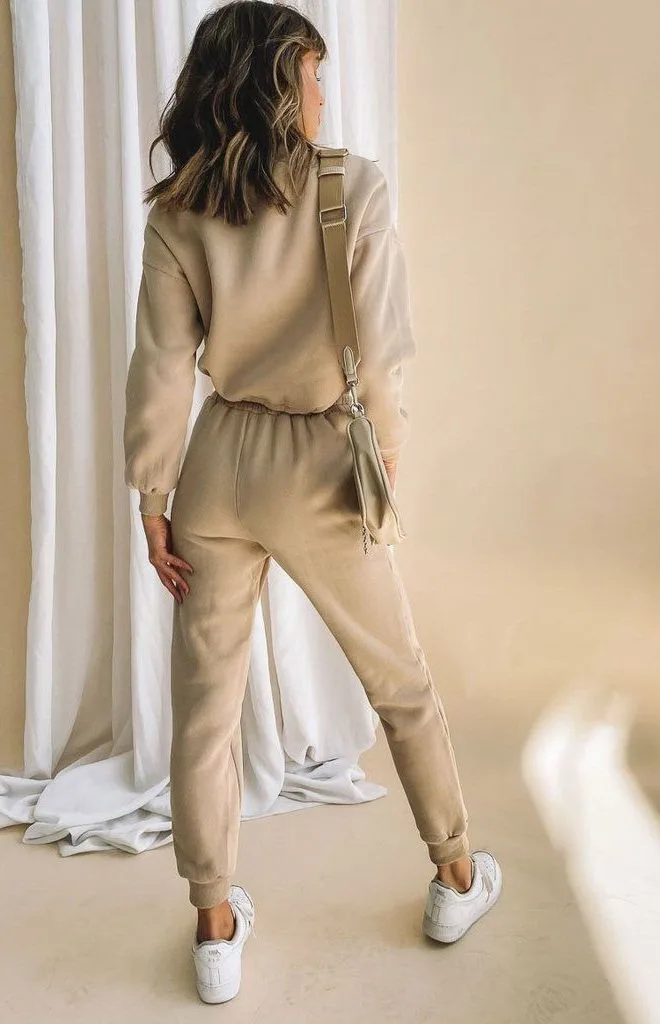 Buy Similar Here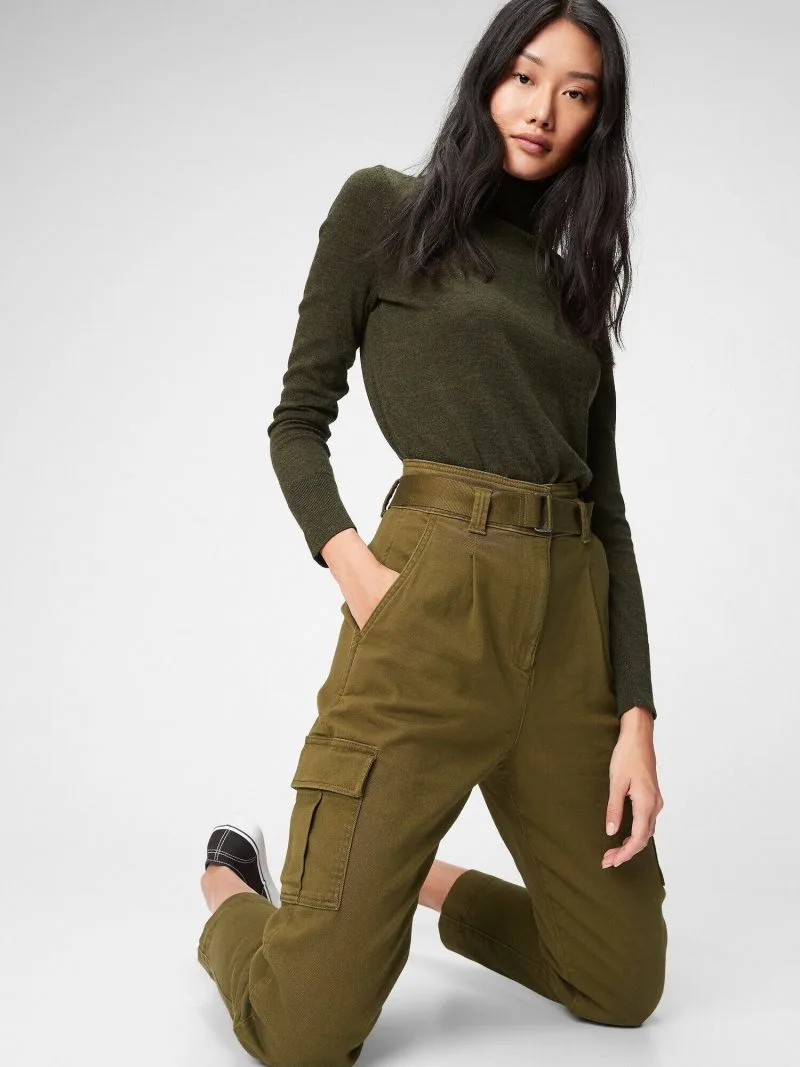 Buy Similar Here
Office Style
For office style, khaki pants with light chiffon blouses in beige or milky tones are perfect combos. The look can be complemented by a beige double-breasted raincoat with a stand-up collar. For business style, you can try on culottes or "bananas" with a high waist. Style them with printed shirts and suspenders. For the cold period, you can wear classic trousers and a large-knit sweater in a caramel palette. A competent combination of textures will help to balance the militant image. You can complement the office style with lace-up shoes, thick heels or flatforms.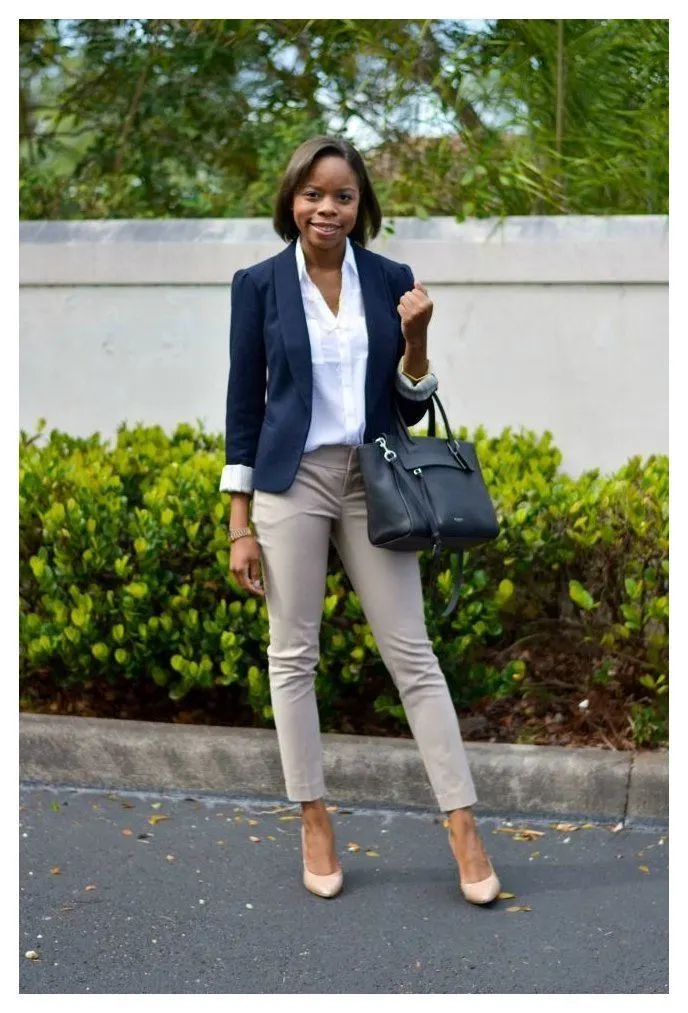 Buy Similar Here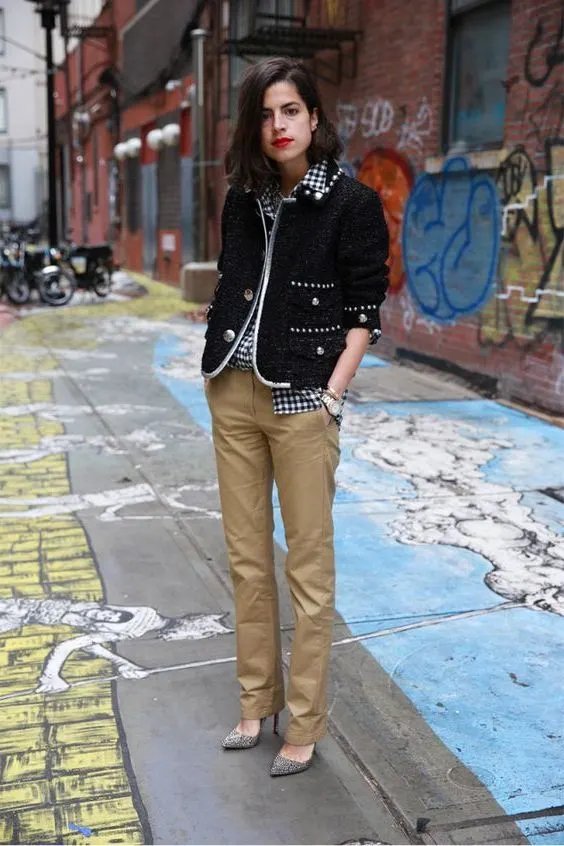 Buy Similar Here
By the way, if you haven't seen my style guide on khaki shorts, then you definitely should check it out, I've got some really great looks to share with you.