Today's article is dedicated to this Spring season office outfit ideas for women. I will show you amazing and easy-to-wear looks that can be worn in your everyday routine business life.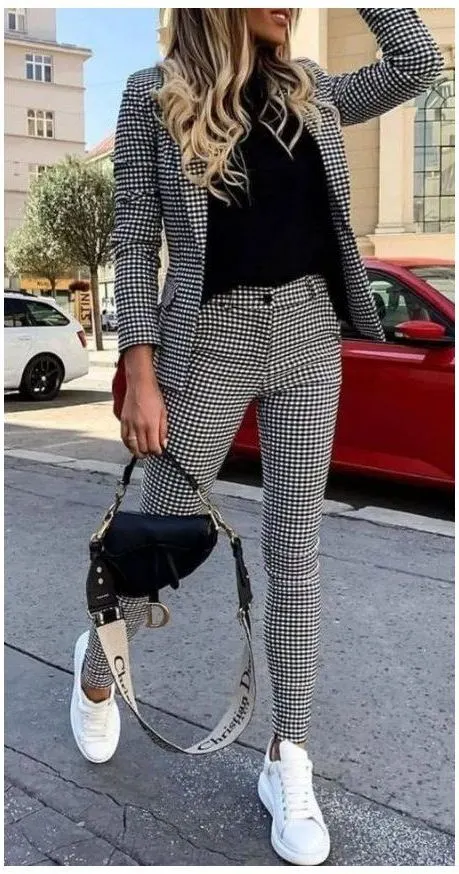 Buy Similar Here
We see a plaid pantsuit in black-white micro checks completed with a black blouse, liver bag and white sneakers.
Here are shown office outfits featuring smart blazers, slim and pencil cut skirts, cigarette and tapered pants, and yes, I also have some dresses for you that are suitable for working hours.
A total black look is a good alternative for spring offices. Go for a blazer, turtleneck, slim skirt, black tights and booties: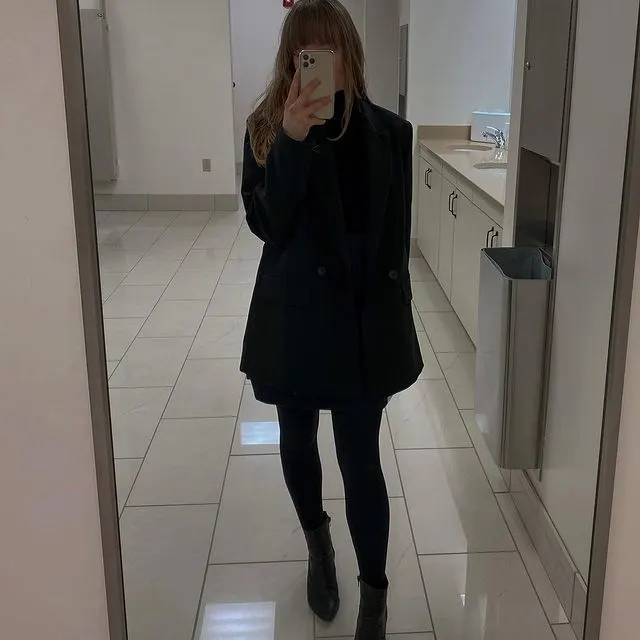 Buy Similar Here
Polka dot blouse in rich blue looks fantastic with this high-waisted slim pencil skirt completed with glossy black pumps: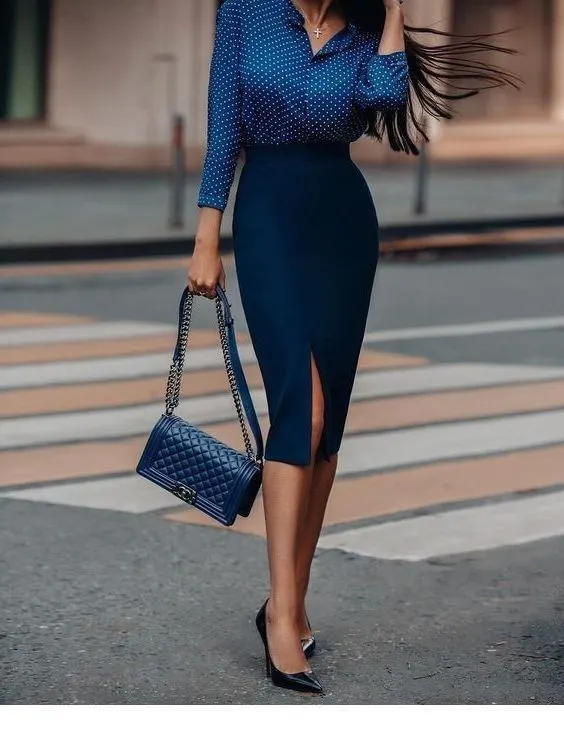 Buy Similar Here
Now, every lady wants to keep things trendy, cool and classy, that's why I came up with these easy-to-do combos. Each and every idea is classy and timelessly chic, so you don't have to worry about trends and whatever.
A lightweight blouse with a bow-tie looks feminine and professional teamed with blue pants and heels: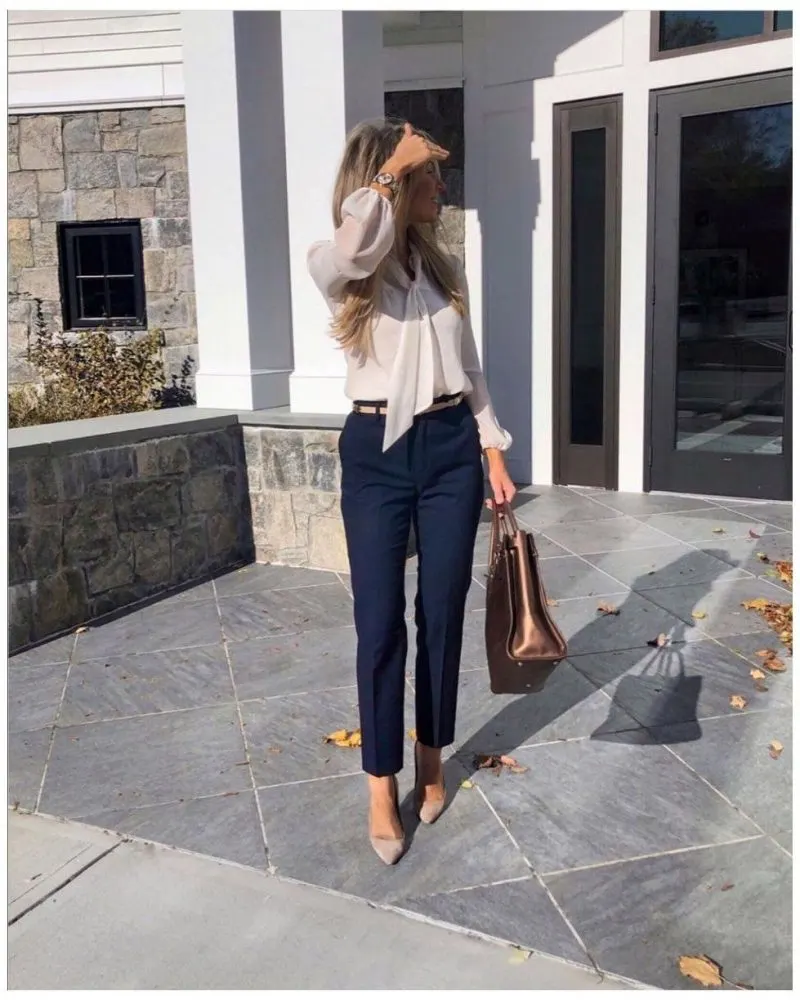 Buy Similar Here
Yes, you can also try on leopard print blouse and pair it with paper-bag waist pants in black completed with nude heels: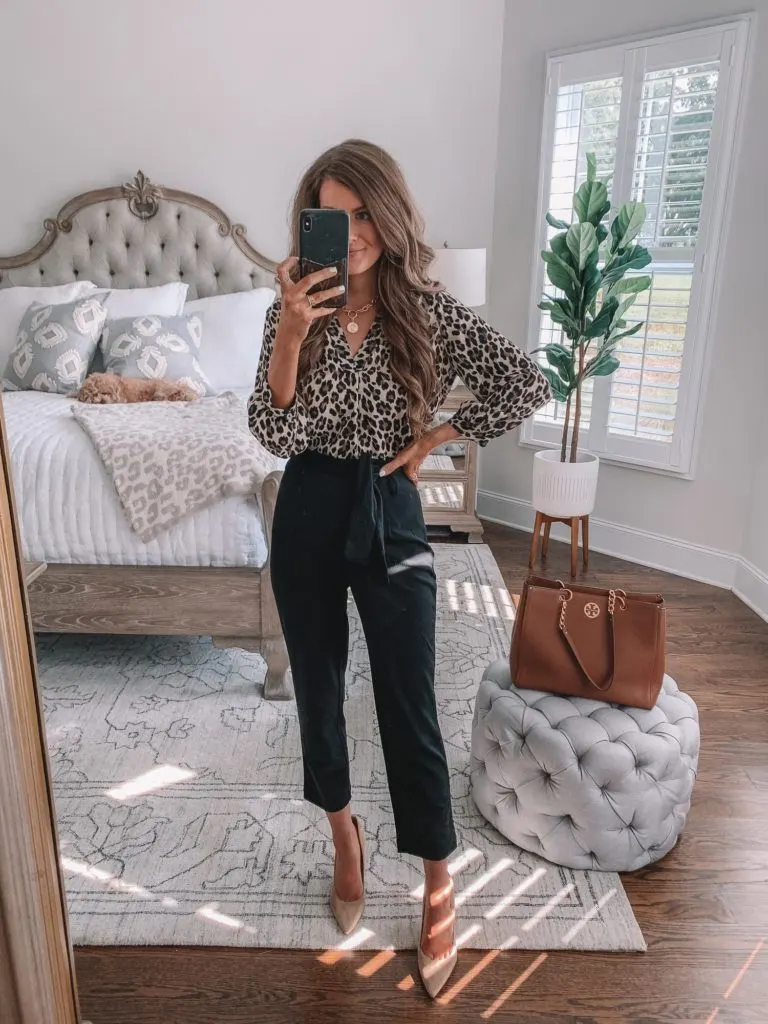 Buy Similar Here
Sure, as we are here to talk about spring, then this season is pretty much unpredictable, right? That's why you better skip all those lightweight ensembles and stick to warm fabrics and even knitwear. I am not talking about those ladies who go to work by car, as they are free to choose whatever they like, as long it's classy and professional.
This turquoise pantsuit is a perfect choice for those who want to wear feminine clothes without losing their professionalism, how many of you like these clear heels: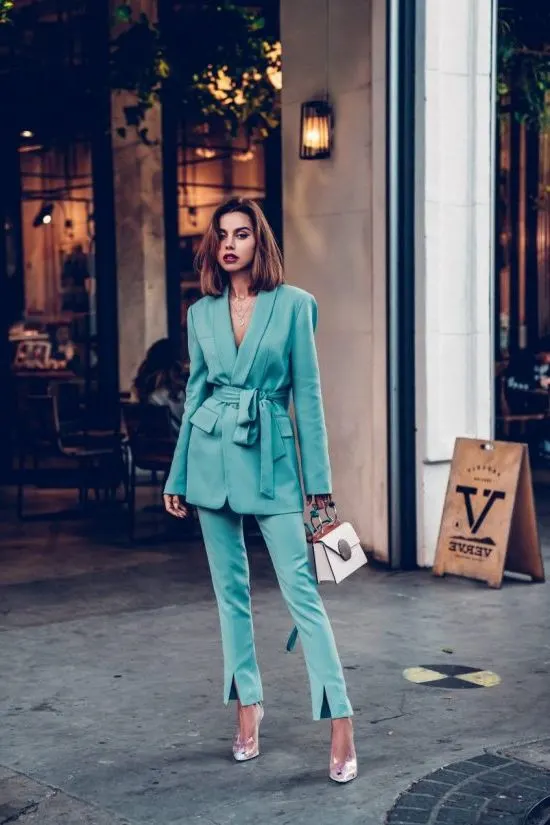 Buy Similar Here
A pastel violet hoodie sweater is tucked in floral white skirt, would you dare to try it: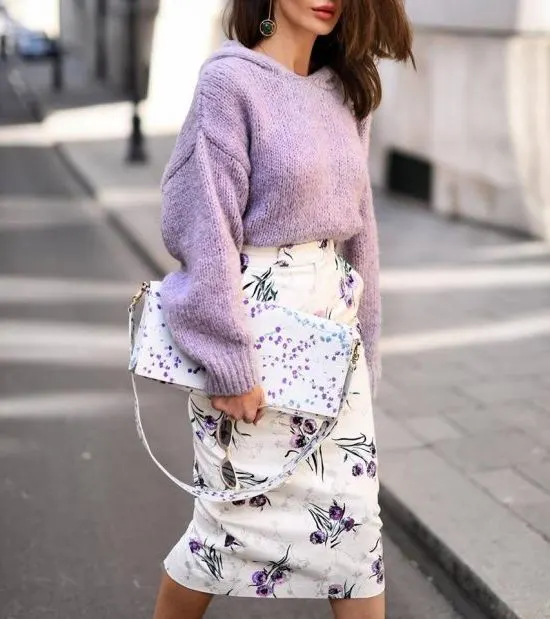 Buy Similar Here
Most of women are purchasing clothes online right now, that's why before buying any apparel online you better be sure about the size and will this item match other clothes. Why am I talking about this, it's all because I want you to keep a distance from spontaneous purchases.
A pastel green blazer looks gorgeous with that white top and white skinny jeans updated with pastel heels: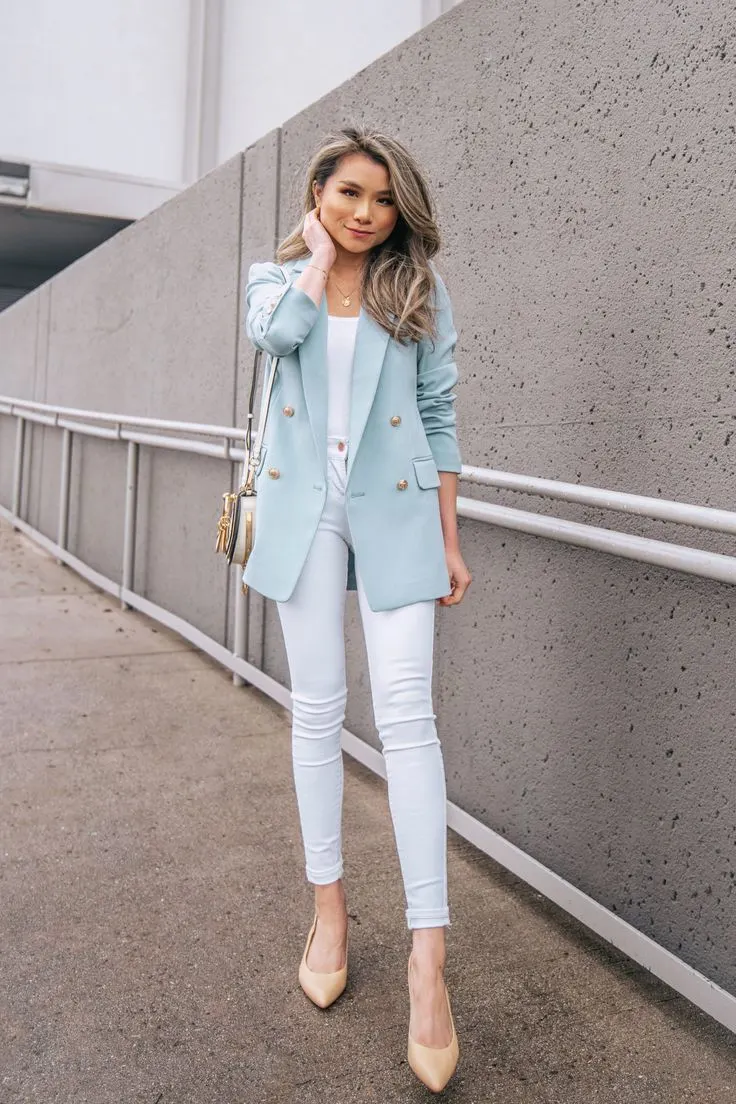 Buy Similar Here
It's important to choose good quality materials that are not only feeling comfortable, but also organic, so your skin can easily breathe.
A pastel dress for office hours during spring season is a perfect alternative to classic pantsuits: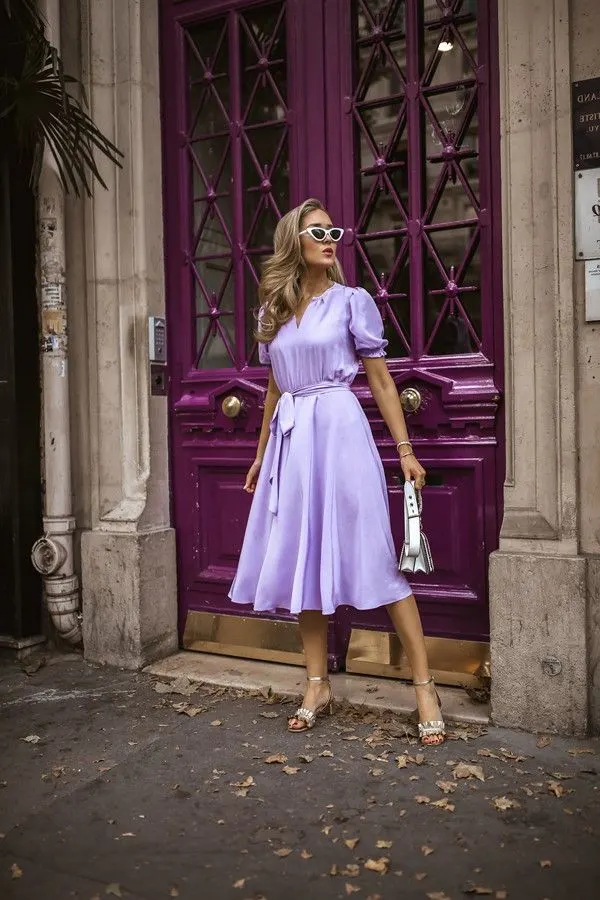 Buy Similar Here
A black-white checked coat looks fabulous teamed with black leather pants: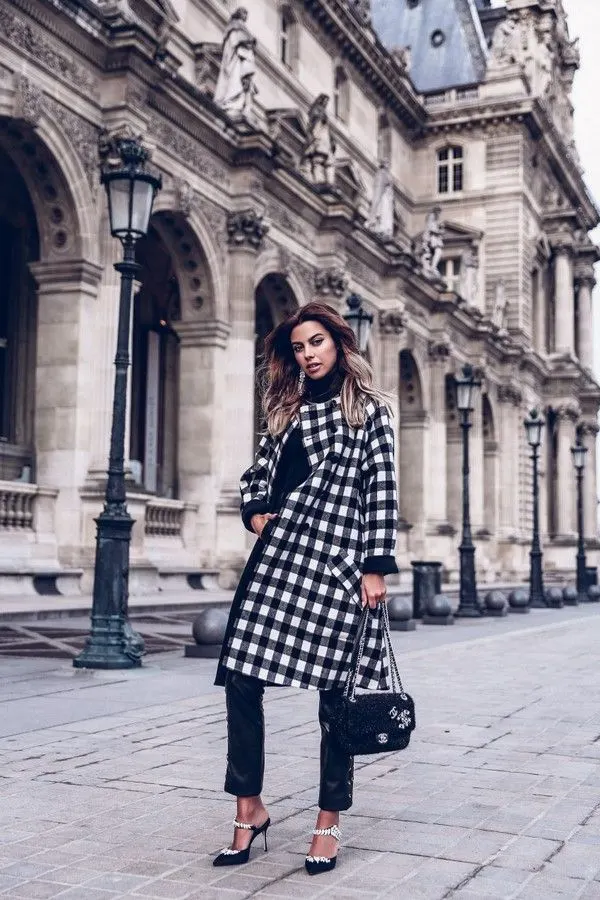 Buy Similar Here
Spring is a time of delicate shades that evoke associations with primroses, the sun and a clear transparent sky, think of pastel yellow, cornflower blue, powdery, mint, violet. Within the office dress code, however, it is important not to forget about the sense of proportion: a light blouse in addition to a business suit, a silk dress combined with a suit jacket.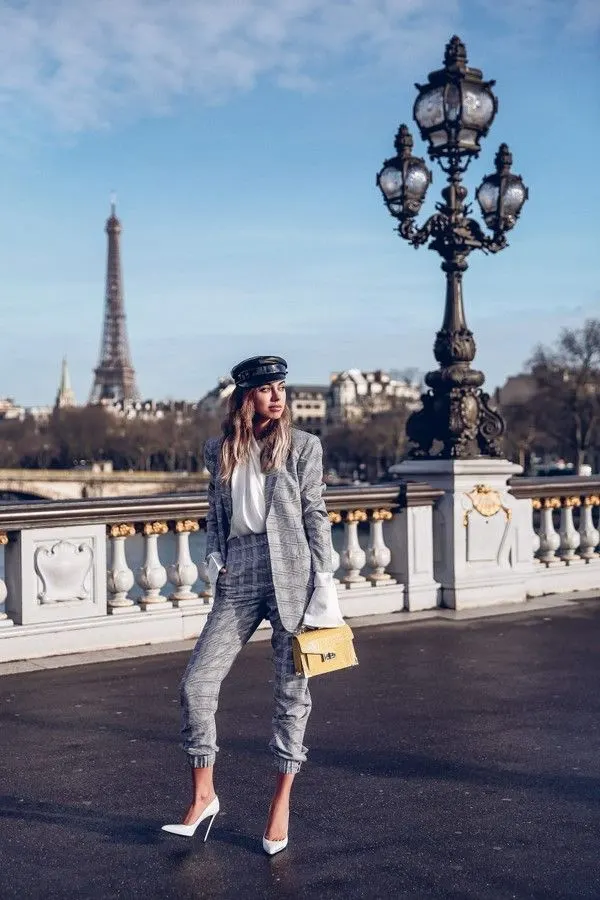 Buy Similar Here
Why do women are so in love with spring season? Well, they are glad to put off some weighty outerwear and try on some fresh and fancy looks. We can try on some bright hues at last that can make us look feminine and sweet! So, what is so beautiful and interesting we will wear during this spring at work?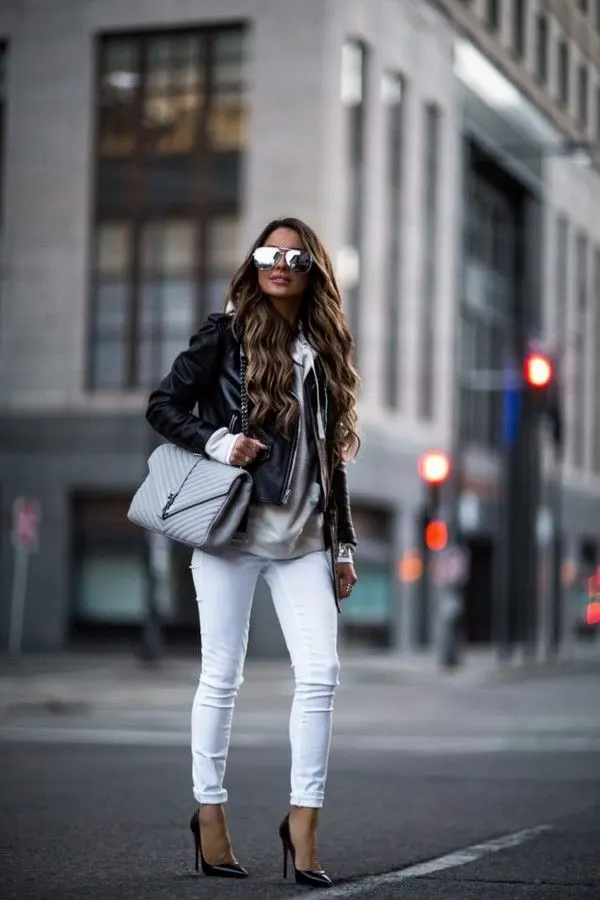 Buy Similar Here
If your office boss says that everything should be official, but not too strict, then this collection is exactly for you.
What pants to wear at the office during the spring season?
Jeans and classic pants are the best options to try. Go for slim, high-rise classic pants, or try on fitted slim jeans in classic blue, black or grey colors. This year we can try on palazzo and culottes, just make sure to choose the ones in calm and neutral colors.
Keep it simple and chic! Go for this light blue blouse and tuck it inside white palazzo pants. If you want more inspiration outfit ideas with palazzo pants, then check out my post, I've got some great looks to share with you: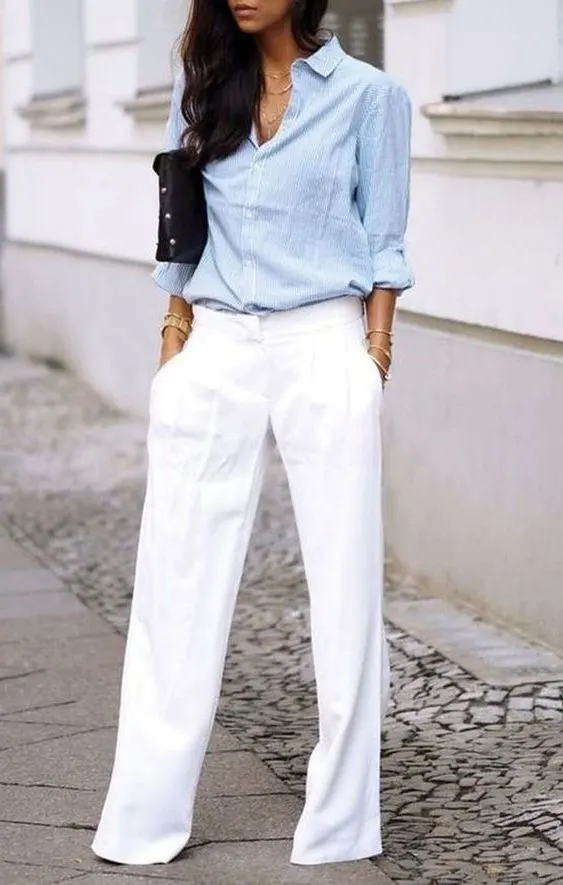 Buy Similar Here
Blouses and sweaters
Do not rush to put away knitted sweaters, they can be easily worn in the spring skipping the outerwear. As for blouses, there are a limitless number of styles offered for the spring season. Elegant styles with voluminous sleeves, ruffles, embroidery and lace never cease to amaze us with skirts or pants. Choose the one with flared sleeves, semi-transparent chiffon design, polka dots or stripes.
We see a loose-fit sweater in cream-brown paired with black ankle-length pants completed with black pumps. Check out my post on how to wear black pants to the office, I am sure you can find lots of inspiring ideas: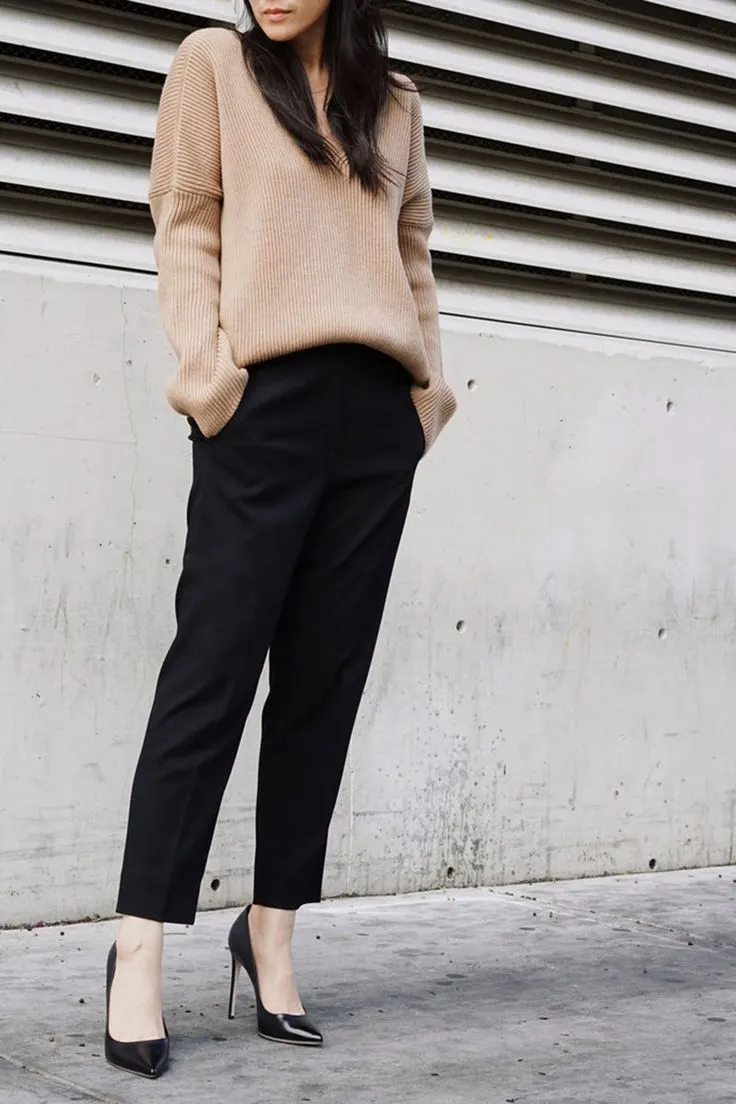 Buy Similar Here
Try skirts for every taste
Women's skirts this spring will charm, and give you the right amount of tenderness and elegance. Skirts of different lengths and cuts are in fashion. Sure, don't risk of wearing mini skirts. I recommend the high waist, with an elegant cut and knee-length. Fashionable office employees are able to bring spring freshness and variety to their style, without forgetting about the dress code.
A black sweater with a V-neck looks damn chic and professional styled with a white pencil skirt in black checks, complete this combo by adding black heels and a classic black leather handbag: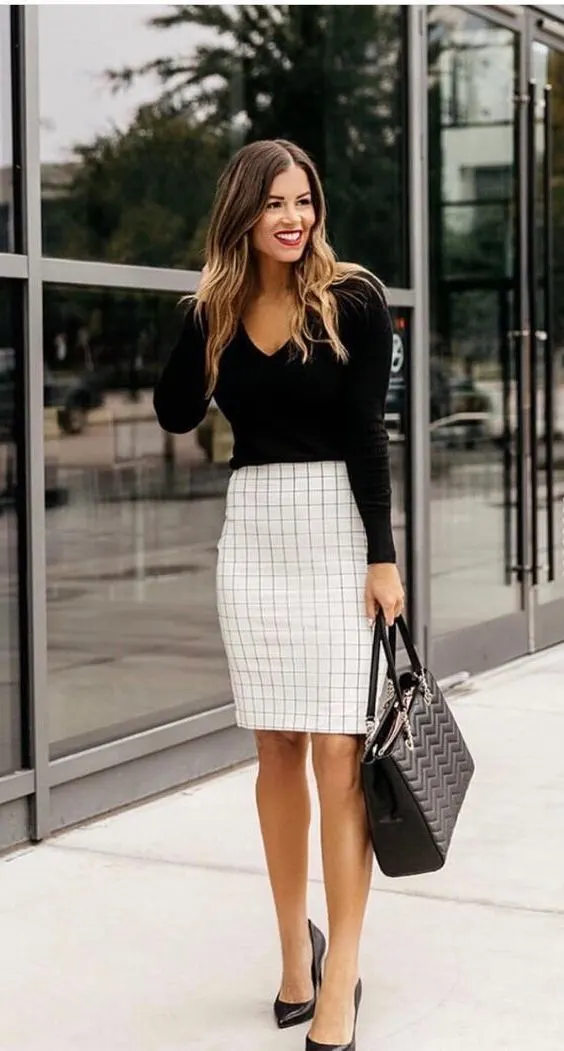 Buy Similar Here
Play with floral print! Go for this bright printed blouse and tuck it inside high-rise pants in black color, update this combo with red pumps and a black clutch bag:
Buy Similar Here
How about some ruffles? Go for this ruffled blouse in white and tuck it inside paper-bag waist pants in black color, add cream-grey sandals: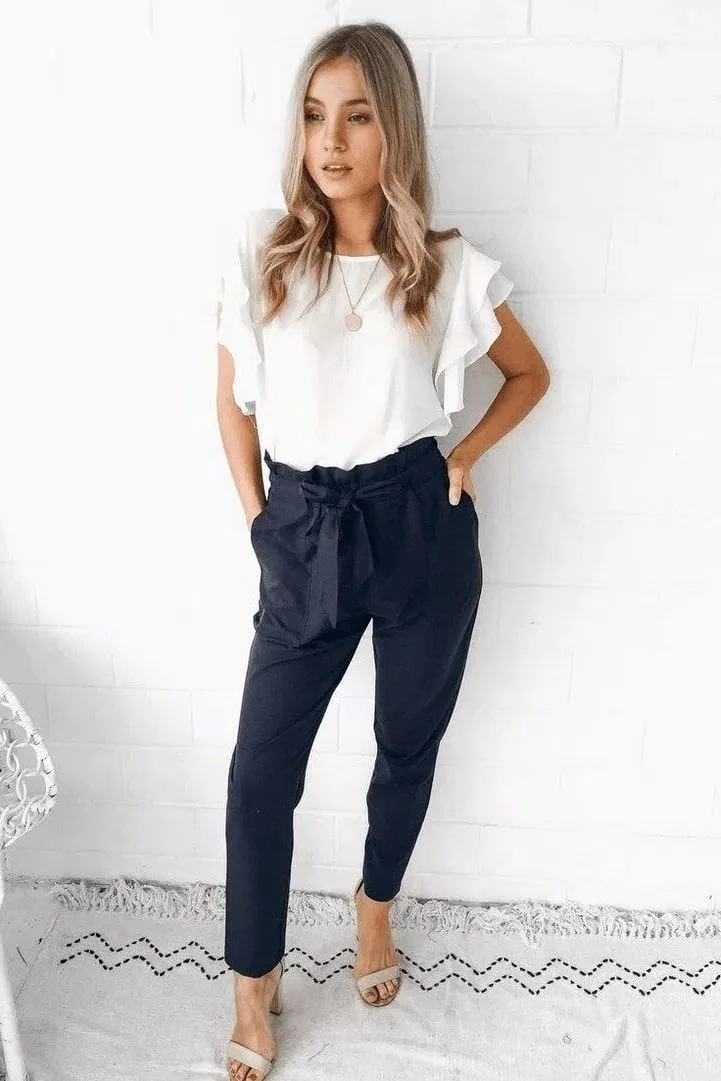 Buy Similar Here
Accessories For Spring Office Look
Just a small element of spring notes is enough to make the image sparkle with new colors, without losing the business look. Accessories are the easiest way to transform any outfit beyond recognition, and office is no exception. If you are not yet ready to experiment with the color scheme, just add a beautiful accessory. It can be a bright pair of shoes, a handbag in a delicate shade, or, for example, a handkerchief with a print.
They are important additions that can easily make your office look stand out from the rest. Think of satchel bags, classy and professional shoes, eye-glasses and minimalist jewelry. Just make sure you don't overdo with them. That's why keep things simple, elegant and classy.
How about some layering techniques? Go for a grey sweater and layer it over a white shirt paired with khaki trousers and beige heeled pumps, love that black tote bag, if you want to see some easy ways how to wear tote bags, check out my article, you gonna find some pretty chic ideas to copy this year: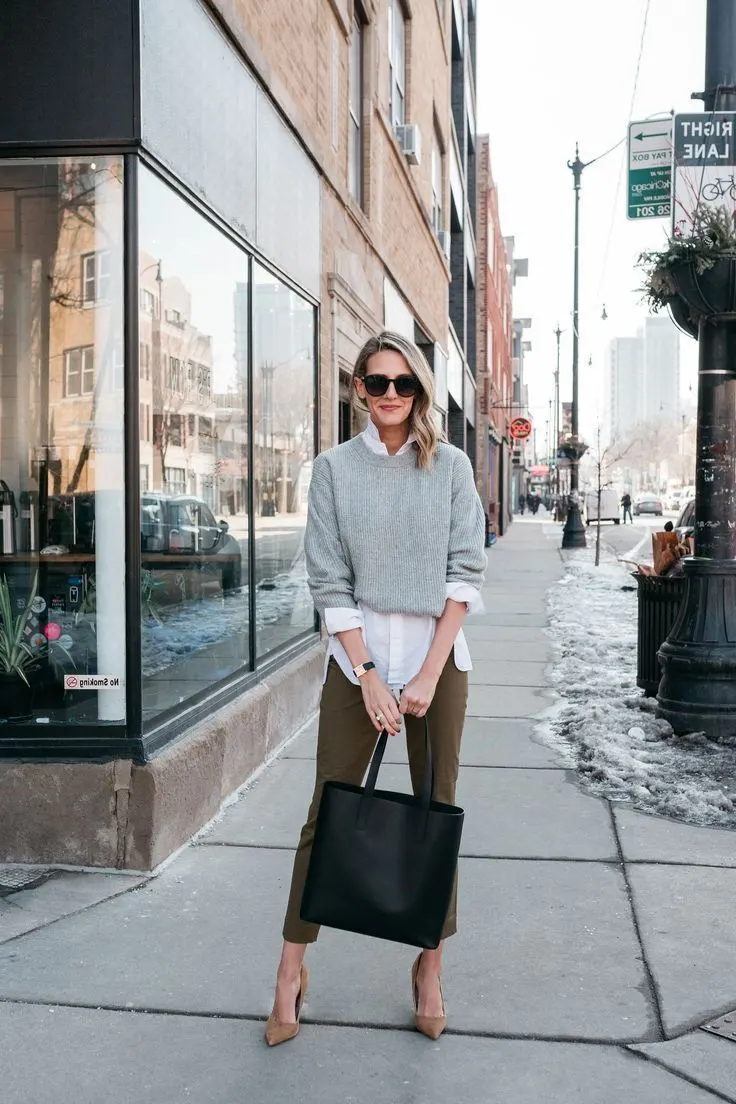 Buy Similar Here
A cream beige blazer looks fabulous with that knitted black dress: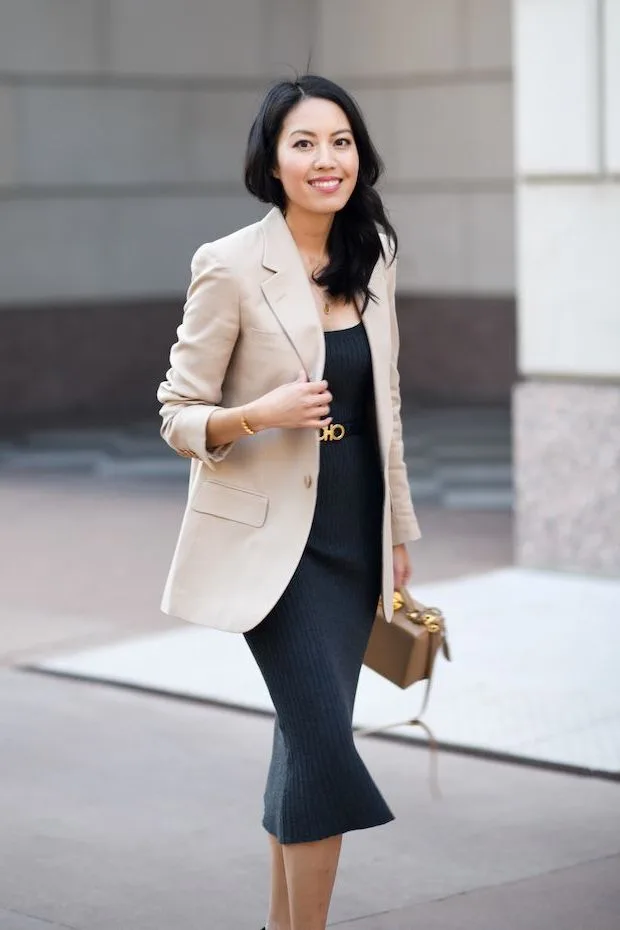 Buy Similar Here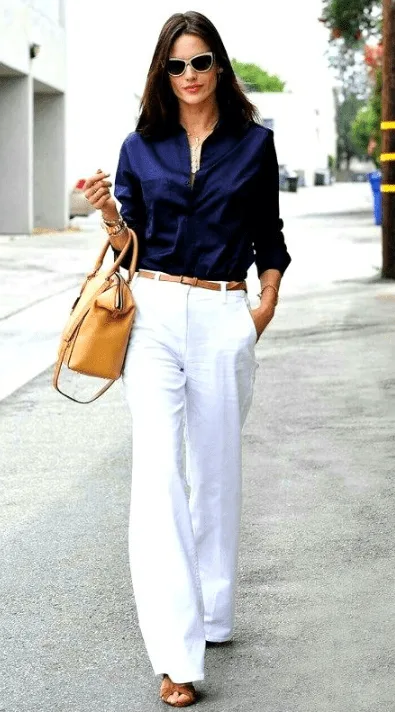 Buy Similar Here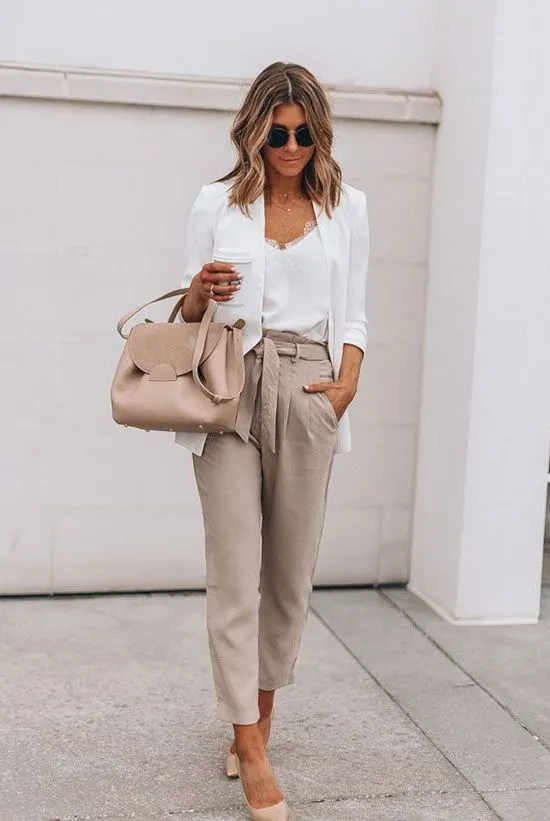 Buy Similar Here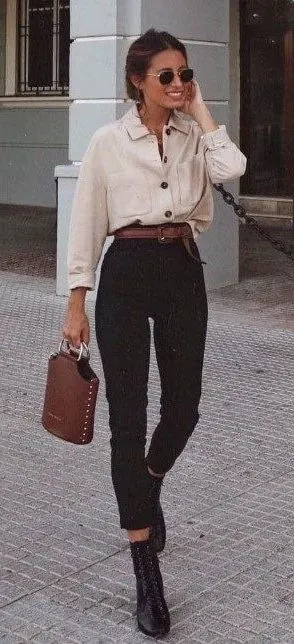 Buy Similar Here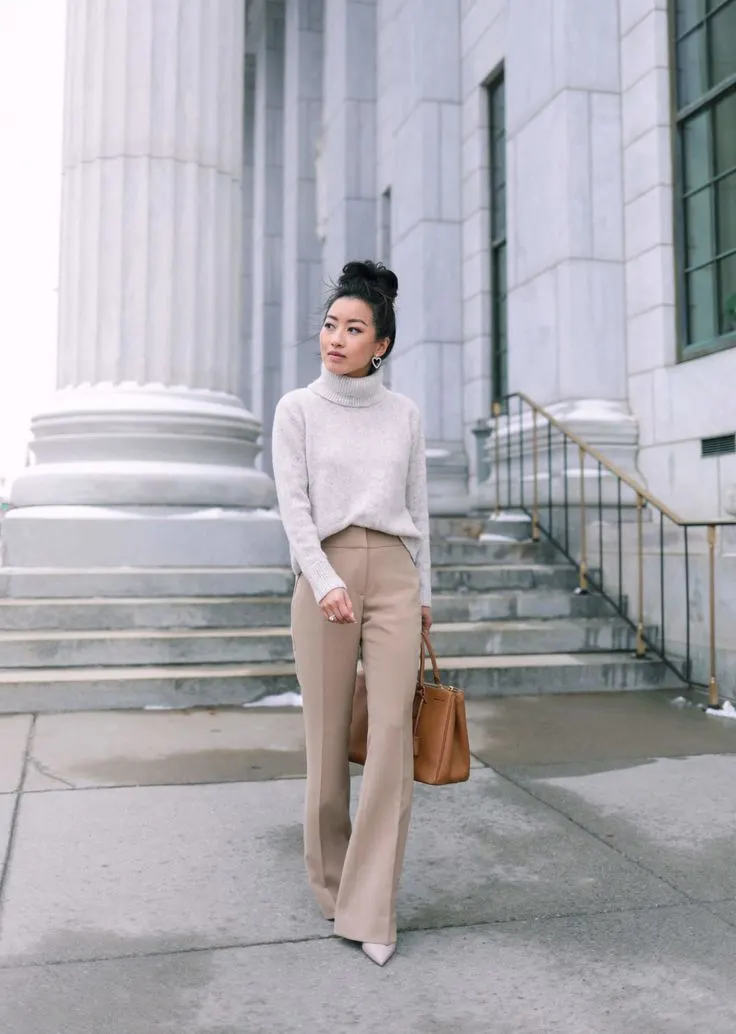 Buy Similar Here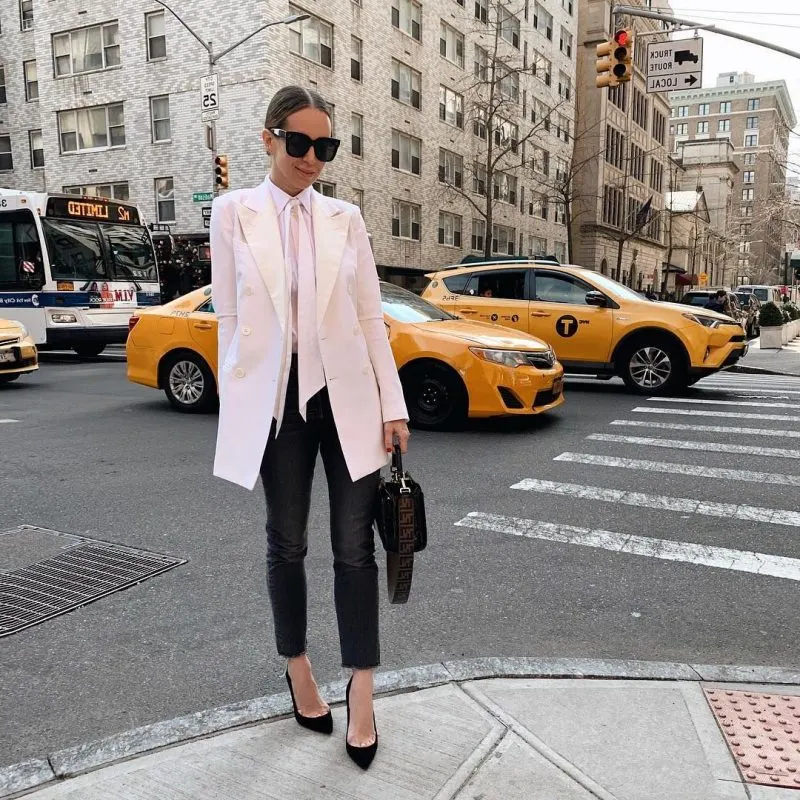 Buy Similar Here
Spring Office outerwear.
Sure, in the last month of Spring we can skip coats, but in the early months we certainly can not live without it. Stick with classy jackets and coats, or you can play with some layering by adding light cardigans or suit jackets. It is better to replace a down jacket with a bomber jacket, a sheepskin coat with a leather jacket, a winter coat with a semi-season lightweight version or even a stylish trench coat. To make the spring outfit look perfect, choose outerwear in neutral shades.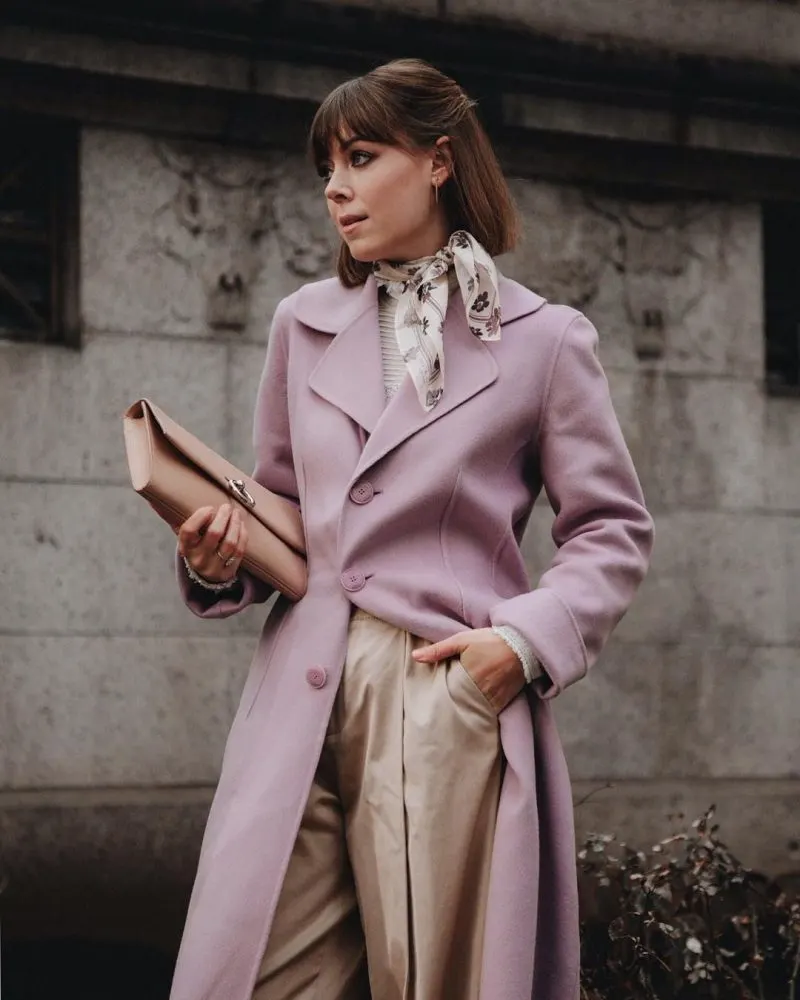 Buy Similar Here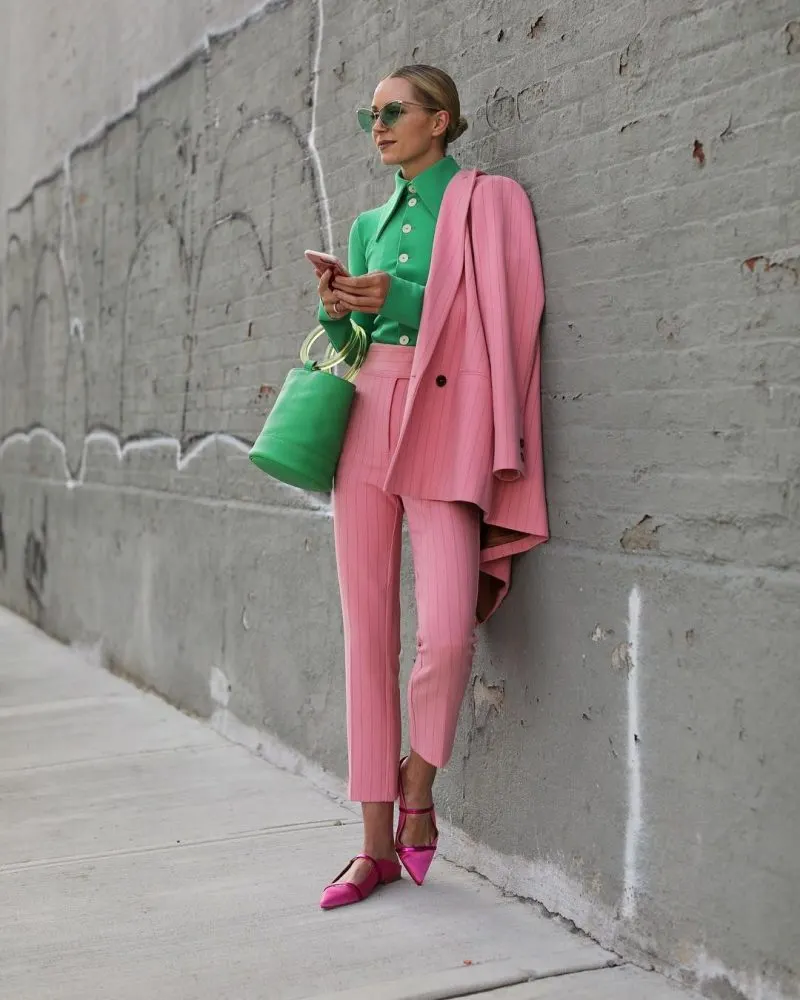 Buy Similar Here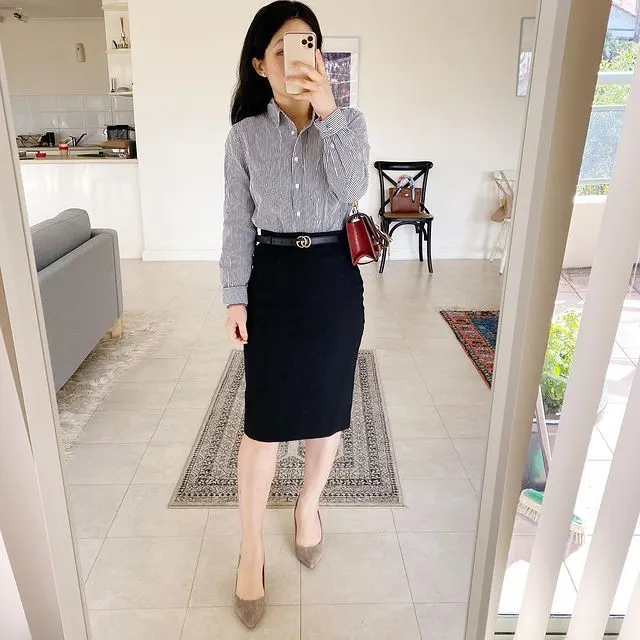 Buy Similar Here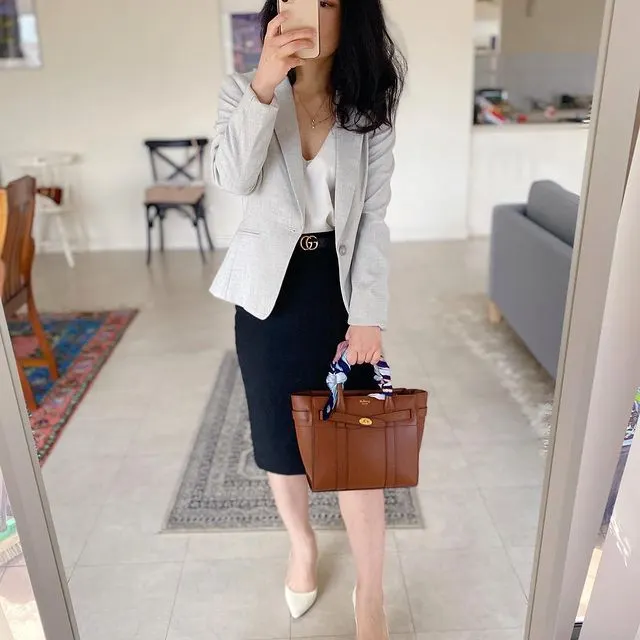 Buy Similar Here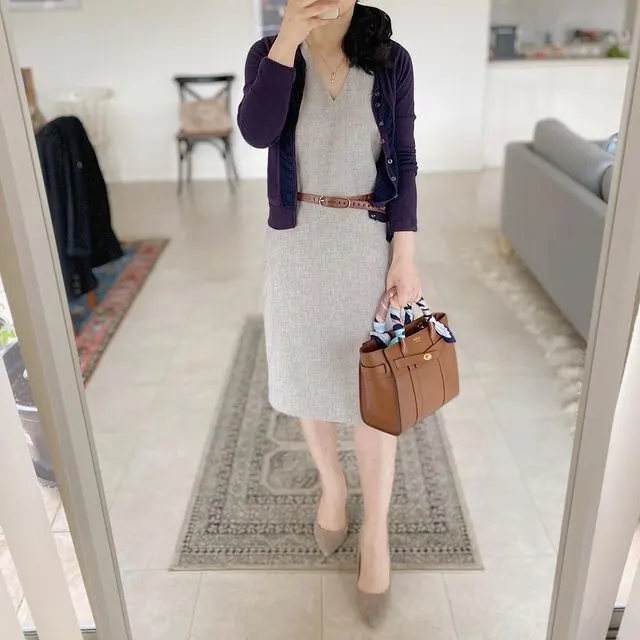 Buy Similar Here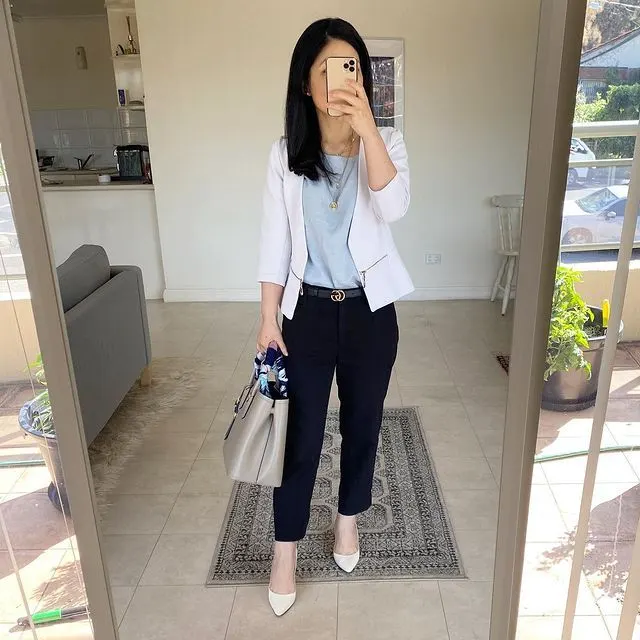 Buy Similar Here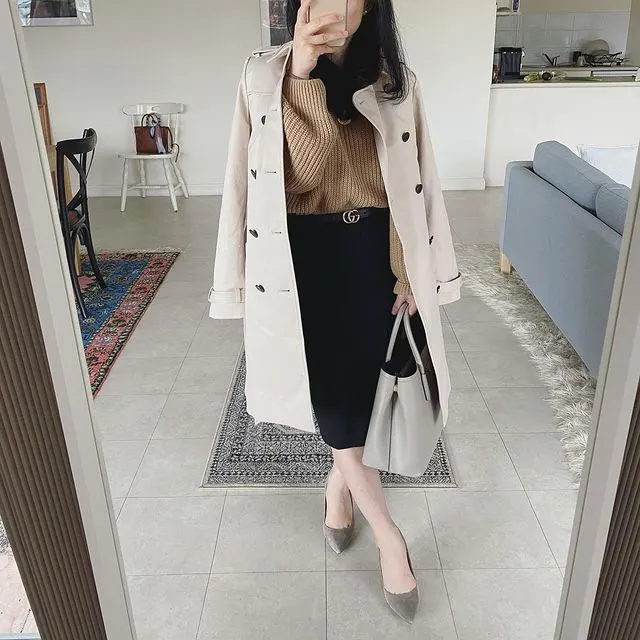 Buy Similar Here
Buy Similar Here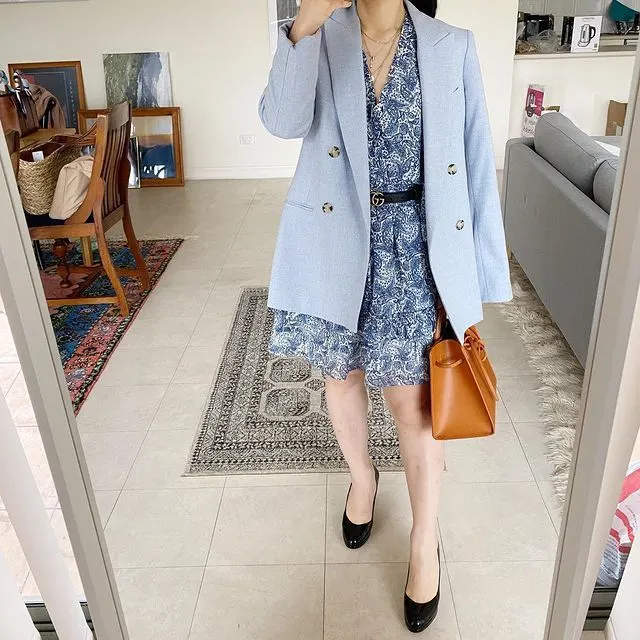 Buy Similar Here
Buy Similar Here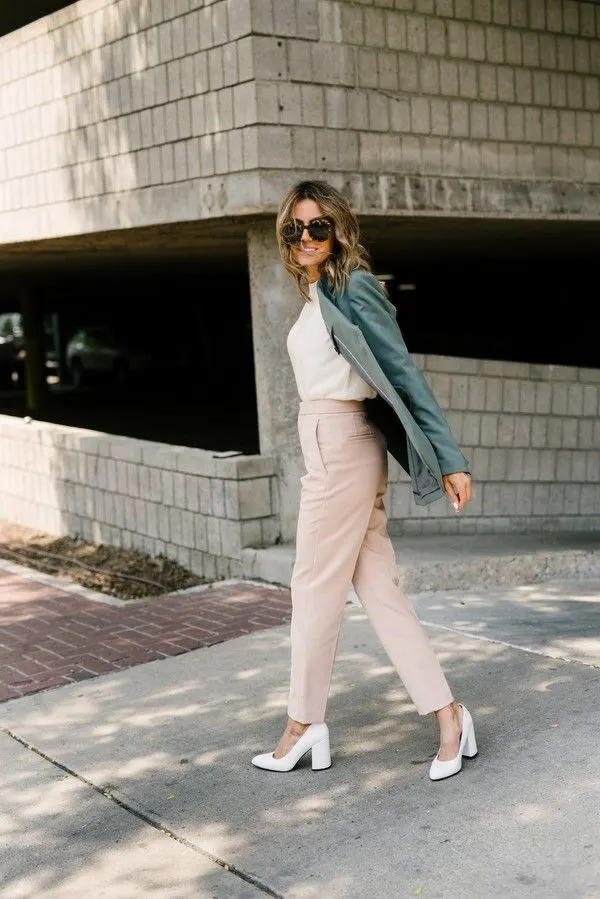 Buy Similar Here
A classic beige trench coat and a LBD, yes: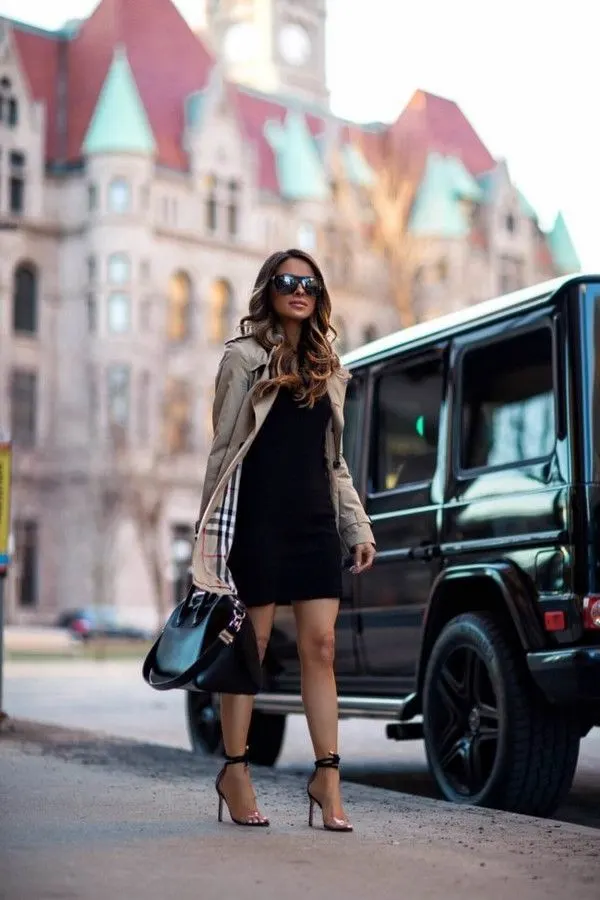 Buy Similar Here
Total white spring look for office hours, would give it a try: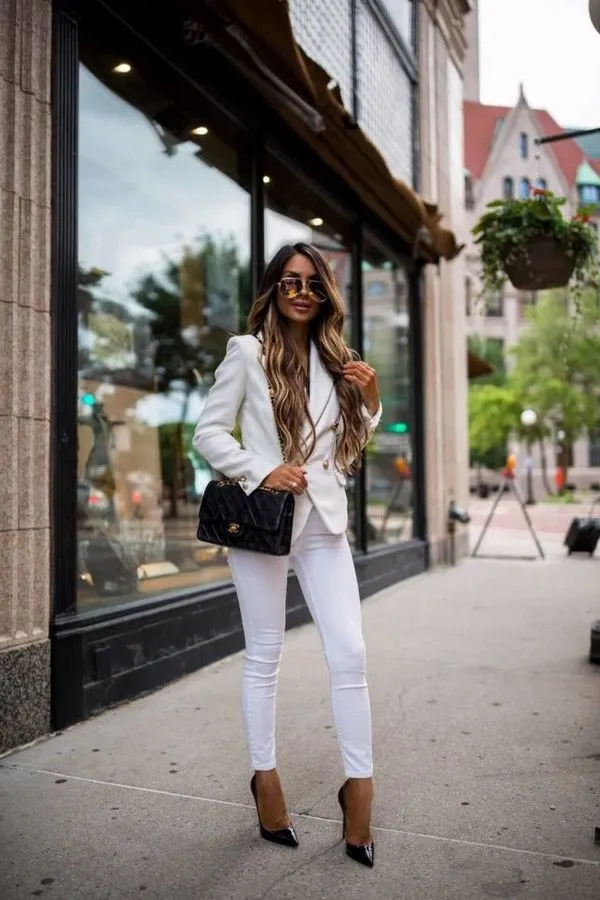 Buy Similar Here
A smart-casual look for office hours, we see a grey loose sweater and black leather pants: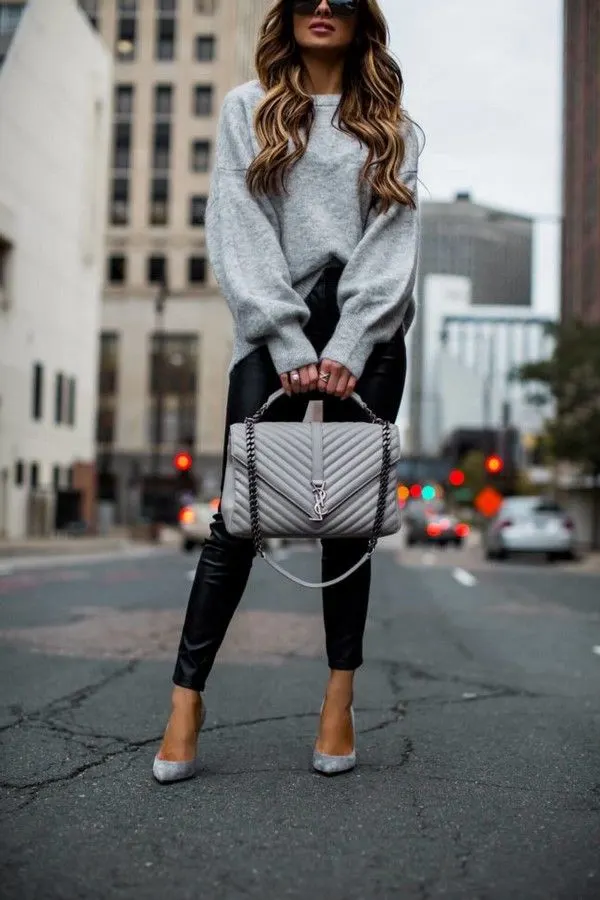 Buy Similar Here
Black-white striped blouse looks awesome with black jeans and a beige trench coat: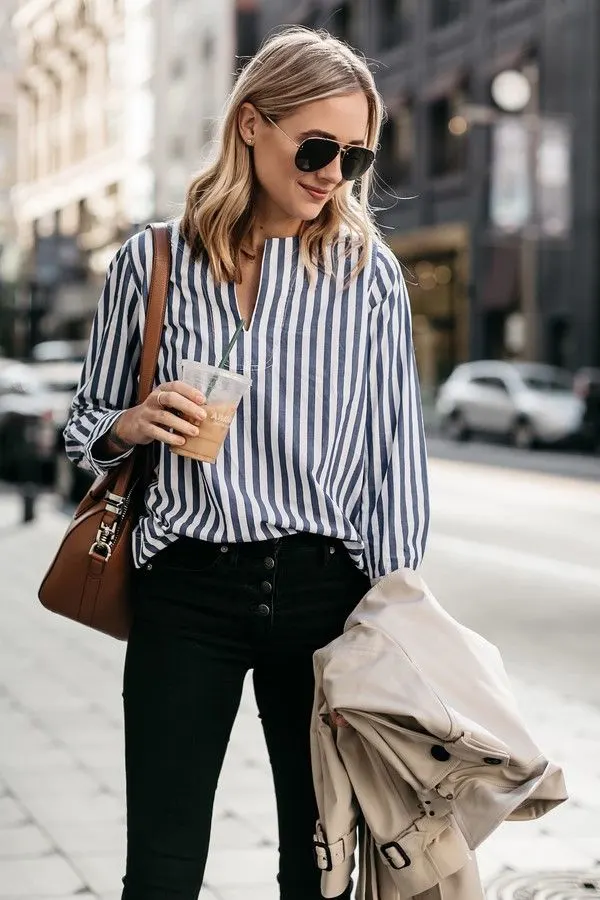 Buy Similar Here
Polka dot slim pants look great with a pastel blouse and a blue denim jacket, love these silver shiny flat pumps: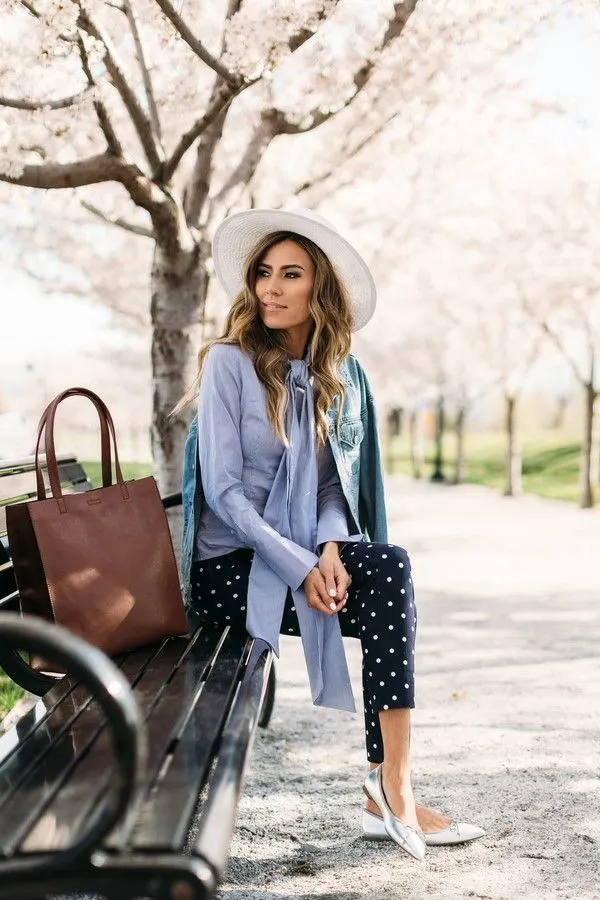 Buy Similar Here
Would you dare to wear sneakers at work? We see a Houndstooth printed coat in red-white worn with blue jeans and white chunky sneakers: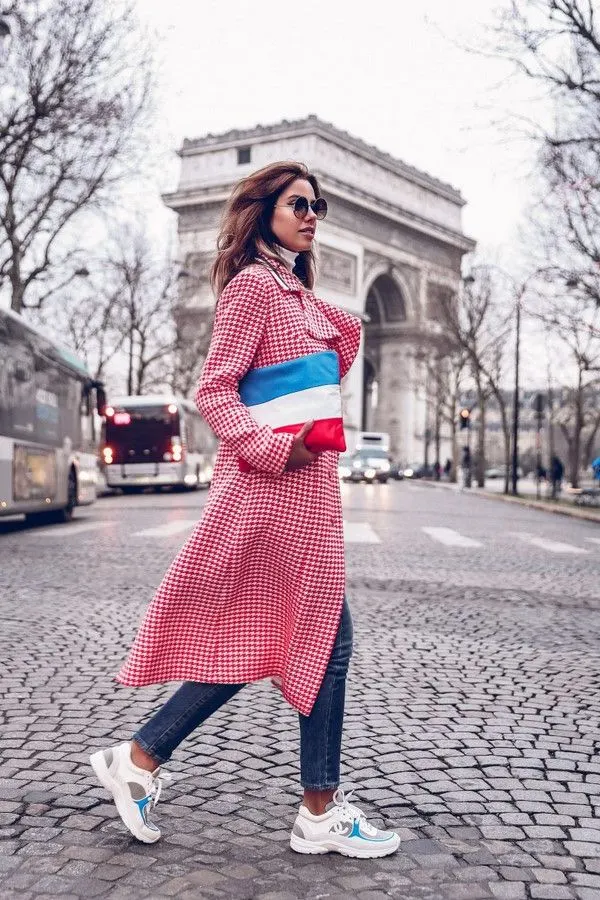 Buy Similar Here