In today's post, we are going to talk about tote bag outfit ideas and how to wear them on the streets and everywhere you are about to attend. At last, we see a comeback of our beloved IT bag that is an ideal accessory for almost any occasion to wear this season. I am totally in love with tote bags!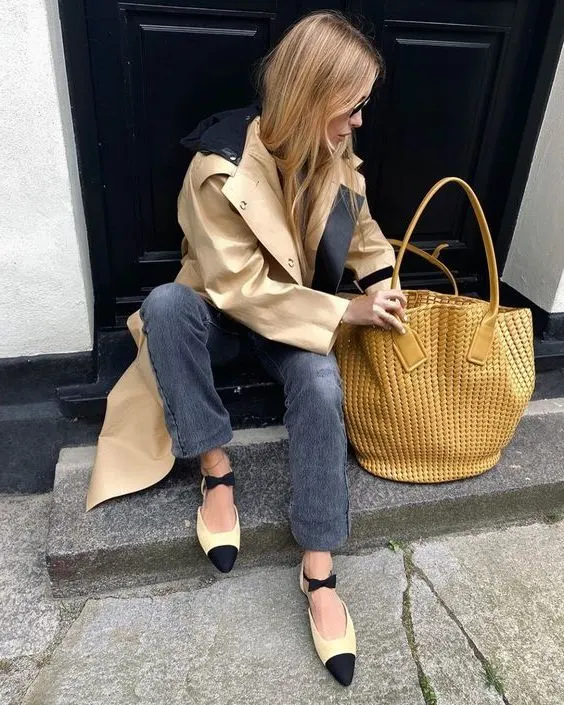 Buy Similar Here
A hooded camel trench-coat looks fabulous and functional styled with grey regular-fit jeans and bow-tied loafers. Love that big straw leather tote bag in sand-yellow look.
Tote Bag Outfit
I am going to share with you my favorite ideas of how you can wear it this year. As you all know, the classic tote comes in a minimalistic look, shape, and color. I personally love totes for their minimal look with clean lines, cuts, and design. You can find excellent choices of fabrics, starting from leather, canvas to plastic and fur. Oh, and there are fabulous looking prints and colors to choose from. The tote bag is most often made of natural or artificial leather or textiles (cotton, jute, canvas).
The tote bag is still a relevant accessory for any woman. It combines high fashion and everyday practicality. The spectacular look has won made it popular among modern women who successfully combine family and career. The tote bag fits perfectly into an elegant event, as well as to a casual coffee walk, or for business meetings. It can be easily combined with urban and business clothing:
a three-piece suit;
skirt with a blouse;
trousers with a shirt or blazer;
all types of jeans, tunics, t-shirts, or tops;
a sundress, summer dresses.
You are free to wear almost any kind of shoes. The tote bag looks good with boots, calf-boots with heels, sneakers, pumps, sandals, slates.
With A Basic Shirt And Mom Jeans
We see a relaxed-fit white shirt tucked in boyfriend jeans completed with block-heeled open-toe mules, she completed her style with three different tote bags::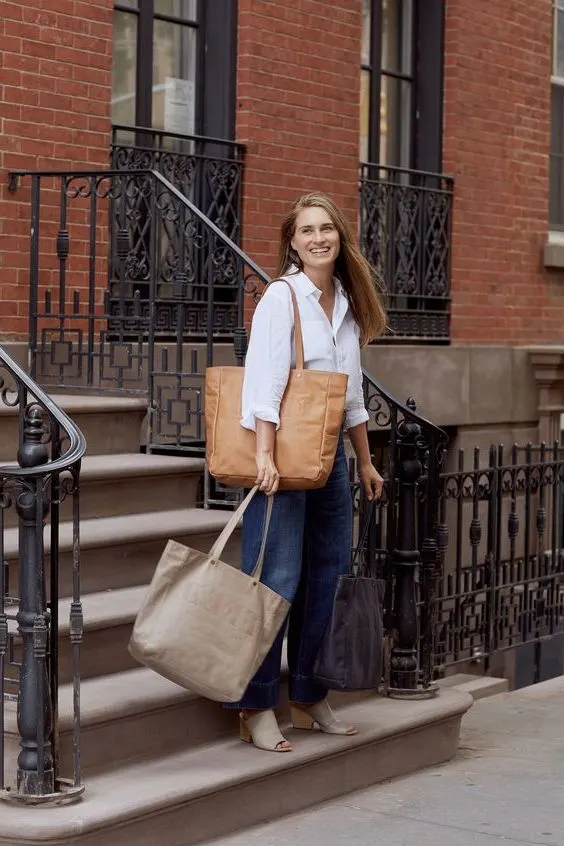 Buy Similar Here
With Pink Maxi Dress
A structured brown leather tote bag looks fantastic with a blush maxi gown: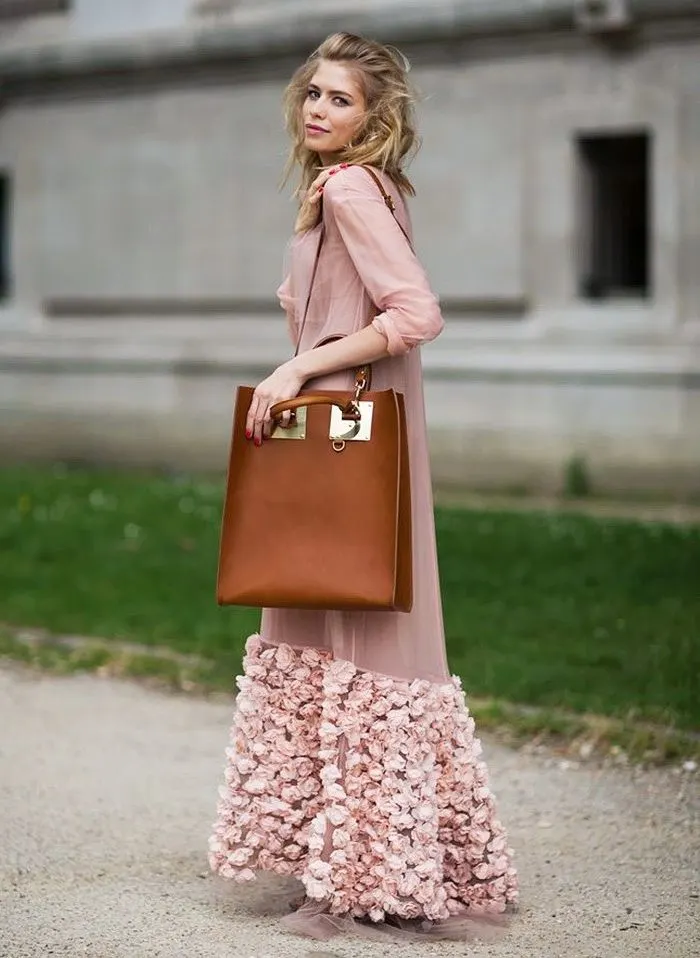 Buy Similar Here
All Black Outfit
A black shirt-dress can be updated with brown Oxfords and a spacious black leather tote bag: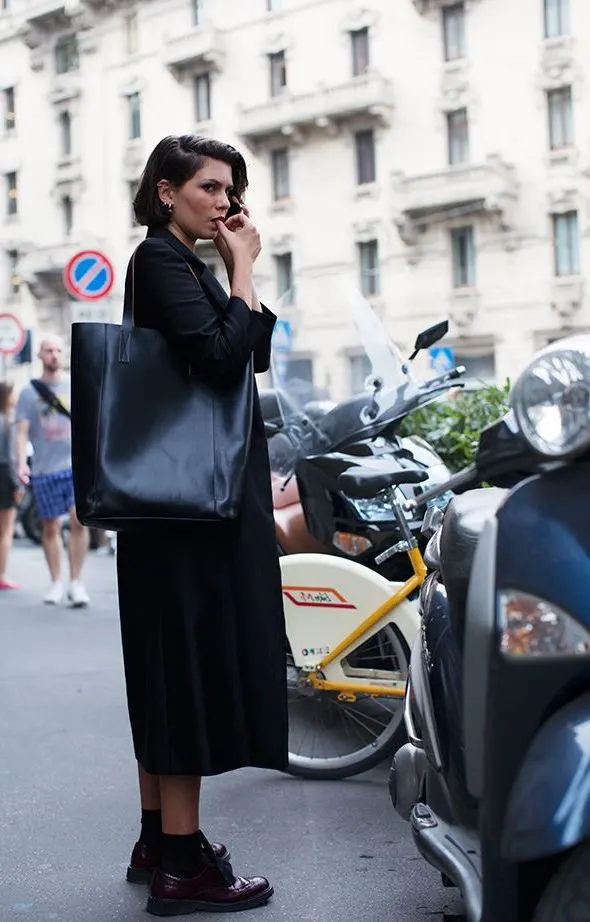 Buy Similar Here
With White Shirt And Black Pants
White shirt, black slim pants and black ballet pumps look cool updated with a tote bag in black leather: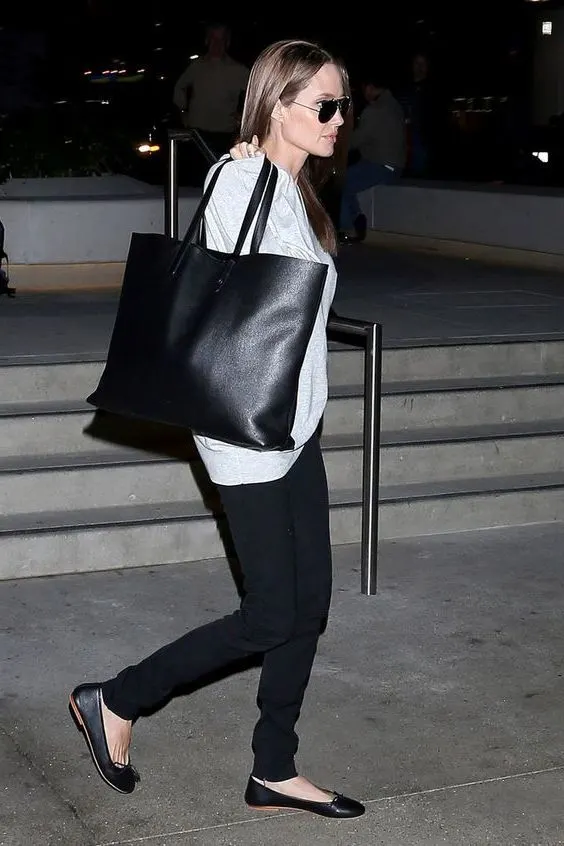 Buy Similar Here
With Grey Sweatshirt & Indigo Jeans
A grey sweatshirt looks sporty and relaxed teamed with black slim jeans, black ankle boots and a red leather tote bag: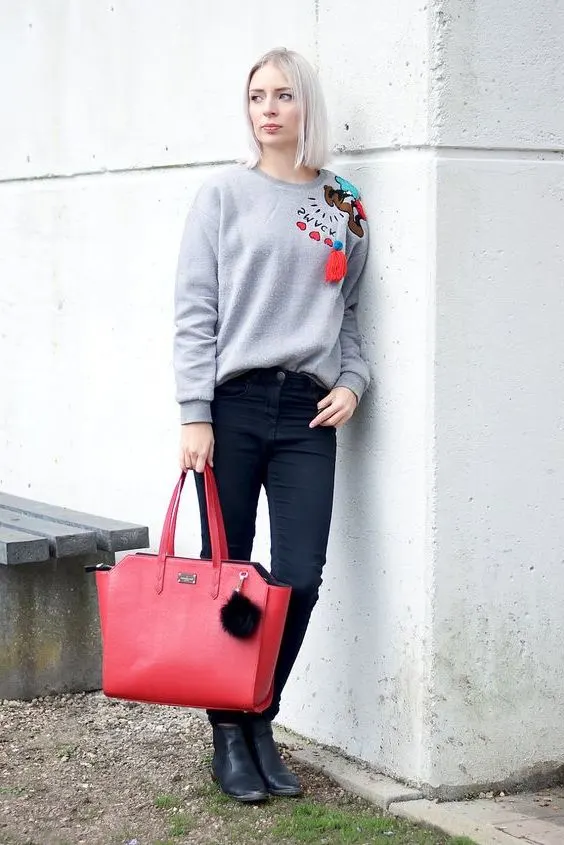 Buy Similar Here
With Trench Coat And Blue Jeans
A two-colored miniature tote bag is worn with a beige trench-coat, white tee tucled in cropped mom jeans and completed with open-back loafers in black leather: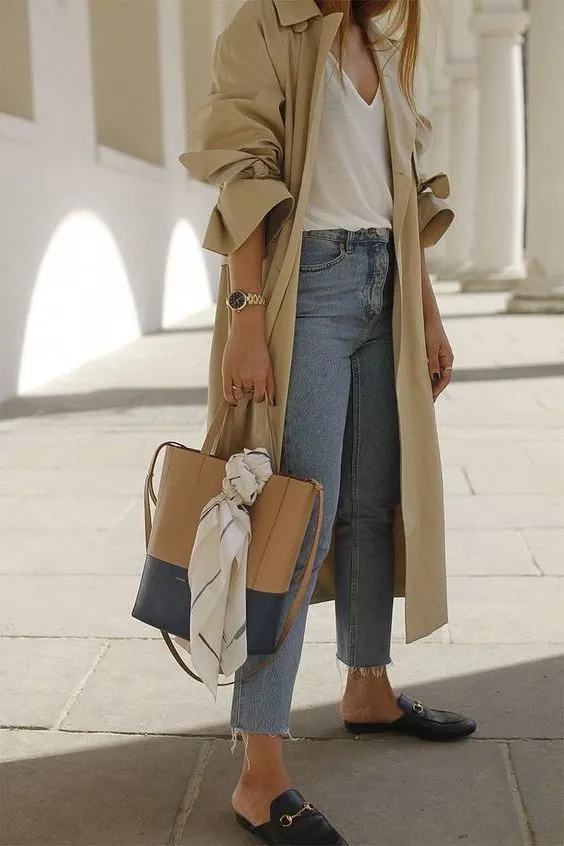 Buy Similar Here
With White Tee And Black Jeans
White long-sleeve tee is styled with olive-khaki skinny pants and a blush tote bag:
Buy Similar Here
With Striped Dress
A striped sleeveless sundress looks cool with a blue tote bag: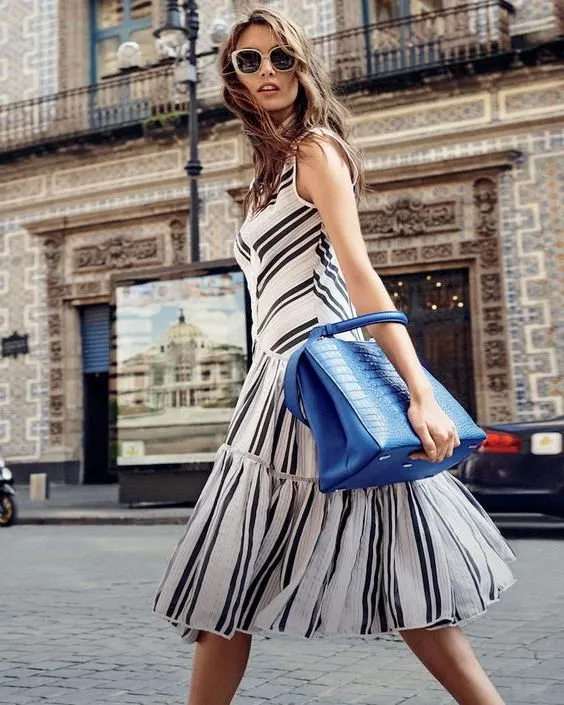 Buy Similar Here
With Pinstripe Blazer And Black jeans
A brown leather tote bag can be worn with an oversized blazer, black skinnies and blush heels: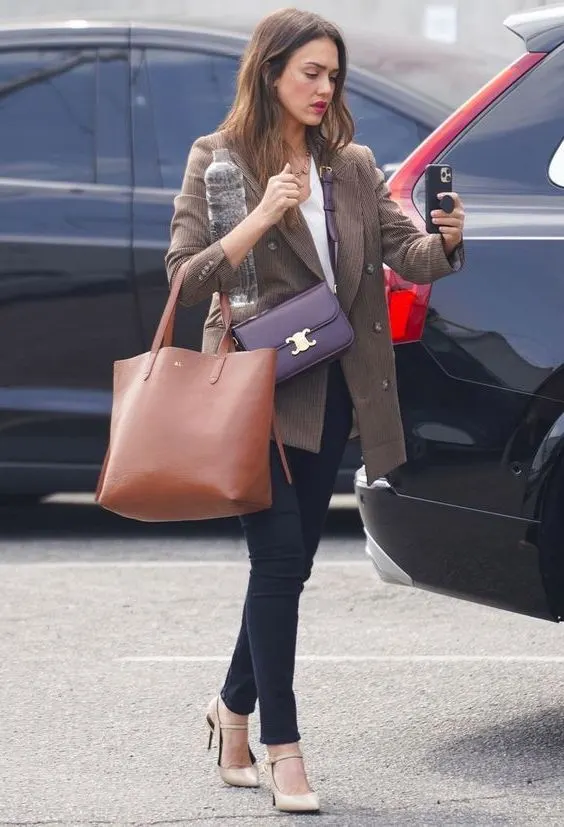 Buy Similar Here
With Wide Brim Hat
An all black look with a white fedora looks unique: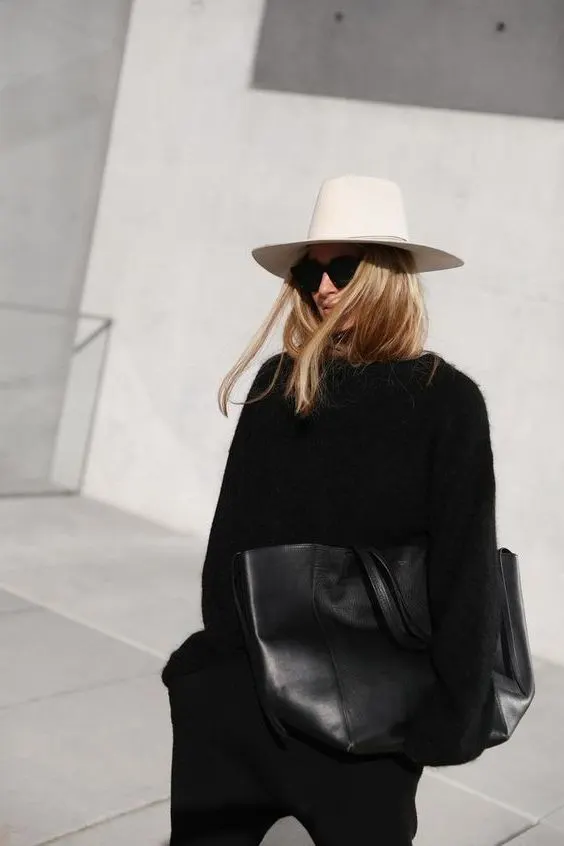 Buy Similar Here
With Camel Sweater And Pleated Skirt
A beige sweater with a pleated midi skirt and brown booties look great with a dark brown tote bag: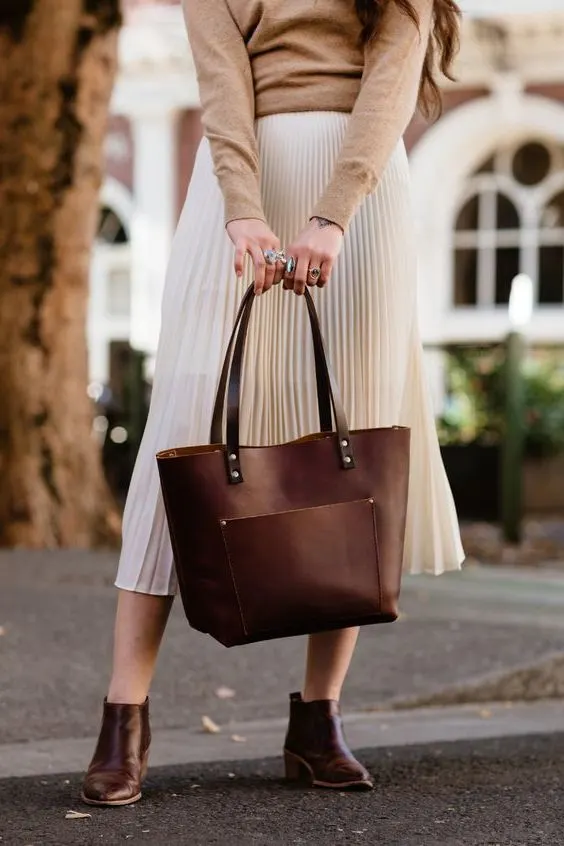 Buy Similar Here
With Black Leather Pants
An all black look with an oversized black cardigan and black leather pants looks chic and modern finished up with a blush-grey tote bag: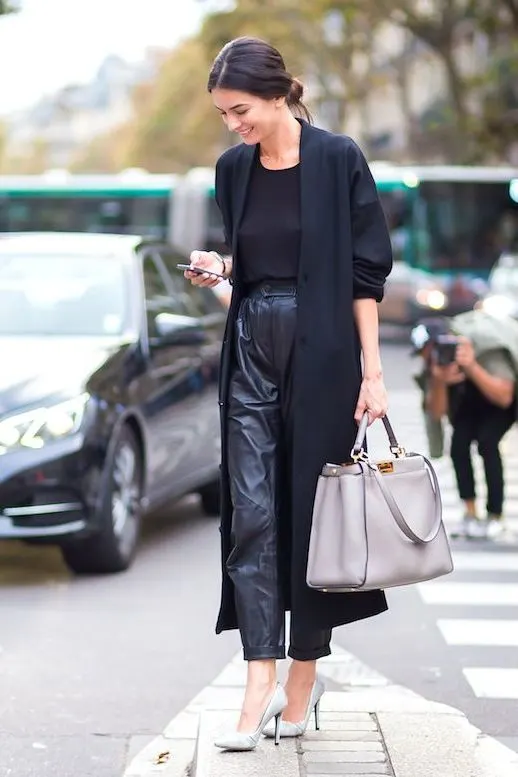 Buy Similar Here
With Relaxed Outfits
An oversized tote bag looks cool with an orange sweater and dark blue wide-leg pants completed with black loafers and a big tote: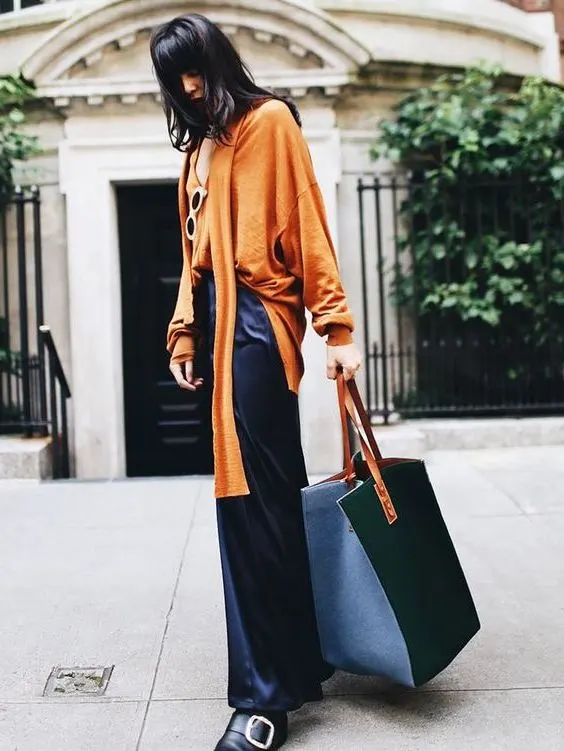 Buy Similar Here
A grey coat with a large scarf looks cool with a floral dress, brown leather boots and a black leather tote bag: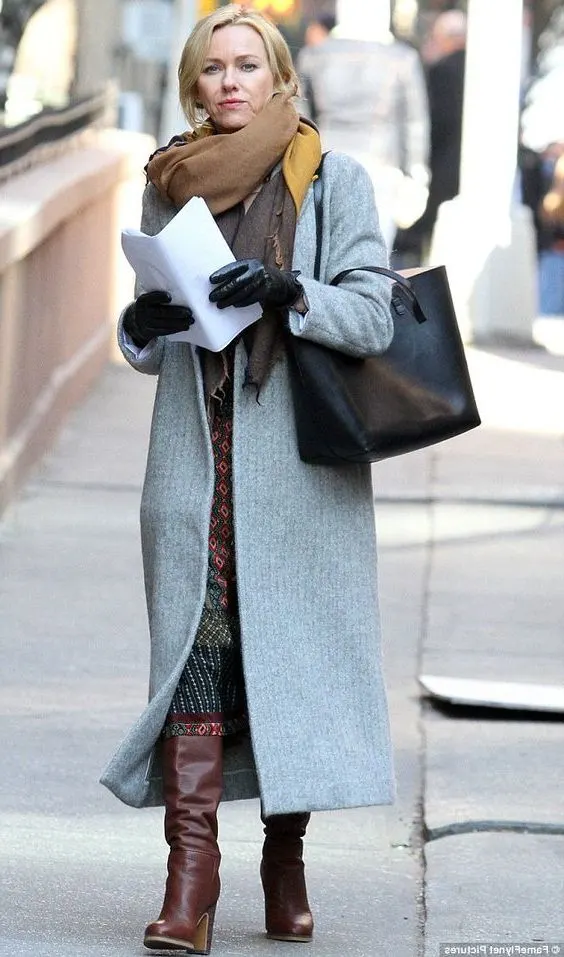 Buy Similar Here
With All White Look
A charcoal large tote bag looks fantastic with a white shirt, white loose-fit pants and snake-print heeled mules: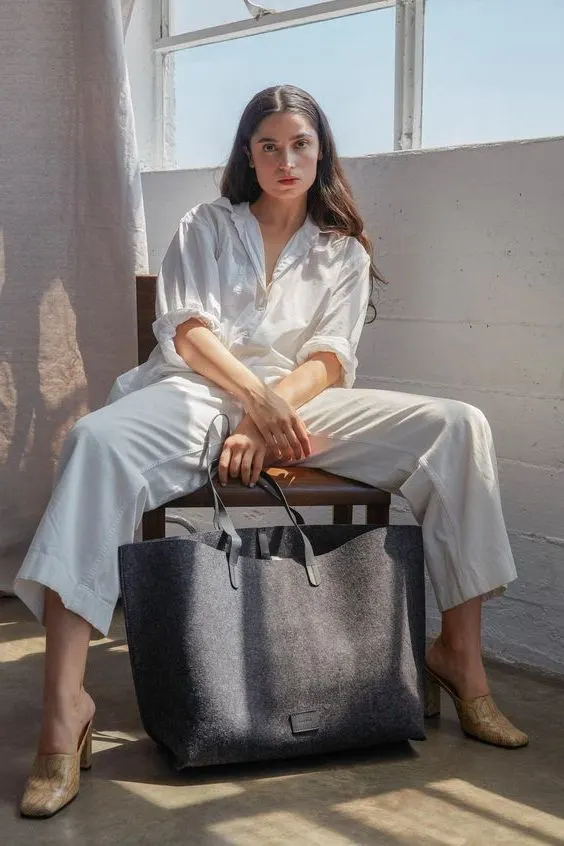 Buy Similar Here
With Black Suits
An all black pantsuit looks fantastic styled with a structured black leather tote bag: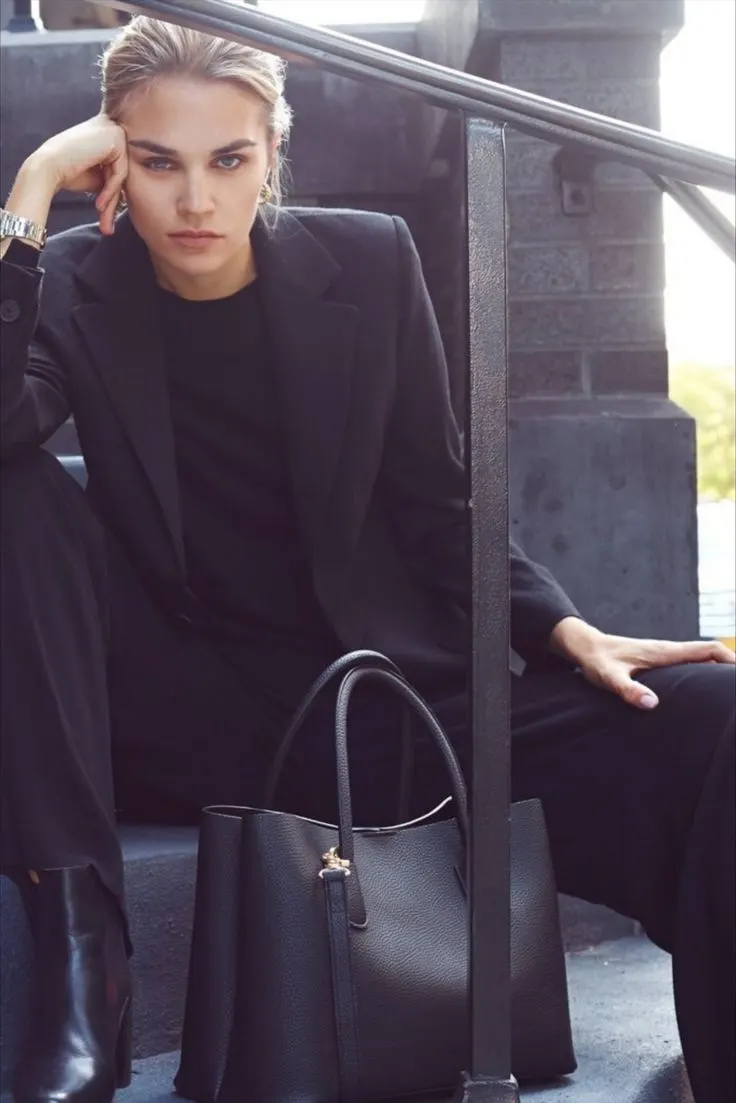 Buy Similar Here
A marvelous mini tote bag in brown leather and a structured design looks ideal with a milk-beige sweater and a pleated tea-length skirt: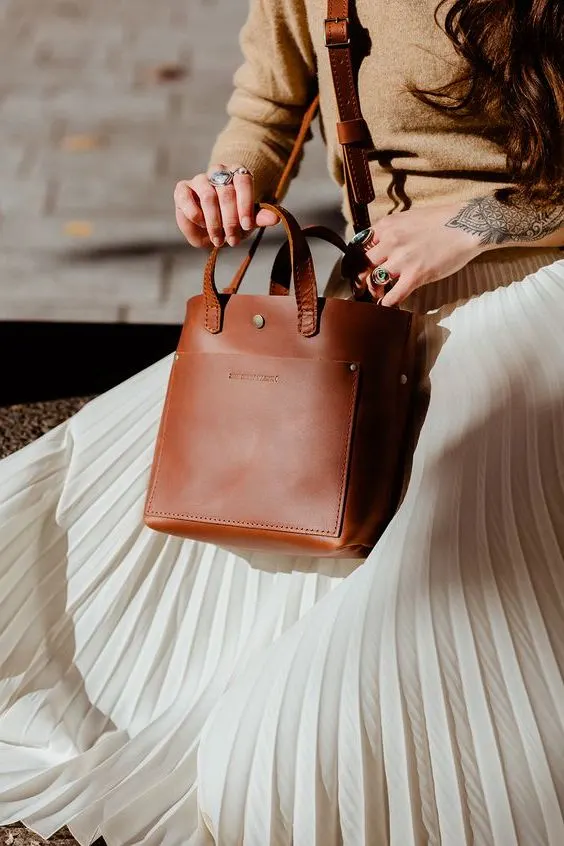 Buy Similar Here
With Oversized Clothes
Oversized fashion, we see a young woman wearing a dark brown maxi coat styled with black pants and black boots. Complete this combo by adding cool Wayfarer sunglasses and a black tote bag: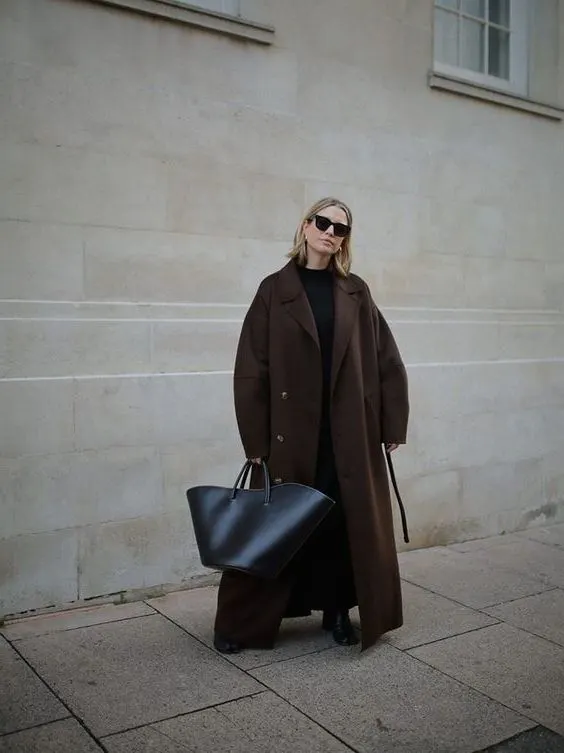 Buy Similar Here
What you think of tote bags? Let me know in the comments: