Today I am here to talk about what shoes you can wear with yellow dresses. I am about to show you my favorite outfit ideas and best shoe color combinations you can try this year. So, stay tuned and take a close-up at these magnificent ideas.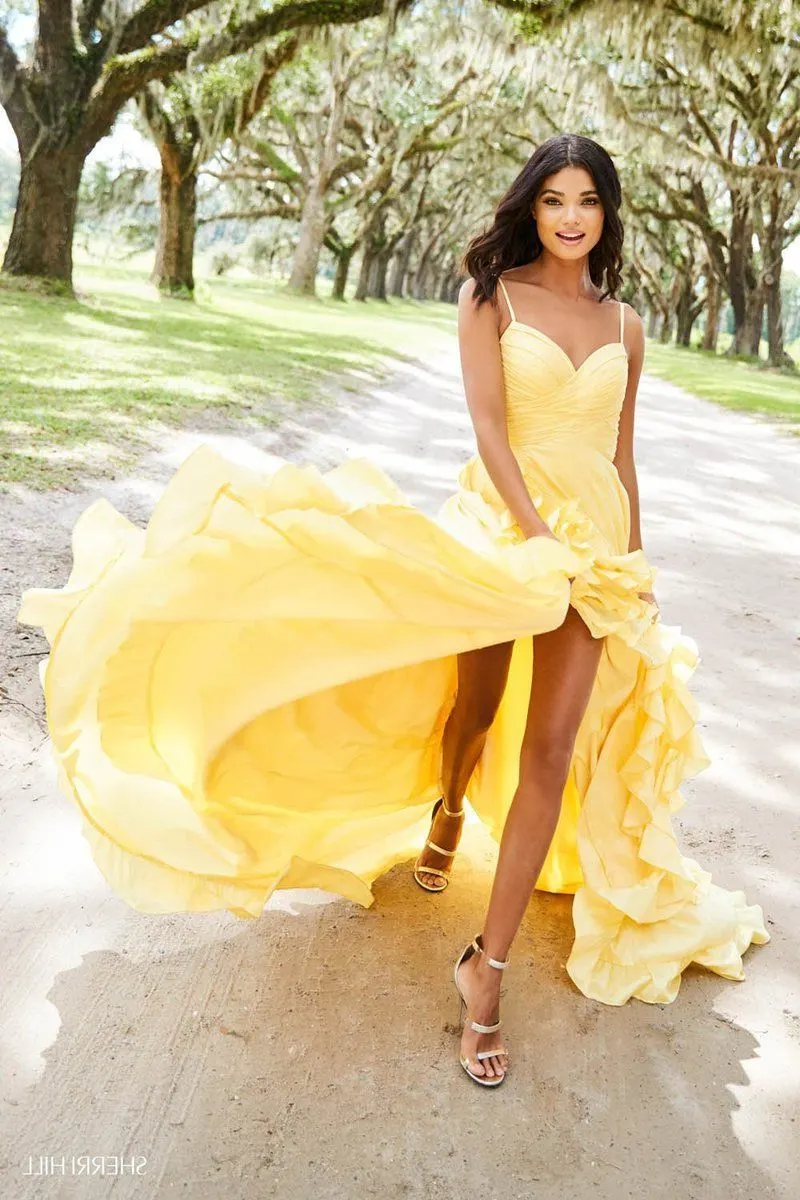 Buy Similar Here
We see a maxi light yellow dress with spaghetti straps styled with metallic heeled sandals.
What shoes with yellow dress
It's no wonder why yellow is so in trend right now. Every lady wants to shine and be bright no matter what it takes. I love to see that color on women. The only problem is choosing the right footwear.
With White Boots
White leather boots in slouchy style are worn with a yellow midi dress in blue floral print: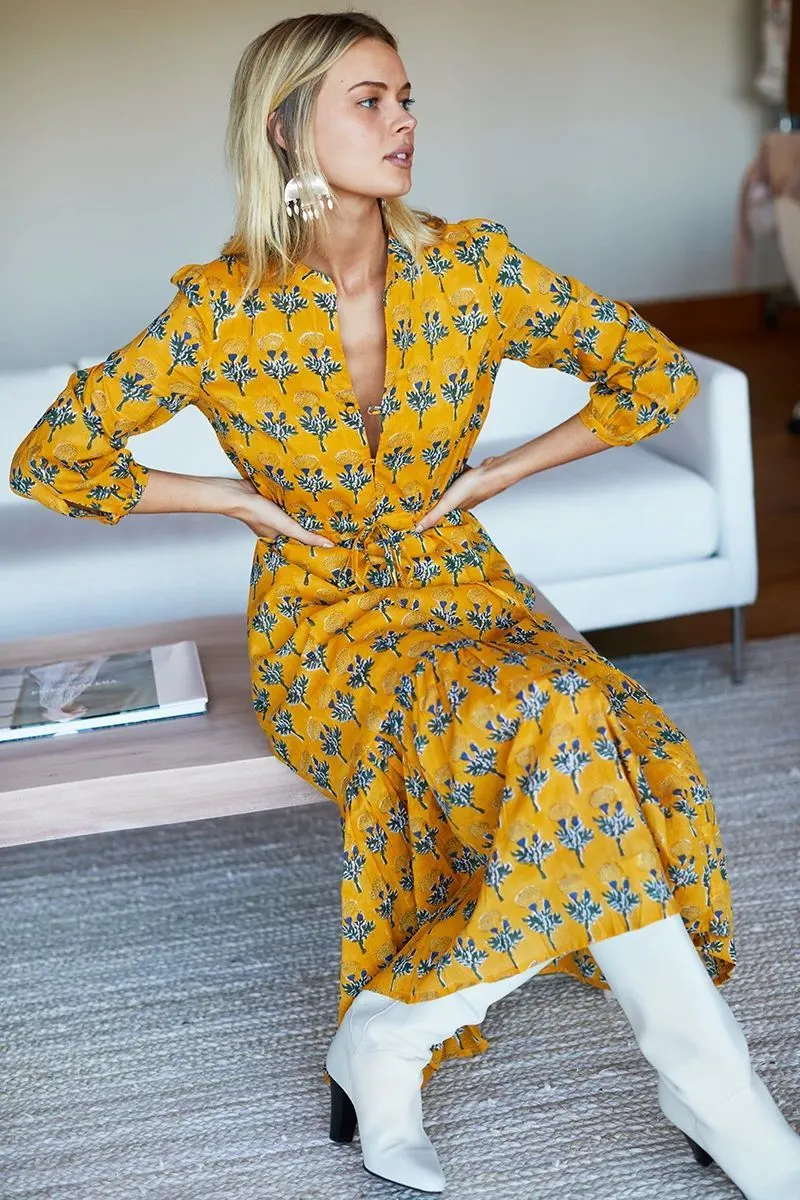 Buy Similar Here
With White Loafers
An off-shoulder long-sleeve pencil cut dress in pale yellow color is styled with white pointed-toe loafers: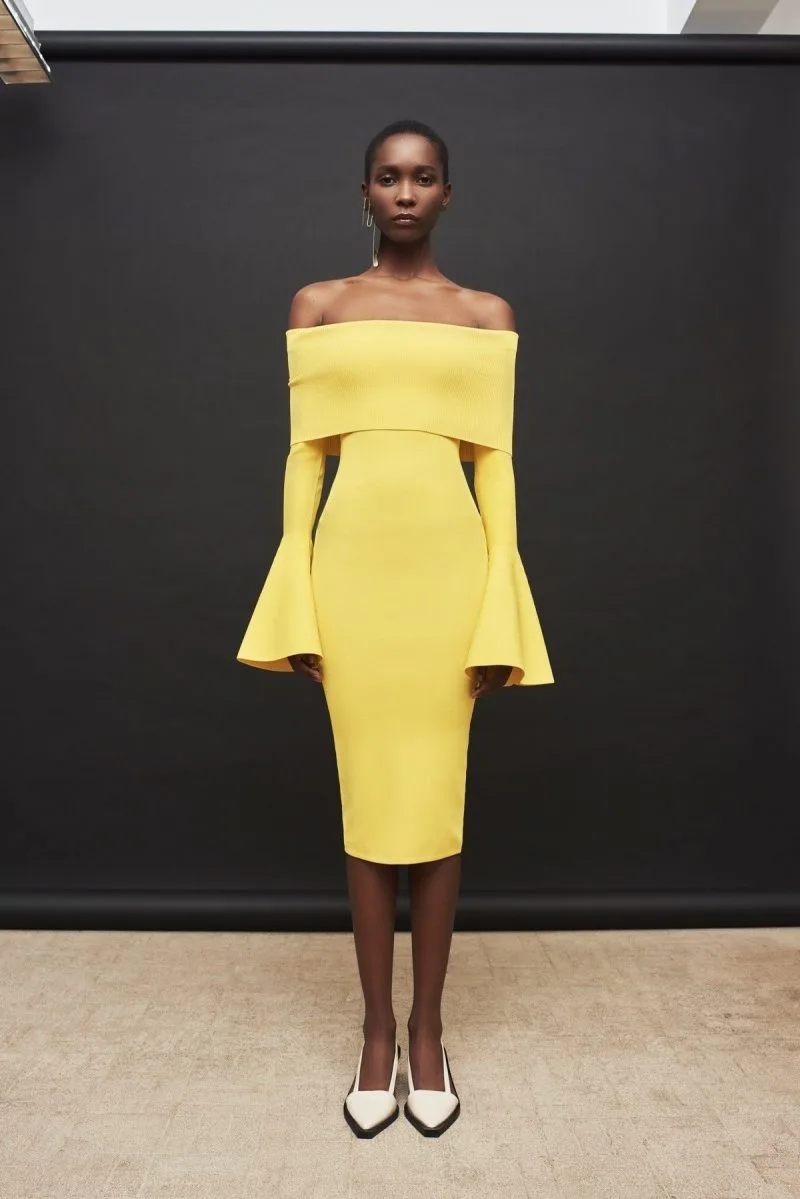 Buy Similar Here
With Fuchsia Pumps
A bright yellow midi dress with ruffled neck and a belt is covered with a fuchsia coat and completed with the same color bag and shoes: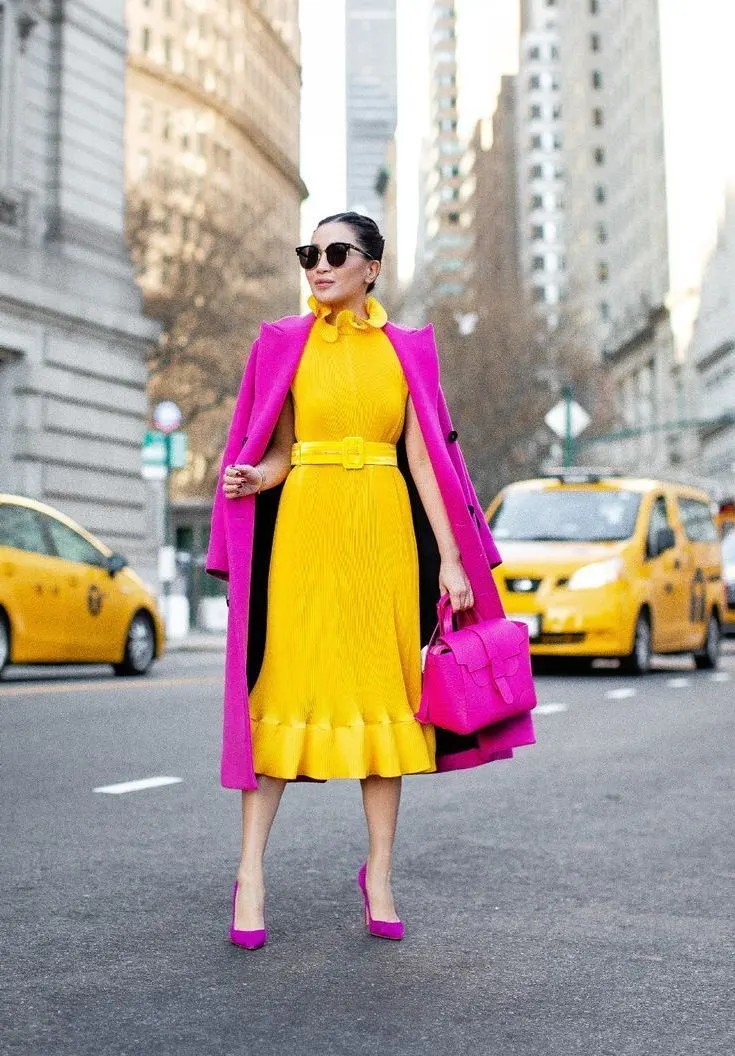 Buy Similar Here
With Wedge Sandals
A pastel yellow dress with crochet inserts is updated with a denim jacket and wedge sandals: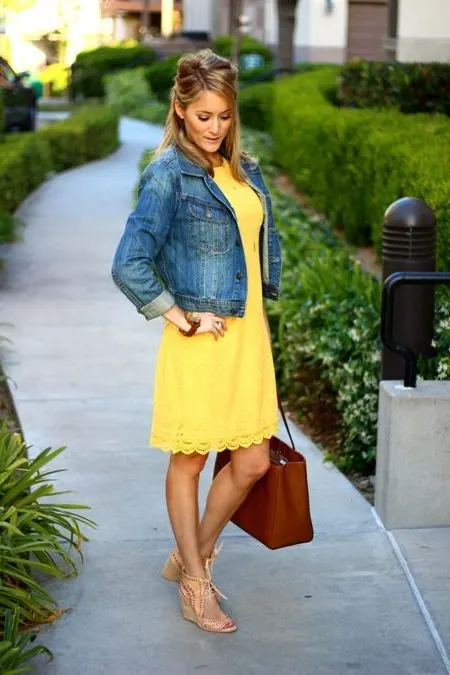 Buy Similar Here
Today's fashion labels and mass market brands offering us different shades of yellow, it can be a bright one, light shade, a pastel tone,
All depends on your dress's style, and of course on what is the season outside. For instance, an evening yellow peplum dress looks fancy and chic paired with peep-toe heeled sandals in white during the Summer, but the same dress looks great with classic black pumps during the fall.
With Purple Flat Pumps
A neon yellow shift dress is styled with pastel purple heeled pumps and a floral print clutch bag: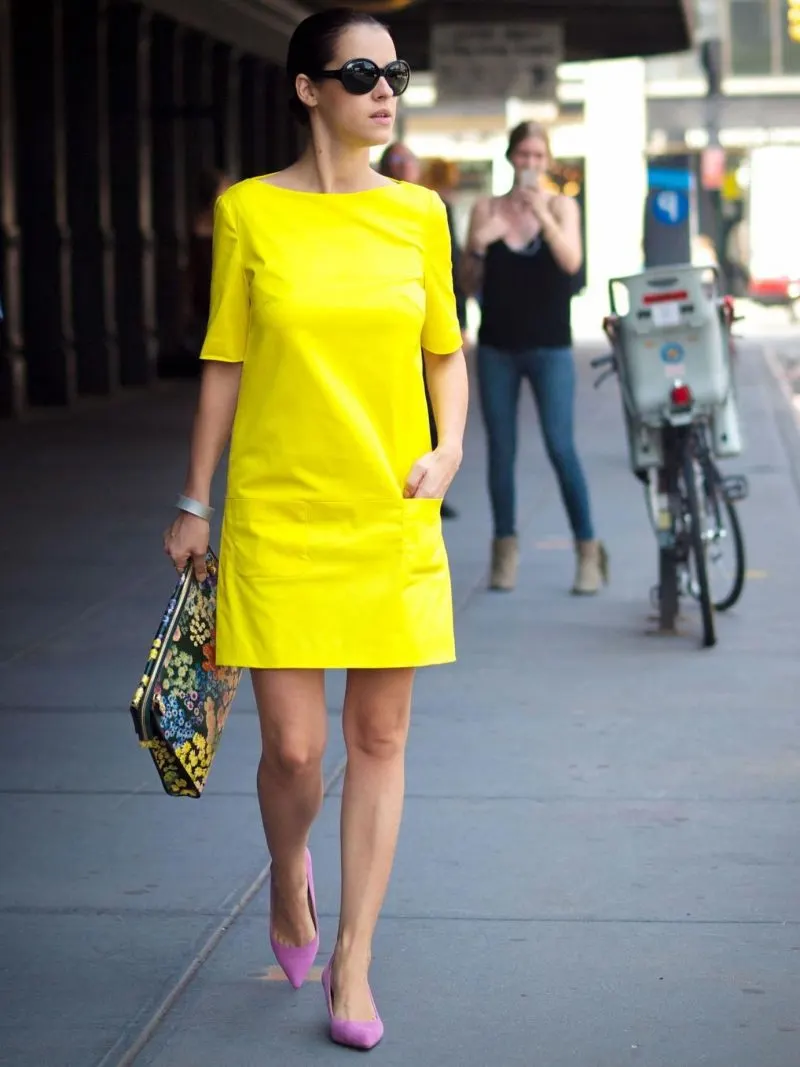 Buy Similar Here
With Blue Heels
A sleeveless mustard-yellow dress completed with blue heels looks office-friendly:
Buy Similar Here
With Black Heeled Pumps
If you are looking for a glamour party look, go for this bodycon yellow midi dress and update it with aviator sunglasses, fur yellow coat and black glossy heels: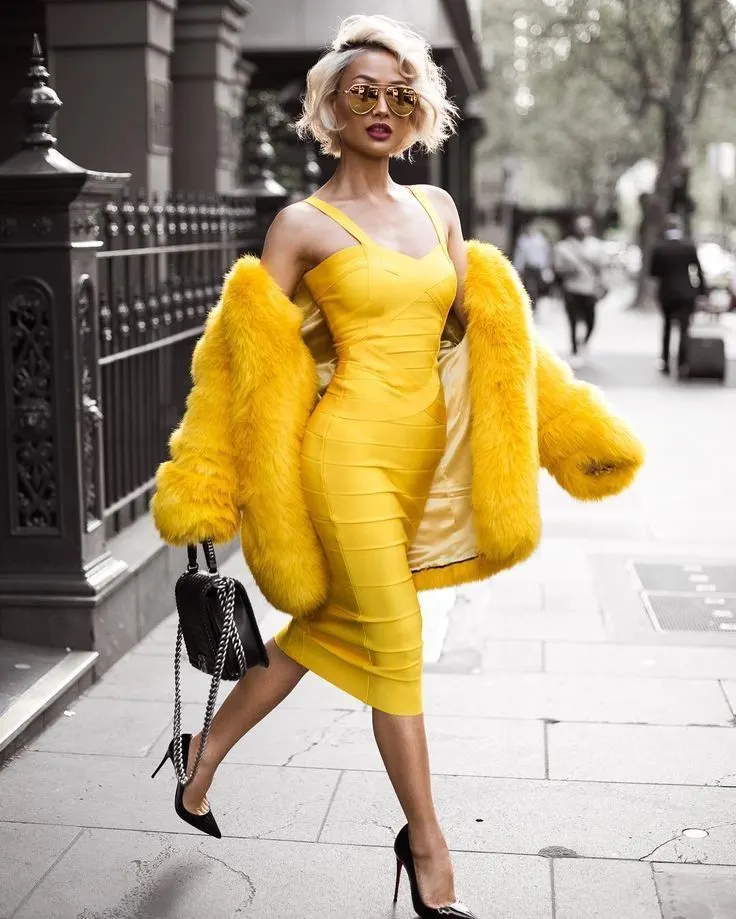 Buy Similar Here
With Heeled Loafers
A sweater dress in rich yellow is updated with white heeled loafers: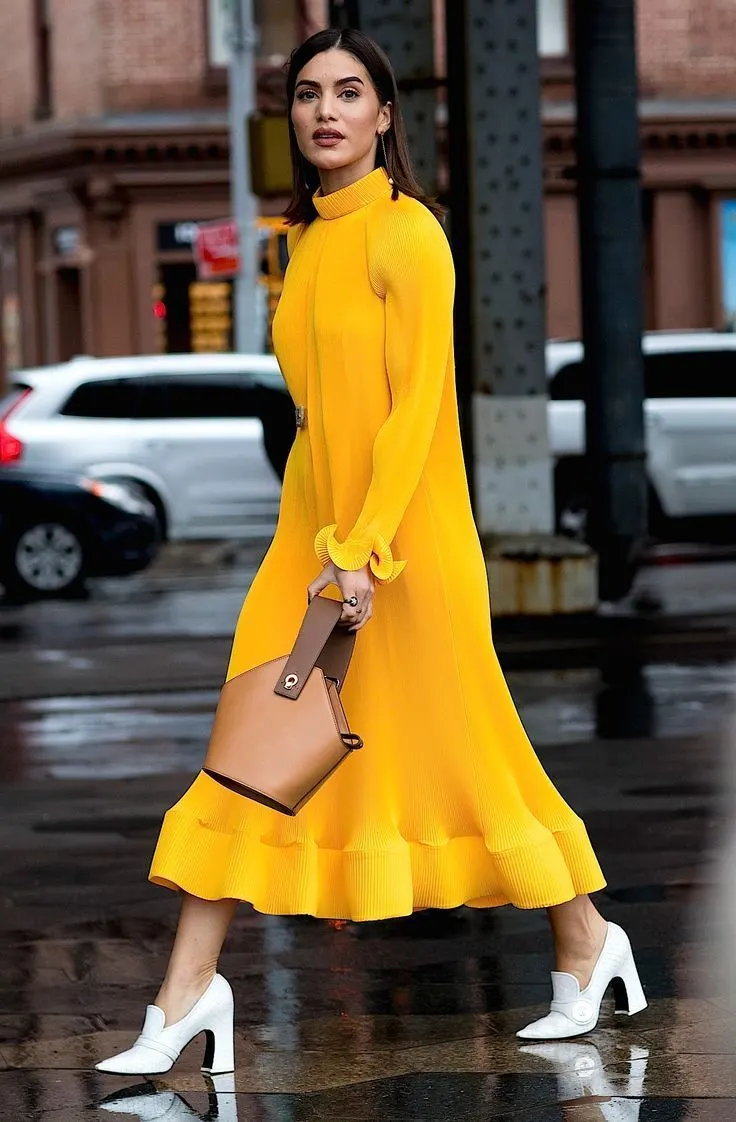 Buy Similar Here
You can also coordinate shoe color with a layering piece, no matter if it's a jacket, blazer, coat or even a scarf.
This frock can be combined with absolutely any shoe color. Although this season, all stylists tell us that to create your own individual look, need to combine the incongruous things. That's why you better follow these tips and start from your own preferences.
White Strappy Heeled Sandals
A pastel yellow crochet dress looks amazing with white heels: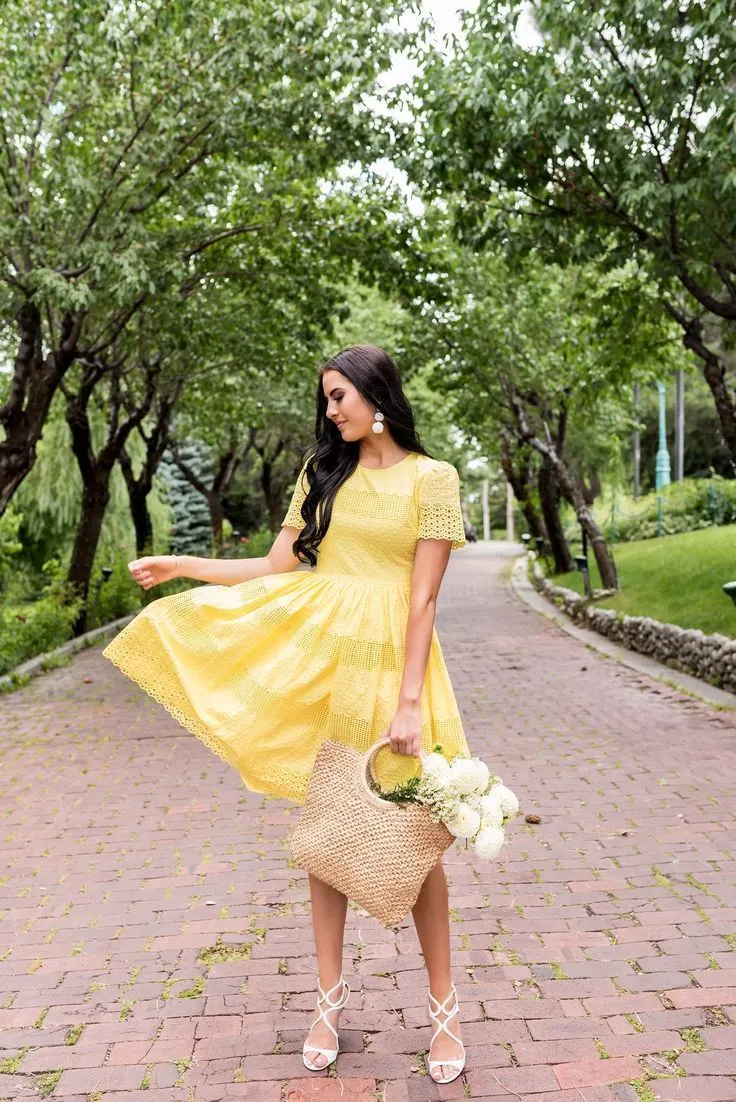 Buy Similar Here
With Nude Sandals
A maxi sleeveless dress in classic yellow is updated with blush heeled sandals and a wooden clutch bag: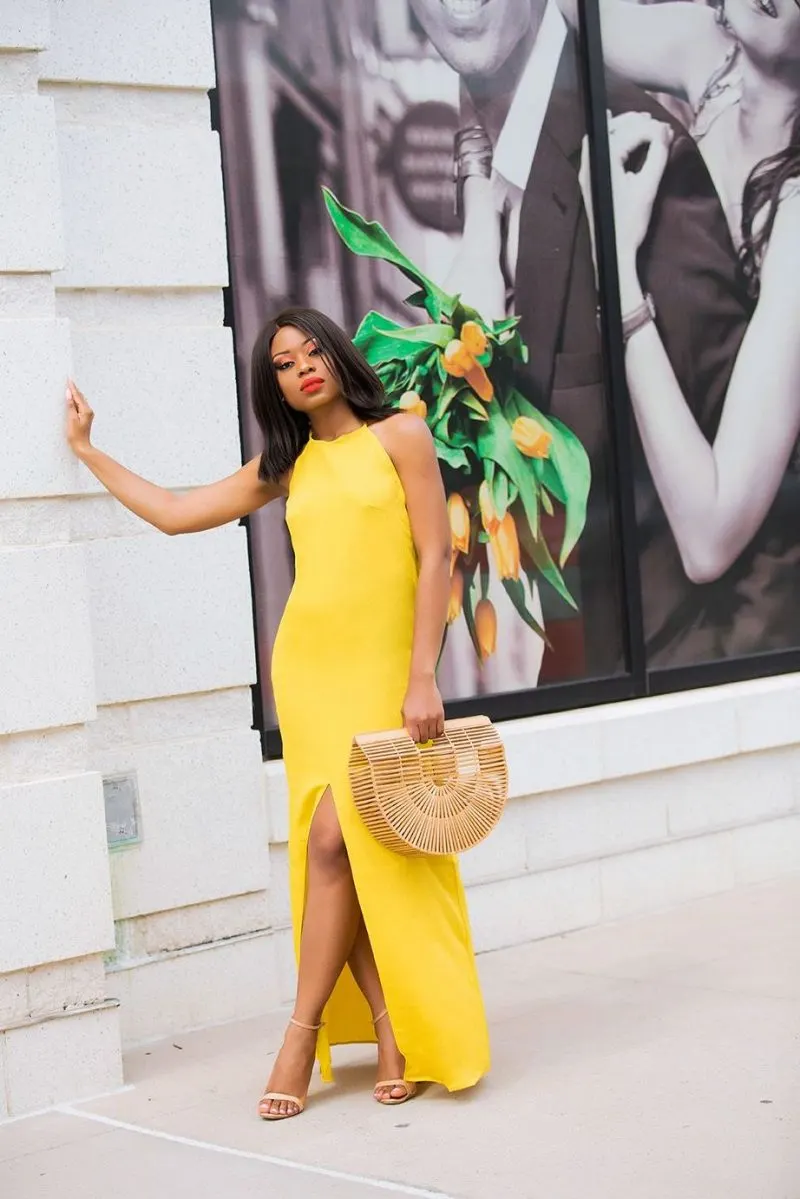 Buy Similar Here
Silver Pumps
A lovely bat-sleeve yellow dress is combined with shiny silver white heeled sandals: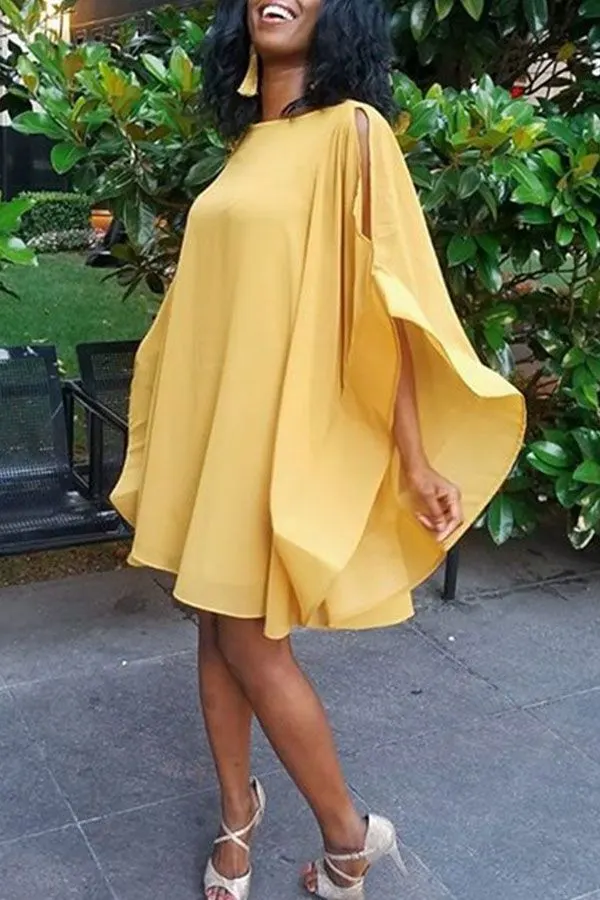 Buy Similar Here
With Flip-Flops
A vintage yellow country style long dress looks pretty cool with these flip-flops in white: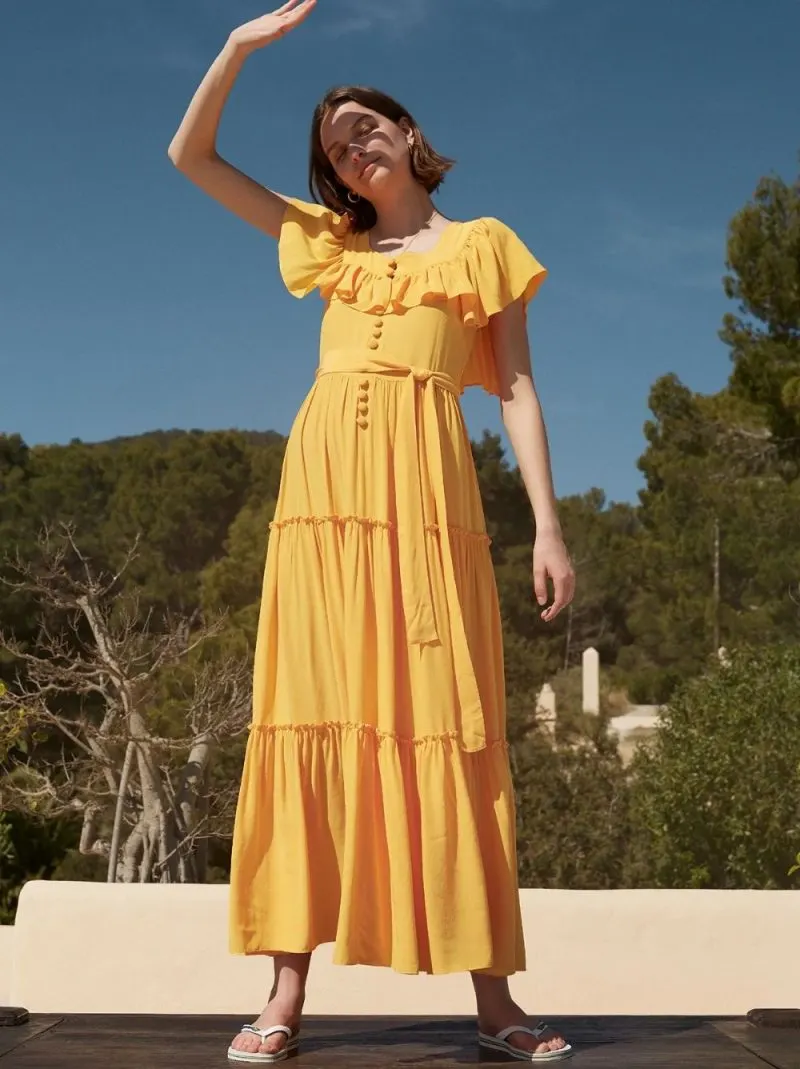 Buy Similar Here
Shoes can also be selected based on the accessories worn with a dress.
So in the summer, an evening dress can be worn with peep-toe stiletto sandals, in the spring and autumn it can be combined with elegant closed-toe pumps, and in winter – with elegant ankle boots or stiletto boots.
With Peep Toe Heels
An open back yellow dress is updated with silver heeled pumps, a nice combo for parties: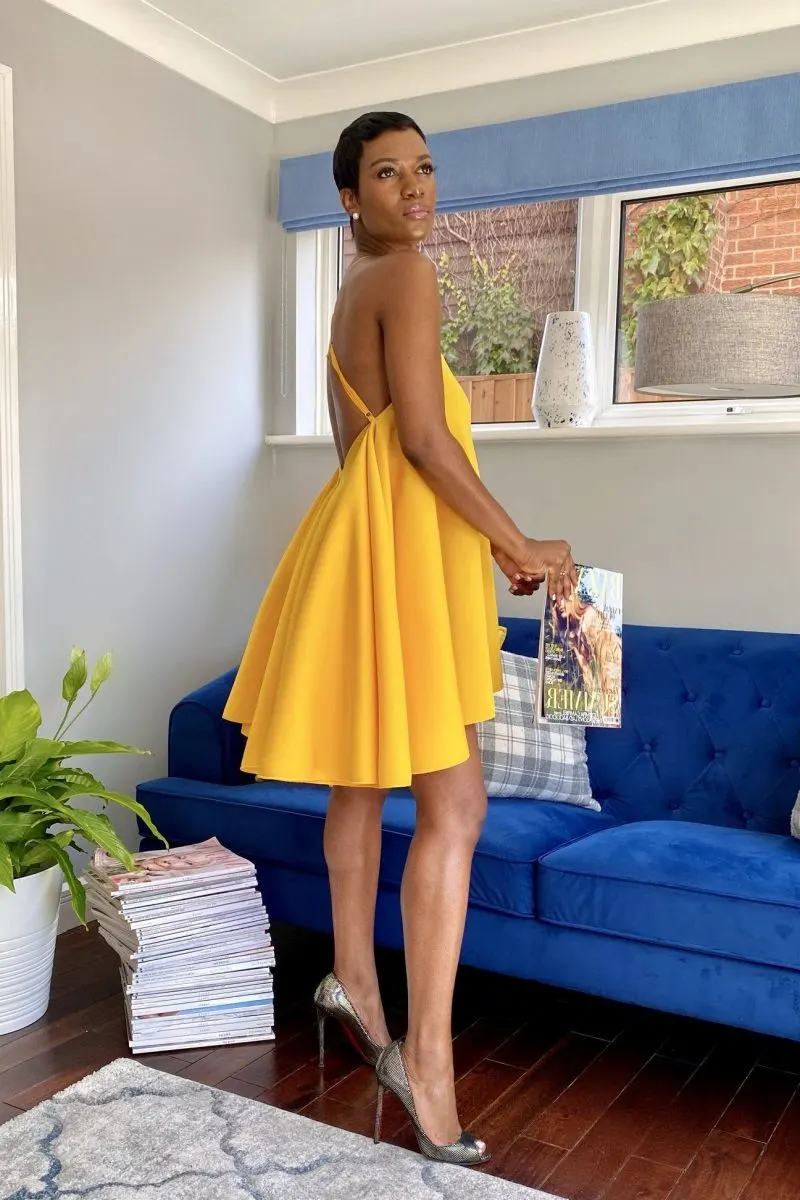 Buy Similar Here
With Golden Metallic Heeled Sandals
Here we see a nice and classy office style dress in yellow, love the slim-fit and a pencil skirt. Complete this dress by adding golden heeled sandals: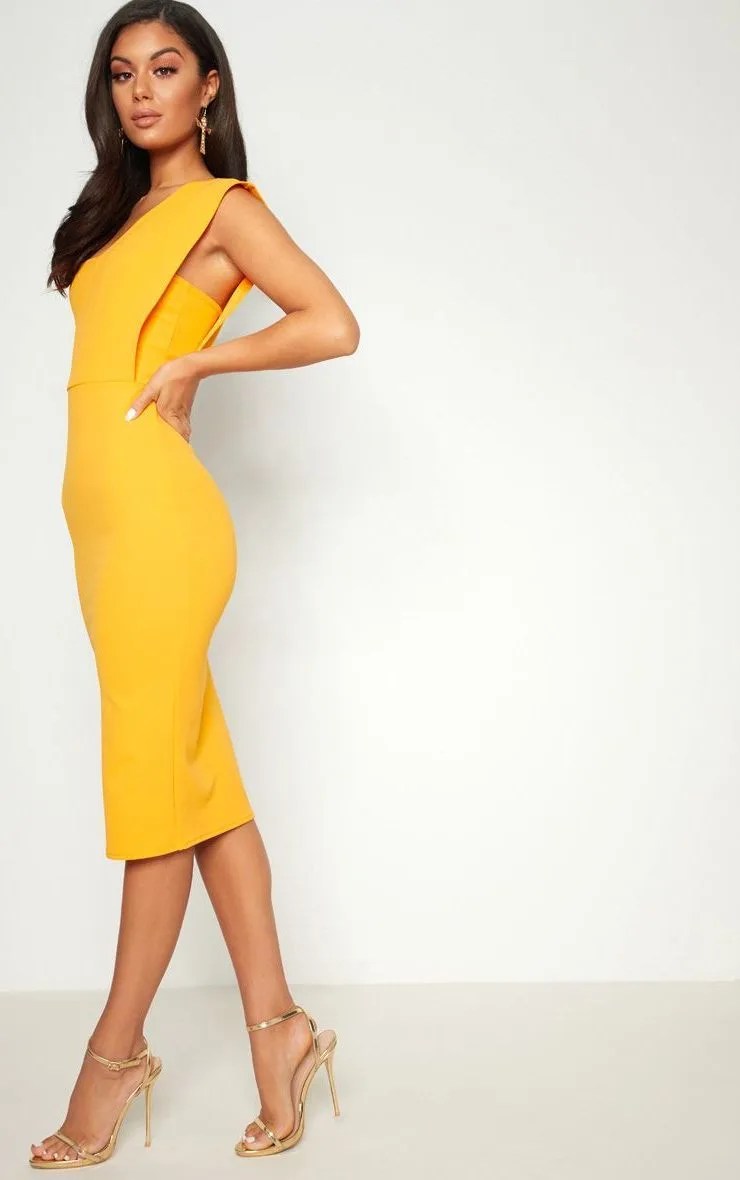 Buy Similar Here
With Trainers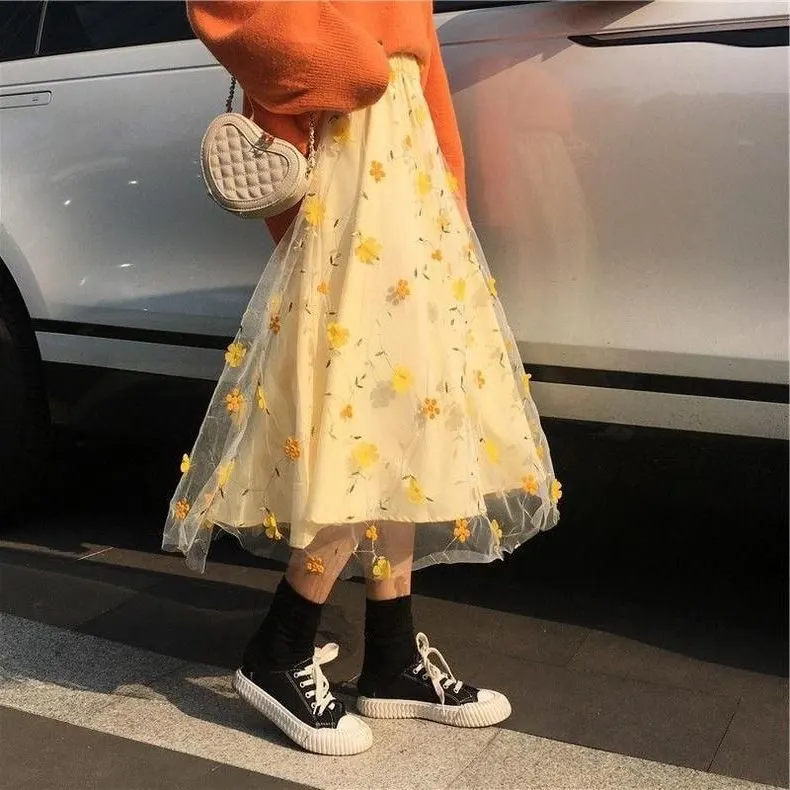 Buy Similar Here
With Silver Heels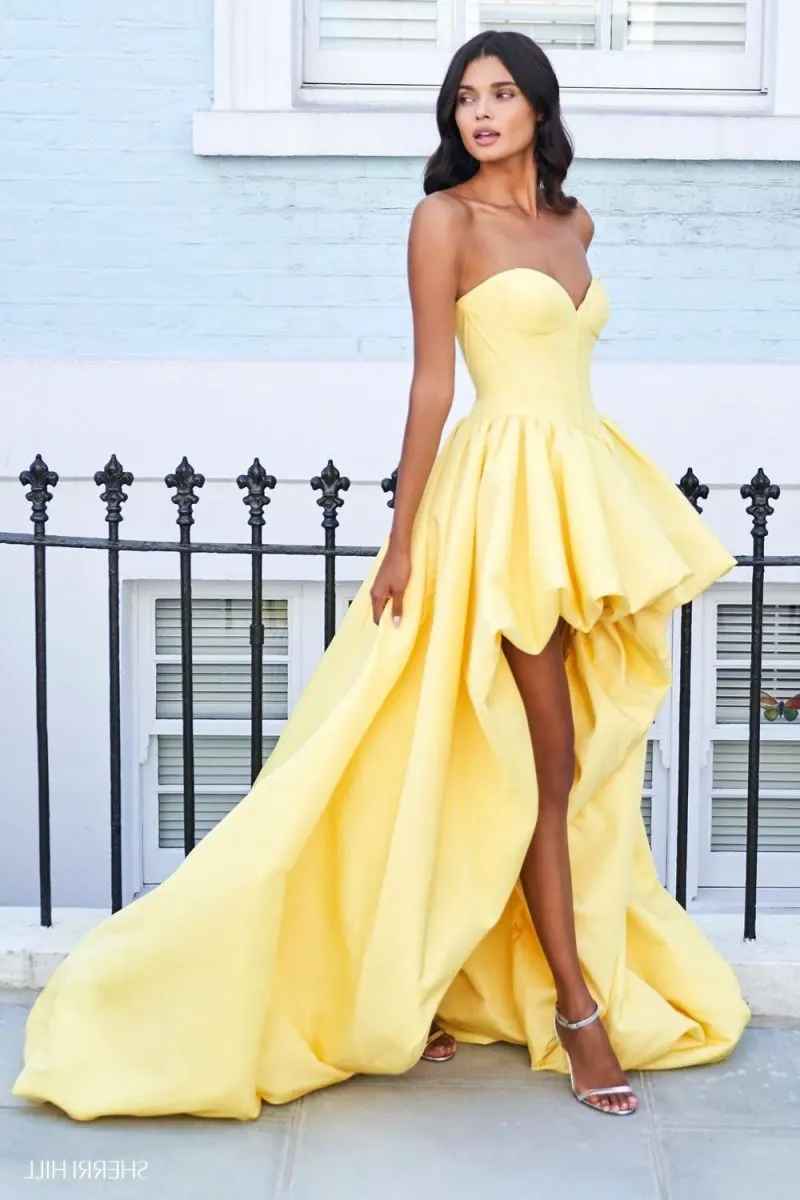 Buy Similar Here
As for the color, the choice depends on your own preferences, because it can be a simple white color, as well as pastel or fashionable bright ones, like blue, fuchsia, red, orange.
With Black Ankle Boots
Love this muted yellow long dress completed with a black leather belt and black ankle boots: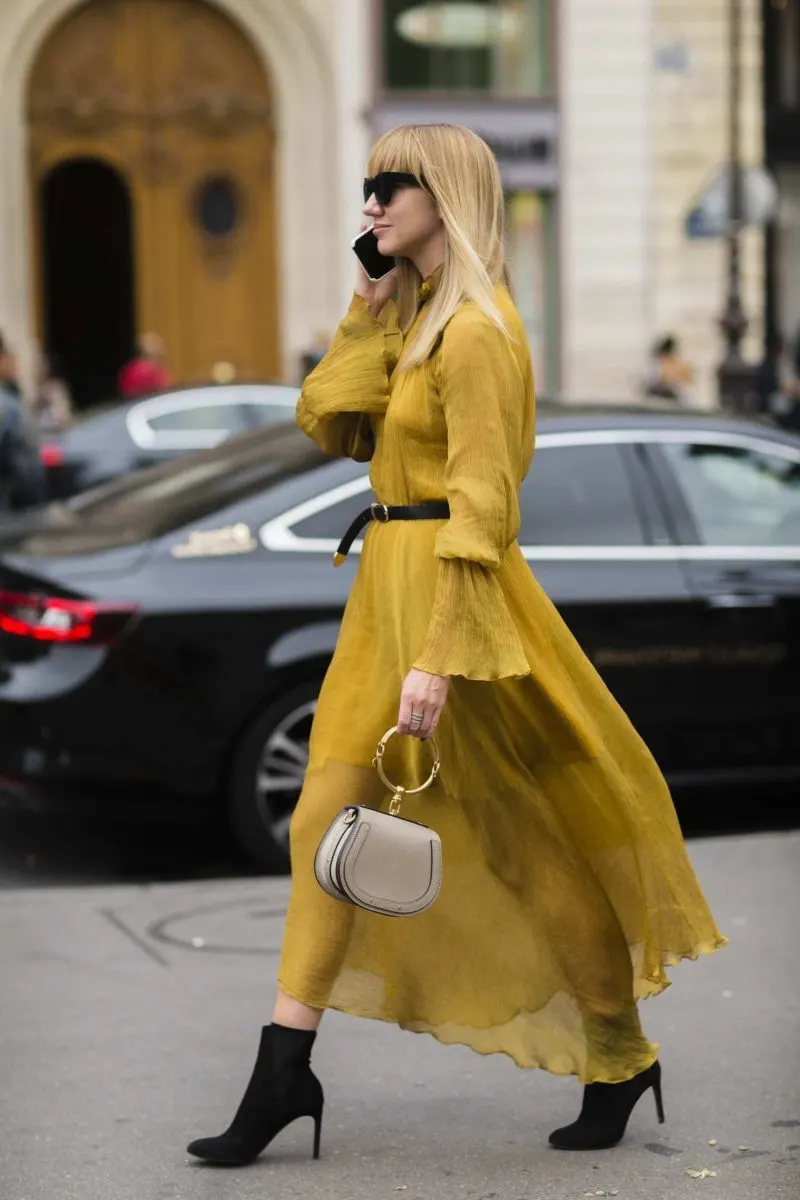 Buy Similar Here
With Nude Slides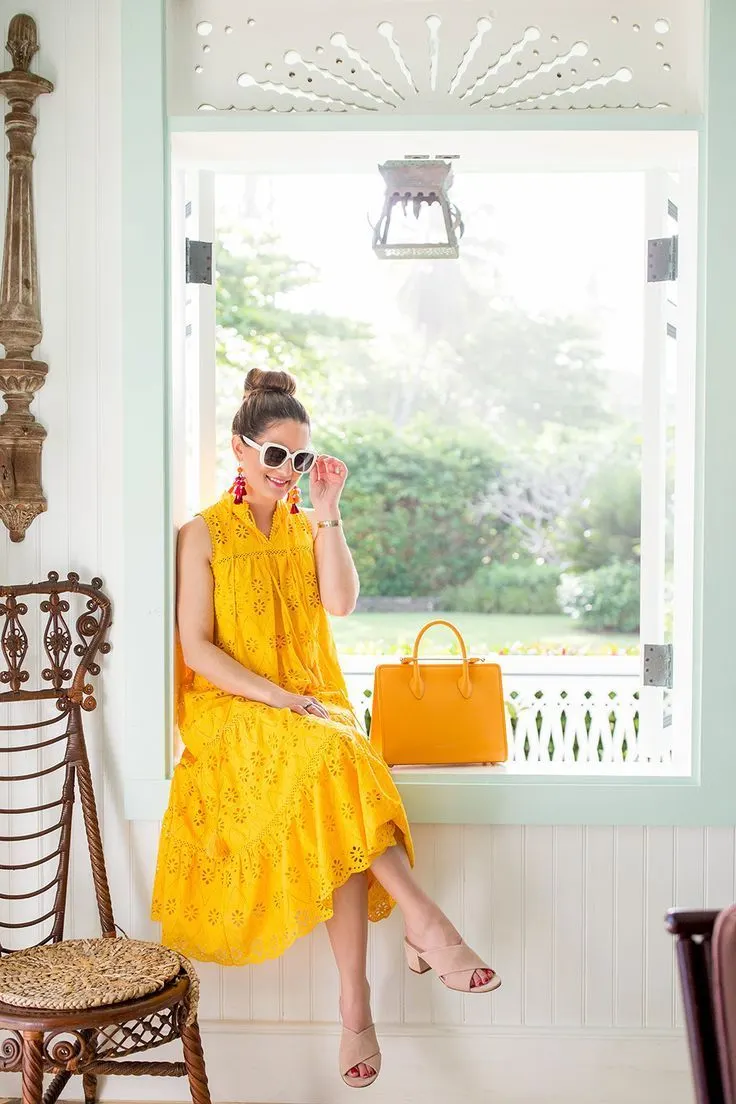 Buy Similar Here
With Nude Pumps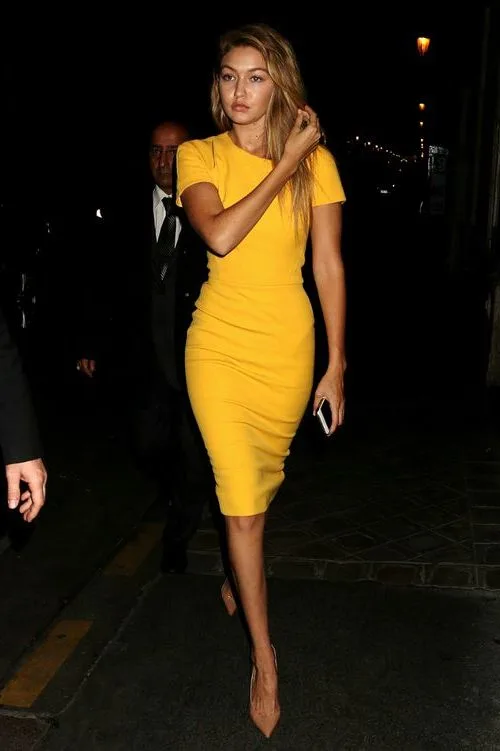 Buy Similar Here
Office yellow dress can be worn with a wide variety of shoes – with a sharp toe, rounded, with a stiletto, square heel, wedge or glass heel. Elegant boots, ankle boots and ballet flats will also be appropriate for the office.
With a casual yellow dress, you can wear anything: boots, ankle boots, shoes, sandals, ballet flats, loafers, sandals, etc.
With Metallic Sandals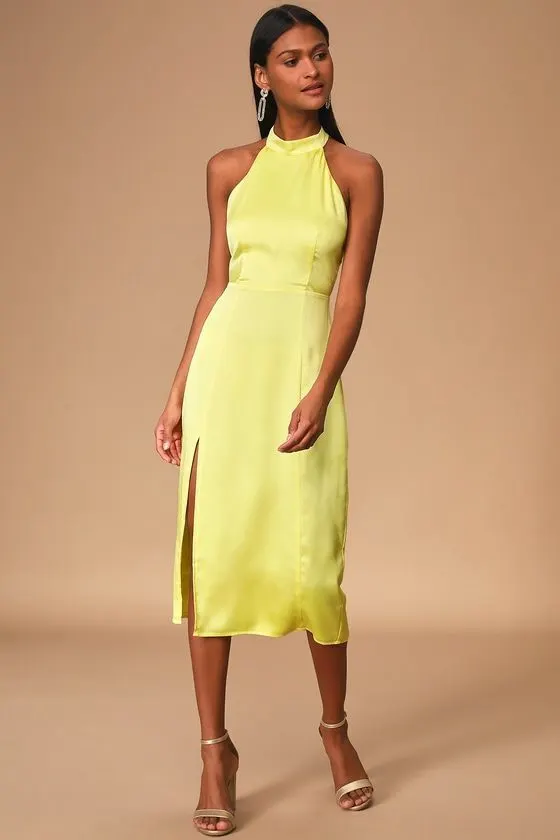 Buy Similar Here
With Chunky Sneakers
A pastel yellow spaghetti-strap dress is worn with cool chunky sneakers in white: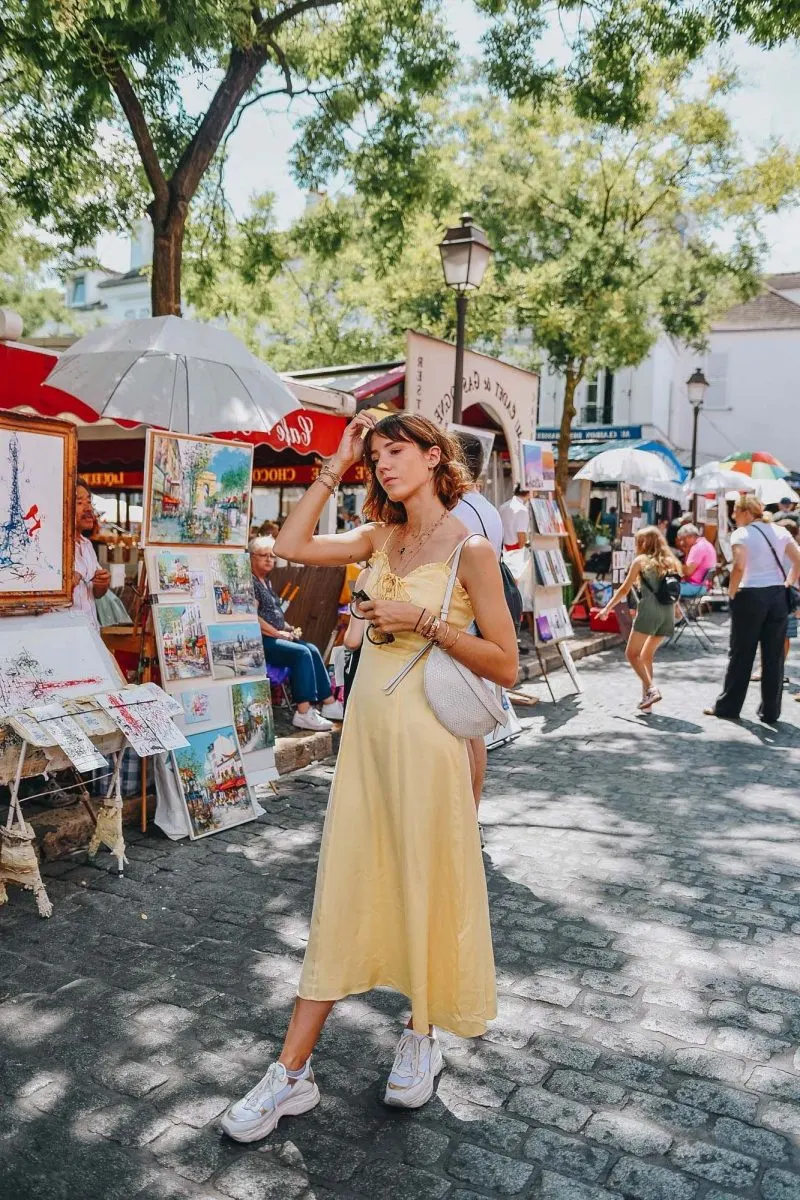 Buy Similar Here
With Lace Up Tall Boots
Go for a boho style maxi dress in vintage yellow and complete it with lace-up suede boots: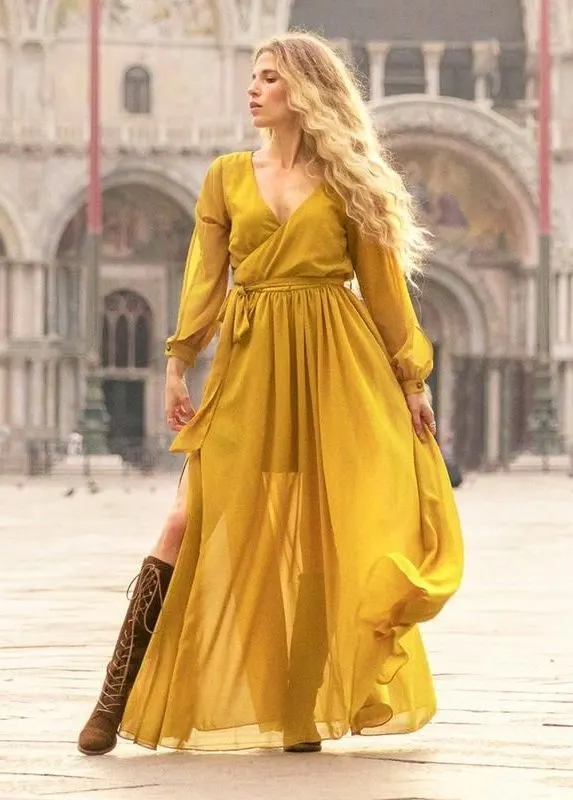 Buy Similar Here
Best Shoe Colors For Yellow Dress
Black (this color will help to focus specifically on the dress);
White (this combination of shades is ideal for the summer season);
Bright pink (in this case, a bright pink tone should be used at a minimum, let it be a purse or shoes);
Pastel pink (this combination of colors is suitable for romantic girls);
Pastel blue (this combination can be called one of the most successful);
Blue (this color should not be too much);
Red (the result is a bright and spectacular look);
Gray (this color will help to slightly dim the bright palette of the dress);
Gold and silver (accessories in these shades are most often complemented by evening dresses).
With Clear Pointed Toe Pumps
We see a long-sleeve dress completed with clear heeled pointed-toe pumps: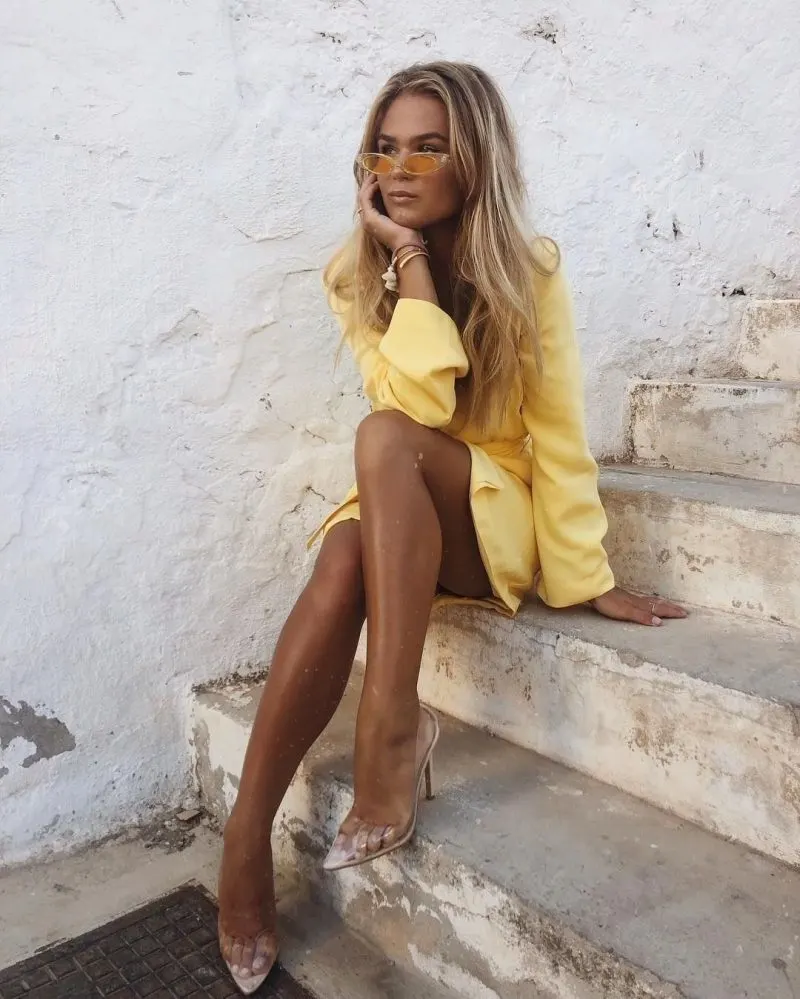 Buy Similar Here
With White Kicks
If it's cold, go for a ruffled yellow dress and complete it with a grey pullover and white sneakers: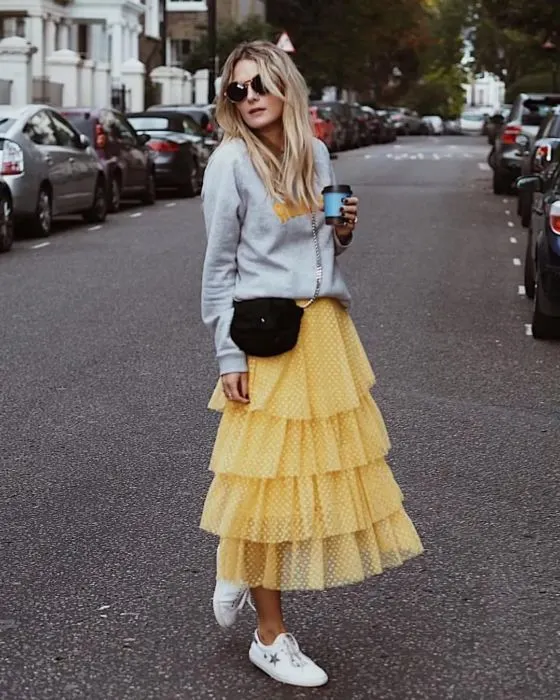 Buy Similar Here
With Clear Shoes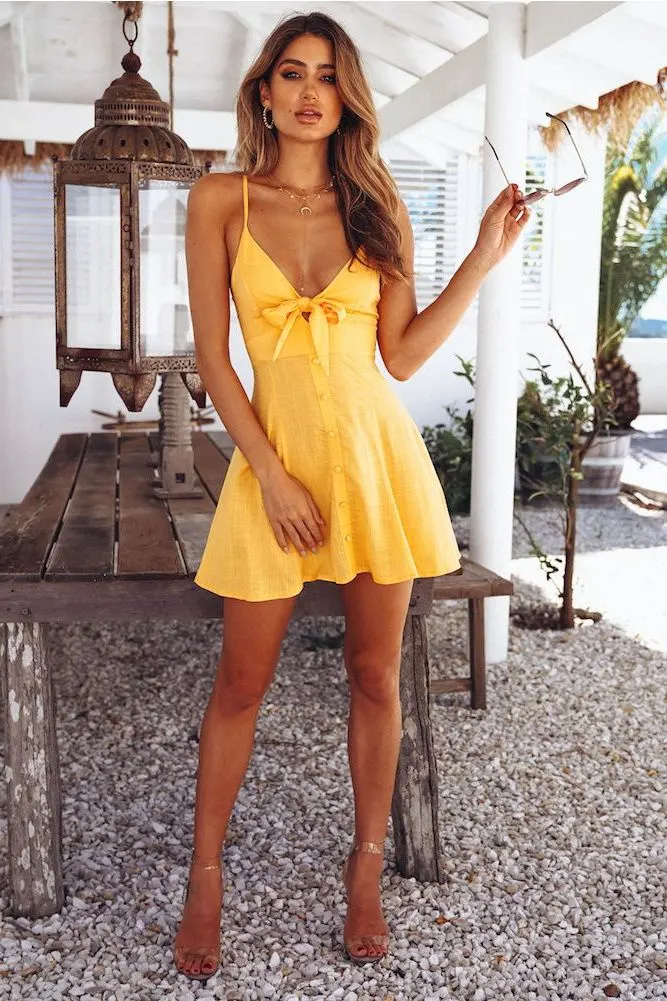 Buy Similar Here
How to find a yellow dress to match your skin color
You need to choose the right shade of yellow so it successfully combined with your skin tone. Golden tones will look great on all girls without exception. With light skin, bright and acidic shades will look great, but acid tones also look great on dark-skinned beauties. In general, you should know that the lighter your skin, the lighter the yellow color palette should be, respectively, the darker the skin, the brighter the color of the dress can be.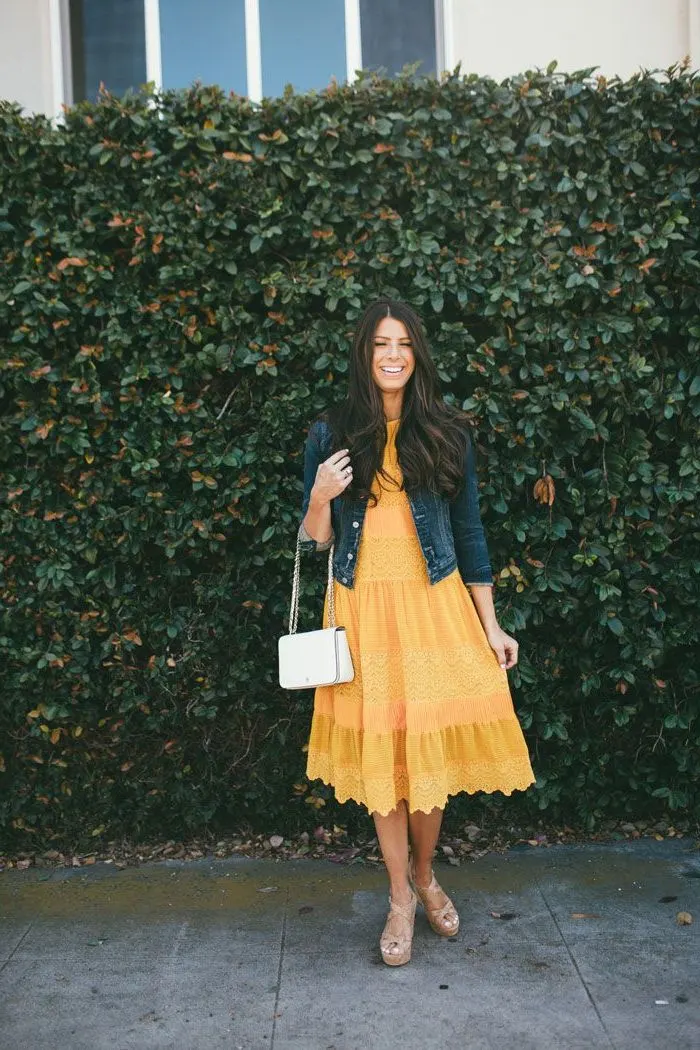 Buy Similar Here
A sheath strapless dress in yellow is updated with a straw wide-brim hat and pink flat slides:
Buy Similar Here