I know this might sound ridiculous, but it feels like we are going to face a mask fashion this year (hello to China, as they already have this kind of fashion for a long time). Anyway, today I want to show you some of my favorite fashion masks you can wear in your everyday life on the streets, to work and special events. Get ready to see a stunning fashion collection of women masks during corona time.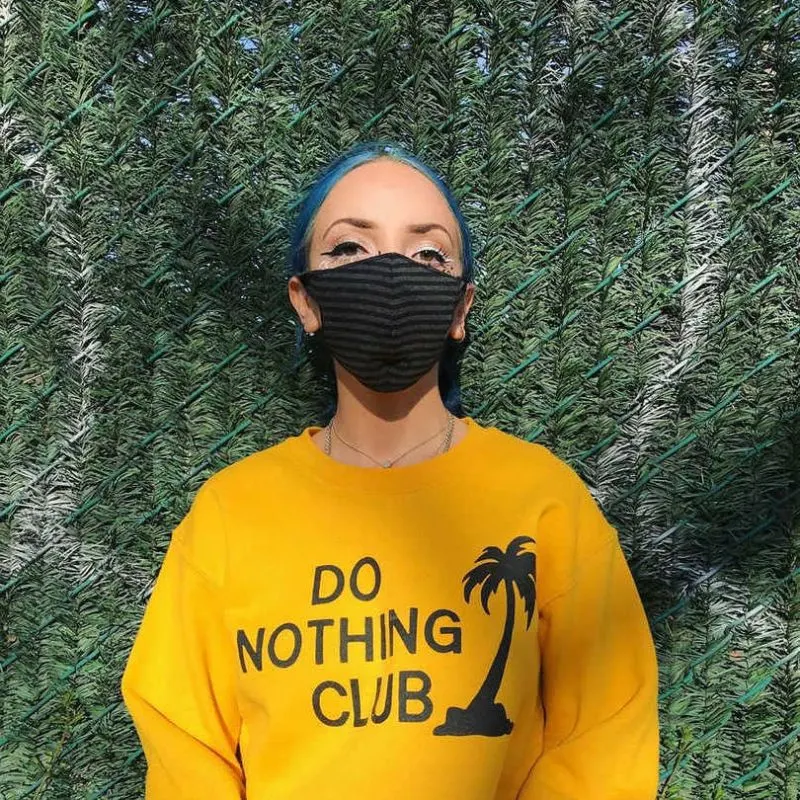 Buy Similar Here
We see a black striped face mask styled with a yellow sweatshirt. A simple day look for casual street walks.
Face masks are one tool utilized for preventing the spread of disease. The mask by itself won't save you from all bacterias, but it can be used as a nice filter. But if you are a healthy person, then you will need it only for contacting people who are sick or have suspected symptoms of illness, plus you will need the mask if you are coughing or sneezing. These masks will be effective only when used in combination with frequent hand-cleaning with alcohol-based hand rub or soap and water.
How to use the masks:
-Cover mouth and nose with mask and make sure there are no gaps between your face and the mask.
-Avoid touching the mask while using it; if you do, clean your hands with alcohol-based hand rub or soap and water.
-Replace the mask with a new one as soon as it is damp and do not re-use single-use masks.
-To remove the mask: remove it from behind (do not touch the front of a mask); discard immediately in a closed bin; clean hands with alcohol-based hand rub or soap and water.
Just to let you know that those face masks that are meant for protection are used only for a small period of time, meaning that you have to get rid of them once they are used for some period of time.
Sure, there are reusable masks, but in most cases, they should be utilized. The World Health Organizations advises throwing away a mask as soon as it is damp, discarding it in a closed bin. My personal advice, don't buy masks that cost like a Louis Vuitton bag, seriously! Plus, once it gets warmer, we start to sweat and these masks will lose their effectiveness. They can even threaten us, as we will automatically touch our faces in order to get rid of sweat.
The good news is that the masks made of cloth can be reusable (within reasonable limits). This means that sooner or later we will use masks as gloves. Yes, you do understand what I am trying to say…this blog is about fashion, that's why I decided to write about masks and the growth of their popularity in the world of fashion.
The age of Corona-chic is finally here, people! Wearing masks is nothing weird in today's life situation, so you better get used to the new accessory. I personally have a big nose, and the face mask hides it, so I look pretty chic in the mirror, haha! Okay, I am joking, I don't have a big nose, or do I?! Just a second, I am checking it…no, my nose has ideal parameters. But wearing masks is not only saves lives, but it's cool!
How to wear a mask with glasses
Most of the face masks can be easily styled with glasses, all you need is to attach the mask under the glasses.
We see rounded mirrored sunglasses styled with a shiny black bandana-like face mask teamed with an oversized black sweater: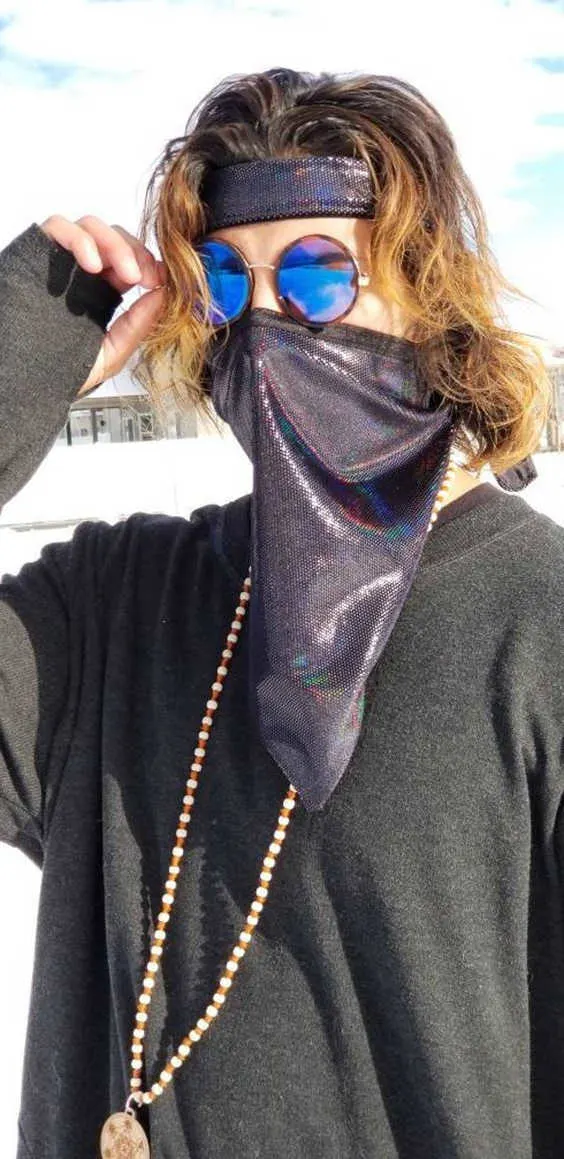 Buy Similar Here
Another cool combo consisting of mirrored rounded sunglasses paired with a chic white-grey face mask: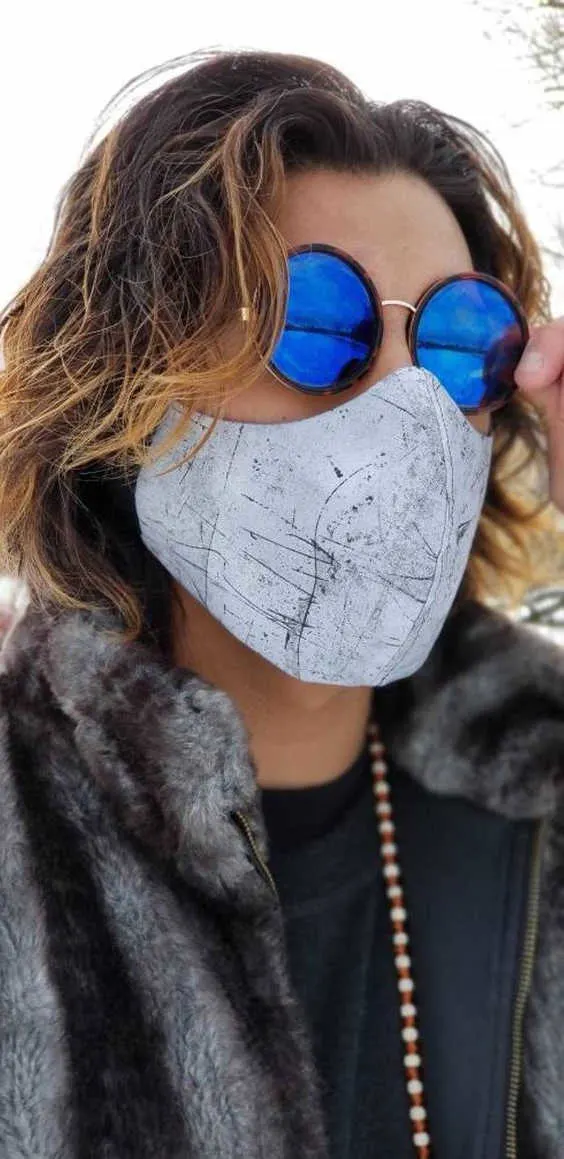 Buy Similar Here
Oversized sunglasses look amazing with that grey face mask. Complete it by adding a ribbed knit black sweater. I do recommend checking out my post on trendy sunglasses, you gonna see some great styles to wear this year: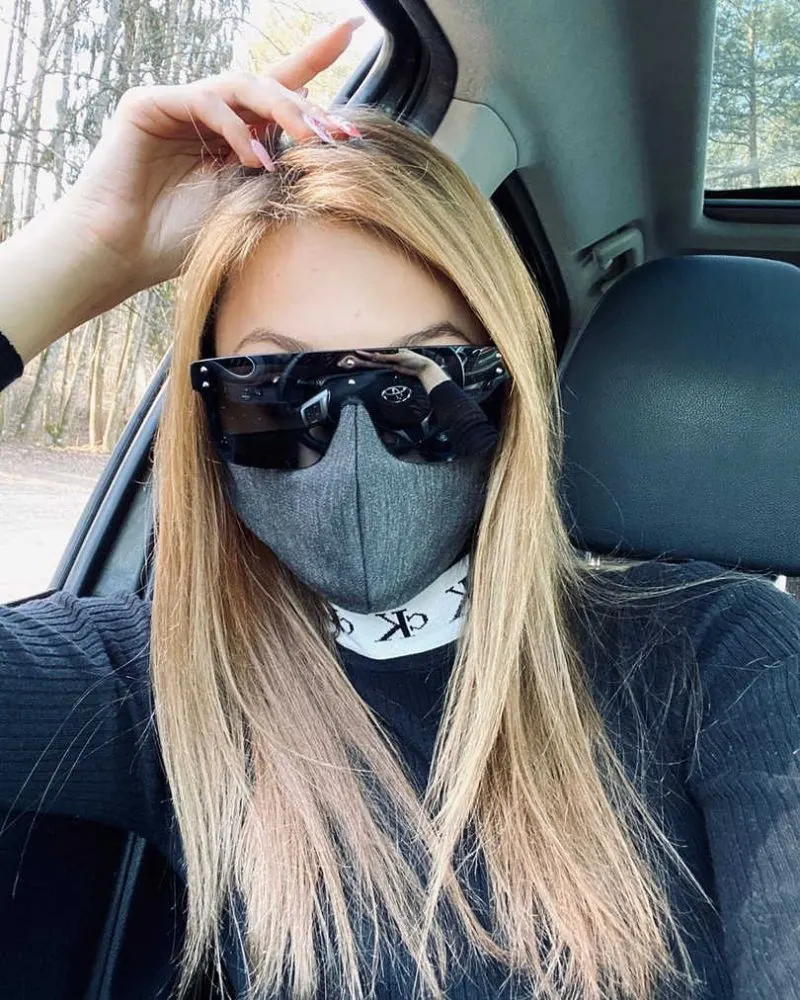 Buy Similar Here
Cool black sunglasses are worn with a leather brown face mask with LV labels, complete it by adding a brown leather jacket and a black hoodie: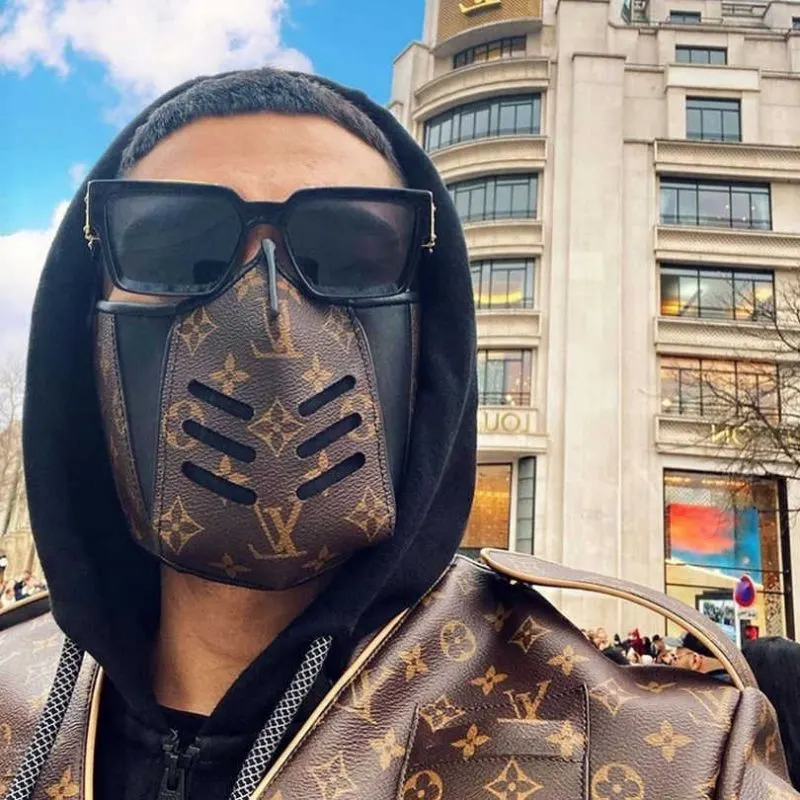 Buy Similar Here
We see cyberpunk goggles styled with a shiny sequined bandana-like face mask and a black tank top: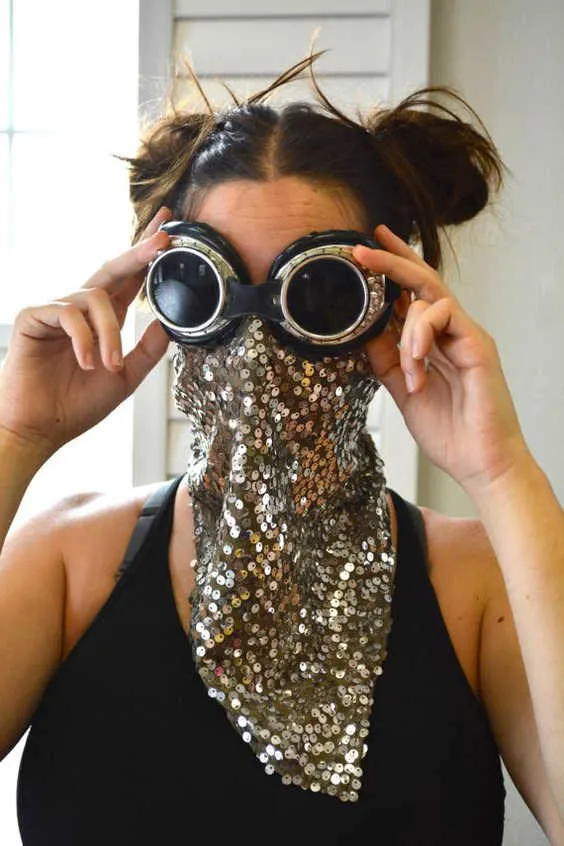 Buy Similar Here
We see a super combination, an ultra-safe combo for everyday walks. A young lady is wearing a classic face-mask with a khaki-green fedora hat, rounded mirrored sunglasses and a black cardigan: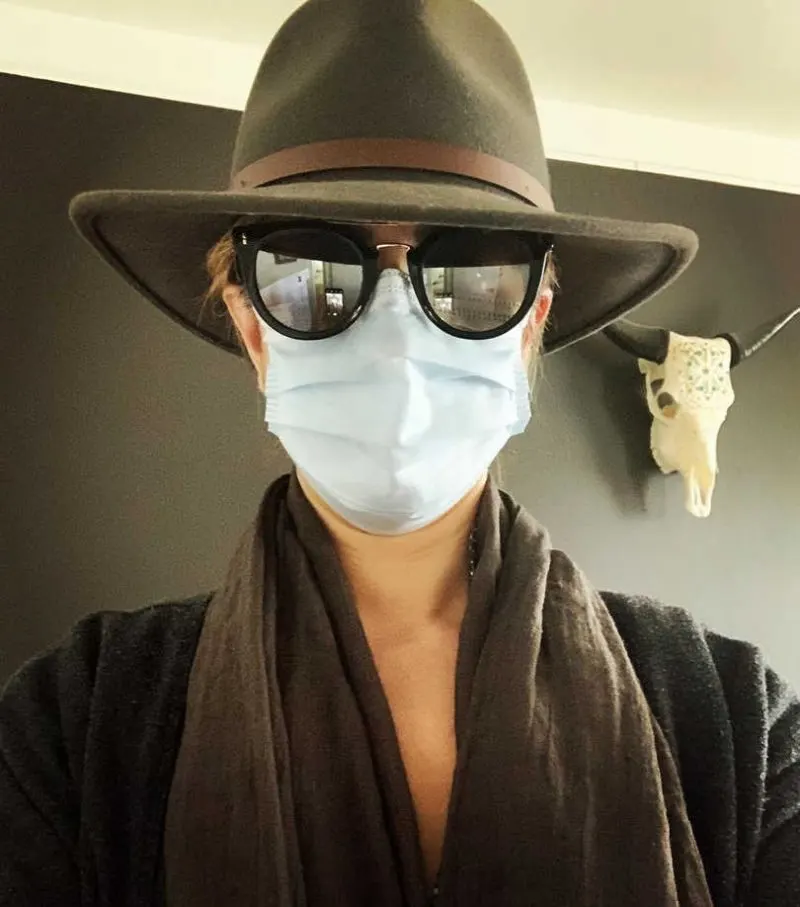 Buy Similar Here
Black Face Mask
A classic black face mask will be a perfect choice for wearing with almost any style outfit: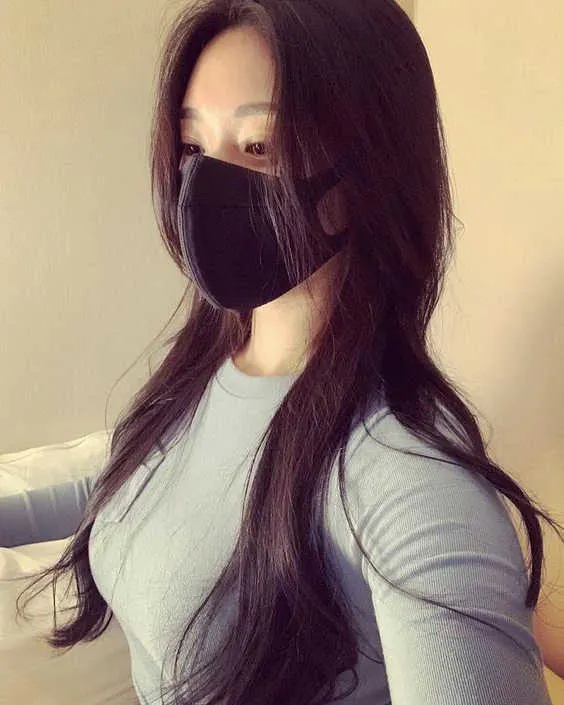 Buy Similar Here
Dust Bandana Face Mask
A skull design dust bandana face mask looks grunge or rock chic inspired, style it with a rock band tee: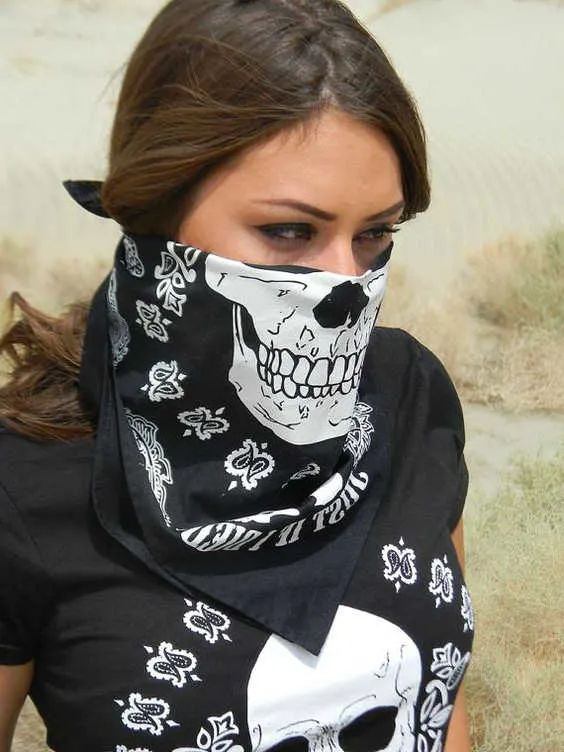 Buy Similar Here
Dust Face Mask
Another amazing idea that features rounded sunglasses and a stylish dust face mask in black with various multi-color shades, complete this combo by adding black-white striped shirt: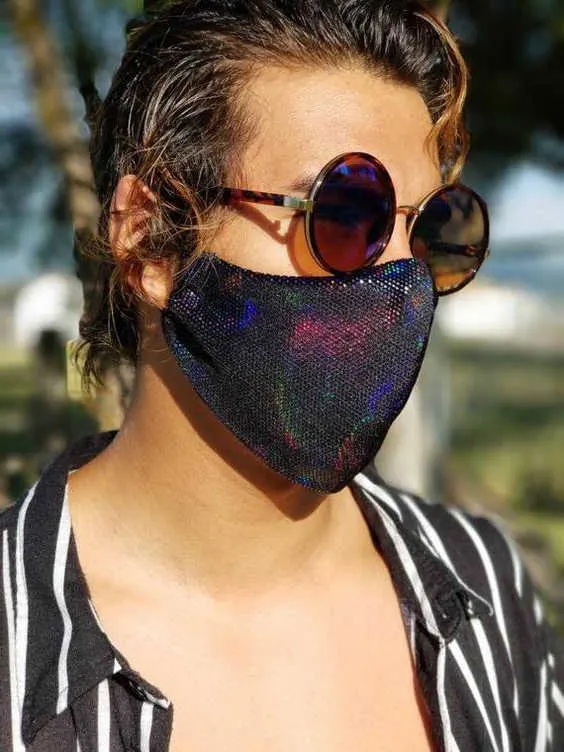 Buy Similar Here
Leather Face Mask
Another cool cyberpunk inspired look that features a black leather face mask worn with a black outfit completed with black fur: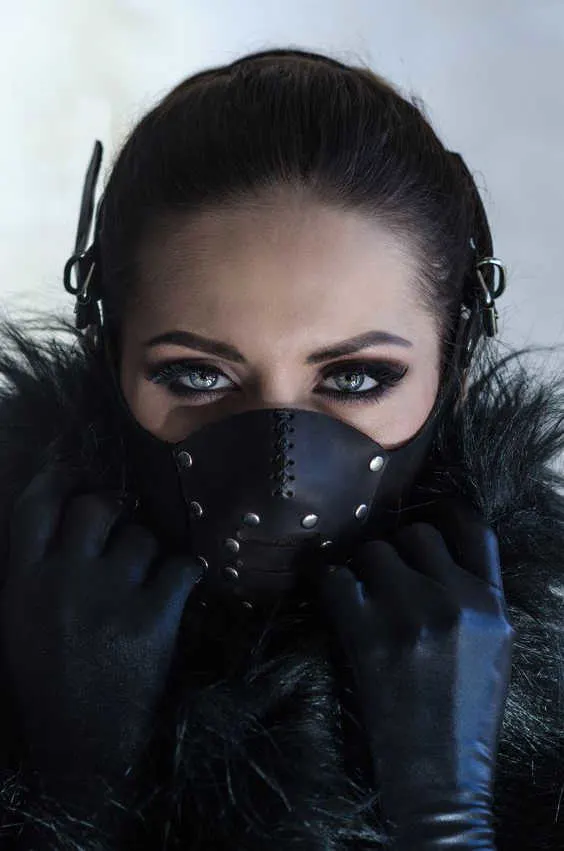 Buy Similar Here
A kind of fetish inspired look. We see a black leather face mask completed with caged detailing: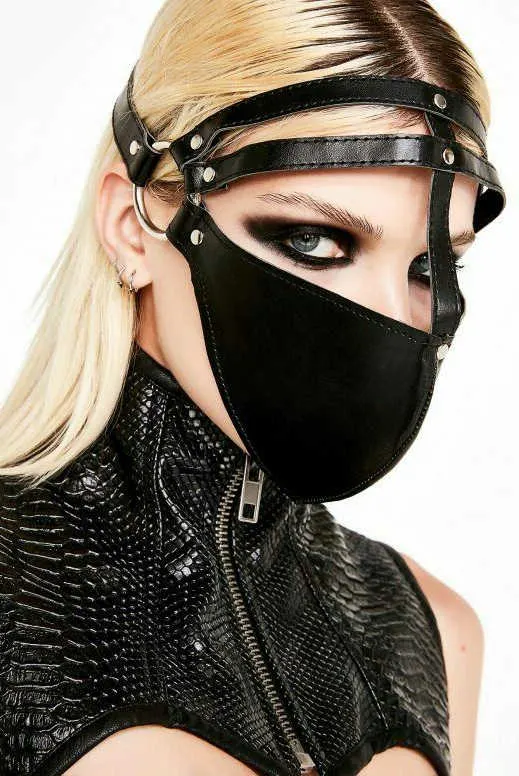 Buy Similar Here
Metallic Face Mask
We see a metallic blush face mask styled with a matching color hooded down jacket: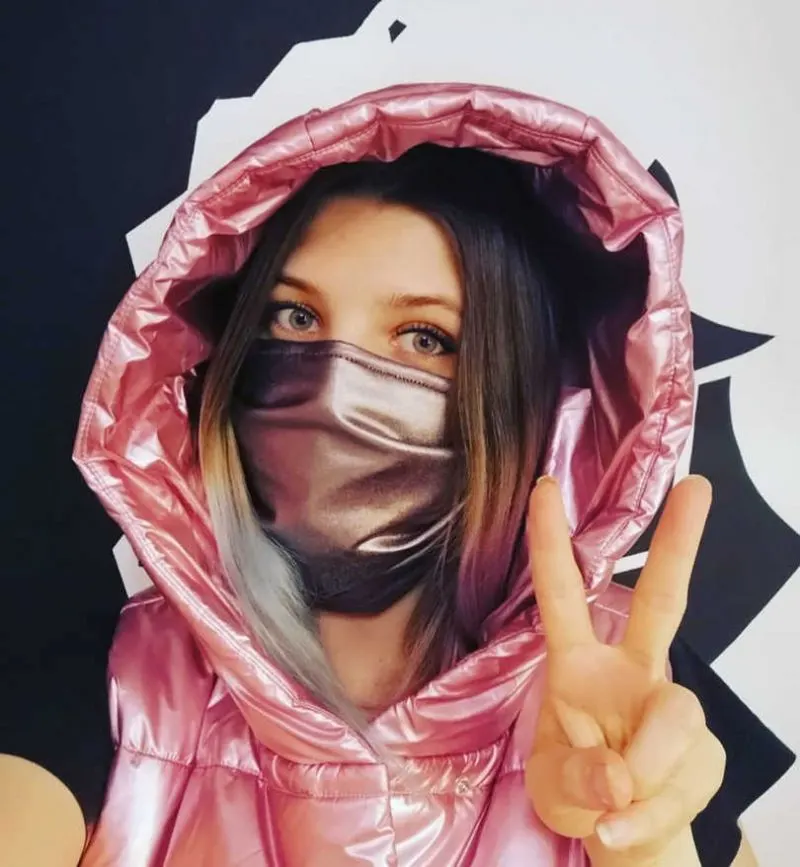 Buy Similar Here
A two-colored face mask where one part is colored in black and the other one is in silver metallic: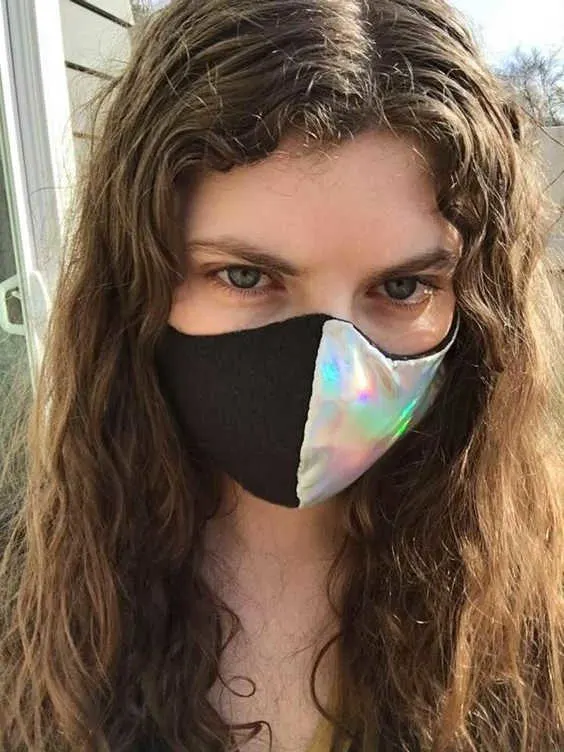 Buy Similar Here
Face Mask Outfit Ideas
Get inspired by easy outfit ideas you can recreate with classic and fashionable face masks.
Face mask and face protection kit with a white jumpsuit
A young lady is wearing a protective kit, consisting of a visor face hat paired with a black face maks and a white jumpsuit: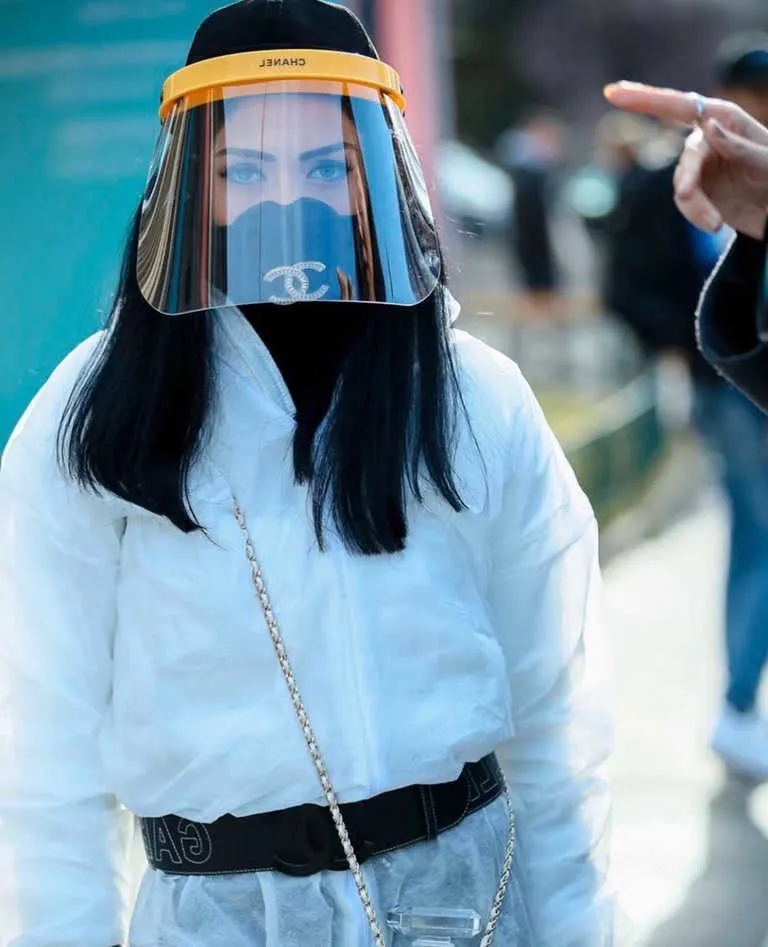 Buy Similar Here
Face Mask And Hooded Trench Coat
A khaki green hooded trench coat is completed with black leather gloves, oversized shades and a black face mask: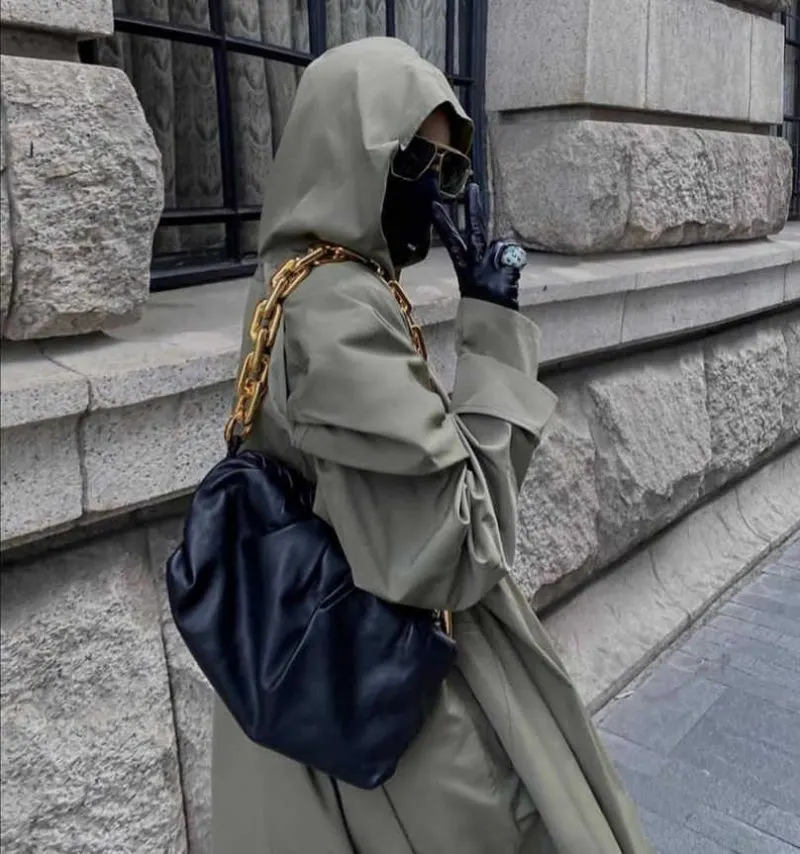 Buy Similar Here
All in Black Outfit With Face Mask
Another cool combo consisting of a black quilted face mask, black hoodie, a quilted black down vest and coated black skinny pants tucked in combat boots: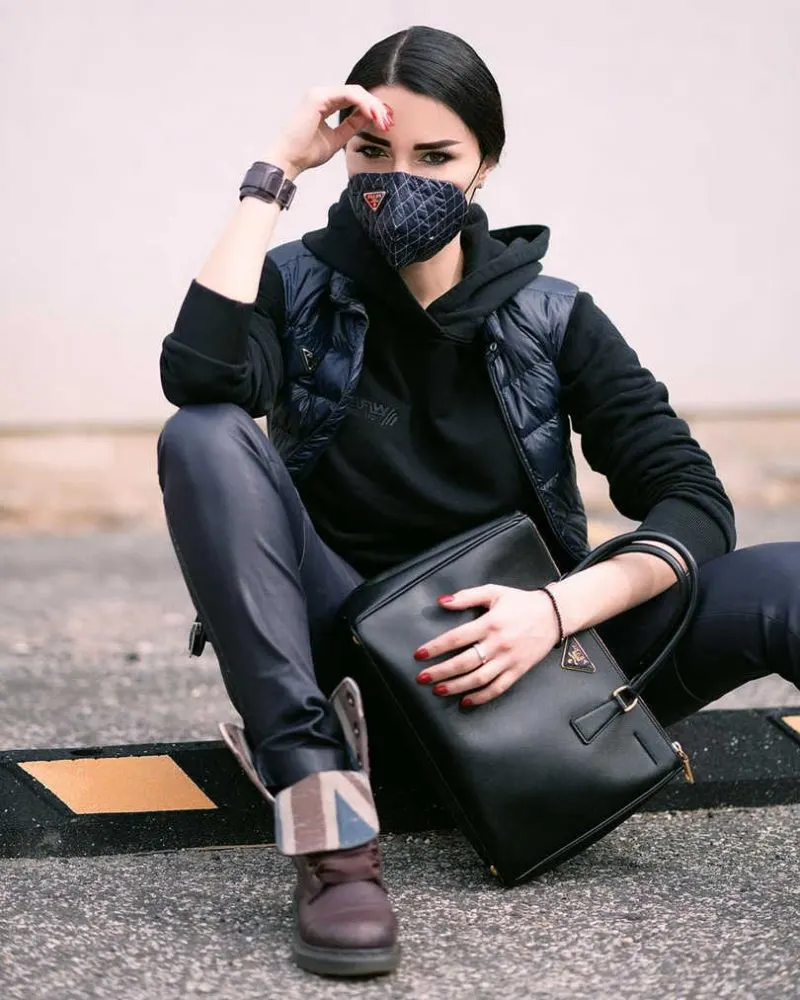 Buy Similar Here
Face Mask Hoodie
A black hoodie ideally matches this abstract print face mask, complete the look by adding a printed tee: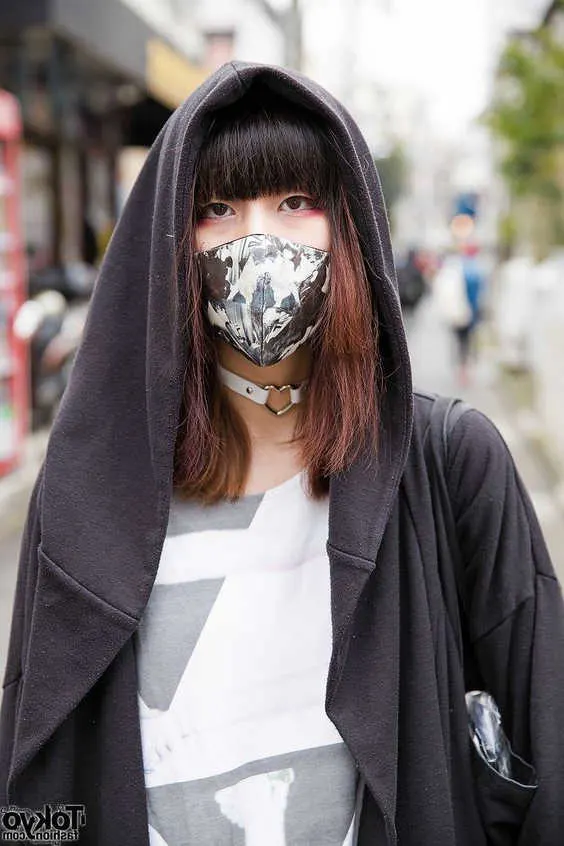 Buy Similar Here
Face Mask With Pantsuit
Go for an all in the black look. We see a black face mask worn with a black pinstripe pantsuit and a black turtleneck: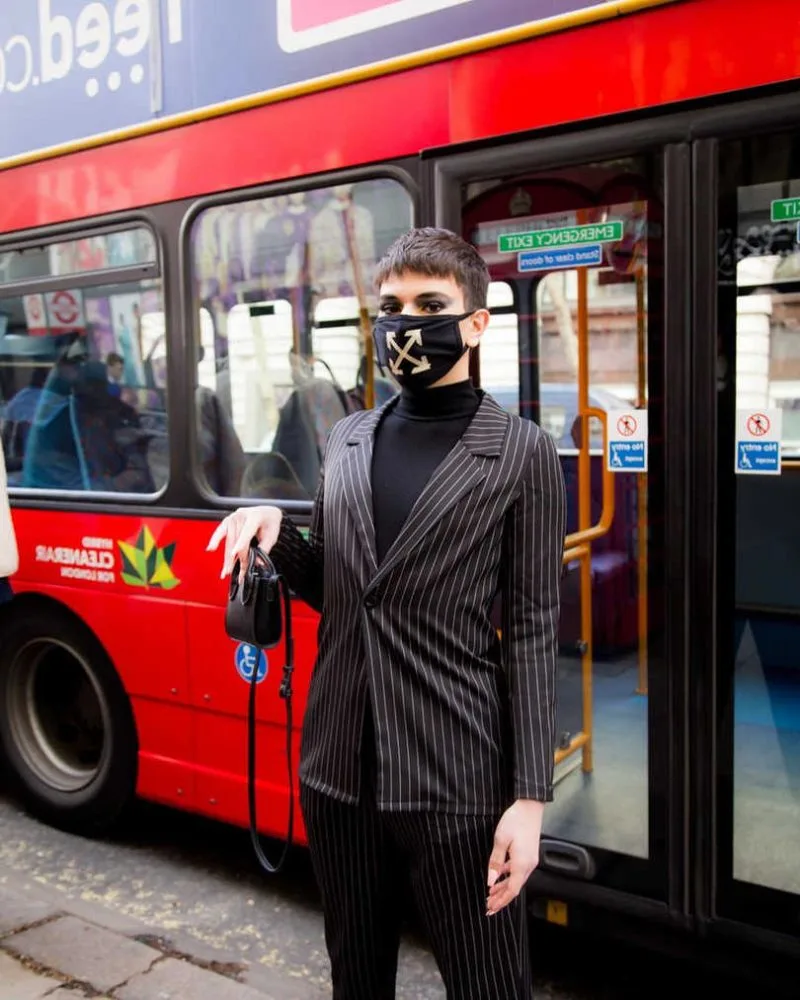 Buy Similar Here
Face Mask And Sweater Dress
Another edgy inspired combo. We see a cream-grey long coat styled with a shawl-neck grey sweater dress and black leather leggings completed with lace-up combat boots. Love that black face mask: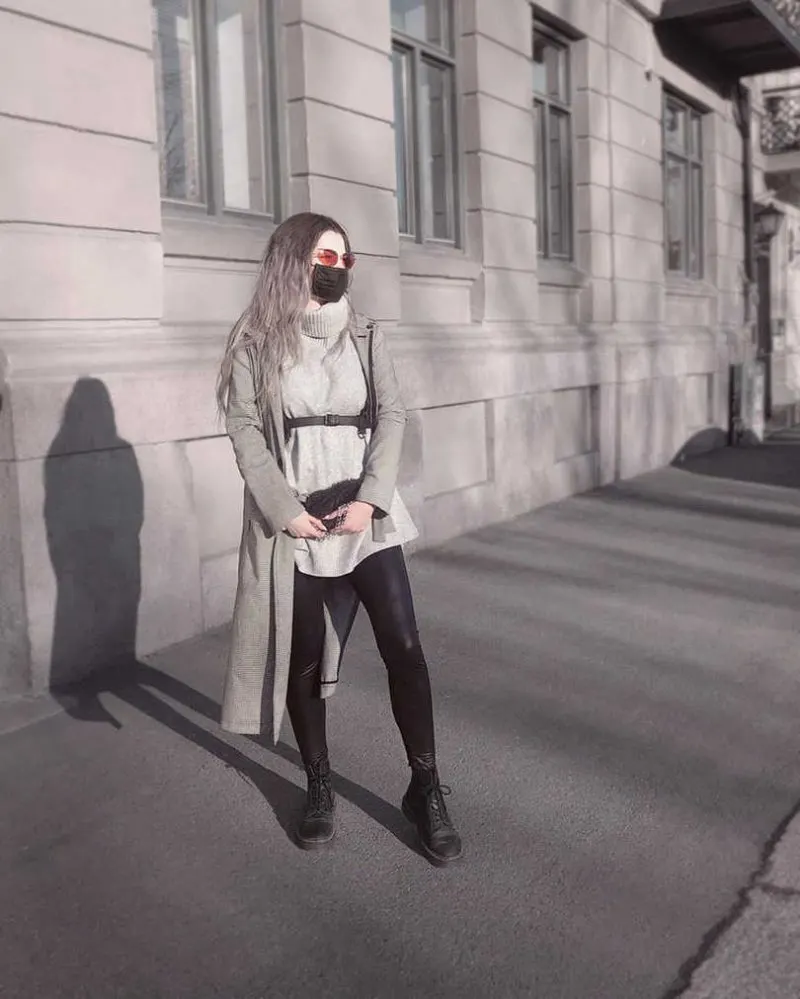 Buy Similar Here
Orange Outfit With Face Mask
We see an orange face mask styled with a matching color coat and a printed scarf, love it: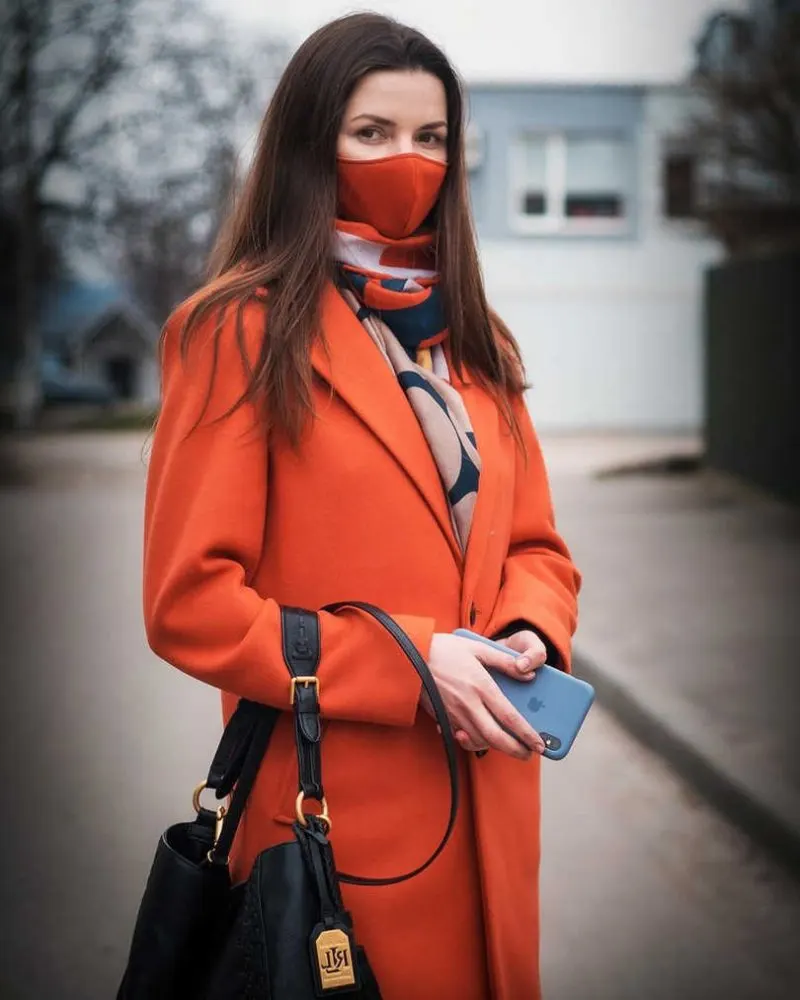 Buy Similar Here
Cropped Fur Jacket And Face Mask
A cropped blush fur jacket is styled with a black crop top and high-waisted black leggings. Complete this look by adding a blush sequined face mask and rounded sunglasses: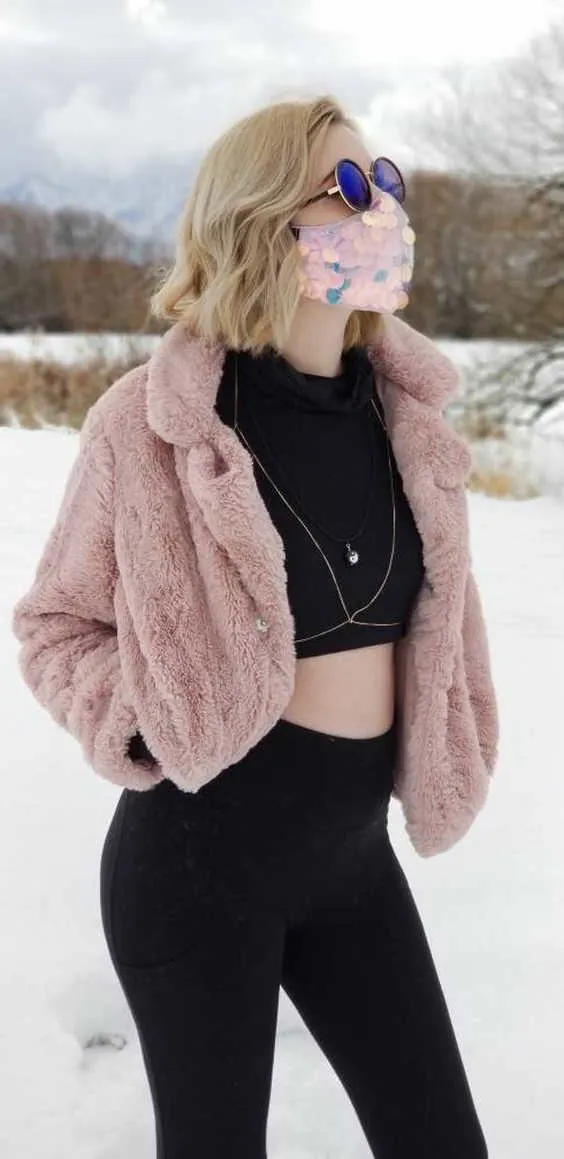 Buy Similar Here
Face Mask And Bomber Jacket
A black face mask is styled with a black bomber jacket, black gloves, and black leggings: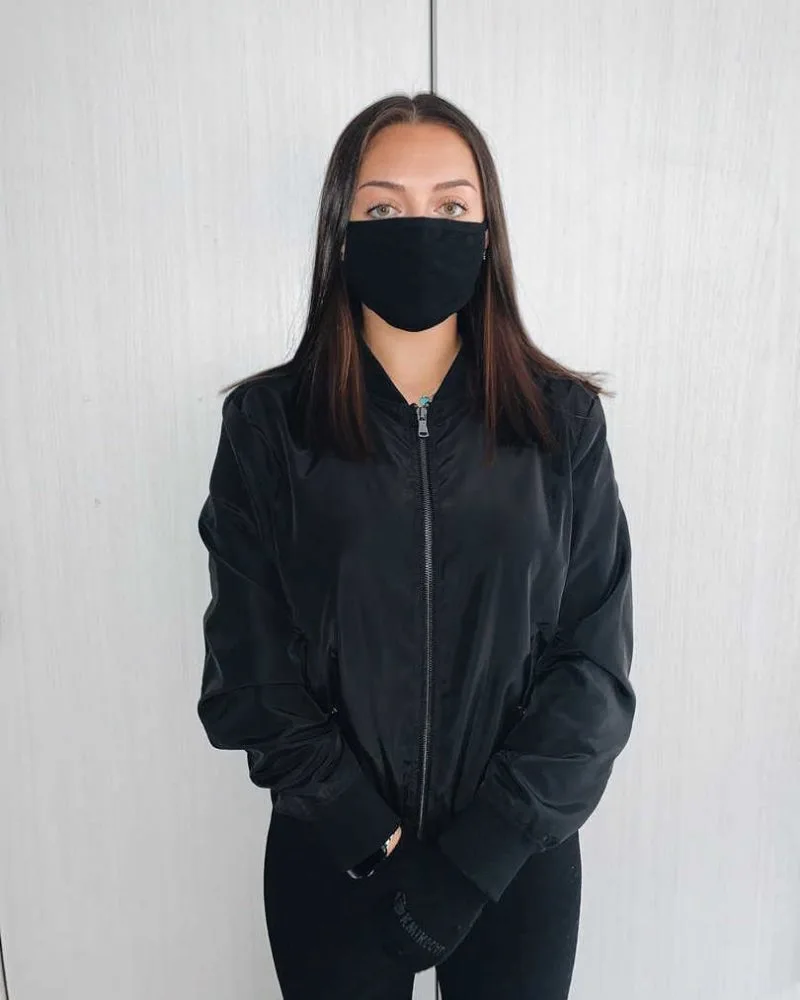 Buy Similar Here
Face Mask With A Plaid Coat
A classic white face mask is worn with a plaid coat draped over a crop top teamed with matching color high-waisted crop pants completed with plaid heeled pumps: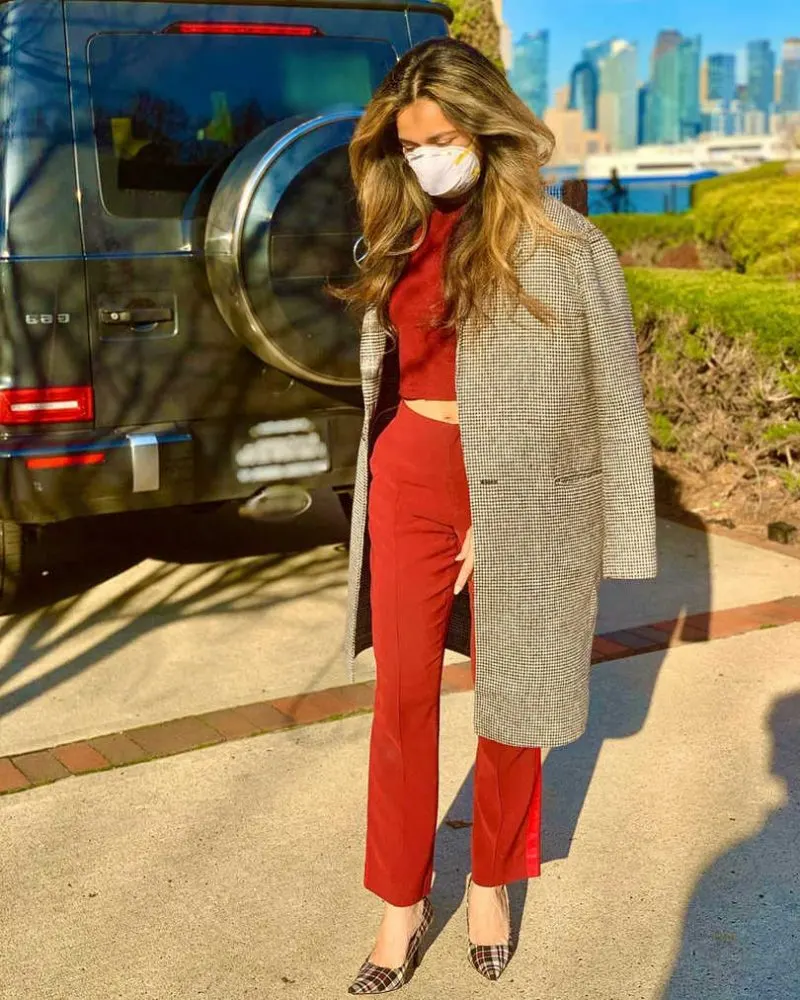 Buy Similar Here