I know we are all depressed right now, spending time in four walls. Believe me, when everything will be alright you all gonna want to show off your individuality. That's where yellow color comes out!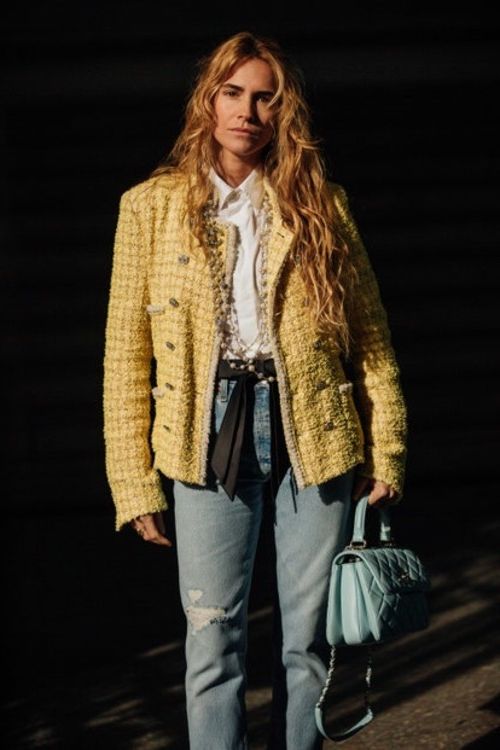 The thing about bright colors is their ability to make women look special and unique. All you need is to find your shade. That's why I came up with this article, showing you the best street style ideas on how to wear yellow in real life.
Best Ideas How To Wear Yellow
The easiest way to make yellow work on your body is to start with yellow accessories. Trust me, yellow bags are like magnets that attract everyone's eyes. Plus, you can easily combine them with your favorite neutral colors, as they look fresh and unusual together. I personally love wearing yellow with sky blue, maroon and brown. If you are a fan of classic combos, then you can simply pair yellow with denim.
Yellow Blouse And Satin Midi Skirt In White
Love this boho-inspired style consisting of a yellow blouse and satin midi skirt in white color: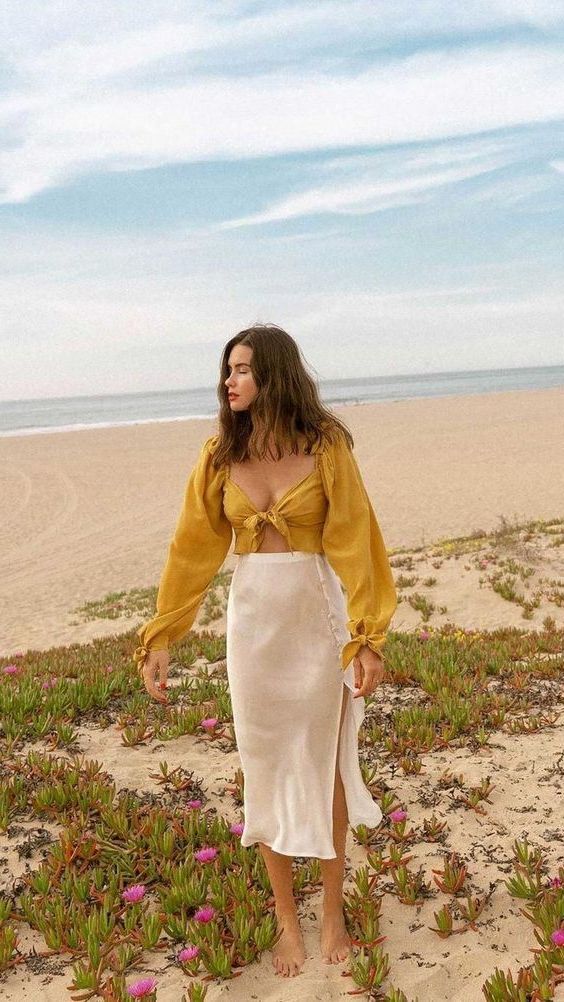 Yellow Coat And Black Pants
A classic yellow coat and black pants always work together: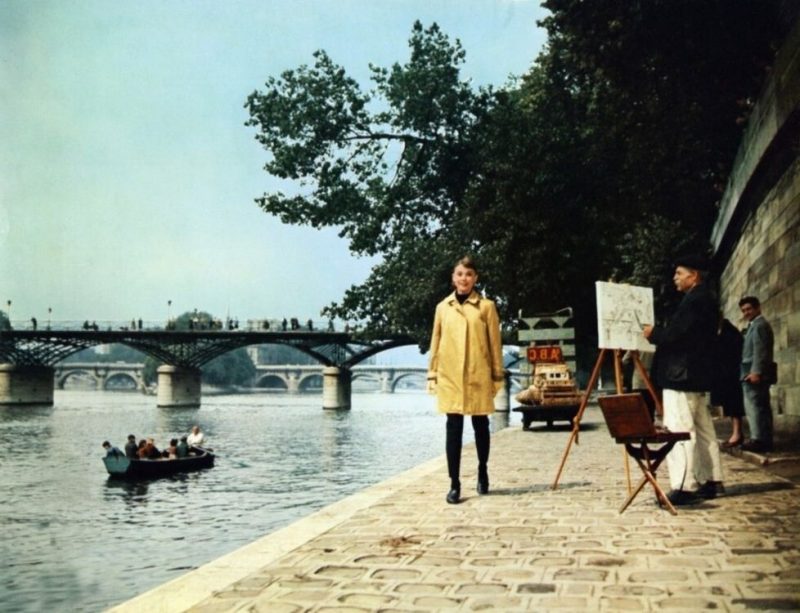 Yellow Tank Top And Denim Skirt
How about wearing a yellow shirt over a yellow tank top tucked in mini denim skirt: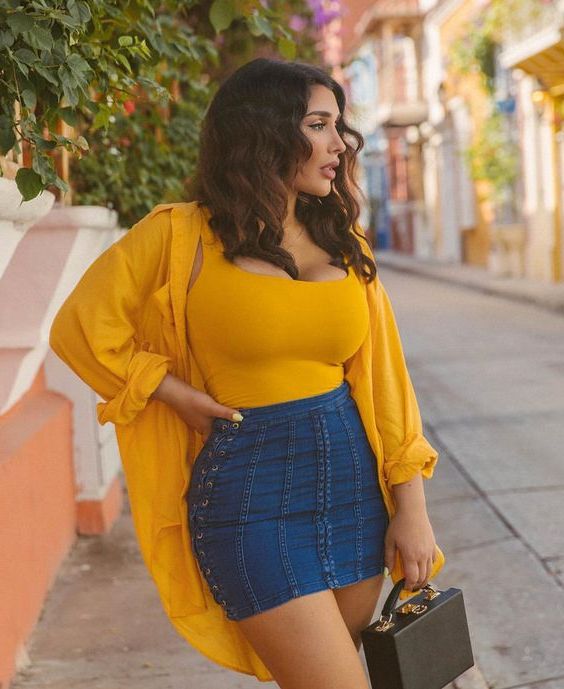 Quilted Pastel Yellow Coat And Brown Suede Culottes
A quilted pastel yellow coat looks fabulously styled with a matching color blazer and brown suede culottes: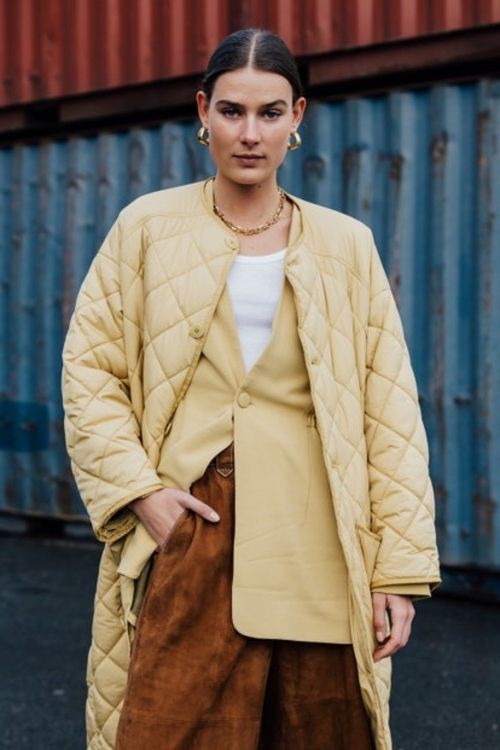 Yellow Shorts Suit
A classic yellow shorts suit looks smart and ladylike updated with black oversized sunglasses and a plaid print silken scarf. By the way, check out my post on ways how to wear blazers with shorts, I am sure you can find some great ideas: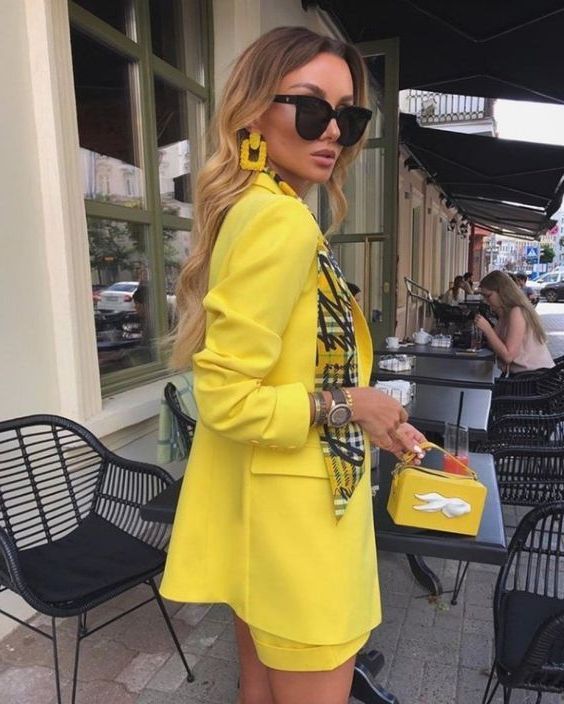 Yellow Blouse With Navy Pantsuit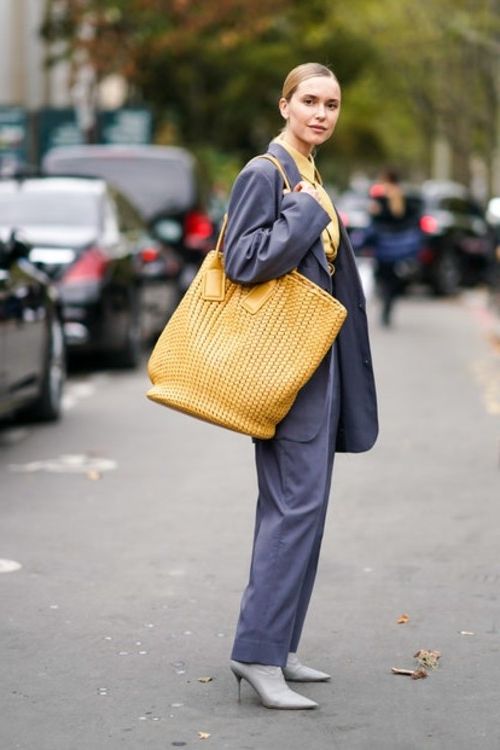 Yellow Off Shoulder Blouse And White Skinnies
You can also try on an off-shoulder yellow blouse teamed with white skinny jeans. Check out awesome ideas on how to wear white jeans, I've got some cool tips to share with you: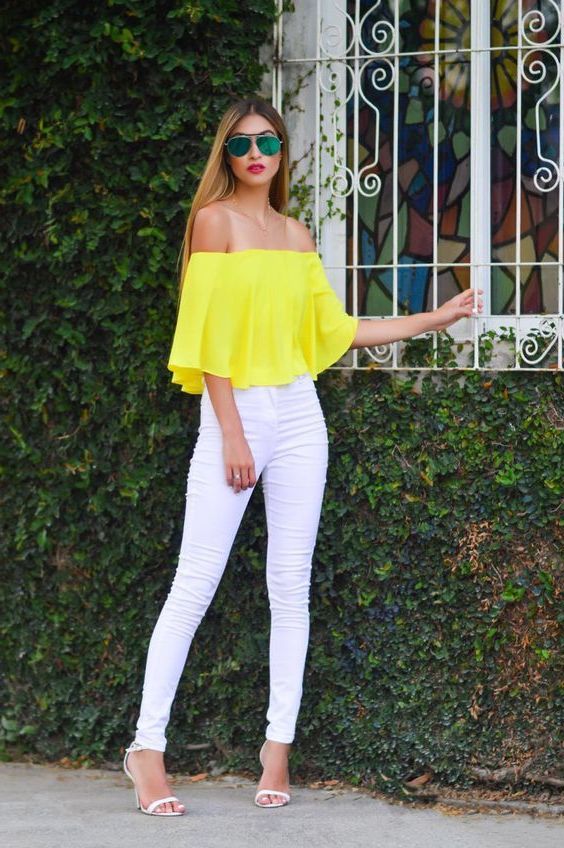 Turquoise Blazer Yellow Top And Black Pants
We see a blue-turquoise blazer styled with a light yellow top tucked in high-waisted pants in black color: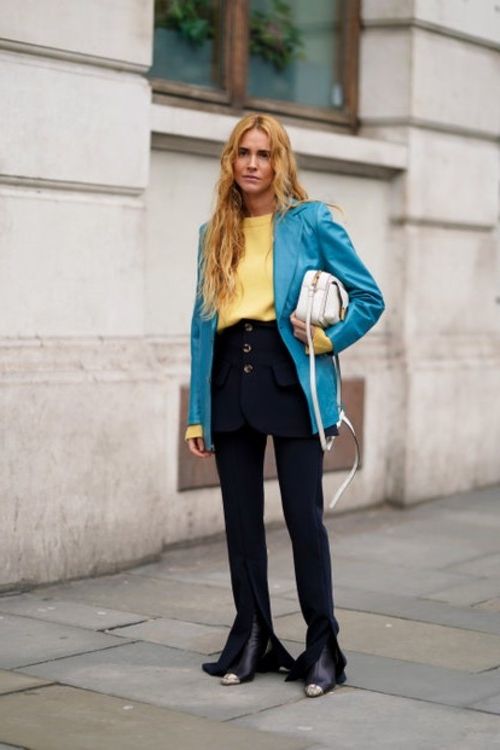 Yellow Matching Sets
We see a matching set consisting of a crop top with spaghetti straps teamed with wide-leg high-rise pants. Ideal cat-eye sunglasses: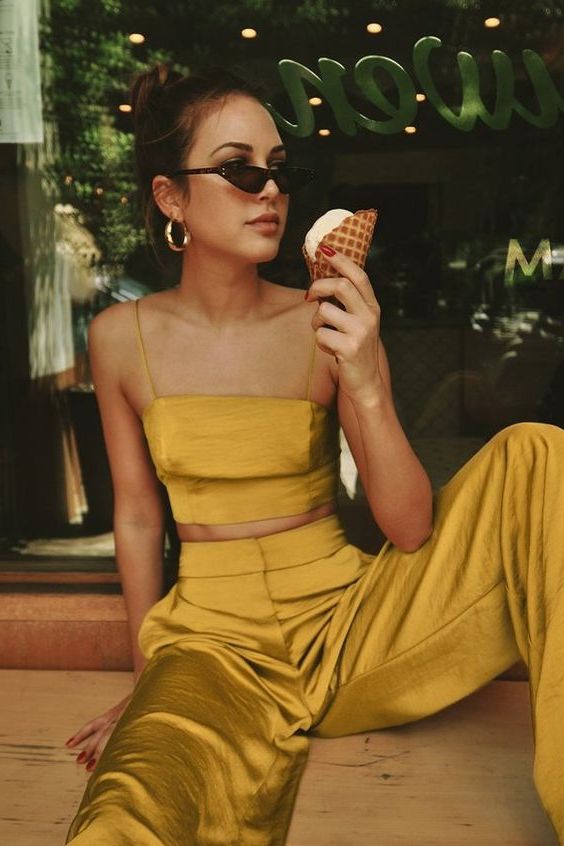 In love with this matching set consisting of a yellow crop top and cropped slim pants: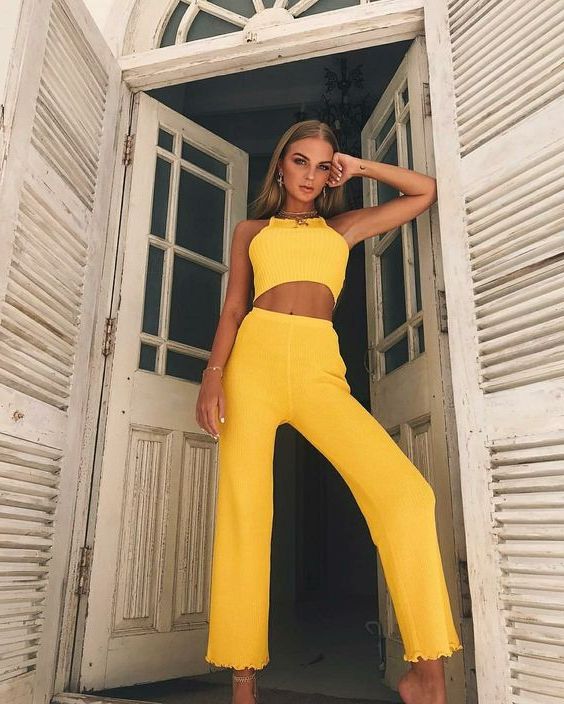 Pastel Yellow Handbag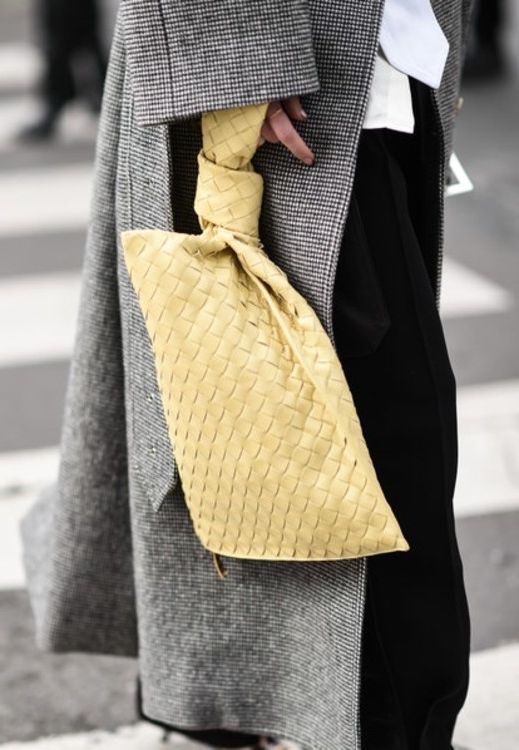 Yellow Dress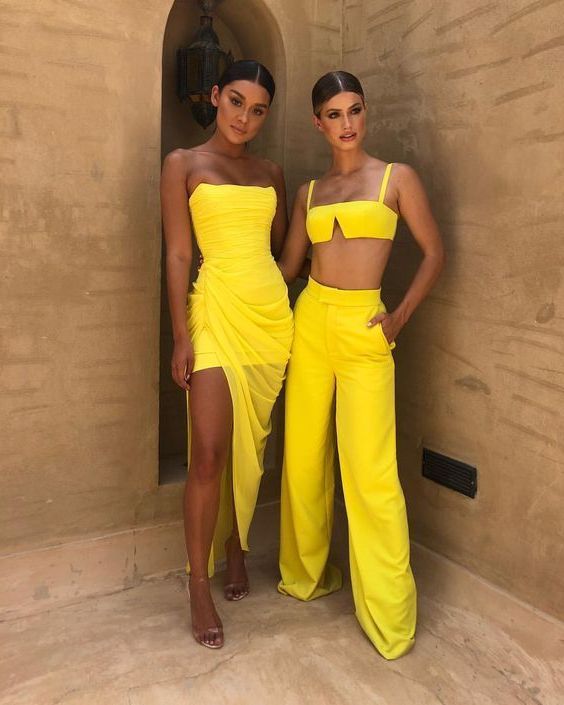 Light Yellow Quilted Coat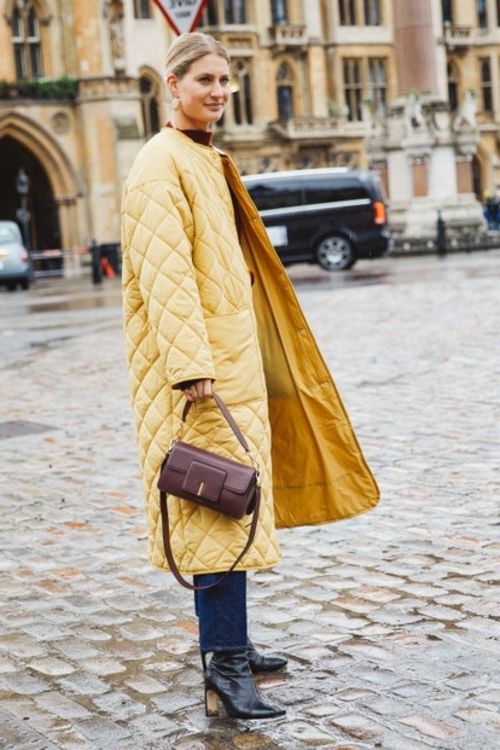 Pastel Yellow Dress With Black Tailored Sleeveless Blazer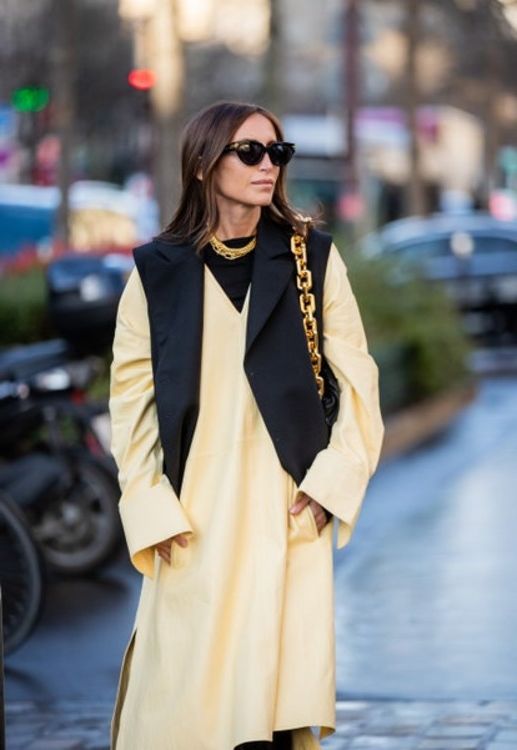 Quilted Shoulder Bag In Pastel Yellow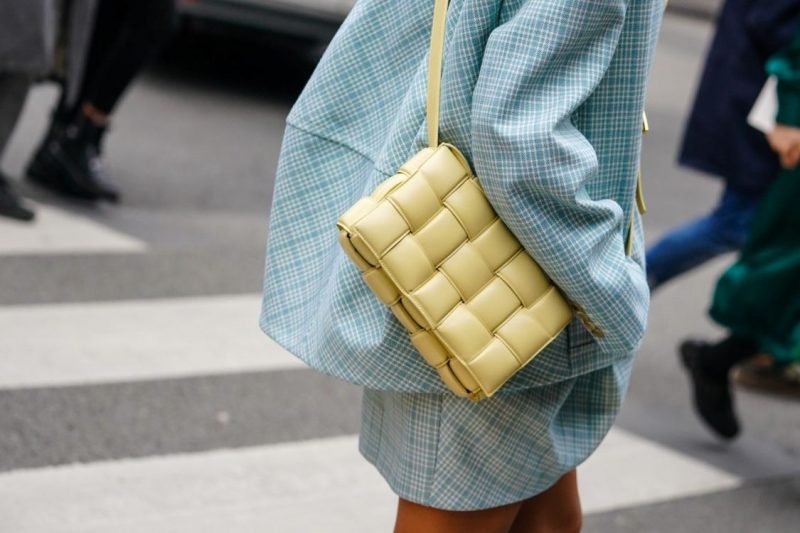 Light Yellow Pantsuit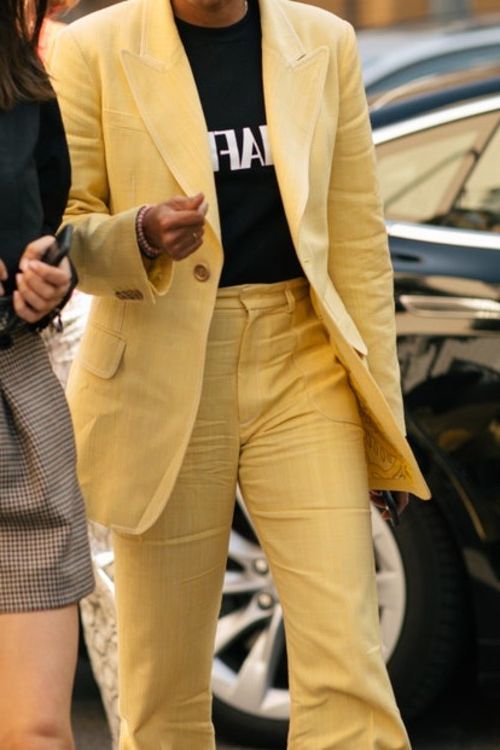 Red Blouse And Yellow Pants
A red leather blouse is tucked in yellow leather pants, would you give this combo a try: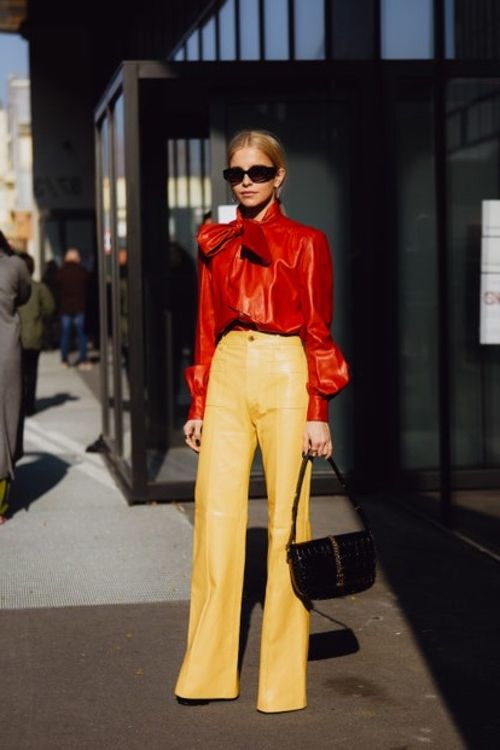 Yellow Blouse And Black Leather Pants
When in Paris go for a pastel yellow blouse tucked in black leather pants: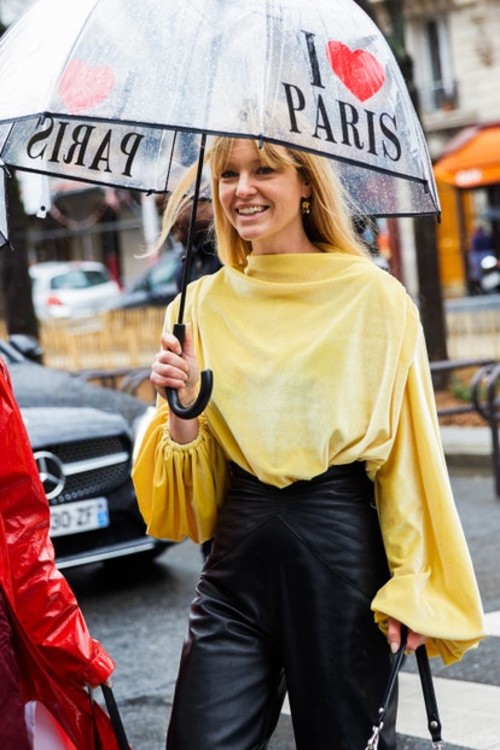 Brown Sweater With Yellow Wide Pants
A classic light brown sweater in oversized fit is tucked in pastel yellow wide pants, simple and fresh idea: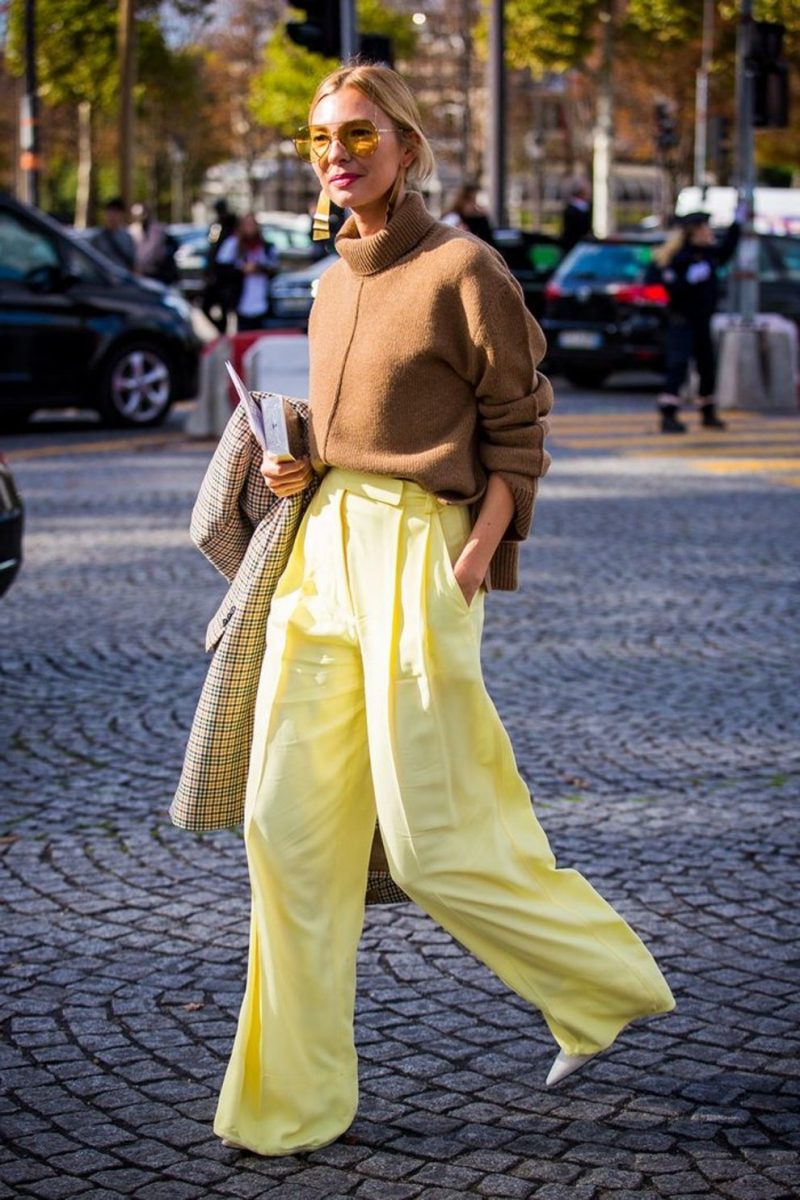 The yellow color was all over the runways at the most recent fashion weeks: showing up in countless looks. Based on its fashion week appearance, the color will be everywhere this year — I've already seen yellow popping up in stores. Despite its beauty, I'm sure we can all relate to what I like to call the "yellow dilemma." Yellow is a vibrant color that's perfect for Spring and Summer, but nevertheless it presents its styling challenges. It's often hard to find flattering pieces in yellow and even more difficult to create outfits that match.
Source: CollegeFashion