Summer arrives with heat and what we need is to put away the black and grey color clothes and use bright colors. In today's post, I will show you easy street style ideas on how to experiment with various bright shades. You are about to see eye-catching fuchsia, bright green, some fancy citrus touches, classic blue, and feminine scarlet. Read on to see fashionable ways of wearing bright shades on the streets.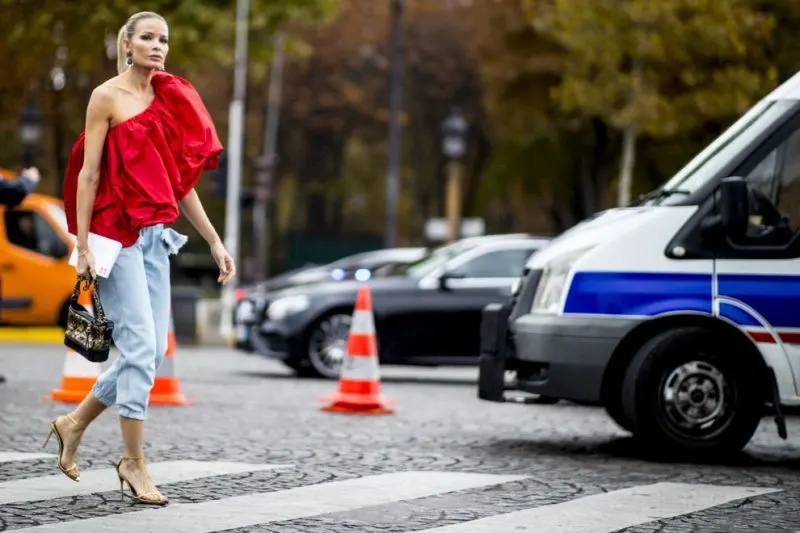 Buy Similar Here
We see a voluminous one-shoulder blouse in red color combined with light blue cropped denim joggers completed with heels. A perfect urban smart-casual style.
Tips For Wearing Bright Colors This Summer
It's time for the fashionista to start wearing bright colors in order to enjoy summer. So, here are some tips to wear bright colors this summer:
1. You can choose different shades of a color for your outfit and combine it with a white shirt;
2. You can mix two colors and create "pastels" such as baby pink and light blue or soft yellow and light green; or you can even go daring with electric orange mixed with sweet pink;
3. Enjoy prints, embroideries like petal-like patterns or neons like neon green combined with hot pink ;
4. You can also go retro and wear 60s inspired clothes combined with bold colors.
5. You can also combine light bright colors with certain patterns such as polka dots, floral prints or stripes;
6. Wear simple dresses with colored tights and a sweater or cardigan, you'll look stunning;
7. Go for a Smart Casual outfit and add some bold color to it, you'll do wonders;
8. Try different combinations of pastel/neon colored accessories like a neon bag or shoes combined with a pastel colored outfit;
9. You can also try different styles of nail art and add some bold color to your nails;
10. You can also try different colored hair, matching the color to your outfit.
11. Wear bikinis with bright colors such as turquoise combined with hot pink or neon green;
12. Wear bright colored loose pajamas such as neon purple with a light blue shirt when you go to sleep;
13. Go for professional outfits but add some bold colors such as a red pencil skirt or pastel pants combined with a neon blouse/top;
14. Also, skip the black and wear certain colors for formal occasions like baby pink or soft yellow.
What Bright Colors Are Ideal For Summer
This is a perfect time to experiment with some bright shades. You are free to go fully monochrome or use some eye-catching colors as accessories. In today's post, I will cover fuchsia, orange, green, scarlet, and classic blue colors that can be used in a woman's Summer wardrobe.
Fuchsia Color Outfit Ideas
The eclectic fuchsia color comes back in fashion every second season. It looks like every fashionista shows her love for this spectacular shade. You are free to try monochrome fuchsia looks, as well as combine it with other colors. Bright pink pants look awesome with khaki shirts, whilst a purple blouse can be easily complemented with Barbie color pants.
A fuchsia sweater is paired with boyfriend jeans and grey boots, a cool outfit for urban ladies: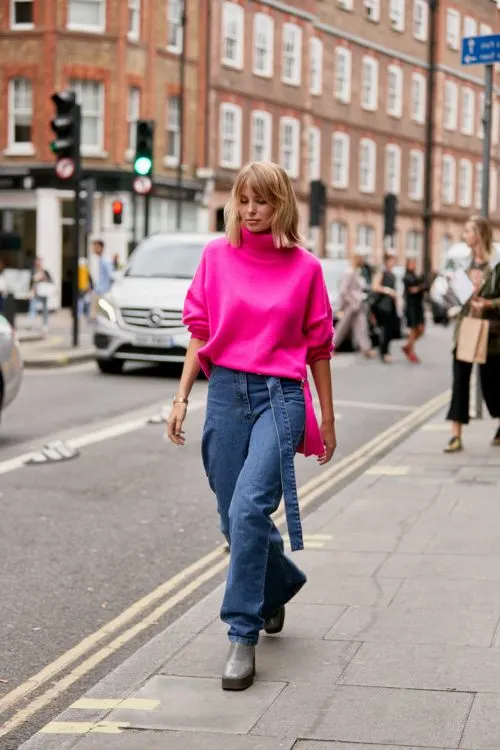 Buy Similar Here
If you do want to create a unique style, go for fuchsia monochrome look consisting of a shirt and pants completed with white heels: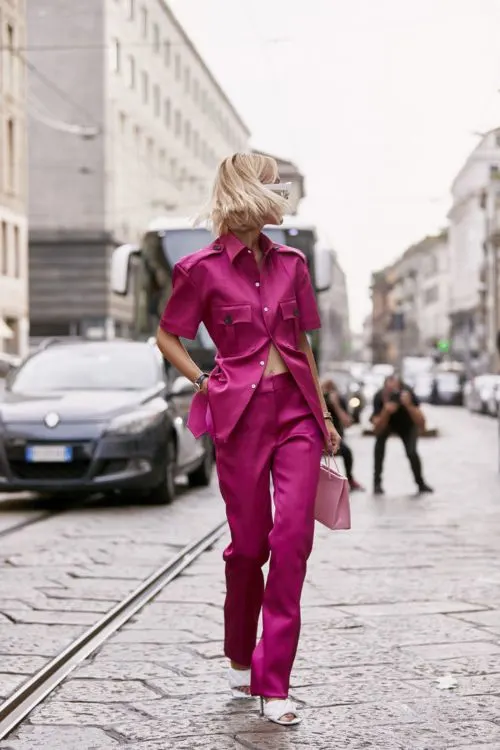 Buy Similar Here
A green blouse ideally matches fuchsia pants, a kind of seventies touch: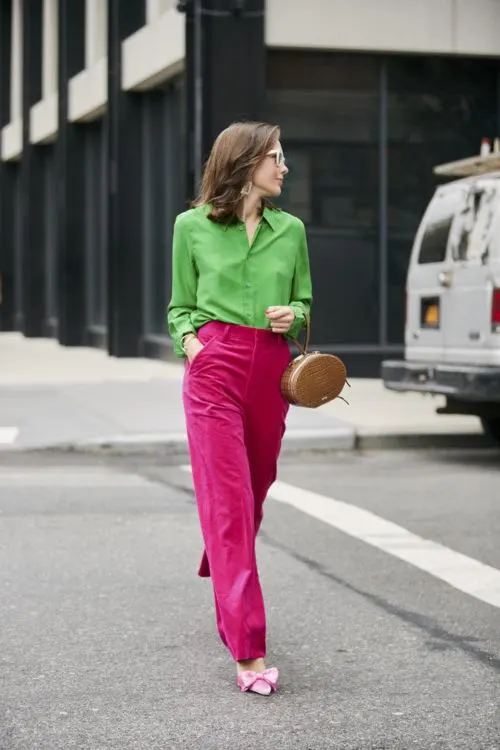 Buy Similar Here
Fuchsia power suit blazer with pink shorts and cool white cat-eye shades: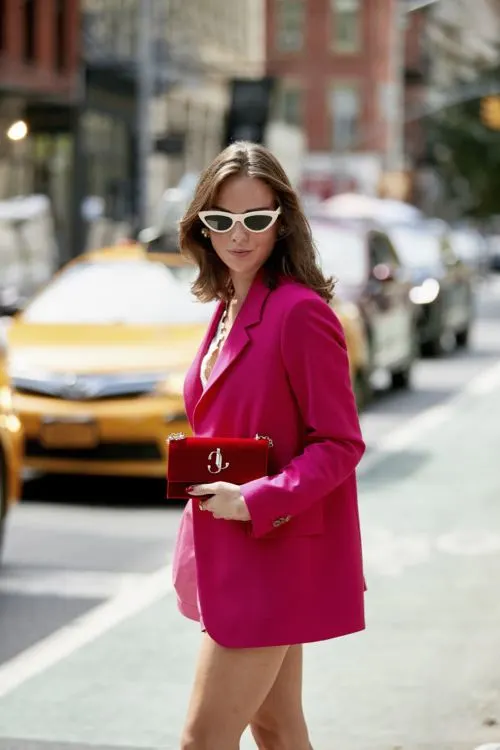 Buy Similar Here
A fuchsia suit completed with a deep violet blouse and black boots. Update this style by adding oversized sunglasses: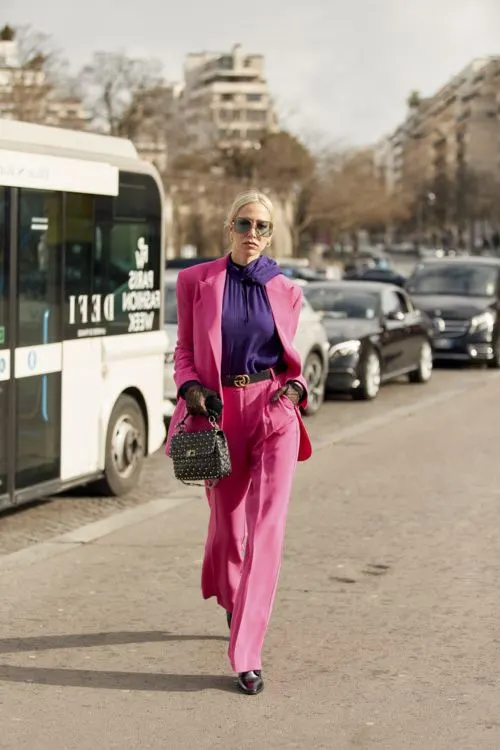 Buy Similar Here
Cargo jacket in green look fabulous teamed with wide-leg pants in fuchsia: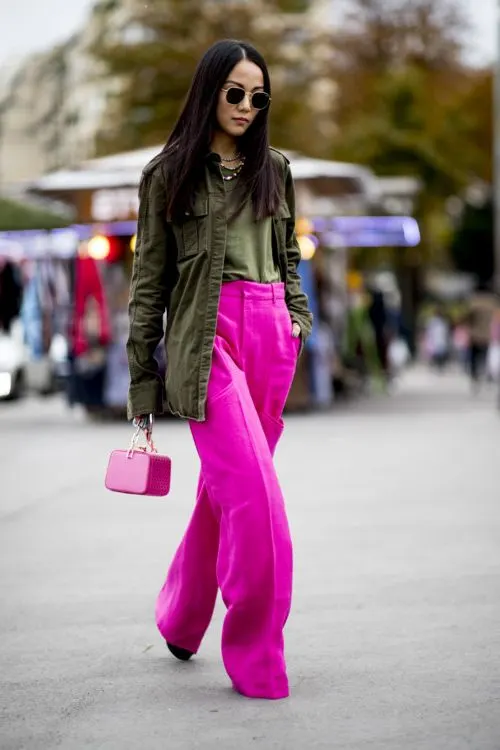 Buy Similar Here
Oversized white sweater looks fantastic teamed with fuchsia midi skirt and black pumps: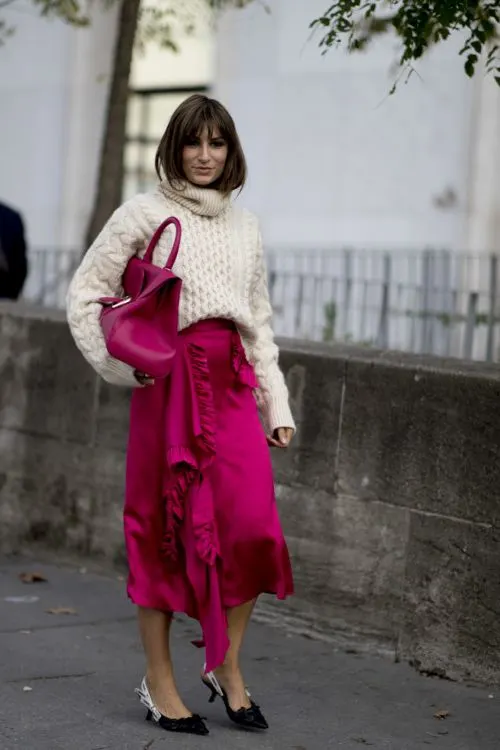 Buy Similar Here
Keep it sexy and daring! Go for fuchsia mini dress and add puffy sleeves. Update this style by adding black combat boots: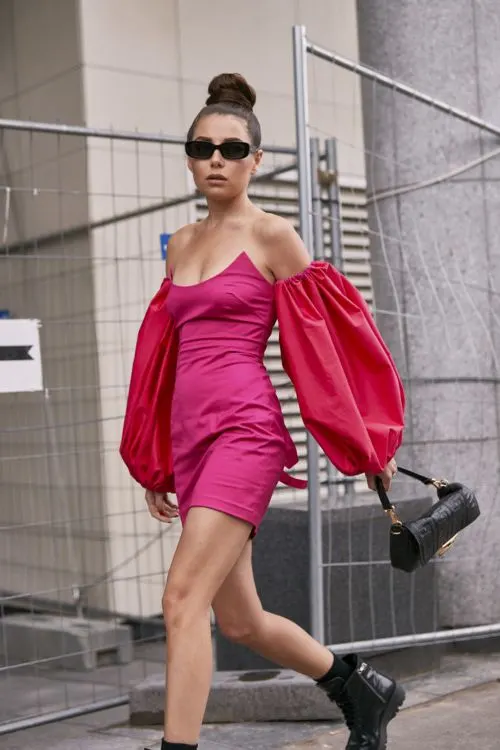 Buy Similar Here
Orange Color Outfit Ideas
A rich orange hue is one of the most fashionable colors of this summer season. Street style stars around the world show us how to use this bright color in our everyday lives. If you are new to this shade, then I recommend starting off with a basic jacket that can be worn with blue denim or neutral color wide pants completed with translucent sheer pink blouses.
Orange wide-leg pants ideally match that pastel pink blouse with short sleeves: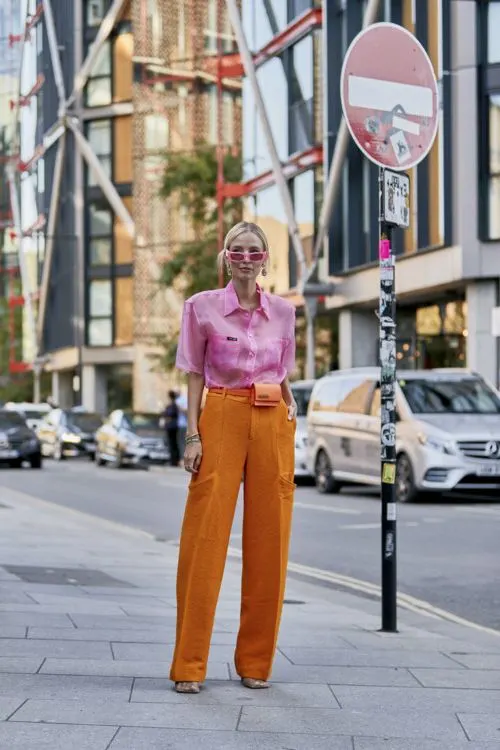 Buy Similar Here
An orange maxi dress looks pretty fresh styled with pastel blue kimono vest: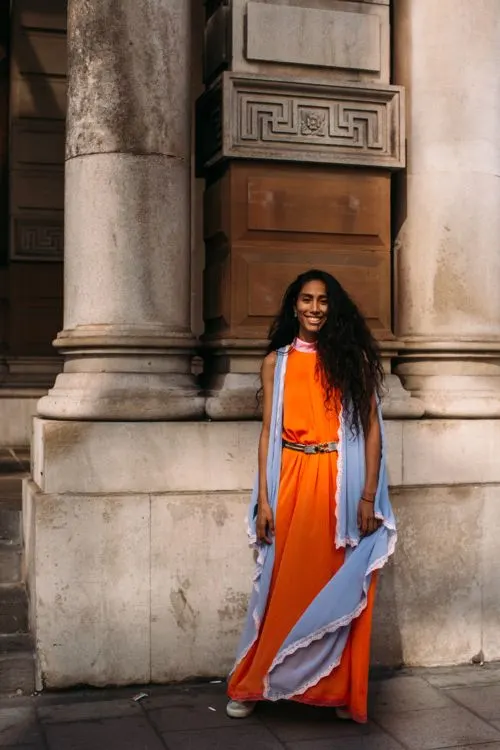 Buy Similar Here
An orange long dress with long sleeves is updated with tiger print shoes:
Buy Similar Here
Orange pants look fantastic with that lightweight sweater: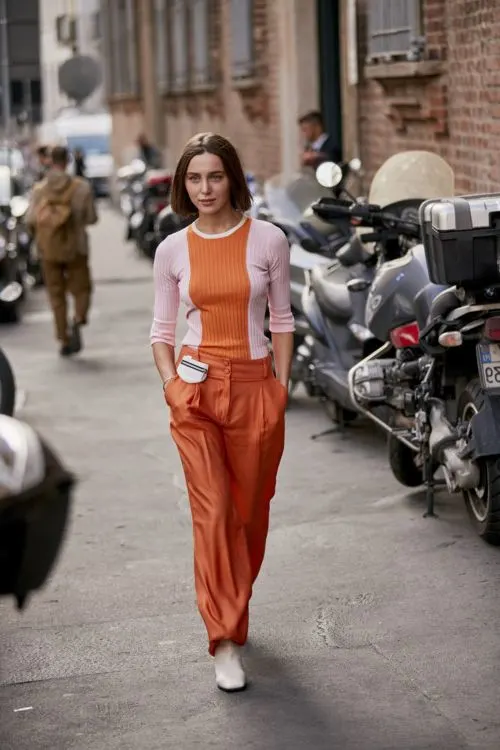 Buy Similar Here
Maroon top is a perfect choice to wear with a knife-pleated midi skirt in orange color: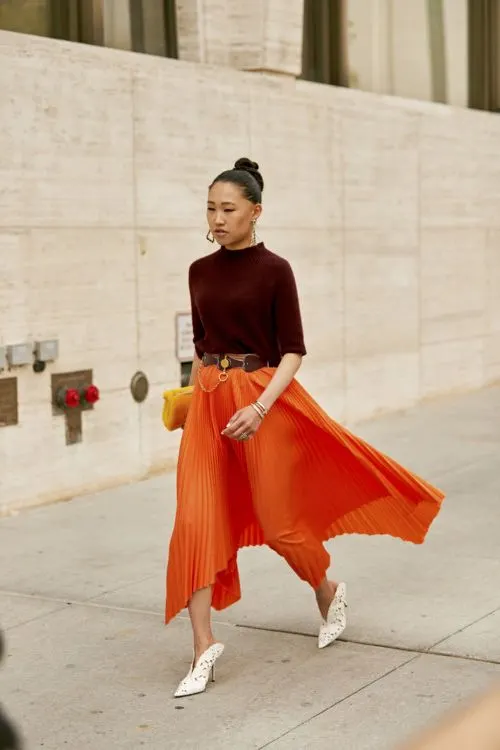 Buy Similar Here
An orange blazer in oversized fit is paired with printed blue pants and peep-toe pumps in white color: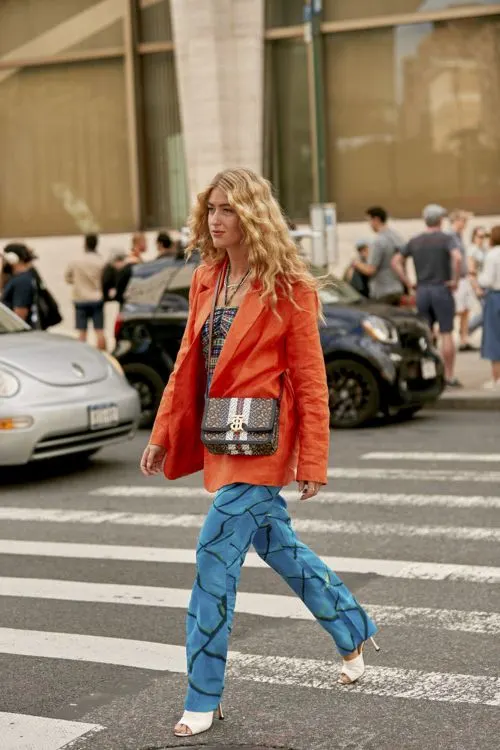 Buy Similar Here
A maxi trench coat in orange color is styled with a white tank top tucked in black tailored shorts: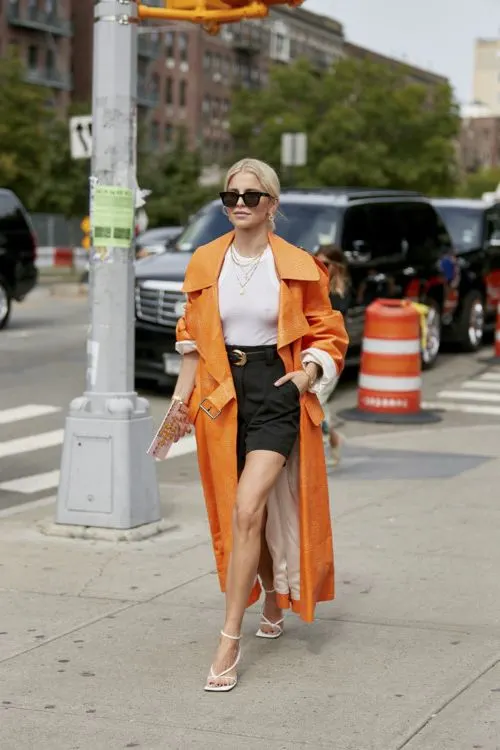 Buy Similar Here
An orange sweater in oversized fit is teamed with micro plaid midi skirt, in love with these square toe sandals: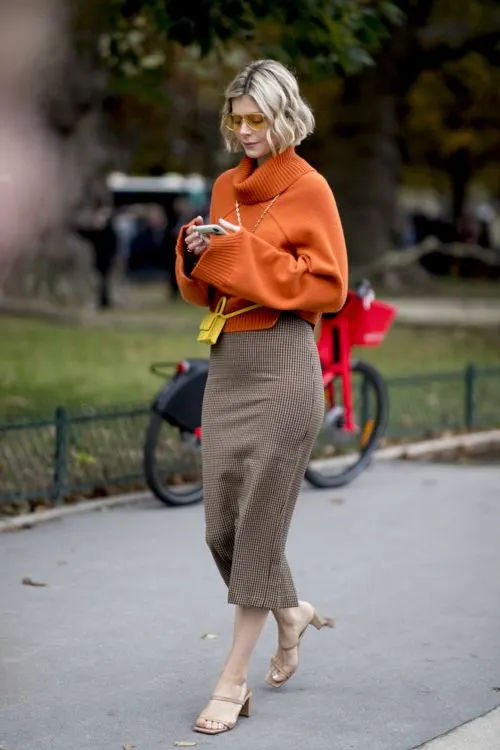 Buy Similar Here
Green Outfit Ideas
The green color scheme looks equally awesome on both blondes and brunettes, as well as on brown-haired and red-haired ladies. This shade of freshly cut grass is a must-try in your wardrobe. So, you can either buy an airy green blouse with lantern sleeves or go for a perfectly tailored pantsuit that can work for business meetings, as well as for special evening events. I personally, recommend starting with a green fitted jacket made of satin fabric and combining it with neutral color pants or a skirt.
A green blazer in oversized fit ideally matches wide pants in beige-grey color: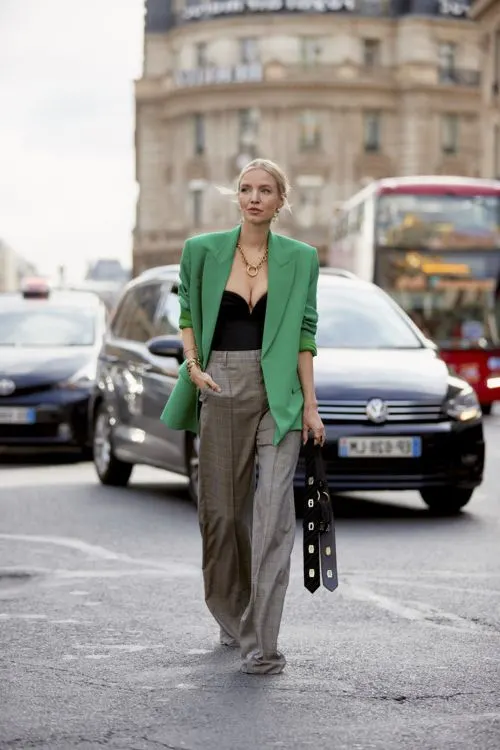 Buy Similar Here
A puffy blouse in light green is tucked in orange color pants:
Buy Similar Here
An oversized light green blazer is worn with a green sporty bra top and printed pants: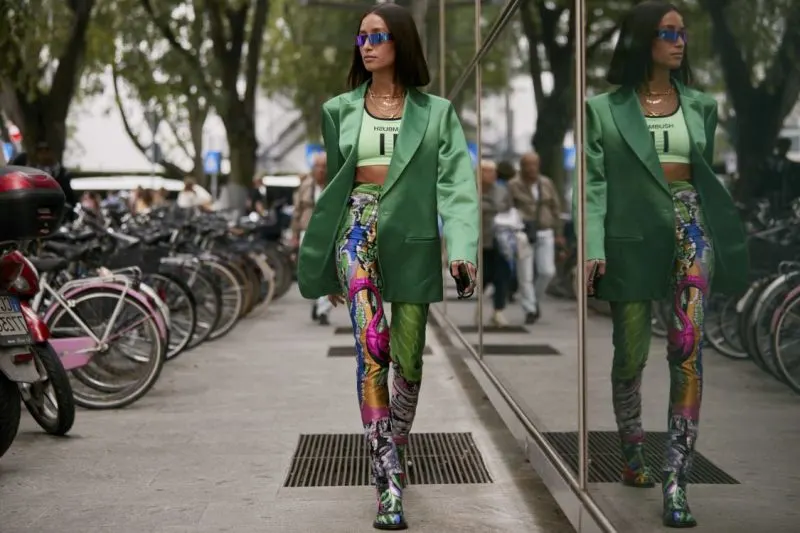 Buy Similar Here
A total green look! Love that chic belted pansuit: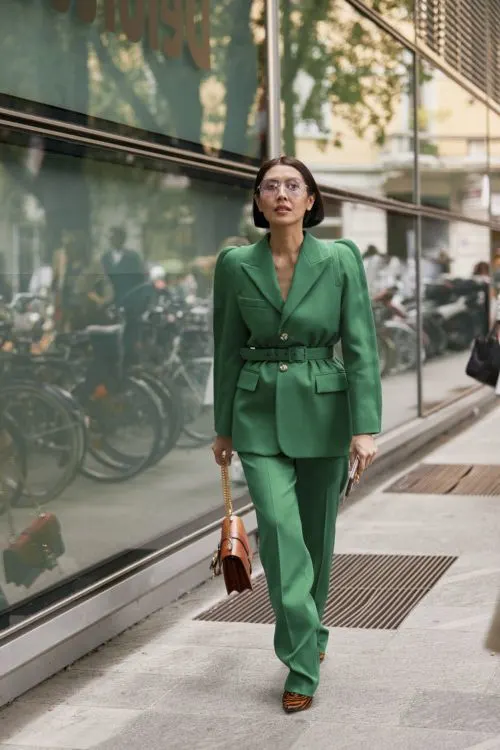 Buy Similar Here
A black loose-fit top is paired with a green skirt, a lovely retro-inspired combo :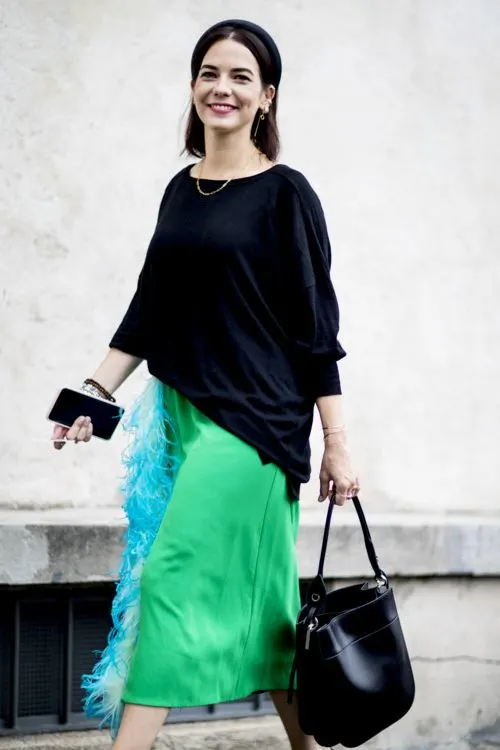 Buy Similar Here
Green blouse and pink pants, a great style to underline your personality: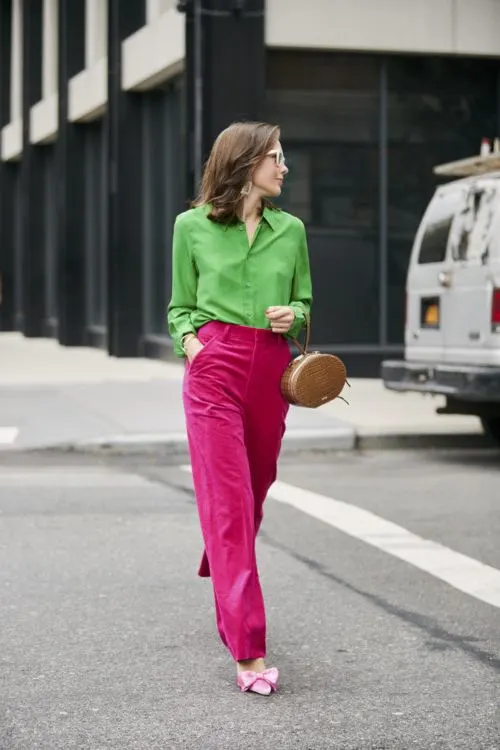 Buy Similar Here
Light green wrap blouse and ribbed cream-white pants look chic and feminine:
Buy Similar Here
A fresh green colored pantsuit is updated with a white turtleneck: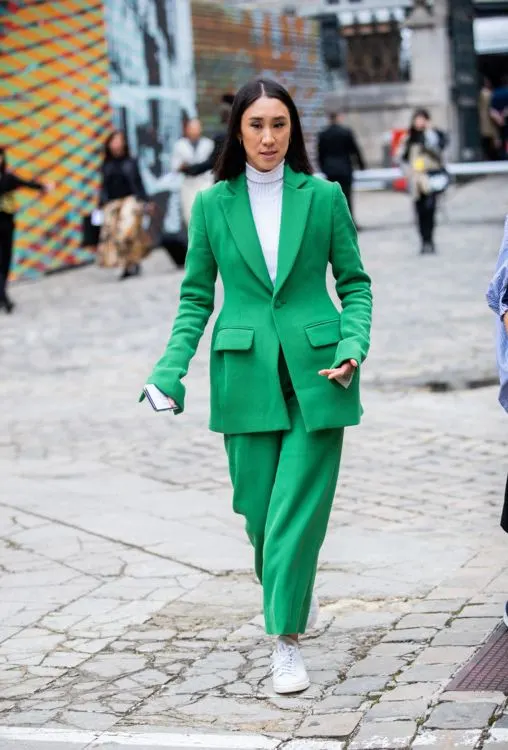 Buy Similar Here
Red Color Outfit Ideas
A bold bright red is a favorite choice for confident ladies. I often see the scarlet shade appearing in the wardrobe of business ladies, in the form of pantsuits and billowing dresses. In addition, the red color might look provocative, but you can use it as an accessory by adding bright accents in dark neutral ensembles. I love red completed with delicate lace and ruffles.
A slim fit red pantsuit can be styled with black loafers, simple and business inspired look: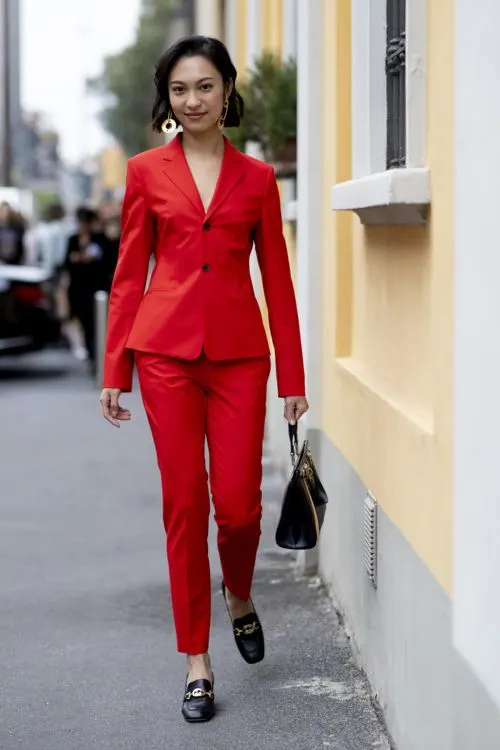 Buy Similar Here
A maxi red dress with a high neck is completed with white heeled square toe sandals: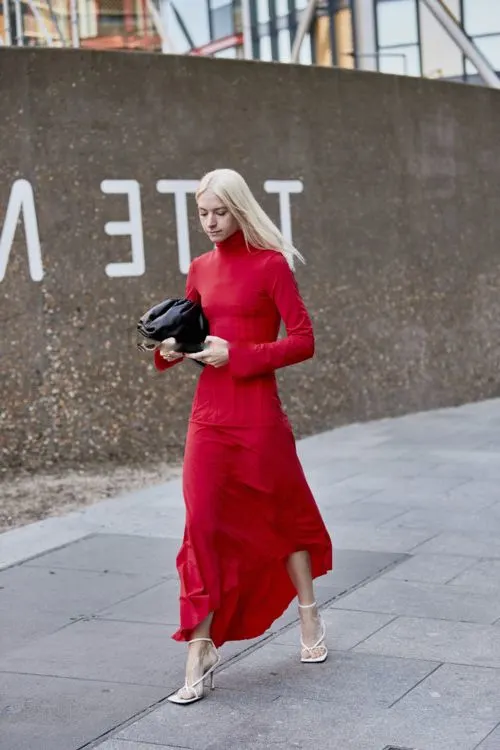 Buy Similar Here
A gorgeous red jumpsuit is what you really need: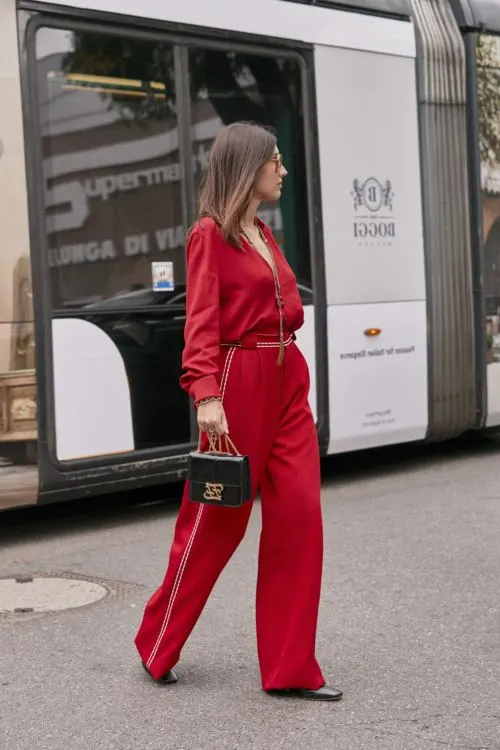 Buy Similar Here
Another fabulous red maxi dress in a kind of vintage design is completed with cool slides: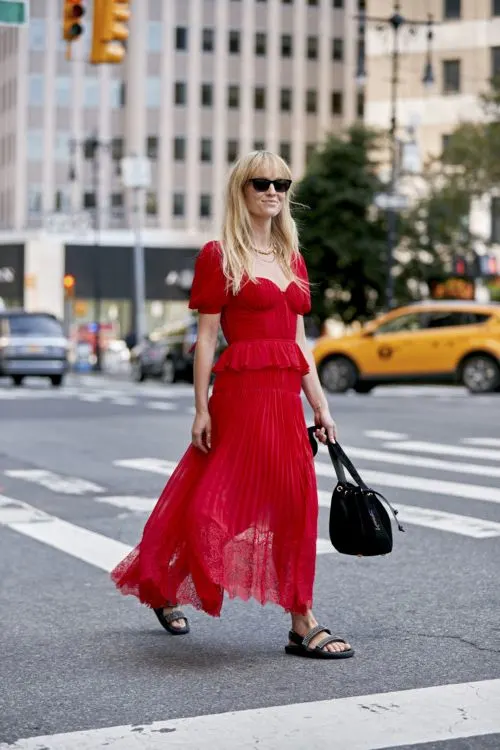 Buy Similar Here
If you don't want to wear red, how about adding this red retro clutch: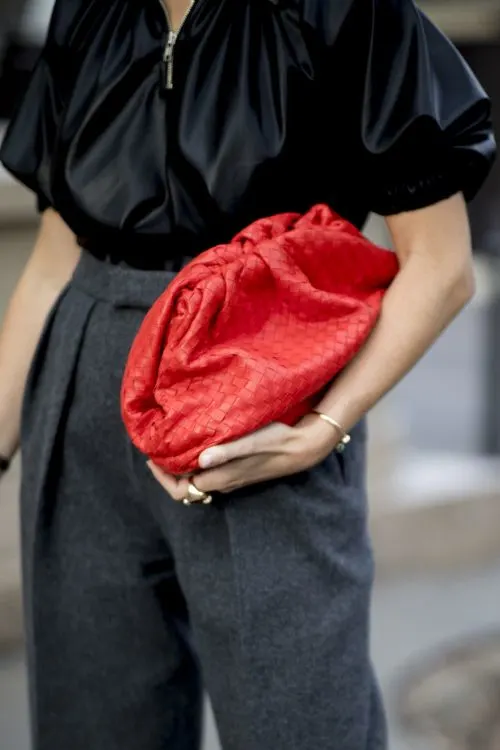 Buy Similar Here
A red pantsuit looks retro-inspired, complete it with a cool dark blue shoulder clutch: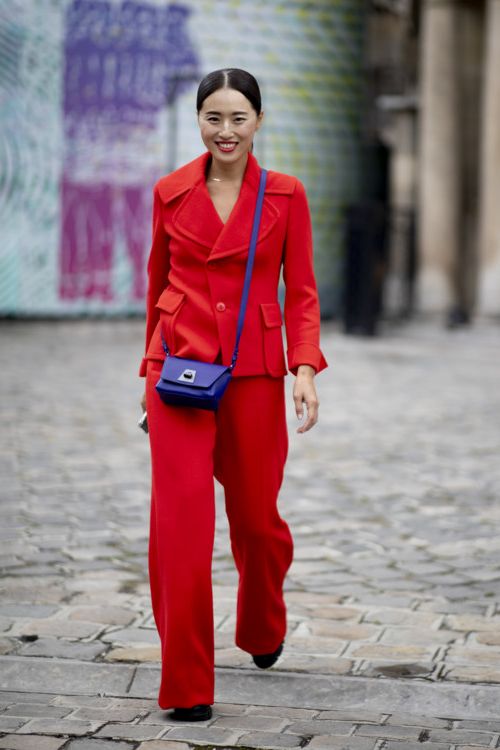 Buy Similar Here
A red blazer is draped over a white top tucked in black mini skirt: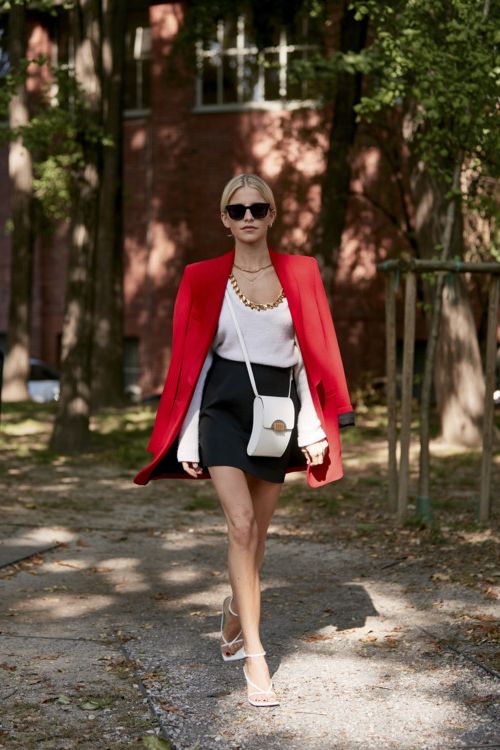 Buy Similar Here
Keep it fresh, grunge, and 1990 inspired. Go for a patent wide-brim hat, black leather jacket and orange max dress updated with cool sneakers:
Buy Similar Here
Classic Blue Color Outfit Ideas
According to the Pantone Color Institute, the classic blue is this year's main shade. It feels like fashionistas around the world are using sapphire shade in every outfit. You can buy floral dresses with a blue background, silk blouses, suits, or feminine mini skirts in classic blue shade.
A strapless slim printed dress is completed with black leather military boots: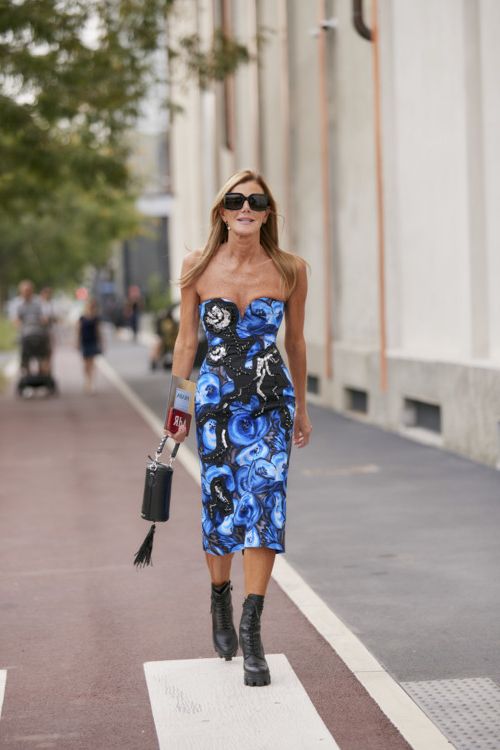 Buy Similar Here
A white-blue checkered skirt-suit is styled with a pussy-bow pink blouse and pink heeled sandals:
Buy Similar Here
A printed blue blouse can be tucked in a neutral color grey pencil skirt: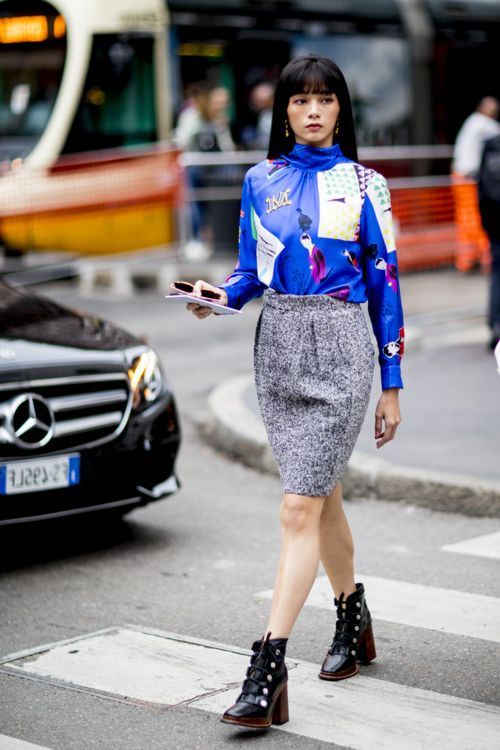 Buy Similar Here
Yes, please! Love this blue dress with a floral print updated with a blue headband: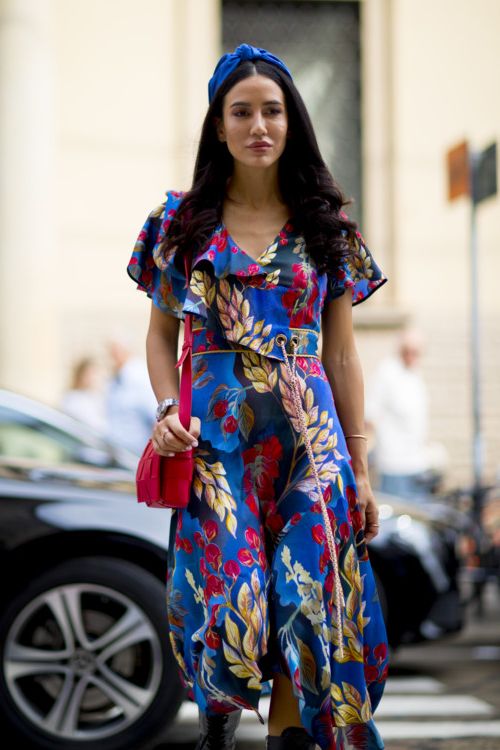 Buy Similar Here
If you are looking for a business smart-casual look, go for this tailored blue jumpsuit completed with a black belt: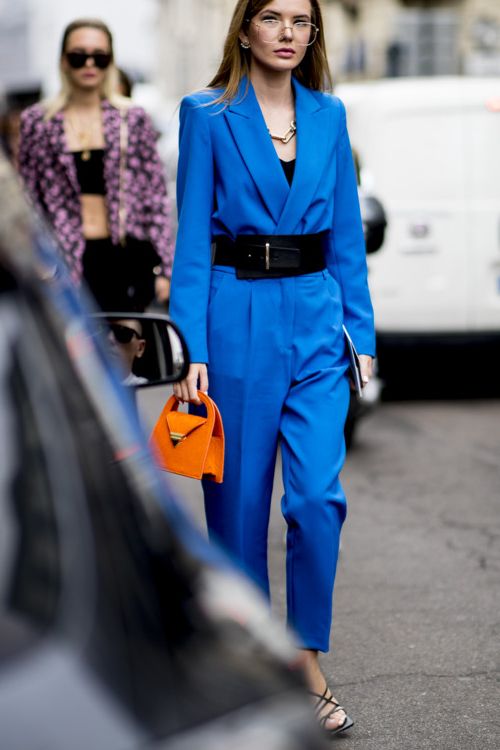 Buy Similar Here
A blue pantsuit looks fresh and business ready: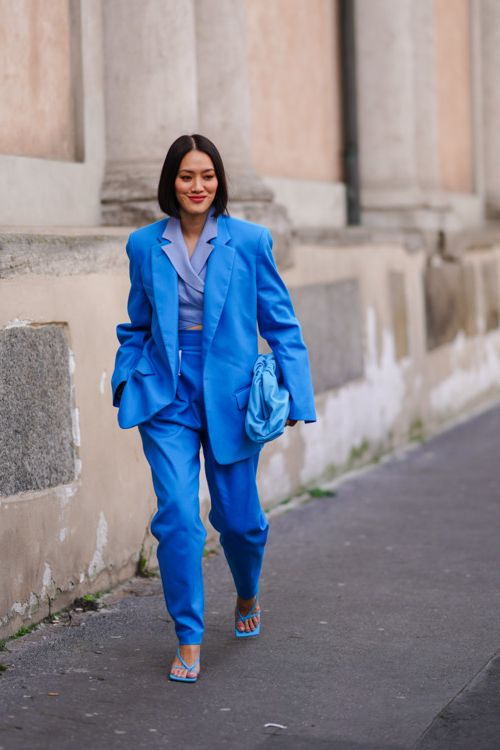 Buy Similar Here
Wrap blue skirt is styled with a printed top and a cropped silver-white jacket: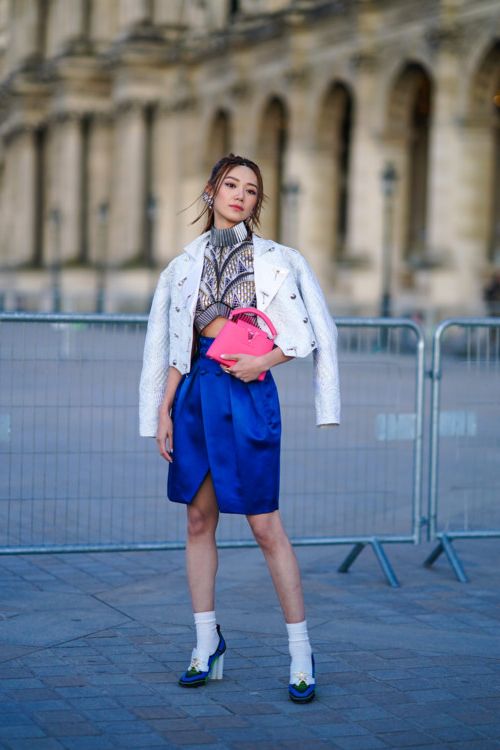 Buy Similar Here
A rich blue dress with long sleeves is updated with a black leather belt and strappy caged heeled sandals in black: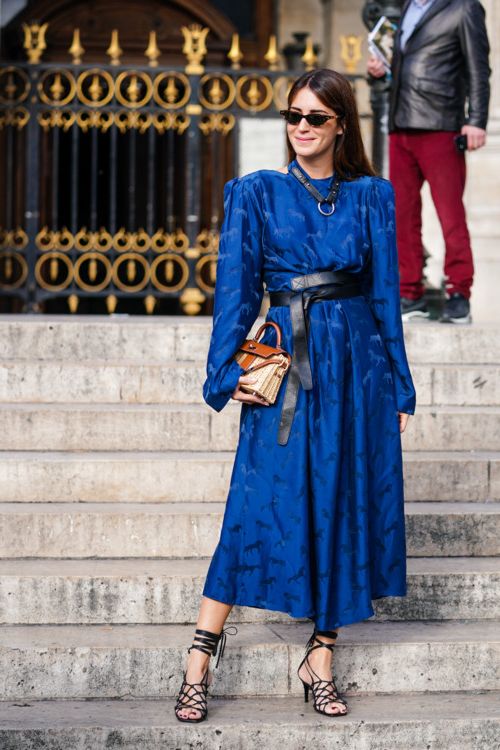 Buy Similar Here
Of the trends that I encounter on a daily basis, I'd have to say that the ones having to do with color are some of my favorites. To me, it's just the easiest way to freshen your look for a new season, so I tend to embrace whatever color is currently trending. Of course, our favorite street-style stars have also taken note of this wave of color, setting an example to go big or go home with your rainbow-bright statement pieces. To do so, we've compiled some tips and tricks for how to confidently wear this season's boldest paintbox shares. They may just be the jolt you need to make it through the remaining cold-weather months in style.
Source: WhoWhatWear, Refnery29