Today we are here to talk if denim overalls are in or out of fashion for 2020. In short, this denim piece is still in fashion, but you need to know what styles are in and how should you wear them.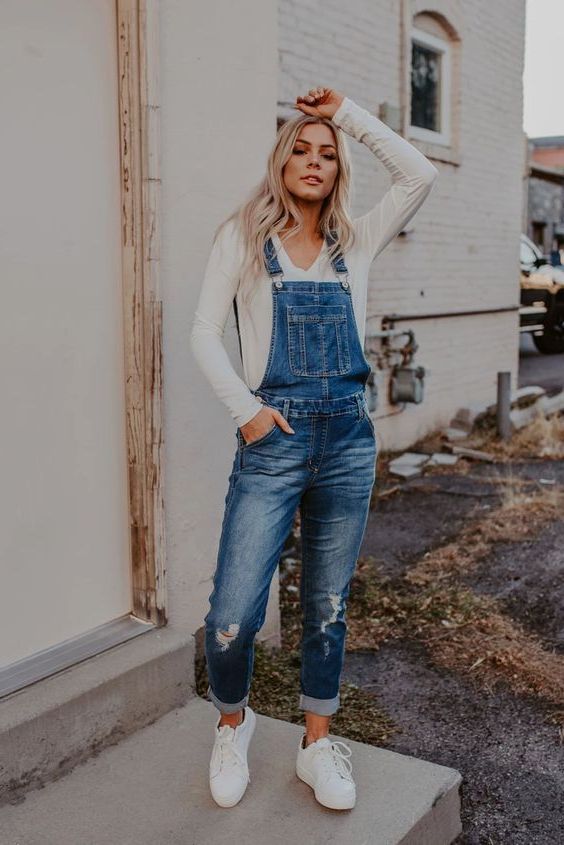 We see a basic V-neck white long sleeve top with blue denim overalls and white kicks. A lovely set for casual day-offs.
One of the most popular clothing staples in a women's wardrobe is considered to be denim overalls. It's both convenient and practical choice that can be used at any time of the year for a variety of events. You can wear it for a simple daily walk, a country vacation, at a friend's party, or for hiking in nature.
What Color Is The Best For Denim Overalls?
The most common color for denim overalls is blue, light blue, cornflower blue and gray. Recently, green, maroon, yellow, and purple designs are widely spotted on the streets. My personal favorite is a white denim jumpsuit. It is relevant for any season and allows you to create luxurious combos. It can be used for festive events, an anniversary, or a special evening party.
We see a striped shirt layered over wide denim overalls completed with a slouchy neck sweater in black. Update the look by adding black boots: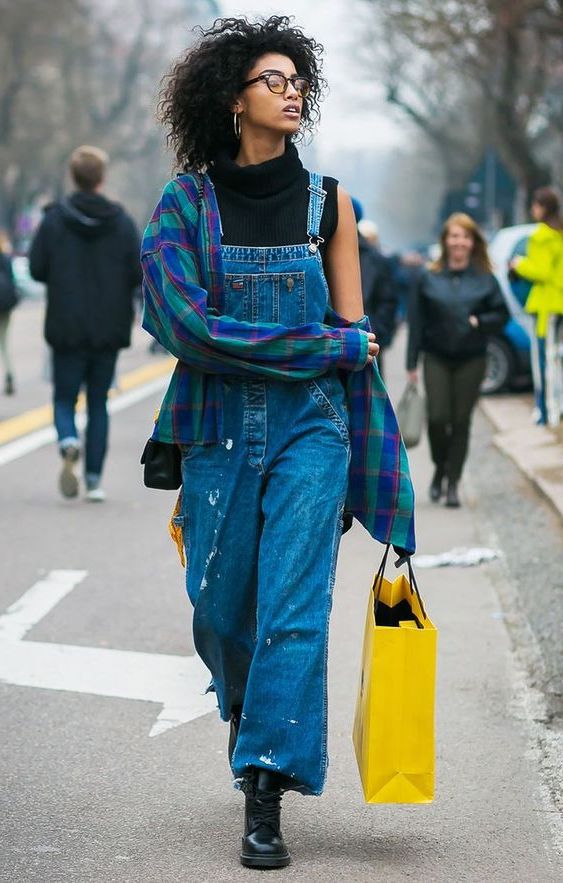 Green parka ideally matches dark blue denim overalls and black slip-on shoes: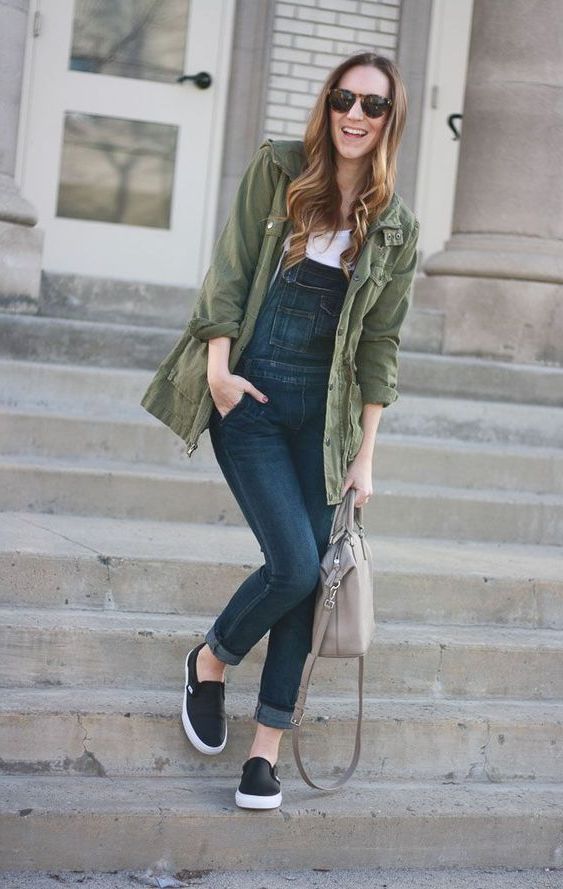 Striped tee and black denim overalls with white sneakers: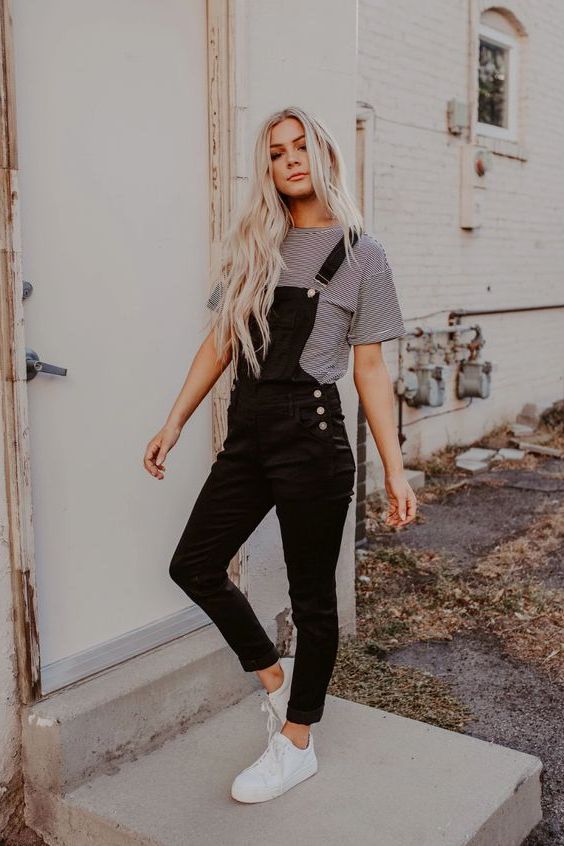 Wash blue denim overalls with a striped top and metallic heeled pumps. Don't know how to wear striped clothes, then check out my post, where I show simple street style looks that are simple, ladylike and trendy: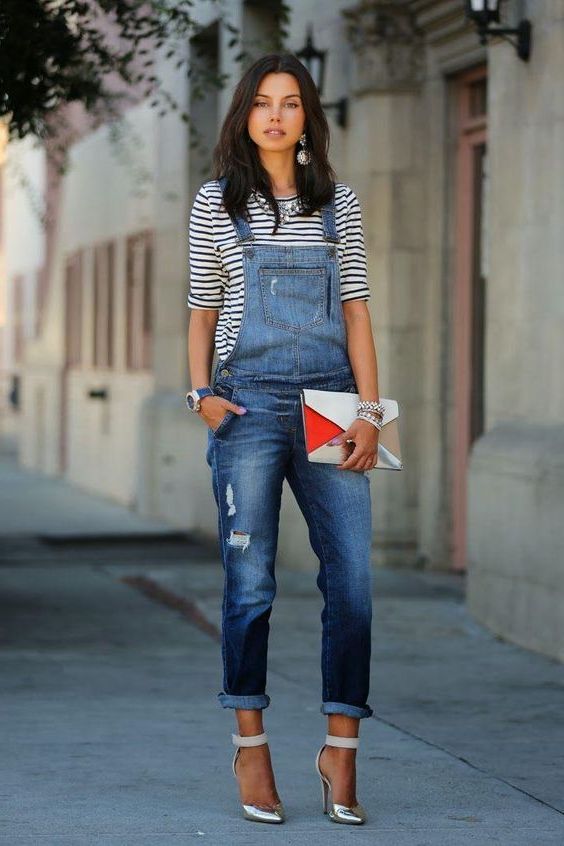 A perfect style for plus size ladies, a striped tee with denim overalls and brown leather loafers: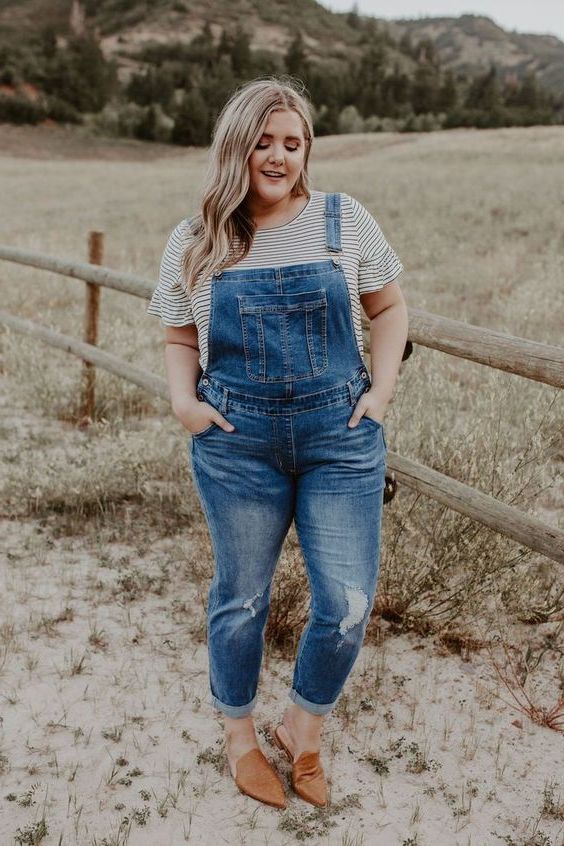 What should I wear denim overalls with?
Since the problem of combining the top and bottom in the case of overalls practically does not exist, you should only pay attention to shoes and accessories.
Denim jumpsuits go well with any footwear. The best choice will be ballerinas or comfortable sports shoes (like slip-on shoes, or sneakers) during the day city errands. For the evening events you can try on heels or Gladiator sandals and for vacation, I would go for espadrilles and comfortable sandals with no heels. If we talk about winter, then you can go from warm fur boots and leather boots to oxfords, brogues.
Chunky sneakers with boyfriend overalls and a white crop top: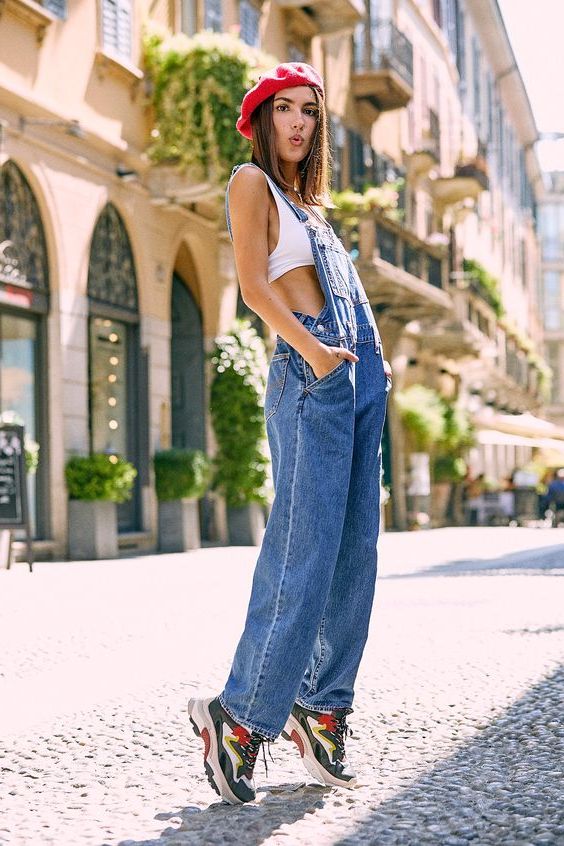 Ripped boyfriend denim overalls and a white tee. Love the grey suede ankle boots: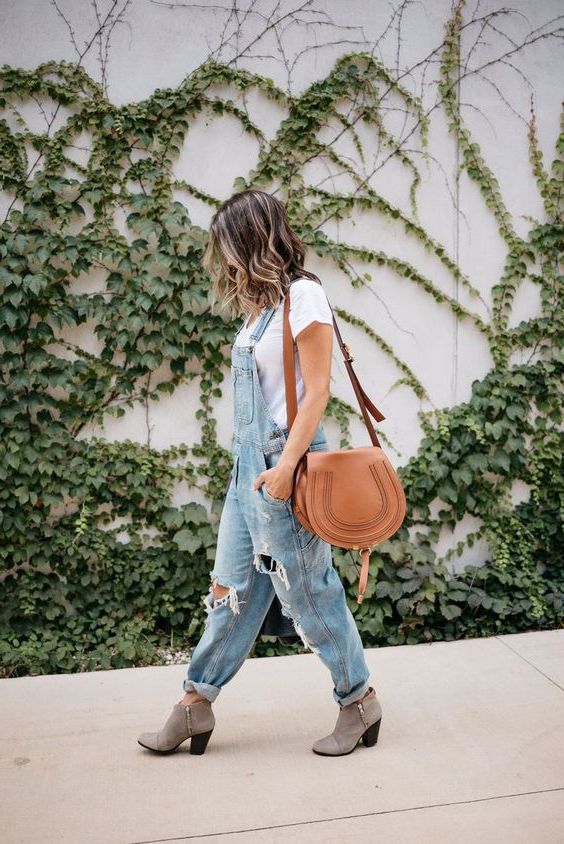 White peasant shirt with blue denim overalls and black trainers: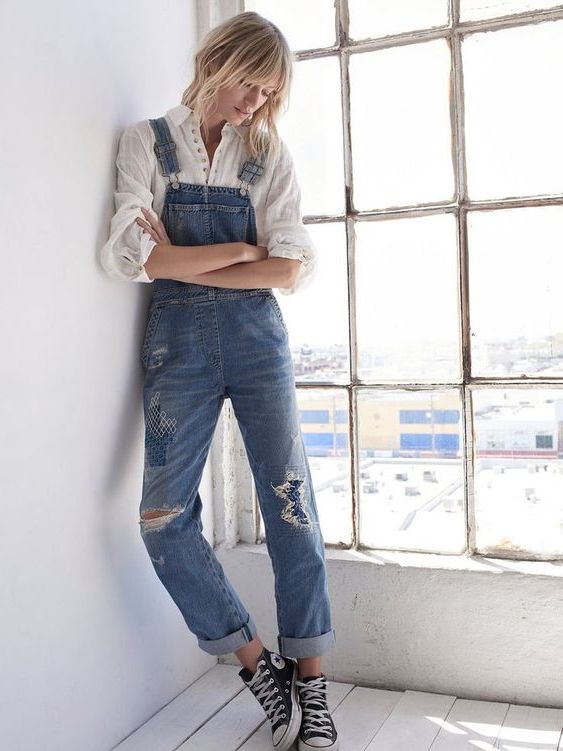 Slouchy white sweater with denim overalls and white kicks: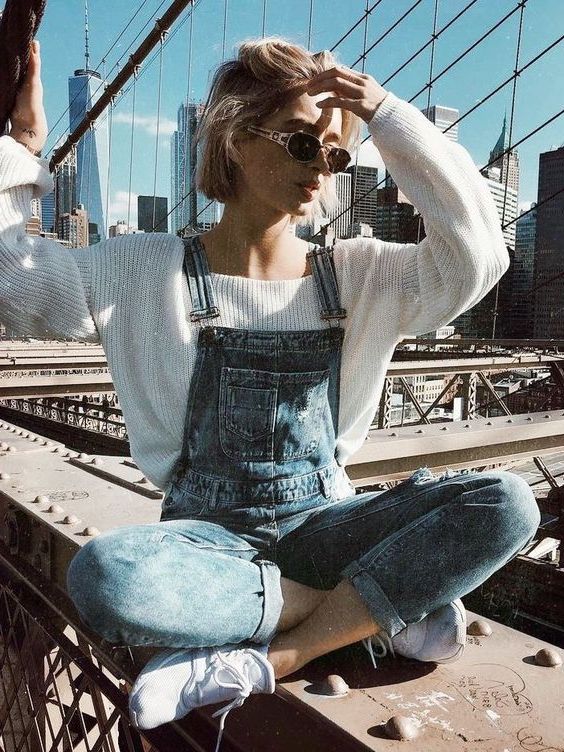 Speaking of the season and the event which is going to take place, then I would recommend various additions, like a stylish denim jacket, a light blouse underneath, a sweet-looking shirt, a tank top, a t-shirt, or a lightweight sweater. Complete such look with a wide-brimmed hat, cap, massive bracelets or beads. Anyway, scroll down to see other great inspiring ideas to implement in your future wardrobe.
Off-shoulder white peasant top and blue denim overalls with black Birkenstocks: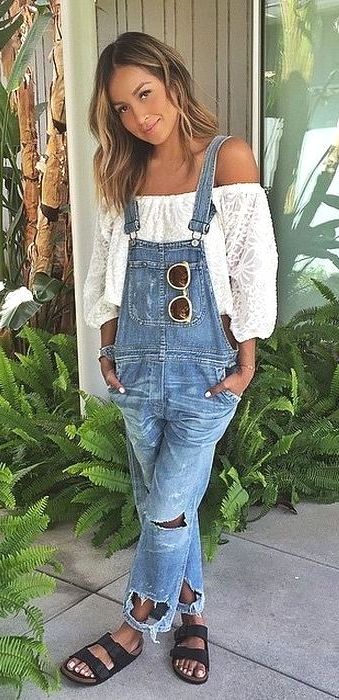 Grey cardigan with ripped BF overalls and grey suede ankle boots: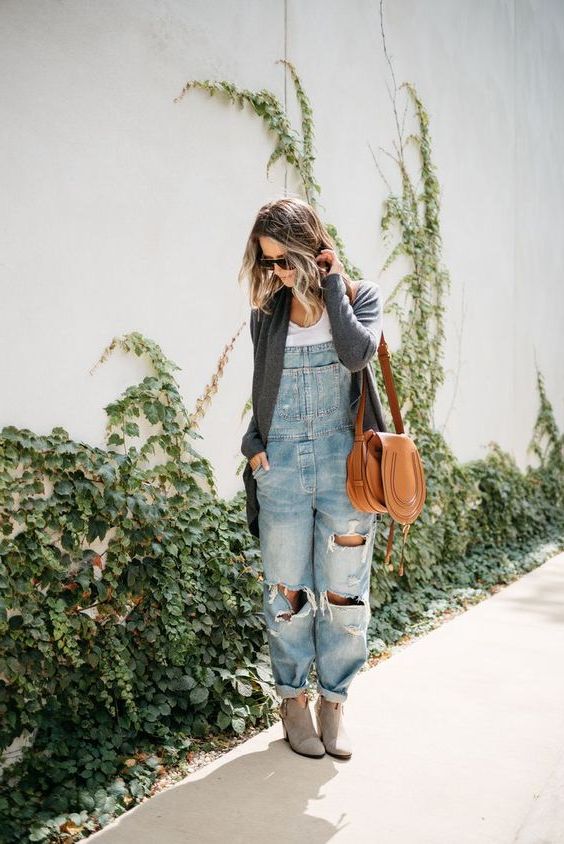 Long cardigan with slim denim overalls, brown leather ankle boots and a beanie:
A black-white striped tee with denim overalls and white trainers: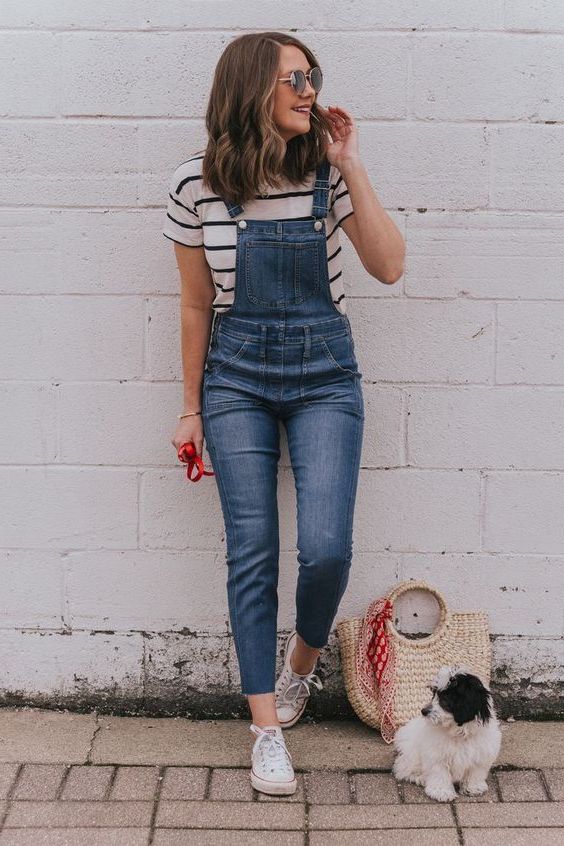 Mustard cable-knit sweater with wash denim overalls and brown leather boots: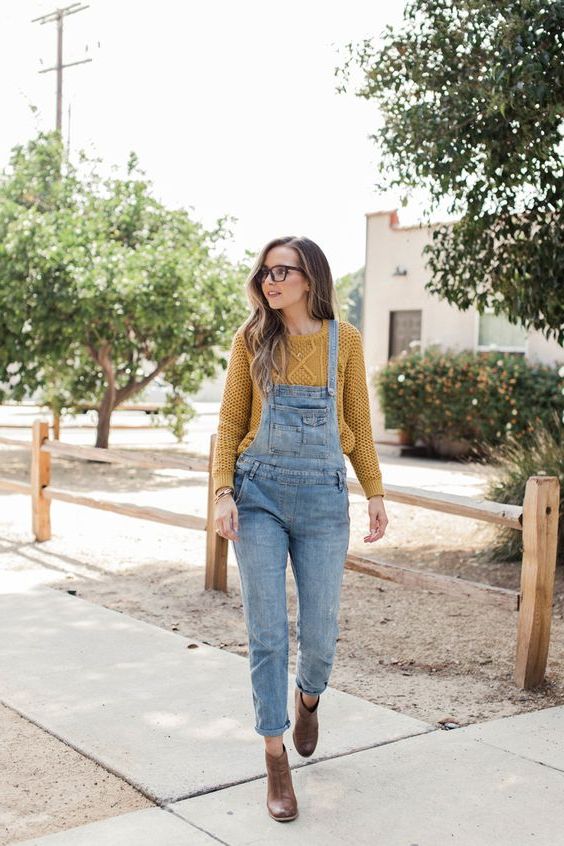 Flared denim overalls with white long-sleeve top and wide-brim hat: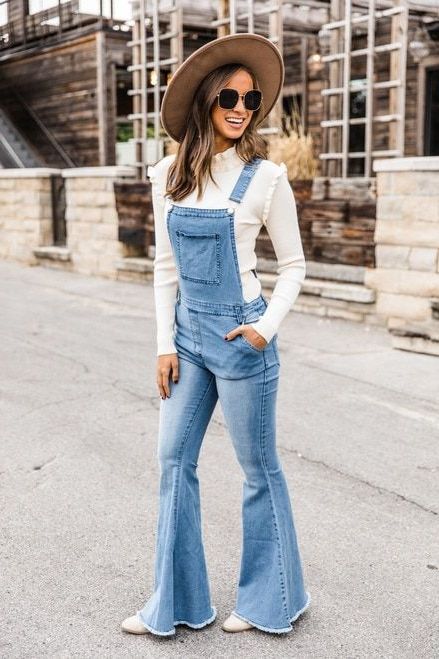 Denim overalls are easy to wear—they're like jeans in that way, but a little trickier to style. Pair 'em with the wrong shirt or shoes and you end up feeling like the 11-year-old version of yourself. But overalls are always on-trend, and if you want to wear your very first pair of (adult) overalls, don't let that small obstacle stand in your way. Here are shown different street style denim overall outfits and how to actually wear the one-piece, whether you're in spring, summer, fall, or something in between. The major takeaway? There's an art to layering when it comes to denim overalls, whether that's choosing between a plain tee or peasant blouse, a pair of sandals, or a pair of heels.
Source: MarieClaire