If you are in search of some brilliant tweed jacket outfit ideas, then I am here to bring you my favorite 19 looks to try now. I've got something special for you tonight. I want to share with you my favorite looks that are here to stay. This is a trendy garment that can be worn in different ways.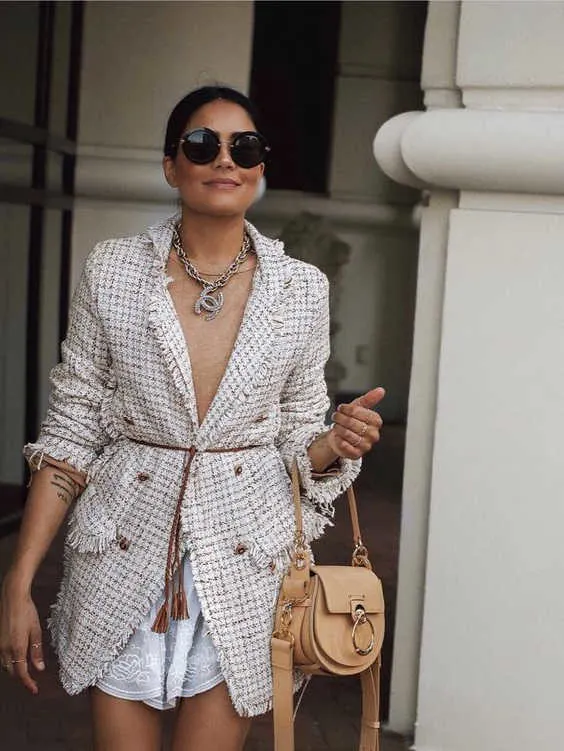 Buy Similar Here
A white tweed jacket ideally matches that beige sweater teamed with white lace shorts. Complete the look by adding a skinny leather belt in brown embellished with tassels. Update this look with rounded oversized sunglasses, chain necklace, and a cream-beige miniature handbag.
Tweed Jacket Outfit Ideas
Tweed is a great transitional fabric; it's perfect for those on the go. It can be worn with jeans or a simple dress, and in more formal settings too. If you're an outdoorsy person, you'll love tweed jackets, as they look like a warm, comfy blanket. Think: cosy! Tweeds also work well with a range of accessories like hats and bags so try combining them with your favorite items you can find at home.
Tweed jackets are also the perfect alternative to faux fur coats in a cold climate. They work well with any outfit from jeans to dresses and skirts. To finish off your look, consider adding a beret or a classic beaine. Like our earlier outfit idea, you can wear a tweed over something smart such as jeans or trousers. This gives the whole look a cosy feel. The longer your jacket sleeves, the less formal you'll look.
Outfit ideas with tweed jackets for women are trending. Before we move on, I have a question for you, what is a tweed jacket? Tweed is a type of cloth that couples woolen fabrics with worsted, and the word derives from 'tweezed', meaning twisted. Tweeds were originally used for shooting on grouse moors, and it was an invention of the 19th century – first seen in 1826. Tweeds are now exclusive to men's suits but how do you wear one? Women have found ways around this. In this blog, we give you outfit ideas for wearing tweed jackets for women.
You can create so many interesting looks, starting with office-friendly outfits to smart-casual basics. This is a good choice for cold days, as it's made of heavy fabrics that will keep you warm. Anyway, read on to see all my favorite street style looks that feature tweed jacket.
With Belt
A classic tweed jacket with a belt looks classy and somewhat retro-inspired. Team it with white knee-ripped skinny jeans and black leather knee boots. Update this combo with retro sunglasses and a lieutenant's cap: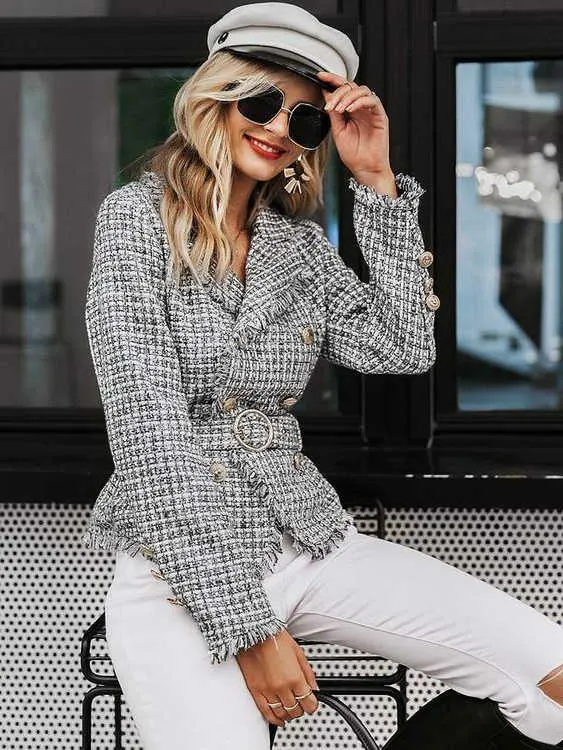 Buy Similar Here
You should choose plain and neutral color separates, so you can make tweed jacket stand out from the rest of your outfit. Personally, I love to see ladies who appear in double-denim looks completed with this trendy outerwear piece.
With Leather Pants
A total black look for sophisticated ladies. We see a black tweed jacket with a black top tucked in black leather skinny pants completed with black leather ankle boots. If you want to know other cool ideas on how to style leather pants, check out my post where I share some of the best ideas to follow this year: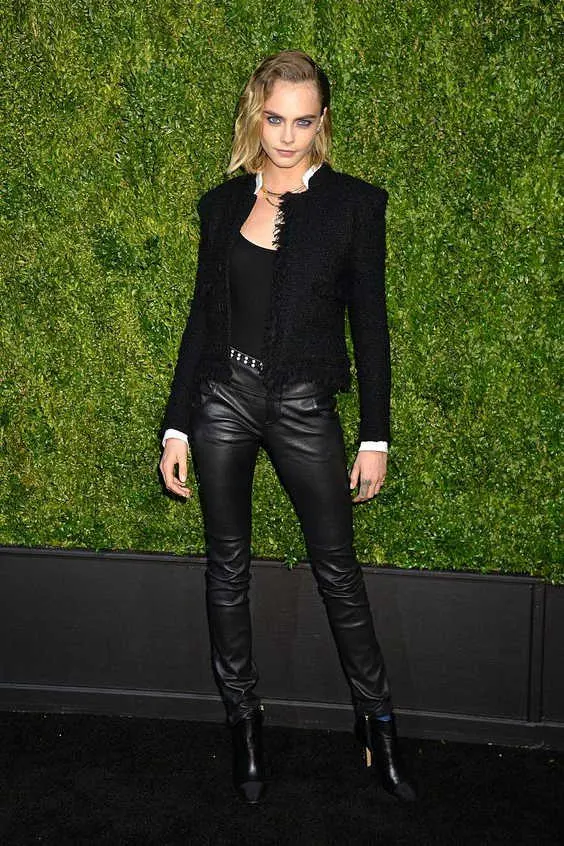 Buy Similar Here
I recommend avoiding wearing patterned and brightly colored pants, otherwise, your jacket gonna look washed out. Below, are presented my favorite outfit ideas completed with tweed jackets. Hope this street style compilation will inspire you. Let me know your thoughts in the comments below.
With Shirtdress
A plaid double-breasted tweed jacket will be a nice match for this white shirtdress. Complete it with patterned tights, white knee-boots and a red beret hat:
With Shorts
A kind of preppy touch is felt in this combo. We see a dark blue tweed jacket with a white tee and black shorts completed with white sneakers:
With Side Slit Pants
We see a classy tweed jacket worn with a black camisole tucked in black pants with side slits. Update this combo by adding rounded sunglasses and low heel clear sandals:
With Casual Essentials
Some like it casual. We see a tweed collarless jacket in short length styled with a striped white top tucked in blue ripped jeans, a simple combination for everyday errands:
With Skirt Set
If you do like classics, go for this tweed skirt-suit. It consists of a classic plaid tweed blazer paired with a white top tucked in tweed plaid mini skirt. Complete this look by adding stylish shades, white pumps and a lieutenant hat: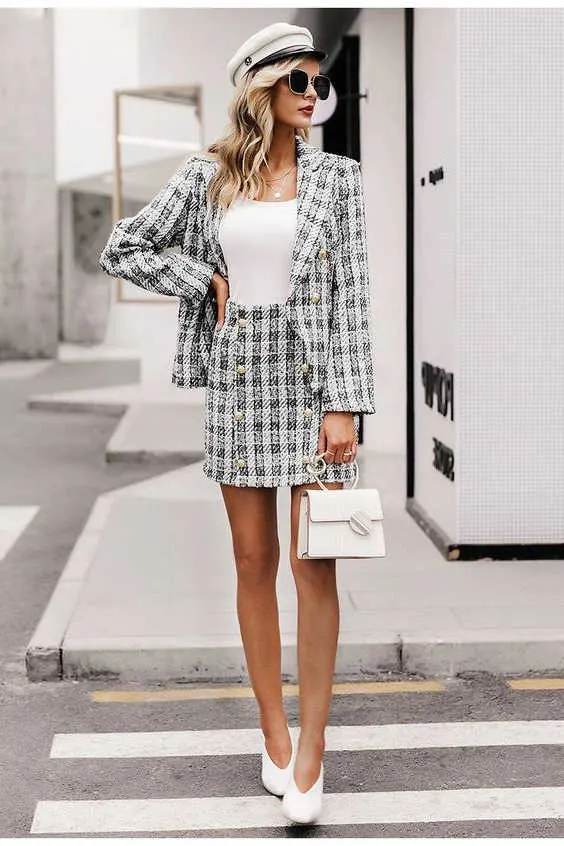 Buy Similar Here
Another matchy-match coord. We see a collarless tweed blazer paired with a white top tucked in tweed mini skirt completed with black leather ankle boots: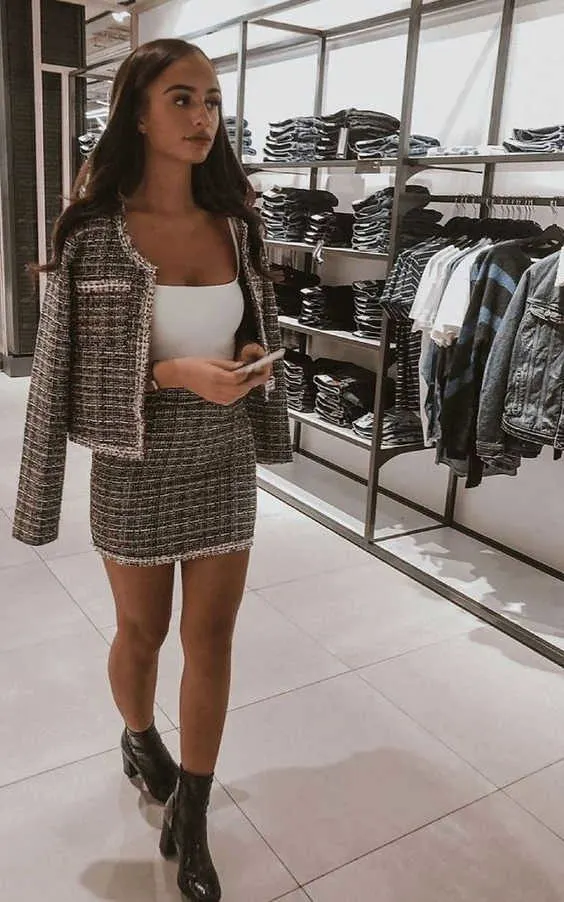 Buy Similar Here
A maroon tweed skirtsuit with a mini skirt is styled with a dark maroon turtleneck and slouchy suede boots in grey color: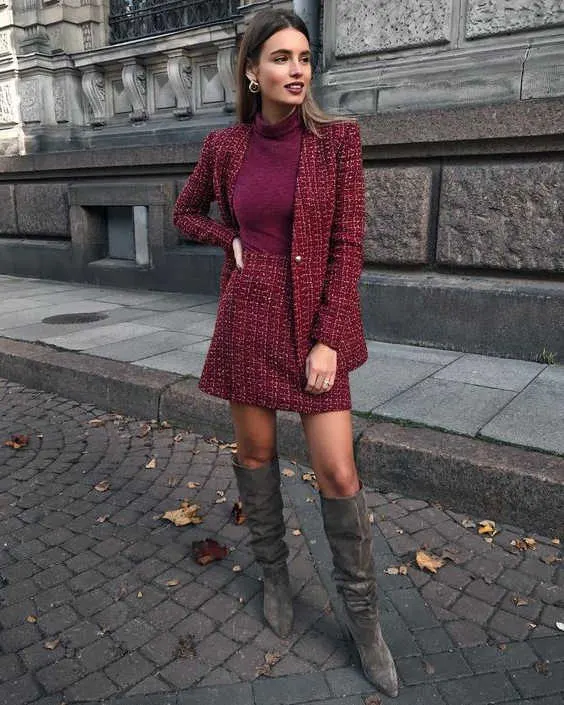 Buy Similar Here
We see a tweed skirtsuit styled with a black top. Update this 1990s style combo with cat-eye sunglasses, speaking of shades, I recommend checking out my post on women's sunglasses trends for summer, there are many great ideas for you to try this year: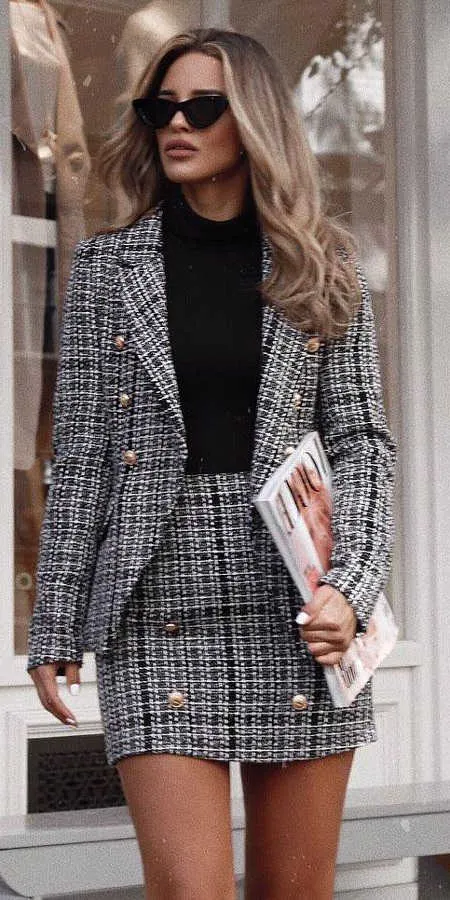 Buy Similar Here
With Fur Collar
A perfect choice for Fall season months. We see a tweed jacket with a fur collar worn with a cream sweater and grey pants: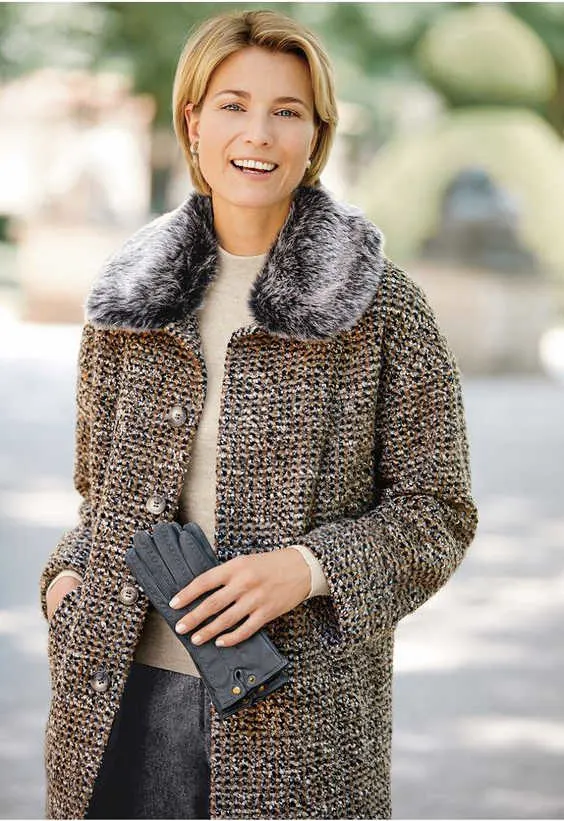 Buy Similar Here
With Leather Sleeves
A collarless dark grey tweed jacket with black leather sleeves will be a nice outerwear piece to style with a white top and blue jeans: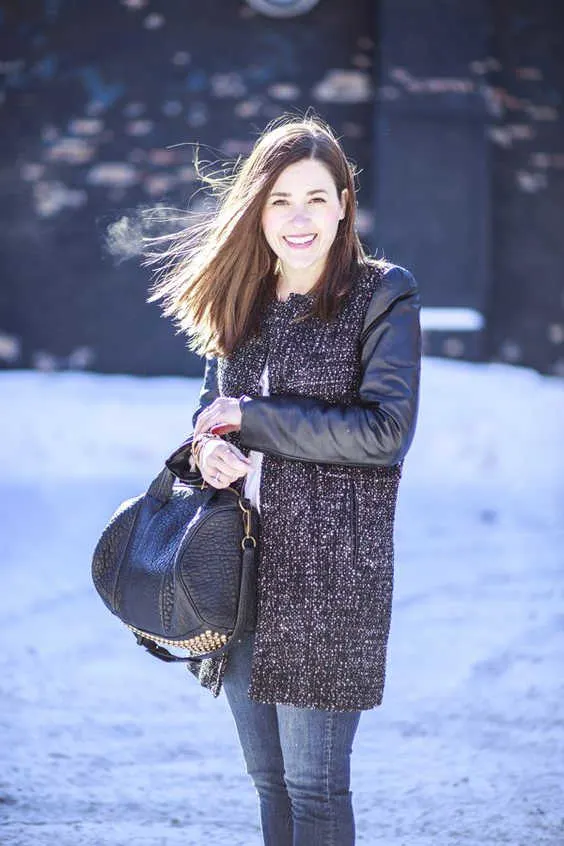 Buy Similar Here
With LBD
Another easy to try outfit idea. We see a tweed blazer paired with LBD and black tights. Update this look by adding black leather block heel ankle boots and oversized sunglasses: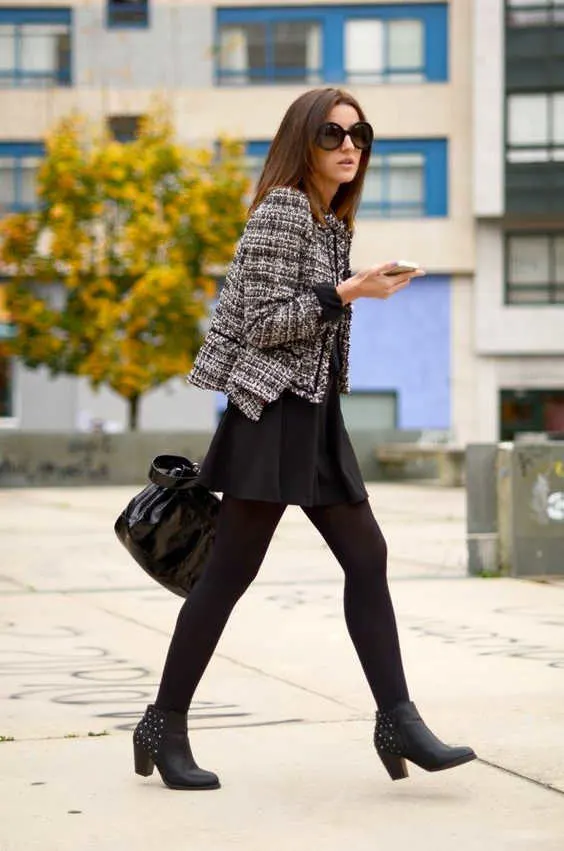 Buy Similar Here
Tweed Jacket With Elbow Patches
A grey tweed jacket with elbow patches can be styled in many ways. How about wearing it with a grey cable-knit sweater and dark blue skinny jeans. Complete this outfit by adding aviator shades, grey scarf, and grey sneakers: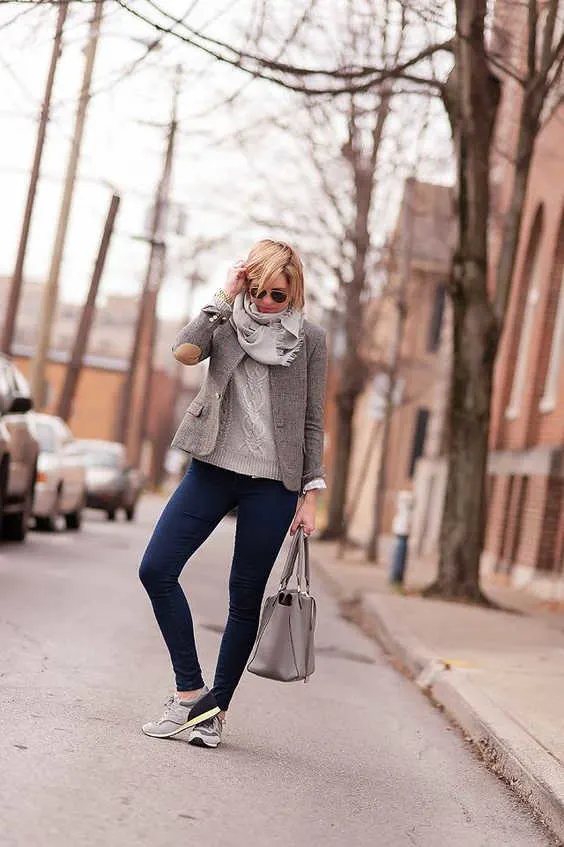 Buy Similar Here
In Pink
We see a double-breasted tweed jacket in pink color worn as a dress. Update it with a quilted pink clutch bag and Wayfarer sunglasses:
A pink collarless tweed jacket is draped over a blue dress shirt. Add dark blue skinny jeans and beige flat ballet pumps to make this combo look smart-casual. Love the white mirrored sunglasses: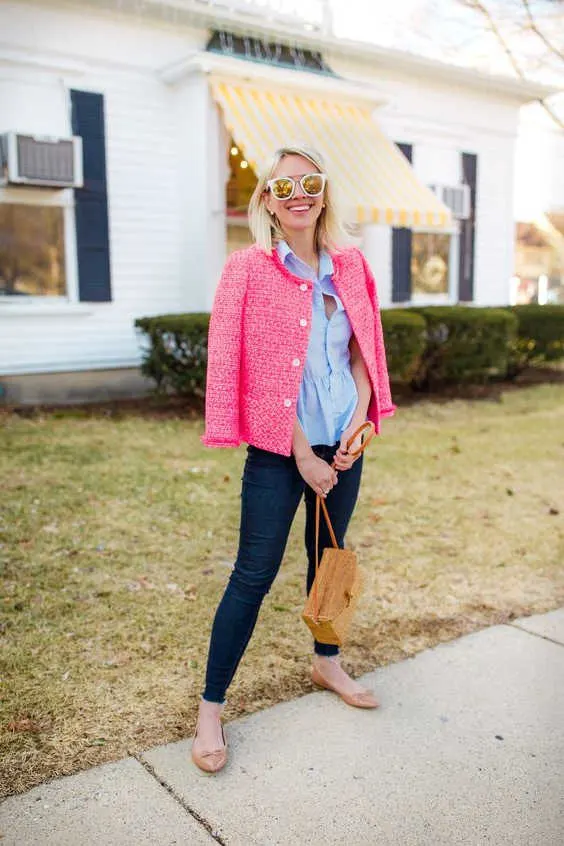 Buy Similar Here
In Red
A red tweed jacket will be a nice addition to this casual combination consisting of a white T-shirt tucked in striped blue regular jeans completed with pointed-toe white pumps: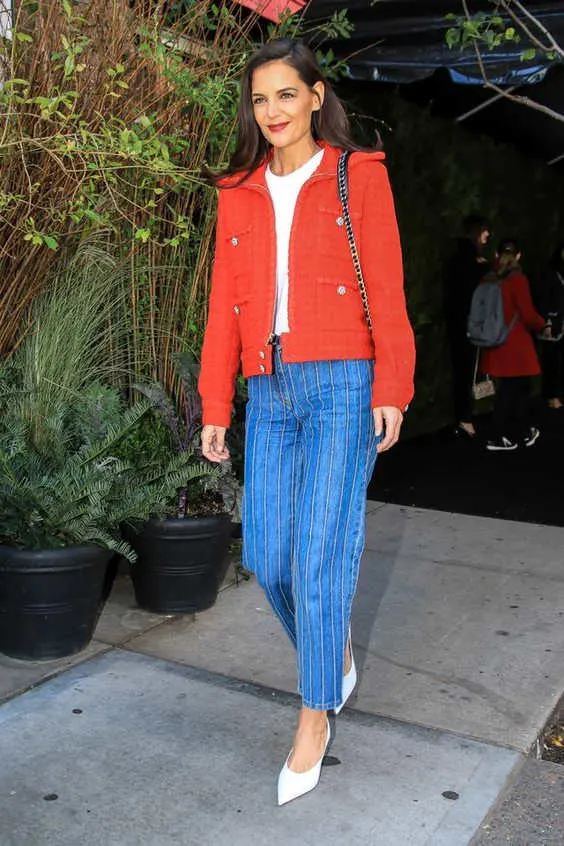 Buy Similar Here
In Yellow
Go for a yellow tweed jacket and team it with a white sweater and black-white gingham print slim ankle pants completed with black heeled pumps: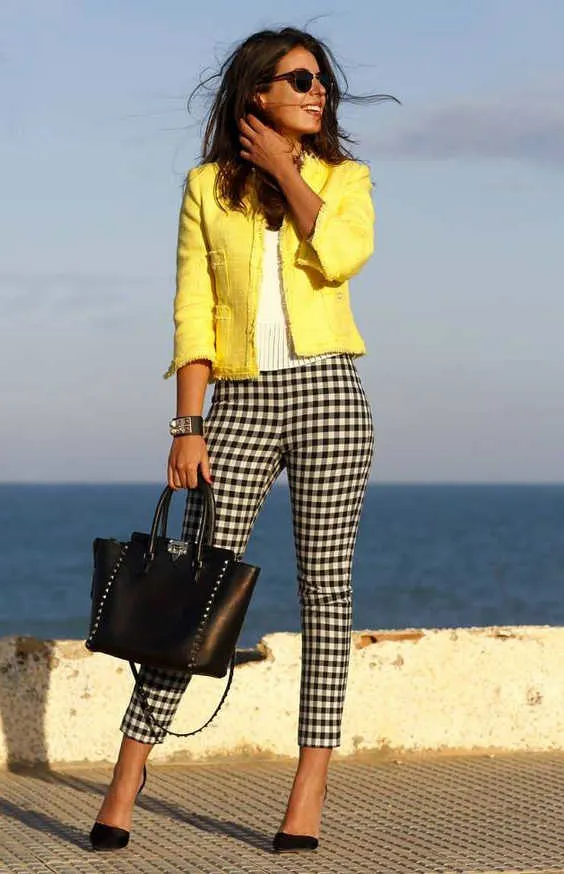 Buy Similar Here
Added to a casual outfit, tweed jacket can instantly smarten your look, but you could also layer it on top of a shirt and trousers combination for a twist on regular office dress. Hope this guide, has taken you through cool ways how to style your tweed jacket.
Source: HighLatitudeStyle , Rydale