If you will open the accounts of modern fashion bloggers, you will find there a clear confirmation that the Tomboy style is in trend right now. In today's blog post we are about to tell you what it is and how to follow this style this year.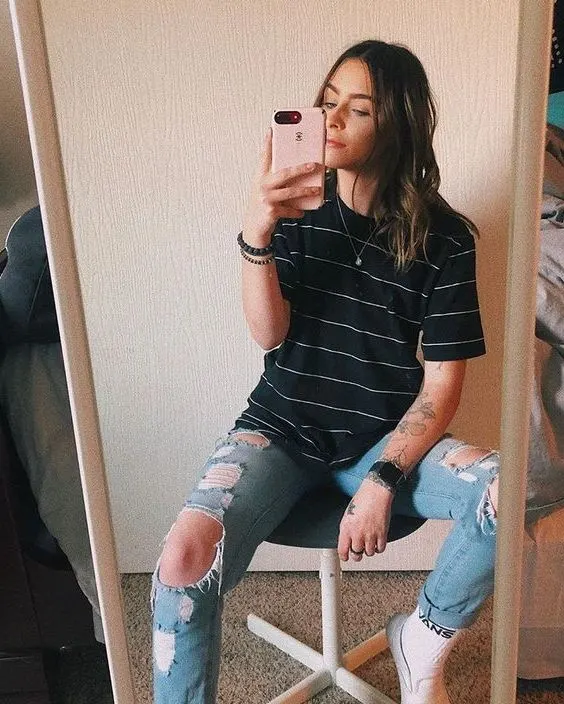 Buy Similar Here
Tomboy is the term used to identify men's style that has been adopted by women. It should be noted that wearing such clothes is not in any way imitating the men, because these are very graceful outfits.
The tomboy trend appeared back in 2012 and it was a kind of a miracle for the ladies who wished to do something new with their looks. This trend has everything a girl needs – comfort, style and good mood. What else can be better!
Tomboy style is characterized with casual and relaxed clothes that feature different combinations of colors, prints, shapes, styles and patterns to make them more interesting for the customer.
This trend allows for great creativity when designing outfits because each individual person has her own style and tastes. However, if you desire more freedom and originality when selecting outfits, you may prefer to go for the tomboy outfit designs. By following some simple rules and modest guidelines, girls will be able to make their outfits more attractive.
What does tomboy mean?
Tomboy is not just a style of clothing, but it is about a comfortable feeling for a modern woman.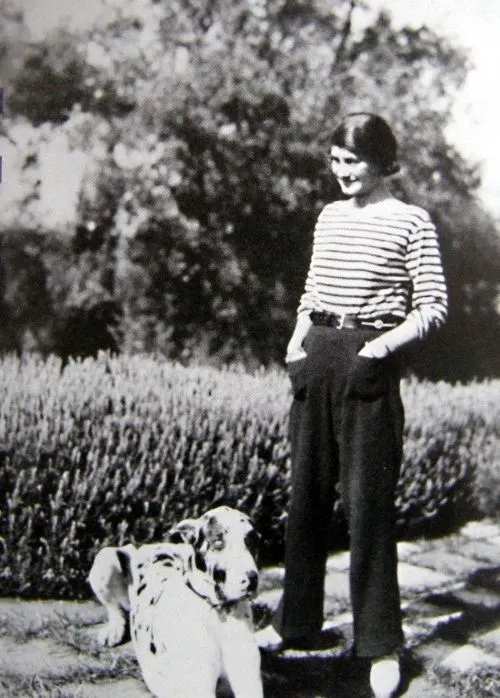 Buy Similar Here
We see Coco Chanel wearing a striped top along with stylish pants.
Below, you will see an example of a tomboy style and outfit that is suitable for many kinds of seasons. The outfit consists of a pair of distressed denim shorts with a sexy lace up top. This tomboy chic look is very simple yet stylish, which makes it very easy to apply this style no matter how busy your schedule is. The shorts and the top can be combined with different kind of shoes, depending on the purpose of using such outfit. The outfit can look very stylish when worn with some kind of boots, making it perfect for colder days.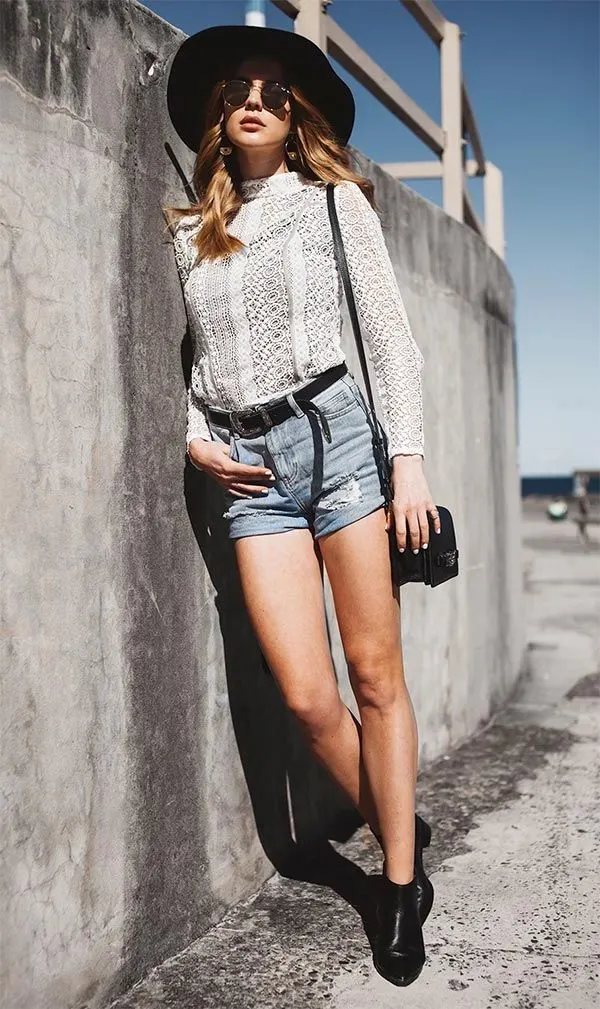 Buy Similar Here
The second tomboy outfit is more serious and strict. It is suitable for business meetings and important conferences because of its simple style. The outfit includes a black blazer, paired with a high waist pencil skirt in black color. White blouse adds a touch of sophistication to the entire look, making it perfect for formal events. But no matter what kind of tomboy outfit you pick, you must always remember that this trend is very flexible and free-style so feel free to express your own creativity!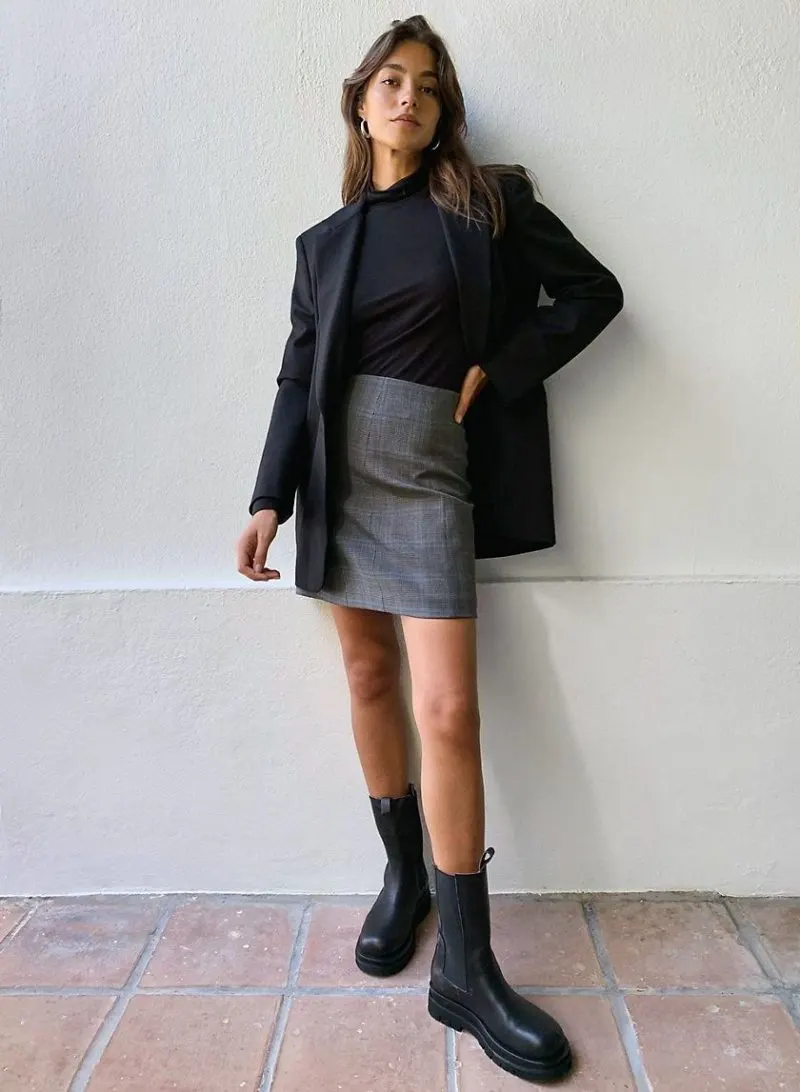 Buy Similar Here
Below, you will see another example of how to wear tomboy outfits for ladies who do not desire more freedom since they like simplicity in their looks. The entire outfit consists of only one piece – gorgeous lace dress. This black dress is combined with a leather jacket and cool brogues. All in black! Love it! You can see that the outfit is very simple but elegant, so you don't have to be afraid of looking silly in front of others.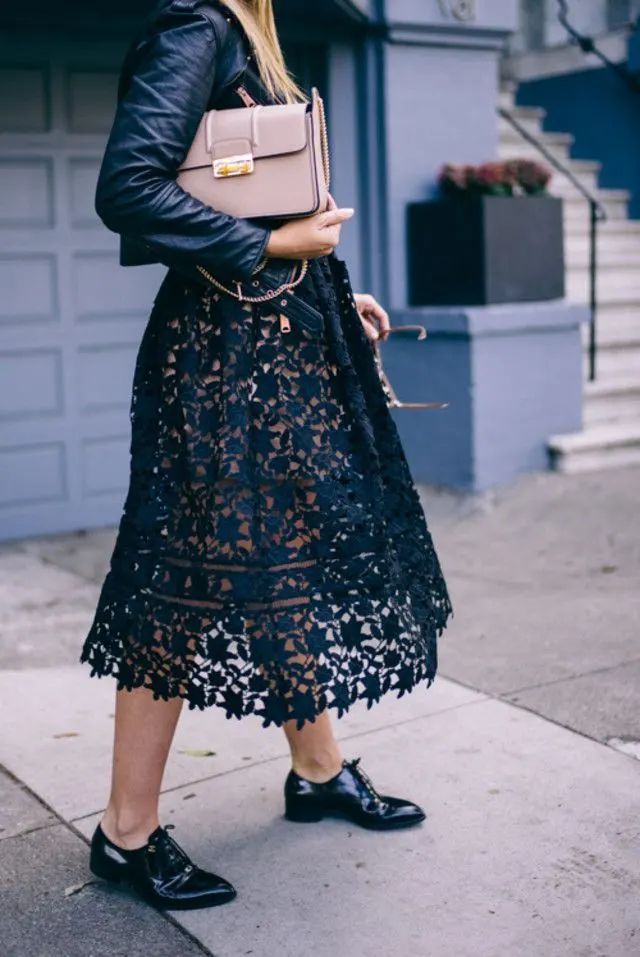 Buy Similar Here
Another outfit includes a pair of black classic pants and a white shirt. The platform shoes also bring in some contrasting details to the whole look.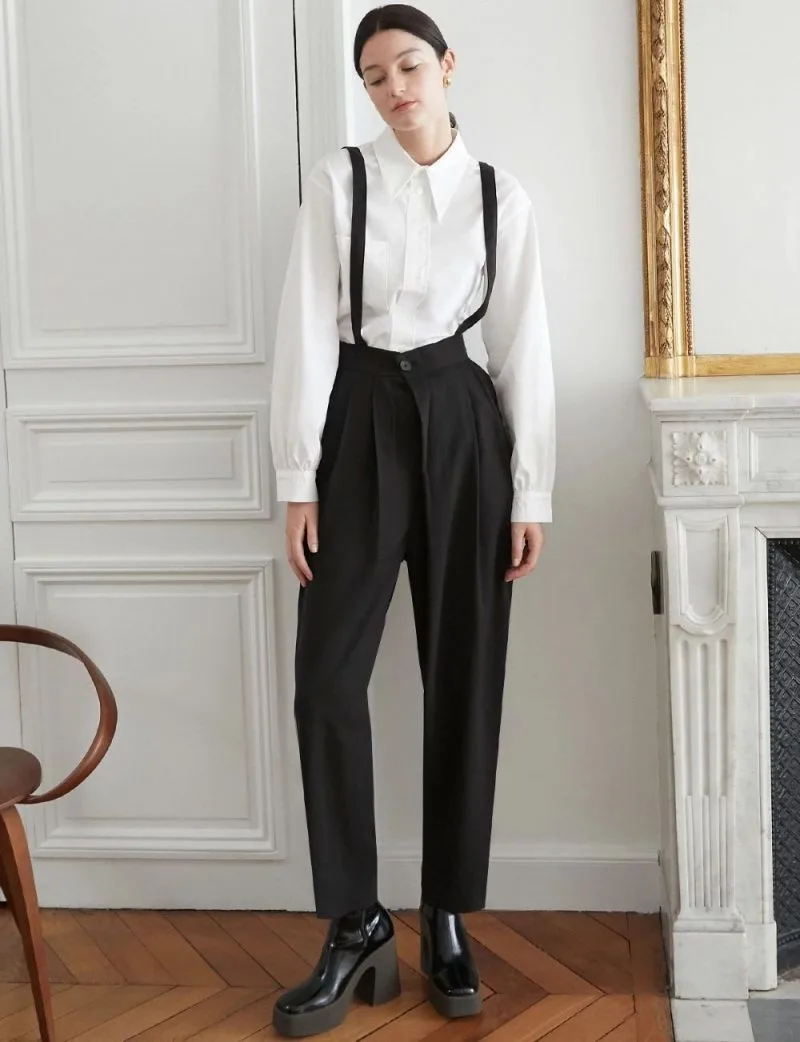 Buy Similar Here
Women started wearing men's clothing in the XX century. Big respect can be addressed, of course, to Coco Chanel, who integrated a men's vest and pants into her wardrobe, and now we can't imagine our life without these things. The actual style of Tomboy is a competent balance of things from the male closet and feminine essentials with some sexual details.
Another oversized black-white striped top is paired with knee-ripped black jeans and classic black Vans, complete this monochrome style by adding a black beanie: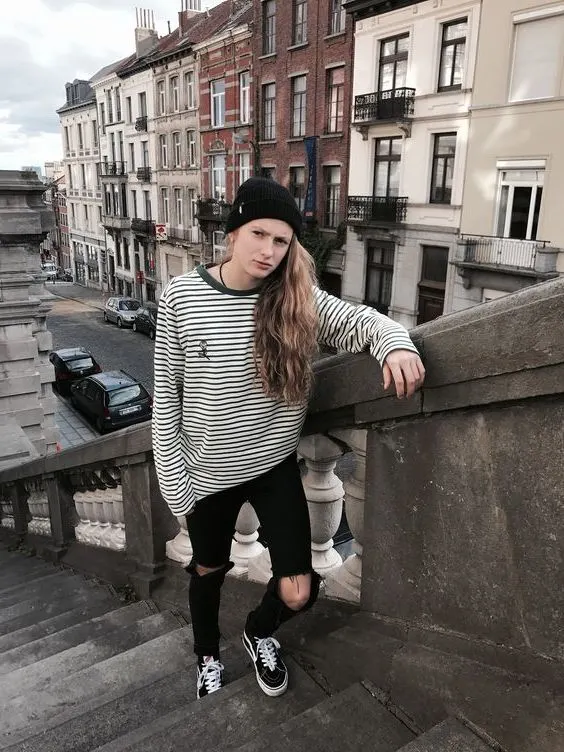 Buy Similar Here
Women who promote freedom of choice in clothing and who are passionate about men's apparel have always been in the center of attention. In the 1920s in America, for example, one of the most ardent supporters of the Tomboy style was Clara Bow, whose famous statement about the fact that family and children are not the only occupations for a woman, is still quoted. In France and Britain, girls cut their hair like boys and wore men's suits.
A plaid blazer ideally suits that white shirt tucked in patched jeans completed with black loafers: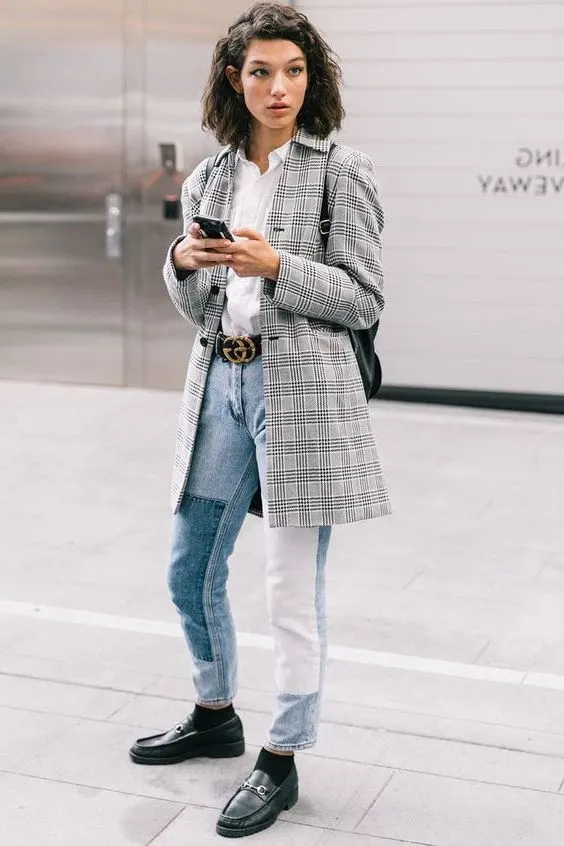 Buy Similar Here
During the Second world war, women had to learn some types of men's work: there were pilot women, welders, builders. That's why they got used to working in men's uniforms. The ability for women to wear pants has become not only one of the victories over social inequality but also a symbol of economic independence.
Plaid pants look awesome with that oversized navy pullover and black Dr. Martens: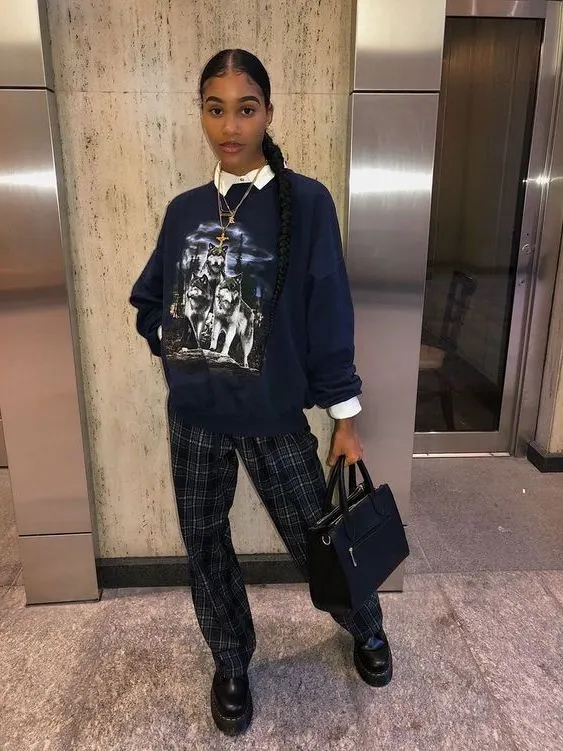 Buy Similar Here
In the Wake of the popularity of the feminist movement, the Tomboy style becomes even more relevant. The difference between men's and women's wardrobes is gradually erased: girls often go shopping in the men's department in search of their favorite oversized or boyfriend style clothes. Even designers stop dividing lines by gender.
The today's ambassadors of Tomboy style can be considered Cara Delevingne, Keira Knightley, Gigi, and Bella Hadid, as well as many other fashion influencers and Instagram celebs.
A multi-striped shirt can be tucked in black joggers completed with white kicks: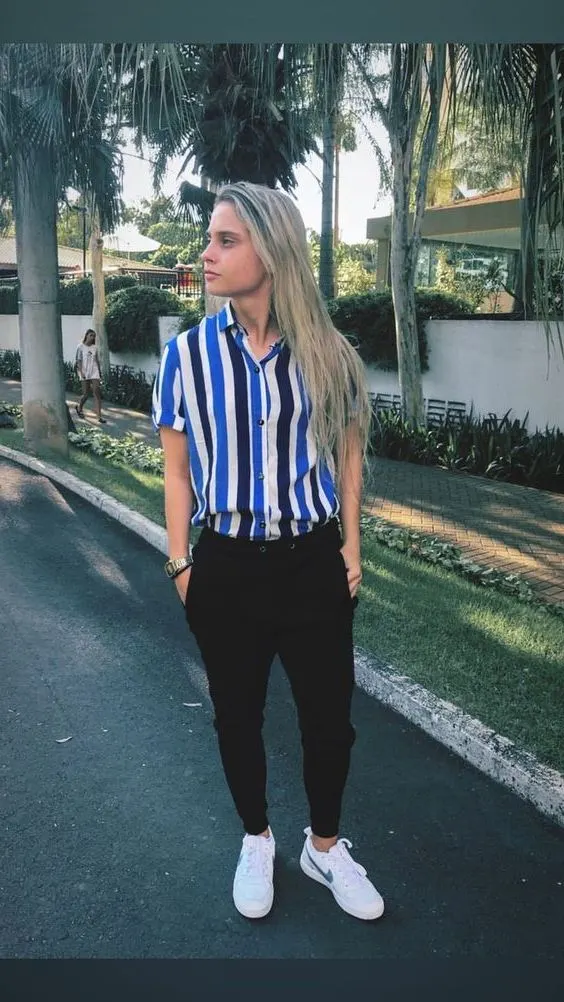 Buy Similar Here
How to wear tomboy clothes?
The main thing to remember is that your Tomboy look has to feature both feminine and masculine elements. When choosing boyfriend jeans or cargo pants make sure to compliment them with a feminine crop top, either a lovely blouse with cute ruffles or open shoulders. I am surely everyone can find here amazing tomboy aesthetic outfits that are easy to wear in real life.
An oversized t-shirt can be easily teamed with cute denim shorts. An oversized jacket will be a perfect choice to team with a sports bra and cycling shorts. Don't be afraid to mix up several trends at once. The rise of the feminist movement has given the perfect platform to express women's true style.
Sporty sweatshirt and ripped boyfriend jeans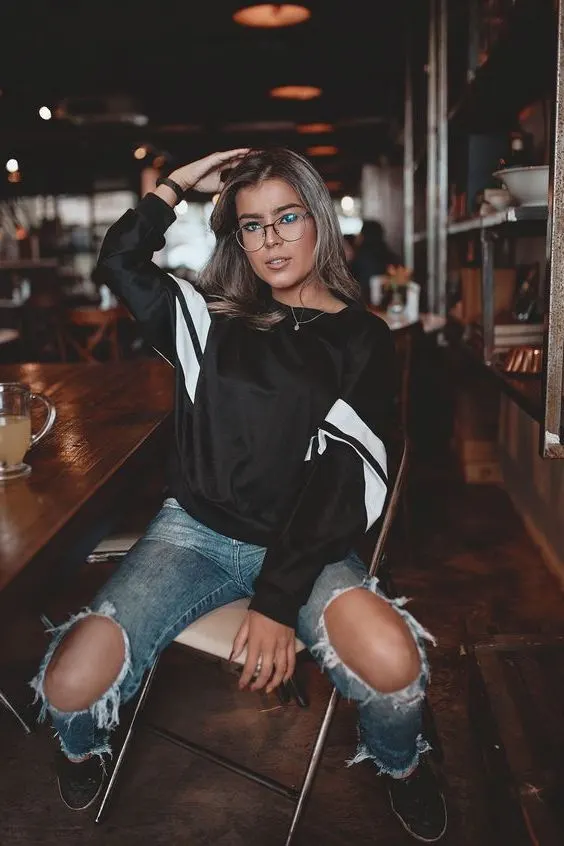 Buy Similar Here
A button-down shirt and chinos shorts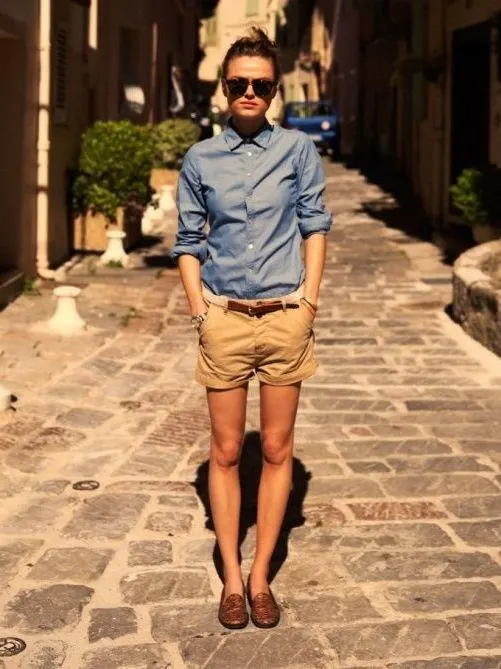 Buy Similar Here
All black outfit with a shirt and skinny jeans
An all-black outfit is a cool way to underline your individuality. We see a black shirt tucked in black skinny jeans, a simple, yet trendy appearance. If you want to see more looks on how to style black this Summer, check out my post, where I show simple ways how to make black your favorite color for hot summer days: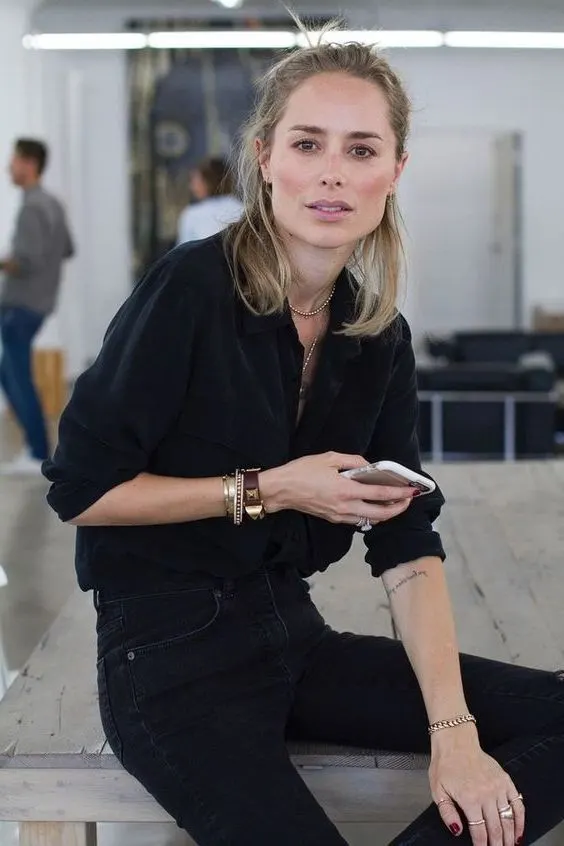 Buy Similar Here
A black T-shirt and camouflage pants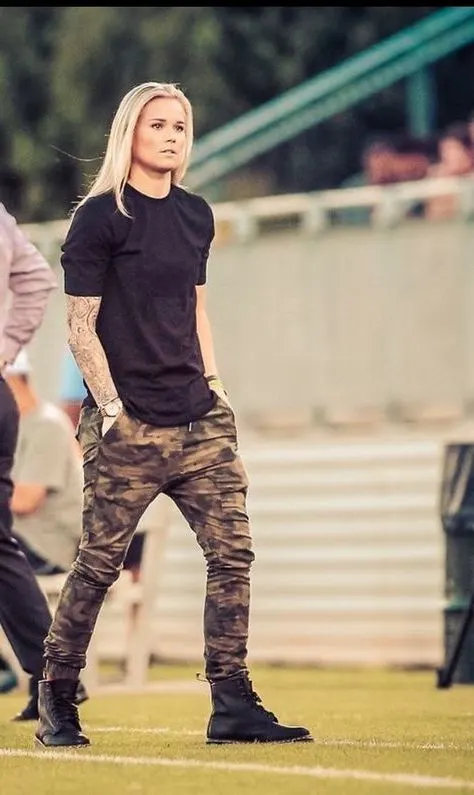 Buy Similar Here
Black bomber with ripped jeans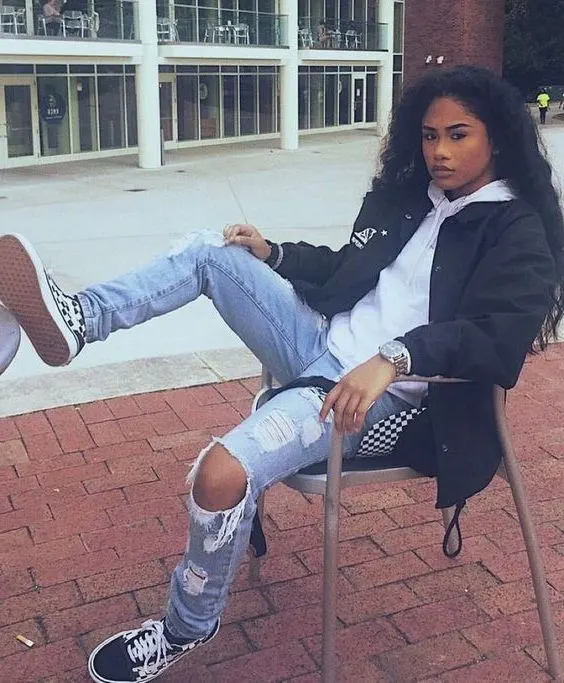 Buy Similar Here
Black coat with mom jeans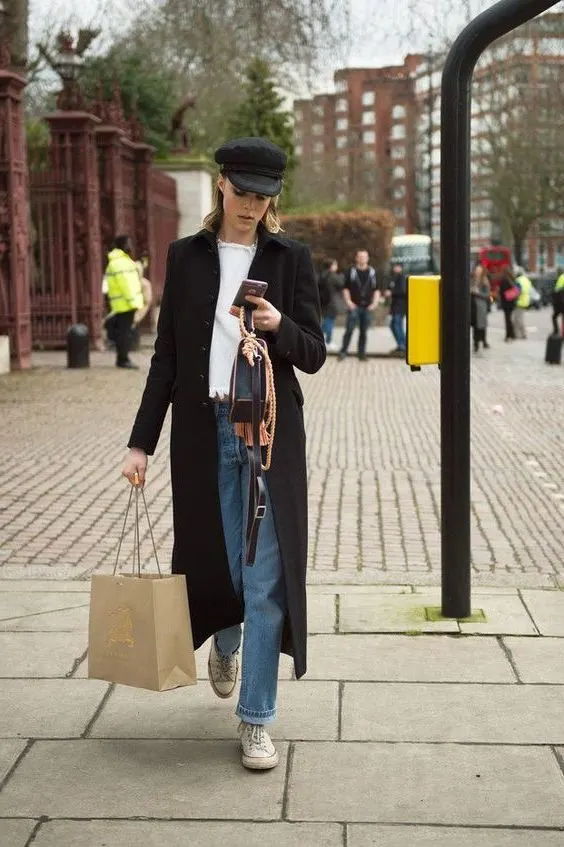 Buy Similar Here
Green bomber with knee ripped jeans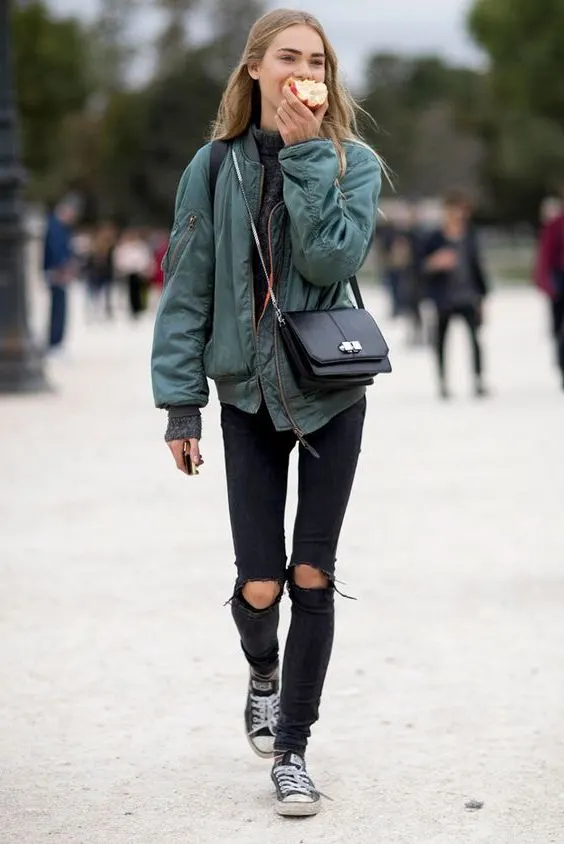 Buy Similar Here
Grey suit and white flats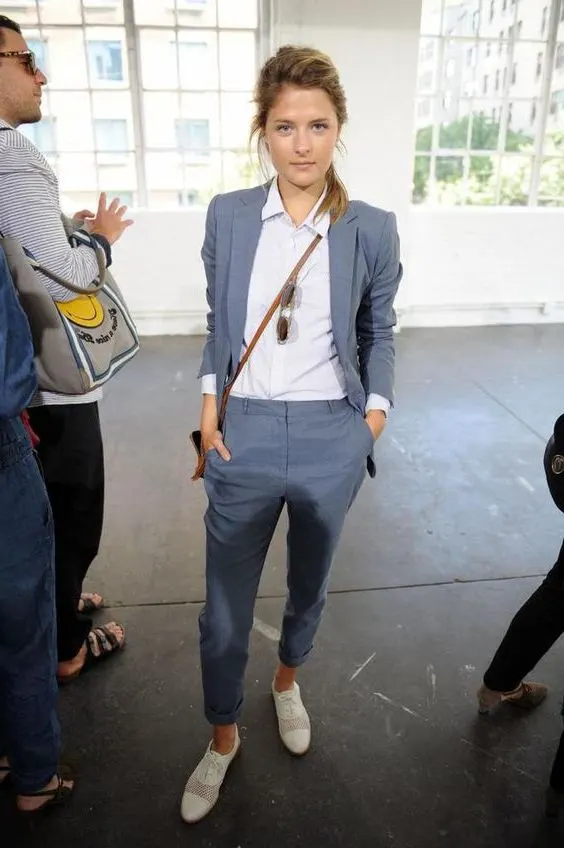 Buy Similar Here
Black tee and skinny denim
Buy Similar Here
Black biker jacket and bicycle shorts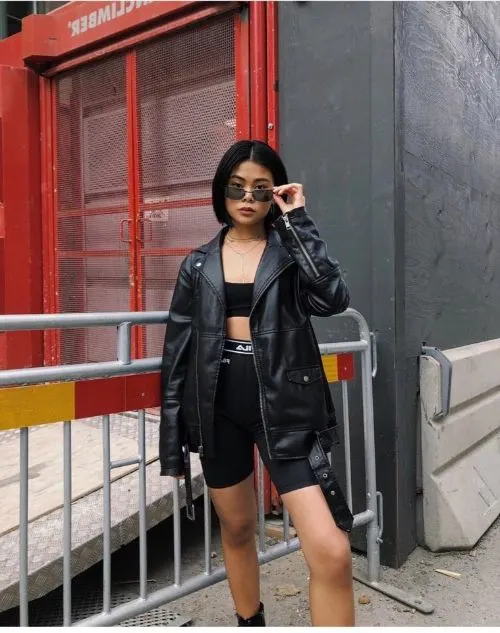 Buy Similar Here
Varsity jacket and plaid shirt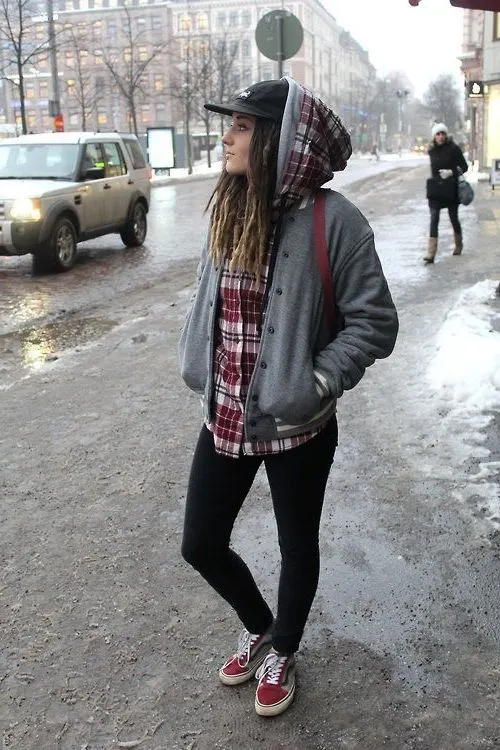 Buy Similar Here
Grey outfit with grey coat and tailored pants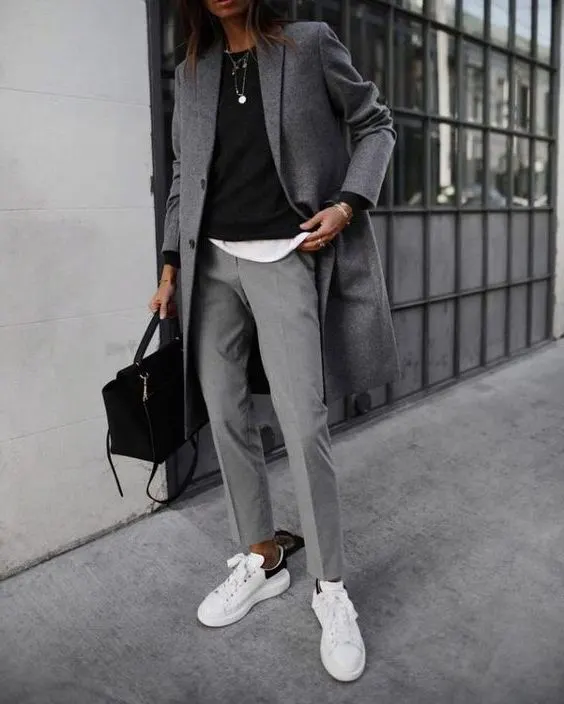 Buy Similar Here
Camel coat with black tailored pants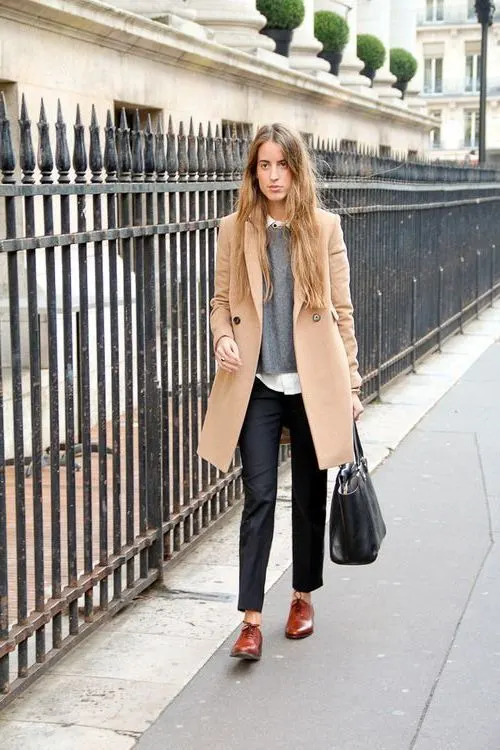 Buy Similar Here
Khaki blazer with skinny pants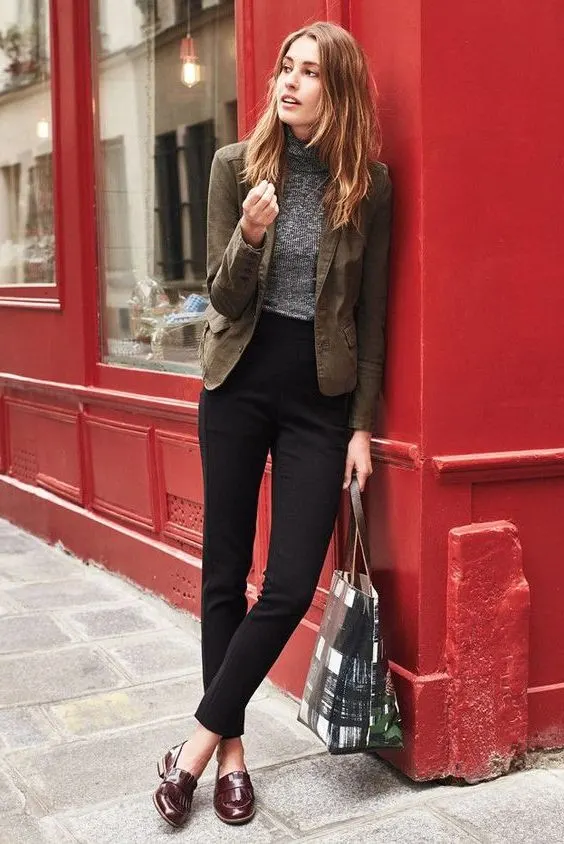 Buy Similar Here
Oversized tee dress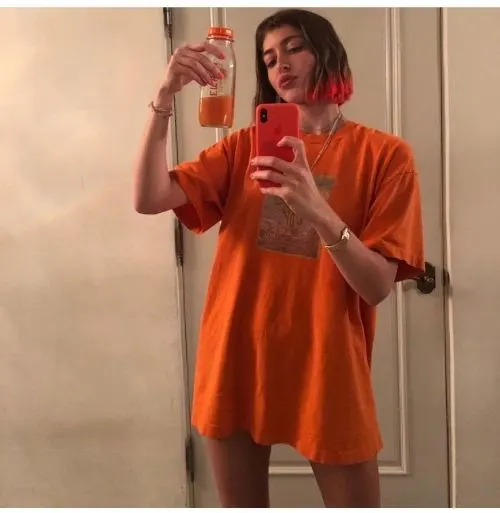 Buy Similar Here
Polo shirt and slim jeans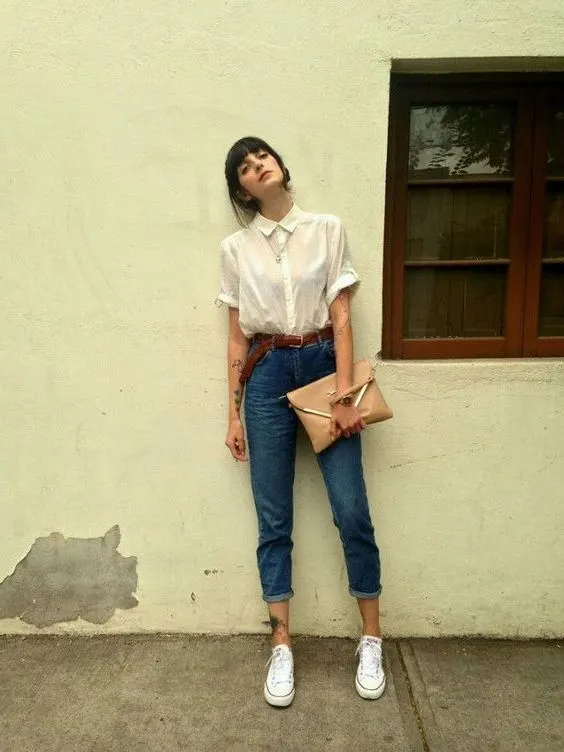 Buy Similar Here
Boxy jackets and laceless combat boots tomboy style clothing will suit cooler days, while you can switch from day to night by swapping a blazer for a tailored jacket and pumps. That's also the witching hour to add stilettos to sportswear to avoid actually looking like a boy, unless you want to, of course. Further enhance your girly roots by offsetting potentially masculine lines with cute floral prints, jewellery, or brassy buttons. Get back to combat boots for a dream combo with leather shorts or denim cut-offs, or pair a sweatshirt and torn jeans with trainers. Roll your skinnies and work them with a button-down shirt in classic tomboy style. Conjure up just the right image with overalls and a white tee, but subvert the look with a faux-fur jacket. Throw a hoodie over slouchy trousers and sneakers, or top boyfriend jeans and a loose blouse with a fedora. Don't imagine that you can leave chic behind with the tomboy look, though. Adapt your own tomboy outfit with a bomber and a baseball cap, trucker hat or the ever-faithful beanie.
Source: JustTheDesign