Recently, the shirtdress has become incredibly popular. Today's topic is about ways how to style shirtdress in order to look at your best. You are going to see some of the coolest street style options and ways how to combine this garment in real life.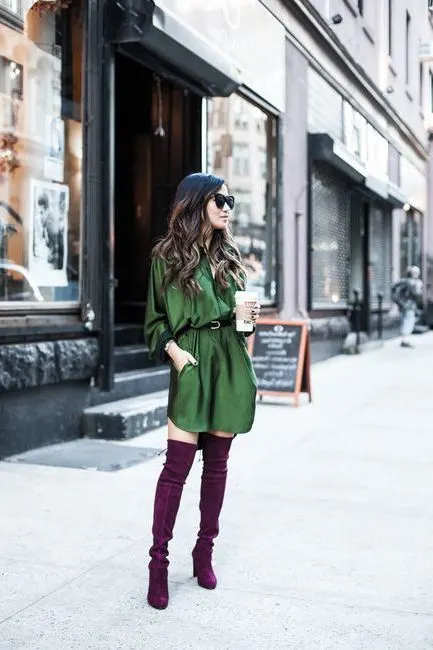 Buy Similar Here
First, let's figure out what a shirtdress is. This is a dress, which style is usually straight or comes with an A-line silhouette. The distinctive features of this dress are a collar and buttons along the bodice.
From a business meeting to a relaxing day in the park, shirt dress can be styled in so many different ways. If you happen to have an event that requires dressing up or maybe just want to look good and feel comfortable then these ideas are perfect for your needs.
One thing that many ladies don't realize is that shirtdresses can give off so much class, elegance and sophistication when worn correctly. We have a whole range of ideas on how to style your shirtdresses below. Let's get started:
The classic and flirty.
The color red adds a little glimmer to any outfit, whether it's traditional, casual or even work appropriate. The type of red that suits you the best is something that would be better suited for a formal evening event or for a day at the city. A red shirtdress is always going to look stunning. It can also easily transition from day to night with just a few simple changes.
Buy Similar Here
Sweater Over it
Layer your cute little sweater over your dress for those chilly days or nights. This way you'll still be able to show off that beautiful red color without freezing off your arms.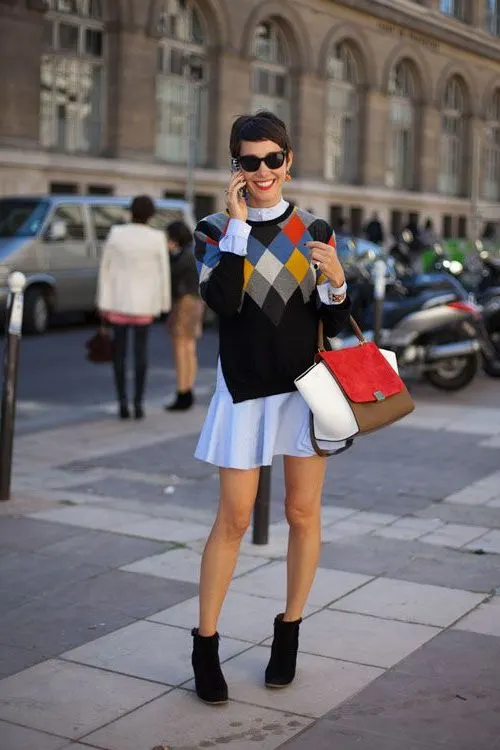 Buy Similar Here
Pair it with a skinny belt.
Belts can make or break your style, so be sure to pick the right one. Keep in mind that belts go well with colors that are mismatched to the main color of your shirtdress. If you want a bolder look then maybe wear a plain belt, but if you want something more subtle then try buckles with patterns and designs on them.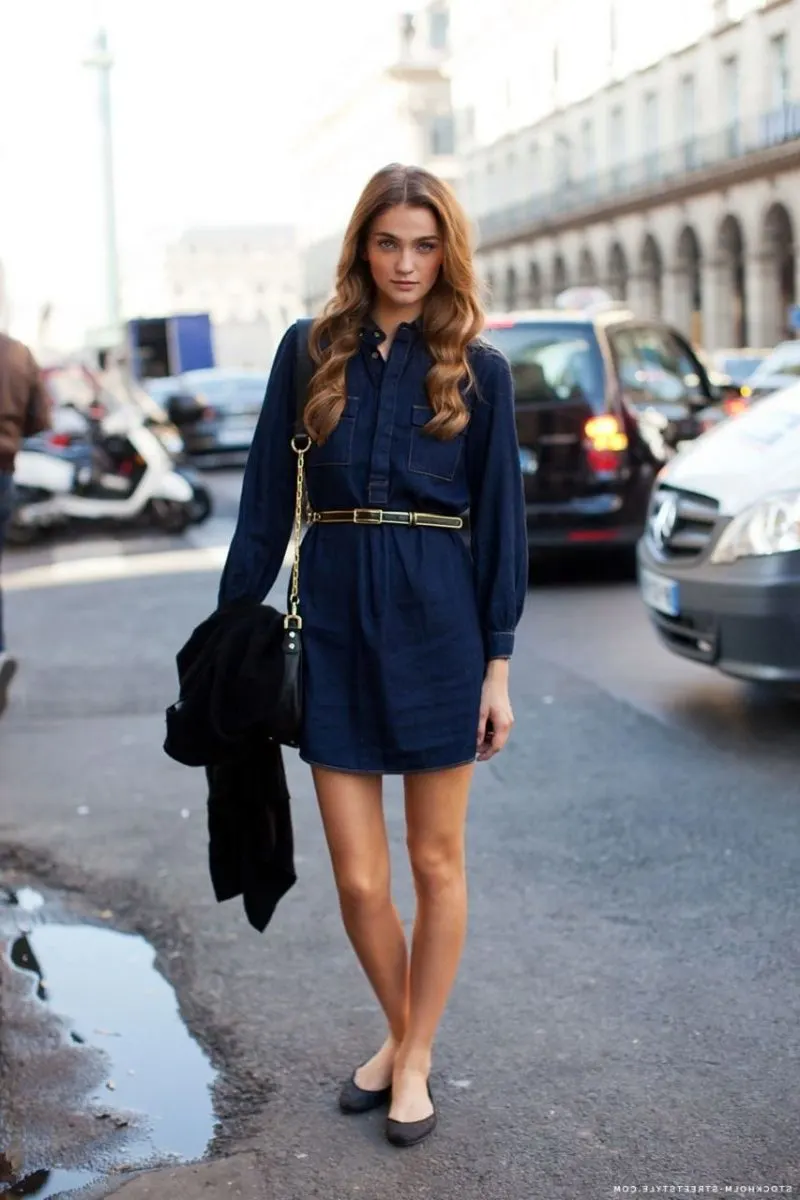 Buy Similar Here
Opt for a bold color.
Shirtdress can be in bold color. The best place to rock a bolder look is during the evening or day time. Go for a bolder and fun fabric by opting for a colorful shirtdress.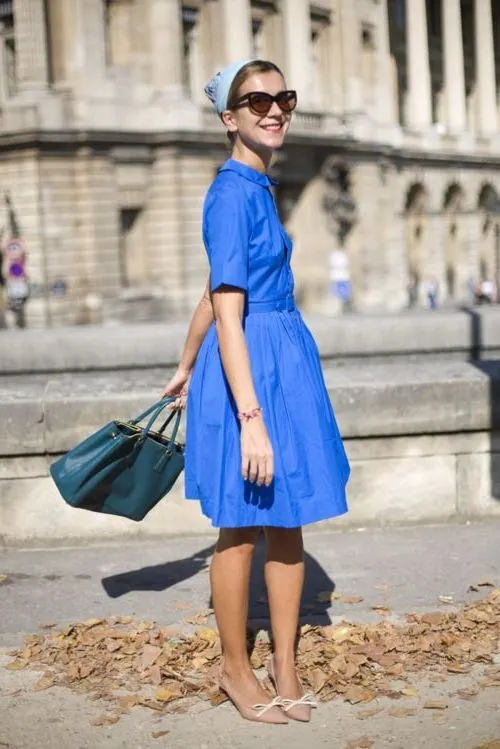 Buy Similar Here
Wear it under your jacket
This is a great way to wear your new shirtdress if you wanted to swap styles with another lady in the room. If you have a jacket that goes well with the shirt dress then just slip on your new outfit and you'll look like you're wearing it all day every day.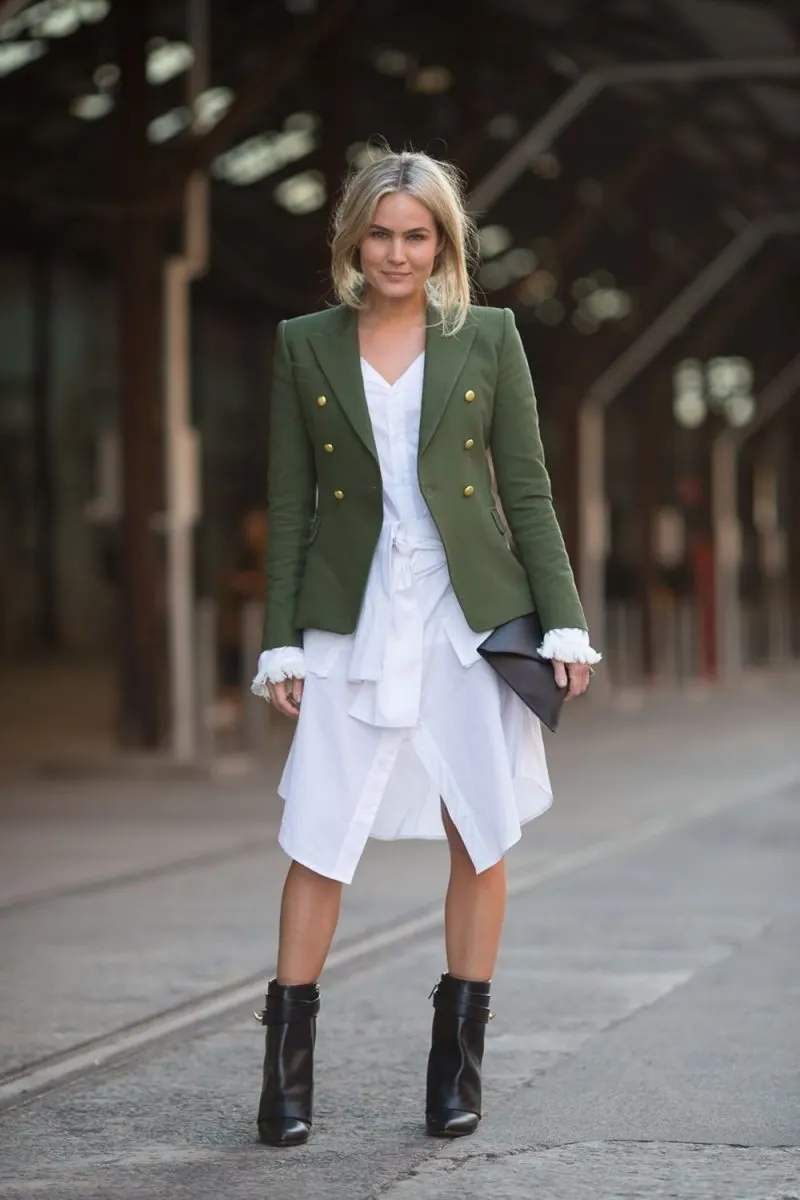 Buy Similar Here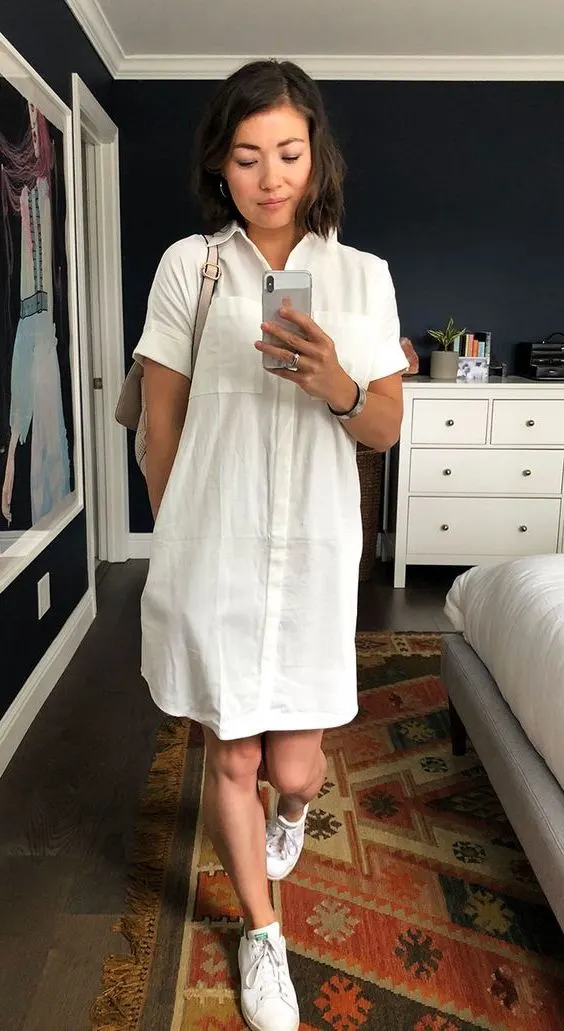 Buy Similar Here
Versatility is the synonym to this style of the dress.
Thanks to the relaxed fit, the dress does not restrict your movements and it is very comfortable.
The cut is longer and it gives an additional romance touch. You will find lots of beautiful designs that will emphasize your style.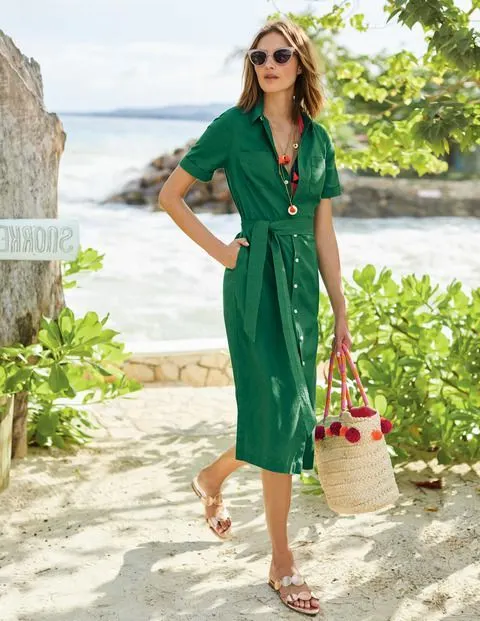 Buy Similar Here
What shoes to wear with a shirtdress. If you are looking for something casual and French chic, then you can try on ballet pumps. For a glamorous night out you can try on sexy stiletto sandals that will add an effortless, balanced silhouette. The brogues are ideal for a tomboy or androgynous touch. I love to see girls wearing cool shirtdresses and 1970's inspired chunky heels. If you are a boho-chic girl, then try on ankle boots for a casual office look. If you need a more formal office look, then you can try on classic pumps with your favorite white shirtdress, black blazer and a pair of sunglasses for a more professional look. If you wanna make things look modern, then roll up your sleeves, wear layered necklaces and statement bracelets.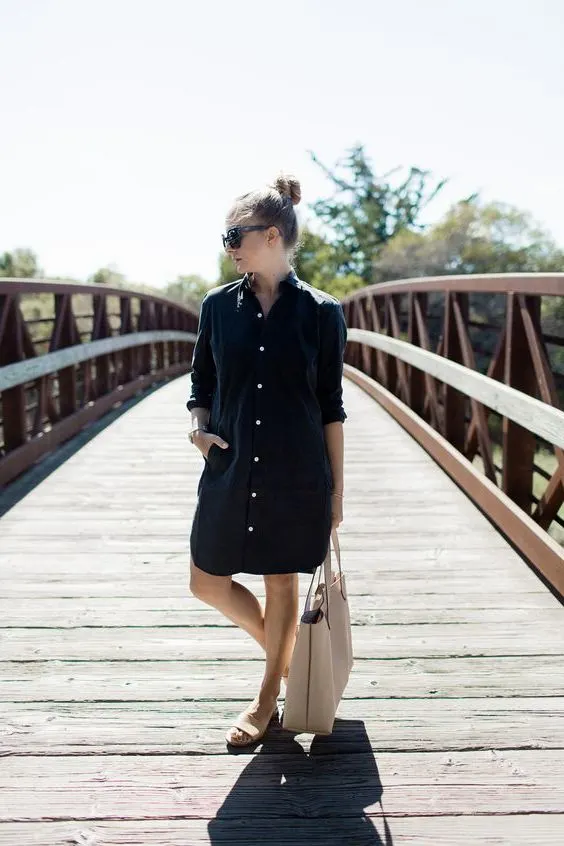 Buy Similar Here
And the most important advantage of this shirtdress is that it will suit girls and women with any type of figure. This dress is able to visually correct the problem areas, thanks to the free cut. Plus, slender ladies can also wear such frocks.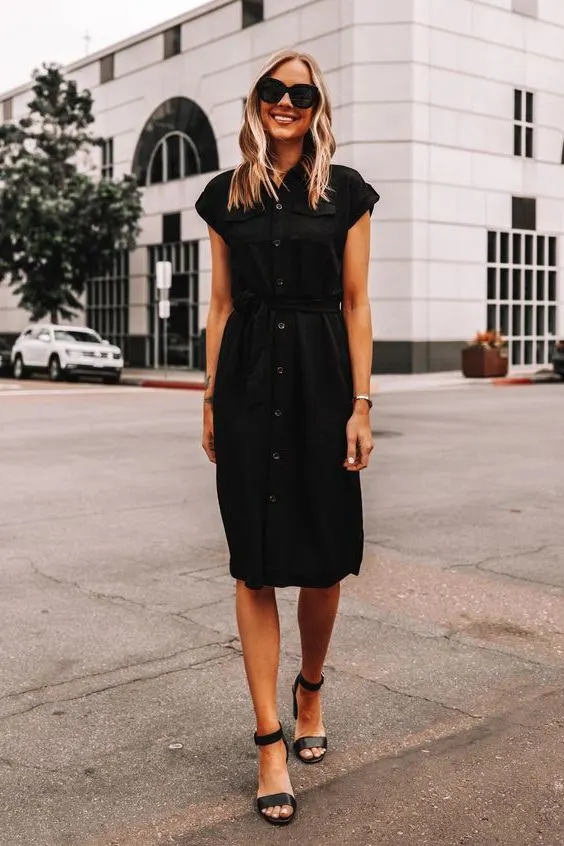 Buy Similar Here
Shirtdresses vary in lengths, they come from maxi to minis, so you are free to choose whatever design you love. I personally love wearing them with belts (this option is suitable for more for curvy shaped ladies).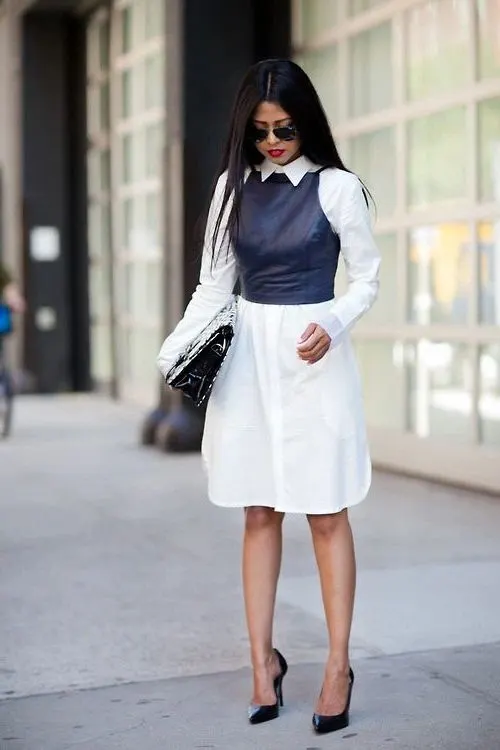 Buy Similar Here
What to wear with a shirt dress
The main questions that girls often ask when buying a shirtdress: "Should I wear it with jeans, tights, or just on my bare feet?" In fact, there is no single solution, it all depends on your style and taste. There are only a couple of rules that can be useful for you.
Here we see a chic white shirtdress completed with a brown leather bag and flat sandals. Complete this look by adding fancy oversized shades. If you do like to see more trendy sunglasses, check out my post where I share tips and ideas for every face shape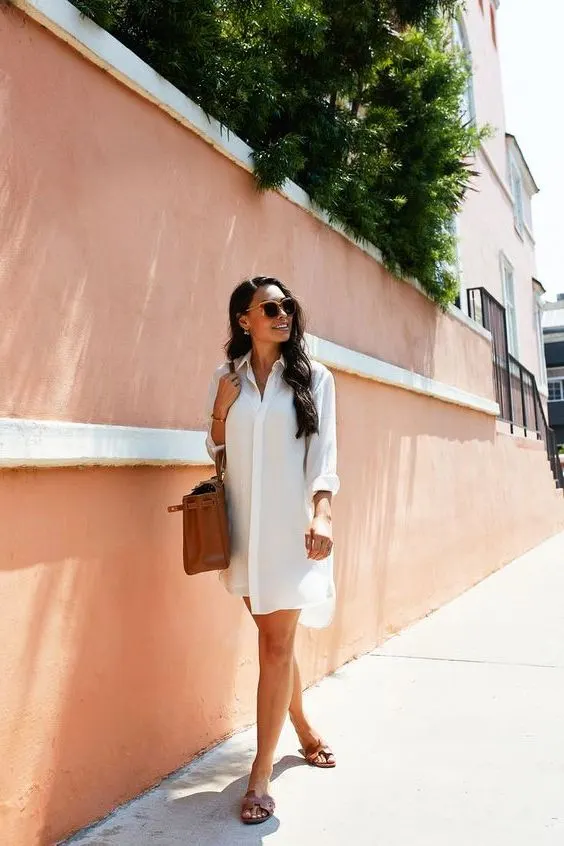 Buy Similar Here
A mini-length shirt dress can be worn with jeans and tights, and the owners of slender legs can wear it with bare feet. If your dress is made of fairly mesh fabric, it is better to wear it with jeans or leggings (even if it is a MIDI length). If everything is fine with its transparency and the length is midi or Maxi, then the most suitable way of wearing it is without jeans or leggings.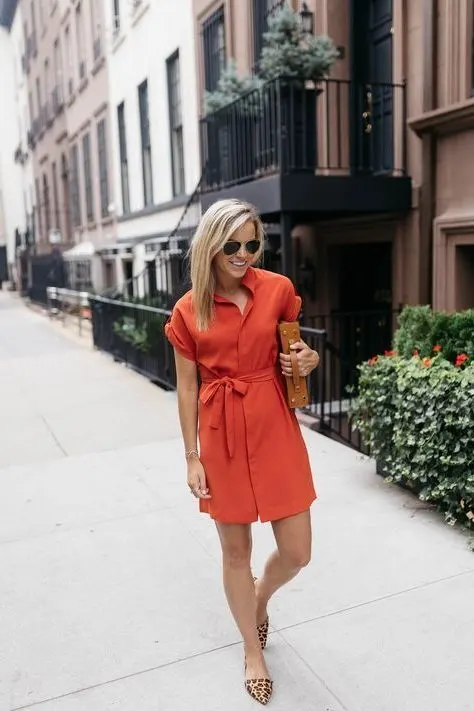 Buy Similar Here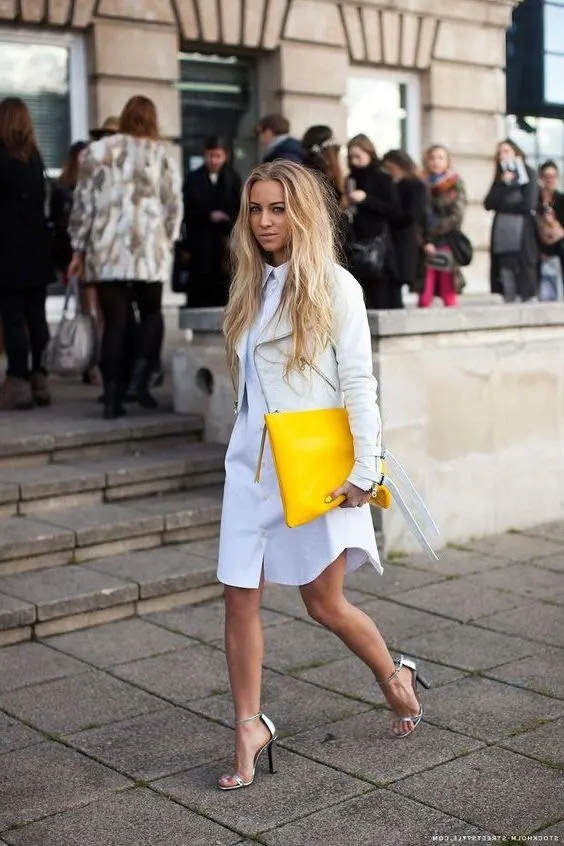 Buy Similar Here
Buy Similar Here
Buy Similar Here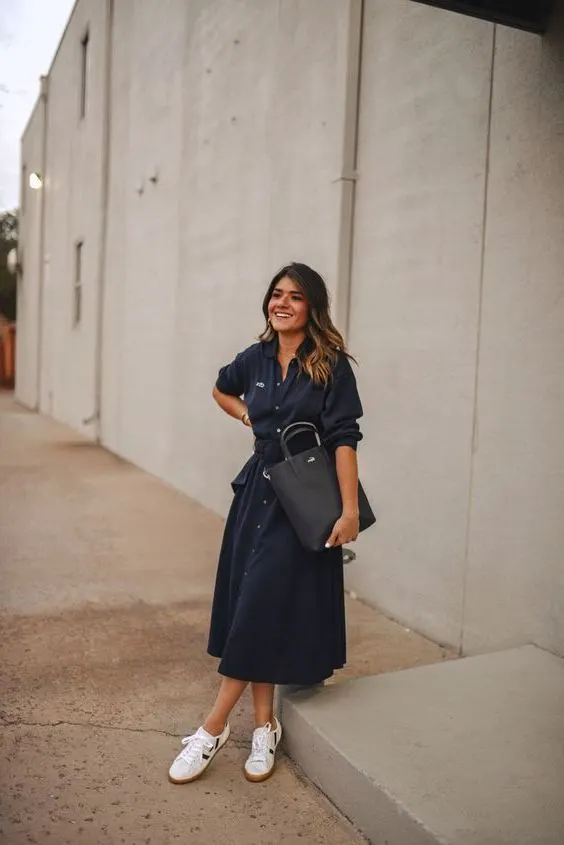 Buy Similar Here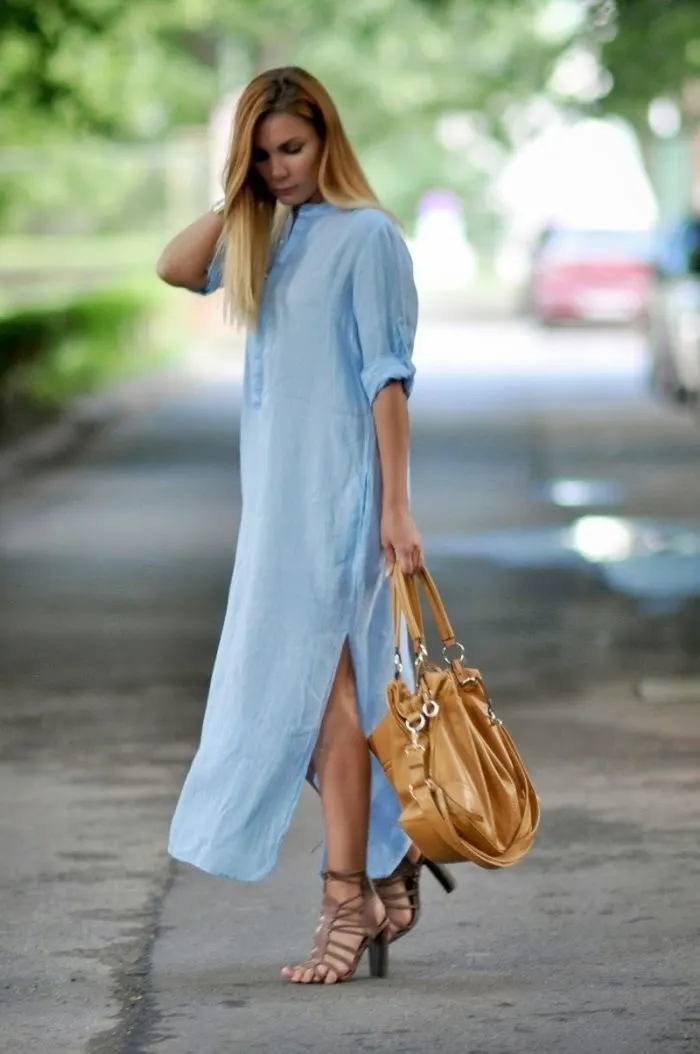 Buy Similar Here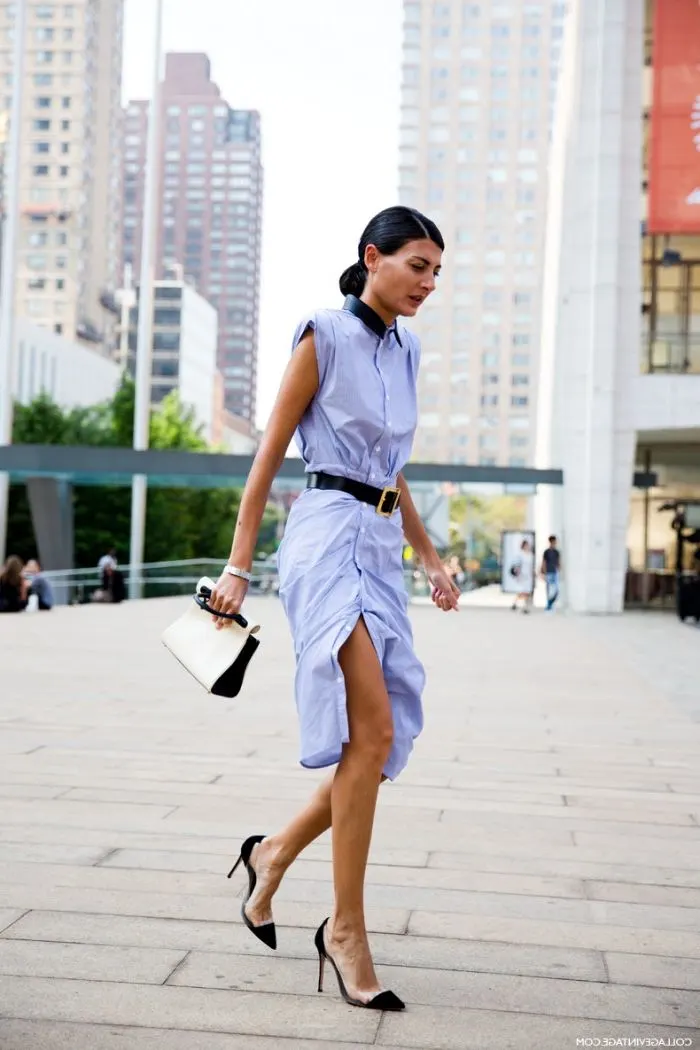 Buy Similar Here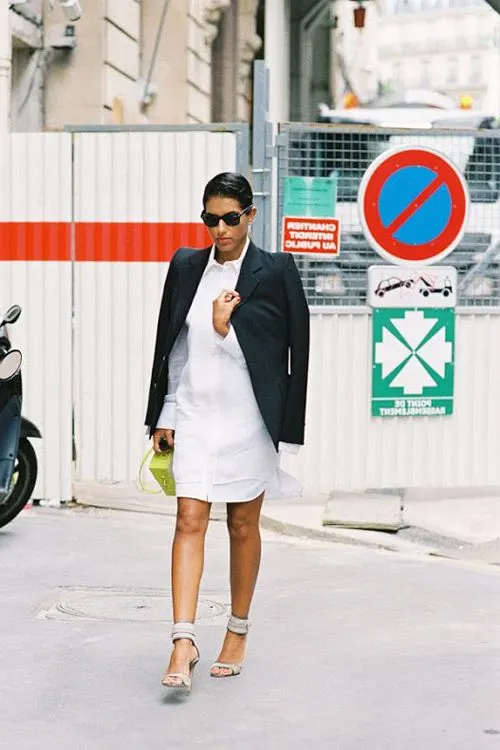 Buy Similar Here