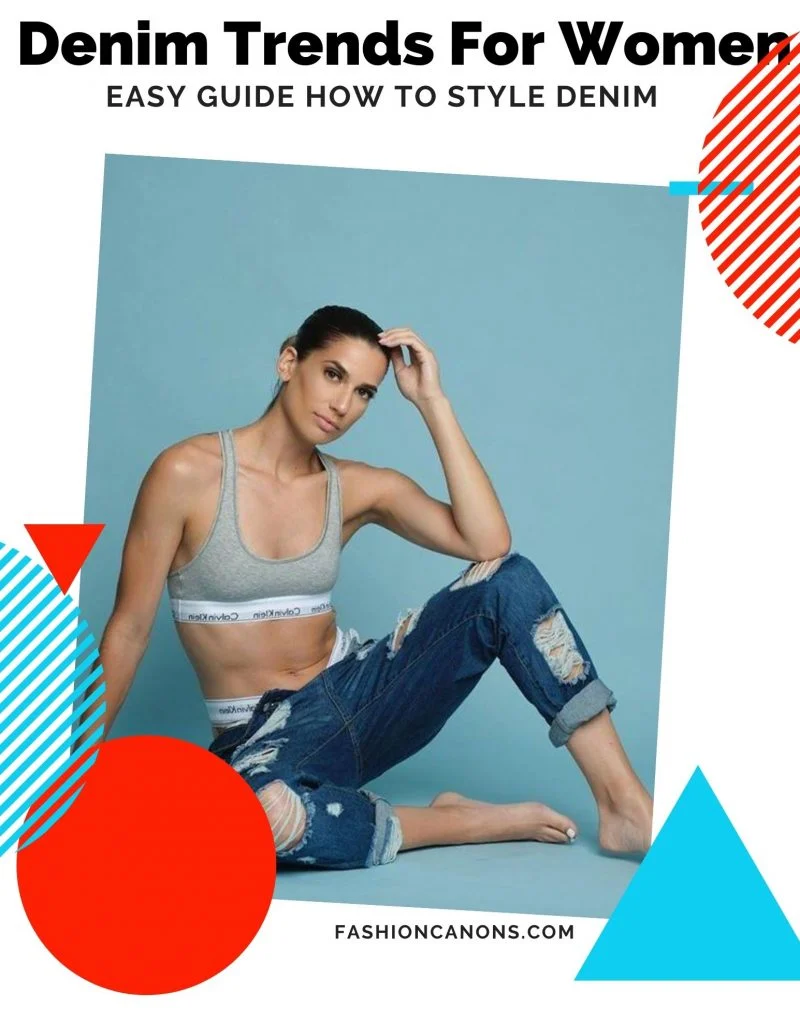 Buy Similar Here
Today we are here to show some amazing denim outfit ideas you can easily copy and show off your personality in one of these looks. I am not a big fan of denim, but I know how many of you are wearing denim right now.
Denim is an ideal way to keep things timeless chic and still look trendy. Just need to know several tricks in order to look at your best. Thanks to this amazing street style collection, you can now create the one and only denim look without pulling too much.
The thing about denim, it will never go out of style, this is a perfect ingredient that can always make you look fresh and special. Why women are so much in love with denim? First of all, it's comfy, versatile, and functional. What to wear with it right now? All you need is to scroll down your mouse and get inspired.
I personally think denim is versatile by the way it looks and feels on your skin. Yes, it might look casual, but you can make it more professional by combining with various pieces, indeed, all you need is to style it with the right footwear and tops.
You can easily experiment with your outfits, all you need is to find a perfect denim piece that can make you look individual and special. You are free to wear denim shirts with denim jackets and jeans, this will create a double denim look. Denim does look cool with knitwear, silver, gold, leather, sheer materials, suede, and other fabrics.
There are so many different ways on how to wear denim, that's why I gathered my favorite trends you can try next week creating your one and only WDYWT outfits. If you want to create an unforgettable outfit, then you are more than welcome to look through this street style compilation.
A sports bra top in grey ideally matches these ripped cuffed boyfriend jeans. A perfect look for casual day-offs and lazy home days: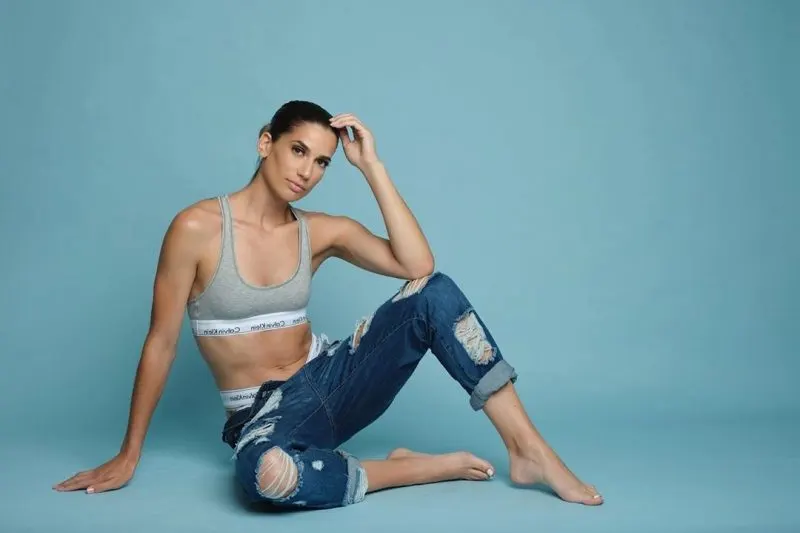 Buy Similar Here
We see cuffed denim shorts worn with a classic white spaghetti-strap top. Update this combo with mirrored aviator sunglasses and a bum bag in black leather: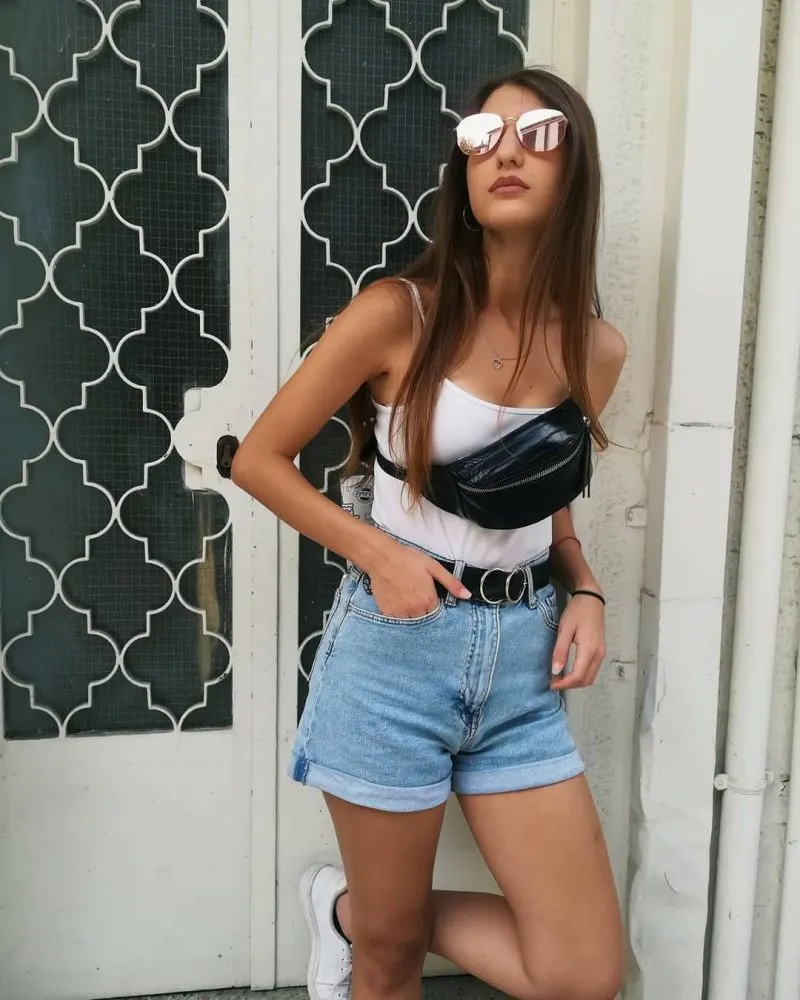 Buy Similar Here
A lovely white crochet shirt is paired with cropped slim jeans. Update this style with brown leather slides and a slouchy black leather vintage handbag: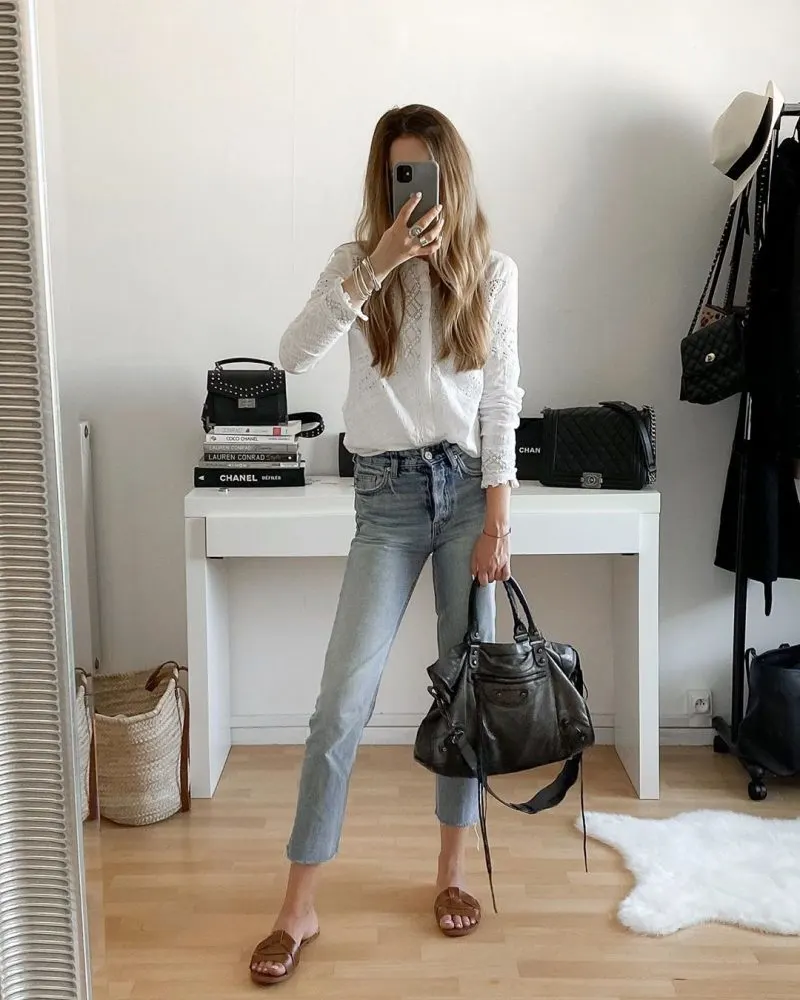 Buy Similar Here
How about wearing knee-ripped skinny jeans with a lightweight white blouse, draped coat in light-grey and white sneakers: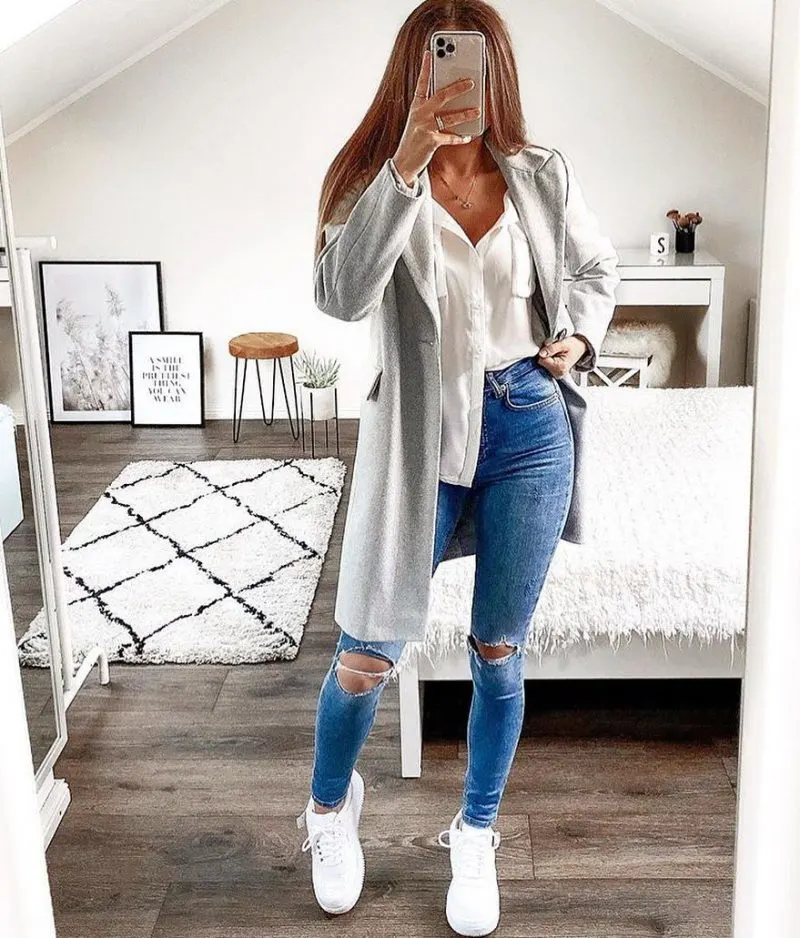 Buy Similar Here
Another great way to underline your love for denim is trying on this grey-blue ruffled denim bikini top and teaming it with white shorts for your next Summer trip: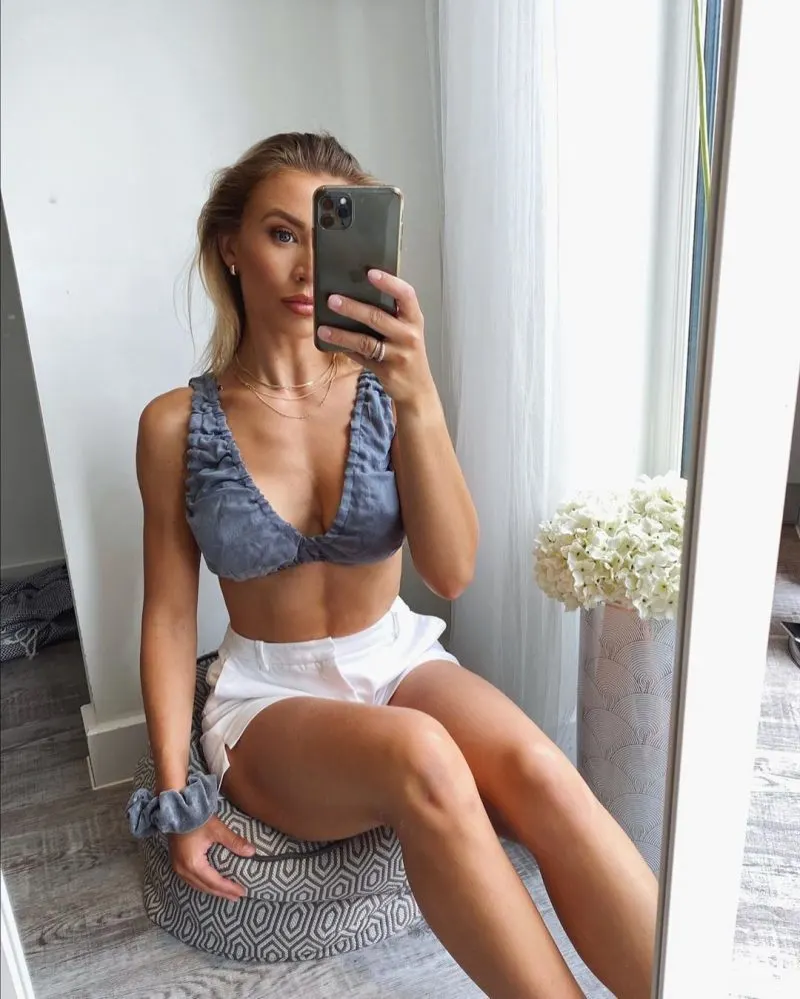 Buy Similar Here
A simple ribbed sleeveless top is styled with denim cut-offs in light-wash blue. Update this summer look with vintage rounded eyeglasses, quilted bum bag in black leather and peep-toe brown sandals: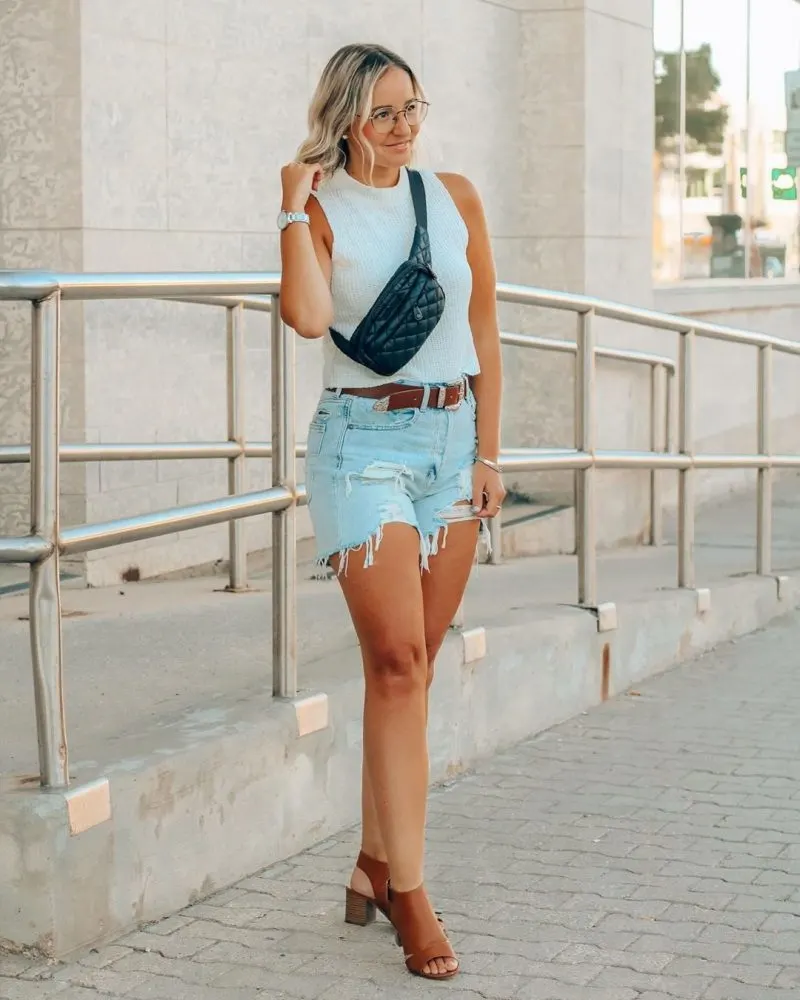 Buy Similar Here
This denim dress with puff sleeves and a wide belt is a super must-have of this year, Complete it with oversized sunglasses and a white top worn underneath: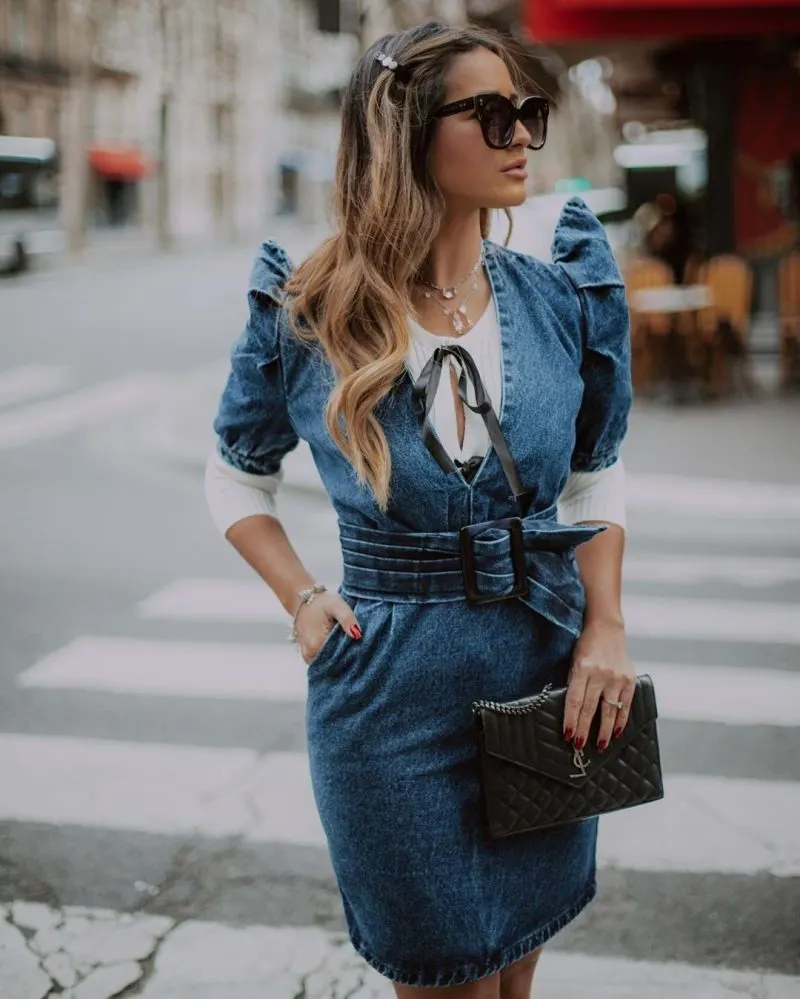 Buy Similar Here
A pinstripe light blue blouse with puffy sleeves is tucked in cargo skinny jeans completed with suede Chelsea boots: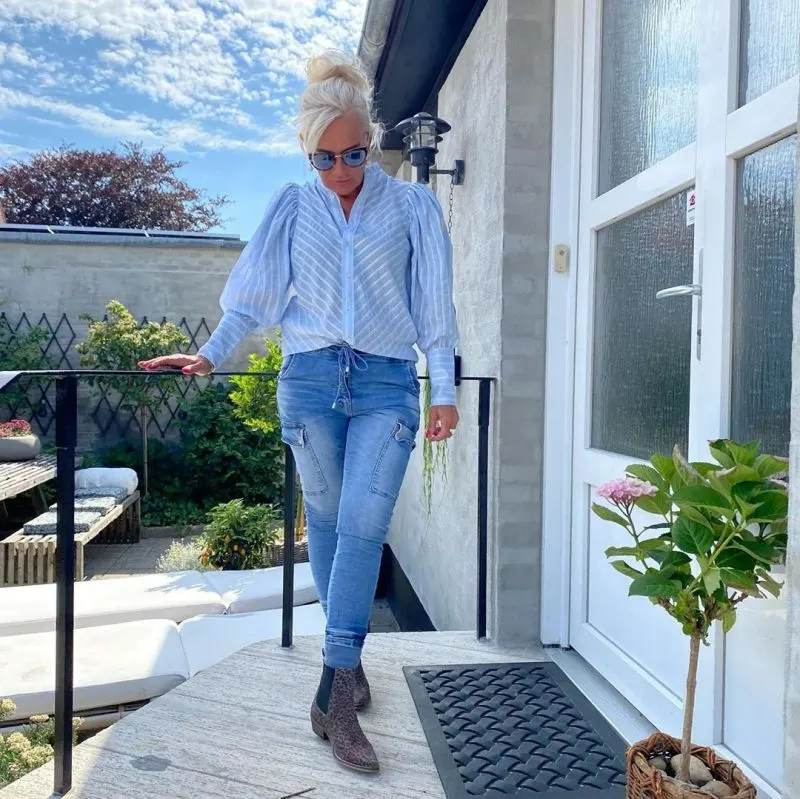 Buy Similar Here
Denim overall shorts look damn cool and casual worn over a white tank top: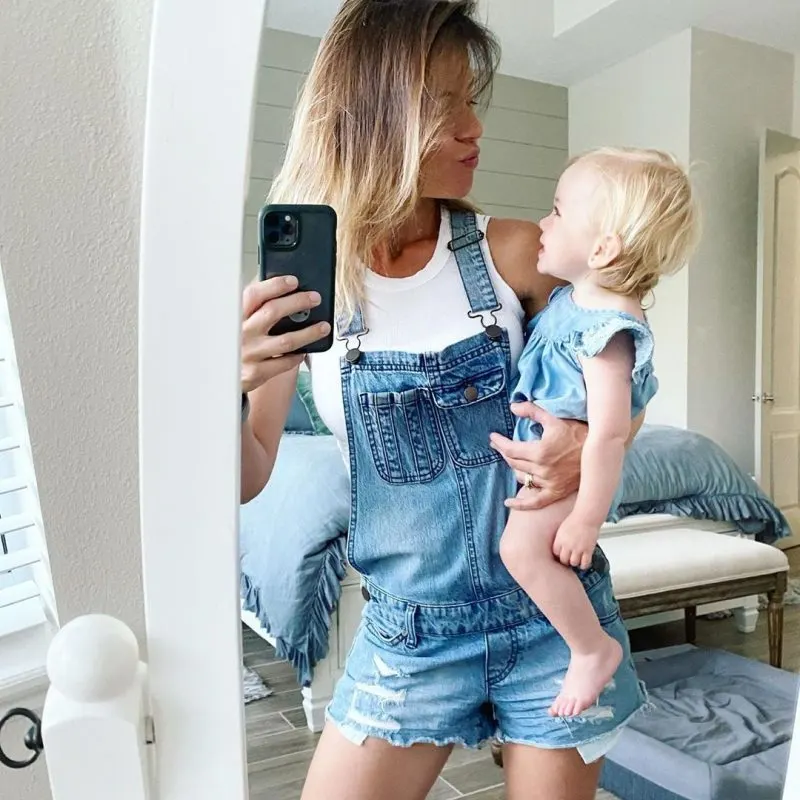 Buy Similar Here
A sleeveless belted cargo jumpsuit in light blue looks ladylike and classy, update it with classy slides: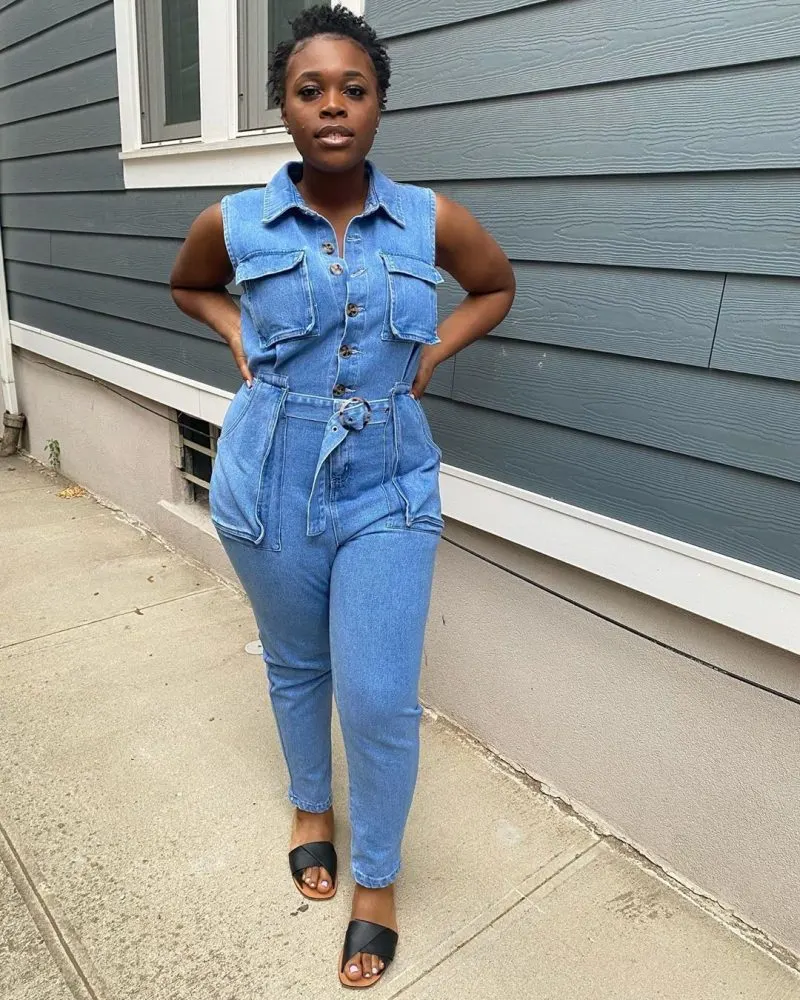 Buy Similar Here
A khaki pastel top can be easily paired with front slide mom jeans and white heeled sandals: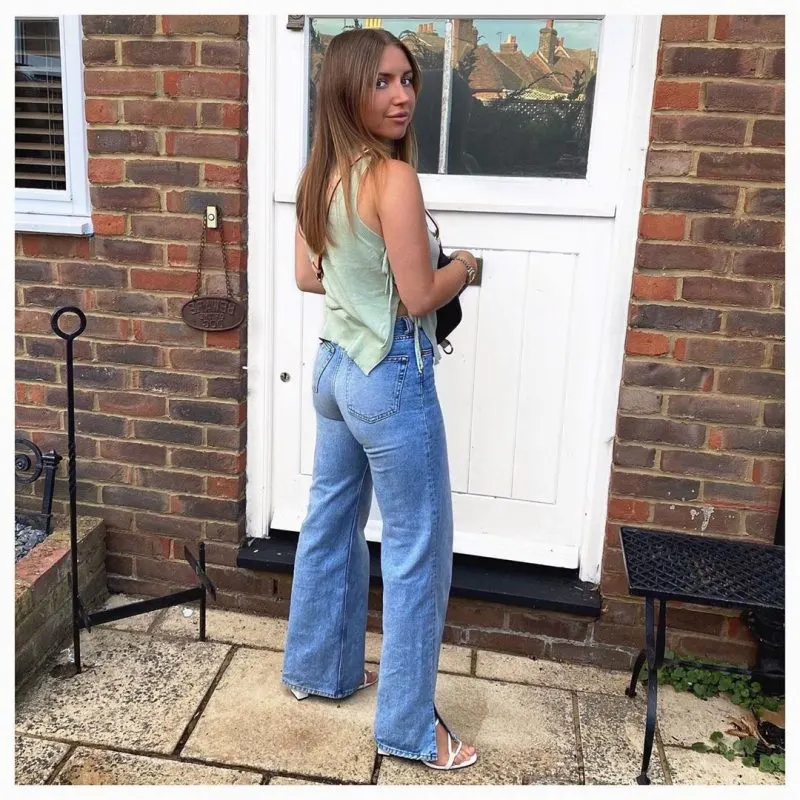 Buy Similar Here
Another denim dress which looks more like a chambray one is completed with a pink belt bag: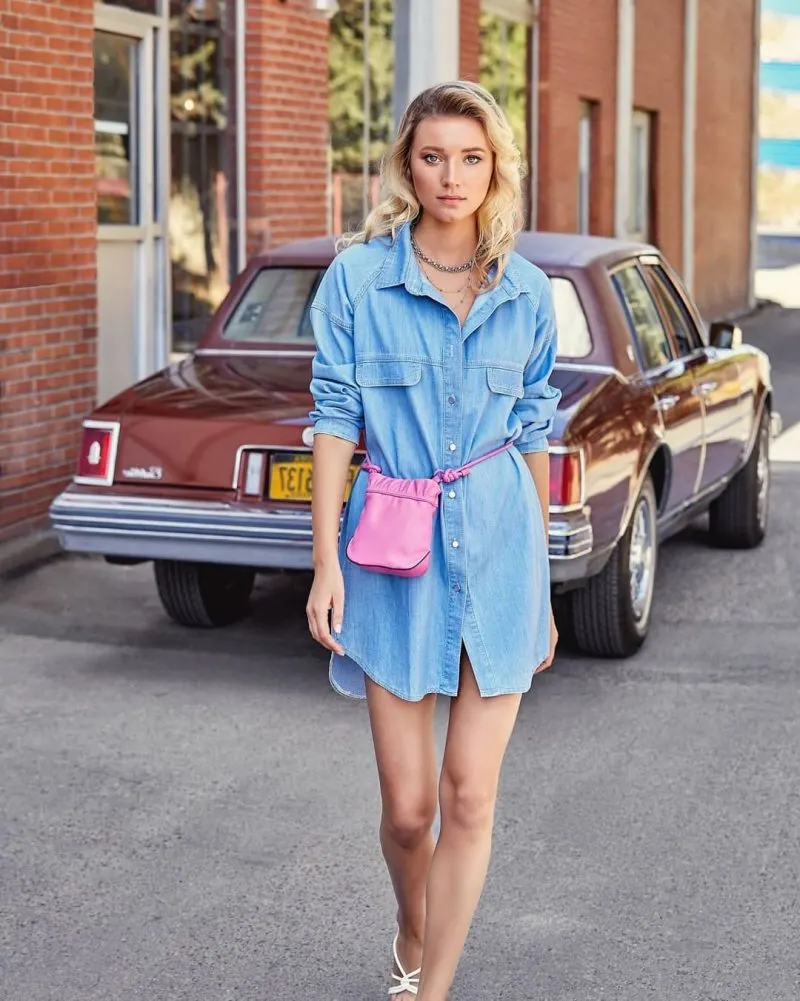 Buy Similar Here
A biker style light blue denim jacket looks youthful and sporty styled with white jeans: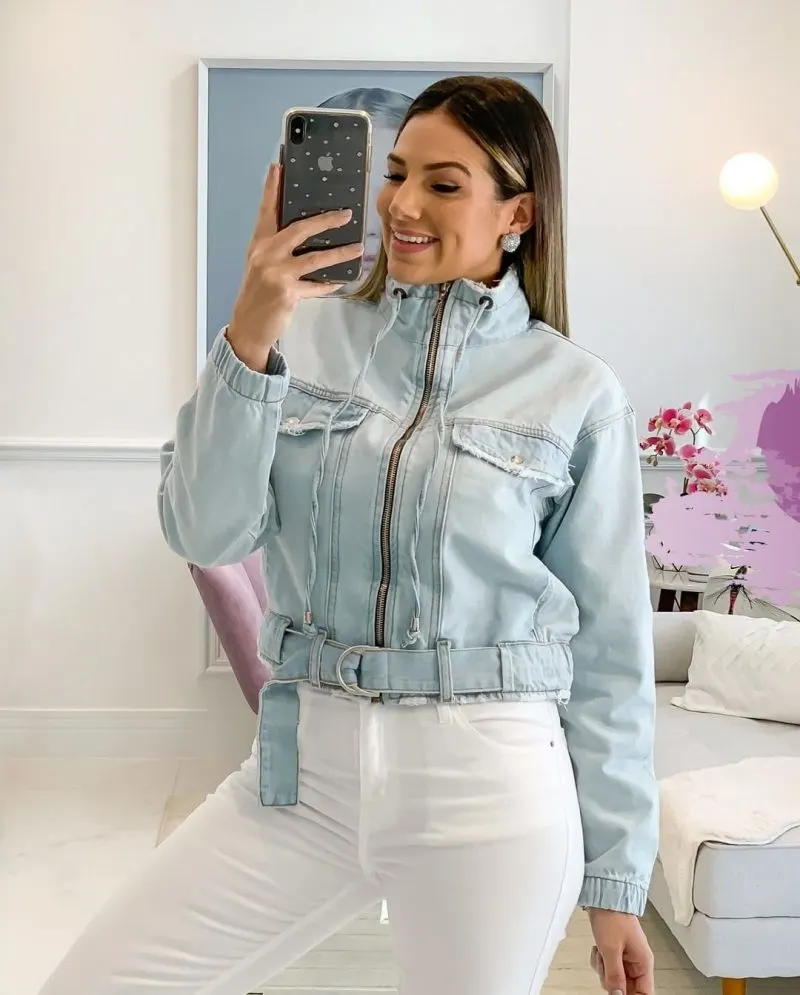 Buy Similar Here
A white blouse with bell sleeves is tucked in belted skinny jeans. An ideal look for hippie lovers: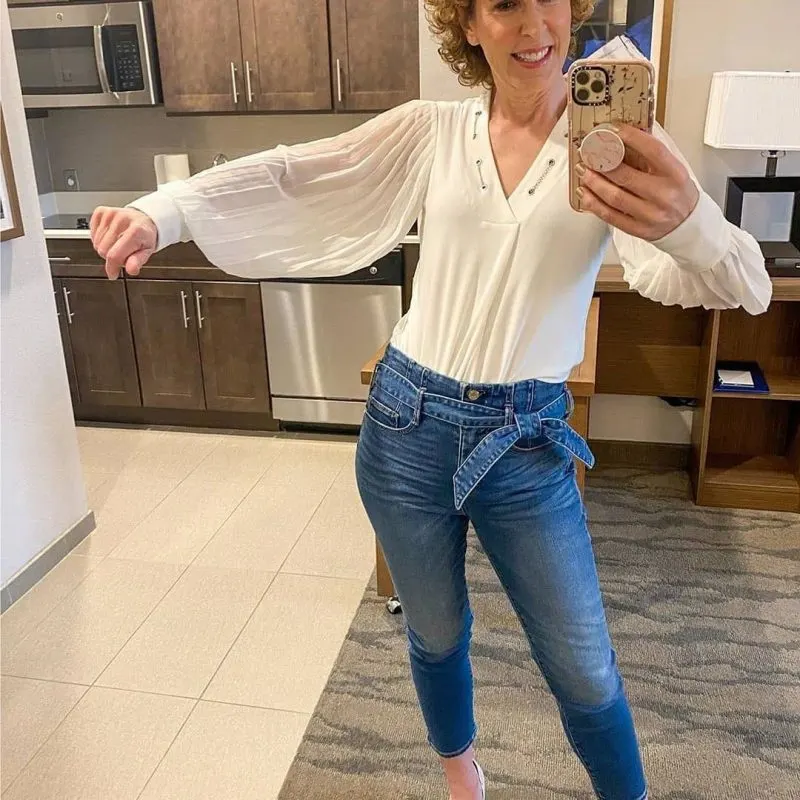 Buy Similar Here
We see a perfect double denim look consisting of a denim jacket, black crop top, and cuffed mom jeans updated with white trainers: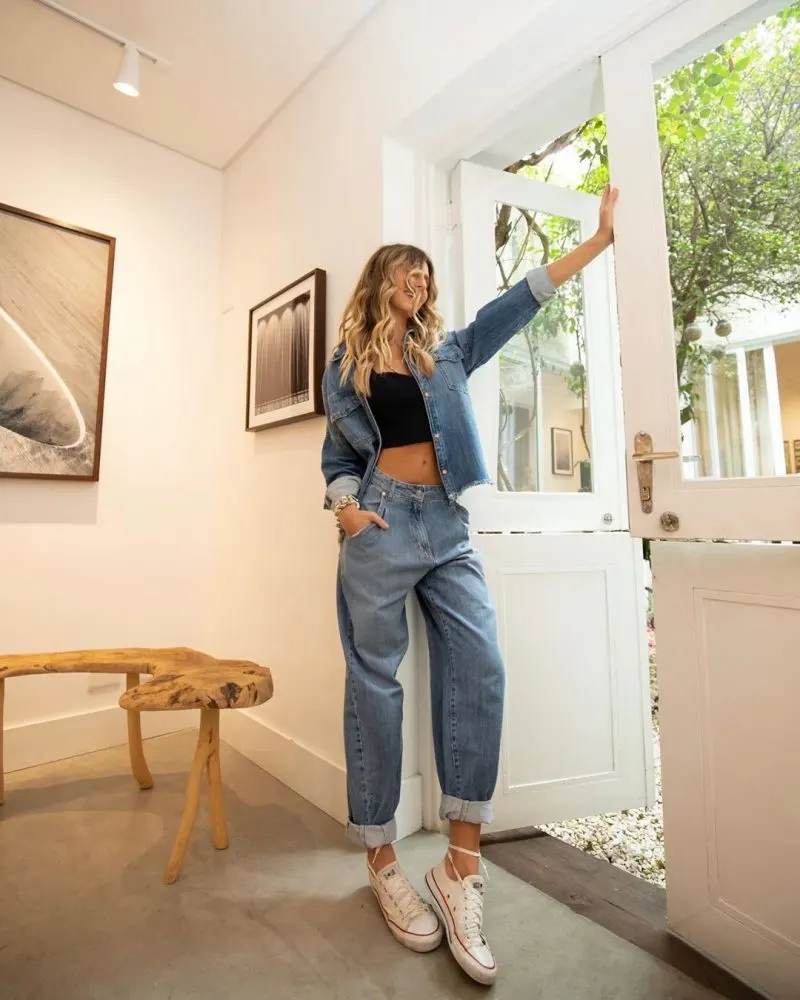 Buy Similar Here
Spaghetti strap white crop top with puffy sleeves is paired with mom jeans and strappy sandals: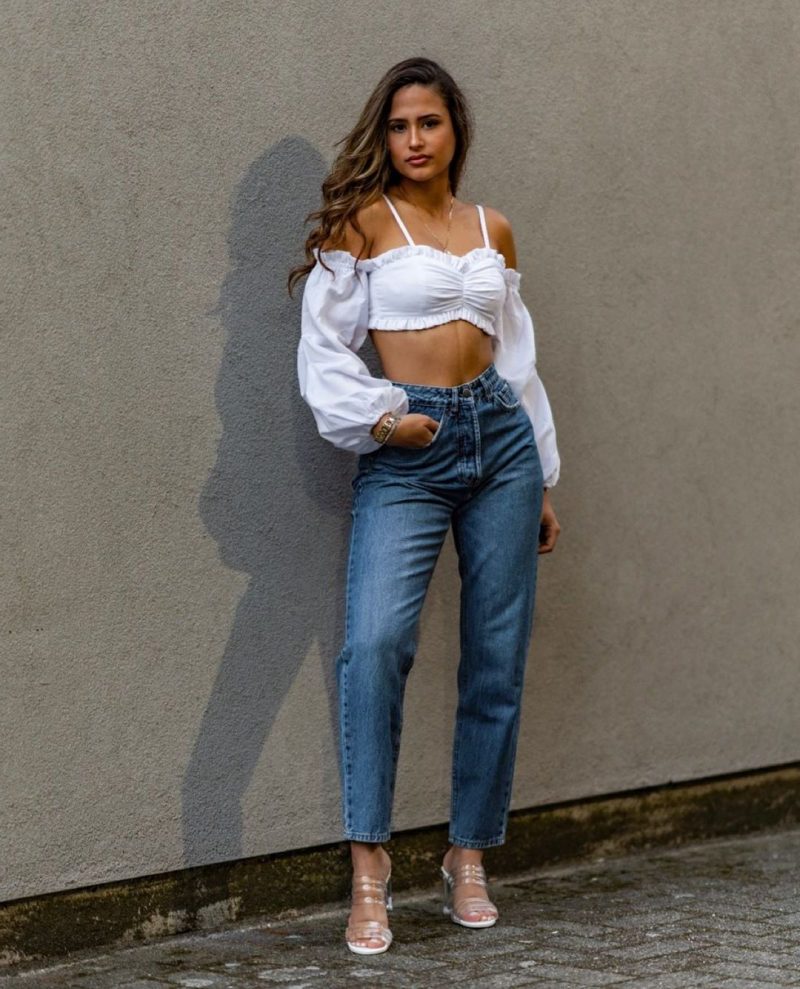 Buy Similar Here
A lace bra top looks sassy styled with a denim skirt: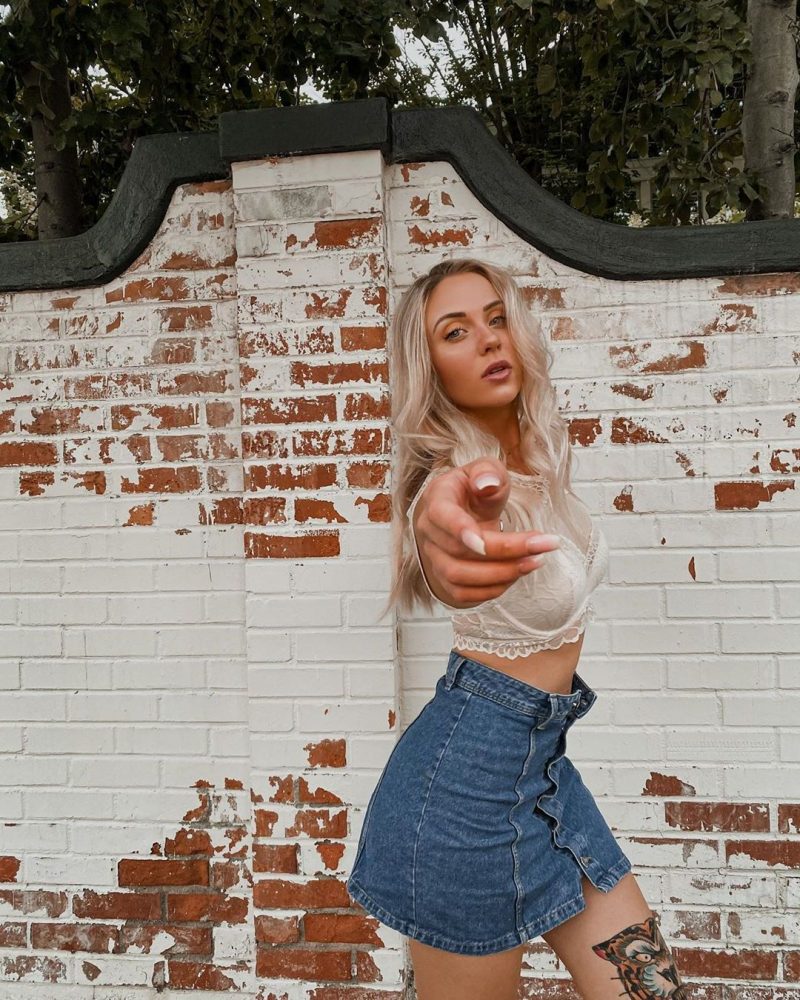 Buy Similar Here
Boyfriend style white shirt is tucked in denim cut-off shorts: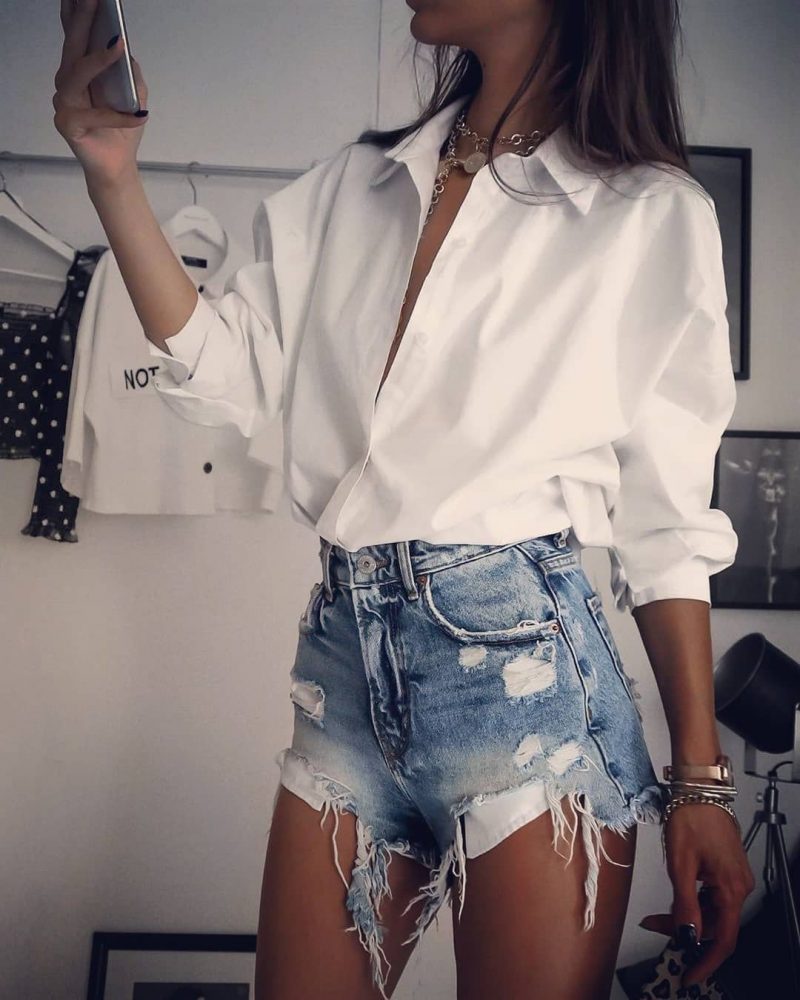 Buy Similar Here
High waisted slim jeans in wash blue look pretty chic teamed with a black cropped corset crop top: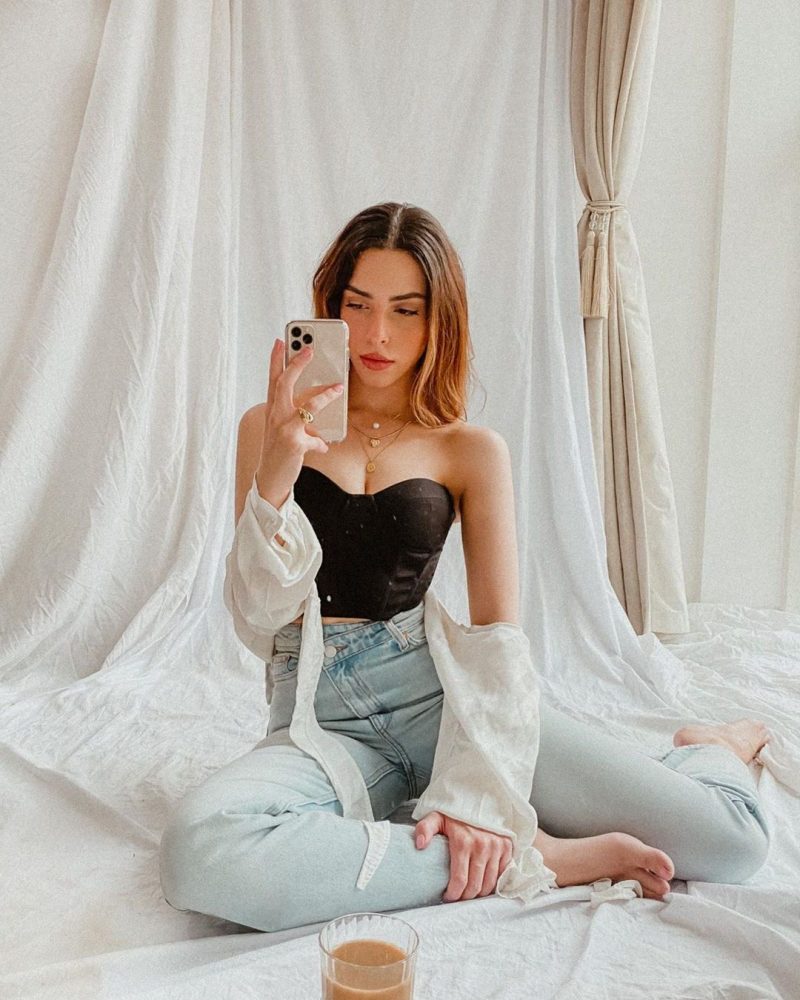 Buy Similar Here
A cropped denim jacket looks awesome styled with velour military green flared pants: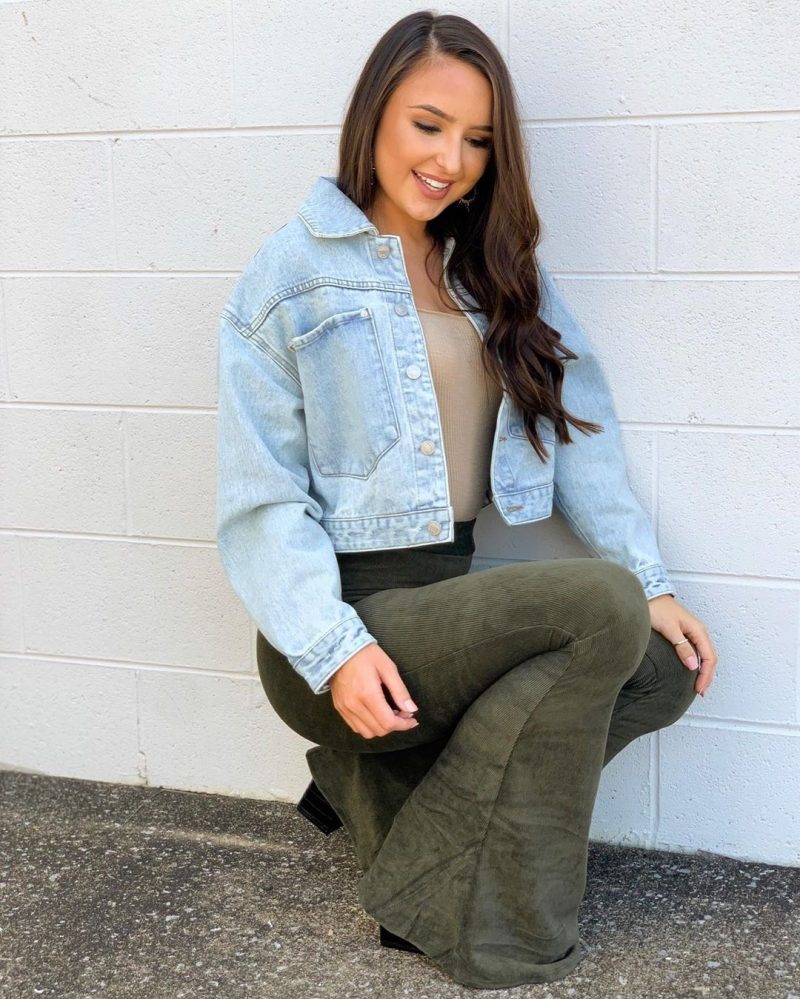 Buy Similar Here
Belted denim shorts in wash blue look pretty cool styled with a leopard print bodysuit and black trainers: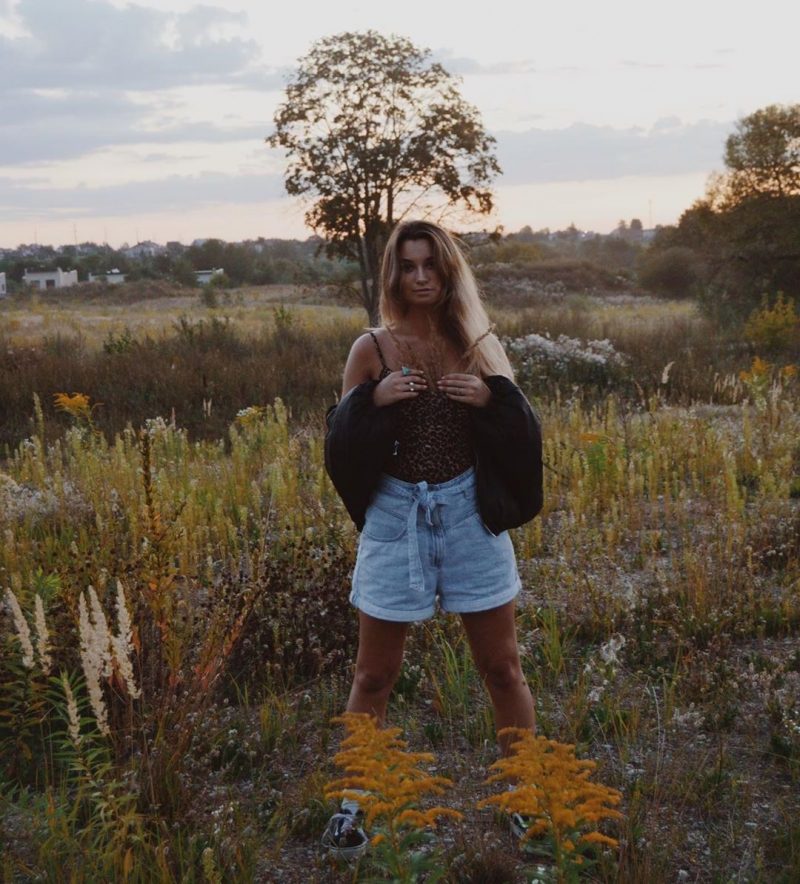 Buy Similar Here
A lovely blouse with ruffles is tucked in cuffed wide jeans completed with white sneakers and a wide-brim straw hat: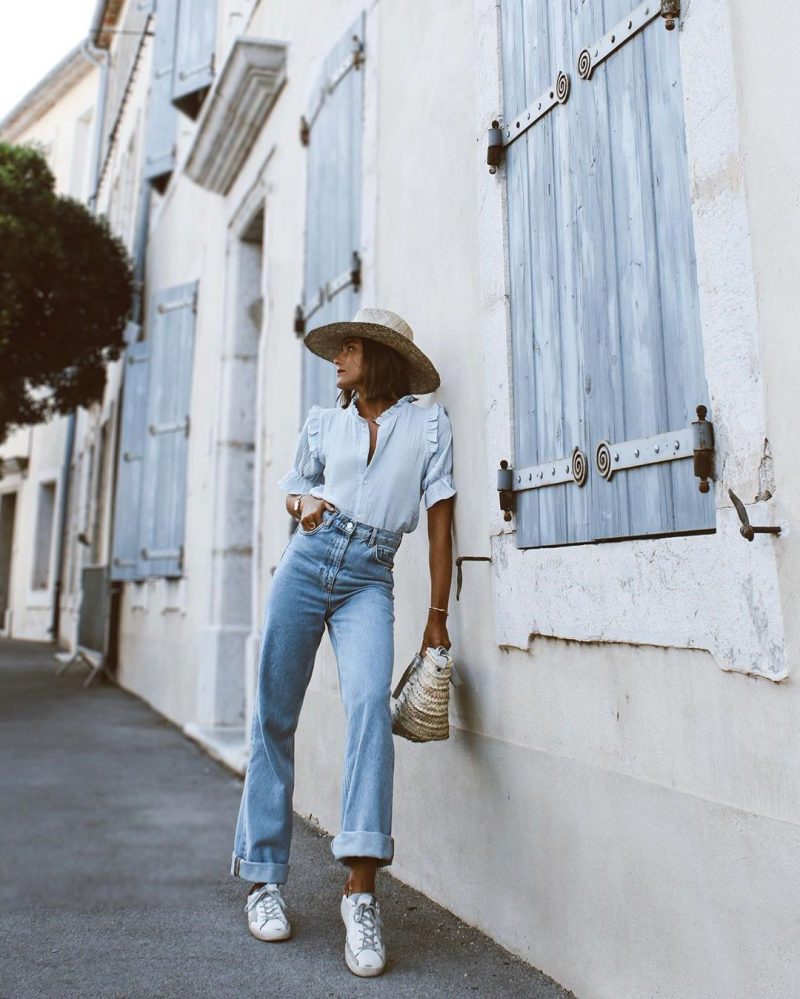 Buy Similar Here
UPDATE
My Favorite Denim Looks To Try Now
These will be your favorite outfit ideas with these denim looks. The outfits below are so cute that they cannot stop being stylish on women who are fond of jeans and denim pieces . I love how modernized each one looks, with some characteristics that tell a story about their style choices .
Here are my favorite outfit ideas with cool denim pieces:
First Denim Look:
For example, if you were to go to a rock concert, a festival or something like that, the first outfit will encourage you to pair it up with some cool and casual boots.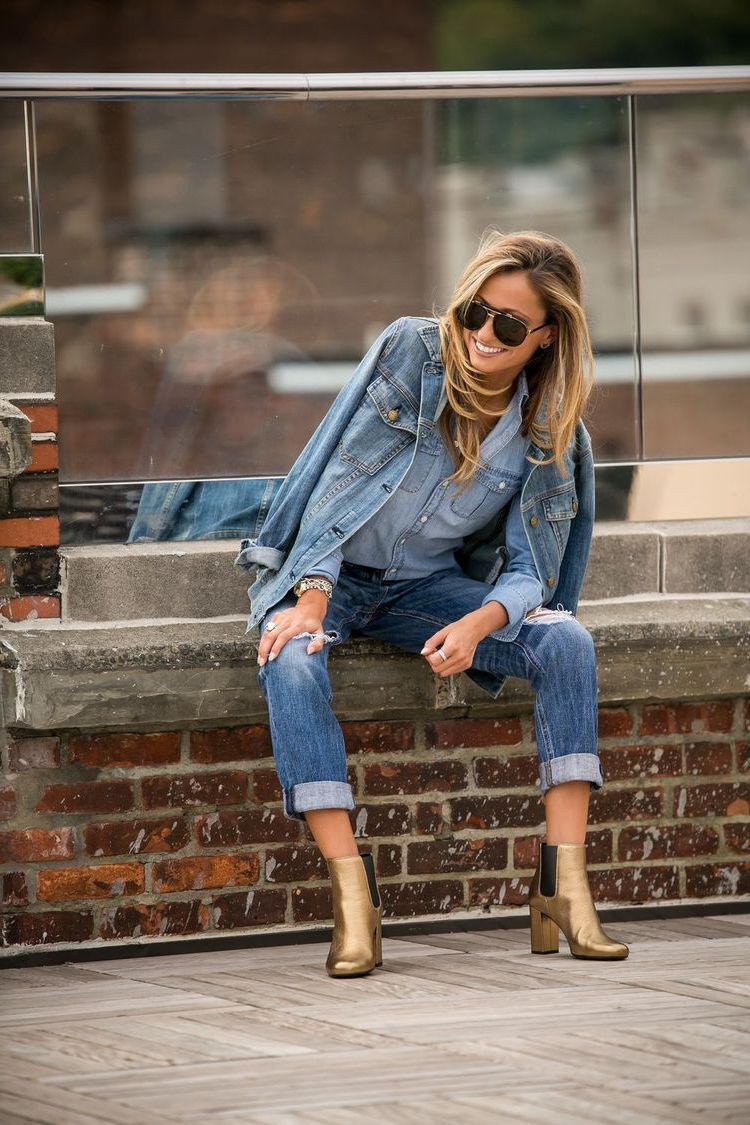 Buy Similar Here
Second Denim Look:
The second option can be matched with any kind of shoes, and I know this because I always love super skinny jeans for girls who are looking for a casual everyday look.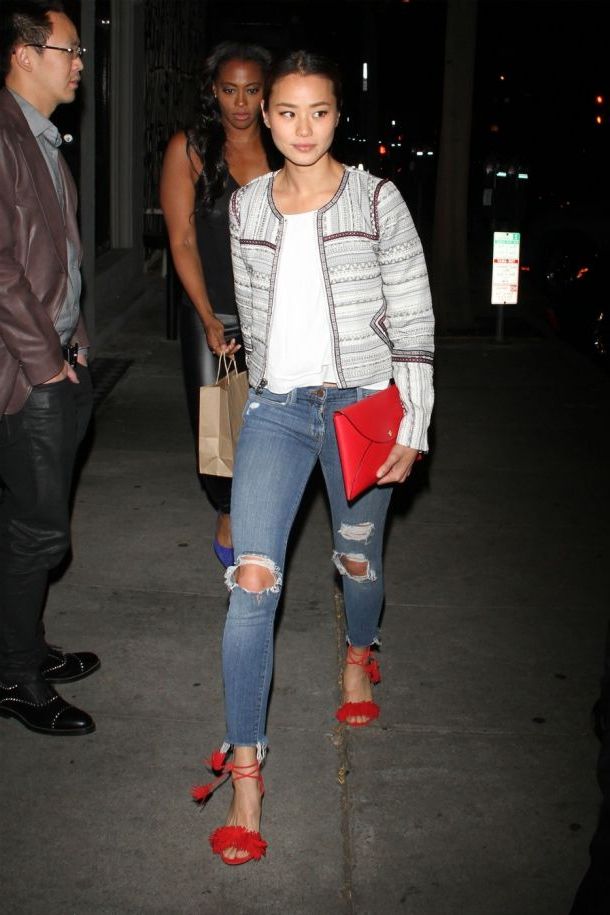 Buy Similar Here
Third Denim Look:
The third outfit is also very easy to wear: pair it up with some sneakers and you'll be good to go.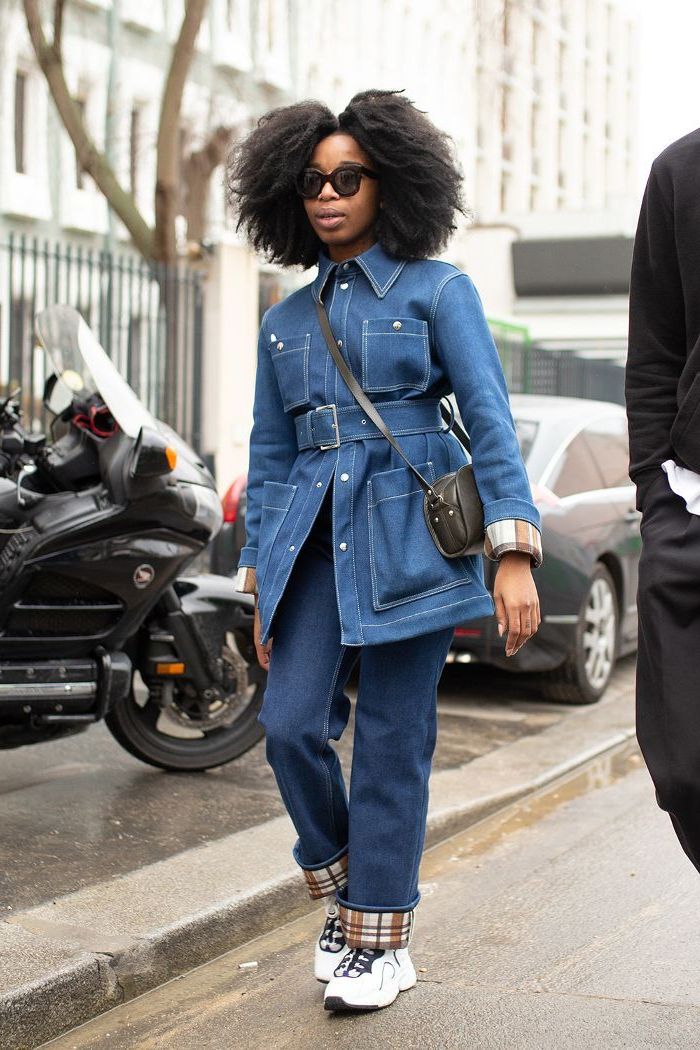 Buy Similar Here
Fourth Denim Look:
This is my favorite denim look, so I would definitely wear it with a pair of black casual shoes. You can also accessorize with a leather jacket.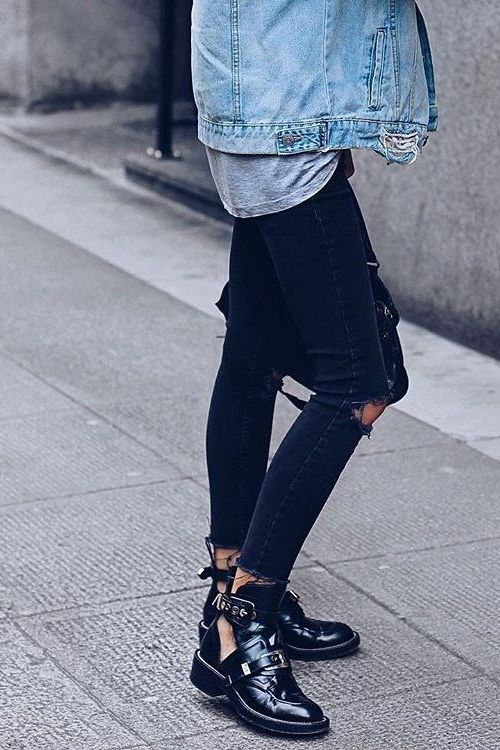 Buy Similar Here
Fifth Denim Look:
I love this look because it looks like you are wearing pants and not jeans. It is very unique and will definitely stand out in the crowd. Accessorize this look by adding a blazer or a scarf for a more modern and classy feel.
Buy Similar Here
Sixth Denim Look:
You can wear this outfit for almost any kind of occasion. It can be worn to school, for a date, at the mall or anywhere else you'd like.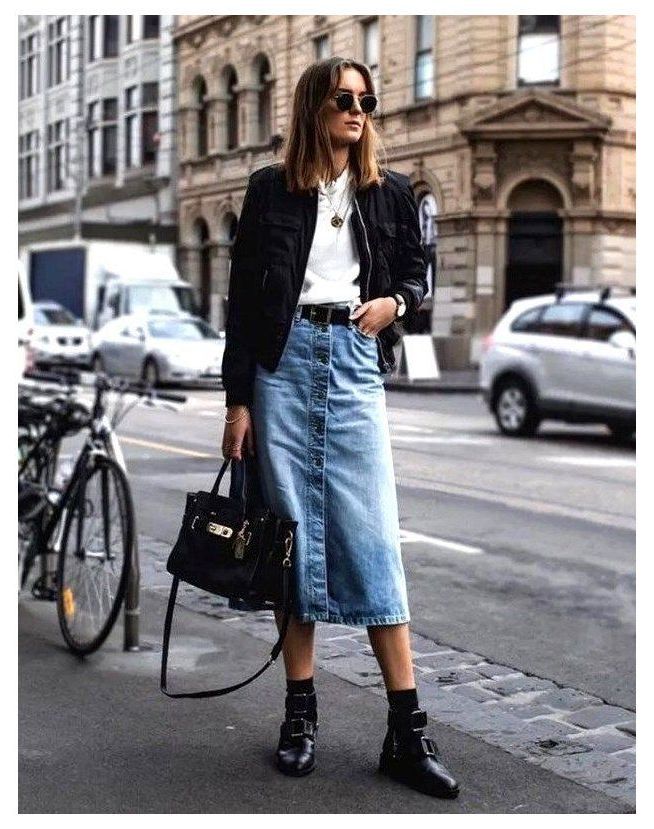 Buy Similar Here
Seventh Denim Look:
This one is cute but simple. You can wear it any day and will look fresh and relaxed.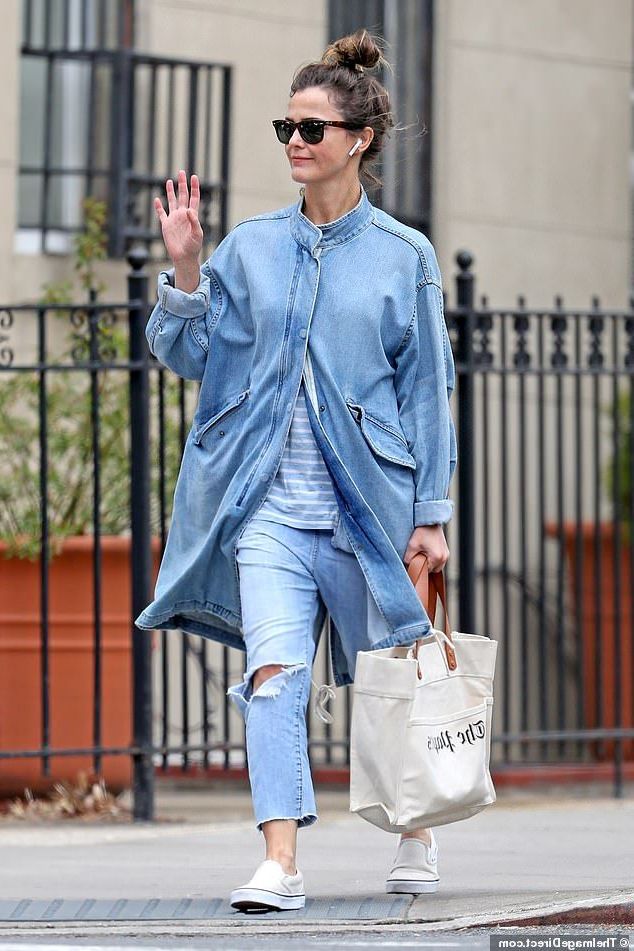 Buy Similar Here
Eighth Denim Look:
This denim look is very casual, something I would probably wear to hang out with friends after school or during summer break or simply hanging out with my BF. You can also add boots for a more relaxed feel.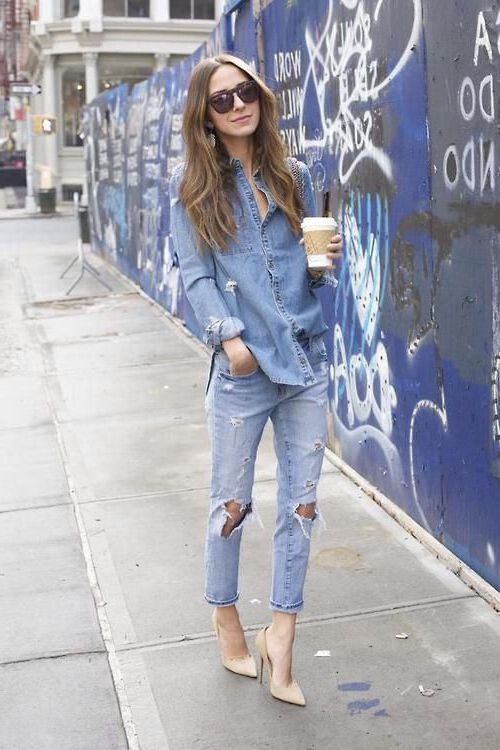 Buy Similar Here
I guess it is pretty clear that we love jeans and denim pieces. We would have literally no limit when it comes to suggesting you how to wear your favorite jeans and denim pieces. The outfits above are very easy to pull off, and I am sure you'll be able to wear it in a couple of ways. I hope you enjoyed them!